I get a lot of emails asking about my Africa travel budget, so it's probably about time I did one!
I think a lot of people are put off travelling in Africa because they think it's expensive. It can be a really cheap place to travel, but when you start booking things like safaris, white water rafting or a trek up Kilimanjaro that the costs rise pretty quickly!
On my last big African adventure I went to Kenya and Tanzania for 5 weeks. This was mostly independent travel, although I did squeeze in a couple of safari tours.
I spent the first 3 weeks backpacking on my own, and the last 2 with my other half. I moved around a lot, starting and ending in Dar es Salaam, so I'll give you the costs for everything, and you can get an idea. Travelling this way is can be more expensive than an overland trip, where you are pretty much looked after the whole time, but it allows more freedom and I got to visit places the overland trucks don't go.
I could have travelled through Kenya and Tanzania on a much tighter budget if I'd stayed in hostels, taken all public transport, hadn't done as many safaris, eaten street food more or taken an overland tour for the whole trip.
However, I'm 35 now, I work full-time and travel mostly in my holidays (I took all my hols together plus a few days unpaid leave), so I mixed it up a bit, adding in a little bit of luxury along the way. But I am still a backpacker at heart, I often use public transport, I do sometimes stay in a dorm, but then I'll also treat myself when I feel like it. The safaris I took were at the cheaper end of the scale.
My 5-Week Africa Travel Budget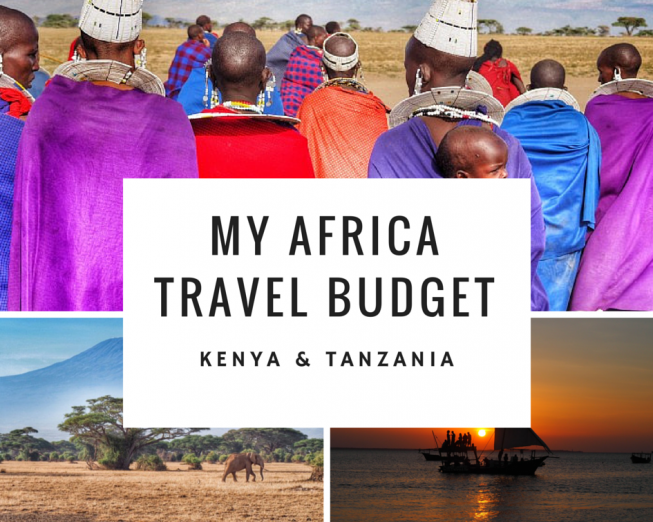 Pre-trip Costs: £598
I won't include these costs in my overall budget at the bottom, as these will depend on where in the world you are coming from, but here they are.
Flights: I found a return ticket from Manchester, UK to Dar es Salaam, Tanzania on Skyscanner with Emirates with stops in Dubai for £525.
Vaccinations: On this trip, I was up to date with all of my vaccinations from my earlier travels, but I paid £120 the first time I went. I managed to get Hep B, Hepatitis A/Typhoid, Diptheria/Tetanus/Polio all free from the doctor. I then got a prescription for Meningitis (£12), and the doctor gave me the jab for free. I paid for Rabies (£50) and Yellow Fever (£58).
Anti-malarials: I took mefloquine (Lariam) for my malarials, which is the cheapest option and is only 1 tablet per week. I ended up stopping taking them as I didn't think they were doing me any good (weird dreams etc), and in future I would opt for Malarone, which is a lot more expensive but I prefer it. I've never tried Doxycycline. Malaria tablets are a personal choice, but I prefer to take them when I travel to high risk areas. I spent £35 (but expect to pay around £115 for Malarone/£35 for Doxycycline).
Insurance:Â Some bank accounts and credit cards provide travel insurance, so check before you buy! Whatever you do, check that whatever insurance you do get covers all of the activities you want to do (including safari).
---
---
Visas: £65
I paid $50 for Tanzania and $50 for Kenya – $100 (£65) in total. My Tanzania visa allowed me to re-enter the country after I'd been to Kenya within a certain time frame so I didn't have to pay twice. A Tanzania visa for Americans is currently $100.
Hotels: £745.50
My accommodation budget was a bit all over the place. The cheapest I paid for a room was £6 per night for a dorm and the most expensive was £90 for a double room. Bit of a difference hey? I tended to go more budget when I was alone, but more upmarket when I wasn't. I will tell you what I/we paid in total and state where I was sharing a room with my husband, but when I add it up at the top, I will just give you what I spent (not including his half) and you can use it as a guide!
Some of the nights were included in the safaris I took, so I'll list those in the Safari section.
Dar es Salaam
I spent 4 nights in Dar es Salaam altogether, on 4 different occasions, staying at 3 hotels. There are a couple of backpacker type places in the city, but not many. The best ones tend to be out of the city by the beach. I needed to be by the ferry and bus terminals for my onward travel, so for ease, I stayed hotels, rather than the real budget places.
Rainbow Hotel: This was my least favourite, the staff were nice and all, and the room was clean but it was a bit old and scruffy compared to the other hotels I stayed in. But it was only a 5 minute walk from the ferry terminal, so it was really convenient (£32 for 1 night).
ABC Travellers Hotel: This was a nice hotel, right near to Kariakoo Market so relatively easy to find on a dala dala mini bus from the small Mwenge bus station (where the dala dalas from Bagamoyo come and go from). It was about 20 minutes from here by bus to the main bus station (Ubungo) to catch a bus to Arusha (£31 for 1 night).
Tanzanite Executive Suites: This was by far the best hotel, really clean, modern, good food (good pizza), good wifi. Near(ish) to ferry (£100 for 2 nights – shared cost).
If you are looking for more budget options try: Econo Lodge and The Slow Leopard (central) or Mikadi Beach and (out of the city).
Stone Town, Zanzibar
Emerson Spice: This boutique hotel is normally rated the best hotel in Stone Town on Tripadvisor, so it isn't cheap. But it is gorgeous so if you can afford, stay there! (£180 for 2 nights – shared cost).
Kendwa, Zanzibar
Kendwa Rocks Room 1: Nice room, with own bathroom. Kendwa Rocks is where the party is at on a Saturday night in Zanzibar and as a result they put the prices up a little. They don't advertise it widely, and I don't think you can book online, but they do have dorms for around £10 a night (£93 for 3 nights).
Kendwa Rocks Room 2: Really nice room (£129 for 2 nights – shared cost).
Paje, Zanzibar
New Teddy's, Zanzibar: This is a nice little place, but I thought the room was expensive for what we got. We had a banda with no bathroom. But the breakfast is nice and the bar staff are cool (£58 for 1 night – shared cost).
Bagamoyo
Moyo Mmoja Guesthouse (£52 for 4 nights): This is a very basic guesthouse, no bar, no hot water, a basic kitchen and you get your water from the kiosk round the corner. It was a lovely little place though and I really enjoyed my time there.
Arusha
Arusha Backpackers (£6 for 1 night): Arusha has a few hostels, so I was happy to save me some cash. The hostel is ok, nice bar/restaurant, very basic rooms and showers. The only thing about this place, is that it's right in town and the dala dalas start honking their horns at about 5am, so if you're a light sleeper – bring ear plugs.
We also stayed at Masai Camp for 2 nights as part of our Absolute Africa safari. But we were camping, so I'll include that in the safari costs as the overland companies will have a different rate. It is A LOT quieter than Arusha Backpackers, although they do have parties sometimes, so it could get loud if there are lots of overlanders.
Nairobi
Milimani Backpackers (£25 for 3 nights): I love this hostel. Randomly they moved location when I was there and it's now located in the suberb of Karen, near to the David Sheldrick Wildlife Trust and the Giraffe Centre. It's on the right side of town to get out towards the Masai Mara, avoiding the awful Nairobi traffic.
Wildebeest Eco Camp Room 1 (£135 for 2 nights): This was Matt's first night so we splashed out on a fancy static tent on the first night, and a less fancy (but still pretty awesome) room the second time we were there after Masai Mara. This is a lovely place to stay. Shared cost.

Masai Mara
Mara Explorers Camp Room 1 (£150 for 5 nights – all meals included): One of my absolute favourite places. This was a dorm tent with a shared seperate bathroom. All meals are included in the price, so the room works out really cheap!
Mara Explorers Camp Room 2 (£111 for 2 nights – all meals included): This was an en-suite tent and we were full board, so 3 meals per day. Shared cost.
---
---
Transport: £187.50
There were a few big transport costs, then a few little miscellaneous ones. Local mini busses are super cheap. Literally a couple of dollars for a journey that lasts approx 1.5 hours.
Zanzibar Ferry: Return ferry to Stone Town from Dar es Salaam is $35 each way for a non-resident (approx £45 or $70 return).
Taxi to Masai Mara from Nairobi: Return taxi to Masai Mara from Nairobi was approx $100, arranged by Mara Explorers Camp (approx £64). I shared this with Matt so I paid £32. You can get a local mini bus from Nairobi – Narok, then Narok – Sekenani for much cheaper (but perhaps not as safe or comfortable).
Coach to Arusha from Dar es Salaam: Bus between Dar es Salaam and Arusha 30,000 TSH each way so I paid approx £20 for the return. This journey is pretty crappy – I'd fly next time.
Shuttle Bus to Nairobi from Arusha: $20 (approx £12).
Taxi to The Rock: Return taxi from New Teddy's in Paje to The Rock: $30 return. Shared so I paid approx £10.
Taxi Stone Town to Paje then Paje to Kendwa: $70 (approx £45). Shared so I paid £22.50. We used the same guy so he gave us a deal. Share taxis are cheaper.
Share taxi from Kendwa to Stone Town: $10 one way (approx £6).
Other: Small taxi journeys in Nairobi, Dar es Salaam and Arusha, airport transfers, busses in Dar es Salaam, piki pikis (motorbikes) or bajajis (mini tuk tuks) in Bagamoyo – approx £40 altogether. Quite a few of my transport costs were covered by the safaris.
Safaris: £893
Ambsoseli National Park
Karibu Safaris in Kenya (£258 for 2 nights, 3 days): These guys were my saviour when my original company cancelled on me the day before I was supposed to go and Amboseli is one of the more difficult safaris to go on, especially if you are on your own and want a budget safari. But it is one of the most beautiful, lying at the base of Kilimanjaro, so I was desperate to go.
This safari was at the very cheapest end of the scale. This included all my meals (not drinks), and an afternoon safari, and a full day safari. We stayed at Kimana Tented Camp which was pretty basic. To stay somewhere nicer, the price tends to jump up a bit. There were 3 of us on this tour, but had there been more, we could have got it cheaper.
Masai Mara
Mara Explorers Camp (£80 x 1 day): I was already staying at the camp full-board, and they took us out on a Masai Mara safari in the Landcruiser for the day. This is a really great budget option, especially if there's a few of you! I shared this cost with Matt so I just paid £40. My accommodation and transport costs are already captured above.
Best few days ever!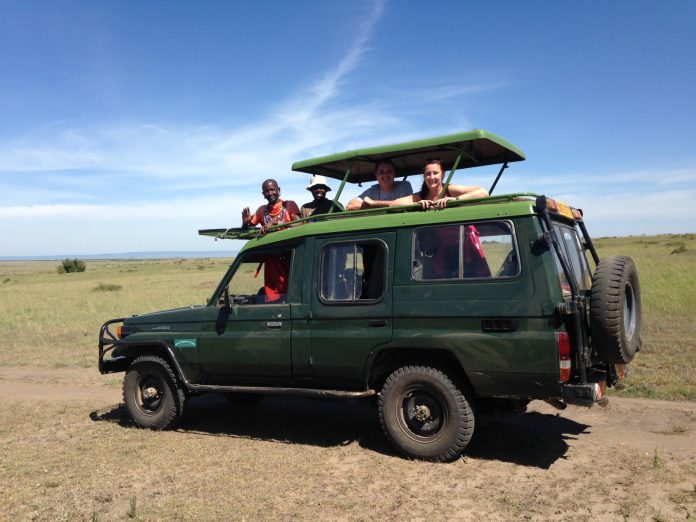 The Serengeti & Ngorongoro Crater
Absolute Africa (£595 pp for 4 nights, 5 days): Safaris are never super cheap but the Absolute Africa one of the cheaper ones I've found, plus I like the company and have used them before. This starts and ends in Nairobi, although we just hopped off at Arusha and missed the last drive day. It's usually part of a longer tour and you join for part of it. Breakfast and dinner is included, and lunch is included when you are in Serengeti and Ngorongoro Crater. On the drive days, you buy your own. We saw so many lions!
For reference, a high end safari quoted me over $3500 for 4 nights for 1 person  – yikes.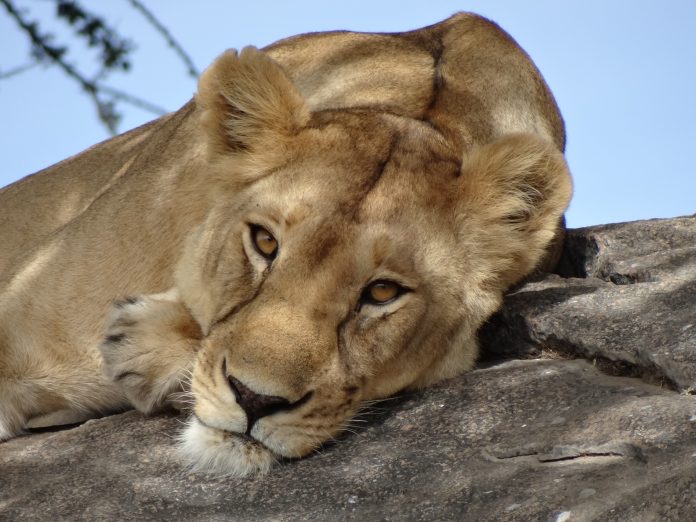 Activities: £98
There are tons of activities you could  do on this trip (other than safaris) –  snorkelling/diving in Zanzibar etc, so you could spend a lot more, but these are the ones I did.
David Sheldrick Wildlife, Giraffe Centre and Kazuri Bead Factory tour in Nairobi: £20.
Walk with George the Maasai at Mara Explorers Camp: £6.50 ($10).
Maasai village tour in the Serengeti: £6.50 ($10).
Stone Town tour with Farid in Zanzibar: We only had 2 days in Stone Town, and I wanted to learn as much as possible. This tour was great! £10 (shared cost £20/$30 for two of us).
Sunset cruise (alcohol included) in Kendwa: £20 ($30).
Mount Suswa: I also spent a couple of nights camping up Mount Suswa with friends, but they provided all the equipment etc, I just paid for my entry and camping fees and a little bit of food – about £35 altogether.
---
---

Food and Drink: £340
Food in Africa can be as cheap or as expensive as you like. Some of my food was covered by the safari companies and I was full board at Mara Explorers Camp, so those costs are covered and I won't include them. However, here's an indication of what I spent elsewhere.
If you eat local foods from street vendors or cafes (ugali, rice and beans, chips mayai, massala chips, chapati or samosa, nyama choma, Zanzibar pizza etc) you could spend as little as £3 a day. But if you go to restaurants, then you could spend up to £40.
Drinks follow the same pattern. International branded spirits, wines and cocktails are more expensive options than local beer (Tusker, Kilimanjaro, Serengeti), sodas, water and local spirits like Konyagi.
You'll know how much you eat/drink, but I reckon I averaged around £10 – £15 a day on the days I didn't have food included in my safaris. Just don't do what I did and accidentally order a £50 bottle of wine at Carnivore in Nairobi. I won't put that in the budget, because that is just plain stupid. Oops.
Miscellaneous: £135
Internet: Some places have free WIFI, other you have to pay around 3000 TSH for 30 mins. I spent approx £10.
Souvenirs: There's no shortage of Maasai bracelets, kanga bags, paintings, wooden carvings and other African trinkets you can bargain for, I spent approx £50.
Tips: Tipping is not mandatory, but is very appreciated. Budget a bit, especially for your safari guides/cooks and perhaps in some restaurants, I spent approx £70.
Phone: I bought SIM cards in Tanzania and Kenya for about £0.70 – £1 and as I was only texting, no using data, I spent around £5 in total the whole time.
Total for 5 weeks in Kenya and Tanzania = £2,464
I hope this helps with your Africa budgeting! Seems expensive compared to Asia for instance, but I did 3 safaris and stayed in nice places (most of the time). Kenya and Tanzania can be as budget or high end as you like. I'll also do a budget for my longer 6 month trip (volunteering, overland, Kilimanjaro and independent travel) soon so you can compare. If you have any more questions, write them in the comments and I'll get back to you asap!
If you want to read about my 6 month Africa travel budget, click here!