Planning a trip to Africa? Well you've come to the right place. I absolutely LOVE the planning side of travel. In fact, I think I love it almost as much as actually travelling. Well, maybe not quite that much! But I do love it!
I've been travelling to Africa for around 8 years now and the whole reason this site exists, is to help others do the same. So here are a few of my favourite resources to help you plan your own amazing and life-changing trip across the African continent!
This Africa planning resources page includes all kinds of information, from how to get around, to suggestions on where to sleep, what to pack and how to look after your health when you travel. It's a work in progress and as I discover new cool places, hotels, apps and products to help you travel Africa, I'll add them to the list!

Useful Posts
Have a read of some of these posts, which you may find useful for general info on travelling in Africa.

Money
Trying to budget for your trip can be a bit daunting and it does very much depend on your style of travel and level of comfort. To help you budget, have a look at my Africa planning post and below you will find a list of my favourite resources for managing your money in Africa.

Flights
Flights to Africa aren't always as expensive as people think they are, especially if you can be a little bit flexible on your dates.
Skyscanner – I pretty much always use Skyscanner to find the best flights. I usually play about with the dates a little, to get the best deals. You can also set up flight alerts.

Trains
Train travel in Africa is one of my favourite things to do and a great insight into life in this fascinating continent. I always think it's a shame that the rail network isn't more extensive as it would be amazing!
The quality of the trains vary wildly, from the fancy Blue Train in South Africa, to the rickety Tazara train that runs between Zambia and Tanzania – but it's always an adventure!

 Buses
Buses in Africa vary greatly! There are little public mini buses you pick up around town, bigger coaches that are good for long distances and hop-on, hop-off tourist buses. The companies below are the ones that I've found to be pretty reliable and good for long distance journeys.
A lot of buses are best booked in country, maybe a few days before or you can go through a booking agent. Many hotels and safari operators can also help you with bus tickets for a small fee.
Don't be worried about bus travel in Africa, there is almost always a way to get where you need to go.
East Africa
Southern Africa
Intercape – A reliable bus company that operates in South Africa, Namibia, Botswana, Mozambique, Zimbabwe, Zambia and Malawi.
Baz Bus – Hop-on, hop-off backpacker buses in South Africa.
General Info
Rome2Rio – Let's you search for all different types of travel across Africa (and everywhere else in the world).

Small Group Tours
In 2016, I started my own small group African adventure tour company called Rock My Adventure.
Our aim is to literally 'rock your adventure' and each trip has been designed to make sure you have an amazing experience on your trip to Africa by creating an epic itinerary at an affordable price but without the stress of planning, booking and organising everything yourself.
Rock My Adventure trips are perfect for those who want to make the most of their limited time, for those who want the experience of backpacking but want someone else to do all the work or those who want to travel with a group of likeminded new friends.
We have trips running in Kenya, Tanzania, Rwanda, Uganda, DRC, Malawi, Zambia, Botswana, Namibia, South Africa, Swaziland, Mozambique and Morocco!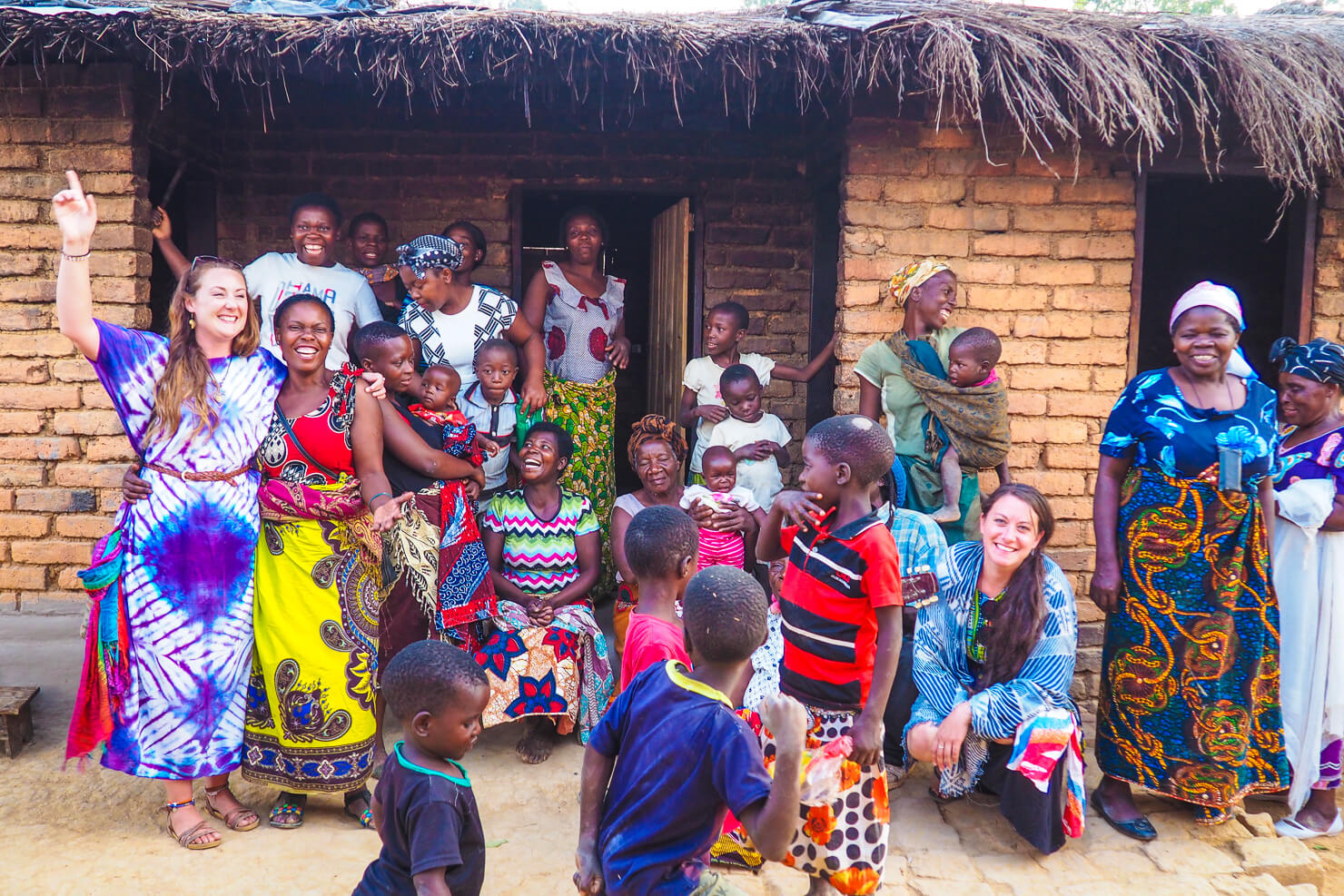 Overland Tour Companies

Safaris
Finding your perfect safari can be a little tricky. Hardly any safari companies (that I've found anyway) state their prices on the website. It's usually a process of collecting quotes (which can be a bit of a pain) or using an agent to do so.
The prices vary wildly for safaris based on method of travel, number of people and type of lodgings. For instance, for a 3-day safari in the Serengeti/Ngorongoro Crater, you're looking at a minimum of $500 for budget camping, $900 – $1,500 for mid-range and $1,500 + for high-end.
SafariBookings.com – this is a great resource for finding a safari to suit your needs without searching for hours on Google. You can search by country, number of days, cost etc. They have expert reviews and consumer reviews. You still need to contact the companies for quotes, but, it does help to narrow don the initial search!
I usually cross-reference any of the reviews from Safribookings.com with Tripadvisor, you know, just to make sure!
Or you could have a look at the below some of the individual companies (ones that weren't part on an overland tour) that I have used previously and highly recommend.
Kenya
Tanzania
Shemeji Safari & Tours – These guys do safaris throughout Tanzania and 15% of the profit goes to support Maasai women and girls.
Uganda
Amagara Tours & Travel – Owned by the guys that run Byoona Amagara on Lake Bunyoni, they run tours all over Rwanda and Uganda.
Malawi
Malawi & Zambia

Accommodation
In the major towns and cities it's usually pretty easy to find accommodation, however, finding good and reasonably priced places can be tricky and many of the good places fill up pretty quickly, especially during the high season, so it is advised to book in advance. If you're overlanding and camping, this is less of a problem, but I still suggest you at least call ahead.
There are also a lot of places that you won't find on any booking sites, so traveller or local are often the best for this or good old Google. Ask at any bar, in any campsite or lodge, in any part of Africa and someone will be able to point you in the right direction.
To help you along, I've listed my favourite booking sites here and a few of my favourite places to stay in the section below.

Hotels, Lodges, Hostels & Campsites (I Really Love)
I love finding great places to stay in Africa, because I think that where you stay is a really important part of the travel experience.  I like my accommodation to be a home away from home and I spend hours and hours looking for the right place – just call me the Goldilocks of accommodation.
I generally look for places that are cool and quirky, clean, have character, welcoming, eco-friendly, have a good common area or bar, great value for money and well-situated (either in the heart of the action or with an amazing view).
I've stayed at some great places during my years of travelling around Africa (I've also stayed at some rubbish places too), so to save you all the hard work, here are a few of my favourites to get you started. I've stayed at most of the places below and others are those that I arrange for my clients – but all have the Helen in Wonderlust seal of approval.
This list is not extensive, but I'm working on it and I'll keep adding to the list as I discover new amazing places!
Botswana
Kenya
Malawi
Kiboko Town Hotel (Lilongwe) – Really nice hotel in the centre of Lilongwe. I used to come here to work (good WiFi) and they have a nice restaurant.
Mvuu Camp (Liwonde National Park) – I stayed here with one of my groups when I was working as a guide. Liwonde is beautiful and whilst Mvuu is upmarket, they also have space for camping so it can be very reasonable. They also have a pool and warthogs running around. Mvuu means hippo in Chichewa, on of Malawi's main languages.
Mushroom Farm (Livingstonia) – One of my favourite backpackers in Africa, this is a beautiful eco lodge with amazing views over Lake Malawi.
Fisherman's Rest (Blantyre) – I stayed here for about a month when I was working in Malawi and it was such a lovely, serene beautiful environment.
The Funky Cichlid (Cape Maclear) – Named after the fish found in the lake (pronounced sic-lid), this is an awesome hostel right on the lake.
Fat Monkeys (Cape Maclear) – Really fun backpacker place in gorgeous Cape Maclear.
Domwe & Mumbo Island (Cape Maclear) – Any fancied playing Robinson Crusoe on your own private island? I've only stayed on Domwe, but it was amazing! Like being a pirate.
Namibia
Rwanda
South Africa
Tanzania
The Secret Garden (Moshi) – I kind of don't want to even tell you about this place because it's so lovely and I want it to stay secret, but that wouldn't be fair would it?
More Than a Drop (Moshi) – This is an amazing guesthouse and social enterprise. Love love love this place!)
Masai Camp (Arusha) – Basic but fun camp, popular with overlanders and backpackers.
Onsea House (Arusha) – Beautiful place, at the higher end of the scale. Even if you don't stay here, perhaps go for a meal.
Arusha Coffee Lodge (Arusha) – One of the loveliest places to stay in Arusha. It's not cheap though, so
Drifters Lodge (Pangani) – If you're looking for somewhere to stay in Pangani that's nice but reasonably priced, then Drifters is a great choice.
Pangani Cliffs Lodge (Pangani) – This is a great mid-range option, for those who want a little extra but don't want to break the bank.
The Tides Lodge (Pangani) – If you're looking for somewhere a bit fancier, then The Tides Lodge is a great choice, right on the beach with beautiful rooms and pool area.
Firefly (Bagamoyo) – This is a cute guest backpackers, perfectly situated in the main part of town, near the beach and close to Poa Poa restaurant. One of my favourite backpackers in Africa.
Moyo Mmoja (Bagamoyo) – A great budget option, nothing fancy and there's no restaurant or pool, but staying here you'll feel part of the community. This is just round the corner from where I lived at Baga Point (where you should go for a beer from a container). You'll often find long-term travellers here and NGO workers, so you're bound to make local friends.
The Slow Leopard (Dar es Salaam) – Clean and modern dorms and they have great food and a popular bar. In a great location!
Uganda
Zambia
Zanzibar
Emerson Spice Hotel (Stone Town) – One of the loveliest hotels I've ever stayed in and very Zanzibari. Lovely rooftop restaurant.
Dhow Palace Hotel (Stone Town) – A good, mid-range hotel.
Kendwa Rocks (Kendwa) – Great for solo travellers and home to the fanous Full Moon Party.
Red Monkey Lodge (Jambiani) – Beautiful beach lodge in Jambiani. The place to be on a Monday night.
Upendo Zanzibar – Super cool and beautiful villa lodge in Michamvi, facing The Rock Restaurant.
Fumba Lodge (Fumba) – Perfect place for honeymooners in the south of the island.
Flame Tree Cottages (Nungwi) – Really lovely mid-range property, a great little haven.
Butiama Beach (Mafia Island) – Not actually on the main island, but worth a mention! This is a gorgeous boutique hotel on Mafia Island.

Health & Safety
These sites offer a great starting point to ensure your health is protected whilst travelling in Africa. I go into detail my post, My Top Africa Travel Tips however, I strongly advise that you seek the advice of your doctor or a specialist travel clinic before you travel to Africa to ensure you are covered for everything.
Safety
General Health
World Health Organisation – The major authority on travel health everywhere in the world.
The Travel Doctor – Lot's of useful information for what vaccinations and medications you may want to consider, by country or region.
Nomad Travel Clinic – This is where I go to get my injections in the UK (well the ones I can't get free from my doctors).
Malaria
Yellow Fever

Travel Insurance
It's so important that you have travel insurance when travelling through Africa to ensure you are covered in case of emergencies. Before you buy insurance, have a quick read through my guide on how to buy travel insurance for high risk destinations and activities.
World Nomads – These guys offer a great range of travel insurance for all of your adventurous, overland and backpacking needs.

Volunteering
Finding a good and worthwhile volunteering project can be a bit tricky, so here's a few suggestions.

Visas
You can obtain most visas for East, Southern and North Africa on arrival at the border or airport, however there are always exceptions to the rule. Most West African visas should be obtained in advance. To check on the latest situation in the country you are visiting you can check out these links, if in doubt check with the local embassy in your country.
Just always make sure you have 6 months left on your passport and enough free pages to get you through your trip.

Navigation
Maps.me – Great offline maps app, useful for when you are in the middle of nowhere.
Google Maps – I pretty much always use Google maps to plot my routes.

What To Pack
Here are my top tips for what to pack to ensure you have a fun, comfortable and prepared trip to Africa!
What to Pack for Backpacking in Africa – A general packing list for all Africa travel, will work for men or women (boys you can decide if you take a bra or not, the roads are pretty bumpy).
Kilimanjaro Packing List – When climbing Kilimanjaro it's good to be prepared. Even if you don't read the packing list, take these tips; wear in your boots, bring plasters and spare socks, drink lots of water, have a warm sleeping bag and go 'pole-pole' (slow in Swahili).

Photography Gear
Having a good camera is really important (well it is to me anyway). On my first trip to Africa, I took a tiny point and shoot. I soon realised that wasn't going to cut it. So I bought a better one, which my parents sent out to me. Then it broke! Devastated. Hence why I have very few Southern Africa pictures on my site.
I've since had a few cameras, and what I do know is that you don't need a fancy camera to get great pictures in Africa. But what you do need is a sturdy camera (one that handles dust, heat and cold well) and a good zoom.
I'd also recommend learning how to use your camera properly BEFORE you go, so maybe think about enrolling in a photography course if you are serious about getting great pictures. Just be aware that it's hard to get those shots you see in National Geographic because those photographers wait for days, sometimes weeks to get those amazing shots.
Below is a list of what I use, however, I really think that cameras are a personal choice, and you should always try before you buy so you know what you are getting into, even if you then buy online later.
Camera – I use an Olympus OM-D E-M10, which has served me well, however it's a few years old now and I am due for an upgrade to the Mark II version.
Standard Lens – Most of the time, you'll probably just use the standard lens that comes with your camera. Mine's 14 – 42mm.
Wide-Angle Lens – A wide angle lens isn't necessary, but it's great for indoor photography where you need to show space and also capturing big landscapes.
Telephoto Lens – I use this to help me getclose ups of all the animals when on safari.
Bridge Camera – Unless you are an avid photographer or blogger, you really don't need a fancy camera and 3 lenses. On my second long stint in Africa in 2012, I just had a Sony bridge camera and it took amazing shots. The zoom is incredible.
GoPro HERO4 – Again, not an essential but great to take white water rafting and bungee jumping and it's pretty Africa proof.
GoPro 3-Way Mount – The queen of selfie sticksthat also doubles as a tripod.
GoPro Remote – I have a remote for my GoPro which is really handy.
Lonely Planet's Guide to Travel Photography – If you don't go on a photography course before you go, this book is great resource to give you a bit of an understanding about the principals of travel photography and how to use your camera.
–

 Guide Books
Lonely Planet – I absolutely love Lonely Planet guides and travel with one pretty much everywhere I go!
Bradt – I also have a few Bradt guides too and find that they are really nice and detailed.

Groups & Forums
Backpacking Africa Facebook Group – I help to manage the admin on this group and it's always a great place to ask for recommendations for places to stay, safari companies, how to get around or find travel buddies. You'll find that there are a lot of well-travelled Africa lovers in this group so you'll usually get the help you need! I suggest you join immediately!

Cool & Useful Apps

Books About Africa
I love all things African, so it should come as no surprise that I like to read all things African too. Here's a few of the books that have kept me going, both on long African bus journeys and also during my time away from the continent.
Botswana
Democratic Republic of Congo
Ethiopia
Kenya
Malawi
Morocco
Nigeria
Rwanda
Sierra Leone
South Africa
General Africa

Films & Documentaries About Africa
Botswana
Kenya
Morocco
Rwanda
Sierra Leone
South Africa
Sudan/South Sudan
Uganda
General Africa
If you find this page useful, please share or pin for later!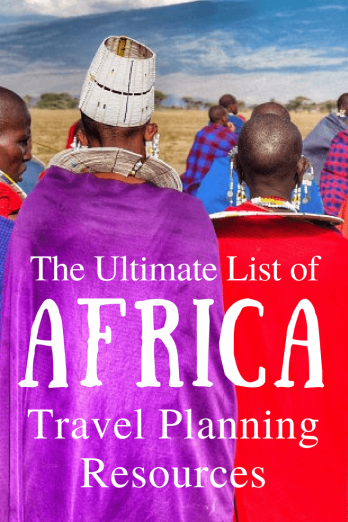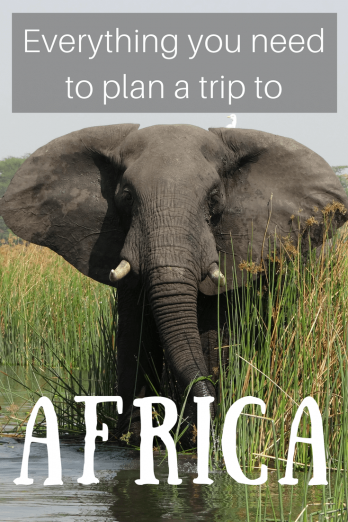 And if you have any questions, don't hesitate to ask in the comments below!
---
Please Note: Some of the links in this post are affiliate links, which will earn me a small commission at no extra cost to you. I only recommend products/services I really love. Affiliate sales help with the running costs of this site, so thank you for your support!