Planning a trip to Africa? Well you've come to the right place. I absolutely LOVE the planning side of travel. In fact, I think I love it almost as much as actually travelling. Well, maybe not quite that much! But I do love it!
I've been travelling to Africa for around 8 years now and the whole reason this site exists, is to help others do the same. So here are a few of my favourite resources to help you plan your own amazing and life-changing trip across the African continent!
This Africa planning resources page includes all kinds of information, from how to get around, to suggestions on where to sleep, what to pack and how to look after your health when you travel. It's a work in progress and as I discover new cool places, hotels, apps and products to help you travel Africa, I'll add them to the list!
---
General Africa Information
I'm going to start with a few of my own posts that you may find useful when planning your Africa trip.
---
Africa Travel Itineraries
I love a good itinerary (even if I don't always stick to it) as I find that these act as a good framework and give me some ideas. More coming soon!
---
Money
Trying to budget for your trip can be a bit daunting and it does very much depend on your style of travel and level of comfort.
---
Getting Around
Flights
Flights to Africa aren't always as expensive as people think they are, especially if you can be a little bit flexible on your dates. I usually compare deals on the following sites:
Trains
Train travel in Africa is one of my favourite things to do and a great insight into life in this fascinating continent. I always think it's a shame that the rail network isn't more extensive as it would be amazing!
The quality of the trains vary wildly, from the fancy Blue Train in South Africa, to the rickety Tazara train that runs between Zambia and Tanzania – but it's always an adventure!
Buses
Buses in Africa vary greatly! There are little public mini buses you pick up around town, bigger coaches that are good for long distances and hop-on, hop-off tourist buses. The companies below are the ones that I've found to be pretty reliable and good for long distance journeys.
Most of the buses are best booked in country (and it's cheaper that way), maybe a few days before or you can go through a booking agent. Many hotels and safari operators can also help you with bus tickets for a small fee.
---
Group Tours
In 2016, I started my own small group African adventure tour company called Rock My Adventure.
Our aim is to literally rock your adventure and make sure you have an amazing experience on your trip to Africa, by organising an epic and culturally immersive itinerary, at an affordable price but without the stress of planning and booking everything yourself.
Rock My Adventure tours aren't typical 'tours'. They're laid-back group trips but also with some free time to explore and do your own thing – the best of both worlds!
Rock My Adventure tours are for suitable for everyone – women, men, solo travellers, groups of friends and couples – everyone is welcome!
We have trips running in Kenya, Tanzania, Rwanda, Uganda, DRC, Malawi, Zambia, Botswana, Namibia, South Africa, Swaziland, Mozambique, Morocco and Sierra Leone!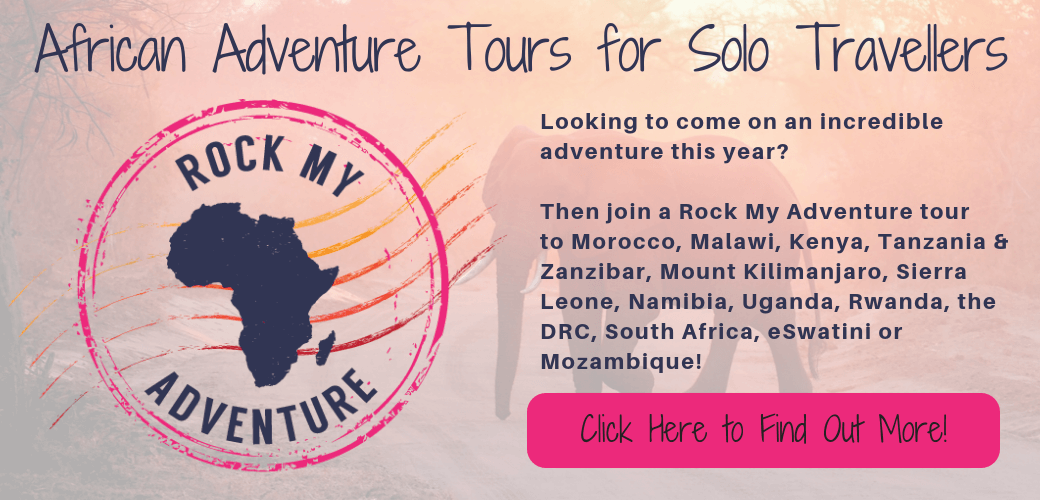 ---
Overland Tours
---
---
Safaris
Finding your perfect safari can be a little tricky. Hardly any safari companies (that I've found anyway) state their prices on the website. It's usually a process of collecting quotes (which can be a bit of a pain) or using an agent to do so.
The prices vary wildly for safaris based on method of travel, number of people and type of lodgings. For instance, for a 3-day safari in the Serengeti/Ngorongoro Crater, you're looking at a minimum of $500 for budget camping, $900 – $1,500 for mid-range and $1,500 + for high-end.
SafariBookings.com: This is a great resource for finding a safari to suit your needs without searching for hours on Google. You can search by country, number of days, cost etc. They have expert reviews and consumer reviews. You still need to contact the companies for quotes, but, it does help to narrow don the initial search!
Tripadvisor: I usually cross-reference any of the reviews from Safribookings.com with Tripadvisor, just to make sure!
---
Accommodation
Accommodation in Africa is a tricky one.
During the high season (between July and October, Christmas and New Year and during special events) a lot of the best places book up, so I always advise to book in advance if you can.
If you're camping, this is less of a problem as there's usually always space to pitch a tent, but I still suggest you at least call ahead to be sure.
There are also a lot of places that you won't find on any booking sites, so traveller or local are often the best for this or good old Google. Ask at any bar, in any campsite or lodge, in any part of Africa and someone will be able to point you in the right direction.
To help you along, I've listed my favourite booking sites here and a few of my favourite places to stay in the section below.
---
Hotels, Lodges, Hostels & Campsites (I Really Love)
I love finding great places to stay in Africa, because I think that where you stay is a really important part of the travel experience. I like my accommodation to be a home away from home and I spend hours and hours looking for the right place – just call me the Goldilocks of accommodation.
I generally look for places that are cool and quirky, clean, have character, welcoming, eco-friendly, have a good common area or bar, great value for money and well-situated (either in the heart of the action or with an amazing view).
I've stayed at some great places during my years of travelling around Africa (I've also stayed at some rubbish places too), so to save you all the hard work, here are a few of my favourites to get you started. I've stayed at most of the places below and others are those that I arrange for my clients – but all have the Helen in Wonderlust seal of approval.
This list is not extensive, but I'm working on it and I'll keep adding to the list as I discover new amazing places!
Botswana
Kenya
Malawi
Namibia
Rwanda
South Africa
Tanzania
Uganda
Zambia
Zanzibar
---
Health & Safety
These sites offer a great starting point to ensure your health is protected whilst travelling in Africa. I strongly advise that you seek the advice of your doctor or a specialist travel clinic before you travel to Africa to ensure you are covered for everything.
Safety
General Health
Malaria
Yellow Fever
---
Travel Insurance
It's so important that you have travel insurance when travelling through Africa to ensure you are covered in case of emergencies. Just make sure you read the small print! I tend to switch between a few different companies for my travel insurance, depending on my needs:
---
Visas
You can obtain most visas for East, Southern and North Africa on arrival at the border or airport, however there are always exceptions to the rule. Most West African visas should be obtained in advance. To check on the latest situation in the country you are visiting you can check out these links, if in doubt check with the local embassy in your country.
Just always make sure you have 6 months left on your passport and enough free pages to get you through your trip.
---
What To Pack
Here are my Africa packing lists to ensure you have a fun, comfortable and prepared trip to Africa! Includes clothes, electrical equipment, toiletries and more!
---
Guide Books
---
Groups & Forums
---
Cool & Useful Apps
---
Books About Africa
I love all things African, so it should come as no surprise that I like to read all things African too. Here's a few of the books that have kept me going, both on long African bus journeys and also during my time away from the continent.
Botswana
Democratic Republic of Congo
Ethiopia
Kenya
Malawi
Morocco
Nigeria
Rwanda
Sierra Leone
South Africa
General Africa
---
Like this post? Pin it for later!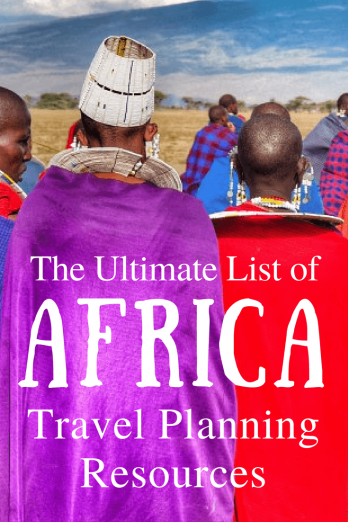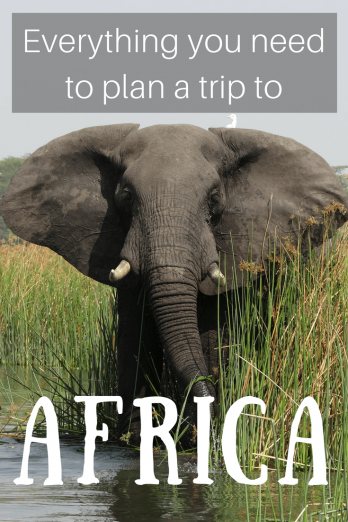 I hope you have a fantastic and well prepared trip to Africa! If you have any suggestions for other resources that may help your fellow Africa travellers, please leave them in the comments below.
---
Please Note: Some of the links in this post are affiliate links, which will earn me a small commission at no extra cost to you. Affiliate sales help with the running costs of this site, so thank you for your support!