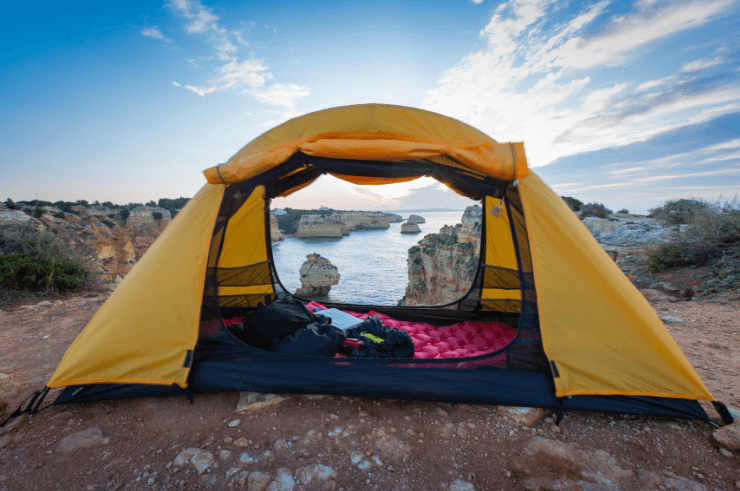 I'm super excited to be partnering with Field.Work to help raise awareness for their new Bwindi Field Tent, which launches on IndieGoGo today!
This is a new and exciting product that I am super passionate about and 100% happy to recommend.
Meet the Bwindi Field Tent
Introducing the wonderful Bwindi Field Tent, a one man, self-standing indoor mosquito net that converts to a 3-season outdoor expedition tent.
The tent is purposely designed for international travellers, aid workers and field researchers who are travelling and working in areas of the world at risk from potentially life-threatening insect-borne diseases such as malaria and dengue fever.
Creator Jordon Kuschminder came up with the idea after contracting dengue fever whilst working in a remote part of Rwanda.
Indoor Mosquito Net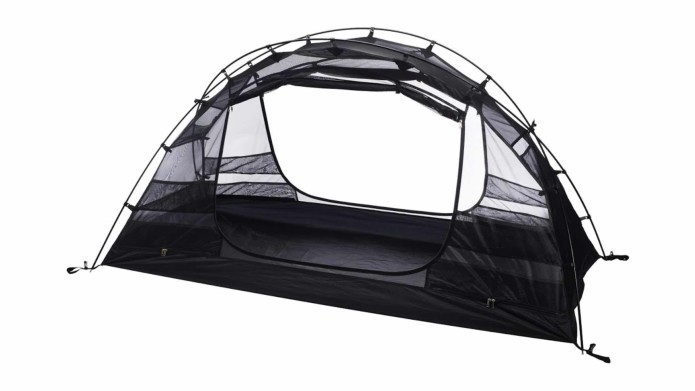 Outdoor 3-Season Tent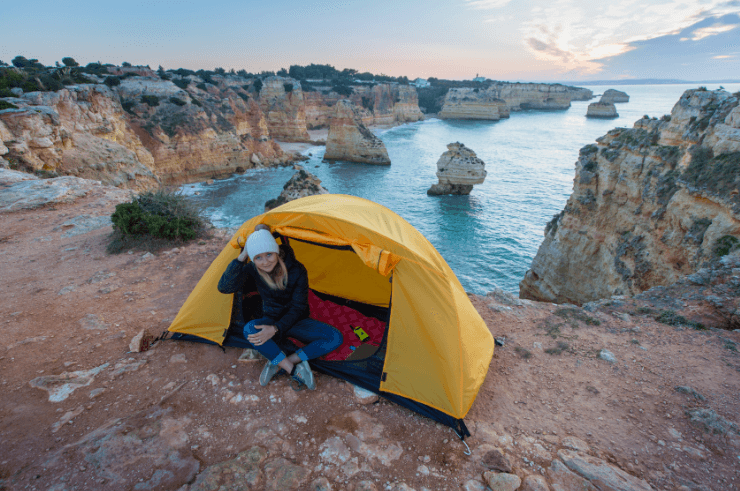 Features
There are so many great features to the Bwindi Field Tent and I know you're going to absolutely love it!
Lightweight and Compact
Firstly, the tent is super lightweight, which is very important, especially when you are moving around and carrying your bag on your back. The total weight is only 2.2kg.
It's also tiny. Take a look at the packed size next to an iPhone 6 Plus – pretty small right? It fits comfortably into a carry-on bag with space to spare for all your other essentials, meaning you don't have to carry around a huge backpack if you don't want to.
Having to carry something too heavy or big will drive you CRAZY! And the poles are even cut to a shorter than standard length to fit your bag. This is the perfect solution!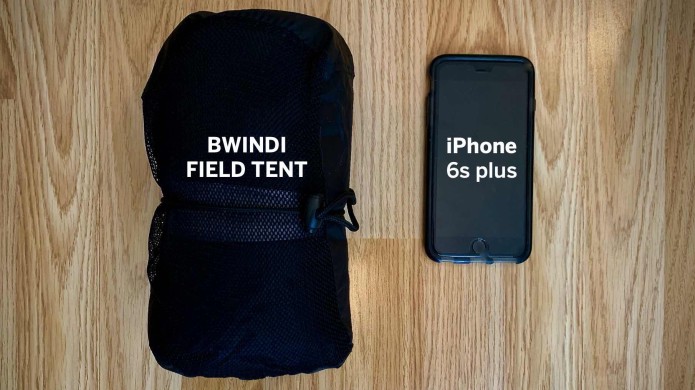 Bigger Than the Average One-Man  (or Woman) Tent
The tent is slightly bigger than normal one-man tents to ensure there's room for your stuff and you can stay away from the sides of the tents where
Plus, it's also self-standing which means you don't need to hang it from anywhere and it creates a space between you and the net.
If any of you have slept under a badly hung mosquito net, you will know how irritating it is when it drapes over you whilst you sleep, making you feel hot and bothered, claustrophobic and offering pretty much no protection whatsoever.
Think of it this way, if a mosquito net is sitting right on you, then the mosquitos can easily land on you/it and then bite straight through the holes. You don't have to worry about that with the Bwindi Field tent.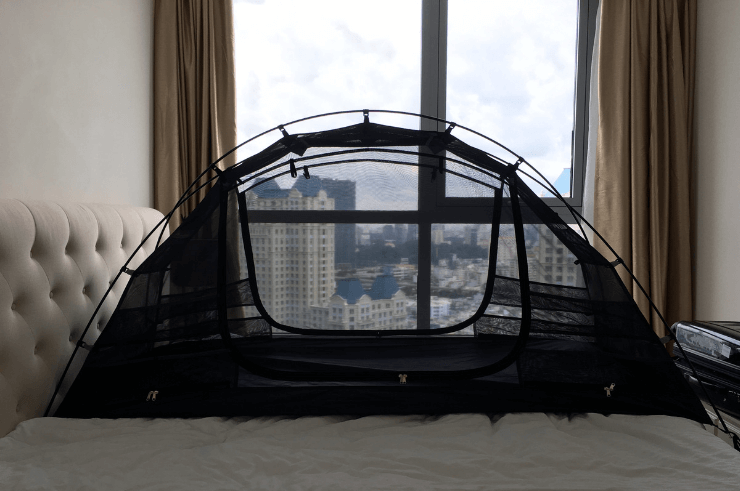 Indoor & Outdoor Use
In developing countries, you'll often find that the rooms don't have don't always have mosquito nets on the beds.
The Bwindi Field Tent can be used indoors, so you can get a good nights sleep whilst knowing you are safe and protected. Plus, you won't get mozzies buzzing around your ears which is possibly the most irritating thing in the world!
Just add the fly sheet to convert your mosquito net to a wind, and rainproof 3-season tent!
Lots of Storage
When living in a small space, having places to store your stuff is imperative. If you need your headtorch for a midnight trip to the toilet, it's good to know exactly where it is, instead of hunting around in the dark.
The Bwindi Field Tent has 18 pockets (wow), 22 attachment loops and a roof shelf where you can store your belongings. There are also 4 access zippers, allowing you to charge your things via plug sockets, whilst staying safe inside the tent.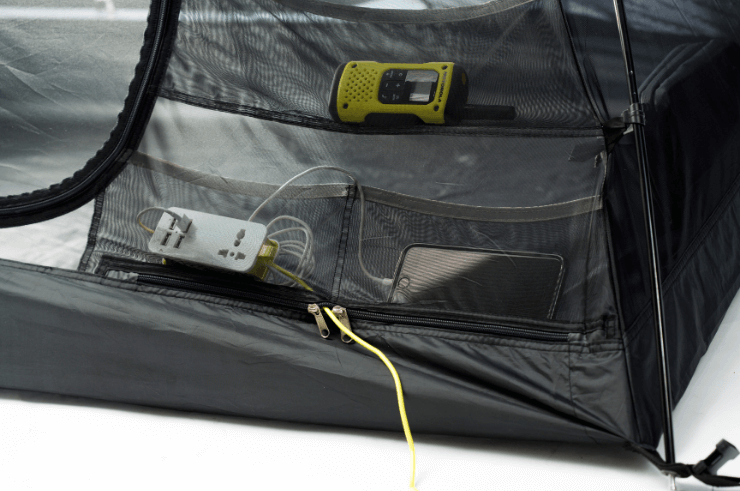 Easy to Set Up
I have absolutely no patience for overcomplicated things, which is one of the reasons I love this tent – it's easy to set up.
It's kind of like the traditional safari style tents in the way that it hooks up to the poles, but rather than heavy canvas, it's made from very lightweight but durable materials.
Perfect for Backpackers
The Bwindi Field tent is perfect for backpackers for many reasons as mentioned above, however it could give you absolute freedom and save you money – and that's what we all want as backpackers right?
Yes, the initial investment isn't cheap, however, camping in Africa is much cheaper than staying in hotels and hostels, so you can pitch up your tent be in the thick of the action, but at a reduced cost, saving lots of money in the long run!
Beds in hostels and hotels often get booked up in advance, but there's usually always space to pitch a tent, so this gives you the flexibility to move around without much of a plan, knowing there will usually always be a space for you wherever you go.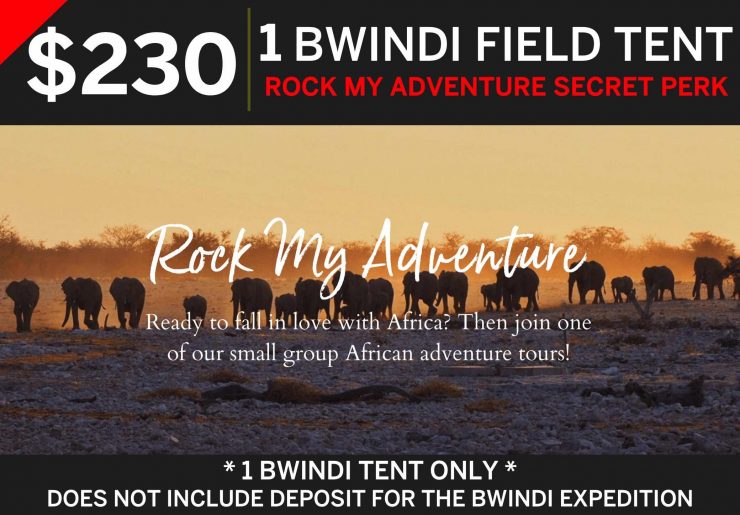 Essential Info 
The campaign runs from 21st May – 21st June 2019.
The Bwindi Field Tent will retail at  $385, however, Helen in Wonderlust readers can purchase the Bwindi Field Tent at the super early bird price of $230 – that's a whopping 40% OFF – whilst stocks last!
Or keep reading to hear about the incredible 'Super Perk' available for those of you who want to purchase a tent AND visit Rwanda, Uganda & the DRC with Rock My Adventure.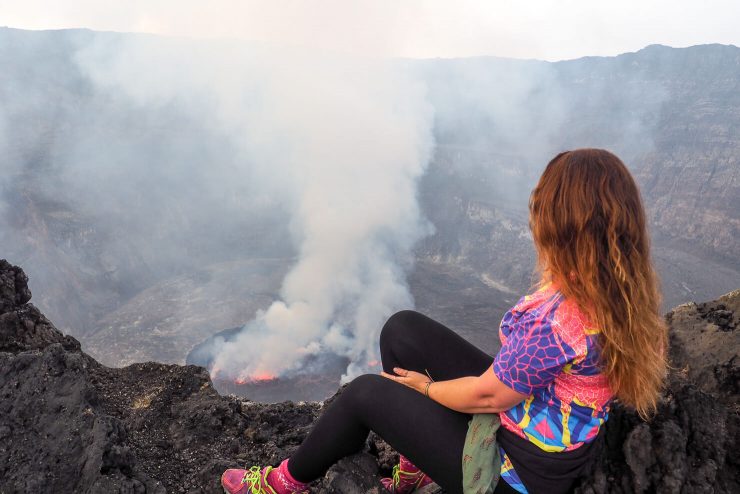 The Super Perk
As part of their launch, the makers of the Bwindi Field Tent are offering you a chance to join their Super Perk, 'Bwindi Expedition', an 11-day expedition through Rwanda, Uganda and the DRC with… Rock My Adventure!
This is going to be a fantastic trip taking place in January 2020.
Highlights include…
Gorilla Trekking in Bwindi Impenetrable Forest
Hiking Mount Nyiragongo in the Democratic Republic of the Congo
A 3-Day Expedition through the Rwenzoris aka 'Mountains of the Moon'
The Itinerary
Day 1: Arrival in Kigali, Rwanda.
Day 2: Take a tour of exciting Kigali, including the Kigali Genocide Memorial.
Day 3: Travel to Lake Kivu, close to the border with the DRC and overnight at a lakeside lodge.
Day 4: Trek to the top of Mount Nyiragongo in the DRC, to see the active lava lake. Overnight in huts at the top and feel the glow from the volcano (one of the most magical experiences of my life).
Day 5: Descend back down the mountain and travel back to Rwanda to relax and overnight at Lake Kivu.
Day 6: Travel to Bwindi Impenetrable Forest, Uganda and spend the night at Bwindi National Park
Day 7: Go Gorilla trekking, a once in a lifetime, magical experience. Relax back at the lodge in the evening.
Day 8: Travel north to the Rwenzori Mountains to get prepared for our trek.
Day 9 – 11: Take a 3-day trek through the Rwenzori mountains (aka the Mountains of the Moon), camping using the fantastic Bwindi Field Tent.
Day 11: Travel to the beautiful, island-studded Lake Bunyoni to relax by the lake.
Day 12: Take a boat tour of Lake Bunyoni,  travel back to Kigali and depart.
As part of the trip you will also be able to take part in optional mini-training events throughout the trip on topics such as travel safety, security, and photography.
The cost of the Bwindi Expedition will be $3,995 USD per person.
Included: Which includes a Bwindi Field Tent, all accommodation, meals, transport, airport transfers, guides, permits and scheduled activities.
Excluded: International flights into/out of Kigali, visas, medications, travel insurance, drinks/snacks.
To join the expedition, please visit the Bwindi Field Tent IndieGoGo for details on how to sign up.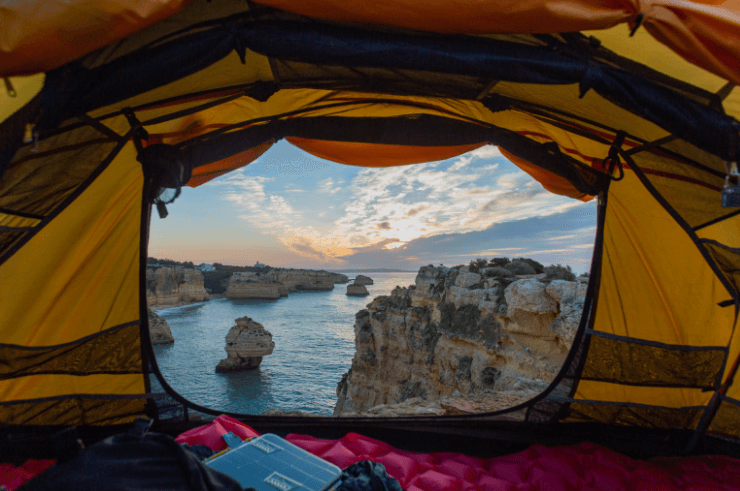 The Giveaway
The team at Field.Work have given me a Bwindi Field Tent to give away to one of my lovely readers!
How To Enter
All you need to do is enter is:
Go to the Rafflecopter box below.
Through the box below, visit the Helen and Wonderlust Facebook page (feel free to give us a like if you haven't already).
You will be asked to confirm you've visited us on Facebook, click 'YES' and you will be entered into the draw.
You can earn an additional entry by commenting below (just remember to tick the box to confirm that you have commented in the Rafflecopter box below). Without a comment, that entry will be void.
A winner will be picked at random on the 28th May 2019. Entrants must be 18 years and older. You can find full terms and conditions here.
We will contact you via email, however please check back here at the end of the contest!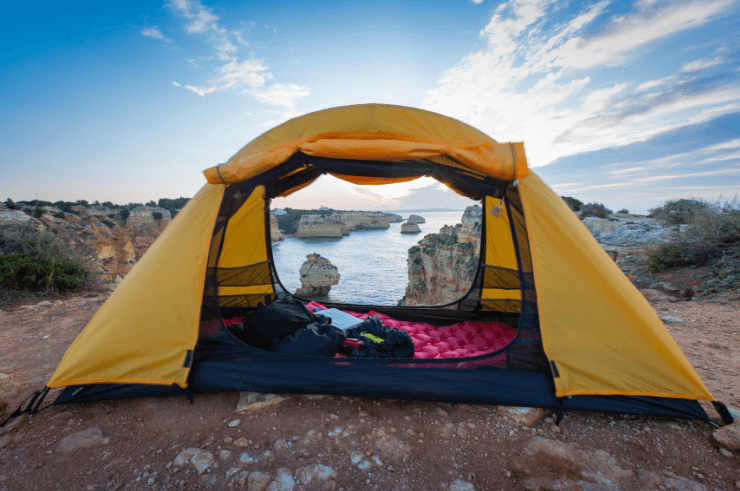 ---
Disclaimer: This is a sponsored post written by me in partnership with Field.Work, however I think the Bwindi Field Tent is a great product and all opinions are my own. Some of the links in this post are affiliate links, which will earn me a small commission at no extra cost to you. Affiliate sales help with the running costs of this site, so thank you for your support!