Join me on an epic adventure in Tanzania climbing Kilimanjaro, Africa's highest mountain!
Be part of something incredible and join the Rock My Mount Kilimanjaro Adventure expedition!
This is a group trek and anyone can join! We'll climb the mountain as a fearless team, cheering each other on and helping each other every step of the way!
You can also add on a safari to the Serengeti & Ngorongoro Crater where you will see the great wildebeest migration or combine your Kilimanjaro trek with the Rock My Tanzania & Zanzibar Adventure for the ultimate Tanzanian experience!
Let me show you a different side of Africa, not the Africa you see in the media but the adventurous, beautiful, wild and real Africa I know and love!
Tanzania is one of the most vibrant and beautiful places on the African continent, so be prepared for breathtaking landscapes, paradise beaches and all the animals from the Lion King.
Rock My Adventure is a small group Africa tour company for solo travellers, groups of friends and couples alike and for those who want to pack a lot into their limited (and precious) time.
The tours are culturally immersive trips created by me to show you a rounded portrayal of the countries we visit and leave you with a new group of like-minded friends and incredible memories.
I work with the best local operators to provide you with the highly personalised African adventure you've always dreamed of but without the hassle of planning it all yourself!
Rock My Adventures aren't typical 'tours'. They're fun, laid-back group trips, with an awesome, action-packed itinerary, but with some free time to explore and do your own thing and a group of friends built in – the best of both worlds!
Read more about Rock My Adventure here or take a look at our FAQ's page to see what we're all about!
---
Essential Info
Duration:
Start: Arusha (nearest airport – Kilimanjaro International Airport)
Finish: Arusha (for 11 & 15-Night trips) or Zanzibar (nearest airport – Abeid Amani Karume International Airport)
Maximum Group Size: 12 people
Minimum Age: 18
Cost:

11 Nights: £2,150 + $400* (local payment, paid on arrival)
14 Nights: £2,495 + $450* (local payment, paid on arrival)
24 Nights: £3,625 + $1000* (local payment, paid on arrival)

Deposit: £200 (non-refundable, included in total cost above)
* The local payment is a portion of your overall tour cost paid on arrival to your tour leader in UD Dollars. This includes the on tour expenses that we cannot pay prior to arrival, such as national park entry fees, food, local transport and some activities.
Dates Available
11 Nights: 15 – 26 February 2019 (Kilimanjaro Only)

14 Nights: 15 February – 1 March 2019 (Kilimanjaro & Serengeti/Ngorongoro Crater Safari)
ENQUIRE NOW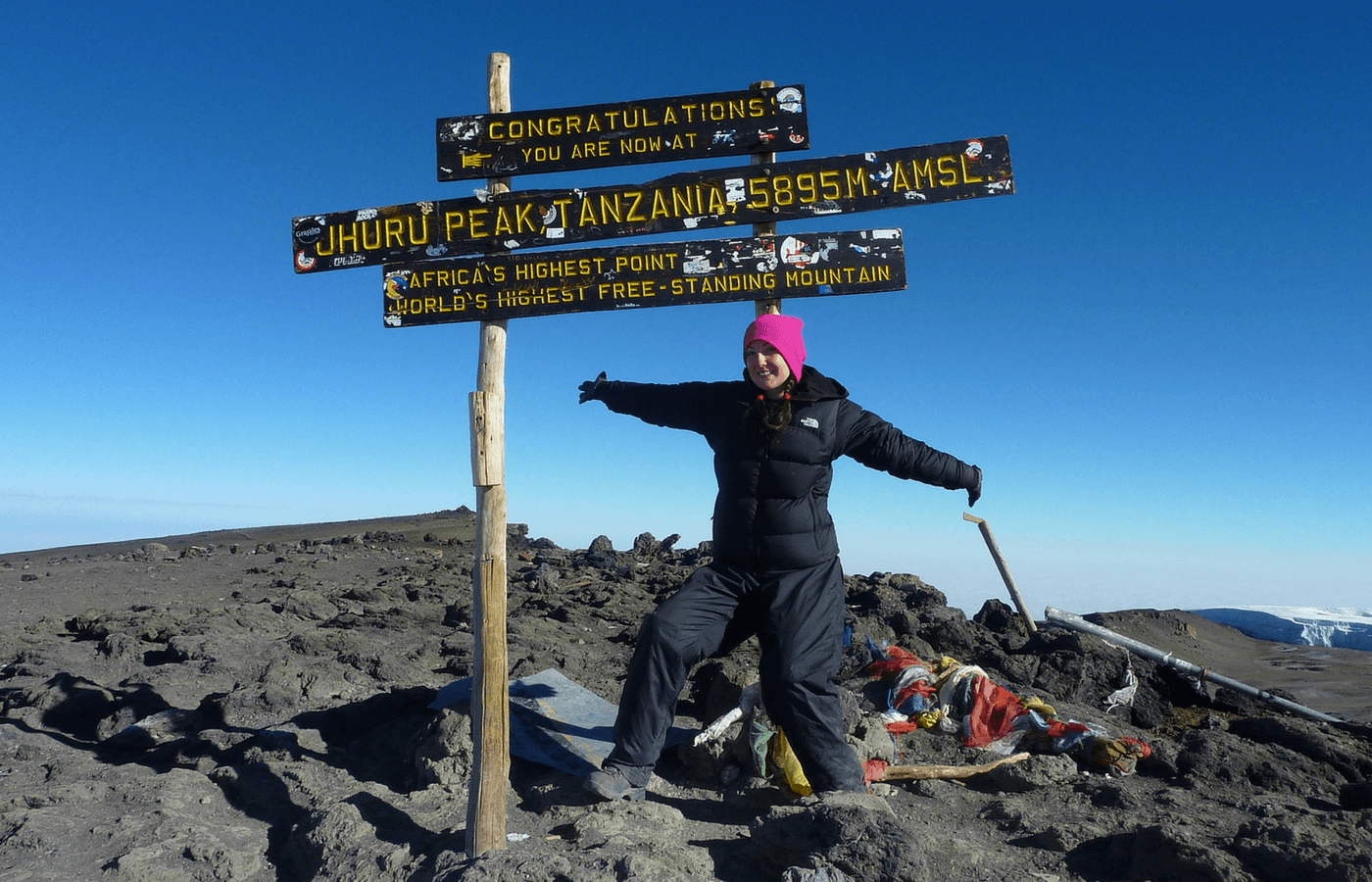 ---
Trip Highlights
Climb Mount Kilianmjaro, the world's highest free-standing mountain and the tallest in Africa via the super scenic, Lemosho Route.
Go on a 3-day safari in the iconic Serengeti National Park and the stunning Ngorongoro Crater.
Visit an authentic Maasai village to meet the people the people who live there and learn about their unique way of life.
Spend the afternoon at the beautifully ethereal Kikuletwa Hot Springs, a natural pool surrounded by palm and fig trees. We'll enjoy a picnic lunch, swim in the crystal clear, turquoise water and play on the rope swing.
Spend time with the Chagga people who live on the slopes of Kilimanjaro, enjoy a local lunch with banana beer and learn how to make coffee in their fun and interactive way, accompanied by traditional songs and and dances.
Hike through beautiful rainforest, villages and agricultural land on the lower slopes of Kilimanjaro to visit a stunning waterfall and take a dip in the natural pool with water that runs straight from Kilimanjaro – if you're brave enough!
Dance and party the night away to the latest African music in Arusha town!
Experience the hospitality, great food and beautiful views of the stunning Usambara Mountains.
Visit a local market in the Usambaras and shop for locally made goods and fabrics.
Get a true taste of local Tanzanian life and Swahili culture on a tour of Bagamoyo, a historical town on the Swahili coast.
Visit a local school that is doing amazing work in the Bagamoyo community.
Learn to cook traditional Swahili food with my friends in Bagamoyo.
Keep an eye out for dolphins on the boat to Zanzibar.
Take a walking tour of fascinating Stone Town where you will learn about the history of the island (and get all the gossip) from our amazing guide.
Try great local food (Zanzibar pizza – yum) and soak up the buzzing atmosphere at the Forodhani Gardens nightly food market.
Listen to enchanting Taarab music and dine at one of Stone Town's (and East Africa's) finest restaurants.
Pick up some wonderful African souvenirs in the vibrant shops and markets of Stone Town.
Sail, snorkel and look for dolphins on a traditional dhow boat tour with a seafood bbq lunch on a island.
Relax, unwind and/or party on the beautiful beaches of Kendwa and Paje.
Take part in some of the many great activities available on the island – boat trips, local spa, scuba diving, SUP, surfing, Prison Island to name but a few.
Enjoy lunch at The Rock, one of the most beautiful and  iconic restaurants in the world.
Go on an amazing sunset cruise in stunning Chwaka Bay with snacks and drinks!
---
"This is a memorable trip that will stay in your mind forever. The mix between relaxing, fun, sporty, cultural and nature activities is perfect and being able to do all that with an awesome group of people is invaluable. I didn't expect to have so much fun and meet people as wonderful as you all are!" (Almu, Spain)

"I would like to thank you for two of the most extraordinary trips I have ever had the joy of experiencing. As I review my photos I feel so overwhelmed. I had the pleasure to meet some amazing people thanks to you. If anyone is in doubt about booking a tour through Rock My Adventure, don't hesitate, you'll never regret it . Thank you, Helen. You are amazing! ❤ Go and you will thank me afterwards." (Oana, Switzerland)
---
Kilimanjaro Tour Itinerary
---
Day 1: Arrive in Moshi, Karibu Tanzania
---
Arrive in Moshi (Kilimanjaro International Airport) and relax and get to know your fellow travellers during a welcome meal and maybe a beer or two! Your Rock My Kilimanjaro Adventure starts here. Karibu Tanzania!
*  If you have the time and can arrive earlier, I can organise any other activities you wish to do or help you find accommodation. Additional accommodation and activities charged separately.
Meals Included: Dinner
---
Day 2: Get Prepared for Kilimanjaro 
---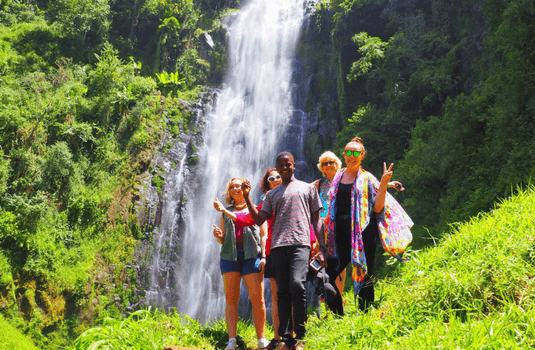 Today we'll have an acclimatisation day in Moshi. Weather permitting, we may even catch a glimpse of Kilimanjaro herself.
Those who would like to, can take an optional day trip to a village on the foothills of Kilimanjaro, where you can hike through beautiful rainforest, visit a stunning waterfall and meet and learn about the Chagga people who live in Moshi and the surrounding areas.
After hiking, you will enjoy a local lunch at Mama Agnes's house, try banana beer and learn how to make coffee in the traditional Chagga way. The coffee making process is fun and interactive and accompanied by traditional songs and and dances.
In the afternoon, we'll meet our Kilimanjaro guides who will brief us on our upcoming trek and do a quick equipment check. Anything you don't have can be rented!
In the evening, we'll rest and have dinner at our lovely guesthouse and get mentally prepared for the week ahead.
Meals Included: Breakfast, Dinner
---
Day 3: Lemosho Glades (2385m) to Big Tree Camp (2780m)
---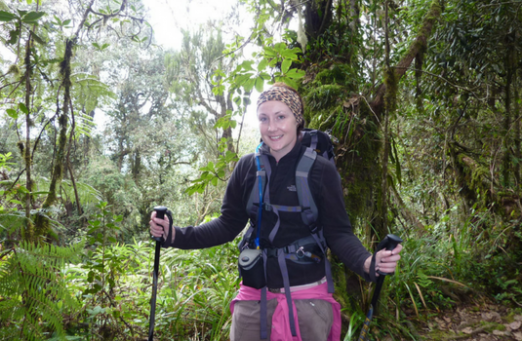 We'll be picked up from the hotel in the morning and transferred to the Lemosho gate on the western side of Kilimanjaro. We are climbing the mountain via the Lemosho Route, known to be the most scenic route.
After registering, we will start our steady climb through the forests of the Lemosho Glades to reach Mti Mkubwa, which means Big Tree camp where we will camp for the night, maybe play some games and relax.
Meals Included: Breakfast, Lunch, Dinner
---
Day 4: Big Tree Camp (2780m) to Shira 1 Camp (3500m)
---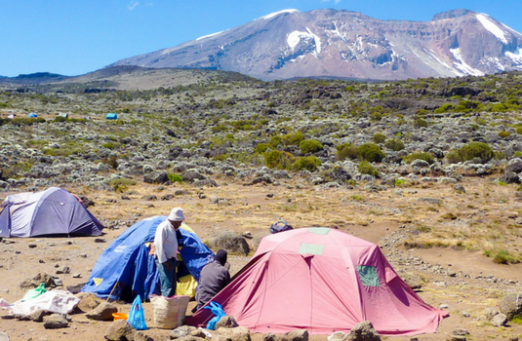 Today we will trek across  grassy moorland and heather scattered with volcanic rock formations.
We'll spend the night at Shira 1 Camp where we may get the chance to see Kibo Peak, poking above the clouds and eat a hearty meal to give us the strength we need to keep pushing on to the top!
Meals Included: Breakfast, Lunch, Dinner
---
Day 5: Shira 1 Camp (3500m) to Shira 2 Camp (3900m)
---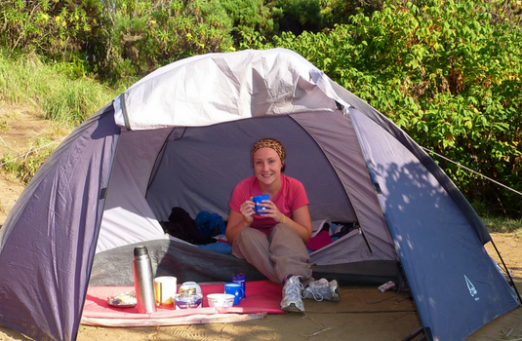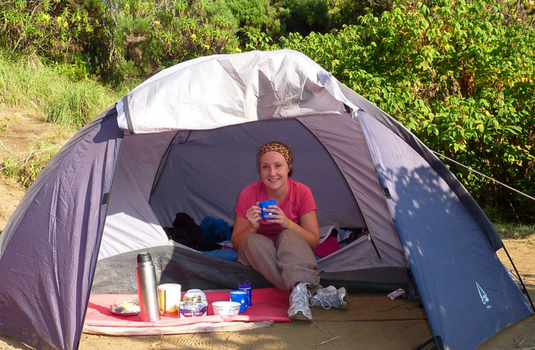 Today we'll make our way from Shira 1 Camp, to Shira 2 Camp and you will get the chance to view the Northern Ice fields. It's a steady climb, with great panoramic views.
Once we reach our camp, we'll do an acclimatisation walk to allow our bodies to get used to the thin air, before settling down for the evening.
Meals Included: Breakfast, Lunch, Dinner
---
Day 6: Shira 2 Camp (3900m) to Barranco Camp (3960m)
---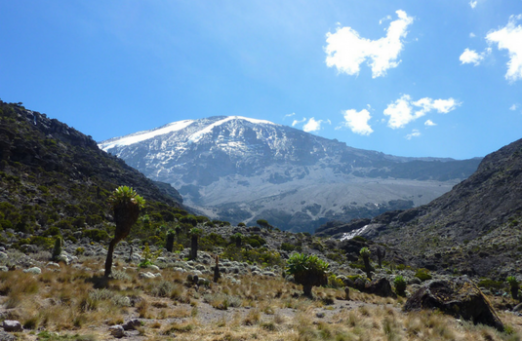 Today we'll be treated to even more epic views as we make our way up to Barranco Camp. Entering the climatic zone of the upland desert, our route now starts to merge with the more popular Machame Route.
We'll pass the famous Lava Tower at 4640m, where we'll enjoy lunch before making our way down (yes down, this helps with acclimatisation) to Barranco Camp where we will spend the night. The views from this camp are incredible so have your cameras at the ready.
Meals Included: Breakfast, Lunch, Dinner
---
Day 7: Barranco Camp (3960m) to Karanga Camp (3963m)
---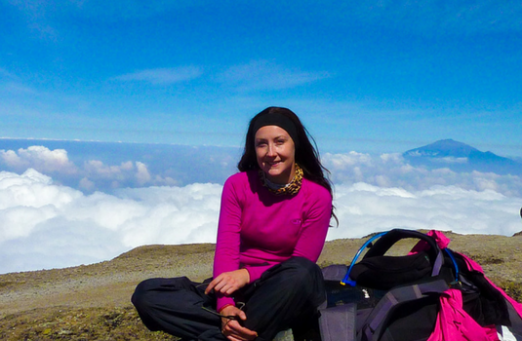 Today is my favourite day on Kilimanjaro where we face the awesome Barranco Wall which requires some scrambling, but is an exciting challenge.
Sitting above the clouds, on the top of the Barranco Wall was one of the most peaceful and serene moments of my life.
From here we'll make our way into the Karanga Valley to spend the night.
Meals Included: Breakfast, Lunch, Dinner
---
Day 8: Karanga Camp (3960m) to Barafu Camp (4640m)
---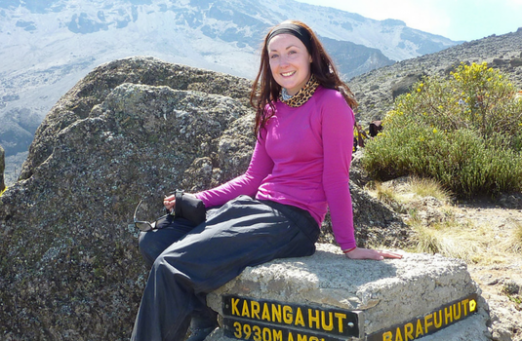 After a good rest, we'll start the trek to Barafu Camp (base camp). The terrain is very different now, with no signs of vegetation and you will feel like you've landed on Mars.
Once we arrive at camp, it's time to eat and then get to bed early, for tonight we attempt the summit!
Meals Included: Breakfast, Lunch, Dinner
---
Day 9: Barafu Camp (4640m) to Uhuru Peak (5895m) & down to Millennium Camp (3790m)
---
Today is the day!
We'll start our ascent to the summit around midnight. It's pole pole (slowly) up the mountain in the dark, with the stars twinkling above us.
As the sun begins to peak over the horizon, the views are incredible!!!
Our first major landmark is Stella Point (5739m) on the crater rim, before we make the final push to the summit, Uhuru Peak (5895m).
Reaching the 'Roof of Africa' is an emotional experience. There will be a few tears, lots of hugs and I'm sure, lots of photos before we begin our descent.
We'll have brunch at Barafu camp, before stopping at Millennium Camp for our final night on the mountain.
Meals Included: Breakfast, Lunch, Dinner
---
Day 10: Say goodbye to Kili and Hello to the Best Shower Ever
---
It's a relatively short walk down to the Mweka Gate, where we will receive our certificates and say goodbye to our support team (this is often emotional too), before heading back to Moshi for the best shower of your life!
This is arrival day for those doing the Rock My Tanzania & Zanzibar Adventure so in the evening we'll have a welcome meal for the new arrivals and a celebratory meal for the Kili warriors!
Meals Included: Breakfast*, Lunch*, Dinner
*Kili group only.
---
Day 11: Rest & Refresh in Moshi & Arusha
---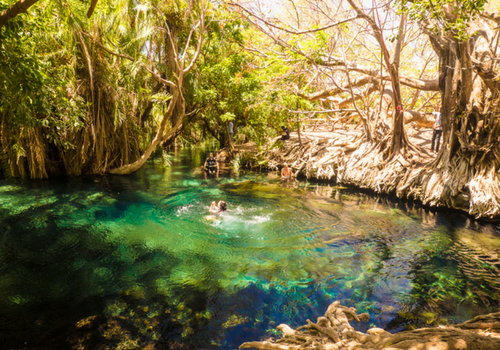 Today we'll visit a Maasai village, which unlike many in the area is a totally authentic village founded and run by the Maasai themselves.
During the visit, you will have chance to meet the Maasai people and learn about their unique way of life.
In the early afternoon, we will leave the village and continue to a beautiful hot spring, which attracts locals and tourists alike.
Here we'll rest our weary bodes, swim in the crystal clear waters that run from Kilimanjaro, swing Tarzan style into the water, enjoy a delightful picnic lunch prepared by our guides and maybe have a beer or two.
Refreshed and relaxed (although probably still a bit achy), we'll head to Arusha ready for our safari tomorrow.
Meals Included: Breakfast, Lunch
---
Day 12: Go on Safari to the Serengeti 
---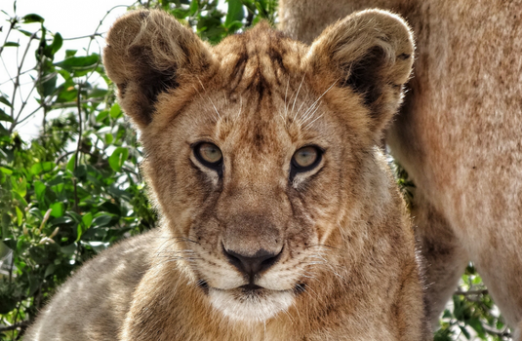 We'll spend the next few days on a camping safari to the Serengeti and the Ngorongoro Crater, 2 of the most spectacular places in the world and the perfect place to look for the 'Big Five'.
We'll leave Arusha early, arriving in the Serengeti in the afternoon. As we drive into the park, there will be plenty of opportunities to spot some wildlife! Believe me, you'll be singing Circle of Life all the way in!!
You'll go to sleep to the sounds of hyenas cackling and maybe even hear the odd lion roar or elephant trumpet in the distance (or possibly nearby).
It's not uncommon for animals to wander through the campsite at night so it's always an adventure!
Today is departure day for those on the 11-night trip.
Meals Included: Breakfast, Lunch*, Dinner*
*Lunch/Dinner excluded for those departing today.
---
Day 13: Spend the Day Searching for the 'Big 5'  
---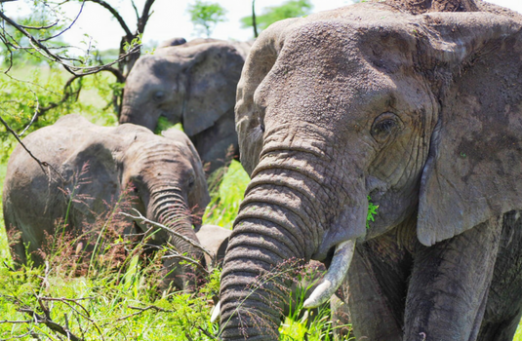 We'll be up and out early for another game drive in the Serengeti looking for animals who are usually very active in the morning before it gets too hot.
You'll likely see zebras milling about the camp as you go to brush your teeth and we'll share stories of the noises we heard in the night over breakfast.
The Serengeti has an abundance of wildlife and we will be there during the migration, so you won't be disappointed! We'll keep our eyes peeled for lions, leopards, cheetahs, elephants, giraffes and all the other animals you could ever hope to see on safari.
In the afternoon, we'll head to the Ngorongoro Crater, where we'll set up camp on the crater rim. When the sun goes down, we'll relax around the campfire and under the stars at our campsite.
Meals Included: Breakfast, Lunch, Dinner
---
Day 14: Go on Safari in the Ngorongoro Crater
---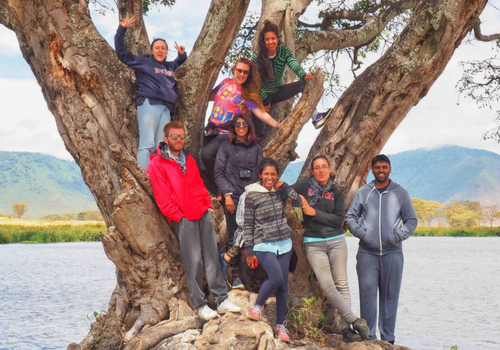 After another early start, we'll head down into the Ngorongoro Crater for another day on safari.
The Ngorongoro Crater is the largest intact crater in the world, formed 3 million years ago when a volcano (reportedly higher than Kilimanjaro) collapsed. The result is one of the most spectacular landscapes on earth.
Inside the crater is filled with animals and if we're lucky we might see an endangered black rhino or two.
In the afternoon, we'll head back to Arusha, where we'll freshen up (aka have a good wash and scrub off the safari dust) before heading out for a well-deserved dinner.
Those who want to can have a night out on the town (if you aren't too tired) – tonight is party night in Arusha!
Meals Included: Breakfast, Lunch, Dinner
---
Day 15: Kwaheri Tanzania or Hello Usamabaras
---
I can arrange the transfer to Kilimanjaro Airport
Alternatively, you can continue your trip by joining on the incredible Rock My Tanzania & Zanzibar Adventure! See the rest of the itinerary here!
---
Meet Your Group Leader
---
Helen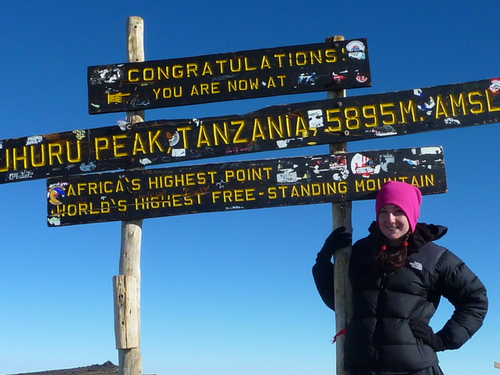 I've been travelling through Africa on and off for the last 9 years and have guided trips through the Kenya, Tanzania, Malawi, Zambia, Rwanda, Uganda and the DRC.
I love to travel all over the world, but it's Africa that holds the special place in my heart and I started this blog, first and foremost to encourage and help others travel in my favourite continent.
I'm passionate about Africa travel and I want to show you a different side of Africa. Not the Africa you see in the media, but the adventurous, beautiful, wild and real Africa I know and love.
I like to get to the heart of the places I travel, to go on epic adventures, to be out in the wild, to meet local people, to experience the nightlife, to try new things, to immerse myself in the culture and most of all to have fun! All Rock My Adventure tours are planned with all these things at the forefront.
My greatest achievement is climbing Mount Kilimanjaro!
You can find out more about me here.
---
What's Included
Meals: As mentioned above. On arrival day, dinner only and on departure day, breakfast only.
Accommodation: All accommodation in good quality camps, hostels, hotels and guesthouses.
Transport: All transport within Tanzania to and from included excursions and between the main destinations on the tour (includes – safari vehicle, bus, taxi & mini bus).
Activities: 

11-Nights

8-day Kilimanjaro expedition (Lemosho Route) including our own private toilet
Visit to an authentic Maasai village
Swimming and picnic at the Kikulweta Hot Springs

14-Nights

As per included in the 10-night trip, plus…
Safari in the Serengeti National Park and the Ngorongoro Crater

24-Nights

As per included in the 10 & 13-night trips, plus…
Visit to the Irente Viewpoint
Visit to a local market in the Usambaras
Hiking in the Usambaras
Bagamoyo tour including the fish market
Visit to a local school and NGO
Stone Town walking tour
Forodhani Gardens nightly food market experience
Dinner at one of Stone Town's rooftop restaurants
Sailing, snorkelling and dolphin spotting trip
Zanzibar village visit
Sunset Indian Ocean cruise (including drinks)
What's Not Included
Flights.
Airport transfers – however I can arrange these for you.
Tanzania visa.
Medications, antimalarials or vaccinations.
Travel/health insurance.
Any additional nights at the hotel in case of early descent from the mountain.
Drinks & meals not mentioned.
Optional activities.
Transport for optional activities.
Tips for local guides.
Please bear in mind that the itinerary is subject to minor changes. But whatever happens, I'll endeavour to make sure you have an amazing trip!!
You can find full Terms & Conditions here.
I want you to Rock My Adventure!
---
Here's what you can expect on a Rock My Adventure tour…
---
Testimonials
Wondering what it's like to come on a Rock My Adventure trip? Here's what others have to say! For a full list, check out the Testimonials page.
"It was an unforgettable trip to Tanzania & Zanzibar and I loved every minute – so much fun and a new experience every day! If anyone's thinking of doing a trip to Africa, don't hesitate, just do it! Go with Helen and experience the real culture of the country and its' people. I can't wait for the next adventure!" (Jeanne, UK)
"I have had a fantastic time, thank you, you are the best. Thank you for the incredible journey and sharing your love of Africa with me. The laughs and memories will always be cherished… because of you I have fallen in love with Africa." (Marsha, USA)
"This trip is definitely one of the best decisions that I've ever made in my life!!" (Sharmi, Malaysia)
"The trip went beyond my expectations. I feel the soul of the trip was Helen. Having a guide that is enthusiastic, knowledgeable, sweet and energetic is very important." (Nayeli, Mexico/USA)
"I had the best time ever on the trip & it was so much fun traveling with you! It was everything I had hoped for and more! It 100% met my expectations. I love the fact that your trips are more unique than a normal tour operator. I enjoyed being taken out of my comfort zone in some places and seeing some really different sides of Kenya. I enjoyed the fact that we were made to feel so at home everywhere we went and I'm sure that was helped by the fact you've obviously created a lot of meaningful friendships in the country during your time travelling there. It felt like we got a more unique experience than you would get with a usual tour operator. I think you make a fantastic guide and your passion for the country definitely shows and adds to the experience." (Sarah, UK)
"Helen is one of those people who will make any situation really fun. This girl could make a tour through my mildewy basement seem like a blast, so having her introduce me to sub-Saharan Africa was pretty much the best thing ever!!" (Silvia, Norway/USA)
If you'd like to get a full overview, have a read of Silvia's blog (Heart My Backpack), as she's done a full review on the Rock My Uganda, Rwanda and DRC tour. I asked her to come along, not as a blogger, but as a participant, to enjoy and just be brutally honest when she wrote about it and here's what she thought.
---
I want you to… Rock My Adventure
To reserve your spot on this exciting trip or if you have any questions, please send me an email using the form below! Don't fancy this trip? Check out the other Rock My Adventure tours!
Want to be the first to know about upcoming Rock My Adventure tours and get exclusive offers? Sign up to the Helen in Wonderlust mailing list HERE!
Rock My Adventure is a Member of: