There are cool cities, then there's San Francisco. It's in a league of it's own. If I could move to another city, San Francisco would probably be it.
There are so many cool things to do, but here are my favourites!
1. Ride the Cable Car
After witnessing a terrible accident on the damp, hilly streets of San Francisco in 1859, British born Andrew Hallidie came up with the idea for a cable drawn transport system.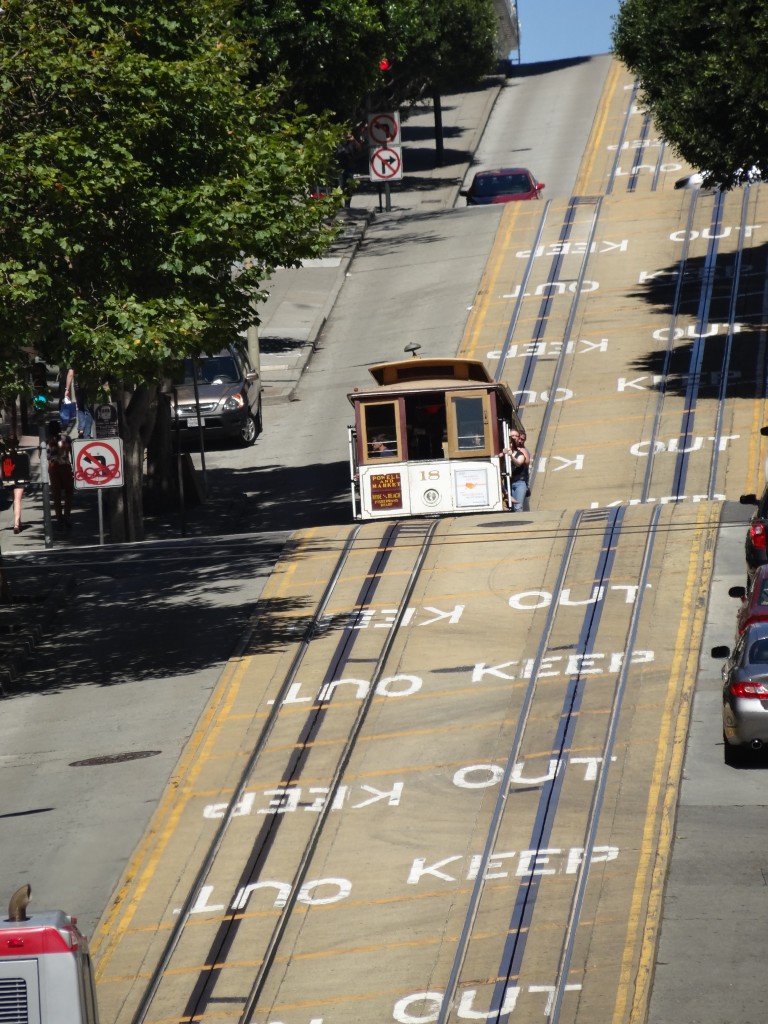 Today the cable cars are San Francisco icons, the oldest cable drawn system in the world and not to be missed on your trip! A whole lot of fun! There are three routes across the city and if you can, I suggest you get yourself in position on the outside of the tram. If there's no space, just ask the conductor and he will give you a shout as and when a space becomes available. It's quite exhilarating going down the hills, feeling the wind in your hair.We jumped on a Union Square and rode all they way down to Fisherman's Wharf. A single ticket costs $6 (as of September 2013).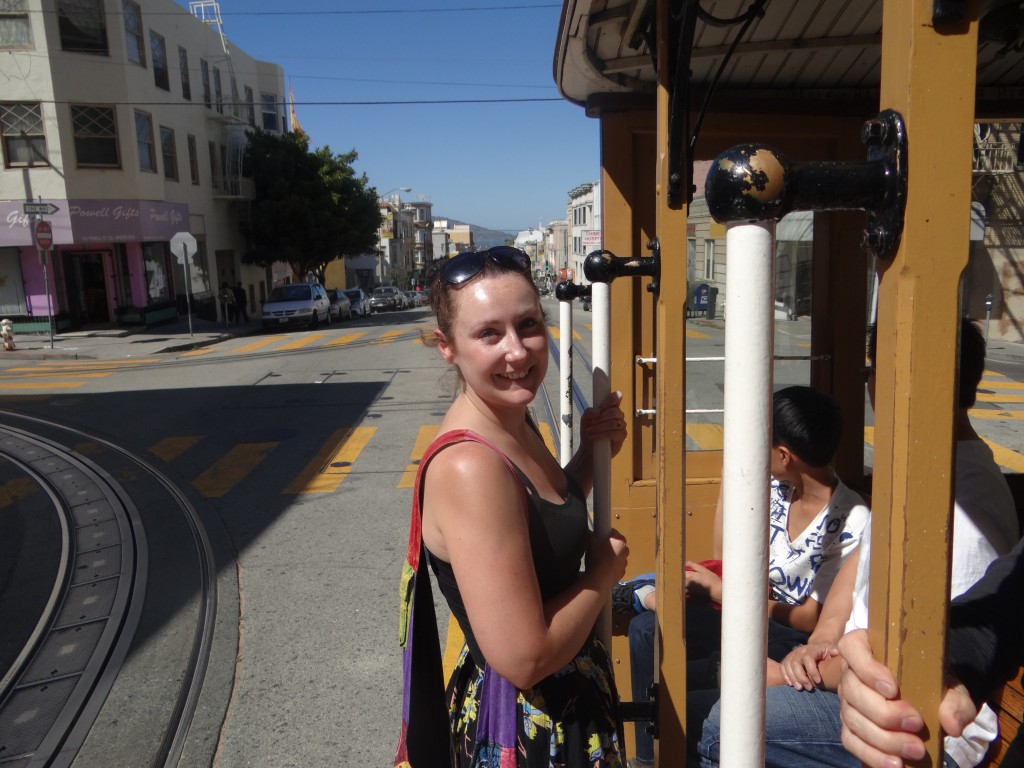 2. Grab a Drink at Vesuvio
We were wandering from North Beach to Chinatown, looking for a place to have a drink when my love of street art made me drag my friends down an brightly decorated alley.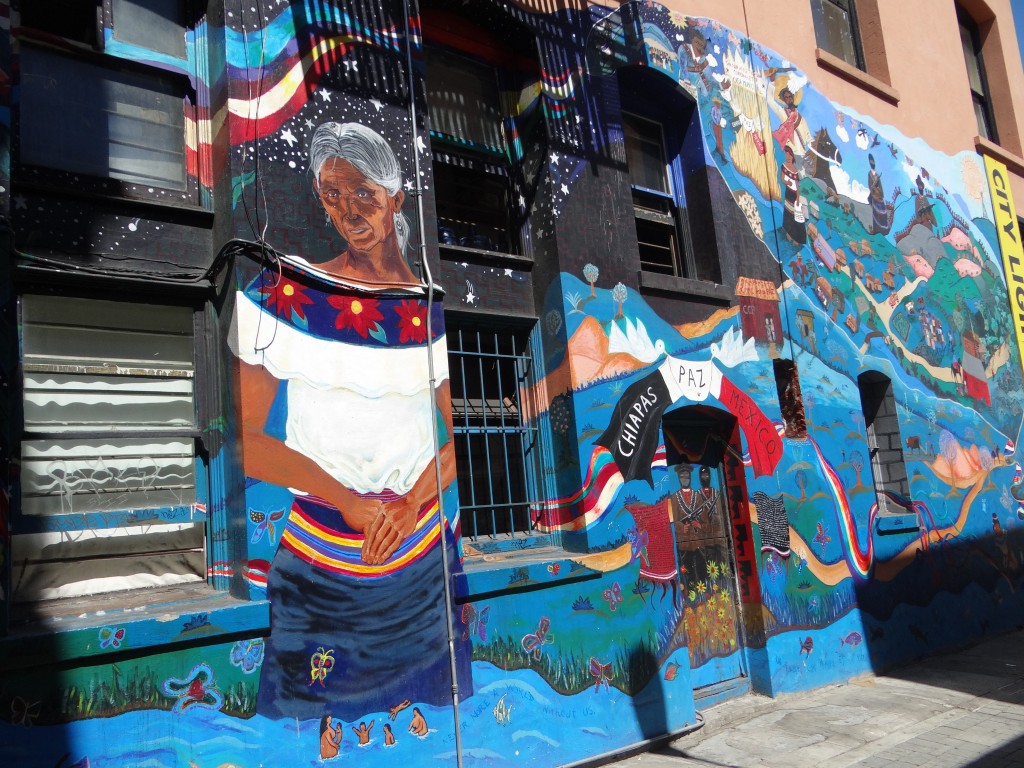 As it turns out, the alley was called Jack Kerouac Alley. As you may know, Jack Kerouac wrote the poem 'San Francisco Scene' and amongst many other things, is famous for coining the term Beat Generation to describe a group of writers in the 1950's. At the other end of the alley, there was a small but interesting bar called Vesuvio. It looked cool and quirky so we decided to go in.
The bar is frequented by an eclectic bunch, and also sits next door to the infamous City Lights Bookstore. We only stayed for one drink, but it had a really nice atmosphere, and even the bathrooms were cool. On selected Sundays throughout the summer, there's also a little market in Jack Kerouac alley called 'A Fair to Remember'. I love that film so I think the name is AMAZING!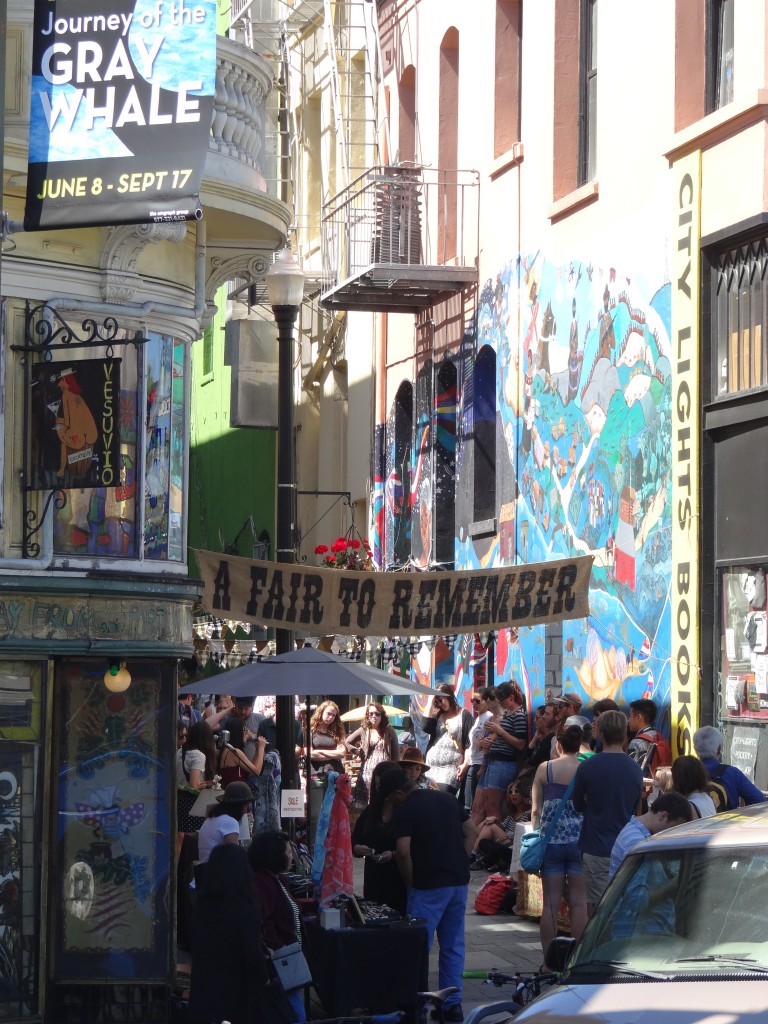 They don't do food at Vesuvio, but you can bring your own in to eat. Happy hour runs from 3 – 7pm, Monday – Thursday. We liked it so much we decided to come back later that evening before we went for some Chinese food.
3. Eat some of the Best Chinese Food in the World
With the biggest Chinese population outside of Asia, San Francisco was always going to have great Chinese food. We were hoping to go to House of Nanking, which we'd spotted earlier on and is famed for being one of the best Chinese restaurants in the city. Due to a late 'lunch' (see below), by the time were hungry it was around 10pm, so we decided to give the restaurant a quick call but they were closed!
Kindly, one of the staff from Vesuvio called another restaurant and they confirmed they were still open! Yay! So off we went to Brandy Ho's, just a few doors down the road. I did a double take as I looked at the sign outside… they were serving Human food? What??? But what the sign actually said, was Hunan food, from the Hunan region in Southern China. The region has three cooking styles 'Mountain', 'Lake', and 'Peasant'. At Brandy Ho's the food is 'Peasant' aka 'Country Style' – simple, down-to-earth and healthy.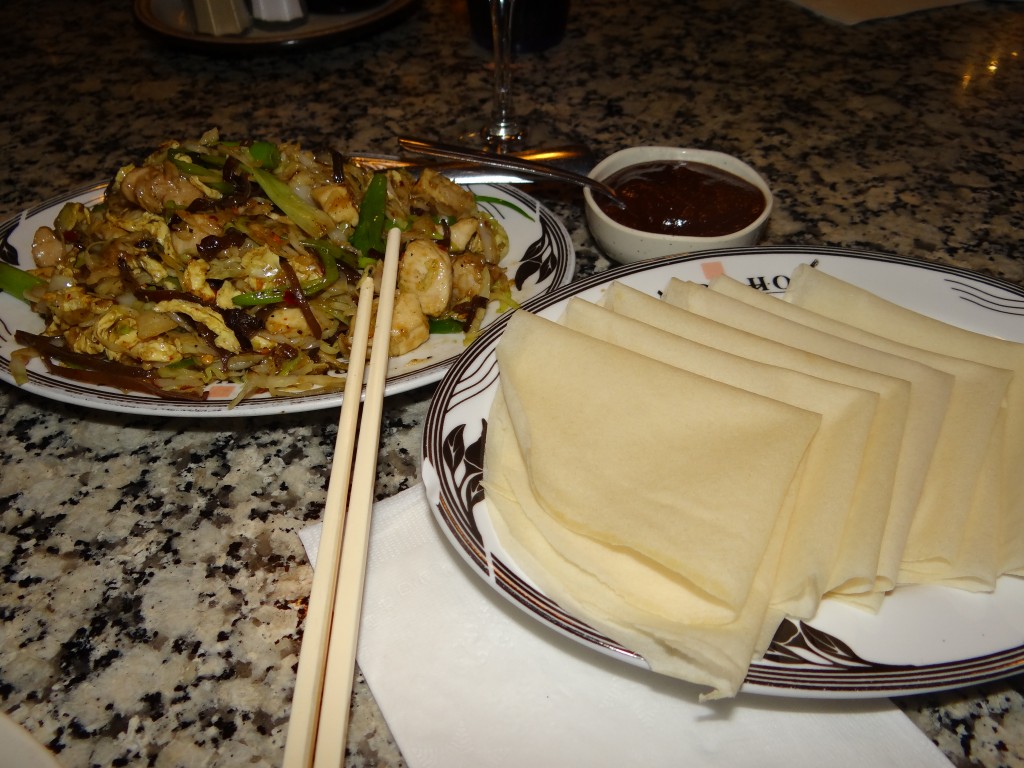 The kitchen is open, so you can see the chef preparing the meals right in front of you. Hunan food is traditionally pretty spicy, but the wait staff will check how spicy you want it! I ordered a chicken dish with pancakes. It was yummy!
4. Be Wowed by the Street Art
Being such an arty and vibrant city, it's no surprise that San Francisco street art is amazing and everywhere! Literally every neighbourhood has some. It's so much fun to spot them as you walk around the city!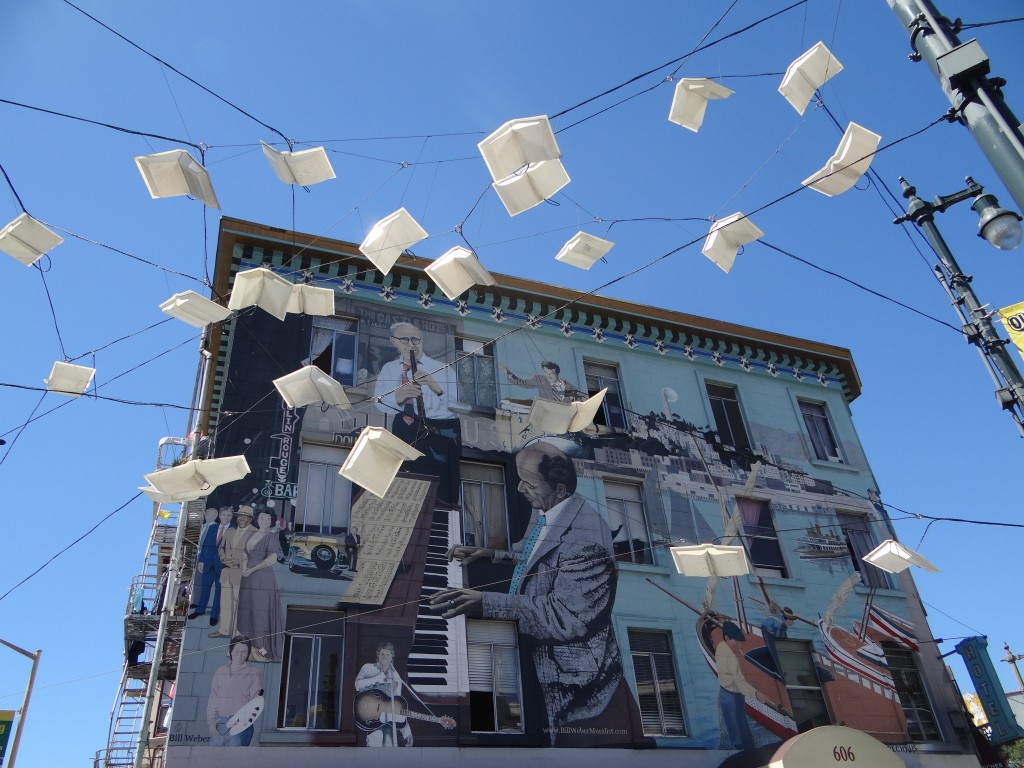 5. Cycle the Golden Gate Bridge
Cycling the Golden Gate Bridge is number one on my list of things to do in San Francisco. We picked up our bikes from the Blazing Saddles stand at  Pier 39. Blazing Saddles are self-guided tours, so once you have your bike, safety equipment and map you're on your way!
We headed towards the bridge along the waterfront. There are a few different routes you can take, between 3 and 20 miles long, which take you through San Francisco and the surrounding towns.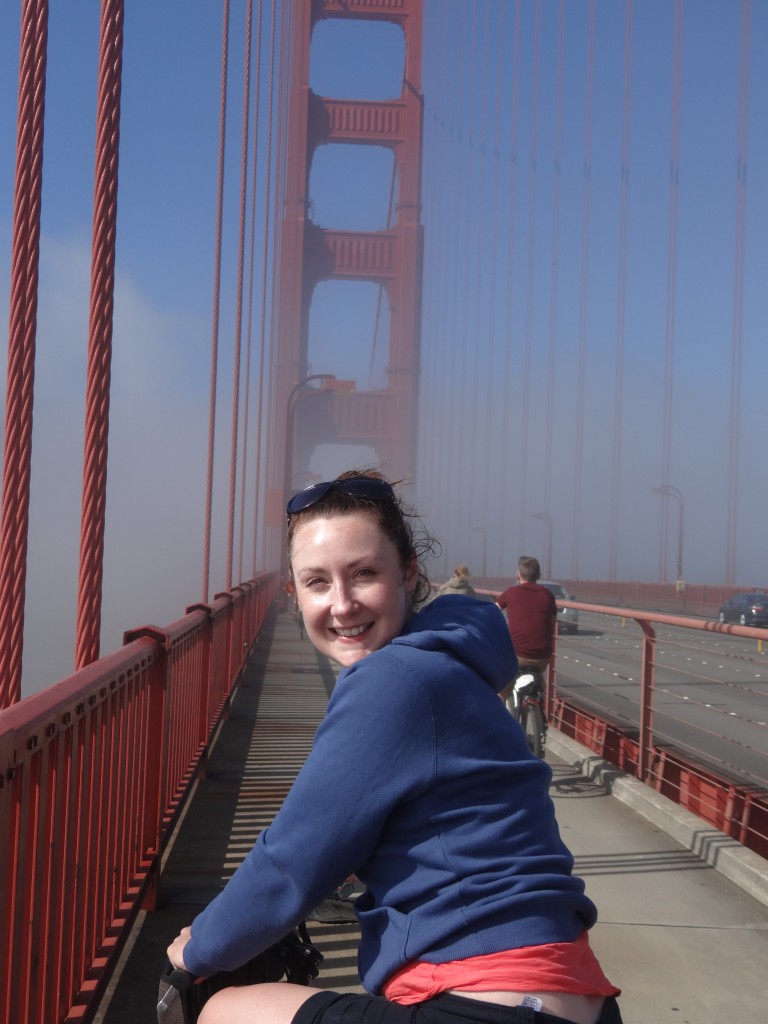 Whilst we were there, the weather in San Francisco was pretty kind to us. It was sunny in when we left the bike rental place, but fog had descended on the bridge so we could barely see if front of us at some points, and it got pretty cold and wet, but it was still great! Just wrap up warm, or chose your days more carefully than we did. I kind of liked it though and I'm glad I got to experience the famous San Francisco fog first hand.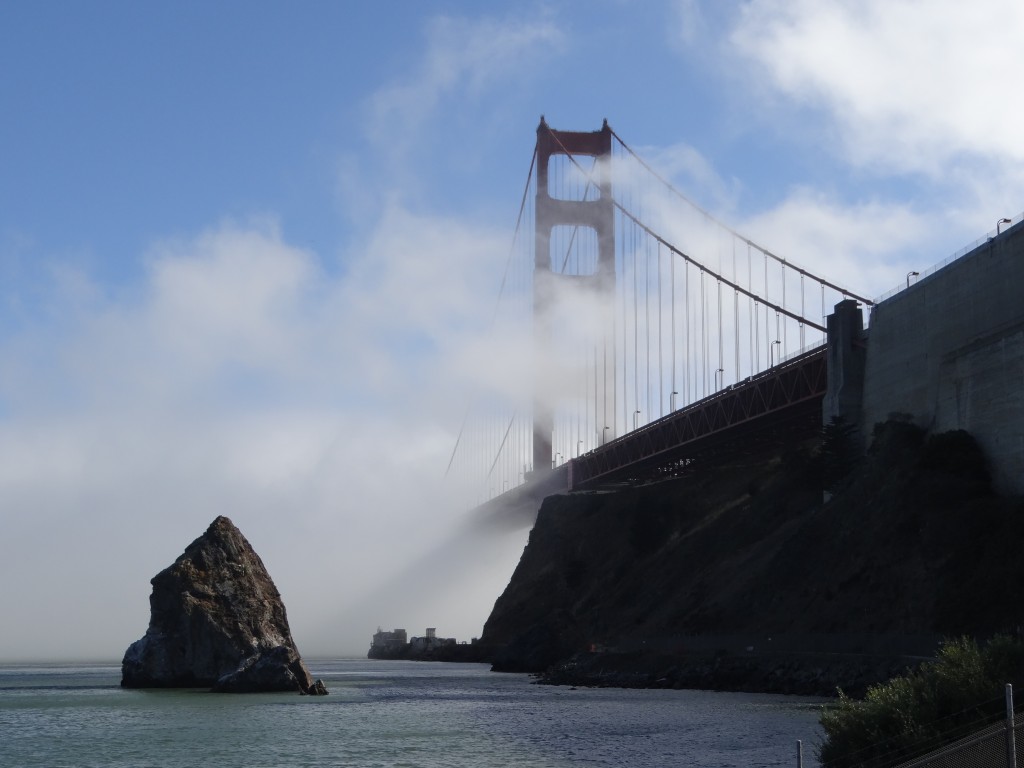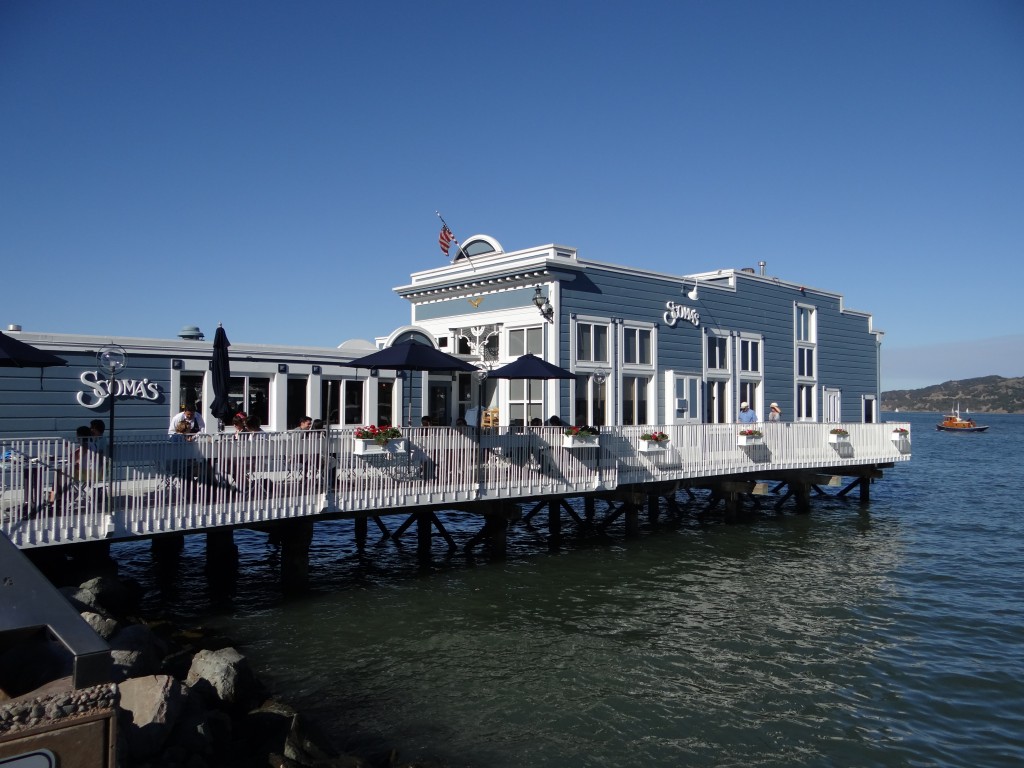 On the other side of the bridge in the pretty town of Sausalito the sun was shining again! As we started a bit later in the day, we took the  ferry back from Sausalito when the light began to fade. The cycle is pretty easy for the most part, but there are a few hills to navigate so you have to have a an intermediate level of fitness.
6. Ride the Open Air Bus
Taking an open top bus ride around the city is a lot of fun. They're all hop on and hop from the main tourist attractions, and pretty frequent and so a great way to see all the main sights. There's tons of companies that do the tours, but we used the blue buses.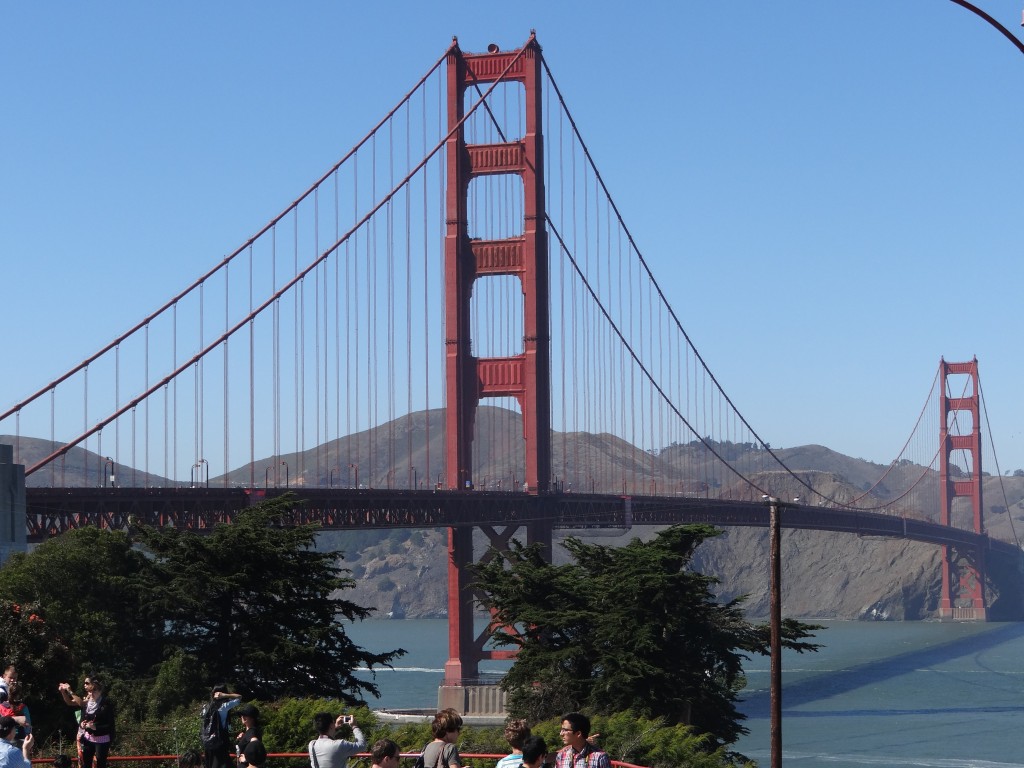 Our driver, Dave, was awesome, pointing out all the sights and telling stories. He was one of those people that is hilarious, although I'm not sure he realised it. I know a couple of things about Dave, he met his wife in 1982 on Columbus Street and his favourite cheesecake is the Vanilla Cream from the Cheesecake Factory. We had the pleasure of being on his bus randomly on three separate occasions, and he always had us laughing.
7. Take a trip to Alcatraz aka 'The Rock'
You can't go to San Francisco and not visit Alcatraz. 1.5 miles off shore and now abandoned, Alcatraz still holds a real sense of mystery and is the subject of a number of films. The Native Americans in the area thought of the island as being cursed.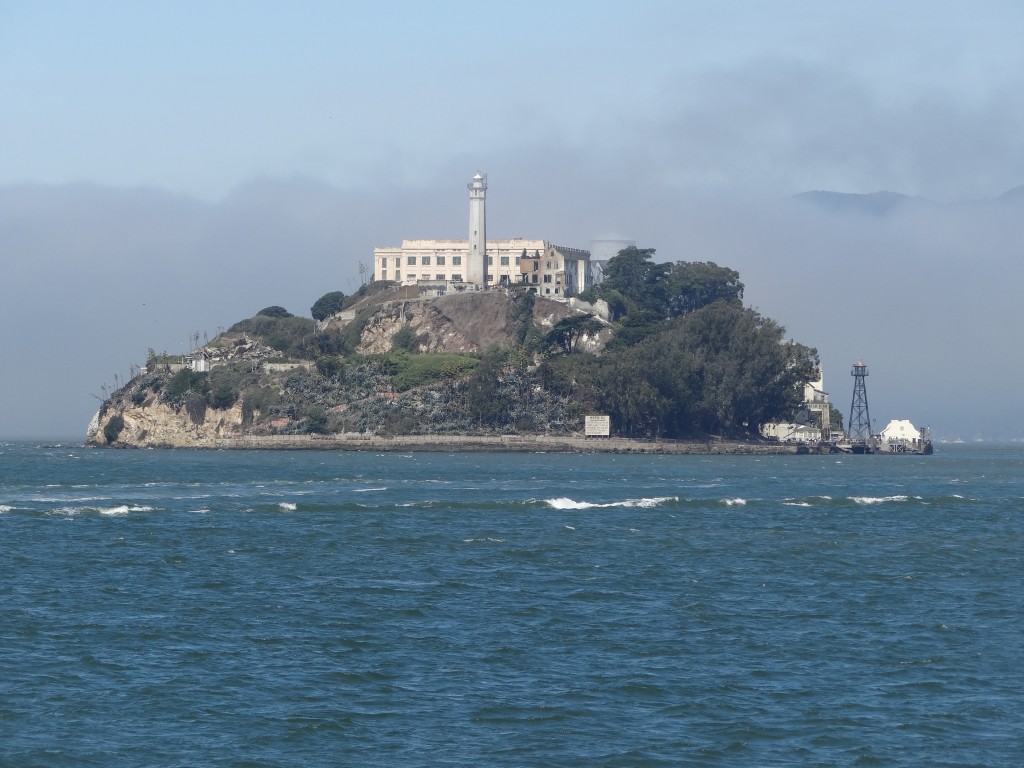 Once home to Al Capone, no-one has ever been known to escape from Alcatraz alive, although three prisoners who successfully escaped from the prison, have never been found. You can still see their escape holes in their cells. Deadly currents and freezing cold waters are thought to have taken them, but it is still a mystery to this day. It's also a myth that San Francisco Bay is swarming with Great Whites that would eat escapees, there's only bottom feeding sharks in the Bay.
An audio tour, hauntingly narrated by guards and inmates, guides you around the prison, giving insight to life on The Rock. Prisoners describe how they could teasingly hear voices and merriment drifting in from yachts out in the bay and guards tell of riots and give us an insight into living on the island.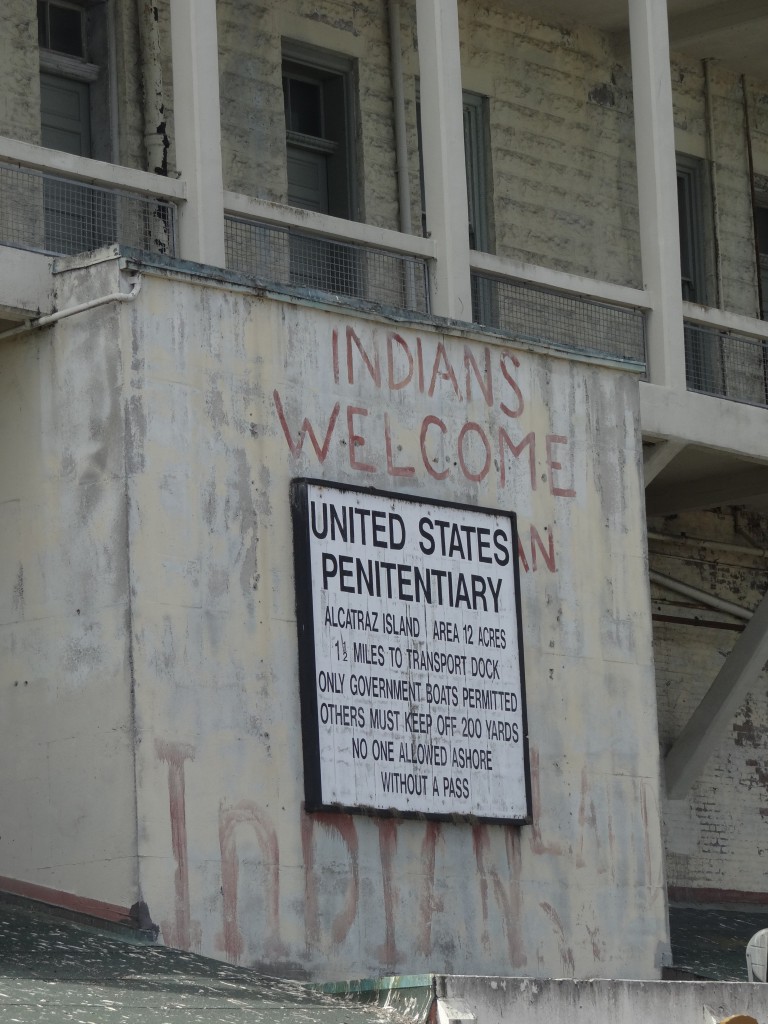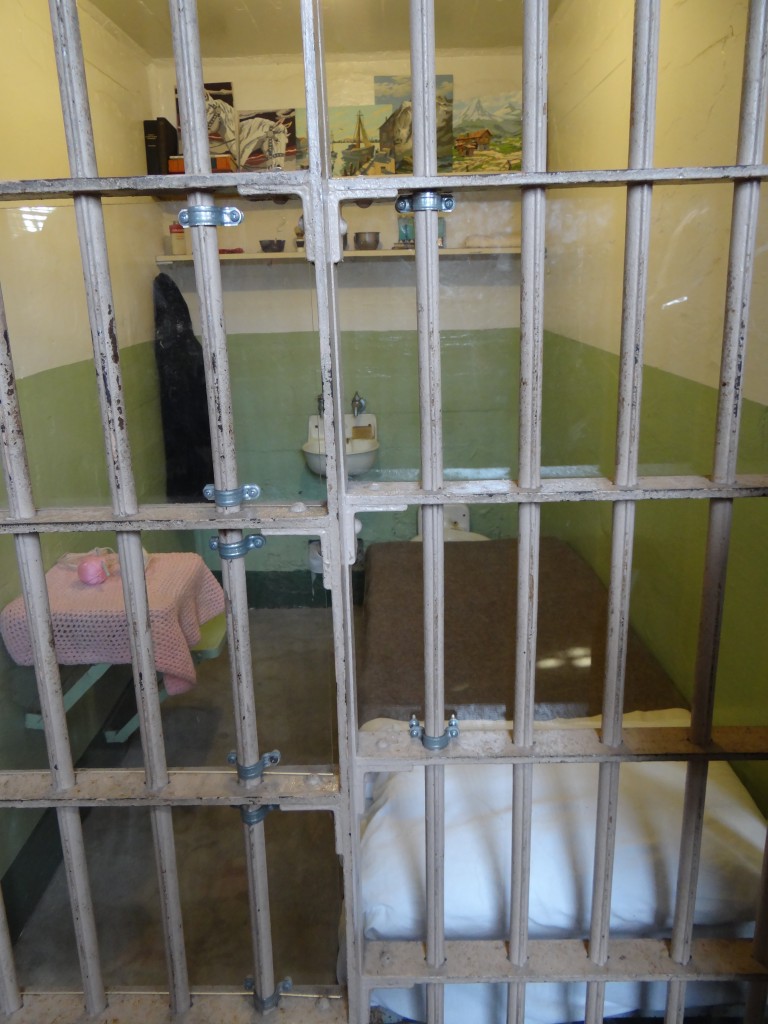 One of the most surprising things, was that many of the prisoners took up crochet, knitting and painting to pass the time. On our way back to and from San Francisco, we also managed to get some great views of some of the boats taking part in the America's Cup.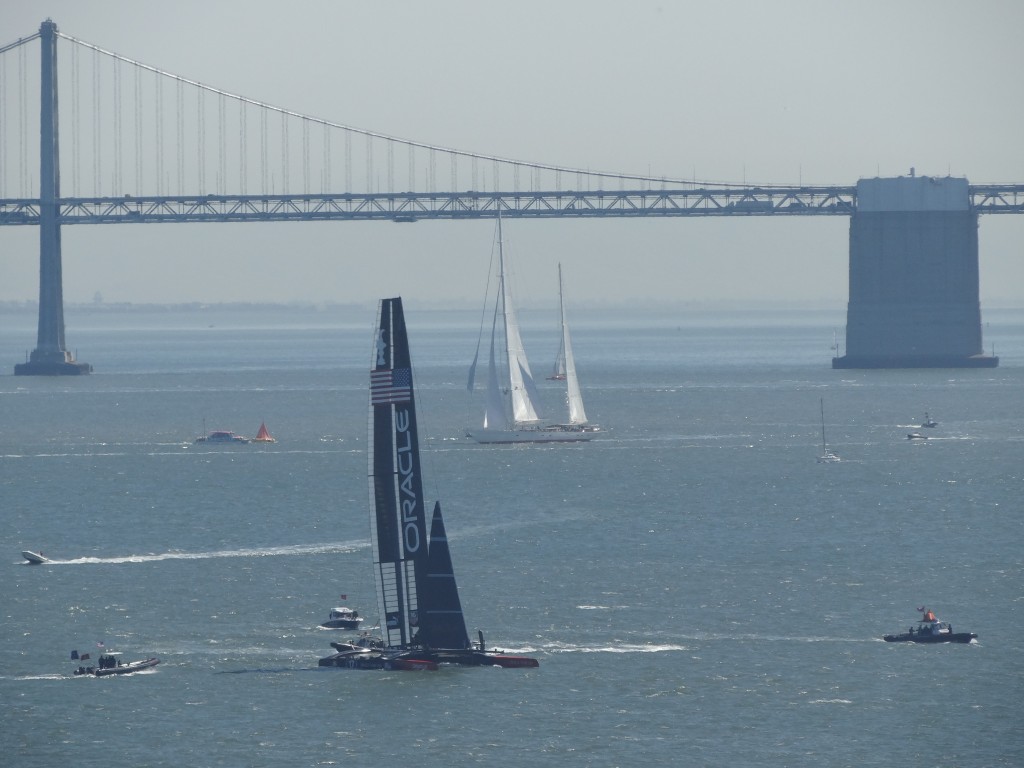 Tours leave often, but they often get booked up so it is advisable to buy your tickets well in advance.
8. Marvel at the Architecture
San Francisco is an architectural dream. Every house is different, and so pretty! From Alamo Square it's a short stroll to see the famous 'Painted Ladies' and be sure to visit Haight-Asbury for some more amazingly colourful town houses!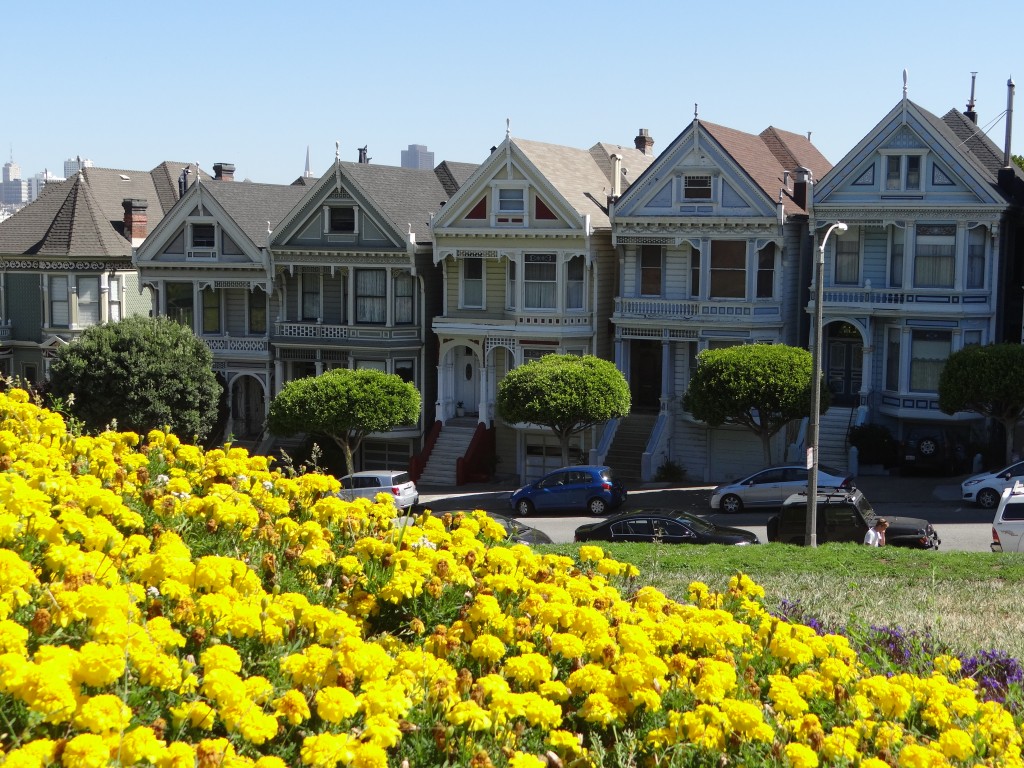 9. Sample the Nightlife
There's no shortage of good places for nightlife in San Francisco. My favourite places we visited were the historical Mission District and The Castro, one of the first gay neighbourhoods in the United States. Both are quirky, with tons of cool bars. There's so much to write about San Francisco nightlife, I may need another post for that. But my best advice for now would be to just wander around and sample a few different places!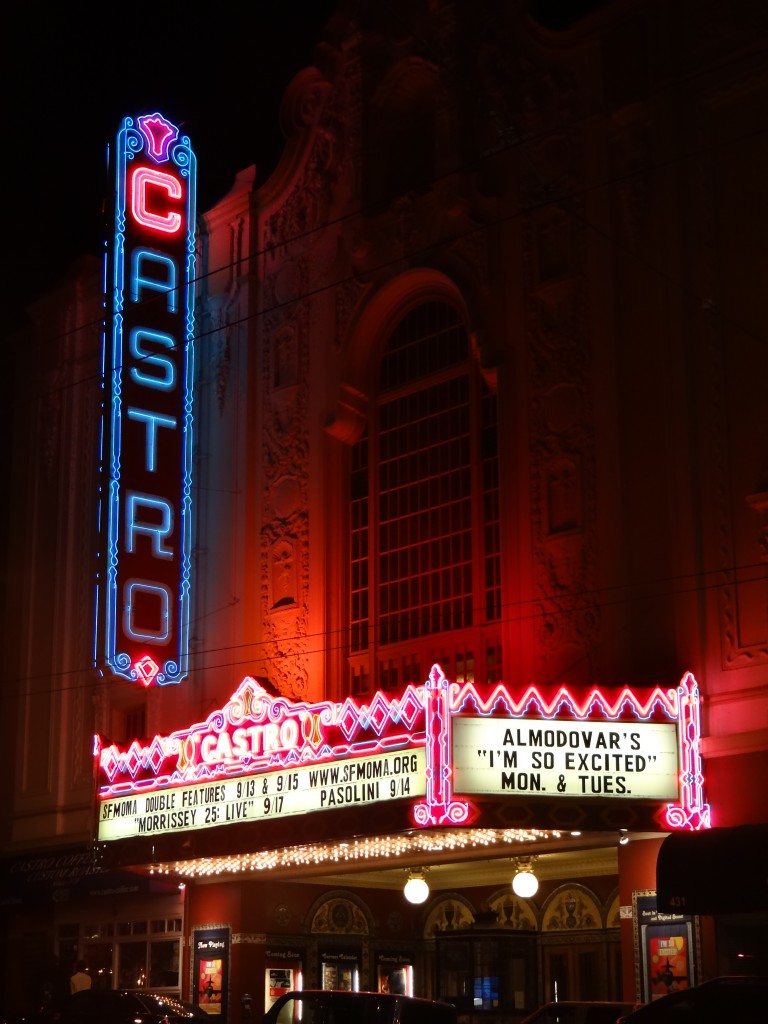 You may have noticed that there are a number of speakeasy bars popping up around the world, hidden from view and only for those in the know! We visited one such bar called Bourbon and Branch, which is reminiscent of the Prohibition era. We knocked on the unnamed door. A few seconds later the door opened and the glamorous hostess asked us for the password. She accepted and led us through the main reserved area, an intimate place to enjoy a quiet meal with a friend or loved one, and through a book case into the 'secret' back room.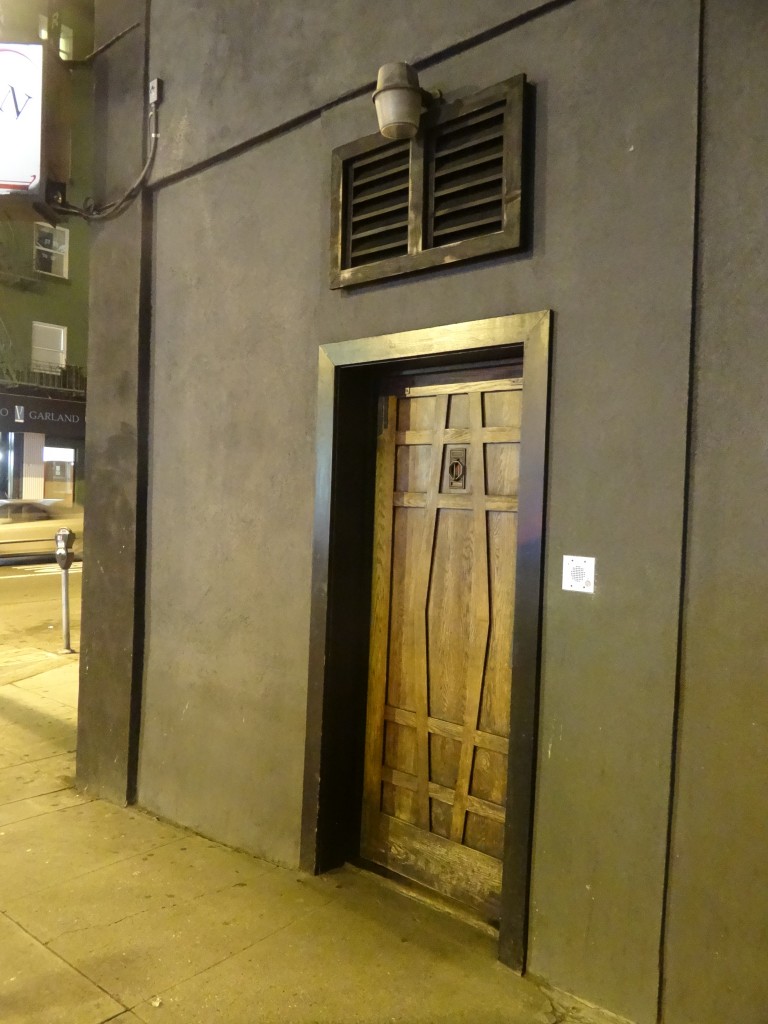 Cocktails are the order of the day in this candle lit bar, made by smart bartenders in 1920's attire. The music is as cool as the decoration… think low-key jazz sounds. The only thing missing was Billie Holiday singing the blues.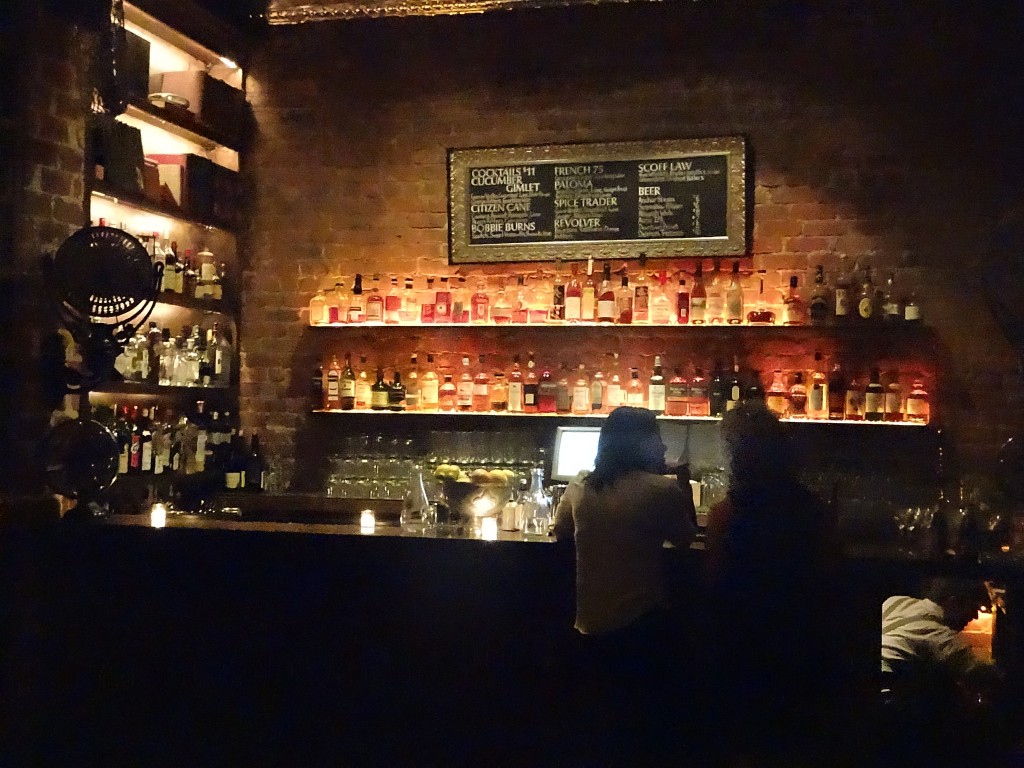 10. Spot Sea Lions at Pier 39
Pier 39 is a great place for kids and adults alike. There's plenty of things to keep you occupied from restaurants, shops, puppet shows, musicians, an aquarium, a carousel and you can even watch the sea lions that gather to sun themselves on the wooden decking below the pier.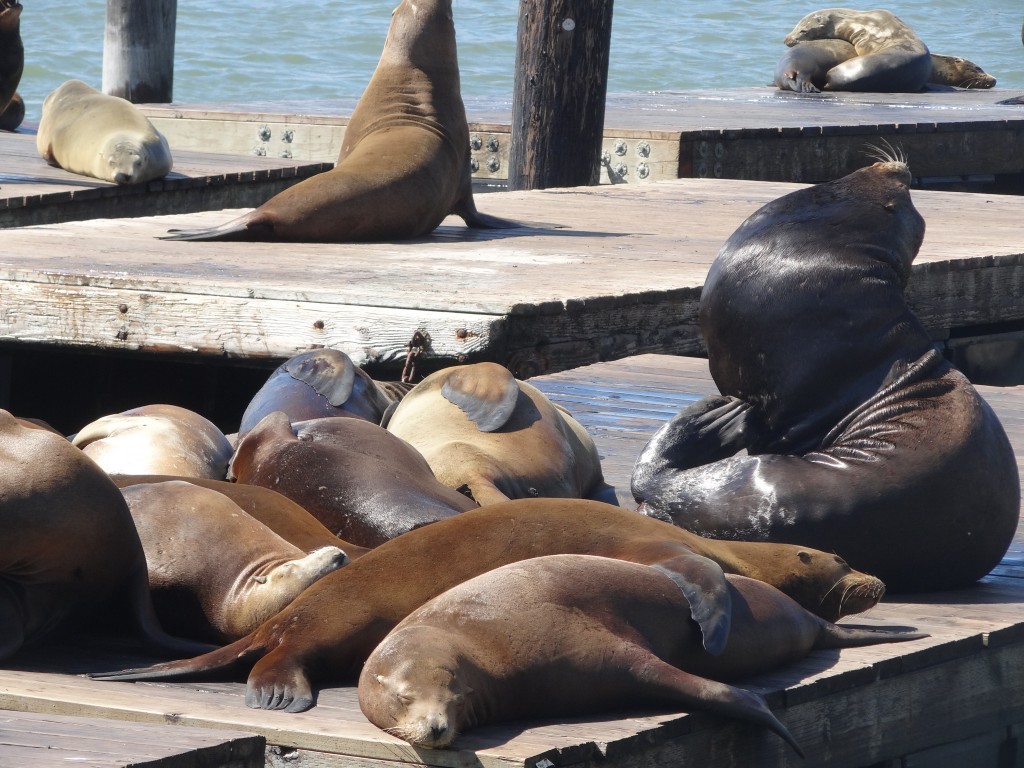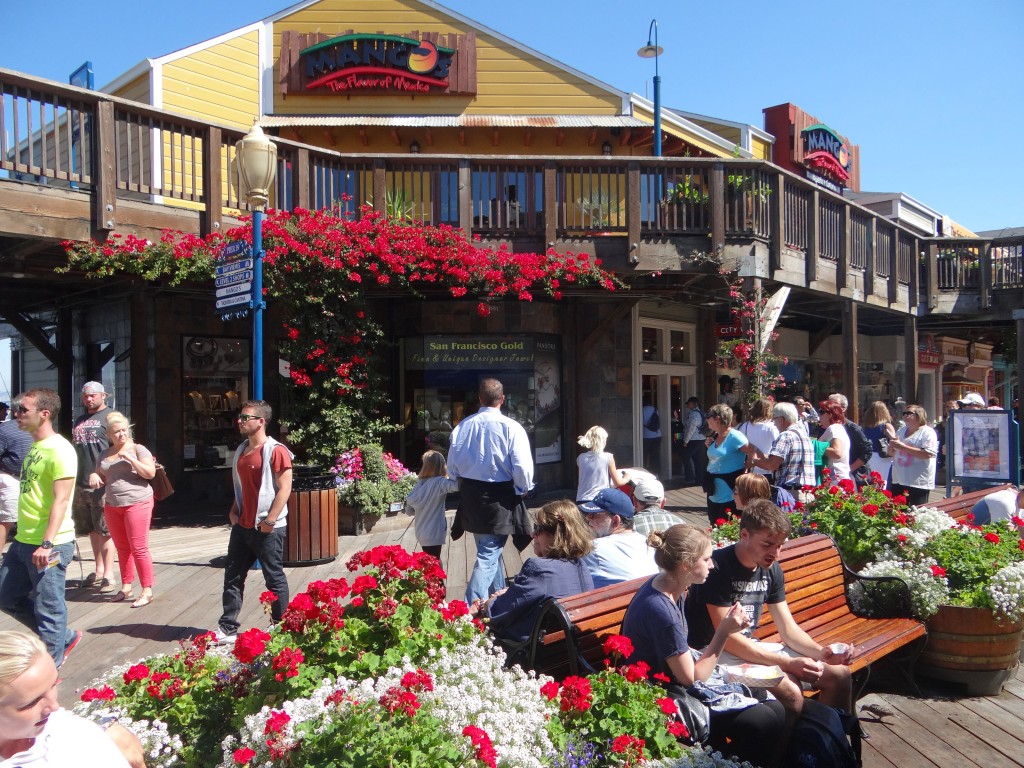 11. Beware of the Bushman at Fisherman's Wharf
Just further up from Pier 39 is Fisherman's Wharf where you'll find more great shops and attractions. Fisherman's Wharf is also home to the 'World Famous Bushman', a guy who hides behind a bush and jumps out to scare passers by. We knew to expect him, but he still got a couple of us. It is pretty funny to watch, but not everyone agrees!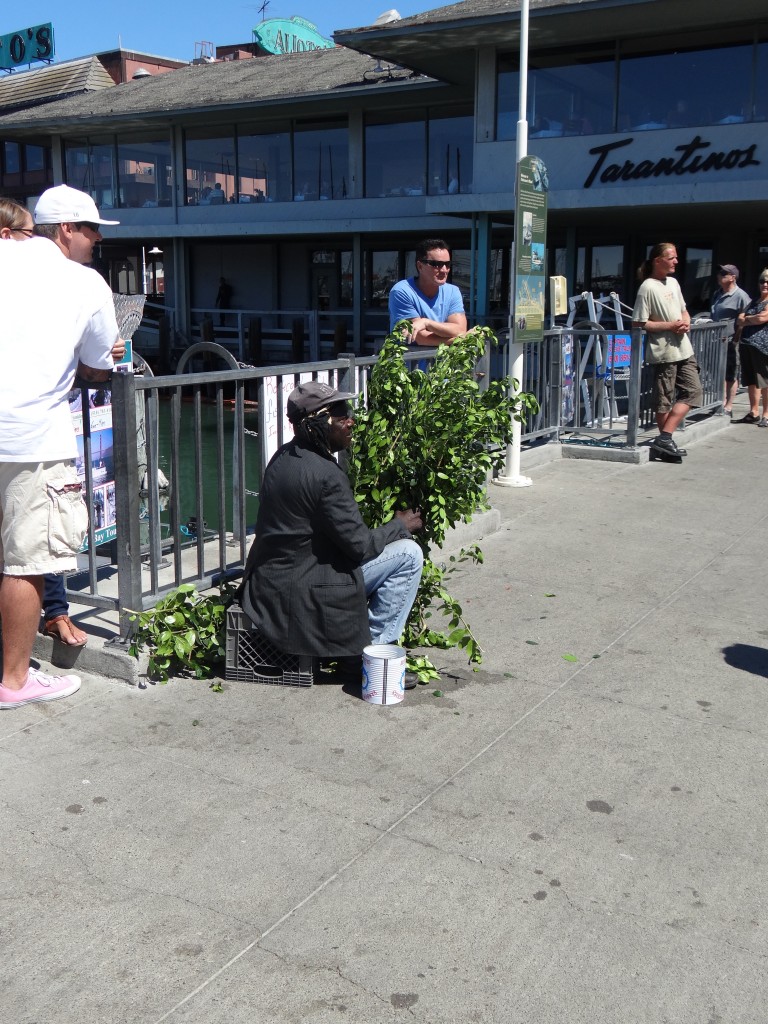 I also grabbed myself a cheeky little In N Out Burger! I especially enjoyed the Animal Fries off their secret menu.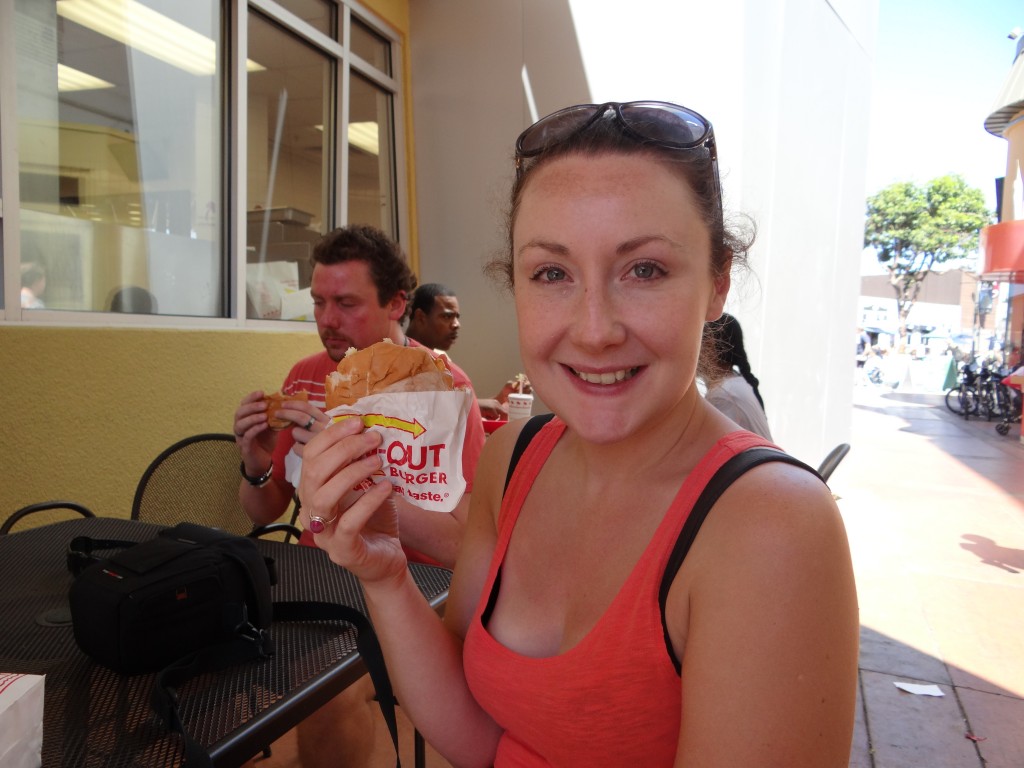 12. Watch the World Go By at Union Square
One of San Francisco's most famous landmarks is Union Square. It used to be a place where rallies were held during the American Civil War. When I was there, a peace rally was being held once again. This time for Syria.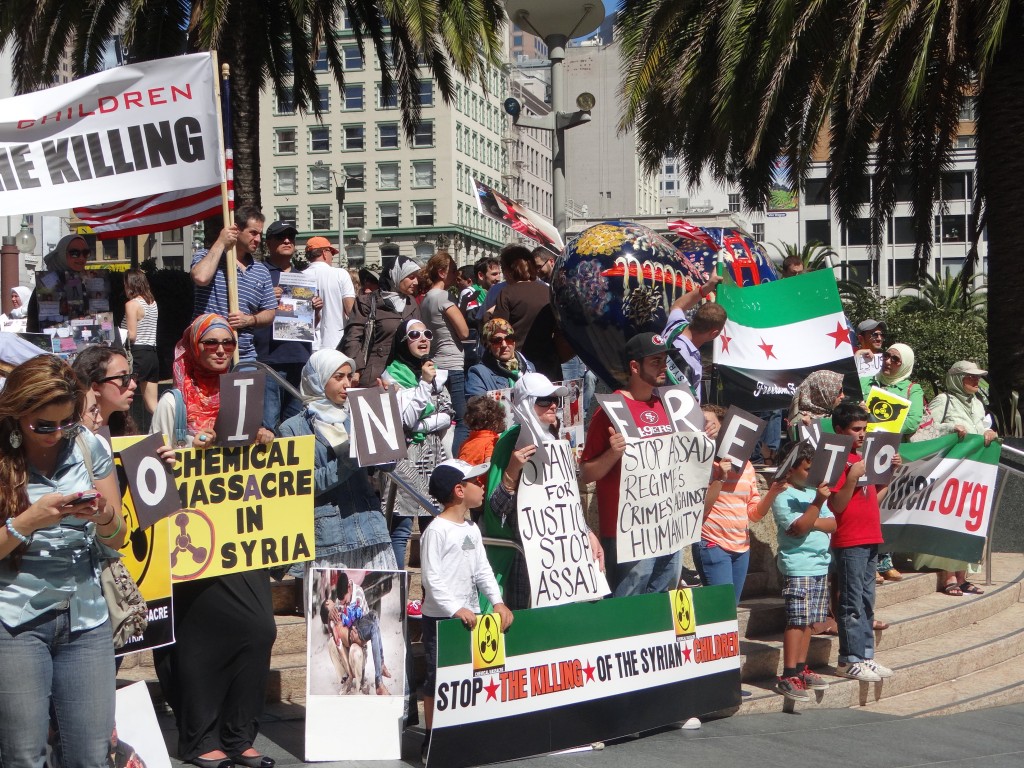 Protests aside, Union Square is a good place to catch the cable car or one of the sight seeing buses and also a place to wander and chill.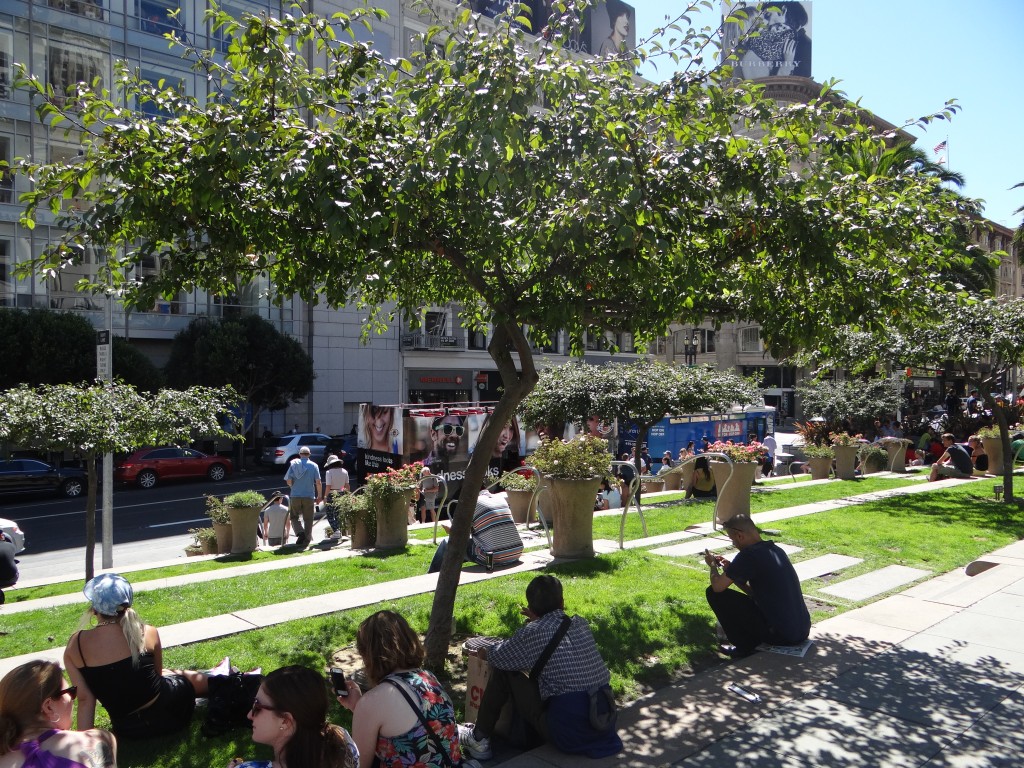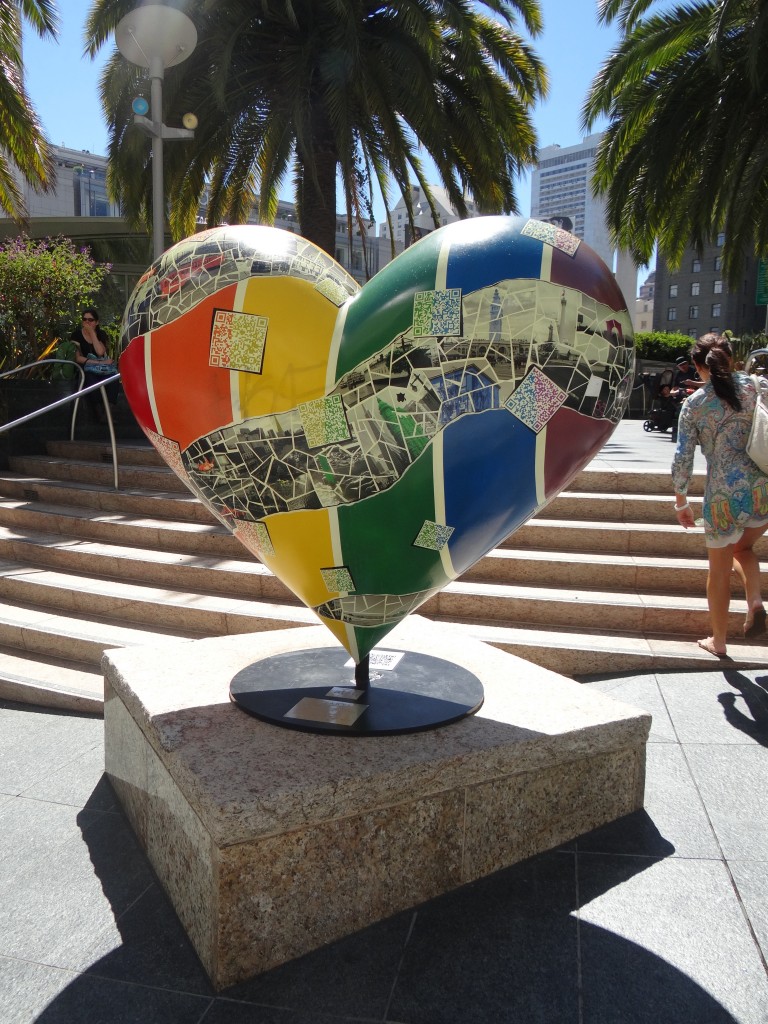 There's also a Macy's with a Cheesecake Factory at the top. Quite possibly the reason that we MAY have eaten too much at lunch and missed dining at the House of Nanking. Oops. But mmm, that cheesecake was gooooooood! It was all Dave's fault!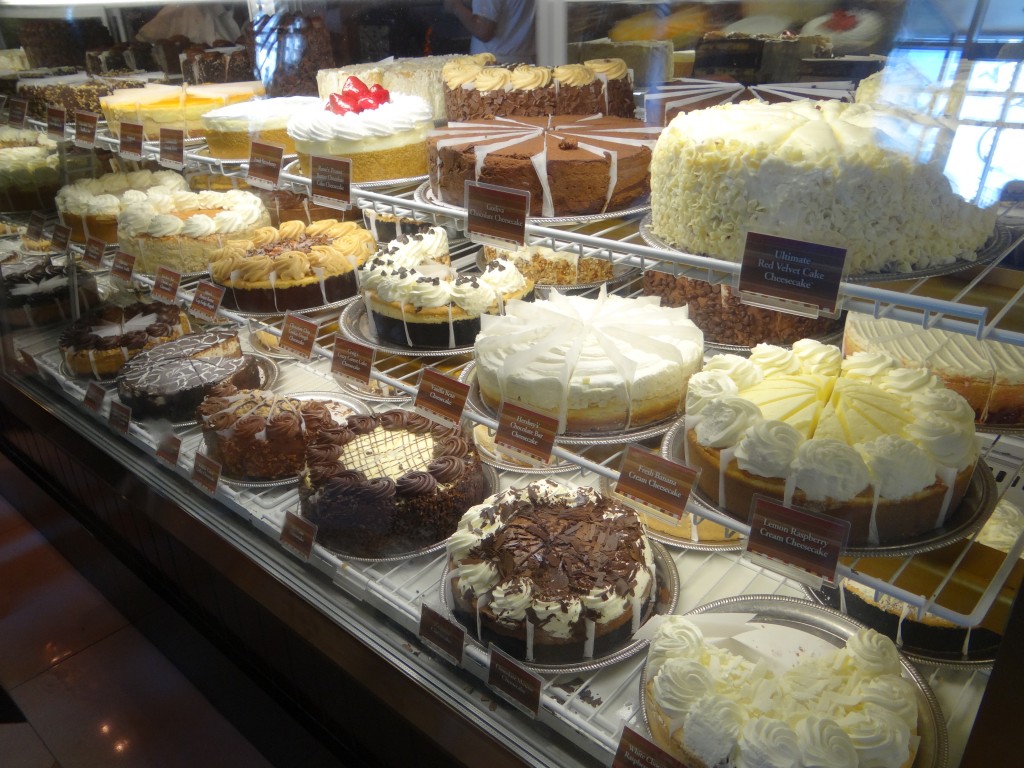 13. See the Windy Road
Lombard Street, also known as the Windy Road (not to be confused with windy – as in "ooh it's windy today") is one of the most crooked streets in the world. It's funny to watch cars as they snake their way down the street!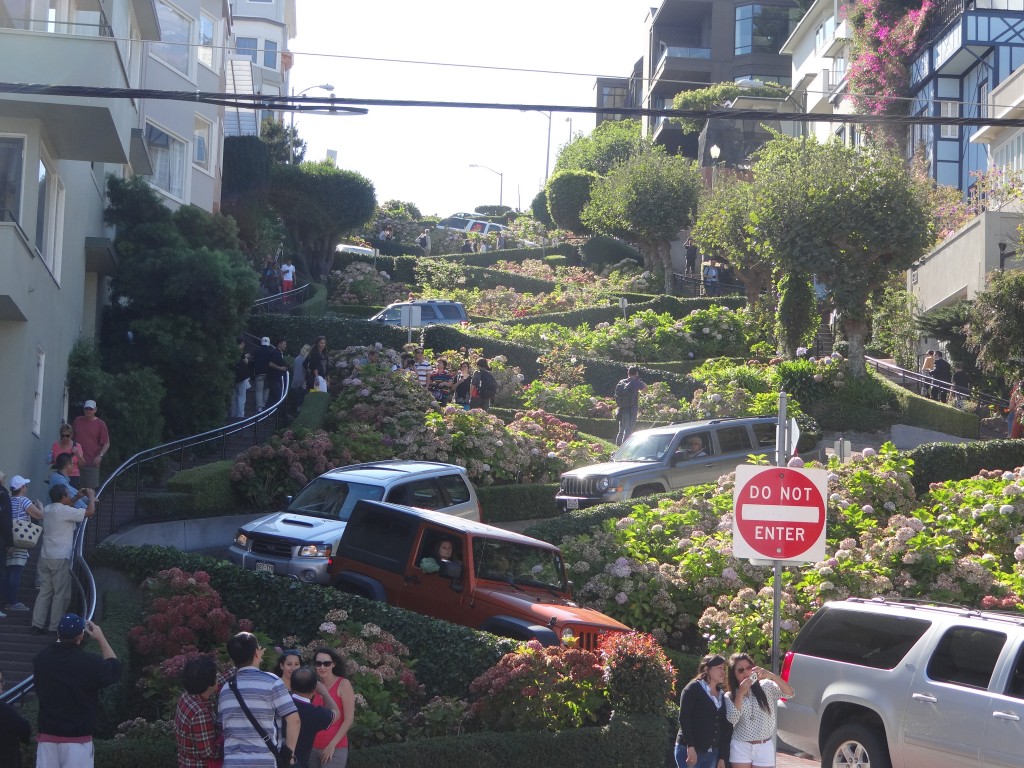 13. Discover the Golden Gate Park
The Golden Gate Park is a lovely place to spend a day. Confusingly, Golden Gate Park is not the park next to the Golden Gate Bridge.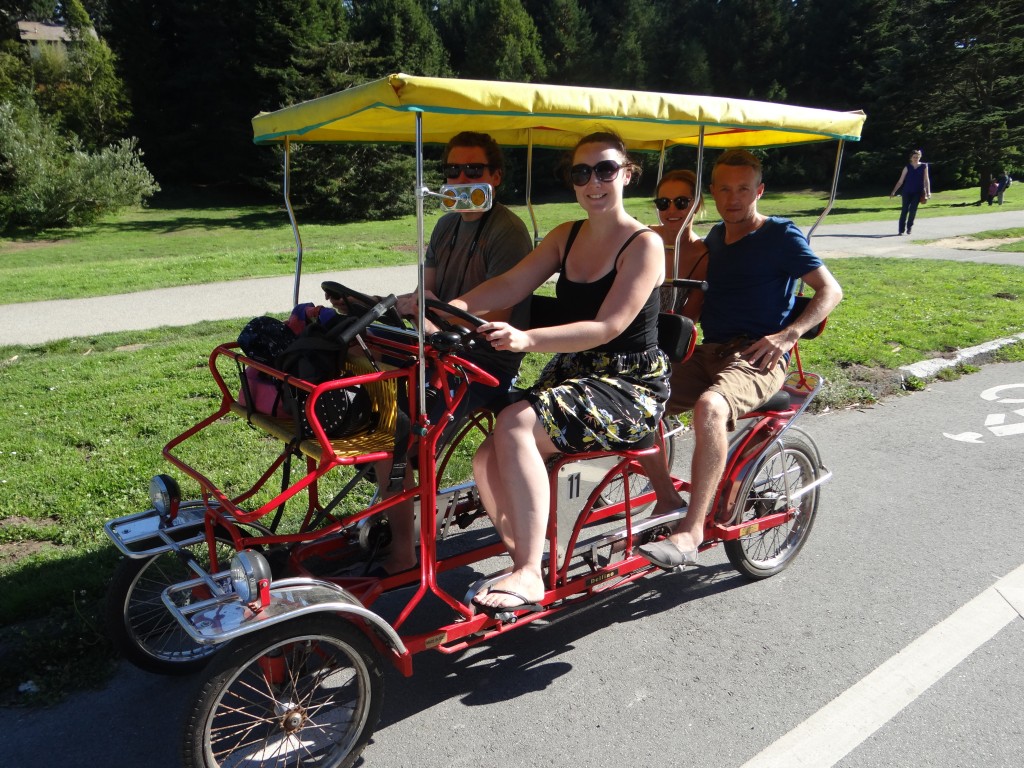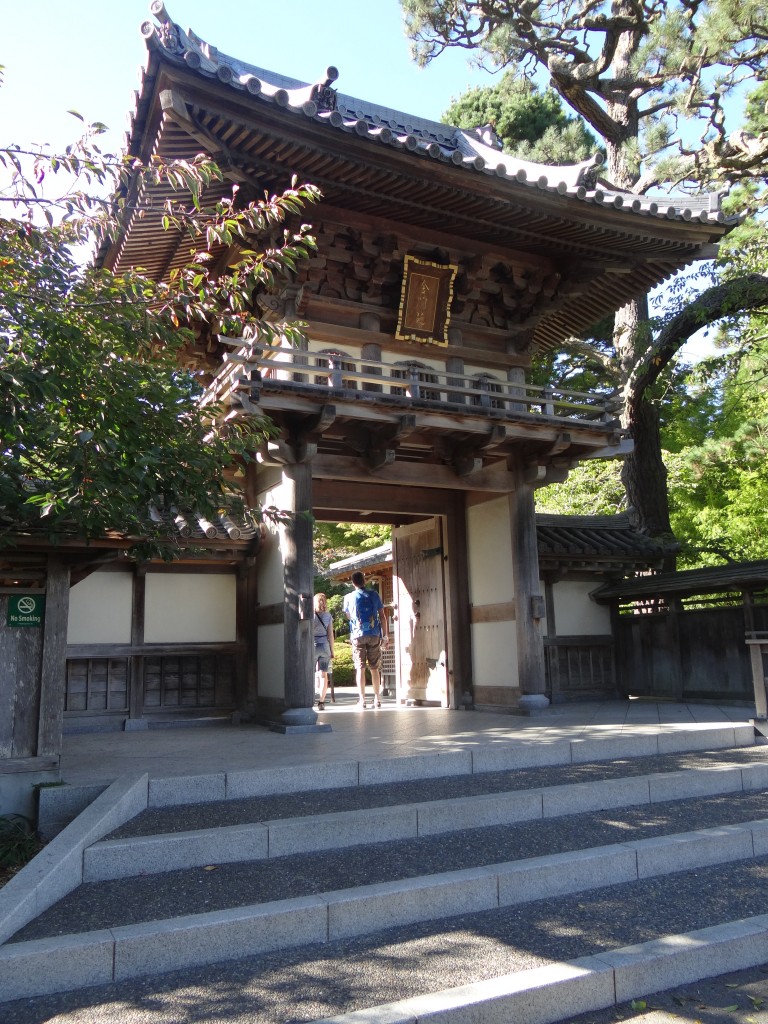 We hired a four-seater surrey and a bike and navigated our way around the park on those. If we'd had longer, I may have been tempted to try out a Segway! They look fun!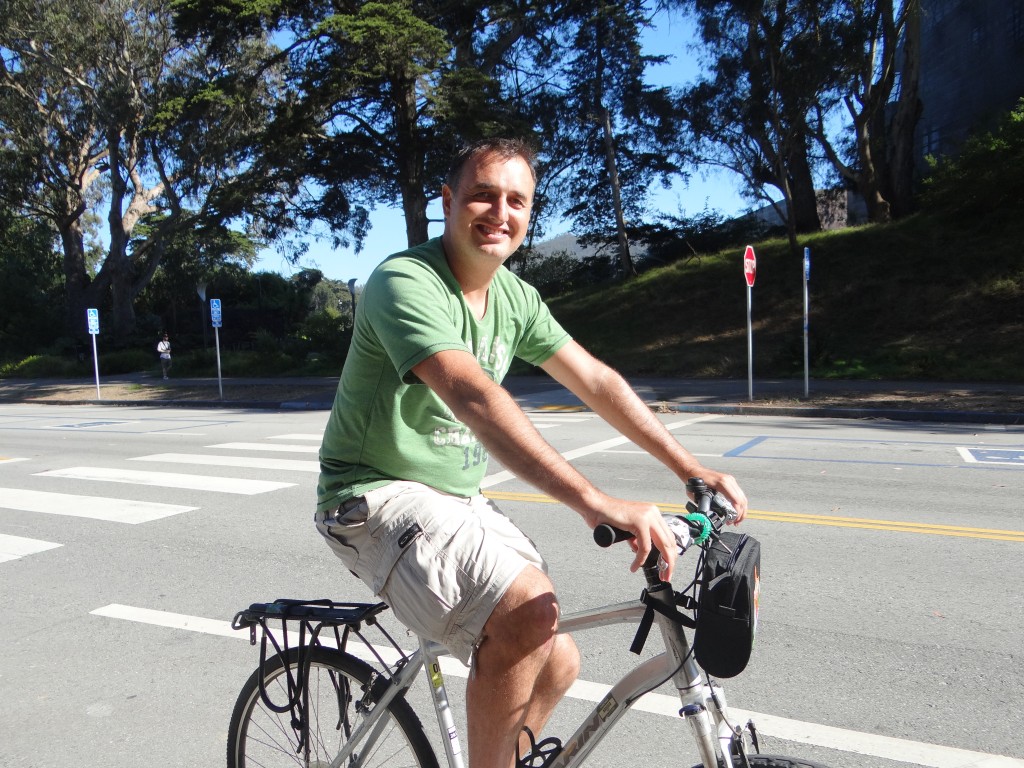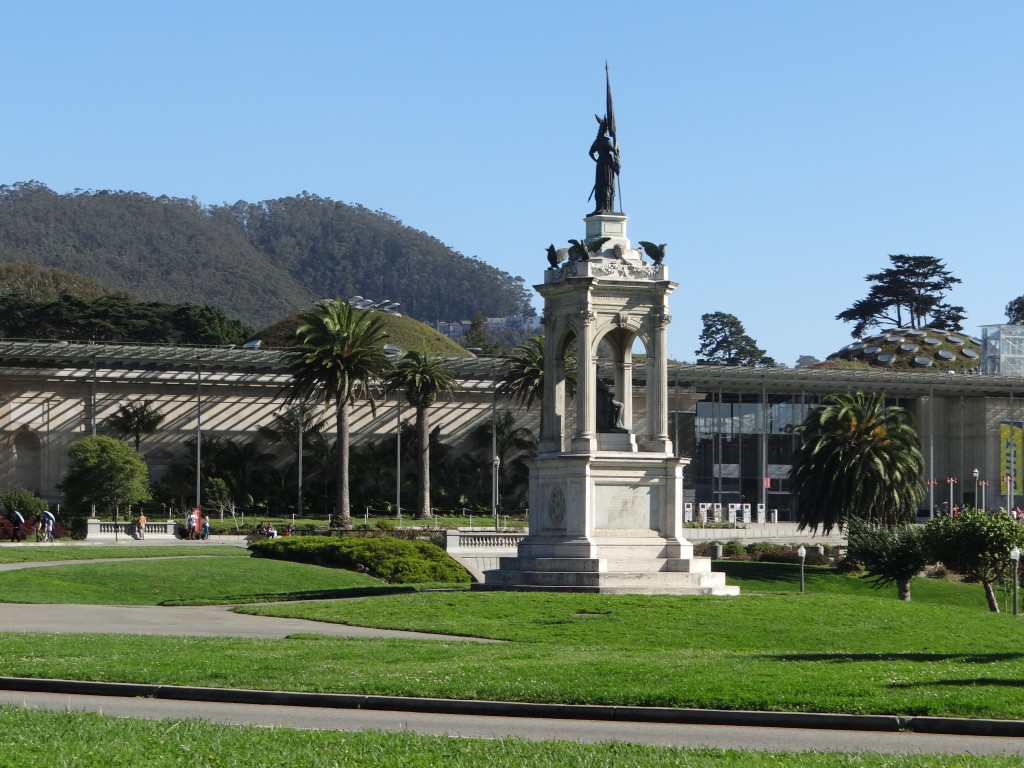 14. Get Stinky at The Stinking Rose
This restaurant is an Italian-Californian cross, and almost all of the delicious food at The Stinking Rose is made with garlic.  They even have garlic ice-cream.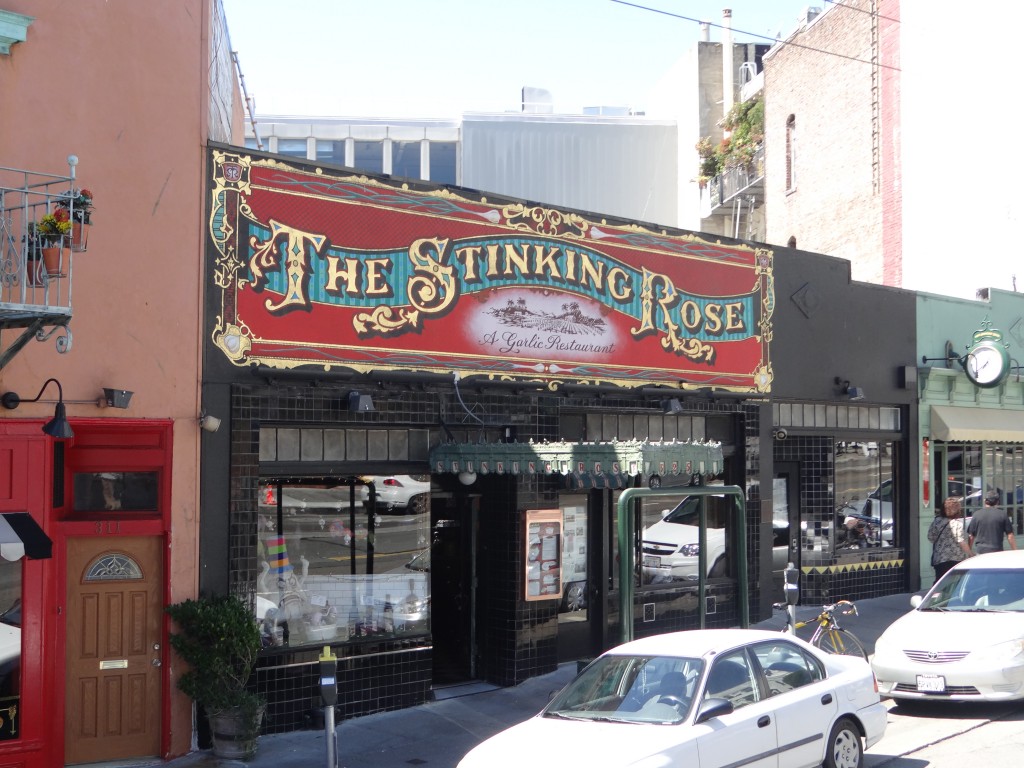 I love San Francisco and I hope you will too! Have you ever been?