Last Updated December 2018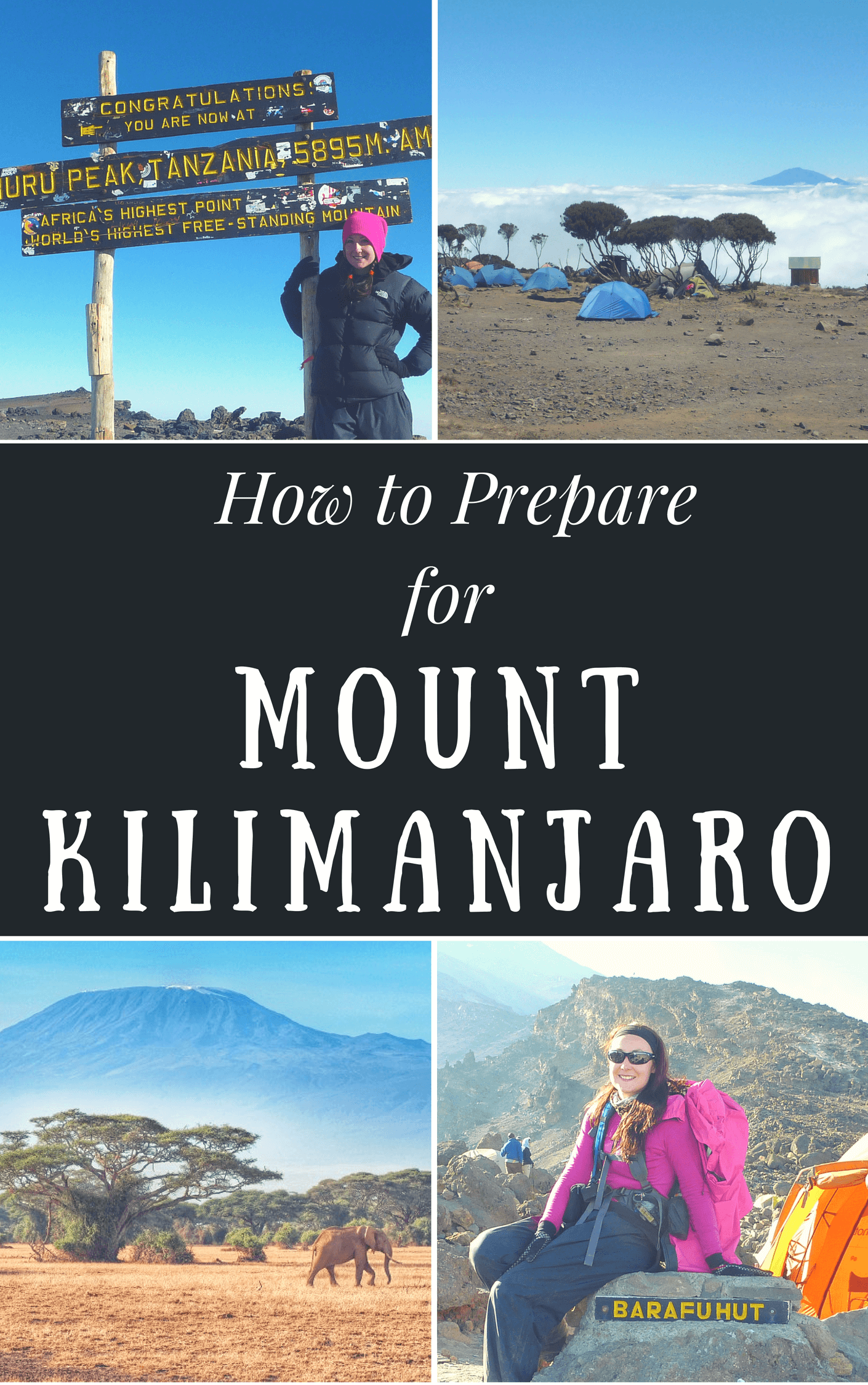 Climbing Kilimanjaro was one of the reasons I wanted to travel to Africa in the first place, but before I did it, I knew very little about it and had never really climbed a mountain before, so the thought of it was very overwhelming. Kilimanjaro isn't the highest mountain, but it is difficult and the success rates are relatively low. This is usually down to lack of preparation and the effects of altitude sickness. However there are a lot of things you can do to ensure you have a successful climb! So based on my experiences, here's everything you need to know to start preparing for your own Kilimanjaro trek. If there's anything that I haven't covered, leave your questions in the comments below and I'll answer them or point you in the right direction! Reaching the top was one of the most incredible moments of my life and with my preparation tips, I hope it will be one of yours too!
When is the best time of year to climb Kilimanjaro?
Best months to climb Kilimanjaro are:
January/February: Warmer, little cloud and moderate chance of rain.
July: – Cold, little cloud, moderate chance of rain.
August: – Cold, little cloud, low chance of rain.
September: Medium temperature, little cloud, low chance of rain.
October: Medium temperature, some cloud, low chance of rain.
I climbed in July and it was very cold at night, fine in the day, no clouds, no rain. For an extra special treat, consider timing your summit attempt with the full moon!
How do I get to Mount Kilimanjaro?
Mount Kilimanjaro lies in Tanzania, near to the border with Kenya. The nearest cities are Arusha and Moshi and whilst you can start your trek from either city, Moshi is closer, so most people start their treks from there. The nearest airport is Kilimanjaro International Airport. There's also Arusha Airport if you are coming from elsewhere in Tanzania. You can easily get buses to either Arusha or Moshi from Nairobi, Kenya (I recommend the Impala or Riverside Shuttles) or Dar es Salaam (I recommend the Kilimanjaro Express).
How long before I climb should I get there?
I would give yourself at least a day or two to recover from your flight, get organised, acclimatise and mentally prepare yourself for your trek.
Do I need a guide?
Yes you do. It is illegal to climb without a certified guide, so you will need to book through a registered company. Please ensure that the company you climb with are part of the Kilimanjaro Porters Assistance Project (KPAP) to ensure the porters are treated well.
Do I need to book ahead?
You don't have to book ahead and you can just turn up in Moshi or Arusha and book a trek with a local operator, however if there's a specific company you want to trek with, I would speak to them in advance. If you are travelling alone, you may want to ask around to see if you can join a group departure.
When is the best time to climb Kilimanjaro?
Best months to climb Kilimanjaro are:
January/February: Warmer, little cloud and moderate chance of rain.
July: – Cold, little cloud, moderate chance of rain.
August: – Cold, little cloud, low chance of rain.
September: Medium temparature, little cloud, low chance of rain.
October: Medium temperature, some cloud, low chance of rain.
I climbed in July and it was very cold at night, fine in the day, no clouds, no rain. For an extra special treat, consider timing your summit attempt with the full moon!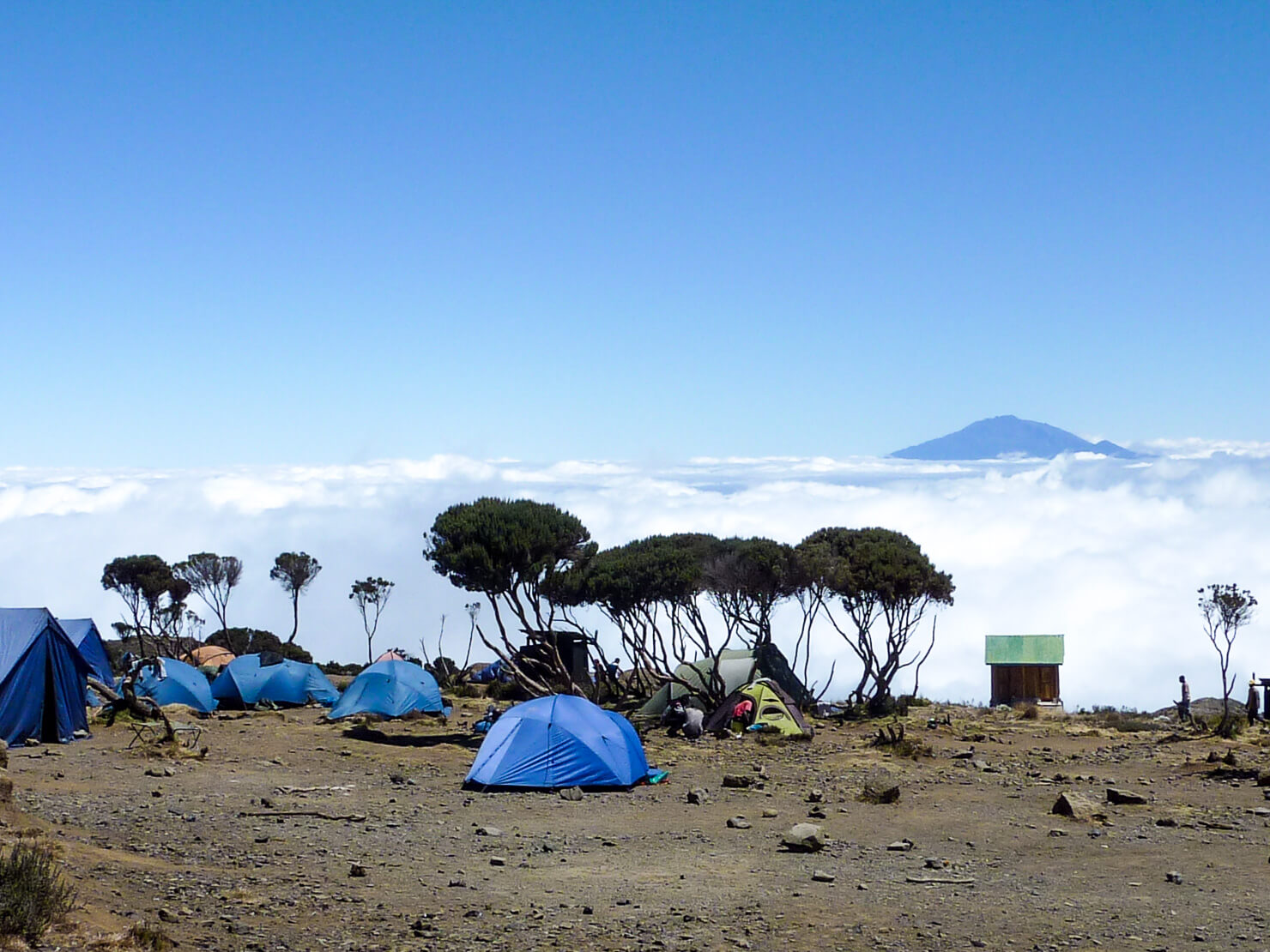 How long does it take to climb Kilimanjaro?
Most itineraries vary from 5 – 8 days. I booked a 7 day trek, but I did it in 6 days. The longer your trek, the better your chances of reaching the top. I did 2 of the ascent days in 1 day, then spent the spare day resting at base camp. Then I descended in 1 day rather than 2 because I just wanted a proper bed and a shower. For the highest chance of success, climb over 7 or 8 days. The fastest ever ascent and descent was made by a Swiss man called Karl Egloff in 2014. He ran to the summit and back in 6 hours, 42 minutes. I cannot even comprehend that.
How old do you have to be to climb Kilimanjaro?
10 is the minimum age but there is no upper age limit. The oldest person ever to climb Kilimanjaro was 85.
Which route should I take up the mountain?
There are seven established routes to climb Mount Kilimanjaro – Marangu, Machame, Lemosho, Shira, Rongai, Northern Circuit and Umbwe. There is another called the Western Breach – but it's notoriously more dangerous than the other routes, and many tour operators don't use it.
Marangu: Known as the "Coca-Cola" route, the Marungu route is known as the easiest due to the gradual slope. However, it has one of the lowest success rates, probably because people choose do do it over 5 days. This is the only route with huts you can stay in.
Machame: This is known as the "Whiskey" route, difficult and busy, but one of the most scenic routes! This is the route I took! You can read about my trip here.
Lemosho: Similar to the Machame Route, using some of the same paths, so also very scenic but with less traffic.
Shira: Similar to Lemosho but it has a higher start point which eaves you less likely to be able to acclimatise to the altitude.
Rongai: An easier route than Machame, Lemosho and Shira, but less crowded than the Machame Route.
Northern Circuit: This is the newest Kili route and the longest so it now has one of the highest success rates. It's great for scenery too.
Umbwe: A very direct route which is known to be extremely challenging. This is not for the faint hearted and should only be attempted by climbers who are confident that their body responds well to altitude. For more help deciding which route to take, click here.
Is climbing Kilimanjaro dangerous?
With any mountain there are risks. Hazards include falls, rock falls, hypothermia (temperatures can reach down to -30 degrees at night), as well as aggravating any pre-existing medical conditions. I have also heard of someone being struck by lightning. Between 3 and 7 out of the 35,000 people who climb it each year die trying and the biggest risk is posed by the altitude. Altitude sickness (also known as acute mountain sickness – AMS) is caused by low oxygen levels at high altitude and can occur above 2400m. On summit of Kilimanjaro, the oxygen level is about half of what it is at sea level. There are 3 stages of altitude sickness, mild, moderate and severe. Symptoms can range from hardly noticeable to severe and in some cases can cause death. Severe altitude sickness can cause high altitude cerebral edema (HACE – swelling of the brain) or high altitude pulmonary edema (HAPE – fluid on the lungs), both can result in death. Your guide should keep an eye on you and if you show any signs of HACE or HAPE they should immediately help you down the mountain. Saying all that, Kilimanjaro is probably one of the safer high altitude mountains.
Do I need travel insurance?
Yes you need comprehensive travel insurance and make sure it includes trekking at this height.
Do I need to be really fit to climb Kilimanjaro?
I'd say you have to have a good base level of fitness, strength and stamina but I am not super fit and I found it ok. The biggest challenges is finding the mental stamina to carry on and the altitude sickness.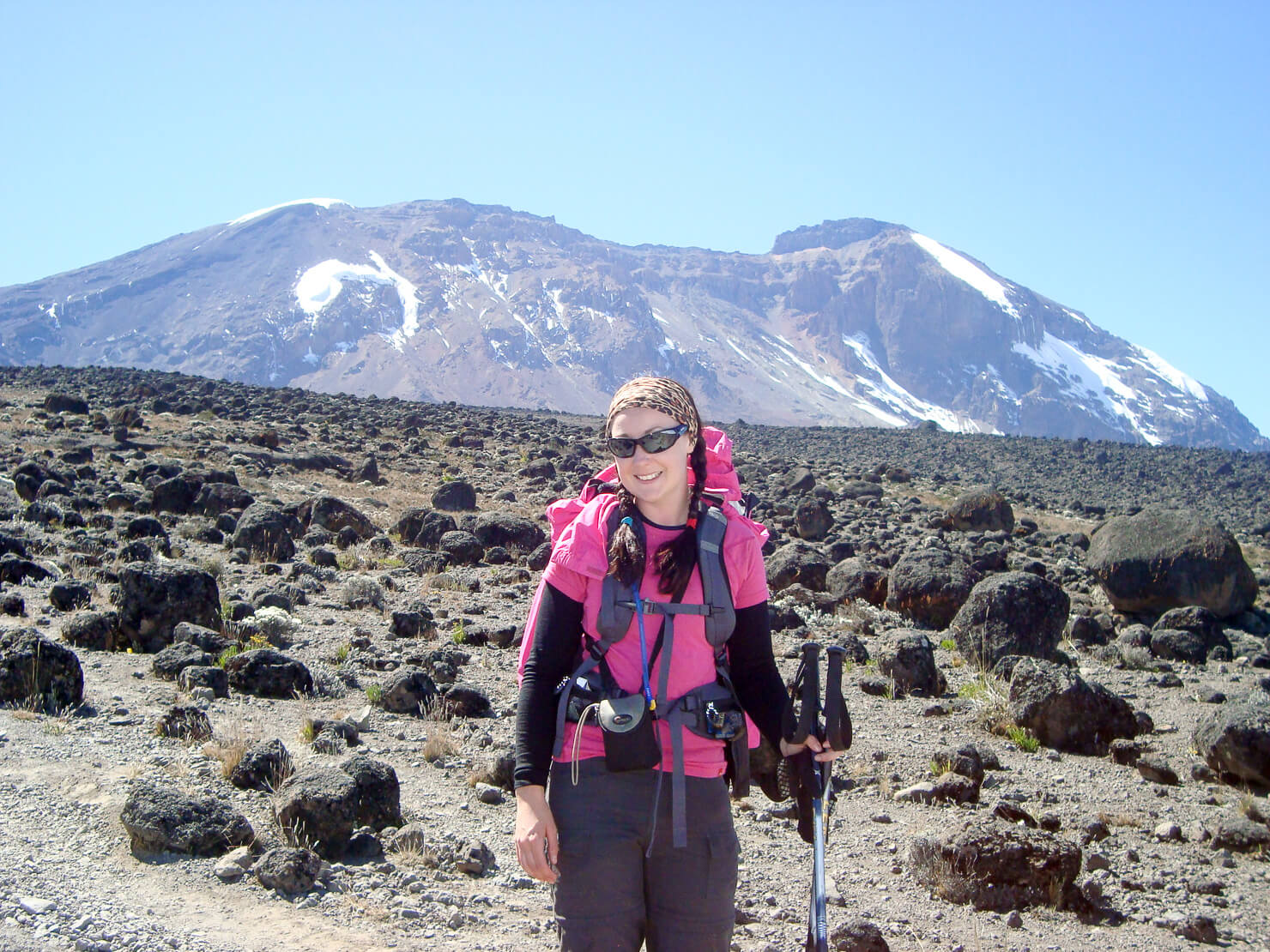 How can I best prepare for Kilimanjaro?
Training: Doing training walks at home and going to the gym to get your fitness up are the best ways to prepare. The climb isn't technical, but it is physically demanding. If you can also do any other training at altitude, this will help. Equipment: Having good warm clothing, good boots and a good sleeping bag (3 or 4 season) is very important. See my full packing list below. Wear in Your Boots: Blisters on Kili are not fun and once you've got them, they will plague your entire journey. I know this from experience! Wear in your boots to make sure they are comfortable over long distances and have plenty of good socks and blister plasters at the ready. Mental Preparation: The battle on Kilimanajro is more mental than physical, in my opinion, so you will need to mentally prepare yourself for the fact this is going to be tough. Keep the end goal in mind at all times. Ask friends to write encouraging letters for you to read on the way. This can also mean forcing yourself to go a bit slower than you would usually. Soundtrack: Create a good playlist for your iPod to keep you motivated and make sure you have a way to charge your electronics (spare batteries, power pack, solar charger).
Will I get altitude sickness?
The summit of the mountain is called Uhuru Peak and it is 5,895 m (19,341 ft) above sea level. It's the highest point on the African continent. Kilimanjaro is also a free-standing mountain, meaning it stands alone and not in a range, so you pretty much go straight up, rather than, say for instance, Everest Base Camp, which is a similar height (a bit lower), but you climb over a longer period of time. Altitude sickness usually tends to affect people over 3000m (but can start lower) and on Kilimanjaro, most people will probably feel some of the effects. I suffered with moderate altitude sickness, these were my symptoms – lack of appetite, nausea, vomiting, fatigue, headache, dizziness, peripheral edema (swelling of the face – see my face on the below pic), insomnia, pins and needles, nosebleeds – sounds lovely doesn't it? Being fit has nothing to do with it. I have a buddy who is a semi-pro rugby player. He's super fit and strong. I am not. He climbed a few days after me. He couldn't do it. I could. I also have friends who weren't affected by it much at all. Everyone's body is different. The only way to cure it, is to descend to a lower altitude. Your guides are trained to recognise the symptoms and if they tell you you need to go down, you need to go down.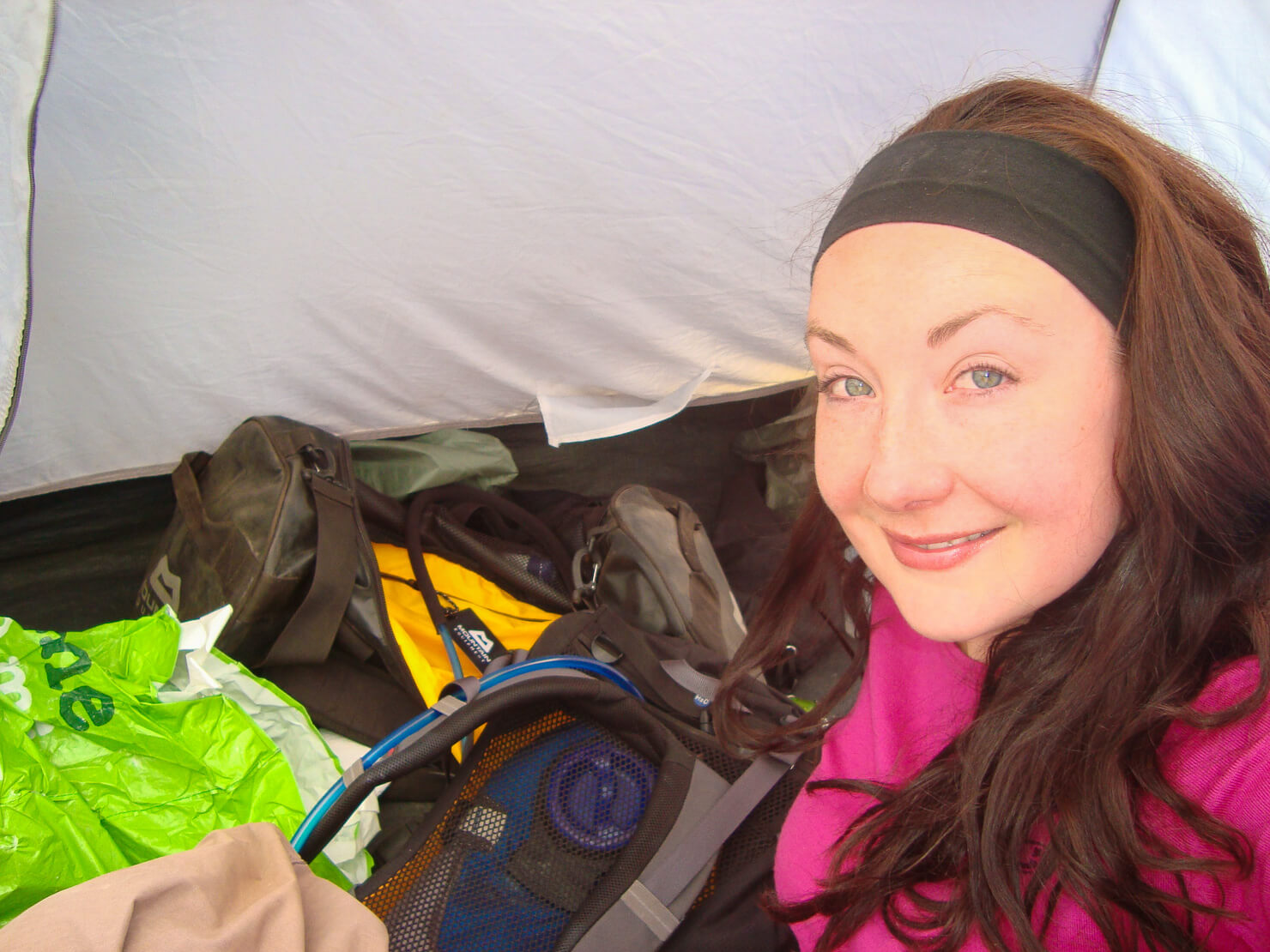 How can I prevent altitude sickness?
Unless you've been at altitude, it's hard to know how your body will react to it. But there are ways to try and combat it and prepare your body for what you're about to put it through. Arrive before your trek and give your mind and body a little time to rest and acclimatise. Go pole pole (slowly). The slower you go, the better. This is not a race. This is between you and the mountain. No-one else. This is where you mental strength also comes into play. Climb over a longer period of time. The longer you take to acclimatise, the better your chances of success. Take Diamox. This is a drug that helps prevent altitude sickness. I took it on the first day and then stopped as I didn't like it. If you take it, try it out before you go to see how your body reacts to it. Drink lots and lots of water. There are special altitude machines you can rent and chambers you can go to which simulate altitude conditions, but these are expensive.
What should I pack for Kilimanjaro?
I've written a comprehensive Kilimanjaro Packing List just for you!
How much does a Kilimanjaro climb cost?
It's not a cheap trip and costs will vary from operator to operator – I did my climb with Absolute Africa. My climb was quite no frills, nothing fancy. No super cool tents, no private loos, no nice mattress – but it was probably more expensive because I was alone. In total, my trip cost around £1,325 (without flights) and I've written about the detailed costs in my What 6 Months of Travel in Africa Cost Me post. There are tons of different companies to choose from so shop around for quotes. On top of this, you will need to factor in; equipment, flights, vaccinations, malaria tablets (some malaria tablets cannot be taken at altitude so please check) and insurance.
How much should I tip the crew?
It is expected that you will tip your support crew. The below is a guideline as to how much you should give each of your team members per day. This is per group, not per climber. So if you are a group of 4 climbing for 6 days, you would each tip your guide $5 per day x 6 days = $30 pp for the Tips should be given at the end of the trek when you reach the gate. Guides – $20 per day Assistant Guides/Cooks – $15 Porters – $10 So if you are a group of 4 climbing for 6 days, you would each tip your guide $5 per day x 6 days = $30 pp. Some people don't agree with giving such big tips (usually those who haven't done it) but these guys are your angels on that mountain, so for me personally, this isn't too much to ask. Get together with your group to discuss how much you will tip. Put the tips into an envelope for each person and give them to each individual guide/porter, rather than to just one to distribute. Tips should be given at the end of the trek when you reach the gate.
How can I save money on my Kilimajaro?
To save money you could:
Shop around for quotes either online or on the ground, but don't go with a company just because they are cheap – do your research to ensure they get great reviews.
Join a bigger group.
Borrow clothing/equipment from friends.
Hire some of the things you need in Tanzania – check what's available with your tour operator before you go, it could save you a lot of cash! There are also quite a few rental companies in Moshi. But if you do hire, don't forget to leave some space in your bag as you'll need somewhere to put it!
My friend Kate only decided to climb Kili when she was in Tanzania, so she pretty much hired everything, and saved a lot of cash! It's all about personal preference, I liked having my own stuff and I still use much of it now.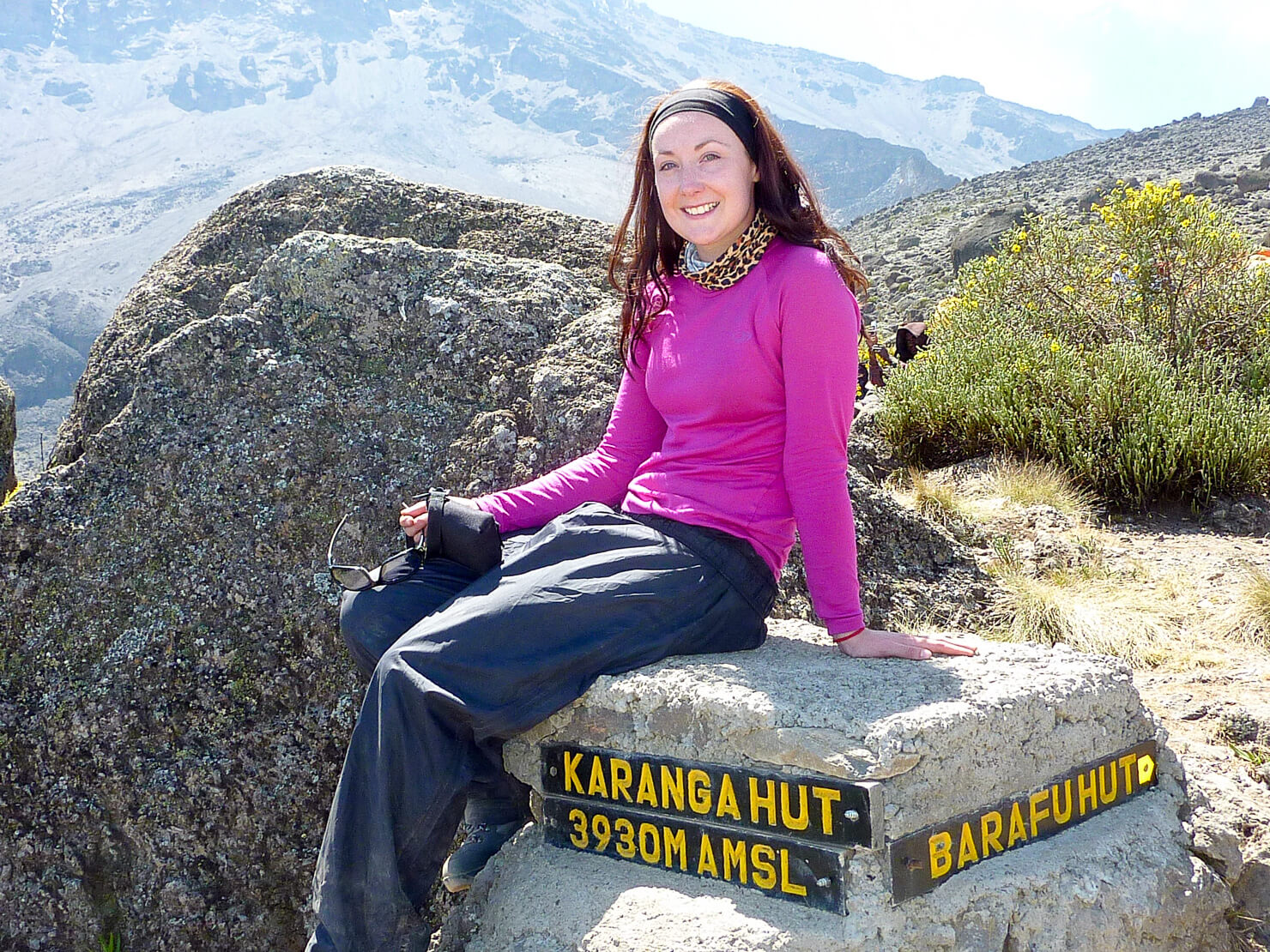 What are the toilets like on Kilimanjaro?
The only toilets are in the campsites and most of them are long drops. They're pretty shitty. Literally. And I know this because I spent some time looking into them whilst I was being sick. It's a sight that will haunt me for the rest of my life. Some companies provide slightly nicer facilities or you can hire your own toilet and a porter to take it up the mountain for you – fancy, but affordable if you're in a group and worth considering for that little bit of extra comfort. But to be honest, I think you're probably best just making your peace with the crappy loos. Plus it's 'character building'. I did see some nicer toilets whilst at Camp 2 (Shira Hut) and my biggest regret is not using them!
What happens if I need to go to the toilet whilst I'm walking?
When you gotta go, you gotta go – there are no toilets other than at designated campsites. When you climb mountains, you have to try and get over your stage fright, don't hold it in and don't not drink water! There are usually plenty of bushes or rocks you can hide and if you're worried, consider taking a sarong so you can make a little privacy for yourself if needed. Just don't drop any toilet paper, put it in a plastic bag and dispose of it at your next camp! Personally I wouldn't bother with a She Pee in case you were wondering! And if you do, practice before you use it!
What is the best thing about climbing Kilimanjaro?
Being above the clouds is a surreal, peaceful and very beautiful experience. The sense of achievement is is incredible and still to this day it's one of the best things I've ever. The food is usually pretty great – if you can eat it! I also went down a dress size! I loved it so much that I'm climbing Kilimanjaro again in February 2018!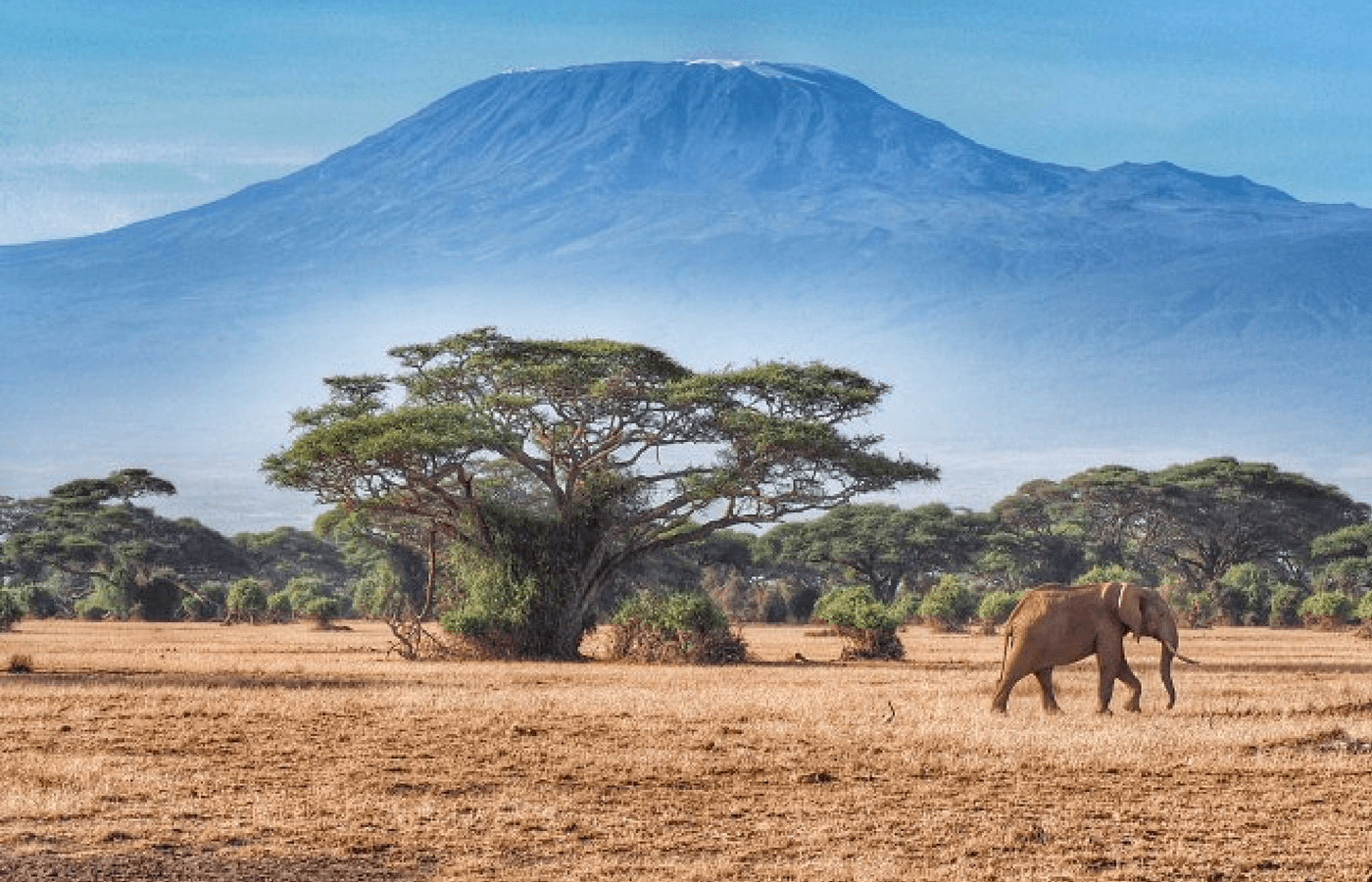 Where shall I go after my trek?
First go to your hotel, shower and use the nice toilet. Then go out for a big fat pizza and a beer at Indoitaliano in Moshi. Once that's taken care of, you could combine a Kilimanjaro climb with a Serengeti safari and the Ngorongoro Crater or Amboseli in Kenya. Or you could head to the beautiful island of Zanzibar to take in the culture of Stone Town or relax those tired muscles on one of the beautiful white sandy beaches. And if you really want to test yourself, why not do a Mount meru climb as well. If none of those options float your boat, you can fly to a number of other international destinations from Kilimanjaro airport.
What are your top 10 tips for climbing Kilimanjaro?
Go 'pole pole' which means slowly in Swahili. Slow and steady wins the race. The longer you take to acclimatise, the better.
Go on plenty of training walks before you climb Kilimanjaro to strengthen your muscles and wear in your boots as much as you can before you go. Blisters are the bain of a Kilimanjaro trek.
Take lots of energy bars/Kendal mint cake/chocolate.
Drink lots of water. Better to need to pee more often than to feel sick or dehydrated. Trust me on this one.
See your doctor before you go to ensure you're in good health.
If you are taking any new medications, try them out BEFORE you go.
Stay warm by having good clothing and using a good sleeping bag. From day two onwards you're above the clouds. It's really freaking cold at night.
Ask family and friends to write you letters that you can read at the end of each day. It will give you motivation. I did this for my friend Charlotte when she climbed and she said it worked really well for her.
Kilimanjaro is as mentally challenging as it is physical (perhaps even more so), prepare yourself for that. Don't let that mountain break you! You can do it. Positive Mental Attitude!
Listen to your guide and follow their advice to stay safe and well. If they say you need to go down, you go down.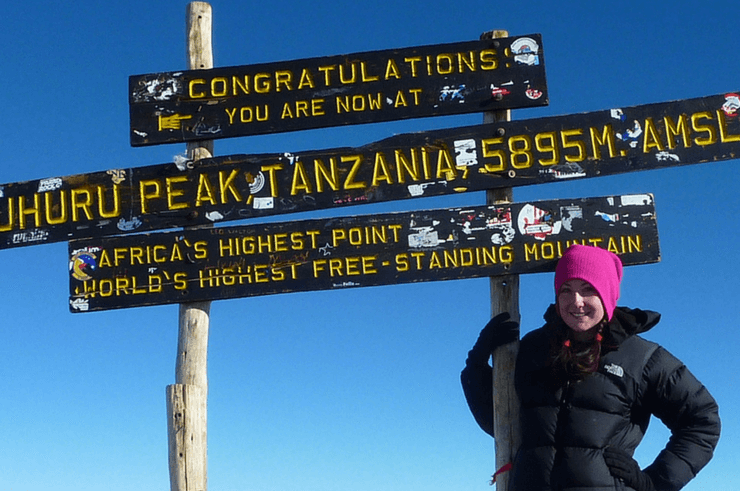 ---
Plan Your Trip to Mount Kilimanjaro
Getting There: I always search for flights on Skyscanner. The nearest airport is Kilimanjaro is Kilimanjaro International Airport, which lies between Arusha and Moshi (slightly closer to Moshi).
Where To Stay in Moshi:
Some treks include accommodation pre or post-Kilimanjaro but if they don't here are some good options
Travel Insurance: This is Africa, so make sure you have comprehensive travel insurance that will cover you for all of the activities you want to do including Mount Kilimanjaro. I recommend World Nomads or Outbacker.
Resources: I'm a big fan of Lonely Planet guidebooks and usually travel with one wherever I go.
Operators: There are a number of great operators out there, so do your research and compare. Just make sure your operator abides by the KPAP regulations and are on this list. 
Tours: Want to climb Kili with an awesome group of like-minded adventurous travellers? Then join a small group tour and come on one of my Rock My Adventure tours. I work in association with KPAP approved companies only. 
Read More About Kilimanjaro: 
See all Tanzania posts here.
---
Want to climb Kili with an awesome group of like-minded travellers? Then come with us on the Rock My Kilimanjaro & Serengeti Adventure!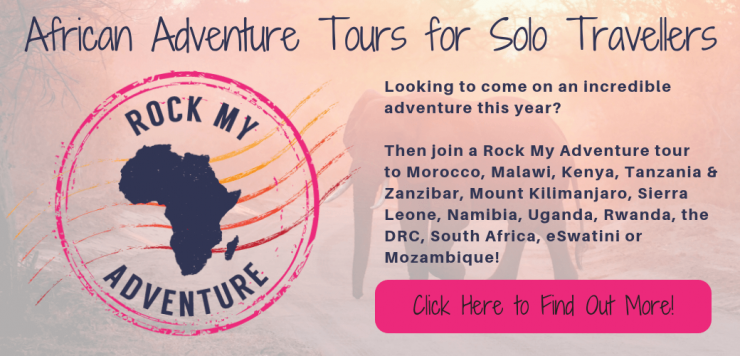 I hope you have an amazing and successful Kilimanjaro trek! If you have any questions or suggestions, please leave them in the comments below!
---
Please Note: Some of the links in this post are affiliate links, which will earn me a small commission at no extra cost to you. Affiliate sales help with the running costs of this site, so thank you for your support!