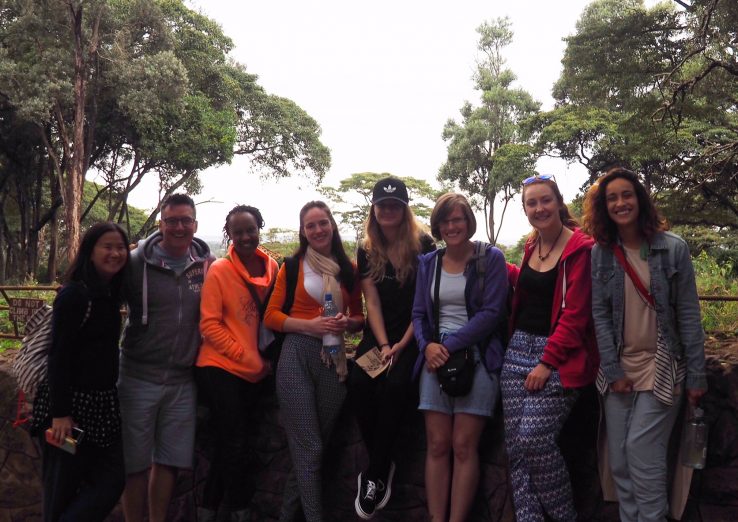 Welcome to the Rock My Kenya Adventure – August 2016 photo diary!
I actually can't believe my 'This is Kenya' tour is over. It was six months in the making, resulting in two weeks of adventure, ups, downs, memories, and laughter. New friendships were made and new experiences were had.
It started off as an idea in January 2016, that quickly formed into a plan and before I knew it, it was August and I was in the middle of the Masai Mara, leading 7 virtual strangers (who would become great friends) on a 2-week adventure.
When I decided to do this trip, my aim was to offer something a bit different than the other Africa tours out there, which tend to be super high end – where you see very little of everyday Africa or overlanding – where it's a bit more rough and ready – putting up your own tent, camping every night, doing all your own cooking and super long drives most days.
There's not much in between.
So I wanted to create a travel experience that is more like a traditional backpacking experience, with a little bit of luxury thrown in – I guess you could call it 'flashpacking Africa'.
The trip was designed to show a rounded portrayal of Kenya whilst removing the hassle of having to find accommodation, working out how to get from A to B, and booking all your own activities.
At the same, I wanted to bring people together as a group, to avoid the inevitable loneliness that you sometimes face travelling alone in Africa and also to share the costs.
There were sooo many awesome highlights of this trip. But it would be hard to convey a lot of that to you because most of them lie within the characters of the people on the trip, the banter, and all of the in-jokes we had between ourselves!
You kind of had to be there or you can just book onto a future trip… 😉
So here are a few pictures and highlights of the first Rock My Kenya Adventure. Want to join the next group tour? Then click here.
UPDATE: Since this first Kenya tour in August 2016, I've expanded and now run tours in Kenya, Tanzania, Malawi, Zambia, Botswana, Uganda, Rwanda, the DRC, Namibia, South Africa, Eswatini, Mozambique, Sierra Leone, Benin & Togo.
Nairobi Giraffe Centre & the Great Rift Valley
We met in Nairobi where we spent the night before heading off early the next day to go to the Masai Mara. But not before stopping to feed some super cute giraffes on the way. We passed along the Great Rift Valley where we got out to stretch our legs and take a few photos.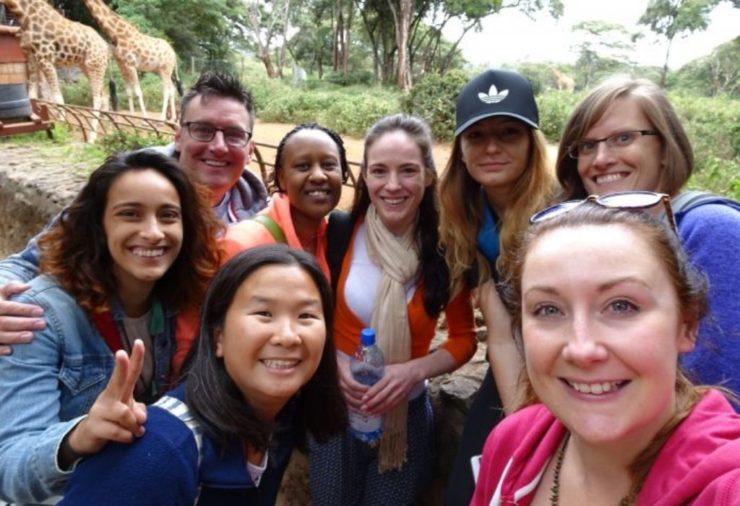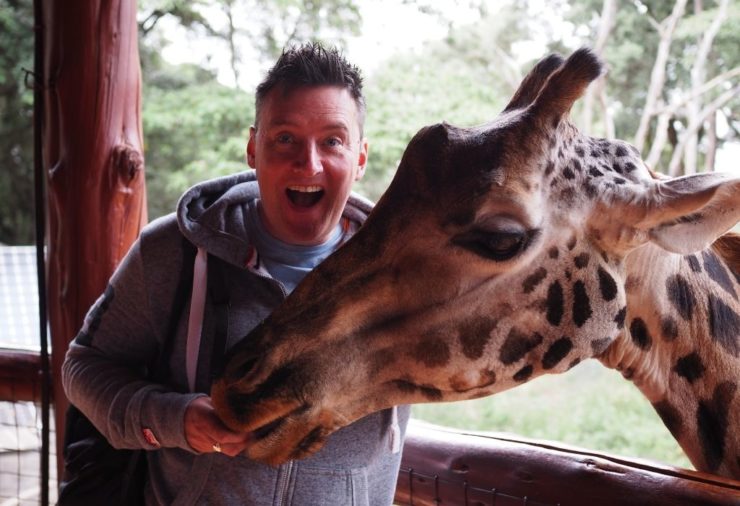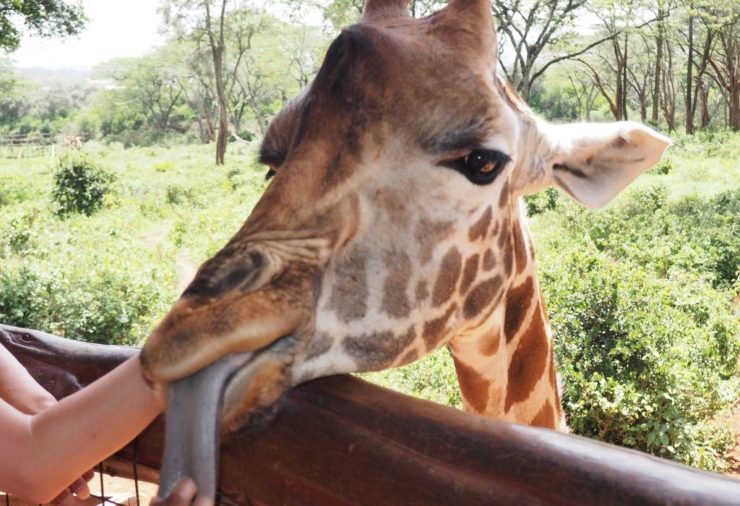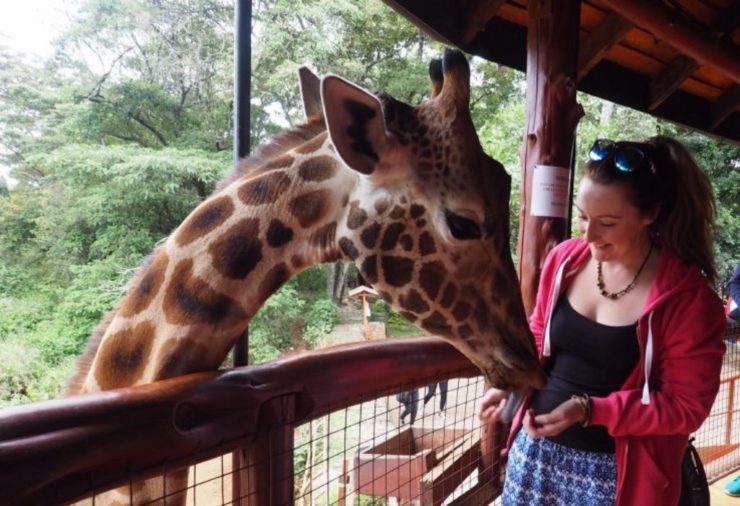 Masai Mara Safari
It's a long journey on the very, VERY, bumpy road to the Masai Mara so by the time we got there, we were pretty tired so we had dinner and just chilled out as we were up early the next morning to go on safari – which everyone was excited about, including me and my pal, Jac, The Occasional Traveller.
Safari day was amazing, in fact, one of the best I've ever been on. We had a gorgeous picnic in the park and saw so many animals, but the highlight for everyone was seeing the Great Migration.
When we arrived at the Mara River, our guides got us in prime position, sensing that the wildebeest were ready to cross at any moment.
And when they did – WOW! It was like nothing I'd ever seen before. Jac wrote what it was like to witness the wildebeest migration on her blog (she also has a video, see if you can hear me doing my best David Attenborough impression).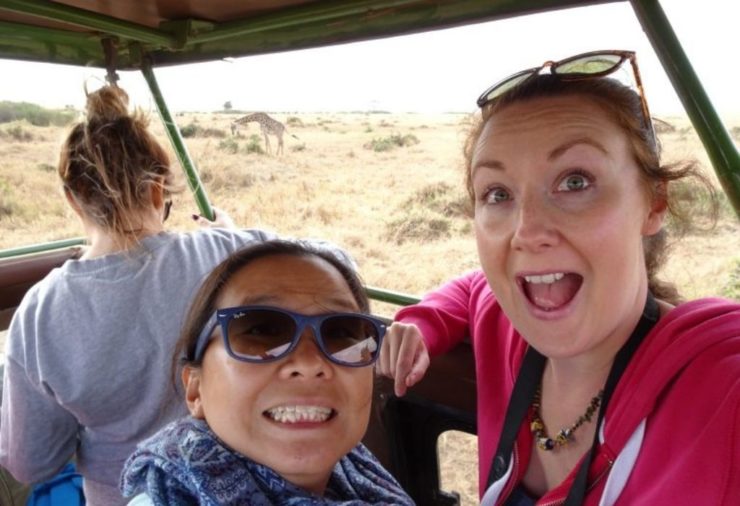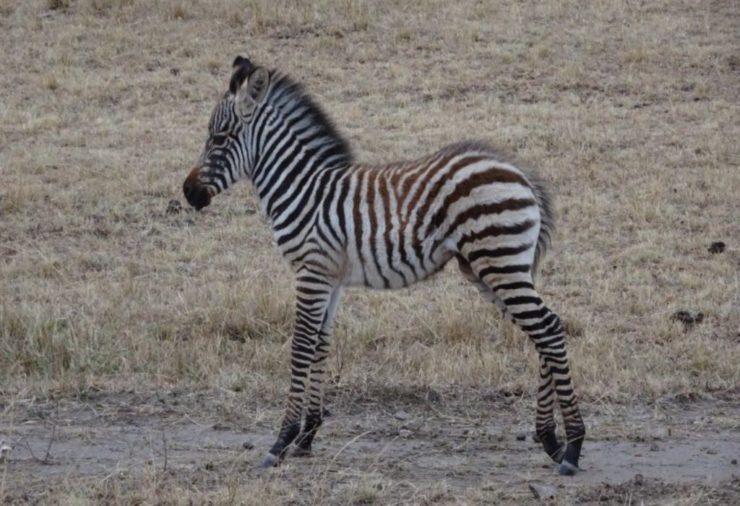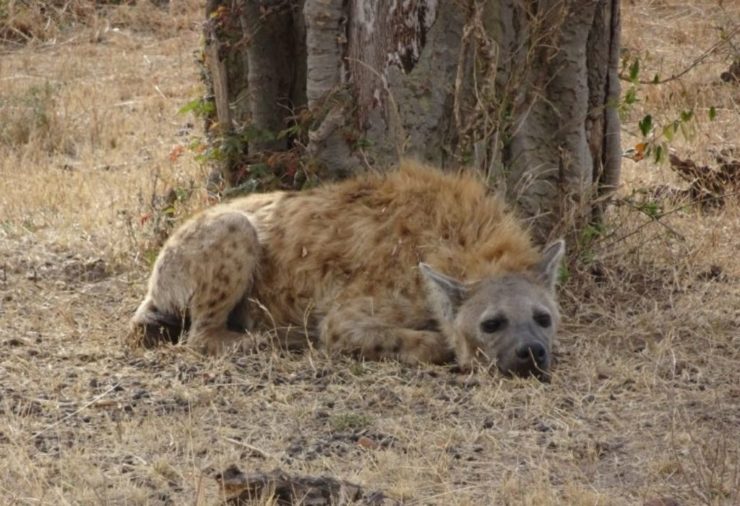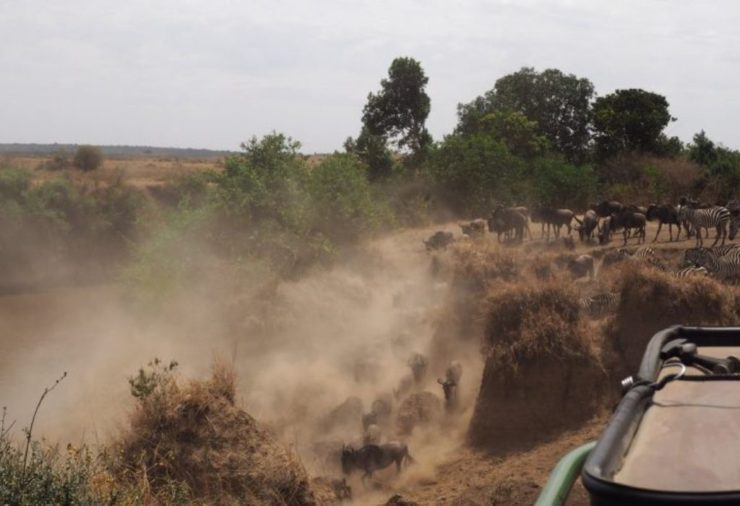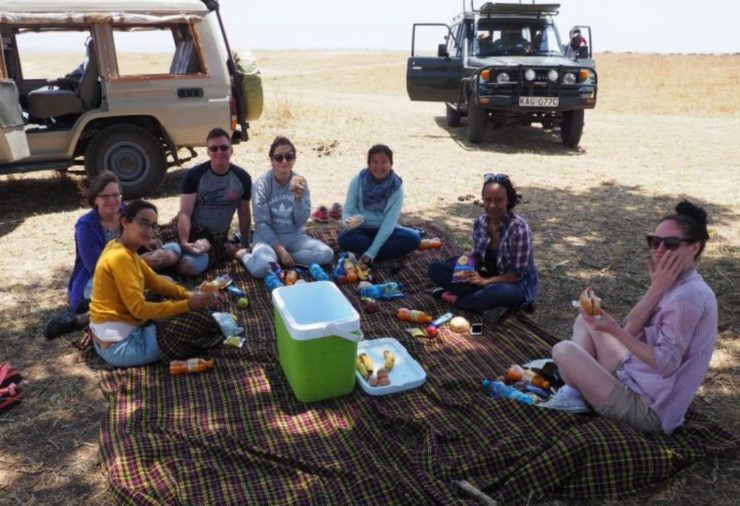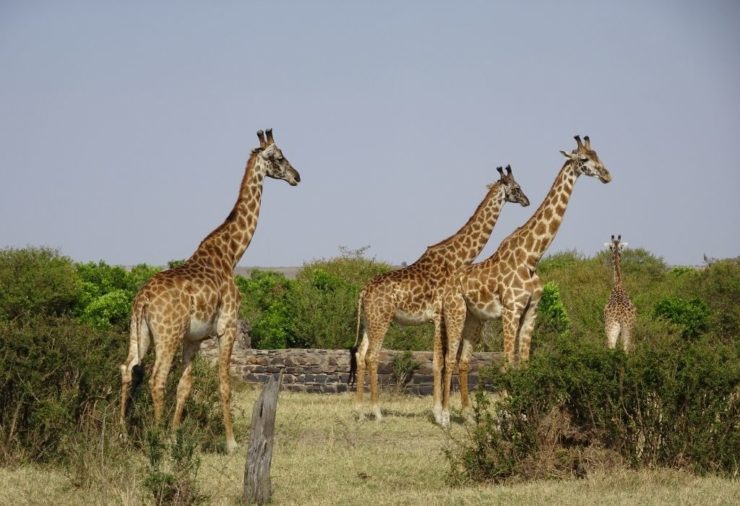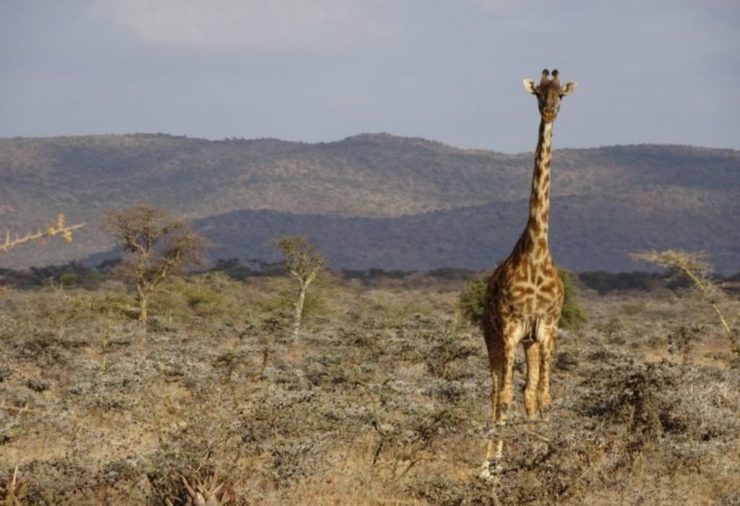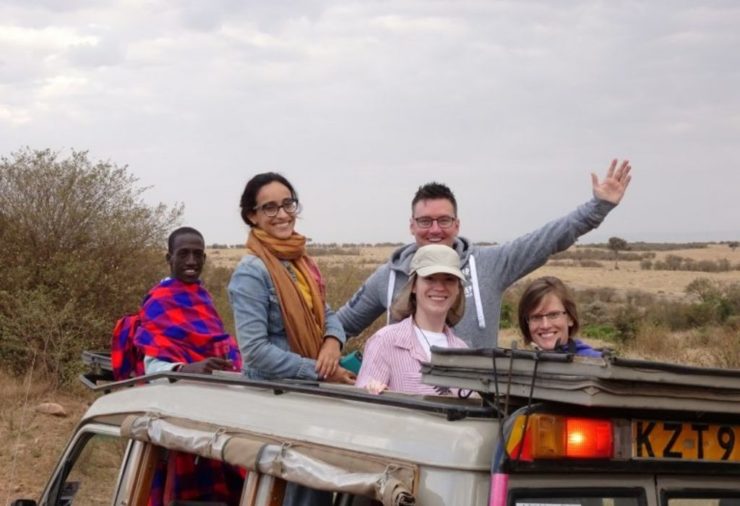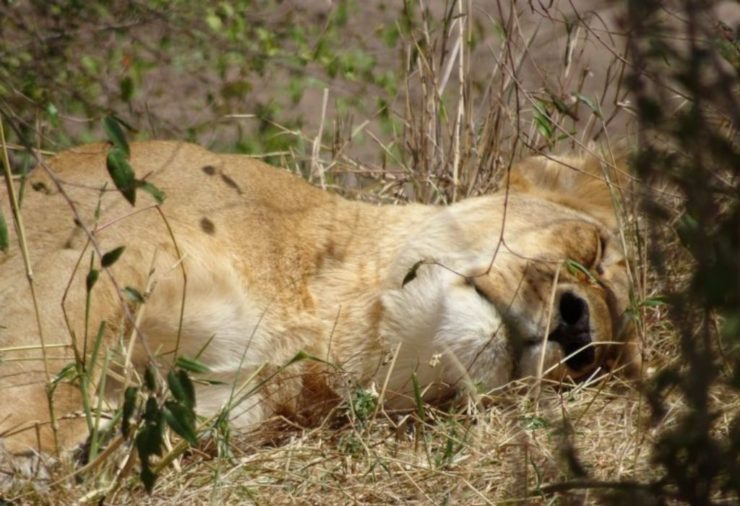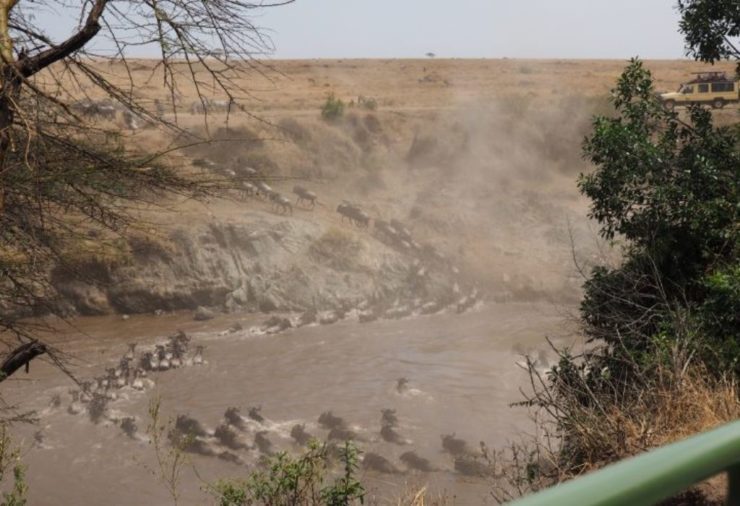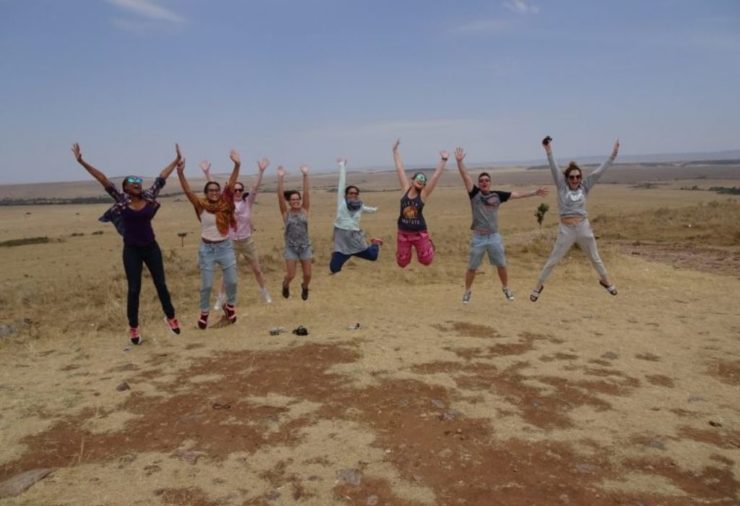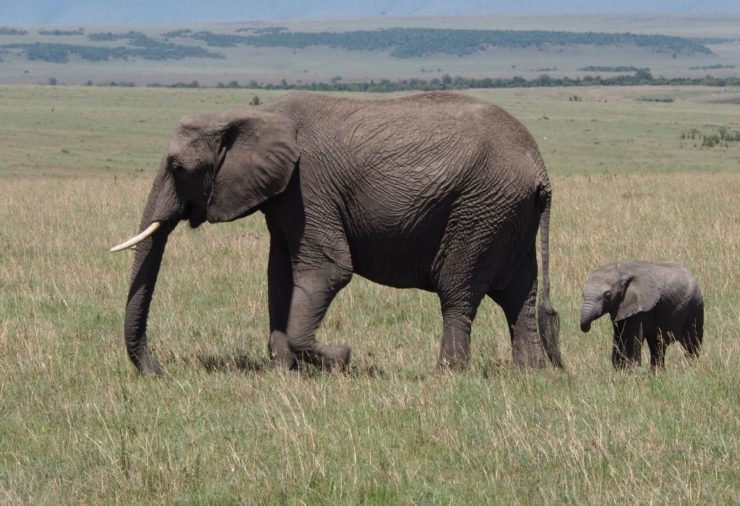 Dinner in Sekenani Township
That evening, we went for a celebratory meal in the nearby township of Sekenani with our safari guides, probably not your typical Masai Mara tourist activity.
The restaurant/bar was a very simple setup, the outer walls made from corrugated iron, and the tables and chairs were plastic with plastic table cloths. I think the place was a bit of a shock to some of the group but they all embraced it wholeheartedly.
Dinner was very typically Kenyan – greens, potatoes, ugali (maize porridge), tomato and onion with chilli, nyama choma (roast meat), all eaten with our hands and washed down with a Tusker beer.
Afterward, we went to a local bar, Rex's, where we were the only tourists. We sat around a campfire, whilst disco lights flashed above us, drinking Konyagi and Coke with men from the township, safari guides, and Maasai warriors.
One of the girls in our group was celebrating her 30th birthday a couple of days later so my friends at Mara Explorers Camp baked her a cake and brought it down to the bar, and we shared it out amongst everyone there.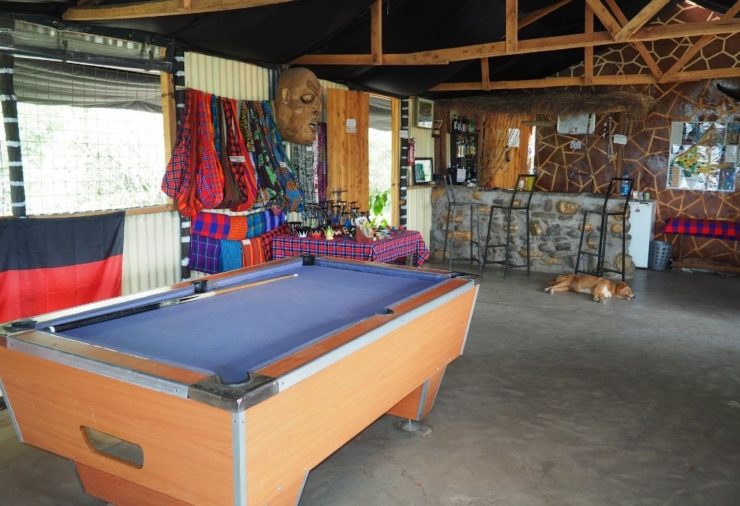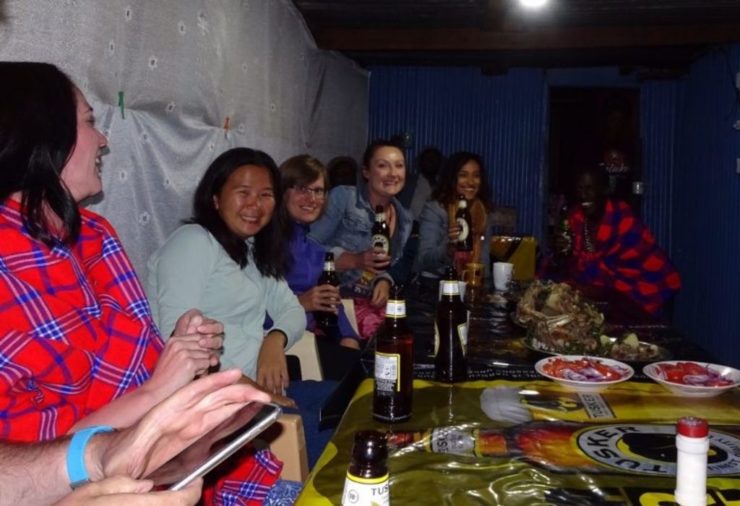 Maasai Village
The next day was spent with our guide, Mike, who we all affectionately called Maasai Mike (who has since, over the years become a very good friend of mine), who took us on a hike up Siana Hill (although some of the group thought it was more of a mountain than a hill) where we were treated to amazing views over the Masai Mara.
Next up, we visited the Maasai village where we were shown traditional singing and dancing and given another delicious and very typically Kenyan lunch.
In the afternoon, some of the group visited the local school, whilst the rest (me included) went back to freshen up before the party that evening.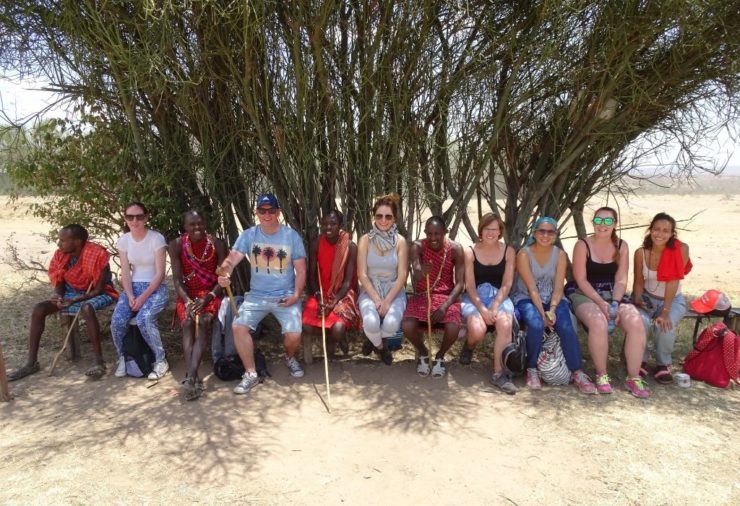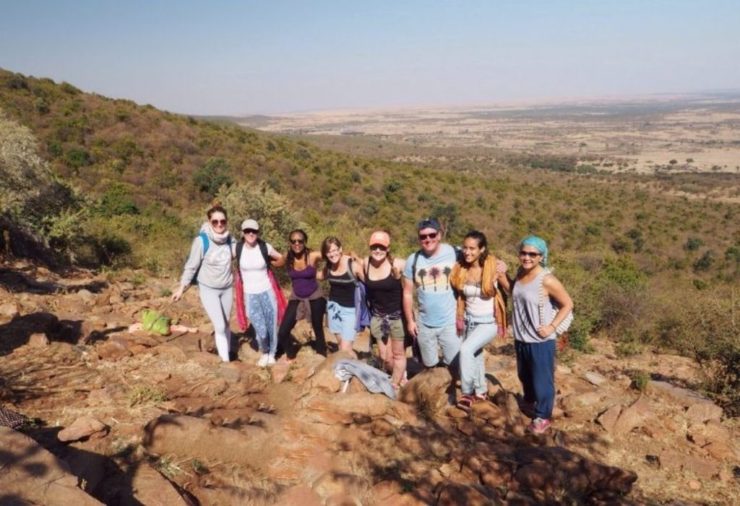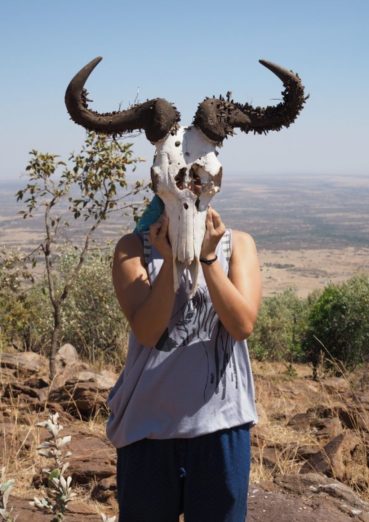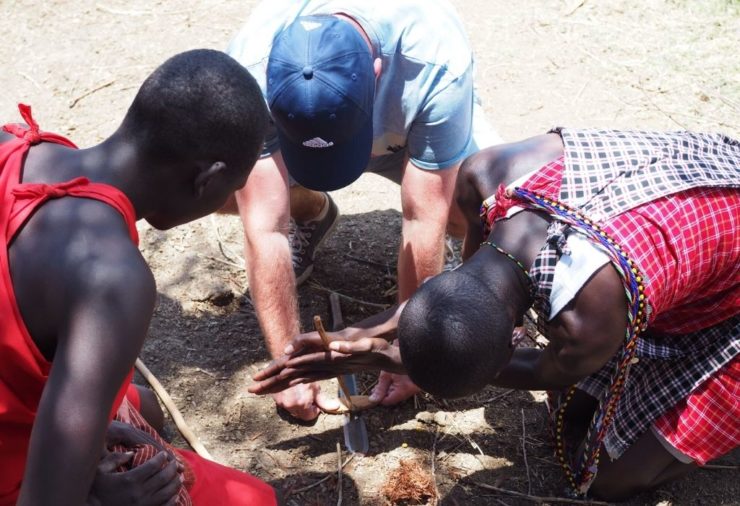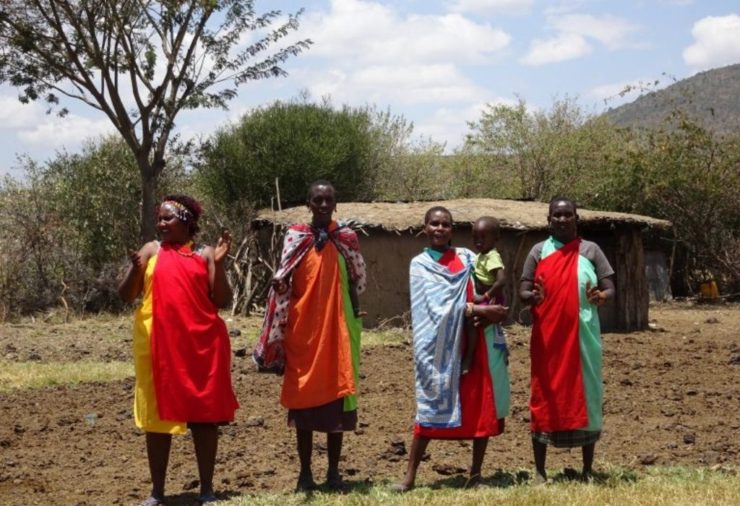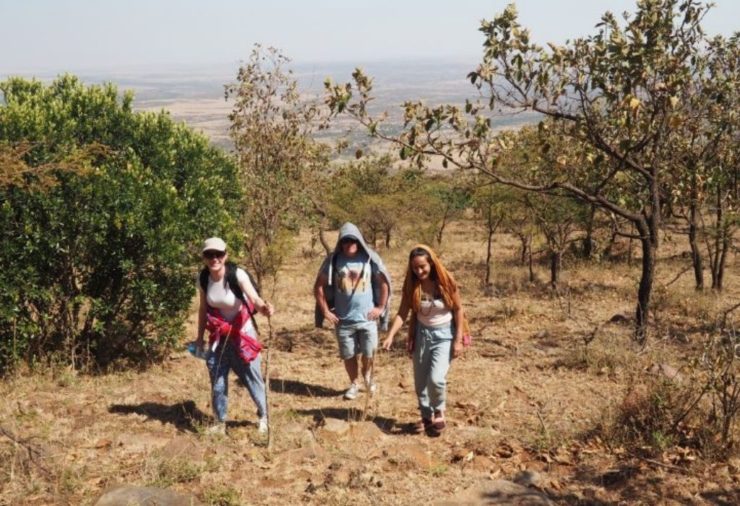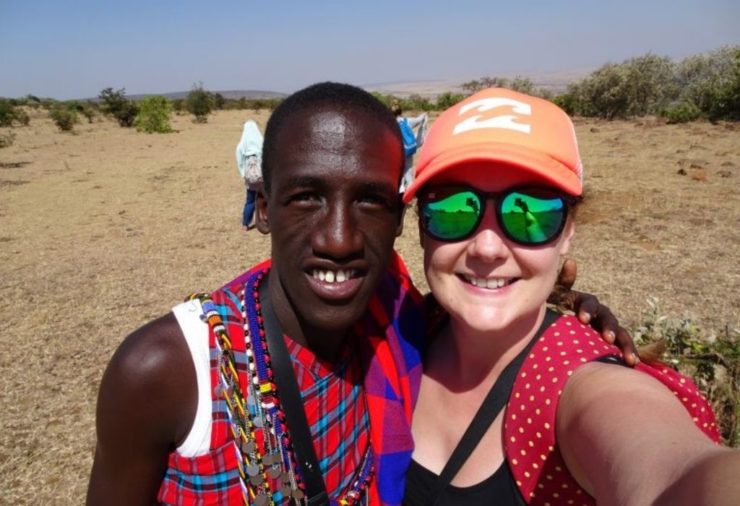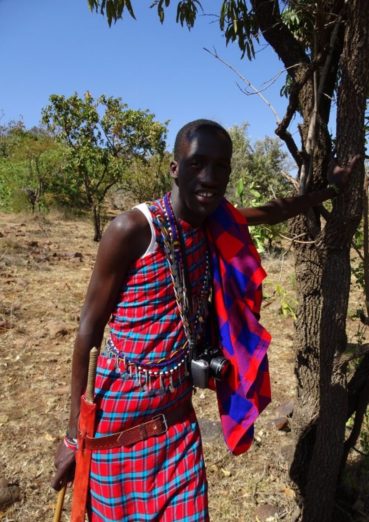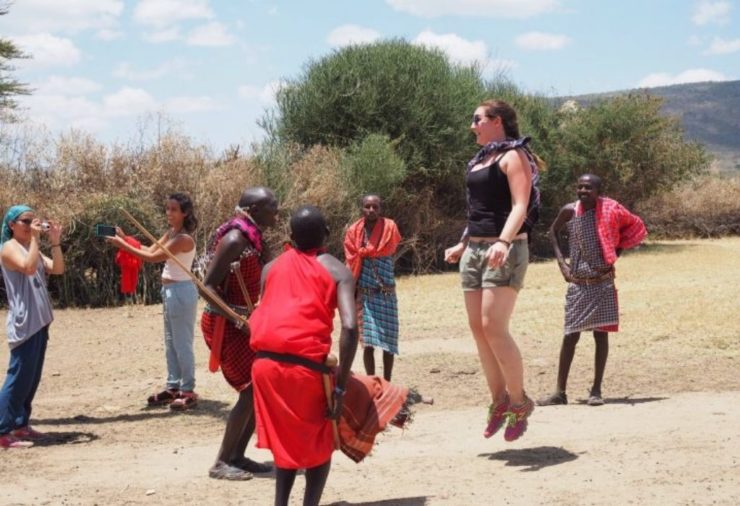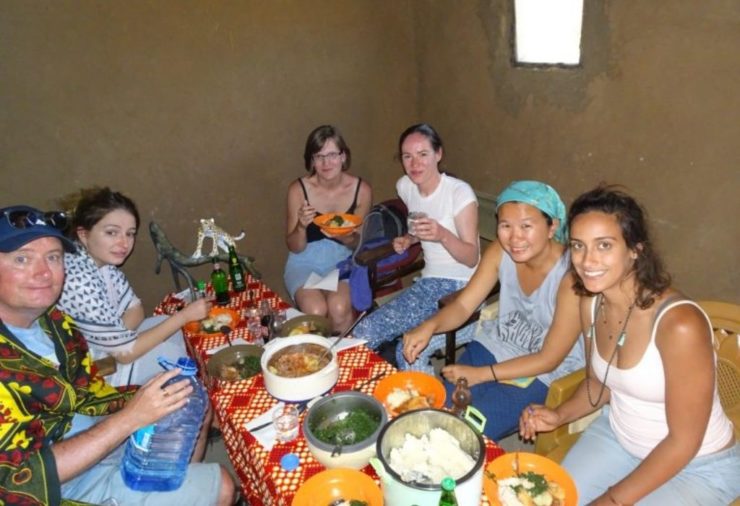 Party Time in the Masai Mara
Arriving back at camp, Moses, David, and Kelvin were already preparing our bbq dinner for the evening.
Whilst they were busy cooking, we all rested, showered, and then headed out for sundowners with Mike, his brother Josphat, and a friend of mine from my last visit, James.
We danced and sang as the sun was setting over the Mara, we returned for dinner and continued partying until the small hours!
The party was all good and well, however, 4 of us were up and out at 5am to go hot air ballooning (which I didn't find out I was doing until I was about 6 beers in).
The sensible thing would have been to stop drinking right then, but we were having waaay too much fun….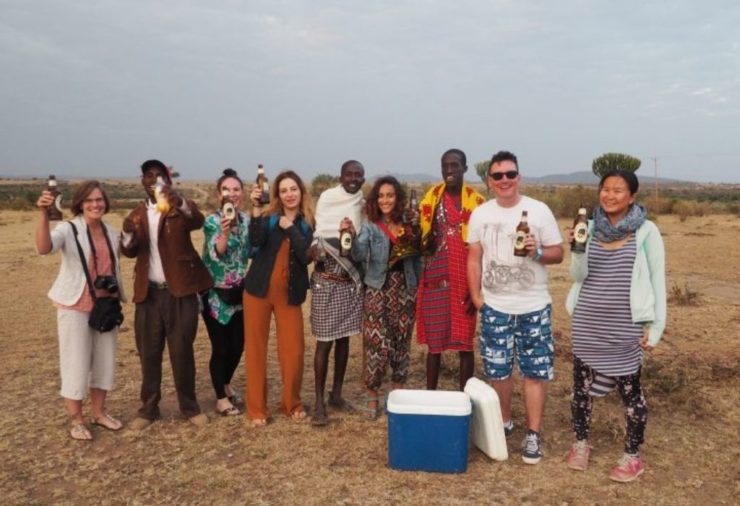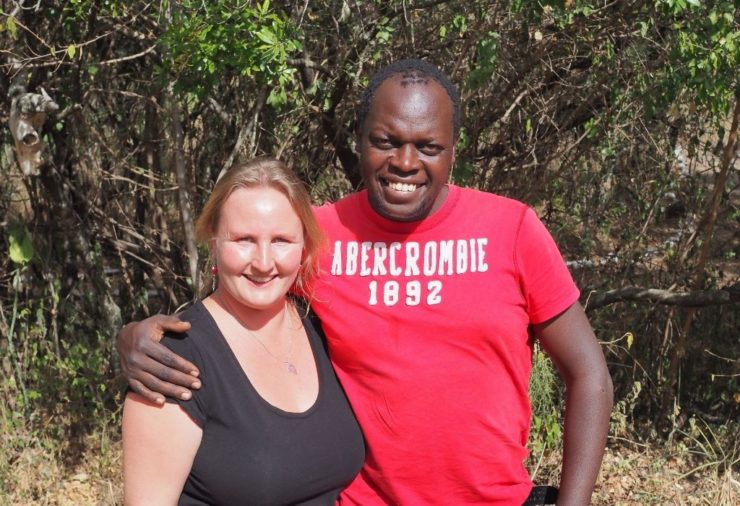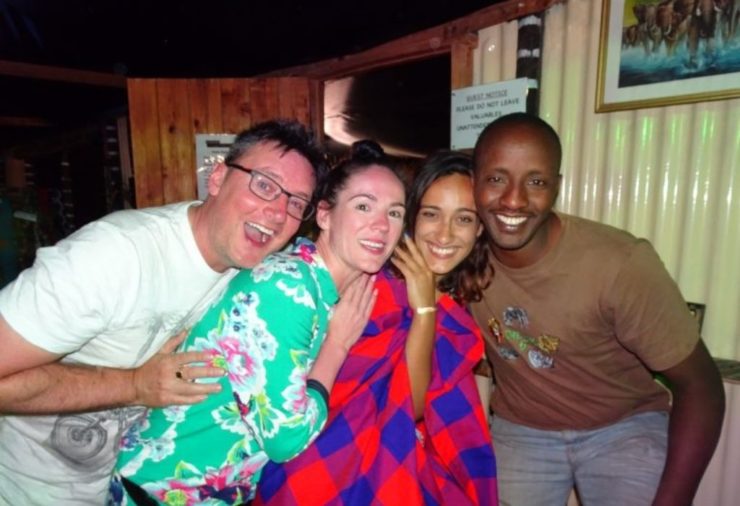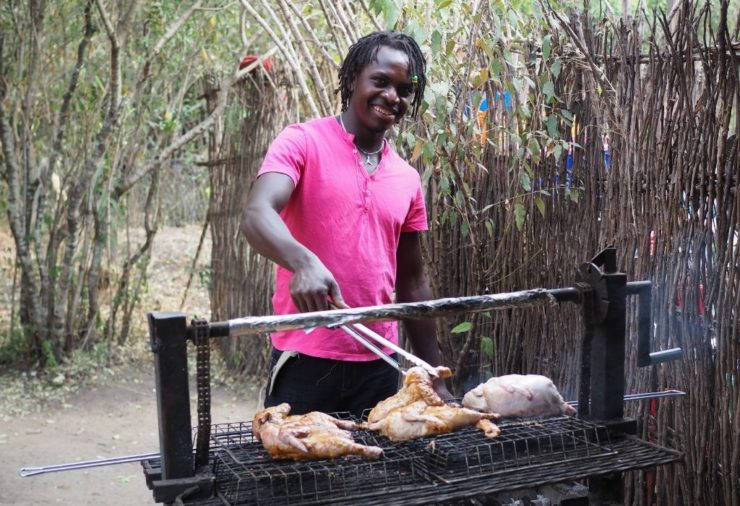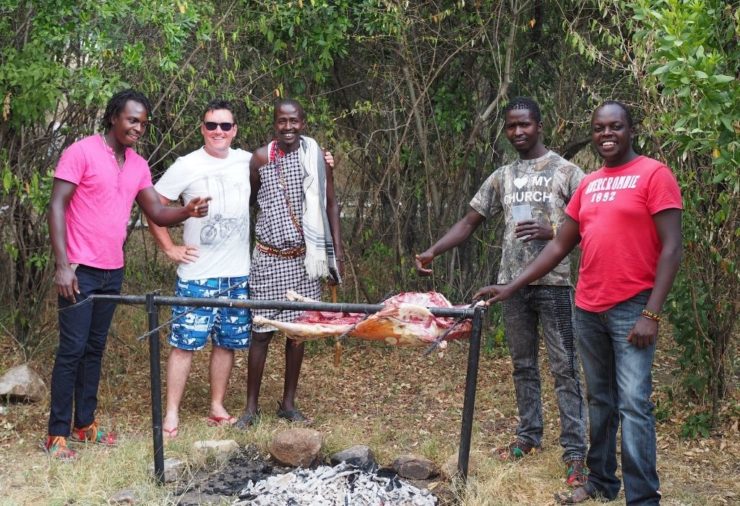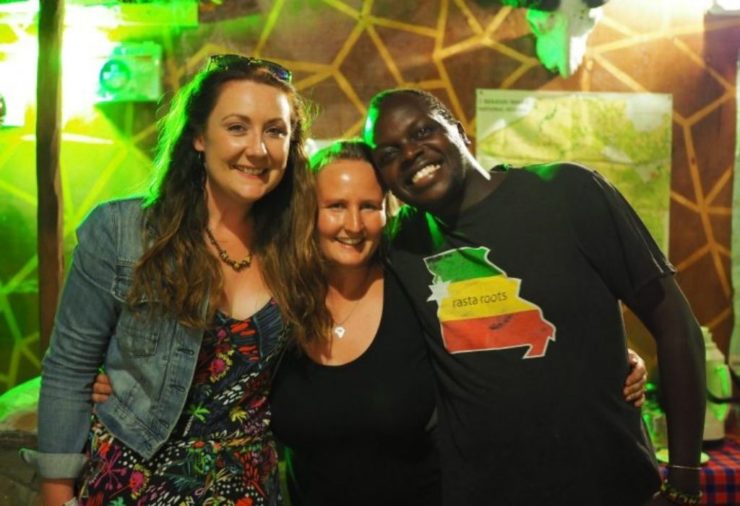 Hot Air Balloon Over the Masai Mara
At 5am we wrapped ourselves in our Maasai blankets and in the pitch black, jumped bleary-eyed into a jeep before being were whisked off into the national park. The sun was just coming up over the horizon as we reached the balloon.
Within half an hour, we were up in the air, sailing silently over one of the most amazing places on earth watching the sunrise. It was magical.
I thought I would be scared (I hate heights), but I found the experience incredibly peaceful. The highlight for me was flying low over a herd of about 15 elephants and watching a cackle of hyenas (I had to look that up) chasing a small antelope.
We didn't get to see what happened in the end, as our balloon was going in the other direction, but I hope the baby got away.
We landed near the Mara River where we were treated to a champagne breakfast. The champagne wasn't going down so well at 7.30am (and after the night before), but the breakfast was very much appreciated.
Making our way back to camp, we were really lucky to see a pride of lions and a huge bull elephant up close! A bonus safari!
A few tears were shed as we left Mara Explorers Camp. We'd all had an amazing time and it was the perfect start to the trip.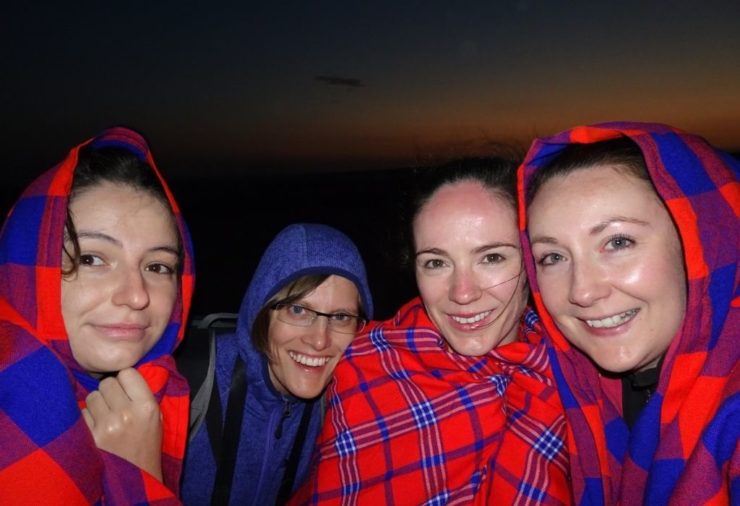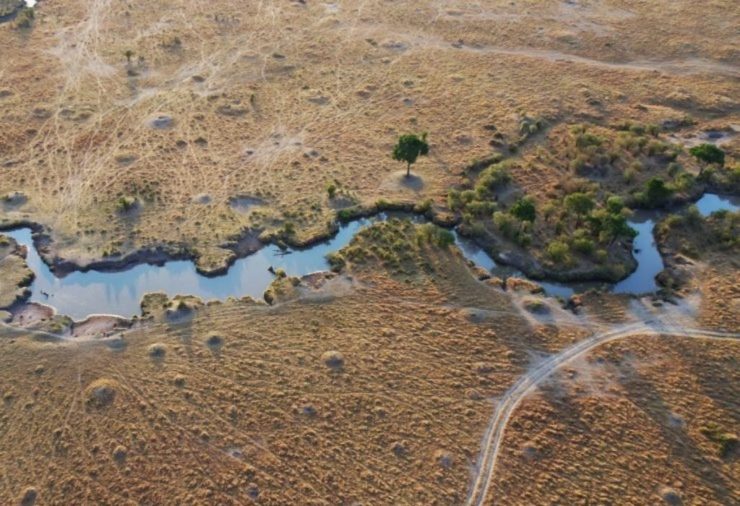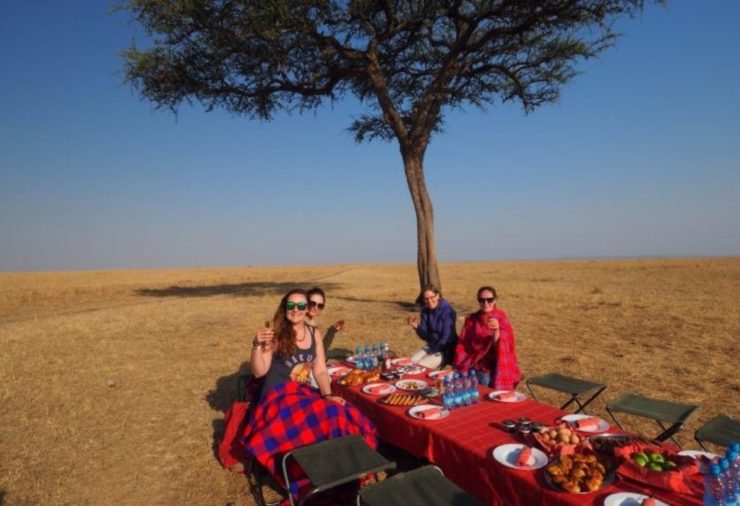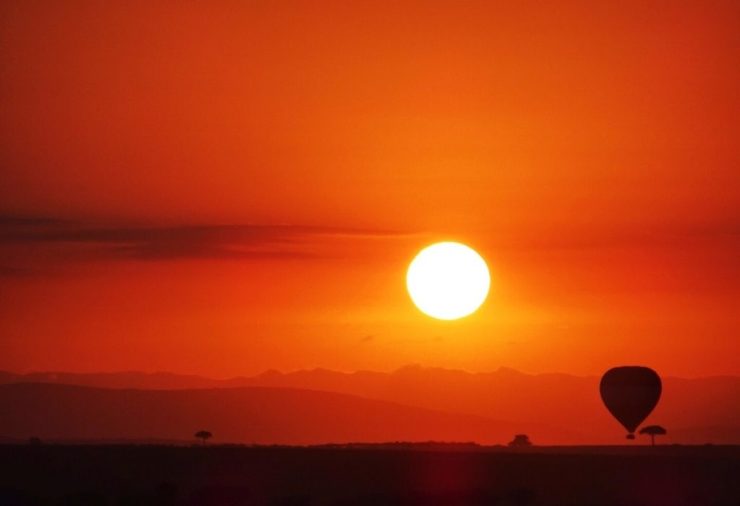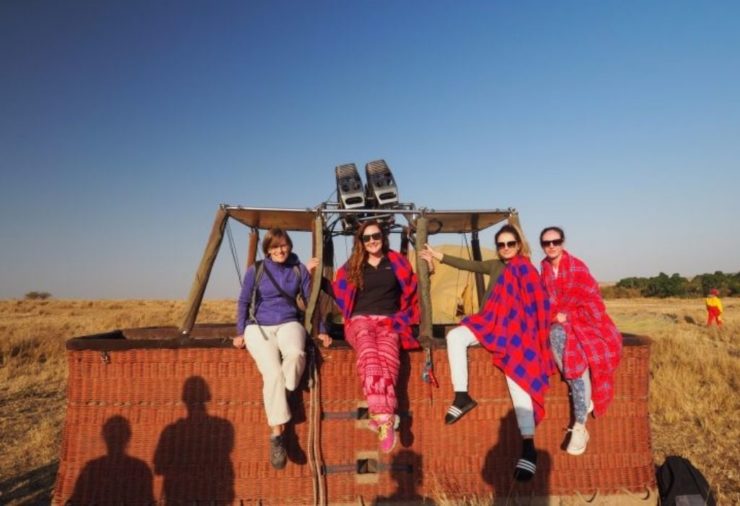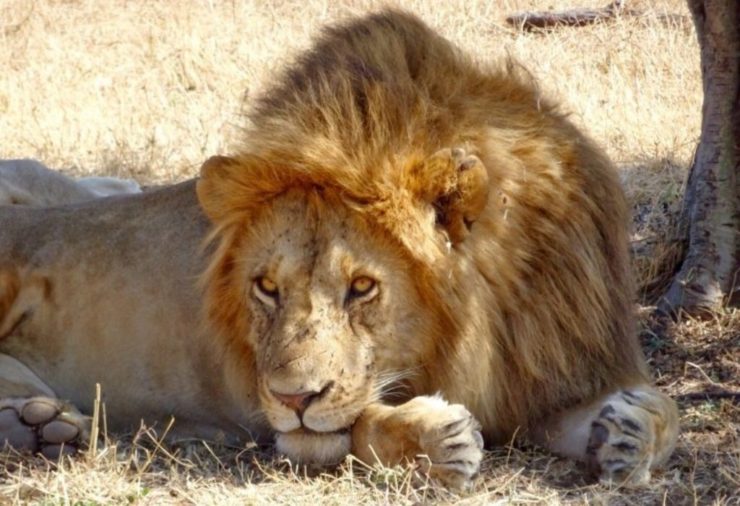 Nairobi
The rest of the day was spent making the long journey back to Nairobi. That evening we went for dinner at Carnivore, Nairobi's most famous restaurant where they have a set menu; soup to start, followed by salads and all you can eat meat, brought round on skewers.
They bring you different varieties, one after the other until you lower your flag and surrender!
The group pretty much agreed that the rabbit was the best and the ox testicles were the worst.
The next morning, we were heading out to explore Nairobi for the day. We started off with a visit to Marula Studios, which is the home of Ocean Sole, a social enterprise that makes lots of cool things from old flip flops.
From there, we headed into the central business district, to go on a Nairobi city tour.
The tour took us around the historic Sarova Stanley Hotel, through the Nairobi City Market and up to the top of the KICC (Kenya International Convention Centre) where we had amazing views over the city.
The next afternoon, we were getting the overnight train to Mombasa, so we had a relatively easy morning, visit the David Sheldrick Wildlife Trust to see the orphaned baby elephants and then visiting Kazuri Beads, another social enterprise, where a few of the girls stocked up on jewellery.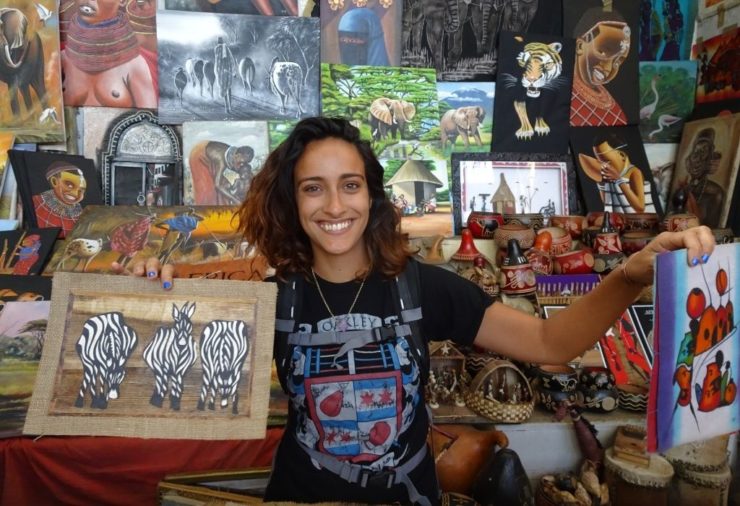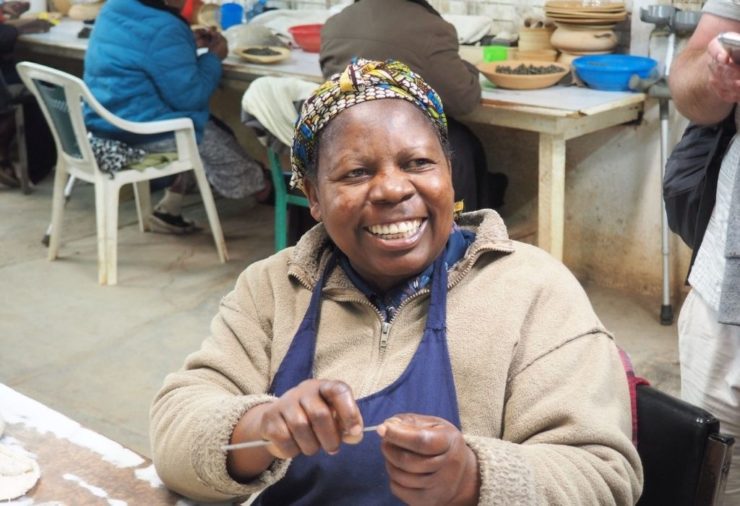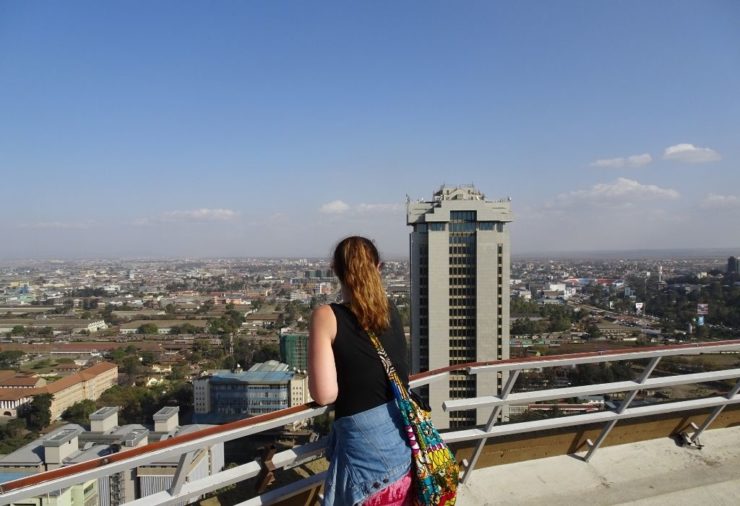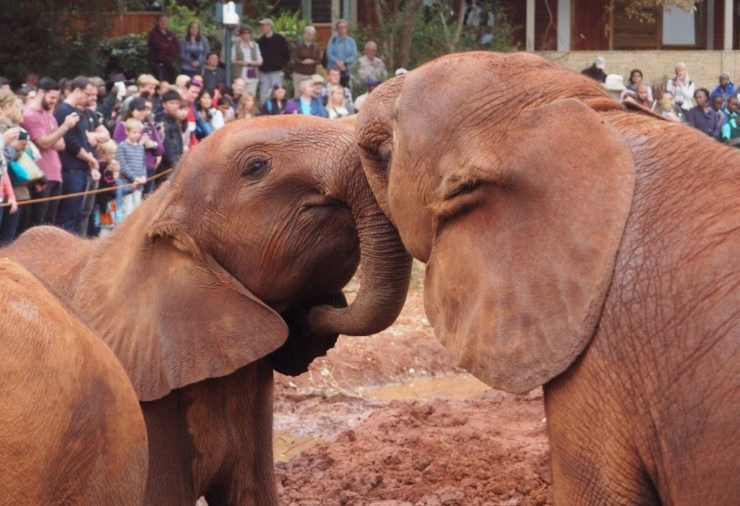 The Nairobi to Mombasa Train
We arrived at the train station in the afternoon to wait for the overnight train – also known as the 'Lunatic Express' (which no longer in operation). I was so excited to take this iconic route, following in the footsteps of the great Karen Blixen. When it was time to board, we headed over to the dark platform.
The train was in complete darkness, however, we were assured it was the right one, so we squeezed ourselves and our backpacks down the small, pitch-black corridors and found our cabins.
Eventually, the lights came on and before long we were on our way and it was time for dinner in the dining car. It was a far, far cry from the elegant experience I imagine it was in the past, and to our horror, the beer hadn't arrived on time.
But, we made it fun, playing the name game, you know where you stick a name to your head and have to guess who you are – which was very funny, attracting a few of the other people in the carriage.
One of which was the female security guard, who came over and sat down, her huge gun perched precariously between her legs. We asked her if she liked to play. She said no thanks, she would play with her eyes. We didn't argue.
After we'd had enough, we headed back to our cabins and settled in for a bumpy night.
Jac and I were up with the sun, taking selfies out of the windows because at that time, we were passing through Tsavo National Park and we wanted to try and spot some wildlife – which we did, in the form of. a few elephants.
We eventually arrived in Mombasa at around 4pm, 18 hours after we left Nairobi. It's actually only 8 hours by road (and 5 hours on the new train), but the Lunatic Express was an 'experience' none of us will ever forget and despite the grumbles along the way, looking back, everyone really enjoyed it.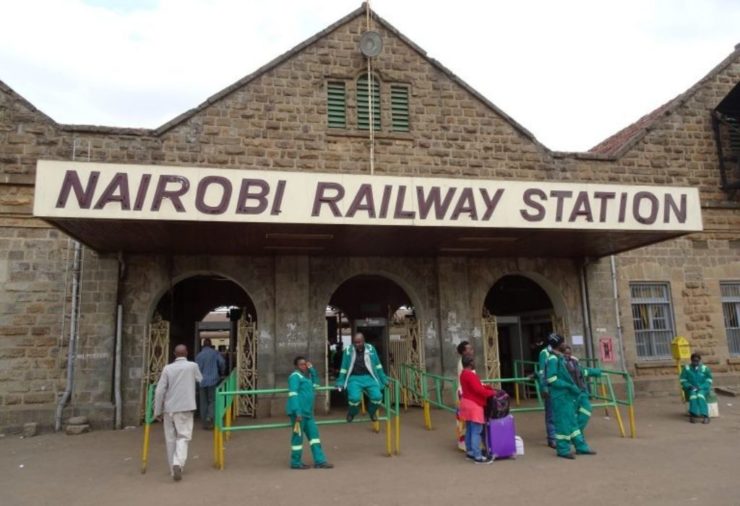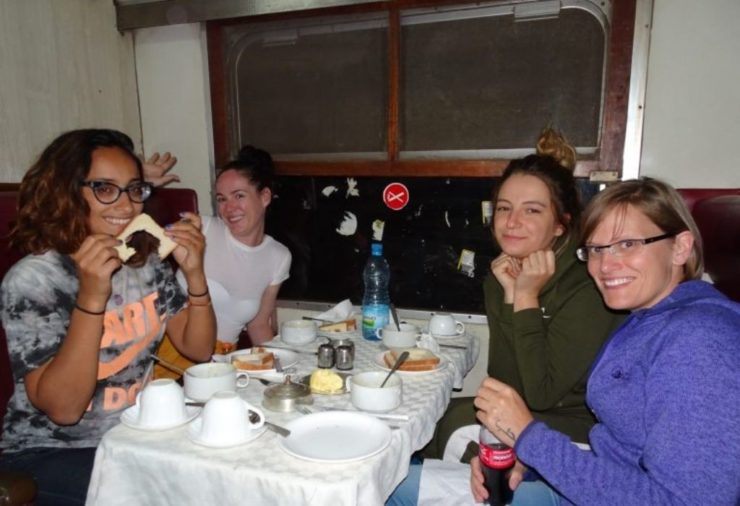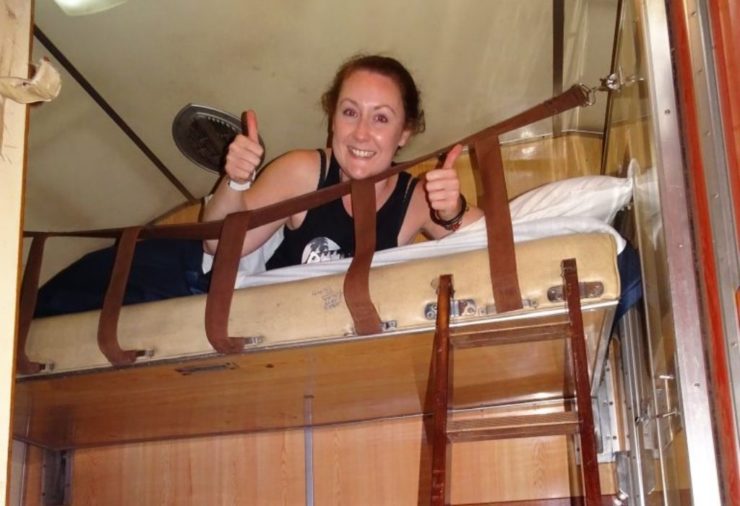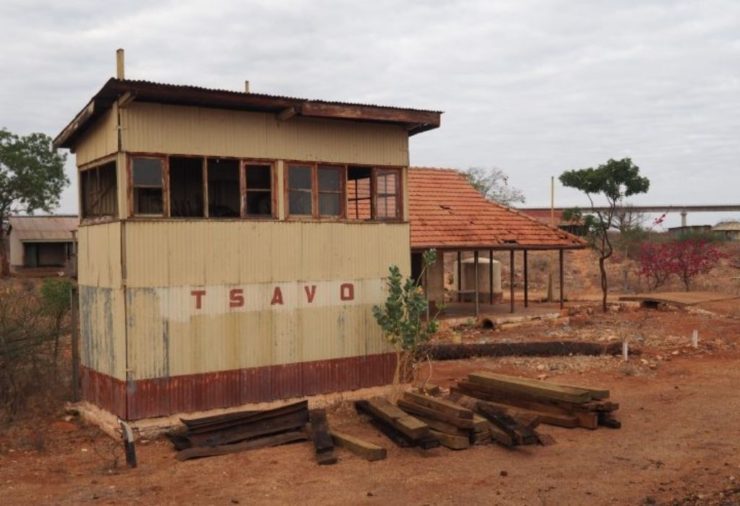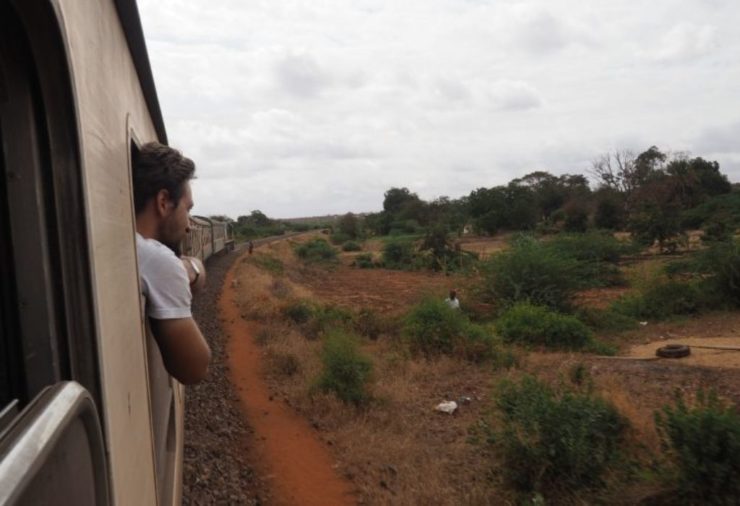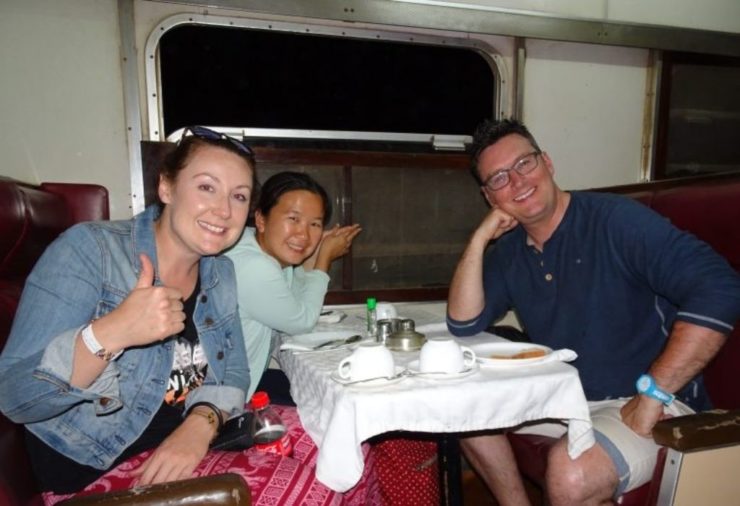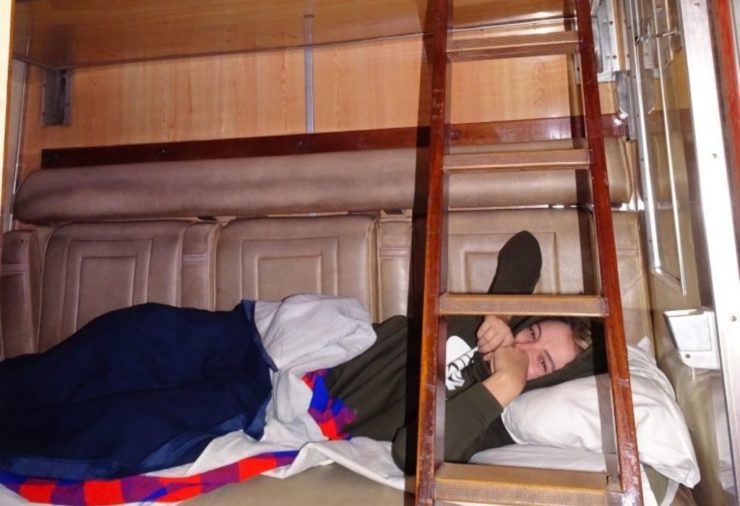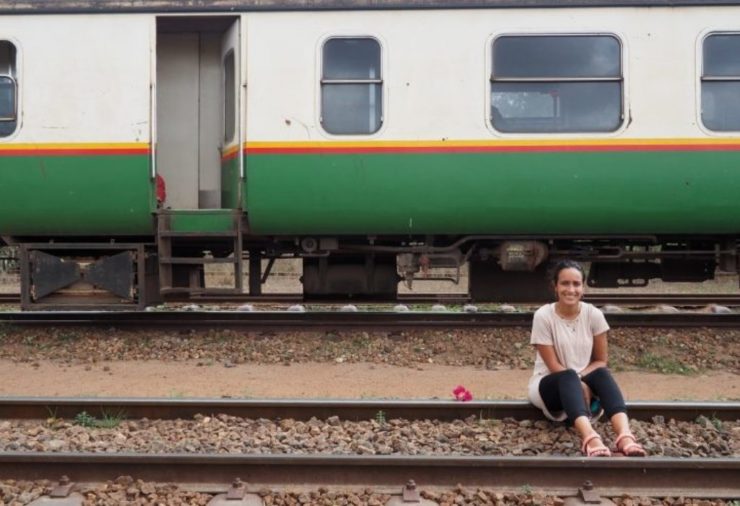 Mombasa
Arriving in Mombasa, we headed to the hostel for a quick dip in the pool before we set off for dinner on the Tamarind Dhow, a restaurant on a traditional Swahili boat.
The dhow was amazing and very elegant and just what we needed after the train. We set sail around Mombasa harbour and were treated to possibly the best meal of the whole trip.
They serve a 5 course, bbq meal, which is all-inclusive (except for alcoholic/soft drinks). We started with soup, then a starter, then I had red snapper for mains (some had lobster and/or crab) and finishing off with dessert and coffee.
All the while a band were playing so we were singing along, much to the amusement of the group of ladies on the next table. As soon as the meal ended, we were on our feet and on the dance floor!
Afterwards, we went to Bob's Bar for a couple of drinks, but it was pretty empty, being a Tuesday night and all, but as it happened, the real party was happening back in our hostel.
Arriving there we met up with two of the English guys we'd met briefly on the train and ended up partying with them until the early hours.
In the morning, a few of us did a walking tour of Mombasa with a local guide called Bakari. He took us around Fort Jesus, through the myriad of streets in the old town where we stopped to have coffee at Jahazi Coffee House and then continued on to see different markets.
The first was the fish market, followed by a maze of narrow streets selling clothing, and then our final market was the food and spice market.
We admired the colourful Shiva Hindu Temple and finished up our tour at the Mombasa Tusks.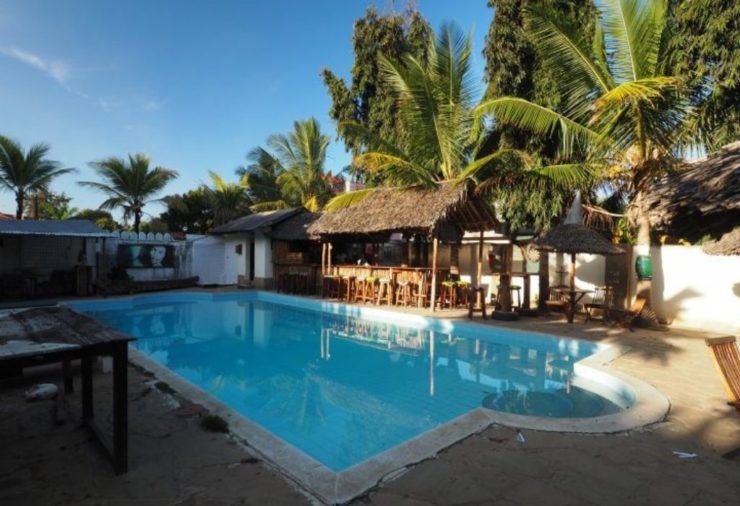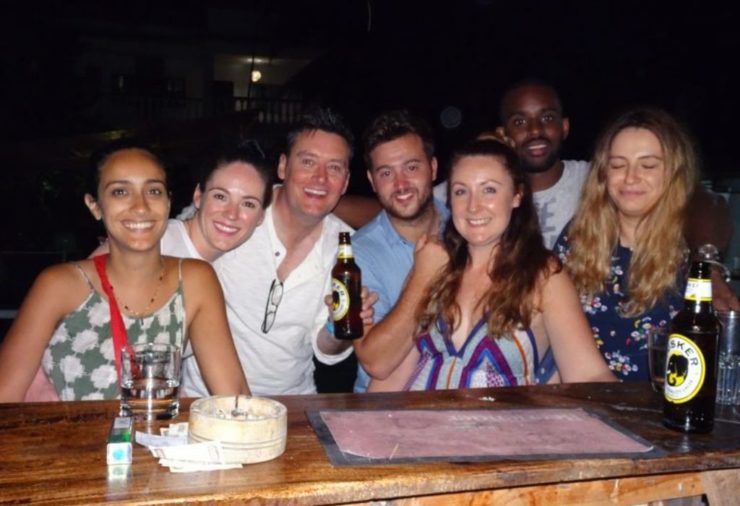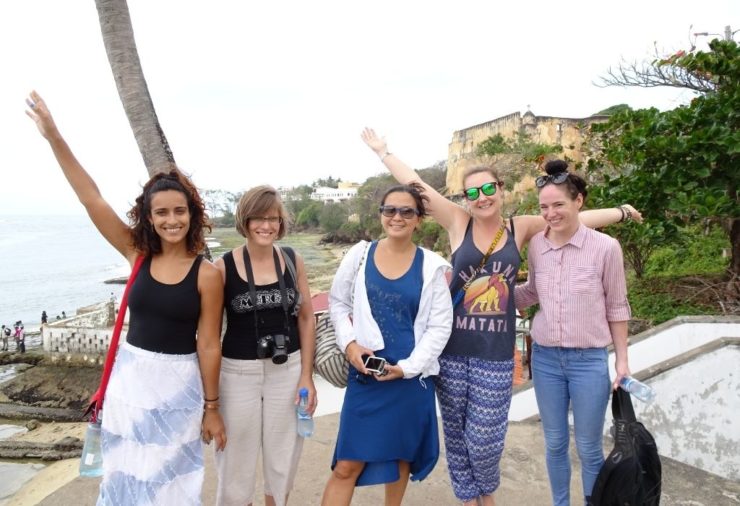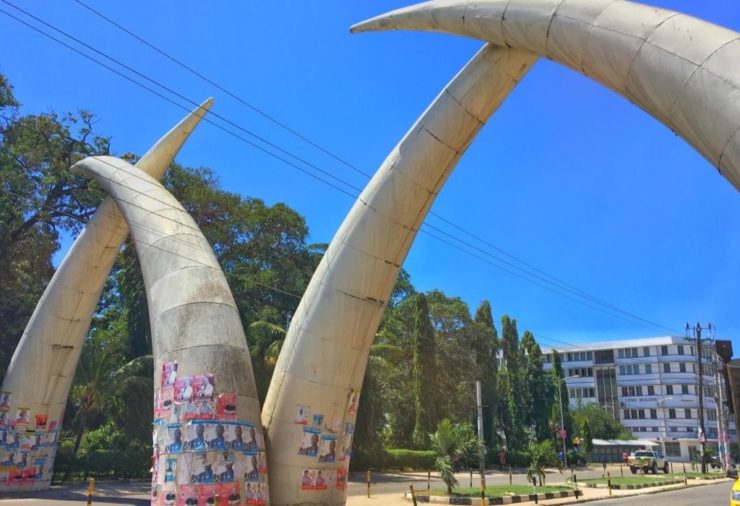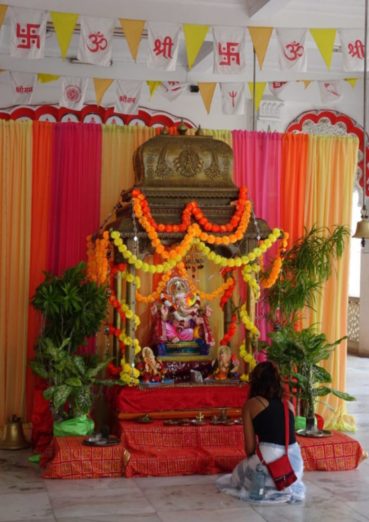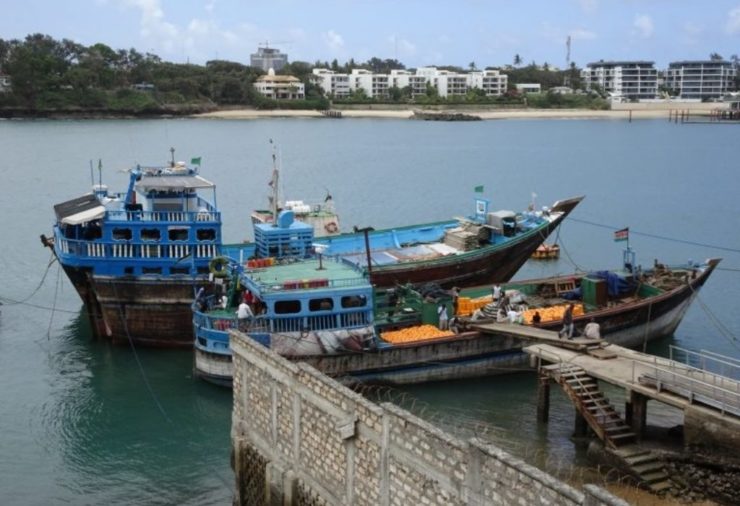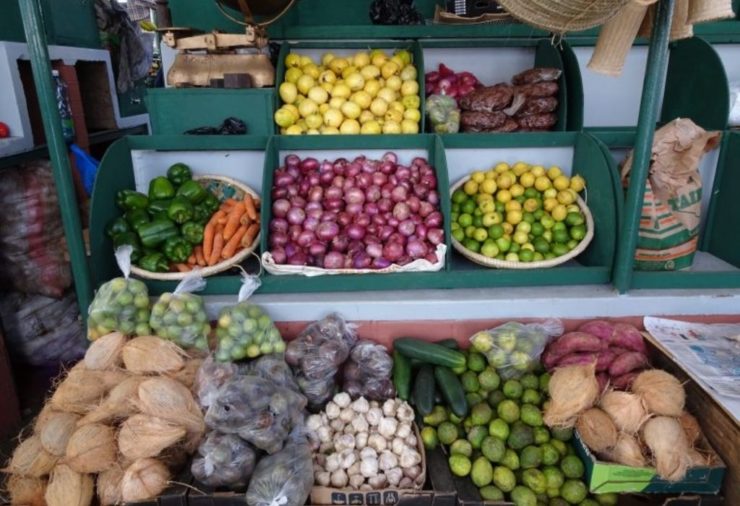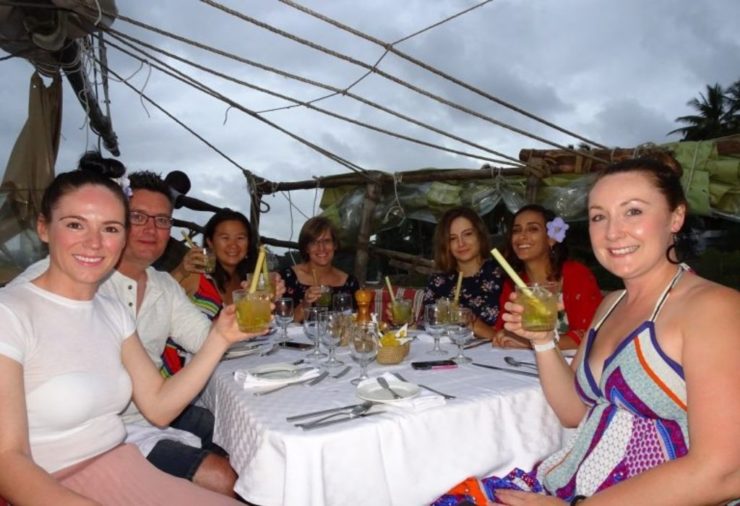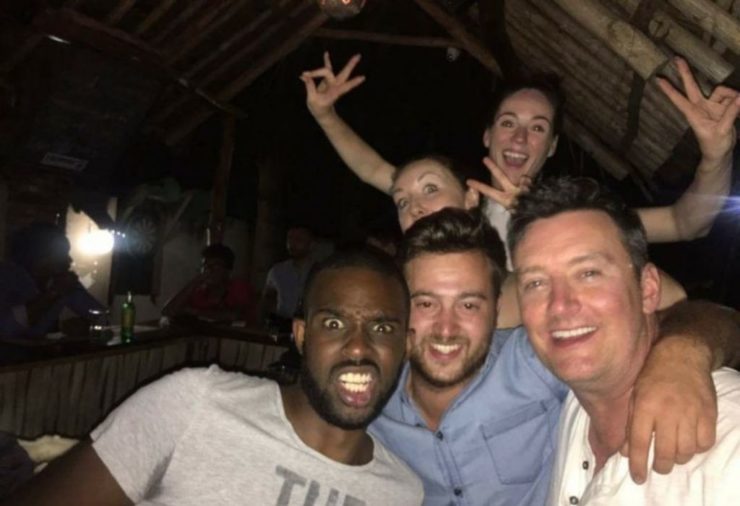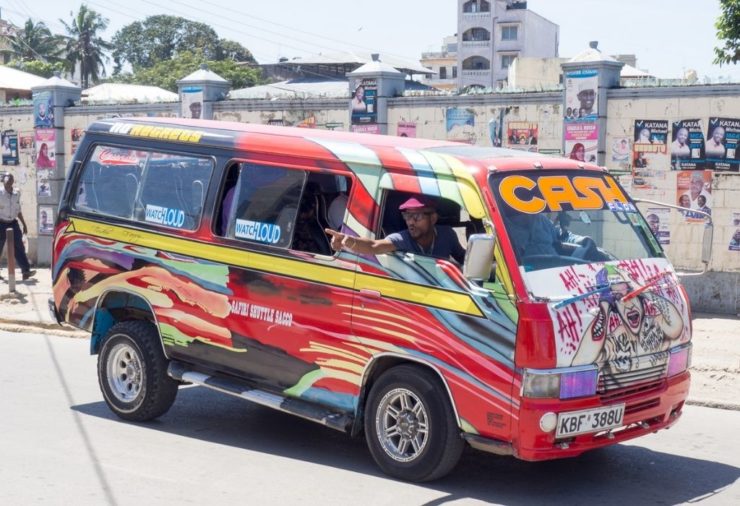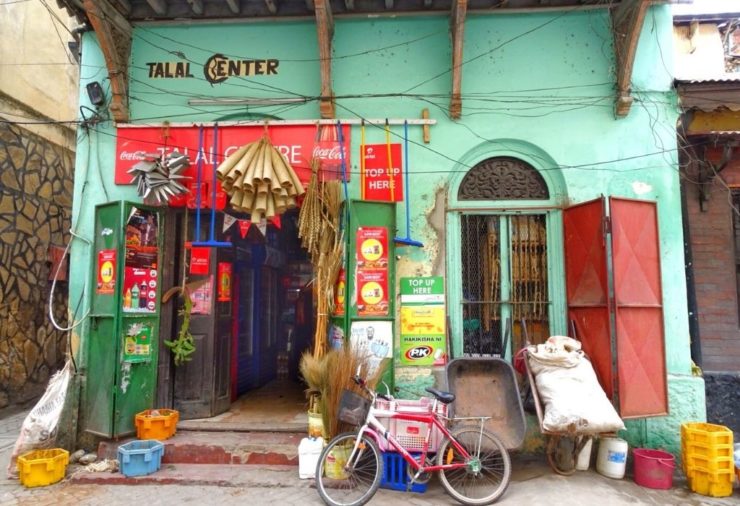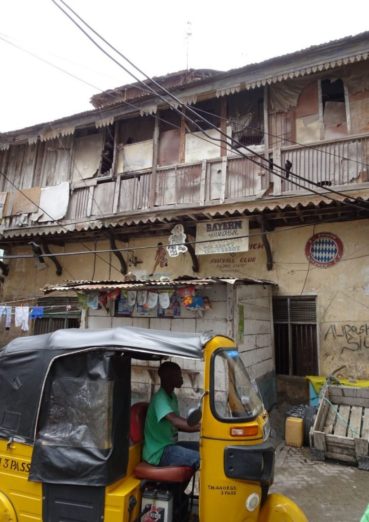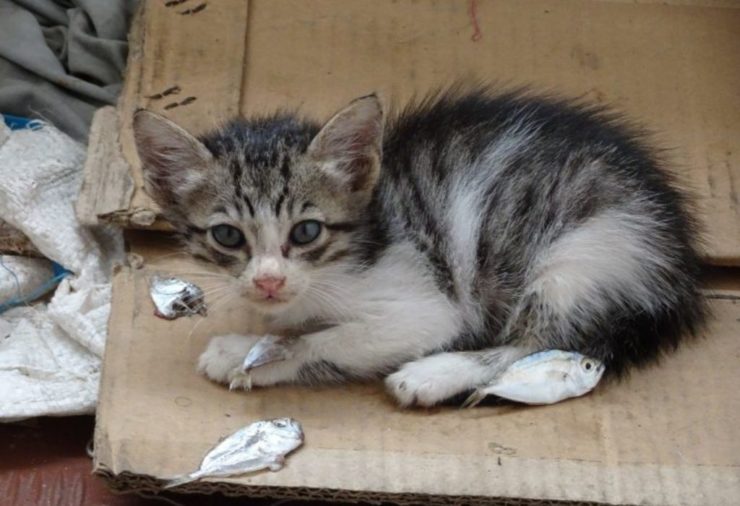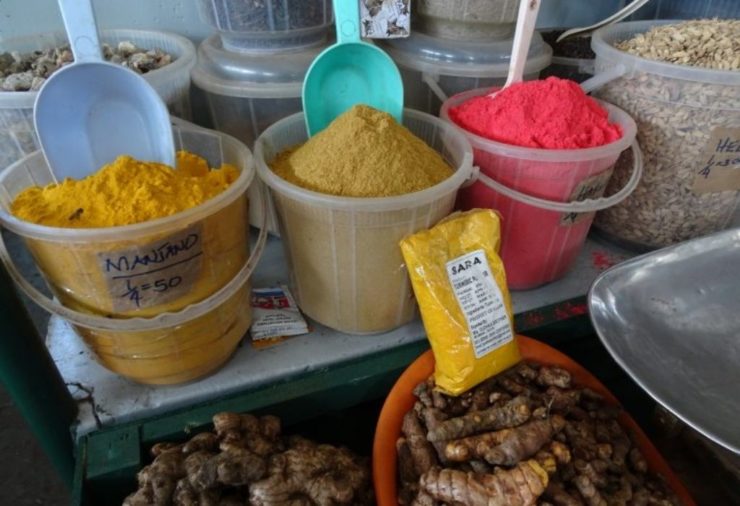 Kilifi
That evening, we headed up the coast towards Distant Relatives Eco Lodge in Kilifi, one of my favourite places in Kenya.
On one of our days, Captain Issa took us out on his boat, stopping for a bit of snorkelling and serving us a delicious fish lunch prepared on the boat.
In the evening, we went down to the moonlit beach to paddle in the water and stare in awe at the bioluminescence!
Our time here was very chilled, spent swinging on the rope swing, hanging around the pool or messing around in the sea, taking hair flick selfies, some of which worked better than others.
These pictures might be my favourite of the entire trip! We nicknamed this particular moment #deaddebbie. It appears Debbie didn't quite get the memo. It still makes me giggle. We did improve though…
On our final night, we took a walk through the local village with Ramadan, Juma, and Saidi (all brothers – their father had 9 wives), to Ramadan's home, known as Giriama Paradise. All the local kids followed us through the village, dancing, jumping, and just generally being adorable.
When we arrived at Giriama Paradise, I understood why they had called it so. Giriama is the name of the ethnic group of the village but Ramadan's home has one of the most amazing views I've EVER seen. It truly was paradise.
We brought our own drinks and sat watching the sunset, chatting and playing draught, before tucking into another amazing beautiful traditional dinner cooked by Juma's wife.
When we returned back to Distant Relatives, the Friday night festivities were well underway. And after we got chatting to a few of the other guests, ex-pats and locals we were soon convinced to come along to the new local nightclub. It was a great end to our time in Kilifi.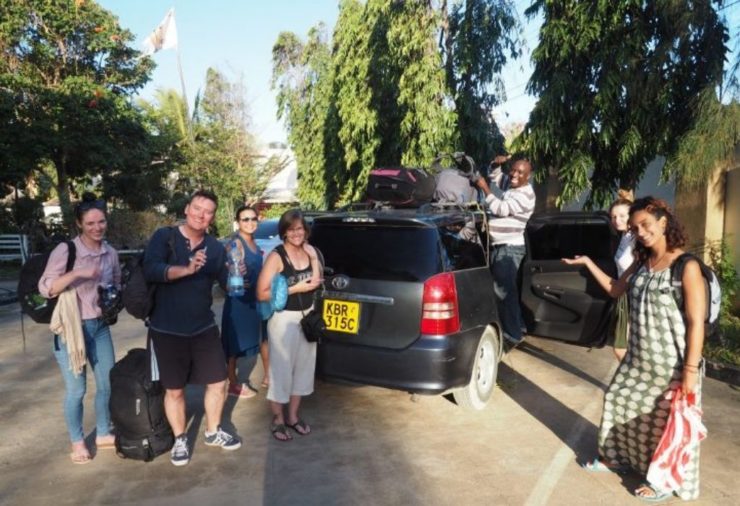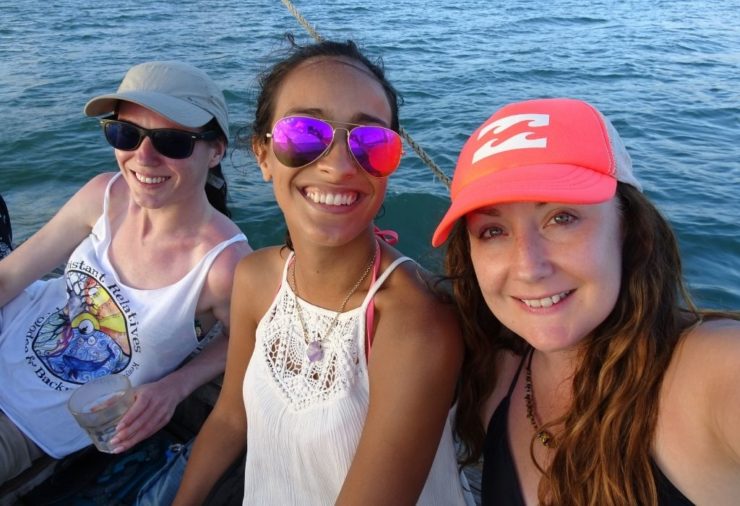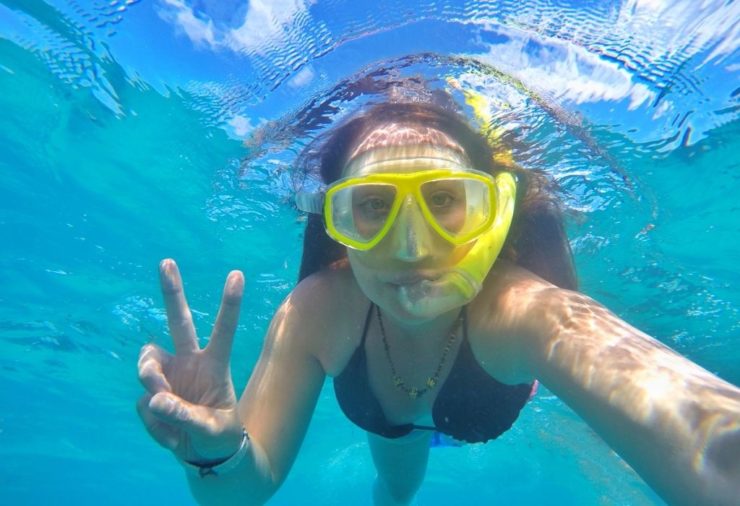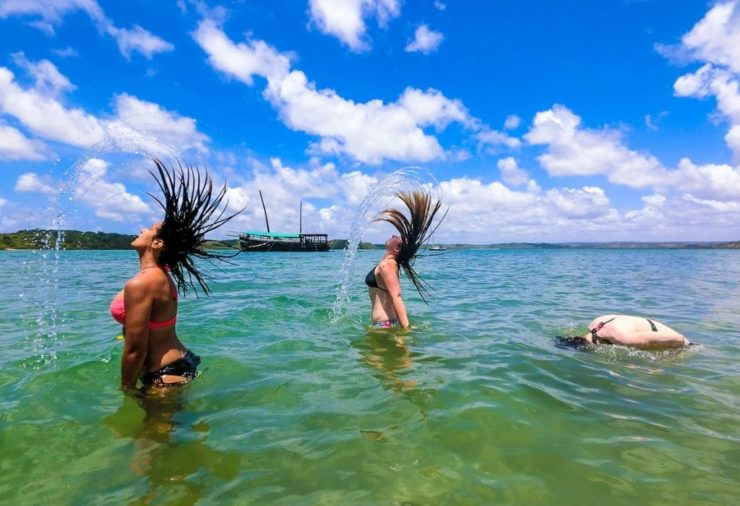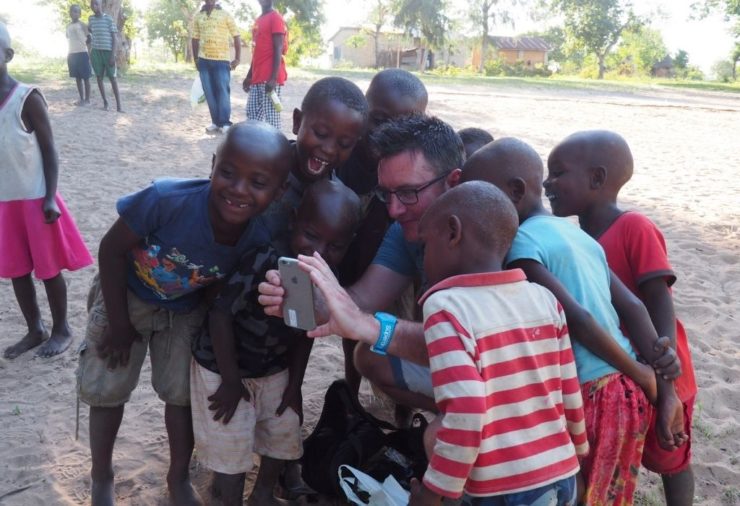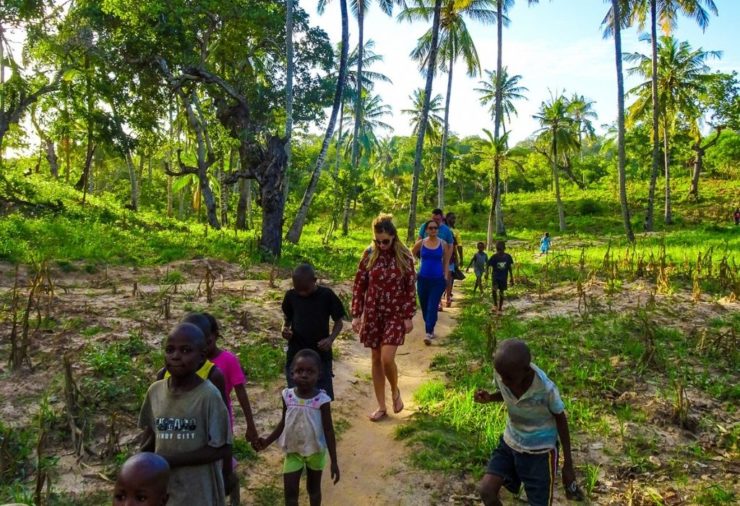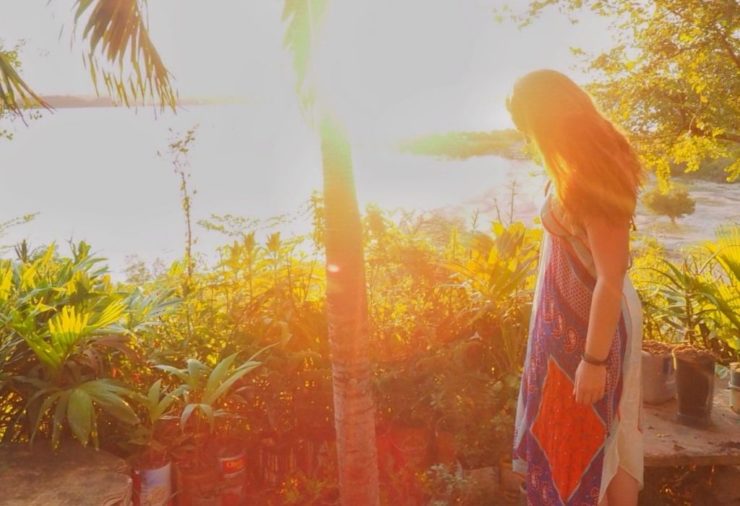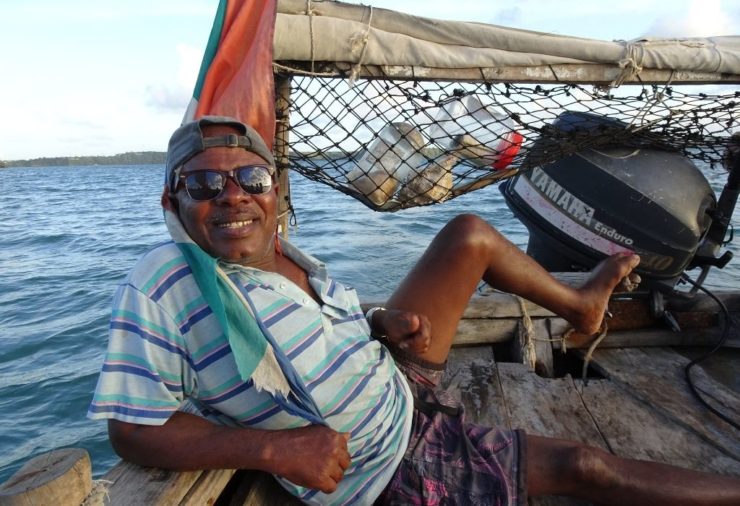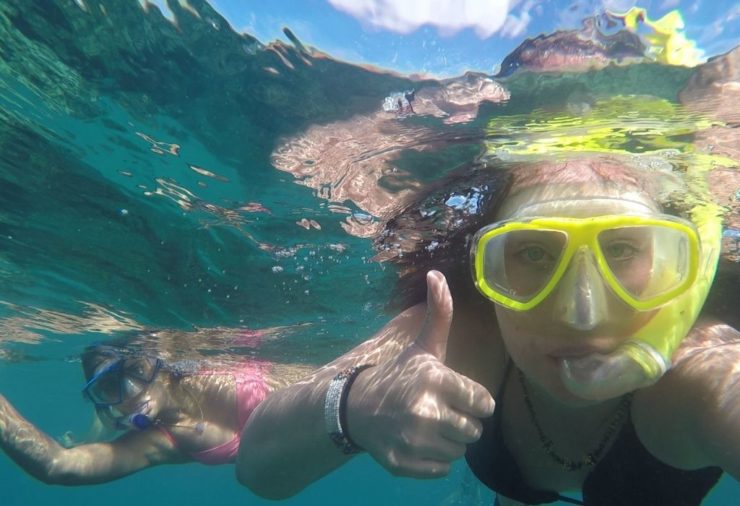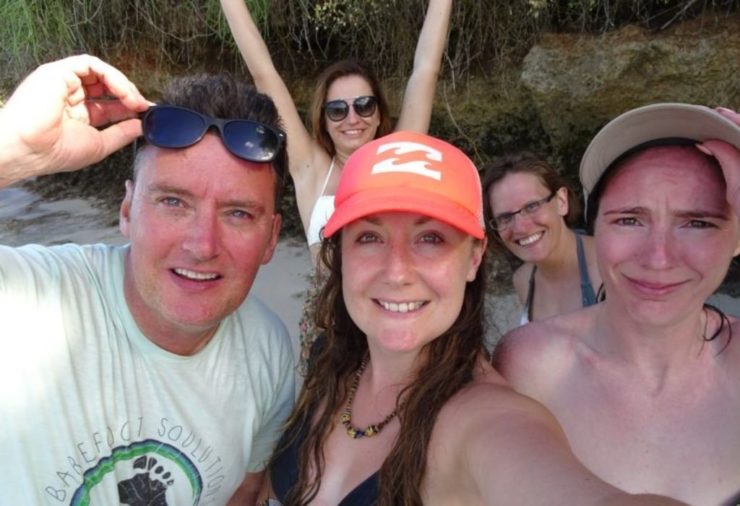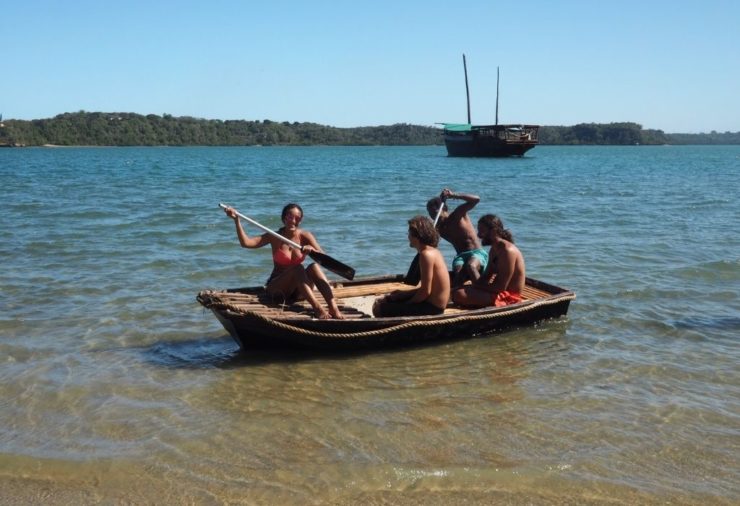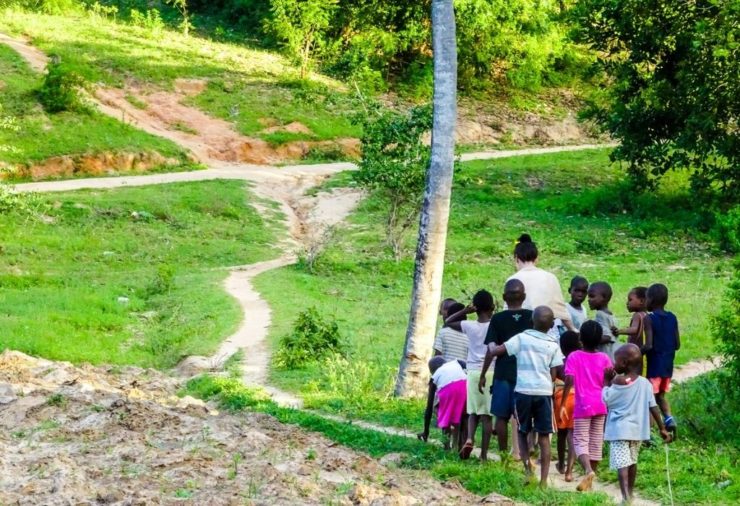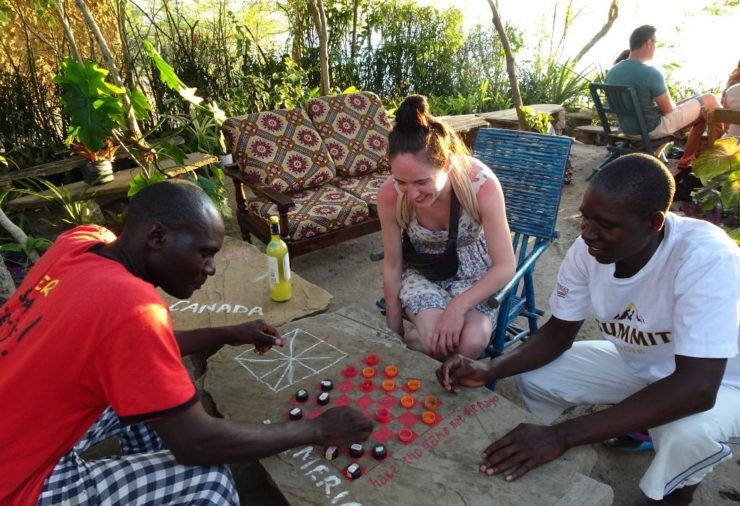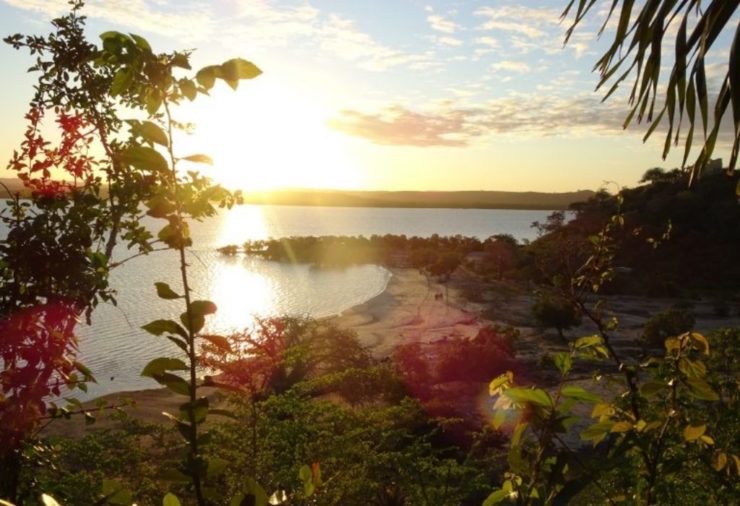 Diani Beach
Our final stop was one of Kenya's most beautiful destinations, Diani Beach, just south of Mombasa.
However, later that evening, the inevitable happened, one of our group fell ill. The next day, whilst the rest of the group went on a boat trip to Wasini Island and Kisite Mpunguti Marine Park (where they saw dolphins), I stayed behind to look after Neil, who was still feeling pretty poorly.
Whilst he improved as the day went on, I was worried that it might be malaria or dengue fever, so I took him to the local hospital where they did some tests and it turns out he didn't have either of those, but he did have a bacterial infection and needed antibiotics and to stay in overnight.
We finally went for a late dinner and a few drinks at Forty Thieves Bar, where we sat up until stupid o'clock chatting about everything you could imagine – we covered life after death, debated conspiracy theories with an ex CIA agent who came over to join us and even talked about female circumcision with the Maasai askaris (security guards). It was one of those nights!
The next day, we headed down to the beach to watch Jac do a skydive.
The sky was bright blue and the sea was sparkling, so we spent most of the day there before it was time for me to go and pick up Neil who was allowed out for our final meal at a beautiful restaurant in an underground cave.
I said my thanks to everyone and Neil read us out the most beautiful speech, calling out all sorts of amazing things about each and every one of us, that he'd written from his hospital bed.
More drinks were had at Forty Thieves before we called it a night. The next morning we made our way back to Mombasa where one by one, we said our goodbyes and headed out of Africa.
Running this trip was probably the most nerve-wracking but amazing experience of my life. 
But I'm so glad I did it and so happy (and pleasantly surprised) that people decided to put their faith in me and come along too! However, all in all, I think the trip went amazingly well and that everyone had a great time (UPDATE 2021: A few of the original group have now been on multiple trips with me).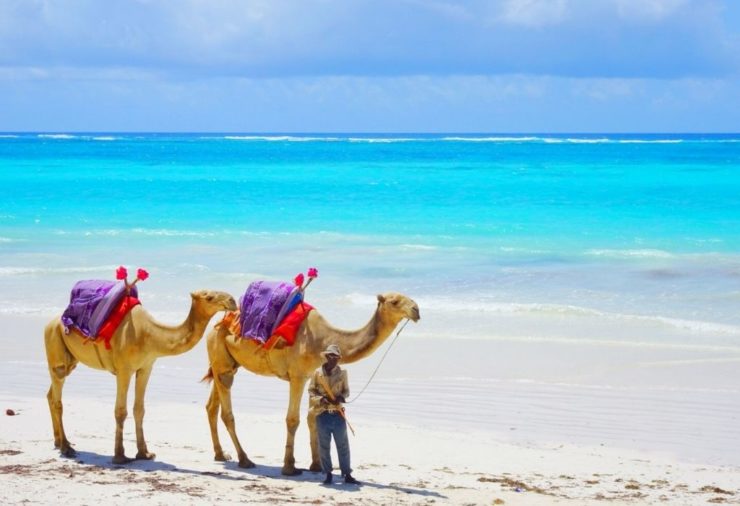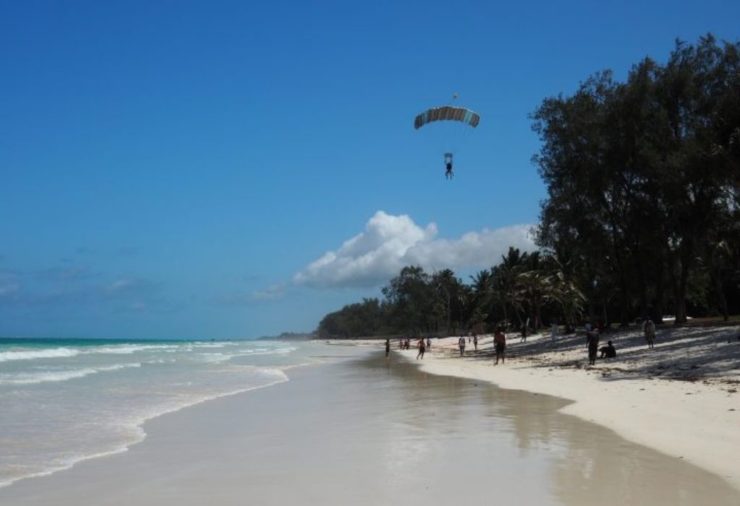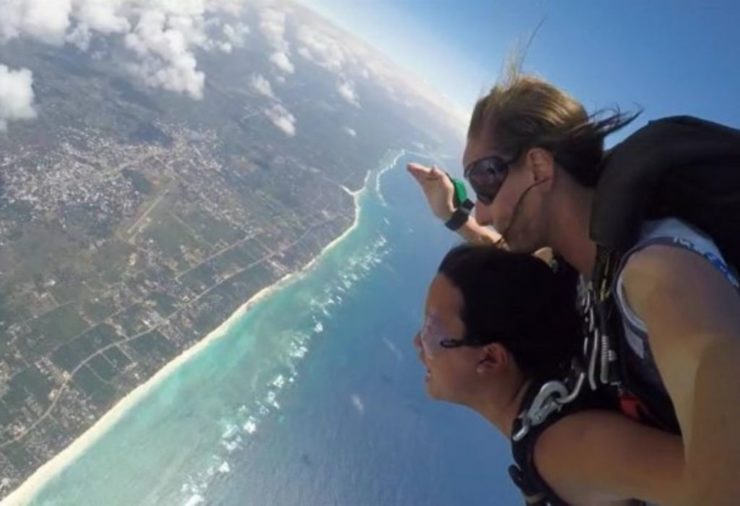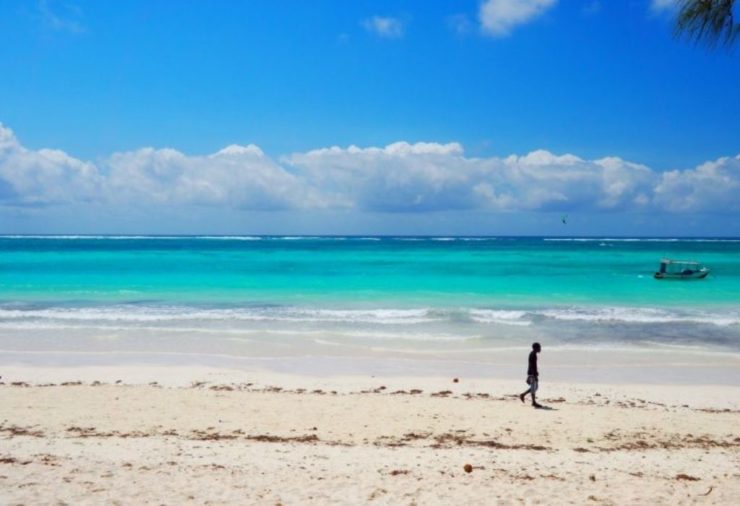 Testimonials
"Everything was amazing! I learned so many things!"
OANA | SWITZERLAND
"It was an amazing trip from start to end. I loved every moment and made friends for life."
DEBBIE | UK
"Africa is not always the easiest place to travel around, and after 3 months of backpacking I was all ready to give my brain a break from travel planning, so it was definitely a relief to have Helen come in and manage all that! I like her tour because it fit me – it was a small group tour, just 8 of us which is a nice number to make new friends and get to know everyone yet have our own thing, and it was a good mix of fancier stuff and indie backpacking. You just might see us on the next tours because we are all game for round 2 with Helen! Definitely a 5-star review ⭐⭐⭐⭐⭐!"
JAC | SINGAPORE
"I have a lot to thank my African adventure for, it truly did help me find myself and has given me the confidence to just go see the world. I never wanted to leave!!! You'll have the most amazing experience!!!"
KAREN | UK
"It was a great introduction to Africa travel, before I set out solo traveling. Also as I traveled solo and shared experiences in Kenya with people I was meeting I sounded like a seasoned solo traveler thanks to you. I did not know what to expect, and I think I understand Kenya pretty well now. I think you were able to portray and pass your infectious love of Kenya to us all, and I am forever grateful! Asante!"
CHRISTINA | USA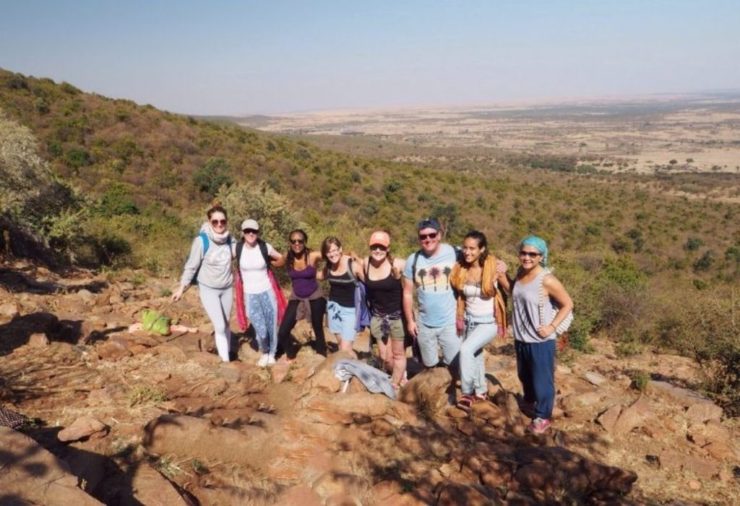 Want to come on the next Rock My Kenya & Tanzania Adventure?
Whilst we don't currently run the Kenya only trip, we do now have the Rock My Kenya & Tanzania Adventure tour! Ready to book your space on this incredible trip? Then click the button below to find out more or place your deposit! Want to have chat with me before you book? Send me a message using the form below and we can arrange a call – I'd love to chat! Can't make this trip but want to be the first to know about upcoming Rock My Adventure tours? Sign up for the Rock My Adventure newsletter here.