In the few days after the BlogHouse and TBEX in Ireland, I took a trip to the west of Ireland to sample the Wild Atlantic Way with a number of other bloggers.
Ireland is only a stones throw away from my home in Liverpool, so it's not somewhere that I really think of travelling to. Ridiculous I know considering it's less than 45 minutes on a plane! I'd been to Dublin once before for a work thing, and I'd lived in Belfast for a while in 2002, so I thought I knew what to expect. But I was completely astounded by the raw, untamed beauty of Ireland's Wild Atlantic Way.
Seriously, it took my breath away.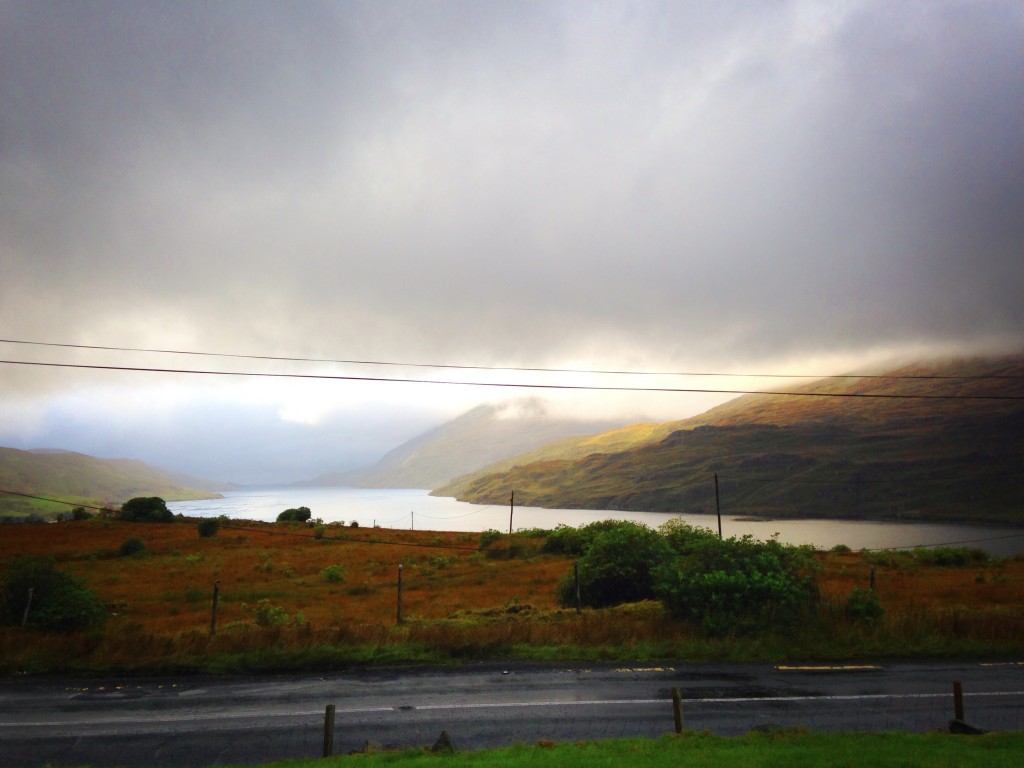 And not to mention the hospitality of our hosts (Therese, Tomas and Medbh - and everyone else we met along the way) in Ireland. I'm not sure whether I was still on a high after my previous few days, meeting so many wonderful people and learning so much, but my trip to the west coast of Ireland was one of my favourite travel experiences, ever. Here's what we got up to:
Tea and Cake at Gleeson's
Our first stop was Gleeson's, a restaurant and artisan food and wine shop where we had delicious scones and a nice pot of tea. Just the right way to start the morning.
History and Art in Westport
Our first stop was the gorgeous town of Westpost on the shores of Clew Bay in County Mayo. We met with local historian, Bronach Joyce, from Clew Bay Heritage Centre who gave us a guided walking tour of the town and it's eventful past. Westport has tons of character and is a haven for artists, who line the riverbank to capture the charm of this colourful town.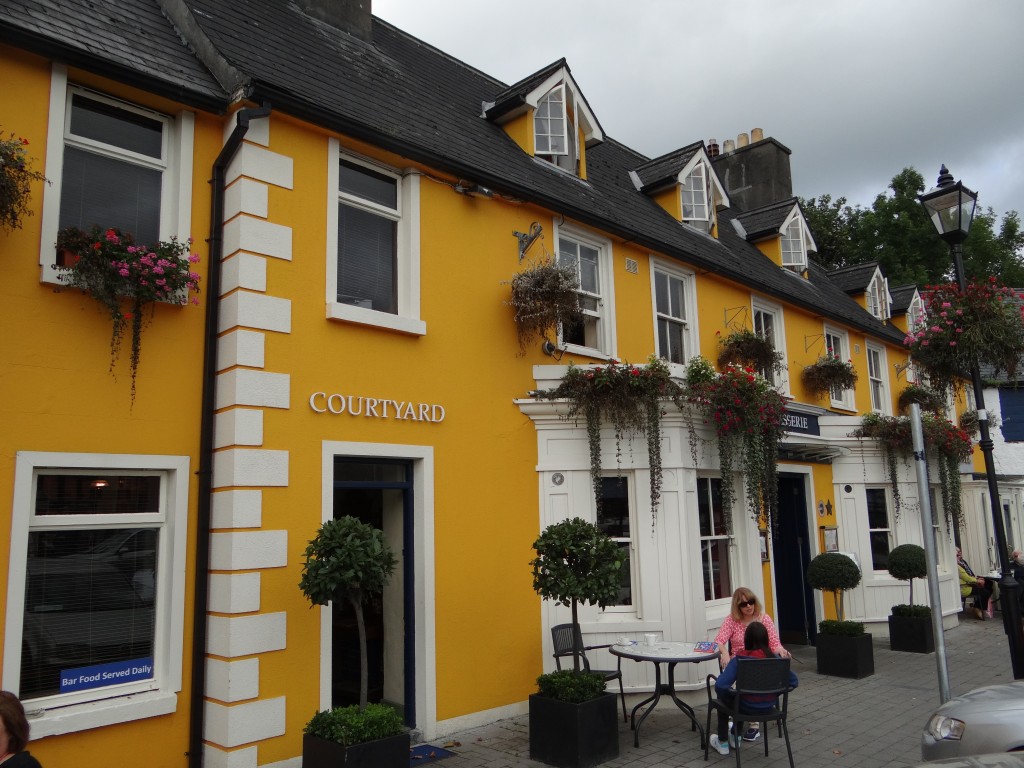 Bronach told us all about the Great Famine and the coffin ships that transported Irish immigrants escaping it.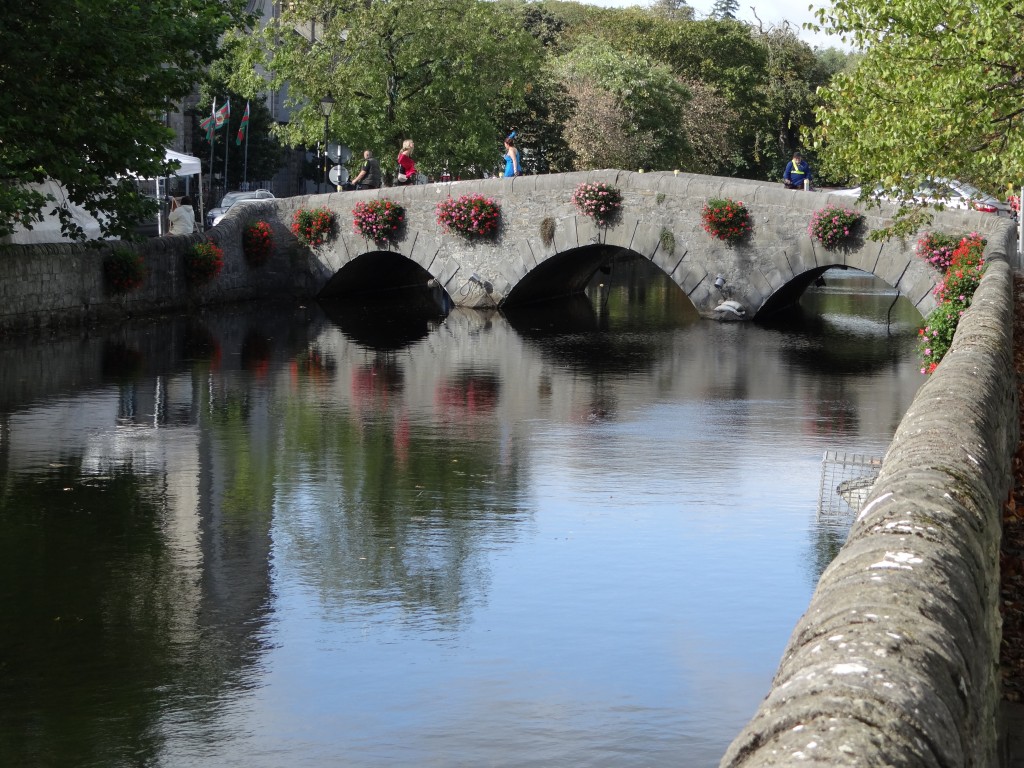 She also told us Grace O'Malley, the legendary 16th century pirate and the statue of St Patrick, that started off life as a statue of George Clendining. During the civil war, the statue was used as target practice and the head was blown off. You can still see some bullet holes in the base today.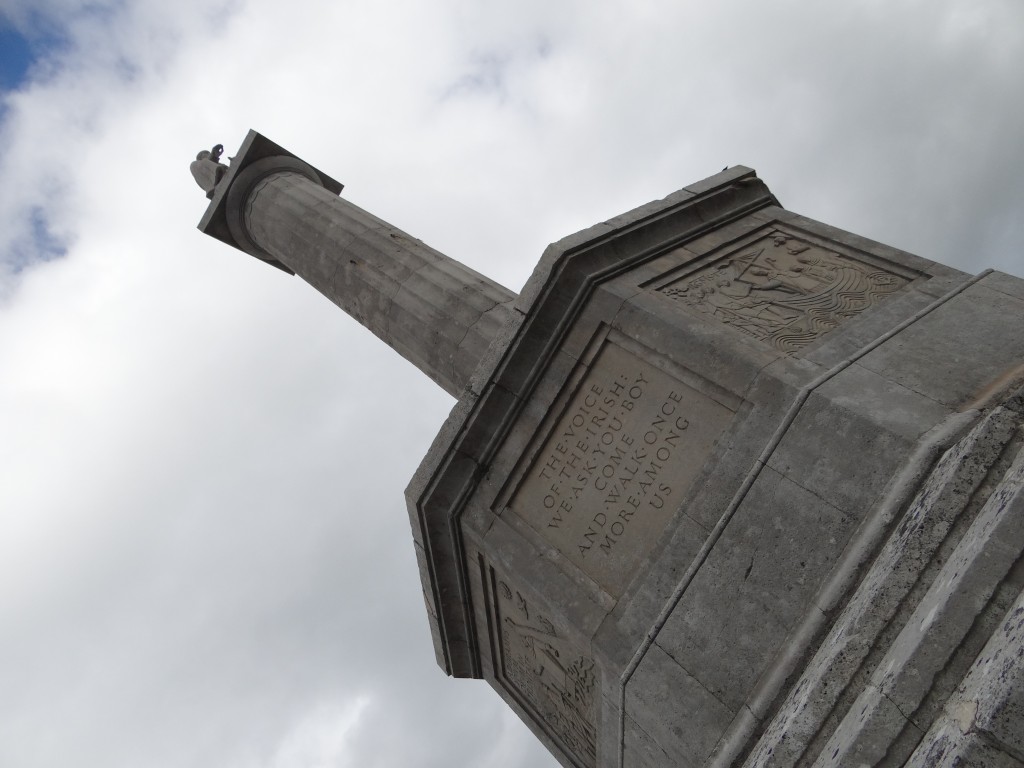 We finished off our time in Westport with a visit to the Holy Trinity Church. An ornately decorated church, that looks more like a Catholic church than the Anglican one that it is. What became apparent to me throughout my entire time in Ireland was how steeped in history Ireland is. To hear people talk of their country with such raw pride was really quite refreshing.
Oyster Tasting at Mulranny Park Hotel
Our next stop was the Mulranny Park Hotel on the Great Western Greenway for a food tasting with fabulous views. The hotel have developed the Gourmet Greenway Food Trail, where local artisans from Mulranny, Newport, Westport and Achill can showcase their delectable foods, including the local speciality, oysters.
I'd never had oysters before so I was curious to try them. I wasn't sure how they would go down though. Whilst I'm not a fussy eater, I do have an aversion to 'squidgy' foods (think mushrooms, calamari, scampi – most shellfish). The hotel had created beautifully presented platters of the things, with various additions, including pomegranate seeds and cucumber, but I had a feeling that they were not going to be my cup of tea.
My good friend Brendon and I decided we would count to three and go together.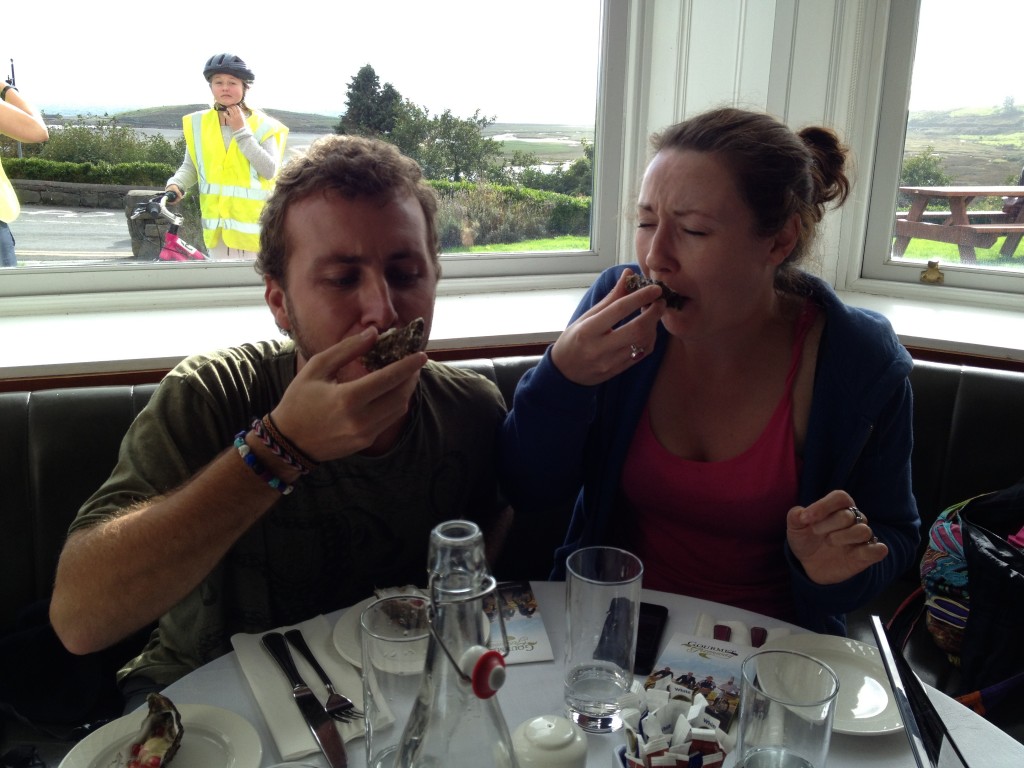 I really wanted to like them. Honestly I did. But I think you can see by my face that I was a massive fan. Perhaps they take a bit of getting used to or a more sophisticated palate, but I don't think I'll be ordering them again any time soon. I managed to get rid of the oyster taste with some smoked salmon and cheese infused with spices.
Cycling the Great Western Greenway
I love riding a bike, so I was keen to get to our next activity of cycling the Great Western Greenway with Clew Bay Bike Hire. Due to time we didn't manage to cycle the full length of the trail from Mulranny to Newport (18km) but we did cycle about half of that!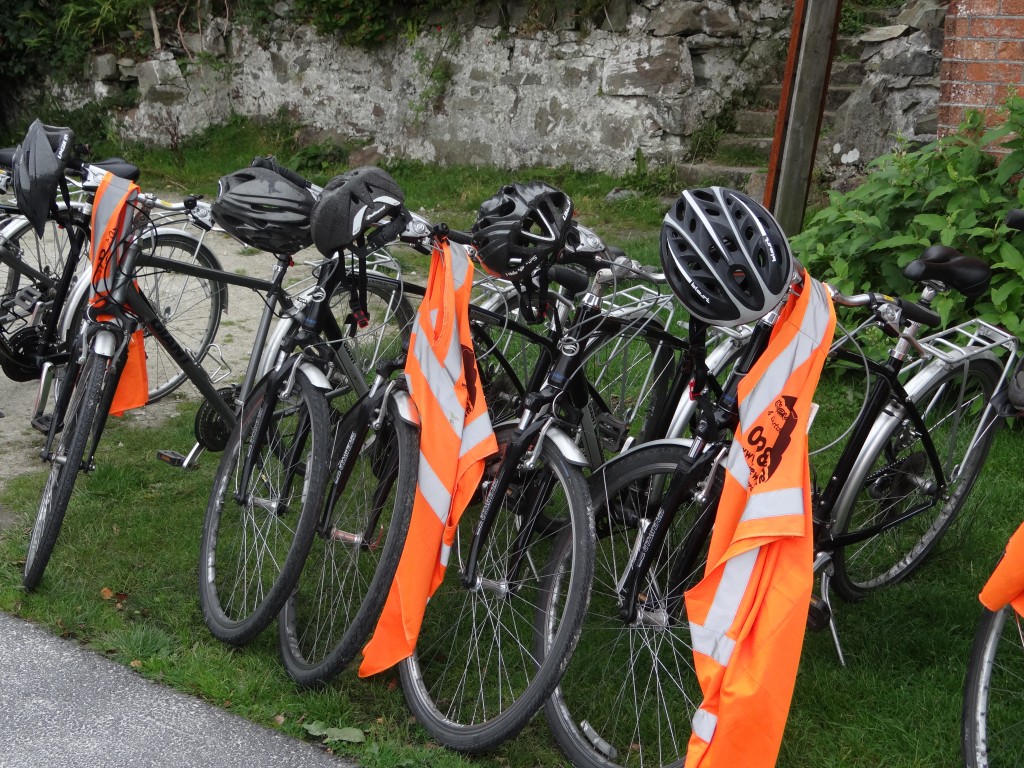 Once we'd collected our bikes, put on our helmets and hi-vis jackets we were off.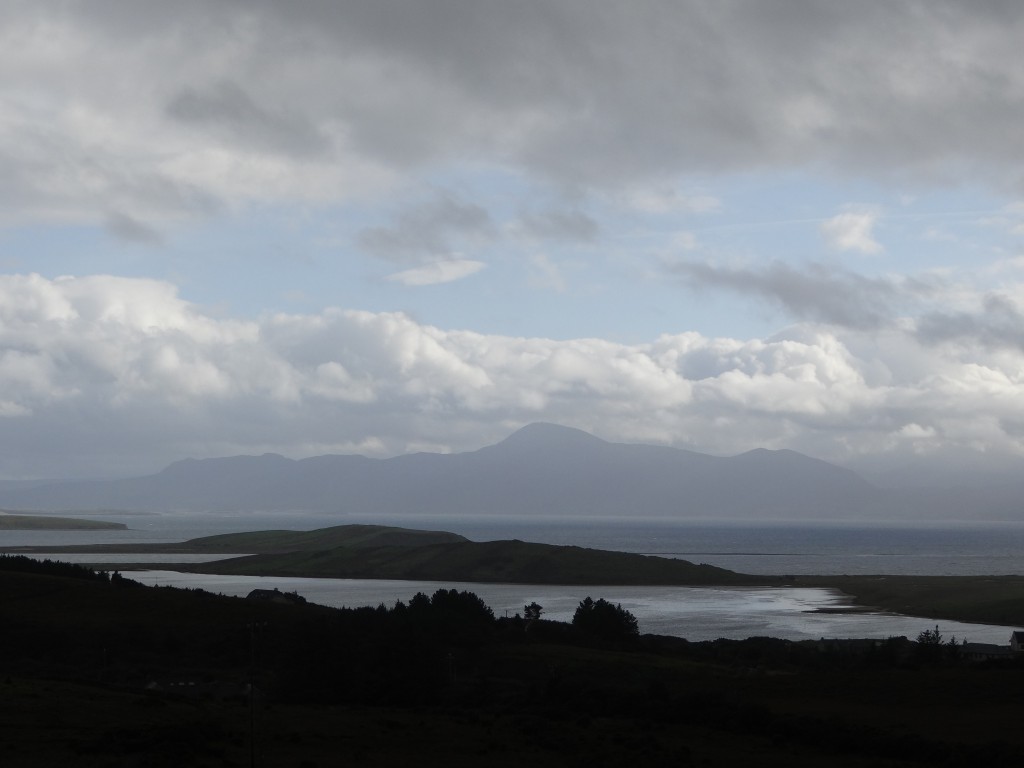 The views along the coast are stunning, more so  because of the ominous grey skies above, which only added to the ethereal beauty of the bay. The cycle trail is not too taxing and only requires a moderate level of fitness and as a bonus it's also a designated cycle path so there are no cars to contend with!
Warming Up with Seafood Chowder in Newport
The grey skies didn't falter as we reached our next stop at the picturesque town of Newport.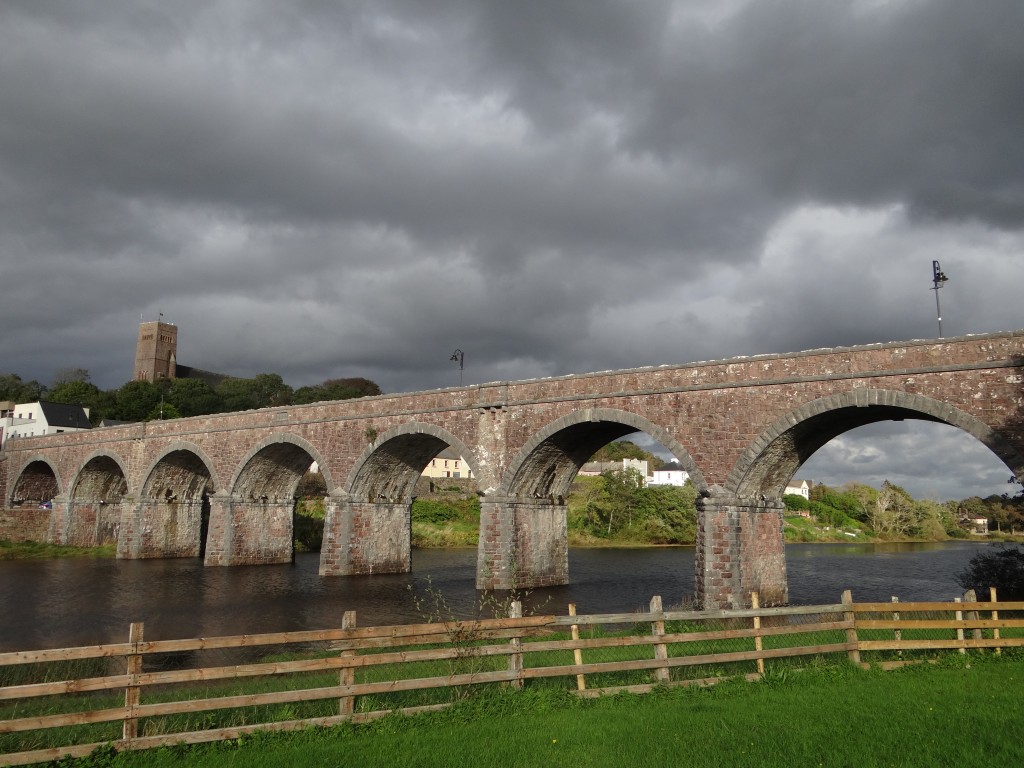 After my non success with oysters earlier in the day, I wasn't too hopeful for the seafood chowder we were about to taste at the Grainne Uaile Pub.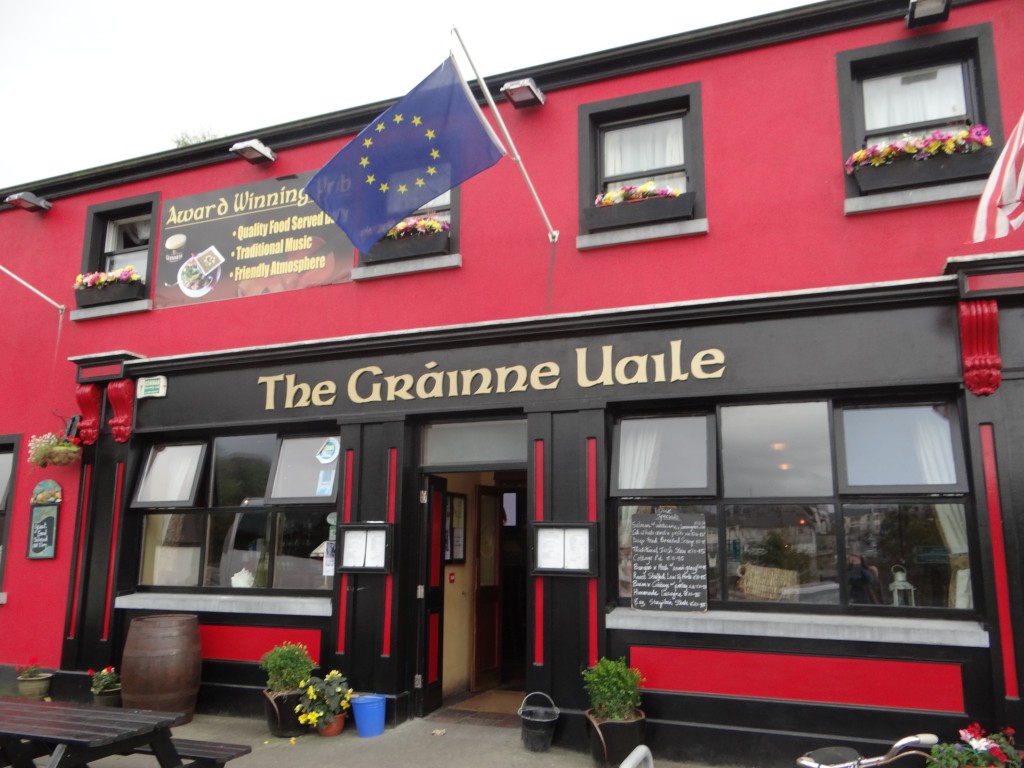 But… I actually REALLY enjoyed it. It was a thick, creamy soup with tasty chunks of seafood caught locally and homemade bread for dipping on the side. Just the food to warm me up on a cold October day.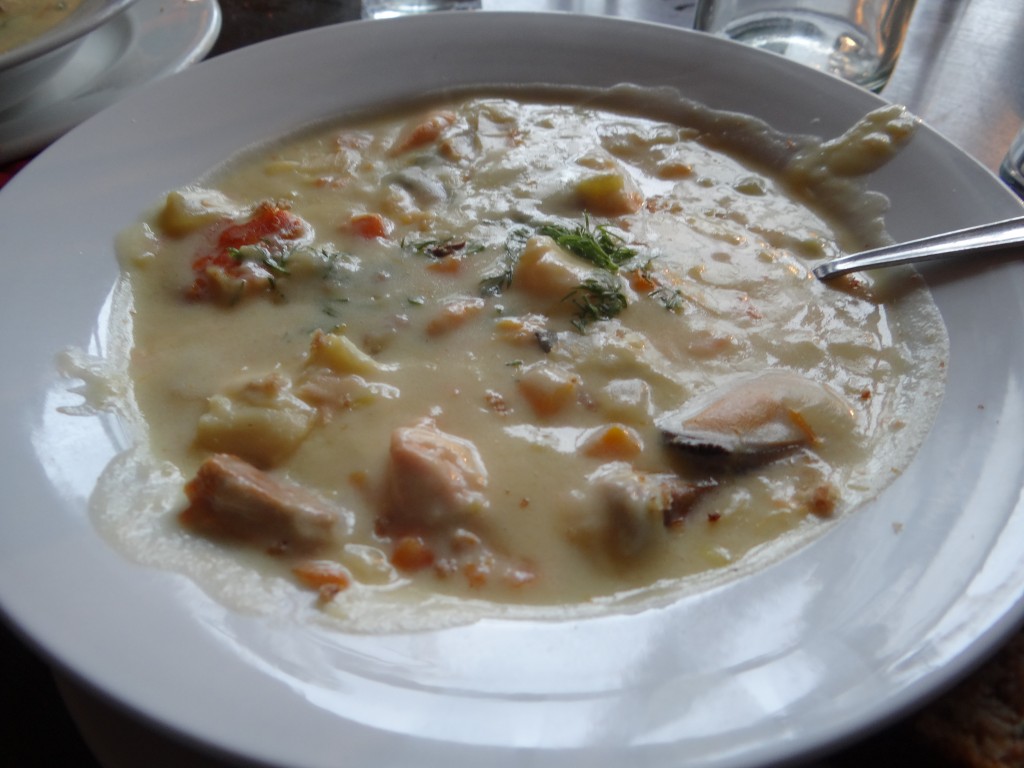 Whiskey Tasting at The Zetland in Connemara
We were greeted by the owner, Colm, upon arrival at the four star Zetland Country House Hotel on the edge of Cashel Bay in Connemara. Colm, impeccably dressed in a suit led us through the cosy and atmospheric Johhny O'Loughlins Pub which is located in the hotel, and into a sitting room area. Laid out for us were a number of different whiskeys to try, as well as canapés and more oysters.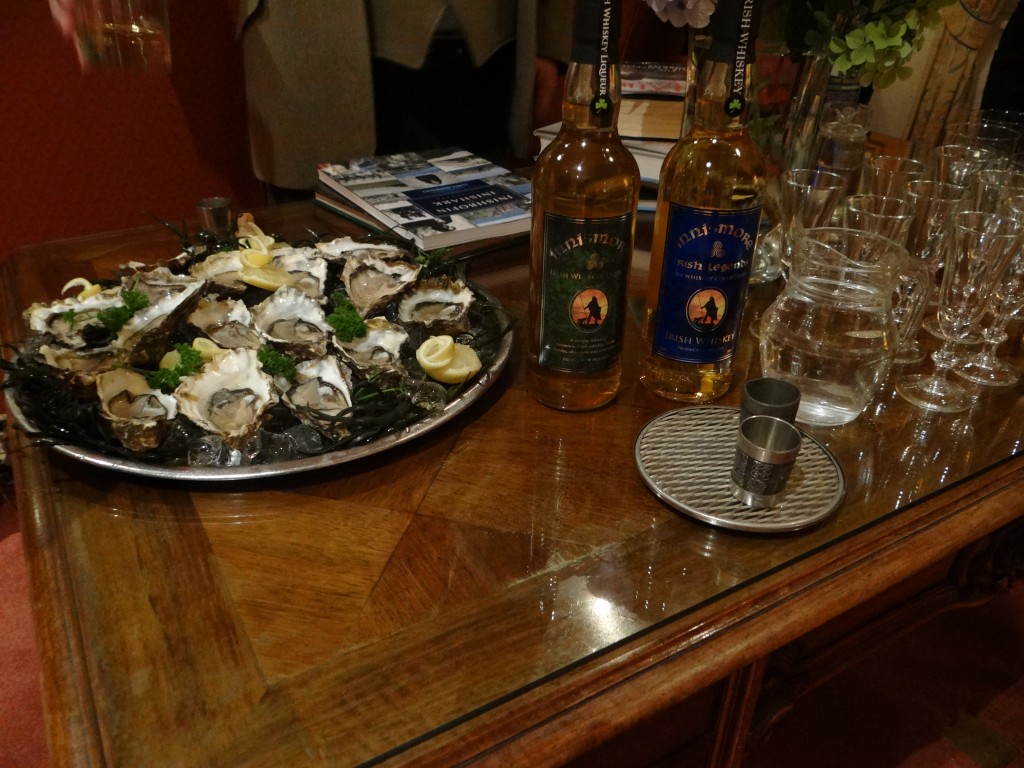 The Zetland produces a number of different whiskeys, including Irish Fiddler and Innismore and a delightful honey liquor, which I cannot for the life of me remember the name of – but I'll admit, I had a little bit more than a taste of it. It was delicious. We even got to try homemade dark chocolates with cherry, which really complimented the whiskey.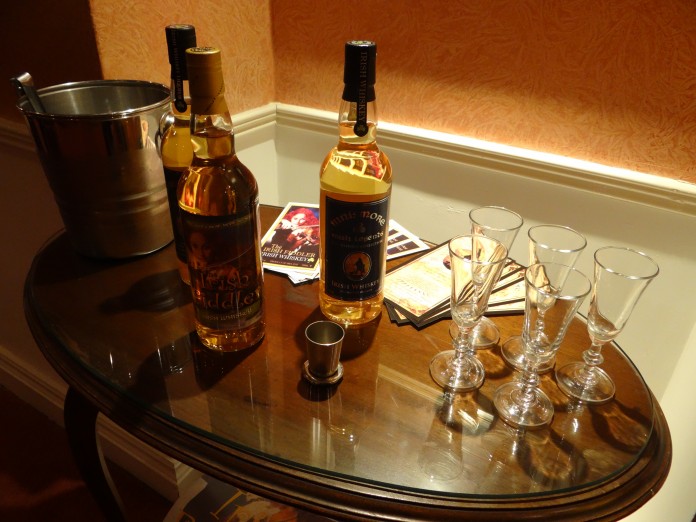 I even noticed a sign on the wall that said that they hold a complimentary sherry reception every evening at 7.30pm, which I thought was a lovely touch. Colm explained the history of the Zetland as we sat in front of the roaring fire sipping our drinks. I felt really emotional as I listened to him speak of his hotel with such pride and passion. The whole time, I felt as though I was in a bygone era, as if time had stood still at the Zetland. Feeling totally relaxed, I could have stayed there by the fire all night, but we had a dinner date elsewhere.
Dinner at Cashel House in Connemara
We had dinner at the Cashel House Hotel, which overlooks Cashel Bay and just 5 minutes drive from the Zetland. Cashel House is a stunning converted country home with beautiful gardens and also one of the founding members of "˜Ireland's Blue Book'. I was still really full from all the oysters, chowder and chocolates I'd eaten throughout the day, so I opted for two starters instead of a main meal. I chose the home made pate and the Caprese salad. And I can confirm that they were both very tasty!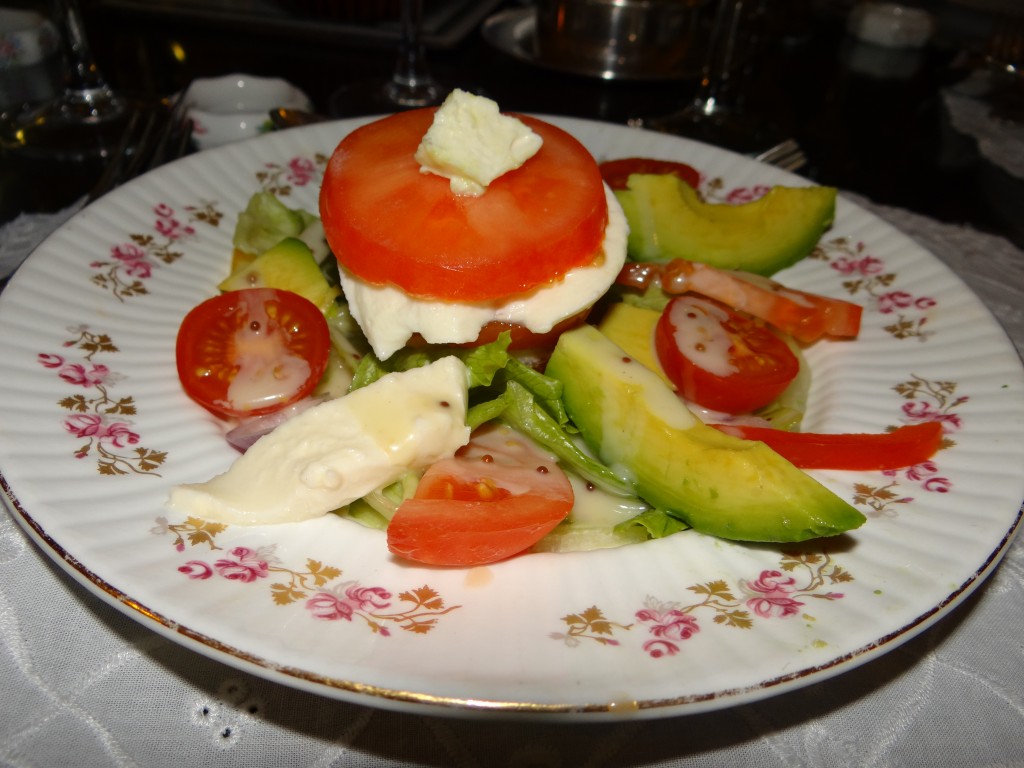 After dinner, it was back to the Zetland where I had one last drink by the fire before retiring to my spacious, comfortable room. Quite different from the Dublin hostel I'd been staying in the few days previously.
Good night all. Read part 2 here.
Please Note: I took this trip as a guest of Fáilte Ireland. They did not request that I write a favourable review and all opinions expressed here, are as always, completely my own.