My favourite thing about blogging, without a doubt, is the wonderful people I meet because of it. I love getting comments and emails and and talking to like-minded souls.
A couple of weeks before I went to East Africa in October, I received an email from a reader, Ella. Ella was going to Kenya to volunteer and wanted a bit of advice. It was her first trip to Africa and indeed, her first solo trip ever.
I was moving around a lot in Kenya, but we worked out our paths would cross in Nairobi for just one day (the day she arrived) so we made plans to meet up for dinner. As it happens, it was the same day my hostel 'moved' and all of us staying were shipped off to the nearby shopping mall whilst they built our bunk beds, so Ella actually met a rowdy rabble of eight. Welcome to Africa!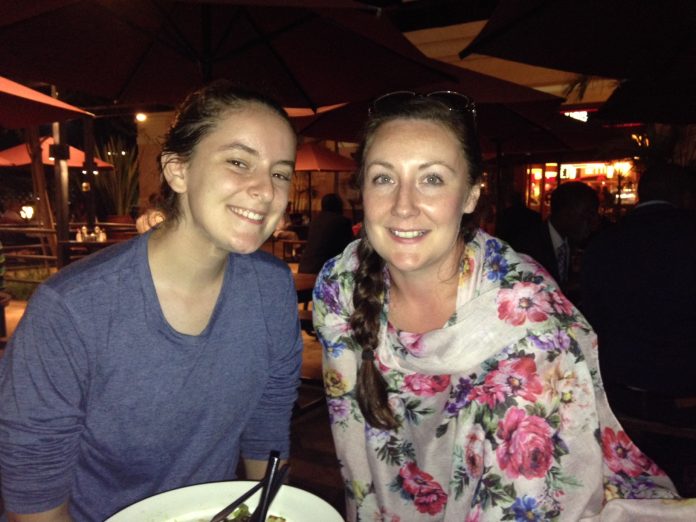 It's been almost 6 years since I first went to Africa. It seems like it was 5 minutes ago, but also so much has changed in that time. I'm older, although the wiser part is still under debate. I've in no way lost my passion for Africa and I still get butterflies before a big solo trip, but it will never be 'the first time' again, so I asked Ella if she'd like to share her story with you.
Ella's Story…
I can't remember the defining moment in my life when I realized I loved travel. While I enjoyed every trip I ever took, most of my trips were visits between the two countries I grew up in to see family and friends. It always seemed regular and admittedly kind of boring to me. I longed to go to a place that I had no relation to and experience something different. In November 2013, my family and I took our very first trip to a different country. We flew to Paris for 5 days and despite the risk of sounding corny; it was pretty magical. However, the reason I'm mentioning this is because that trip later inspired me to take on a more significant trip. My first ever solo trip. As a freaking responsible adult! I figured that if I managed to get by in a city I'd never set foot in before, where I'm not fluent in the language, wandering occasionally by myself and not getting too lost; then just maybe I could handle embarking on a solo trip. And this time I'd go to a place that was really different. I'd go to Africa!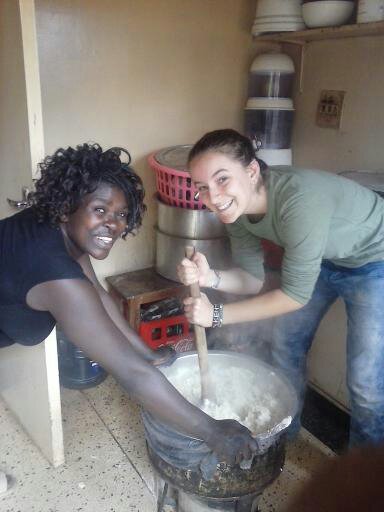 I made my decision around February 2014 and spent 9 months planning, organizing, arranging and preparing for this trip. I decided I would spend a month in Kenya volunteering, something I had always dreamed of doing, and I'd enjoy a long layover in Amsterdam on the way. To say I was excited was an understatement. To say I was nervous, even more so. So much so that when I attempted to check-in online to no avail, I burst into stress-induced tears and had to have my 12-year-old sister comfort me and remind me that it would be okay. My family took me to the airport in the early hours of the morning and with each progression I became more agitated, both from excitement and from nerves. I couldn't believe that this was actually happening. But when I sat in my window seat on the plane and looked outside, an amazing thing happened. An overwhelming sense of calm came over me as I realized that I hadn't bitten off more than I can chew and that I had, in fact, 'got this'.
I had a very successful day in Amsterdam where I made a great new friend (Hi Ana!), and then I made it back to Schipol Airport with ample time left.  I boarded my 8 hour red-eye and patiently anticipated our arrival in my new destination of Nairobi, Kenya. I remember touching down in the land of The Lion King and thinking to myself, "God this is so beautiful!". Even still on airport grounds, the landscape was pure untouched nature that was unmistakably of the African kind. Vast quantities of monotonous dust with the occasional sparse shrubbery had never seemed so captivating to me as it did then. And that wasn't the only thing that had won me over on my very first day. That day I was to learn and experience first-hand Kenyan Kindness.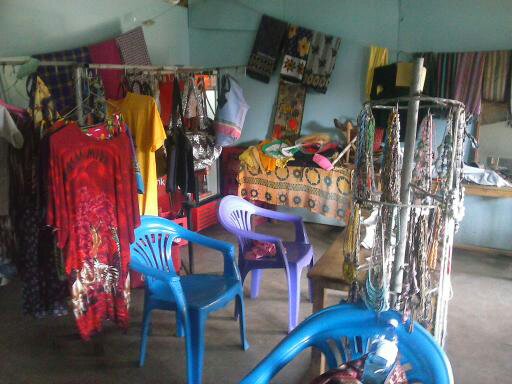 Example 1. I set myself a task to exchange some money, buy a sim card and buy some water while still in the airport. I approached a security guard that was standing nearby and asked her where I could accomplish these tasks. Rather than telling me with too few words where to go before seeing me off, she smiled and asked me to follow her. She took me to every station herself and patiently waited while I got organized before parting with a "Welcome to Kenya". I was completely astounded. She didn't have to do that for me, yet she did.
Example 2. I exited the airport and quickly found the driver who had come to take me to the volunteer house. His name was Antony but depending on who you ask, it's also Tony\Texas. Antony became the trusted taxi driver I would call if I was making a longer trip to an unfamiliar part of town. Helen and I had scheduled to meet that day but we were having to plan things at the last minute and to no-one's fault, plans also ended up changing. I was certain that I was driving Antony crazy with all these updates but when I asked him if I was being too much trouble, he nonchalantly replied, "Nah, it's cool". I fell head over heels in love with Kenya and its people that day.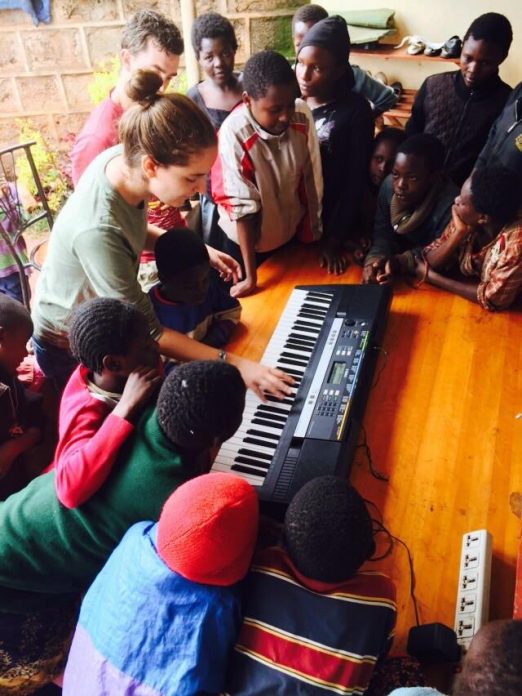 Those first couple of weeks, my senses went into stimulation overload as I adjusted to my new surroundings. I was placed in Kibera, the world's second largest slum, where I spent my mornings volunteering at a special needs school and my afternoons working alongside HIV+ women in their women's empowerment group. Kibera was in all honesty, shocking. I knew that there were people who lived in extreme poverty and I could somewhat imagine how that must be like in a third world country. But to see it for myself was something else. On the 'main roads', homes and shops would essentially be tin sheds and further inside you'd see clusters of huts built out of the mud off the streets. And since there is no effective trash disposal system other than occasionally burning small piles of garbage,  most of the rubbish would be left on the streets and… well, you get my drift. Thankfully, my friend who was a returning volunteer in Kibera told me that there has been improvements in the general hygiene and cleanliness of the neighborhood since her last visit 2 years ago. The trash mound I would pass every day to get to my placements used to be a hill, so I was glad to know that there was progress being made.
Although the living conditions were distressing and certainly didn't meet basic human standards, it was apparent that the locals didn't want to let this bother them. Reggae music was playing around most corners, mandazis and chapatis were being made on make-do stoves (my mouth is literally watering) and in general, you saw a lot of people smiling, chatting and going about their day on African Time. Locals would say hello or "Jambo", kids would chant "HOW AH YU?" and whenever I managed to spurt out a "Poa" (Fine) they'd be quick to complement my Swahili and encourage me to learn more. What's even more interesting is that I never felt unsafe walking around the slum. This might be because I usually walked around with my local friend and self-appointed guardian Dan, but even when I started getting around by myself (don't freak out mum!), I couldn't help but feel quite comfortable. As if I had already been accepted as a member of the community.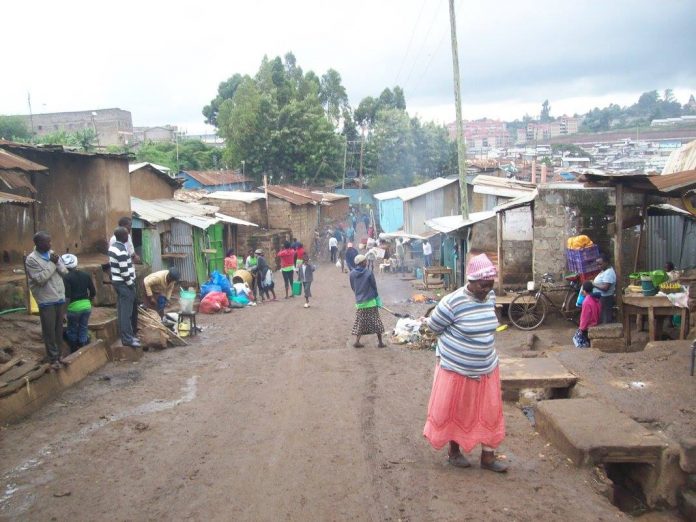 Perhaps this was because I wasn't exactly a tourist. Yes, I was a traveler but I was also a little bit more than that. I was a volunteer who was always in direct contact with locals because I was working in their community. And this community specifically, is one that many foreigners don't dare to venture into. But that's not to say that I didn't utilize my sense of adventure or do any touristy things while I was there. I'll be the first to admit that I filled my trip with loads of fun and interesting moments. I cooed at orphaned baby elephants at the David Sheldrick Wildlife Trust. I made out with a giraffe at the Giraffe Centre. I danced to East African music in a Kiberan bar, where I tried the local beer Tusker (and discovered that I'm allergic). I practiced my negotiating skills at the Maasai Markets. I experienced a Kenyan church service full of music, clapping and dancing. I tried some… ahem, exotic meats at Carnivore Restaurant (rabbit – way too chewy; crocodile – both chewy and crunchy; ostrich – tasty, similar to chicken; and ox testicles – tasted fishy). I rode on my first piki piki (a taxi-like service using motorbikes). I saw the Big Five at the Maasai Mara National Park which was amazing! And I also used my first squat toilet, had my very first bucket shower and continued to gain basic understanding of the Swahili language.  So I definitely did cross some things off of my personal bucket list during this trip too.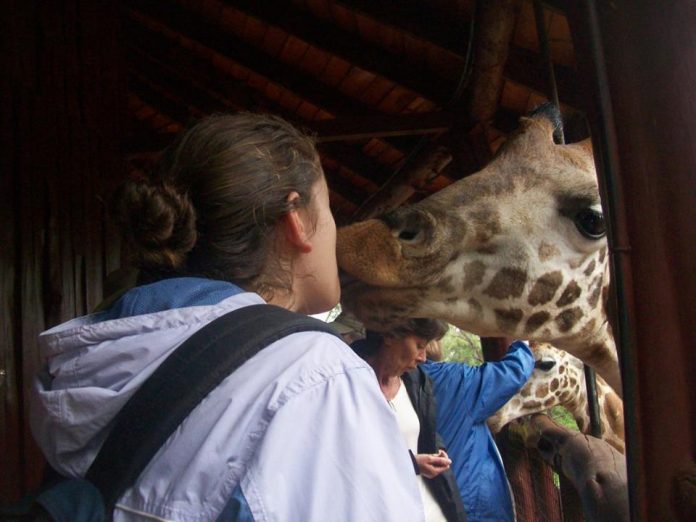 With all the fun I was having and satisfaction I was getting, it was hard to know that at some point it was going to end. That I'd have to leave the kids, the women, the friends and this beautiful country behind. Looking back on this trip, I realize that I had actually benefited a lot as well. I not only gained so much life experience and amazing new friends from all over the world, but I have a newly found confidence in myself that I didn't have before. My world has opened up and I realize that anything is possible. Even my most far-fetched dreams are actually achievable and I don't feel scared to try. On my very first night, just before Helen and I parted ways, she shared some words of wisdom that stayed with me for the rest of the month. "This trip will be great for you because it will allow you to figure out your direction in life, based on what you truly want and without the distractions of regular life." I can definitely testify that this was true and another gift I received from embarking on this trip.
On my last day as I was packing, I came across the folder that I had prepared for myself with information about Kenya and this volunteer trip. I flipped through the pages and landed on a printed Facebook conversation that I had with a previous Kenya volunteer and online friend Sunny. For months I had been asking her questions and she had been graciously helping me out with everything she could think of. As I was flicking through during my last hours, this paragraph caught my eye: "ENJOY EVERY SECOND. It's going to fly by, and you'll be on a flight home before you know it. It begins to feel normal to you about two weeks in, and that's when it'll start to fly by, because your comfort zone has expanded to fit your new adventure, but stay present and take absolutely everything about the experience in – the good and the bad. This is a once in a lifetime opportunity. Enjoy it!". I did, Sunny. I did.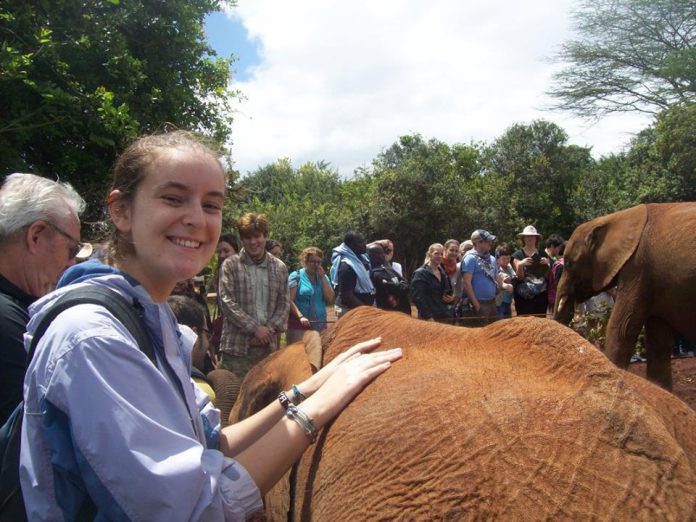 The one minor detail that I forgot to mention, was that while in Kenya I actually celebrated my 21st birthday. All I have to say to that, is that while that wasn't the intention of this trip, I can't think of a better way to have spent my 21st.
Where did you lose your solo travel virginity? Or are you going to soon?