Back in 2009, I landed in Africa for the first time. In Livingstone, Zambia to be precise, to work as a volunteer for a local charity. This was the beginning of the trip that would spark a lifelong love affair with the continent.
Upon leaving I vowed to go back, eventually landing myself a job as a guide in Zambia and Malawi in 2012. My love of these two countries only grew and now I'm excited to say that I'm going back to where it all began…
Malawi and Zambia are two of THE BEST countries in Africa (in my opinion), but are often overlooked in favour of the more well known safari destinations, so I want to show you just what they're made of!
We'll spend just over 2 weeks exploring these beautiful countries, starting in Malawi's capital, Lilongwe. From here we'll head to the stunning beaches of Lake Malawi (the 'Lake of Stars') where you can relax and unwind, take part in some watersports or dance the night away at one of the very cool beach bars.
From here we'll cross over the border into Zambia (my favourite country in Africa) and head to South Luangwa National Park for a 2-day safari, where we have a good chance of spotting the 'Big Five' (elephants, buffalo, lions, black rhino and the elusive leopard).
Next well head to a tiny island on the upper Zambezi for a real taste of rural Zambia, before finishing our trip with a few days in Livingstone, the 'Adventure Capital of Africa' and home to the mighty Victoria Falls!
Livingstone has something for everyone, from Afternoon Tea to white water rafting!
What you should know, is that this won't be a typical 'tour'.
My tours are experiential and culturally immersive adventures, but without the hassle of having to find accommodation, working out how to get from A to B and booking all your own activities. They are laid-back and fun, kind of like an independent  backpacking trip, but with a group of friends built in – the best of both worlds.
On this trip I have lots of fun stuff planned, however the pace will be relaxed and there will be downtime so you can do your own thing and take part in some of the other activities on offer!
Malawi & Zambia Tour Overview
Duration: 15 Nights
Dates: 18th October – 2nd November 2017
Start: Lilongwe, Malawi
Finish: Livingstone, Zambia
Maximum Group Size: 8 people
Group Leader: Helen
Minimum Age: 18
Cost: £1,995
Deposit: £200 (non-refundable)
Balance Due:  19th August 2017
You can find full Terms & Conditions here.
Highlights
Malawi's capital, Lilongwe.

Spending time at stunning Lake Malawi and taking part in the many activities on offer (both on land or on water).

Sundowner boat trip on Lake Malawi.

Kayaking across the lake to spend the night on a desert island.

A 2-day safari in South Luangwa National Park.

A cultural tour of Mfuwe village.

A stay at an eco lodge on a tiny island on the Zambezi.

Sunday morning church service in a local village.

Exploring Livingstone, the 'Adventure Capital of Africa'.

Afternoon High Tea at The Royal Livingstone.

Cycling through the villages surrounding Livingstone and Mosi-oa-Tunya National Park.

Seeing one of the natural wonders of the world, the Victoria Falls.

Sunset cruise on the Zambezi River.

The Zambian and Malawian nightlife.
This trip is for you if…
You're awesome.
You want a highly personalised adventure in an incredible place.
You love wildlife, lakes, rivers and waterfalls.
You want to experience local culture, eat local food and meet local people.
You love immersive and experiential travel and are looking for more than just a holiday.
You want to see a rounded portrayal of the countries you visit.
You love travelling but want someone else to do all the planning and organising (that's me by the way)!
You want to travel with some cool, like minded people and make friends for life.
All of the above!
Then read on…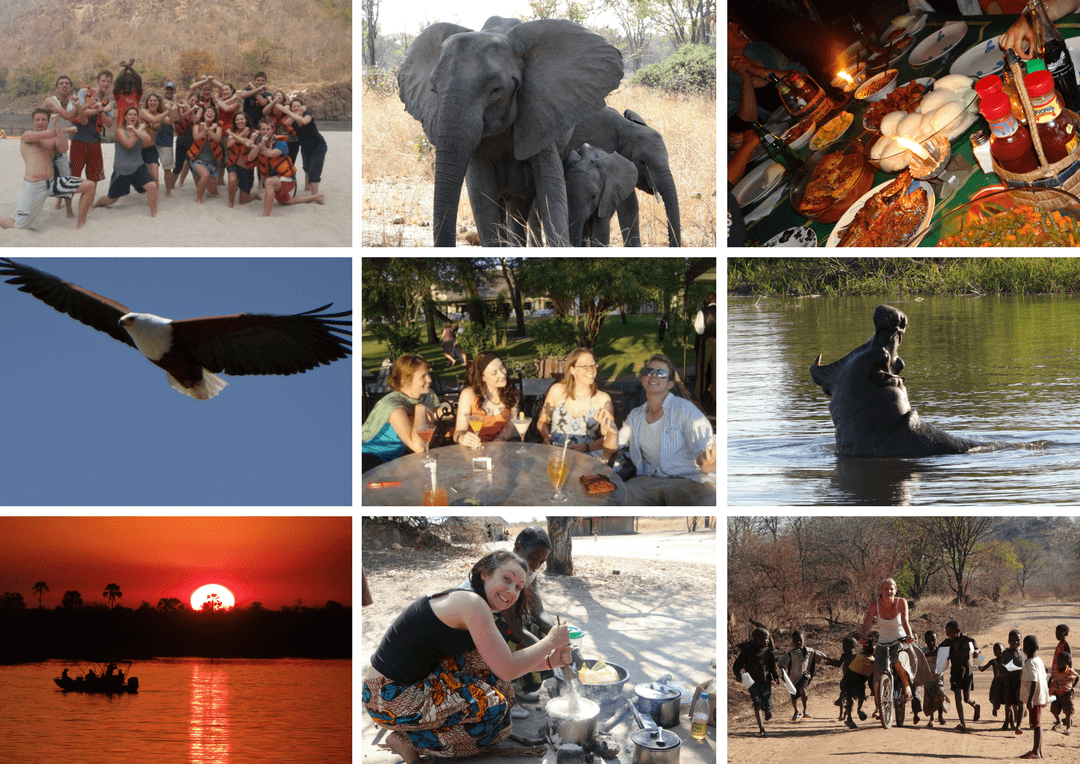 Malawi & Zambia Tour Itinerary
Day 1: Arrival Lilongwe
Arrive in Malawi and get to know your fellow travellers over a welcome in the capital, Lilongwe.
Day 2 – 4: Cape Maclear
In the morning, we'll make our way out of the city and head towards Cape Maclear (Chembe village) on the shores of Lake Malawi (around a 4 hour drive).
Lake Malawi is the world's biggest fresh water lake and is so big, it actually looks like the ocean. At night, the fishermen use lanterns which twinkle on the water and are the reason the lake became known as the 'Lake of Stars'.
Whilst we're here we'll take a sundowner cruise on the lake and you will have the opportunity to explore the area and get a glimpse into life in the 'Warm Heart of Africa'. Those who want to, can take part in a whole number of activities, including paddle boarding, snorkelling, cycling, canoeing, beach volleyball and hiking.
For those who love shopping, Malawi is THE best place in Africa to pick up authentic wooden carvings, especially the famous Malawi chair.
However one of the big draws for Lake Malawi is scuba diving! The lake is home to more species of freshwater fish than any other lake in the entire world (including some you won't find anywhere else) and with it being part of the Great Rift Valley, you'll also be treated to some spectacular underwater scenery too.
On our last night at Lake Malawi, we'll kayak over to a deserted island, where we'll enjoy a bbq (braai) on the beach and spend the night in true Swiss Family Robinson style.
Day 5: Lilongwe
After we've said our goodbyes to Lake Malawi, we'll head back to Lilongwe to get ready for the next part of our journey into Zambia.
There will be some time for shopping, having a wander around the city and in the evening, we'll go for dinner those who want to can sample the Lilongwe nightlife!
Day 6 – 8: South Luangwa National Park
We'll spend the next 3 days in gorgeous South Luangwa National Park, my absolute favourite safari destination in all of Africa!
South Luangwa is one of the best places in Africa to see the 'Big Five' and as it's one of the only game parks in Africa where you are able to do evening game drives, there's a good chance you may spot leopards. We'll go on morning and afternoon/evening game drives on the two full days we are here and you'll also have the chance to chill out at the pool and visit the local village to experience life in rural Zambia.
We'll be staying right on the banks of the Luangwa River, just outside the park gate, and animals are often known to wander into the camp so there will be plenty of opportunities to spot wildlife even when you're not on safari!
Day 9: Lusaka
I'm not gonna lie, today is a long drive day away from the bush, as we head down to Zambia's capital, Lusaka. However, in Africa, the journeys are part of the experience and you'll never get bored watching the scenery go by and the smiles and waves from the lovely Zambian people.
Day 10: Livingstone
Next stop is Livingstone, the adventure capital of Africa and the home to one of the most spectacular places on earth, Mosi-oa-Tunya ('The Smoke that Thunders'), better known as Victoria Falls!
After a few days of safari and travelling, we'll get dressed up and head to the Royal Livingstone for Afternoon High Tea and those who want to can stay on to enjoy cocktails on the deck, overlooking the Zambezi River at sunset.
Day 11 – 12: Bovu Island
In the morning there will be some free time to take part in the activity of your choice and believe me, there's plenty on offer (see below).
After lunch, we'll head out of town and drive through the bush to reach our home for the next two nights, travelling over to the island by traditional canoes, known as mokolos or mokoros.
Here we'll relax and take part in the activities available on the island (Zambian cooking, walks, fishing, hikes, canoe trips, sandbank picnic) and on the Sunday morning, you will have the opportunity to attend church service over in the village on the mainland and see the choir perform and the local lads may even invite you for a game of football.
Day 13 – 15: Livingstone
Leaving Bovu Island, we'll head back to Livingstone for a few days of adventure! Livingstone is my absolute favourite place in the whole of Africa (big statement, I know) and I know you're going to love it!
Whilst we're here, we'll take a cycling tour, venturing into the villages that surround the main part of town and through Mosi-oa-Tunya National Park, where we may be lucky enough to spot some wildlife.
And of course we'll visit Victoria Falls and you'll have the option to see them from the Zimbabwean side too should you wish.
At this time of year, the falls are at their lowest, which means that you won't see them in full flow, but it's the perfect time of year for white water rafting and to visit the 'Devil's Pool'.
There will be a full free day so that you can enjoy some activities on offer, including white water rafting, swimming in the 'Devil's Pool, microlight over the falls, bungee jumping and jet boating (to name but a few)! Or you may just want to chill by the pool – it's up to you! For a list of current activities click here.
On our last evening, we'll say goodbye over dinner and drinks on a sunset cruise on the Zambezi River.
Day 16: Depart Livingstone
The tour ends today so you can either head home, or stay in Livingstone for a little longer or continue your adventures around Africa.
For those wanting to do an excursion to Chobe National Park in Botswana (famous for having thousands of elephants), I can help you arrange that as an optional extra!
Please bear in mind that the itinerary is subject to minor changes, "This is Africa", after all. But whatever happens, I'll endeavour to make sure you have an amazing trip!!
What's Included?
Meals: 12 breakfasts, 7 lunches and 12 dinners.
Accommodation: 15 nights accommodation in good quality camps and hostels. This could include mixed dorms.
Transport: Local transport within Malawi and Zambia, to and from included excursions and between the main destinations on the tour (includes – taxi, safari van, mini bus, coach, boat, canoe and kayak).
Activities:

Sundowner boat trip on Lake Malawi.
Beach BBQ and overnight stay on an uninhabited island.
Kayaking on Lake Malawi.
4 x game drives in South Luangwa National Park.
Mfuwe village tour.
Afternoon High Tea at The Royal Livingstone.
Sunday morning church service.
All activities on Bovu Island – canoes, cooking lesson, guided hikes, village tour, bird watching, (fishing hire is an optional extra).
Cycle tour of Livingstone.
Visit to Victoria Falls.
Sunset cruise on the Zambezi River.
What's Not Included?
Flights to/from Malawi and Zambia.
Airport transfers (however I can arrange these for you).
Visas.
Medications, anti-malarials or vaccinations.
Travel/health insurance.
Drinks & meals not mentioned.
Optional activities.
Transport for optional activities.
Tips for local guides.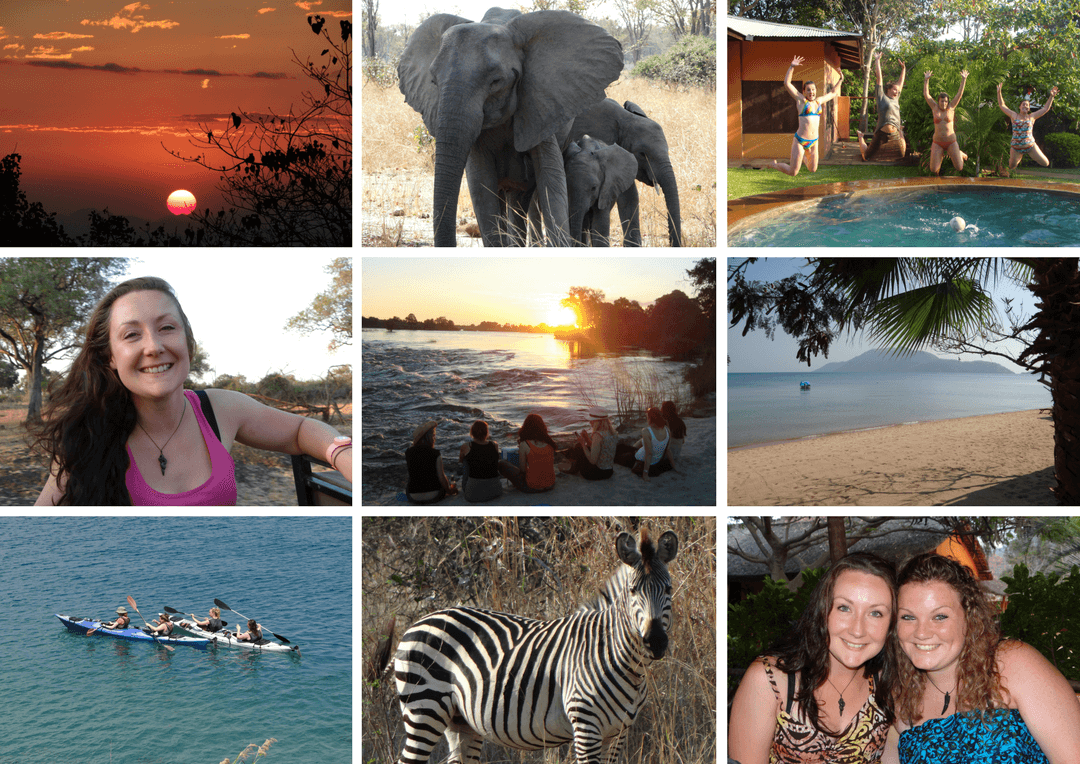 Feedback from the 2016 'This is Kenya' Tour
"Everything was amazing! I learned so many things!" (Oana, 25, Switzerland)
"It was an amazing trip from start to end. I loved every moment and made friends for life." (Debbie, 34, UK)
"Africa is not always the easiest place to travel around, and after 3 months of backpacking I was all ready to give my brain a break from travel planning, so it was definitely a relief to have Helen come in and manage all that! I like her tour because it fit me – it was a small group tour, just 8 of us which is a nice number to make new friends and get to know everyone yet have our own thing, and it was a good mix of fancier stuff and indie backpacking. You just might see us on the next tours because we are all game for round 2 with Helen! Definitely a 5 star review ⭐️⭐️⭐️⭐️⭐️!" (Jac, 32, Singapore)
"I've a lot to thank my African adventure for, it truly did help me find myself and has given me the confidence to just go see the world. I never wanted to leave!!! You'll have the most amazing experience!!!" (Karen, 36, UK)
"It was a great introduction into Africa travel, before I set out solo travelling. Also as I traveled solo and shared experiences in Kenya with people I was meeting, I sounded like a seasoned solo traveler thanks to you. I did not know what to expect but I think I understand Kenya pretty well now. I think you were able to portray and pass on your infectious love of Kenya to us all and I am forever grateful! Asante!" (Christina, 29, USA)
Feedback from the 2017 Rock My Adventure Tours
"This trip is definitely one of the best decisions that I've ever made in my life!!" (Sharmi, 32, Malaysia)
"Helen is one of those people who will make any situation really fun. This girl could make a tour through my mildewy basement seem like a blast, so having her introduce me to sub-Saharan Africa was pretty much the best thing ever.!!" (Silvia, 29, Norway)
Join me for an incredible adventure in Malawi & Zambia! 
If you would like to come or have any questions, please send me a quick email using the form below and I will send you the information on how to join!
Don't fancy this trip? Why not check out my other Helen in Wonderlust Tours to Tanzania/Zanzibar, Kenya and Uganda/Rwanda/DRC.
Want to be the first to know about upcoming Helen in Wonderlust Tours? Sign up HERE!
Helen in Wonderlust Tours is a Member of: