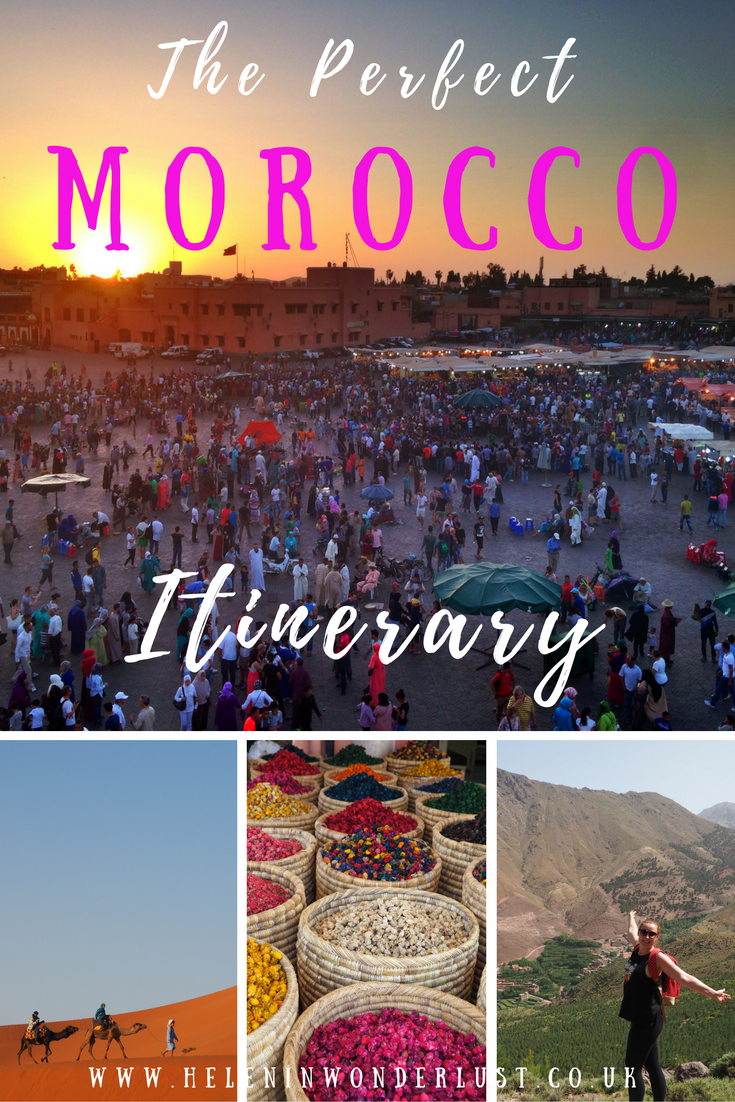 I'd heard mixed reports about Morocco, some loved it, some found it hard work and some just plain hated it, but I wanted to try it out for myself as I'd never been to North Africa before and the Sahara Desert and the Atlas Mountains have been on my 'places to go' list forever.
I was going to go alone, but when I told my friend Lisa about my plans, she said that she'd always wanted to visit Marrakech but her husband wasn't that keen. So I asked her if she wanted to come and she said yes!
Lisa was going to join me for my second week and told me to go ahead and plan the whole trip however I wanted and she would be happy to just join in! So plan I did! I wanted to surf, I wanted to ride a camel in the Sahara, I wanted to get lost in Marrakech and I wanted to trek in the Atlas Mountains.
So, in consultation with Lisa, I came up with our Morocco Itinerary!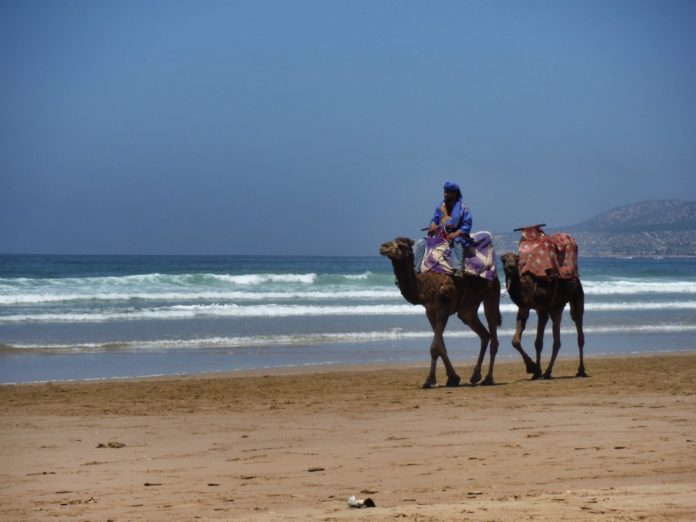 Day One: Marrakech to Tamraght
I flew into Marrakech one evening and caught the bus to Agadir the following morning.
I was on my own for the first four days, so I decided to spend it surfing. My first ever surf teacher, Nigel, co-owned a surf school in Morocco and I knew it was just what I was looking for.
I booked a four night yoga and surf package with Moroccan Surf Adventures in the village of Tamraght, about 20 minutes drive from Agadir.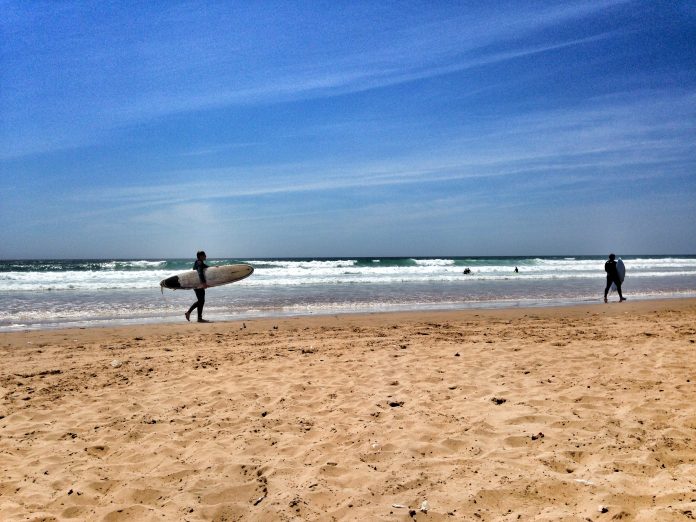 There were around 20 of us in total, mixed ages from 18 – 38. I spent the first afternoon and early evening getting to know the other surfers over a few beers and star gazing. I even saw the biggest and best shooting star I've ever seen in my life. I can't tell you what I wished for though!
Day Two: Tamraght
Each day followed the same pattern of yoga, eat, surf, sleep repeat.
At 7.30am I'd sleepily make my up to the roof terrace, and join my fellow surfers for an hour of yoga with Rosannah, a unicorn loving, all round ray of sunshine. Breakfast was served promptly at 8.30 and once we'd stuffed our faces, we'd grab our wetsuits, pile in the vans and head down to the beach for a full day of surfing.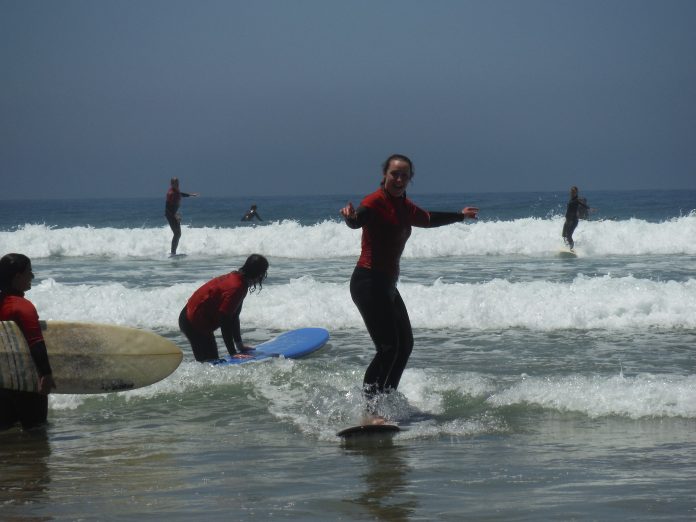 When our bodies were weary, we'd head back to camp, shower, eat dinner and then watch the sun set over the Atlantic.
Day Three: Tamraght/Tagazhout
Day three was pretty similar to day 2. Surf, surf, surf until we could surf no more.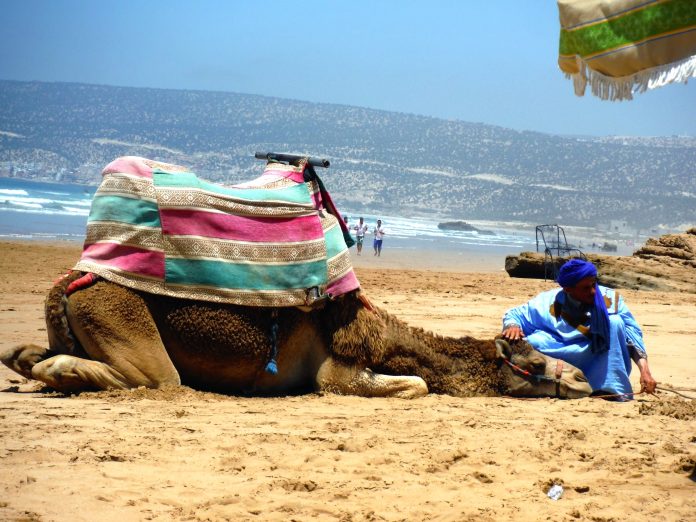 But that evening, instead of chilling on the terrace back at the hostel, I took a taxi to Tagazhout, another village 2km away, to meet my friend Camille for dinner, at a lovely little restaurant called Dar Josephine.
We talked, swapped stories and ate delicious foods until it was getting late and I headed home.
Day Four: Tamraght and Paradise Valley
My last day at Moroccan Surf Adventures was a little different.
The whole group had opted for a day trip, so we were up and out at 7.30 for a couple of hours surfing before breakfast, then we headed out of town to the Anti Atlas Mountains to Paradise Valley.
Paradise Valley is the perfect place to chill for a day, swim in the cool pools, jump off the rocks (if you're brave enough).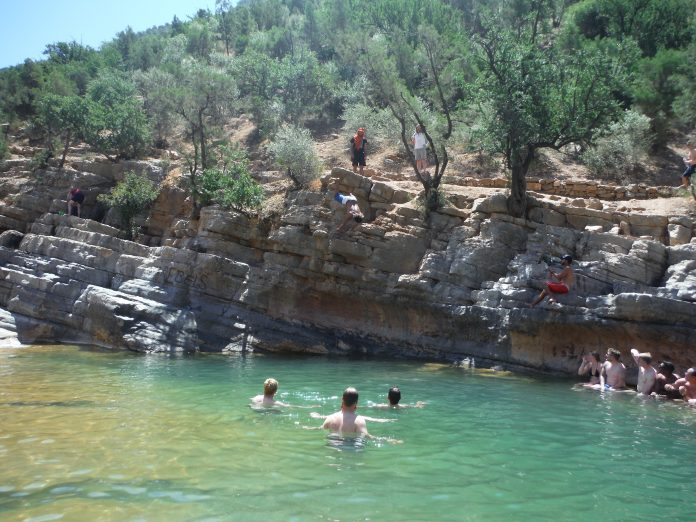 Those of us on the yoga package took our mats, hiked up the valley and did a few poses in this beautiful spot.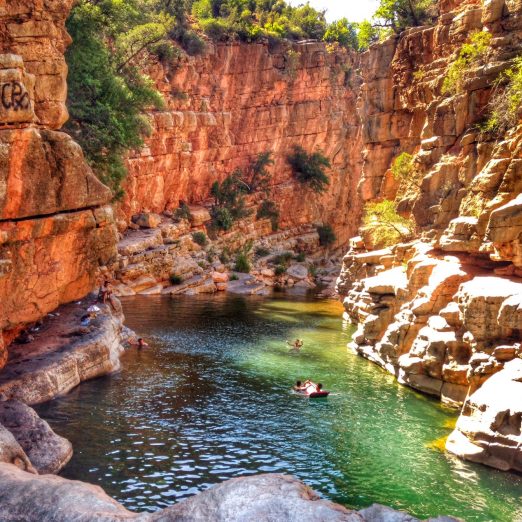 On the way back to camp, we stopped at a women's co-operative to see how they make Argan Oil, and I bought some to take home (my hair is super soft right now).
As it was our last night, it was party time back at the camp that evening. Momo (AKA the smokin' Chef) cooked us a massive fish feast and after 3 days full of surfing and yoga, I was feeling exhilarated. My body ached all over, but my mind was buzzing and I felt so relaxed.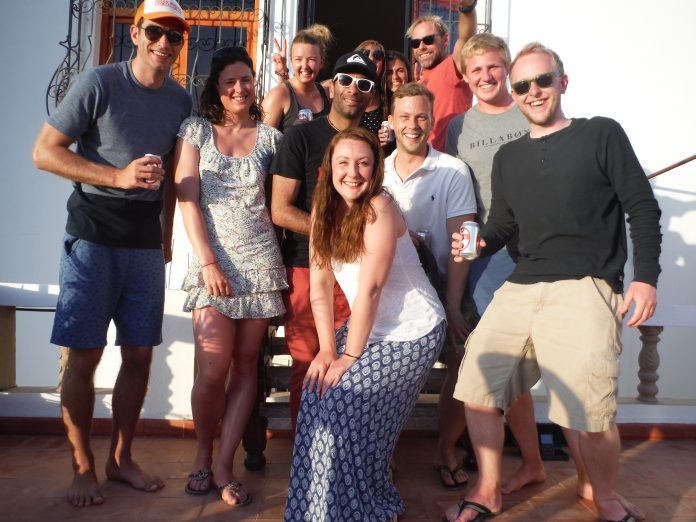 We danced, drank and played ping pong until the wee small hours. It was a fantastic few days.
Day Five: Tamraght to Marrakech
I caught the 9am bus back to Marrakech to meet Lisa who had flown in late the night before.
We spent the day wandering around the maze of Marrakech, getting lost in the souks, visiting the colourful Jardin de Majorelle where we ate a late lunch of Egg and Vegetable Tagine, before heading back to Riad Ka to drink some wine and catch up, curled up on the sofas.
Day Six: Marrakech
After getting totally lost the previous day, we decided that we'd hire a guide for the morning. There are so many cool things to do and see in Marrakech, but it's easy to miss them.
Mohammed, our guide, took us to a traditional bakery, where the locals bring their bread to be baked in the communal ovens. A little boy came in and handed a few coins to the man, placed his dough, which lay on a tray covered in a tea towel, down before the man, nodded and skipped off.
Next stop was a hammam. But not the bathing area, we visited the men who stoke the fires to warm the water for the hammam. They were a group of musicians and played us traditional gnawa music.
Next stop was the Ben Youssef Medersa Koran School, a beautiful tiled building, perfect to explore and get lost in.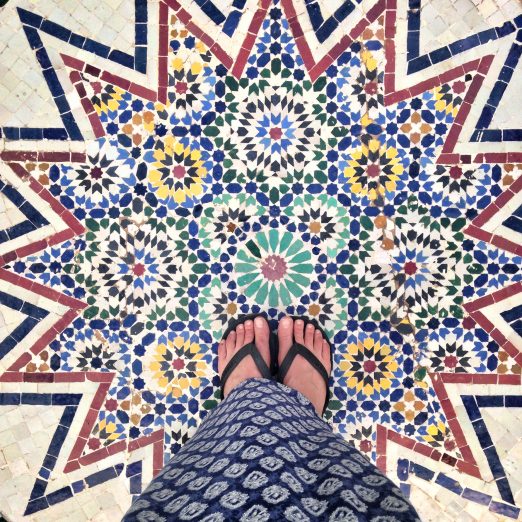 Then we were on to The Museum of Marrakech, which houses the most beautiful chandelier, tiled floors and exquisite doors.
Next it was time to shop. We enter the souk looking for spices, shoes and harem pants and where they filmed the Sex and the City 2 movie!
That evening we headed out early to Jemaa el Fna, to grab an orange juice from one of the many identical stands and watch the sunset. We watched the square come alive from Le Grand Balcon du Cafe Glacier.
Once the sun had disappeared, we made our way back to the Place des Epices, where we'd passed through earlier that day, and went to one of Marrakech's most famous restaurants, Nomad.
We hadn't booked but they squeezed us in. The food was very nice. I had the Nomad Burger, a spiced lamb burger with aubergine, caramelized onion and harissa mayonnaise.
Day Seven: Marrakech to Dadès Gorge
We were picked up early in the morning by Hassan of Sahara Magic Tours. We were booked onto a 3 day, 2 night Sahara Desert trip.
We headed out of the city and travelled over the stunning Tizi n'Tichka Pass in the High Atlas Mountains.
Around lunchtime, we arrived at the ancient city of Aït Benhaddou, a ksar on the former caravan route to the Sahara and it's a UNESCO World Heritage Site. The place is just unreal, like  stepping back in history. But that wasn't why I was excited to go.
I was excited because that's where they filmed Gladiator and Lawrence of Arabia! In the film, the city doubles for Zuccabar in Mauritania (modern day Algeria). You know the bit, where Russell Crowe fights as a Gladitor for the first time and shouts "Are you not entertained?" What a film.
After lunch at a nearby Riad Maktoub, we headed through Ouarzazate (you say it something like this: "waara-za-zet" – took me ages to say it right) and the Valley of the Roses, passing through stunning landscapes on the way to spend the night in the Dadès Valley.
We stopped to smell the roses (good life advice if ever there was any), and I can say these were the best smelling roses ever.
The Dades Valley is stunning. I don't know what I expected of Morocco, but the scenery completely exceeded my expectations.
Lisa and I were both a bit taken aback by our accommodation, it was gorgeous. I was expecting to stay in a pretty basic place. However Chez Pierre was lovely, and I had one of THE BEST meals I've ever had here. The food was exquisite! There's no menu to choose from, they just bring you course and courses of amazingness. This was an apple and fig salad.
Day Eight: Dadès Gorge to the Sahara Desert
We continued our journey, passing ancient kasbahs and taking time to admire the magnitude of the Todra Gorge.
We stopped for a lunch of Berber Pizza and the famous Moroccan mint tea in the town of Rissani, gateway to the Sahara.
We were we were shown around the beautiful Moulay Ali Cherif Mosque.
Next it was time for the thing we'd been waiting for – a camel ride through the sand dunes of Erg Chebbi. We stopped at a small auberge on the edge of our desert picked up our camels and rode off into the sunset, to spend the night in the Sahara.
I, of course, took camel shadow photos…
And selfies.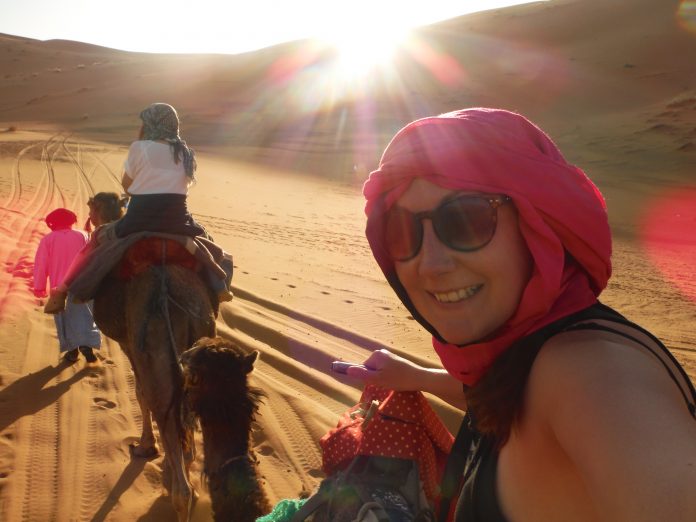 At camp, whilst our guide Mubarak made dinner, Lisa and I played in the sand dunes. Before settling in for a night under the desert stars.
Day Nine: The Sahara Desert to Marrakech
After riding our camels out of the desert, we spent a long day driving all the way back to Marrakech.
Arriving in the late afternoon, we showered, changed and went for dinner in a restaurant called La Fondouk, which is just around the corner from our hotel, Riad Capaldi.
Day Ten: Marrakech to Imlil
A friend had told me about his favourite place in the Atlas Mountains, a gorgeous little haven called Douar Samra and after seeing the pictures on the website, I was desperate to stay there. Doesn't look much from outside, but wait til you see inside.
Lisa and I booked a taxi, to take us on the 90 minute drive into the mountains. Since arriving in Morocco, we hadn't stopped, so this was our time to relax and breathe in the mountain air.
The taxi dropped us off at the top of a hill and pointed downwards. There was no evidence of a hotel in sight, but we threw our bags on our backs, and off we went.
After a few directions from a few locals, we came across a door with the words 'Douar Samra' on and in we went. We were met with a warm welcome from Mohammed and Rashida, who showed us to our room. Possibly the cutest room I've I've stayed in. Ever. But I think I'll need to write a whole post on this place.
Dinner was a delicious tagine and fresh Berber bread served on the low tables in the snug dining room, where everyone sits together.
Day Eleven: Imlil
Today we decided to go on a walk to the waterfall with a local guide called Hassan.
The trek was beautiful, up and down through the valleys. It wasn't super difficult, but a moderate level of fitness and a good pair of shoes is necessary as you have to do a little bit of scrambling over rocks.
The views are incredible and totally worth the hike, even with the terrible sinus infection I seemed to have picked up the previous day. There are a few different walks you can do, varying in length. You can even overnight and climb Mount Toubkal, the highest mountain in North Africa – next time, that's what I'm doing!
In the evening, we did pretty much the same as the previous evening, eat dinner, watch the light dim over the valley and drink wine.
Day Twelve: Imlil to Marrakech
We chilled in the morning, moving between the nooks and crannies of the hotel – reading, catching some last minute sun and making the most of the beautiful views.
On the way back to Marrakech, we decided to call at Richard's place. Yes, as in Branson.
Kasbah Tamadot lies on the road between Imlil and Marrakech. This luxury hotel is a a favourite of the rich and famous, but if you're not rich or famous, do what we did, and treat yourself to a spot of lunch on the terrace. Best of both worlds. Great views, great food, and a tiny fraction of the price.It was really hot in the middle of the day, so we just had a starter, a dessert (and a bottle of wine) and it cost us around £40 each. It's not cheap by any means, but, it was a lovely experience.
Then it was back in the cab, next stop Marrakech airport and then back to England.
Pin It For Later