Often I'm asked for my recommendations where to go in Africa. But this is a tough question because there are so many places I love and so many I've still yet to visit!
I haven't travelled to West Africa (yet) and I've only been to Morocco in North Africa, but I want to share a few of my favourite places in East and Southern Africa with you. Whether you have 2 weeks, or 6 months, whether you just want to visit a couple of places or you're planning a road trip, try and get a few of these places onto your itinerary – you won't be disappointed!
So in no particular order…
Here are my favourite places in East and Southern Africa!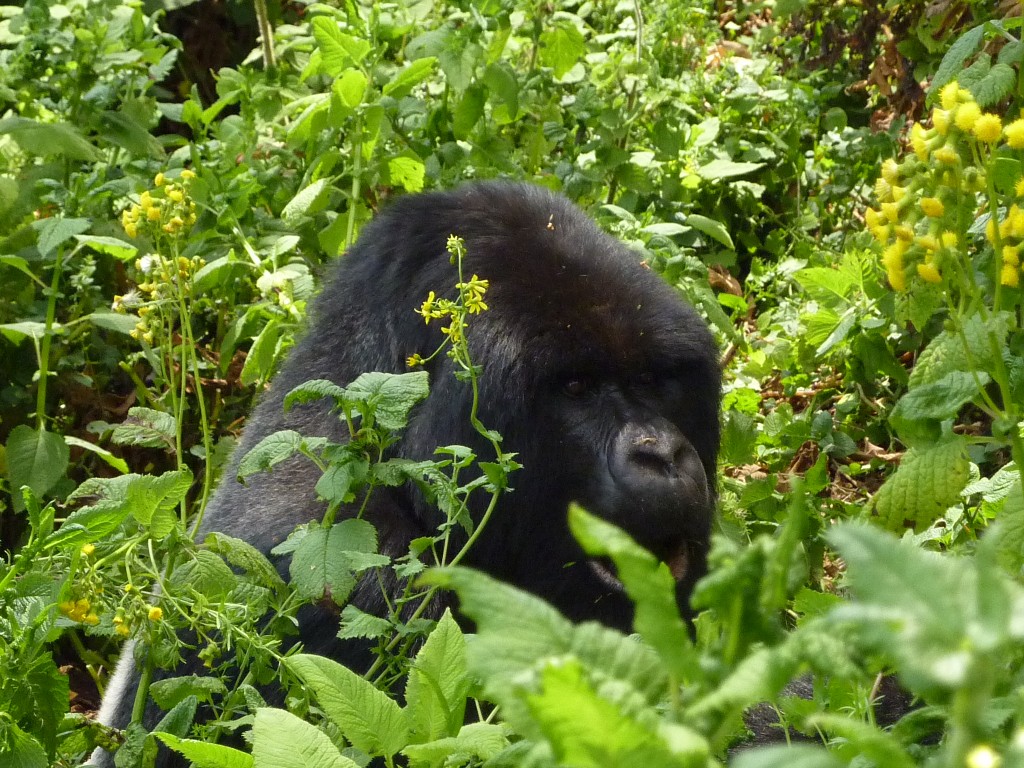 Volcanoes National Park, Rwanda
In the Virunga Mountains of Rwanda, you'll find the Parc National des Volcans also known as, the Volcanoes National Park. There's generally one reason that most people venture to this part of the world, and that's to see the mountain gorillas that live deep within the rain forest.
Seeing the mountain gorillas was one of the most magical experiences of my life, and words can't really express just how amazing it is to sit just metres away from these beautiful creatures. I promise you, your heart will skip a beat when they look you in the eye.
Not to mention, Rwanda is one of the most naturally beautiful places I've ever visited. So, so green and hilly!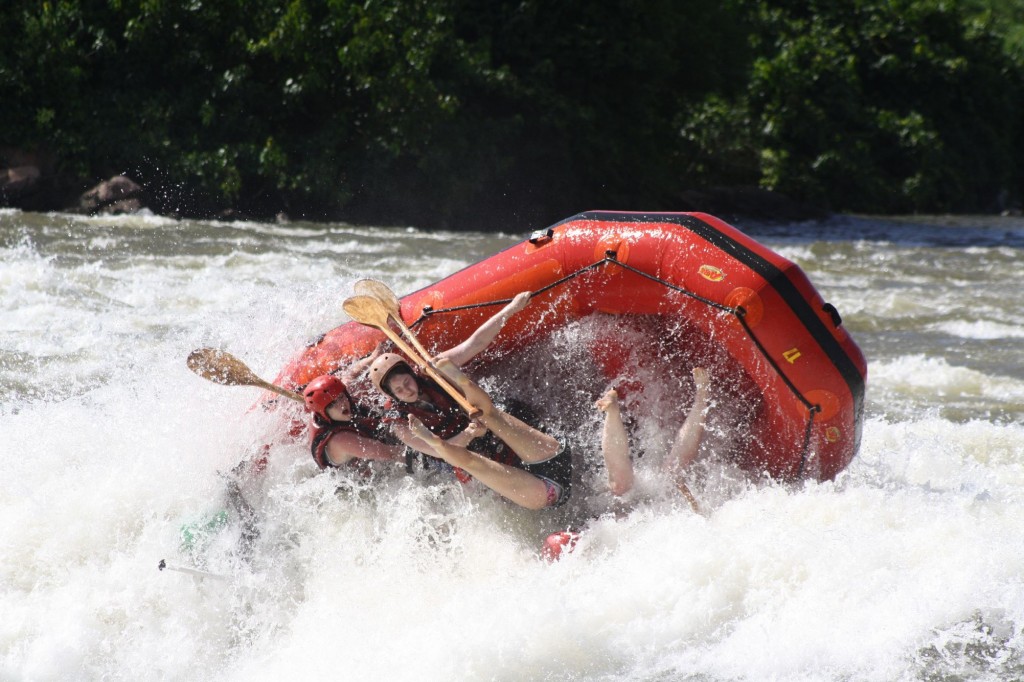 Bujagali and Jinja, Uganda
The village of Bujagali lies on the White Nile, just a few miles outside of Jinja town.
I visited for a few days on my overland trip, staying at Nile River Explorers, but loved it so much, I vowed to go back. So a couple of years later, me and a couple of my friends from that first trip returned and spent a two weeks volunteering with a local charity called Soft Power Education.
There are loads of things to do like white water rafting, bungee jumping and river cruises, and the place is a popular spot for professional kayakers, so there's always a fun atmosphere. But it's also very tranquil and a great place to recharge your batteries too.
Lake Nakuru, Kenya
If you want to see a real display from the animal kingdom, then head to Lake Nakuru. There are many different animals who live around the lake, however the flamingos are the star attraction. They gather in their thousands and it's a spectacular sight to watch them dancing as flamingos do.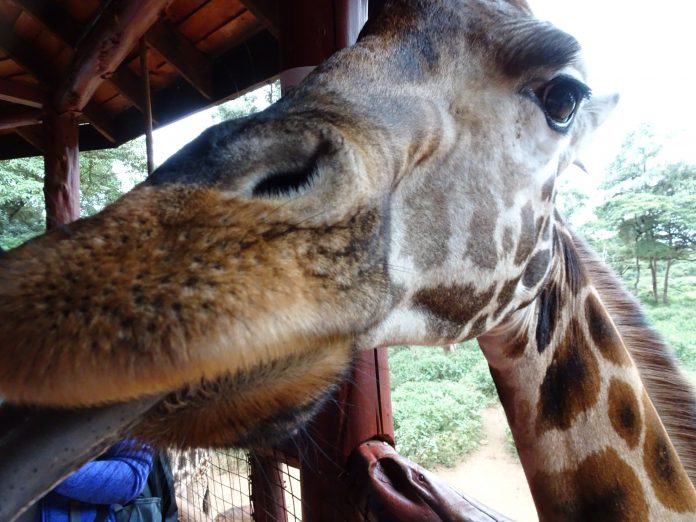 Nairobi, Kenya
Nairobi gets a bad rap, but it's actually a pretty great city – except for the traffic, the traffic sucks, in fact it's the worst traffic I've seen anywhere in the world.
Besides the traffic, there are loads of really cool things to see and do. I loved visiting the David Sheldrick Wildlife Trust and getting up close with the elephants, and the Giraffe Centre. Look how happy I am! There's also some great restaurants and bars to try!
Nairobi is also pretty progressive and there are lots of social enterprises springing up all over the city, many of which you can visit and support the local community.
 
Masai Mara, Kenya
Probably the most famous safari destination in the world, and with great reason. The Masai Mara is spectacular and the wildlife will not disappoint, especially when the great migration passes through.
And the sunsets… oh the sunsets.

Amboseli National Park, Kenya
Amboseli is a little bit off the regular safari trail and one of the lesser known parks, but it's probably one of the most iconic, due to it's position in the foothills of Kilimanjaro. A photographers dream. Especially if the animals make a timely appearance like the elephant in my cover photo! I didn't see any lions or other big cats, but there were hundreds of elephants!

Kilimanjaro, Tanzania
Climbing Kilimanjaro is without a doubt one of the best and most difficult things I've ever done. Such an adventure. It's also incredibly beautiful as you pass through the different landscapes on the mountain.
After day 2 you're above the clouds and it's a surreal and unbelievably liberating feeling to be so far above the world below.

The Serengeti & Ngorongoro Crater, Tanzania
Being on safari in the Serengeti and the Ngorongoro Crater is like stepping straight into The Lion King and the likelihood of seeing the Big 5 is pretty high! This is the only place in Africa where I've seen a leopard – and I saw one both times I've been here. You might even get the chance to spend time with the Maasai tribe.

Bagamoyo, Tanzania
Bagamoyo is around an hour and a half north of Dar es Salaam. It is a bit off the beaten path, but is definitely somewhere I think everyone should visit. You don't find many tourists there and the only foreigners are volunteers and NGO workers.
Bagamoyo is full of history. Today it is mostly a fishing town, but it was once a major slave trading hub. The history is evident in the buildings all over town. If you're looking for a taste of the non-touristic side of Africa, this is a great place to get it.
Stone Town, Zanzibar
One of my favourite places in the world is Stone Town, Zanzibar. Literally one of the most interesting places I've ever been, a cultural melting pot – yeah, totally cliche, but it is very true. Spend your days getting lost in the alleys and just soaking up the Stone Town vibe.
Where to stay: I absolutely loved staying at the Emerson Spice Hotel. A real treat.

Kendwa & Nungwi, Tanzania
In the north east of Zanzibar you'll find the neighbouring beach villages of Nungwi and Kendwa. The Indian Ocean is always welcoming, especially if you've just come off a safari or down from Kili.
Nungwi is a little bit busier than Kendwa and has more hotels, bars and restaurants. But Kendwa has the bigger beach. To be honest, they're not far, so either is good! You can organise all kinds of trips from here and there's always a party somewhere. On Saturday night the big party is at Kendwa Rocks.

Cape Maclear, Malawi
Cape Maclear lies at the southern end of Lake Malawi, also known as the 'Lake of Stars'. I got to visit this beautiful part of the world when I was working as a tour guide. We spent a couple of days on the mainland, and a couple of days on a private, Robinson Crusoe-esq island in the middle of the lake. We kayaked over and set up camp. Hello paradise.
The town has a laidback, relaxed vibe. The perfect spot to chill for a few days, and you can try out some of the activities on offer. Lake Malawi is one of the best places for freshwater scuba diving in the world.

Liwonde National Park, Malawi
Another amazing, yet little known safari park. Taking a boat trip down the Shire River was probably the highlight of my stay there. We got really close to the elephants! And one night, there was an elephant just outside my tent. Very exciting, but slightly annoying as I was desperate for the loo and I had to wait until he'd moved along.

South Luangwa, Zambia
Zambia is my favourite country out of them all. Maybe it's because it's because it was the first African country I visited, maybe because it's just awesome or maybe it's because so many random things happened when I was there – like the time we met the president in our pyjamas. And it was here that elephants crashed our pool. In fact, I think that may have been the best day ever.
Either way, South Luangwa is a great place for safari. Many of the camps and lodges lie along the Luangwa River, so wildlife viewing is amazing.

Lake Kariba, Zambia
If you get chance to stay on a houseboat on this man made lake, do it. Usually this is an additional extra on an overland trip.
Staying on a houseboat is a lot of fun. It's a good break from truck life  when you are overalnding and the lake is very serene and the sunsets are stunning. At night, everything is dark around you, except for the twinkling lights on the kapenta fishing boats in the distance.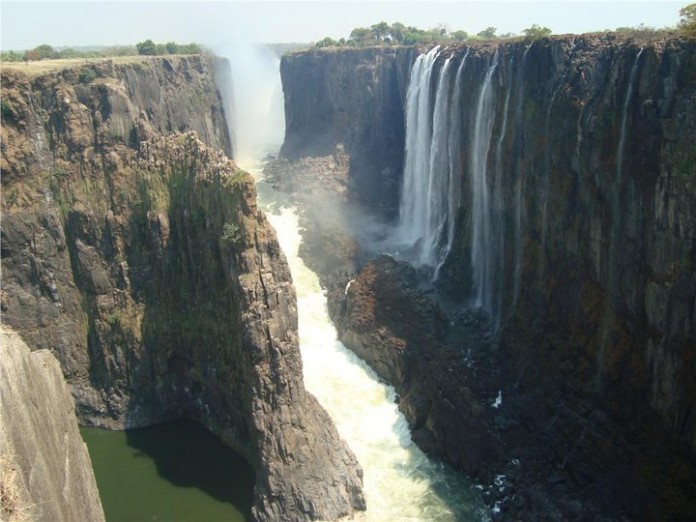 Livingstone, Zambia
I used to live in Livingstone and it still is to this day, probably my favourite place in the whole of Africa.
Livingstone is the adventure capital of the continent and is only a few minutes drive from the one of the 7 natural wonders of the world, Victoria Falls. Livingstone is the type of place where anything could happen. Perhaps a zebra will show up whist you're enjoying a spot of afternoon tea!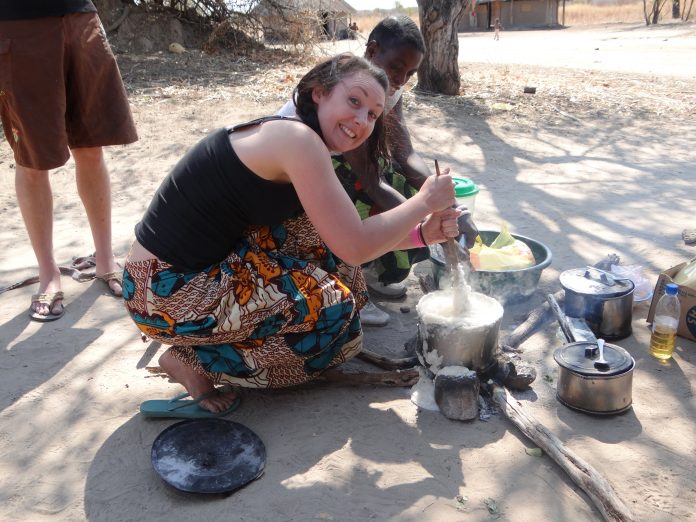 Bovu Island, Zambia
To be honest, I can't even believe I'm telling you about this amazing place – as I'd love it to stay a secret!
Set on Bovu Island on the Zambezi, Jungle Junction is around 1.5 hours drive from Livingstone. It's a tiny island and eco camp that supports the local community.  To get across to the island you must take a mokoro (traditional canoe) and you can stay in wooden huts or camp.
If you want a tranquil stay, visit in the week. For more of a party atmosphere, head there at the weekend when local NGO's and travellers alike head to the island to relax and unwind. They do once daily transfers from Livingstone. Activities include a sunset mokoro ride, fishing, church and school visits or a Zambian cooking lesson on the mainland. I had one of my best ever weekends here.

Okavango Delta, Botswana
The Okavango Delta is famous for the wildlife. Whilst I was there, we actually saw very little, but it was still a really enjoyable place to visit. We took mokoro rides through the shallow waters, before camping wild on an island.
I hear that taking a ride in a small plane over the Delta is an incredible experience!

Chobe National Park, Botswana
Best place to see elephants in Africa? It has to be Chobe National Park in Botswana! This is an amazing place and you can also take flights and see the park from the air!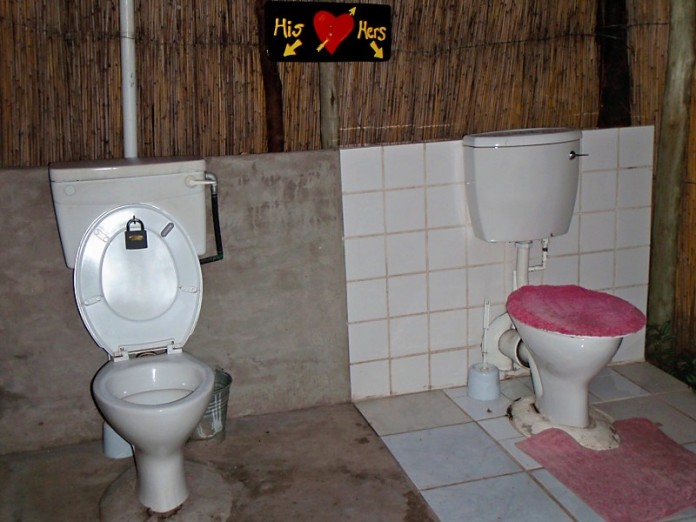 Ngepi Camp, Namibia
Just across the border in Namibia is Ngepi Camp. This isn't a thing to see or do as such, but this camp is just, well, awesome, so I had to give it a mention.
The camp has great facilities, and the toilets and showers are amazing! One of the toilets is like a throne and overlooks the river. Not like any other camp I've stayed at! It's quirky and you get the chance to swim in the safety of a caged pool in the river, with crocs and hippos only a few metres away.
We only stayed for one night, but I could have happily stayed longer.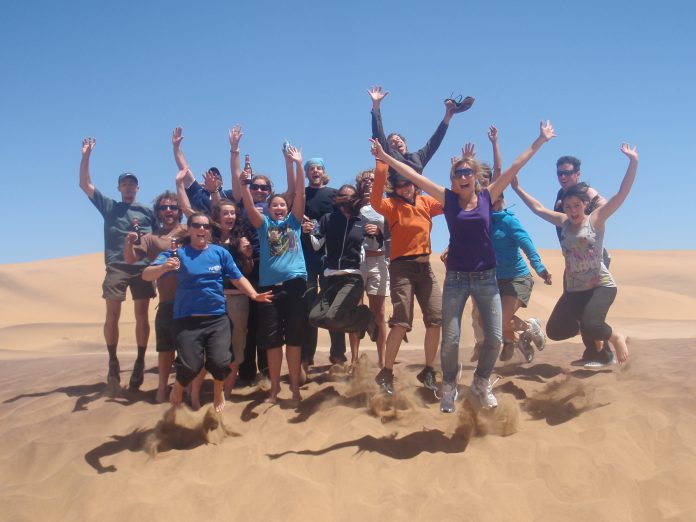 Swakopmund, Namibia
Another place for adventure is Swakopmund, Namibia. On one side you have the Atlantic Ocean, and then the Namib Desert on the other. It's an excellent spot for sky diving and sandboarding.
If you get chance, head over to the township and have an afternoon drink and a boogie at one of the shebeens.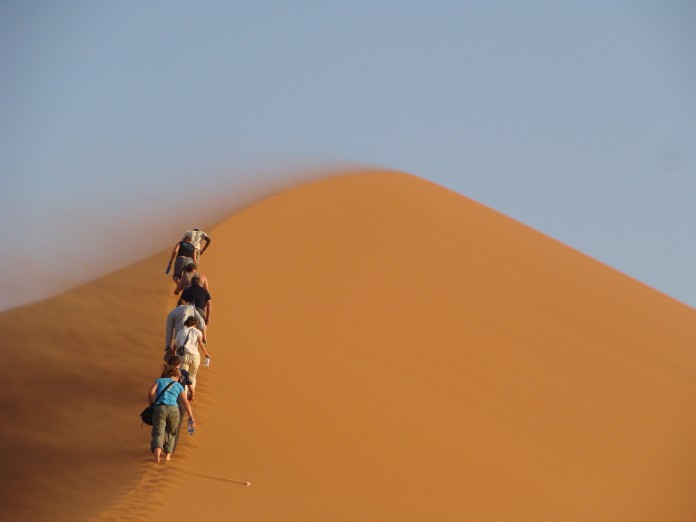 Sossusvlei Dunes and Deadvlei, Namibia
Visiting Namibia feels like visiting another planet or maybe a post-apocalyptic Earth. Seriously, Namibia will blow your mind in terms of scenery, just for being like nowhere you've ever seen before.
And visiting the sand dunes of Sossusvlei at sunset is one of those experiences that everyone should have. I love this photo below taken by my friend Ali. That's me, second from last! Exhausting but worth i
Nearby is Deadvlei, where you can find ancient trees and which many people will recognise as the default picture on the Snapseed photo app.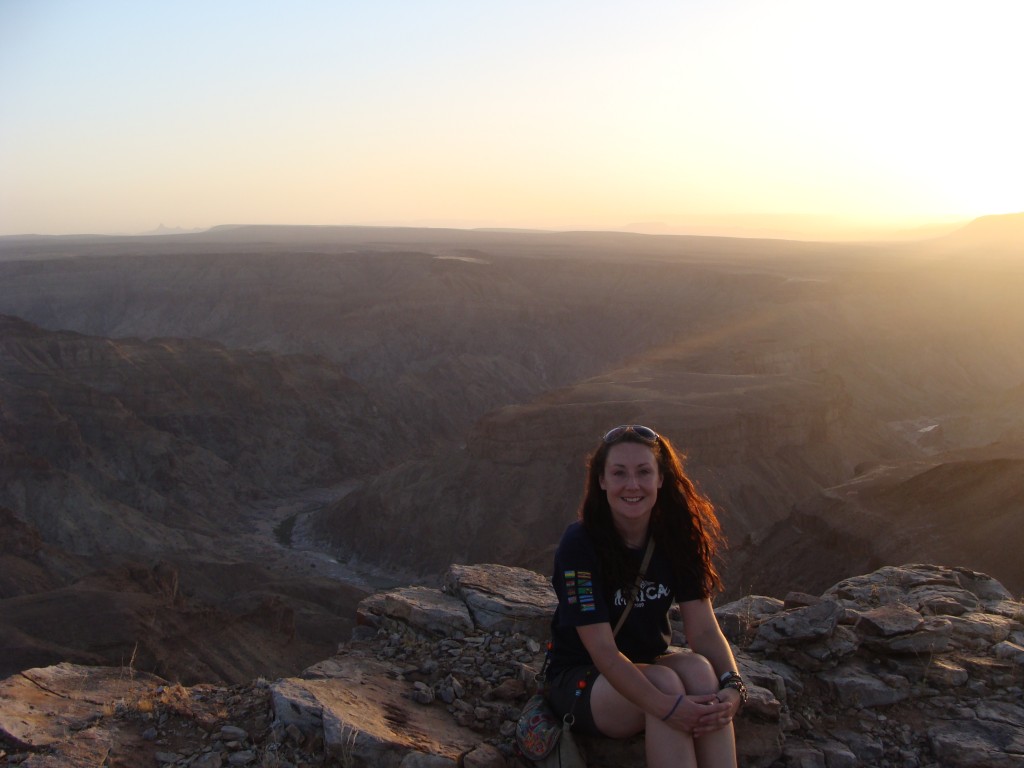 Fish River Canyon, Namibia
Fish River Canyon in  Namibia is trhe largest canyon in Africa. We arrived just in time to watch the sunset. So pretty!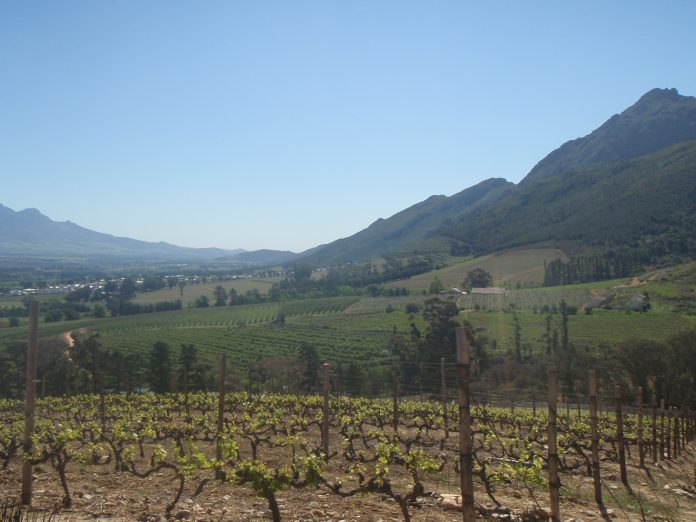 Stellenboch, South Africa
If you like wine, which I most certainly do, then a trip to Stellenbosch and the surrounding wineries is definitely worth it.
We spent a great day touring the region and it is a beautiful part of the world, as wine regions tend to be.
Unfortunately I was pretty ill at the time and unable to really eat or drink, so even though I still went, I didn't get to experience it in all its glory, but I loved watching everyone else get smashed have a great time. South African hospitality really is second to none!
Have a braai whilst you're there too! That's a barbeque to the rest of us, but in South Africa, they just seemed to have nailed it!
Hermanus
The main draw of Hermanus for me, was watching southern right whales frolicking in the water, just metres off the coast. The town is nice and there are lots of nice restaurants to choose from.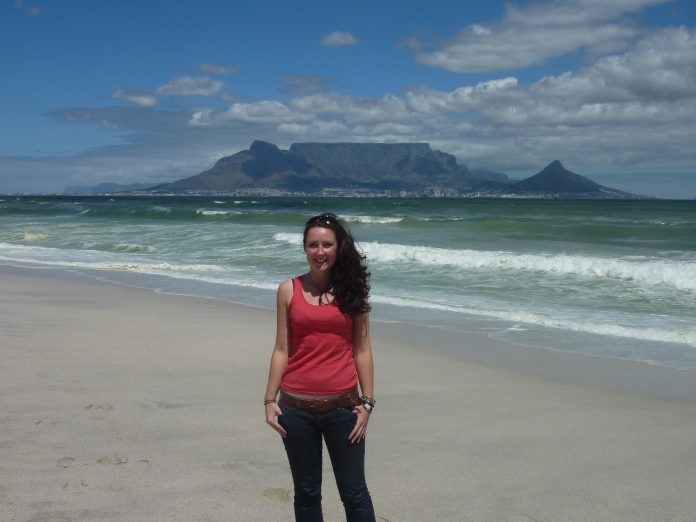 Cape Town, South Africa
Cape Town is probably the most beautiful city I've ever been too. I ended up spending a lot more time here than I was supposed to. I'd fallen ill somewhere in Namibia and by the time I got to South Africa I was really suffering. So my trip down the Garden Route was cut short and we ended up turning around and heading back to Cape Town so I could get some industrial strength antibiotics and recover.
But if you're going to be stuck anywhere, then Cape Town is a great place for it. And all the more reason I need to go back and see South Africa properly.
As well as having the beautiful backdrop of Table Mountain, there's a million and one things to do both in the city and the surrounding areas, like visiting Camps Bay or the Cape of Good Hope.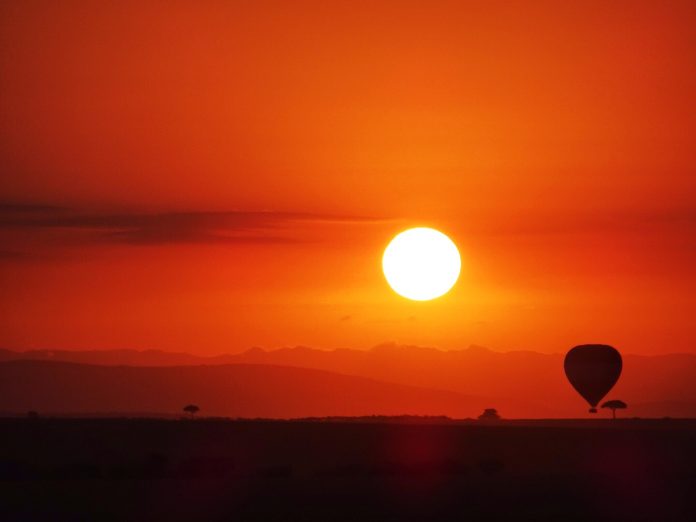 So there you go, my favourite places in Africa… so far. Hopefully this will help you with your trip planning! Â I love helping people plan their travels, so give me a shout if you have any questions!
Would you like to go to Africa? Have you been? Where is your favourite place?

Want to come on an incredible African adventure in 2018 or 2019?
If you want to go backpacking with an awesome group of likeminded travellers, then join one of my 2018 or 2019 Rock My Adventure small group tours to Namibia, Kenya, Tanzania & Zanzibar, Uganda, Rwanda & the DRC, Zambia, Botswana & Malawi and Morocco! 
I will show you a different side of Africa. Not the Africa you see in the media, but the colourful, adventurous, wild and real Africa I know and love.
Rock My Adventure tours are experiential and culturally immersive adventures, but without the hassle of having to find accommodation, working out how to get from A to B and booking all your own activities.
They are laid-back and fun, a bit like an independent backpacking trip (so it doesn't feel like a tour) but with a group of friends built in "" the best of both worlds! Plus you get comprehensive pre-departure support and advice from me!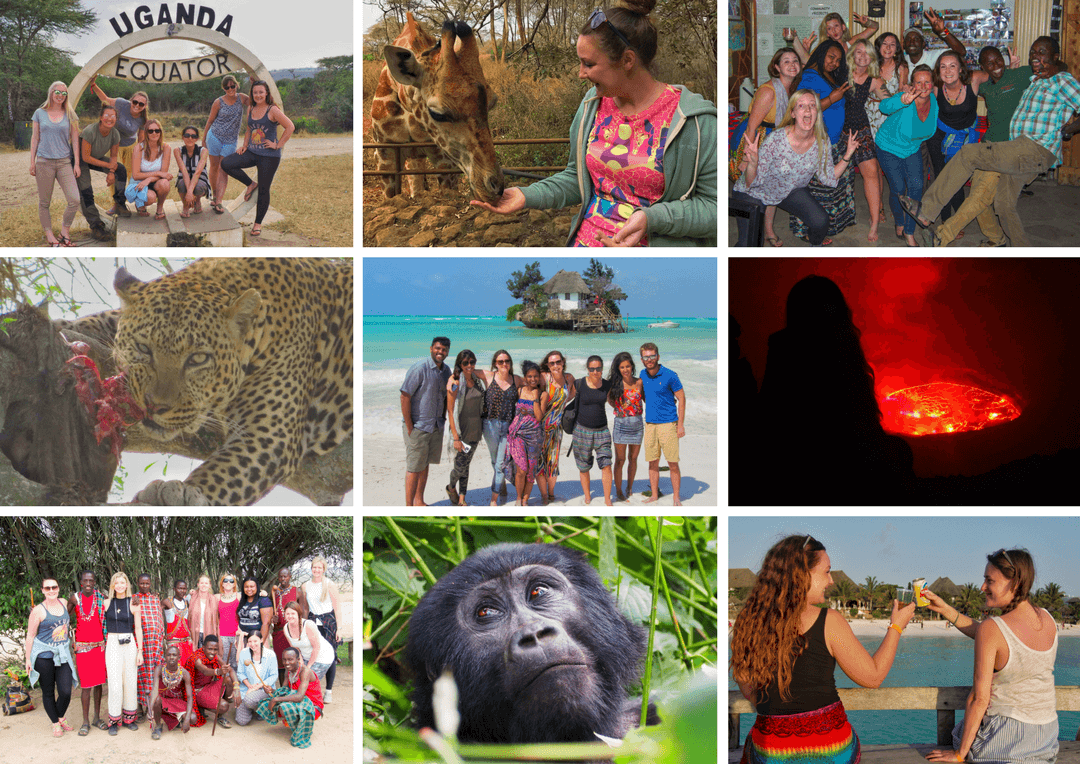 If you can't make it this time and would like to be the first to know of any future tours, you can sign up to the mailing HERE!