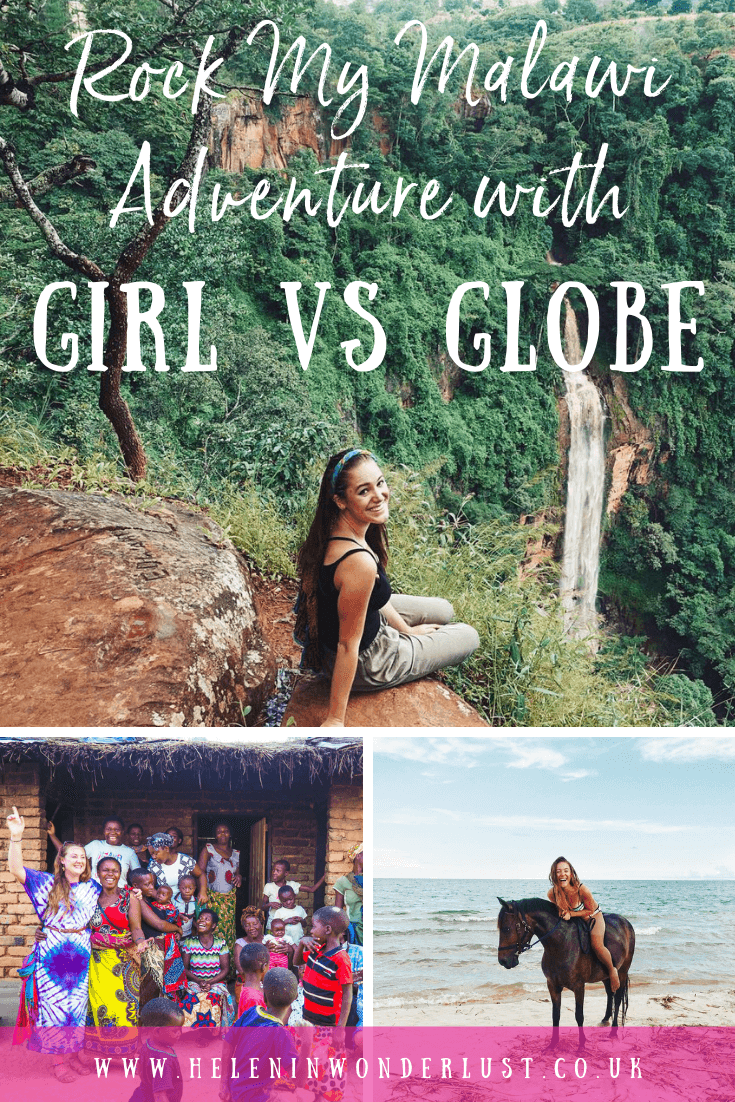 I've teamed up with my friend and Instagrammer/Vlogger Sabina of Girl vs Globe to create the Rock My Malawi Adventure tour! 
Both Sabina and I are absolutely in LOVE with Malawi and we cannot wait to share our love of this incredible country with you! I promise you… it will be an adventure!
This trip will be pretty epic, taking us to some of Malawi's most incredible destinations.
We'll immerse ourselves in nature on safari in beautiful Liwonde National Park, visit the hilltop town of Livingstonia, experience the beauty and tranquillity of Lake Malawi (in 3 incredible and very different locations), and experience local life in rural Ruarwe.
If you've been to Malawi with me before, you'll see that these are all totally different locations to the Rock My Malawi, Zambia & Botswana Adventure, except for Lilongwe where we start and end the trip. 
On the trip, Sabina will be offering Instagram & Youtube tips for anyone who is interested in improving their skills (she has over 200,000 social media followers so she knows what she's talking about) and I will be offering daily yoga and meditation sessions (all optional).
Sabina and I have a really similar outlook on travel – with a sustainable, experiential, fun, grassroots, and down-to-earth approach to our adventures!  So that's exactly what you're going to get from this trip! 
As you can imagine, we're both very excited!!! 
Plus, this trip will run back to back with the Rock My Zambia & Zimbabwe Adventure – Yoga & Mindfulness Safari Retreat which is now open to women and men! 
---
Rock My Malawi Adventure with Girl vs Globe
---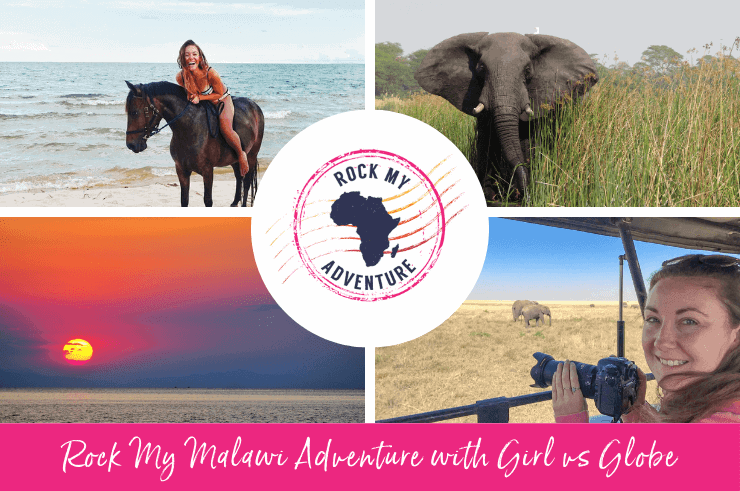 Day 1:
Lilongwe
Arrive in Lilongwe and transfer to your accommodation for the night. Relax and get to know your fellow travellers during a welcome dinner. 
Your Rock My Malawi Adventure with Girl vs Globe starts here. Welcome to the 'Warm Heart of Africa'.
Muli Bwanji!  
Day 2 – 3:
Liwonde National Park
You will have the opportunity to welcome in the day with an early morning yoga session, before we leave the city and make our way to Malawi's stunning Liwonde National Park and our beautiful camp, situated right on the Shire River. 
After lunch, there will be time to settle in, swim in the pool or relax before we jump into our safari vehicle and go on the first game drive of the trip. 
The following day, we'll be up early to take a boat cruise along the river where we may be lucky enough to see elephants drinking and bathing up close.  
We'll return to camp in the heat of the day when the animals are less active, before heading out again for an evening game drive with sundowner drinks, followed by dinner in the restaurant. 
Day 4:
Nkhotakota
Wildlife Reserve
After a hearty breakfast, we'll drive to the Nkhotakota Wildlife Reserve and our peaceful lodge situated on the banks of the Bua River. Nkhotakota is a haven for elephants after a relocation and conservation project in 2016. 
There is free time to relax in the afternoon before our sunset yoga and meditation session. In the evening, we'll relax by the camp fire and under the stars, listening to the sounds of the wild.  
Day
5 – 6: Kande Beach
In the morning, we'll head out on a nature walk with our expert guides who will share stories of their culture and the history of the area and we may see animals as they come to drink at the river. 
Leaving Nkhotakota, we'll head north to famous Kande Beach on the shores of Lake Malawi. In the evening, we'll enjoy a traditional Malawian meal in the village. 
The next morning is free to explore the area, relax or go shopping for some of the famous wooden crafts on offer.  
In the afternoon, we'll take a sunset horse ride through the forest and village, ending at beautiful Kande Beach. The horses love the water and you will get to ride them as they go for their daily dip, an experience you'll never forget. 
We'll end the day with a delicious home-cooked meal using ingredients grown in the lodge's vegetable garden.  
Day 7 – 8
:
Ruarwe
The following morning, we'll take our own private boat across Lake Malawi to the beautiful and remote Zulunkhuni River Lodge in Ruarwe, our home for the next two nights. The area is still largely untouched by tourism, offering the ideal opportunity to immerse ourselves in Malawian culture.  
The area is home to the Tombuca people and when we arrive, we'll head out for a walk to the village and visit the local community centre, Nyumba ya Masambiro. 
The following day we'll visit local project, Phunzira, a grass-roots initiative providing educational, vocational and health support for the local communities. You can find more information here.  
Whilst we're in the area, there will also be plenty of time to swim in the lake and explore the waterfalls that lie a short hike away.  
In the evenings, we'll enjoy delicious, home-cooked vegetarian meals and relax in the bar area.  
Day
9 – 10: Livingstonia
Our next stop is Livingstonia, one of Malawi's most significant and historical towns, situated high on a plateau overlooking Lake Malawi and the Great Rift Valley. The town was originally known as Kondowe village before being renamed by Scottish missionaries in the 19th Century. 
Our home for the next two nights is the Mushroom Farm, a cosy and eco-friendly lodge and social enterprise, committed to sustainable community development and local empowerment.   
Whilst we're here, we'll go for a hike, learning about the historic relevance of the area and visiting stunning Manchewe Falls and Caves. At the end of the trek, there will an opportunity to view the highest waterfall in Malawi, take a refreshing swim in the rock pools and enjoy a picnic lunch. 
Each day, we'll enjoy daily yoga and meditation sessions with one of the most incredible views in all of Malawi, followed by communal vegetarian dinners, cooked using ingredients grown on the farm. 
Day 11 – 12:
Nkhata Bay
Our penultimate destination is the lively fishing village and beach town of Nkhata Bay, one of Malawi's premier snorkelling and scuba diving locations, famous for colourful cichlids, catfish and dolphin fish. 
After lunch, we'll take out kayaks and snorkels to enjoy a relaxing afternoon on the lake.  
Our last full day will be free, so that those who want to go diving can do so or you are free to explore the town and go shopping in the local markets, where you will find beautiful chitenge fabric and the famous Malawian Chief's Chairs.  
Or you can simply relax and enjoy your last day in paradise.  
In the evening, we'll head out on a sunset cruise before heading to a secluded beach for a bbq beach dinner under the stars, with drumming, dancing and music. 
Later on, those who enjoy nightlife can head out on the town to one of the local bars.
Day
13
:
Lilongwe
After a lazy morning, we'll make our way back to Lilongwe, where we'll visit the Lilongwe Wildlife Centre which is supported by the Born Free Foundation. 
Malawi is one of the poorest countries in the world and as a result, it has a high rate of deforestation which has a terrible impact on the local wildlife, creating human-wildlife conflict.  
The centre looks after orphaned, injured and distressed animals with the aim to release them back into the wild.   
In the evening, we'll enjoy one last celebratory meal together and toast to an incredible trip across Malawi.  
Day 14
: Departure Day
Today is always a sad day as we say goodbye to our new friends, however the memories of our time in Malawi will last a lifetime. 
We can arrange your transfer to Lilongwe Airport or you can continue your Africa travels from there. 
If you need any support with your pre or post-tour Africa travels, please don't hesitate to contact us. It's all part of the Rock My Adventure service. 
To see the full itinerary/details or to book your spot, head over to the Rock My Adventure website! 
And to get you in the mood… check out Sabina's awesome Malawi vlog! Hope to see you in Malawi! ❤️ 
Other Malawi posts you might enjoy…
Join one of my Malawi group tours or buy my Backpacking Africa e-book!