I LOVE Oscar time and I've watched every year since I was young. I used to (and occasionally still do) dream that one day, I would be the one, up on that stage, receiving the Academy Award for Best Actress.
I'd graciously thank the Academy, and of course, my parents and fellow nominees… Meryl for her inspiration, Angelina for being like a sister to me during all those trips we made together on behalf of the UN, Dame Judy for taking me under her wing when I was fresh out of drama school, then of course, my husband – Leonardo DiCaprio, for being 'my rock'…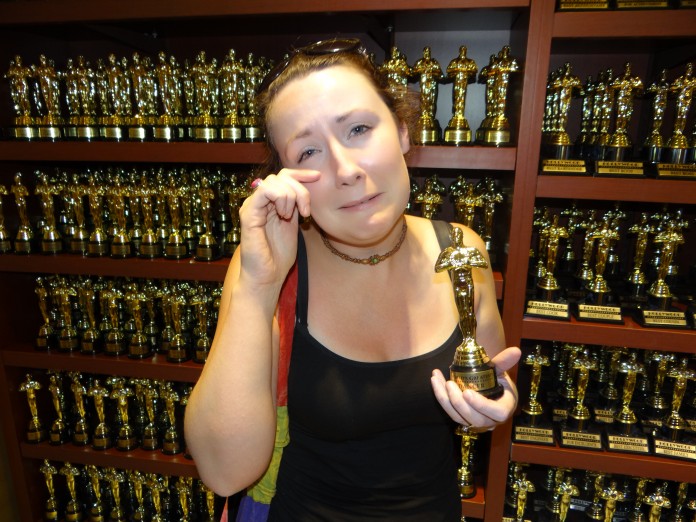 Here's me with my Oscar statue during my recent trip to Hollywood – I know what you're thinking – wow, what a range of emotions this woman can portray with just her eyes…
But I digress.
This is probably a weird thing to say, but my favourite part of the Oscars is the Memoriam. The part of the show when they pay tribute to all of the Academy members who have passed away in the last year. Some you've heard of, usually the actors and directors, then those you may not have, who worked tirelessly behind the scenes to bring a film to life.
It's always a poignant few minutes. Every year I sit and I cry whilst the montage of lost talent flashes in front of me. This year we lost some true greats; Peter O'Toole, Shirley Temple, Joan Fontaine, Harold Ramis… to name but a few.
But I feel most sad when I see people up on that screen who are, I guess, relatively young. Those who left the world far too early for whatever reason… I cried for Heath Ledger. This year I cried for Philip Seymour Hoffman, James Gandolfini and Paul Walker.
I always wonder what the audience members must feel like when they watch this. Aside from the fact that they were probably friends with one or two of the people up there, they will all know, that at some point in time, they themselves will be up on that screen.
Am I morbid? Maybe.
Then this year, just to really get the waterworks going, they go and bring out Bette Midler to sing 'The Wind Beneath My Wings' and I bet there wasn't a dry eye in the house. So it's probably best if I'm never nominated for an Oscar… I would be a state.
Anyway, there's a reason this is my favourite part of the show, but I'll get to that.
I love watching people receive their awards. People so overwhelmed, proud, happy, and who in some cases have worked hard and waited their whole lives (except if you're Meryl Streep – complete Oscar hogger) for this moment.
This year, there were some wonderfully moving speeches. My favourite quote of the night was from Kenyan Oscar winner, Lupita Nyong'o who said:
 "No matter where you're from, your dreams are valid."
She's right. No matter who you are, or where you are from, your dreams are valid. All of our dreams are valid. And if anyone tells you otherwise, well, then they don't deserve a place in your life.
This makes me think of my friend Godfrey. Godfrey Masauli, an ordinary boy from Malawi. Godfrey had a dream. His dream was to fly. The people around him thought he was crazy, they laughed at him.
A few years back, Godfrey met Benjamin, a young man travelling through his home town, near Blantyre, Malawi. Benjamin was flying kites with the local kids. They became friends and together they set off on a journey cycling across Malawi. During the trip, Benjamin, who is a paraglider, taught Godfrey to fly. His dream, came true.
Benjamin made a documentary about this journey. So in turn, his dream came true also.
Godfrey now spends his time encouraging others to pursue their dreams and spreading his message - "Ndizotheka!" (It is Possible), in his local language, Chichewa.
Anyway, I've gone off subject again. The reason that I love the Memoriam part of the show so much is summed up in this quote from the 2014 Best Film Winner, 'Twelve Years a Slave': "I don't want to survive. I want to live."
Every single one of those people who flash across that big screen on Oscars night had something in common.
They all made their dreams come true.
Whether they fulfilled every dream they ever had, I don't know. But, they achieved at least one. To work in 'the movies'.
But not one of them achieved their dream alone. They all had the help of others to to achieve that dream.
A reader (who shall remain nameless), who I've been helping with some trip planning, wrote this to me the other day:
"I wanted to finally make one of my dreams come true and thanks to you it happened."
To hear someone say that, about me, well, it made my day. I'm sure she could have planned everything herself, but sometimes, it's good to have someone encourage you through the process and I've always said that one of the main aims of this blog, was to help others achieve their dreams too, the way people have helped me in the past. When you reach out to someone, the world opens up.
Dreams can be big or small. There's no right or wrong way to dream. Maybe you dream of going into outer space. Or maybe you dream of owning a cottage in the country. Or maybe you want to climb a big mountain. Or maybe you simply want to be happy. Or maybe like me, you want to travel to Africa. A dream is a dream. Sometimes they come true, sometimes they don't – but that doesn't mean you shouldn't strive for them.
Fight for your dreams. Fight with everything you've got. Never give up. Never.
I still haven't completely given up on my hope of winning an Oscar. It could still happen you know, watch this space!
Some might be more easy to achieve than you think and if keep your eyes open… sometimes dreams find you.
What's your dream?