Vietnam was one of the highlights of my RTW trip. I'd been in Asia for around 3 weeks when my Canadian friend Marjorie, who I'd met volunteering on The Book Bus in Zambia 6 months earlier, emailed me to say she missed me and was coming to Vietnam! We met in Hanoi, along with a British guy called James and Bea, a Dutch girl I'd met trekking in the jungle near Chiang Mai.
One of things we ALL wanted to do, was take a trip to Halong Bay. Tourists flock here to spend a night or two on traditional junk boats. We opted for a 3-day tour  that allowed us one night on a boat, and another on Cat Ba Island aka "˜Monkey Island'. We were promised a beautiful island experience, complete with a free floating bar and monkeys.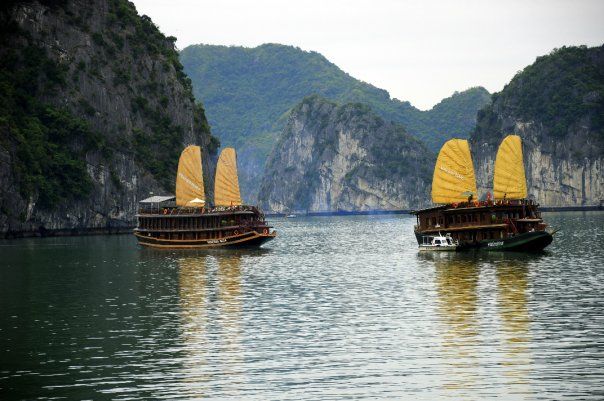 Our completely hapless and bonkers tour guide Dat, picked us up from our guest house in Hanoi early in the morning, then after a quick drive around town to get a few other people we were on our way. About half way there, we stopped at a rest stop for a quick toilet break before continuing our journey. About half an hour after we re-boarded the bus Dat decided that it was time for the first roll call. "œDavies party?" Here. "œJulie party?" Here. "œFinlay party?" Here. "œStephen party?"
Silence.
"œStephen?"
More silence.
Dat sat back down, looking confused. He rifled through his papers before standing up again. Optimistically, he repeated the process.
"œDavies?" Here. "œJulie?" Here. "œFinlay?" Here. He paused, "œStephen?" he squeaked reluctantly, eyebrows raised,  the tone in his voice was hopeful.
As no-one had gotten on or off the bus in the last few seconds,  it was hardly surprising that the results were the same. I covered my mouth, desperately trying not to laugh. Poor Dat.
He sat down again, laughed nervously but his laughter soon turned to panic and off he went again.
"œStephen? Stephen? WHERE IS STEPHEN?"
Then he began pointing frantically at everyone "" "œAre you Stephen? Are you Stephen?" His voice was getting higher and higher and a few giggles erupted from around the bus.
Where was Stephen? Had we left him somewhere? Had he even been picked up at all?
Then a couple at the back piped up. The man's middle name was Stephen, could that be it? The mystery was solved. As soon as we reached the harbour, "˜Stephen', whose real name was Mick and his wife Tammy were ushered off to join a different tour party which led to plenty of "˜Where's Stephen?' jokes for the rest of the trip.
(Sorry – bad joke alert – I blame James for this one)
"Helloooo, is it Steve your lookin' for?"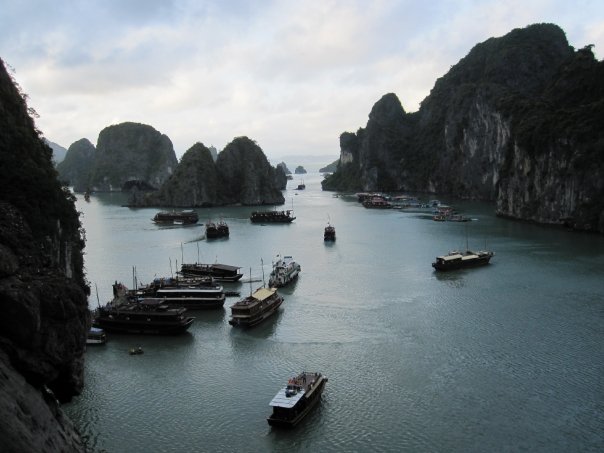 Halong Bay is a beautiful place, made up of a mysterious collection of islands, rising majestically from the emerald green waters where locals live in floating houses, grouped into a number of fishing villages. According to Dat, "two hundred thousand million people" lived in these villages, however I believe the number is closer to 1600 – oh, I miss Dat. The first part of the afternoon was spent exploring the Hang Sung Sat (Surprising Grotto), a beautiful network of caves (the "˜surprise' being a very amusing phallic shaped rock).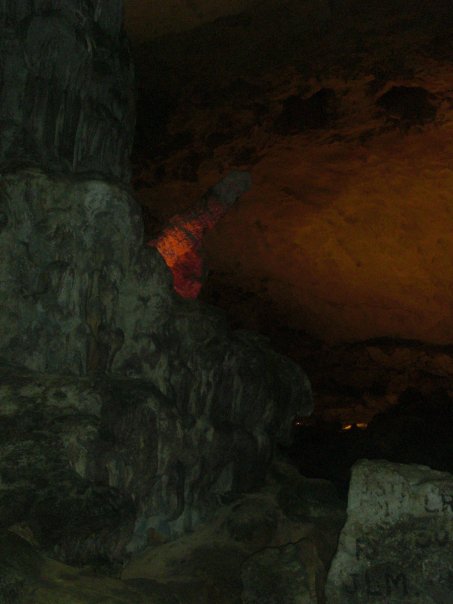 We then put on our life jackets and climbed into kayaks to explore the bay, paddling up close to the islands and villages to get a closer look. After an hour ( and with some very tired arms) we headed to our junk boat to settle in.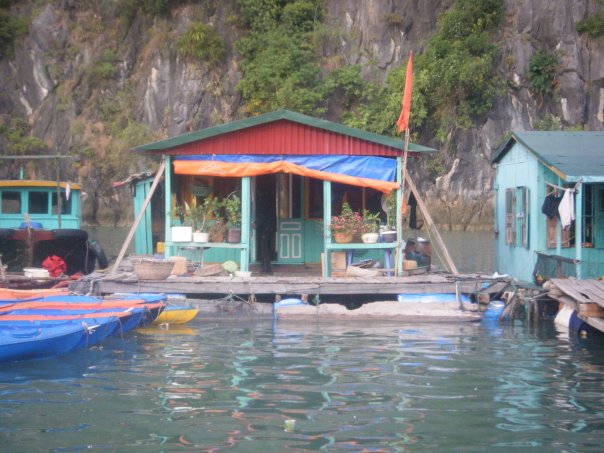 But not before cooling off. We stripped down to our swimsuits and jumped off the boat to swim in the opaque waters.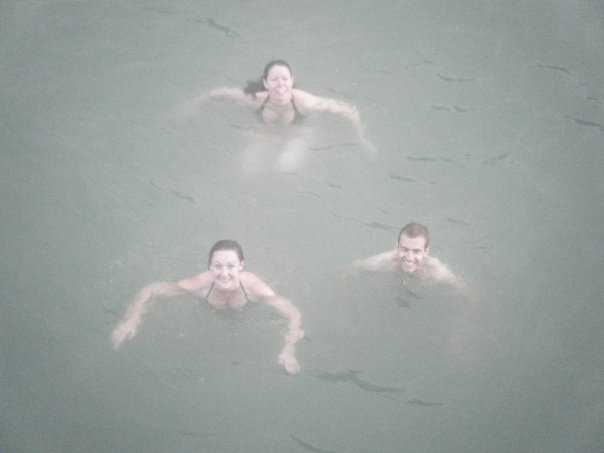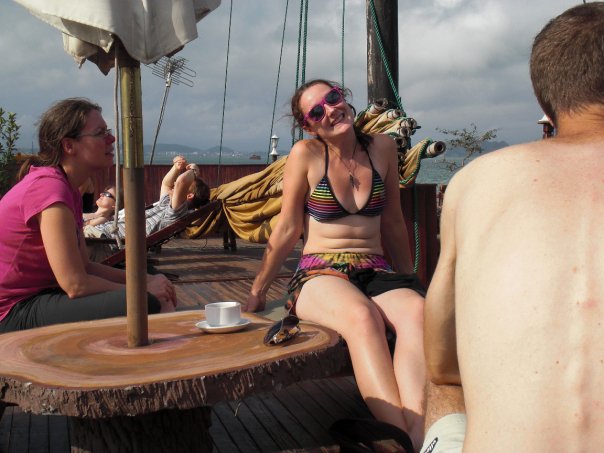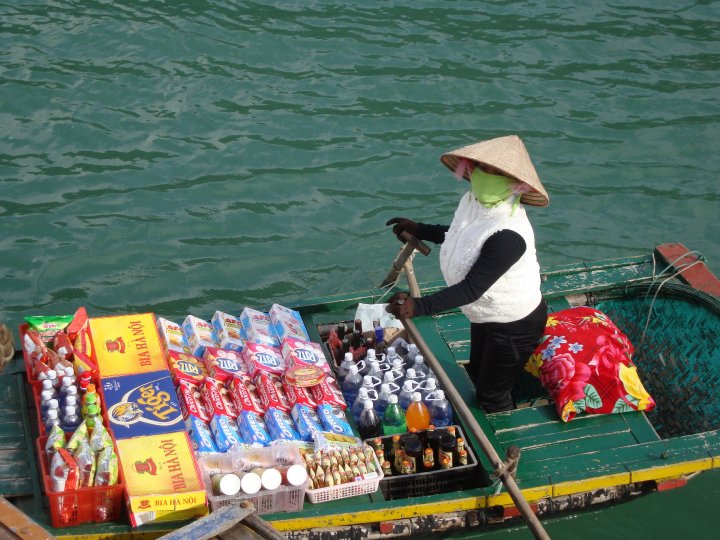 A constant stream of ladies in small rowing boats and conical hats pulled up alongside us selling cookies, soft drinks, beers, crisps and cigarettes.
After dinner we sat round playing all kinds of drinking and card games with the rest of our group – 4 English guys called James, Drew, Mark and Saul and 3 lovely Danish girls called Julie, Rikke and Line. We went to bed full of tequila, beer and excitement for Monkey Island the following day!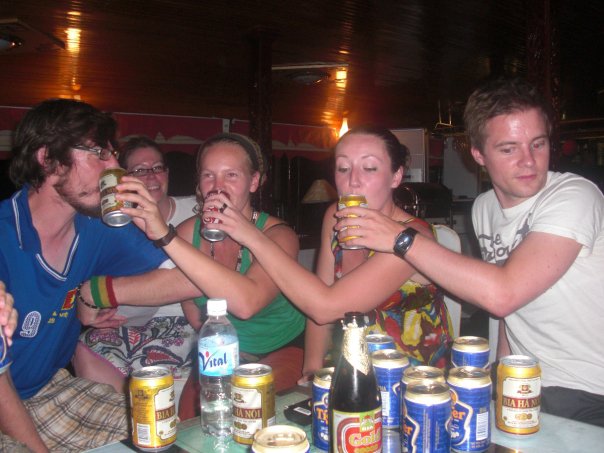 Have you ever had a tour guide like Dat?
Read part two here.