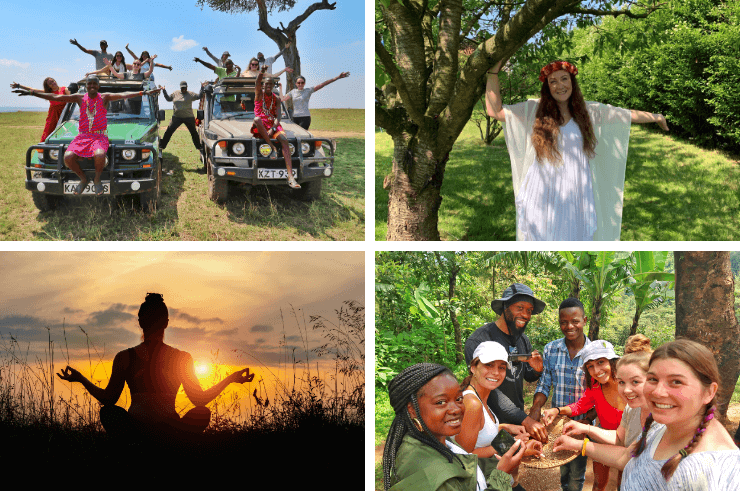 Today's post is a bit of an update from me. I know that some of you are wondering what's happening with me, my tours, my blog, and the travel industry in general. And whilst I can't speak for everyone, I can give you a bit of insight from my side of things, so here goes.
I'm not gonna lie, running a travel business is difficult right now. There isn't much going on, apart from lots of re-arranging and prepping for the future. 
For the time being, much of Africa is still closed to tourists, but it is beginning to open up again and I've just been informed that Kenya will be opening its borders for international travellers from 1st August.
As a UK-based business, I have support. I'm doing ok. But I speak to my friends and colleagues over in Africa daily and it's been a really difficult time for them, but as always their positive attitude is an inspiration. 
So many people in Africa depend on tourism to survive, so by hell or high water, I will be back over there as soon as I can to do my small part in getting the tourism industry going again, when it is safe and permitted to do so.
In the meantime, whilst I've been recovering from my operation, I've been keeping myself busy –  introducing a new Flexible Booking policy, becoming a Yoga Teacher, and launching the Rock My Adventure Affiliate Programme.
Read on for details…
Covid-19 Flexible Bookings & Payment Protection Policy
I know that many of you are apprehensive about travelling or even booking travel at the moment, so I want to assure you with our Covid-19 Flexible Bookings & Payment Protection Policy for all Rock My Adventure tours:
Flexible Bookings
If you need to cancel your booking, you will be able to transfer your deposit to another tour with no transfer fee, up to 62 days before the start of your original trip. No questions asked.
This applies to all new and existing bookings made before 31st March 2021 (we'll review this on a rolling basis).
Cancellation
As a UK-based travel company, we follow the guidelines of the Foreign & Commonwealth Office (FCO). If they advise against travel to your destination, we may need to cancel or postpone your tour. 
If we have to cancel or postpone your trip as a result of the travel warnings, we will notify you at least 62 days in advance and give you the option to either: 

Cancel your trip completely and receive a full refund on your deposit.
Move your deposit to another tour with no transfer fee.
Payment Protection
Your money is fully protected by PTS under the UK Package Travel Regulations and your money is kept safe in a trust account until your holiday is completed.
The African travel industry needs us more than ever now, so I hope you will join us on an adventure sometime soon!
Yoga Teacher Training
It would be fair to say, that during my illness, myomectomy operation, and subsequent recovery, I had a bit of a 'Spiritual Awakening'. Or, as I'd describe it more accurately, an 'Energetic Awakening', so I guess the important part to tell you right now, is what I've been doing with my time over the last few months.
Usually at this time of year, between March and July, things would be full steam ahead for me, with people booking and preparing for their trips to Africa, but not this year – Coronavirus reared its ugly head, travel came to a halt and people stopped booking trips. 
At any other time in my life, this may have been devastating. But as someone recovering from quite a big operation, it turned out to be absolutely perfect timing for me. Don't get me wrong, it's not been easy, but… it's given me time to rest, re-evaluate and pursue some of my other interests.
I spent the first 2 weeks of April recovering at my brother's house, as my house was being renovated (it was very dusty – coughing and abdominal surgery do not work well together), which meant that I got to spend that first few weeks with my niece and nephew, getting lots of 'medicine hugs' as we call them – that I have no doubt that sped up my recovery. 
My mind was quiet and stress-free for the first time in years. I was full of love and gratitude. I switched off from work completely (we were all on hold anyway, waiting to see how things would unfold) and I began to study Reiki, having had it performed on me just before my operation. That experience awoke something in me that I can't explain.
When I finally went home, the house was in much better shape (and you can see the almost finished article below). If you've ever wondered where I spend most of my days, it's mostly in here, in my rainbow-coloured kitchen & dining room… and it's not usually this tidy.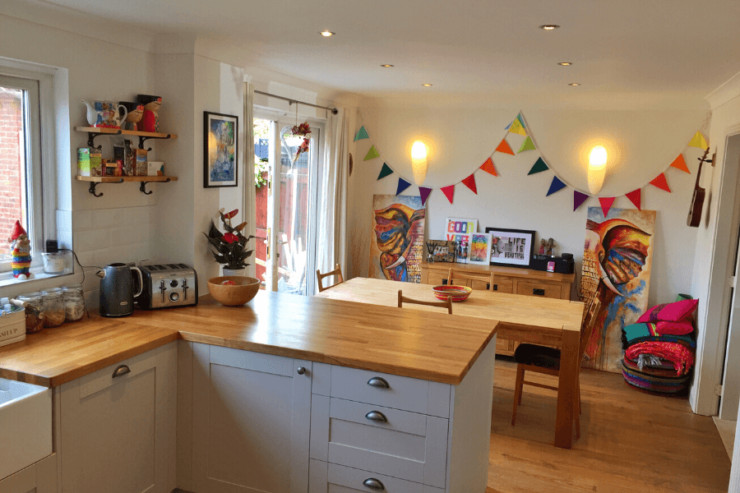 As well as Reiki, I started to study Chakra & Energy Healing, Chakradance™, Cacao Ceremony Facilitation and, I finally got round to doing my Yoga Teacher Training.
I'd been thinking about doing my Yoga Teacher Training for years and in January, I enquired about joining an 8-month course at a local studio that started in March. However, knowing that I would probably need an operation soon and that I was fully-booked up with tours for the second half of the year, I couldn't commit. I figured it would be early 2021, before I could even think about it again.
But then nature intervened and brought my illness to a head earlier than expected and Coronavirus scuppered all my other plans.
At the end of May, I enrolled in an intensive Yoga Teacher Training Programme. The course included physical asanas (postures), pranayama (breathwork), meditation, anatomy, yoga history and philosophy.
And I'm pleased to say that a couple of weeks ago, I passed my exams and am now a fully-qualified 200hr, Ashtanga & Vinyasa Yoga Teacher. Eek! Usually at the school in India, they dress up in white and wear flowers to celebrate – so that's what I di. Albeit in my brother's garden! 
And as of tomorrow… I'm starting a 5-week Children's Yoga Teacher Training course too. It's all go here.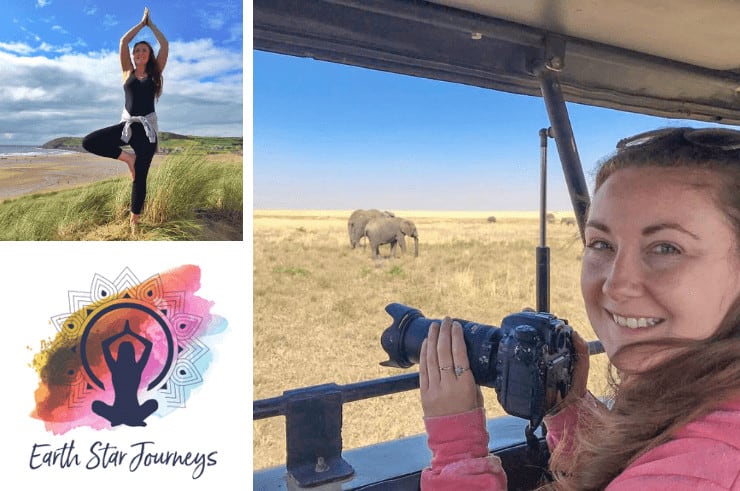 The yoga and wellness side of my business will come under the name of Earth Star Journeys, a name which I think captures a lot of things I love, the things I hope to share and what I'm about – physical/spiritual journeys, adventure, connection to nature, oneness with the universe and channeling energy.
I have started teaching yoga via Zoom and have around 20 students (friends and family) doing an 8-week long Chakra Yoga course with me. Week by week, we work through each of the Chakras to help keep our beautiful Pranic Energy flowing freely through the body to ensure we live our lives to the full. 
At some point, I'll open the classes up to more people, but for now, I'm happy with a relatively small number of guinea pigs yogis, who seem to be enjoying the process. It's been wonderful to see them engaging, asking questions, and getting excited about these practices with me. I've had some great feedback so far, and am told I made one of my friends cry the other day – in a good way! Chakra and energy work is powerful stuff.
So, as you've probably guessed already, I will be incorporating these elements into some of my future tours… 
I can't wait to share these beautiful holistic healing practices with others, and I can't think of a better place to do it than in nature and the African wilderness, can you?
I believe that stress and my busy lifestyle played a major part in my illness and I've changed many aspects of the way I live to ensure I'm living in a healthier, more sustainable way.
I want to help people find ways to de-stress and reconnect with their true, beautiful, authentic selves. So many of us spend our lives feeling like we're not enough, that we have to keep up with everyone else, comparing ourselves and looking outside for validation. 
It's an easy trap, one that I've fallen into many times. But through doing this work on myself, I've learned to stop doing that and I want to help other people do the same. 
A lot of my friends say to me "I'm no good at yoga" or "I can't do yoga, I'm not bendy", but it's really not about that. I want to show people that yoga is for EVERY body. And guess what? I'm not that bendy either! 
Yoga isn't about being flexible, or something you're not. It's about freeing your mind and looking inside to become everything that you already are.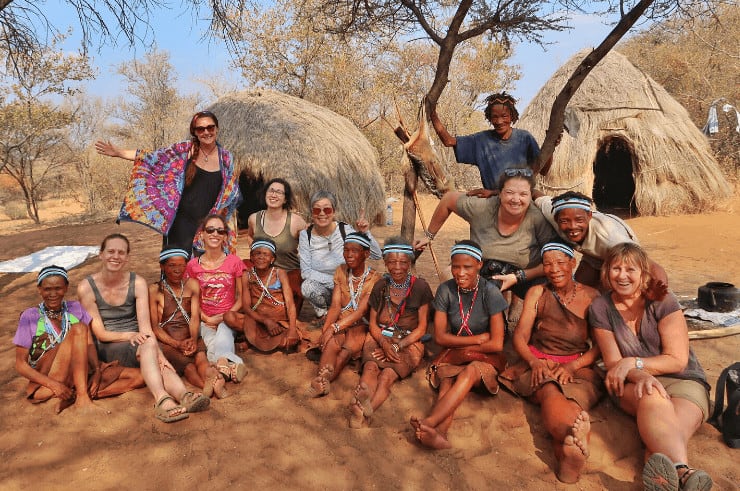 Rock My Adventure Affiliate Programme
In another exciting development, I've just launched the Rock My Adventure Affiliate Programme, which means that you can earn money whilst promoting the tours that you love. You don't have to be a blogger or have a website to join either! 
Once you've set up your account, you will generate your own unique link which you can promote via your website or on social media to your friends and followers. You will earn £100 as a referral fee for every completed booking.  
Head over to the Rock My Adventure Affiliate page to find out more.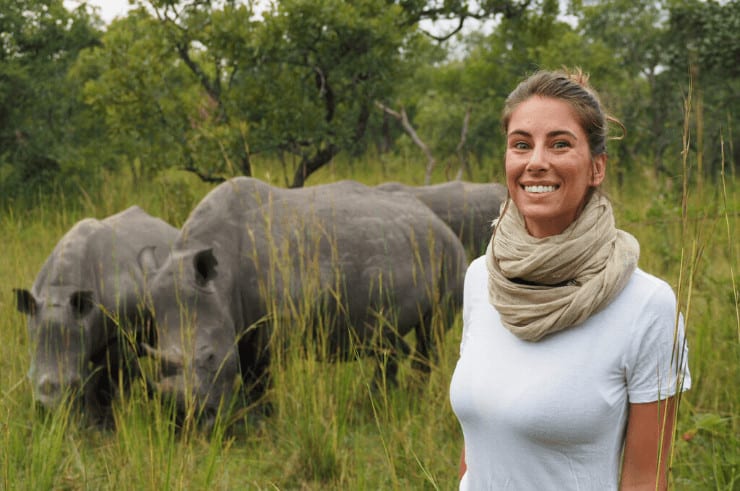 2021 Rock My Adventure Tours
Speaking of Rock My Adventure, the dates for the 2021 Rock My Adventure tours are now on the website. This includes our new Yoga & Mindfulness Safari Retreat which I am so excited to share with you! It's going to be so magical and gives me tummy flutters just thinking about it! 
I put this on my vision board in January and had no idea how it would pan out or how I would even do it, but as you read above, the universe works in mysterious ways…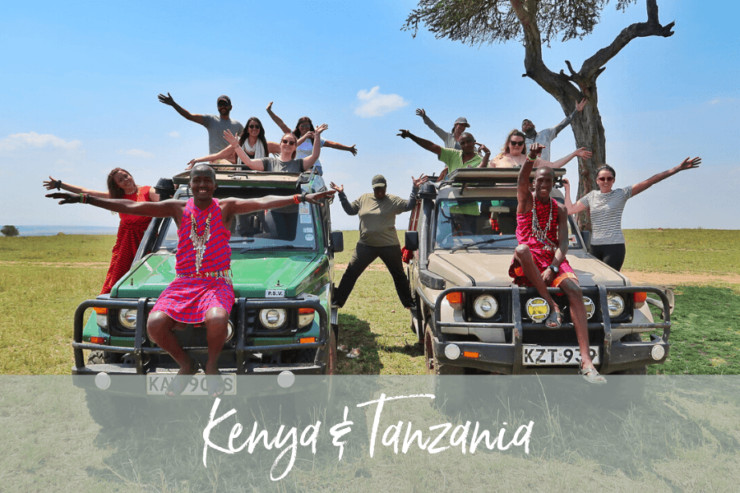 Rock My Kenya & Tanzania Adventure
Kenya and Tanzania are two spectacular countries, with beautiful landscapes, vibrant cultures, world-class safaris, and some of the most beautiful beaches you've ever laid eyes on!
Explore the exciting city of Nairobi, go on safari in the Masai Mara, Serengeti & Ngorongoro Crater, spend time with the Maasai people, learn about local Tanzanian life in Bagamoyo and learn about Swahili culture on the magical island of Zanzibar!
Dates:

Rock My Uganda, Rwanda & DRC Adventure
Have you ever wondered what it's like to feel the heat from an active volcano? Or look a gorilla right in the eye? Or get up close with white rhinos? Or go on safari? Then join us on this incredible adventure spanning 3 incredible countries – Rwanda, Uganda and the DRC! Are you ready for the most epic adventure of your life?
Dates: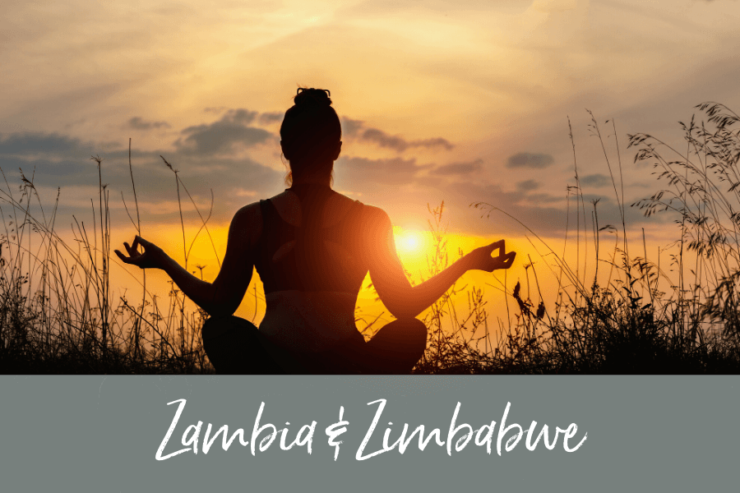 Rock My Zambia & Zimbabwe Adventure – Yoga & Mindfulness Safari Retreat (NEW)
Join us on a magical safari and wellness adventure, taking us into the wild and back to our true selves in Zambia & Zimbabwe.
Our beautiful journey will take us to the Lower Zambezi National Park, the Zambezi River, Mana Pools National Park, Lake Kariba, and magical Victoria Falls.
On this life-changing safari retreat, we'll be spending time in nature and being fully present, for the ultimate healing environment, whilst working to unblock the chakras (energy points) in the body and engaging with the elements (earth, water, fire, air, ether, light & consciousness) through daily yoga, meditation, breathwork.
Practicing yoga in the wild is a humbling, calming, and unique experience. You will leave feeling de-stressed, energised, and rejuvenated. Plus, there will be a few surprises along the way.
This yoga and mindfulness safari retreat is suitable for all levels. Even if yoga is completely new to you, you will enjoy and benefit from the experience. Yoga is for every body and beginners are very welcome.
Dates:

Rock My Malawi, Zambia & Botswana Adventure
Join us on an awesome adventure spanning 3 incredible countries! Experience the beauty and tranquillity of Lake Malawi, immerse yourself in local life in Cape Maclear, go in safari in magical South Luangwa National Park and go on adventures in Livingstone, home to the mighty Victoria Falls!
Dates:

Rock My Tanzania & Zanzibar Adventure 
Tanzania has everything you could wish from an African adventure – amazing safaris, beautiful mountains, stunning waterfalls, white sandy beaches, crystal clear seas and vibrant interesting cultural experiences and this tour covers them all!
On this exciting 2-week trip we'll go on safari in three of Africa's best safari destinations – the Serengeti, the Ngorongoro Crater and Tarangire National Park, explore the lower slopes of Mount Kilimanjaro, meet the Maasai people, learn about the Swahili culture and relax on the beautiful island of Zanzibar.
Dates:
To see the full itinerary/details or to book your spot, head over to the Rock My Adventure website! 
And don't forget to check out the new Rock My Adventure video! ❤️
So there you go! I have a few other projects/collaborations in the pipeline, which I hope to be able to share with you soon! In the meantime, take care, stay safe, look after yourselves, and get planning some future travels! 
Helen x