Join me on an epic adventure, spanning 3 amazing countries – Zambia, Botswana and Malawi! I can't even begin to describe how magical this trip is, but let me try…
Let me show you a different side of Africa, not the Africa you see in the media but the adventurous, beautiful, wild and real Africa I know and love.
Zambia, Malawi and Botswana are my 3 favourite countries in Africa, equally as amazing as the more well known safari destinations, if not better! Each of these countries are very safe for a traveller, have epic wildlife spotting opportunities, stunning landscapes and incredibly friendly people! I can't wait to show you around!
Rock My Adventure is a small group Africa tour company for solo travellers, groups of friends and couples alike and for those who want to pack a lot into their limited (and precious) time.
The tours are culturally immersive trips created by me to show you a rounded portrayal of the countries we visit and leave you with a new group of like-minded friends and beautiful memories that will last a lifetime.
I work with the best local operators to provide you with the highly personalised African adventure you've always dreamed of but without the hassle of planning it all yourself!
Rock My Adventures aren't typical 'tours'. They're fun, laid-back group trips, with an awesome, action-packed itinerary, but with some free time to explore and do your own thing and a group of friends built in – the best of both worlds!
Read more about Rock My Adventure here or take a look at our FAQ's page to see what we're all about!
---
Essential Info
Duration: 14 Nights (2018)/15 Nights (2019 – extra night on safari in Chobe National Park)
Start: Lilongwe, Malawi (nearest airport – Lilongwe International Airport)
Finish: Livingstone, Zambia (nearest airport – Harry Mwanga Nkumbula Airport)
Maximum Group Size: 10 people
Minimum Age: 18
Cost 2018: £1,445 + $1000 (local payment, paid on arrival)
Cost 2018: £1,445 + $1150 (local payment, paid on arrival)
Deposit: £200 (non-refundable, included in total cost above)
Dates Available
27 July – 10 Aug 2018 (SOLD OUT)
8 – 22 October 2018 (NEW)
24 July – 8 August 2019
1 – 16 October 2019 (You can combine this tour with the Rock My Lake of Stars Festival Adventure)
ENQUIRE NOW
You can find full Terms & Conditions here.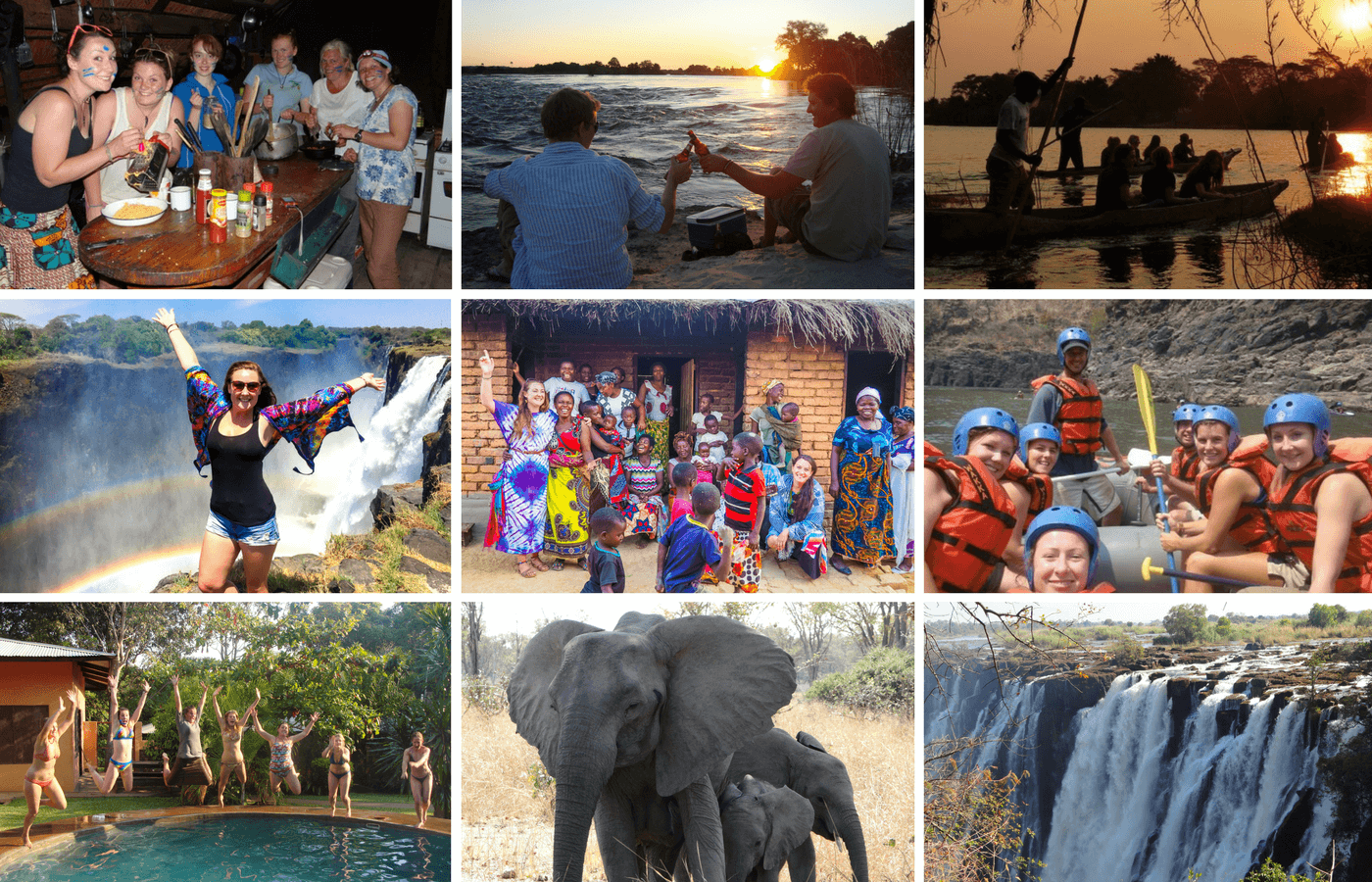 ---
Week 1 Highlights
Relax and enjoy the fabulous sunsets on the beautiful beaches of Cape Maclear.
Get a real feel for local Malawian village life in the Cape Maclear.
Swim, snorkel (or scuba dive) and look for beautifully colourful cichlid fish in the crystal clear waters of Lake Malawi, home to more species of freshwater fish than any other lake in the world.
Visit a local pre-school.
Kayak and stand up paddle board on Lake Malawi.
Spend the night on our own private Swiss Family Robinson style island.
Take a sundowner cruise on Lake Malawi.
Explore Malawi's fun capital, Lilongwe.
Go on safari in my favourite safari destination in Africa, South Luangwa.
Enjoy our fabulous safari lodge which lies right on the Luangwa River and often elephants, hippo and other animals casually wander into camp.
Visit the local village near to our camp in South Luangwa and our friendly local guides will show you what it's like to live in a village in rural Zambia. You may even get a chance to do some cooking!
Experience the nightlife in Zambia's modern capital, Lusaka.
Week 2 Highlights
See the wonder that is the Victoria Falls! You will have the option to visit both the Zambian and Zimbabwe side of the falls!
Take afternoon tea at the Royal Livingstone and look for the giraffe, zebra and impala that wonder the grounds of the hotel.
Spot hundreds and hundreds of elephants (and lots of other animals) at Chobe National Park in Botswana, just a 45 minute drive from Livingstone, Zambia.
Take a boat ride in Chobe for more chances to spot your favourite safari animals.
Sample the awesome Livingstone nightlife.
Take part in some of the amazing activities on offer in Livingstone (the adventure capital of Africa) including, microlights, the Angels Pool, bungee jumping, gorge swinging, zip lining, white water rafting, kayaking and canoeing.
Visit a local market and shop for beautifully bright African fabrics and get clothes made by a local seamstress.
 Chill by the pool at our gorgeous hostel in Livingstone.
Take a cycling tour around Livingstone with a wonderful social enterprise. You will get to see a side of Livingstone that few tourists ever get to see.
Take a sunset cruise on the mighty Zambezi River where you are likely to see animals such as elephant and hippo.
---
"You showed me "Africa" the real Africa, the people, the villages, the wildlife! I didn't want hotels, complexes, swimming pools! I want to see the world, the real world, how other people live, the real Africa!! I got the whole package, the reality, the beauty, the wonder! You left me wanting more and eager that see more of what the amazing Africa has to offer! Second trip with you! I keep coming back so clearly I enjoy them!" (Karen, UK – Rock My Rwanda, Uganda & DRC Adventure 2017 & Rock My Kenya Adventure 2016) 
---
Zambia, Malawi & Botswana Tour Itinerary
---
Day 1: Lilongwe, Malawi
---
Arrive in Lilongwe and transfer to your accommodation for the night.Relax and get to know your fellow travellers during a welcome meal and a beer or two! Your Rock My Malawi, Zambia & Botswana Adventure starts here and I can't wait to show you around my favourite countries in Africa!
*  If you have the time and can arrive earlier, I can organise any other activities you wish to do. Additional accommodation and activities charged separately.
Meals Included: Dinner
---
Day 2: Cape Maclear, Malawi
---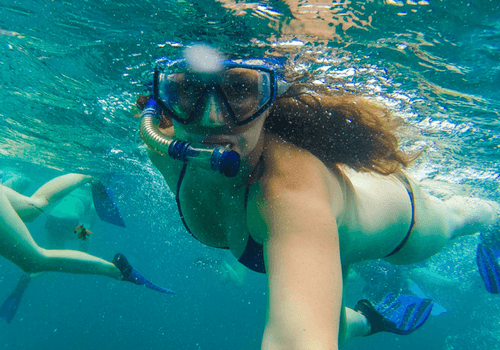 In the morning, we'll make our way out of the city and head towards Cape Maclear (Chembe village) on the shores of Lake Malawi.
Lake Malawi is the world's biggest fresh water lake and is so big, it actually looks like the ocean. At night, the fishermen use lanterns which twinkle on the water and are the reason the lake became known as the 'Lake of Stars'.
In the afternoon, we'll try our hand at stand up paddle boarding (you can kayak if you don't want to paddle board) and snorkelling, one of the easiest and fun activities you can do on the water.
Cape Maclear is a magical place where anything can happen! 😉
Meals Included: Breakfast, Dinner
---
Day 3: Cape Maclear, Malawi
---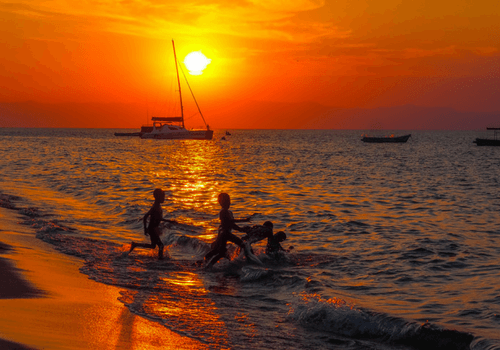 Today is a free day to take part in the activity of your choice. You will have the opportunity to explore the area and get a glimpse into life in the 'Warm Heart of Africa'. Those who want to, can take part in a whole number of activities including snorkelling, cycling, hiking, canoeing, beach volleyball.
The lake is famous for having the best fresh water scuba diving in the world and is home to more species of freshwater fish than any other lake in the entire world (including some you won't find anywhere else) and with it being part of the Great Rift Valley, you'll also be treated to some spectacular underwater scenery too.
In the evening, we'll take a sundowner cruise out on the lake followed by dancing at one of the beach bars.
Meals Included: Breakfast
---
Day 4: Domwe Island, Malawi
---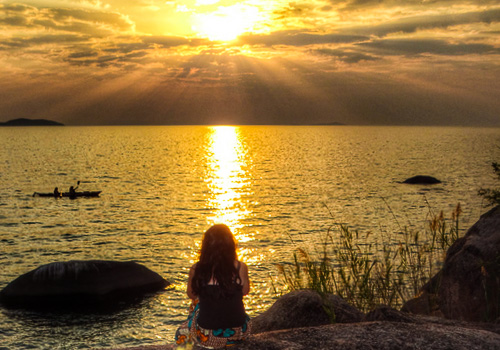 On our last day at Lake Malawi, we'll kayak over to our very own deserted island.
Here we'll enjoy a braai (bbq cooked by our own private chef), a campfire right on the beach and spend the night in true Swiss Family Robinson style.
At night we can watch the fishing boats twinkling in the water and the stars twinkling overhead.
This is one of my favourite things that I've ever done in Africa, so I know you're going to love it!
Meals Included: Breakfast, Lunch, Dinner
---
Day 5: Lilongwe, Malawi
---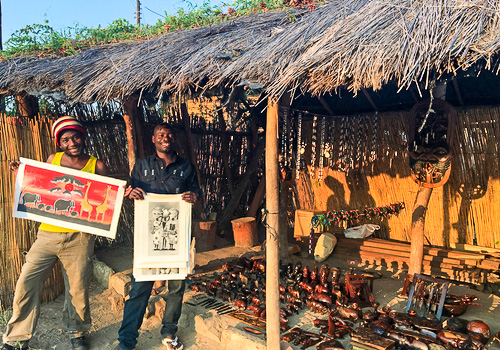 After we've said our goodbyes to Lake Malawi, we'll head back to Lilongwe to get ready for the next part of our journey into Zambia.
There will be some time for shopping (Lilongwe is a great place to buy fabric, art and wooden carvings) and we can have a little wander around the city.
In the evening, we'll go for a delicious meal at one of my favourite restaurants and those who want to can sample the Lilongwe nightlife!
Meals Included: Breakfast, Dinner
---
Day 6: South Luangwa National Park, Zambia
---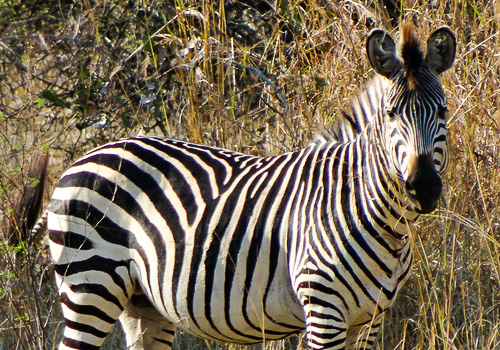 We'll spend the next 3 days in gorgeous South Luangwa National Park, my absolute favourite safari destination in all of Africa!
South Luangwa is one of the best places in Africa to see the 'Big Five' and as it's one of the only game parks in Africa where you are able to do evening game drives, there's a good chance you may spot leopards.
We'll be staying right on the banks of the Luangwa River, just outside the park gate, and animals are often known to wander into the camp so there will be plenty of opportunities to spot wildlife even when you're not on safari!
In the afternoon, we'll visit the local village to experience life in rural Zambia.
Our local guides will show us around, tell us about their way of life, customs and you may even get to try your hand at cooking.
Get ready for some real Zambian hospitality.
Meals Included: Breakfast, Lunch, Dinner
---
Day 7: South Luangwa National Park, Zambia
---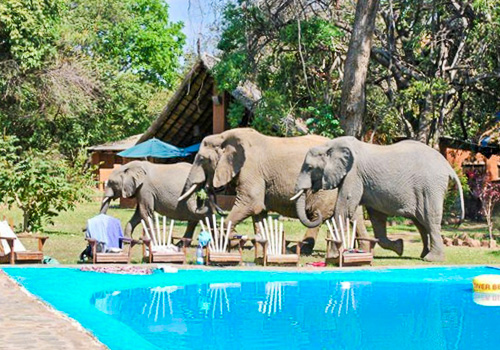 We'll go on morning and afternoon/evening game drive today to try and spot all our favourite safari animals.
South Luangwa is my favourite, mainly due to the landscape and the animals you can see there, as well as the fact that we camp just on the river, waking up to the sounds of hippos in the water.
When it gets hot in the middle of the day, well return to camp to have lunch and a swim in the pool to cool down.
Meals Included: Breakfast, Lunch, Dinner
---
Day 8: South Luangwa National Park, Zambia
---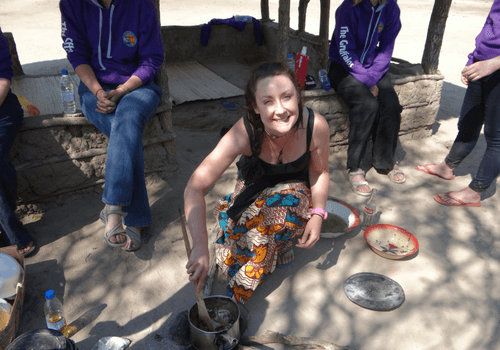 We'll head out oearly in the morning for another day on safari.
Fingers crossed that we may spot a leopard, one of the animals that South Luangwa is famous for!
If there's availability, you'll have the option to skip the afternoon safari and go on a walking safari (* at an additional cost)!
Meals Included: Breakfast, Lunch, Dinner
---
Day 9: Lusaka, Zambia
---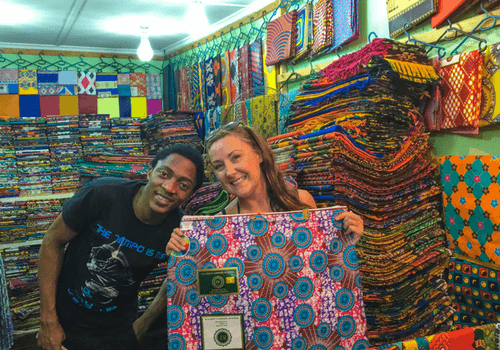 Today is a drive day as we head away from the bush, down to Zambia's capital, Lusaka.
However, in Africa, the journeys are part of the experience and you'll never get bored watching the scenery go by and the smiles and waves from the lovely Zambian people.
When we arrive, we'll have a night to rest in our guest house, before we continue our journey down to Livingstone the following day.
Lusaka is a good place to party too, so if you have some energy, the city awaits!
Meals Included: Breakfast, Dinner
---
Day 10: Livingstone, Zambia
---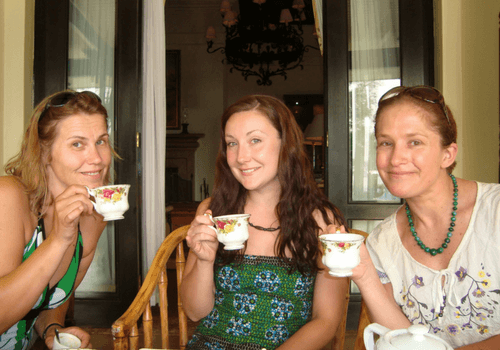 Next stop is Livingstone, the adventure capital of Africa and the home to one of the most spectacular places on earth, Mosi-oa-Tunya ('The Smoke that Thunders'), better known as Victoria Falls!
And it just happens to be my favourite place in all of Africa. Yes, really!
After a few days of safari and travelling, we'll get dressed up and head to the Royal Livingstone for Afternoon High Tea and those who want to can stay on to enjoy cocktails on the deck, overlooking the Zambezi River at sunset. Pure bliss!!
Often you'll find zebra and giraffe strolling through the hotel and hippo and elephants can sometimes be seen in the water.
Meals Included: Breakfast, Afternoon Tea
---
Day 11: Chobe National Park, Botswana
---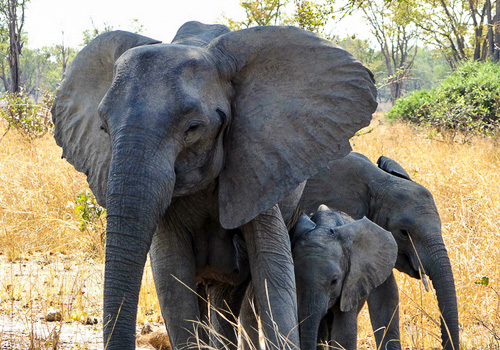 In the morning we'll take the short trip across the border to Botswana to the amazing Chobe National Park, home to up to 120,000 elephants!
We'll start with a fantastic 3-hour boat cruise along the river and after lunch we'll go on a game drive through the park.
In the evening, our cook will prepare an awesome dinner and we will spend the night chatting round the camp fire and listening to the sounds of the African bush.
You will love this experience!
Meals Included: Breakfast, Lunch, Dinner
---
Day 12: Livingstone, Zambia
---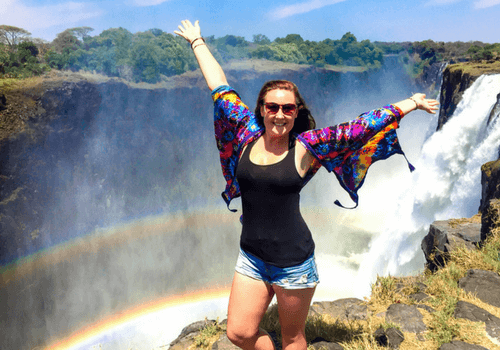 After breakfast, we'll head back to Livingstone where we'll spend our last few days together.
In the afternoon we'll visit Victoria Falls from the Zambian side and you'll have the option to see them from the Zimbabwean side too should you wish (additional charge).
At this time of year, the falls are at their best, not too full that you can't get close, but full enough so that they are still in full flow!
In the evening, we'll head to a great local restaurant for dinner and drinks.
Meals Included: Breakfast, Dinner
---
Day 13: Livingstone, Zambia
---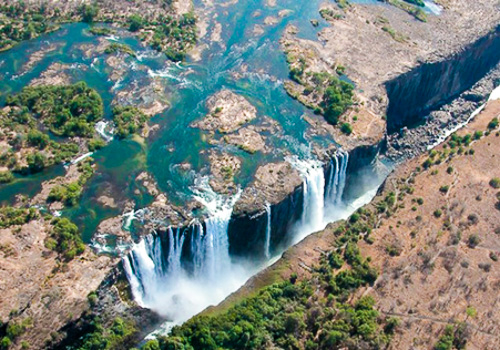 This is a completely free day so that you can enjoy some activities that Livingstone has to offer.
These include white water rafting, swimming in 'Angel's Pool, microlighting over the falls, bungee jumping and jet boating (to name but a few)!
Or, if you're feeling slightly less adventurous you may just want to chill by the pool, get clothes made or visit a local market – it's up to you!
I will help sort out any activities you wish to do!
For a list of current activities click here.
Meals Included: None
---
Day 14: Livingstone, Zambia
---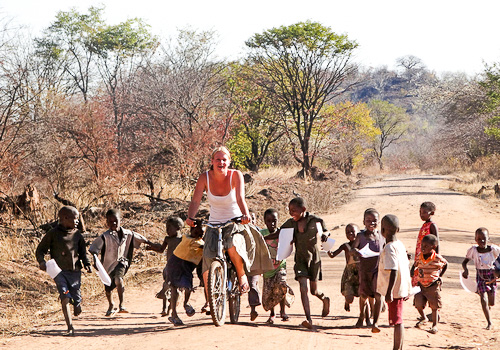 In the morning, we'll take a cycling tour with a local social enterprise, venturing into the villages that surround the main part of town, where we can meet the people who live there and go to places most other tourists don't go.
In the afternoon there will be some free time to relax by the pool or do a bit of last minute shopping, before we say goodbye over a light dinner and drinks on a sunset cruise on the Zambezi River.
Meals Included: Dinner
---
Day 15: Departure Day
---
Today is always a sad day as we say goodbye to our new friends (there's usually a few tears, I will warn you), but the memories and shared experiences will last a lifetime.
I can arrange the transfer to Livingstone Airport or you can continue your Africa travels from there.
Meals Included: None
---
Meet Your Tour Leader
---
Helen
I've been travelling through Africa on and off for the last 9 years and have guided trips through the Kenya, Tanzania, Malawi, Zambia, Rwanda, Uganda and the DRC.
I love to travel all over the world, but it's Africa that holds the special place in my heart and I started this blog, first and foremost to encourage and help others travel in my favourite continent.
I'm passionate about experiential travel and I want to show you a different side of Africa. Not the Africa you see in the media, but the adventurous, beautiful, wild and real Africa I know and love.
I like to get to the heart of the places I travel, to go on epic adventures, to be out in the wild, to meet local people, to experience the nightlife, to try new things, to immerse myself in the culture and most of all to have fun! All Rock My Adventure tours are planned with all these things at the forefront.
You can find out more about me here.
---
What's Included
Meals: 11 breakfasts, 5 lunches, 1 afternoon tea and 11 dinners (some of these are activities in themselves)! For 2019 trips add 3 extra meals (1 x breakfast, 1 x lunch, 1 x dinner)
Accommodation: 14 nights (15 nights in 2019) accommodation in good quality camps, hostels, hotels and guesthouses. This may include mixed dorms.
Transport: All transport within Malawi, Zambia & Botswana to and from included excursions and between the main destinations on the tour (includes – taxi, boat, mini bus, safari vehicle).
Activities: 

Stand up paddle boarding (or kayaking) and snorkelling on Cape Maclear
Overnight stay on our own private island
Sundowner boat cruise on Lake Malawi
2-day safari in South Luangwa National Park
Walking tour of Mfuwe village
Afternoon tea at the Royal Livingstone
Overnight camping trip to Chobe National Park (2 nights on 2019 trips)
Game drive in Chobe National Park
Boat cruise in Chobe National Park
Local market excursion in Livingstone
Victoria Falls visit from the Zambian side
Cycling tour of Livingstone
Sunset cruise on the Zambezi
What's Not Included
Flights.
Airport transfers – however I can arrange these for you.
Visas.
Medications, antimalarials or vaccinations.
Travel/health insurance.
Drinks & meals not mentioned.
Optional activities.
Transport for optional activities.
Tips for local guides.
Please bear in mind that the itinerary is subject to minor changes. But whatever happens, I'll endeavour to make sure you have an amazing trip!!
You can find full Terms & Conditions here.
---
Here's what you can expect on a Rock My Adventure tour…
---
Testimonials
Wondering what it's like to come on a Rock My Adventure trip? Here's what others have to say!
Rock My Tanzania & Zanzibar Adventure – 2017
"I would like to thank you for two of the most extraordinary trips I have ever had the joy of experiencing. As I review my photos I feel so overwhelmed. I had the pleasure to meet some amazing people thanks to you. We had great times just sitting around and joking with each other. If anyone is in doubt about booking a tour through Rock My Adventure, don't hesitate, you'll never regret it . Thank you, Helen. You are amazing! ❤ Go and you will thank me afterwards." (Oana, Switzerland)
"This trip is definitely one of the best decisions that I've ever made in my life!!" (Sharmi, Malaysia)
"The trip went beyond my expectations. I feel the soul of the trip was Helen. Having a guide that is enthusiastic, knowledgeable, sweet and energetic is very important." (Nayeli, Mexico/USA)
---
Rock My Kenya Adventure – 2017
"I had the best time ever on the trip & it was so much fun traveling with you! It was everything I had hoped for and more! It 100% met my expectations. I love the fact that your trips are more unique than a normal tour operator. I enjoyed being taken out of my comfort zone in some places and seeing some really different sides of Kenya. I enjoyed the fact that we were made to feel so at home everywhere we went and I'm sure that was helped by the fact you've obviously created a lot of meaningful friendships in the country during your time travelling there. It felt like we got a more unique experience than you would get with usual tour operator. I think you make a fantastic guide and your passion for the country definitely shows and adds to the experience." (Sarah, UK)
"Thank you for one of the best two weeks of my life. By far the most incredible holiday I've ever been on. It was run so brilliantly by you and honestly, I had so much fun. I won't forget some of our hilarious nights out." (Allanagh, UK)
"This is the best thing I could have done for myself to boost my confidence. It was honestly the best thing I have ever done in my life, bar none. I have made genuine friends that I'm already planning to meet with again. Take me with you everywhere you go…..everywhere! Thank you so much for doing the job you do, I can't explain how amazing this trip was." (Kayleigh, UK)
---
Rock My Uganda, Rwanda & DRC Adventure – 2017
"Helen is one of those people who will make any situation really fun. This girl could make a tour through my mildewy basement seem like a blast, so having her introduce me to sub-Saharan Africa was pretty much the best thing ever!!" (Silvia, Norway/USA)
"This was everything I hoped for and more. If the plane had crashed on the way home, I would have died happy!" (Natalie, Northern Ireland)
---
Rock My Kenya Adventure – 2016
"Everything was amazing! I learned so many things!" (Oana, Switzerland)
"It was an amazing trip from start to end. I loved every moment and made friends for life." (Debbie, UK)
"Africa is not always the easiest place to travel around, and after 3 months of backpacking I was all ready to give my brain a break from travel planning, so it was definitely a relief to have Helen come in and manage all that! I like her tour because it fit me – it was a small group tour, just 8 of us which is a nice number to make new friends and get to know everyone yet have our own thing, and it was a good mix of fancier stuff and indie backpacking. You just might see us on the next tours because we are all game for round 2 with Helen! Definitely a 5 star review ⭐⭐⭐⭐⭐!" (Jac, Singapore)
"I've a lot to thank my African adventure for, it truely did help me find myself and has given me the confidence to just go see the world. I never wanted to leave!!! You'll have the most amazing experience!!!" (Karen, UK)
"It was a great introduction into Africa travel, before I set out solo travelling. Also as I traveled solo and shared experiences in Kenya with people I was meeting, I sounded like a seasoned solo traveler thanks to you. I did not know what to expect but I think I understand Kenya pretty well now. I think you were able to portray and pass on your infectious love of Kenya to us all and I am forever grateful! Asante!" (Christina, USA)
If you'd like to get a full overview, have a read of Silvia's blog (Heart My Backpack), as she's done a full review on the Rock My Uganda, Rwanda and DRC tour. I asked her to come along, not as a blogger, but as a participant, to enjoy and just be brutally honest when she wrote about it and here's what she thought.
---
I want you to… Rock My Adventure
To reserve your spot on this exciting trip or if you have any questions, please send me an email using the form below! Don't fancy this trip? Check out the other Rock My Adventure tours!
Want to be the first to know about upcoming Rock My Adventure tours and get exclusive offers? Sign up to the Helen in Wonderlust mailing list HERE!
Rock My Adventure is a Member of: