I never knew of a morning in Africa when I woke up and was not happy."

Ernest Hemingway
I LOVE Uganda. Named the 'Pearl of Africa' by Winston Churchill (and quite rightly so), Uganda is an incredible and special country with beautiful lush, green landscapes and even more beautiful, friendly people!
Travelling in Uganda is awesome and I fell in love with the country the second I crossed the border from Kenya on my first visit in 2009 – no joke, I was smitten. The light was incredible, the people were waving and smiling and the landscape was all kinds of orange and green hues.
To help you plan your dream trip to Uganda, I've created this helpful Uganda Travel Guide, with lots of info and resources, useful links, and all of my Uganda blog posts!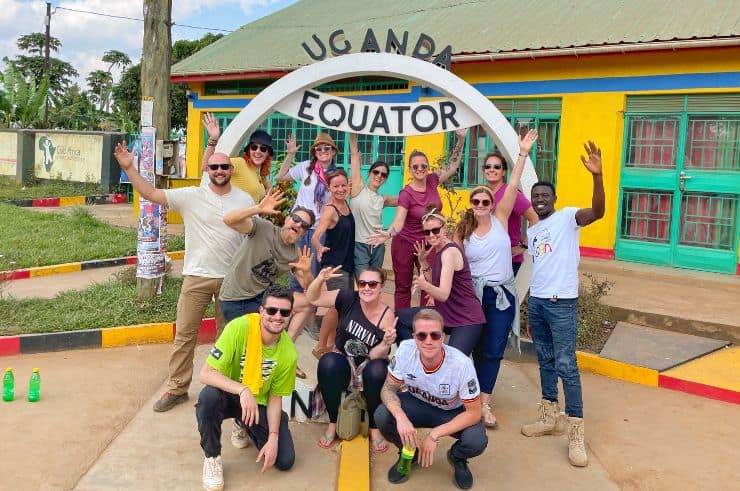 Things To Know About Uganda
Currency: Ugandan Shilling (UGX)
Languages: There are around 70 languages spoken in Uganda. The most spoken local language is Luganda, but English is the official language and is widely spoken. Other languages include Lusoga and Swahili, however, Swahili is associated with the military/rangers and is often used as an intimidating language.
Visa: A Single Entry Visa is $50 for most nationalities. It is advised to get in advance from the Uganda eVisa website. You can also get a Multi-Entry Visa and the East Africa Tourist Visa (definitely apply in advance for these). You can check your visa regulations here.
Main Airport(s): Entebbe International Airport (Entebbe), If you are starting at Lake Bunyoni or Bwindi Impenetrable Forest, Kigali International Airport in Rwanda is a bit closer.
When To Go: The best time to visit Uganda is the dry seasons between June and August and December to February. For gorilla trekking in Bwindi, Mar to May and October to November are the wettest months, making trekking quite difficult. Some of the dirt roads become very difficult to drive on during this time too. Murchison Falls is generally good to visit all year round. Temperatures are generally steady all year round.
Malaria: Malaria is a risk in Uganda so I would advise that you see a doctor before visiting to ensure you are protected. You can find more information here.
Yellow Fever: You can see whether you need a Yellow Fever vaccination certificate here.
Internet & Mobile: The two main networks in Uganda are Airtel and MTN.
Water: It is not advised to drink the tap water in Uganda, so I would suggest buying bottled water or using a filtered water bottle.
Safety: Uganda is generally a safe and friendly country to visit however I would advise you to take taxis after dark and if you do need to walk at night, keep to busy streets and preferably walk in a group. Unfortunately, being gay is an illegal offence in Uganda. That includes foreigners, so please be careful.
What to Pack: You can see my complete Africa Packing List here.
Plugs: In Uganda, they mostly use Type G British 3-pin style plugs.
Festivals: The Nyege Nyege music festival usually takes place in September at Itanda Falls, about an hour away from Jinja.
Read More About East Africa