Last updated on April 7th, 2023 at 10:07 pm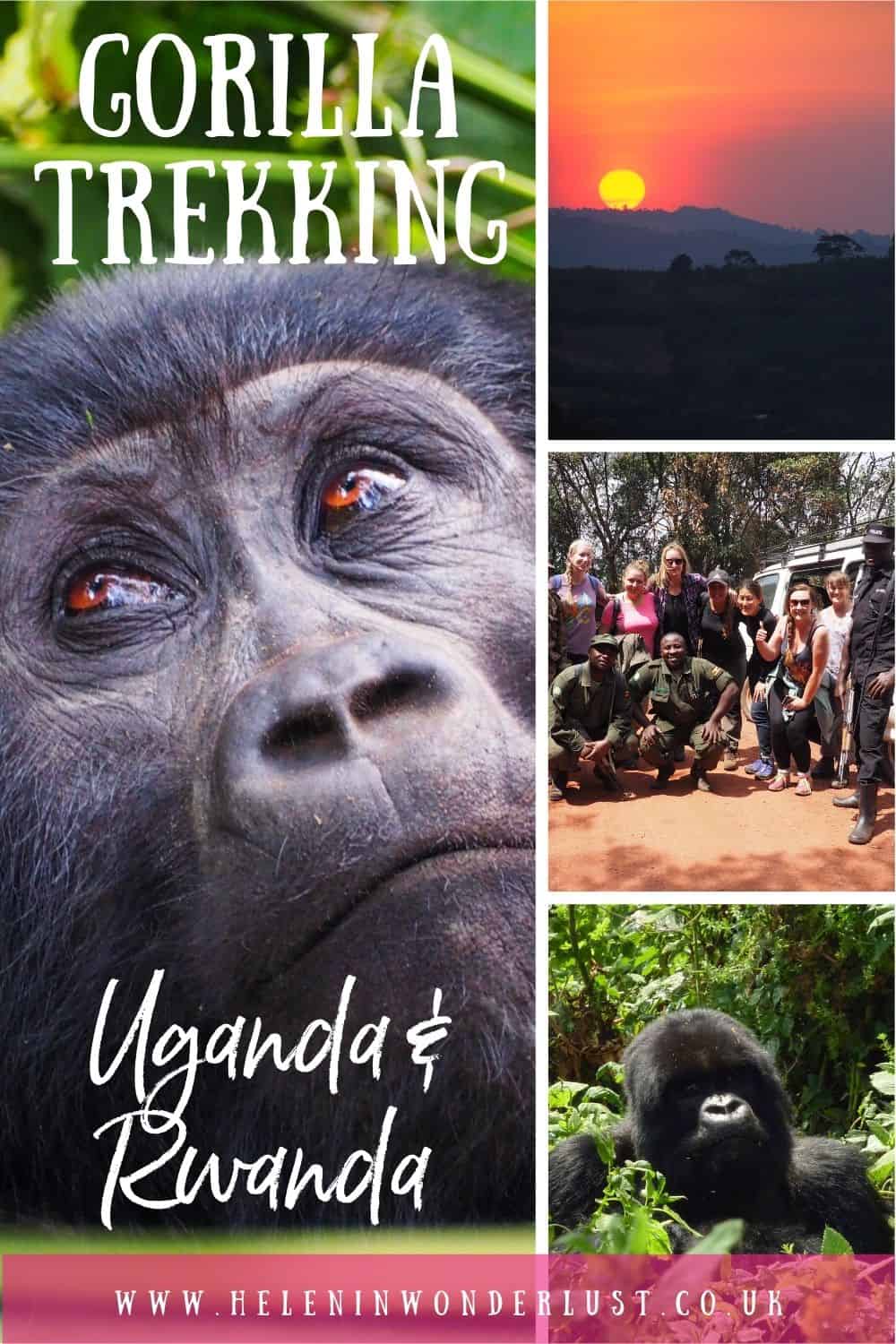 I might be one of the luckiest people on earth for the fact that I've been gorilla trekking (sometimes called gorilla tracking) in both Rwanda & Uganda.
It's always number 1 on my list of things to do in Uganda and Rwanda, because it has been one of the most incredible moments of my life – both times. Seeing gorillas up close is magical.
Mountain gorillas can be found in the area known as the Virunga Mountains, and live in:
Bwindi Impenetrable National Park and Mgahinga Gorilla National Park in Uganda.
Volcanoes National Park in Rwanda.
Virunga National Park in the Democratic Republic of the Congo.
When you're planning a trip to Africa, you may be deciding whether to go gorilla trekking, so I've pulled together this handy guide to help you decide where to go (either in Uganda or Rwanda) and give a few tips on how to plan your gorilla trekking trip (I haven't been gorilla trekking in the DRC… yet, so I won't include it here).
Please Note: Some of the links in this post are affiliate links, which will earn me a small commission at no extra cost to you. Affiliate sales help with the running costs of this site, so thank you for your support!
---
The Complete Guide to Gorilla Trekking in Uganda & Rwanda

What is Gorilla Trekking?
Gorilla trekking is where you trek through the jungle to spend an hour with wild gorillas. In my opinion, it's one of the best things to do in Africa.
Early in the morning, trackers who know the gorillas well will head off into the jungle to look for their gorilla family. Once they find them, they will radio through to the rangers, who will be waiting for you at the start point/office.
There are a number of different gorilla families you can visit, living in various areas around the Virunga Mountains and once you find your allocated family, you'll get to spend an hour with them (unless you book onto the Habituation Experience – see below).
In Rwanda there are 10 habituated (meaning they are used to humans) families, so up to 80 people can trek per day. In Uganda there are 19 habituated families in Bwindi and 1 in Mgahinga, so there are 160 permits available in total per day.
The number is limited to ensure that the gorillas and the forests are protected and left alone for most of the day.
Once registered (take your passport), you will be split into groups of 8 maximum. Then your group, the rangers (and maybe porters if required) will head off into the jungle to meet the trackers and the gorillas. How they do this, I have no idea. They know these jungles so well!
Sometimes you'll be lucky and you might catch up with the gorillas in an hour if they're nearby and not moving too fast. Sometimes, it might take you 5 hours of hiking if they're deep in the jungle. It just depends.
Once you find them, you'll have 1 hour to spend with them. Sometimes the gorillas will sit still or walk around you (or even give you a smack on the bottom).
Other times, when they don't feel like being disturbed or have somewhere to go, they'll walk away, climb trees and turn their backs to you. It really depends on how they're feeling that day.
'Happy', the gorilla above, was just content to sit there, munching away, not moving for about 20 minutes, meaning we were able to get tons of pictures. But sometimes it's more tricky.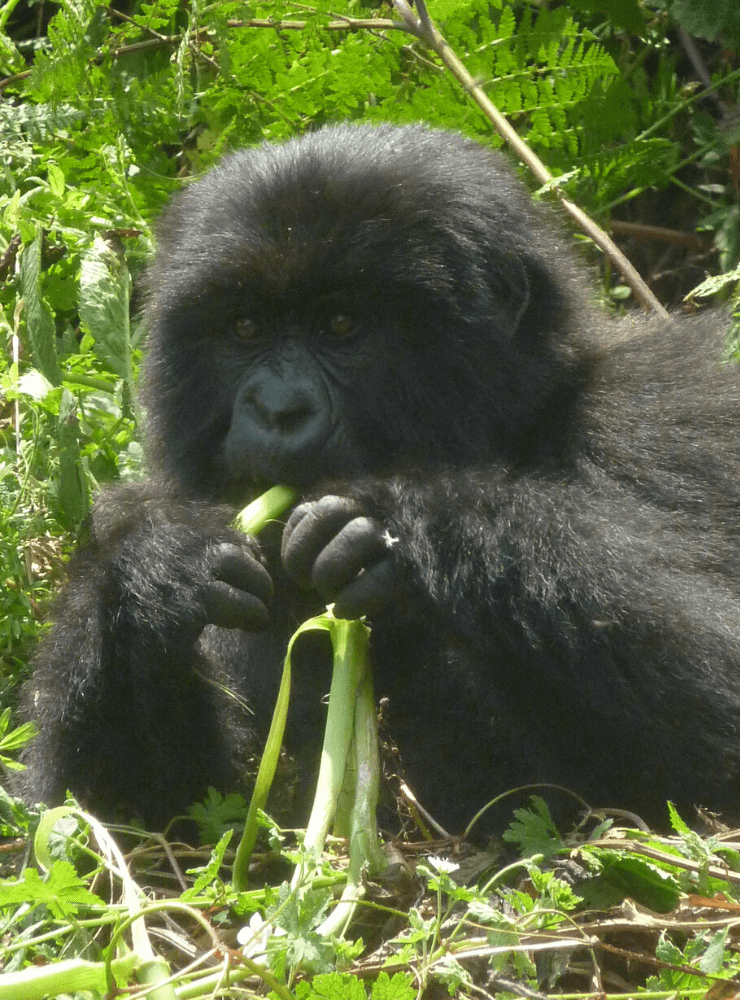 How Difficult is Gorilla Trekking in Uganda & Rwanda?
Not going to lie, gorilla trekking is pretty tough. A medium to good level of fitness is required. I'd say I am medium fitness and it was fine for me. But it is tough on the old knees. I've known some people who weren't very fit to really struggle.
If you want some help, you can hire porters (around $15 per porter, per trek + tip) to help you either by carrying your bag or sometimes holding your hand on the difficult bits.
As Stacy points out in the comments below, hiring the porters provides vital employment and income for the villages in the area, so it's definitely worthwhile.
You literally trek 'through' the jungle, with the rangers sometimes having to cut their way through and create the path. You need to remember that these are called 'mountain' gorillas for a reason and the terrain is pretty steep and can be slippery, especially in the rainy season. Good hiking shoes/boots are essential.
If you have limited mobility, you can hire a 'gorilla chair' and the porters can carry you. So most people will be able to go gorilla trekking whatever your fitness level.
It also becomes more difficult when the gorillas are moving too. They're pretty fast at moving through the jungle, so trying to keep up with them takes quite some effort.
If your fitness isn't the best, you can request at the gate to be put in a group to see one of the nearer families. It's not always possible, but you can ask.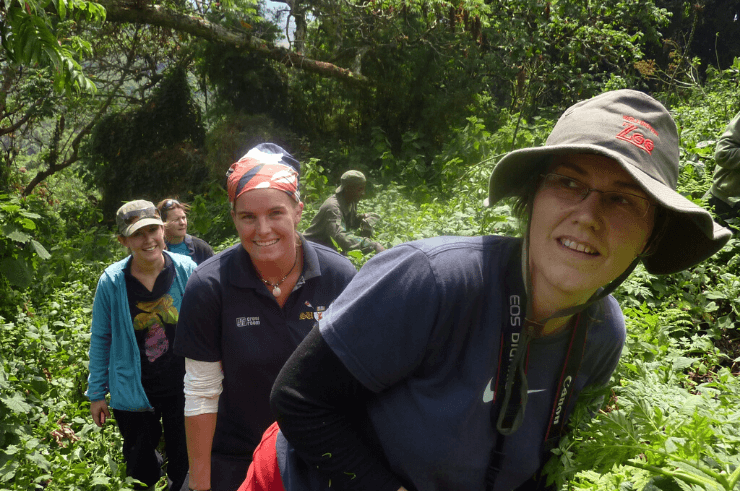 The Best Time of Year for Gorilla Trekking in Rwanda & Uganda
You can gorilla trek all year round, however the best time is during the drier seasons of June to September and December to February.
You can still trek during the rainy or offseason, but it is more difficult and can be slippy underfoot. Although in the offseason, the permits are sometimes cheaper!
Which Is Better For Gorilla Trekking – Uganda or Rwanda?
They are both amazing and both pretty similar in terms of the encounter but it is said that the gorillas in Rwanda are slightly easier to get to than the Ugandan gorillas. But it really comes down to luck.
When I went, I found that they were both equally tough, but overall, I believe that the gorillas are usually quicker to be found in Rwanda. We found them quickly, both times.
However, the biggest factor in determining where you go gorilla trekking, for most people will usually be price.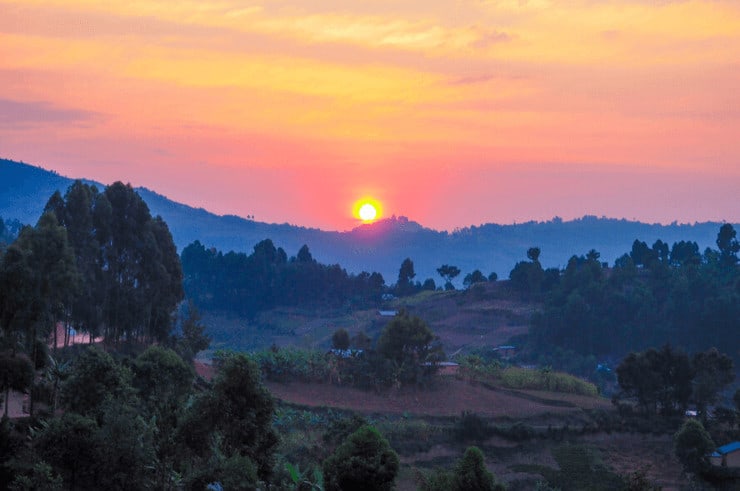 The Cost of Gorilla Permits in Uganda & Rwanda
To keep the number of tourists low, the price of permits is high and most of the money you pay goes into the protection of the gorillas and the forests. So by going gorilla trekking, you are helping to protect the gorillas for the future.
As of July 2020, the current prices stand at:
Uganda: $700
Rwanda: $1500
Quite a difference, hey?`
The above prices are for foreign residents. Ugandan citizens and East African community members can expect a cheaper rate. They sometimes also offer discounts in the off-season.
For the record, the DRC is cheaper, but with visas and other costs, it would probably work out about the same as Uganda, especially if coming from and to Rwanda/Uganda.
With the price of gorilla trekking in Rwanda now being so high (more than double the price of Uganda at the time of writing) and the DRC being a volatile region, gorilla permits in Uganda are in high demand, so you should book as early in advance as possible.
I'm talking 6 months to a year in advance to secure your permits in the location and day that you want.
Other Types of Permit
In Uganda, you also have the option to do a Habituation Experience, where you get to spend 4 hours with the gorillas, instead of 1. Dollar for dollar, this is the most cost-effective option, but again expensive at $1500. There are only 8 habituation permits available per day so will be difficult to obtain at short notice.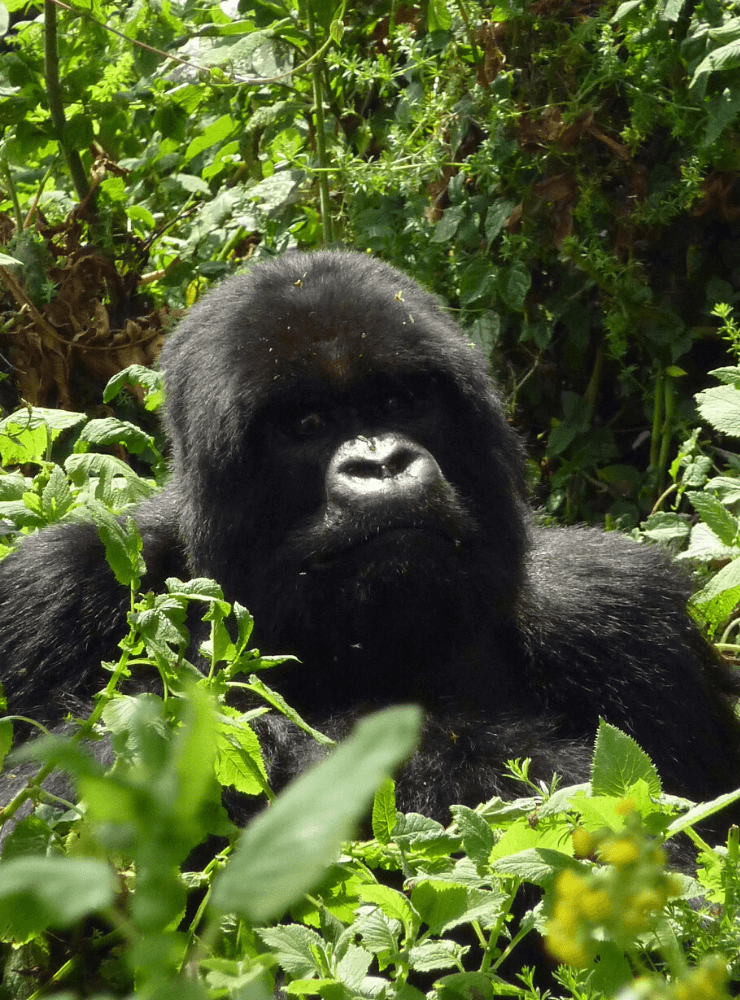 Do I Need a Gorilla Trekking Tour?
You need to go with the rangers/guides for the trek (please don't wander into the jungle alone). But, no, you don't need a tour, you can absolutely book everything independently. It may be cheaper, but it will be a lot more effort.
Alternatively, you can book a package a tour operator. This will usually include everything (permit, transport, accommodation). The transport from a major airport, a smaller airport if flying in or a road transfer from wherever you are.
I would highly recommend my friend Dan and his company Explore Uganda With Dan or come along on my Rock My Uganda, Rwanda & DRC Adventure tour!
So I guess you just need to decide which option is better for you.
How to Book Gorilla Permits in Uganda & Rwanda
To book your gorilla permits independently, you can do so through the below channels.
Uganda
To buy your Uganda Gorilla Permit, you need to do this via the Ugandan Wildlife Authority (UWA) either in person at the office in Kampala, via email or telephone. Once they confirm your permit, you then make a bank transfer to the UWA.
In Bwindi Impenetrable National Park, there are 4 locations, Buhoma, Ruhija, Rushaga and Nkuringo, so just be aware that it is best to book your permit close to where you will stay (as it's quite far and expensive to travel between locations, especially as the treks start at 8am).
They only issue permits from the Kampala office, so if booking yourself, you will need to pick up your permits in Kampala. This is fine unless you were planning on flying into Kigali as this would mean a very long trip out of your way, so you're best flying into Entebbe and/or passing through Kampala overland.
If booking via a company or on a tour, this isn't an issue as they will pick up your permits for you.
Rwanda
To arrange a gorilla permit, I usually do so via the IREMBO website or you can email the Rwandan Development Board on [email protected]. I believe that they also offer discounts if visiting other Rwandan national parks – so speak with them if this is your plan and save some money!
Having trouble? No gorilla permits available on the day you want to visit?
Some accommodation providers can also help you with permits, so you could ask them at the time of booking.
If there are no gorilla permits available on your required day, you could try going through a tour operator as sometimes they bulk buy permits.
Due to the high demand, it is better to book well in advance in Uganda, especially in the high season. I would suggest at least 6 months to a year if possible.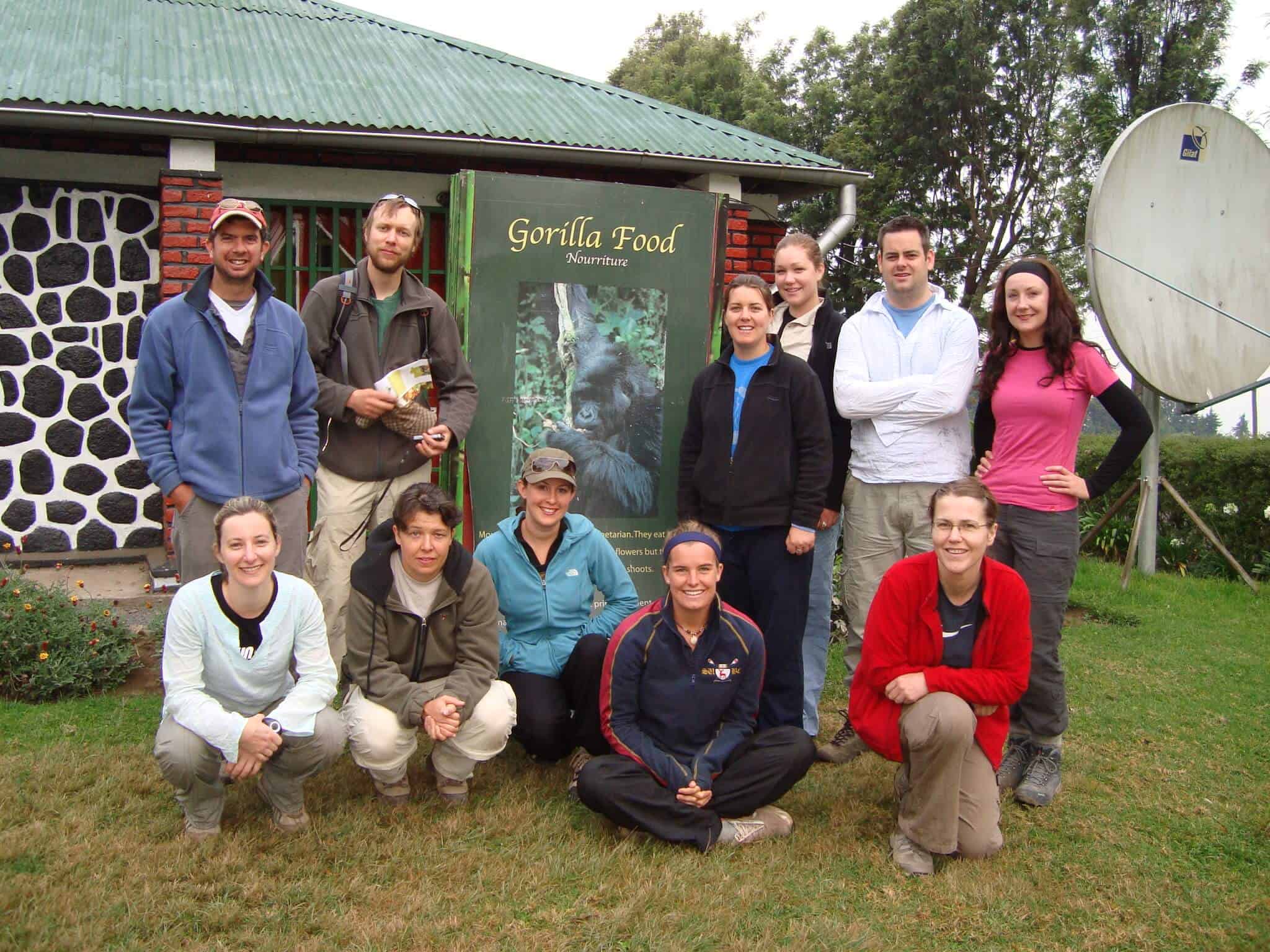 Getting to the Gorilla Trekking Locations
For gorilla trekking in both Uganda & Rwanda, the closest international airport is Kigali International Airport in Rwanda.
However, if trekking in Uganda, you could fly into Entebbe International Airport and make your way from there (especially if you need to pick up your permit).
UPDATE: The land border between Rwanda & Uganda is only open if you have special paperwork, most tour companies can arrange this for you (November 2021).
If travelling overland, public transport is pretty good in countries and will get you pretty close to where you need to be, however, for some of the more remote destinations in Uganda, you will probably need to take a taxi or boda boda (motorbike taxi) for the last part or get your lodge/hostel to pick you up.
If you have your own transport, either a driver or self-drive, you'll be able to get around pretty easily. Just check if a 4WD is needed, depending on where you are staying and the season.
There are also some local airstrips and helipads if you don't want to go overland.
Bwindi Impenetrable National Park, Uganda
Bwindi Impenetrable Forest is the furthest away from either airport and always involves dirt roads for some of the trip, but the airstrips will get you closer.
The Kihihi airstrip is the closest to Buhoma and Ruhija. Kisoro airstrip is best for Rushaga and Nkuringo.
To get from Rwanda (Kigali, Ruhengeri etc) to Bwindi by land, you can cross the Cyanika border or the Gatuna border and there are regular minibuses and coaches that make this journey.
Most will stop in Kisoro/Kabale where you will usually have to change to get to Bwindi. From here you may need to hire a driver/motorbike taxi to take you to your final destination, especially if your lodge is particularly remote.
Your lodge/hostel should be able to organise this for you or you can hire a driver when you arrive. The lodge should also be able to arrange transport to the gorilla trek starting point and back.
Mgahinga Gorilla National Park, Uganda
The closest major town in Kisoro. There are good bus links with the rest of the country (and also Rwanda) and an airstrip if you would like to fly in.
Most people stay in Kisoro (you could also try Ntebeko and Lake Mutanda) and make their way from there.
Volcanoes National Park, Rwanda
The Volcanoes National Park is easier to get to, as it's within a 3-hour drive of Rwanda's capital on good roads and only 20 minutes away from the town of Ruhengeri, also known as Musanze and there are plenty of accommodation options here.
It's easy to get public transport to/from Ruhengeri to anywhere else in Rwanda and Uganda.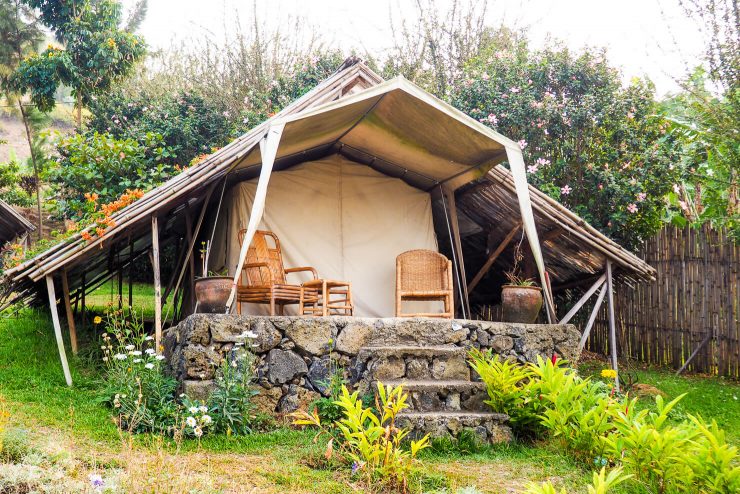 Where To Stay for Gorilla Trekking
I would recommend the following lodges:
Bwindi Impenetrable Forest, Uganda
As Ruhija and Buhoma are quite close, you could stay in one and travel to the other (if you can organise transport). Same for Rushaga and Nkuringo.
Ruhengeri, Rwanda
La Locanda: Really nice guesthouse, located in town.
Amahoro Guesthouse: Cosy and simple guesthouse in a good spot if you are gorilla trekking in Rwanda. Right in the centre of town and close to the Volcanoes National Park.
Red Rocks Rwanda: A spacious and friendly backpacker hostel, campsite, and cultural centre situated in a picturesque valley surrounded by rolling hills with a spectacular view of Volcanoes National Park. A 15-minute drive out of town.
La Locanda: If you're looking for a little more comfort, La Locanda is a lovely place to stay. The owners are Italian, so you can expect some good Italian food.
Bisate Lodge: If you're looking for a super luxurious stay in Rwanda, maybe for a honeymoon or special treat, stay at Bisate Lodge, which is out of this world (and take me with you please).
You can find more options here.
For Magahinga, you can find some options in Kisoro here.
Wherever you stay, make sure it's in the right area to avoid having a long journey in the morning.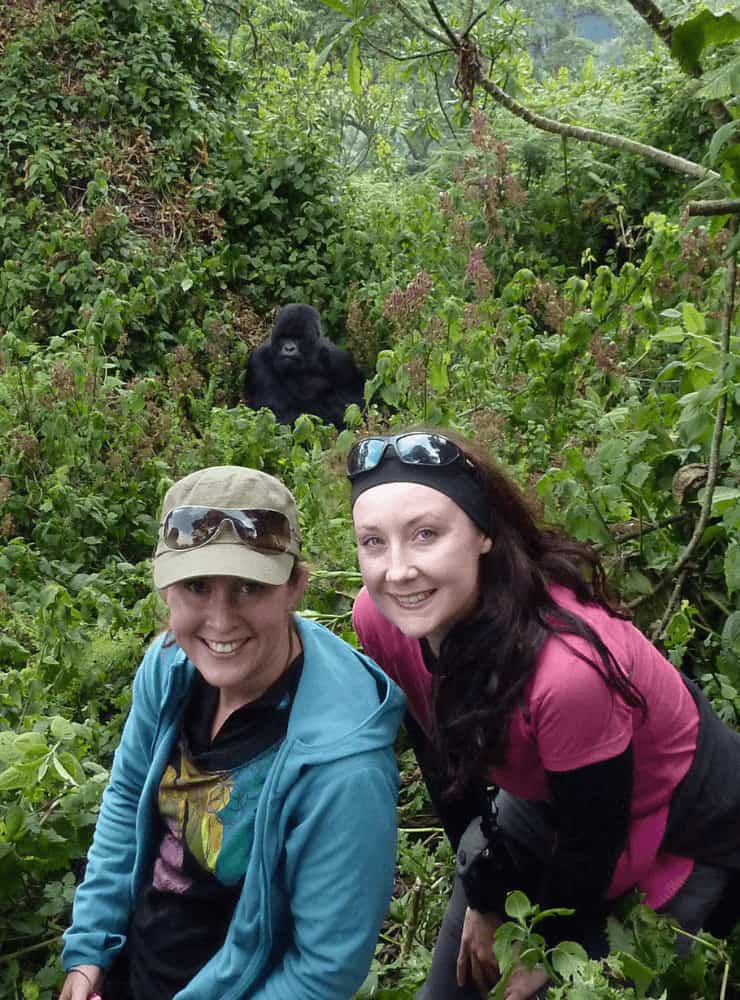 Gorilla Trekking Rules
There are a few important things to remember when gorilla trekking.
Flash photography is not permitted.
Keep your distance. You should stay at least 7 metres from the gorillas, although sometimes they will come up to you.
Participants need to be 15 years and older in both countries.
If you are showing any signs of illness, you will not be able to visit the gorillas. Our DNA is very similar to the gorillas' DNA, so you can easily pass on any illnesses to them. So if you're sick, please don't go.
Tipping Your Guides & Porters
Tipping isn't compulsory but highly expected. The cost of the guides is included in the permit, however, a good tip would be around $15 – $20 split between the group.
To hire porters it is an additional cost of around $15 per porter. For tips, I would suggest around $5 – $10 per porter. On the higher end if they really helped you out.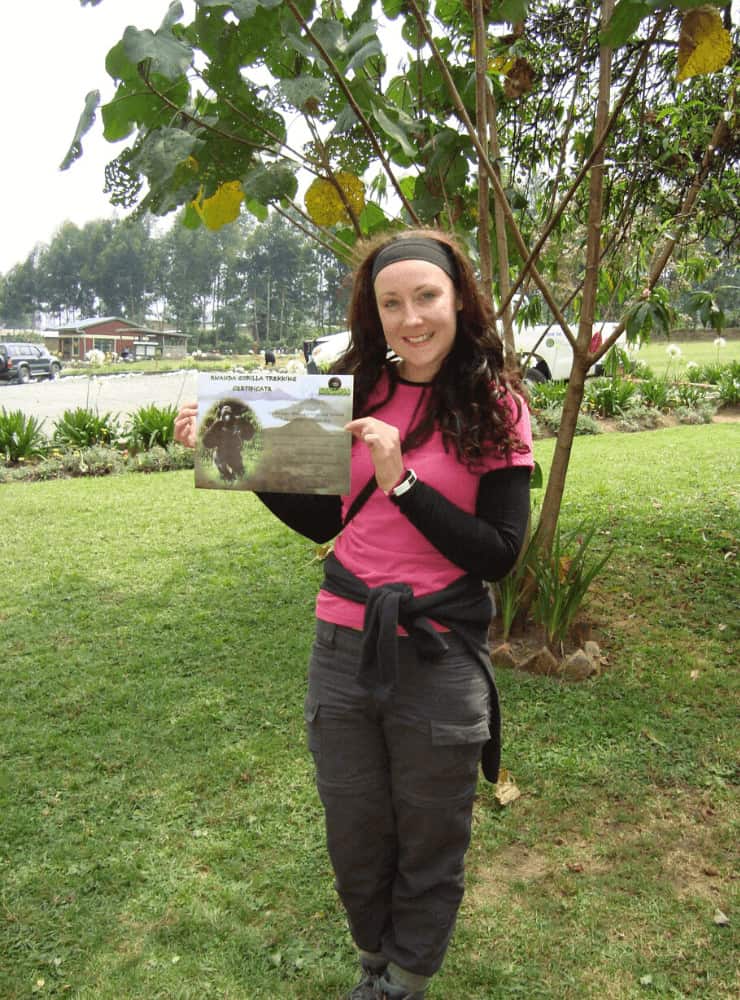 What To Wear for Gorilla Trekking
Passport
Hiking Boots/Shoes
Thick Hiking Socks
Sun Hat
Sunglasses (to protect your eyes from stray branches)
Gloves (not necessary but nice to protect your hands)
Long Trousers (hiking trousers are probably best)
Long-Sleeved Top (but one with wicking properties, like a sports top)
Rain Jacket (you're in the jungle remember)
Small Rucksack
Camera
Bug Spray
Water
Snacks
Sunscreen
Packed Lunch (most hotels/hostels will provide you with this)
Walking Poles (good if you have bad knees, you can hire them there)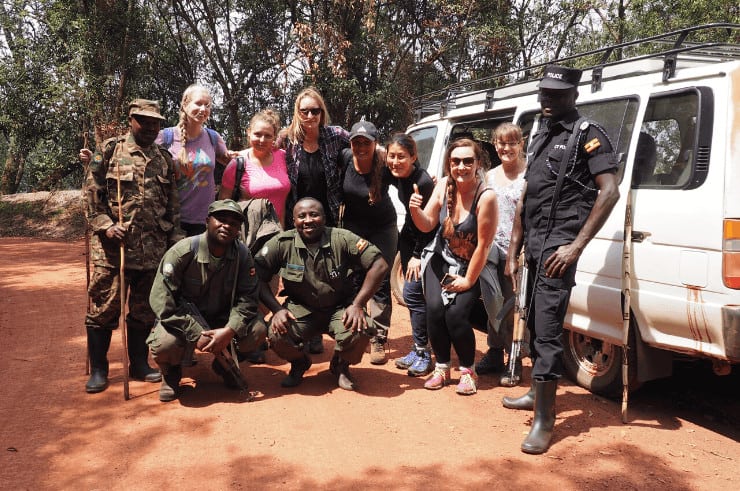 Is Gorilla Trekking Worth the Money?
Yes. 100%! Go and have a once in a lifetime experience! You won't regret it. Plus you'll be helping with the conservation of these magnificent creatures!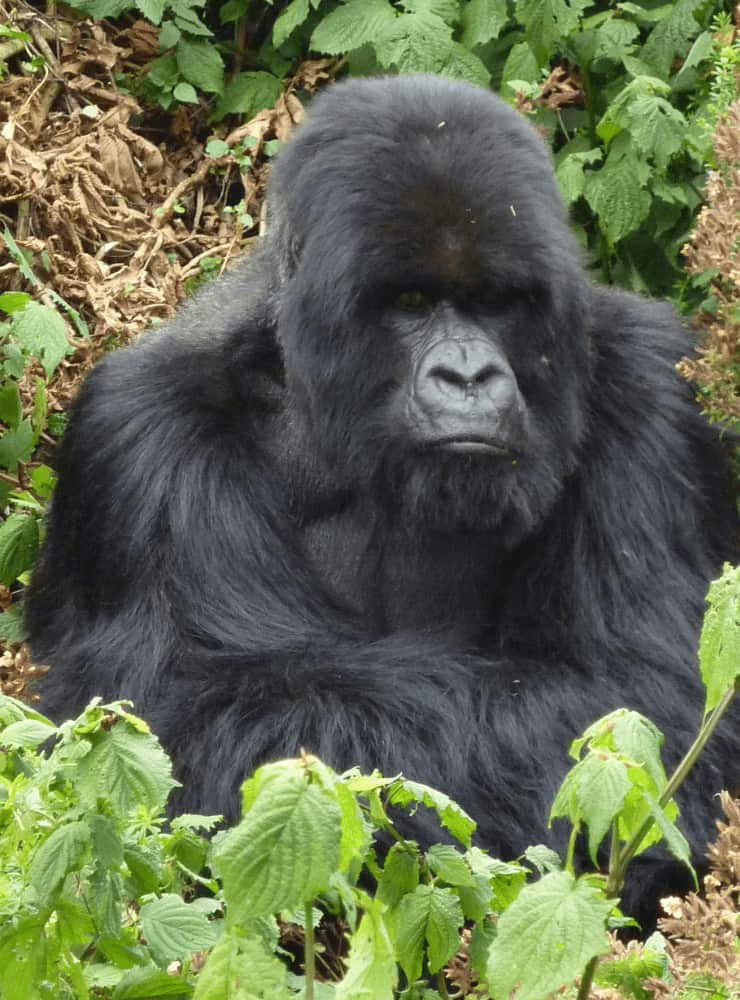 Other Uganda & Rwanda posts you might enjoy…
Any questions about gorilla trekking in Rwanda or Uganda? Leave them in the comments below!
---
Join one of my Uganda & Rwanda group tours or buy my Backpacking Africa e-book!