Last updated on February 3rd, 2021 at 07:34 pm
Our eyes locked. The gorilla stared at me intently, I knew I was supposed to look away, be submissive, but I couldn't, this was too amazing. Frozen to the spot, I waited to see what he would do….
In terms of ultimate travel experiences, Gorilla Trekking in Rwanda must be up there with the best. It was definitely one of the things I most looking forward to the most during my Africa trip and I'd booked my permit as soon as I could, as I didn't want to miss out.
---
Getting Slapped By a Gorilla in Rwanda
---
I was a couple of weeks into my trip with Absolute Africa when we arrived in Ruhengeri, which was to be our base for our gorilla trek. To be honest, I wasn't sure what to expect from Rwanda, a country that had seen one of the world's most horrific genocides, just fifteen years earlier. What I found was a beautiful country. Rwanda is known as the 'Land of a thousand hills' and it really is, with some of the most stunning scenery I've ever seen. You would have no idea of the horror that had taken place a relatively short time ago in 1994.
I'd been obsessed with gorillas since seeing Gorillas in the Mist, which tells the true-life story of conservationist Dian Fossey. Watching the film as a teenager, I never thought I'd one day have the chance to see magnificent primates in their natural habitat.
And now here I was, signing in to the Volcanoes National Park (Parc National des Volcans) in Rwanda. Permits to see the critically endangered gorillas are expensive and limited to only 56 people per day, and it's not guaranteed that you'll see them, so I was hoping today would be my day.
After a short drive, we arrived at the starting point and the eight of us in my group (three friends joined another group), plus our armed guides set off into the forest to look for the Amahoro group. Amahoro means peaceful.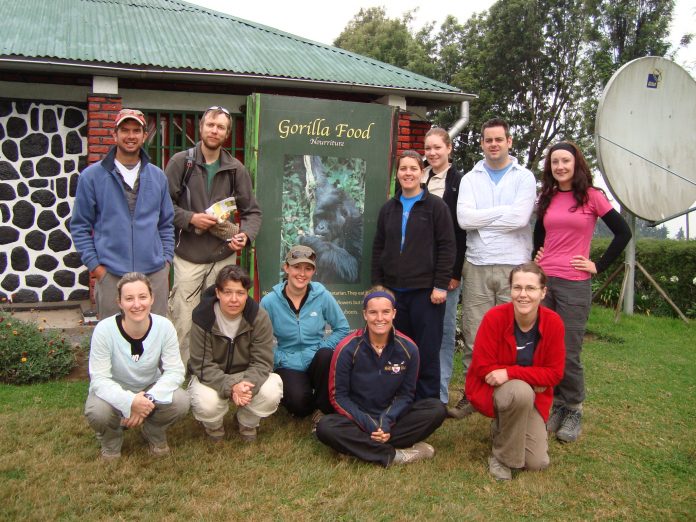 As of December 2012, there were less than 800 mountain gorillas left in the wild. Sadly, even in this day and age they are still at high risk from poachers, who want to kill them and sell their meat, hands, and feet.
What surprised me was how close the gorillas lived to humans and it has been known for the gorillas to raid farmlands. When they leave the protection of the forest they are particularly vulnerable.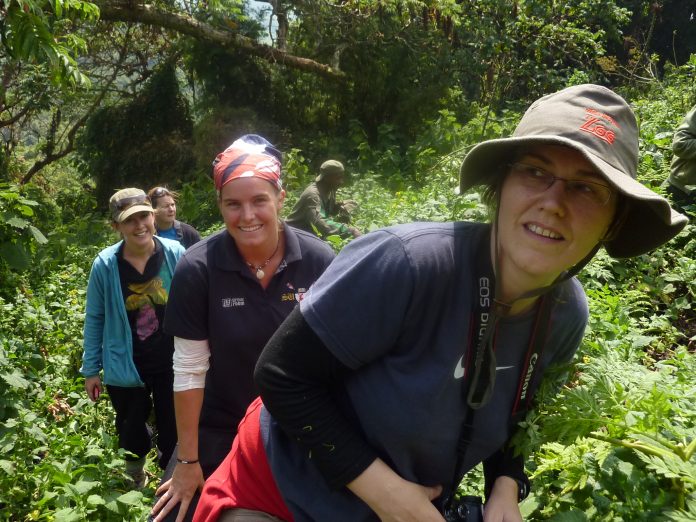 We were in good spirits as we trekked, occasionally resting to take in the spectacular views that appeared every so through the dense forest. The weather was overcast and the air was thick with moisture. We talked about what would happen when we finally met the gorillas. What if they charged at us? We'd been warned by the guards that if that happened to stay still and be submissive. We'd had a similar discussion the night before with my friend Charlotte that went something like this…
"What happens if a gorilla runs at you?" Ali asked.
Without hesitation, Charlotte says seriously "I know what to do. You need to grab a spoon, hold it up to his face and it will get scared by his reflection and run away".
Cue hilarious laughter from the rest of the group. "Where did you get that idea from Charlotte?"
"It's in the Disney film Tarzan. That's a true story isn't it?" More hilarious laughter. I've been lucky enough to be treated to many of these gems since… Charlotte is very entertaining!
We'd been walking for around an hour and a half when we got the signal we'd been waiting for, the gorillas were near. Our guide asked us to be quiet. We waited. The tension and excitement were immense. The guides are amazing. They know the gorillas well by their looks and personalities.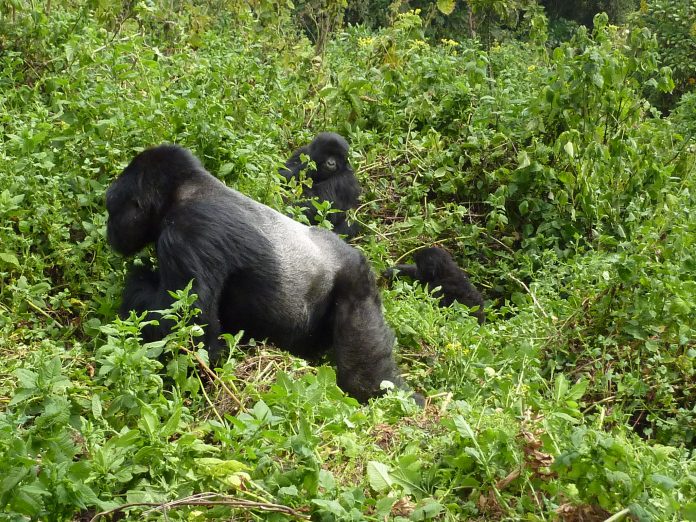 We could hear rustling somewhere nearby. Then as if by magic, they appeared. First what looked as though a couple of females, then a baby and the Silverback (the male head of the troop). God, they were beautiful. The Silverback sat down, positioning himself between us and the little one. He looked us up and down. The baby moved away, but the Silverback stayed put, a grumpy look on his face.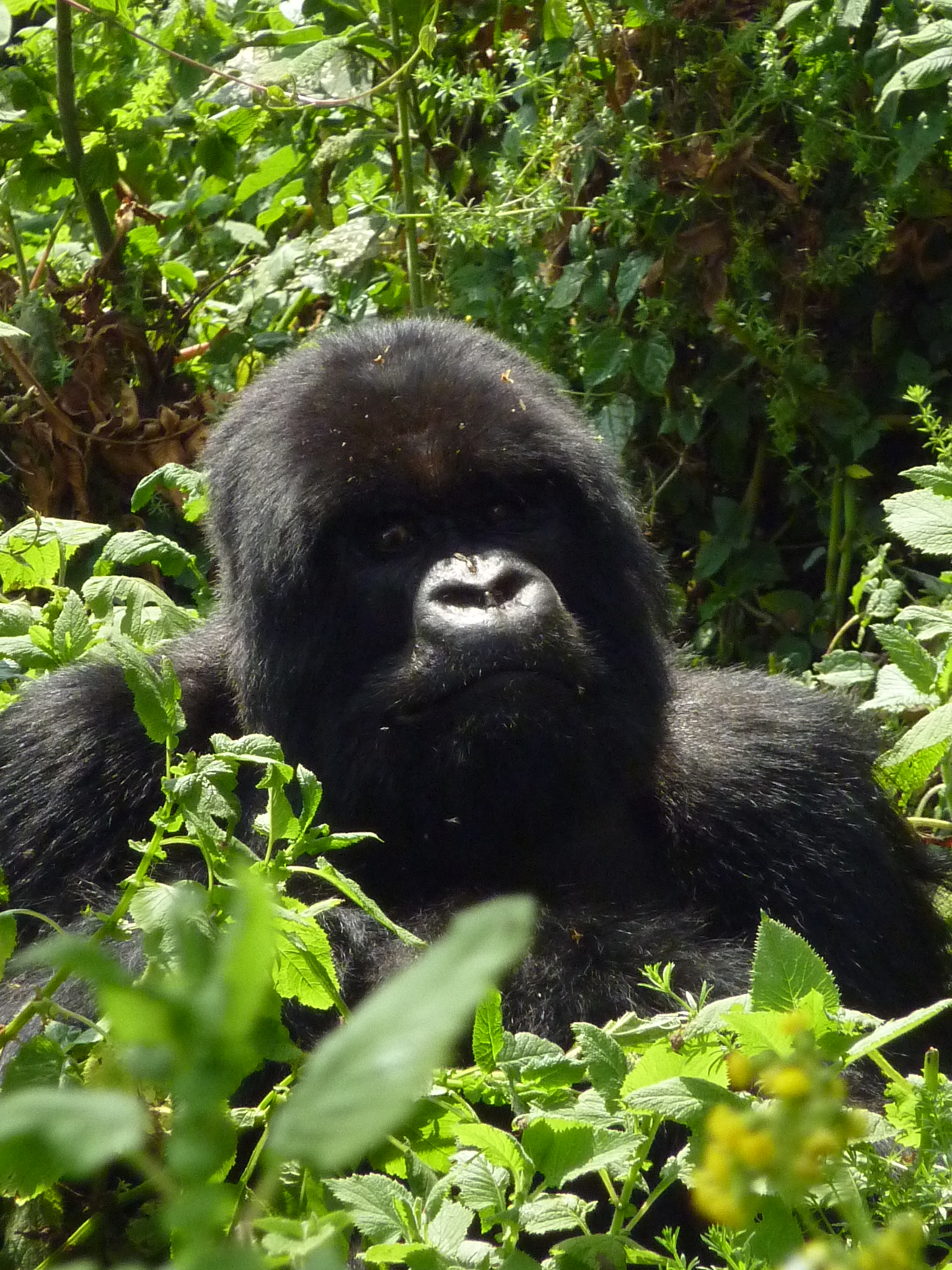 I couldn't believe I was here, at this moment witnessing this. I felt like the luckiest person alive. It was exhilarating, tranquil, and unnerving all at the same time.
We were following the group along a path when we heard a noise up to our left. My friend Denise was about five metres in front of me, and Bec about the same distance in front of Denise.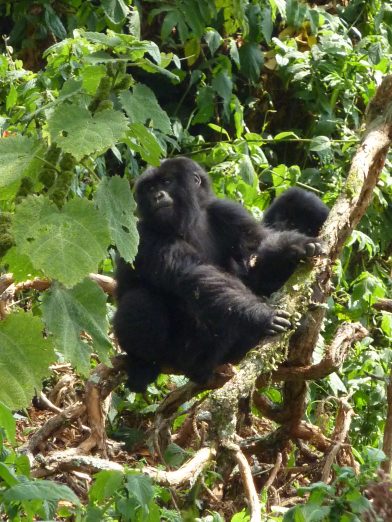 A young gorilla was rolling down the hill towards us. He stopped about ten metres up and looked at me. I stood, frozen, half of me was in awe, excited, the other half was terrified and desperately trying to remember what the hell I was supposed to do if a gorilla ran at me. Where was my spoon??????????????
The gorilla carried on rolling and landed on the path in front of me, looked at me and then ran towards Denise and playfully pushed her over as he ran past her, then he smacked Bec on the bottom and continued down the path and out of sight! Cheeky!!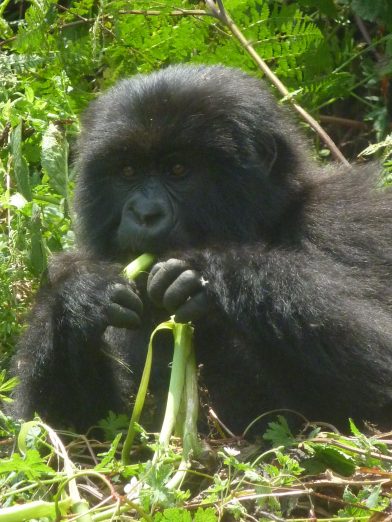 "Oh my God! A gorilla just slapped my ass!" Her voice portrayed her utter shock.
"I am so jealous!" And I still am to this day. I want a gorilla bum smack!
We spent the allowed hour with the gorillas, whispering quietly to each other as we followed them and at times our guides even needed to cut out new paths as they went deeper into the undergrowth. We always kept at a safe distance.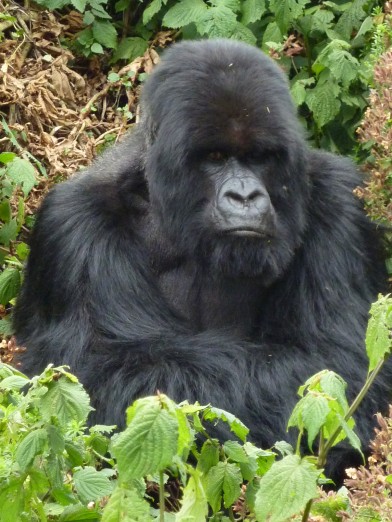 To see these powerful, yet gentle primates up close and see how human they are, I really don't understand how anyone could think of harming them. They were mesmerizing. I could have watched them all day (or longer).
Was it worth the expense? Absolutely!!!
This was a once in a lifetime experience that I will never forget and I strongly recommend that if there's space to add one more thing to your bucket list, please let gorilla trekking in Rwanda be it.
Essential info:
Book your permits in advance if possible, they often sell out weeks in advance. I saw the gorillas as part of my trip with Absolute Africa and they arranged my permit for me.
Permits cost $1500 for non-nationals.
You are not allowed to go trekking if you are showing any signs of illness as gorillas are very vulnerable to human diseases due to our close DNA. Even little colds to us can be very harmful to them.
Trekking can be done at any time of year.
Once you find the gorillas, you have 1 hour with them.
If you'd like to find out more about gorilla conservation, please check out The Dian Fossey Gorilla Fund.