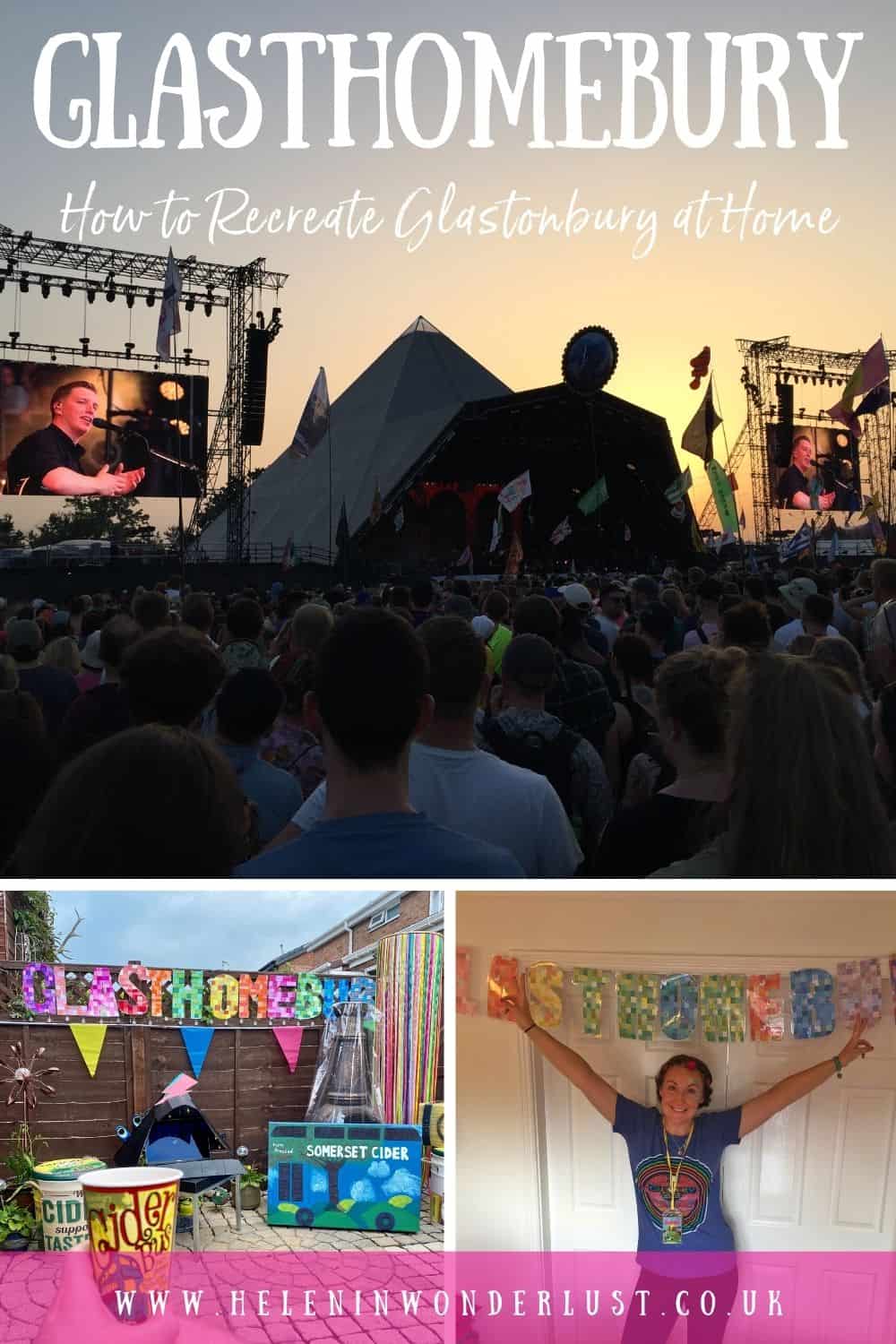 I love Glastonbury Festival… 5 days in a field, with thousands of other people, good vibes, great music, and lots of weird and wonderful happenings – what's not to love?
When I manage to get tickets, it's one of the highlights of my year and if you haven't read it already, head over to my post on essential tips for your first Glastonbury!
But what if you don't get tickets? Or it's a fallow year? Or if stupid Covid cancels everything? How do you fill the Glastonbury-shaped hole in your lives?
Don't worry – all is not lost! You can create your own Glasthomebury!
Those without tickets have been watching the festival on TV and having festival parties for years, but with Glastonbury 2020 being cancelled due to Covid and everyone stuck at home (and in need of cheering up), Glasthomebury became more of a 'thing' and people began to go all out, creating their own versions of Glastonbury in their gardens, whilst raising money for charity.
Let's face it, the odds of getting actual Glasto tickets these days are low, so why not do Glasthomebury on the years you don't get lucky?
And the best bit? You don't have the anguish of ticket day, you don't have the pain of the queue to get in, you don't have to stand up for hours in the rain and you don't have to endure the horrendous drive home. And, you can shower and use a proper toilet!
Sure, it's not quite the same as being at Glastonbury… but it's the next best thing! So here's some inspiration for your Glasthomebury parties.
---
Glasthomebury Ideas: How to Recreate Glastonbury Festival at Home
---
Join Glasto Chat
If you're not in it already, join the Glasto Chat Facebook group.
This is a great place to talk all things Glastonbury, plus you'll find a load of inspiration, tools, encouragement, and help with creating your own Glasthomebury Festival (thanks to the talented and generous people in the group)!
It's also a really great group to be a part of too as people post all kinds of random, funny and useful stuff in there.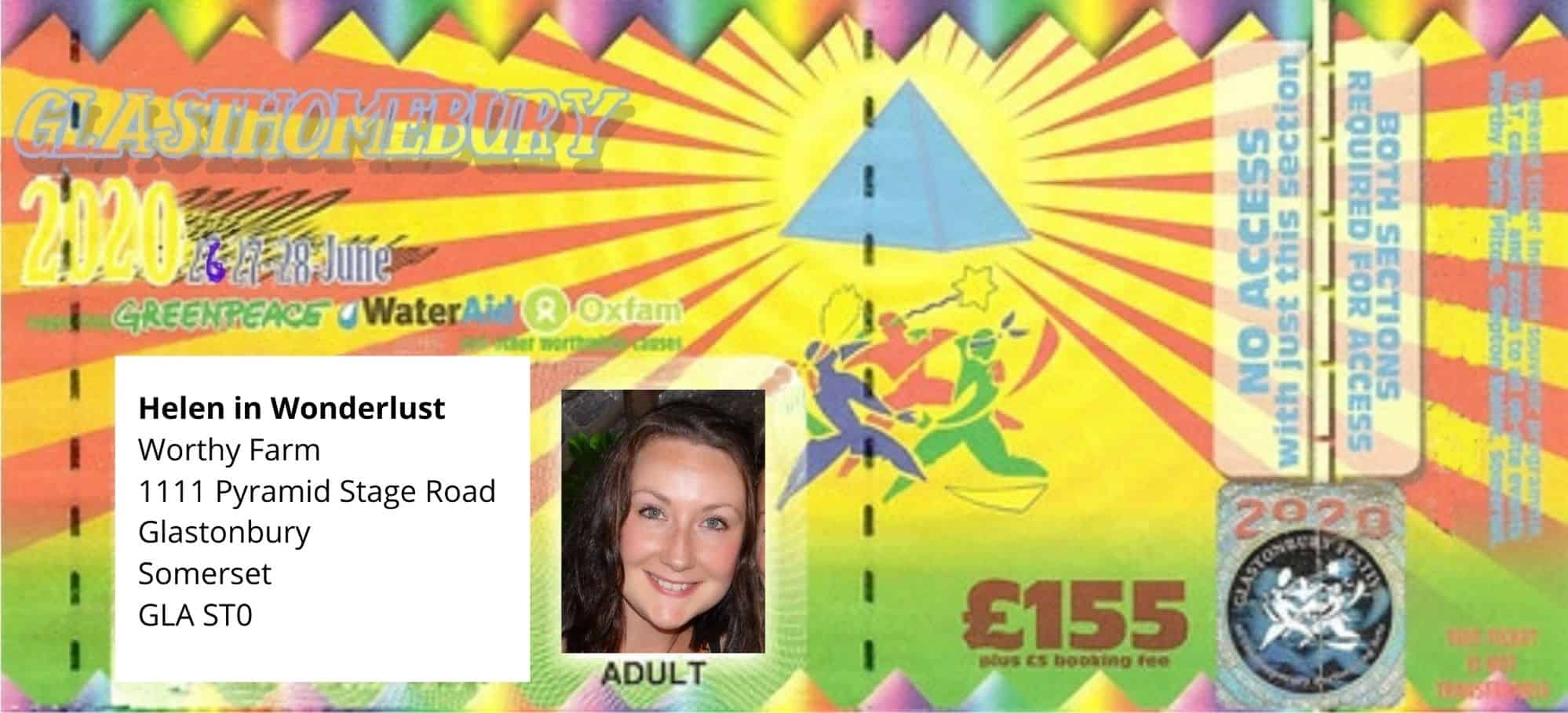 Make Replica Ticket Invitations
One thing that I saw last year was people creating their own Glasthomebury tickets, which were replicas of real Glastonbury tickets (from a few years ago – I wish they were still £155) thanks to Adam Bland! You can use these as your invitations!
You can find his wonderful creations here and then it's pretty easy to personalise them for your friends and family! He made these ones for 2020, but if he (or anyone else) makes new ones, I'll add them into the post!
He also did some Glastonbury car park tickets if you really want to go all out! Thanks, Adam!
To add your details and picture to the ticket you will need some kind of editing tool (I recommend
Canva
as it's free and easy to use. The pic above took me less than 2 minutes to do. You could also maybe use something like
Photoshop
,
Photopea
or
PicMonkey
).
Here's how to do it on Canva:
Right-click on the image of the blank ticket that Adam has posted in the group to save it on your computer.
Open Canva.
Choose 'Create a Design' in the top right-hand corner.
Click 'A4 Document'. If you can't see that option, use the search bar and it will appear.
This will open up a blank design.
On the left, click on 'Uploads' and 'Upload Media' to upload the ticket image. Once it's uploaded, click on the image and drag it across to the blank page and from the corner, drag it across to fit the space. You should be able to fit 3 tickets on the page, but you can of course do less.
Next, click on 'Uploads' and 'Upload Media' again and upload a picture of yourself or whoever the ticket is going to be for, and then drag it across to the white box. You can crop the picture or change the size by dragging the corners if you need to.
Go to 'Elements' and scroll down until you find 'Shapes' then choose a square. You can change the colour to whatever you want, change the shape by dragging and add some text using the 'Text' tab on the left. You can change fonts too.
Once you've done one, you can copy and paste it below to use the same template for your next one. You will just need to highlight all the elements to make sure everything copies.
Once done, click on 'File' (top left) and 'Save.
Then click on 'Download' (top right) and then 'Download' again.
Then you can print your ticket(s) and you're good to go!
Send them to your Glasto crew and get ready to have an amazing time!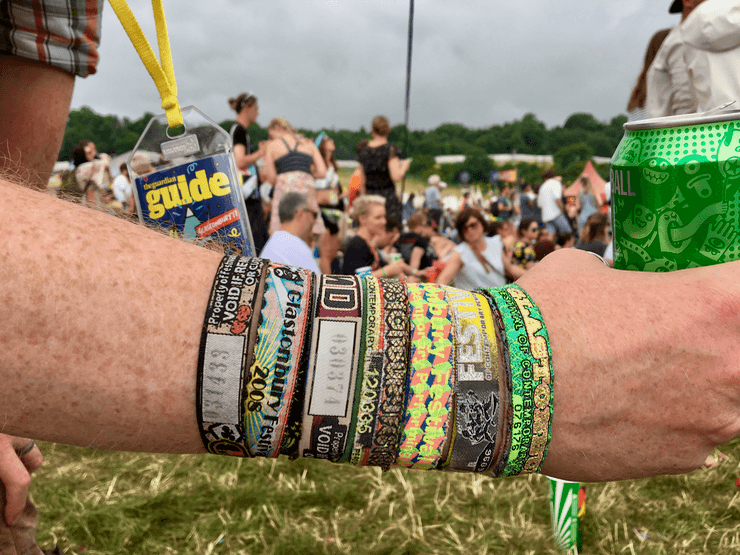 Make Your Wristbands
When your guests arrive, make sure to give them a wristband – no wristband, no entry! And the best bit – everyone can get into the VIP area at your festival.
If you really want to go crazy, Wedfest does some AMAZING fabric wristbands and lanyards which I think are very reasonably priced! Check them out here.
Get Some Signposts
You're going to want to make sure people know the way to all the major festival sites in your house/garden… the Toilets, William's Green, the Pyramid Stage, the John Peel Stage and especially the Bar, so you'll need some signs (even if you haven't created the areas, just stick up the signs)!
Thankfully, Will G-o on the Glasto Chat group has kindly, once again, made some awesome signs that you can put up around your house and garden! You can see his original 2020 post on the Glasto Chat group here. And the updated post for 2021 here.
He makes them in PDF format which you can print off and use to decorate. I suggest that you laminate them, so you can use them for years to come and they'll survive if it rains a little.
The only thing he asks is that you donate to Festival Medical Services. They are an amazing charity that relies on the festival going ahead. They have missed out for 2 years now, so I'm sure they will be really appreciative of any support they can get.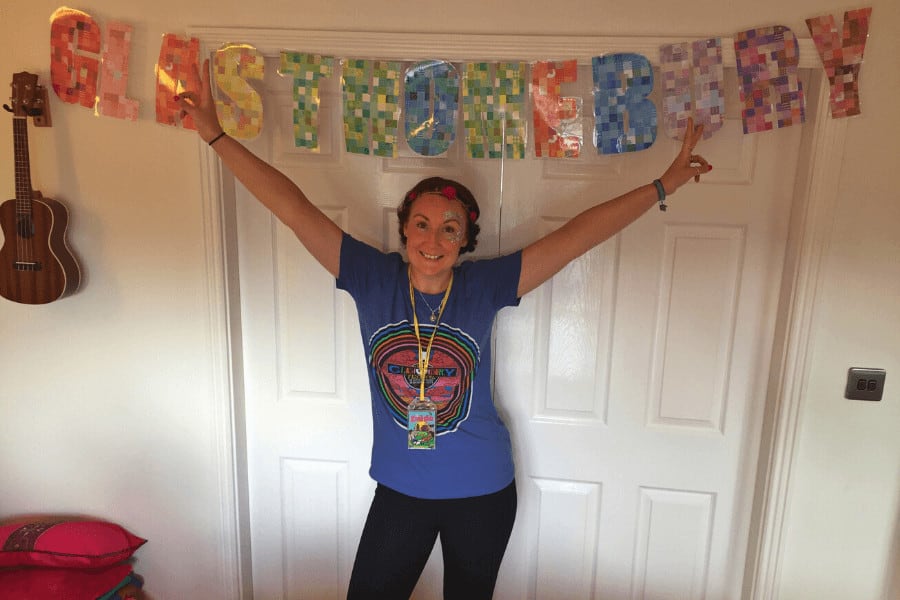 Make Your Own Glastonbury Sign
As well as the more general signs, you're going to need to make your own Glastonbury or Glasthomebury sign.
Last year Stuart Hillston for the Glasto Chat group created some gorgeous letters for us all to use, and I believe he's going to do new and improved ones this year.
If you want to get cracking, you can find last years' letters here and here. Once he adds the new ones, I'll link them too.
Again, I'd suggest laminating them for future use. You can then either use a hole punch and make them into bunting like I did or you can mount them on sticks like the proper Glastonbury sign.
If you really want to make that sign stand out, you can spotlight them for when it goes dark! If you have a hill in your garden to put them on, even better!
Get Crafty
So you've got your signs… but what else can you do to turn your home and garden into Worthy Farm?
Last year people went to town making Pyramid Stages, mini Ribbon Towers, and even a mini version of the Cider Bus. I also saw people making Glastonbury scenes out of Lego!
If you have some rocks, you could make your very own Stone Circle (by the firepit of course as you'll be staying there until dawn to watch the sunrise).
And if you're really ambitious, you can have a go at building your own Arcadia – just don't set your house and garden on fire!
Get Some Decorations & Lights
As well as your props, you're going to want to decorate a bit too. Think lots of colours – flags (check these ones out), bunting (I have this one and I LOVE it), wind spinners (I have these in my garden all year), pom poms (these are great), string lights…
If you want to make your very own version of The Glade – all you need is a disco ball and spotlight or a disco light!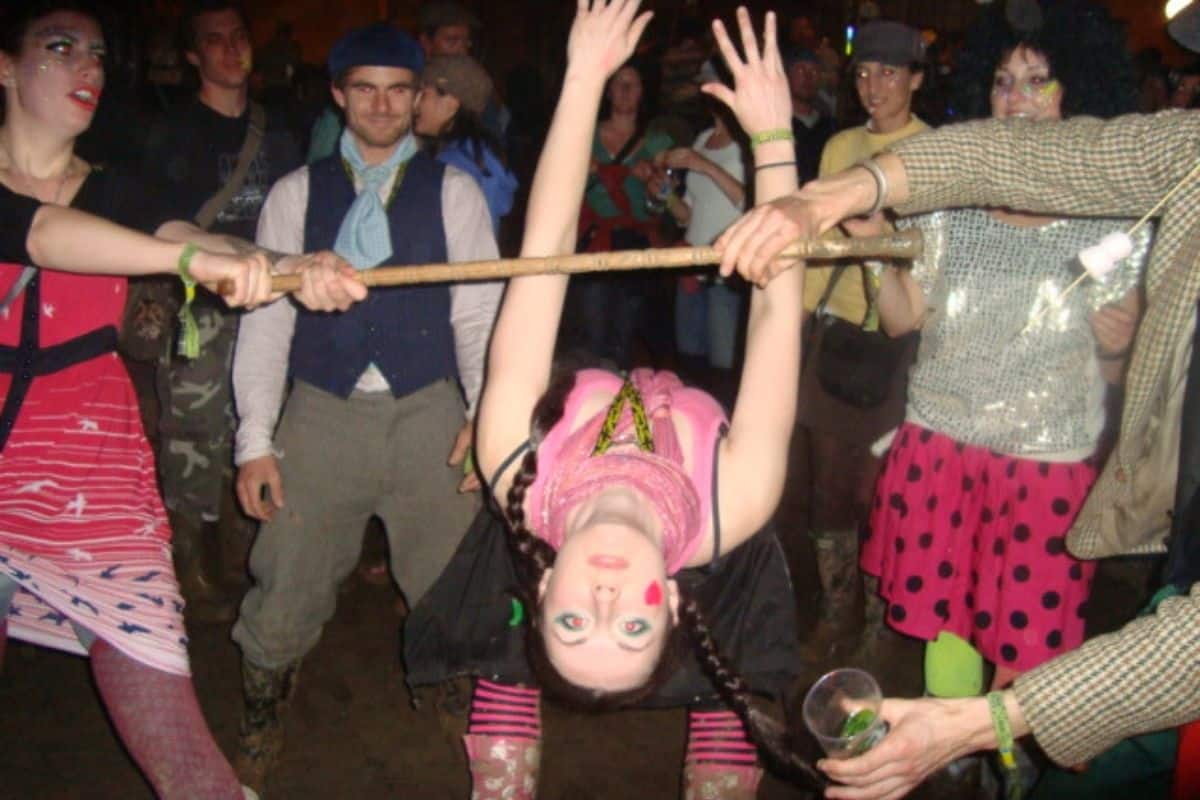 Don't Forget the Kids
Maybe get some garden games to keep the kids entertained in your very own Kidz Field. I'm thinking Twister, hula hoops, skittles, giant Jenga, limbo – whatever you think! The adults will probably enjoy them too.
Kids may get a bit bored towards the end of the day, so maybe set them up a little Cineramageddon room where they can go to chill out when they get tired. Don't forget the popcorn!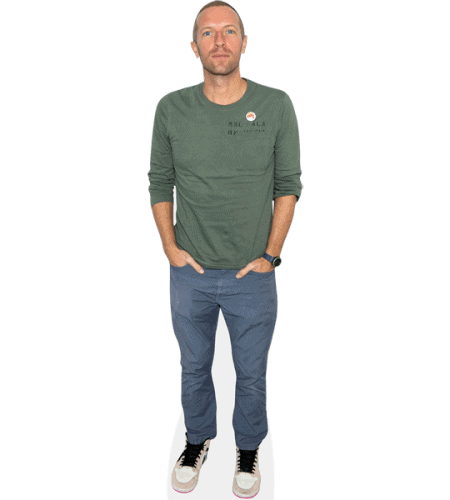 Get a Cardboard Cut Out of Chris Martin
There's a running joke that Coldplay's frontman, Chris Martin pops up all over the place at Glastonbury. So why not make your Glasthomebury super authentic by getting your very own Chris Martin cardboard cutout.
For extra authenticity, sneakily move him around the house and garden all day, surprising your friends. I bet someone screams when they walk into the loo and see Chris Martin standing there! You're welcome. We love you, Chris!
You can buy your Chris Martin cardboard cut out here. Sadly, I couldn't find a Michael Eavis one – but that would be an excellent addition. Ooh, they have a Dave Grohl one…
Set Your Garden Up for Success
If you don't have one already, maybe invest in a gazebo. It's Glastonbury – it's gonna rain at some point. And if it's sunny, it will provide some shade!
You will also need to get some garden furniture if you don't have some already – there'll be no achy legs at your party. Camping chairs will do. And if you have a chiminea or fire pit for when it gets cold later on, that would be a good addition.
And whilst you're at it, why not make yourself a bar and get a hot tub. I mean… maybe a little bit extravagant for one day, but they'll last. I've never seen a hot tub at Glastonbury (only a mud bath)… but this is your festival, you can do whatever the hell you want!
Set Up a Big Screen
Now you're going to need a TV or a projector and screen to watch the headliners.
If you're watching on a year when Glastonbury is on, but you missed out on tickets, you can just watch the festival as it happens on the BBC! But if it's a fallow year or the festival is off for any reason (damn you Covid), the BBC usually show some of the old iconic sets of years gone by or you can find them on Youtube.
You could even set this up outside if you want true Glasto vibes. Now what some people did last year, was to make their TV/projector screen into a Pyramid Stage. What a genius idea! If you're outside, just remember to make sure whatever set-up you have is waterproof.
Or you could do a hybrid – you sit in the garden and push the TV up to the patio doors!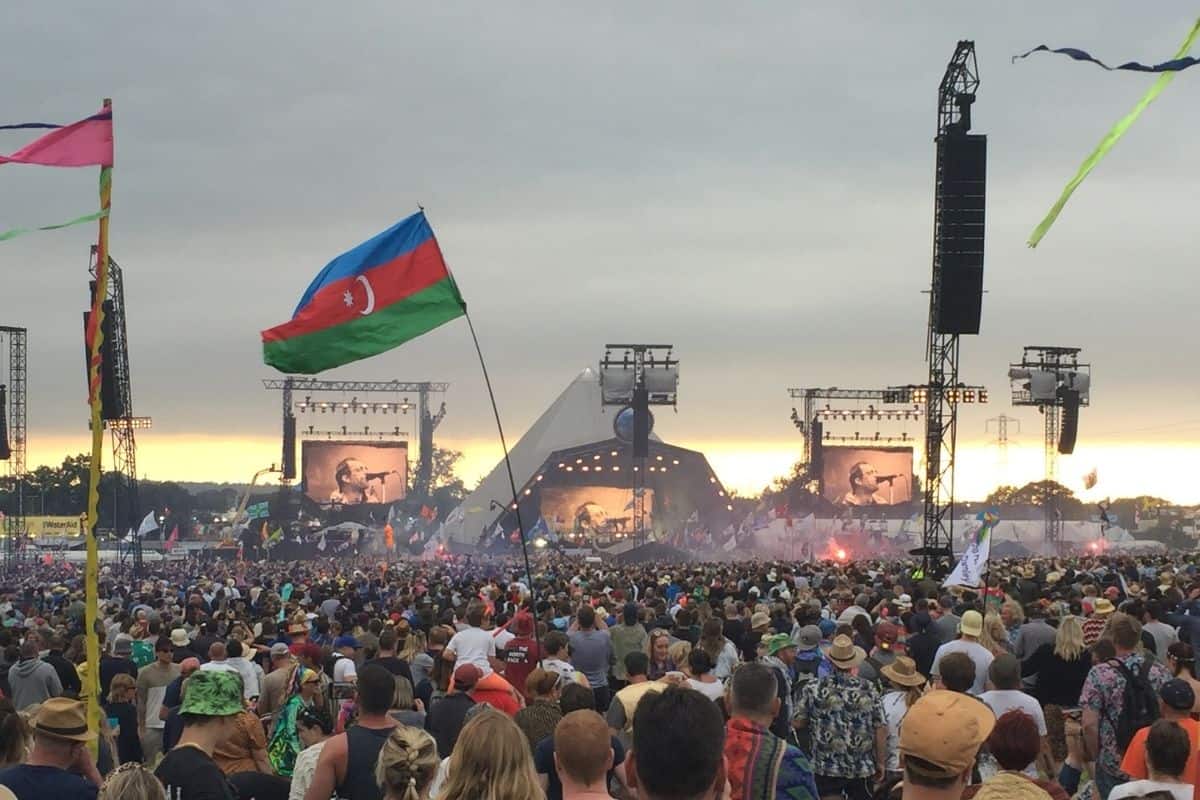 Create Your Playlist
An epic festival needs an epic soundtrack. No pressure here, but it's gotta be good!
Now, you could either…
Make your own epic dream line-up. Put all your favourite artists on the bill, like they're playing sets – have a little break in between each one to go get drinks, pee etc. You could even make a programme/timetable for it and give it out to all your guests.
Or mix it up and play all your favourite songs or some of the best performers from the last 50 years! Make sure Beans on Toast is on there.
Or, there are tons of great Glastonbury playlists on Spotify! My mate Paul who runs the Glastonbury Tips website made a great one for when we went in 2019. You can listen here.
Make sure you have a random power ballads sing-a-long section, mid-afternoon! That's always one of my favourite parts of Glastonbury, Power Ballads at William's Green on Thursday!
You will also need to ensure that your sound system is up to par! I have this speaker and it's great!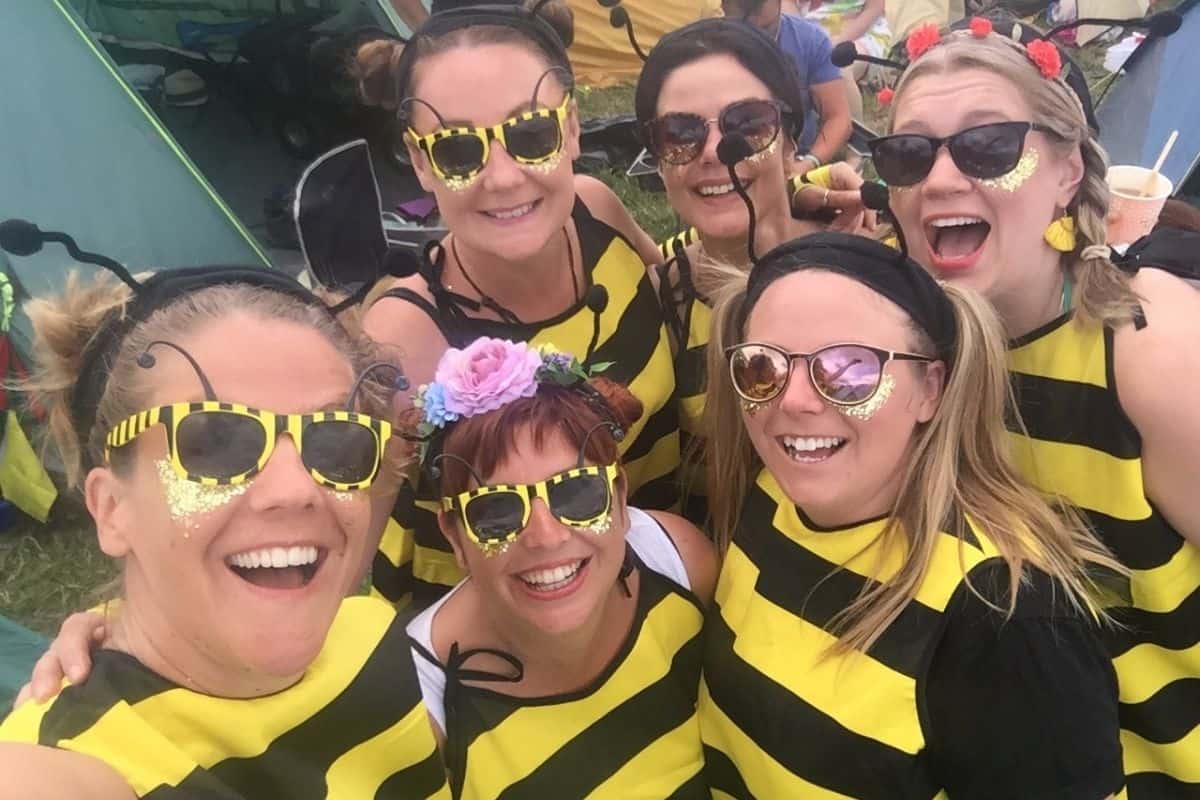 Get Your Outfit(s) Ready
Are you the type of person who rocks up to Glastonbury in a t-shirt, jeans/shorts and a pair of wellies? If so, your outfit's probably sorted! If you don't have an old Glastonbury t-shirt, you can buy them in the official Glastonbury shop.
Or do you like to like to cover yourself in head-to-toe glitter? Or dress up like a bee? If you're the dressing up type, head over to my other post on where to get the best festival clothes, glitter, and accessories from.
And don't forget your waterproof jacket!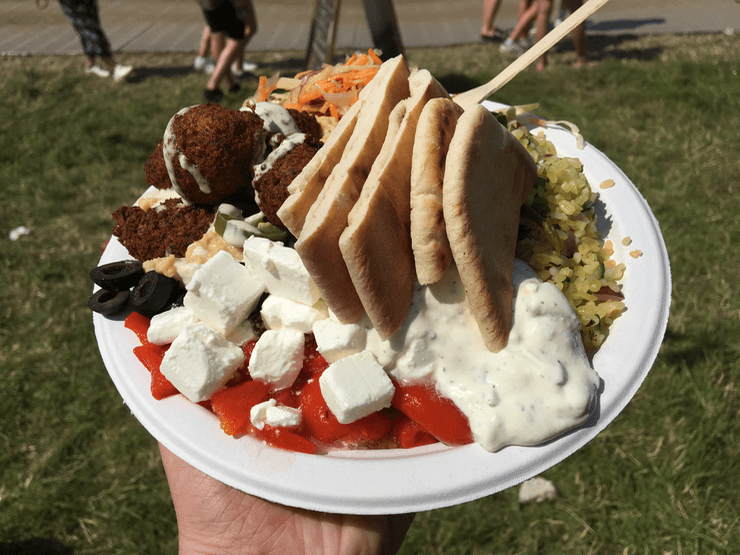 Get the Food & Drink Ready
Start the day with a good old bacon butty and a cup of tea to line your stomach (pint of cider optional).
Now for later, you could just opt for a good old bbq. Or you could re-create some of your favourite dishes from the festival.
Think amazing food truck style food – cheese toasties (I love this recipe from my favourite restaurant in Liverpool), pulled pork, chilli cheese fries, curries, burritos, pie and mash! I once had an amazing roast dinner served in a Yorkshire pudding. Don't forget to get some halloumi too.
You're also going to want to make sure the bar is fully stocked with all your favourites! You could also go around giving out milk from the back of your kid's mini tractor.

Rope in Your Mates to Perform
Got any musical friends/kids who can play an instrument? Set them up a little Acoustic Stage!
Any friends who can juggle? Create a mini Circus Field. You get the idea…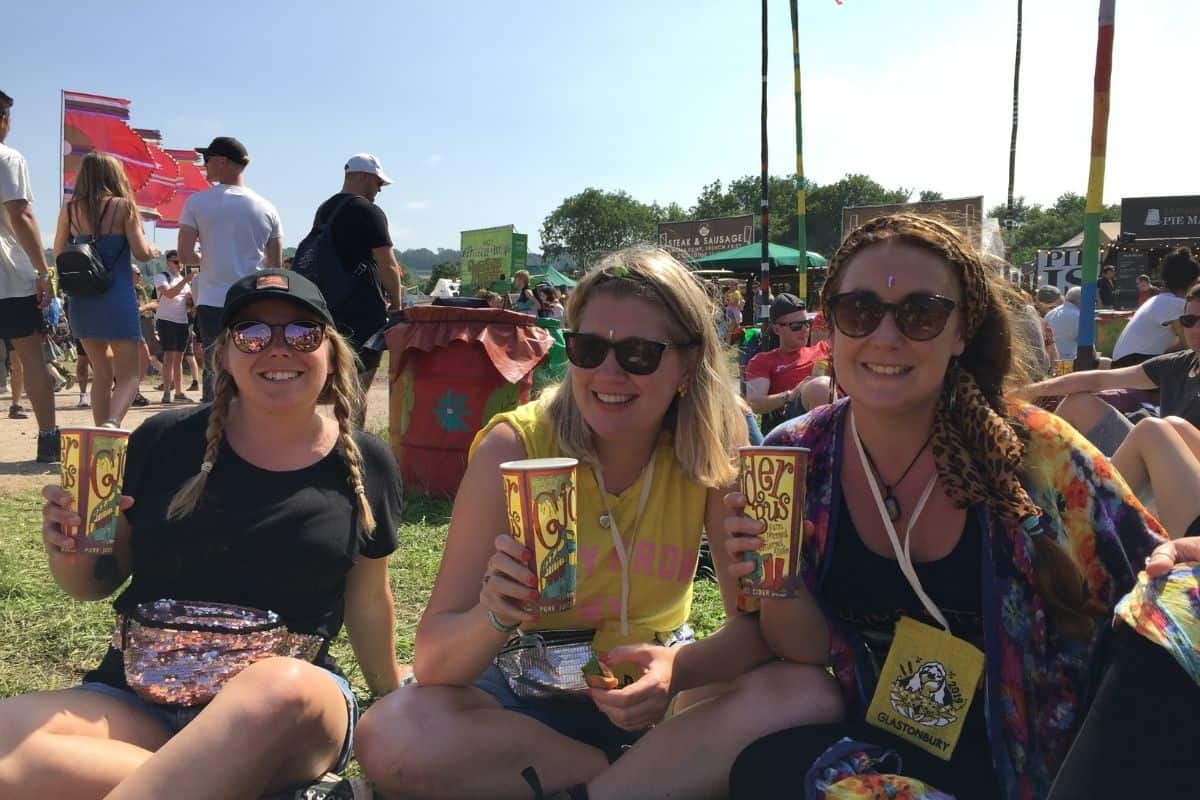 Start Drinking With Breakfast
Is there anything better than crawling out of your tent and hearing the 'tsk' of a can of cider being opened nearby?
Probably, but it's a sound that will always remind me of Glastonbury. Not a pre-requisite, but if there's any time that it's acceptable to have a beer with breakfast, Glastonbury is that time – because time has no real meaning at Glastonbury.
Just pace yourself… Glastonbury is a marathon, not a sprint.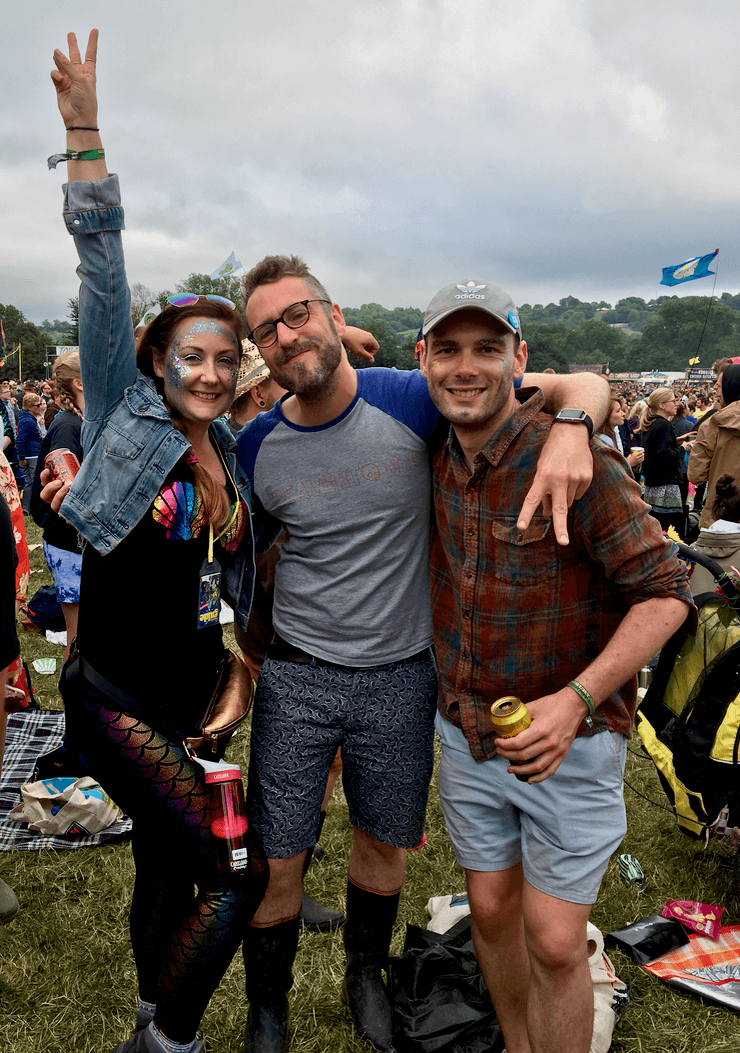 Do a 'Secret' Set
Maybe do a little 'treasure hunt' for your friends.
Start a rumour that The Killers are playing a secret set on the John Peel Stage and then make up some clues for your guests to guess when and where they're on… it may just be a TV set up in your spare room… you gotta use your imagination here.
The Killers did a secret set in 2017 on the John Peel stage (which I missed because it was so packed I couldn't get near) but I did see them live on the Pyramid Stage in 2019 and it was A-MAZING!!!!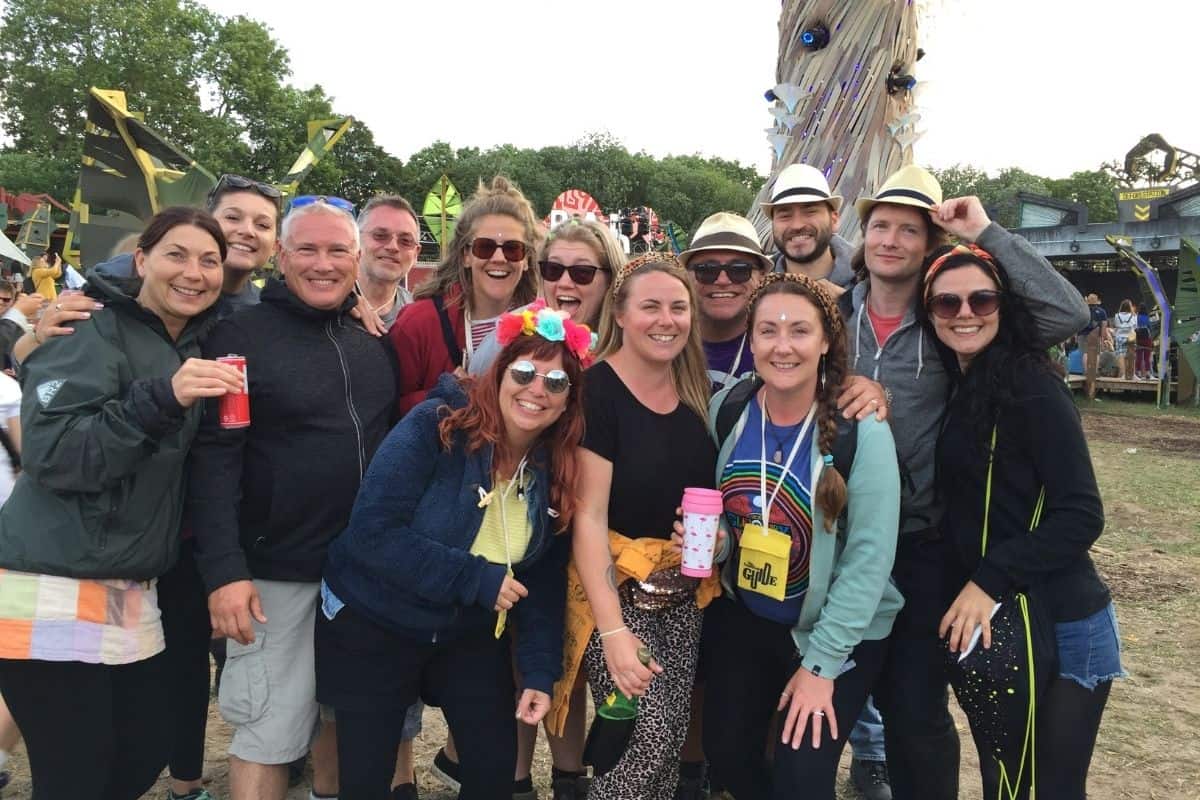 Make Friends With Your Neighbours
Even if you've never spoken to your neighbours before, ask them over for cider, cover them in glitter and then be new best friends for the rest of the day! It's Glastonbury!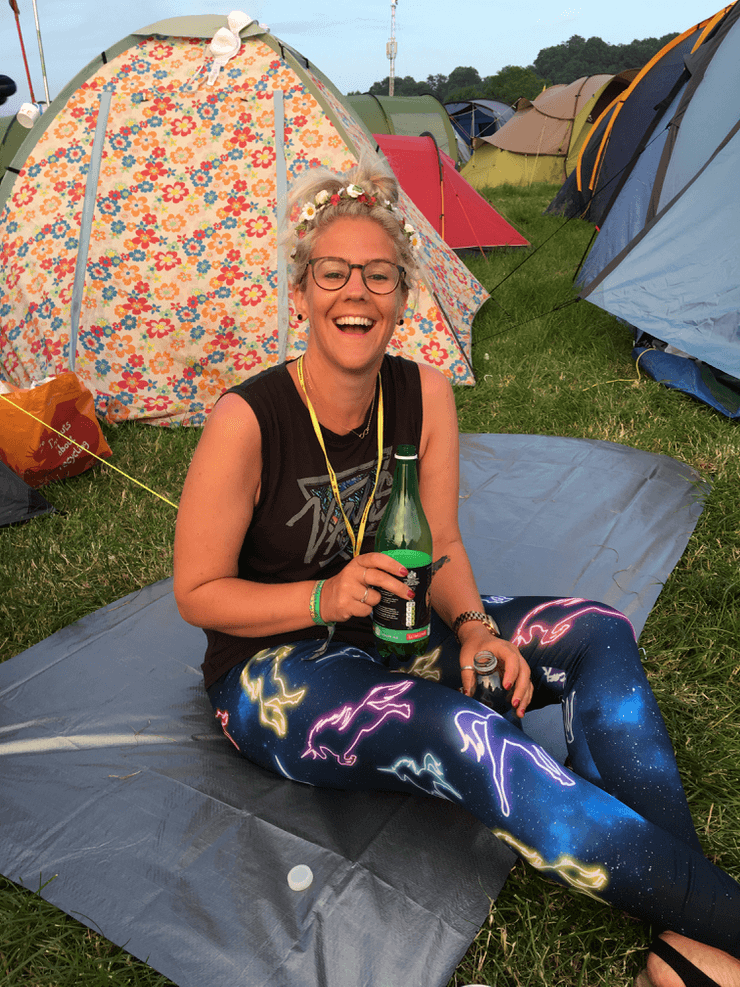 Camp Out in Your Garden
If you really want to get into the spirit, camp out in your garden. Due to the fact you only have to carry your stuff from the house to the garden (and not through miles of mud like we usually do) you can probably create your best Glasto camp set up yet!
Plus, you have pretty much zero chance of accidentally getting into someone else's tent (or someone trying to get into yours)! Glasto glamping, but without the price tag, the over-crowding and the noisy neighbours!
Or you can just collapse in your warm, comfy bed. But where's the fun in that?
Recover…
It usually takes me around 3 days to get over my hangover (sometimes longer), 5 days to get over the Glastonbury blues and a week or so to get my voice back.
One excellent advantage to Glasthomebury is that you'll likely recover much quicker (well, I guess it depends how hard you go), but I'd take the Monday off work… just in case!
Special thanks to Stuart Hillston, Adam Bland and Will G-o for their signs. Thank you to Ria Gibbs, Tess Morris, Ryan Crisp and Fiona Rees for the inspiration! 🙂
I hope you enjoyed these Glasthomebury tips and if you have any more, please leave them in the comments below!