No one can imagine the beauty of the view from anything witnessed in England. It had never been seen before by European eyes; but scenes so lovely must have been gazed upon by angels in their flight."

DAVID LIVINGSTONE
Whenever anyone asks me what my favourite country in Africa is, I usually say Zambia. It was the first place I ever visited in Africa, the first place I travelled solo and I was instantly in love with the place! From the incredible Victoria Falls and the Zambezi River to the beautiful South Luangwa National Park and the friendly people, you will not be disappointed by Zambia!
To help you plan your dream trip to Zambia, I've created this helpful Zambia Travel Guide, with lots of info and resources, useful links, and all of my Zambia blog posts!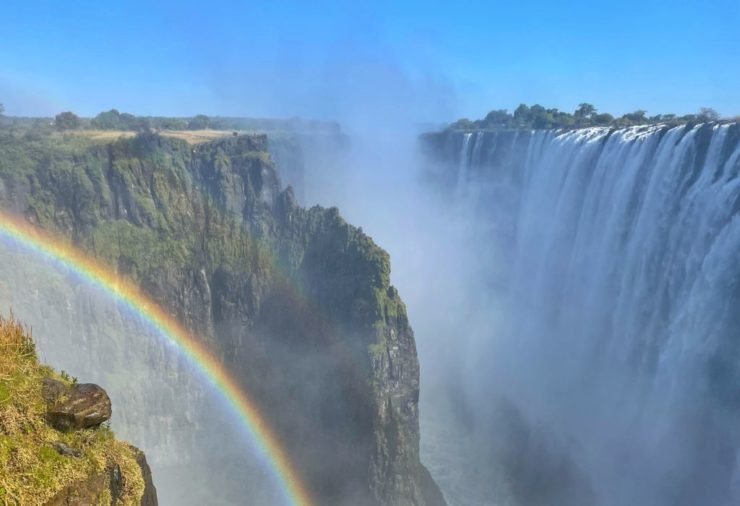 Things To Know About Zambia
Currency: Zambian Kwacha (ZMW)
Languages: There are around 72 languages/dialects spoken in Zambia, with the main languages being Bemba, Nyanja, Lozi, Tonga, Kaonde, Luvale, and Lunda. But don't worry – English is widely spoken and is also the official language and is used in business and taught in schools, making it an easy place to travel for English speakers.
Visa: Most nationalities need a visa to enter Zambia. A 30-day Single Entry Visa is usually $50 (however they reduced this to half price during Covid and it's still reduced) and a Multi-Entry Visa costs $80 (this is also at half price currently). Some nationalities can get these on arrival, and some need to apply in advance. You can also get a KAZA Visa (for $50) when flying into Zambia (or Zimbabwe) or when coming in overland from Botswana. This allows you to travel between Zambia and Zimbabwe on one visa and lets you visit Botswana for the day. You can check your visa regulations here.
Main Airport(s): Kenneth Kaunda International Airport (Lilongwe) and Harry Mwanga International Airport (Livingstone) and Simon Mwansa Kapwepwe International Airport (Ndola).
When To Go: The best time for wildlife viewing is during the dry season between May and October. The rains come between November and April. The temperatures become very hot in October. If you want to see Victoria Falls when it's full, visit between May and July as the water levels start to really drop from August, becoming a trickle by October/November.
Malaria: Malaria is a risk in most parts of Zambia so I would advise that you see a doctor before visiting to ensure you are protected. You can find more information here.
Yellow Fever: Yellow Fever is a low risk in Zambia however you should only need a Yellow Fever certificate if you have visited an endemic area immediately before entering Zambia. You can see whether you need a Yellow Fever vaccination certificate here.
Internet & Mobile: The two main networks in Malawi are Airtel and MTN.
Water: It is not advised to drink the tap water in Malawi, so I would suggest buying bottled water or using a filtered water bottle.
Safety: Zambia is generally a safe and friendly country to visit and crimes against tourists are rare. But I would advise you to take taxis after dark and if you do need to walk at night, keep to busy streets and preferably walk in a group, especially in the cities and towns. And always be aware of the wildlife in the area, it's not uncommon for animals to be seen wandering near where people live or through lodges. Unfortunately, being gay is an illegal and imprisonable offence in Zambia, so please be aware of this when visiting.
What to Pack: You can see my complete Africa Packing List here.
Plugs: In Zambia, they usually use Type G, British 3-pin style plugs.