Last updated on August 2nd, 2022 at 01:38 pm
Livingstone in Zambia is my favourite place in Africa.
It's the place where I started my Africa travels (back in 2009) and where I worked as a tour guide (in 2012). It's a place full of culture and natural beauty. It's the home of Victoria Falls. It's even known as the 'Adventure Capital of Africa' due to the number of adrenaline pumping activities on offer.
Whether you are passing through of staying for a while, my comprehensive guide should make sure that you have a safe, fun, cultural and unforgettable trip of a lifetime!
Livingstone, is named after David Livingstone, thought to be the first European to set eyes on the Victoria Falls which lie just a few kilometres awy from the town. In describing their beauty in a letter back home he wrote:
"No one can imagine the beauty of the view from anything witnessed in England. It had never been seen before by European eyes; but scenes so lovely must have been gazed upon by angels in their flight."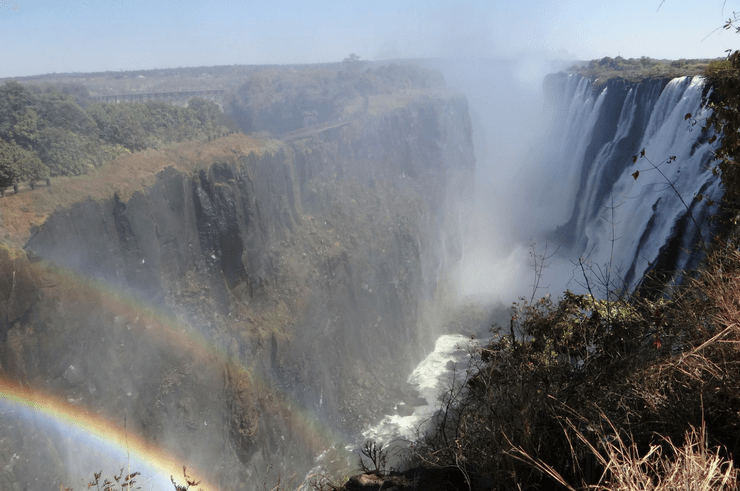 He wasn't wrong. Known locally as Mosi-oa-Tunya (The Smoke That Thunders), Victoria Falls is a sight to behold. But there's so much more to Livingstone. Zambia, once known as Northern Rhodesia, is a former British colony, and the British feel is very much still evident.
Livingstone, Zambia – General Info
Capital: Lusaka (around 6 – 7 hours drive from Livingstone).
Language: English, Nyanja "" there are over 72 languages/dialects used in Zambia so English is the most common language used.
Visas: Visas are required to enter Zambia. Single and double entry visas can be obtained at Livingstone airport, border crossings or the local Zambian embassy elsewhere. Multi-entry visas must be obtained and paid for from an embassy in advance. If you are travelling via train from Tanzania to Kapiri Mposhi in the north before you make the trip down to Livingstone, I would advise that you obtain your visa before you board the train.
A transit/single entry visa is $50, double/multi entry is $80. If you are just visiting for the day to visit Victoria Falls from Zimbabwe, you can obtain a visa for $20 (but you must leave via the same border).
You can also get a KAZA Visa at some entry points (Kazungula an which allows entry into both Zambia and Zimbabwe (and day trips to Botswana).
Visa fees must be paid in US dollars, so make sure you have this ready when you arrive. Double entry visas at the airport are subject to availability and I have known them to run out from time to time (which means having to fork out another $50 when you come back from your trip to Botswana etc).
Departure Tax: If flying out of Livingstone airport, departure tax is $25 and security tax is $5. Most airline tickets incorporate this into their price. However, if they don't you will be asked to pay in Zambian Kwacha.
Currency: Zambian Kwacha.
After the removal of a few zeros in 2013 the ZMK became ZMW. The current exchange rate is around 16 ZMW to $1 approx.
Currency exchange is available at the airport, on the main high street (Mosi-oa-Tunya Road), as well as at Shoprite and some hotels. As with most African countries, I advise that any dollars you take need to be new looking banknotes dated after 2002 (dirty/torn notes might not be accepted). You will receive a better exchange rate for higher dominations.
If you are coming from the US, bring dollars only. If you are coming from Europe or elsewhere, bring a mix of dollars (for visas) and your own currency to save being stung for the exchange rate twice.
ATMS/Credit Cards: Credit cards are accepted at many of the larger hotels and tourist activities. Visa is widely accepted, whilst other credit cards are hit and miss. Let your bank know that you will be travelling to Zambia to ensure they do not block your cards. There are ATMs at the airport and at banks on the high street.
Budget: Africa can be an expensive place but you can make savings by camping/staying in dorms, eating locally/cooking for yourself and using local transport. Overland tours are a great budget option and they take away a lot of the hassle.
Below I have set out approximate prices for accommodation and activities to help you plan your trip. I've done this in dollars, rather than kwacha to help you budget. Just be aware that prices can go up (or down), due to fluctuating exchange rates so factor in a few extra spends.
Sunset: The sun sets early in Zambia, between around 6pm – 6.30pm every night.
When To Visit Livingstone
Dry Season: April to October (it's cool and dry between April and August, and hot and dry in September and October).
Rainy Season: November to March.
I would recommend that you visit Zambia in the dry season. In the rainy season, many camps close and some of the dirt roads (of which there are many) become impassable. The dry season also makes it easier to spot wild animals. You will often see them along the road on the way to and from the falls, or on the road to Botswana.
White water rafting is best at low water (July – January), and you can only visit the Devil's Pool between late August and early January. And the lunar rainbow is best seen between April and July.
The falls also change dramatically in appearance throughout the year. In May, just at the beginning of the cool dry season the Falls look like this: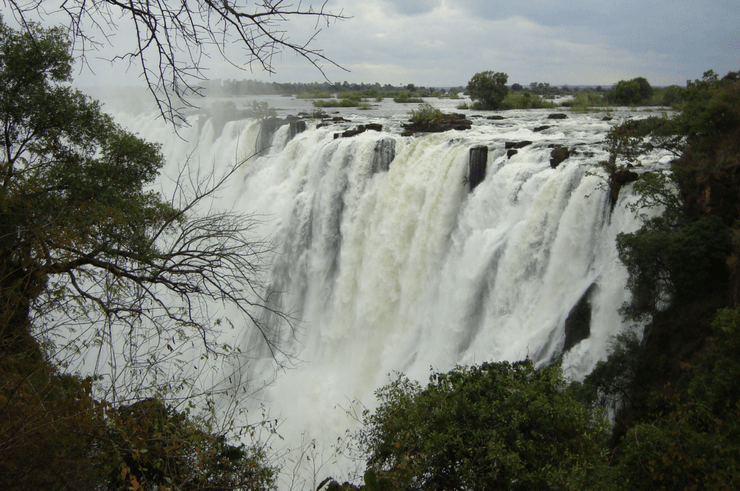 And by September, they look like this: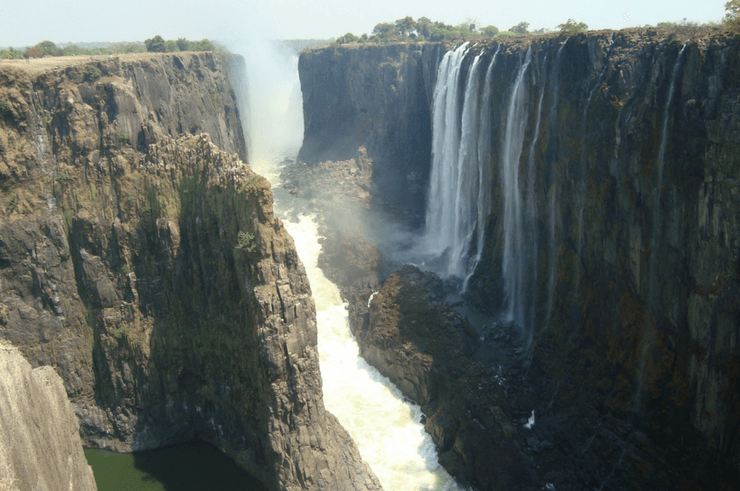 Spot the difference?
For me, July to October is the best time to visit.
---
---
Where To Stay in Livingstone
Accommodation in Livingstone ranges from really cheap, to out of this world expensive. If you are looking for a really romantic stay in Livingstone, one of the luxury lodges on the river could be just what you're looking for. If you want to be in the thick of the local life, stay at one of the more budget or mid-range options in town. If you want the best of both worlds (without the huge price tag), do as I do and visit the top end hotels for drinks/dinner and pretend you're posh for a few hours! Most hotels and hostels have pools!
Budget
Fawlty Towers: In a very central location, Fawlty Towers is a very popular place to stay!
Jollyboys Backpackers: Pretty lively with cold beers and nice food. They have private rooms, dorms and space to camp.
Livingstone Backpackers: Self-catering and braai/bbq facilities. Camping is also available.
Zinga Backpackers: Centrally located, great staff.
Grubby's Grotto: My home for most of the time I've stayed in Zambia, I love the tranquil Grotto. It mainly caters for overlanders so you will need to bring your own tent with you. Grubby is a character – tell him I say hi!
Mid-Range:
Zambezi Waterfront: Located near to Maramba River Lodge, outside of the town centre on the Zambezi River, this is a good option if you're looking for riverside romance but without the huge price tag.
Tabonina Guesthouse: Small guest house with a great reputation for friendly staff and cleanliness.
ZigZag: Nice but basic guest house and a good place for brunch.
Olga's Guest House: Their restaurant serves the best pizza in town! (10% discount if you book through your volunteer agency or a church).
Ngolide Lodge: In the town centre, this lodge has a great reputation.
Chanters Lodge: A highly recommended lodge near to the town centre.
Green Tree Lodge: In town but set quite far back off the main road.
Maramba River Lodge: This lodge is around 10 minutes drive from Livingstone towards the falls, is in Mosi-oa-Tunya National Park and overlooks the Maramba River, so you'll most likely see animals from here, gets great reviews.
Chrismar Hotel: An affordable lodge with a nice pool on the edge of Victoria Falls Game Park, just a few minutes drive from Victoria Falls.
Luxury:
Where To Eat & Drink in Livingstone
There are restaurants to suit every budget in Livingstone. Most of the campsites and hostels have cooking facilities, so if you buy your food from the local markets/supermarkets you can easily eat for around $6 per day.
Nightlife is pretty relaxed, but if you are looking to party, there are a number of bars/clubs in town and the hostel bars are often fun! Bottled water, beers and sodas from supermarkets are really cheap. Water/sodas from campsites are around $1, beer is around $2.50. Other alcohol varies.
Olga's Italian Corner: As well as being a wonderful pizzeria, Olga's is actually a social enterprise. All of the profits from the restaurant and the guest house are used to fund their Youth Community Training Center and CeLIM (an Italian NGO). The school provides free training in catering, carpentry, tailoring, plumbing, computer and bricklaying to orphans and vulnerable youths. Many of the graduates end up being employed by Olga's. I've had a lot of pizza in my time, and Olga's might just be my favourite.
Wonderbake: I love the pasties, milkshakes and cakes!
Heritage Site (on John Hunt Way) – I had one of the best meals ever in this little local restaurant in Livingstone. We were served a banquet of nshima, fish, vegetables and meat! One not to be missed! I can't find this place online, so you'll just have to trust me on this one and find it when you're there.
Golden Leaf: Known for their great Indian food you won't be disappointed!
Cafe Zambezi: My favourite spot for a drink with friends!
Fez Bar: A lively place for drinks a good burgers.
Kubu Cafe: Great place for breakfast and lunch.
Local Foods/Drink to Try in Livingstone
Zambia is not really known for the food, and there isn't much in the way of street food but there are a few things I like to have every time I go!
Nshima: Made from mealie meal, this is a maize porridge which is a staple food all across Africa. It's very similar to ugali found in East Africa, pap in South Africa or fufu in West Africa. It can be made to different consistencies, thinner for breakfast, thicker for lunch/dinner. It has a similar taste to grits and when it's thick it resembles mashed potato. It is often served with relish (made of tomatoes, rape/cabbage, onions, groundnuts – usually peanuts), beans and meat/fish. You eat it with your hands and roll the nshima into a ball and then use it to scoop up the accompaniments! It takes a bit of practice, but once you get used to it, you won't want to eat with a knife and fork. The n is almost silent, so it's pronounced more like 'shima'.
Kapenta: Tiny dried fish.
Mosi Lager: Local beer.
Cadbury's Top Deck: So not really a local food, but the best chocolate ever – something I always get when I'm in Southern Africa as it's difficult to get in the UK!
Mrs H.S. Balls Original Recipe Chutney: This is a South African chutney that I just can't get enough of. Thankfully they do sell this in UK supermarkets.
Where to Shop in Livingstone
Supermarkets: There are 3 supermarkets in town, Spar and Shoprite and a larger Shoprite at Mosi-oa-Tunya Square. All have a great range of products and you'll find many things here that you would find at home.
Curio Markets: There are 2 curio markets, one is at Mukuni Park (town centre) and the other is at the entrance to Victoria Falls.
Local Markets: Maramba Market is the place where you can get anything and everything. My favourite things to pick up here are vegetables and brightly coloured chitenge material (the women wear this over their clothes to protect them). There's also a smaller local market in the village of Dambwa. You will pass through here if you take the Local Cowboy Cycle Tour (see below). There's always an abundance of orange squash and oil at the local markets too. If you want to take pictures whilst at a local market, please ask first.
Kubu Crafts: They sell locally made furniture.
Zambezi Jewels: The place to pick up a nice piece of jewellery whilst you're in Livingstone. Zambia is on the copperbelt so there are lots of nice copper jewellery to be found.
Emmah's Wear "" If you are looking for a really special souvenir, get yourself some clothes made with all lovely Chitenge material you bought at Maramba market, visit Emmah's Wear. If you take them a drawing or another item of clothing you want copied they will make it for you. They also sell other products too. You'll find them at Plot 121 Mosi-Oa-Tunya Road. On the right hand side of the road, on the way up to Victoria Falls, before you turn down the road towards Botswana. Prices vary per item. Just don't get the really cheap, stiff material, it doesn't make good clothes.
Things To Do in Livingstone
There are so many activities to do in Livingstone! Here are some of my favourites. Most activities can be booked via your accomodation once you are there.
Victoria Falls: The main reason most tourists visit is to see the spectacular Victoria Falls, a UNESCO World Heritage Site. You can do guided tours for an additional charge, However you don't need a guide. Read my guide to Victoria Falls.
Lunar Rainbow: During the full moon in the high water season, the falls open at night on the full moon and the day either side and you can see the lunar rainbow.
Local Cowboy Cycle Tours: One of the best ways to see Livingstone is taking a Local Cowboy Cycle Tour. The cycle tours fund community projects so your money is going to a worthy cause! You will get to visit a couple of villages within Livingstone, a local market and the school the cycle tours fund. Tour last approx 4 hours. I wrote a post about it here! I'd recommend that you do this rather than book a specific village tour ($20).
The Royal Livingstone – One of my favourite treats is afternoon tea at The Royal Livngstone. It's asophisticated, all you can eat cake fest with views of the Zambezi. Once you've finished your cakes, make your way down to the cocktail deck and watch the sun go down. You can often spot elephants, hippo, zebra, giraffe and lots of ververt monkeys on a trip to the Royal Livingstone (you won't need dinner afterwards). Head down for about 3.30pm – watch out for monkeys stealing your cakes. Enjoy!
Elephant Oasis African Bush Dinners: A touristy but wonderful evening of traditional Zambian food, song, drumming and dance.
White Water Rafting/Kayaking/River Boarding: The Zambezi has some of the most ferocious white water in the world. I went with Zambezi Rafting but you could also try Bundu Adventures and Safari Par Excellence. All run trips from the Zambian side. They do half, full and multi day camping trips.
Canoeing: The calmer waters of the Upper Zambezi make a great spot for a bit of canoeing. However, it's still a thrilling adventure as you are likely to encounter hippo and crocodiles along the way! Half day, full day and multi day camping trips available. I went with Bundu Adventures.
Zambezi Cruise: There are a few different companies offering sunset river cruises. My favourite is Taonga Safaris, but I also like the look of The African Queen. You will most likely see animals on this trip.
Jet Boating: Zoom around the river on a jet boat before getting the cable car back up to the top of Bakota Gorge.
Fishing: Try Victoria Falls River Safaris
Bungee Jumping/Gorge Swing/Zip Line: This all takes place on the ZimZam Bridg.e at Victoria Falls. You can just show up and wait your turn. They offer discounts for combo packages.
Microlighting & Helicopter Rides: One of the best ways to see Victoria Falls is from the air. Try Batoka Sky! You can do both 15 mins or 30 mins flights.
African Drumming: Rob and crew can visit your group at your campsite or hostel and treat you to an evening of interactive drumming. And yes, you get your own djembe drum to play with.
Livingstone Island & The Devil's Pool: Visit the spot where David Livingstone saw Victoria Falls for the first time. From mid-August to early January you can visit The Devil's Pool on the edge of the Falls. Livingstone Island is run by Tongabezi Lodge.
* You can most activities through most hotels/hostels. You can often get them cheaper if you book combo packages. Most activities will include transfers from your hotel.
Things To Do Beyond Livingstone
Chobe National Park: Just a couple of hours across the border in Botswana is Chobe National Park. Famous for the tens of thousands of elephants that live there, plus lots of other wildlife! Tours can be organised from most hostels/hotels/guest houses in Livingstone. Just don't forget to get your double entry visa if you do plan on going and coming back (prices vary, day trips/overnight trips can be arranged from Livingstone from around $190).
South Luangwa National Park: One of my absolute favourite safari destinations in the whole of Africa. The easiest way to get there is to fly via Lusaka, or you can go overland which will take a minimum of two days. If you are making your own way there using local transport, you could just book direct with the accomodation and arrange game drives from there. I recommend Croc Valley Camp. I've used Kiboko Safaris before and they were great. Due to not having enough time, I decided to go on the trip with them, but left a day early made my own way back to Lilongwe, Malawi to catch my flight. I negotiated the price down – don't be afraid to do this if you're making your own way there.
Jungle Junction "" Set on Bovu Island on the Zambezi, Jungle Junction is around 1.5 hours drive from Livingstone. It's a tiny island and eco camp that supports the local community. To get across to the island, you must take a mokoro (traditional canoe) and you can stay in wooden huts or camp. If you want a tranquil stay, visit in the week. For more of a party atmosphere, head there at the weekend when local NGO's and travellers alike head to the island to relax and unwind. They do once daily transfers from Livingstone. Activities include a sunset mokoro ride, fishing, church and school visits and a Zambian cooking lesson. I had one of my best ever weekends here (per person – transfers from Livingstone $30, accomodation from $25, camping $10).
Zimbabwe: Just across the border is Zimbawe. You can visit just for the day to see the Falls from the Zimbabwe side or to visit Victoria Falls town (see visa info above – entry to the park from the Zimbabwe side is $30).
Recommended Volunteer Projects in Livingstone
GreenPop: A tree planting social enterprise. Join the 'Treevolution' by helping GrrenPop plant thousands of trees in Southern Africa.
The Book Bus: A literacy charity that works in and around Livingstone, the Meheba Refugee Settlement and Mfuwe near South Luangwa National Park. They also run projects in Malawi, Ecuador and India. The Book Bus works with local schools and brings the joy of reading to children all over Livingstone! Working on the Book Bus you'll get to visit villages and see rural Zambian life. You might even see elephants and giraffes on the way to school!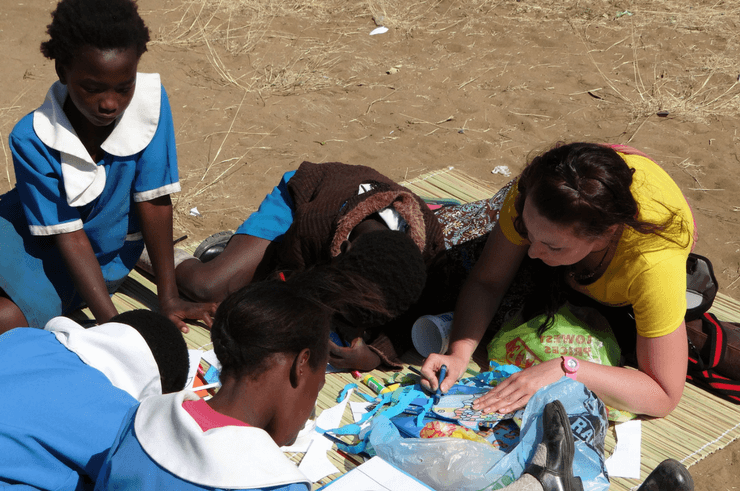 Getting To and Around Livingstone
Flights: Flights into Livingstone arrive from Johannesburg & Nelspruit (South Africa), Nairobi (Kenya) and Lusaka (Zambia).
Busses: The Mazhandu Family Bus Service and Shalom are two reputable companies. A new bus station is being built, which was due to open in April 2013, but is still not open yet. Busses run between Livingstone and Lusaka and other towns in the country, South Africa and to the borders with Namibia and Botswana. The busses leave from a street known locally as 'second class' – not sure if it even has a name, but ask anyone and they can point you in the right direction.
Taxis: Livingstone is not very big, so the easiest way to get around the centre of town is by walking. However, if you are visiting the Falls or one of the districts, taxis are everywhere. They used to be all blue with a red licence plate, but now they can be any colour, as long as they have a purple stripe. A taxi from town to the Falls or to the airport usually costs around 60 ZMW ($10) one way. Some hotels and guest houses offer free pick ups, so be sure to check before you arrive. Your hotel may also be able to give you the phone number of a reliable local taxi driver.
From Zimbabwe: To get to Livingstone from Victoria Falls town in Zimbawe, you can walk across the border at Victoria Falls and get a taxi or mini bus into town from there.
From Botswana: You can get a mini bus/taxi from Kasane, Botswana to the border where you will need to take a ferry across to Kazungula on the Zambian side, then take a mini bus/taxi to Livingstone . You can also do this journey as a self drive but it is much easier for foot passengers, if you are driving you can be held up. Or you can use local transport and travel from Kasane via Vistoria Falls, Zimbabwe. Most hotels can arrange for private transfers for around $60 – $80 per person or transfers back to Livingstone are included in most Chobe safari packages starting in Livingstone. If you are happy to take local transport, you can probably make the entire trip for less that $15.
From Malawi: Local busses run from Lilongwe to Chipata and Lusaka, then you can catch another bus or flight to Livingstone.
From Mozambique: There is no public transport between the two countries and the only border crossing is remote, so the easiest way to travel would be to go via Lilongwe, Malawi and Chipata/Lusaka, Zambia.
From Namibia: The easiest way to get there is to take a shuttle bus from Windhoek, Namibia to Victoria Falls, Zimbabwe and cross over the border there.
From South Africa: You can fly direct from Johannesburg. Several bus companies run services to Livingstone from Jo'Burg including Intercape and Shalom.
* Don't take photos at border crossings or on bridges. Many African countries don't allow it.
Health Considerations
Malaria: Livingstone is a malaria zone, so I would advise you take anti-malarials. Your doctor can advise the best for you. If you begin to feel flu-ey whilst your there, or even within a few months of returning home, head to your doctors as soon as possible for a malaria test. Malaria tests are more readily available in Zambia than at home. Cover up your arms/legs/feet at dusk and dawn when mosquitoes are most active. Use a mosquito repellent which is at last 50% DEET. Most hostels/hotels/static tents have mosquito nets, but some have holes in. I always keep a roll of electrical tape which can be used to repair a broken net. You usually won't need a mosquito net in a a put up, put down tent, but I would keep your tent as zipped up as possible.
Vaccinations: Aside from your routine vaccinations (MMR, Polio, Diptheria, Meningitis etc) – Hepatitis A, Hepititis B (3 x vaccinations), Tetanus and Typhoid are all highly recommended. A Yellow Fever certificate is required if you are travelling from a country where Yellow Fever is a risk – you can find an list here. If you are travelling through South Africa before or after Zambia or even just transitting through the airport you have to have a Yellow Fever certificate with you. 3 x Rabies vaccinations are also recommended if you are going to be visiting any remote areas or likely to come into contact with animals. For up to date vaccination information see here and speak to your doctor or nearest travel clinic. Your doctor may be able to give you some of your vaccinations for free, or on a cheap prescription. For everything else, I recommend Nomad Travel Clinics.
Water: The water in Livingstone is treated, however if you are just in the country for a short while I would not recommend drinking the tap water as a rule. Bottled water is available to buy all over Livingstone from street stalls, shops, tourist attractions and hotels or you could sterlise your on water by boiling or using a steripen. I do drink the tap water when I'm there and I've never had any problems, but that's a personal choice. If you are prone to any stomach ailments, stick to the bought or treated stuff.
Hygiene: One of the most common reasons for people to get sick in Africa is not washing their hands. Wash your hands before you eat and keep a bottle of hand gel with you.
Medical Care: There are several medical centres and a small in Livingstone. Ask your accomodation for the nearest one.
Heat/Sun: The sun is harsh in Livingstone. To avoid heatstroke/sunburn, make sure you wear a high factor and drink lots of water. If you're going to be out in the sun a lot, cover up!
Putzi Flies: They have many different names in Africa, but they are a common fly found in Africa. They have a habit of laying their eggs on damp clothing. What can happen, is that the eggs then hatch and the larvae can bury themselves into your skin. The larvae will then cause swelling and irritation and you'll have to remove the larvae. If you put Vaseline over the skin, the larvae won't be able to breathe and need to the surface so you can easily squeeze it out. Putzi flies can easily be avoided by making sure your clothing is dried thoroughly in the sun or by ironing your clothing before you wear them. Just for the record, I have washed and dried my own clothing many, many times in Africa and have never had this happen to me so please don't worry!
Safety in Livingstone
Livingstone is generally a very safe place to visit but there is also a lot of poverty, so I recommend that you follow the below precautions:
Do not walk around residential areas alone at night. The centre of town is usually busy but take an official taxi (see above) home after a night out. If you need to walk at night, do so in a group.
Lock your car doors if you are driving at night.
Don't leave expensive items in your tent or dorm room. If your accomodation has a safe, use it.
Don't make yourself a target by flashing money about or leaving expensive belongings unattended.
---
---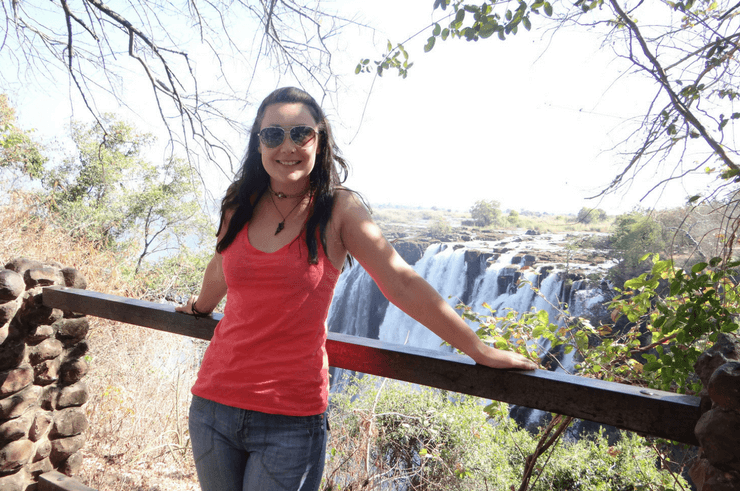 What to Wear in Livingstone
Livingstone isn't an overly conservative town, and many people dress in a very Western style, however there are a few general things I'd advise:
Dress conservatively if going to a school, market, village, border crossing etc. Shoulders are fine, but keep your knees covered. No mini skirts or hot pants.
It is rude to show the small of your back, so wear longer tops or tie something round your waist.
Take at least one nicer outfit if you are planning to go to any of the upmarket hotels, however they don't usually have strict dress codes.
At your hotel/round the pool it is fine to wear what you want, hot pants and bikinis included.
Livingstone can be really cold at night, so make sure you pack a very warm jumper, especially if you are going during the dry, colder months.
---
---
Local Phrases You Might Find Useful in Livingstone
Muli Bwanji: How are you?
Bwino: I'm fine.
Zikomo: Thank you.
Mzungu: White person – you might here this quite often, especially from children. It is not offensive.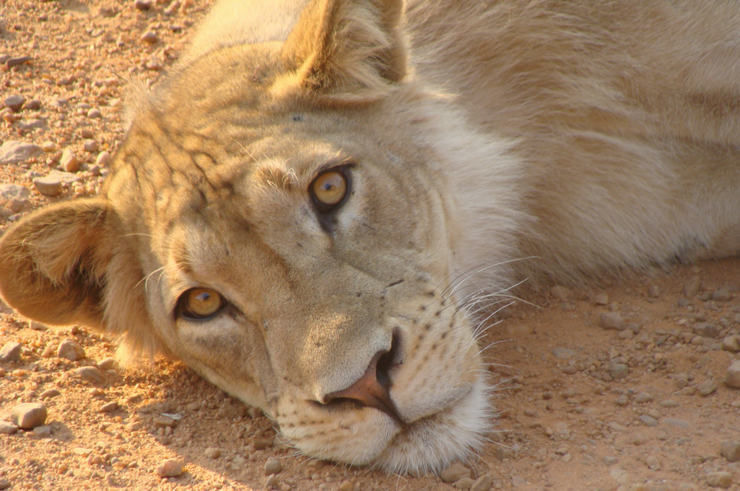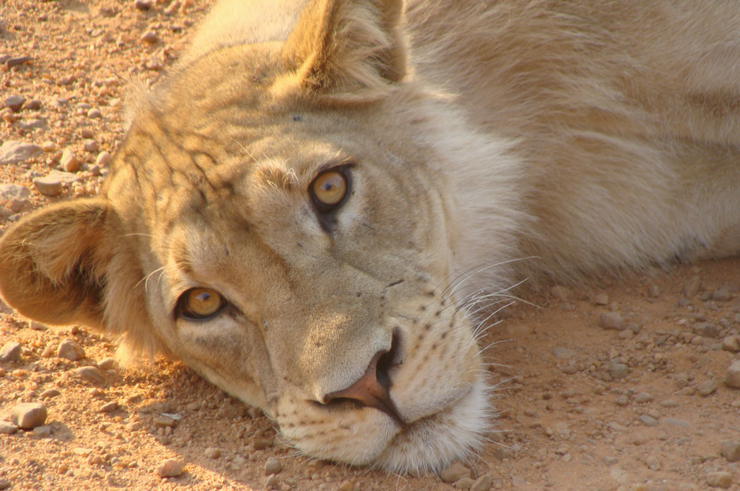 Communication in Livingstone
Mobile Phone: I suggest you get a local SIM card whilst you are there. I usually use Airtel, but you could also try MTN, Zamtel. You can pick up sim cards on the high street. All SIM cards have to be registered, so it makes it a bit more of a lengthy process than it used to be but worth it if you are staying for a while. You need a photocopy of your passport to get a SIM registered.
Internet: There are a few internet cafes in town and many accomodation providers now have WIFI or have a computer room. Internet in Zambia is improving all the time, but it can be really slow at times and difficult to upload photos etc – not great for bloggers. Many times I have been mid way through an epic email, and the power has gone out. Save as you go people, save as you go!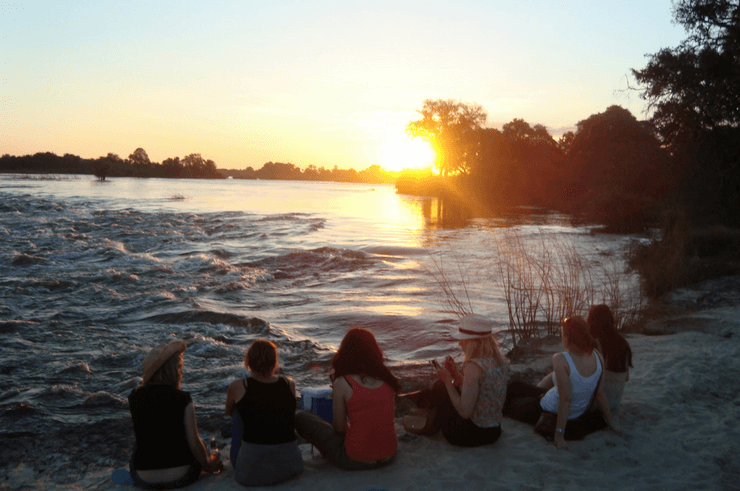 My Livingstone Highlights
Victoria Falls
The Book Bus
Bovu Island
Cowboy Cliff's Cycle Tour
White Water Rafting
The Royal Livingstone
The Devil's Pool
Olga's Italian Corner
Maramba Market
Sundowners… anywhere!
Like this post? Pin it for later!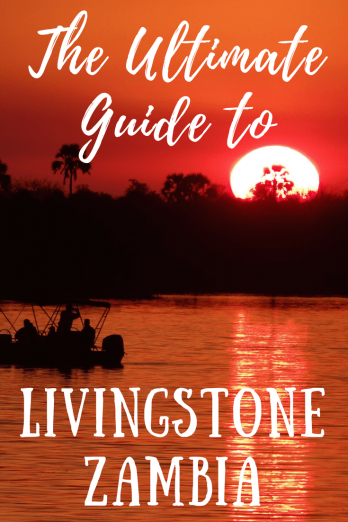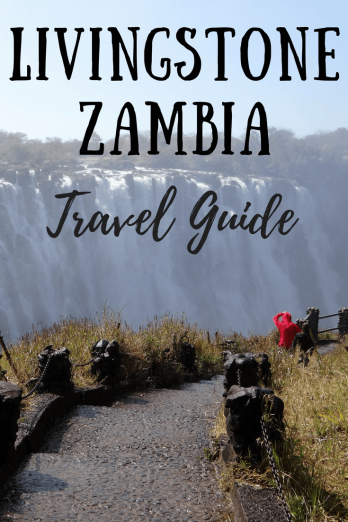 Have an amazing trip to Livingstone!
---
Please Note: Some of the links in this post are affiliate links, which will earn me a small commission at no extra cost to you. Affiliate sales help with the running costs of this site, so thank you for your support!