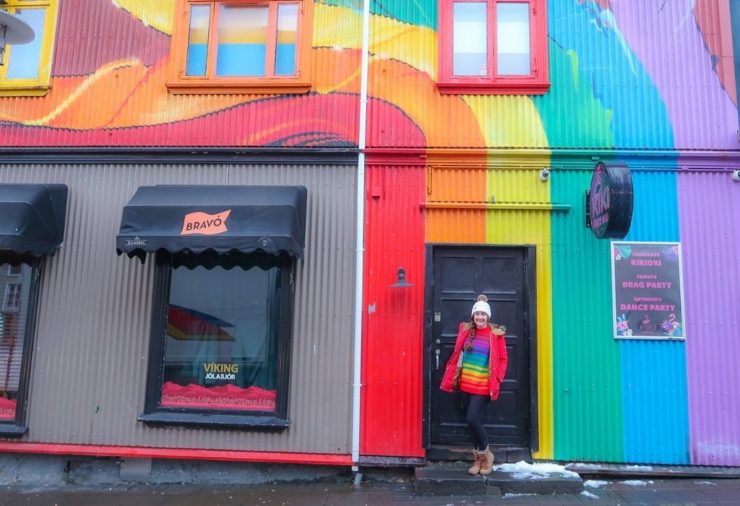 Last updated on March 8th, 2022 at 05:27 pm
Looking for a great 5-day Iceland itinerary? You've come to the right place.
If you are visiting Iceland and only have a few days to explore, don't worry – there are lots of things you can see and do in a relatively short period of time!
On this trip, we had 5 days in Iceland. Well, 5 nights and 5 full days. I have driven around Iceland's ring road before and would do it again in a heartbeat, but 5 days is a little too short for that trip, especially in winter, so we decided to stick to Reykjavik and the south coast.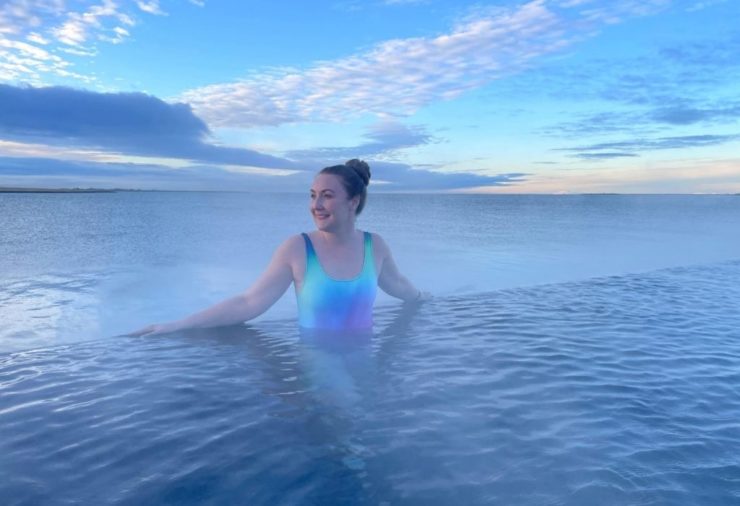 We travelled to Iceland in mid-November. This time of year is great for giving you more opportunities to see the Northern Lights but does limit your sight-seeing time as the days are short, with only around 6 – 7 hours of daylight.
It gets light at around 10.30 – 11 am and goes dark around 4.30 – 5 pm. So bear that in mind when planning your trip and don't try to do too much. If you are travelling in summer, when there is pretty much 24 hours of daylight, you can fit a lot more in.
So to help you plan your own 5-Day Iceland itinerary, here's what we did, and exactly what it cost me! Enjoy…
Please Note: Some of the links in this post are affiliate links, which will earn me a small commission at no extra cost to you. Affiliate sales help with the running costs of this site, so thank you for your support!
---
My 5-Day Iceland Itinerary & Budget
5-Day Iceland Itinerary Overview
We had 5 full days & 5 nights in Iceland this time, but if you have more time, you could definitely stretch this Iceland itinerary out more and see more sights (I've offered some suggestions below), or check out my full Iceland ring road itinerary!
Day 1: Arrive in Reykjavik
Day 2: Reykjavik
Day 3: Reykyavik to Vatnajökull National Park
Day 4: Vatnajökull National Park to Vik
Day 5: Vik to Reykjavik
Day 6: Reykjavik to Home
Car Hire in Iceland
We hired a car for the duration of our trip. As we were travelling in winter, we got a KIA Sportage 4×4. For this route, a 4×4 isn't 100% necessary but I was glad we had it and it would have been good if the weather had been worse.
We weren't allowed to take it on the F-Roads (mountain roads) but that was fine as they weren't on our itinerary and I think they were closed anyway.
If you're travelling in the summer, you could get a 2-wheel drive, but if you want to go on the F-Roads, you'll need a 4×4. So I'd definitely recommend getting a 4×4 anyway!
We hired the car from Blue Car Rental Iceland which cost £615. This was for the full 6 days and included 2 drivers, full insurance (zero excess) and a GPS tracker.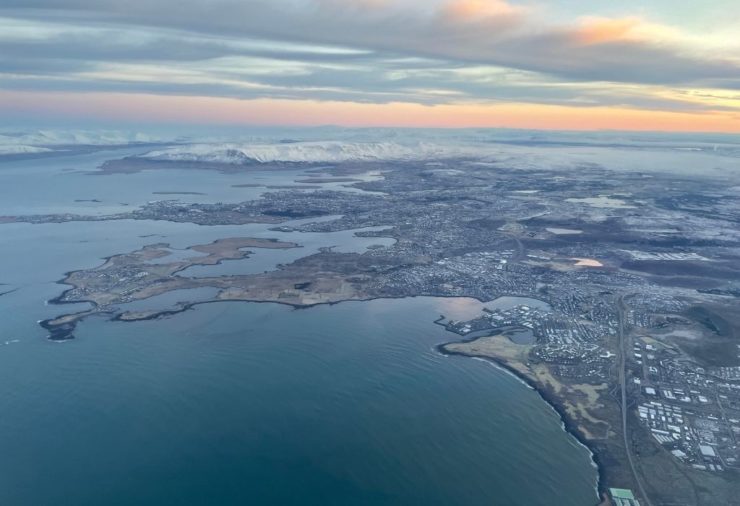 Day 1: Reykjavik
On arrival in Reykjavik, we picked up the car at the airport and made the 45-minute drive into Reykjavik.
In the late afternoon, we headed to the Sky Lagoon Iceland, a relatively new thermal pool and spa. We booked in for 3pm, knowing that the sun would set whilst we were there, giving us the best of both worlds.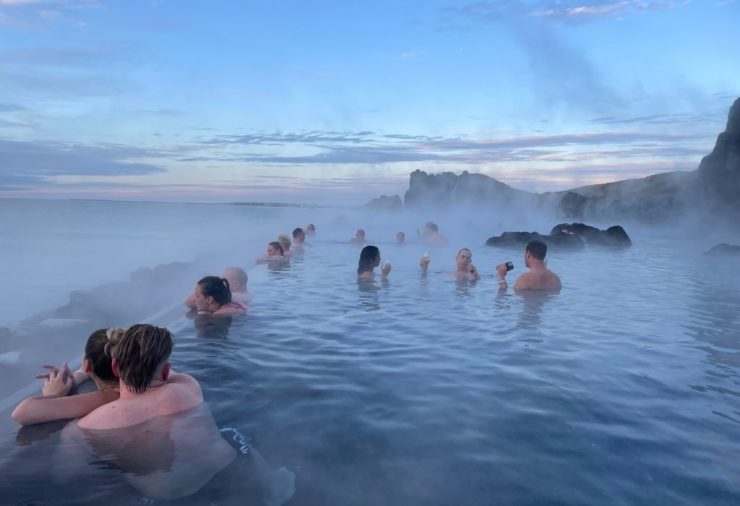 This was such a cool experience with a swim-up bar, a 7-step ritual (I'll write more about that in another post) and an infinity pool, plus we were really lucky with the weather too as it was very dry and clear, meaning the view was incredible!
After soaking ourselves for 3 hours, we headed back to the city centre for dinner, ending up at a lovely, cosy place called Bastard Bar & Brew, which had a great atmosphere and nice menu. I loved it there and highly recommend the tacos (I had 2 different ones – pulled pork and fish) and the chocolate bites for dessert!
Where to Stay in Reykjavik: We stayed at the Icelandair Reykjavik Marina Hotel. This was a great base within a short walk of the marina, Harpa Music Hall and city centre. The cost for a double for 2 nights was approx. £252. Other places I'd recommend include Center Hotels Laugavegur and Kex Hostel (where I stayed on my first visit in 2016) which are both right in the city centre.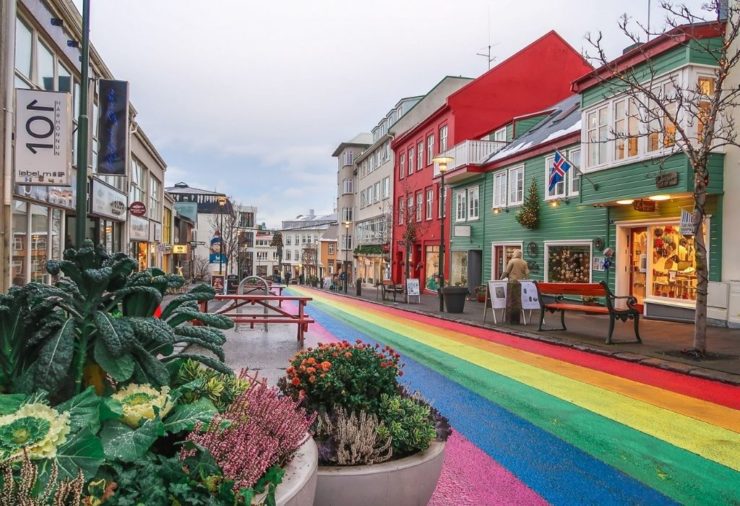 Day 2: Reykjavik
We were up and out early for breakfast at Sandholt, a family bakery and eatery on Laugavegur, the main shopping street in Reykjavik. This was a really nice place to start the day and I would definitely recommend it.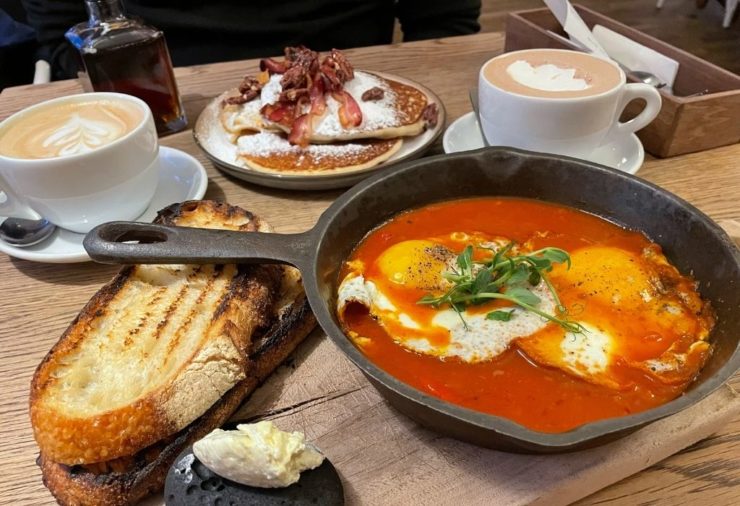 After that, we took a walk down Skólavörðustígur which is also known as 'Rainbow Street'. There are lots of shops and restaurants, but the main attraction is the road itself, which is painted in rainbow colours to celebrate Reykjavík Pride and diversity in the country.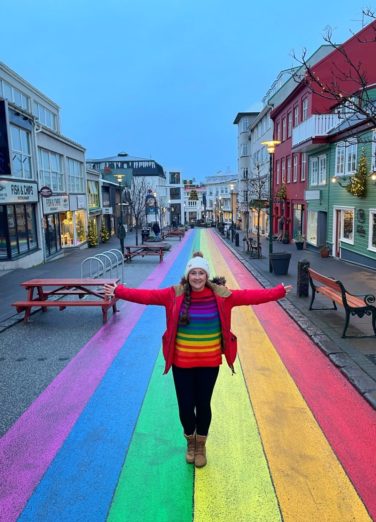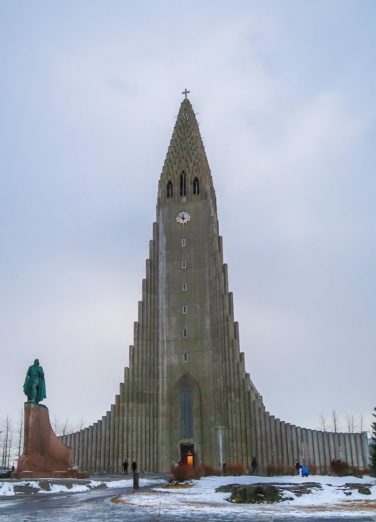 At the far end of the street is Hallgrímskirkja, the biggest church in Iceland. You can go into the church and take the lift up to the top of the tower to get incredible views over the city's colourful rooftops. It's not expensive either at around 1000 ISK pp.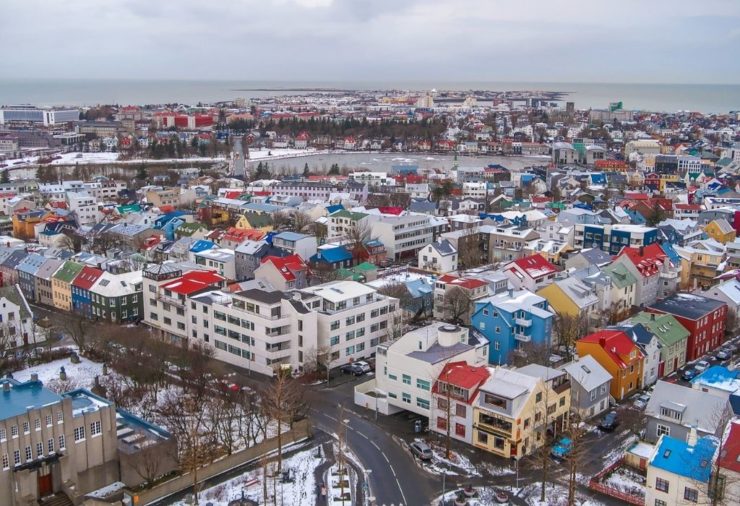 We had a quick coffee pit stop at Reykjavik Roasters, before jumping in the car and going for a picture at the Sun Voyager sculpture on the seafront our way to FlyOver Iceland. This is basically what it says – a flight simulator where you get to 'fly' over Iceland. I loved it and it would be great for kids too (although there is a height restriction of 102cm)! It made me feel a little bit motion sick, but it was worth it for the views!
We then went to pick up our friends from the airport (it was a surprise for my friend's 40th birthday) and then made it back just in time to get to the Harpa Concert Hall to meet up with our guide Mundi from the Reykjavik Food Walk at 5 pm. This was my second time doing the food tour and it was just as good as the first time.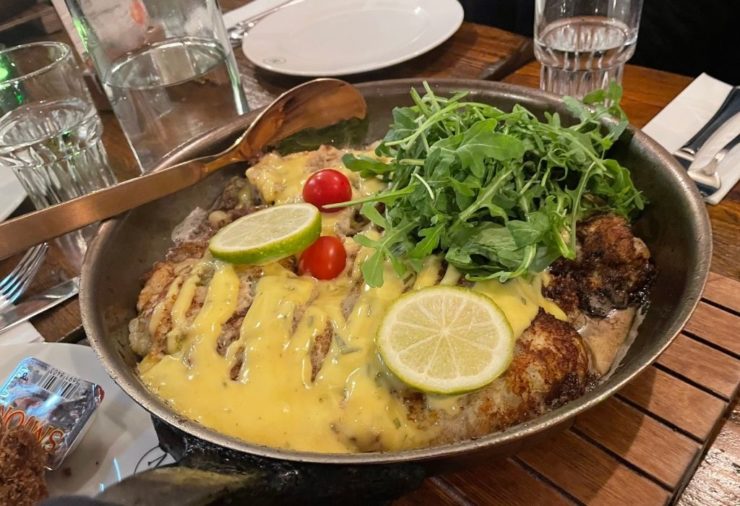 We went to a few different restaurants and tried lots of local food including plokkfiskur (Icelandic fish stew, shown above), hákarl aka fermented shark with some Brennivín, an Icelandic schnapps drink also known as 'Svarti Dauði', meaning 'Black Death'. The shark didn't taste as bad as I expected, but it smelled disgusting, like ammonia (you'll find out why on the tour).
After the tour, we wanted to check out the nightlife. A couple on the tour were going to Reykjavik's Magic Ice Bar afterwards, which we didn't go to, but it looks great!
Mundi recommended we go to a bar called Den Danske Kro (The Danish Bar). This turned out to be an amazing choice. When we got there, it was quite empty but soon filled up.
It was super festive and there was live music. Maybe it was the fermented shark, maybe it was the half a bottle of Prosecco and the Brennivín I'd had with dinner, but I was having the time of my life!
Mundi recommended we go to a bar called Den Danske Kro (The Danish Bar). This turned out to be an amazing choice. When we got there, it was quite empty but soon filled up.
It was super festive and there was live music. Maybe it was the fermented shark, maybe it was the half a bottle of Prosecco and the Brennivín I'd had with dinner, but I was having the time of my life!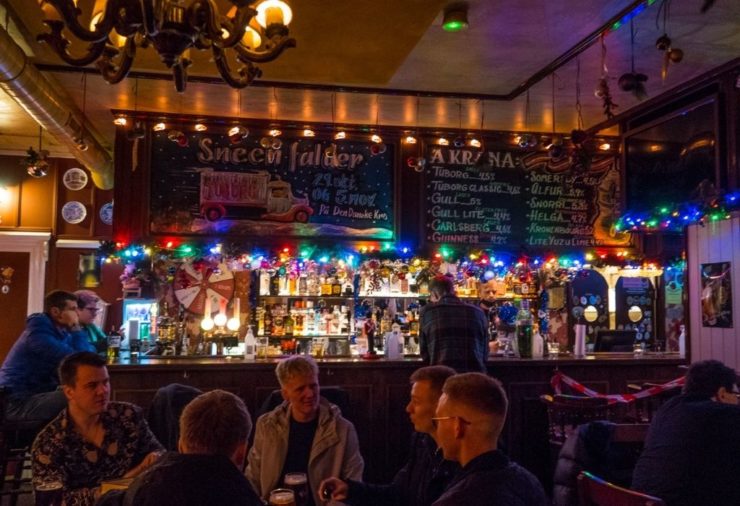 The musician we saw is called Bóas Gunnars and he was amazing. He knew every song people requested and plays in a few different venues around Reykjavik including Den Danske Kro, The English Pub and The Irishman Pub, which are all owned by the same people – so if you get the chance, go see him play!
I was really sad when the evening ended (everything closes at 11 pm due to Covid restrictions at the moment) but it was probably a good thing as I was having waaaay too much fun (check out the highlights in my Insta Stories) and we had a busy day ahead of us.
Tip: We didn't do the Golden Circle on this trip, but you could replace one of the days in Reykjavik with a day exploring the Golden Circle instead, which includes Þingvellir (Thingvellir) National Park where you can snorkel between tectonic plates. You can drive this yourself or take a Golden Circle tour.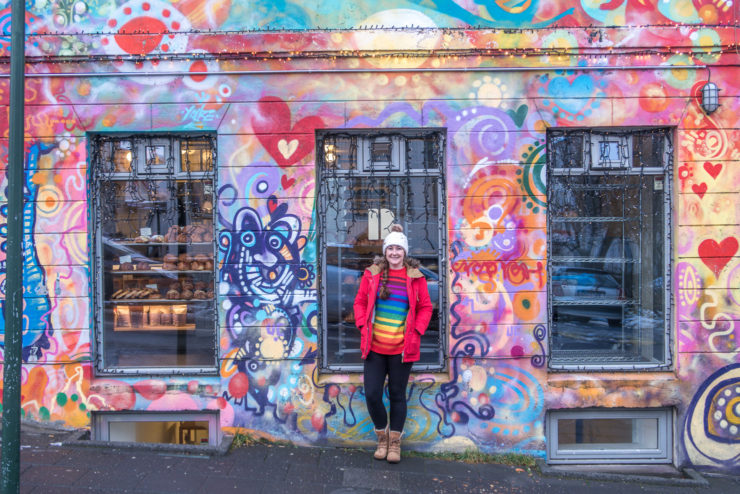 Day 3: Reykjavik to Vatnajökull National Park
Our hotel didn't have breakfast included so we stopped by my favourite bakery in Reykjavik, Brauð & Co. I found this place on my first trip to Reykjavik in 2016 and I had been dreaming about their cinnamon buns ever since!
We then got on the road, making our way along the south coast towards Hofn. We had around 5 hours of driving ahead of us and a few stops to make along the way.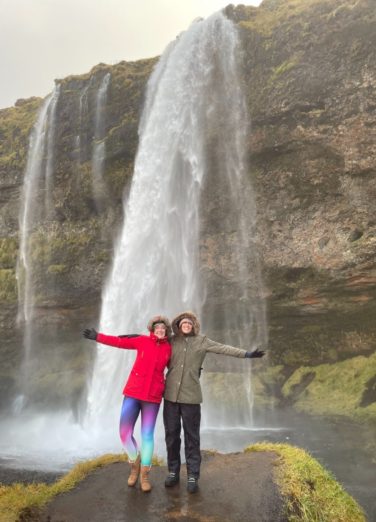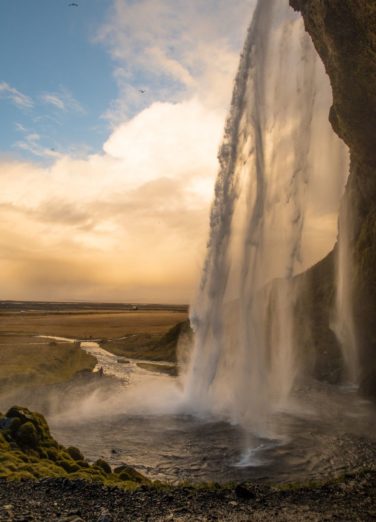 Our first stop on our 5-day Iceland itinerary was the Seljalandsfoss Waterfall which is about a 2-hour drive from Reykjavik. We were aiming to get there at 11 am, but by the time we'd got organised and eaten, it was closer to 12.
It was raining, so we pulled on the waterproofs and had a walk along the trail and under the waterfall. A little further along to the left (when looking at the waterfall) you can also visit Gljúfrabúi, a smaller waterfall which is hidden in a small gorge. You can either walk there from Seljalandsfoss (10 minutes) or drive over and park in the small car park there.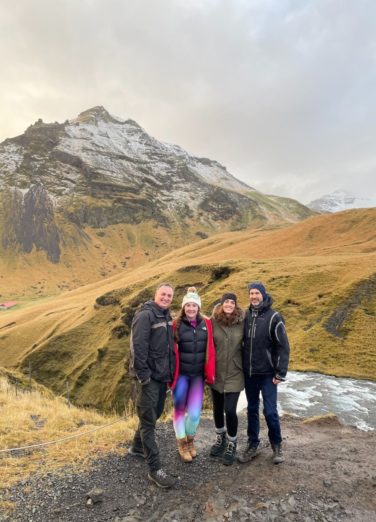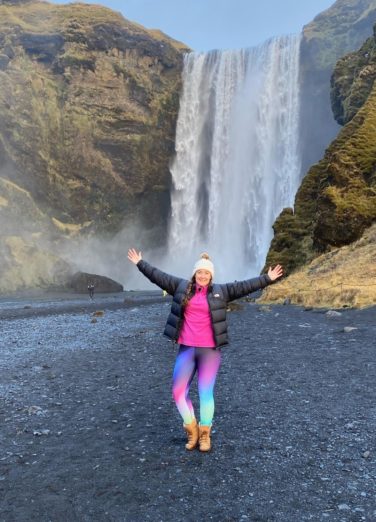 Our next stop was Skogafoss Waterfall, 30 minutes further along the coast and one of the most impressive waterfalls I've ever seen. We were going to visit here on the way back to Reykjavik, but the weather was lovely, which isn't always guaranteed in Iceland, so we took the opportunity when we had it. It's always good to keep your itinerary slightly flexible!
The great thing about Seljalandsfoss and Skogafoss is that they are both very accessible. If you have time or the energy, you can walk to the top of Skogafoss too – which we did! By the time we got back down, it was 2.30 pm and we still had 3 hours of driving time left, so we got on the road as quickly as possible.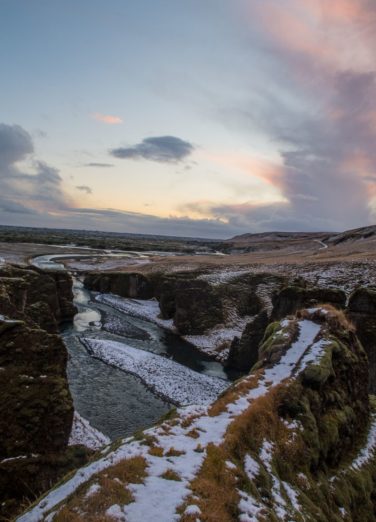 Our last stop of the day was Fjaðrárgljúfur Canyon, which is a small detour off the main route. To be honest, we didn't really have much time here at all as the light was fading. We didn't have any crampons (I'd say they were necessary here in winter) and it was super slippery, so were falling all over the place and only made it to the first viewpoint, but it was very nice and I'm glad we did it.
We then headed straight for the hotel, which is near to the Jökulsárlón Glacial Lagoon as we were going on an ice cave tour in Vatnajökull National Park the following morning.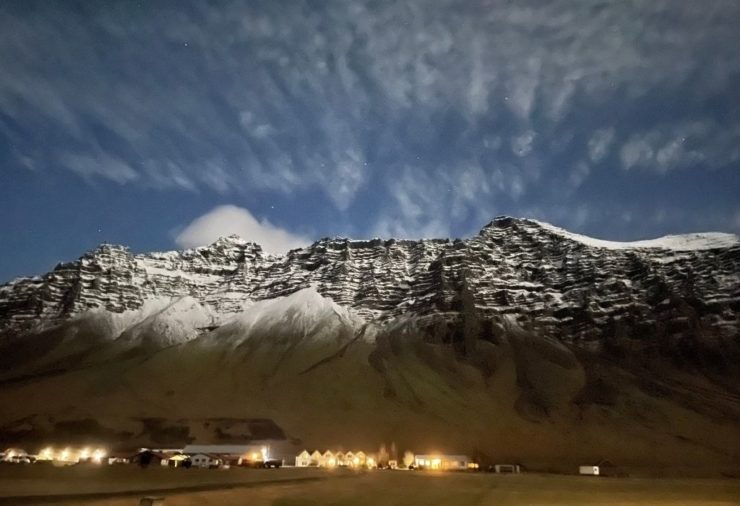 Where to Stay in Vatnajökull National Park: We stayed at the Hali Country Hotel, which was great and reasonably priced. There's not much around there and the town of Hofn is an hour's drive away, but the rooms are comfortable, the setting is lovely and they have a nice restaurant and museum. The cost for a double room was around £82 which is a bargain in Iceland.
My one regret is that we didn't spend an extra night here as we didn't see it in daylight. We arrived after dark and left before sunrise. The setting of the hotel is really beautiful (see above – taken on my phone on the walk to dinner), with a beach and lagoon on one side (at least I think it was a lagoon, it looked too still to be the sea) and stunning mountains on the other.
Thankfully, it was a clear night and a full moon so we could at least see it a little bit, but I think in the daytime it would have been lovely and it would have been nice to explore a bit more.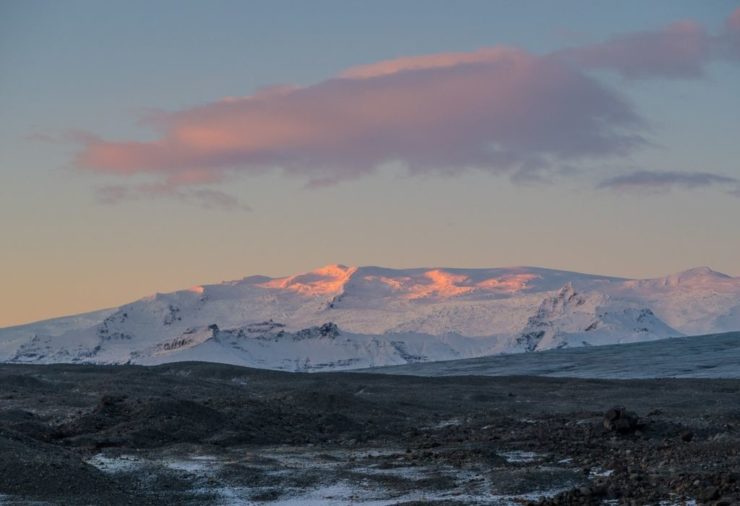 Day 4: Vatnajökull National Park to Vik
After breakfast at the hotel (oh, the breakfast buffet was great and even included bourbon and chocolate digestive biscuits) we headed to the lagoon (15-minutes drive) to meet our guide for the ice cave tour.
We then hopped in a minibus monster truck with huge wheels and made our way towards the glacier. When we arrived, it was a flat(ish) 20-minute hike to the cave. Walking inside was like going into Superman's Fortress of Solitude (except for all the camera-wielding, helmet-wearing tourists) and it was incredibly beautiful.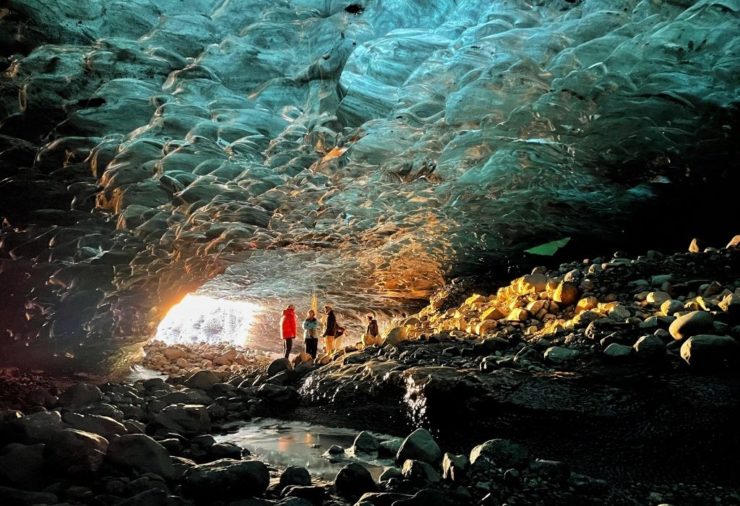 There were a lot of people in the cave, so if you're hoping for photos without anyone else in them, you might need to book a private tour (unless your photoshop skills are on point and you can make the 'extras' disappear) as the tours do move at a certain pace, so it's hard to wait for a quiet moment.
After the tour, we were dropped back off at the lagoon (at around 12.30 pm). We had a wander around before grabbing a hot chocolate and a very delicious hot dog from the stand in the car park. I might even go as far to say that it tasted better than the famous hot dogs from Bæjarins Beztu in Reykjavik (my husband disagrees with me though).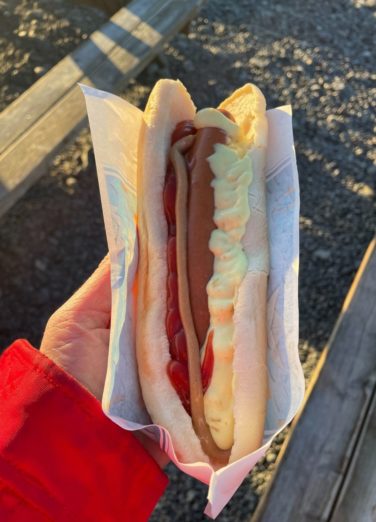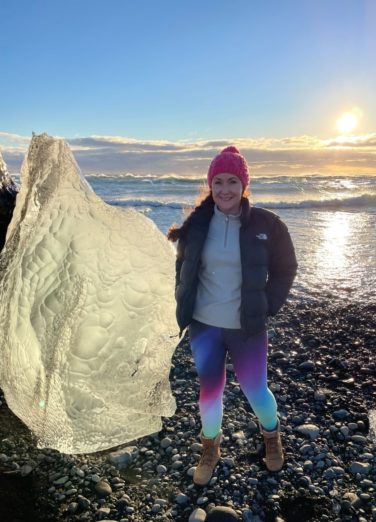 From there we made the very short drive to Diamond Beach. This was probably my favourite place we visited on the trip and I'd missed it last time I was in Iceland. It was freezing, but so beautiful and fun. We also had absolutely gorgeous weather making the ice on the beach look even more sparkly!
Conscious of time, we left Diamond Beach at around 1.30 pm as we wanted to get to Vík í Mýrdal (or just Vik) for sunset (at around 4 pm), and it was still a 2-and-a-half hour drive away. This meant that we missed out on a couple of places I would have liked to have seen including Svínafellsjökull Glacier and Svartifoss Waterfall.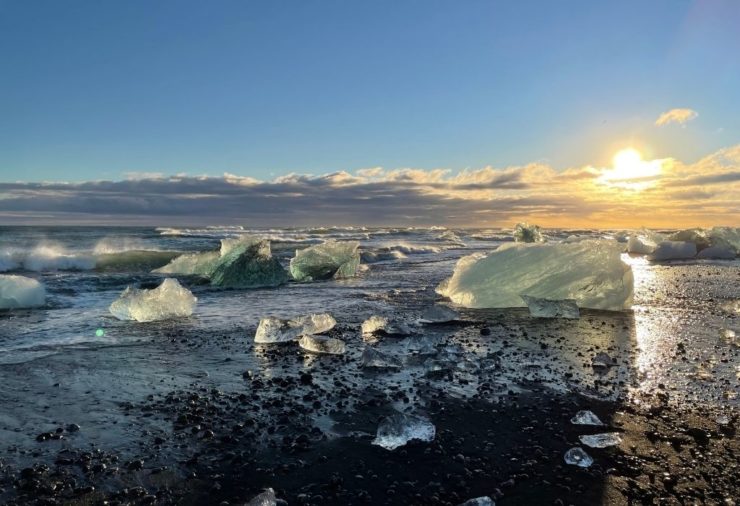 This is one of the reasons I would have liked to spend an extra night in this area – it would have given us that time, plus, it's a good place to look for the Northern Lights as there isn't much light pollution.
We reached the Dyrhólaey Viewpoint and Lighthouse (near Vik), which has great views over the Dyrhólaey Arch, at ten past 4, just in time to watch the sun disappear below the horizon.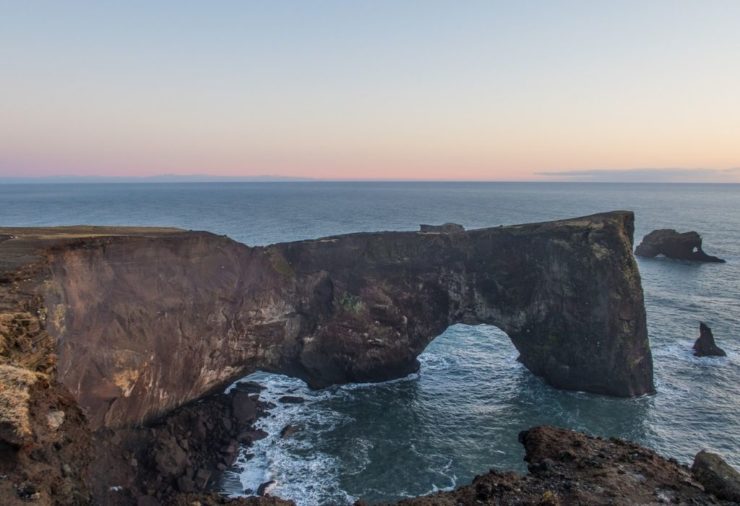 Back in Vik, I headed down towards the beach behind the OB gas station to catch golden hour looking out towards the Reynisdrangar basalt sea stacks.
That evening we went for dinner at Ströndin Bistro and Bar, where the Liverpool v Arsenal match was playing on the TV. My husband is a big Liverpool fan and we got chatting to a couple of Icelandic Liverpool fans which was really nice. They were a lot of fun!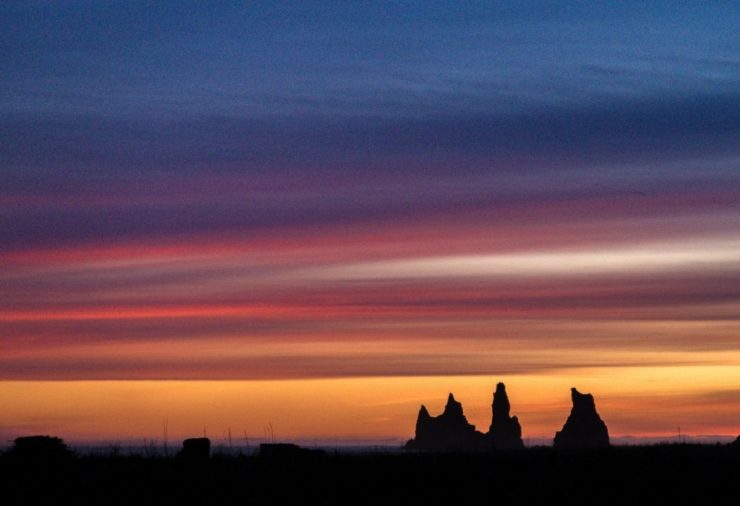 We all had fish & chips for dinner, which was very nice, although the nachos we ordered on the side weren't good at all. They were cold and had that fake cheese on, so we sent them back.
My friend was still hungry afterwards and went to get some noodles from the local Chinese called Wok On (it's in the same building as Ströndin) and they were sooo delicious. Like seriously good. Like the best noodles, there ever were. I still dream about them now. Wok On… if you are reading this, can you please come to England?
Where to Stay in Vik: We stayed at the Vik Apartments. The cost for a 2-bedroom apartment was around £118 per couple. This was lovely, modern, comfortable. Loved it and right in the centre of town so we could walk everywhere.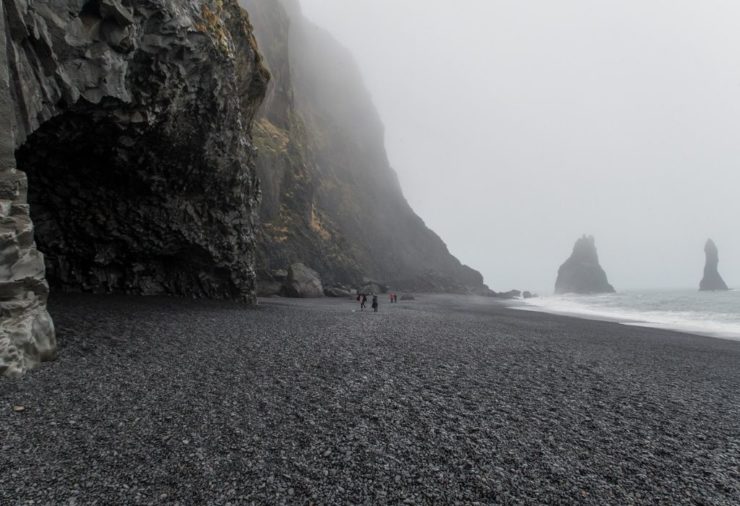 Day 5: Vik to Reykjavik
We started our morning by having a wander over to the local supermarket (Kr.- Vík) to pick up some supplies for lunch. On the same site, you'll also find the Icewear store, which has a great selection of Icelandic clothing and souvenirs, and the Lava Cafe, which was open for breakfast. We didn't eat there as I'd come across somewhere else I wanted to visit…
We started our morning by having a wander over to the local supermarket (Kr.- Vík) to pick up some supplies for lunch. On the same site, you'll also find the Icewear store, which has a great selection of Icelandic clothing and souvenirs, and the Lava Cafe, which was open for breakfast. We didn't eat there as I'd come across somewhere else I wanted to visit…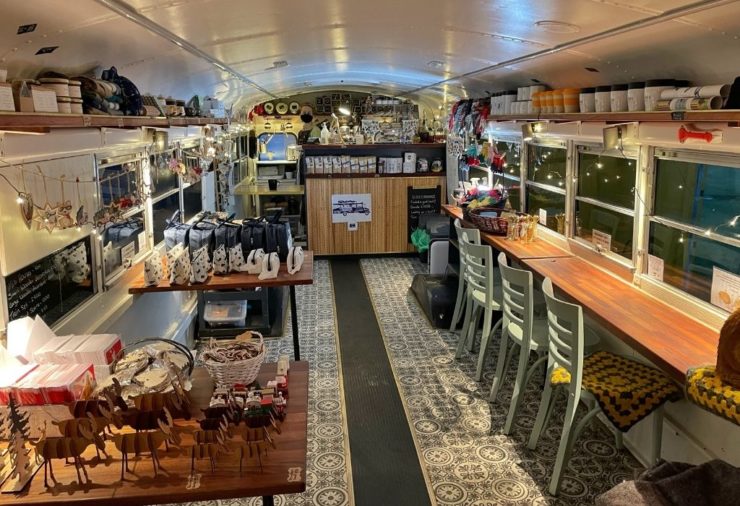 Our next stop was the Skool Beans cafe/bus. This is a cosy little place that sells a huge selection of drinks as well as cakes and bagels with a few different toppings to choose from. I had a hot chocolate with "the works" and a cream cheese bagel.
After that, we headed to the Reynisfjara Black Sand Beach which is backed by Reynisfjall Mountain, famous for its unusual basalt rock formations. Geology fans… you are gonna love Iceland.
We spent an hour or so exploring the beach and the caves, being careful to keep safe on the beach, not turning our backs to the water which is known for freak waves that can drag you out to sea.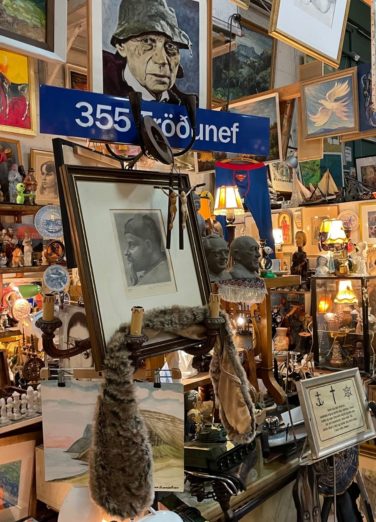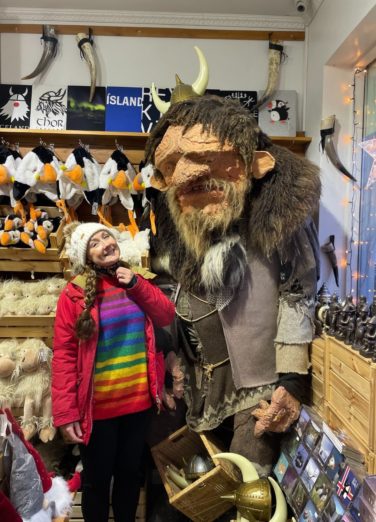 From here we drove back to Reykjavik. If the weather was bad on your way there, you could stop at any of the places that you missed on your way there (ie. Seljalandsfoss and Skogafoss waterfalls).
As we didn't need to make any extra stops, we arrived back in Reykjavik in the early afternoon, so we decided to visit Kolaportið, Iceland's only flea market (which is only open at weekends). Whilst I didn't buy anything it was interesting to look around and if you like flea markets, you'll love it!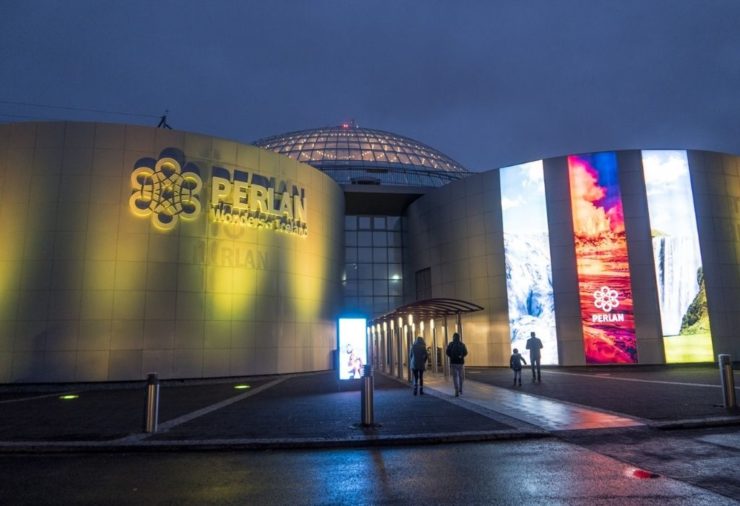 From there we went to Perlan – Wonders of Iceland and Aurora Planetarium. Here you can see an Aurora show, walk through an ice cave and learn about Iceland's history and natural wonders. One of the highlights is going up to the very top and walking around the 360° viewing platform. It was dark when we got up there, but the view was still impressive.
That night we had dinner at a bar/diner called The Big Lebowski (named after the Coen brothers' film). This is a great place in the centre of town, with cool decor, great food and they were playing Groundhog Day on the big screen. Can't go wrong with a bit of Bill Murray.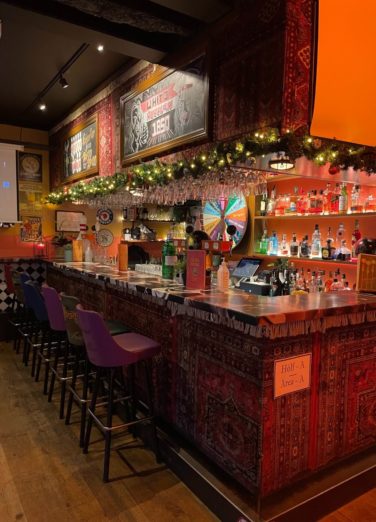 They also served one of the best burgers I've ever had (called 'The Honey Boo'). I'm still thinking about it now (that and the noodles from Wok On)! They also have a big selection of White Russians too (which is Jeff Bridge's drink of choice in the film).
We then finished off the evening with a few drinks at Kaffibarrin, Einstok & The English Pub, all great bars, although Den Danske Kro is still my favourite.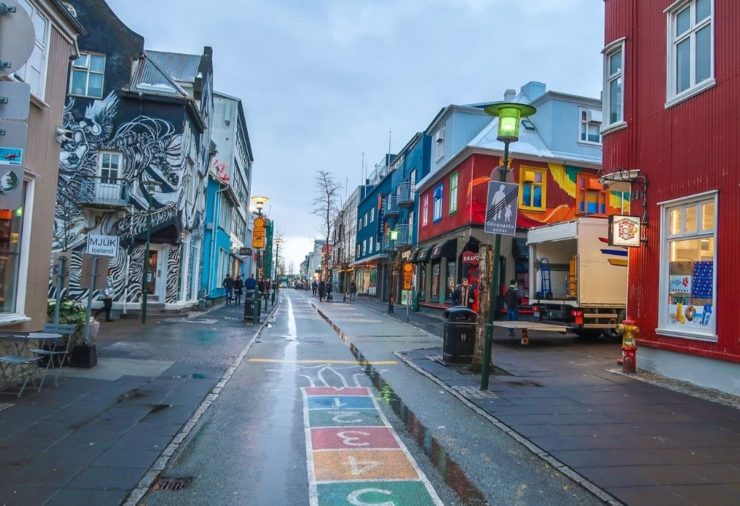 Day 6: Reykjavik to Home
Today was our last day, so we had a pretty relaxed morning. Our initial plan had been to visit the Fagradalsfjall Volcano however we decided to skip it the lava wasn't currently flowing and my friends hadn't seen much of Reykjavik yet.
Our hotel did have breakfast included (due to Covid it was just a packed breakfast), however, we couldn't resist taking one more trip back to Brauð & Co. to pick up a cinnamon bun for the road! They are that good.
We then had a final wander around Reykjavik, looking for souvenirs and stopping at a couple of charity shops (including Verzlanahöllin which had tons of clothes) to look for bargain lopapeysa sweaters. We also had a little coffee break at Mokka Kaffi on Rainbow Street before it was time for the last stop on our 5-day Iceland itinerary… The Blue Lagoon, which is on the way to Keflavik Airport from Reykjavik.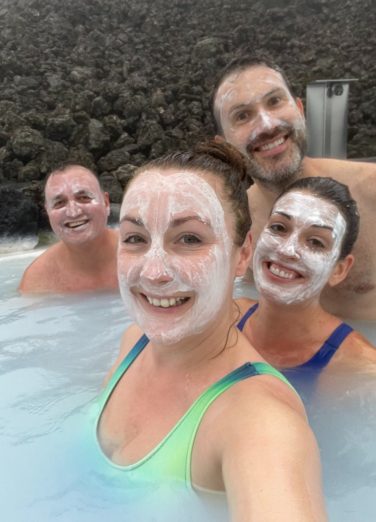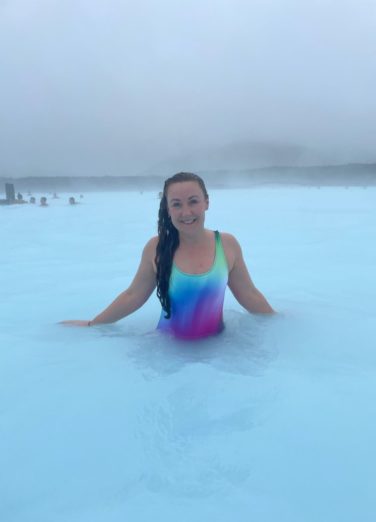 I've been wanting to visit The Blue Lagoon for years, and it was as good as I expected and one of the highlights of our 5-day Iceland itinerary. The only downside was that the weather wasn't great. It was raining and overcast, so between the steam and the rain, we were getting a bit battered. But I loved the warm water, the strory-telling session and the silica masks!
Sky Lagoon vs Blue Lagoon in Iceland, which is better? I'll be writing about that soon! 😉
It was a 22-minute drive from the Blue Lagoon to the airport, where we dropped off the car and made the 2.5-hour journey back to Manchester. It was an incredible 5 days in Iceland and I can't wait to go back again for the 3rd time.
Tip: If you aren't much of a city person, or you feel as though you've seen enough of Reykjavik already, you could easily visit the volcano, either with a tour or by yourself (just be very aware of the safety conditions). Fagradalsfjall is relatively close to Reykjavik (1 hour) and the Blue Lagoon (22 minutes).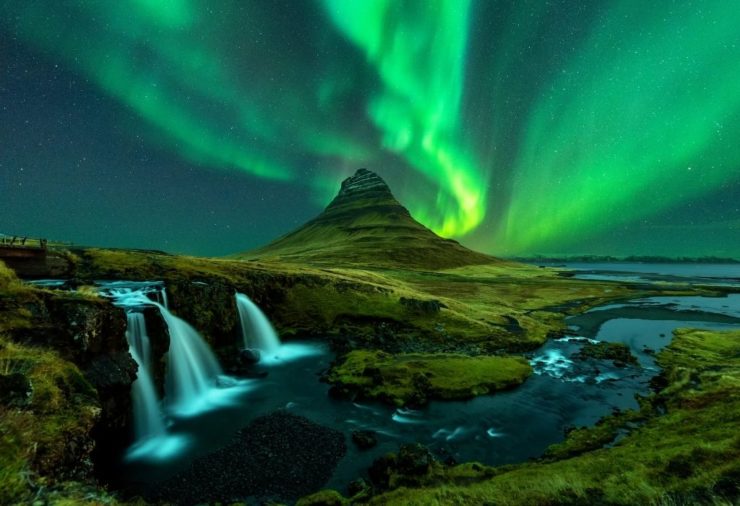 Seeing the Northern Lights
My one regret from this trip is not seeing the Northern Lights. I have seen them before, but they were very faint and I am desperate to see them again.
My one regret from this trip is not seeing the Northern Lights. I have seen them before, but they were very faint and I am desperate to see them again.
To be honest, seeing the Northern Lights requires either a lot of luck or careful planning. If you are very lucky, the Northern Lights will appear exactly where you are, but it's not always that easy to be in the right place at the right time and awake when they come out.
Realistically, you need to be strategic. If the Aurora Forecast is showing activity of 3 or higher, you have a good chance of seeing them, if you are in the right place. You can check the Aurora Forecast here and here.
You can either take a Northern Lights tour or spend your evenings driving to places with little cloud cover and low light pollution, which is where you are most likely to see them. It was a full moon when we were there which also makes the Northern Lights harder to see.
What we should have done, is book a Northern Lights tour from Reykjavik for the first day we arrived, then if we didn't see them that night, we should have gone the following night. But we didn't. Or we could have taken a Northern Lights tour from one of the other locations or chased them each night ourselves. But we didn't, so it's our own fault that we didn't see them.
Oh well – I will just have to plan another visit!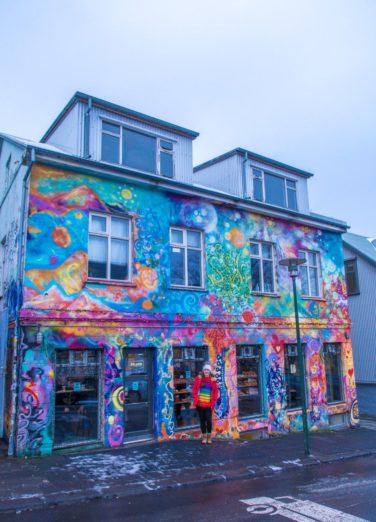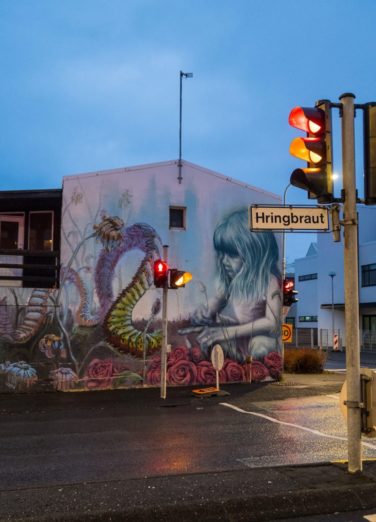 Our Iceland Budget
Below is what it cost for me and my husband to visit Iceland for 5 full days. Bear in mind that we were travelling with 2 friends, so we were able to split the cost of the car and petrol which really helped!
Our biggest expense (apart from the car and hotels) was food and drink. It's so easy to spend money on food and drink in Iceland and it adds up very quickly.
Flights and travel insurance were on top of this.
Accommodation: £565 (5 nights' accommodation in a double room – this was just our cost).
Transport: £360 (this was our part of the car hire, we were there for 6 days and our friends their for 5 so they paid £255, so the total for the car was £615).
Petrol: £50 (but this was just half of the cost as our friends paid the other half).
Activities: £675 (as listed above, including the food tour).
Food & Drink: £800 (I almost fainted when I saw this – but see my tips on saving money below).
Total: £2,400 per couple = £1,200 per person or £200 per person, per day.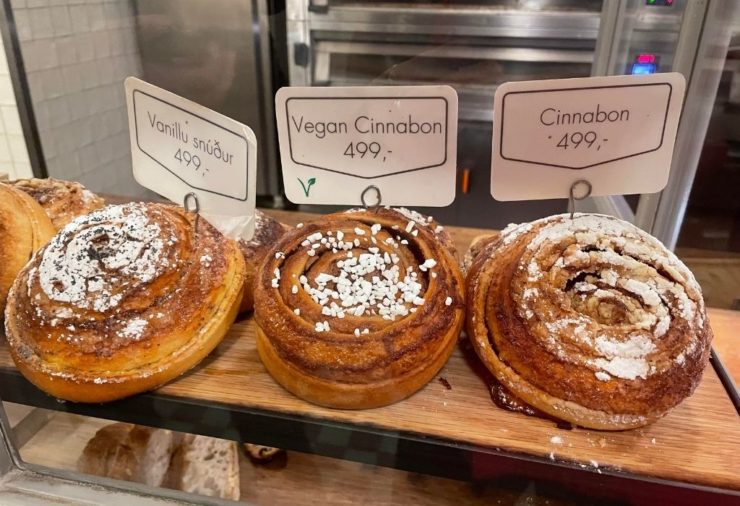 How to Save Money in Iceland
Travel in a group. Splitting the cost of accommodation and transport will save you a lot of money.
Limit your activities. There are alot of free or cheap things to do in Iceland. The natural wonders (waterfalls, beaches and canyons) are generally free to visit, although some charge a small fee for parking.
Cook for yourself. The supermarkets are generally reasonably priced, so you can save money if you don't eat out for every meal.
Eat from food stalls or bakeries. Whilst they're not 'cheap' eating hot dogs from food stalls or getting pastries from local bakeries is a lot cheaper than eating in a restaurant.
Take a flask and make tea and coffee in your hotel/campervan in the mornings. Two coffees at Reykjavik Roasters cost us almost £10 (and I thought Starbucks was expensive).
Take a refillable water bottle. There are water fountains everywhere.
Lay off the alcohol as it's expensive, especially in bars and restaurants. Local beer is generally the cheapest.
Buy your booze in Duty Free on the way in and pre-load. Although we did this and still spent a lot!
So there you have it, my 5-Day Iceland itinerary and budget. I hope this helps you plan an awesome trip!
---
Other Iceland posts you might enjoy…
Pin This Post For Later