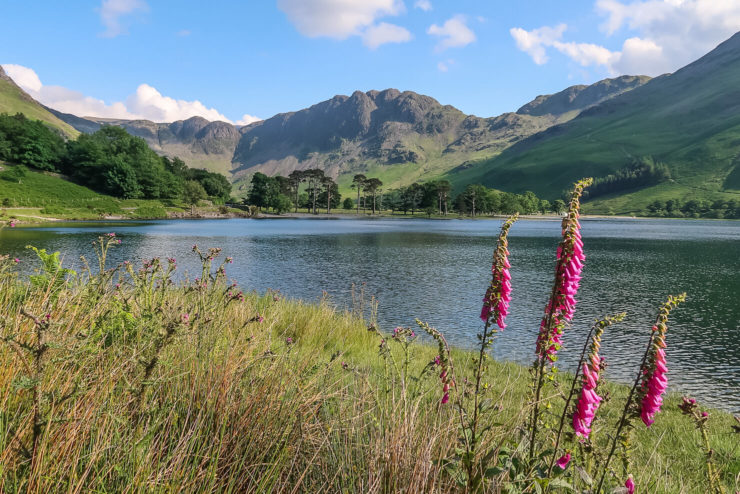 Last updated on March 17th, 2022 at 06:39 pm
There are so many incredible places to visit in the Lake District, so if it's not on your UK travel bucket list, it should be.
The Lake District (or 'the Lakes' as it is affectionately known) in Cumbria is one of the most stunning, rugged and wild parts of the UK. With stunning landscapes, mountains, lakes, and pretty towns, it's no wonder that this area became the muse of poets and writers such as William Wordsworth and Beatrix Potter.
Luckily for me, it's only an hour's drive away from my house! I often go there for day trips and weekend breaks, however, you could easily stretch your itinerary to a week or two as there are plenty of activities, hikes and restaurants to keep you busy.
So here are my suggestions on the best places to visit in the Lake District.
Please Note: Some of the links in this post are affiliate links, which will earn me a small commission at no extra cost to you. Affiliate sales help with the running costs of this site, so thank you for your support!
---
24 Beautiful Places to Visit in the Lake District
The Lake District covers a wide area but is small enough so that you can stay in one place and drive to different areas within an hour or two. But if you wanted to minimise your driving times, you could split your time between different places.
To be honest, I can't really say which part of the Lake District is my favourite – it's all so lovely!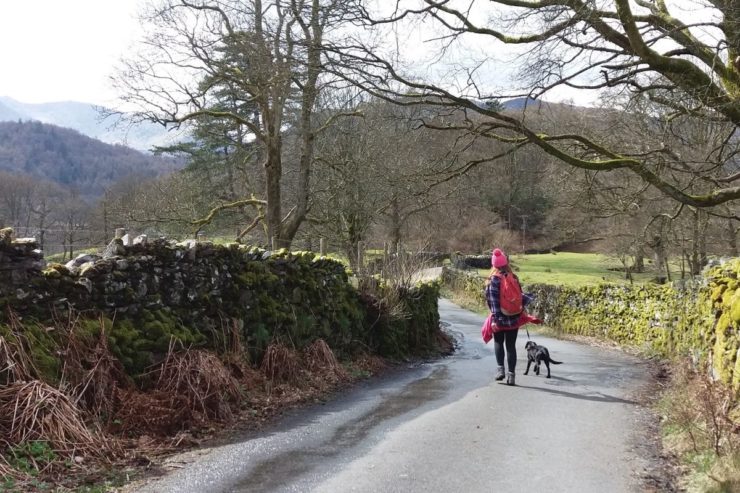 Kendal
Kendal is a cute market town and the gateway to the Lake District. The town is famous for the ruins of Kendal Castle and Kendal Mint Cake, which is basically minty sugar cake that is great to take on hikes – some people love it, some people hate it (I love it) – don't knock it until you've tried it.
Bowness-on-Windermere
Bowness-on-Windermere is definitely on my list of favourite places to visit in the Lake District. I have visited many, many time over the years and is one of the most accessible and popular places to visit in the Lakes. There's so much to do around Lake Windermere, you could stay here a week and not get bored. 
With it being a town, it's the perfect place to base yourself for your visit to the Lake District, especially if you like a bit of nightlife. There are lots of lovely little shops and restaurants, the World of Beatrix Potter and plenty of activities in and around Windermere, including water-based sports as well as lots of 'free' things to do such as hiking and picnicking at the lake. At the southeast of the lake, you'll find a nice hike up Gummer's How which has stunning panoramic views.
Where to Stay in Windermere: Around Windermere, I absolutely love the Gilpin Hotel & Lake House. It's a little bit out of town, but it's amazing! The Lindeth Fell Country House is a great choice, a short walk from Bowness. Good options right in town are The Royal Oak Inn, Macdonald Old English Hotel & Spa (overlooking the lake) and Bowness Bay Suites. If you're on a budget, the YHA Windermere is a good choice. If you have a group and really want somewhere special, check this place out.
Hawkshead
Despite having been to the Lake District about a bazillion times, I had never been to the pretty village of Hawkshead until recently but it's quickly become one of my favourite places to visit in the Lake District.
My friends and I stayed in Hawkshead the night after we did our Lake District wild camping expedition with the Mammut Mountain School and it was such a lovely place to be, with cute shops, pubs and restaurants. It's also home to Hill Top – Beatrix Potter's 17th-century farmhouse, the Hawkshead Brewery and The Little Ice Cream Shop.
Where to Stay in Hawkshead: We stayed at the YHA Hawkshead which was really nice and good value for money, plus the staff were super-friendly! They had rooms as well as glamping pitches. If you like a gorgeous b&b, look no further than Walker Ground Manor.
Tarn Howes
Tarn Hows is a beautiful lake and village between Hawkshead and Coniston Water. There's a relatively short walk you can take around the lake, and what's great about this particular walk, is that it's paved and therefore accessible for wheelchair users.
It's also great if you've forgotten your walking boots or you're travelling with young children. Take a picnic, relax and admire the stunning views.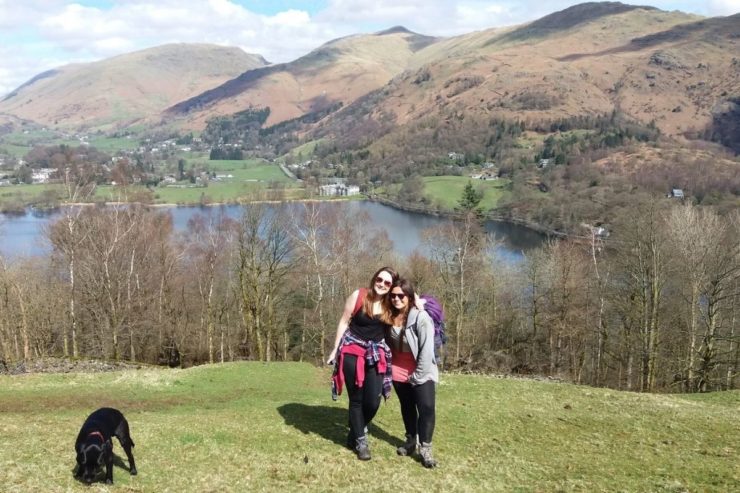 Coniston Water
Coniston Water is another of the beautiful lakes that the region is named after. You can wander around the village or take a walk up the Old Man of Coniston which has stunning views over the lake and village.
If you want to get out on the lake, you can hire boats and paddleboards from the Coniston Boating Centre. They also have bikes for hire too. Stop by the Meadowdore Cafe for a bite to eat and a cuppa. They have the most gorgeously gooey Malteser cake!
Ambleside
Ambleside is a pretty town, just north of Windermere, and is a great place to spend a few hours, wandering around the lovely shops. A short walk from the town centre lies Stock Ghyll Force, a 70-foot waterfall that is beautiful in the spring when the daffodils are in bloom.
The area is very popular with hikers due to the great walks around Ambleside, so don't forget to pack your hiking boots!
Where to Stay in Ambleside: One of the most popular places to stay is The Drunken Duck Inn, which is a hotel and an award-winning restaurant, located between Hawkshead and Ambleside village.
Rydal Water
Rydal Water, situated between Ambleside and Grasmere is a great place to go for a walk. It's not too difficult so would be. a great place to go with the kids. The last time I went, we had a nice bite to eat at The Badger Bar at the Glen Rothay Hotel and then walked from there, to Grasmere and then back around the lake.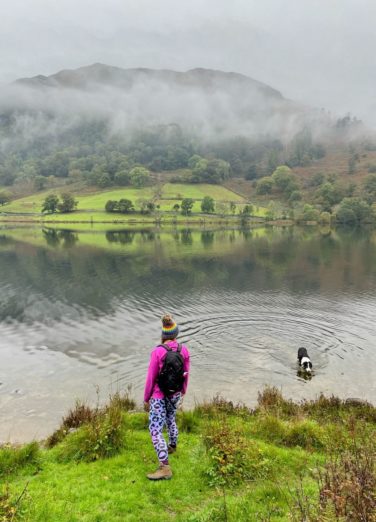 Grasmere
Going north from Ambleside, Grasmere is a beautiful place, described by Wordsworth as "œthe loveliest spot that man hath found" and whilst you are there you can visit Dove Cottage where he wrote many of his works and visit Faeryland Grasmere Tea & Coffee Garden.
One of my favourite places to visit in the Lake District is Sarah Nelson's Grasmere Gingerbread, known for being the best gingerbread in the world. Best in the world? I don't know, but it's the best gingerbread I have ever had.
Near to both Ambleside and Grasmere is Loughrigg Fell, which is a great walk for views over Loughrigg Tarn and the surrounding areas. There's also a lovely view from Pavey Ark looking down over Stickle Tarn.
Where to Stay in Grasmere: There are lots of lovely little b&b's around Grasmere, but I do love Heidi's Grasmere Lodge.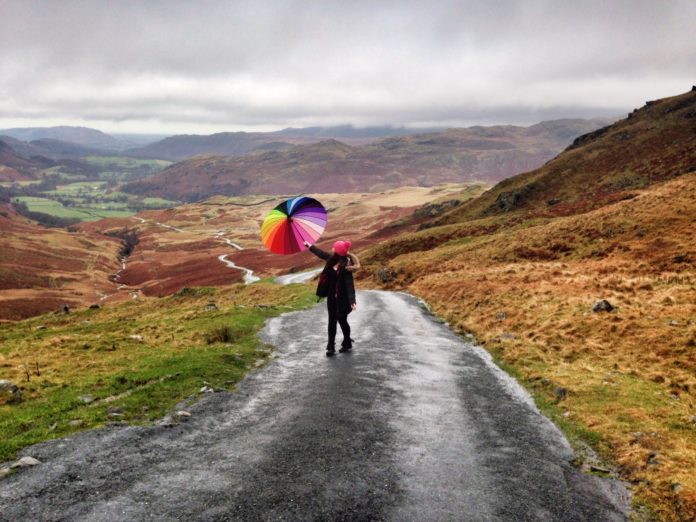 Wrynose & Hardknott Pass
Heading west you can take the Wrynose Pass one of Britain's most difficult, but beautiful roads with hairpin bends, steep drops and incredible mountain views.
They're single-track roads, so keep your eyes peeled for hazards and use the passing places when cars come the other way.
Wrynose Pass turns into Hardknott Pass which is even more beautiful. However, just be aware that if this is the route you take up to Keswick from the south, it is the long way around.
Eskdale Valley
At the end of the Hardknott Pass, you'll find yourself at the Eskdale Valley which has the villages of Santon Bridge, Boot and Eskdale Green. Near to Boot, there is a popular wild swimming spot called Tongue Pot.
Then below it, there is Kail Pot, which is a bit more secluded. To get there, park by the red telephone box by the end of the Hardknott Pass, then follow the River Esk until it forks. Kail Pot is lower down but pretty easy to spot.
A couple of other great places for wild swimming include the Stanley Ghyll Force Waterfall and the peaceful Burnmore Tarn. The Eskdale Valley is a great place to go ghyll scrambling, so check out the activities with West Lakes Adventure.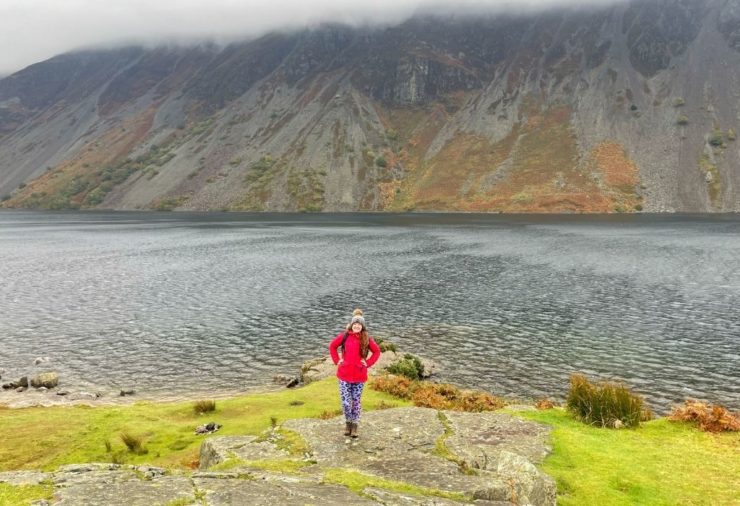 Wast Water
One of the most scenic and atmospheric places to visit is Wast water (or Wastwater) in the Wasdale Valley. The lake is the deepest of all the lakes in the area and surrounded by imposing mountains.
The view from the south-western end of the lake near the YHA Wasdale Hall was voted one of Britain's best views. But wherever you go, you'll not be disappointed as there are fantastic views from the north side of the lake towards Great Gable, Yewbarrow and Lingmell.
There's a nice hike called the Greendale Round, which goes to Middle Fell, Seatallan, Buckbarrow and you can end your walk with a little dip in Wastwater. For views of the sunset, head to the lower slopes of the Wasdale Valley.
Park in the Wasdale car park and then head away from the car, over the footbridge (or stay further south to watch the sun setting on the mountains). There's also a National Trust campsite and a great pub called the Wasdale Head Inn.
Scafell Pike
Scafell is technically slap bang in the middle of the Lake District and you can access it from both the south and the north. Two popular start points are Wasdale Head (south) and Seathwaite (north).
If you do attempt to climb the mountain, make sure you are properly prepared with clothing, snacks and some good map reading/compass skills. It's not uncommon for the mist to descend very quickly leaving you with no visibility.
This happened to me on my Duke of Edinburgh's Award as a teenager and we had to navigate blind off the mountain – so if you don't have the skills, you could always take a trip with the experts at the Mammut Mountain School.
Great Gable
The mountain of Great Gable, near Scafell Pike, is potentially one of the most Instagrammable views in the Lake District! The walk itself is challenging but very rewarding (just look at those views) and like Scafell, you can start it from several places including Seathwaite or Wasdale Head. You can see all the hiking routes here.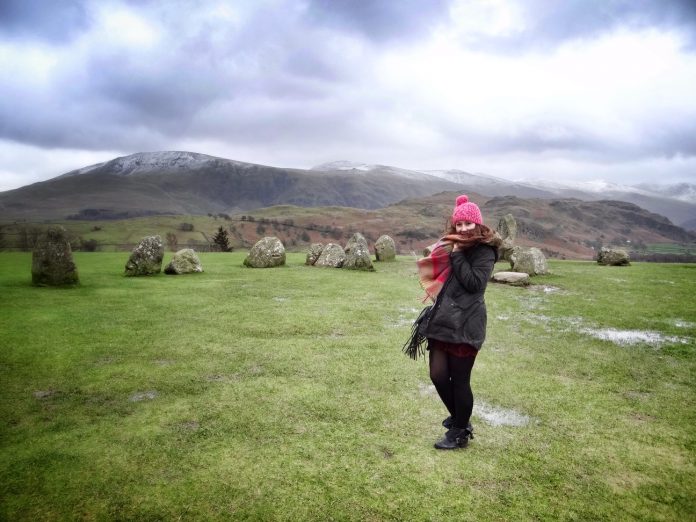 Keswick & Derwentwater
Keswick is a lovely market town on Derwentwater and the main base for the northern part of the Lake District.
There are lots of things to do in Keswick and nearby. A few of the Lake District's most popular hiking routes are also close by, including Skiddaw, Cat Bells, Maiden Moor, High Spy and Castel Crag.
If you have a chance, check out the famous Theatre By the Lake. There's a nice, short walk that goes between the theatre and Friar's Crag, an iconic Lake District viewpoint, which will give you wonderful views over Derwentwater and the surrounding area. If you want to walk a bit further, you can keep going to Strandshag Bay.
For lunch or dinner, Id also highly recommend The Royal Oak pub in the centre of town.
Where to Stay in Keswick: Keswick has a good range of places to stay, but one of my favourites is Rickerby Grange. The Royal Oak at Keswick is a nice pub, right in the centre of town, LakeSide House is a very popular hotel (book early) and if you're on a budget, there's a YHA too! If you're camping, I'd highly recommend the Castlerigg Farm Camping Site and Castlerigg Hall.
Castlerigg Stone Circle
Just outside of Keswick is the atmospheric Castlerigg Stone Circle, an ancient monument that the Neolithic people (10,000-4,500 BC) used for ceremonies, with its panoramic views of the surrounding area, it's easy to see why this was picked as a special and revered place. This would be an amazing place to celebrate the summer solstice on the 21st June.
Ashness Bridge & Surprise View
If you go south from Keswick and take the road to the left, you'll come to Ashness Bridge and Surprise View, two of the prettiest locations in the Lake District, with lovely views over Derwentwater.
Slightly further on, you'll come to the hamlet of Watendlath and the Caffle House Tea Rooms, which is a great place for a rest and a nice pot of tea and a slice of cake!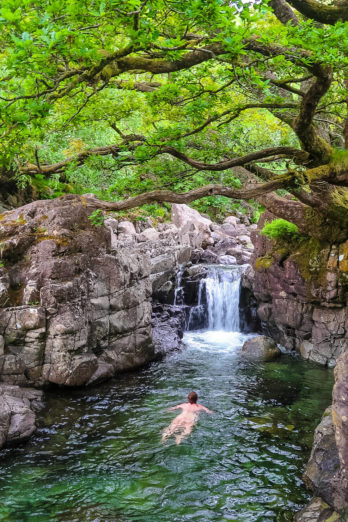 Borrowdale Valley, the Fairy Glen & Black Moss Pot
Borrowdale is a beautiful part of the Lake District, again just south of Keswick. On my last trip there, my friends and I had been looking to go swimming in Black Moss Pot which is great if you love cliff jumping into freezing cold water.
However, we didn't make it that far because we found somewhere else that was pretty magical – Galleny Force, also known as 'The Fairy Glen', which is just a short walk from the village of Stonethwaite through the Stonethwaite Campsite. This is one of my absolute favourite places to visit in the Lake District.
This was the ideal wild swimming spot we'd been after (without the scary jumps). And if you'd like to see a video of our time there, my friend Sabina made an awesome vlog!
From nearby Seathwaite, you can also walk to Styhead & Sprinkling Tarn.
Where to Stay in the Borrowdale Valley: If you want to stay close to the Fairy Glen, you can stay at the lovely little Langstraith Country Inn or the Stonethwaite Farm Campsite. I also hear great things about the Chapel Farm Campsite and the owner, Richard, is a bit of a local legend. Everyone speaks fondly of him!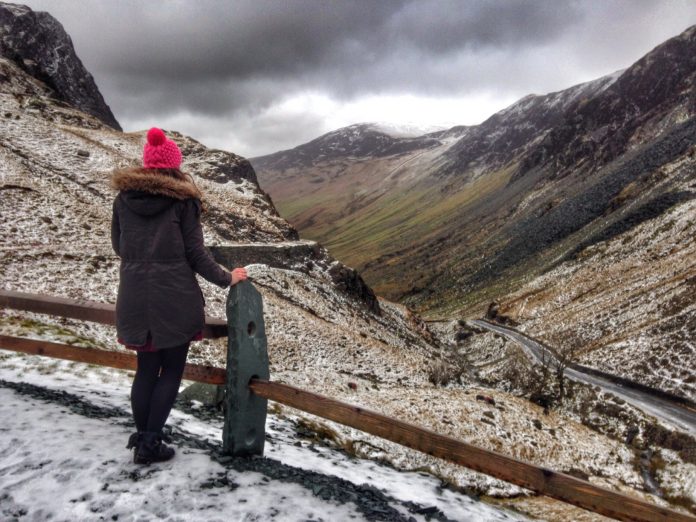 Honister Pass
From Borrowdale, you can cross the Honister Pass, a beautiful road, that connects the Buttermere and Borrowdale Valleys. This is also home to the Honister Slate Mine, where you can take part in several activities including guided walks, canyoning and mine tours.
There is a nice scenic circular drive from Keswick which includes Borrowdale, Honister Pass, Buttermere, Crummock Water, the Newlands Pass and then back to Keswick.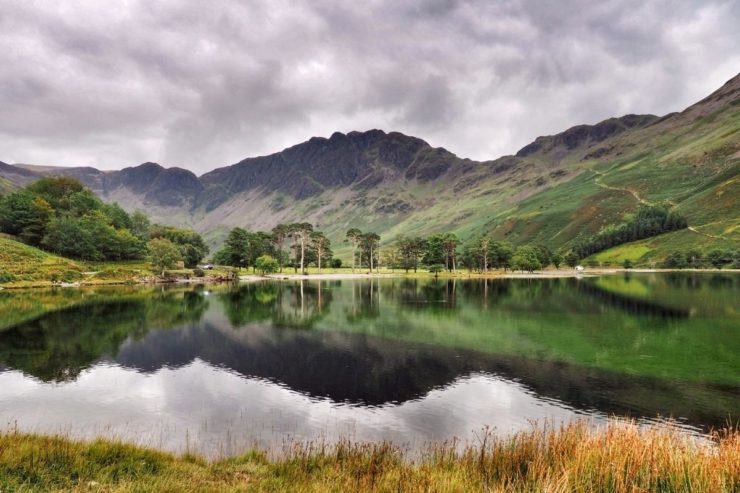 Buttermere
At the end of Honister Pass, you will arrive at beautiful Buttermere (above), one of the prettiest places to visit in the Lake District. It's an easy 4-mile hike around the lake and Buttermere is also a great place for swimming, kayaking or paddleboarding.
When there is no wind, the mountains, surrounding the southern end of the lake reflect in the water. Beautiful, hey?
And if you have time, take a hike up the surrounding mountains for incredible views! Good places to aim for include Haystacks, Fleetwith Pike (picture below. -have a read of my guide to hiking Fleetwith Pike and wild swimming in Warnscale Beck), Red Pike, Dubs Hut Bothy and Warnscale Bothy (where you can spend the night) and High Stile.
Buttermere also has several great eateries and pubs including the Bridge Inn, the Croft House Farm Cafe and the Fish Inn.
Where to Stay in Buttermere: Right in the village and next to the lake is the Syke Farm Campsite. If you're on a budget but don't have a tent or campervan, you can stay at the YHA Buttermere.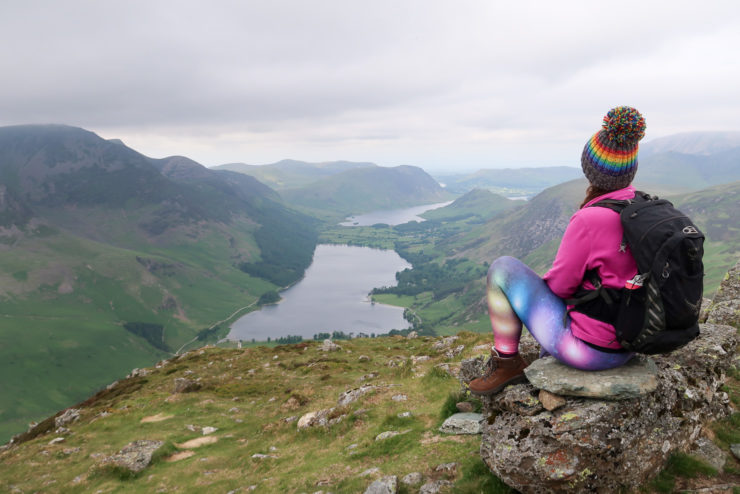 Crummock Water
Crummock Water is the lake right next door to Buttermere, and equally beautiful. There's a great walk which starts from Lanthwaite car park.
Other great walks include Grassmoor, Mellbreak and Low Fell (you will also get to see Loweswater from these walks).
Close by lies Scale Force, the tallest single-drop waterfall in the Lakes. If you visit during the spring, take a slight detour to Rannerdale Knotts to see the beautiful bluebell fields.
Newlands Pass & Newlands Valley
From Crummock Water, you'll make your way back to Keswick via the Newlands Pass. It is a beautiful drive with pretty hills, waterfalls and the occasional rainbow. It is pretty magical and reminds me of my trip on Iceland's Ring Road.
There are some lovely walks around this area and there's also the Newlands Adventure Centre which has all kinds of amazing activities on offer! My friends had their wedding here!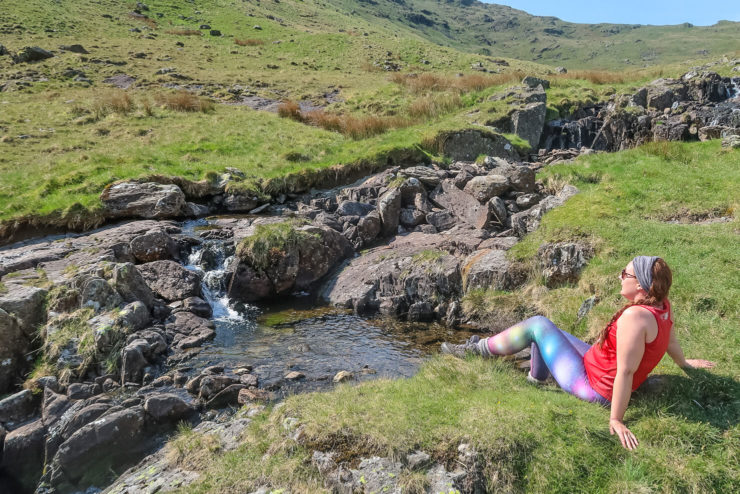 Ullswater
To the east of Keswick, you'll find beautiful Ullswater, which is surrounded by hills and a great place for hiking. It's often named as being England's prettiest lake so it's definitely worth visiting if you are in the area.
On the north side of the lake, you can follow the nature trails to a pretty waterfall called Aira Force which can also be combined with High Force waterfall and a walk to Gowbarrow Fell which has fabulous views.
On the other side of the Ullswater, you'll find Bonscale Pike, Arthur's Pike and Hallin Fell, hikes with amazing views. Then in the far southern end of Ullswater, there's a great walk up to Arnison Crag – whichever walk you decide on, you won't be disappointed!
If you fancy taking a ferry across the lake, book a spot on one of the Ullswater 'Steamers' (tickets must be booked online and in advance) which leave from Glenridding (bottom of the lake) and Pooley Bridge (top of the lake) and in nearby Dalemain, you can even take a hot air balloon ride to see the area from the air.
Where to Stay in Ullswater: One of the coolest places to stay in the Lake District is the fabulous, Another Place, The Lake. The hotel is absolutely stunning and ideally situated, right on Ullswater.
Helvellyn
Helvellyn is the third highest mountain in the Lake District and England after Scafell Pike and Sca Fell, so it's always a popular hike! There are a few different approaches to the mountain, however, perhaps the most spectacular is the one up Striding Edge, combined with Swirrall Edge which makes for a challenging hike with incredible views.
This walk begins from the village of Glenridding, so you could always combine it with a trip on the ferry! For more info on the various walking routes, click here.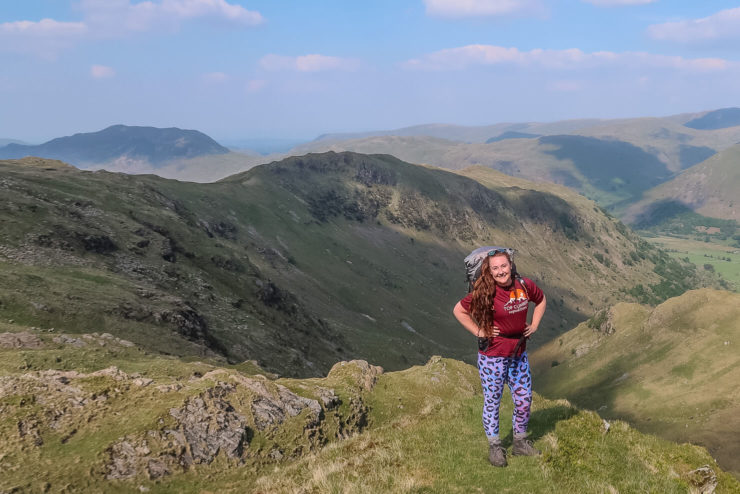 Kirkstone Pass
From Ullswater, you can take the Kirkstone Pass down towards Windermere. The road itself is incredibly scenic and the drive into Windermere is very pretty, when the sun shines, making Lake Windermere sparkle. If you have time, stop at the Kirkstone Pass Inn, the third highest pub in England, for a refreshing drink.
Another route from Keswick to Windermere is via Thirlmere, which is to the west of Helvellyn. For incredible views, take the short walk up Raven Crag.
How to Get To & Around the Lake District
The easiest way to get to and around the Lake District is to drive. A normal car is fine for most places, but I'd say a 4×4 is preferable on some of the mountain passes, especially in the winter months. My little 1.4 Golf definitely struggled on a few of them.
If you decide to get the train, the main stations are Penrith (in the north, near to Keswick) and Oxenholme The Lake District (in the south, near to Kendal and Windermere). You can easily get to either of these from most major train stations in the UK, including direct trains from London, Edinburgh, Glasgow, and Preston.
From there you can change trains to get to the smaller train stations, including Windermere and Kendal, the two main tourist centres. To find out more and book your train to the Lake District, click here.
Without a car, you will be able to get around to some places using buses and taxis, and it will be fine if you are staying in a main town and sticking to that area, but if you want to explore and make the most of your time, you're going to need your own transport.
If you don't have transport, I would maybe consider taking one of the great Lake District tours on offer or hiring a car.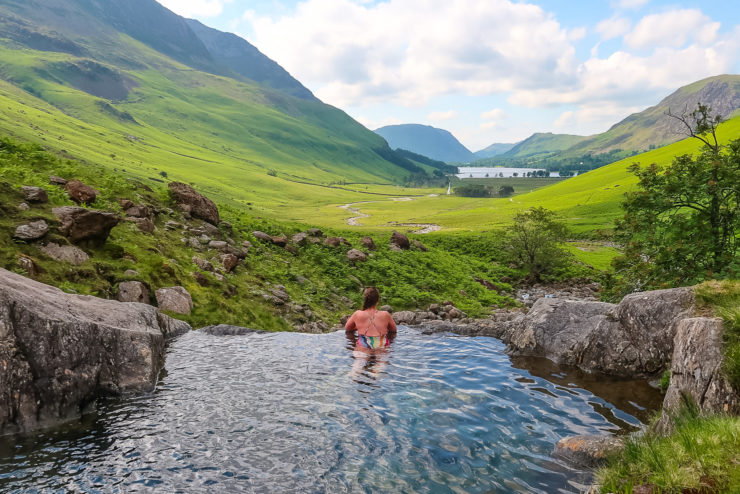 When to Visit the Lake District
The Lake District is a great all-year-round destination, but you're likely to get the best weather between May and October. That doesn't mean that you won't get nice weather in the winter months or rubbish weather in the summer months – I mean, this is the UK and the weather is unpredictable regardless of when you travel.
I've been in the winter and it's been cold but sunny. I've been in the summer and it's rained the whole time. It's pot luck really. But the days are much longer in the summer, so there's much more time to be out exploring. Driving around the Lake District in the dark is not my idea of a good time.
The downside to going in the spring/summer months is that it's a lot busier and accommodation tends to book up in advance. The Lakes can also be very busy at weekends, bank holidays and school holidays throughout the year.
If you're driving, you'll often find queues up the M6 motorway on Friday afternoon/evening and Saturday morning starting from around Preston. This can add an hour or so to your drive time.
I hope this list of places to visit in the Lake District helps you plan a wonderful trip! If you've been, do you have any more places to add to the list?
---
Other UK posts you might enjoy…
---
Pin This Post For Later