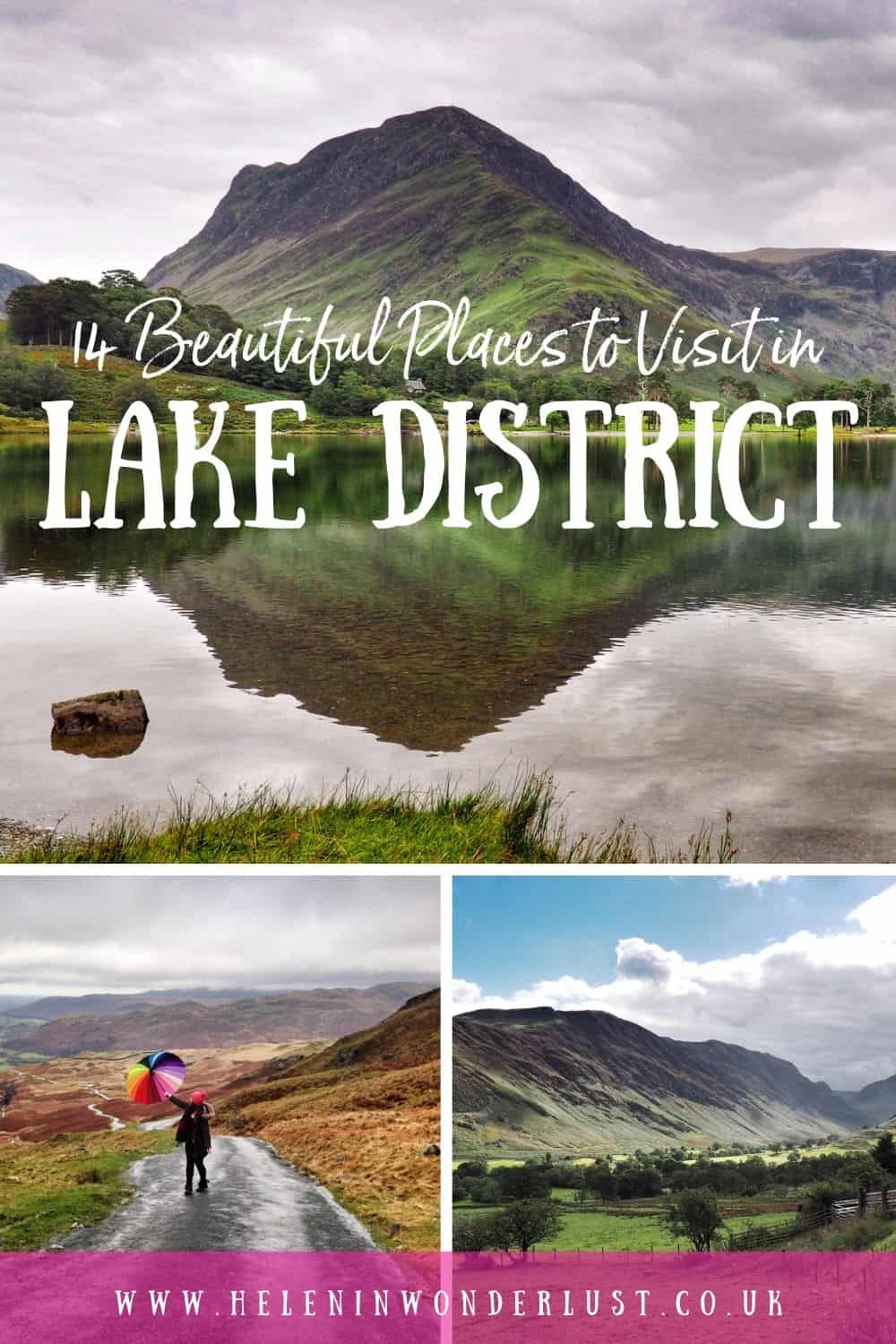 A couple of weeks ago, my friend Brenna was visiting me and we decided to go on an adventure. The brief was simple – somewhere cool, somewhere beautiful, and somewhere close to my home (I live in the North West of England).
We decided to go on a road trip through the Lake District (or 'the Lakes' as we call it), one of the most naturally beautiful places in Britain and only an hour away from my house – lucky me!
With stunning landscapes, mountains, lakes, and pretty towns, it's no wonder that this area became the muse of poets and writers such as William Wordsworth and Beatrix Potter.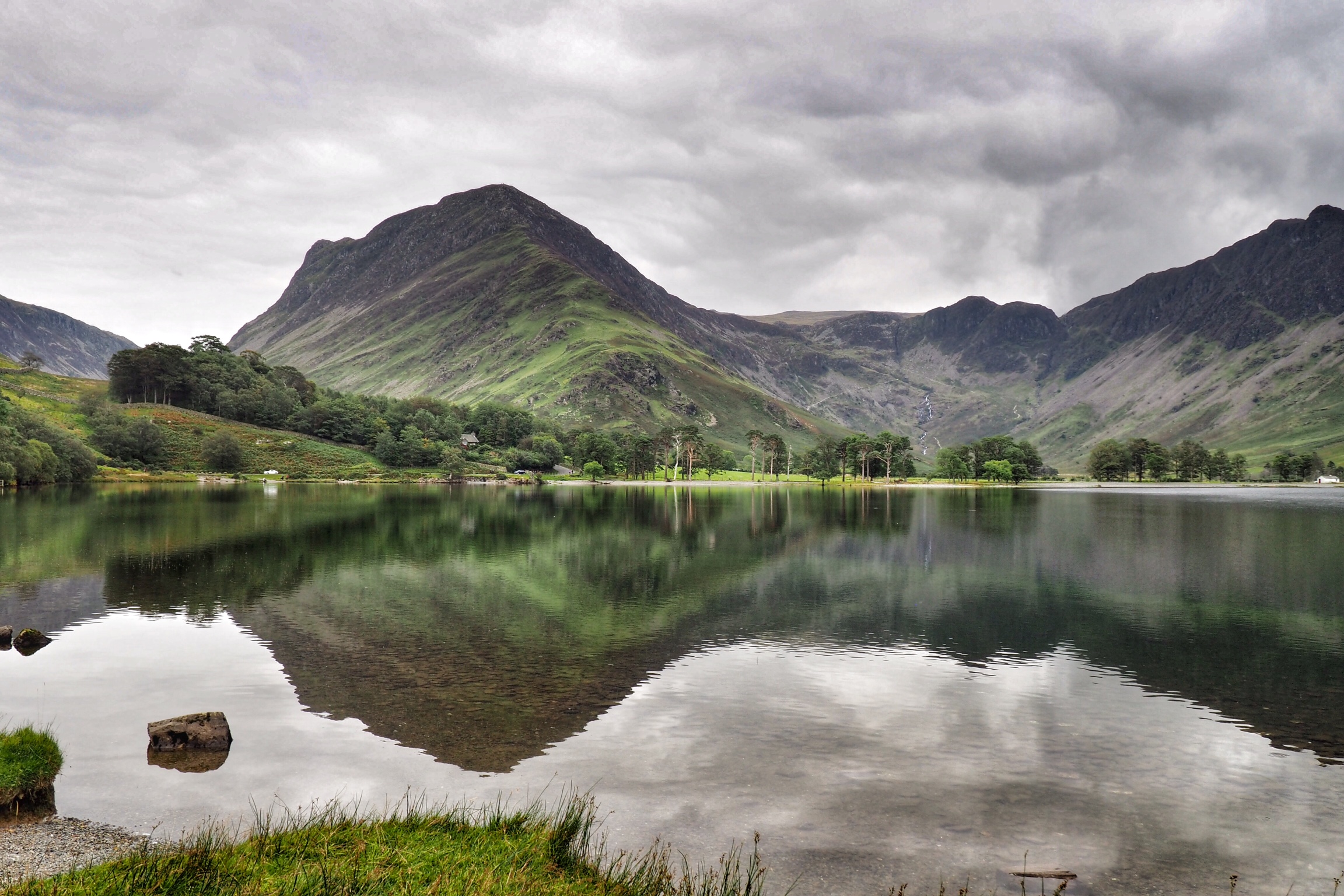 Our Itinerary
We started in Kendal in the south as it's the nearest point from my house. We didn't have a plan, we just wanted to see as many of the main sights in the time we had, but you could easily stretch this itinerary out to a week or even two if you add in activities and hikes.
We drove up early on a Saturday morning, staying just one night, but I'd highly recommend spending 2 nights in the Lake District and 3 full days (at least) to get a good feel for the area and take some longer hikes around different areas.
Your route is very much going to depend on where you decide to base yourself, but here are some of the Lake District highlights to look out for, no matter where you stay!
Kendal
We started our journey in Kendal, passing through on our way toward Keswick, our base for this particular weekend.
Kendal is a cute market town, famous for it's Kendal Mint Cake, which is basically minty sugar cake – don't knock it til you've tried it. It's amazing. That stuff got me up Kilimanjaro.
Going north from Kendal, the next stopping point is Windermere, but as we were planning to visit there on the way back, we decided to continue onwards to Keswick (where we were staying) via Ambleside and Grasmere.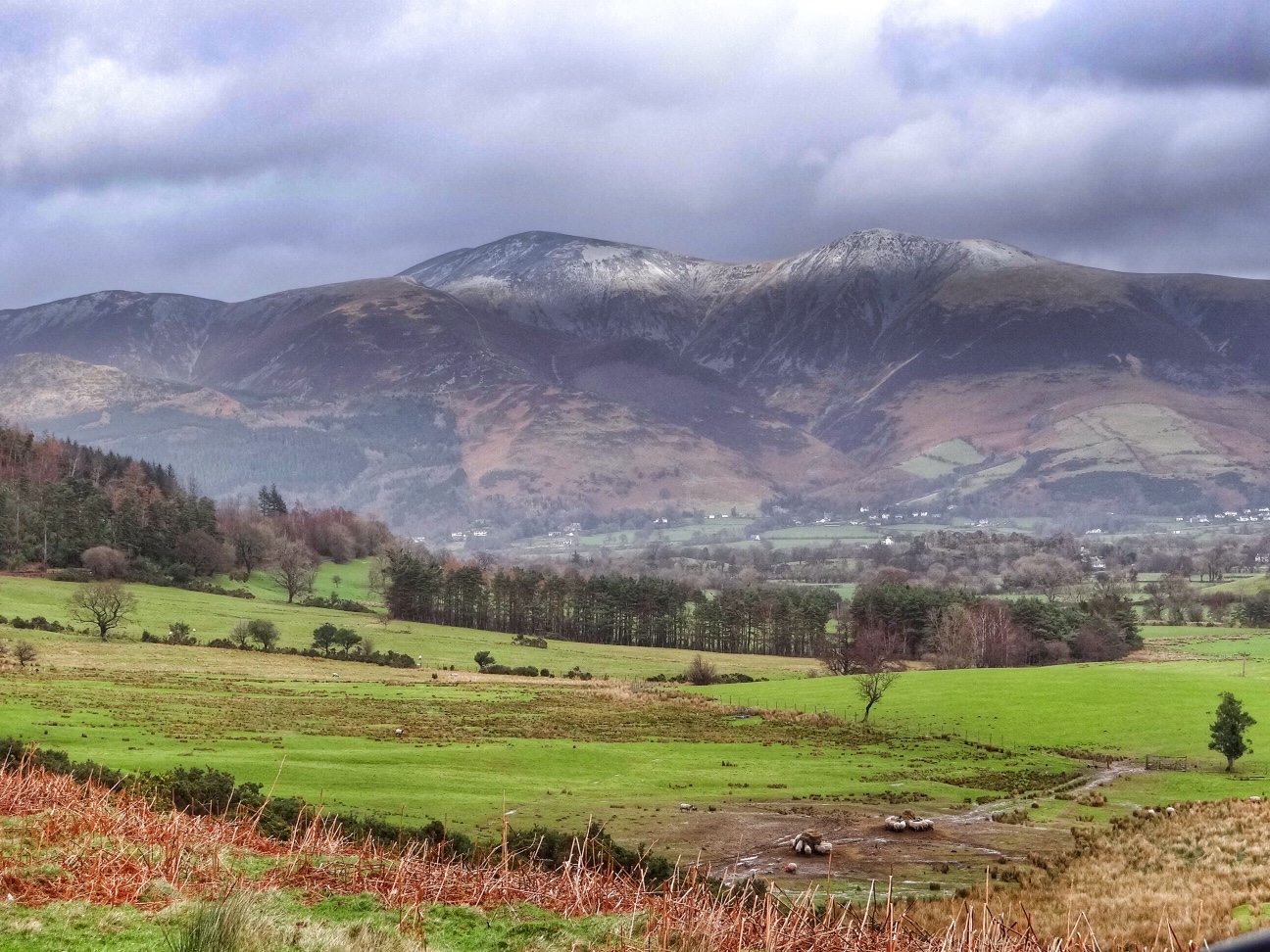 Ambleside
Our first stop was Ambleside, a pretty town, just north of Windermere.
We didn't spend too long here this time (although I usually do) because the rain was coming down so hard, we were getting soaked, even with the umbrella, so we decided to head onwards.
Ambleside is a great place to spend a few hours, wandering around the lovely shops and just a short walk from the town centre lies Stock Ghyll Force, a 70-foot waterfall which is beautiful in the spring when the daffodils are in bloom.
The area is very popular with hikers due to the great walks around Ambleside, so don't forget to pack your hiking boots! And if you're feeling energetic, check out the activities at West Lakes Adventure.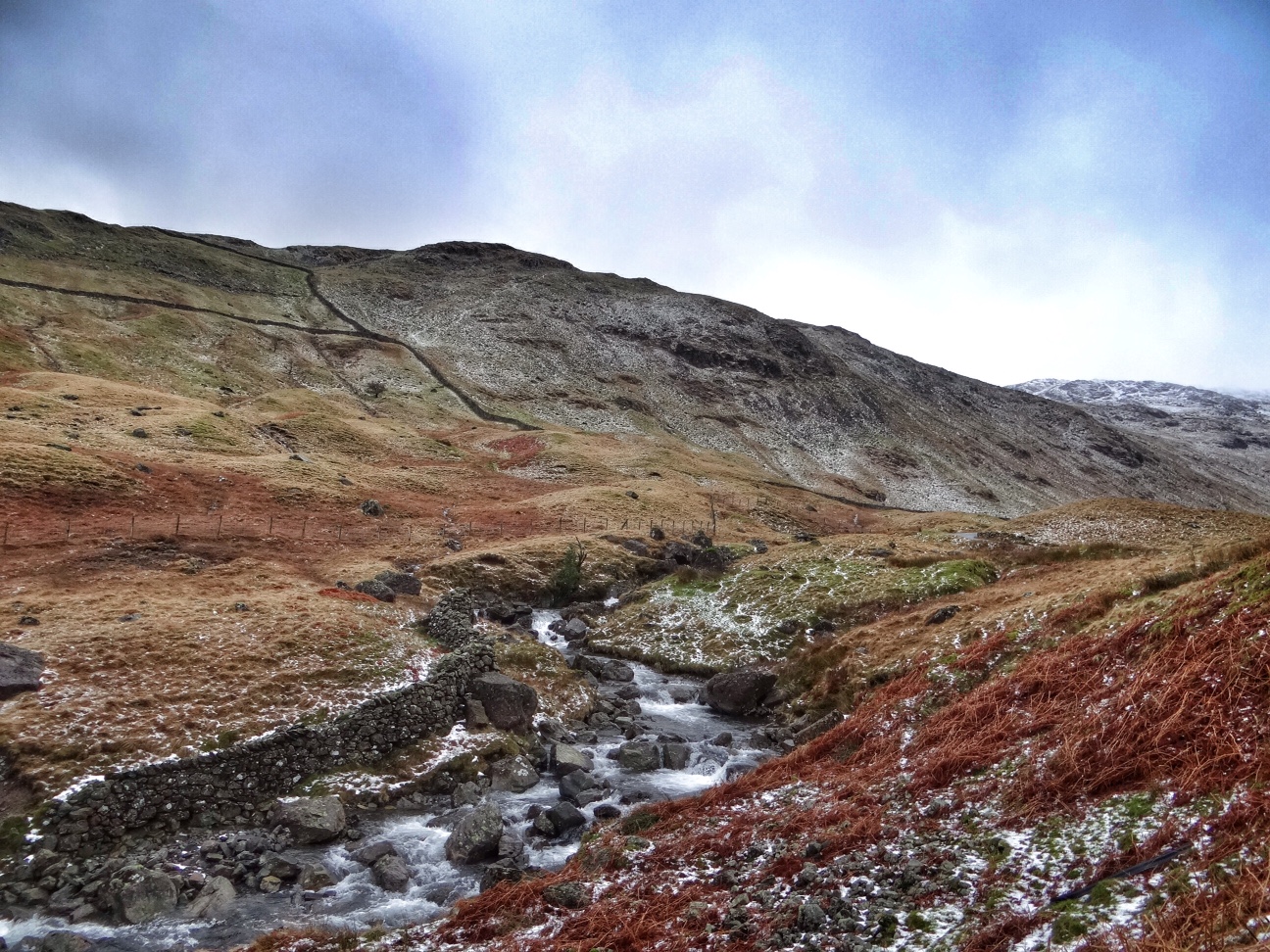 Grasmere
We tried to continue on towards Grasmere, but the rain just got worse and Brenna's Google Maps told us that the road we had been planning to take was closed (the good old British weather), so we decided to take a detour down some country roads and see where we ended up.
As we continued, phone signal became pretty much non-existent, so we just had to wing it. We came to a road that looked a little dubious, and that's a generous description. We now had a choice, go back towards Windermere and find the main road, or we take the longer, more difficult, potentially hazardous, 'scenic route' that we had no idea where …
If you do manage to get to Grasmere, it's a beautiful place, described by Wordsworth as "the loveliest spot that man hath found" and you can visit Dove Cottage where he wrote many of his works.
And you definitely need to try Sarah Nelson's Grasmere Gingerbread, known for being the best gingerbread in the world and enjoy pretty views from the Faeryland Grasmere Tea & Coffee Garden.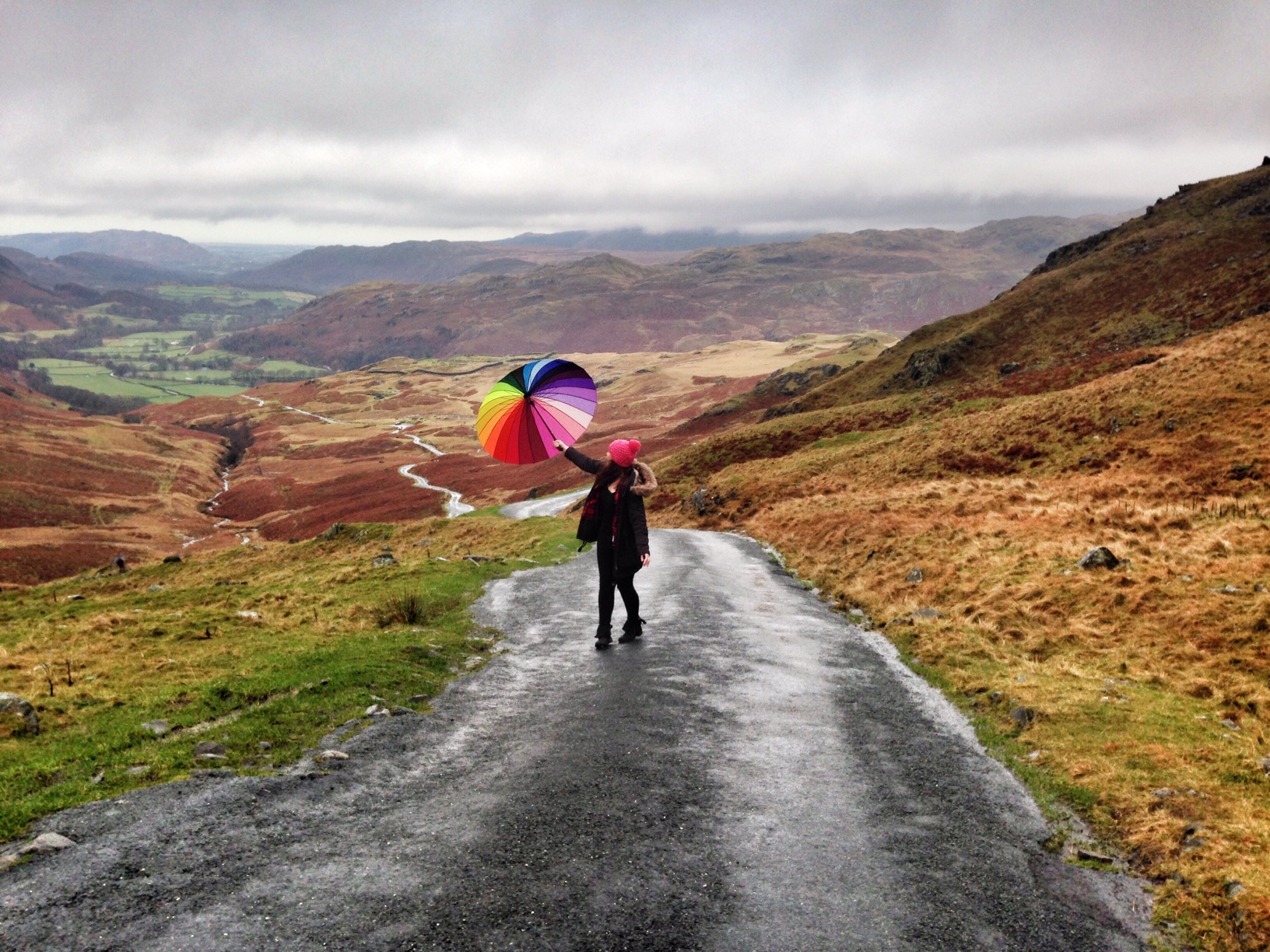 Wrynose Pass and Hardknott Pass
On our little detour, we found ourselves on the Wrynose Pass heading towards England's highest mountain, Scafell Pike.
The road wound up and up, my poor car struggling with the incline on what (we know now) is notoriously known as one of Britain's most difficult and beautiful roads. Brenna and I were in hysterics as we willed ourselves upwards.
Come on little car, you can do it.
I can't say that I was totally relaxed as we drove along the narrow, winding roads, especially when we passed another vehicle, but the views more than made up for the fear.
Wrynose Pass, turned into Hardknott Pass which was even more beautiful. Earlier in the day I had feared that the weather might ruin our trip, however, it turned out to be perfect. Yes, it was rainy and absolutely freezing, but on the plus side, there were very few other cars on the road, so we could pretty much stop where we wanted and for as long as we wanted. It also gave us the perfect excuse to take my beautiful rainbow umbrella
(this thing can brighten up even the darkest days) out for a spin, well, when it wasn't too windy.
This did however take us the very long way around, up towards Cockermouth and then across to Keswick.
These two roads wouldn't have usually been on the itinerary but I'm glad we went exploring because we were rewarded with some epic views.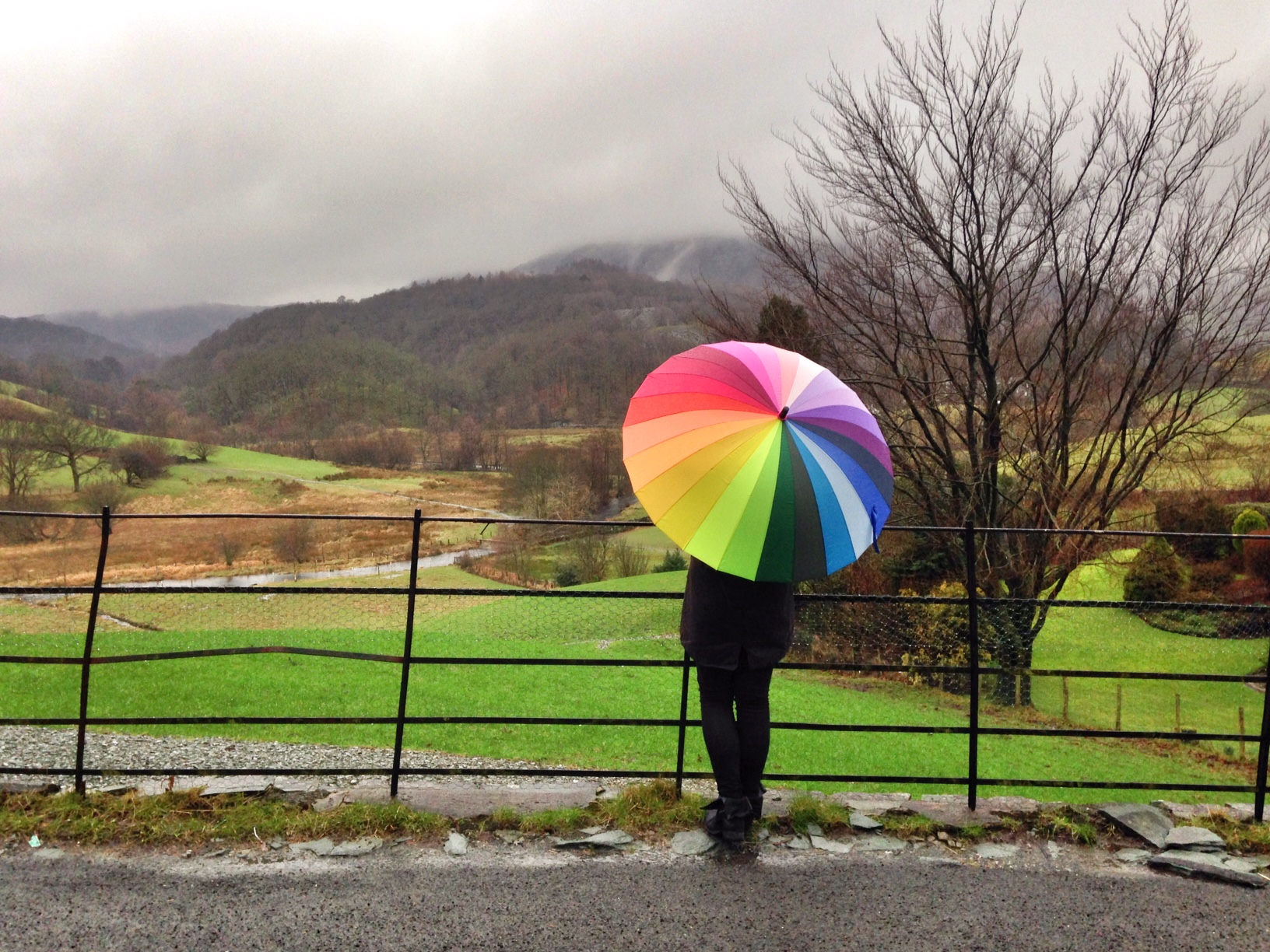 Keswick
By the time we'd navigated our detour, the light was beginning to fade, so we decided to head straight to the market town of Keswick.
We had a little wander around the town before a delicious dinner at The Royal Oak pub which is also one of my recommended places to stay.
Keswick is a great place, with lots of things to do in and around the town including plenty of shopping, walks, cycling routes and adventurous pursuits. If you have chance, check out the famous Theatre By the Lake.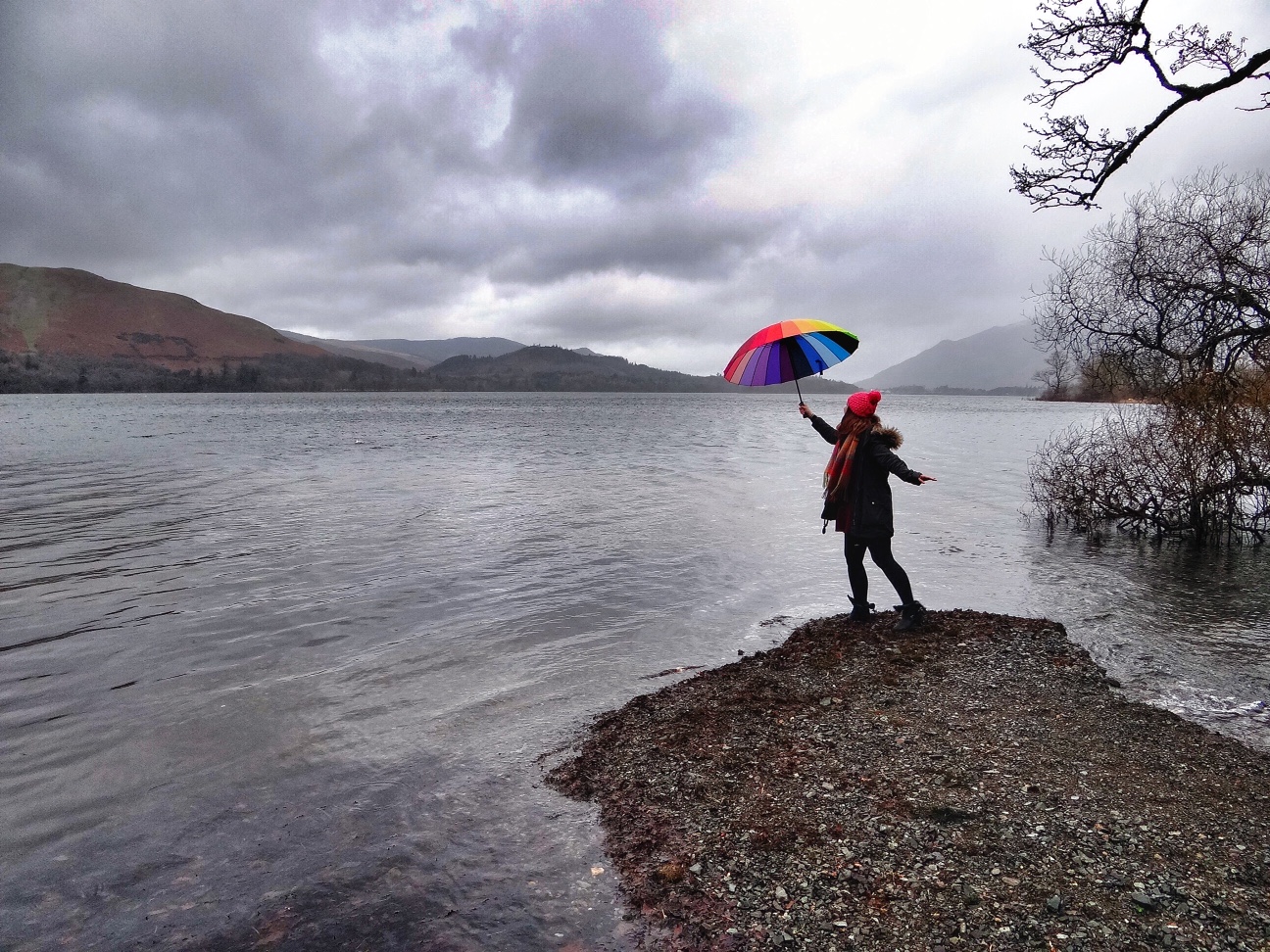 Derwent Water
The following day we did a big loop of the northern part of the Lakes, stopping first at Derwent Water. The place was beautiful, but the weather was so awful at this point we did nothing more than take a few photos.
But, there are tons of things to do around and on the lake if you head to the Derwent Water Marina, such as sailing, windsurfing, canoeing, kayaking and stand up paddleboarding.
I vowed to return soon for some hiking in the hills around Skiddaw, Cat Bells and Borrowdale.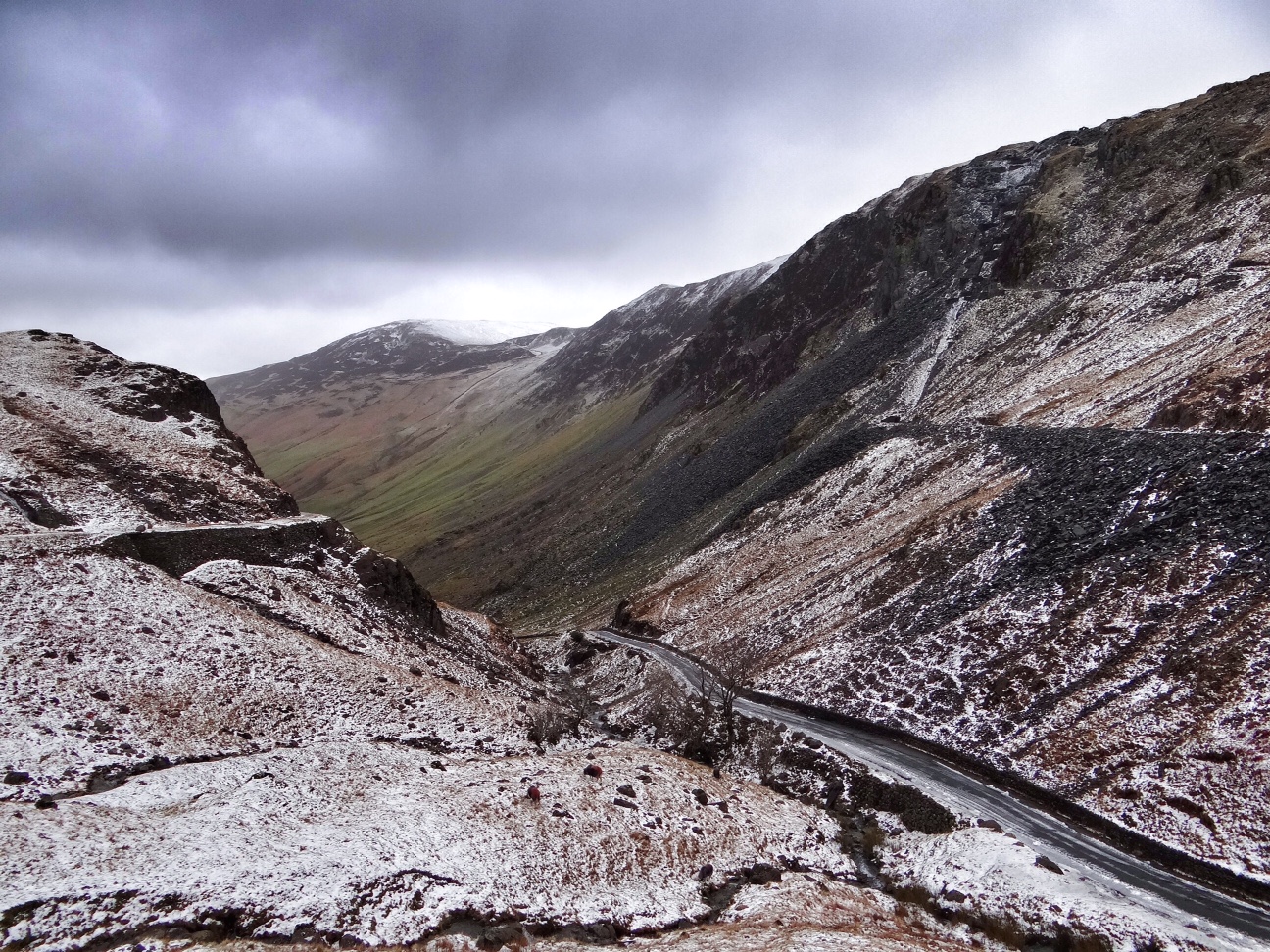 Honister Pass
Our next stop was the Honister Pass. It was even more beautiful than I had expected, especially as the rain had now stopped and the landscape was covered with a little sprinkling of snow.
It was probably my favourite view of the trip and the photos don't really do it justice.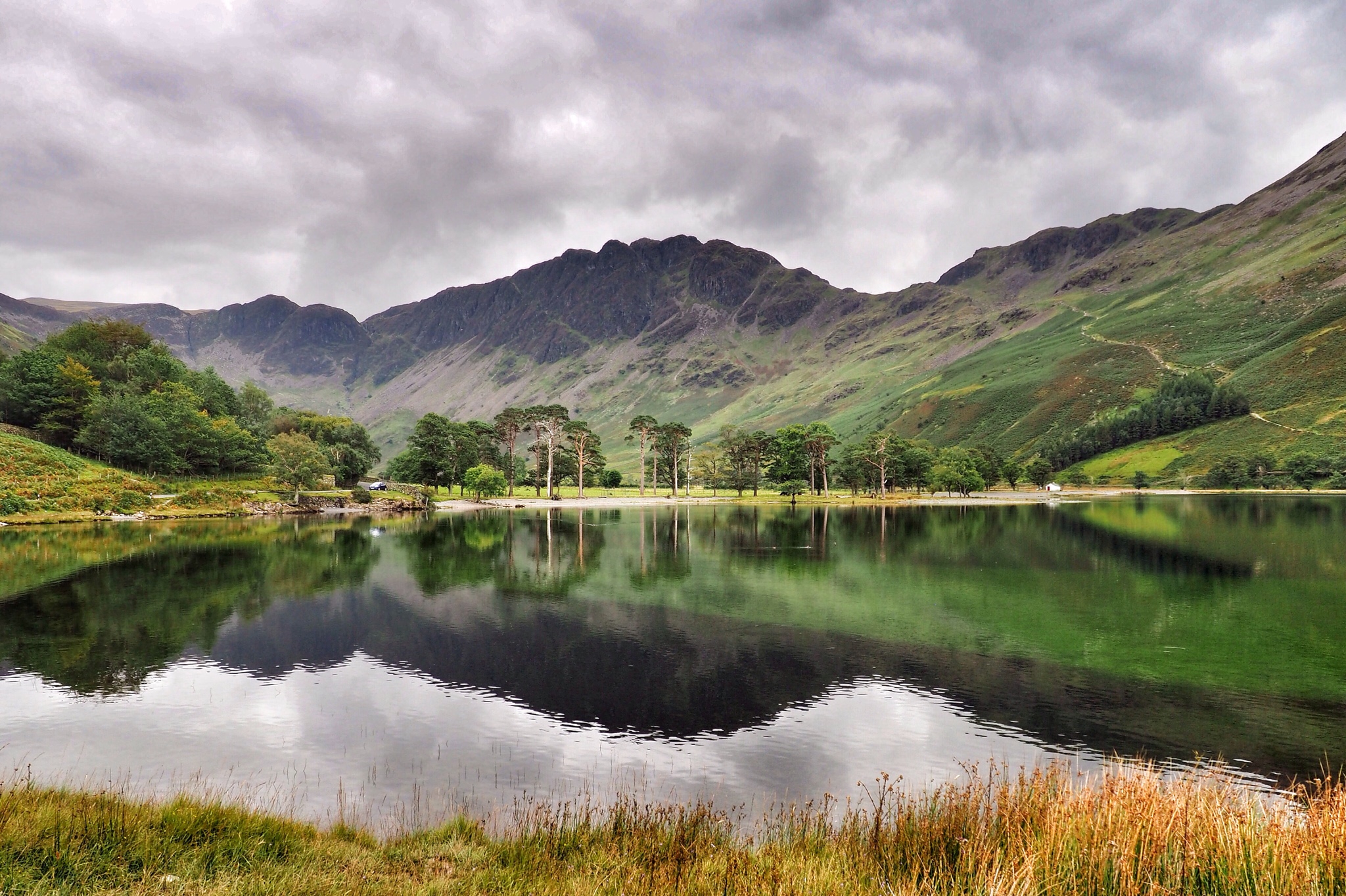 Buttermere
At the end of Honister Pass, we arrived at beautiful Buttermere (above), one of THE prettiest places in the Lake District. I really love it here.
I'd told Brenna all about the way Haystacks reflected in the water, however the wind caused the water to ripple too much and completely ruined the effect. But luckily I had visited on an equally grey, but much less windy day back in October and took the 4-mile solo hike around the lake with my camera, as you can see in the picture above.
Beautiful, hey?
MY TIP: If you have the time, please try to take a hike up between to between Hay Stacks and Green Crag where you will get absolutely amazing views overlooking Buttermere and Crummock Water.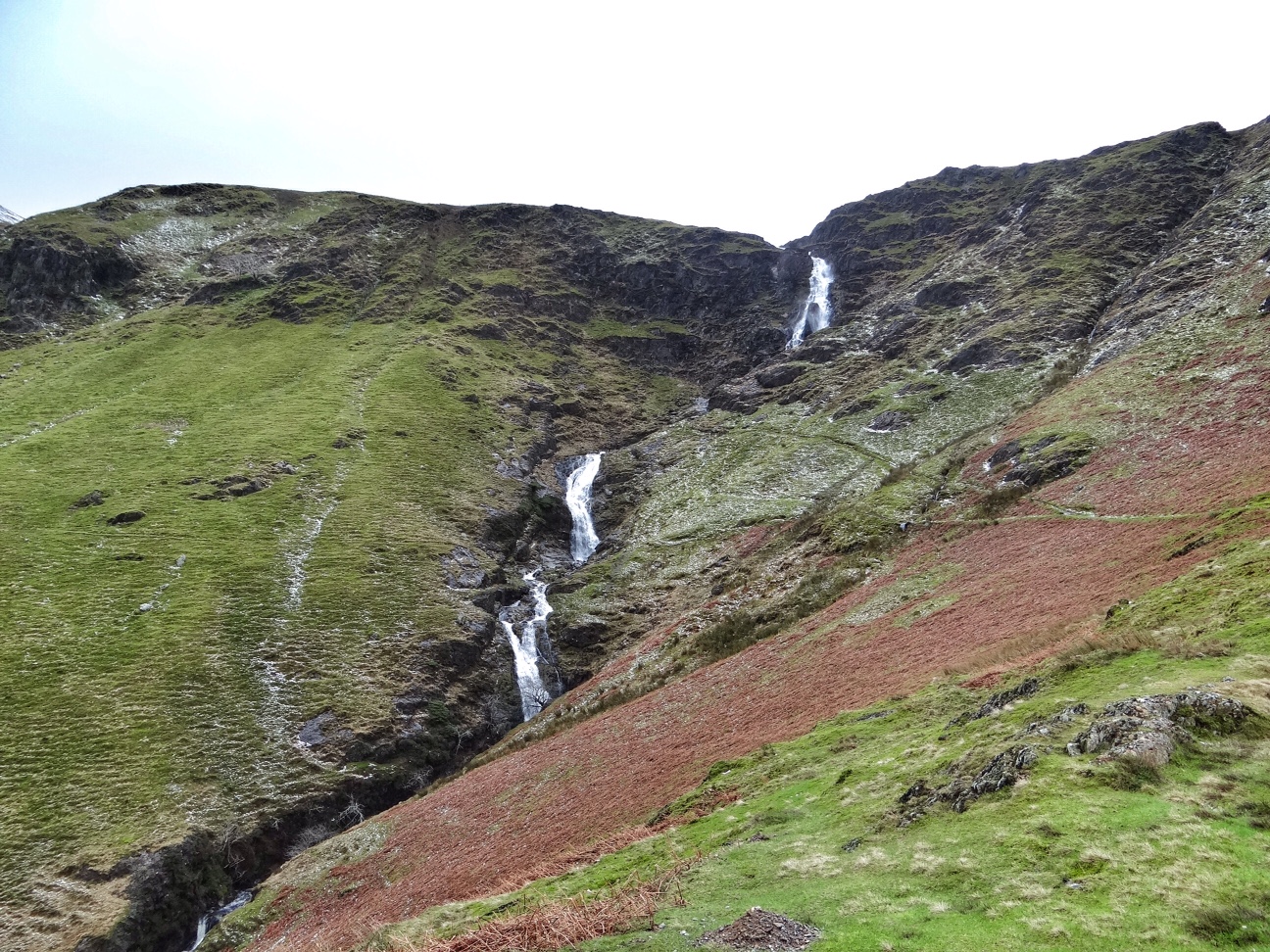 Newlands Pass & Newlands Valley
We then drove back towards Keswick over the Newlands Pass.
It was a beautiful drive with pretty hills, waterfalls and rainbows. It was pretty magical – kind of what I imagined Iceland to be like (EDIT: I've since been road tripping around Iceland's Ring Road and I can definitely say there are some similarities between the two).
We stopped by the Moss Force waterfall and I braved gale force winds to get the shot below but had to get back in the car after I was literally blown over. I'm all for getting a good photo, but the wind was extreme and I didn't fancy a Goonies-style water slide down the mountain.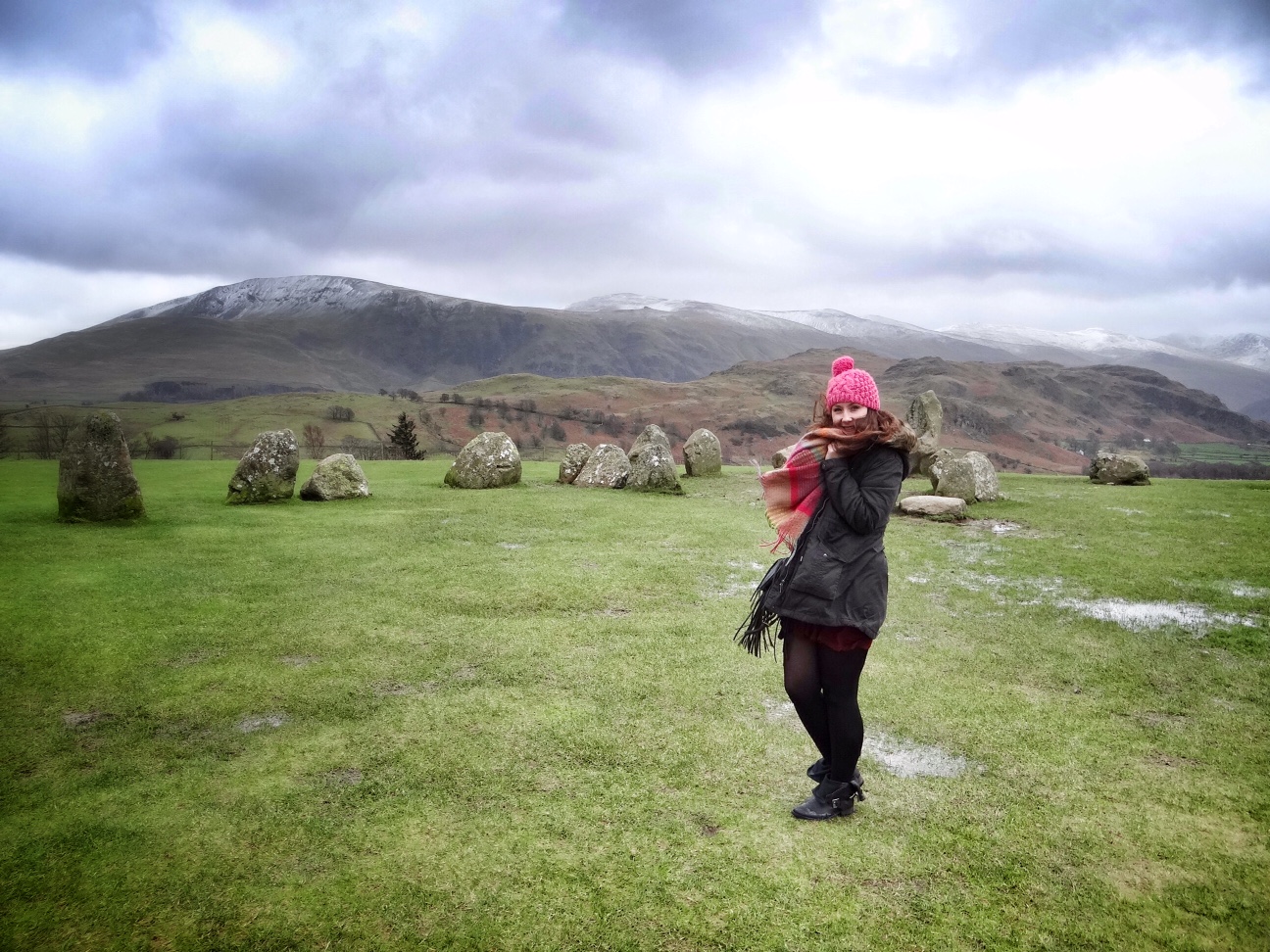 Castlerigg Stone Circle
Back in Keswick, we headed up to the atmospheric Castlerigg Stone Circle, an ancient monument that the Neolithic people (10,000-4,500 BC) used for ceremonies, with its panoramic views of the surrounding area, it's easy to see why this was picked as a special and revered place.
This would be an amazing place to celebrate the summer solstice.
Ullswater
To the east of Keswick you'll find beautiful Ullswater.
Ullswater is often named as England's prettiest lake so it's definitely worth visiting if you are in the area and if you have time you should take the nature trails to a pretty waterfall called Aira Force.
Ullswater is surrounded by beautiful hills and is a great place for hiking. On the other side of the lake lies Hallin Fell where you will be rewarded by amazing views over the lake.
In nearby Dalemain, you can even take a hot air baloon ride to see the area from the air.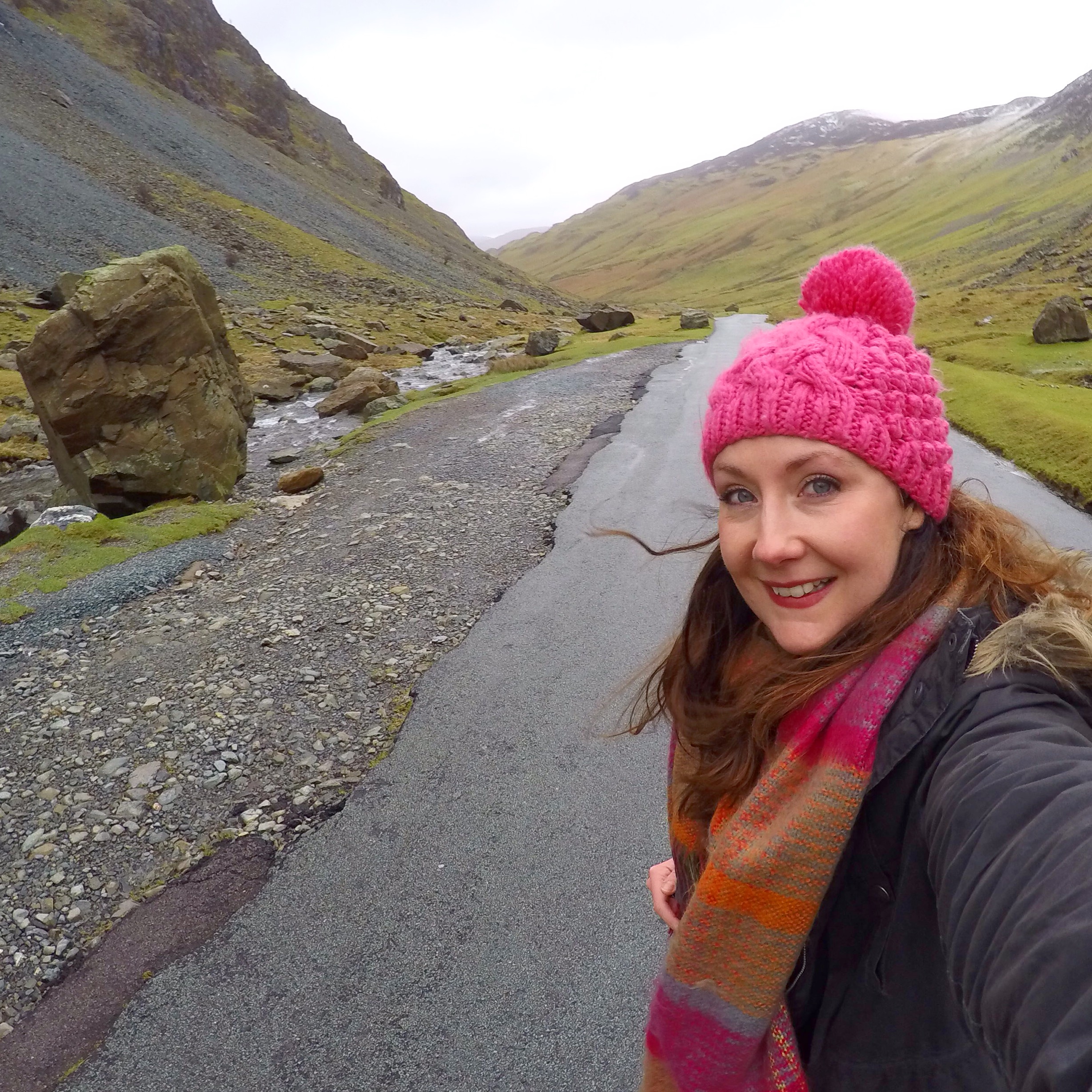 Kirkstone Pass
From Ullswater, we took the Kirkstone Pass towards Windermere. By this point we were running out of time, so I was just happy to take in the views – so sorry, no photos! But I can tell you that the drive into Windermere was very pretty, especially as the sun finally decided to make an appearance making Lake Windermere sparkle below us.
If you have time, you can stop at the Kirkstone Pass Inn, the third highest pub in England.
Bowness-on-Windermere
Our last stop was Bowness-on-Windermere, a place I have visited many, many time over the years.
There's so much to do around Lake Windermere, you could stay here a week and not get bored and it's the perfect place to base yourself for your visit to the Lake District.
There are lots of lovely little shops and restaurants, the World of Beatrix Potter and lots of activites in and around Windermere, including tons of water-based sports as well as lots of 'free' things to do such as hiking and picnicking at the lake.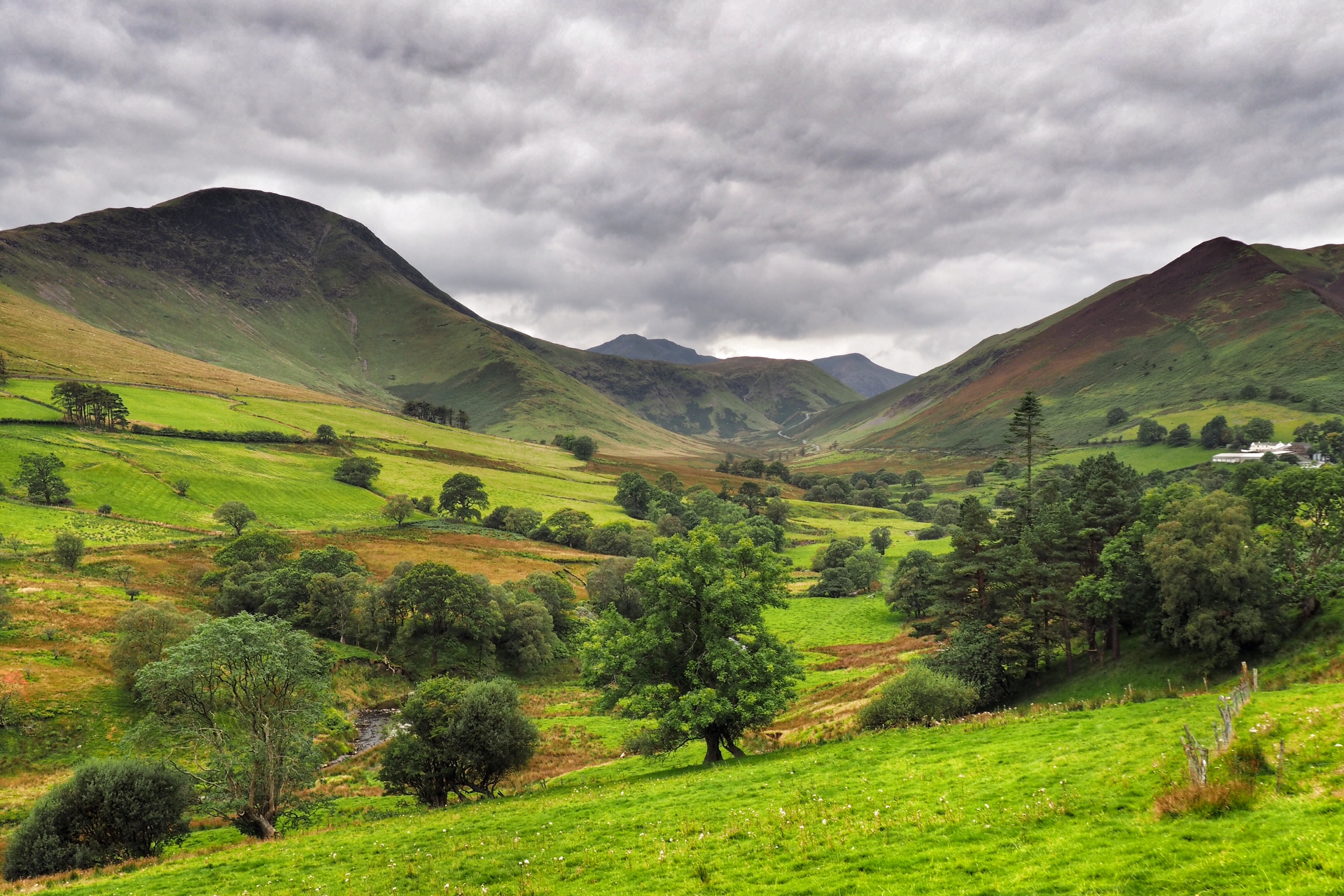 Getting To & Around the Lake District
The easiest way to get to and around the Lake District is to drive. A normal car is fine for most places, but I'd say a 4×4 is preferable on some of the mountain passes, especially in the winter months. My little 1.4 Golf definitely struggled on a few of them.
If you decide to get the train, the main stations are Penrith (in the north, near to Keswick) and Oxenholme The Lake District (in the south, near to Kendal and Windermere). You can easily get to either of these from most major train stations in the UK, including direct trains from London, Edinburgh, Glasgow, and Preston. There are also smaller train stations in Windermere and Kendal, the two main tourist centres. To find out more and book your train to the Lake District, click here.
Without a car, you will be able to get around to some places using public transport and taxis, but if you want to make the most of your time, you're going to need your own wheels so maybe consider taking one of the great Lake District tours on offer or hiring a car – you can compare prices here.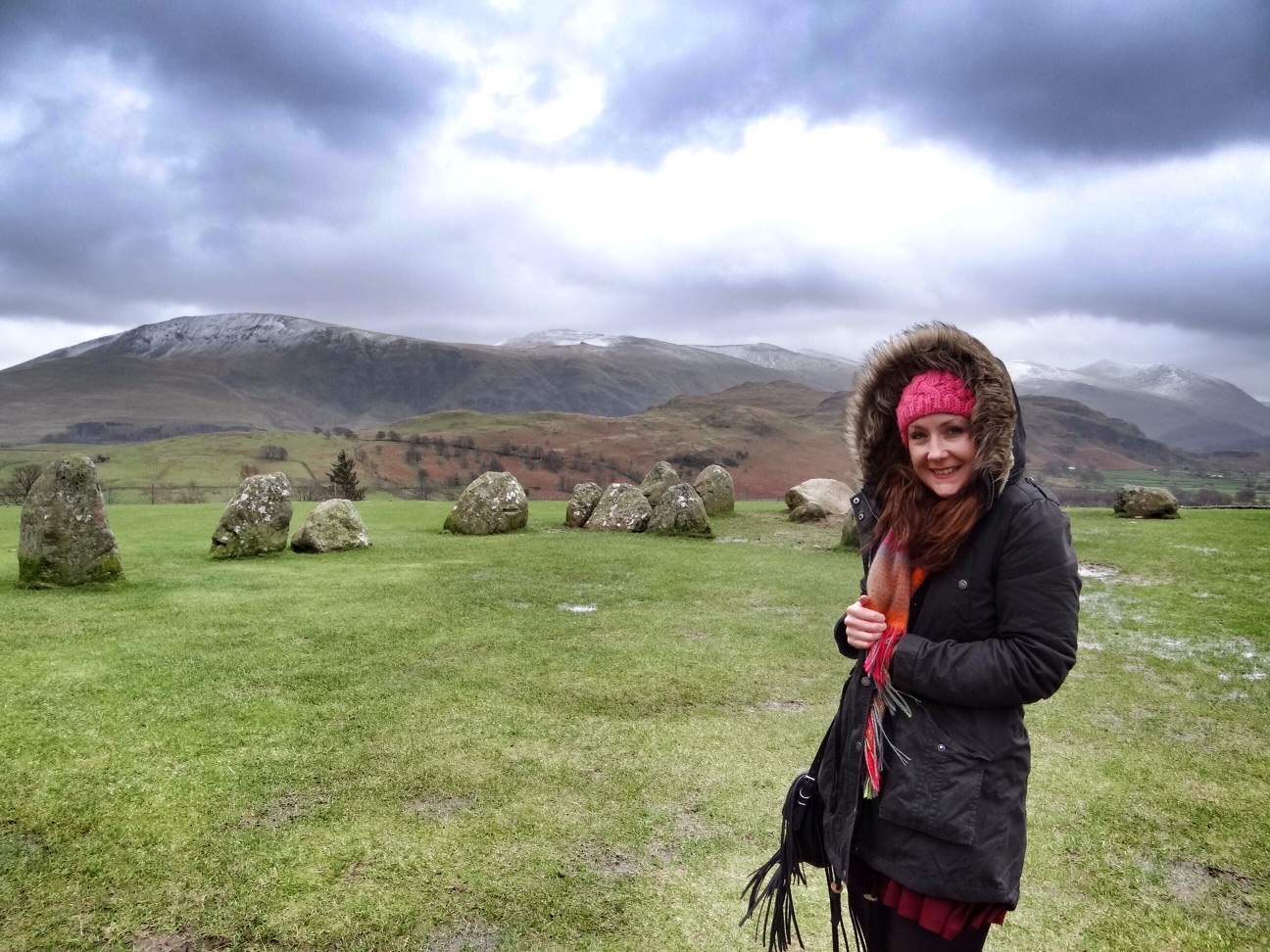 When to Visit the Lake District
The Lake District is a great all-year-round destination, but you're likely to get the best weather between May and October.
That doesn't mean that you won't get nice weather in the winter months and I mean, this is the UK and the weather is unpredictable regardless of when you travel. I've been in the winter and it's been cold but sunny. I've been in the summer and it's rained the whole time. It's pot luck really.
But the days are much longer in the summer, so there's much more time to be out exploring. driving around the Lake District in the dark is not my idea of a good time.
The downside to going in the Spring/Summer months is that it's a lot busier and accommodation tends to book up in advance, especially on the bank holiday weekends and when the UK schools are on summer break.
If you're driving, you'll often find queues up the M6 motorway on Friday afternoon/evening and Saturday morning starting from around Preston. This can add an hour or so to your drive time.
My friends and I always go up to the Lakes in December when it's all cosy and Christmassy. I always go with the intention of hiking, but we usually end up shopping and sitting in the pub drinking.
However when I go in the summer, I always make sure I get out in the fresh air and do some hiking. On this particular trip (in February), we did neither. It was all about road tripping and sightseeing this time as it was very cold, rainy and snowy in places.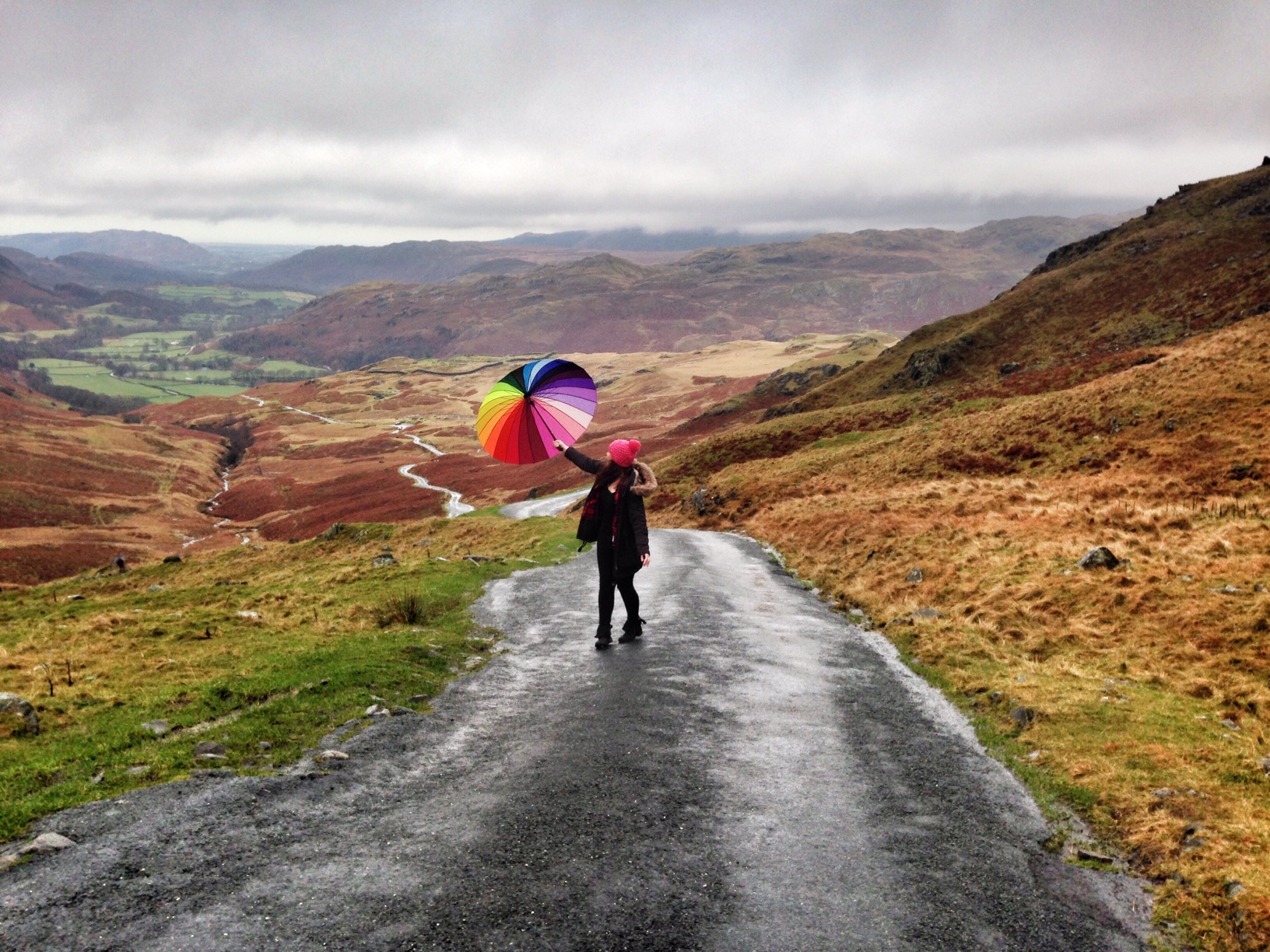 Where To Stay in the Lake District
If you want to be 'in the action' and walkable to shops and restaurants, I'd recommend staying in Bowness-on-Windermere or Keswick.
If you have time and/or don't mind moving, you could stay in a few different areas.
Around Windermere, I absolutely love the Gilpin Hotel & Lake House. It's a little bit out of town, but it's amazing! The Lindeth Fell Country House is a great choice, a short walk from Bowness. Good options right in town are The Royal Oak Inn, Macdonald Old English Hotel & Spa (overlooking the lake) and Bowness Bay Suites. See some other options here.
In Keswick, the Royal Oak at Keswick is a nice pub, right in the centre of town, LakeSide House is a very popular hotel (book early) and if you're on a budget, there's a YHA too!
Other places I'd recommend include, the Low Wood Bay Resort & Spa between Windermere and Ambleside, The Drunken Duck Inn (a great pub on the 'other' side of Lake Windermere) and if you want somewhere truly fabulous, check out the fabulous Another Place, The Lake in Ullswater.
Have a wonderful trip to the Lake District!
---
Like this post? Pin it for later!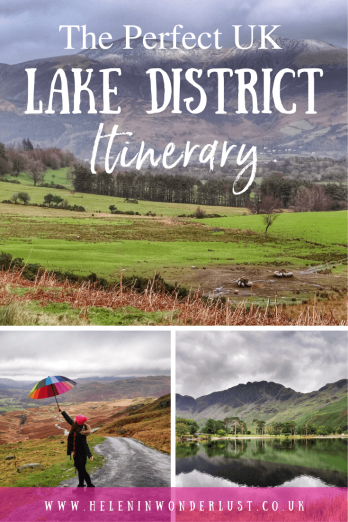 See all UK posts here.
---
Please Note: Some of the links in this post are affiliate links, which will earn me a small commission at no extra cost to you. Affiliate sales help with the running costs of this site, so thank you for your support!