Last updated on March 10th, 2022 at 04:32 pm
Driving Scotland's North Coast 500 was one of my favourite ever road trips and I would love to help you have a smiliar adventure, so consider me your own personal North Coast 500 route planner.
Known as Scotland's answer to Route 66, the incredibly scenic North Coast 500 (or NC500) has been Scotland's most popular road trip since its launch in 2015 And with good reason… it's amazing!
The route covers 516 miles (the NC516 isn't quite as catchy though hey?) around the remote northern part of the Scottish mainland, traditionally starting and ending in the city of Inverness.
Don't forget to also check out my Things To Know Before You Drive Scotland's North Coast 500 post, which also has lots of useful information to make sure you have a safe, epic, and enjoyable trip!
So let's get planning your North Coast 500 itinerary! 
Please Note: Some of the links in this post are affiliate links, which will earn me a small commission at no extra cost to you. Affiliate sales help with the running costs of this site, so thank you for your support!
---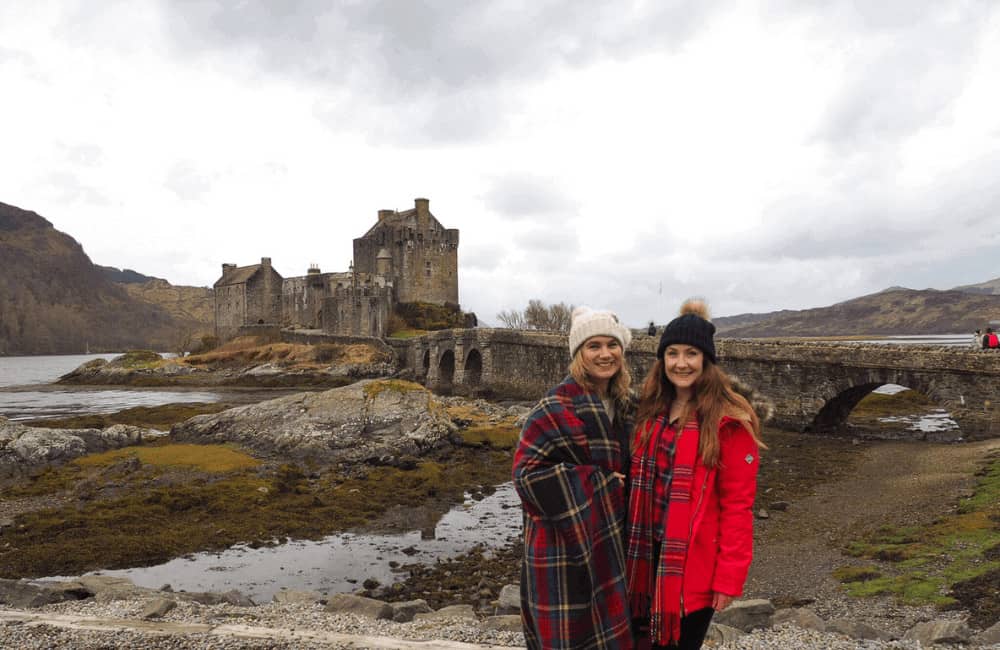 Scotland's North Coast 500 Route Planner, Map & 1-Week Itinerary
When to Travel the North Coast 500
My friend Brenna (This Battered Suitcase) and I drove the NC500 in early March. Perhaps an unusual time of year for a UK road trip… but this was my first trip after a left my job to become a full-time travel blogger, so I really didn't care what time of year it was. 
March is generally a crappy month in the UK, weather-wise, but it turned out pretty well for us actually – it rained a lot, but we were also blessed with plenty of sunshine and therefore, rainbows. Plus, we saw lots of snow too, and who doesn't love to play in the snow?
In Scotland the weather is unpredictable and changes every half an hour anyway. So why not take advantage of the off-season, with fewer crowds, no midgies (tiny biting flies that descend in the summer), and the incredible photo opportunities the colder weather brings? Sunshine is never guaranteed, even in summer.
The downside is that you may find a few seasonal things closed. The main season runs from May to October, but each time of year has its advantages and disadvantages, so just go with whatever suits you best – I'm sure you'll have a great time either way!
North Coast 500 Route Map
The above North Coast 500 map details the main NC500 route, however, I've broken it down into smaller, more detailed, day-to-day itineraries below.
You can also take a look at the 'official' North Coast 500 map (also linked at the bottom of the page). If you want to print this out, I'd suggest printing it A3/A2 otherwise it's too small on a regular A4 printer. Any printing shop should be able to print this for you.
North Coast 500 Route Planner & Itinerary
Brenna and I spent 5 full days travelling along the North Coast 500. We spent 2 days travelling up to Inverness – her from London, me from Preston. We both got trains to Edinburgh, stayed overnight, had a day in Edinburgh, then picked up a car to use for the rest of the trip. 
Then we had one night in Edinburgh on the way back down. So in total our trip was 8 nights, 9 days in total.
But, you don't have to stop in Edinburgh. We could have travelled to Inverness by train or plane in one day and picked up a car there. For the purpose of this North Coast 500 route planner, I won't include the days spent travelling to and from Edinburgh.
Our North Coast 500 Itinerary was as follows (including the days not spent on the NC500):
Day 1: Home to Edinburgh
Day 2: Day in Edinburgh
Day 3: Edinburgh to Inverness
Day 4: Inverness to Dunnet Head
Day 5: Dunnet Head to Durness
Day 6: Durness to Ullapool
Day 7: Ullapool to Applecross
Day 8: Applecross to Edinburgh
Day 9: Edinburgh to Home
5 days on the NC500 was fine, however, I would definitely recommend taking a little longer if you can. You could easily keep yourself occupied for 1 – 2 weeks! With so much to see, we spent the majority of the time driving, doing a few little hikes and taking pictures, and not really 'doing' much. 
You can easily split this itinerary into smaller chunks, and I've recommended a few different places to stay along the route to help you plan in case you have a different timescale to us.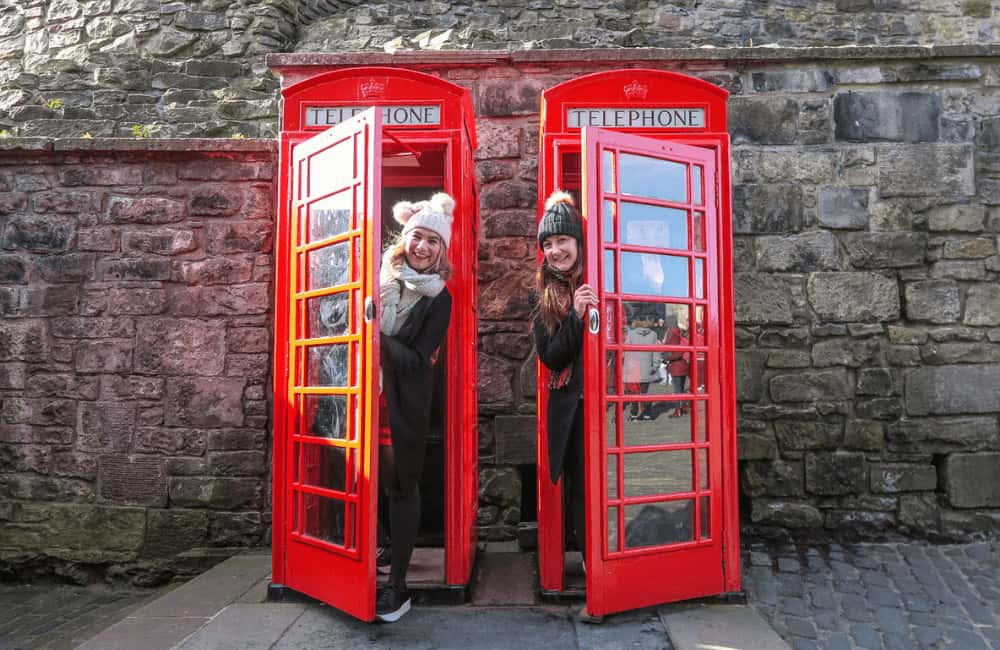 Day 1: Edinburgh
Whilst not on the North Coast 500, Edinburgh is a great place to stop if you are travelling up from other parts of the UK, either by car or train, or if you're flying in from abroad.
Whereas the North Coast 500 offers the wild, rugged, untamed side of Scotland, Edinburgh is more touristy, like Scotland on steroids, with history and culture, and all the tartan and whiskey you could wish for. I love both sides!
There's no shortage of things to do in Edinburgh, including walking tours of the city (with different themes – historical, haunted, underground, Harry Potter), open-top bus tours, visiting the castle, or climbing to the top of Arthur's Seat.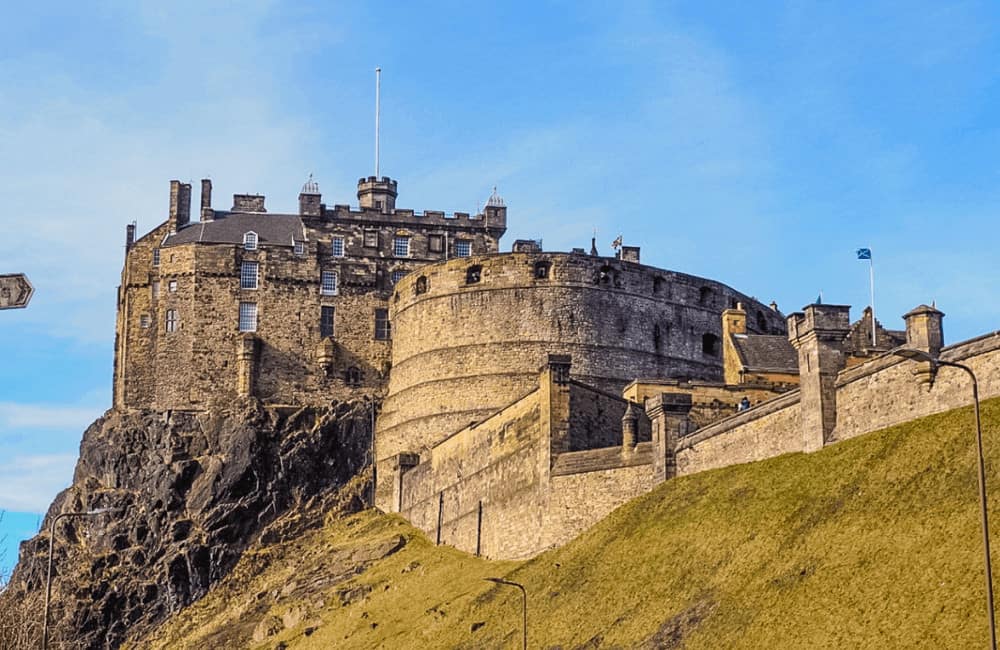 Edinburgh also has great nightlife too, and tons of great bars and restaurants. Whilst we didn't go on this trip, on another trip to Edinburgh I went for dinner and dancing at Ghillie Dhu, a Scottish ceilidh extravaganza. We did the Gay Gordon's, the Dashing White Sergeant, and a whole load of other traditional dances. I LOVED it! 
Where to Stay in Edinburgh: We decided to treat ourselves on this first night at the Radisson Collection Hotel (formerly the G&V Royal Mile Hotel), which is a modern hotel with a fabulous cocktail bar and gorgeous views over the city. I'd definitely recommend staying here!
Day 2: Edinburgh to Inverness
We spent the day driving up from Edinburgh to Inverness. Inverness is the UK's most northerly city, the capital of the Scottish Highlands, and the jumping-off point for the North Coast 500.
If you drive straight there, Inverness is just over 3 hours drive from Edinburgh (and around 3.5 hours from Glasgow), so if you leave early, you'll have plenty of time to sightsee on the way.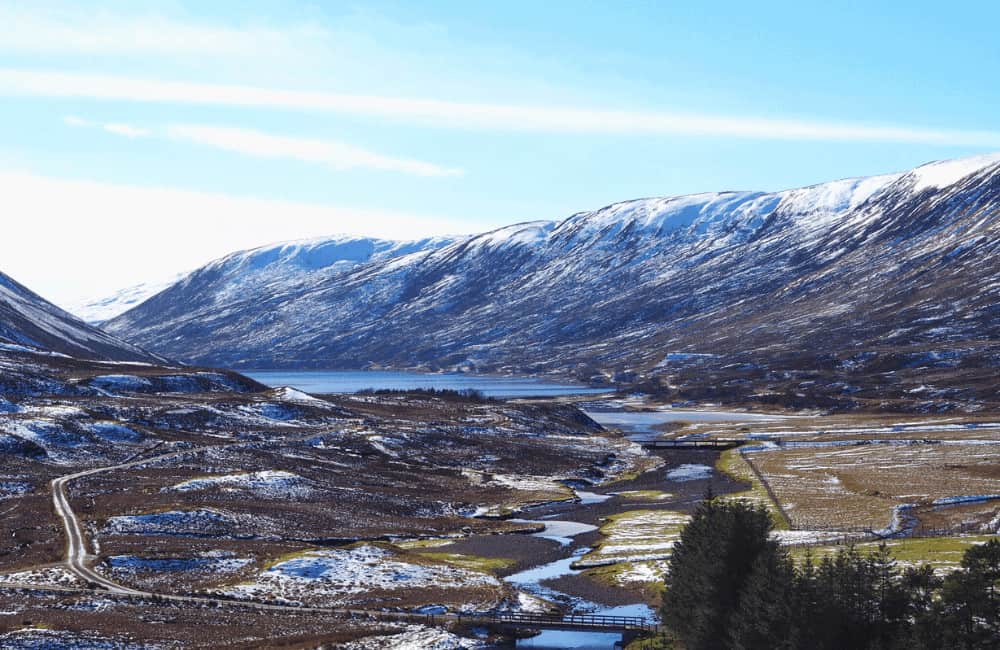 Cairngorms National Park
As you head north, you'll pass the beautiful Cairngorms National Park.
Twice the size of England's Lake District, the Cairngorms is a great place to explore with tons of hiking/biking trails, rivers, lochs (lakes), waterfalls, wildlife, and villages to see.
The Cairngorms is also home to 6 of the UK's highest mountains (the highest is Ben Nevis near to Fort William) and in the winter, snow permitting, you can go skiing and even husky sledding.
Another 'activity' you might like to try whilst in the area is taking the Malt Whiskey Trail. The area just north of the Cairngorms is home to 9 of the UK's Scotch malt whiskey distilleries. You can tour the distilleries and learn about the whiskey-making process – as well as doing a little bit of tasting too.
Just don't drink and drive – the drink driving limit in Scotland is very low, so I wouldn't even risk it! There are a number of taxis/private drivers in the area who can take you around.
Where to Stay in the Cairngorms National Park: There are literally so many gorgeous places to stay in the Cairngorms, you'll be spoilt for choice. Glentruim Lodge Chalet, is super cosy and romantic, and the Dava Schoolhouse looks really welcoming and stylish too. Families or groups will also like the Scandanavian Village Aviemore which has apartments, suites, and villas.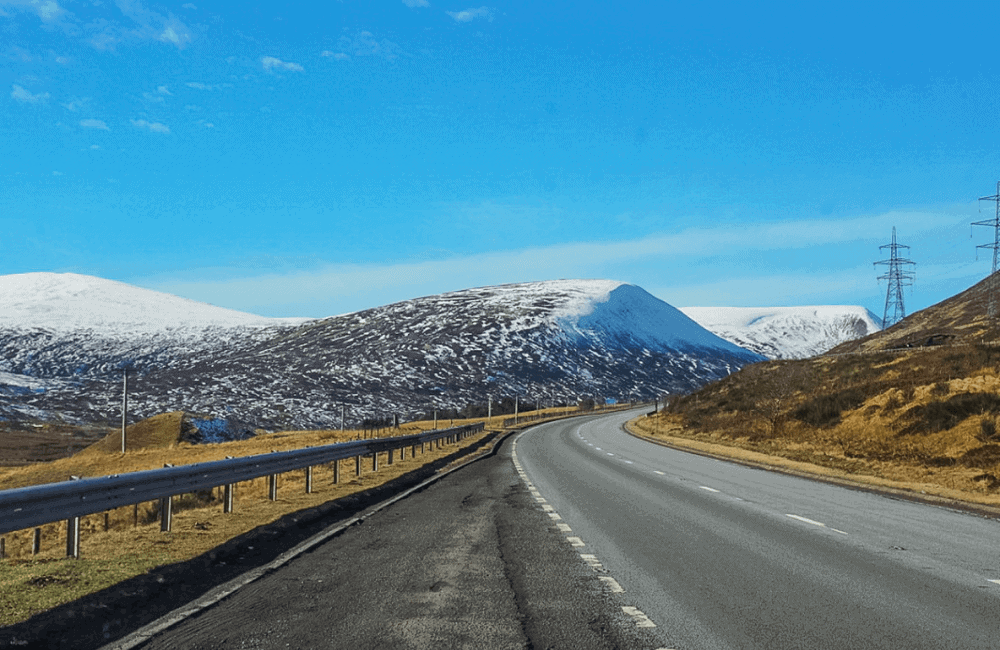 Loch Ness
Our second major stop, was Loch Ness, home to the Loch Ness Monster… or is it? 
You could spend a whole day driving around Loch Ness and there are plenty of amazing views. The Loch Ness Centre & Exhibition lies in the middle of the loch, near to Drumnadrochit and from there you can take boat tours, with sonar to help you try and spot Nessie herself.
Loch Ness by Jacobite has a couple of highly-rated cruises with various departure points (including Inverness Bus Station) in case you can't get down to the visitor centre.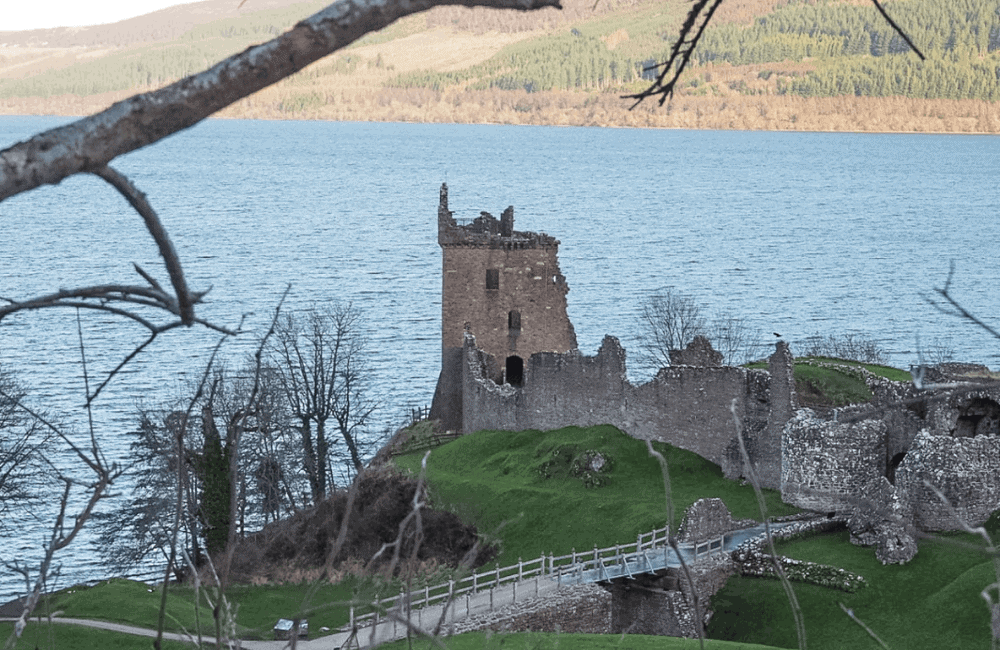 Close by you can also visit the ruins of Urquhart Castle, which can also be seen from the boats if you want to kill two birds with one stone.
Where To Stay near to Loch Ness: Whilst I haven't stayed there myself, the Inver Coille glamping pods & camping site looks like the coolest thing ever. If they don't have space, there are lots of highly-rated hotels in the area.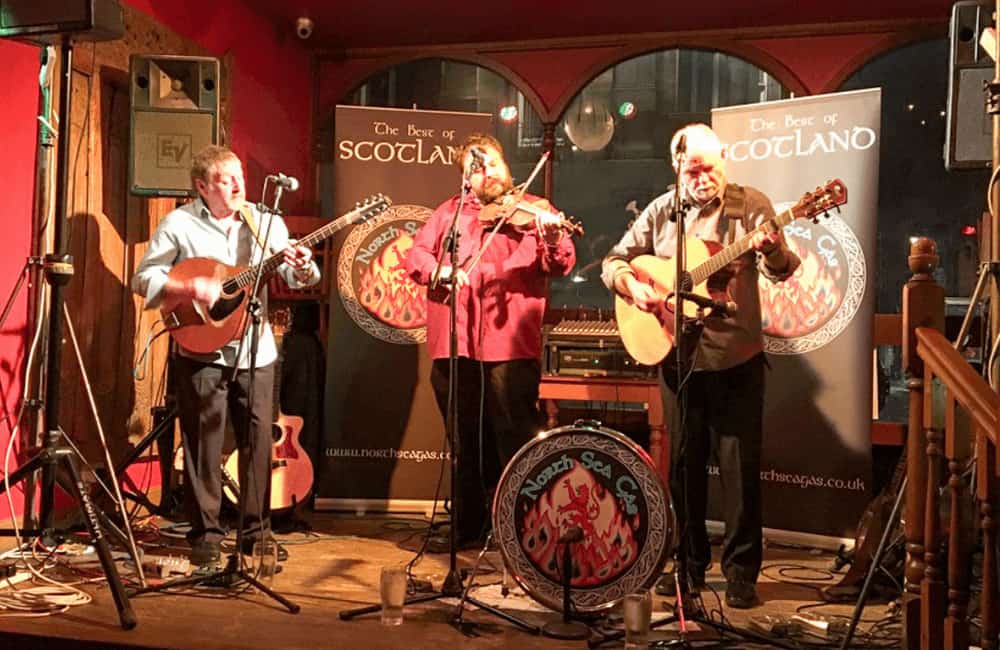 Inverness
By the time we got to Inverness, it was just time to check into our hotel and have a shower before dinner. We ate at the lively Johnny Foxes Pub & Restaurant, followed by drinks and a live Ceilidh band (traditional Scottish music) at the famous Hootenanny Inverness… where we bumped into explorer Levison Wood (and also Don Lawson, the owner of Johnny Foxes).
When we arrived in Inverness, I'd seen on Instagram that explorer and television presenter Levison Wood was also in the city to give a talk about his new book (coincidence, I swear). We looked into getting tickets to the talk, but we didn't have time to get there in time, so I tweeted him to say 'Come to Hootenanny's later'. Which he did.
I'd like to think it was because he was excited to meet two fellow travel writers and adventurers, but I think it may just have been a coincidence…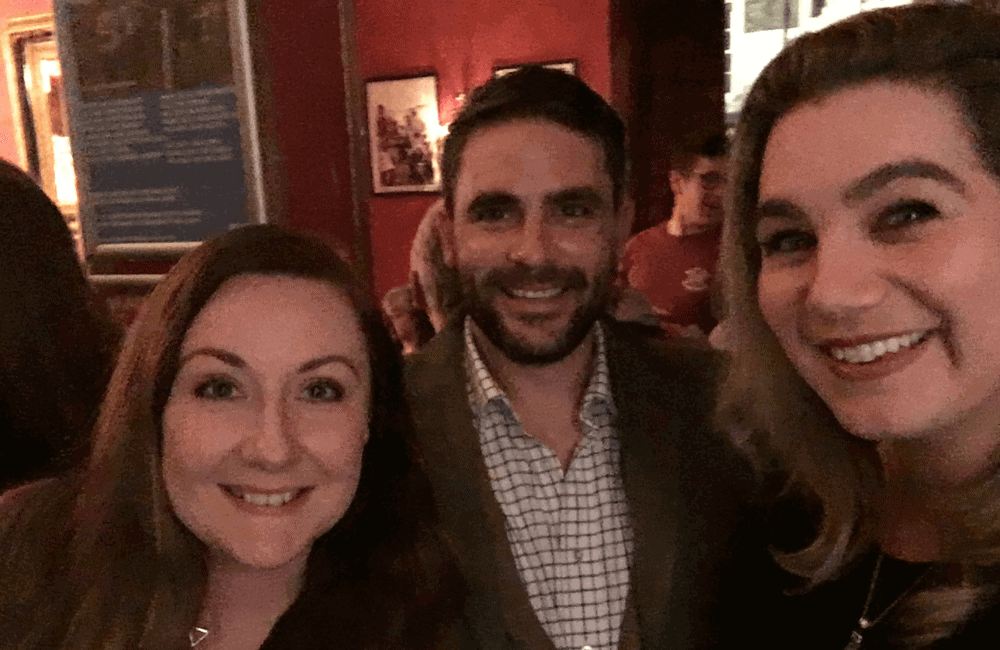 We had a little chat at the bar about travelling in Africa, Brenna chatted to him about her book, I introduced him to 'Johnny Fox' ("Have you met Johnny Fox?" is the Scottish equivalent of "I carried a watermelon."), he took the piss out of me for being a Scouser and said he'd give my blog a read – which I'm sure he does on a regular basis these days (Hi Lev!)… 
Although I was too embarrassed to ask him if he'd seen my tweet… 😉 
We didn't have tons of time in the city as we wanted to get straight out onto the North Coast 500, but a few more of the highlights of Inverness include a walk along the River Ness, a visit to Inverness Cathedral, the Victorian Market, and, Inverness Castle.
Just outside of Inverness, ACE Adventures & Hideaways can organise white water rafting trips and other outdoor adventures. 
If you get hungry, other places to eat include, Coyote's, (famous for fabulous burgers), the Fig & Thistle Bistro, for modern, casual dining, and Wild Pancakes, which is a great place for breakfast and the North Coast 500's first dedicated pancake house. 
Where To Stay in Inverness: We stayed at the Royal Highland Hotel, which was right in the centre of town – quite grand, a little bit old school, very Scottish – we loved it. However, if you're looking for something a little bit more modern, you could try the pentahotel Inverness or Highland Apartments by Mansley. If you're on a budget, check out the Black Isle Bar & Rooms, which is a hostel as well as a premier craft beer bar and restaurant serving, wood-fired pizzas or the cosy and stylish Bazpackers.  I also love a bit of glamping, so check out the gorgeous Inverness Glamping pods.
Day 3: Inverness to Dunnet Head
Chanonry Point
Chanonry Point lies between Fortrose and Rosemarkie on what is known as the Black Isle of Scotland.
One of the most popular activities at Chanonry Point is to watch the Moray Firth dolphins playing in the water. They can be seen all year, but the best time is during the rising tide when the dolphins chase the fish into shore. 
The best place to see them is on the stone beach behind the lighthouse or if you want to get really close, you can take boat trips out on the water. Dolphin Spirit leaves from Inverness, whilst North 58 Sea Adventures and Dolphin Trips Avoch leave from nearby Findhorn and Avoch respectively.
The Storehouse
Leaving Chanonry Point, you could make a stop at The Storehouse Restaurant and Farm Shop to pick up some breakfast/lunch or supplies – even if you're not hungry, who doesn't love a good farm shop?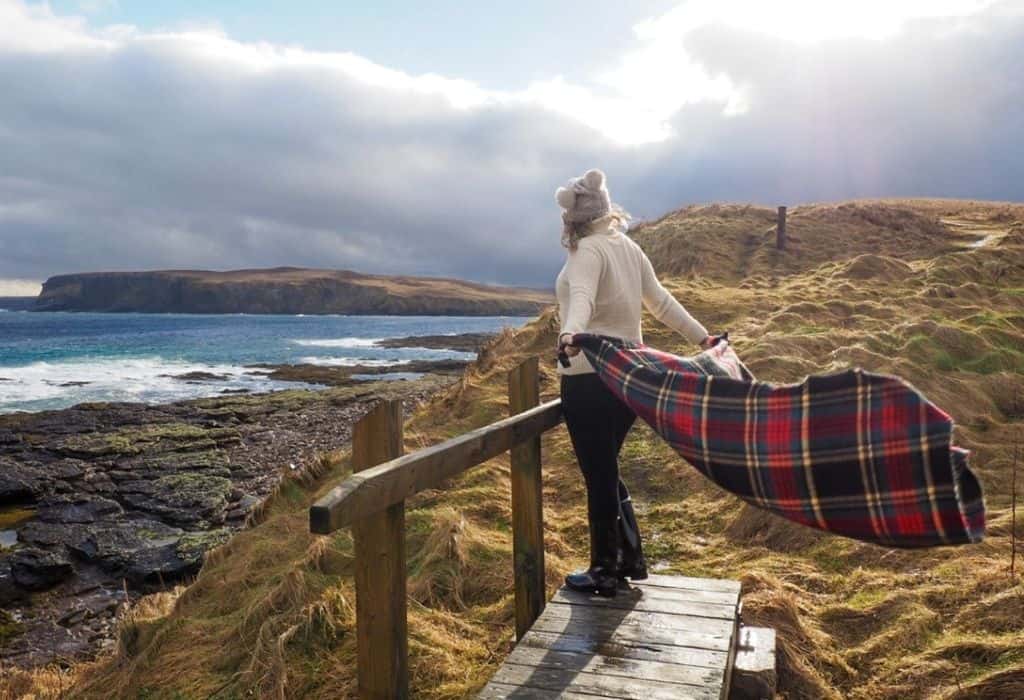 Dornoch 
The next stop on our road trip was the gorgeous Dornoch Beach and the famous Dornoch Castle Hotel with their famous whiskey tastings at the Whiskey Bar & Grant Macnichol restaurant.
Dornoch Beach is also a great place for wild camping – just make sure to follow the Scottish Outdoor Access Code rules and regulations and leave no trace.
Where to Stay in Dornoch: If you need a bit more comfort, try the Dornoch Caravan & Camping Park or the gorgeous glamping pods at Evelix Pods Dornoch.
Dunrobin Castle
Another great stop on your itinerary should be the fairytale-esque Dunrobin Castle. The castle resembles a French chateau and the design of the gardens was inspired by Palace of Versailles in Paris – it looks like it came straight out of a Disney movie. 
The castle is open from the 1st of April to the 31st of October and up until the end of September, you can also watch their twice-daily falconry displays.
On the way to Dunrobin, you can also take a little detour to the Falls of Shin, where you can spot jumping salmon (between May and late Autumn) – but it will add over an hour to your journey!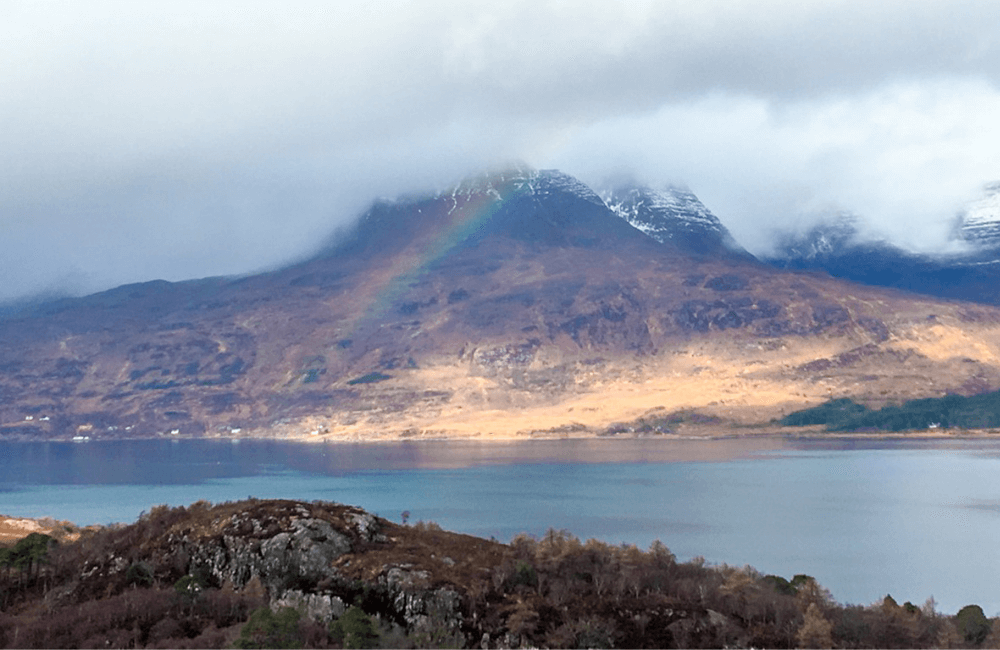 Grey Cairns of Camster & the Whaligoe Steps
The Grey Cairns of Camster are man-made structures (thought to be burial tombs) built around 5000 years ago. They're free to visit and open to the public all year round, so definitely worth the visit.
From there, you can hike (or drive) to the Whaligoe Steps which lead down to Whaligoe Haven, a unique 18th century harbour surrounded on 3 sides by tall cliffs. 
There are 330 steps to be precise and they can be treacherous, so take care – and just remember, what goes down, must come up. If you don't want to walk, you might enjoy seeing the steps and harbour from the sea with Caithness Seacoast. They do day trips from Wick, or shorter tours that leave from Lybster.
If you get peckish, you can visit the Whaligoe Steps Cafe and Restaurant, perched on a clifftop overlooking the North Sea.
Where to Stay Near to the Grey Cairns of Camster & the Whaligoe Steps: The village of Lybster, near to both the Camster Cains and Whaligoe Steps is a good place to rest your head for the night if you don't want to travel too far. Try North Star Glamping or the Camster luxury glamping pod.
Castle Sinclair
If you love a bit of history, visit the beautiful ruins of Castle Sinclair Girnigoe, located right on the cliff edge. This was one of my highlights of the NC500 and not to be missed. If you take one of the coastal boat trips, it's highly like you'll get a great view from the water too. 
The Old Pulteney distillery is also in the area if you have the time for a tour or just a stop at the shop!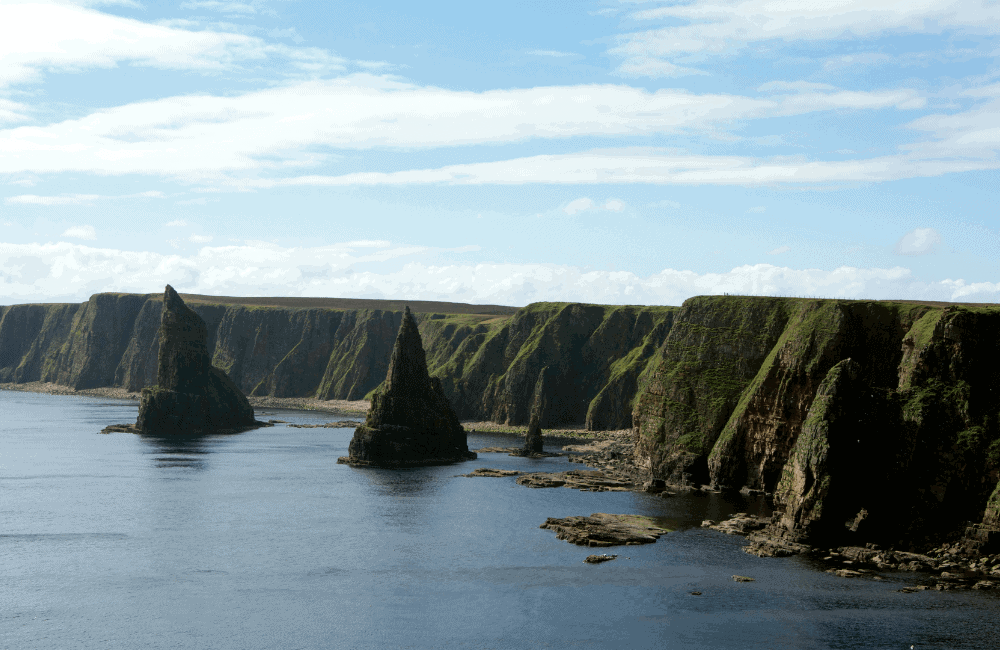 Duncansby Head & Stacks
At Duncansby Head, you'll see the Duncansby Lighthouse, but the real attraction is the incredible Duncansby Stacks, just off the coast. These incredible natural structures have been battered by the North Sea for millenniums, creating the witch's hat-shaped rock formations you see today. 
On a clear day, you may be lucky enough to see puffins and the Orkney Islands. 
It's a bit of a walk to get to the Duncansby Stacks, parking either at Duncansby Head or you can park a bit further away at John o'Groats. Give yourself a good 3 hours if you want to walk the circuit from Duncansby Head/John o'Groats and to the Stacks and back.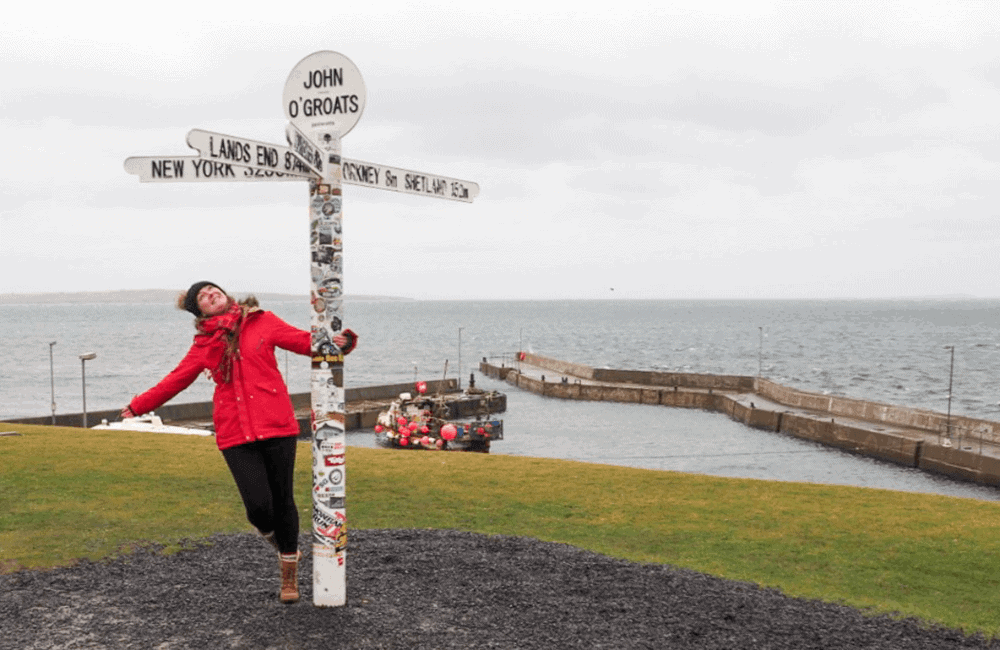 John o'Groats
A short drive (or a 45-minute hike) from Dunsnsby is John O'Groats., one of the most northerly points on the British mainland. It's the starting (or end) point for the 'End to End' cycle/walk which goes all the way to Lands End in Cornwall.
I always thought it was THE most northerly place of the British mainland, but it isn't… it's actually Dunnet Head, a few miles down the road and the actual place that is furthest from Lands End is Duncansby Head. But John o'Groats to Lands End has a better ring to it, don't you think?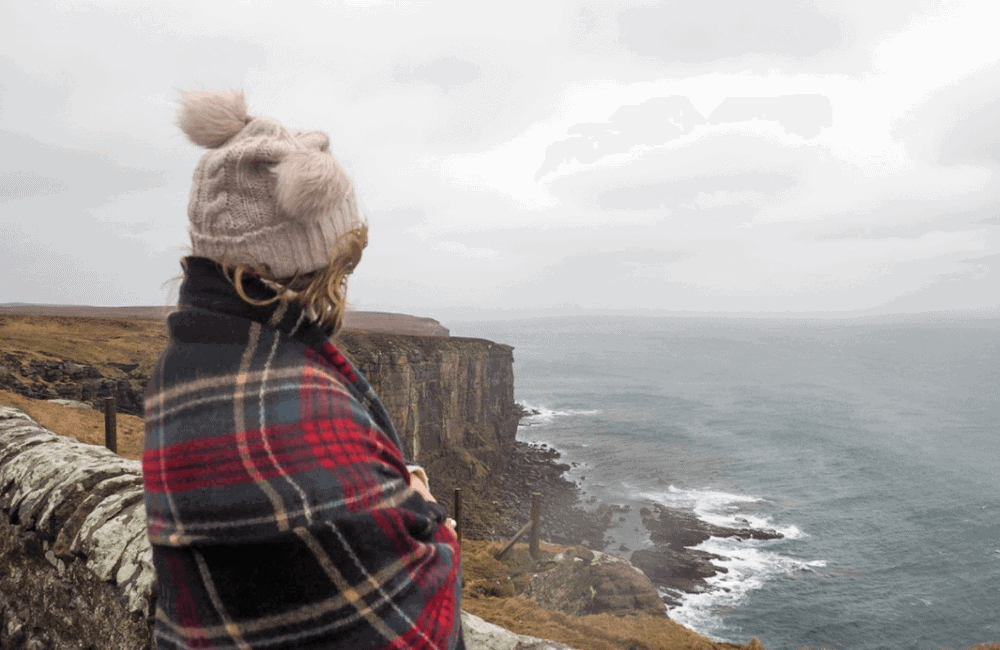 Dunnet Head
Our last stop on today's itinerary is Dunnet Head. Here you can take a walk to the lighthouse, see the coastline and brag that you've been to the most northerly point on the British mainland. Whoop whoop!
Dunnet Head is a great place for bird watchers as there are several different bird species in residence. During spring and early summer, this includes a high number of puffins as they come here for nesting season.
The Castle & Gardens of Mey, previously owned by the Queen Mother, are also nearby, you'll just need to ensure you book your tickets in advance as they often sell out.
Rock Rose Gin is made at the Dunnet Bay Distillers if you want to pick up a bottle whilst you're passing, although it's also sold in quite a few of the big supermarkets too!
Where to Stay Near Dunnet Head & John o'Groats: There are a few great places to stay in the area, but the ones that I love the most are The Old Tea Shop, Dunnet B&B Escapes, and Braeside Retreats.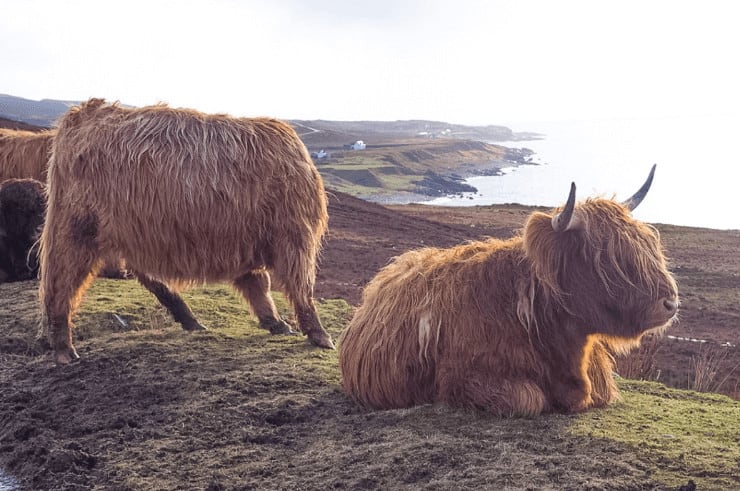 Day 4: Dunnet Head to Durness
If you didn't manage to get to Dunnet Head on the previous day, the morning is also a great time to visit.
Strathy Bay
The next stop is Strathy Bay, one of the most gorgeous beaches on the North Coast 500, with views over the Pentland Firth.
During May and June, the wildflowers are out in bloom, making it a particularly pretty and photogenic time to visit.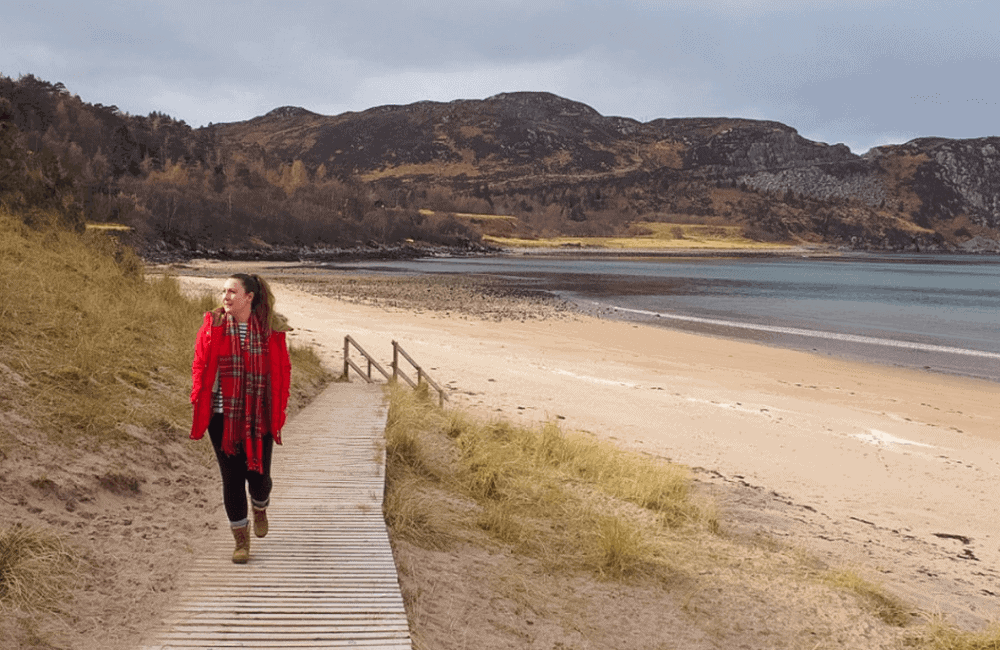 Farr Bay
A bit further down the coast, you'll come to Farr Bay, another pretty cove, worth a walk on the beach! You can also visit the Strathnaver Museum which will give you an insight into Scottish history. 
Coldbackie
Another beautiful white sandy beach (believe me, you never get sick of these beaches) along the NC500 is Coldbackie. Great for photographers, hikers, and surfers (when there are waves).
It's a steep walk down to the beach, but worth it and the likelihood is that you may have the beach all to yourself.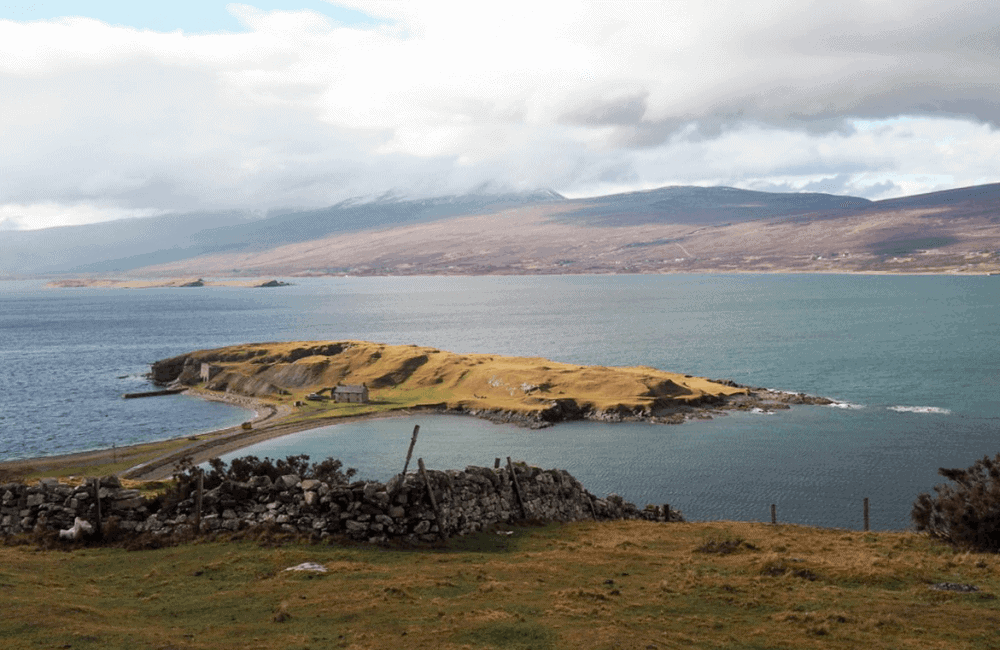 Loch Eriboll
Loch Eriboll is a gorgeous sea lock, with a number of great stopping points. One of the most beautiful is Ceannabeine Beach, with mountains on either side, even without a drone you'll get some fabulous shots overlooking the beach. The name itself means 'end of the mountains'.
Durness, Smoo Cave & the Sango Bay Viewpoint
Near to the town of Durness, there are two of the NC500's main highlights, including the stunning Sango Bay Viewpoint, with panoramic views overlooking Sango Bay and it's also a great place for surfing. 
The Smoo Cave is a great place to explore, either by boat or from the path above the cliffs. The cave is floodlit inside and you can take a tour with Smoo Cave Tours.
A bit further on is Cape Wrath, Scotland's most North Westerly point (in case you're on a mission to see all the 'most' northerly points). There are more stunning views of the coastline but it is a little off the main road of the North Coast 500.
Where To Stay in Durness: Sango Sands Oasis, is a great campsite right at the top if you like your morning coffee with an epic view – I know I do! The campsite is open from the beginning of April until the end of October. However, they offer free camping with limited availability in the offseason. There are also a couple of great little cottages to hire if you're not camping but would still like to stay right near the beach.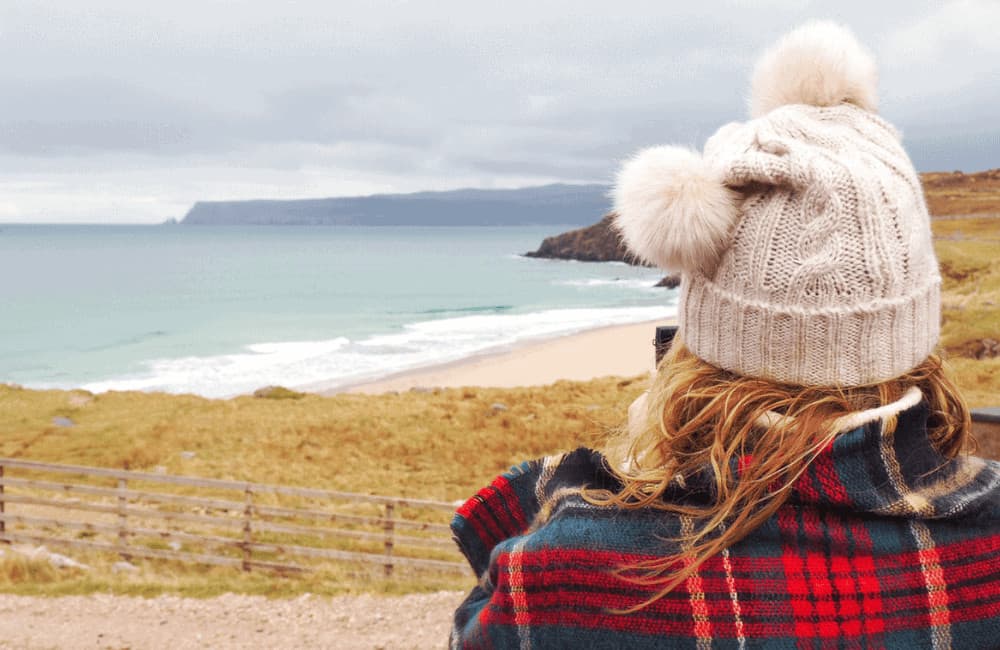 Day 5: Durness to Ullapool
Balnakeil Bay
Make your way to Balnakeil Beach – potentially the most stunning beach in the area. After some beach time, stop by Cocoa Mountain Balnakeil, a famous shop/cafe offering a variety of locally made chocolates and hot chocolate. Open 9am – 6pm daily. 
Sandwood Bay Beach & Loch
It's a bit off course, but Sandwood Bay and Loch is a great addition to your road trip itinerary.
Sandwood Bay Beach is one of the most remote in Europe and it takes around an hour and a half to walk from the car park in Blairmore to the stunning 1-mile long sandy beach, so give yourself a good few hours here to take it all in and hike around the loch as well. 
You'll also get to see Am Buachaille, a sea stack out in the water. And if you can be bothered to carry your stuff all that way, this is a great spot for wild camping (and surfing).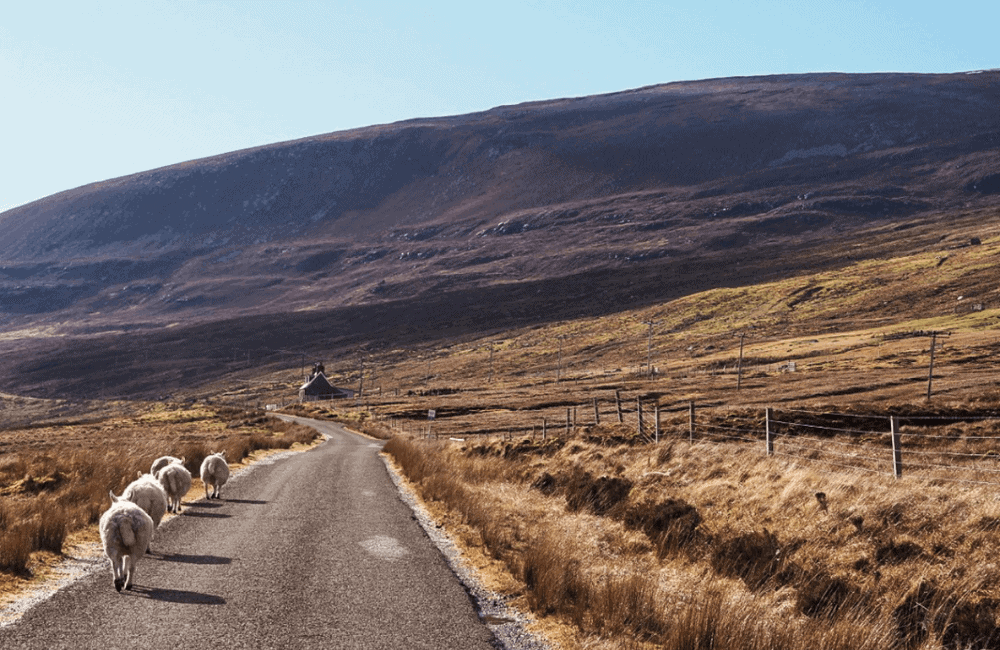 Kylesku Bridge
On the way to Clachtoll, you'll take the Kylesku Bridge over Loch a' Chàirn Bhàin in in Sutherland – worth a photo stop!
Clachtoll Beach
Another gorgeous beach on the route is Clachtoll Beach – great for hiking, walking, and fishing. Clachtoll is pretty remote and the road is single access (and with a 25 percent gradient) in places and apparently it's called the 'breakdown zone' – but it's worth the trip. 
On the way to Clachtoll, swing by the Assynt Aromas Candle Shop & The Secret Garden Tea Garden for some sustenance. 
You can also hire bikes or take boat trips from nearby Lochinver, as well as visit Scotland's most remote bookshop, Achins Bookshop & Coffee Shop.
Just be aware that the road between Kylesku and Lochinver can be a bit tricky, so it may take you longer than you think!
Where To Stay in Clachtoll or Lochinver: There's a lovely campsite overlooking Clachtoll Beach or you want to stay somewhere super cosy and romantic (and with a hot tub), check out the gorgeous Suilven view glamping pod.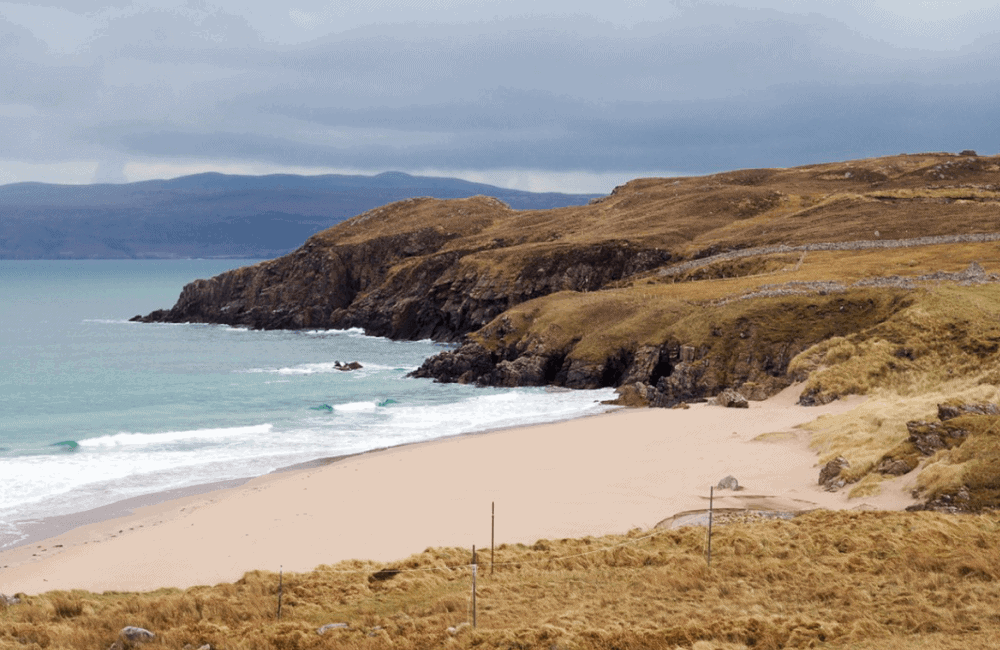 Achmelvich Bay
Fancy a bit of wild swimming? Stop and take a dip in the clear turquoise waters of Achmelvich Bay. If you're very lucky, you may also see dolphins off the coast.
Where To Stay in Achmelvich Bay:
Have I mentioned I love glamping pods? Check out the lovely ones at North Coast 500 Pods. If I could live in one of these, I would. In fact, I might someday!
Loch Assynt & Ardvreck Castle 
The penultimate stop on today's itinerary is Loch Assynt and Ardvreck Castle. Dating back to around 1590.
Built by Clan MacLeod, it was later taken over by Clan Mackenzie. These days, it's just a lonely ruin, but worth seeing all the same. It is said that the castle is haunted and there are plenty of spooky stories of mermaids, ghosts, and the devil himself!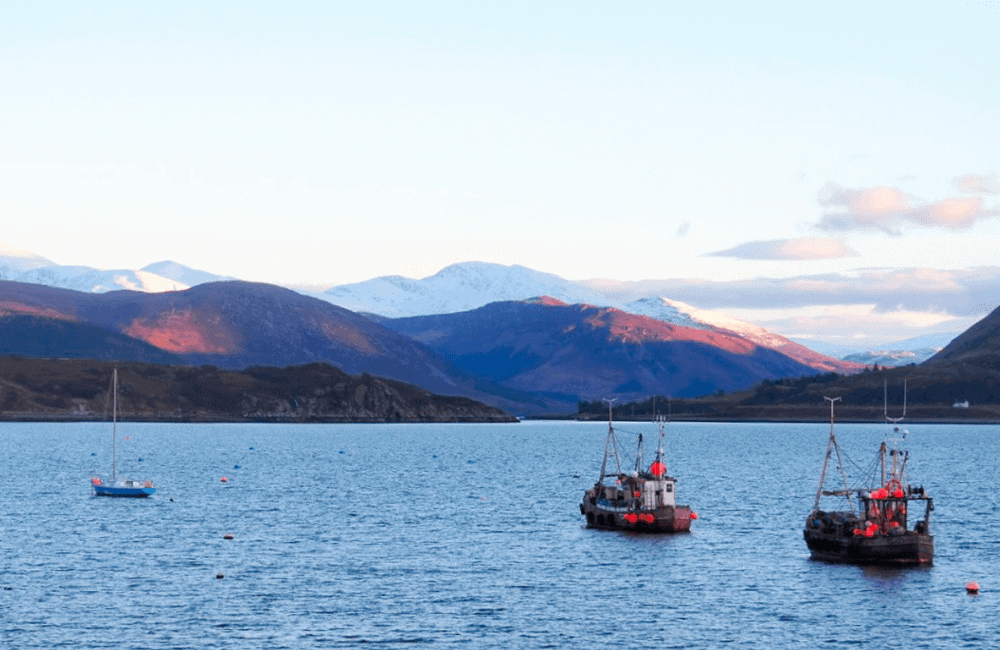 Ullapool
Now you could either stay in Ullapool or head down to Applecross, but I'd definitely recommend staying in Ullapool as it really is lovely, and will keep the driving distances short.
There are tons of things to do in Ullapool, including boat trips to Loch Broom and the Summer Isles, sea kayaking, hiking, and visiting the Knockan Crag National Nature Reserve. Ullapool has a few nice pubs and restaurants where you can pick up a nice bowl of Cullen Skink (smoked haddock, leek and potato soup). It tasted much better than it sounds.
Ullapool is also a great jumping-off point to visit the Outer Hebrides via the CalMac ferry to Stornoway on the Isle of Lewis. 
Where to Stay in Ullapool: I'd definitely recommend the Silver Darlings B&B which is owned by one of my very good friends from uni. Tell Katy I say hi!
Alternatively, I love Tigh na Mara for a romantic getaway. For camping, try Broomfield Holiday Park or nearby Badrallach Campsite, Bothy and Holiday Cottage. If you're on a budget, or in a big group, the Ullapool Youth Hostel is a cheap and cheerful place to stay!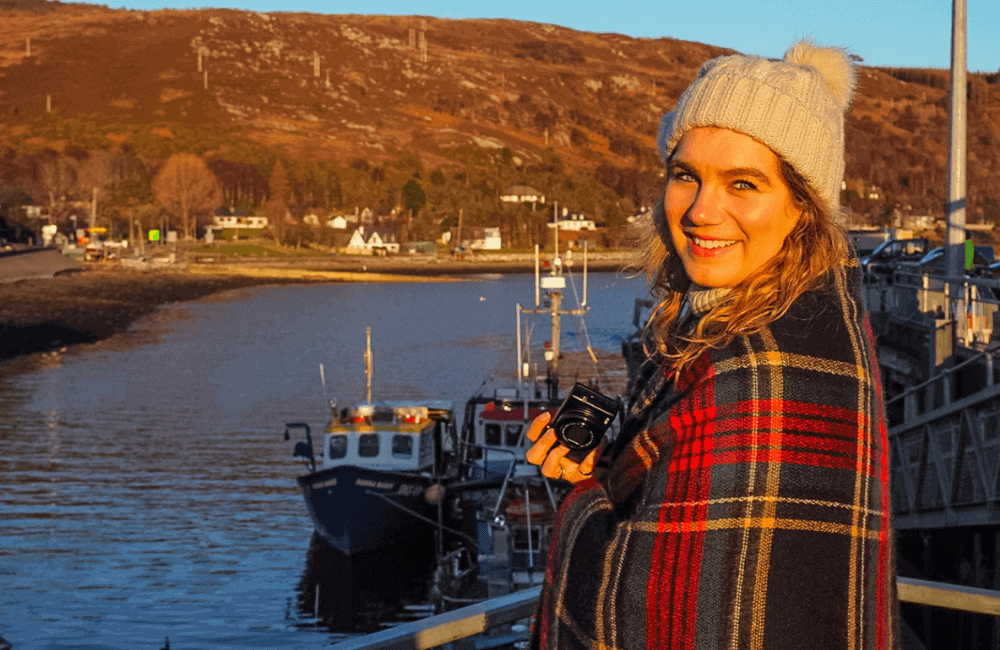 Day 6: Ullapool to Applecross
Corrieshalloch Gorge
Leaving Ullapool, your next destination could be the fantastic Corrieshalloch Gorge Nature Reserve. With beautiful nature trails and lots of flora and fauna to observe and appreciate. 
Even if you don't spend much time in the reserve itself, it's fun to walk over the wobbly suspension bridge over the gorge, which has fantastic views of Falls of Measach.
Brenna and I had a LOT of fun filming our Instagram Stories here.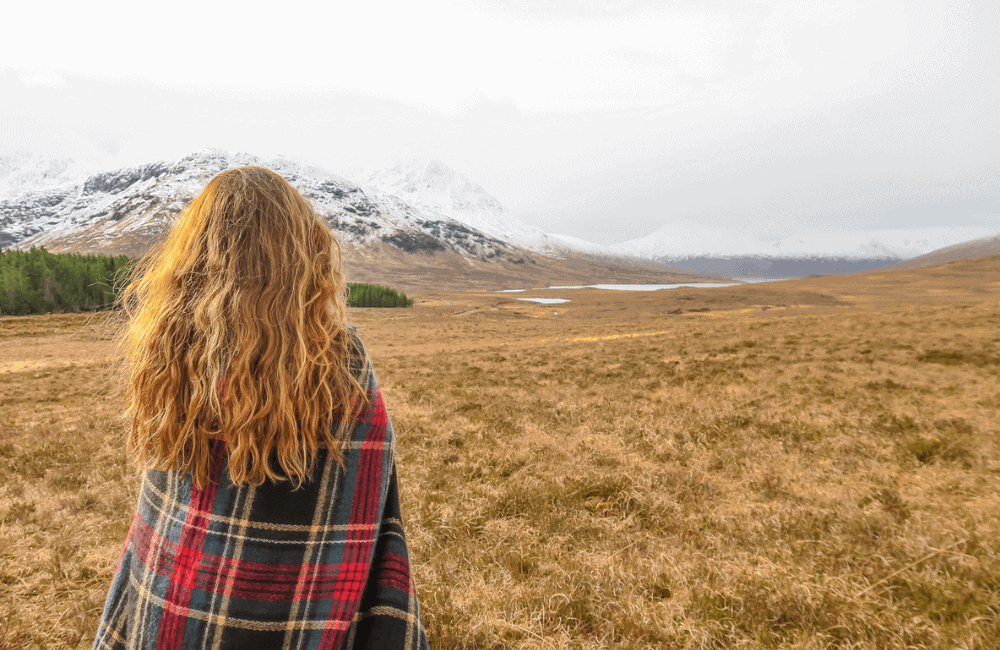 Gruinard Bay
Gruinard Bay is a gorgeous stop – although, aren't they all?
With golden/pinky sands and cool rock formations, you'll get plenty of amazing pictures. Even more, if you have a drone (if it's not windy and raining).
There are 3 pink sand beaches to visit and on a clear day, you can see across to the island. 
Loch Ewe
From the Loch, you can see the Isle of Ewe, which is inhabited by a one family. I wouldn't mind living on a gorgeous island in the middle of a loch. Would you?
Whilst in the area, visit the Inverewe Garden and take a walk along some of their nature trails, including the Poetry Trail, which was inspired by the beauty of the place and created by their resident poet. 
You can also take a wildlife-spotting boat trip from the Inverewe Garden jetty to see eagles. Boat trips usually run in August and September.
Where To Stay on Loch Ewe: And if you do decide to stop in Loch Ewe, and you have a big group, consider staying at the absolutely GORGEOUS, Poolewe Beach House (sleeps 9).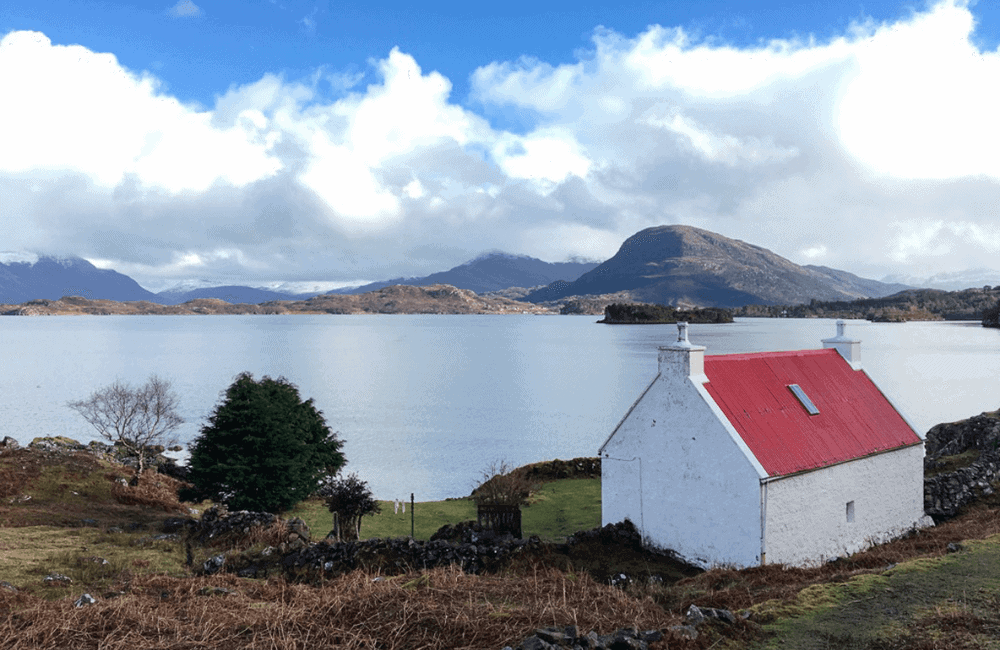 Kinlochewe
Stop for a photo at Gairloch Harbour, and if you're thirsty, pick up a cuppa at the highly recommended Coast Coffee Company.
Enjoy the fantastic scenery as you drive along the A832 road that snakes through the valley at Kinlochewe. With hills all around and winding roads, this area makes for a fab photo stop. 
Loch Torridon
Another extremely photogenic stop on your journey is The Torridon, a luxury hotel, flanked by mountains and forest and lying right on the lakeside – this would be a great place to rest your head for the night if time permits.
They also do a fabulous afternoon tea in their 1887 Restaurant and there are lots of activities on offer if you want to get outdoors.
You can visit the Torridon Countryside Centre where you can see red deer and the famous highland coo's – although you will see them throughout your journey. 
A bit further on, you'll come to Shieldaig, one of the most picturesque villages in Scotland. From there, continue around the coast to Fearnmore a remote part of the loch, edging out to the sea.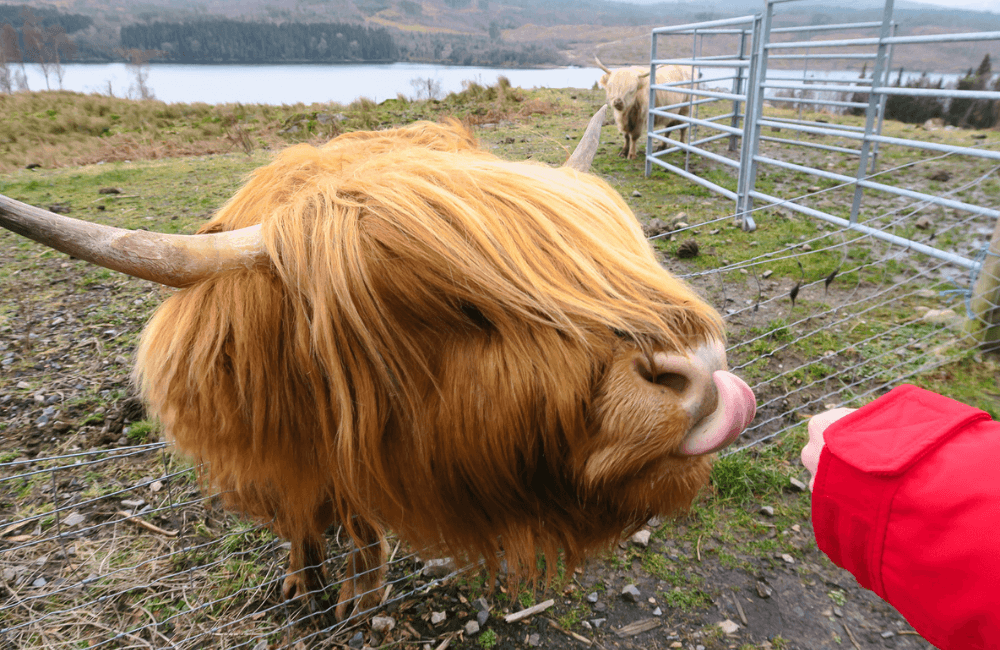 Applecross
Finally, head down to Applecross and get yourself a whiskey or a nice cup of hot chocolate at the Applecross Inn – you deserve it. 
In the surrounding area, you can take part in things like kayaking, gorge walking, hiking, visiting the beaches, and photography tours.
Where to stay in Applecross: There are a few nice places to stay in Applecross. For me personally, I like the Inn as it has everything you want – food, drink, cute rooms, and it's right in the centre of the village however they were fully booked when we went, so we stayed nearby in the Hartfield House Hostel. It was a little bit spooky as we were the only people there – literally, there wasn't even any staff, but in high season I'm sure it would be great!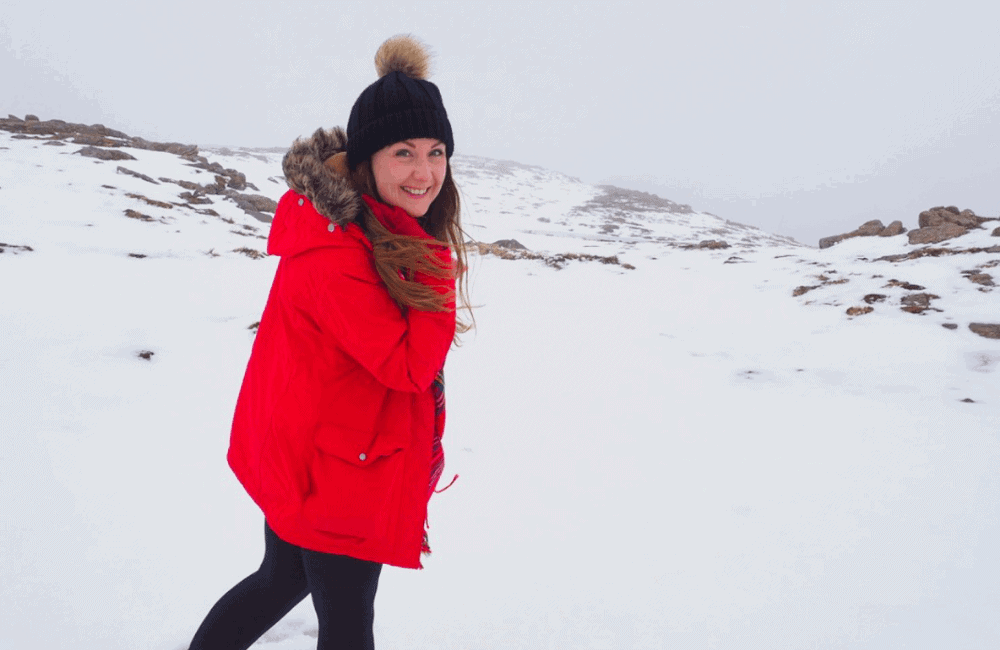 Day 7: Applecross to Inverness, Edinburgh or the Hebrides
Bealach na Bà
This was one of my highlights.
Leaving Applecross, we drove across Bealach na Bà , one of the highest roads in the UK. The top was covered in snow which gave us a great opportunity to take lots of snow pictures! We rarely get snow where I live in North West England, so this was a real treat for me. Brenna's from Canada, and she loved it too.
Just be aware that they advise some campervans not to travel this road and it may be closed in bad weather – but you can go around it.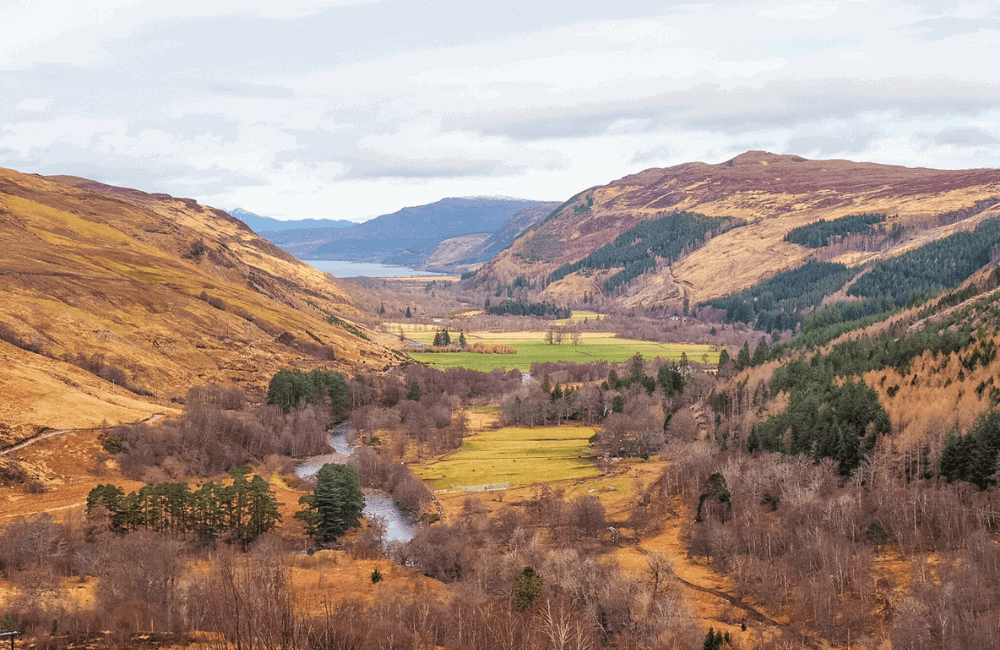 Lochcarron
Leaving Applecross, head towards Lochcarron, which makes a nice photo stop whichever which way you are headed after that. 
Then from there, you have a few choices as to which way to go to finish your trip. The traditional start and endpoint is Inverness. But, if you hired your car elsewhere, like Edinburgh, as we did, you can head back that way. 
Or, if you want to make your trip super epic, you could head towards the Inner or Outer Hebrides. You can read my full Outer Hebrides itinerary here.
And if you were really making a tour of the UK's most dramatic, untouched scenery, you could continue down to England's beautiful Lake District region, which sits in the north, just below Scotland.
Have a look at the options below! Whichever you choose, there are lots to see and do on the way!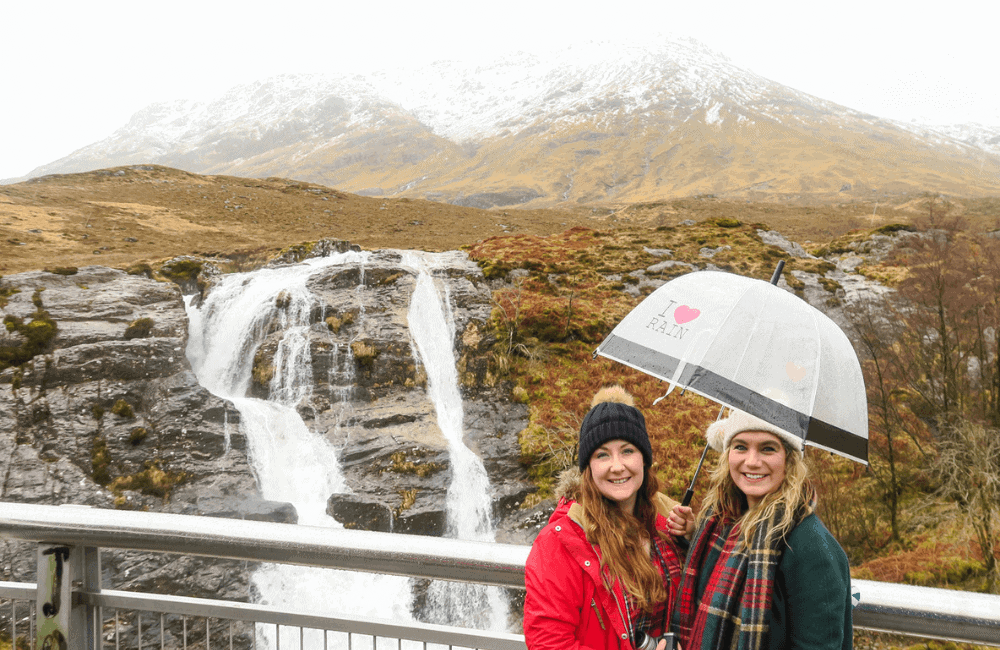 Option A: Inverness
Rogie Falls
The drive between Lochcarron and Inverness is super pretty, but particularly at Rogie Falls where you can walk across a small suspension bridge to get a good look at this natural phenomenon. There's a nice, but short walk you can take from the car park.
Although a little bit out of the way, you could take a trip to the famous Eilean Donan Castle (see below) near to Lochcarron.
Inverness – End Point
Inverness has an airport which has regular flights to other parts of the UK, as well as Amsterdam.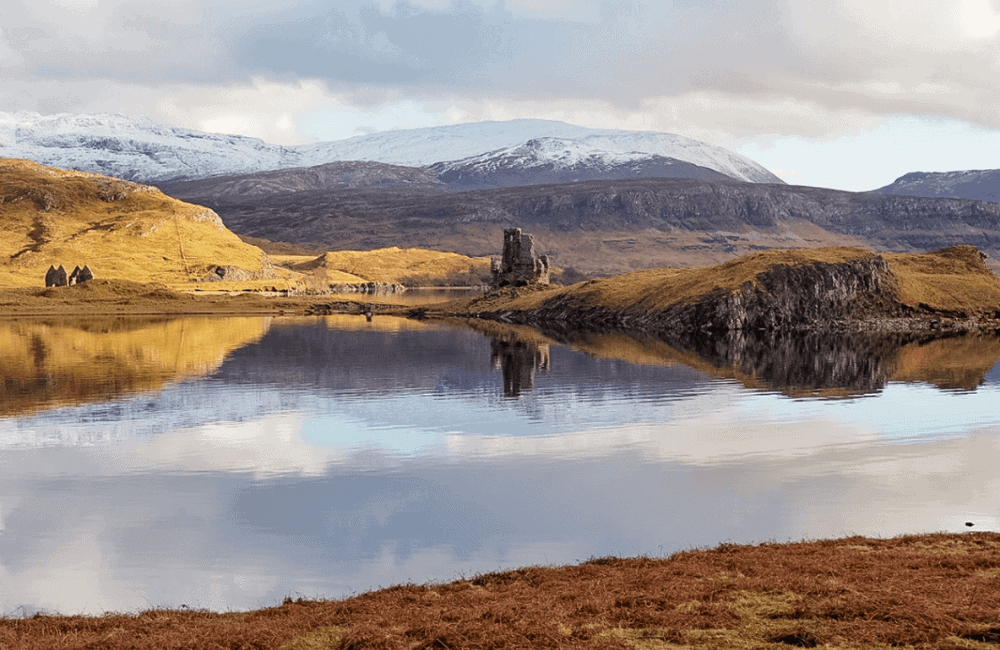 Option B: Isle of Skye
Eilean Donan Castle
Stop at the gorgeous Eilean Donan Castle, which was used as one of the filming locations for the James Bond film, Skyfall and even better, Made of Honour (love that film… Patrick Dempsey, swoon). This is a very popular stop, so don't be alarmed by all the tourists – you're not on the NC500 now! 
Isle of Skye
When you get the weather (which we didn't), the Isle of Skye is a great place to visit and also a good place to start exploring both the Inner and Outer Hebrides. The capital Portree was also used as a main filming location for the film Made of Honour.
I'll need to go back again and hopefully write about the Isle of Skye in the future.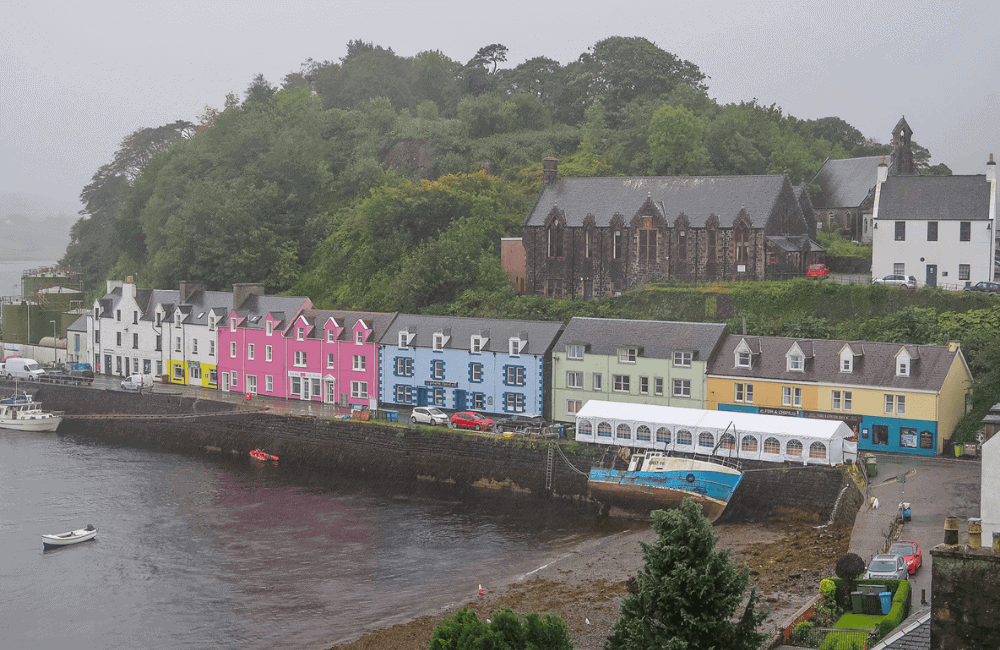 Option C: Loch Lomond, Glasgow, or Edinburgh
Alternatively, you can head back towards Glasgow or Edinburgh where you can spend a final night or catch your transport home. As we'd hired a car in Edinburgh, that's where we went – but it is a pretty long drive. 
Eilean Donan Castle
Again, you should make a stop at Eilean Donan Castle as you drive through!
Ben Nevis/Fort William
Ever wanted to climb the UK's highest mountain, Ben Nevis? fancy a bit of skiing (in season)? Then now's your chance as you'll be passing through. To climb Ben Nevis takes around 7 hours up and down so give yourself enough time.
Another cool thing to do in the area is to take the Jacobite Train between Fort William and Malaig, near Skye – aka the 'Harry Potter' train which was used to film and I would assume, the inspiration too.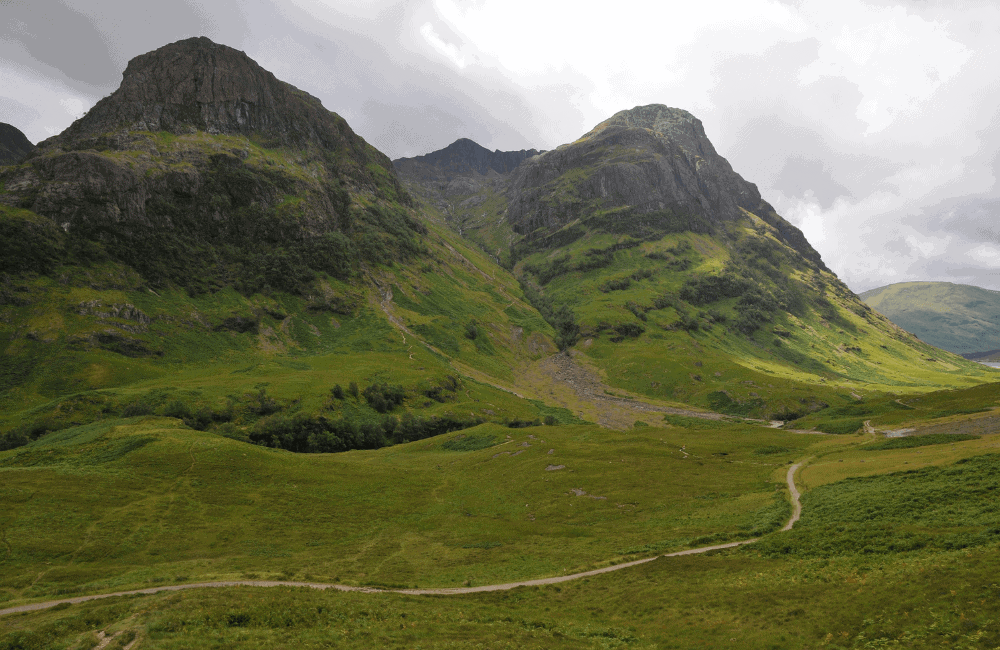 Glencoe
Following the A82, you'll drive right through Glencoe and to see the most famous view, you don't even have to leave the main road.
There are a number of free car parks where you can pull over and take some fabulous photos of the Three Sisters, Beinn Fhada, Gearr Aonach, and Aonach Dubh.
The weather was TERRIBLE when we drove through so I didn't get many photos, but on a clear day, it's stunning!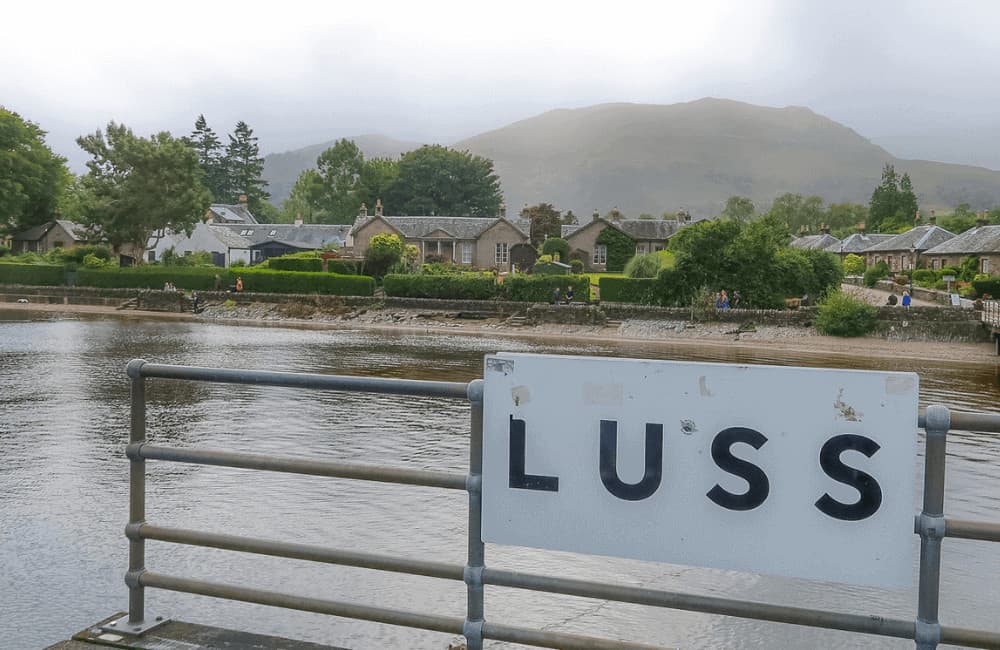 Loch Lomond
Loch Lomond and the Trossachs National Park is on the way back to Glasgow and Edinburgh, in case you fancy extending your trip for another night or two. 
The village of Luss makes for a lovely stop and Loch Lomond is also part of the West Highland Way, one of Scotland's best-loved hikes (which I'm hoping to do very soon).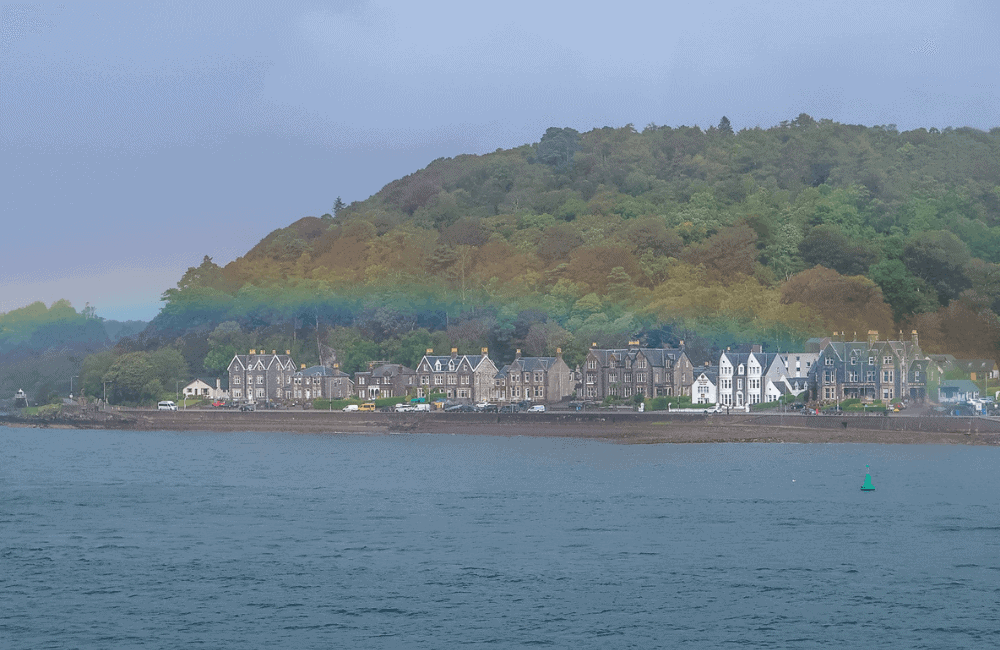 Option D: Oban & the Inner or Outer Hebrides
Alternatively, you can travel down to Oban. From Oban you can catch the ferry to the islands of Mull, Coll, Colonsay, Islay, and Tiree in the Inner Hebrides, Barra and South Uist in the Outer Hebrides (I started my Outer Hebrides road trip from Oban), as well as Kennacraig and Mallaig on the mainland.
This route also passes Eilean Donan Castle, Ben Nevis/Fort William, and Glencoe.
So there you go, my full North Coast 500 route! Writing this has made me want to go back so much. I've already started planning another trip for next year…
I hope this North Coast 500 Route Planner helps you create your own awesome itinerary. Any more tips or must-see places? Add them in the comments below!
---
Other UK posts you might enjoy…
---
Pin This Post For Later