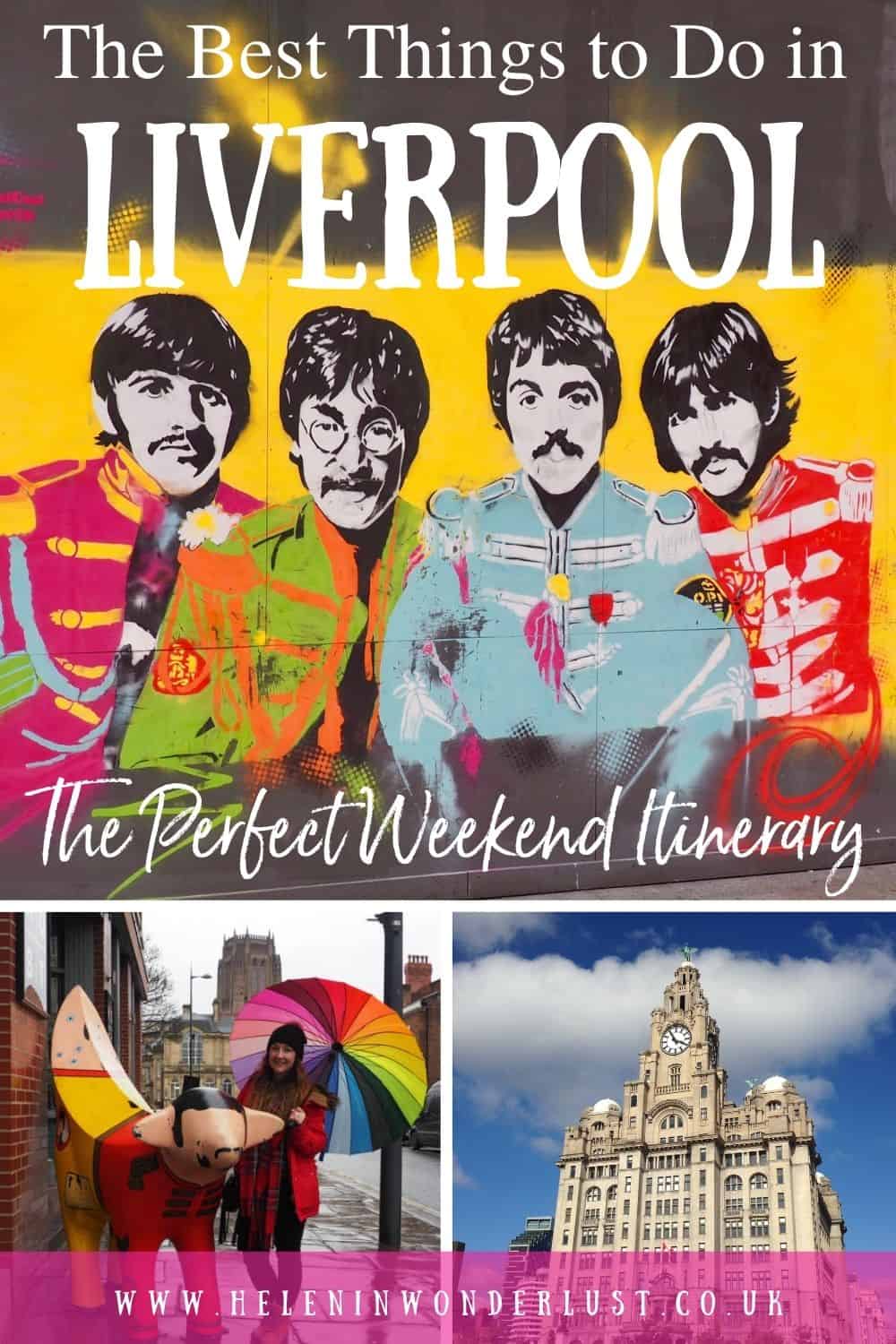 Last updated on April 6th, 2023 at 09:18 pm
Liverpool is in my opinion, one of the best cities in the world. I may be a little biased (but that's where I grew up), but I love it! It's also a very affordable city too, so if Liverpool isn't on your radar, it really should be!
Oh, And we're hosting this year's Eurovision Song Contest! This is going to make May 2023 a very exciting time to be in the city!!
So I wanted to share some of my favourite things to do in Liverpool, to give you a pretty good idea of how to spend 2 or maybe even 3 days in the city and build your own itinerary. You may not get to do everything, but it's a start!
The itinerary follows a logical walking route, but you could skip some of the places if you don't fancy them or do them in a completely different order. You can find all my hotel, restaurant, and bar recommendations at the bottom of the post too!
Please Note: Some of the links in this post are affiliate links, which will earn me a small commission at no extra cost to you. Affiliate sales help with the running costs of this site, so thank you for your support!
---
The Best Things to Do in Liverpool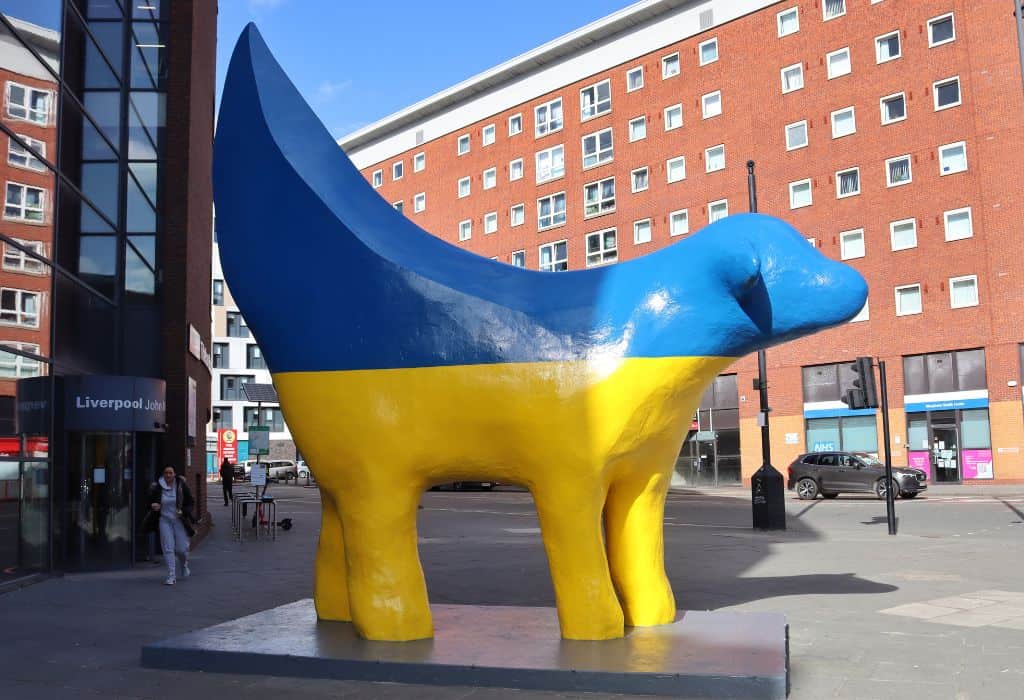 Best Things To Do in Liverpool – Day One
Tithebarn Street
Start your day with a walk up to the corner of Tithebarn Street and Vauxhall Road to see our most famous sculpture, the Superlambanana – which has just had a Ukraine/Eurovision makeover! The sculpture comments on the dangers of genetic engineering and represents the fact that sheep and bananas were common cargo through the port.
When it was first unveiled, it was a little controversial, however, these days it's a local treasure and an iconic Liverpool landmark. As with most works of art, take from it what you will. But if sculptures aren't your thing you could skip it.
Keep your eyes peeled and you'll see a few smaller, decorated replicas dotted around the city too! Even if you're not a fan of modern art, they're kind of cute.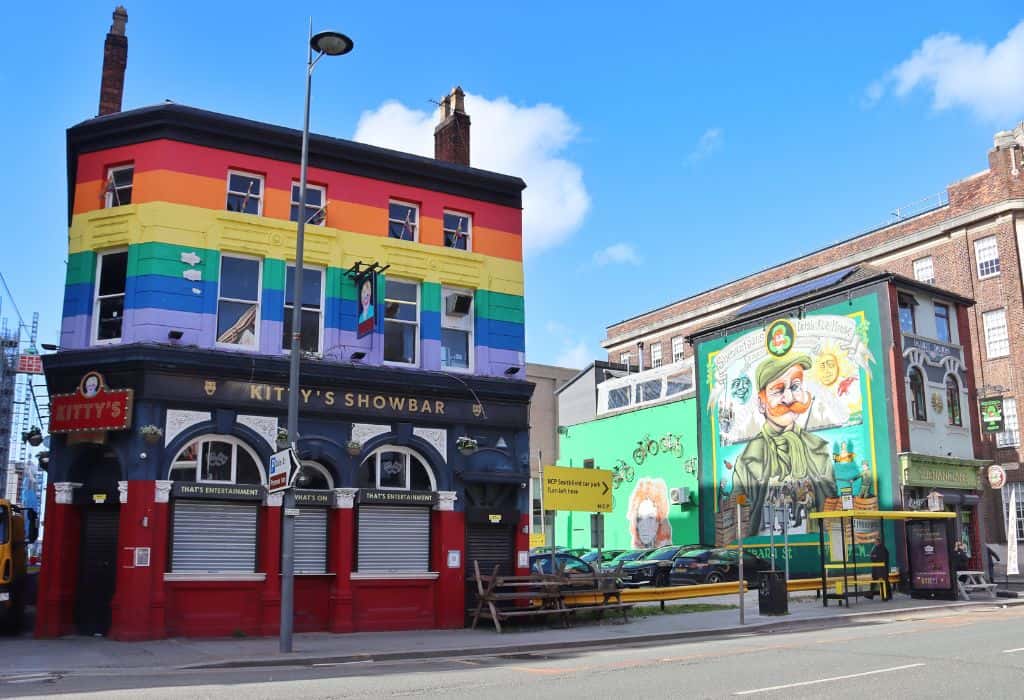 The Waterfront & the Pier Head
Cut down Tithebarn Street, take a left onto Moorfields and then turn right onto Chapel Street. You'll pass Moose Coffee and Lucy in the Sky Coffee Shop – if you haven't had breakfast yet these are both great places to stop.
Continuing on down Chapel Street, you'll reach the waterfront at the Pier Head. Here you'll see the most iconic buildings in the city, The Three Graces – the Royal Liver Building, the Cunard Building and the Port of Liverpool Building.
For fantastic views across the city and of the Liver Birds, take the Royal Liver Building 360 tour.
In the Cunard Building, you can explore the British Music Experience, which is one of my favourite things to do in Liverpool. Music is such a big part of the culture in the UK and a big part of my life, but seeing and hearing so much of it together in one place was an incredible, nostalgic and uplifting experience.
You walk through the interactive exhibition, listening to info about each era, seeing the stage costumes of the likes of David Bowie and the Spice Girls, and of course, you also get to hear a lot of amazing songs along the way! It was Dusty Springfield singing 'You Don't Have To Say You Love Me' that got me all teary.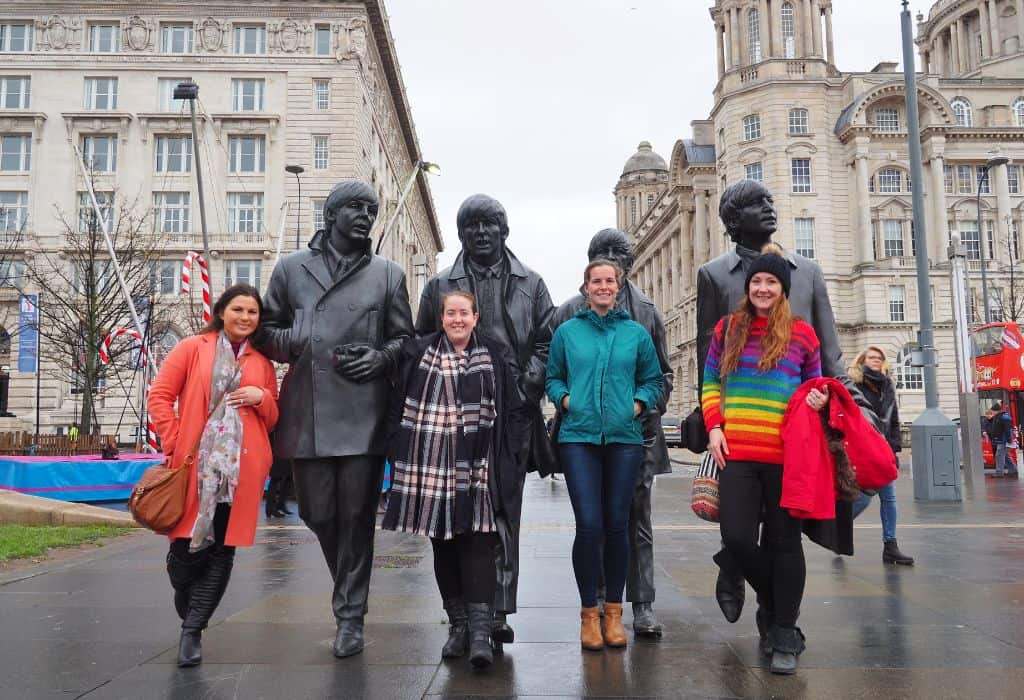 Once you're done, go and hang out with my mates, John, Paul George, and Ringo at The Beatles Statue, which is cool for a quick photo stop.
The Pier Head is also where you can catch the Ferry 'Cross the Mersey , which I highly recommend! The Liverpool skyline is probably one of the most recognisable and beautiful skylines in the world and there's no better place to view it than from the ferry. They also play the famous song by Gerry and the Pacemakers at various points during the journey.
Right by the ferry terminal, you'll find the Pier Head section of The Beatles Story where you can see The British Invasion Exhibition, The Hidden Gallery, and the Fab4 Cafe & Store.
Then last but not least, is the Museum of Liverpool where you can find out all about the history of the city, and the Open Eye Gallery, a free, not-for-profit photography gallery.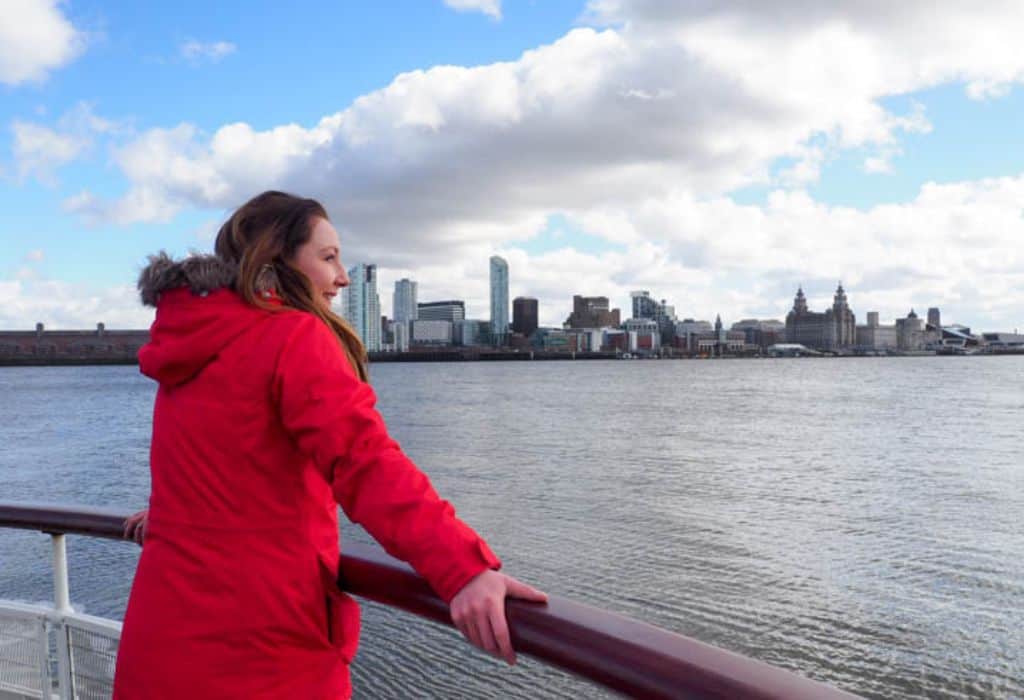 The Albert Dock
Next on your Liverpool itinerary should be The Albert Dock, which is a short walk down the seafront. This is a must-see on your list of things to do in Liverpool.
The dock itself is a beautiful place to spend an afternoon, with lovely bars and restaurants, as well as a few of Liverpool's best museums and galleries.
If you love modern art, you'll love the Tate Liverpool, which is free to enter! Or maybe visit the Merseyside Maritime Museum where you can take a peek into Liverpool's seafaring past.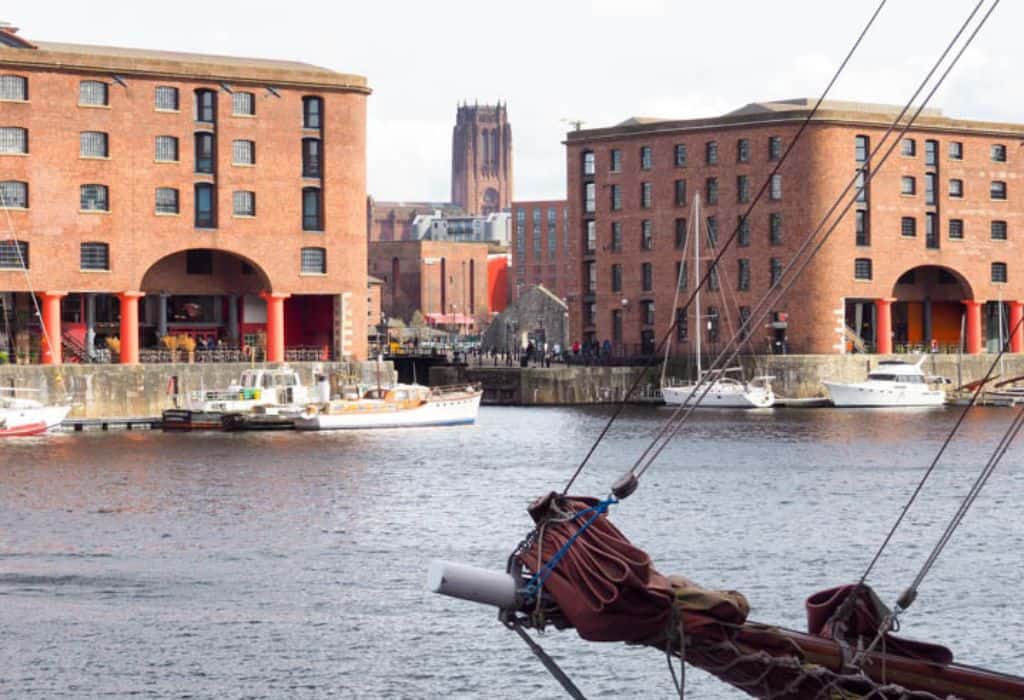 One of the most important museums is the International Slavery Museum. Dr. David Fleming, Director of National Museums Liverpool says:
"The transatlantic slave trade was the greatest forced migration in history. And yet the story of the mass enslavement of Africans by Europeans is one of resilience and survival against all the odds and is a testament to the unquenchable nature of the human spirit. There is now a pressing need to tell a bigger story because of its relevance to contemporary issues that face us all. Our aim is to address ignorance and misunderstanding by looking at the deep and permanent impact of slavery and the slave trade on Africa, South America, the USA, the Caribbean and Western Europe. Thus we will increase our understanding of the world around us."
Important words. With modern slavery still as rife (if more underground than back then), it's important to acknowledge the past to try and shape the future.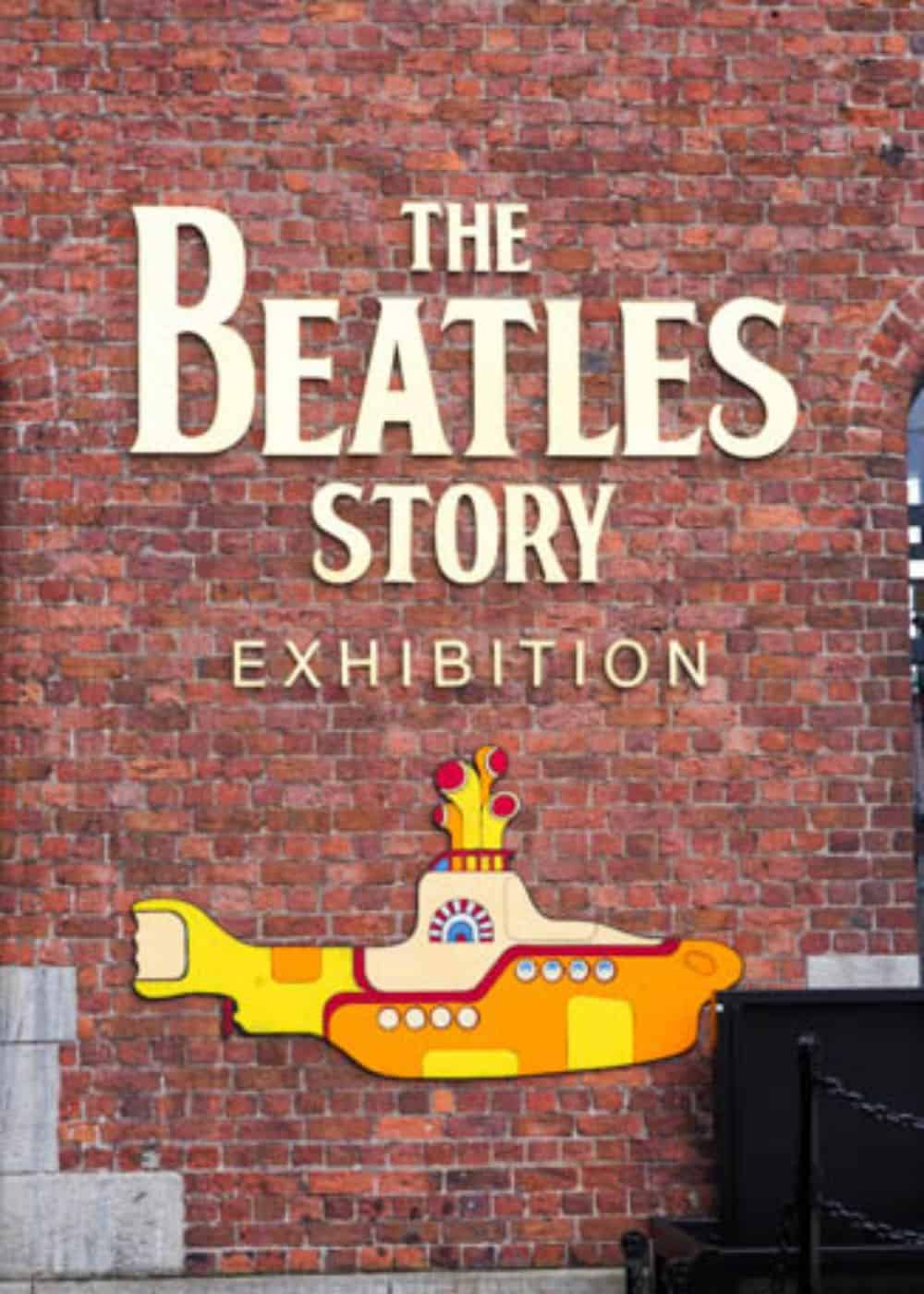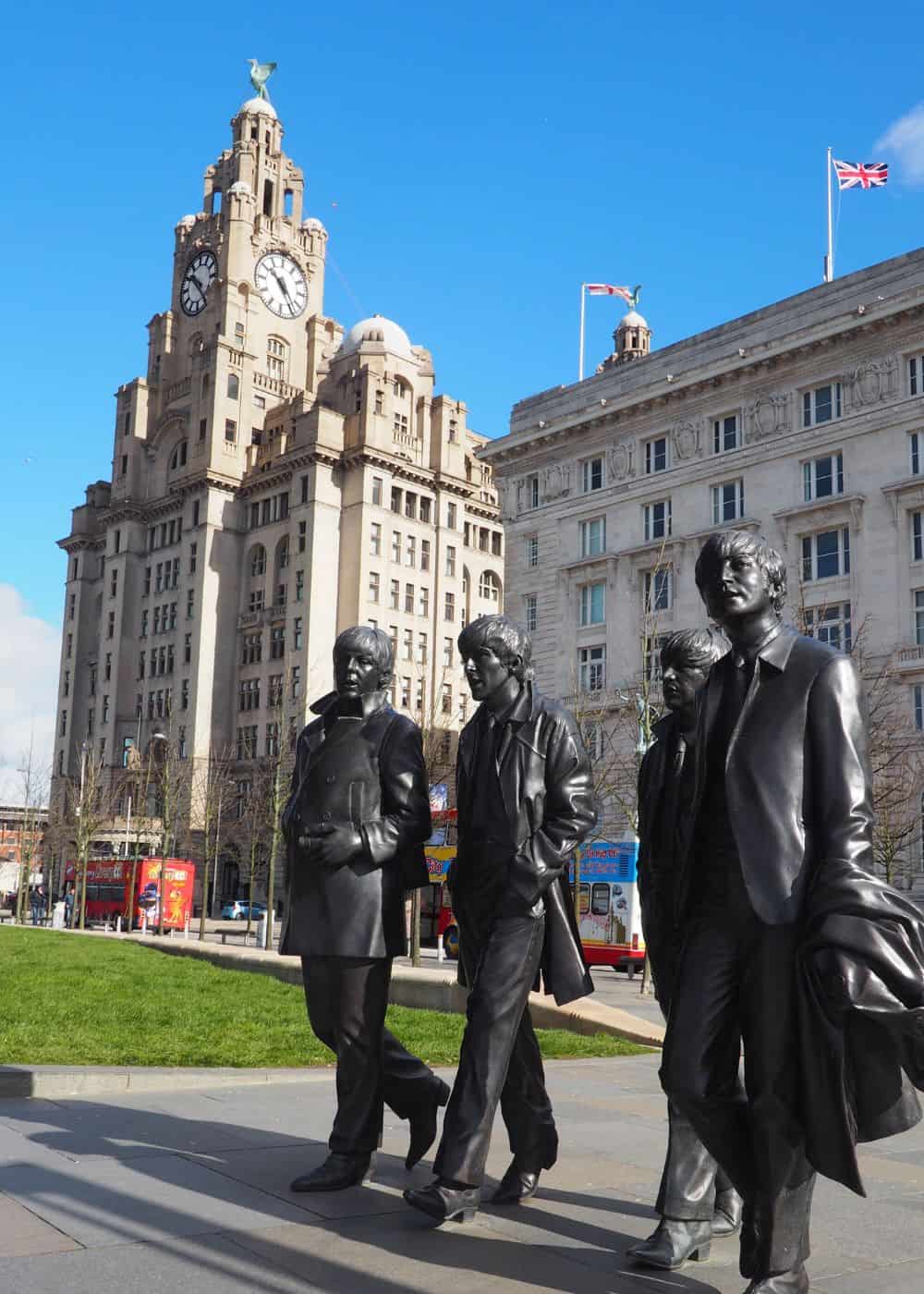 On the other side of the Albert Dock is The Beatles Story. Similar to the BME, but focussed primarily on The Beatles, it is a lot of fun to walk around and made me feel really proud of our city's musical heritage.
I loved learning about the roots of the band and their humble beginnings and of skiffle music, when they were The Quarrymen, of the Casbah Coffee Club and The Cavern, the Hamburg days, their relationship with Brian Epstein days, the craziness at the height of their fame and all the way through to when John was shot in 1980 and beyond.
I don't know what was wrong with me, but in the very last room, dedicated to John Lennon, I got all teary AGAIN, listening to 'Imagine'. The words to that song feel more relevant today than ever.
Liverpool One
From The Albert Dock, it's a short walk to Liverpool One, a stylish shopping and entertainment centre. There are often events running and it's also a great place to people-watch! Liverpool One has all of the major shops, so if you love to shop, you'll be in heaven!
At the back of Liverpool One is Chavasse Park which is a great place to chill in the sunshine and there are lots of restaurants and bars there too.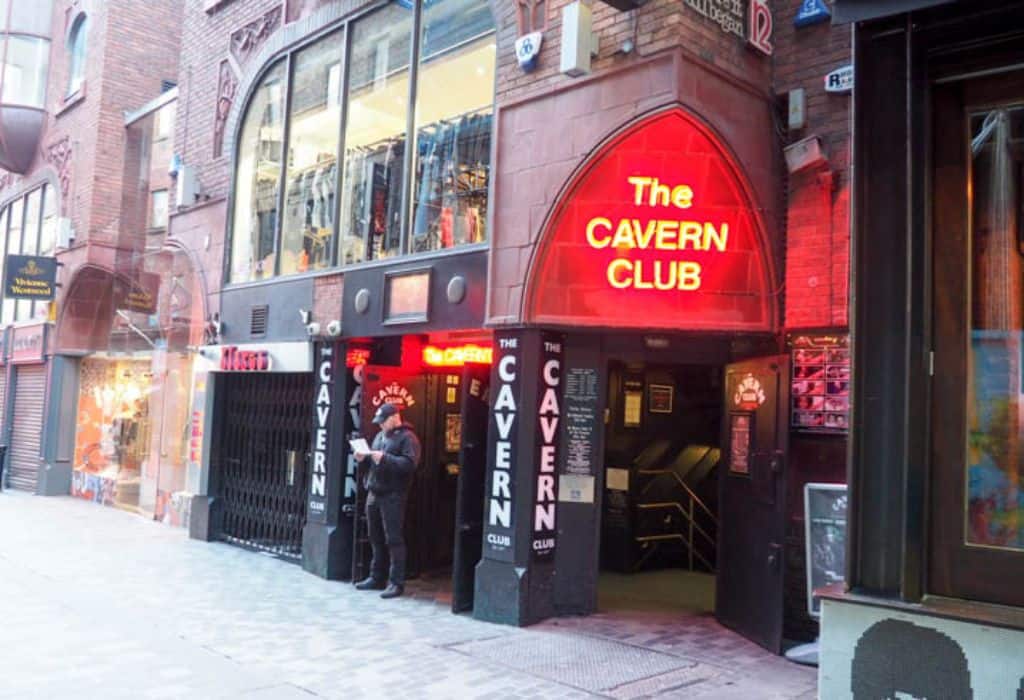 Mathew Street & The Cavern Quarter
Next, you can walk to Mathew Street and The Cavern Club, famous as the birthplace of the Beatles and where you can hear live music daily.
The Cavern holds a special place in the heart of many Liverpudlians and it was said that in the 60s and 70s, you could always tell if someone had been to the Cavern by the smell they had when they came out!
The original Cavern was knocked down to make way for the underground railway but was rebuilt in the exact same place, using the original plans and some of the same bricks. Thankfully it smells a lot better today!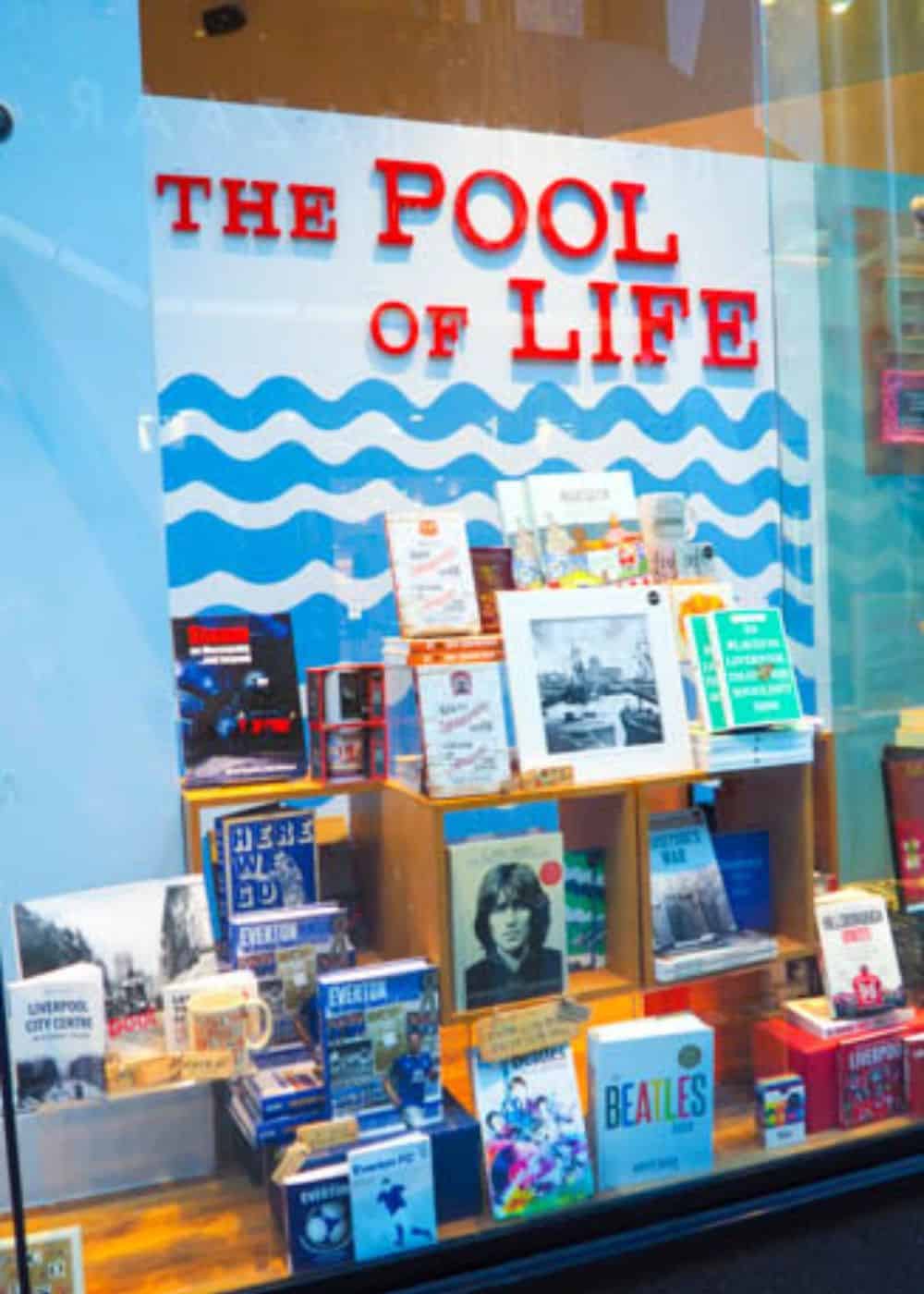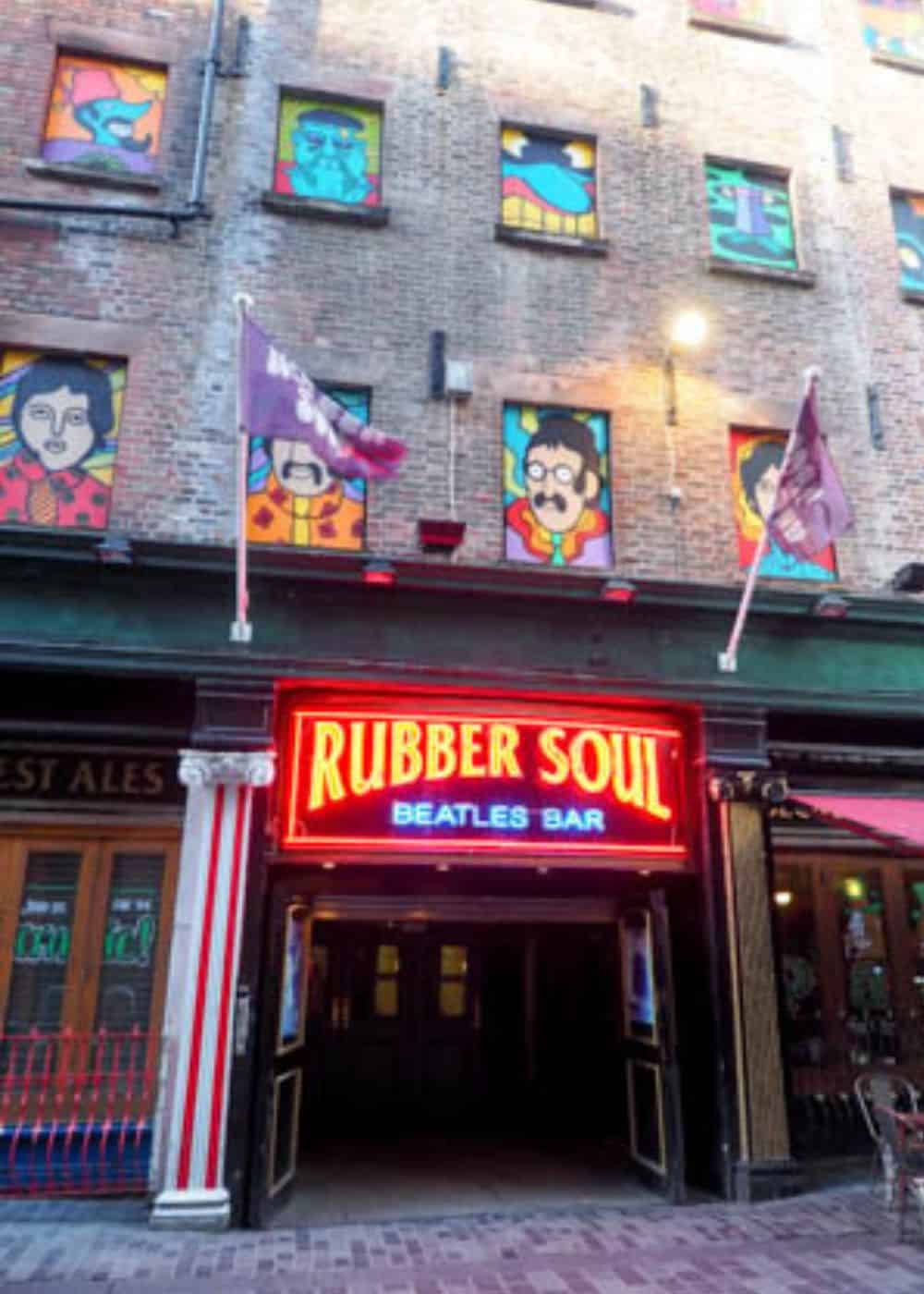 On the street, you'll see the John Lennon and Cilla Black statues and various Beatles-themed bars, like the Rubber Soul. You can also visit the Liverpool Beatles Museum.
Mathew Street is always buzzing and full of interesting characters, especially on a weekend, when it can become pretty rowdy with locals, tourists, stag, and hens, partying both day and night.
In the evening I'd recommend sampling Liverpool's incredible restaurant and bar scene! Check out some of my favourite places below.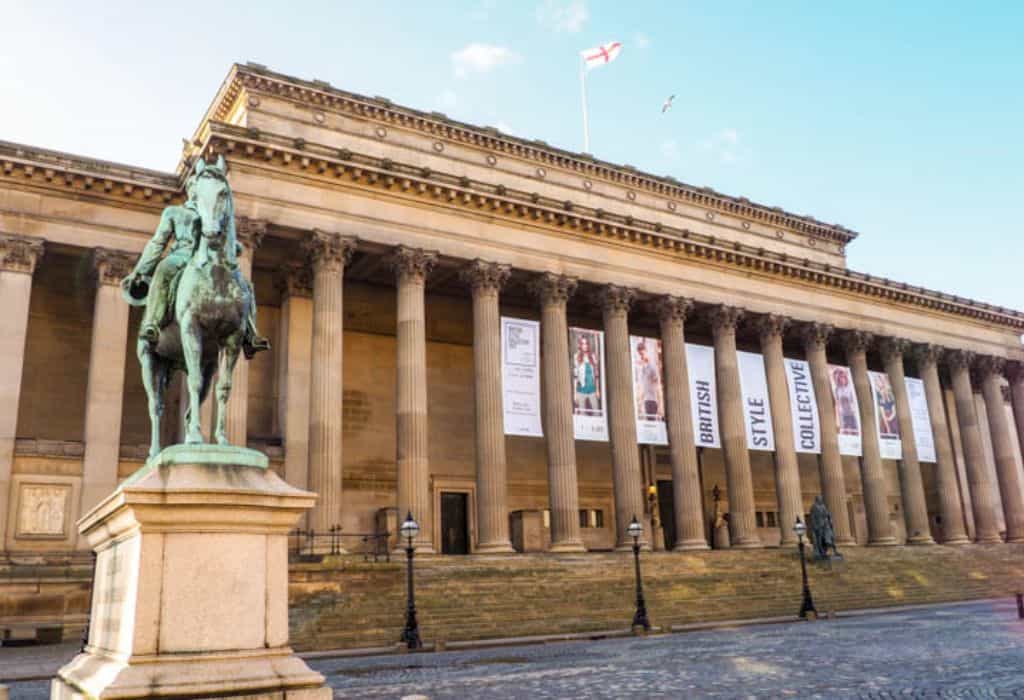 Best Things To Do in Liverpool- Day Two
The Cultural Quarter
Around Lime Street Station and William Brown Street, is what is known as the Cultural Quarter.
From Lime Street, head across to our beautiful St George's Hall, which hosts various exhibitions and events throughout the year. Even if you don't go in, you'll still want to see the building from the outside.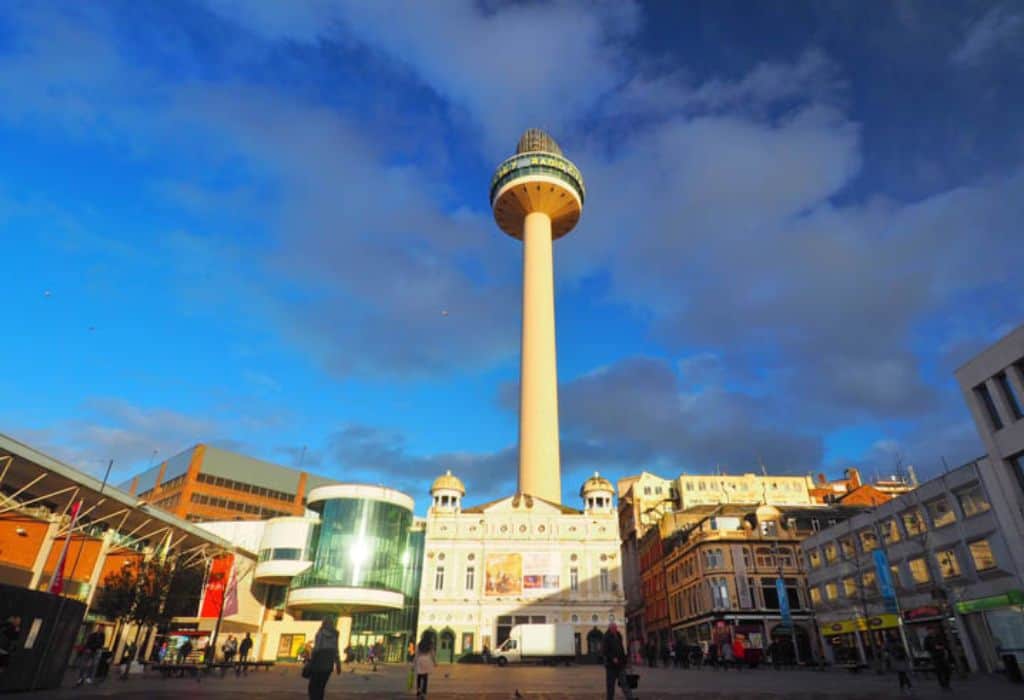 From St George's Hall, you'll see the Empire Theatre opposite you, which is where you'll find all the big touring stage shows, like The Lion King, Wicked or Blood Brothers.
If you walk left, you'll see Wellington's Column, and the Walker Art Gallery, a free art gallery which, I'd say is one of the best in the UK. Next to the art gallery is Liverpool Central Library, which is a brilliant mix of old and new, and you have to go in and see the Picton Reading Room. Then to the left of that is the World Museum. All are free to enter but you may need to pay for certain exhibitions.
From here walk towards Williamson Square and you'll pass the Royal Court Theatre and the Liverpool Playhouse and the St John's Beacon, also known as the Radio City Tower. You can also go up to the viewing gallery and get a 360-degree view of the city. Open daily from 10am – 5pm.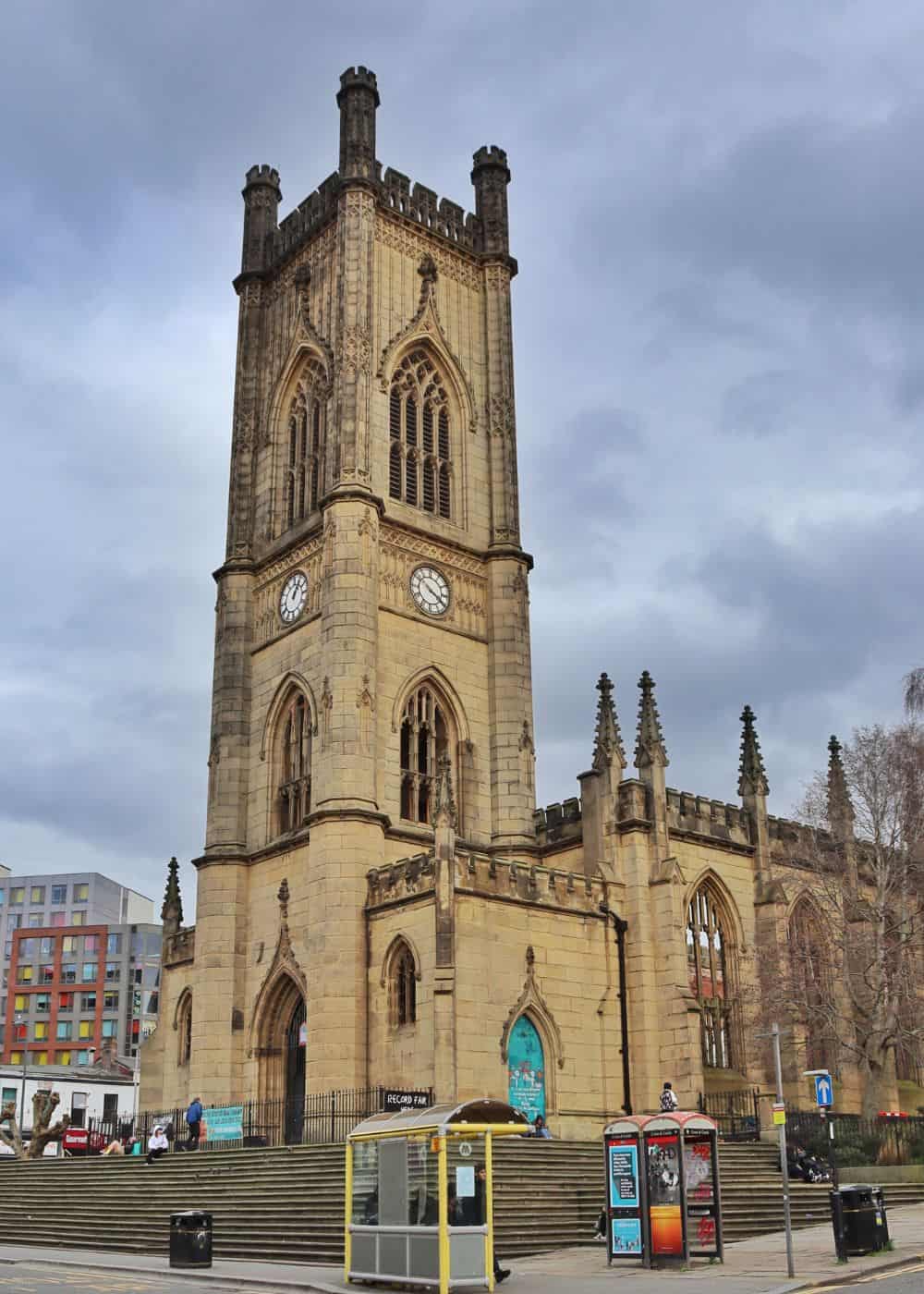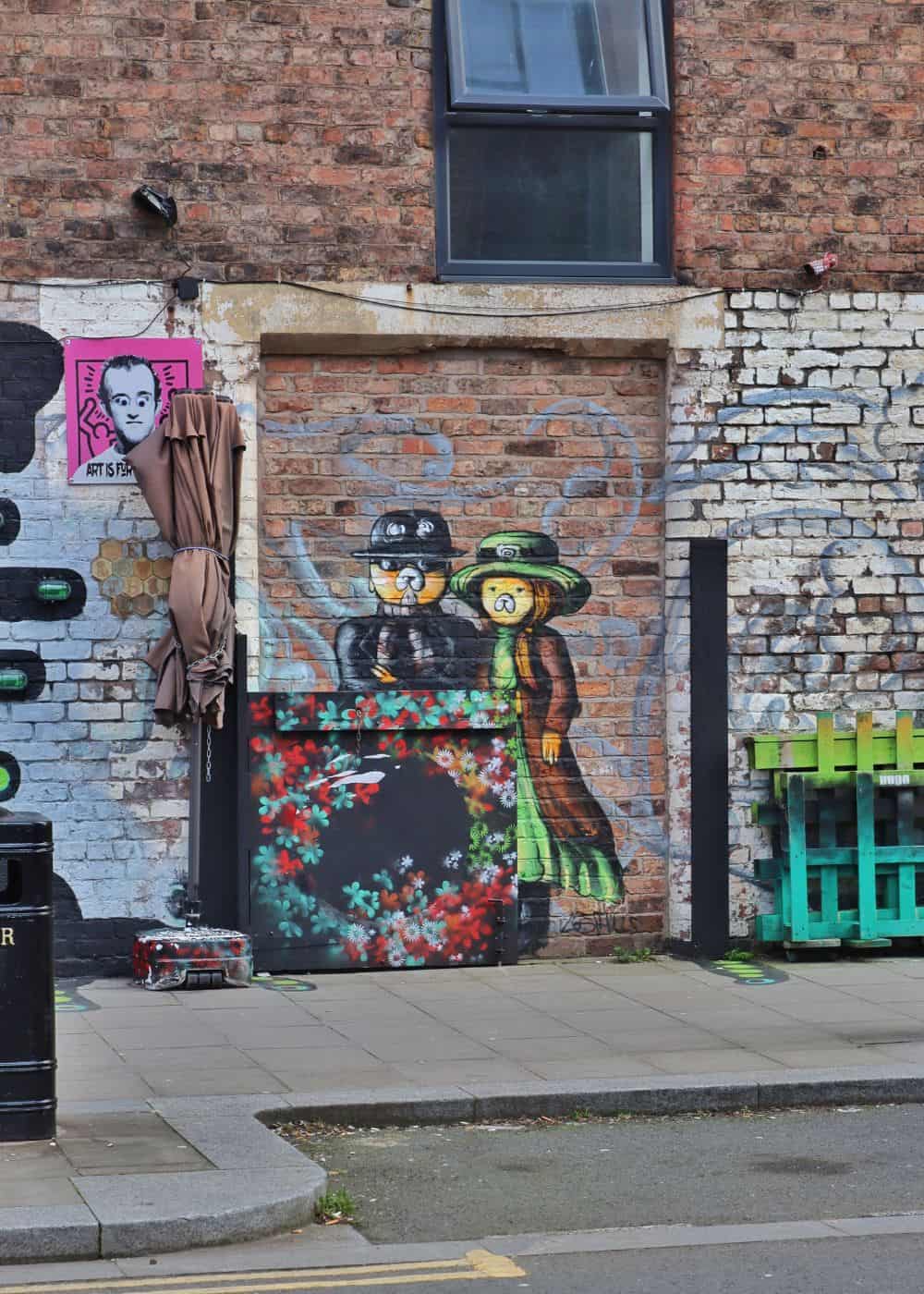 Bold Street & the Ropewalks
From Williamson Square, cut through to Church Street (which used to be our main shopping street before Liverpool One came along), to The Bluecoat, a stunning Grade I listed building that is a hub for the arts and a popular filming location.
From The Bluecoat, you can walk towards Hanover Street and then Bold Street in the Ropewalks area.
Within the few blocks formed by Bold Street, Berry Street, Duke Street and Hanover Street (and the streets inside here like Seel Street, Slater Street, and Wood Street), you'll find most of Liverpool's best bars, cafes, and restaurants. Bold Street is also home to some of the best quirky and independent shops in the city, including everyone's favourite – Utility (there are 2 Utility shops on Bold Street and also one in Liverpool One).
At the far end of the street, you'll see St Luke's or as we call it, the 'Bombed Out' church. It was heavily bombed during WWII and the inside was destroyed, however, the outer shell remained completely intact – you can see right through it. These days it's used for exhibitions and events. It's being renovated at the moment, but is a very cool space to visit when it's open!
Around here you'll also find FACT, the Foundation for Art and Creative Technology, home to galleries, a cinema, a café, and a bar.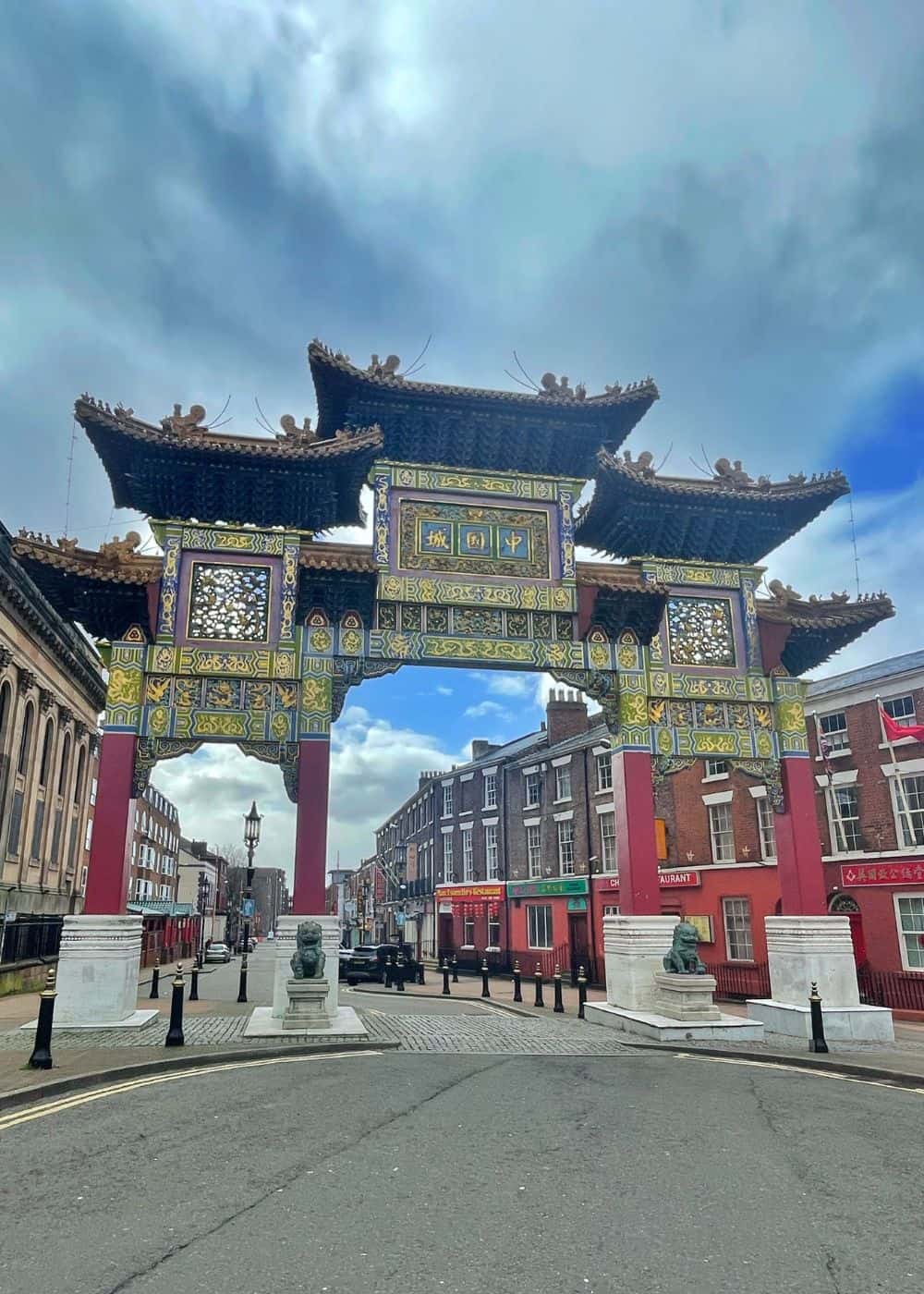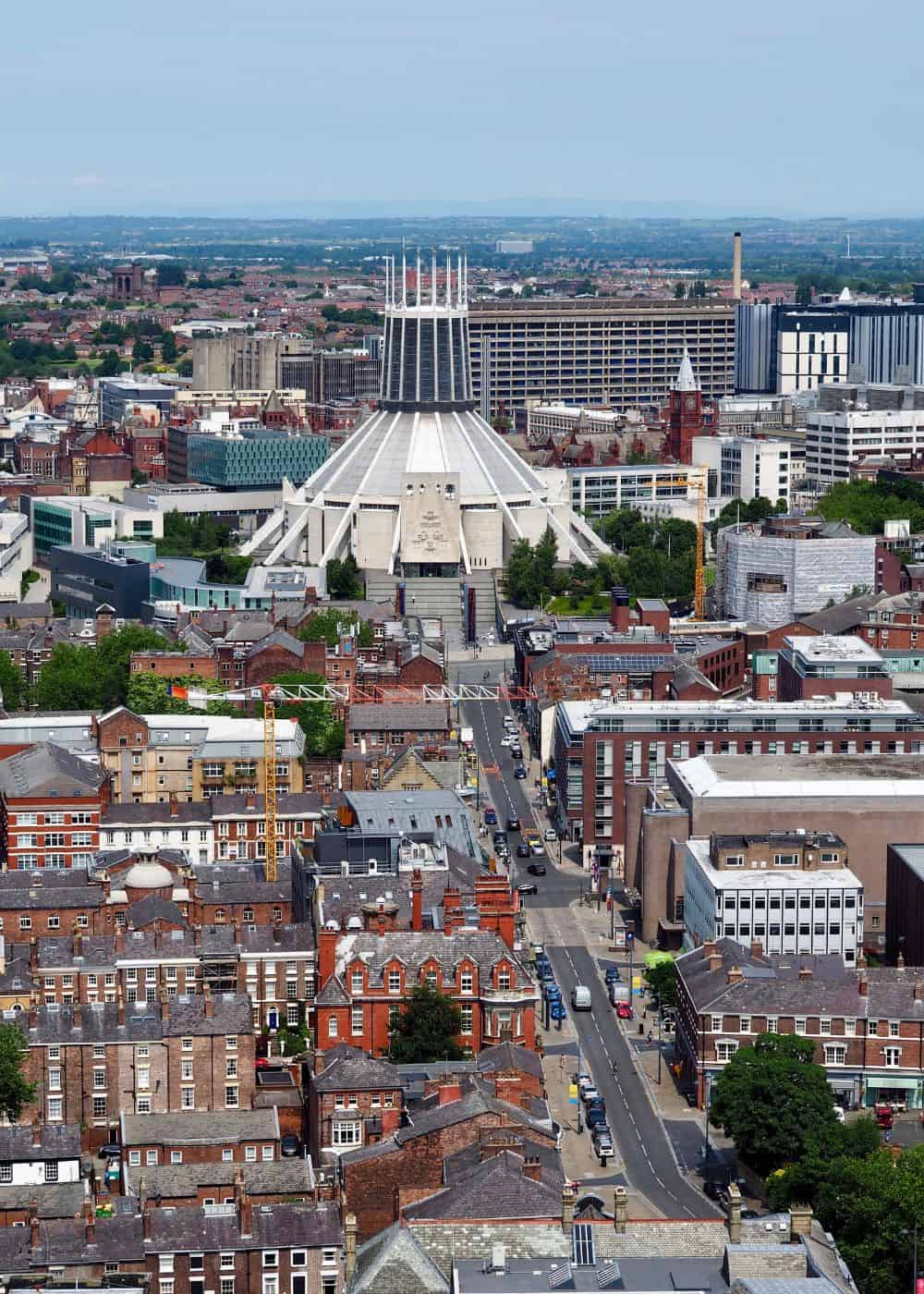 Chinatown
Not far from St Luke's is Liverpool's Chinatown. Liverpool has the oldest Chinese community in Europe. At the edge of Chinatown, you'll spot the stunning Chinese Arch, which is the tallest in Europe.
There are lots of Chinese restaurants and supermarkets in this area and this is the place to be during Chinese New Year!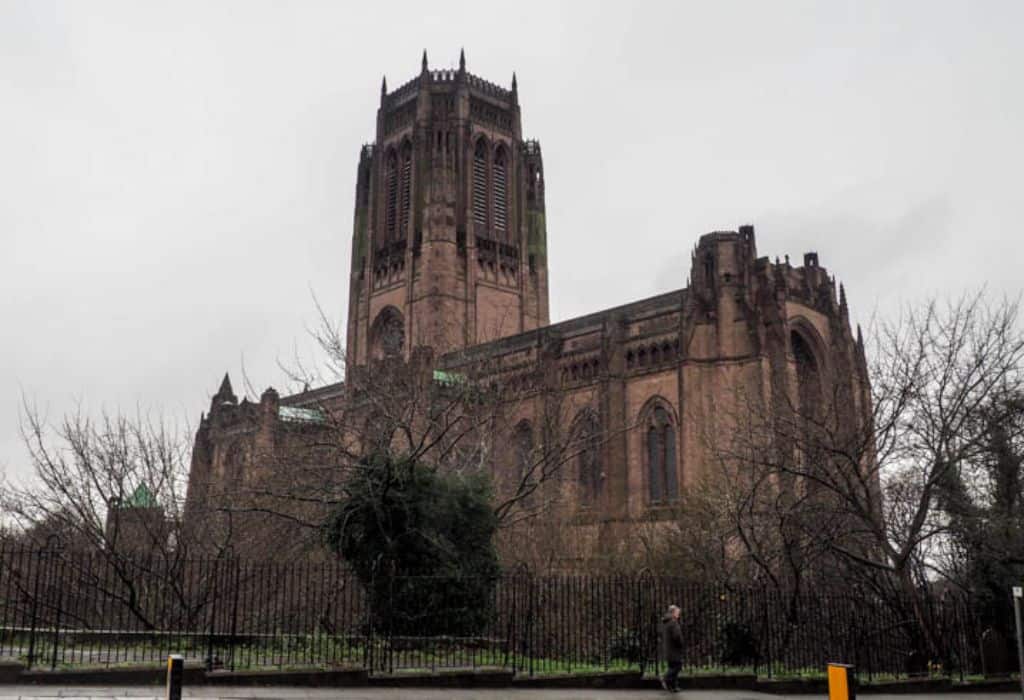 Hope Street & the Georgian Quarter
A few minutes walk away from Chinatown, is Hope Street, a beautiful street with so many cool places to visit – so having a stroll down here is always high on my recommended list of things to do in Liverpool.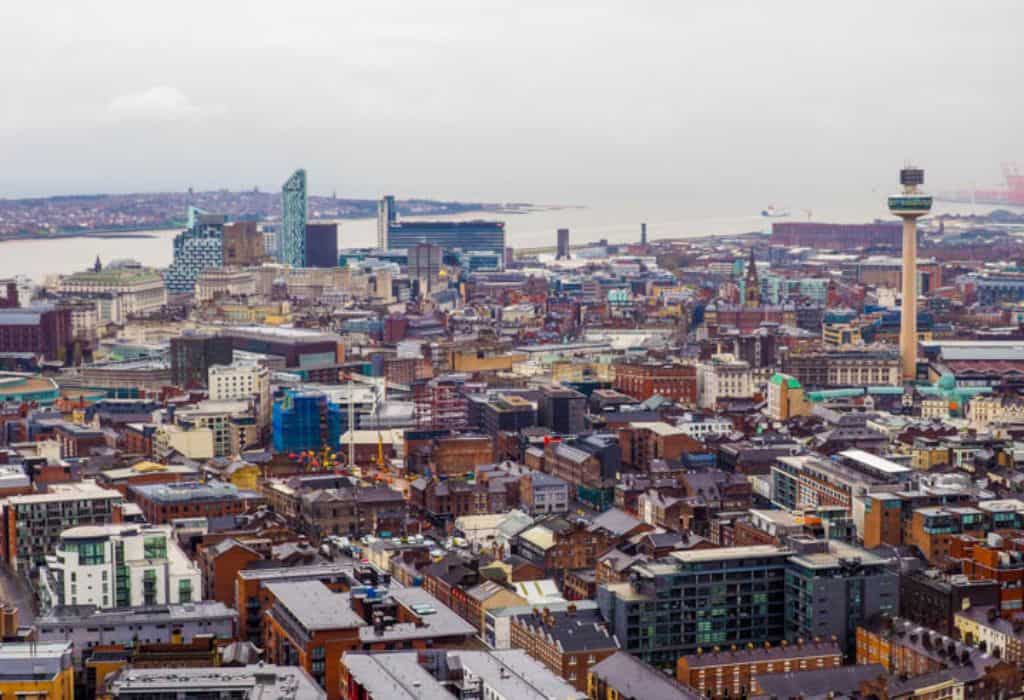 At the southern end of the street, you'll find Liverpool Anglican Cathedral, which was designed by Sir Giles Gilbert Scott, who also designed the famous British red telephone box. If you look, you'll find his smallest creation inside his biggest creation.
It's free to enter the cathedral, but the one thing I really suggest that you do is to pay £5.50, to go up the Vestey Tower, to see amazing 360-degree views of the city.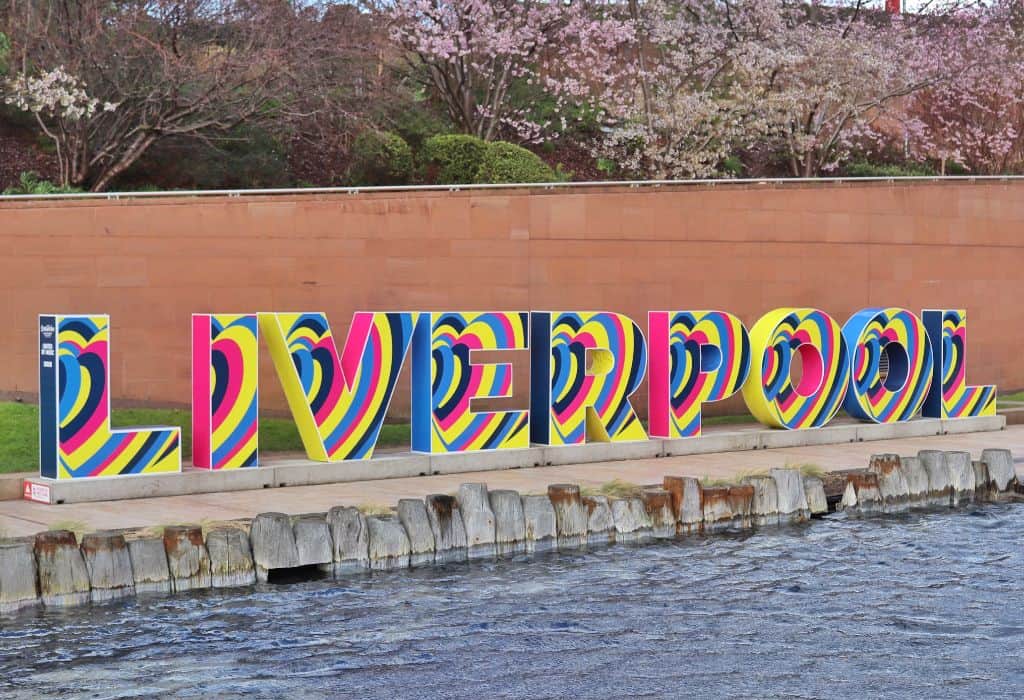 Upon leaving the cathedral, walk up Hope Street, where you'll see the Liverpool Institute of Performing Arts and the suitcases sculpture called 'A Case History'. Hope Street also has some of the best restaurants in the city (see below)!
Cross over the road and keep walking north and you'll see the Liverpool Philharmonic, home to the UK's oldest continuing professional symphony orchestra.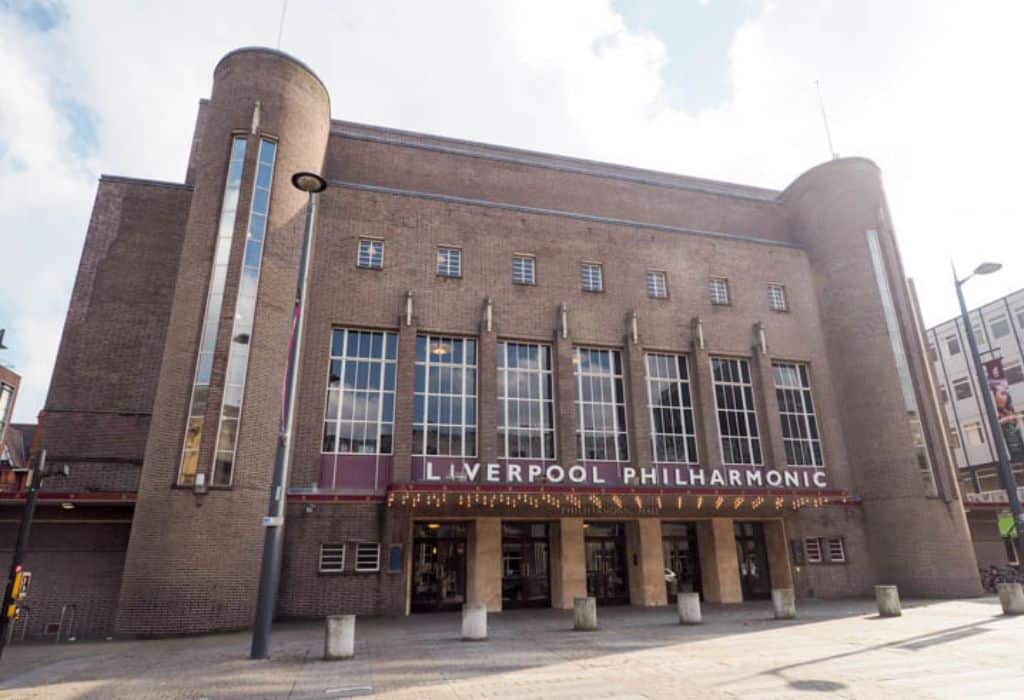 Continue on and you'll come to the Everyman Theatre, my favourite theatre in the city. If you're here over the festive period, definitely try to see the annual 'Rock n' Roll' panto. It's one of my favourite things to do in Liverpool, is always hilarious and the actors are also the band – it's really cool.
At the northern end of Hope Street, you'll find Liverpool's other cathedral – yes we have two! And they couldn't be more different, even though they were only built a few years apart!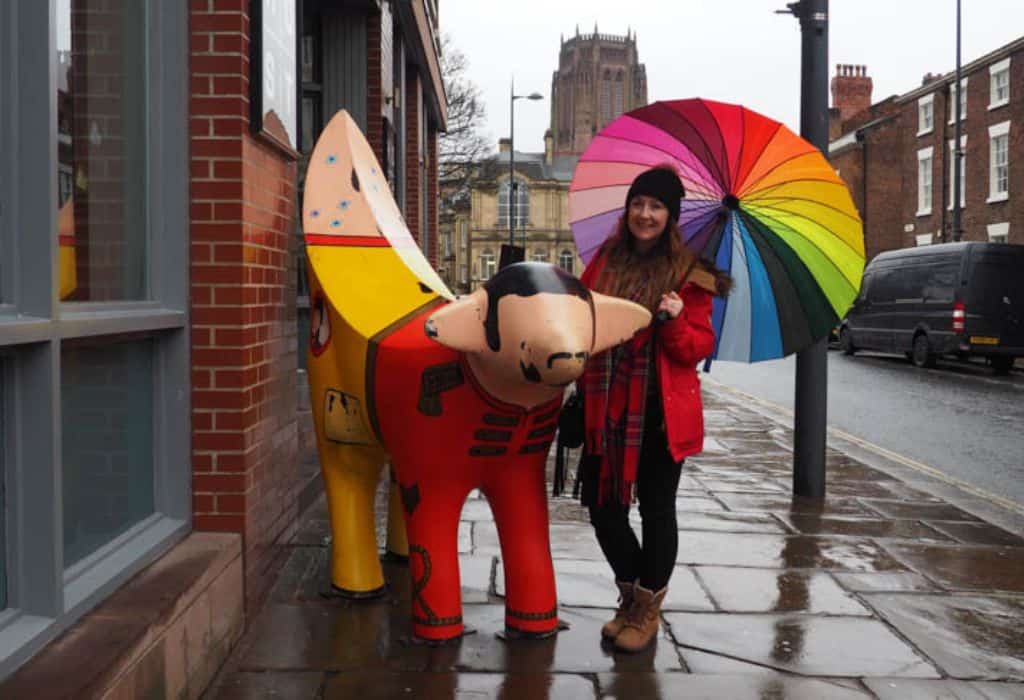 Liverpool Metropolitan Cathedral is the Catholic cathedral, affectionately known as Paddy's Wig Wam, due to its shape and the fact that it was built primarily for the large Irish community in Liverpool.
Turn around and come back down Hope Street and stop at the Philharmonic Dining Rooms (known locally as 'The Phil') for a well-earned drink at this quirky and traditional pub. And be sure to pop your head into the famous men's loos.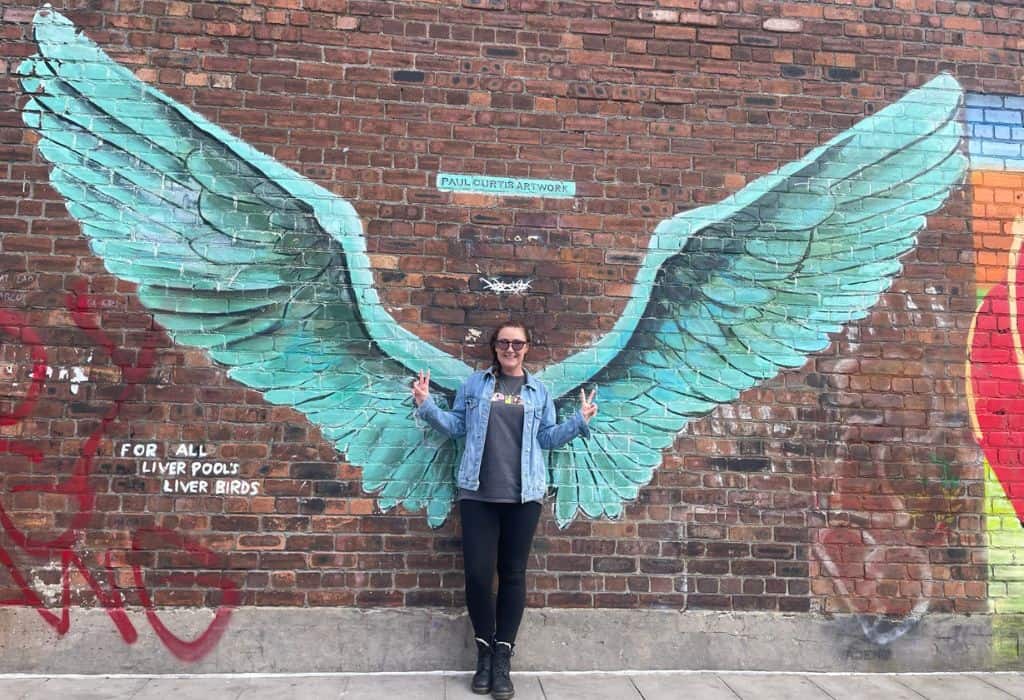 The Baltic Triangle
Slightly out of the city centre (15-minute walk from Liverpool One), you'll find Liverpool's coolest neighbourhood – The Baltic Triangle. Once just a load of derelict warehouses, this is now THE place to be and the heart of Liverpool's creative industry.
The area is kind of scruffy and industrial looking, but don't let that fool you – there are many treasures within!
One of the best of these is Camp & Furnace. Part bar, part restaurant, part creative space, part music venue, part event space. They have an amazing events programme which I suggest you keep your eye on!
You can also take a look at the wonderful street art in the area, which includes the beautiful Liver Bird Wings (that's where I am in the pic above) created by local artist, Paul Curtis.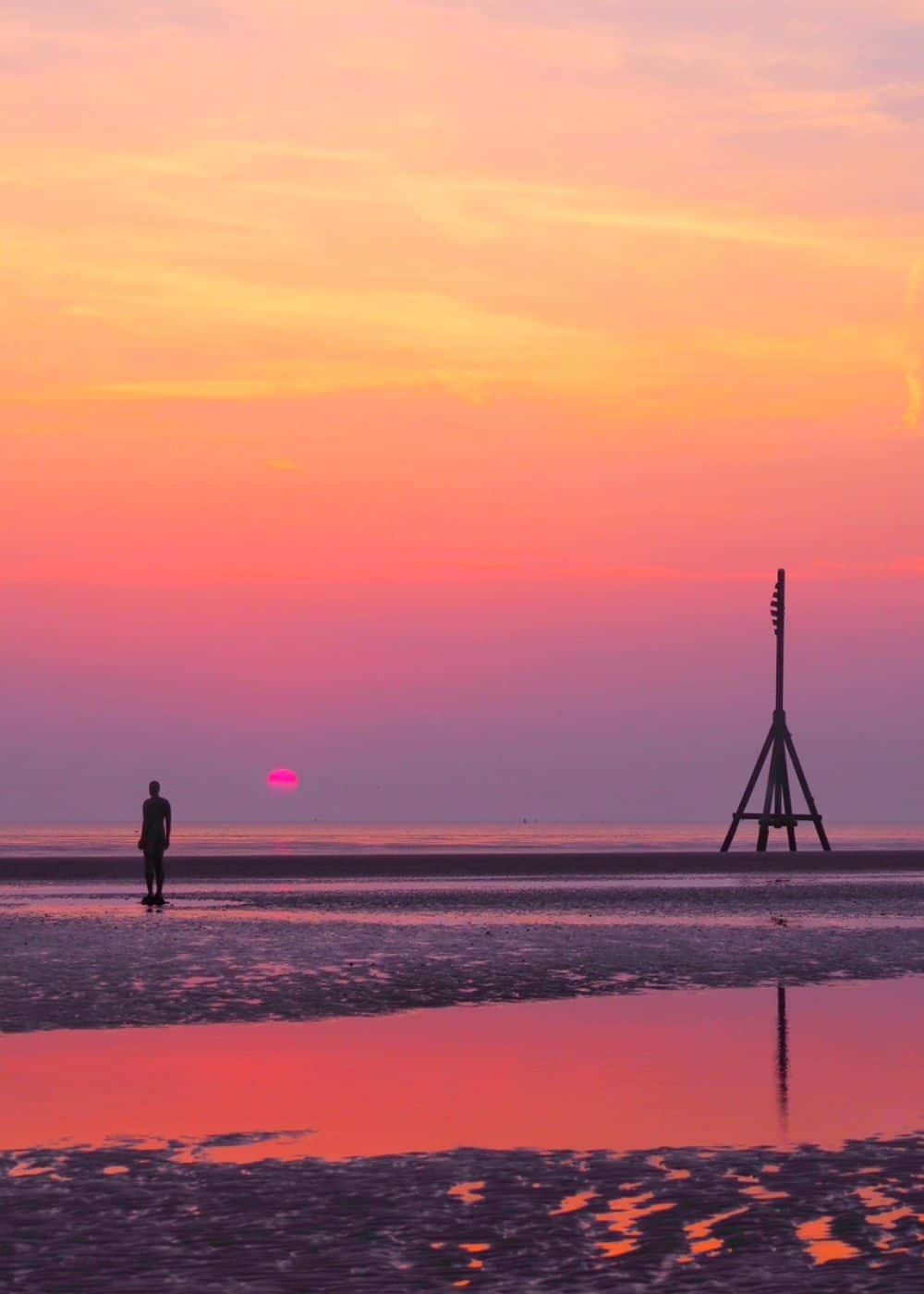 Outside the City Centre
If you have more time, it's worth exploring outside the city centre.
Liverpool has more parks than Paris, don't you know and Sefton Park in the south of the city, is one of the prettiest, with a beautiful Palm House in the middle that holds all kinds of events from weddings to a silent yoga disco – whatever that may be.
The park is where they hold the Africa Oyé festival each June and the Liverpool Food and Drink Festival in April and September.
If you're going to Sefton Park, you also need to visit Lark Lane, (they're right next to each other) which is a cute street filled with great bars, cafes, and shops.
If you're a fan of The Beatles, you might enjoy a Magical Mystery Tour that takes you to some of The Beatles hotspots in the city including their childhood homes, Strawberry Fields and Penny Lane.
Heading north to Crosby Beach (you can catch the train from both Moorfields or Central Station), you'll find Antony Gormley's 'Another Place', a hauntingly beautiful art installation, made up of 100 statues, known locally as the 'Iron Men'.
If you're a football fan, Everton and Liverpool football clubs are both very close to the city centre. Liverpool football club is based in Anfield and Everton is just across Stanley Park in Walton. You could try and catch a game, or perhaps take a stadium tour.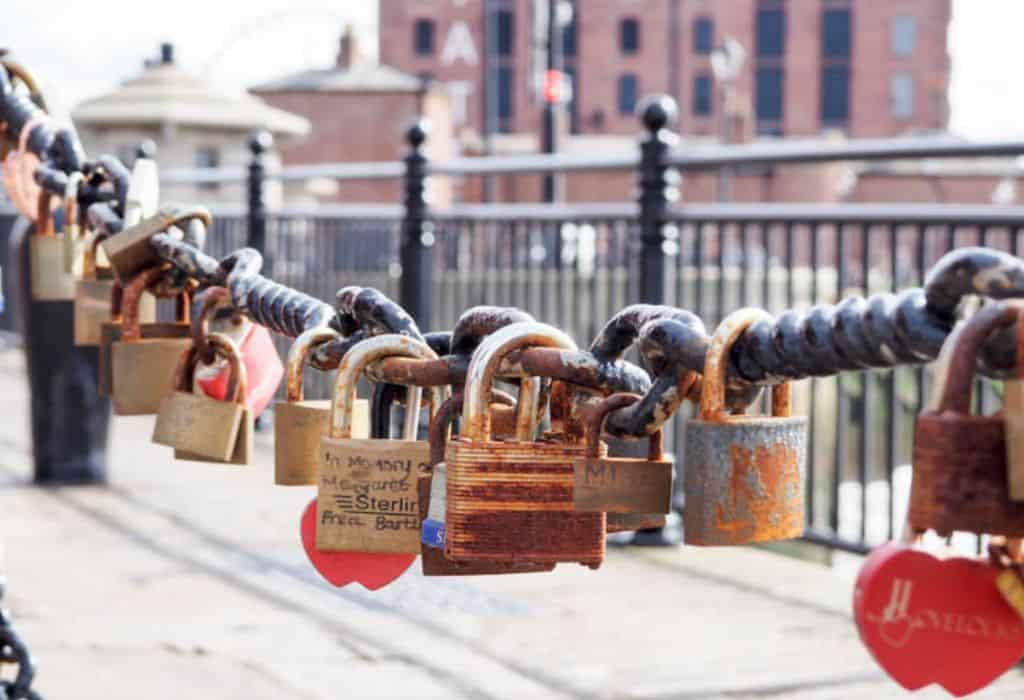 Plan Your Trip to Liverpool
There's always something going on in Liverpool and to find out the best info and listings, keep an eye on the fabulous Independent Liverpool blog or Facebook page! This is always my go-to to find out what cool stuff is happening in the city. They also run events and you can buy an Independent Liverpool Card which gets you tons of discounts in the city!
Where to Stay in Liverpool
Liverpool has no shortage of hotels for you to stay in, from the chain hotels like Premier Inn and Jury's Inn to unique, boutique hotels. Here are a few of my favourites:
Hope Street Hotel: We stayed in the Hope Street Hotel, the city's first boutique hotel, located in Liverpool's Georgian Quarter. Whilst the outside of the building is more traditional, the inside is simplistic, contemporary, and elegant in design. It's known for being a bit of a celebrity hotspot – I saw Oscar winner, Adrien Brody as I was checking out – smiled, and said "Hello".
Hard Days Night Hotel: If you're a big Beatles fan, the Hard Days Night Hotel is a natural choice and it's only a 1-minute walk from The Cavern and Mathew Street.
The Baltic Hotel: This is a great hotel in the trendy Baltic Triangle, close to Camp and Furnace. They have regular events and music nights. They describe themselves as the place "Where punk art meets urban chic, a colourful retreat for hipsters and hippies."
The Shankly: The Shankly is Liverpool's 'it' hotel, favoured by reality TV and soap stars. If you like to party, this is a good place to stay.
Signature Living Apartments: Part of The Shankly Hotel, they have great rooms for Stag and Hen parties.
Epic Apart Hotel: If you want to be in the heart of the Ropewalks area, stay at the Epic Hotel on Seel Street. They also have apartments on Seel Street, Duke Street, and Campbell Street.
Titanic Hotel Liverpool: This is one of the most beautiful hotels in the city located in a converted warehouse. They also have a great restaurant and bar, plus a spa if you want to treat yourself. The hotel is a little bit outside the main part of the city centre (30 minutes walk from Liverpool One or about 7 minutes in a cab).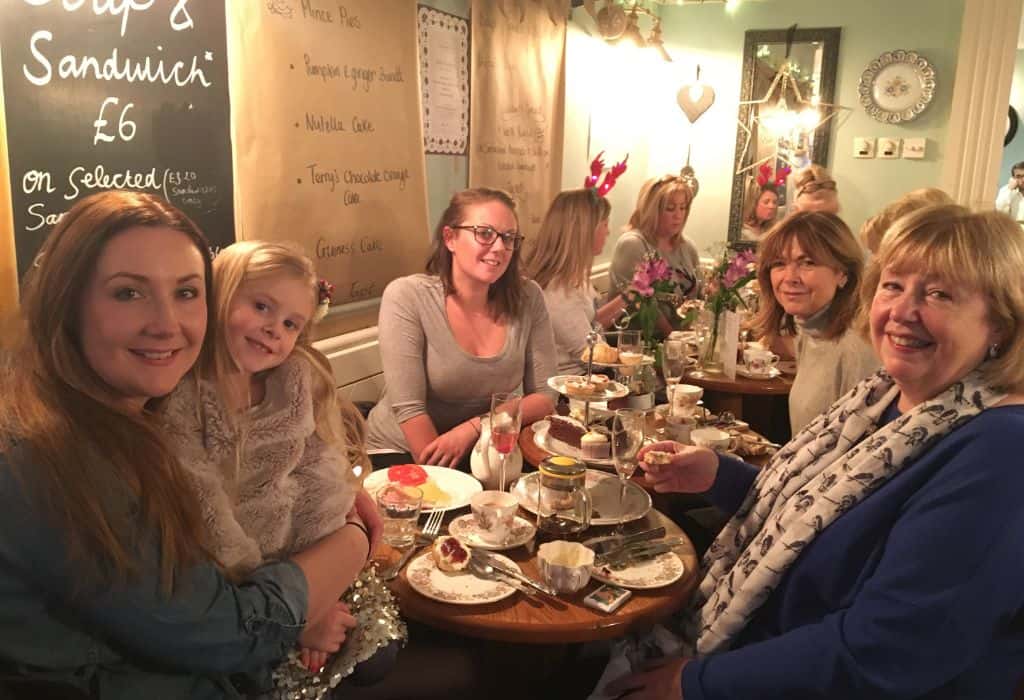 Where to Eat in Liverpool
With all that walking, you're going to need some good food to keep you going. From cute cafes to upmarket restaurants, Liverpool has something for everyone. Here's a few of my favourites…
For a treat, The London Carriage Works at the Hope Street Hotel is a great place to go. The meals are beautifully presented and tasty, plus the house wine was absolutely lovely.
For a casual meal, I like, The Pen Factory, a cool, laid-back bistro, where we had a really simple yet amazing dinner. Helene and I shared the veggie tapas board and a baked Camembert. Which is pretty much my idea of food heaven!
My favourite restaurant is Mowgli Street Food on Bold Street (I love their Mother Butter Chicken and Himalayan Cheese on Toast) – they now have restaurants all over the UK, but they started here!
Others to consider include Free State Kitchen on Maryland Street, The Florist on Hardman Street, and The Art School on Hope Street.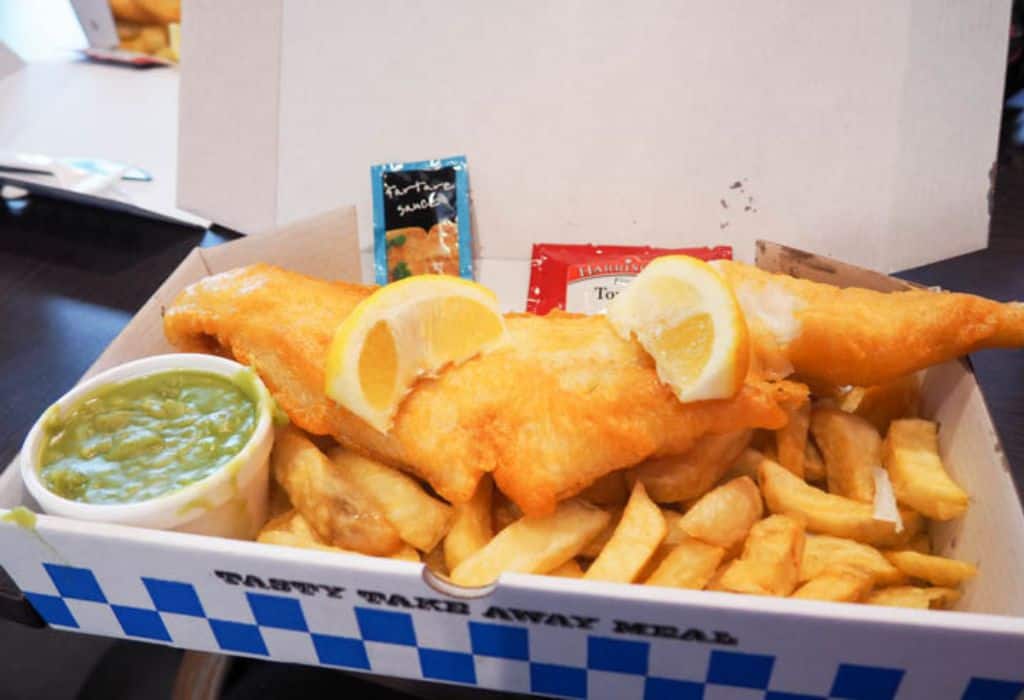 If you fancy some good old-fashioned British fish & chips, try The Lobster Pot (there's one on Ranelagh Street by Central Station and the other is on Whitechapel near Mathew Street) or Johnny English on Bold Street, which is really cute.
For a good cuppa, try Bold Street Coffee or Leaf (both on Bold Street) or Moose Coffee (there are a few locations around the city). I also really like Black Sheep Coffee for their alternative lattes and smoothies – although it's EXPENSIVE!
If you're looking for something a little bit different, maybe try the Gospel Sunday brunch at Alma de Cuba. If you like a food market, head to the Baltic Market in the old Cains Brewery in the Baltic Triangle. 
One of my favourite things to do in Liverpool is to have afternoon tea and two of my favourite places include Cuthbert's on Mount Pleasant and Oh Me Oh My, near to the Pier Head. Oh Me Oh My also have a rooftop garden called Goodness Gracious, which has great views over the river and the Liver Buildings. It's open Monday – Friday, from 12pm – 4pm from April to September.
If you get the chance, you need to try our local dish 'Scouse', which is short for lobscouse, a stew that was often eaten by sailors in Northern Europe. The recipe varies but is generally made from meat (usually lamb or beef or both), stock, and vegetables (onion, potatoes, and carrots) and comes with bread on the side and often red cabbage on top.
Good places to try are The Clove Hitch, Ma Boyle's Alehouse, Skaus, Maggie May's, Smuggler's Cove, Ma Egerton's Stage Door and The Baltic Fleet (also a microbrewery with local ales).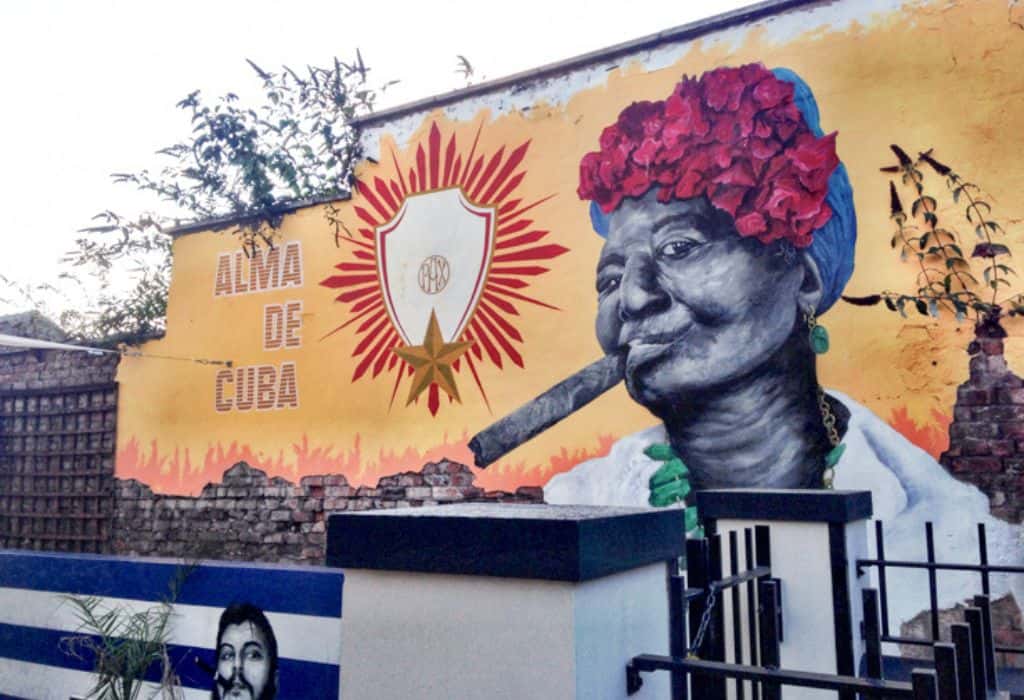 Where to Go 'Out Out' in Liverpool
The UK has some pretty good places for a night out, but anyone will tell you that Liverpool is one of the best nights out, maybe even THE BEST night out in the UK. But don't just take my word for it – come see for yourself!
There are too many bars to mention, but a few of my favourite places include:
Ropewalks
Around this area, you'll find a ton of good bars – so you're looking at the steers that run parallel to Street, and across it – here's a little map to help you on your way! My favourites include Berry & Rye, The Oracle, Red Door, Salt Dog Slims, 81 Ltd, Alma de Cuba, El Bandito, and Motel. A few of these are speakeasy bars too! They're all so close, a bar crawl is pretty easy!
Now, there's also an Albert Shloss in Liverpool (which is my favourite bar in Manchester too).
The Baltic Triangle
The Baltic Triangle is an area a little walk away from the city centre. In the last few years, it's gone through a huge regeneration and is now one of the hippest areas in the city.
Camp & Furnace is one of the most famous bar/event spaces in the area, I also love the Botanical Garden and if you want a lot of bars in one space, try Cain's Brewery which is home to the Peaky Blinder's Bar, Yellow Submarine Bar and Ghetto Golf.
Mathew Street
When I was younger, I used to love Mathew Street, but I tend to avoid it now as it does get pretty rowdy, but it is good if you really want to party and I'd definitely suggest popping into The Cavern for a drink.
Castle Street & James Street
There are a few nice bars around Castle Street like The Alchemist and The Underground Gin Society. Or if you fancy some champagne, head to the Carpathia Champagne Bar at the 30 James Street Hotel which has an outside terrace where you can watch the sunset over the Liverpool waterfront.
If you love gin, do a gin tasting at the Liverpool Gin Distillery.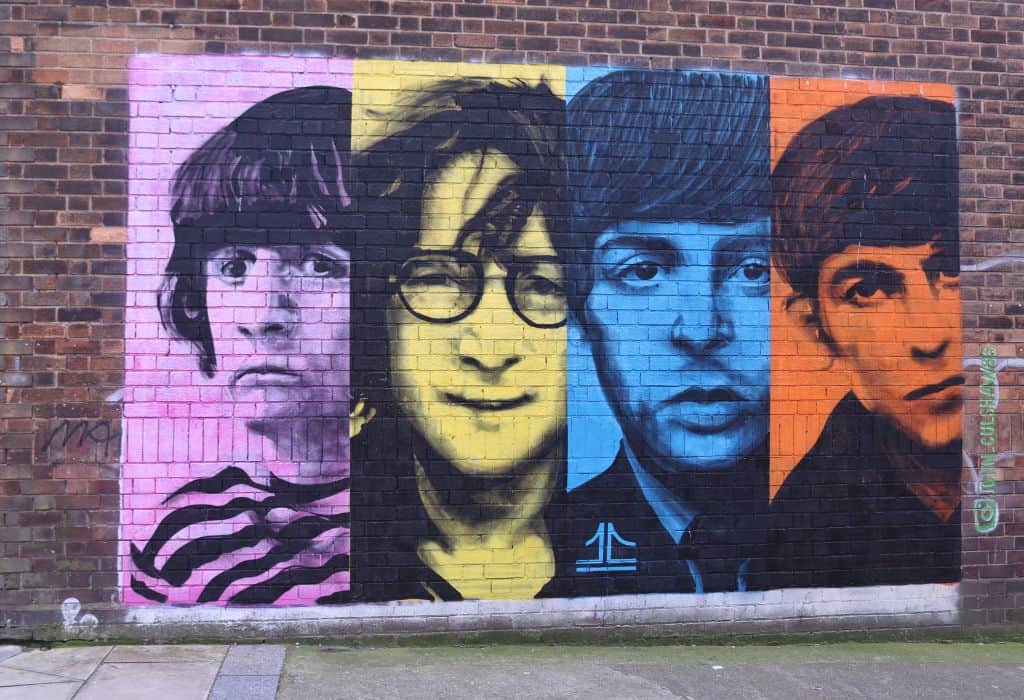 How to Get To, From, and Around Liverpool
The main station is Liverpool Lime Street and trains run direct to here from many stations in the UK including London Euston and Manchester Airport. This includes a direct 2.5-hour train ride from London. You can find out the rail time on National Rail.
Liverpool also has its own airport – John Lennon Airport. To get to the city centre, you can either get a bus (take the 500 or the 86A) to Liverpool South Parkway then get a train to Liverpool Lime Street or Liverpool Central. Or just stay on the bus and it will take you to the city. For more info on getting to and from the airport, click here.
Liverpool is a pretty small city, so walking is the best and easiest way to get around, but if you're going outside the main city centre, Uber, taxis, buses, and the underground stations of Liverpool Central, Lime Street, Moorfield's, and James Street are also options.
I hope this gives you some ideas for things to do in Liverpool and helps you plan your trip!
---
Pin This Post For Later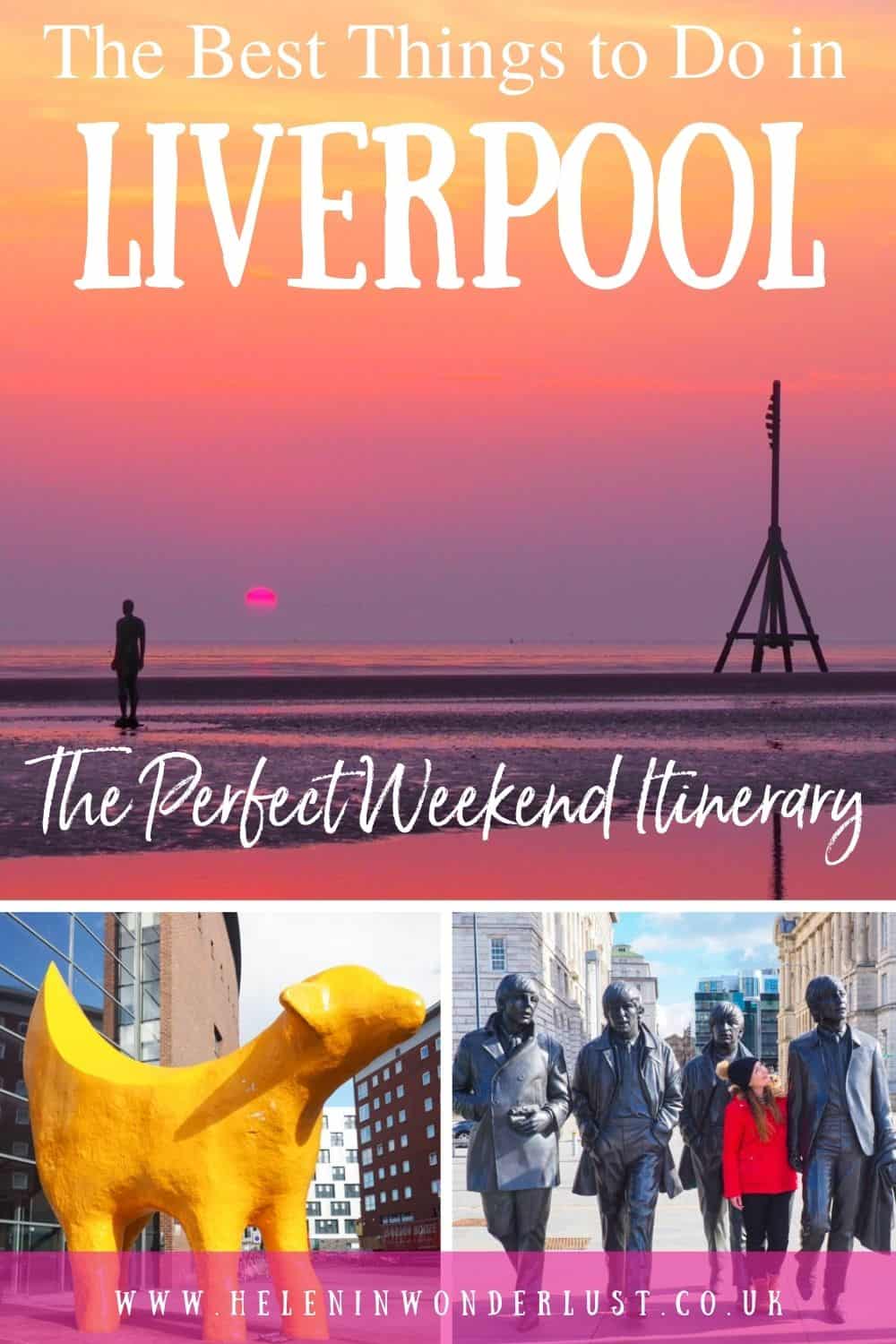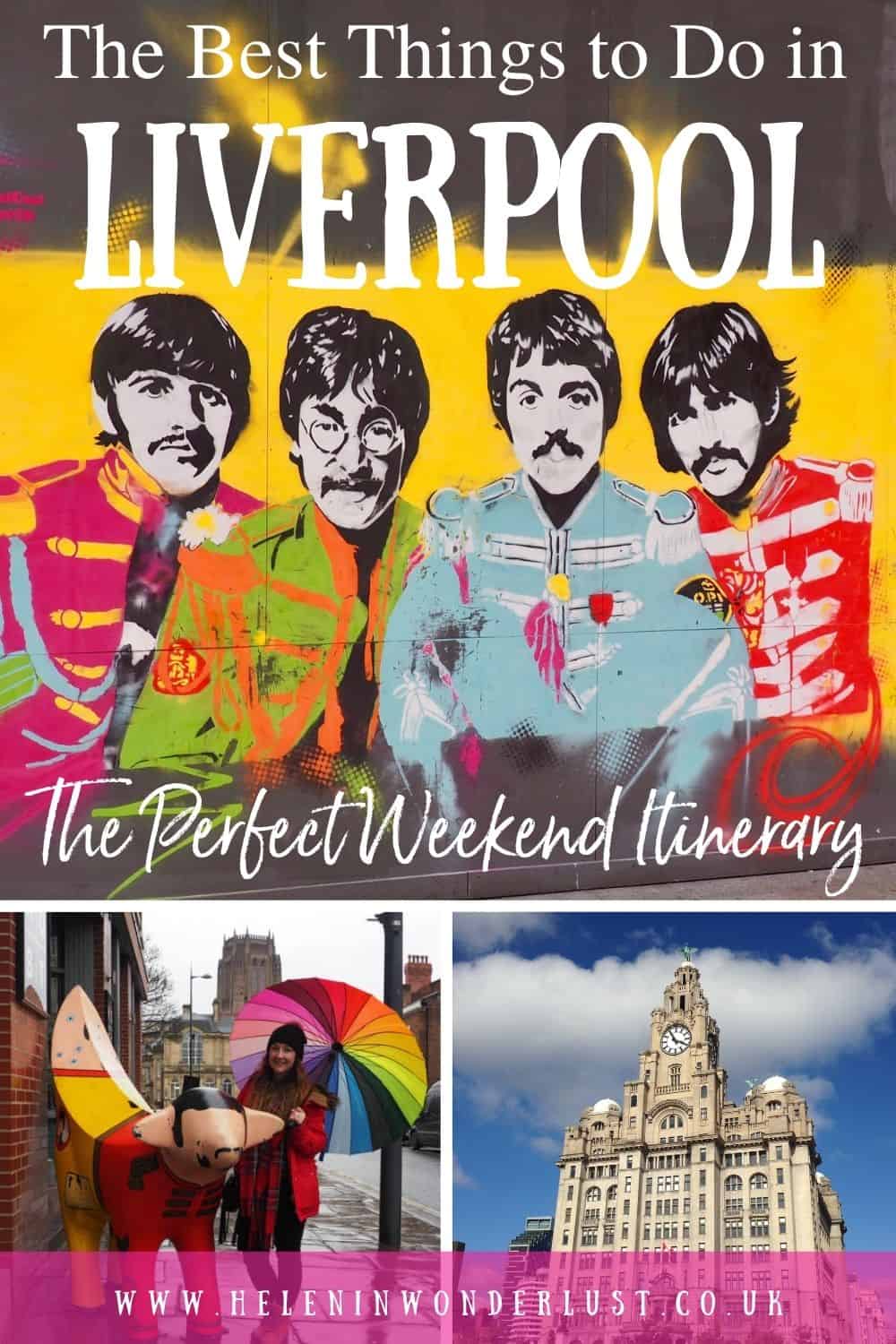 This post was brought to you as a result of the #WelcomeToEngland campaign, created and managed by iAmbassador in partnership with Visit Britain. As always, all opinions are my own. Also a huge thanks to Visit Liverpool for helping to bring this campaign to life. See my Travelogue on HipTraveler.