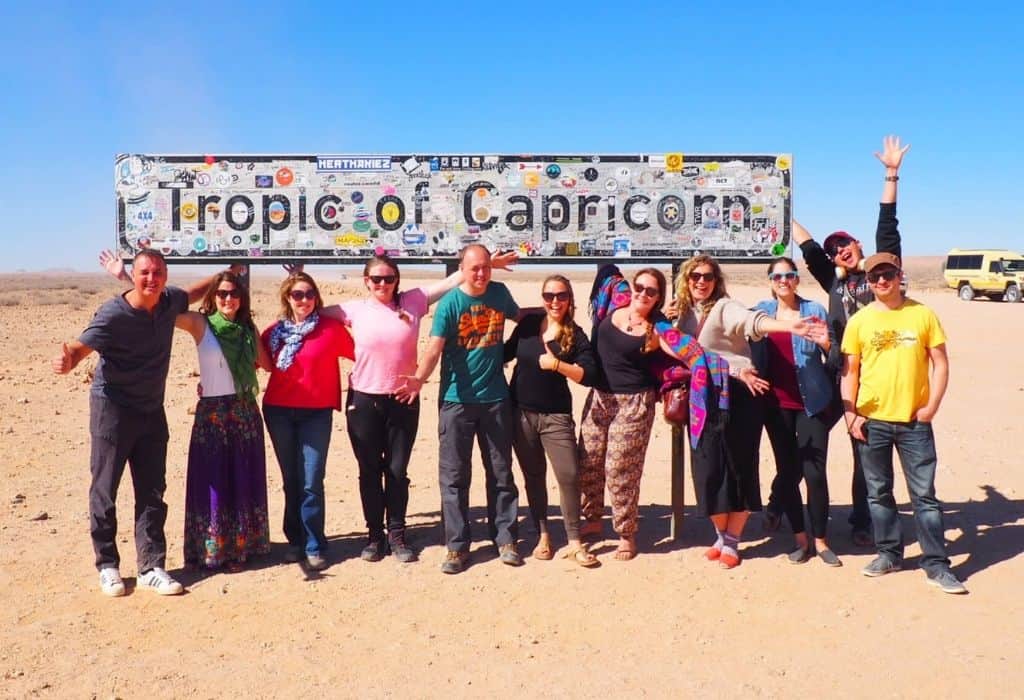 Last updated on April 11th, 2023 at 08:33 pm
Welcome to the Rock My Namibia Adventure – August 2018 photo diary!
On this trip, we saw so many of the highlights of Namibia, from Fish River Canyon in the South to Opuwo in the North and everything in between! It was epic! This was such a cool trip, with a great group of people – 12 of us, my biggest group yet!
We've had some amazing feedback and the best news is… we're doing it all again next year!!!! And yes that is a picture of an elephant, a rhino and 3 giraffes hanging out at a waterhole… at sunset! Simply magical!
So here are a few pictures and highlights of the first Rock My Namibia Adventure. Want to join the next group tour? Then click here.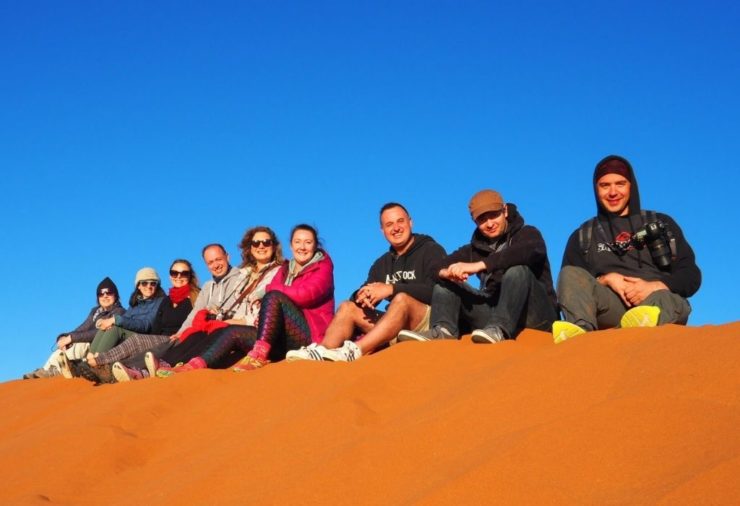 ---
Windhoek
The trip began in Namibia's capital, Windhoek.
This trip was a little bit different than my usual trips, in the fact that there were quite a few familiar faces. My husband Matt, his brother Mark, my friend Brenna and 3 previous Rock My Adventurers, Matt, Jessi (Jessi has also been a group leader for some of the trips) & Aisling, came along, so it was a bit like a reunion for me!
Then Rachael, Peter, Sacha, Meredith and Camila made up the rest of our awesome gang.
We spent the first day exploring the city, the markets (and eating kapana, which is delicious) and enjoyed a gorgeous welcome meal at the wonderful Joe's Beerhouse.
What made it extra special, was that we were joined for dinner by two of my group members (Heather & John) from the Rock My Uganda, Rwanda & DRC trip from the month before and their daughter, who had just finished volunteering in Kenya and were now embarking on a 2-week road trip around Namibia.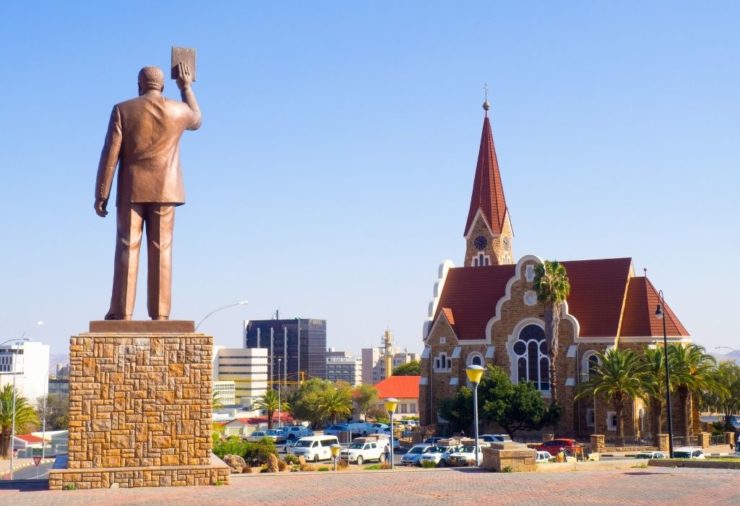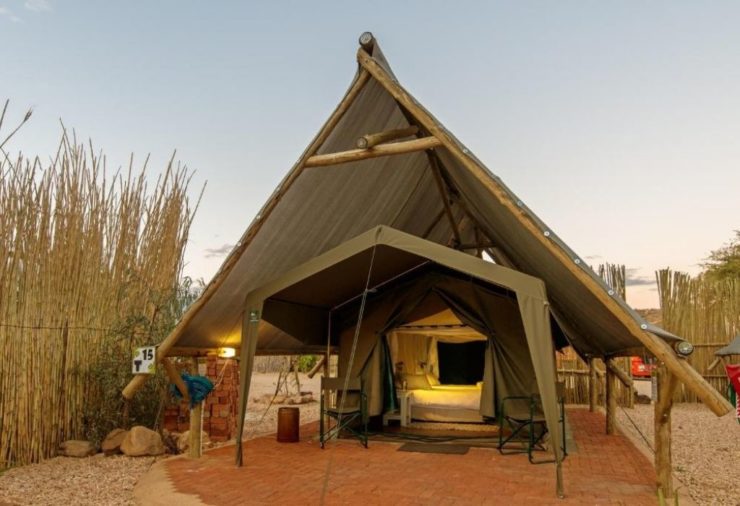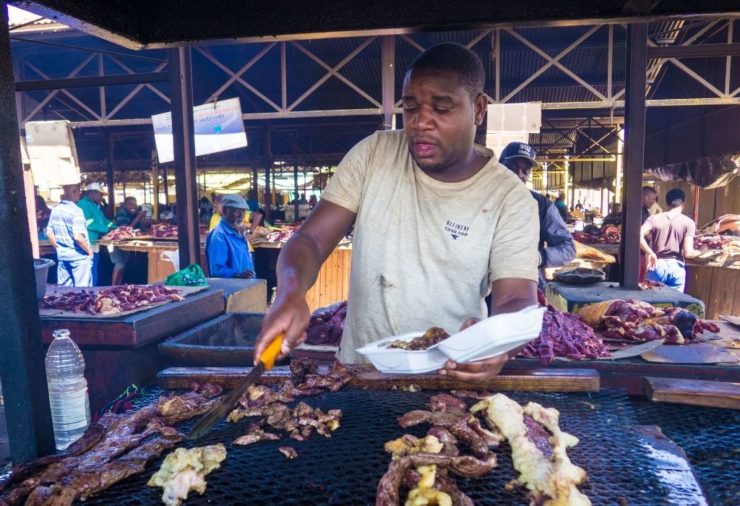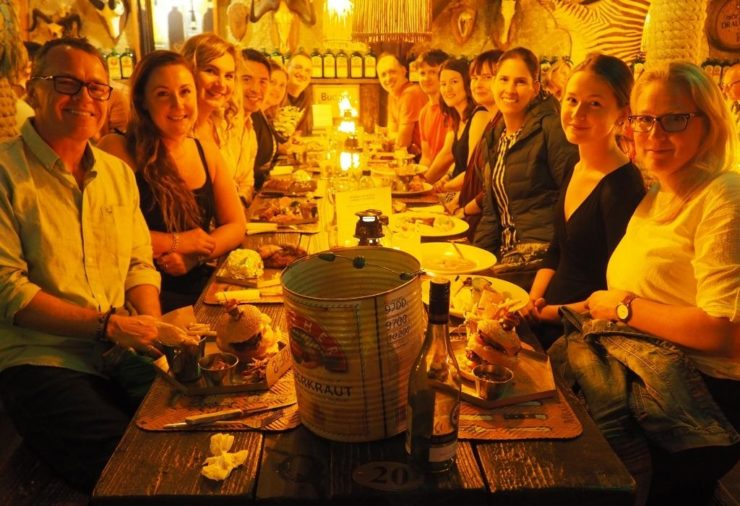 Fish River Canyon
From Windhoek, we headed south to Fish River Canyon, the second biggest canyon in the world, after the Grand Canyon. We were staying at the gorgeous Canon Roadhouse, which is an awesome place in itself.
The weather wasn't so great, but we had an amazing time anyway and the view was still pretty epic. But oh my, was it cold!!!! We were fully wrapped up in blankets, down jackets and hats!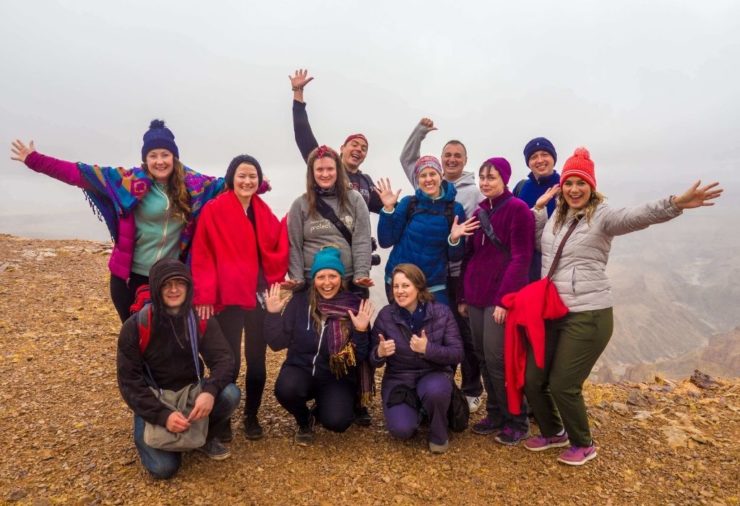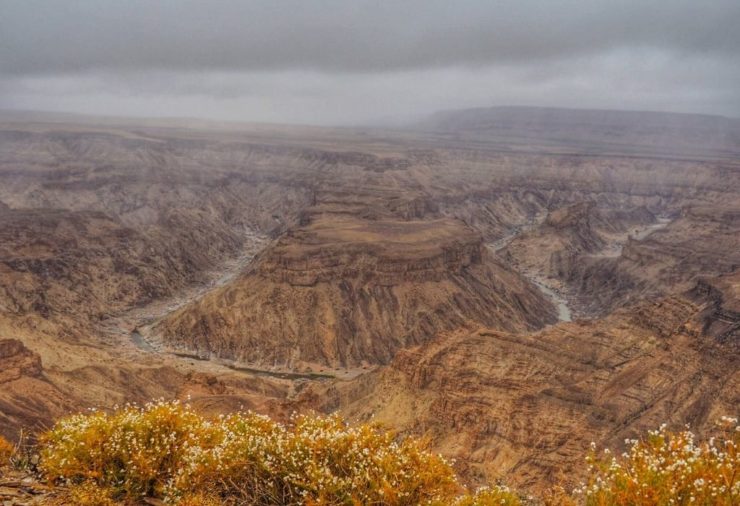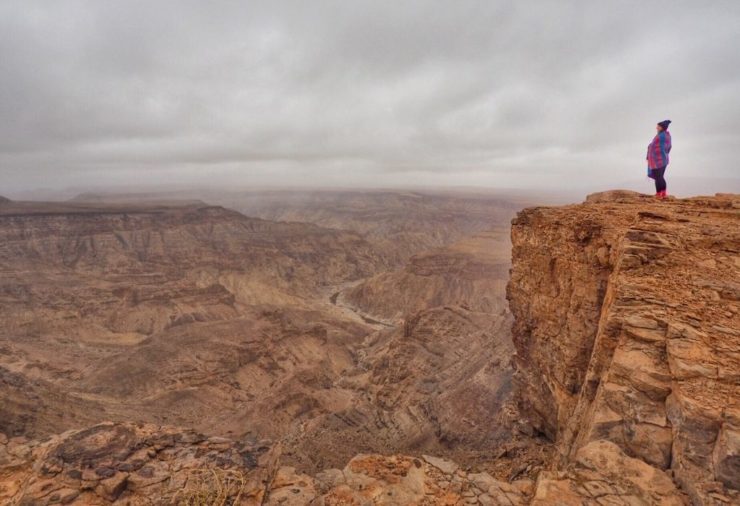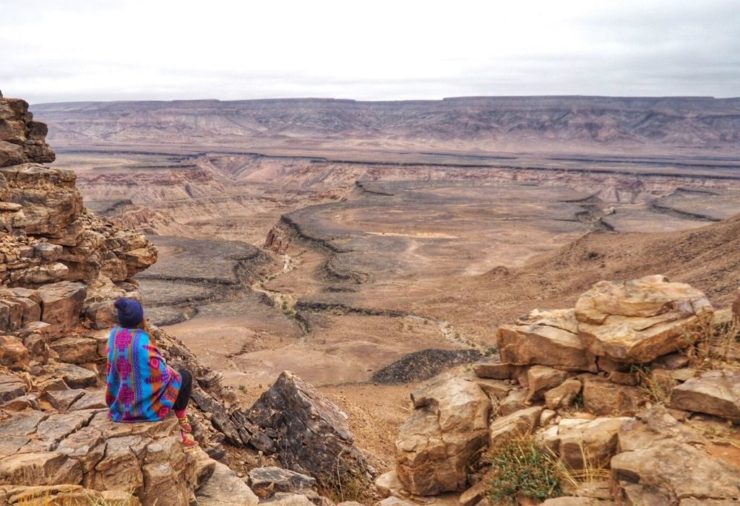 Aus, Kolmanskop & Luderitz
Our next destination was Aus, home to the famous Namibian Desert Horses and close to the town of Luderitz and the old abandoned mining town of Kolmanskop.
On the day we arrived, we took a drive around Aus, enjoying some cheese and wine and admiring the gorgeous rock formations and beautiful sunset.
The following morning we headed to Kolmanskop for a tour, followed by lunch and a walk around Luderitz. On the way back we stopped to see the desert horses who were enjoying the waterholes in the heat of the day.
This was a stunning part of the country and was the perfect place to practice our night photography, but again, very cold!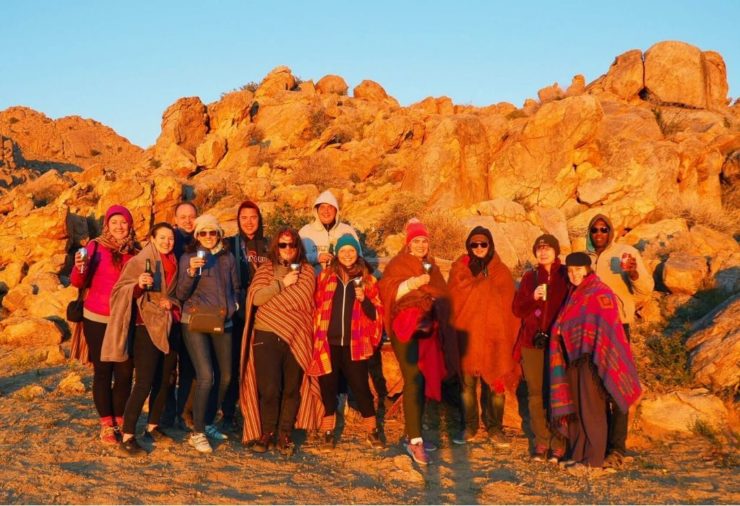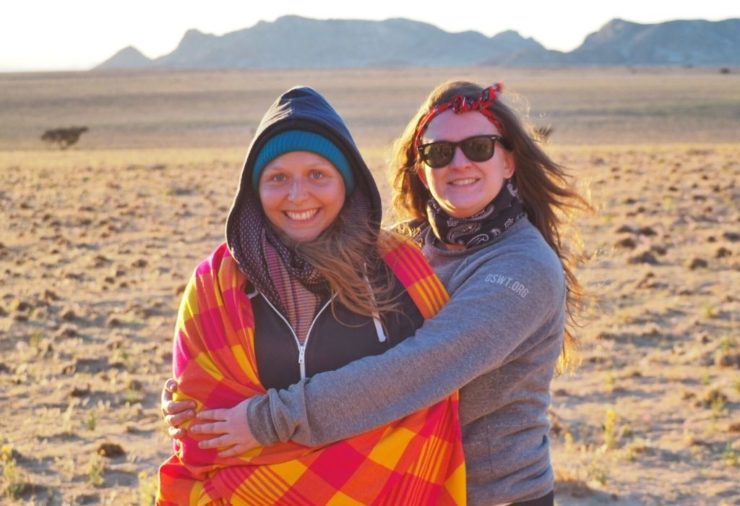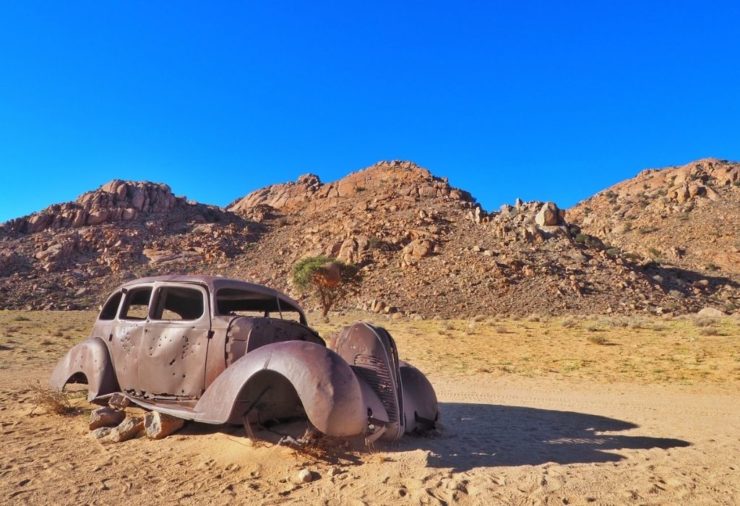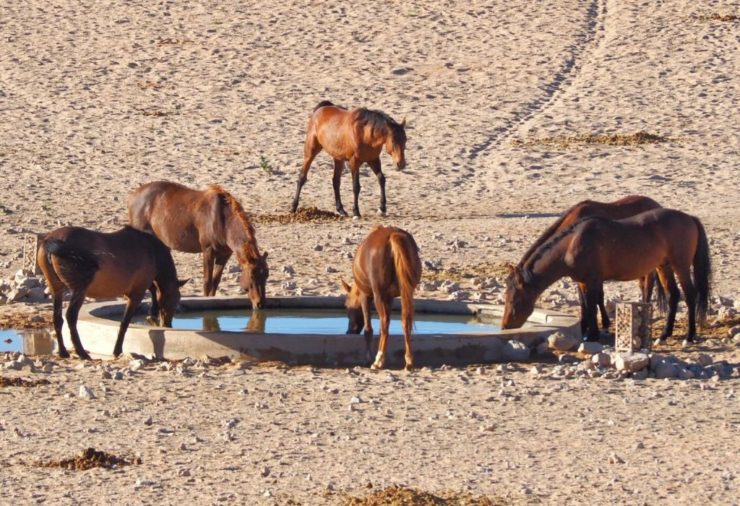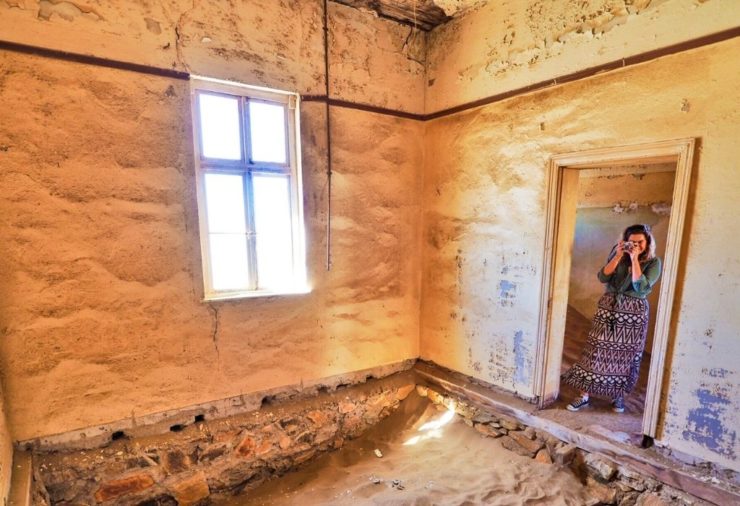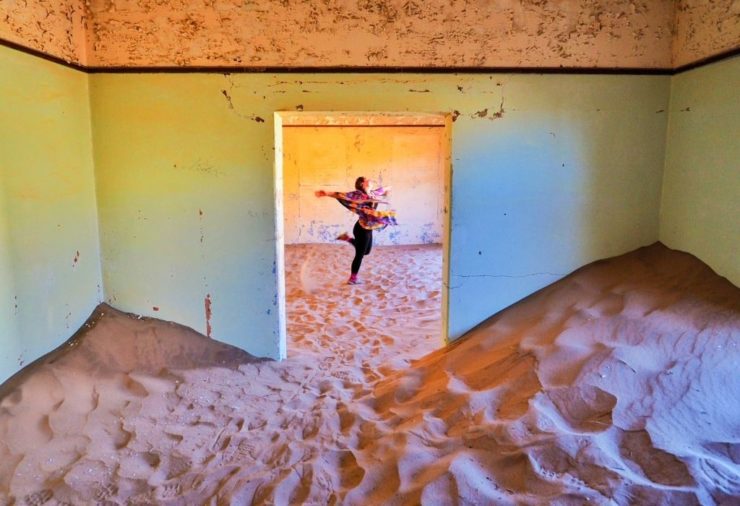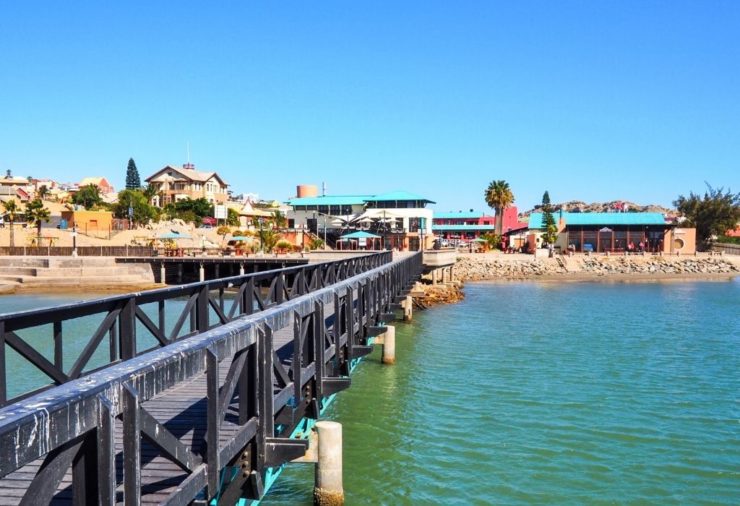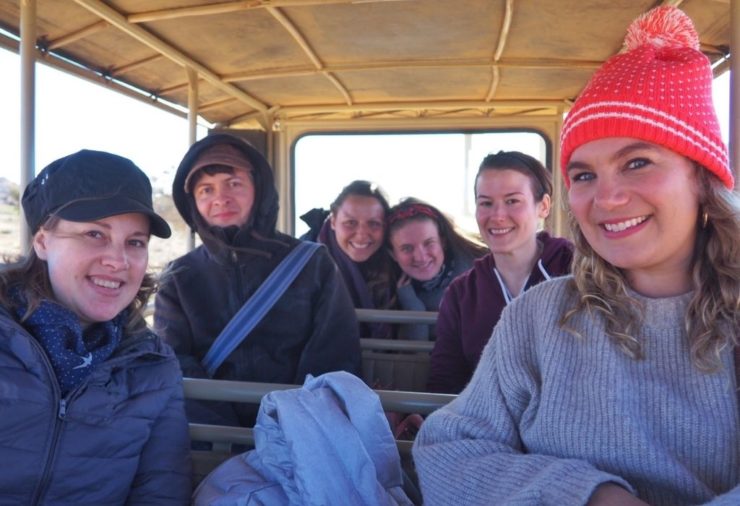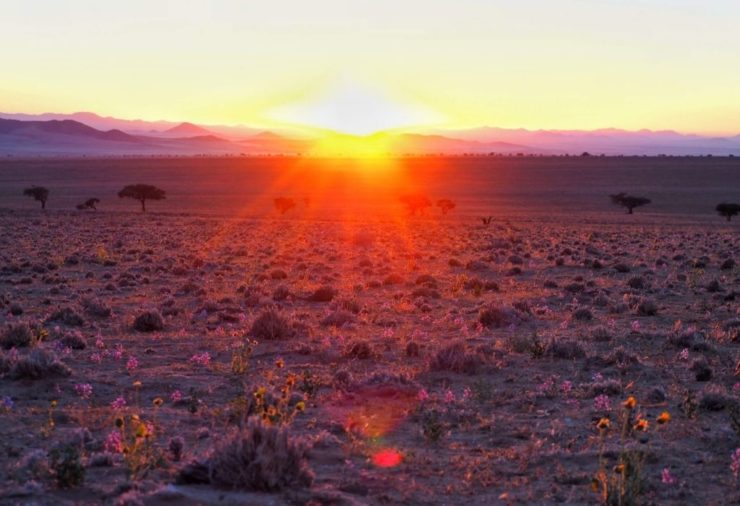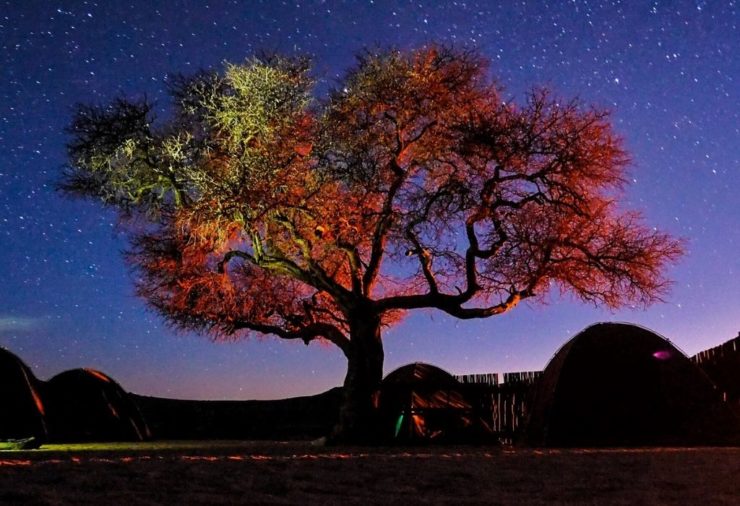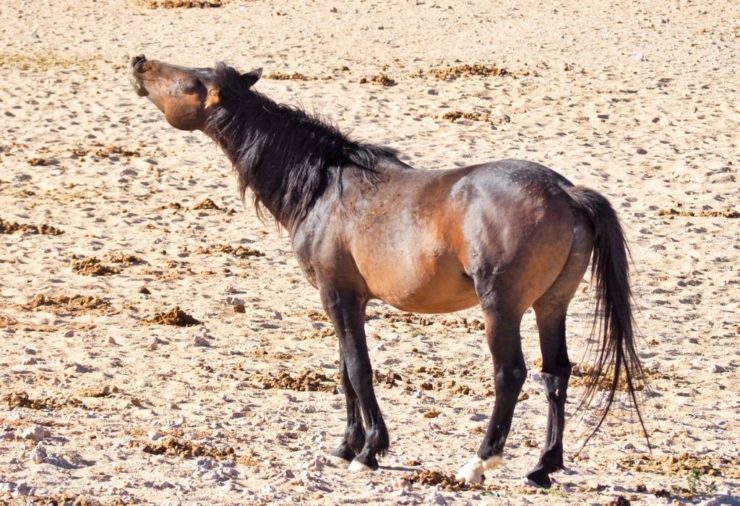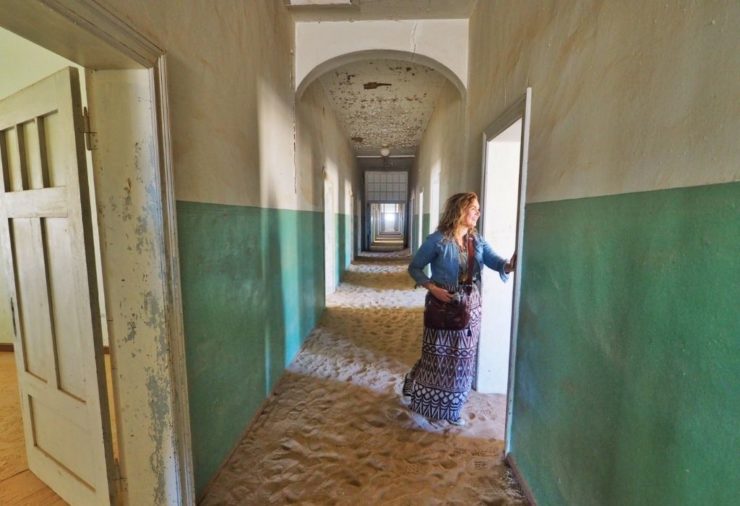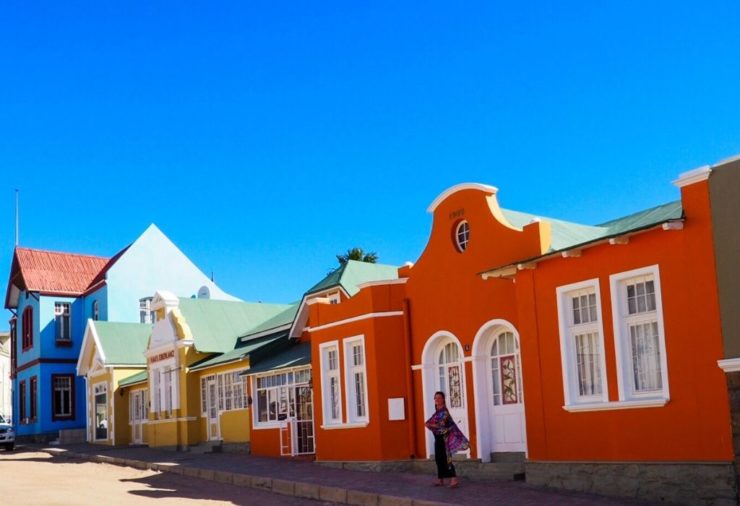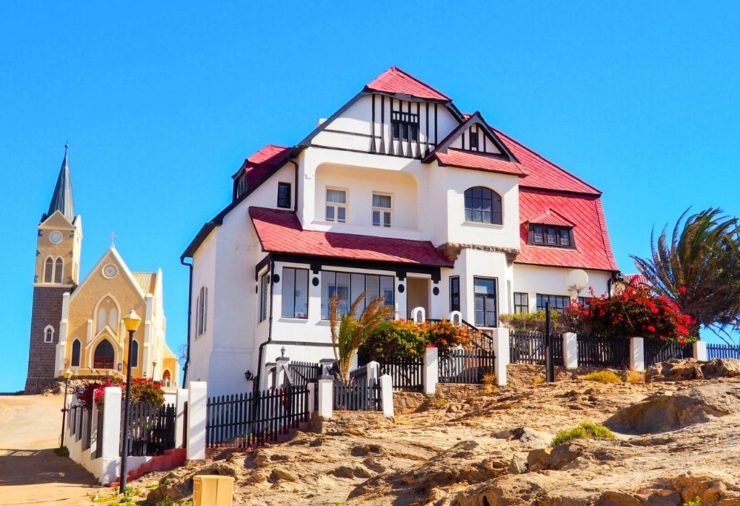 Sossusvlei, Dune 45, Sesriem & Deadvlei
One of the main highlights f the trip (and of any Namibia trip) was the time we spent around the sand dunes of Sossusvlei. This is one of the most beautiful parts of the country and a photographer's dream.
When we arrived, we took a little hike up Elim dune and had sundowners overlooking the Namib Desert.
The following morning, we were up and out early to catch Dune 45 at sunrise. From there, so of the group took a nature walk throughthe desert to learn about all of the creatures that live in the dunes, whilst the rest of us caught the shuttle service so we head more time to take photos at Deadvlei.
In the afternoon there was time for the group to chill by the pool or take a hike through Sesriem Canyon.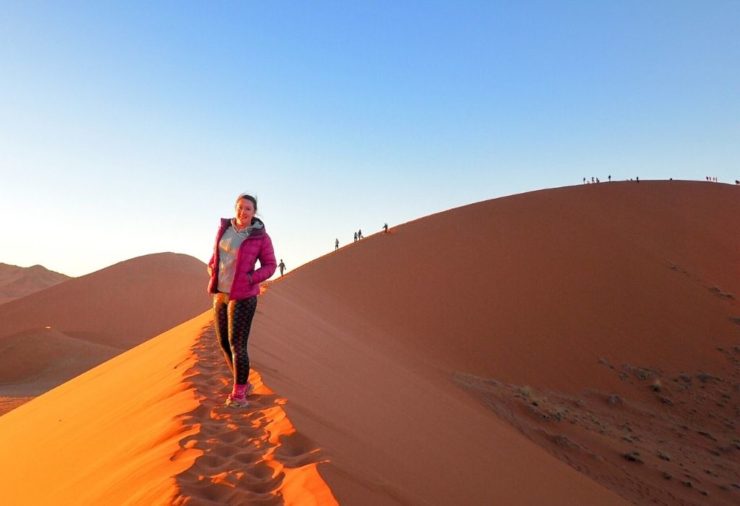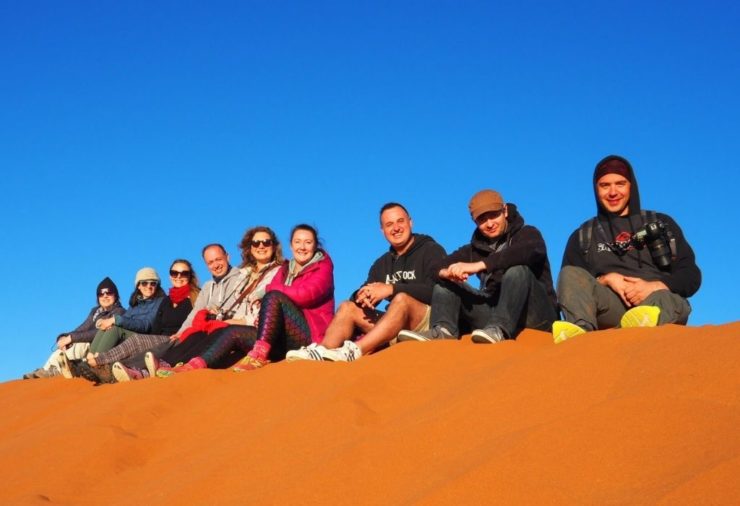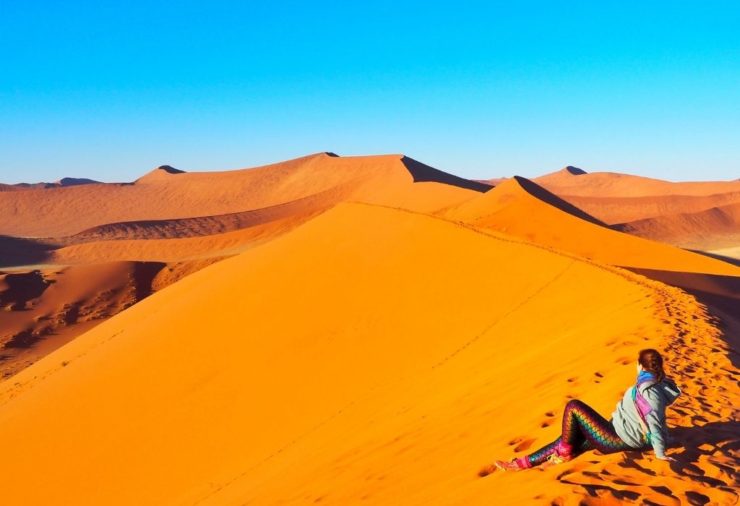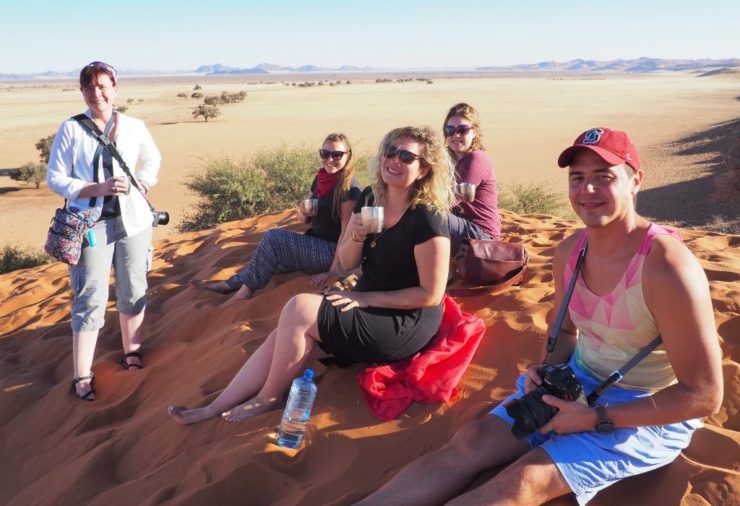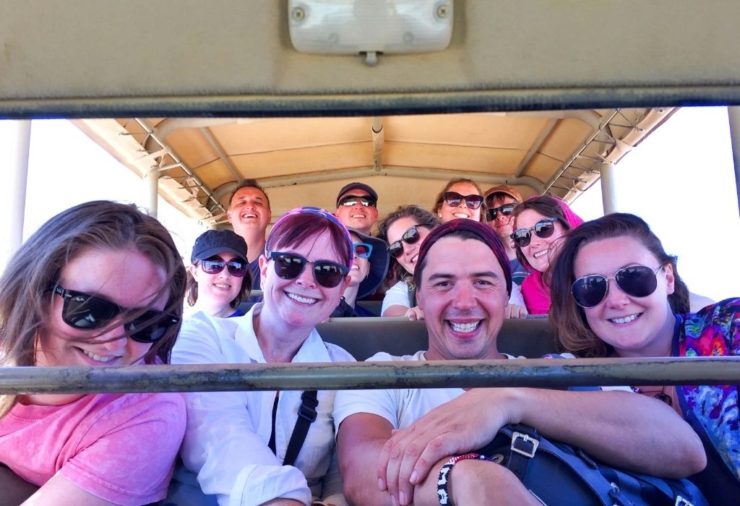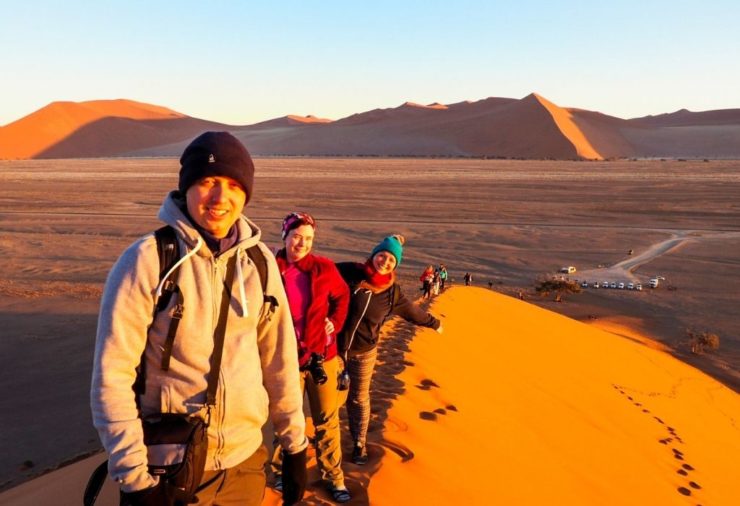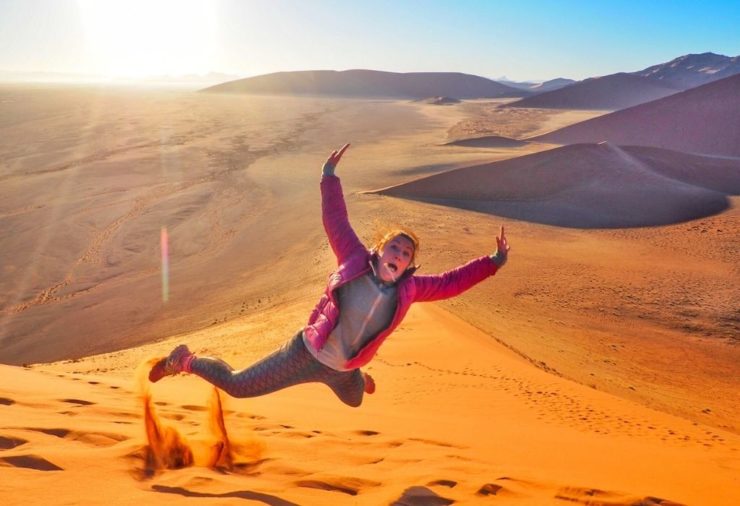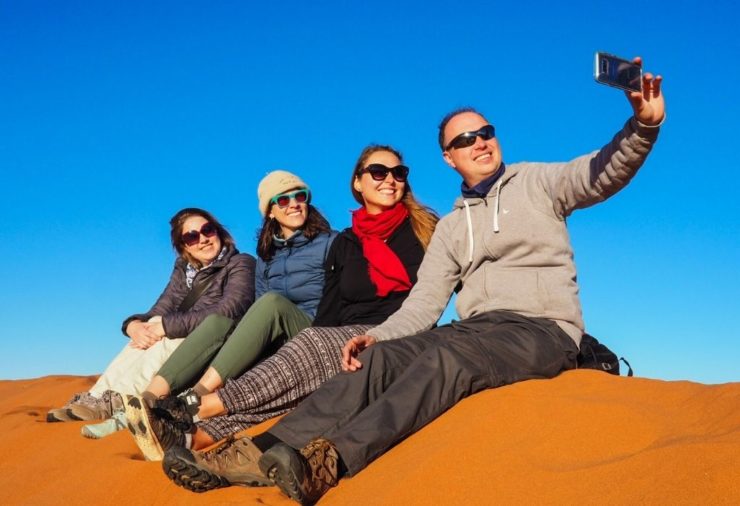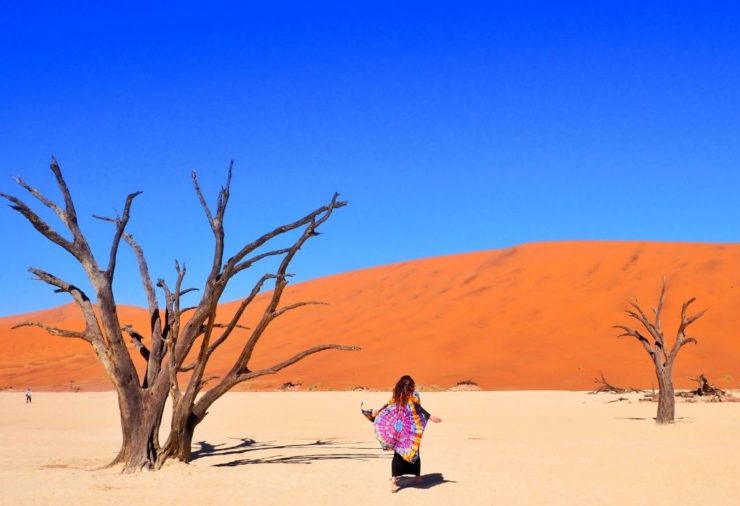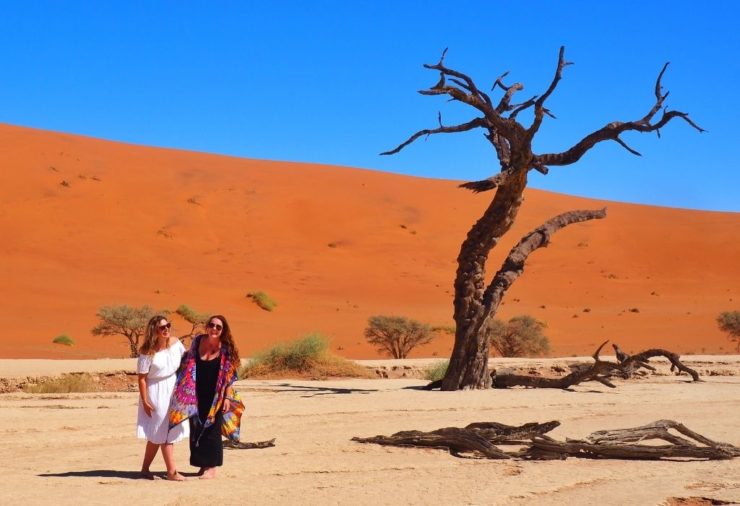 Tropic of Capricorn
Passing through we made an obligatory stop at the Tropic of Capricorn sign for a photo.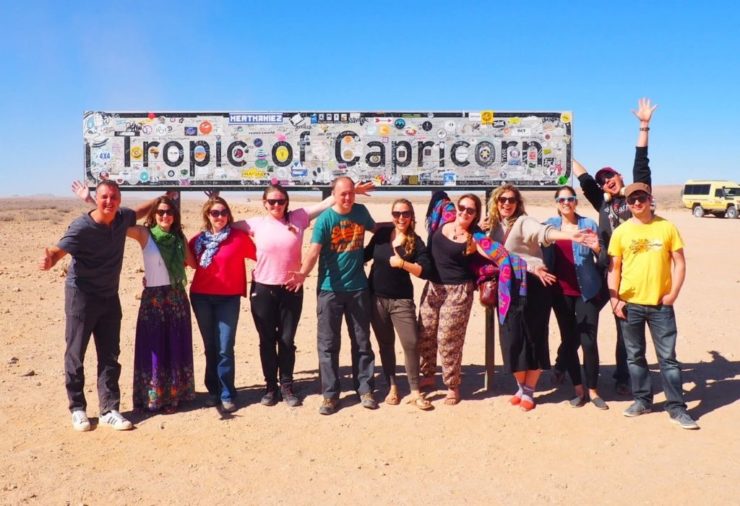 Swakopmund
Next up was Swakopmund, the adventure capital of Namibia. We had 2 full days to explore. The group got busy going skydiving, quad biking and visiting the Mondesa Township.
We had 3 full days in the area which was great and gave us a bit of well-earned downtime.
Swakopmund has some great shops, galleries, restaurants and bars too!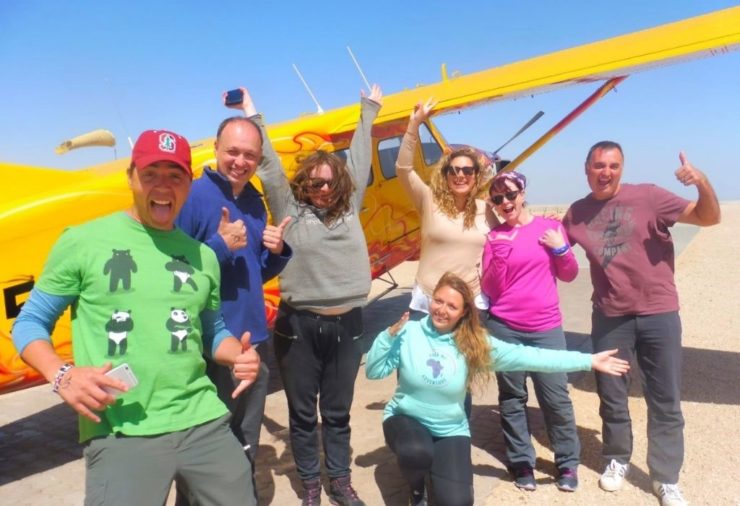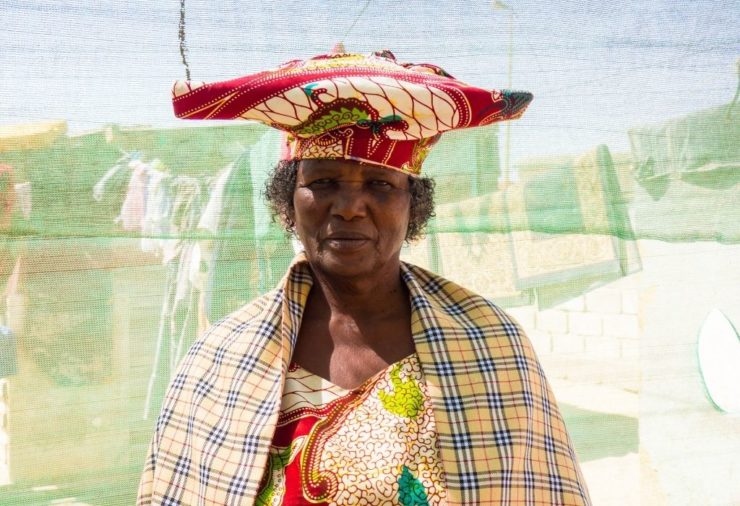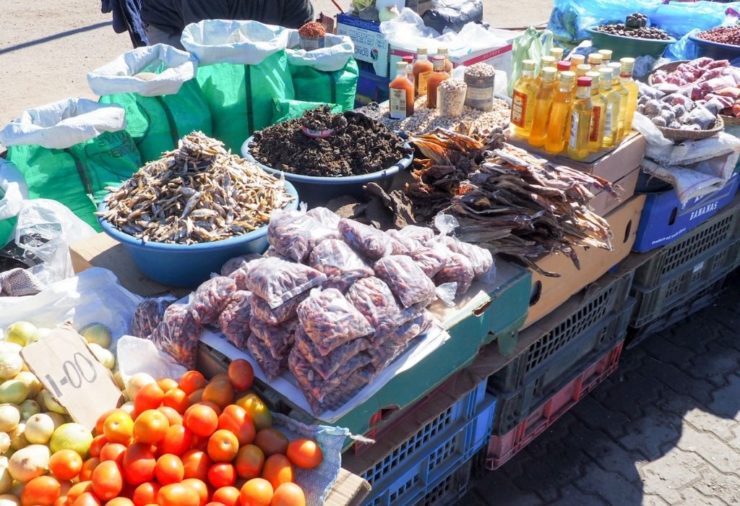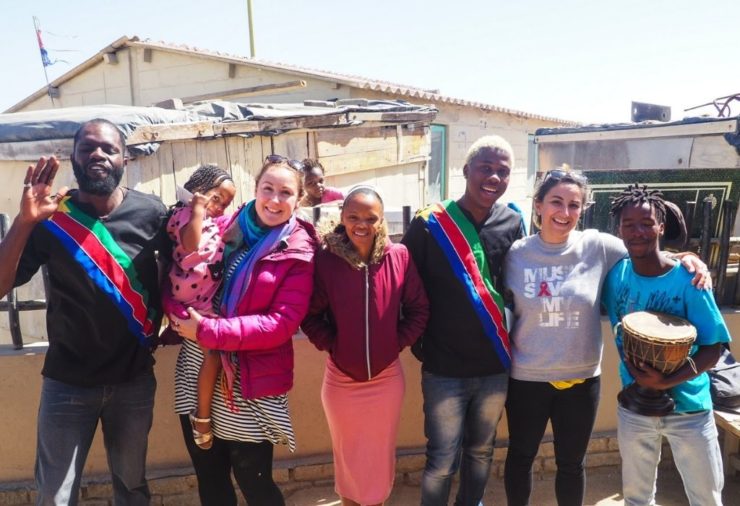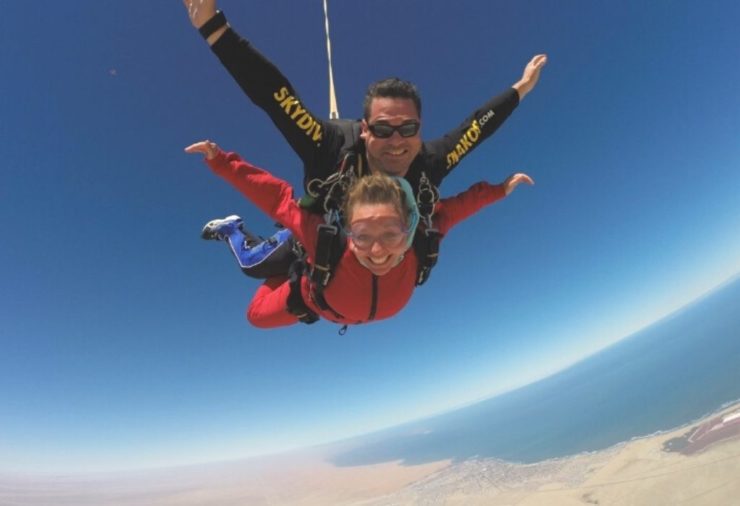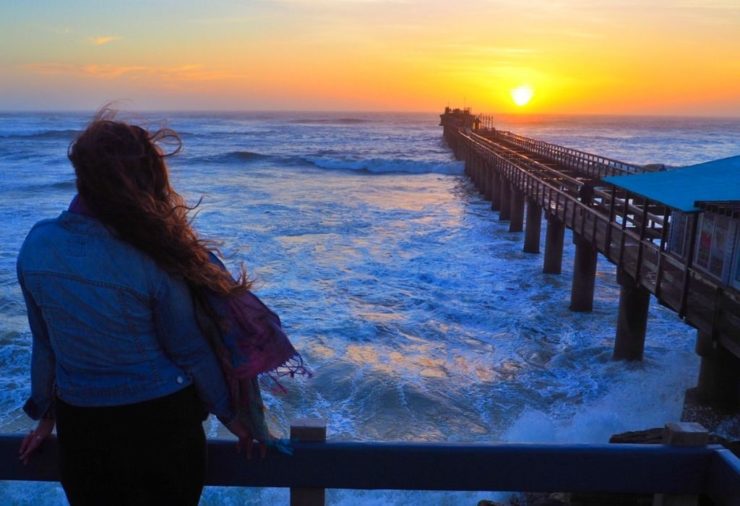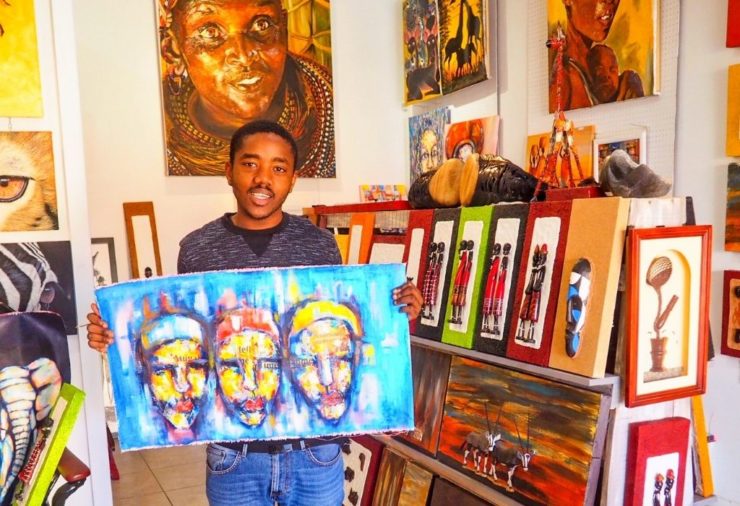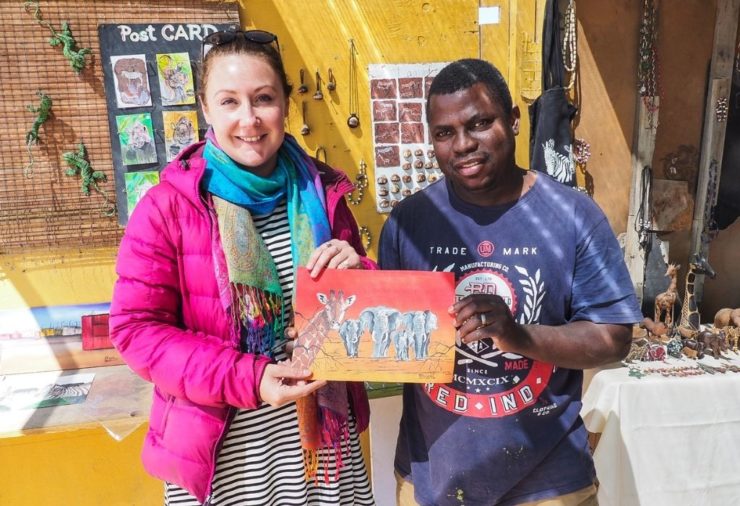 Walvis Bay & Sandwich Harbour
One of our days in Swakopmund was spent exploring nearby Walvis Bay and Sandwich Harbour, where the sand dunes meet the sea!
I'd say that this was probably one of the favourite days for most of the group. It was super fun driving up and down the sand dunes if a little bit scary, but the guides seemed to know what they were doing!
We saw lots of birds, including pelicans, greater and lesser flamingos and black-backed jackals and finished off the day with a champagne lunch.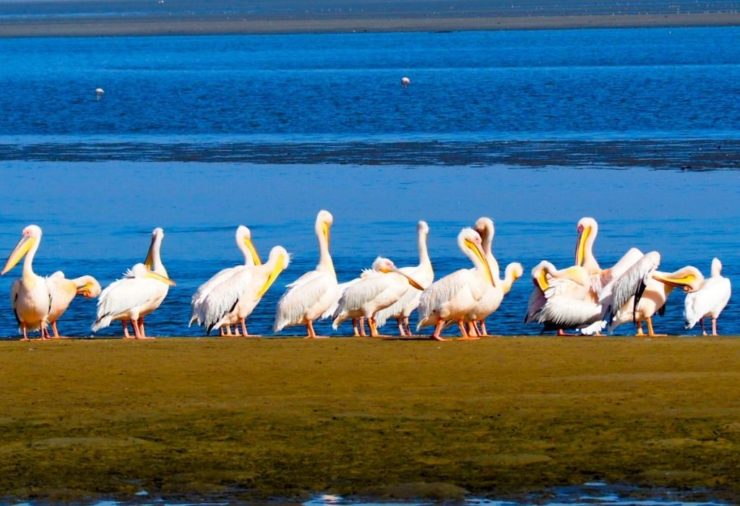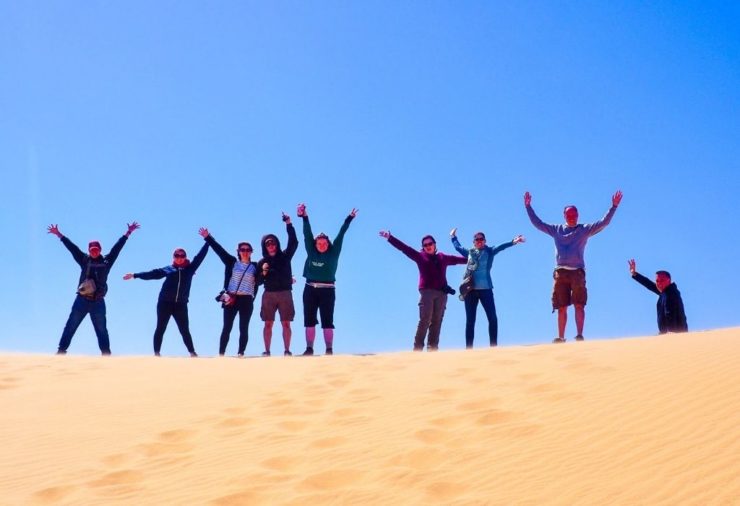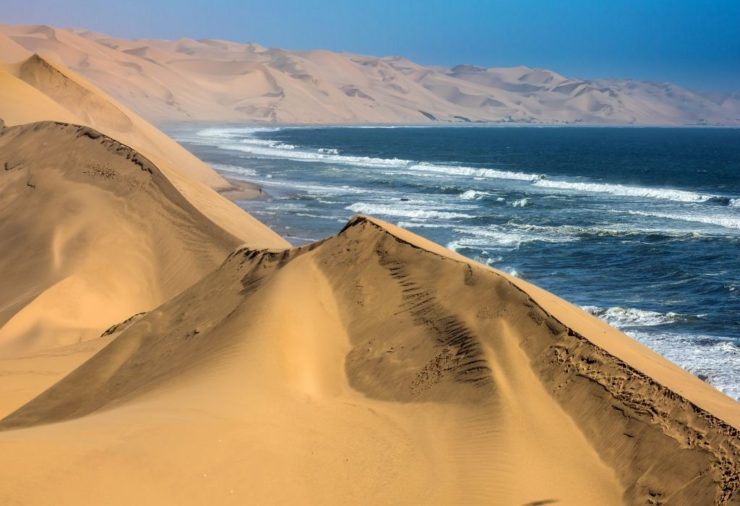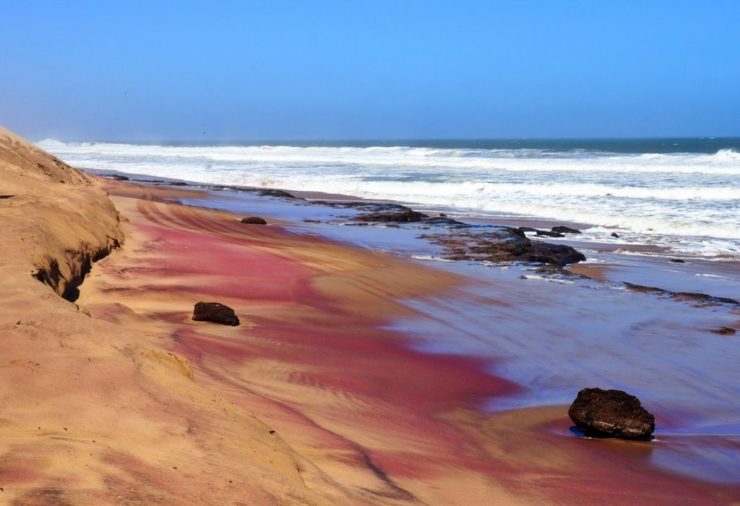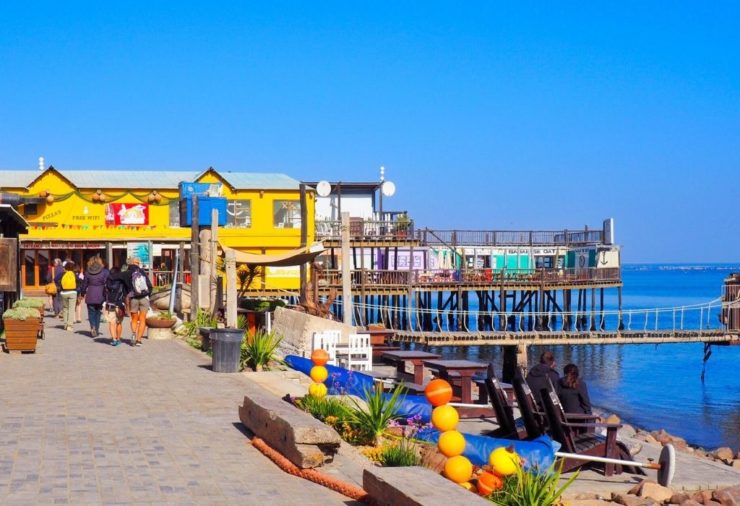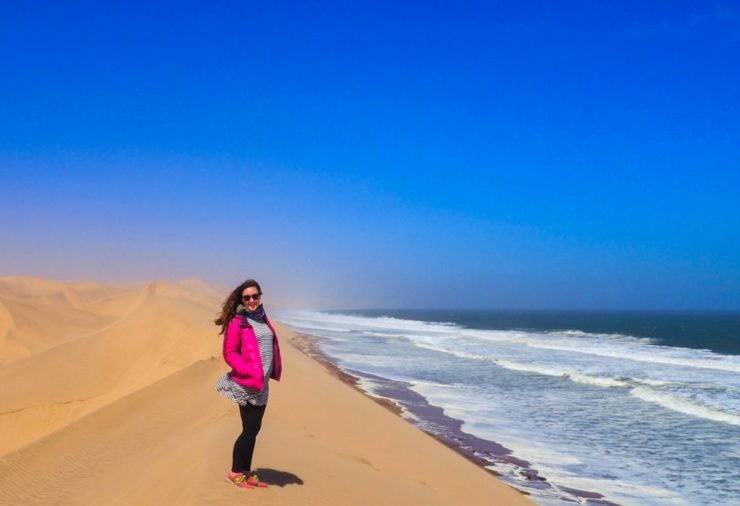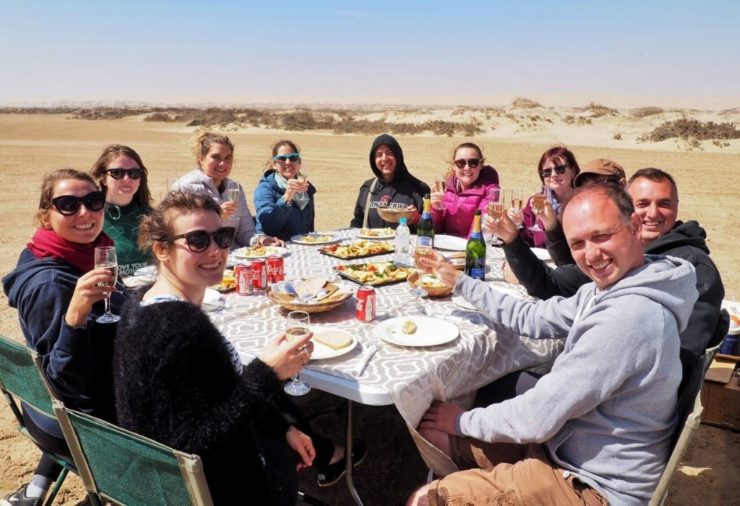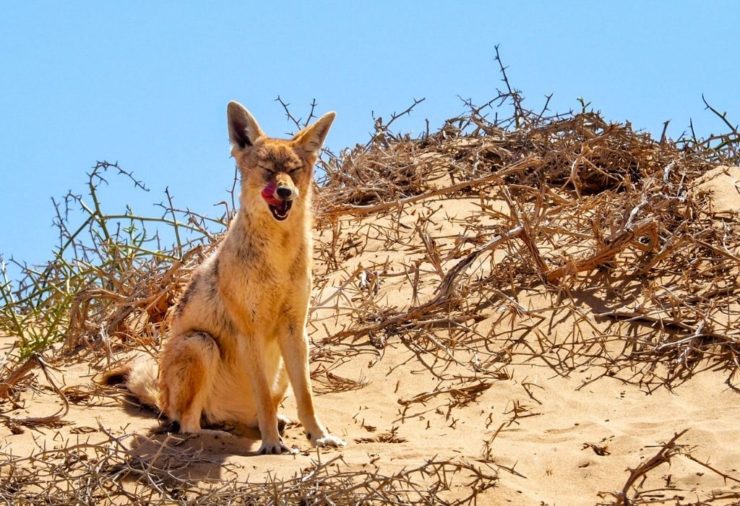 The Skeleton Coast & the Cape Cross Seal Colony
Leaving Swakopmund, we stopped at the very stinky and very noisy Cape Cross Seal Colony, before continuing up to Henties Bay to see the Zelia shipwreck.
The noise the seals make is hilarious. If hell existed and had a sound, it would sound like a seal colony.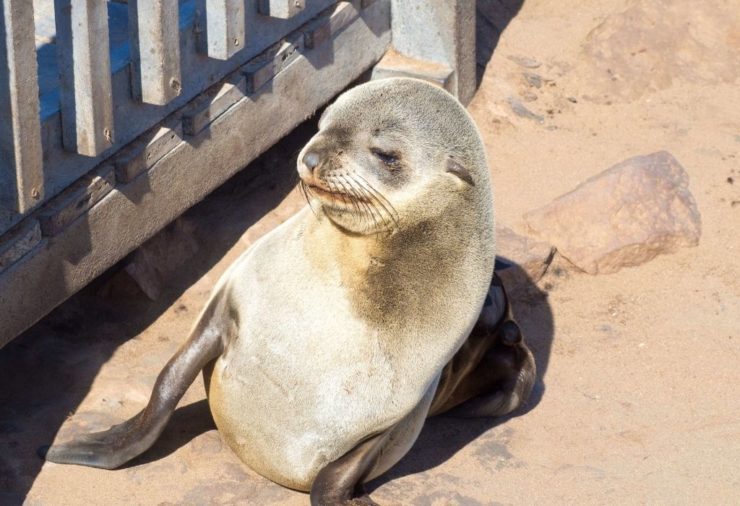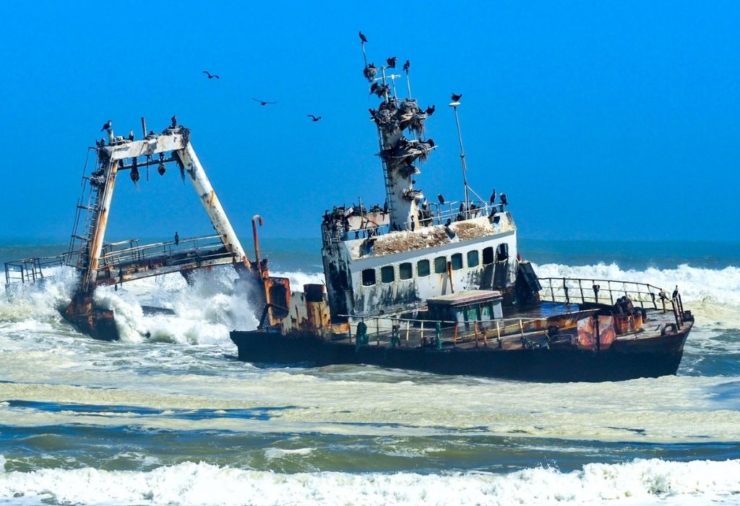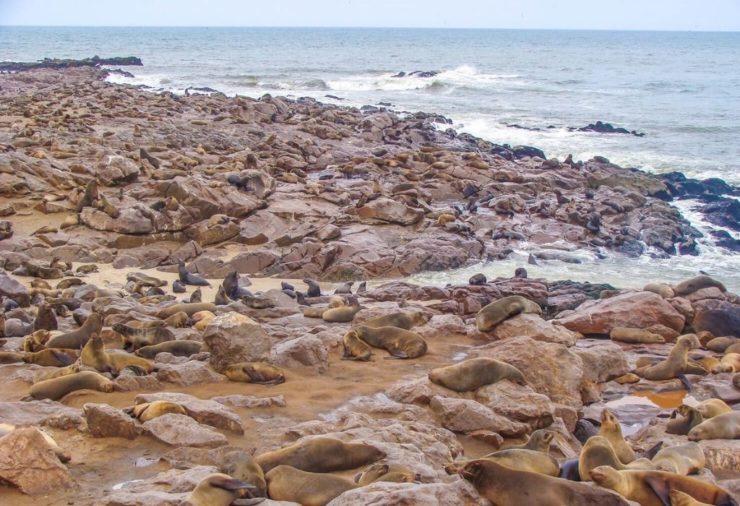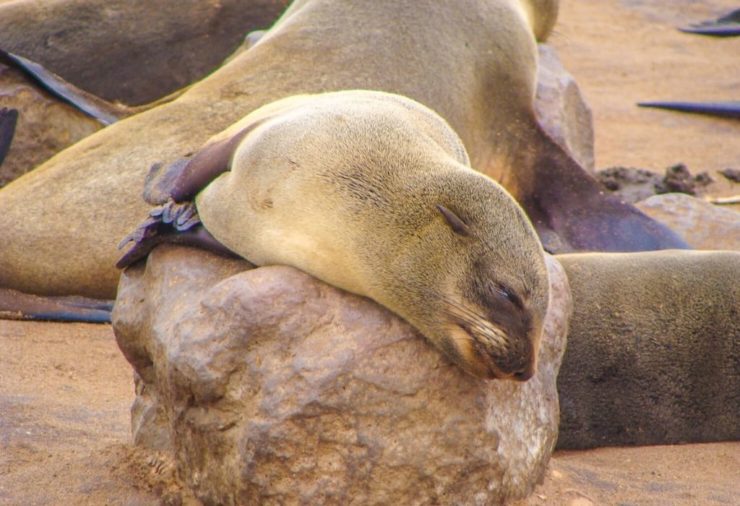 Damaraland
We spent just one night in Damaraland, visiting the rock paintings at Twyfelfontein, passing through on our way to the Opuwo in the North, however, I will definitely be adding in two nights on the next trip to go and see the desert elephants that live in the area and to visit the Damara Living Museum.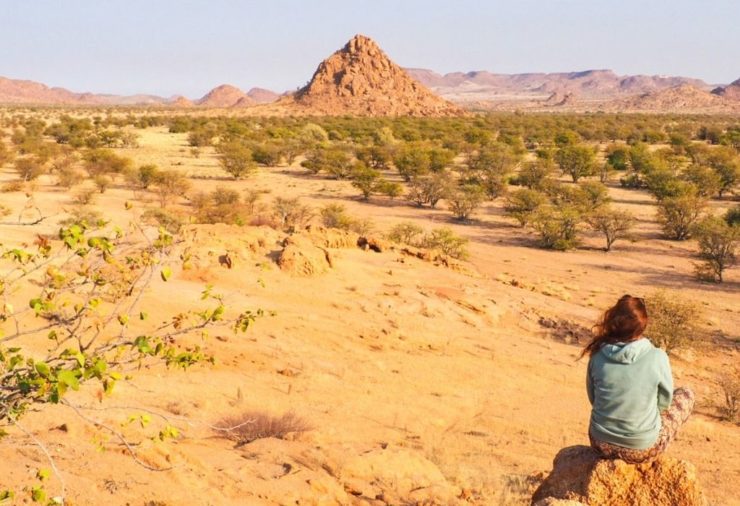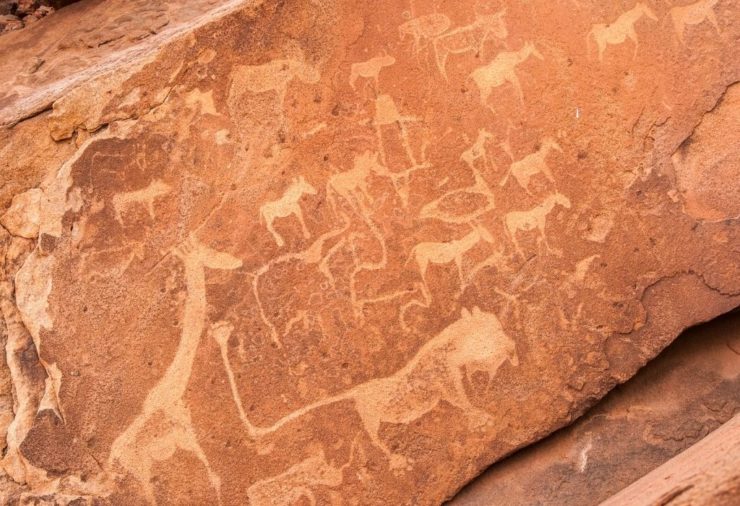 Opuwo
Our next stop was Opuwo in Kaokoland, home to the Himba tribe.
The Himba tribe are one of the most fascinating tribes in Africa and it was incredible to get a glimpse into their traditional way of life.
We also had some time here to relax by the pool and visit the spa – which was very nice, especially getting a massage after driving on all of those bumpy roads.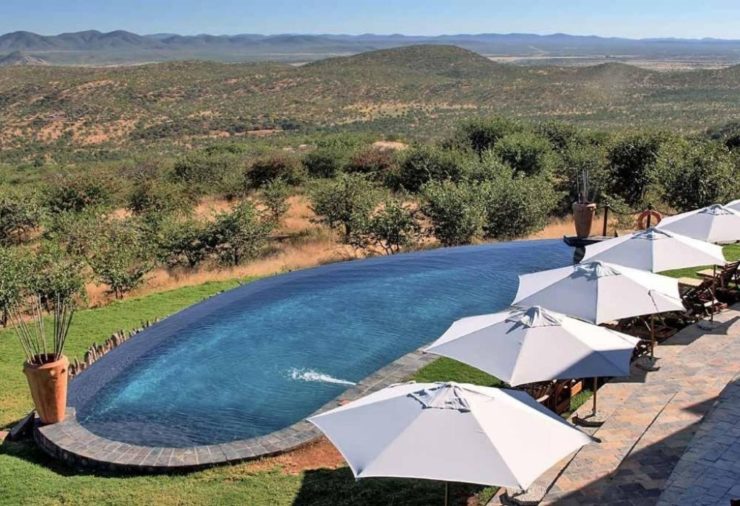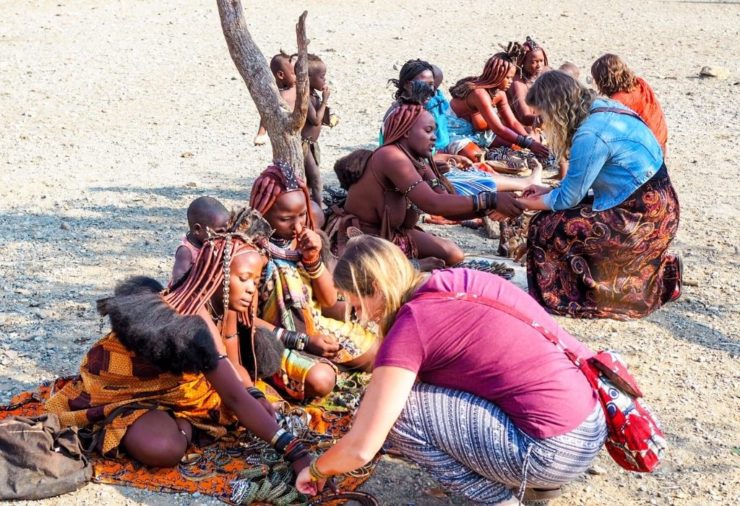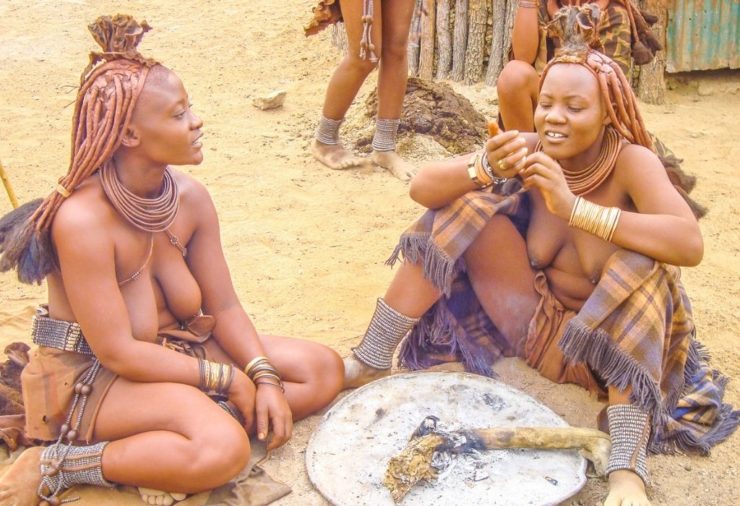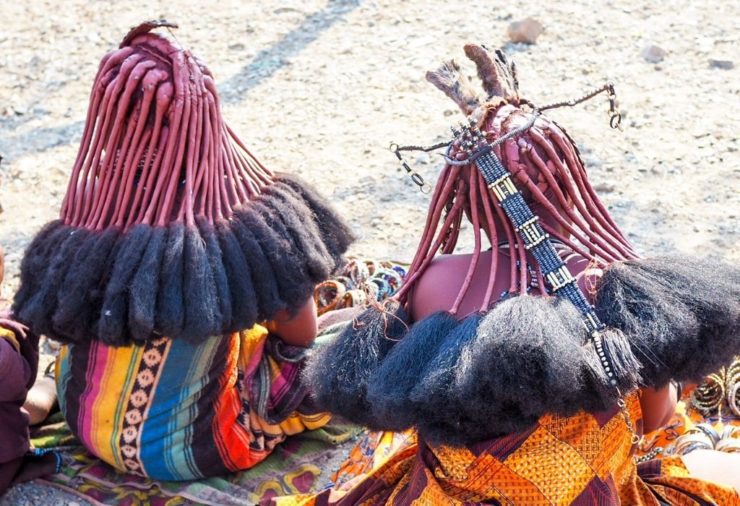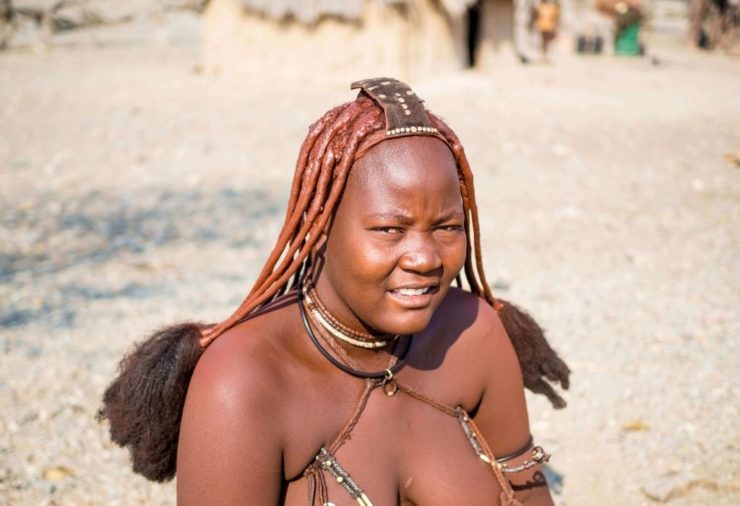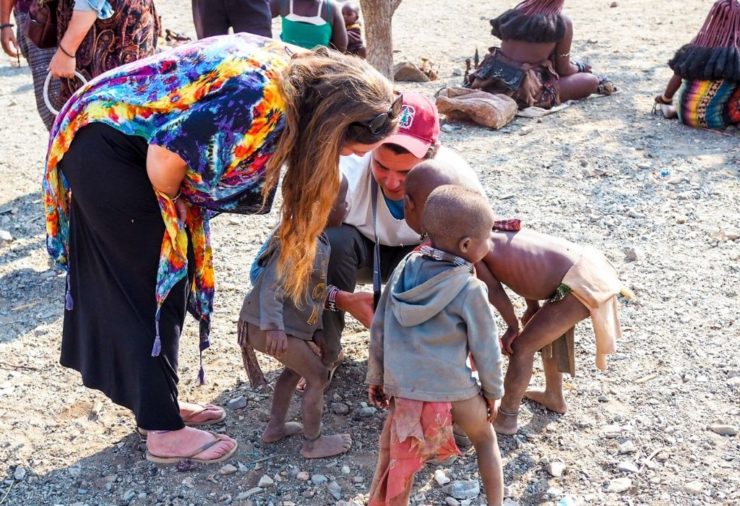 Etosha National Park
Our penultimate stop was Etosha National Park, one of the best safari destinations in Southern Africa.
We had one full day on safari, plus a couple of half days. We saw a ton of animals including oryx, zebra, kudu, rhinos, giraffes and elephants.
But, the most special moment of all, was in the evening at the camp. We were sitting at the waterhole, at sunset, waiting for dinner, when a herd of about 30 elephants trundled in. It was one of the most magical moments of my life.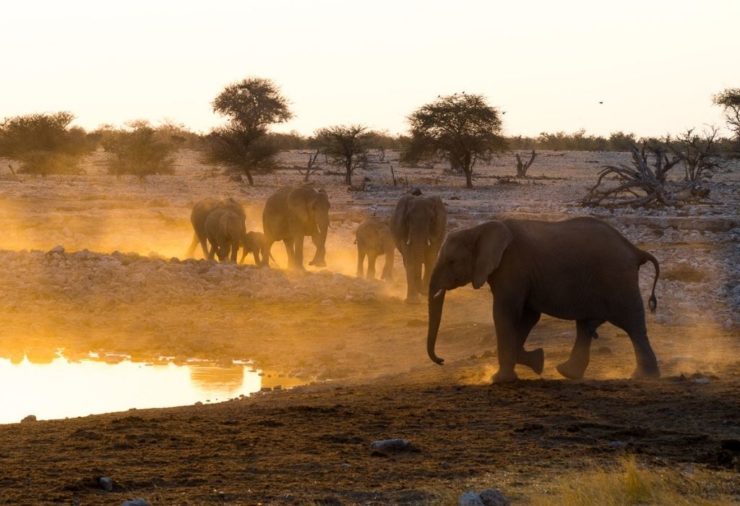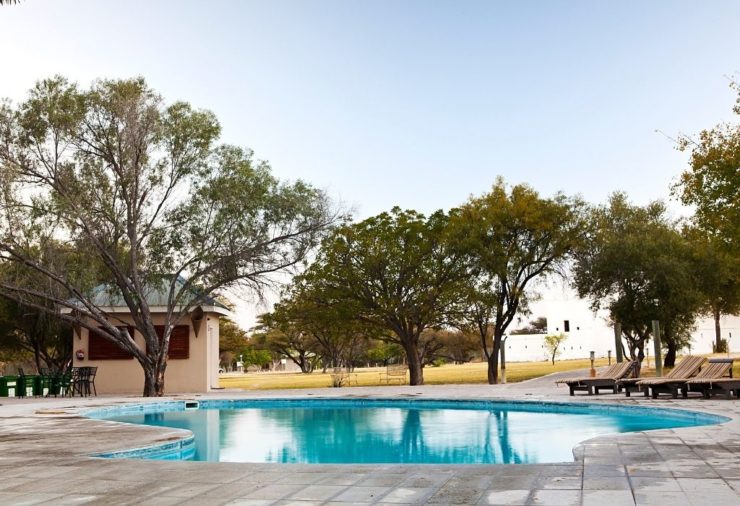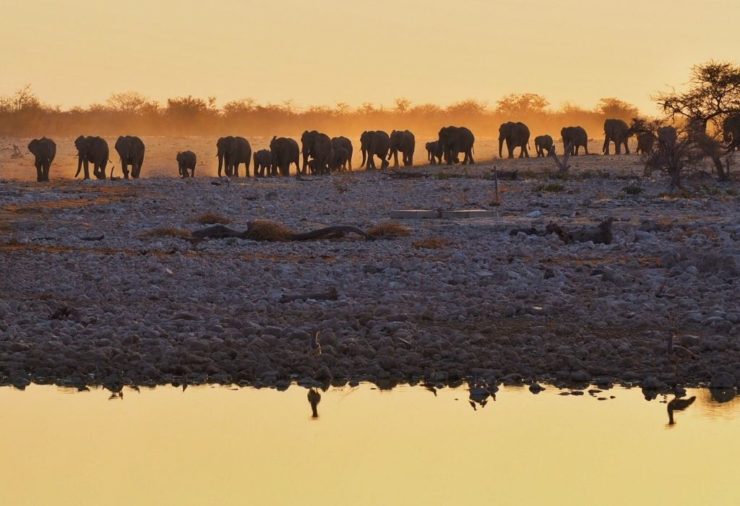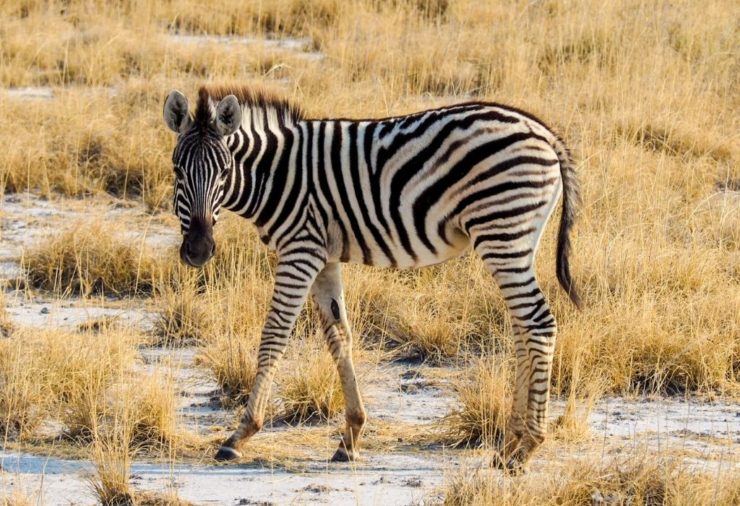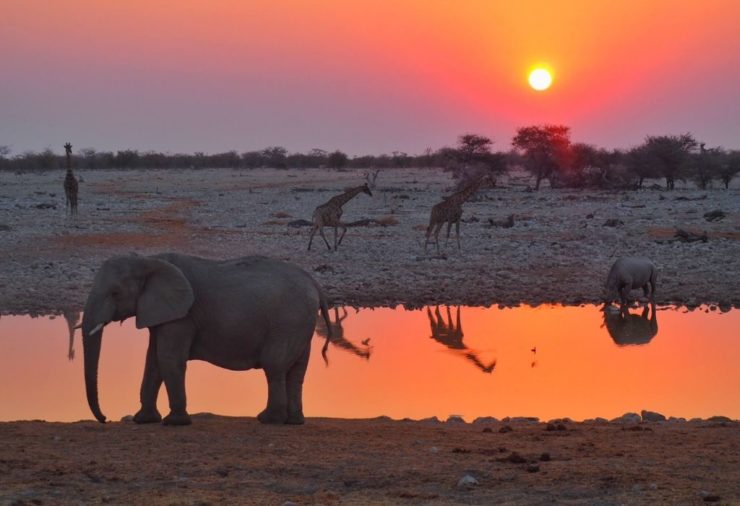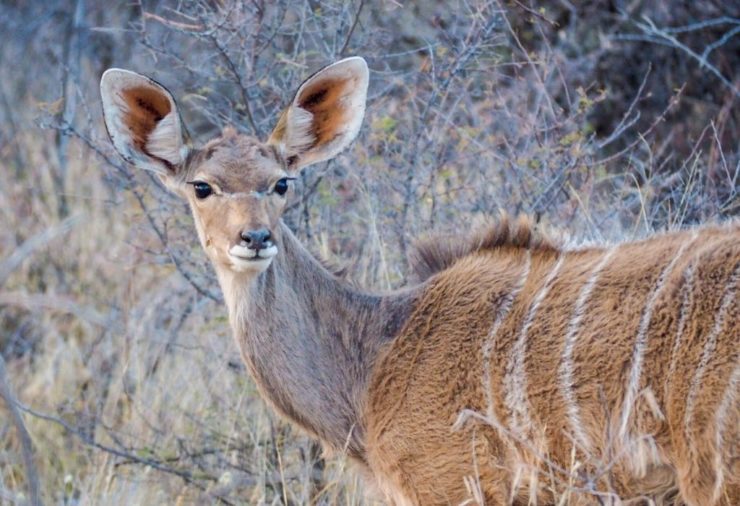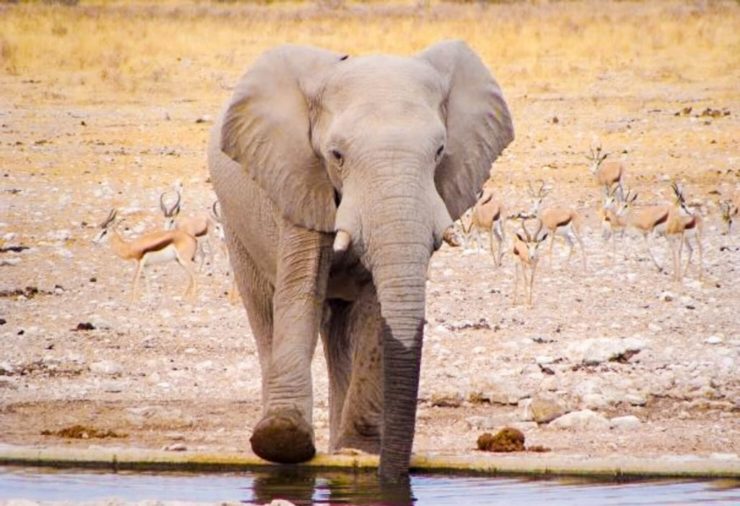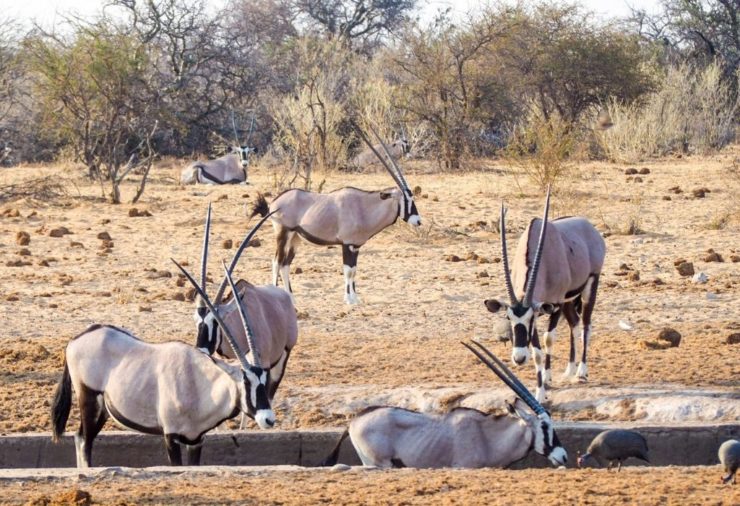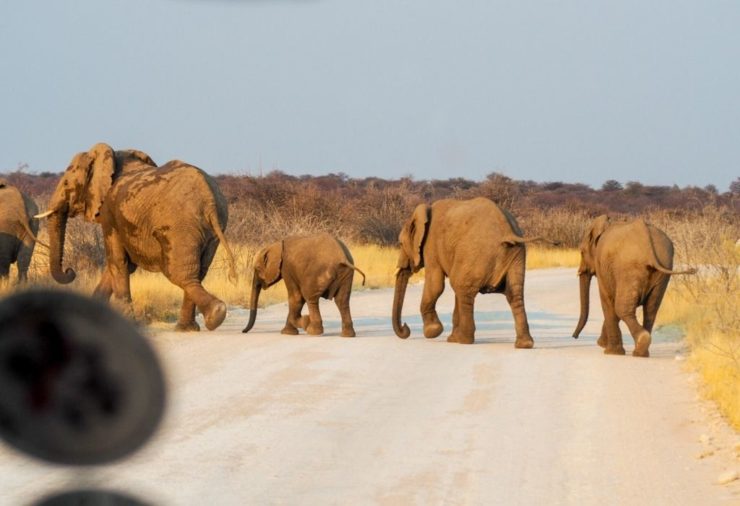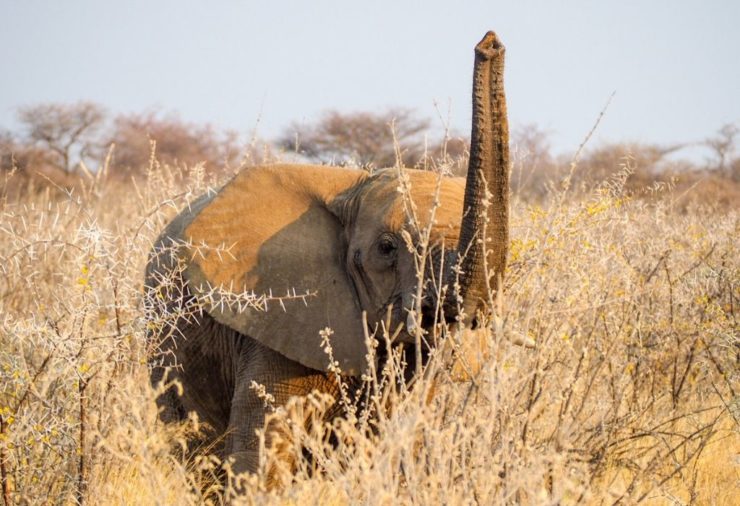 Okonjima Nature Reserve & Windhoek
Our last stop before we headed back to Windhoek for our final night was the Okonjima Nature Reserve and the AfriCat Foundation.
It was here that we managed to see something I've never seen before – a leopard kill.
But, whilst it was pretty cool to see a leopard in action, I felt really sad for the poor little warthog.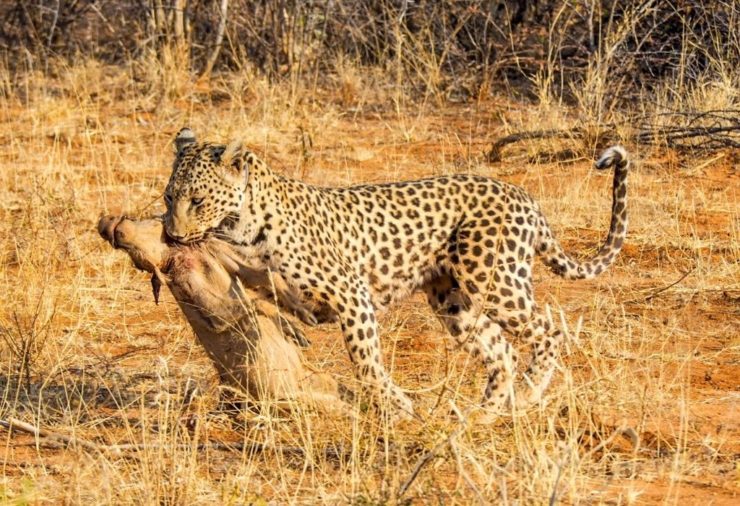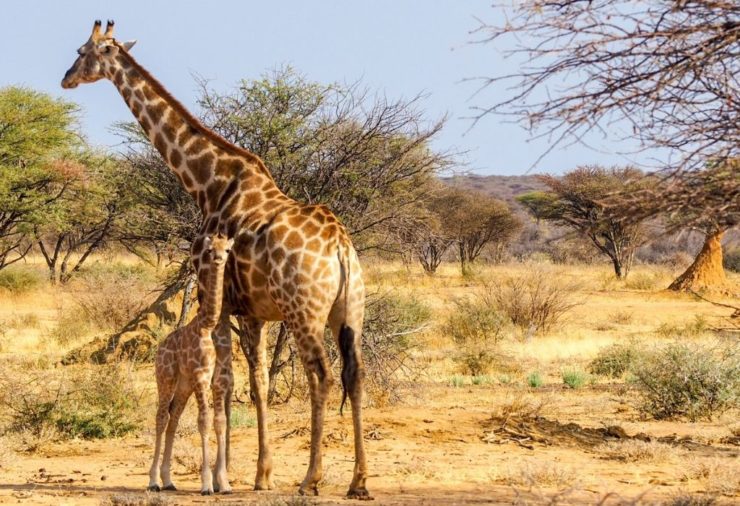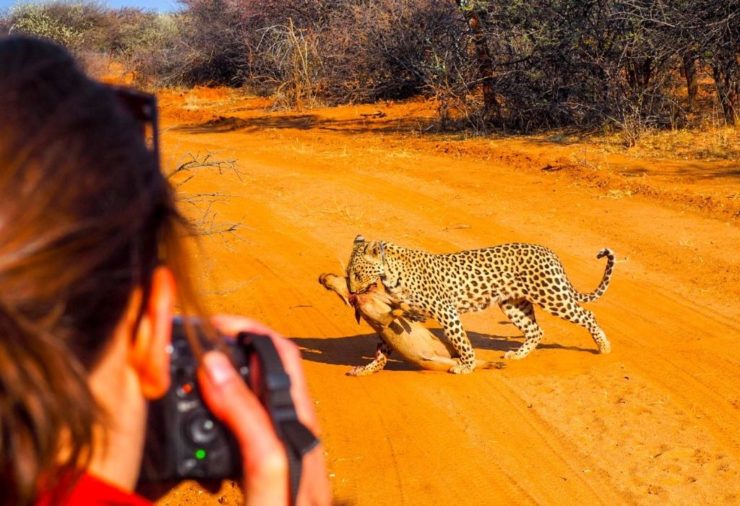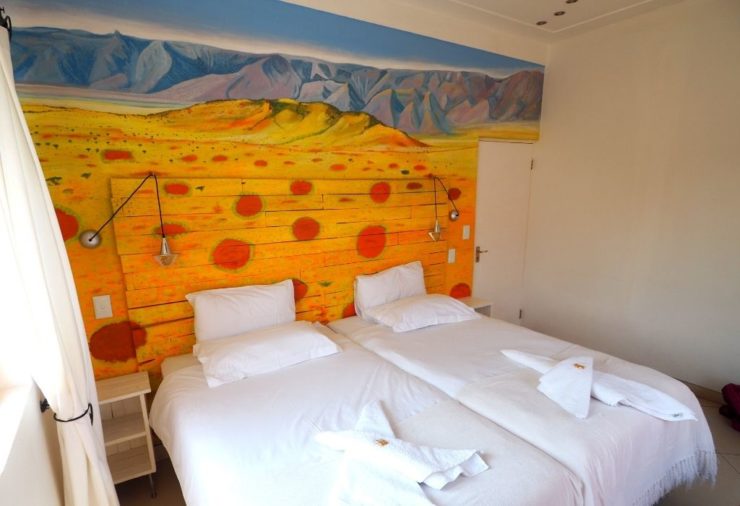 N/a'an ku sê Wildlife Sanctuary
Our very last stop and one of the main highlights for me was the N/a'an ku sê Wildlife Sanctuary close to Windhoek, a great project that is dedicated to land and wildlife conservation, as well as improving the well-being of local communities.
We got to spend time with the cheetahs (no contact) and got up close and personal with some baby baboons. One took a particular liking to me and began to groom me and put her head in my lap.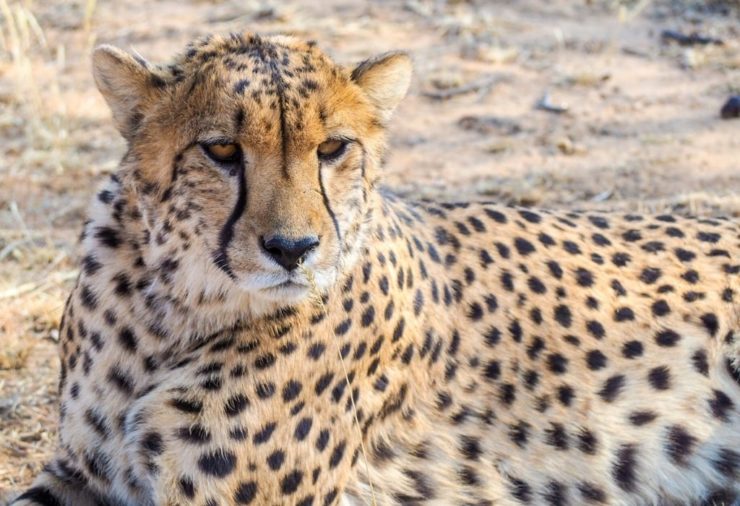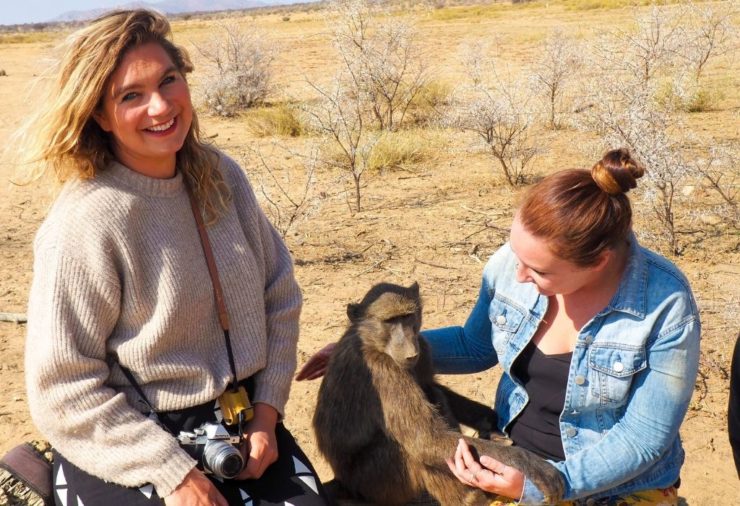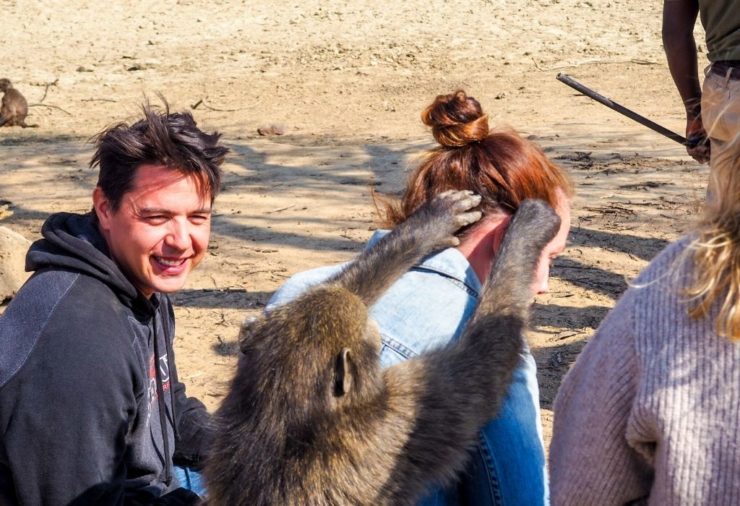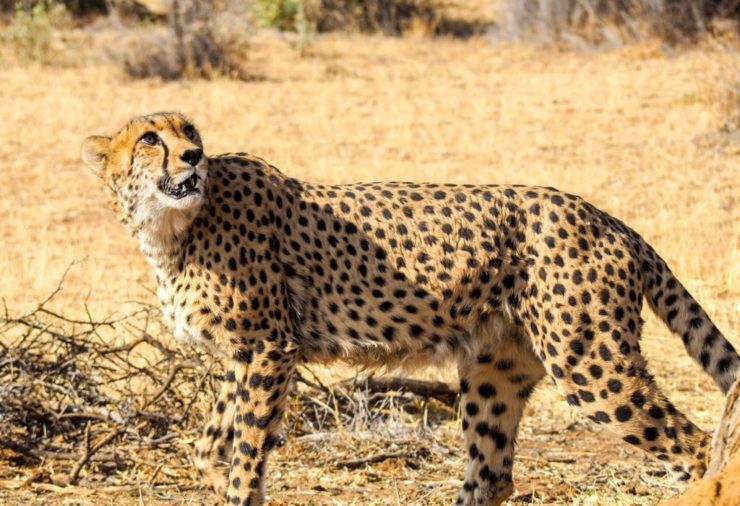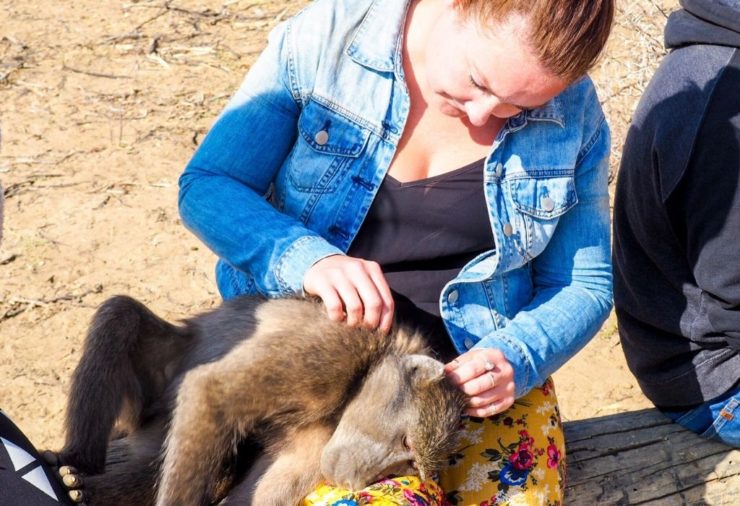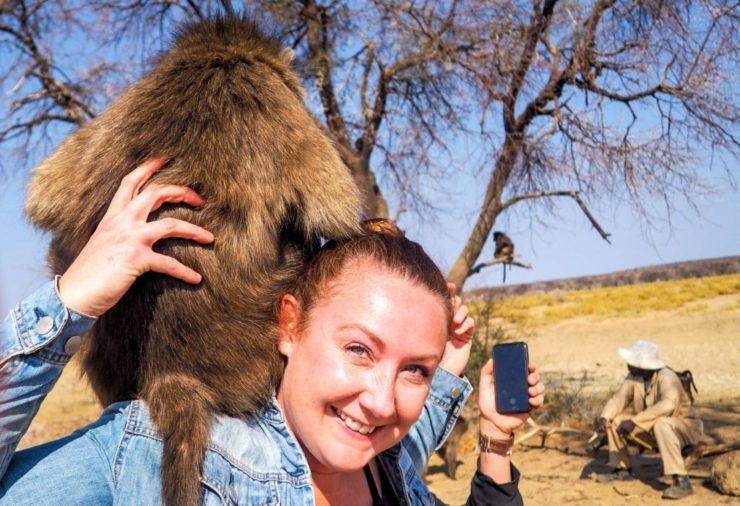 Testimonials
"After participating in Helen's inaugural Rock My Namibia Adventure tour, all I have to say is, not only would I repeat that same tour again, but I will absolutely be joining more of Helen's other tours in future! It was an unforgettable, adventurous and inspiring experience, full of all the spectacular landscapes and fun activities that Namibia has to offer. We saw most of this beautiful country and visited all of the highlights; getting to climb the red dunes Namibia is famous for, witnessing unbelievable scenes of wildlife in Etosha National Park, and looking for diamonds in the desert sands overtaking the abandoned mining town of Kolmanskop. Our guides, Ian and Alfius, were absolutely incredible and did an amazing job taking care of us throughout the trip. They also educated us and gave us so much interesting info about their country. Kudos to them for a job very well done! Helen and Jessi rocked!!! Besides being very open and warm and helpful to everyone in the group all the time, they bring such fantastic, fun energy every single day! I knew, without a doubt that they would go above and beyond to take care of any issues I had and to make my experience in Namibia an unforgettable one! Helen's boundless energy and warmth, and her incredible love of Africa, made the experience even more special. I've been back home for a day now, and all I can think is – take me back to Namibia, let's do it again!"
CAMILA | USA
"The Rock My Namibia tour was my second Rock My Adventure tour with Helen (and my first with Jessi) and it was so much fun! Not only did I meet some amazing people, I got to see and experience everything I wanted to and came away with some great photographs. As a photographer that's important to me, and I can testify that photographic opportunities abound on this tour! Couldn't recommend the trip more highly in terms of value for the money. I've traveled extensively both solo and with groups and can say confidently that Rock My Adventure is top notch! Can't wait for the next adventure!"
MATT | USA
"Rock my Namibia tour was everything I hoped for. It was a very good mix of cultural activities and natural environment, with excellent social activities as well as available free time. The trip exceeded my expectations. I felt that it gave me the opportunity to explore Namibia, taking in a lot of sights and activities. Guides where fantastic."
MARK | UK
"This tour included all the highlights of Namibia that I've been wanting to see for a long time, plus it was a small group tour and not run by a big company, so it was more personal. Even though I'm from South Africa, Namibia has always been on my travel to-do list but as a solo traveller, it's not an easy destination to tackle. When I saw the itinerary for Helen's tour I knew that I had to sign up as it included all the sights and activities that I wanted to experience. Being on a small group tour was a bonus as it was more personal and by the end of the trip, we felt like a close family unit. I must admit that camping was quite an adjustment to the system, but it added to the experience and nothing beats chatting around the campfire with new friends (and a bottle of Amarula). I would definitely recommend Helen's tours as she is passionate about Africa and has so much knowledge about travelling around this amazing continent."
SASHA | SOUTH AFRICA
"I've wanted to visit Namibia for a really long time, and I am so glad I was able to see it through this tour! In almost all ways this trip exceeded expectations! The people were all so amazing – from my fellow travelers to the guides, I couldn't have asked for better companions. Namibia is an amazing country and this was an amazing way to see it. I really appreciated that we got to see so much of Namibia – it felt like a really good overview of the country."
MEREDITH | USA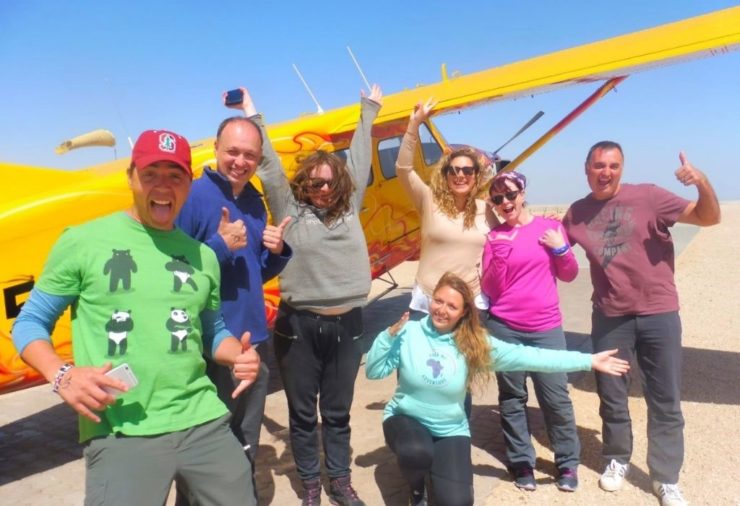 Want to come on the next Rock My Namibia Adventure?
Ready to book your space on this incredible trip? Then click the button below to place your deposit! Want to have chat with me before you book? Send me a message using the form below and we can arrange a call – I'd love to chat! Can't make this trip but want to be the first to know about upcoming Rock My Adventure tours? Sign up for the Rock My Adventure newsletter here.