The only man I envy is the man who has not yet been to Africa…for he has so much to look forward to."

RICHARD MULLINS
Namibia is one of the most unusual, fascinating, and vast countries I've ever been to with other-worldly scenery, ethereal, starry skies, stunning coastlines, colossal sand dunes, vast deserts, incredible wildlife, and epic adventure activities! Namibia has it all!
To help you plan your dream trip to Namibia, I've created this helpful Namibia Travel Guide, with lots of info and resources, useful links, and all of my Namibia blog posts!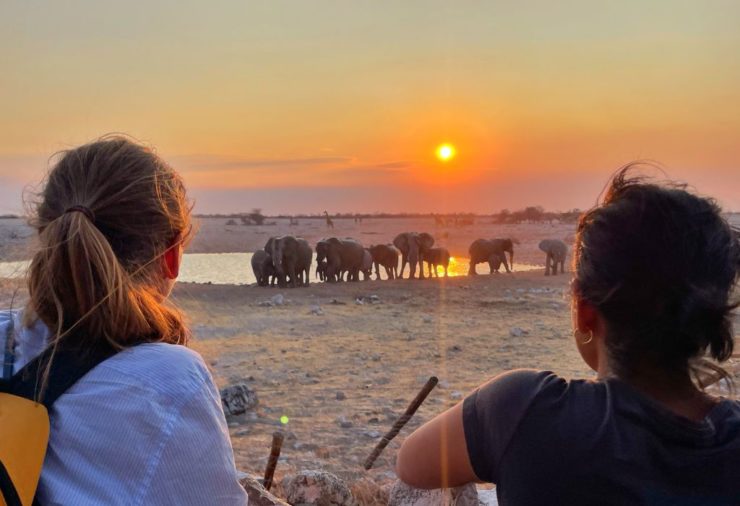 Things To Know About Namibia
Currency: Namibia Dollar (NAD) and South African Rand (ZAR) are both accepted and of equal value.
Languages: English is the official language of Namibia, however the most common language spoken at home is Oshiwambo. German and Afrikaans are also widely spoken.
Visa: Many nationalities can enter Namibia without a visa. However, some nationalities need to get a visa on arrival at a cost of N$1000. The maximum stay for tourists is 3 months within one calendar year. You can check your visa regulations here.
Main Airport(s): Hosea Kutako International Airport (Windhoek) and Walvis Bay Airport (Walvis Bay).
When To Go: The best time for wildlife viewing is during the dry season between May and October (Winter). Namibia is very busy during this time (especially in Sossusvlei, Swakopmund & Etosha) so I would advise you to book your accommodation well in advance. It can, however, get very cold during the European summer months (June/July/August), so bring some very warm clothes. It starts to heat up in September reaching the peak temperatures in December & January. The rainy season is between November and April (Summer), with December to March being the worst time to visit Etosha National Park.
Malaria: Malaria is only really a risk in the north and northeastern parts of Namibia. There is low to no risk of malaria in all other areas including the Skeleton Coast. I would advise that you see a doctor before visiting to ensure you are protected. You can find more information here.
Yellow Fever: You can see whether you need a Yellow Fever vaccination certificate here.
Internet & Mobile: The two main networks in Namibia are MTC and TN Mobile.
Water: Tap water in Namibia is generally safe to drink, especially in the cities, however, when travelling, I would suggest buying bottled water or using a filtered water bottle.
Safety: Namibia is one of the most sparsely populated countries in the world and therefore relatively safe. However, you do need to be careful in the cities and towns as petty crime is common. I would advise you to take taxis after dark and if you do need to walk at night, keep to busy streets and preferably walk in a group.
What to Pack: You can see my complete Africa Packing List here.
Plugs: In Namibia, they mostly use Type M, South African 3-pin style plugs.
Read More About Southern Africa