Last updated on April 6th, 2023 at 09:34 pm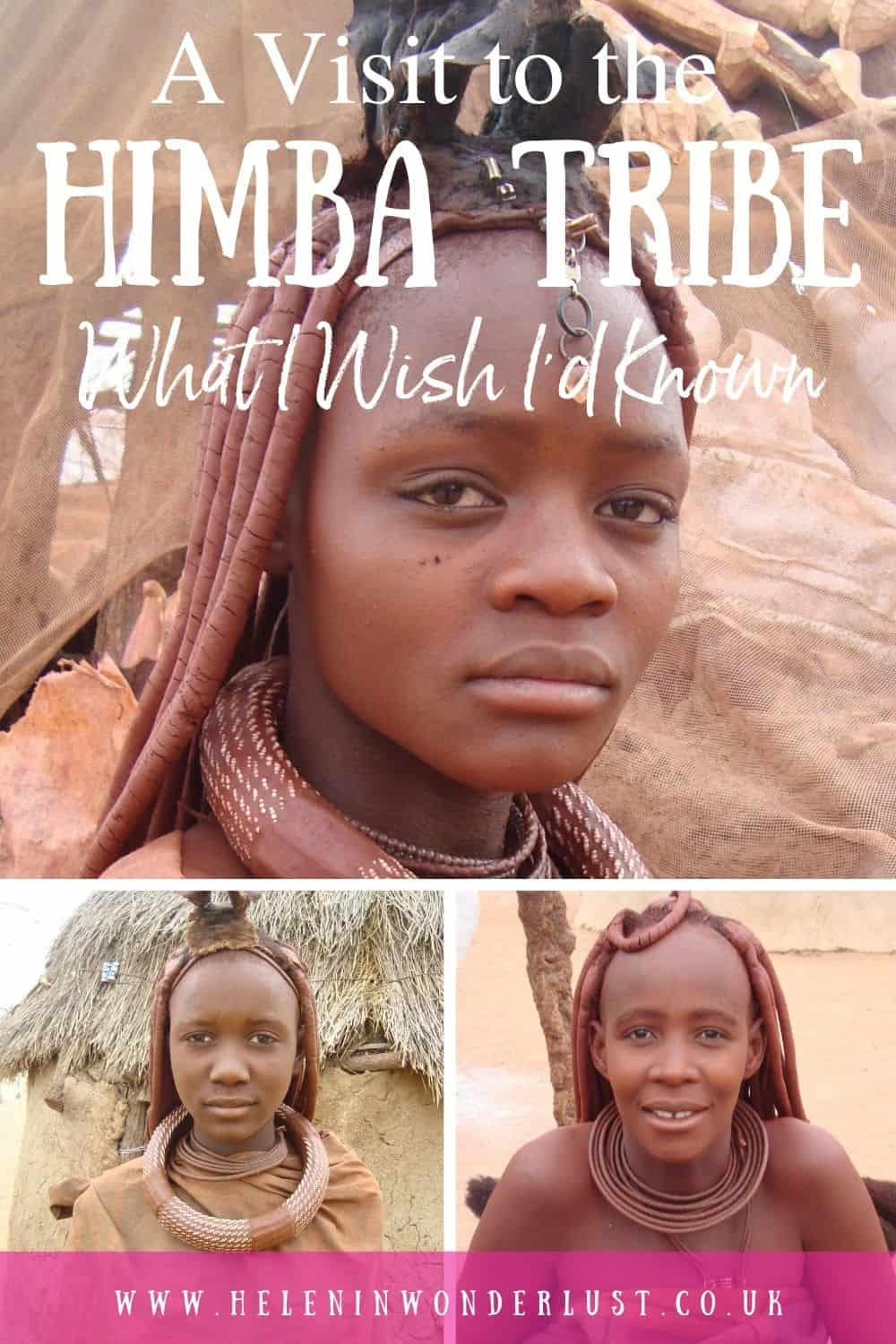 I visited the Himba tribe for the first time on my first trip to Namibia in 2009.
The Himba are semi-nomadic people who live in northern Namibia and traditionally depend on cattle and goats for their livelihood. The women are striking in appearance, covering themselves in a mixture of butter and ochre called otjize, which is what gives their skin and hair its orange/red tint.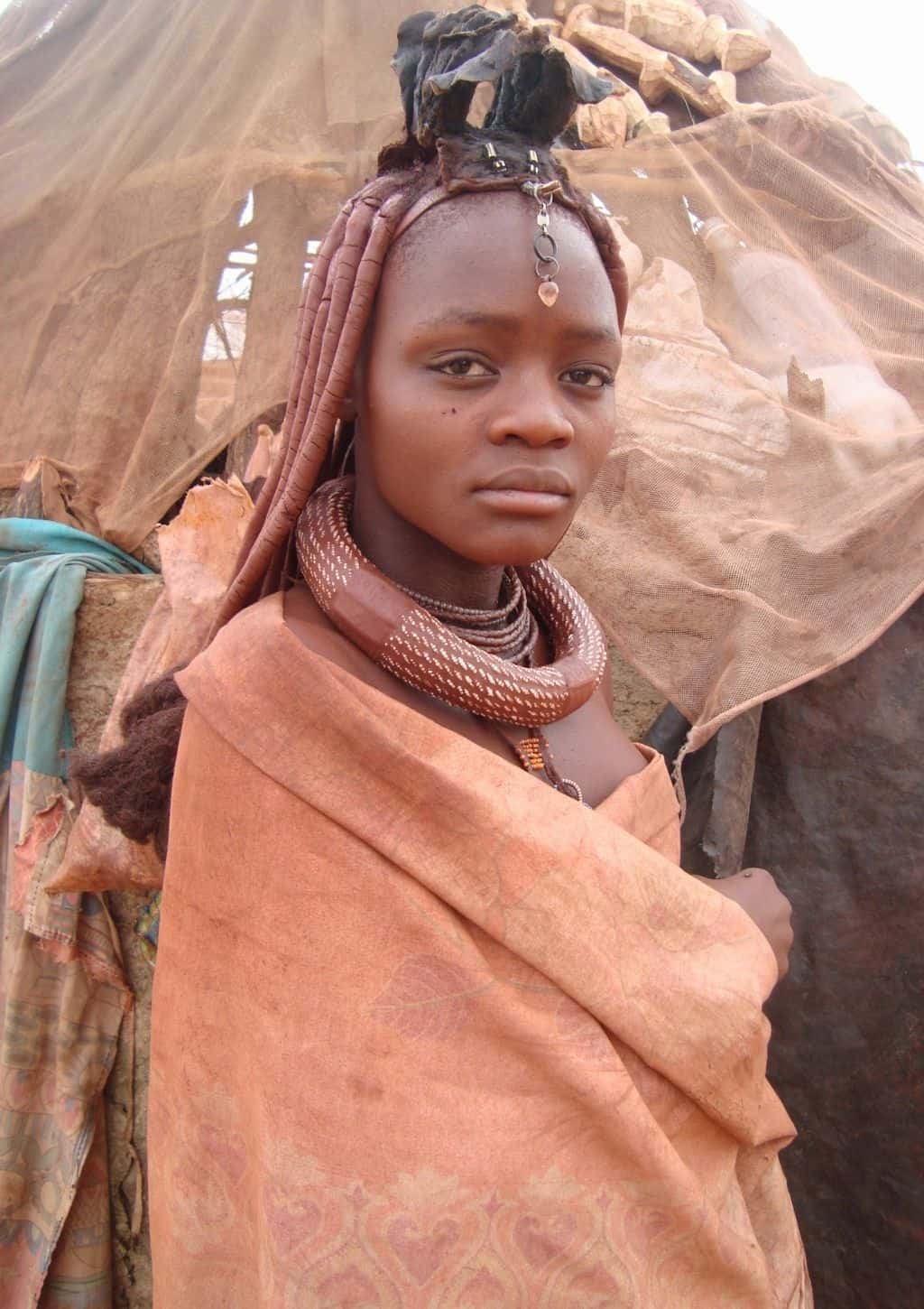 The Himbas ideal of beauty is inspired by the orange/red glow of the earth, something synonymous with the African continent. The lifeblood of all.
We spent a couple of hours in the village, learning about the Himba tribe culture and as usual, I ended up with a number of children attached to each arm and leg, all wanting to touch my hair!
Other Namibia posts you might enjoy…
Please Note: Some of the links in this post are affiliate links, which will earn me a small commission at no extra cost to you. Affiliate sales help with the running costs of this site, so thank you for your support!
---
A Visit to the Himba Tribe – What I Wish I'd Known
---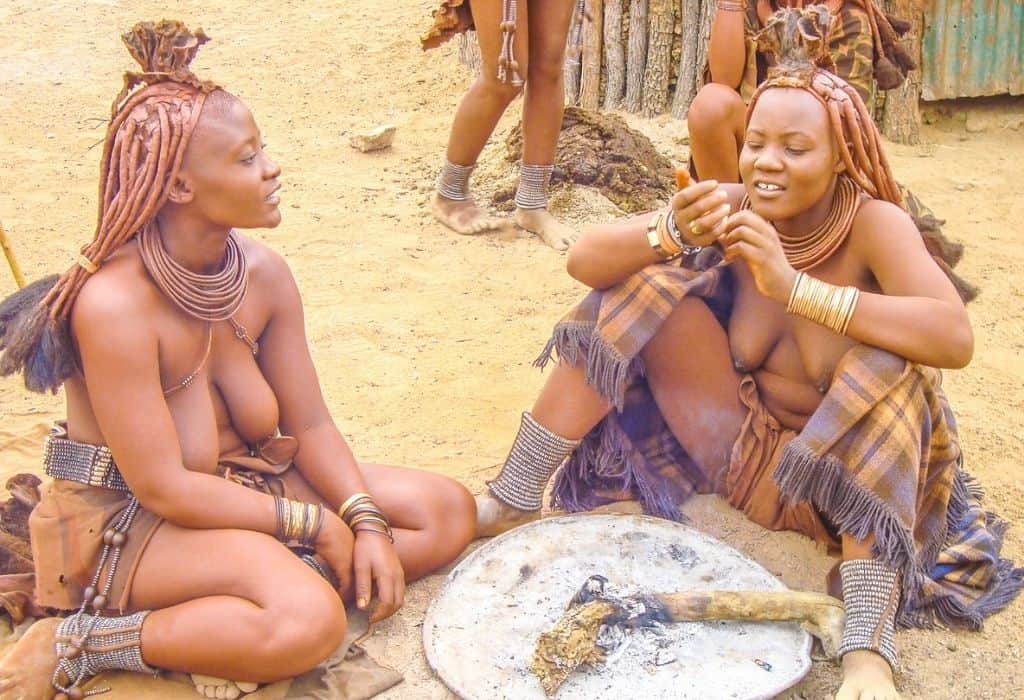 Our guide said it was fine to take all of the pictures we wanted, but I feel that it's always important to ask. The women were very happy to be photographed and posed proudly for the camera.
We were told that the Himba women never wash in their lives. Rather, they 'smoke' themselves clean using herbs that give their skin an almost musky/woody smell, before reapplying a new layer of otjize.
The morning beauty regime can take up to three hours a day. It's a good job I am not a Himba woman, I would not have the patience for that!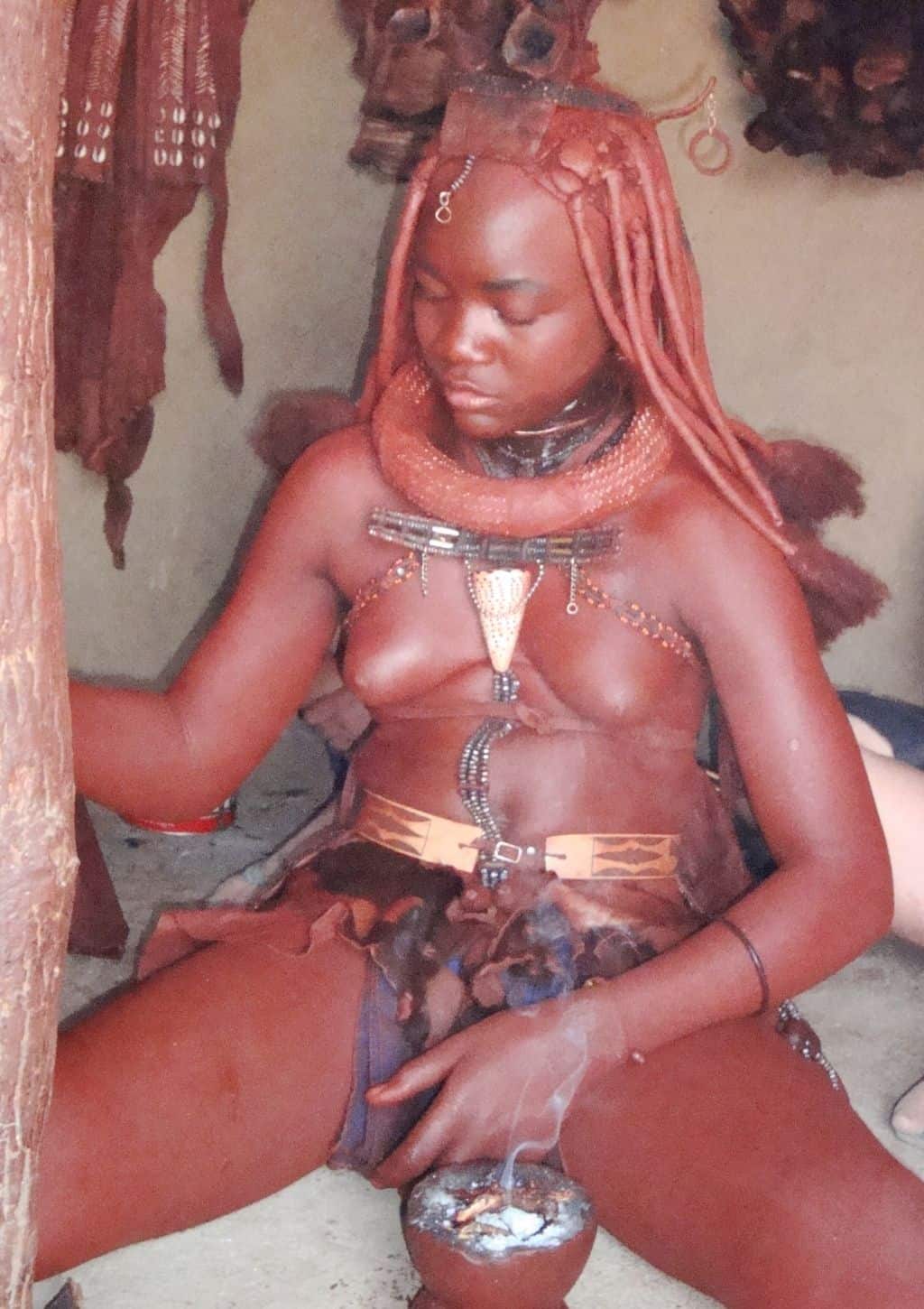 We sat and talked with the Himba women for some time through our translator. They asked me how old I was and if I had children. They giggled when they found that I was 29 and had no kids.
29 and no children??? How could that be??? Himba women traditional lymarry very young, often in their early teens.
We explained that in England and Australia, women often married and had children at all different ages and that some never do at all.
This caused the women to howl with laughter, although I'm sure they must have had that conversation with other tourists before. It was a funny exchange of cultures, but it also reminded me of the freedoms I take for granted.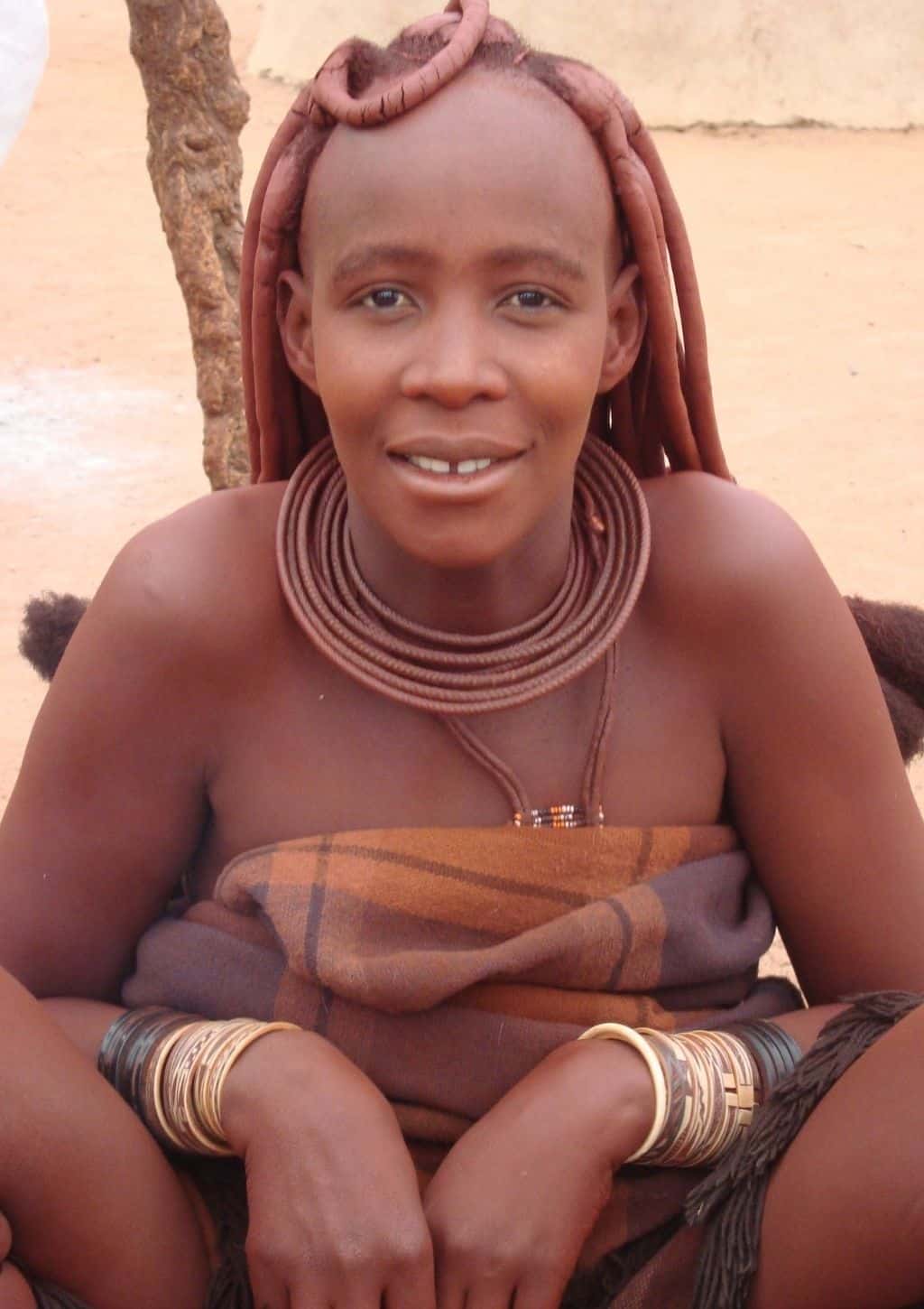 There were very few men around on the day we visited as most were out tending to the livestock. What I did find strange, was that the men that were there were not in traditional dress, preferring to wear more western attire such as shorts and football shirts.
I found this slightly strange and I wondered if the women dressed this way by choice, or whether they were made to dress this way for tourists. I wish I'd asked, but I didn't feel that it was my place to do so.
Some years later, I found out that this wasn't a 'real' village. Well, it was, but not in the traditional sense. The village was on the land of a large hotel and the Himba were allowed to live there for free in exchange for allowing tourists to visit.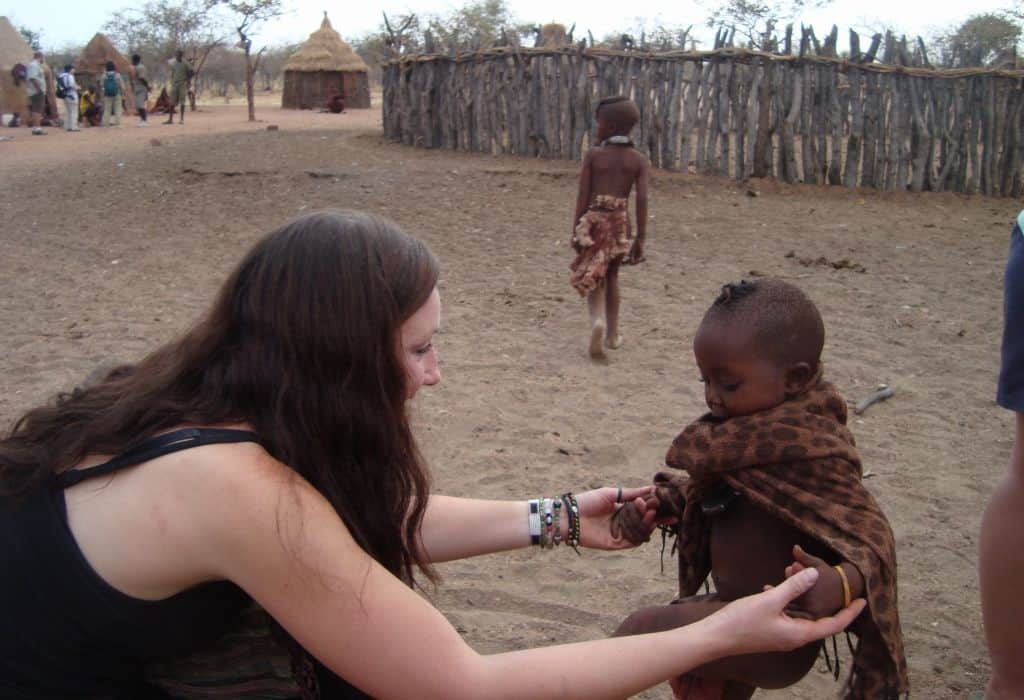 This village was near Swakopmund and Himba aren't from this part of Namibia either, the Himba traditionally live in the far north of Nambia in Kaokoland, also known as the Kunene Region and in Southern Angola..
Some of the money will have been given to the Himba but the majority won't. That doesn't seem right to me. At the time I had no idea, but after spending a lot of time in Africa and a lot of time with tribal people, I know to do a little bit more research before I visit a tribe.
Over the years, I've visited tribes all over Africa and I now have many friends from tribal communities.
But some of the tribal visits I did in my early travel days, weren't that great. Some were good, don't get me wrong, but others felt contrived or exploitative and there often seemed to be a bit of a conflict between the guides who took us there and the tribes themselves – no doubt these arguments were over money.
These days, I'm much more conscious of the way I visit tribes and do my research before I visit. I know some people don't agree with tribal visits, I do, as I think they play an important role in preserving heritages as tribal lands make way (or are forced out) for modern development.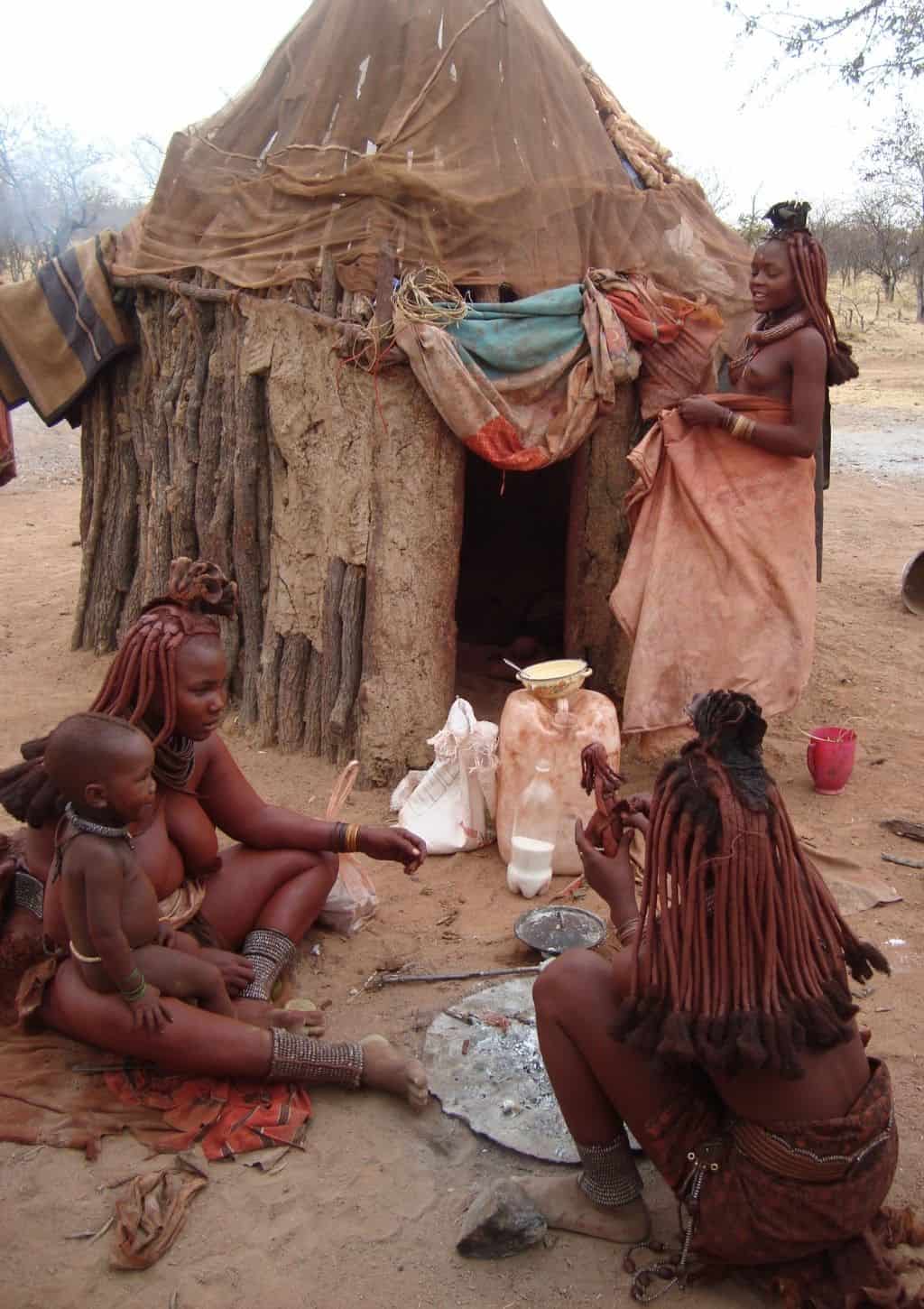 The Himba, like many tribal peoples, are caught between their traditional culture and the modern world.
I also think cultural exchange is one of the most beautiful things in the world. But I now visit villages that are run completely by the tribes themselves, on their own terms.
READ MORE: The Ethics of Visiting an African Tribe: What You Need To Know
I hope you have an AMAZING trip to Namibia. If you have any questions, please leave them in the comments below and I will happily answer!
---
Join one of my Namibia group tours or buy my Backpacking Africa e-book!