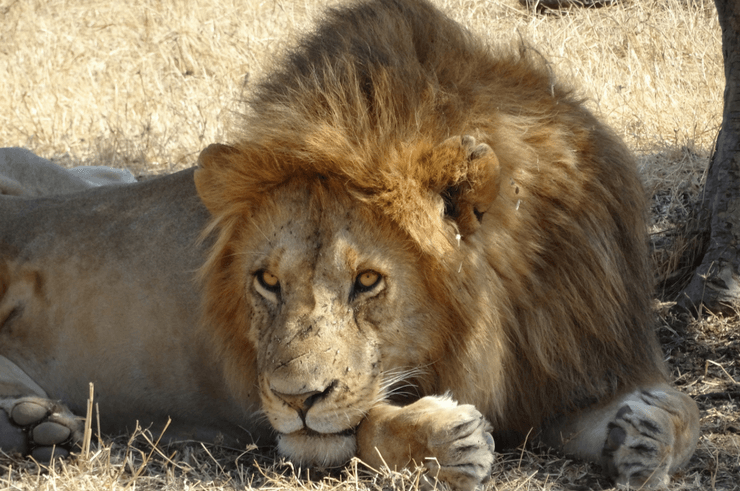 Have you ever thought about visiting the Masai Mara National Reserve but thought that it would be way out of your price range?
Safari holidays are notoriously expensive, but I'm here to let you into a little secret and tell you how you can experience the Masai Mara on a budget! When I say budget, I mean for only a few hundred dollars!
Yes really!
Every time I go to the Masai Mara, I never want to leave. I say every time, because I've been there 4 times already, and I'm going back for the 5th time later this year for round 2 of my This is Kenya tour. It feels like home.
I always stay at a place called Mara Explorers Camp & Backpackers, owned by my friends Moses and Laura.
I met Moses in 2009 when he was my overland tour guide and we've been friends ever since. Then back in late 2014, I went back to stay with him and his wife Laura for the first time, at the camp they'd built together in the heart of Maasai land.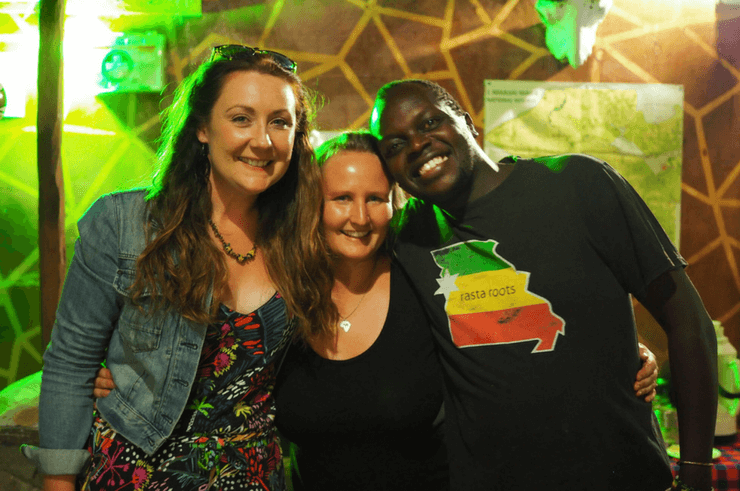 They picked me up in Nairobi, on their way back from visiting family in the city and we drove the four hours to the Mara, stopping just outside Nairobi to take some pictures of the magnificent Great Rift Valley.
When we stopped in the town of Narok to have some lunch and pick up some supplies from the supermarket, I spotted one of the best signs I've seen in Africa for a while. "YOU SATAN!! YOUR YOKE IN THIS TOWN HAS BEEN BROKEN" I declare this county free from all demonic alters.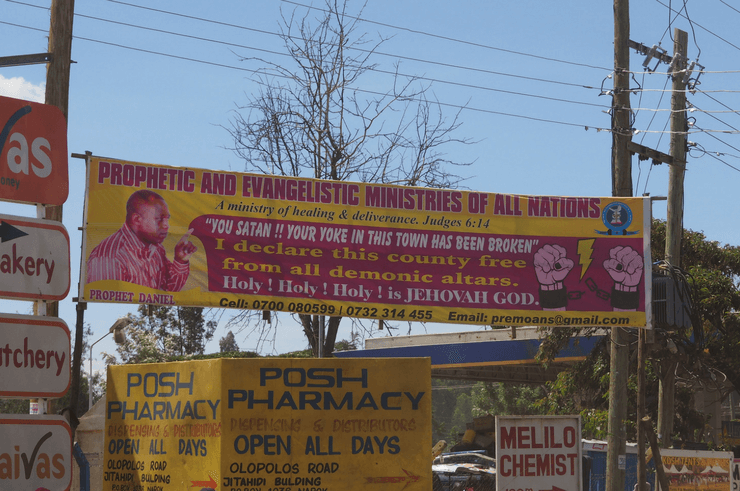 Good to know. I hate it when Satan has an unbroken yolk in a town I'm visiting, don't you?
The tarmac road ends just outside of town and it's bumpy bumpy all the way to the Mara. This is what they call 'the African massage', and it often comes with a free 'dust facial'.
We passed Maasai women walking along the roadside, bowed low, carrying heavy bundles on their backs, supported by leather straps across the top of their heads. It didn't look at all comfortable and as always, I was amazed by both the physical and mental strength it must take to do this.
By the side of the road women sold fruit and vegetables from wooden stalls and children waved (or stared) as we bounced along.
A few miles from our destination, I was just dozing off, when Moses stopped the car and pointed out a couple of giraffes in the distance. We pulled over and got out of the car, but on closer inspection, more giraffes emerged from behind the trees. I stopped counting at around 40 and I can say that I have never seen anything quite like it. I wasn't even on safari yet.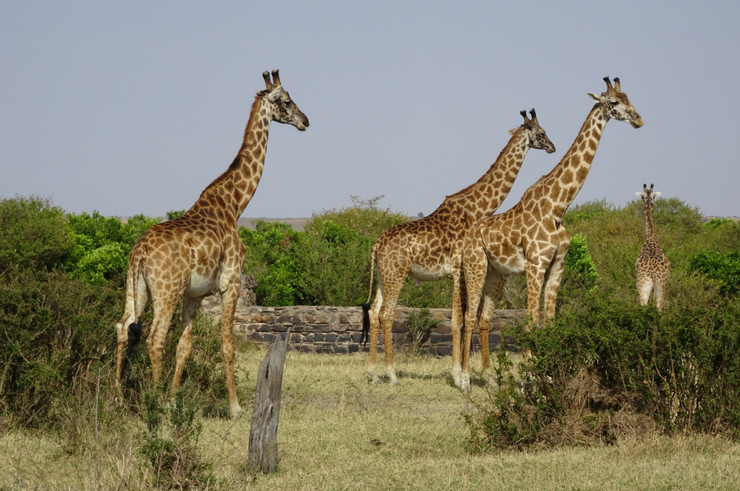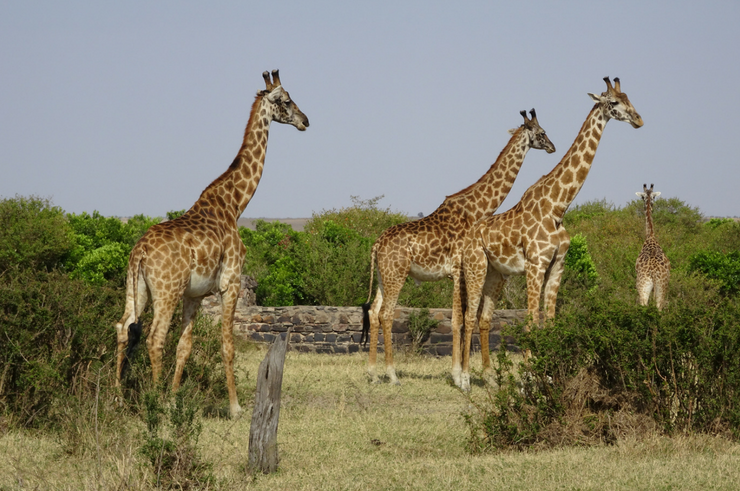 The first few days in the Mara were spent relaxing and pottering around camp with Moses, Laura and their friends, playing with their puppies, doing laundry or visiting the nearby township of Sekenani, to eat nyama choma (barbequed goat), drink (warmish) Tusker beer and have a little daytime boogie at Mercy's Place (now called Rex's Place), the 'coolest' little bar in town.
Whilst I was there, I took a nature walk with George, a Maasai tribesman and guide at the camp. George picked me up early in the morning and we began our our ascent of nearby Siana Hill. George kept watch for animals, barely breaking a sweat, whilst I huffed and puffed the whole way up. George told me it was the altitude, that many visitors struggle, and that I should drink a cocktail of sheep fat and tree bark to make it better.
I told him I'd take his word for it.
We chatted no stop during the walk. He taught me to say hello in the Maasai languange, Maa and I called out "Sopa" to all of the Maasai cattle herders we passed along the way.
I asked him about Maasai culture, and he threw the questions right back at me. How much does a house cost in England? Do people keep animals? Do you have land? What crops do you you grow? But my favourite question…
"Helen, how many wives could I have if I lived in England?"
"You're only allowed one wife in England. How many wives do you have?"
"I only have one wife. One is enough for me!" He said with a roll of his eyes and a smile.
We finally reached the top and the view was incredible, the silence was liberating. I felt as though I could see the whole of Kenya.
A few days later, I was joined by my husband Matt (who would also probably agree that one woman is quite enough to handle) and I was excited for him to experience his first proper safari. And what better place to do it, than in the Masai Mara!
We were up at first light. I popped my head out of the tent and shone my torch around, looking for signs of life. The sun wasn't quite over the horizon just yet but no eyes were staring back at me, so I declared it was probably safe for us to leave the tent and head to breakfast.
Matt groggily followed behind. The previous night was only his second night in Kenya, and whilst I'd fallen straight to sleep, used to the early nights and early mornings, his body clock hadn't quite adjusted and the hyenas cackling had kept him awake. He soon perked up when he saw Moses and Laura were waiting with a stack of pancakes to set us up for the day.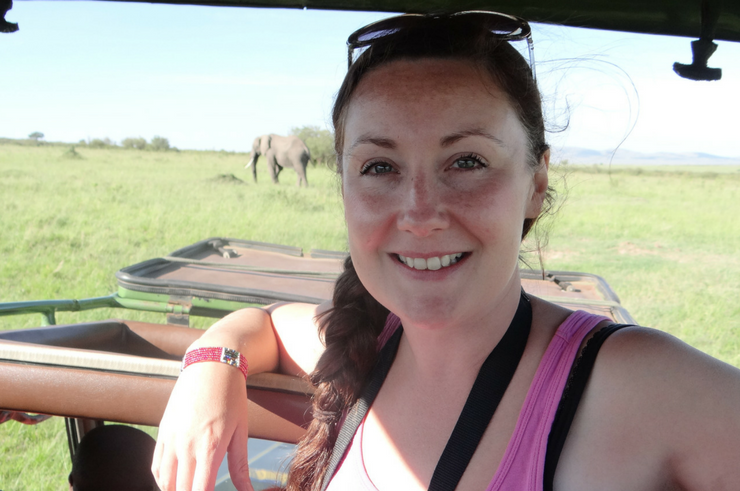 Once we'd entered the park, it wasn't long before we came across a lion. He was painfully thin, with only one eye and hanging casually from his mouth was a dead cow.
A number of vehicles had a gathered to watch him, including the Absolute Africa truck we would join a few days later for our safari in the Serengeti. As we sat there, the smell of rotting flesh would occasionally catch the wind and make its way up my nostrils, the cow already beginning to decay in the heat.
The lion looked physically exhausted, obviously having dragged his kill for some distance. Occasionally he would pick the cow up by it's neck, drag it a little way, stop, rest, look around and then carry on. Unfortunately for the lion, he'd chosen the wrong meal that day, because cows, being domesticated animals and all, usually belong to someone. And in a land where ones wealth is measured in livestock, cow theft is taken very seriously.
There exists a delicate balance between the Maasai and the animal kingdom and in this modern world, development and dwindling lands forces these two worlds to collide more regularly. We were to learn later, that the (very angry) Maasai owner of the cow had arrived, chased the lion away, and reclaimed his property.
I felt sad for the lion and the Maasai. But mostly for the cow.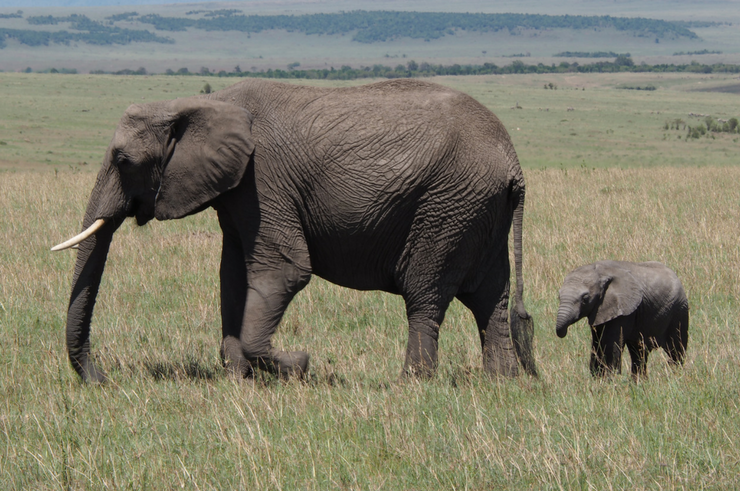 We spent the rest of the day in the reserve, with George as our spotter. We saw so many animals, including elephants, lions, cheetahs and some even posed for the camera.
Happy? Yes I was. To quote one of my favourites, Karen Blixen "Here I am, where I ought to be."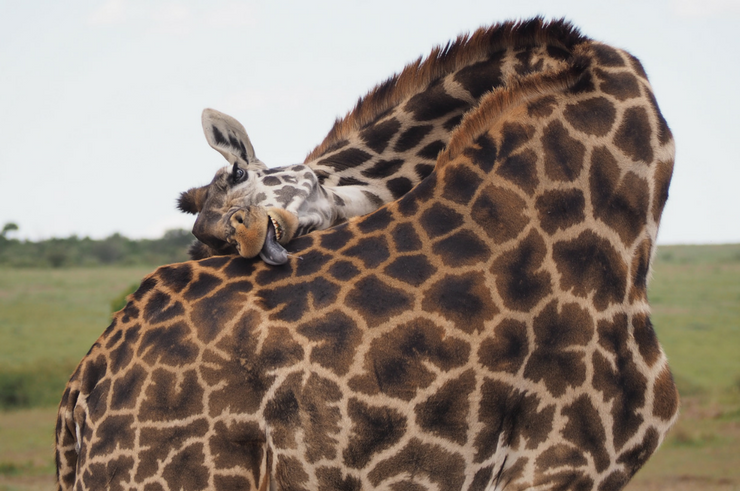 Later that afternoon, just minutes after we'd arrived back at camp, a commotion began.
A female impala and her baby had wandered in and the dogs went crazy. Mama impala made a run for it, and managed to escape, but the baby couldn't find her way out and was running round in circles, chased by 7, very excitable puppies.
Eventually, Moses and Laura rounded up the dogs and George managed to get hold of the baby impala, who was visibly shaking.
George, with his magical Maasai ways, managed to calm the impala down, stroking her until her breathing slowed, before carefully laying her down on the floor, tucking her legs beneath her.
Whilst we were busy with the baby, David, who worked at the camp, had ridden off on the bicycle and located the mama in the village.
As Moses and David drove off to reunite the mum and the baby, George's son appeared at the gate, frantically shouting for his dad. George said his goodbyes and went to see what was the matter.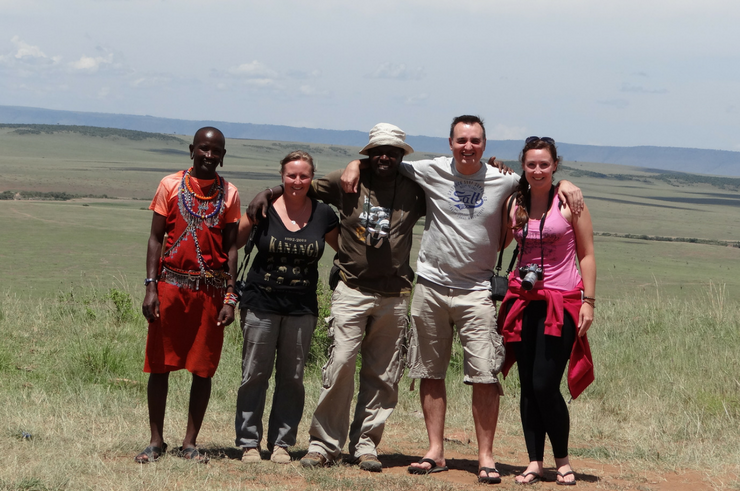 The following morning, I asked George what had happened. "Lions were attacking my cows. I had to scare them away."
Of course he did. Because life is never dull in the Masai Mara.
How to Experience a Masai Mara Safari on a Budget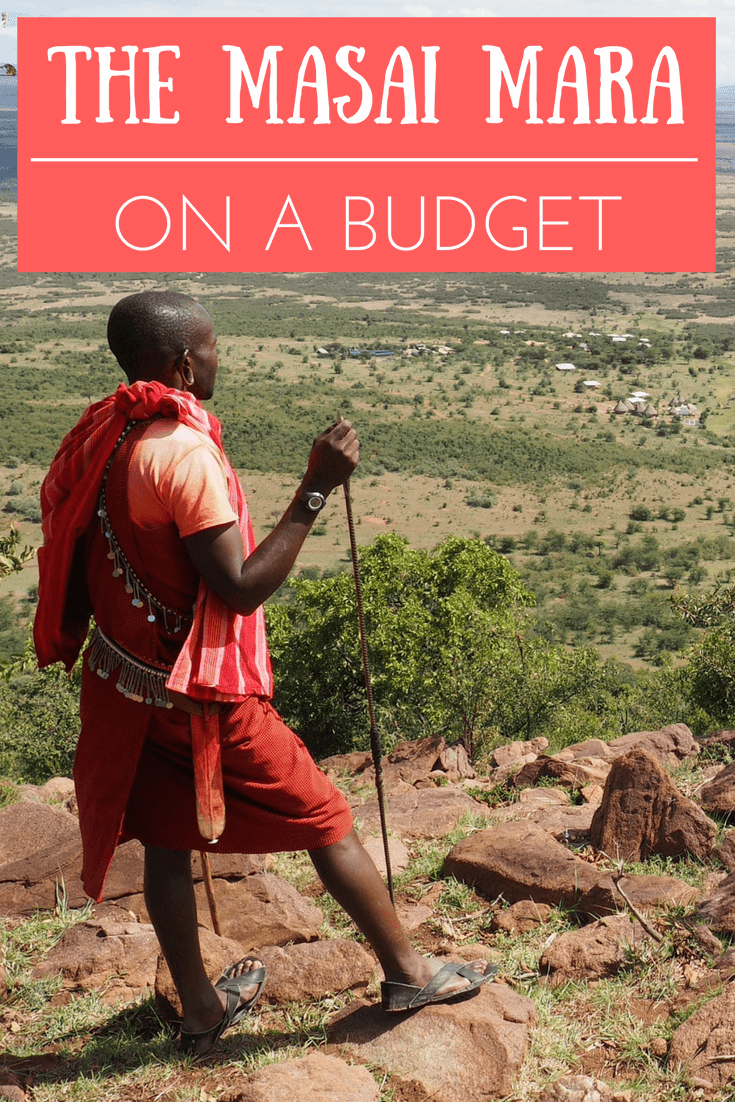 Mara Explorers Camp
Moses and Laura's place is a gorgeous little camp called Mara Explorers Camp & Backpackers, which lies just outside of the park, near to the Sekenani township. I also wrote about it here. the camp is not to be confused with the more high end Mara Explorer Camp!
Staying outside of the park means it's a lot cheaper, as you have to pay $80 for each day you spend in the park, so by staying here, you are only paying for the days you actually go on safari.
Mara Explorers offer packages, or you can arrange everything separately as I'll explain below.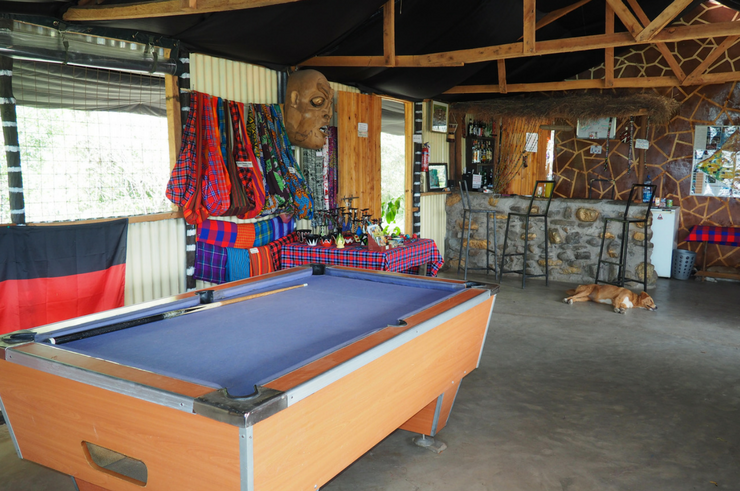 Accommodation
There are a few different accommodation options, including budget dome tents (sleep up to 2 people – shared bathrooms), ensuite tents (sleep up to 4 people) and ensuite cottages (sleep up to 5 people). The tents are really comfortable and all have proper beds.
If you have your own tent, you can also camp there and use the kitchen provided.
Camping (from 1500 ksh per person, per night)
Dome Tents (from 5000 ksh per person, per night, full board)
Ensuite Tents (from 7000 ksh per person, per night, full board)
Ensuite Cottages (from 8,000 ksh per person, per night, full board)
For those in their own tents, you can also add a meal package.
1000 KSH = $10 (approx. – exchange rate and prices correct as of April 2017).
Facilities
They have a great bar and common area (as you know, that's one of the things I look for when I book accommodation). There are usually a few other travellers around, so there's always someone to hang out with for a beer or a game of pool or Scrabble. Plus they throw a great party!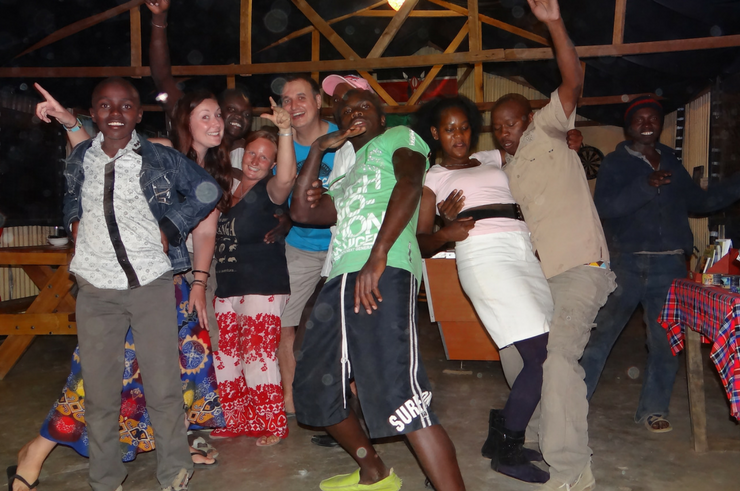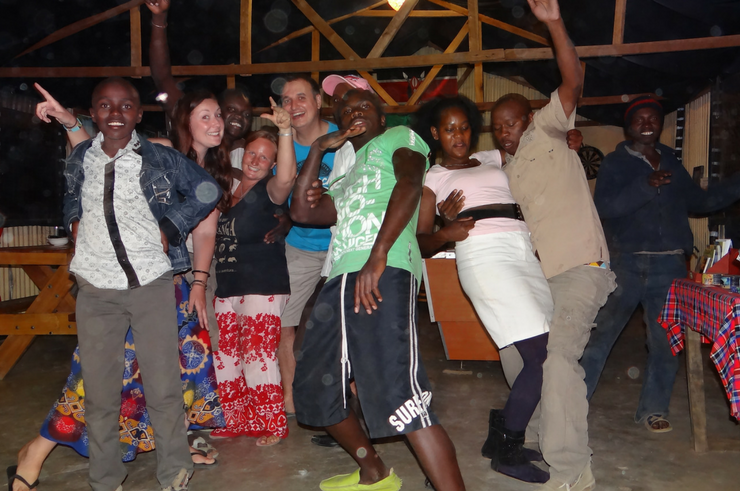 The beers are always cold (and plentiful), the food is amazing, they have Wi-Fi, the showers are always hot and the toilets smell fresh! What more can you ask for?
Oh, and they have 7 gorgeous doggies too! The mama, Daisy, the puppies (or used to be) Blackie, Doa-Doa, Porky, Snowman and Freezer and uncle Did-Dik.
Seriously one of my best recommendations for where to stay in Africa – and I've been around y'know.
Masai Mara Safari Packages
Mara Explorers offer various safari packages which can include things like the Nairobi Giraffe Centre, David Sheldrick Elephant Orphanage and other national parks, such as Amboseli, Lake Naivasha, Tsavo East or West, Lake Nakuru and Samburu (I've been to all of them and they are fab).
A basic 2 night, 3 day safari costs from $750 for one person, but an amazing $380 pp based on 6 sharing* – so if you can find some friends to go with, it's unbelievably cheap!
If you contact them, they will be able to give you a quote based on your exact requirements (say if you want to add in additional activities – see below) and the number of people travelling. If you are travelling alone, they may also be able to pair you up with others!
The packages are inclusive transport, game drives, park fees and all meals! A great safari for people on a budget (tips and other activities are extra).
Or you could join one of my Kenya tours, as we always stay at Mara Explorers!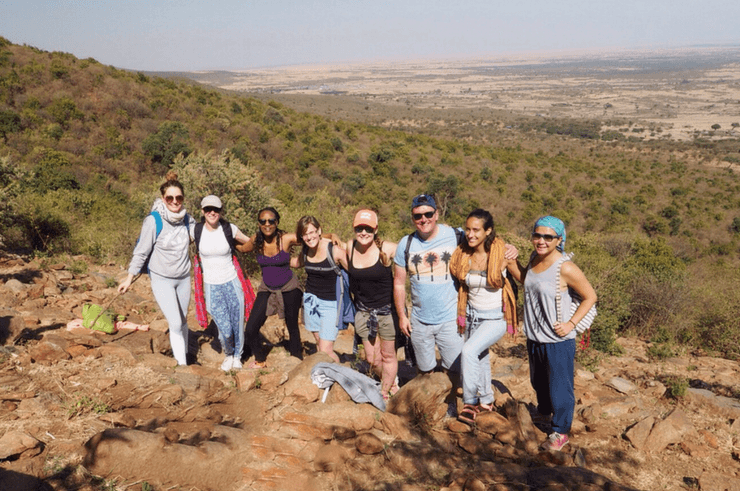 What To Do in the Masai Mara
Going on a safari in the Masai Mara should be on everyone's bucket list. It's such a cool experience and even better if you can do it without breaking the bank!
Safari in the Masai Mara
For those who aren't on a package, you can just do game drives by the day.
Park entry for those staying outside the park is $80 pp for adults and $45 for children. East Africa citizens pay 1200 ksh for adults  and 300 ksh for children.
Then you can hire the safari vehicle for the day, which costs from 15,000 ksh (approx $145) for the full day which includes driver/guide, fuel and water. The safari vehicles seat up to 6 people. So if you are in a group, or you join one whilst you are there, it works out pretty cheap!
I think 2 days is a good amount of spend on safari, however even if you only go for 1 full day, you'll still see a good amount of animals.
Other Activities in the Masai Mara
A safari is a given, but there are loads of other things you can do whilst staying at Mara Explorers.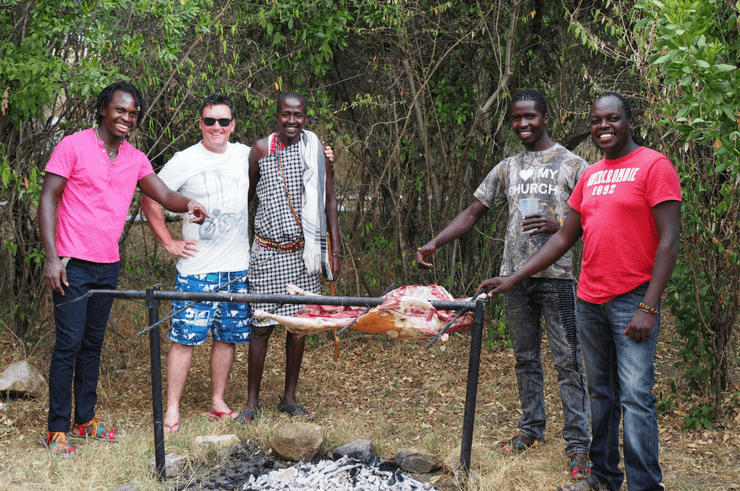 Nature walk up Siana Hill for amazing views all over the Mara.
Maasai village visit, including a visit to the school and an overnight stay if you wish! This is different to any other Maasai village visit I've been on before and as you know, I have strong opinions about visiting tribes.
Have dinner in Sekenani township (this is one of my most highly recommended things to do while you are visiting the Masai Mara).
Drinks at Rex's Place after dinner, pop into Rex's Place for a drink. 99.9% of tourists will miss this place but it's really cool. You'll either be sat inside the bar made of corrugated iron, or sat outside round the fire with Maasai warriors, locals and safari drivers.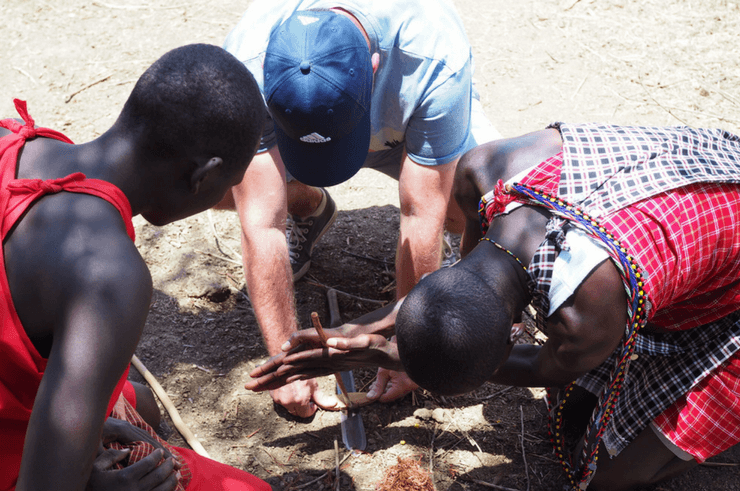 Hot air ballooning is a beautiful (if expensive $450) way to experience the Mara.
Bush camping, an amazing experience if you like to be right in the action.
Horseback safari .
Have breakfast in the bush.
Go for sundowners (beers) with your guides.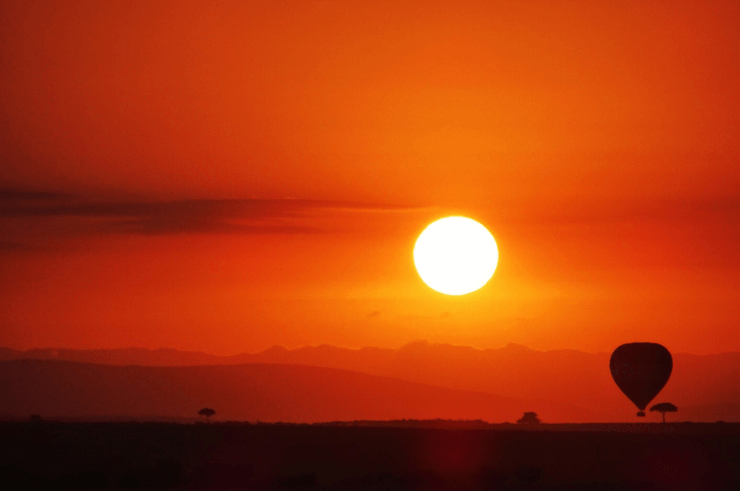 Getting to the Masai Mara
There are various different ways you can get to the Masai Mara and Moses and Laura can help to organise your transport.
Getting to the Masai Mara by Private Transfer
You can be picked up from Nairobi by taxi using a local driver from Sekenani which costs 12,000 KSH (approx. $116 one way) for up to 4 people. They also have bigger vehicles if you are a bigger group (price upon request).
The journey takes around 7 hours including a lunch break in Narok and a stop on the escarpment overlooking the magnificent Great Rift Valley.
If there is a group of you, this is a very economical and affordable way to get to the Mara.
Getting to the Masai Mara by Public Transport
Alternatively, public buses (known locally as matatus) do make the journey from Nairobi – Narok – Sekanani (Masai Mara). This takes around 10 hours.
You will need to get a very early bus from Nairobi (by 7am), change at Narok (best to arrive before or around midday) and then you can make your way to Sekenani and ask the driver to drop you off at Mara Explorers camp.
Matt of Great Distances wrote a great post about his own experience using public transport to get to the Masai Mara and he stayed at Mara Explorers too.
Getting the bus is a lot cheaper (around $10 each way) but they aren't as safe and accidents do happen from time to time. Plus you won't be able to get out to take photos of the Great Rift Valley.
So my advice, if you can afford it I would definitely advise to get a private transfer!
Flying into the Masai Mara
You can also fly into the Masai Mara.
The nearest airstrip to Mara Explorers is Keekorok. I would contact Mara Explorers camp to arrange details, as you'll need to get picked up from the airstrip.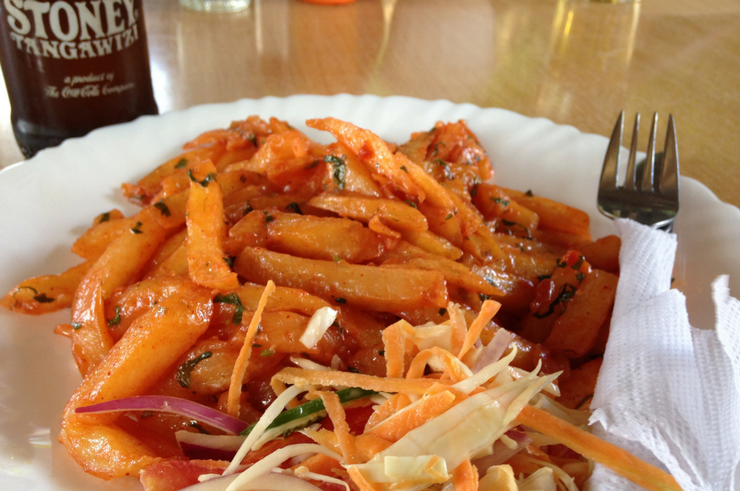 Where To Stop for Lunch
Regardless of whether you get a private transfer or public bus, you'll almost definitely stop in Narok, the last major town before the Mara.
I recommend having lunch at Narok Coffee House. It's pretty cheap and the food is good. I also quite like River Breeze restaurant too.
Avoid the Dream King Buffet. A lot of safari companies stop here, but I thought the food was crap and I wasn't impressed that they charged me five times the price for my food when I was on my own, than when I was with Moses and Laura on a different day.
Other Considerations
This is your last chance to get cash out too, so stop by one of the ATM's in town to get money for beers and tips!
Just so you are prepared, the tarmac road end a few miles outside of Narok, so it's bumpy from then on, so bring your sports bras ladies.
When To Visit the Masai Mara
You can visit the Masai Mara all year, but the best time for wildlife viewings is in the dry season, from late June to October.
The wildebeest migration reaches the Mara around July. This is a great time for wildlife spotting as the wildebeest and zebras band together for safety, however the big cats (lions, cheetah, leopards and hyena) are never really far behind.
We saw an AMAZING wildebeest river crossing in early September when I was last there! From October the herds move back into the Serengeti.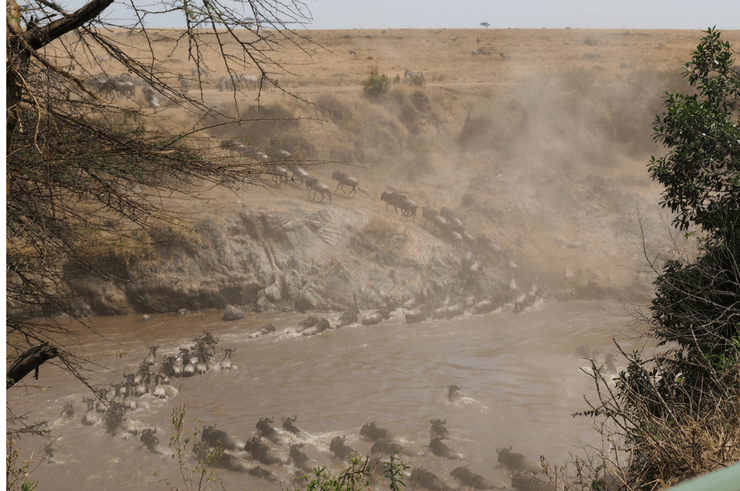 Mara Explorers Community Work
What I really love about Mara Explorers Camp, is the fact that they are very integrated into the local community.
They fund The Porridge Project, which supplies breakfast to all the kids at the school in the nearby Maasai school. They also support a number of students through high school.  So you're doing good just by staying there.
---
Plan Your Trip to Kenya and the Masai Mara
Getting there: I always search for my flights on Skyscanner. The major airports are Jomo Kenyatta International Airport in Nairobi and Moi International Airport in Mombasa.
When to go: Kenya is a great all year round destination, however the best wildlife viewing in the Mara is usually June to October and January and February. If you want to see the wildebeest migration, the best time is July to October. The rest of the year they are in the Serengeti.
Where to stay (Masai Mara): I 100% recommend Mara Explorers Camp. You can contact them direct for information on their various accommodation and safari packages.
Where to stay (Nairobi): Prior to your trip to the Masai Mara, I recommend that you stay at Wildebeest Eco Camp in Nairobi.
Useful Resources: If you're just starting to plan your trip, have a read of my post How to Plan Your dream Trip to Africa (in 20 easy steps) and head over to my Africa Travel Resources page to see all the websites, apps and books I use to plan my trips to Africa plus all of my favourite hotels, campsites and lodges.
Travel insurance: Travel insurance is super important anyway, but especially in the US where medical bills are outrageously expensive. I usually get my travel insurance from World Nomads.
Visa: You can find info on the various types of Kenyan visas at the Kenyan High Commission. You can apply for your single entry eVisa here.
Guide books: I love Lonely Planet guide books and usually always travel with one wherever I go. Try the Lonely Planet Kenya 
 or the Lonely Planet East Africa
 if travelling to other countries nearby.
Recommended reading: One of my favourite books of all time is An African Love Story: Love, Life and Elephants
, the true story of David and Daphne Sheldrick. He was a warden in Tsavo National Park and she set up the famous elephant orphanage in Nairobi. It's an incredible story.
Like this post? Pin It For Later!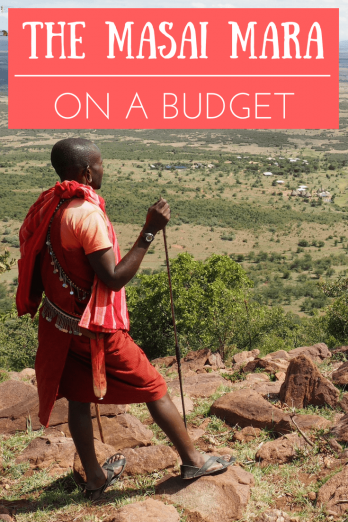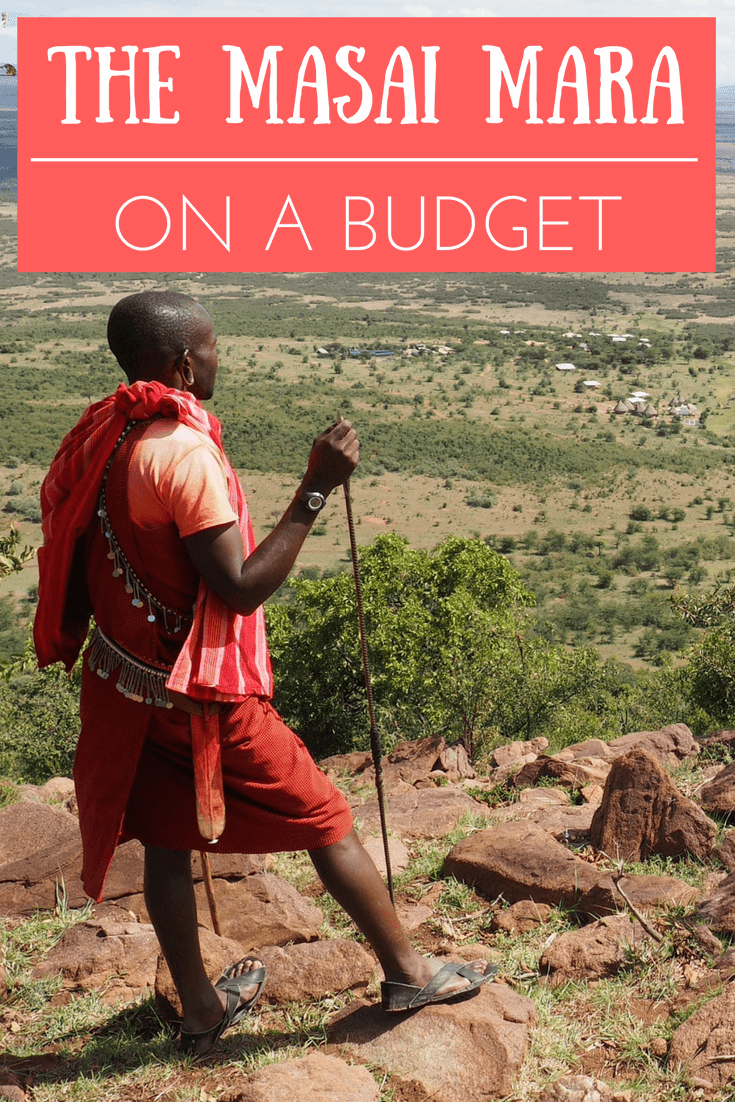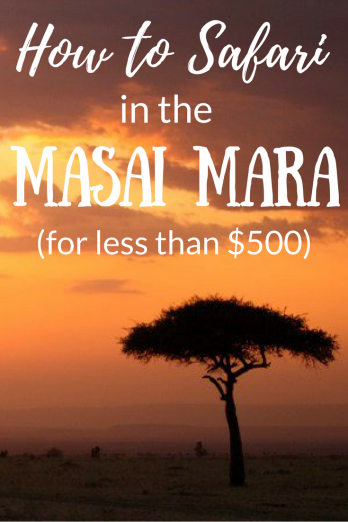 I hope this guide helps you plan your very own amazing (and affordable) safari in the Masai Mara!
---
Want to go on an Epic African Adventure?
Want to go somewhere amazing with an awesome group of likeminded travellers??
Then join one of my 2018 Rock My Adventure small group tours to Kenya, Tanzania & Zanzibar, Uganda, Rwanda & the DRC, Zambia & Malawi and Morocco! More destinations coming soon!
Rock My Adventure tours are experiential and culturally immersive adventures, but without the hassle of having to find accommodation, working out how to get from A to B and booking all your own activities. They are laid-back and fun, kind of like an independent  backpacking trip (with the occasional bit of luxury) and a group of friends built in "" the best of both worlds!
To find your perfect Rock My Adventure tour, click here!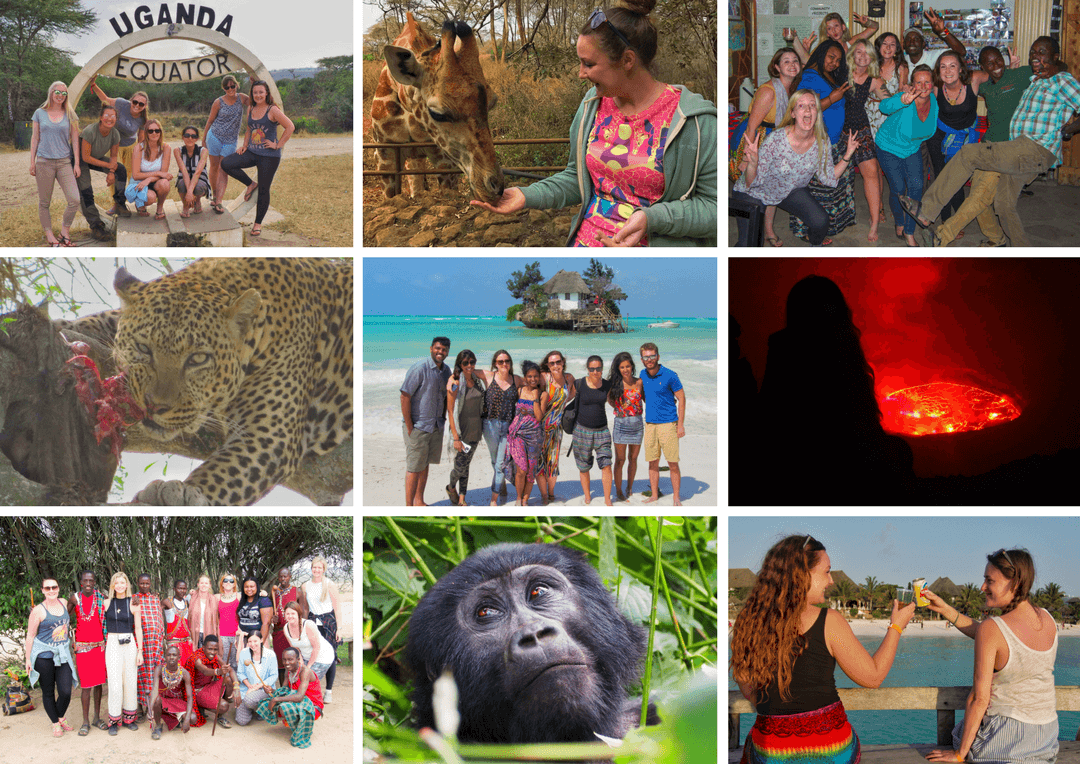 If you can't make it this time and would like to be the first to know of any future tours, you can sign up to the mailing HERE!
---
Please Note: Some of the links in this post are affiliate links, which will earn me a small commission at no extra cost to you. I only recommend products/services I really love. Affiliate sales help with the running costs of this site, so thank you for your support!