Last updated on April 19th, 2023 at 09:15 pm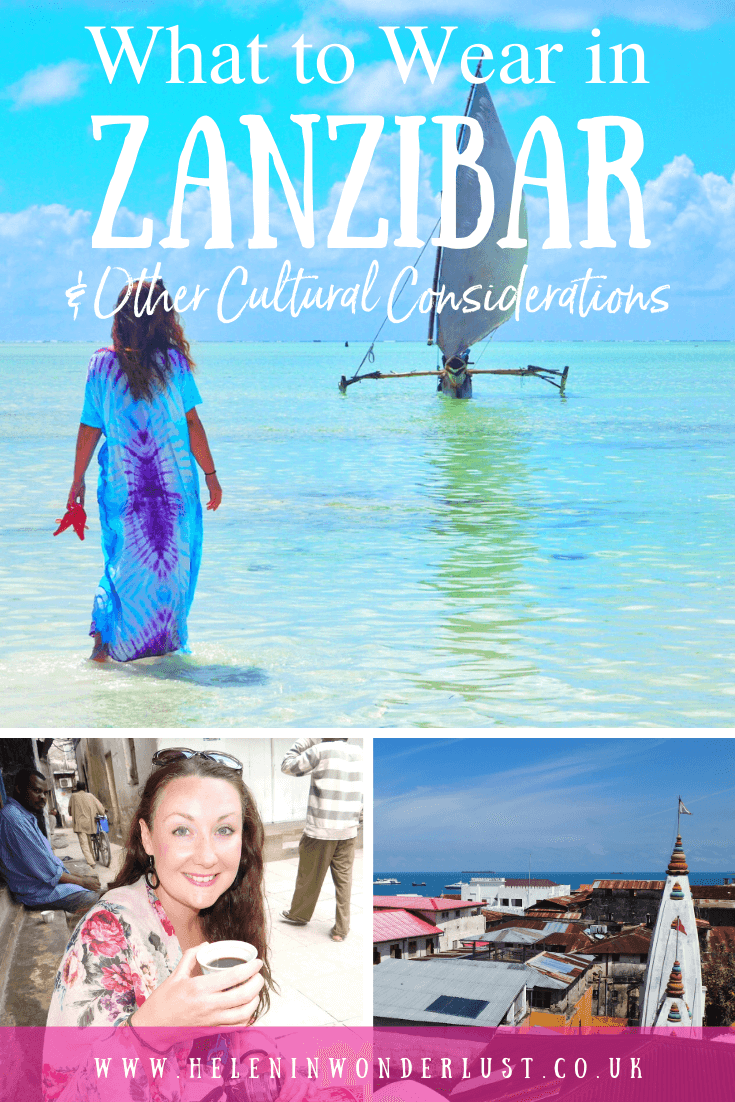 There's been a lot of talk on social media recently, mostly from Zanzibar locals who are upset with the way tourists are dressing on their island these days.
I've even started to see pictures of disrespectful tourists popping up in Facebook groups – don't let that be you! 
Zanzibar is a predominantly Muslim island and very conservative. Whilst it's a beach destination, it's not Spain or France. You cannot walk around Stone Town in a bikini top and hot pants – although people often do.
So, I wanted to help you to understand the rules of what to wear in Zanzibar so that you don't upset the locals and can enjoy your trip to the full! 
And if you haven't already, please check out The Ultimate Africa Packing List – What to Pack for Africa & Wear on Safari – as this lists everything you need for pretty much any Africa trip.
Other Zanzibar posts you might enjoy…
Please Note: Some of the links in this post are affiliate links, which will earn me a small commission at no extra cost to you. Affiliate sales help with the running costs of this site, so thank you for your support!
---
What to Wear in Zanzibar & Other Cultural Considerations
---

My Top Tips for What to Wear in Zanzibar
Whilst it is generally fine to wear what you want on the beach or at your hotel pool (although please don't go topless), you should cover up when in Stone Town and in the villages – even if you are just popping out to get something from the shop. 
Leave the teeny-tiny thong bikinis at home. Bikinis are ok by the pool/on the beach, but the more they cover, the better.
Women should keep shoulders, cleavage (a little bit is fine – just not mega plunging), midriff, and legs covered (at least to just above the knees) when walking around Stone Town and in villages especially.
Men can wear shorts, but shouldn't walk around shirtless either, except on the beach, and should cover their shoulders in Stone Town and the villages. 
It's also pretty hot and humid most of the time, so lightweight clothing is best (jeans are usually too hot).
During Ramadan especially, it is polite to keep legs fully covered (for both men and women) and women should cover their shoulders and cleavage.
Wearing a see-through/crochet maxi dress does not count as covering up. No-one wants to see your underwear.
Think about the weather, during some months it's very hot and humid, some months are rainy and some months are cooler. See my guide on the best time to visit Zanzibar here.
People are very used to tourists these days, so you won't be lynch-mobbed if you show a bit of shoulder or your knees, but it's still seen as respectful to cover up.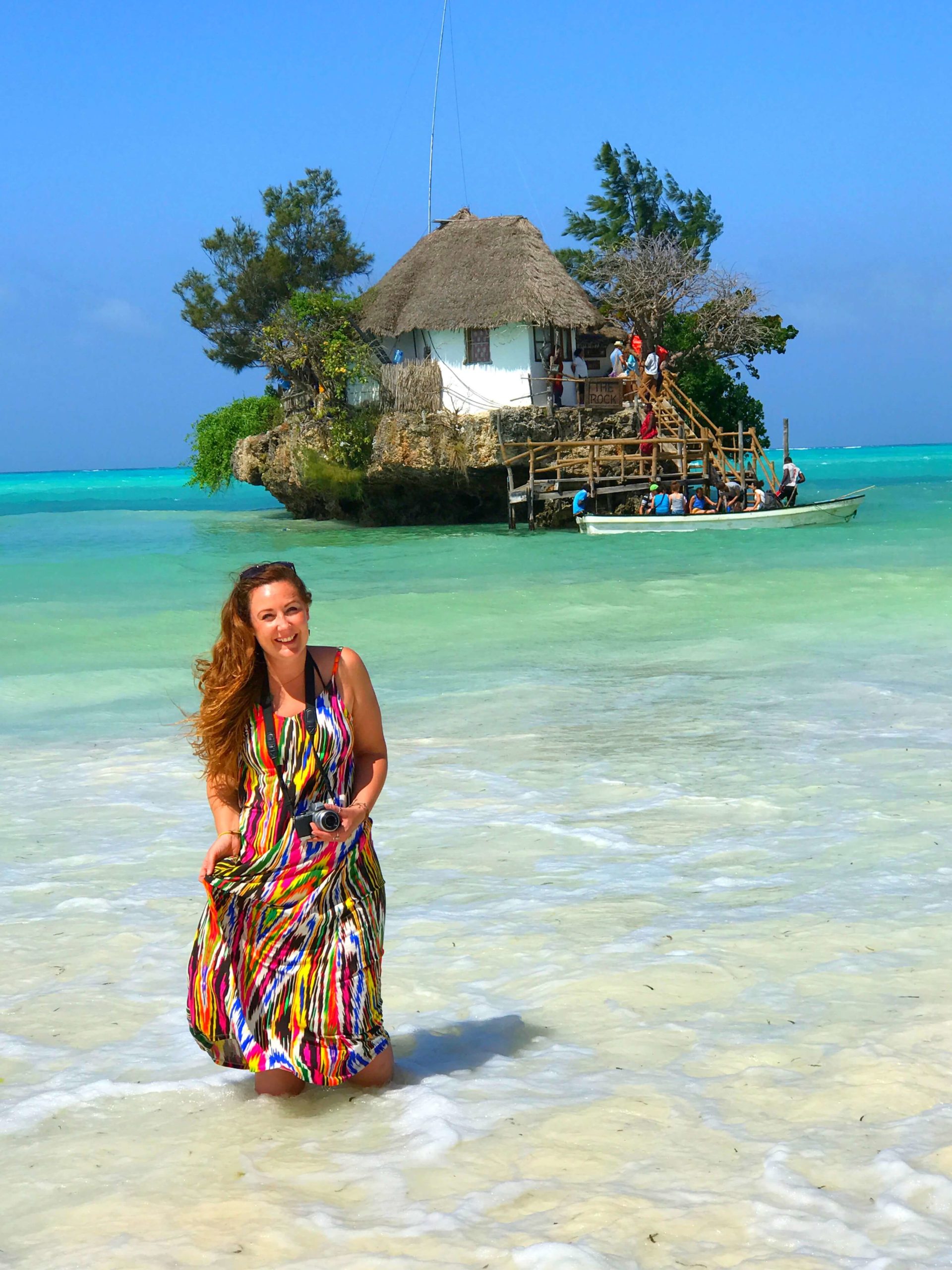 What To Wear in Zanzibar – Packing Essentials
Maxi Dresses
Maxi dresses are great for Zanzibar. There's plenty of relatively cheap ones online at places like ASOS or H&M. Just make sure the ones that you have for the day don't have huge splits in them! 
If you don't have one already, you can buy them in Stone Town.  I have a few of the long dresses you see in the picture below and they're great for wandering about in. I always get lots of compliments "You look like a Zanzibari woman!"
Sometimes I style it up with a belt, or just let it hang loose for a more casual look.
If you're worried about chafing, wear a pair of these under your dress (oh, to have a thigh gap).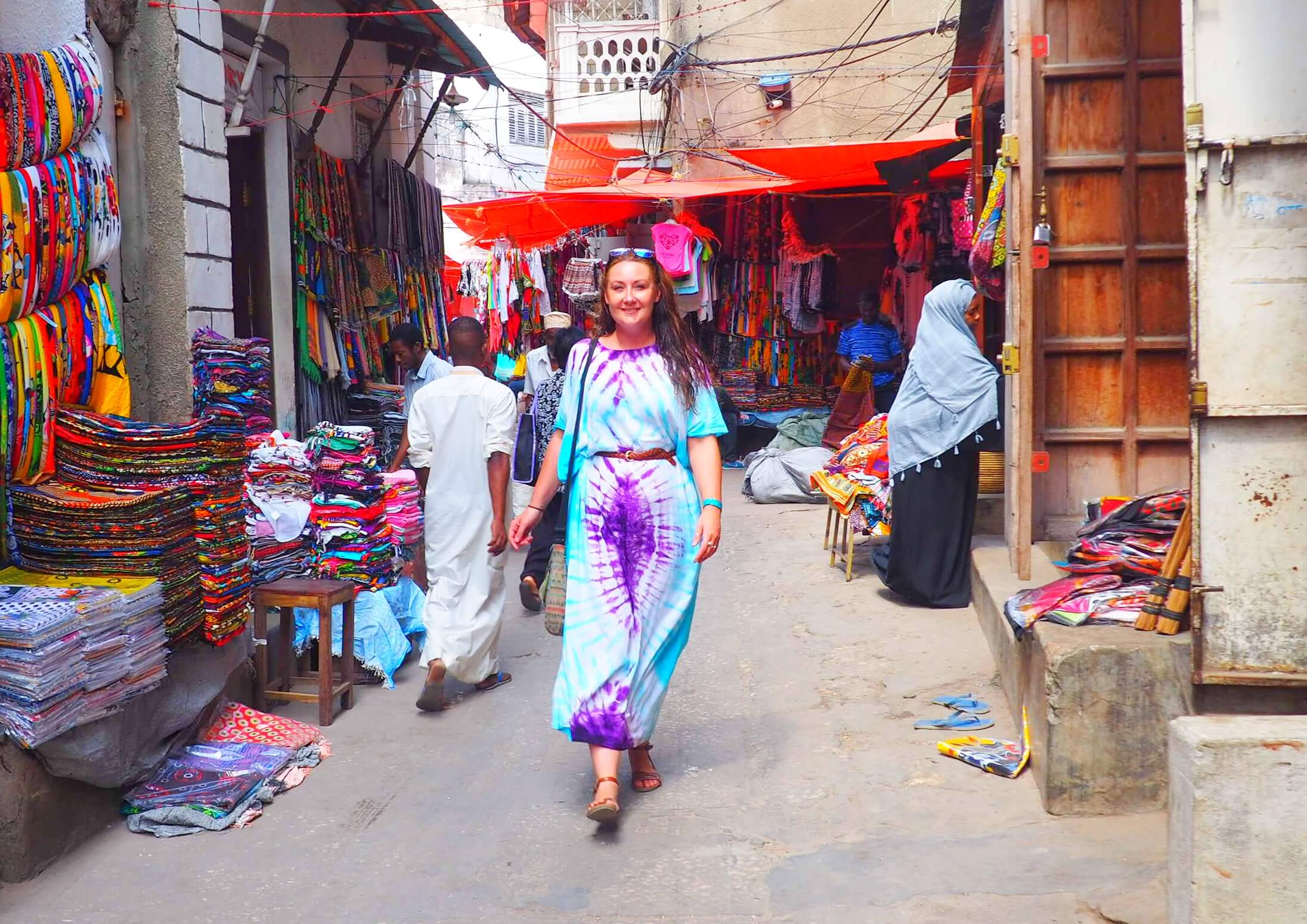 Kimonos
I live in kimonos. They are the most amazing item of clothing ever and I own about 7 of them in different colours.
They're great for sun protection, covering up when it's culturally appropriate, keeping warm on cooler nights, and dressing up an otherwise boring, plain dress. 
A lightweight cotton shirt works too and these are also useful for wearing on safari, to protect from the sun and the mosquitoes.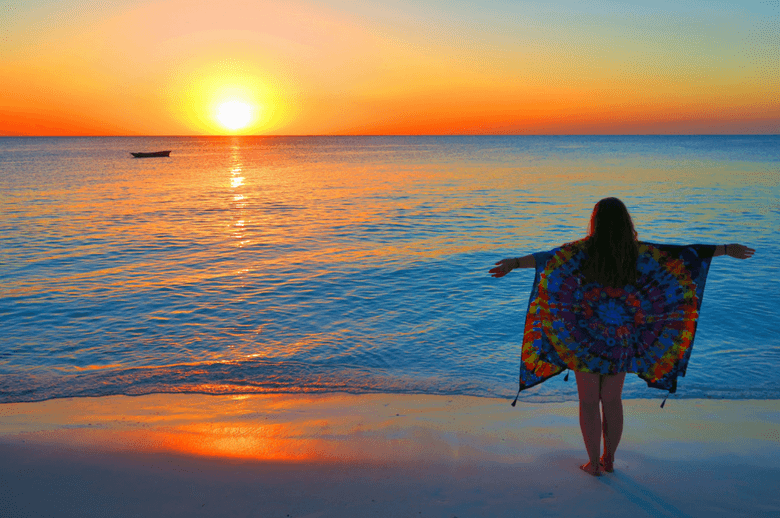 Scarves
I usually carry a scarf with me to cover my shoulders if I'm going out and about in Stone Town and don't want to wear anything too heavy.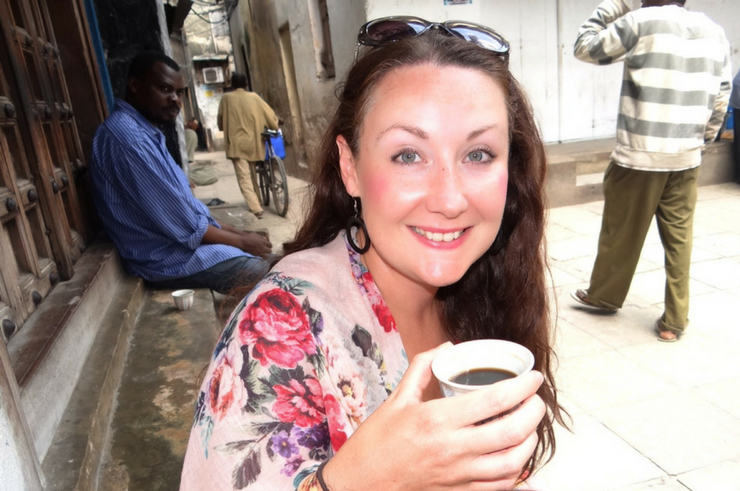 Sarong
Sarongs are great for just throwing on when you're walking about on the beach and also great for sun protection too.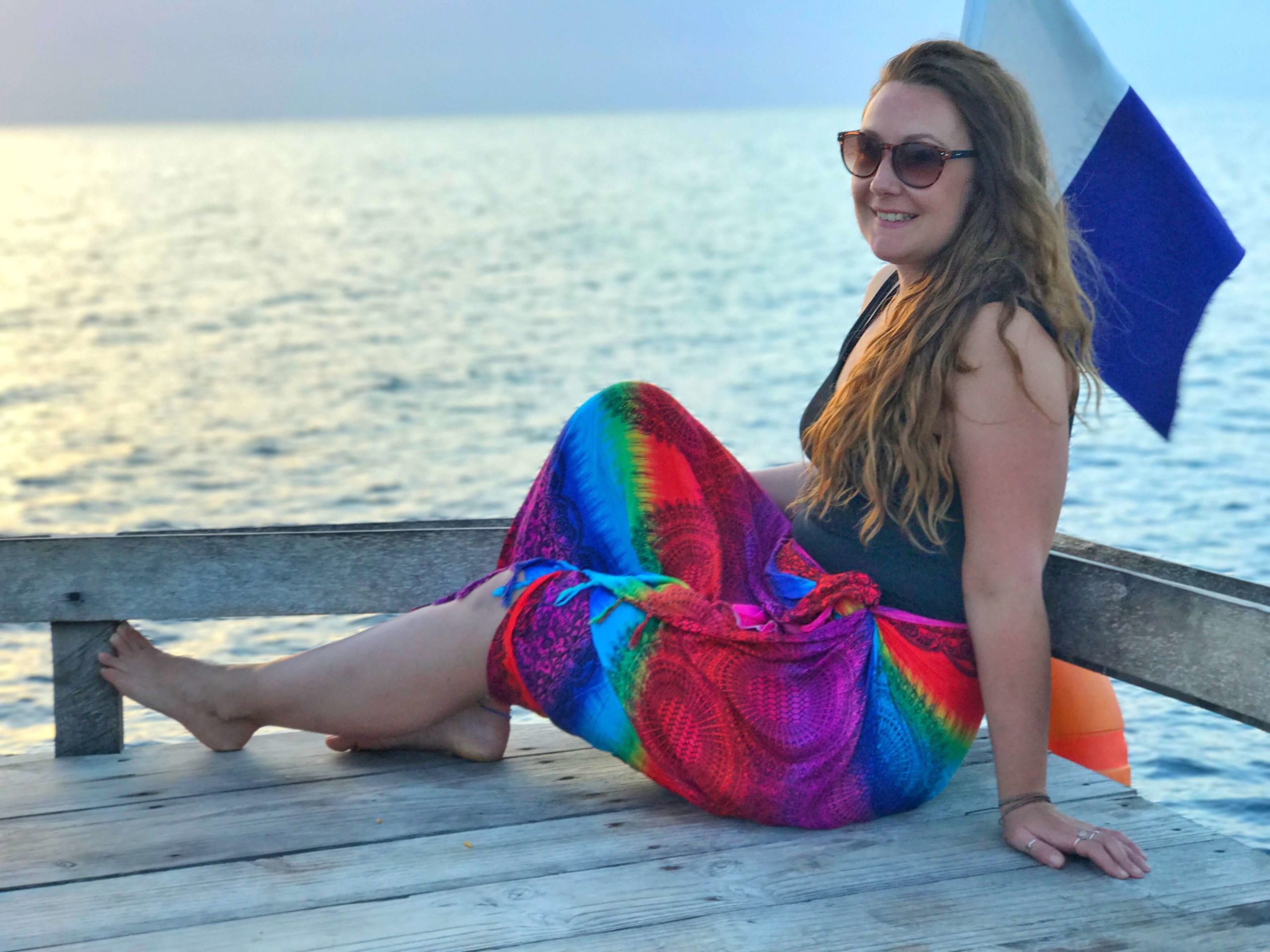 Harem Pants
Harem pants are great to wear too. They're loose and usually pretty cool to wear.
Many of the local shops sell them, so if you'd like to support the local economy, try Gizenga or Hurumzi Street.
You find some great harem pants here.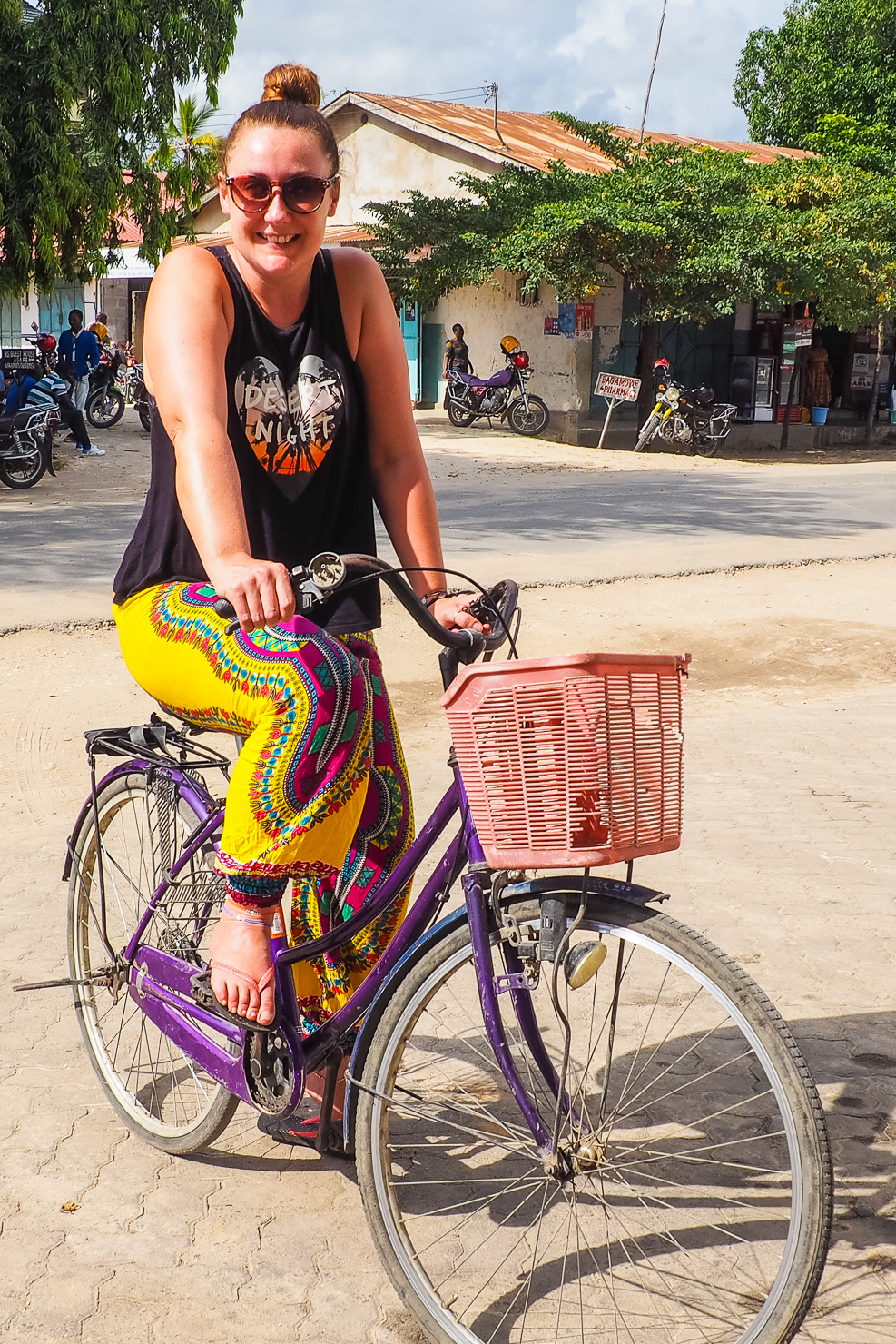 Leggings 
Leggings are a good way to make a less appropriate dress, more appropriate.
For instance, the dress I'm wearing below is a tiny beach dress, but by adding a vest top and leggings underneath, it made it ok to wear (although this picture wasn't taken in Zanzibar, but on the mainland)!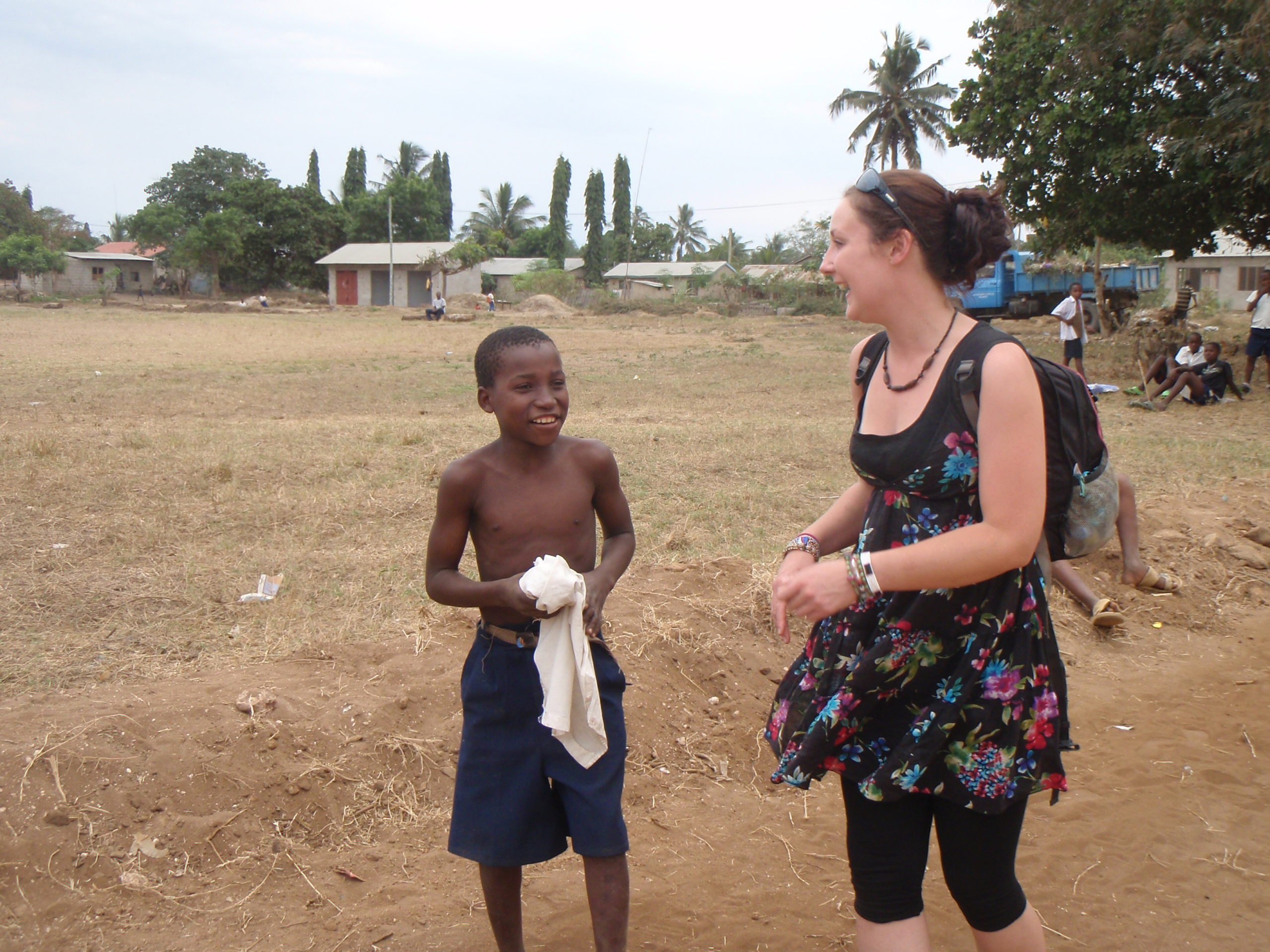 Other Cultural Considerations
Don't give sweets to children. It's not healthy and teaches them bad habits.
Don't take photos of random children you don't know without their parent's permission, you wouldn't at home, so don't do it here either (I know the little boy in the photo above – in case you were wondering).
Do not take photographs of specific people unless you ask them first (hence why there aren't many people in my pictures). Younger people tend not to mind so much (many have smartphones and Facebook), but some people can take offence. It's getting more relaxed as tourism grows and it's fine for a general scene from a bit of a distance, but if you want to take a close up of any people, ask first. Some will be fine with it, some will say no and some will ask for money.
As with many places in Africa, it's often illegal to take pictures of government buildings and people and at border control. You risk getting into trouble if anyone sees you and you may well lose your camera.
Zanzibari men and women don't do public displays of affection, so you shouldn't either, especially not in Stone Town and the villages. Holding hands is ok, but more than that is not, unless you are somewhere quite private. In the beach bars, nightclubs and on the beaches, it's a lot more relaxed.
Homosexuality is still illegal in Zanzibar. Public displays of homosexuality, even something as small as holding hands or kissing is not tolerated and can lead to arrest and imprisonment, that includes foreigners.
You shouldn't drink, eat or smoke on the streets during Ramadan. It's not illegal but very impolite as most people are fasting. 
Follow the rules, especially during Ramadan which is a religious and sacred time.
If you follow my advice on what to wear in Zanzibar and follow the cultural rules, you should have no issues! Karibu!
---
| | |
| --- | --- |
| | Subscribe to receive your FREE Africa Packing Checklist! |
Join one of my Tanzania & Zanzibar group tours or buy my Backpacking Africa e-book!