Last updated on January 14th, 2023 at 12:35 pm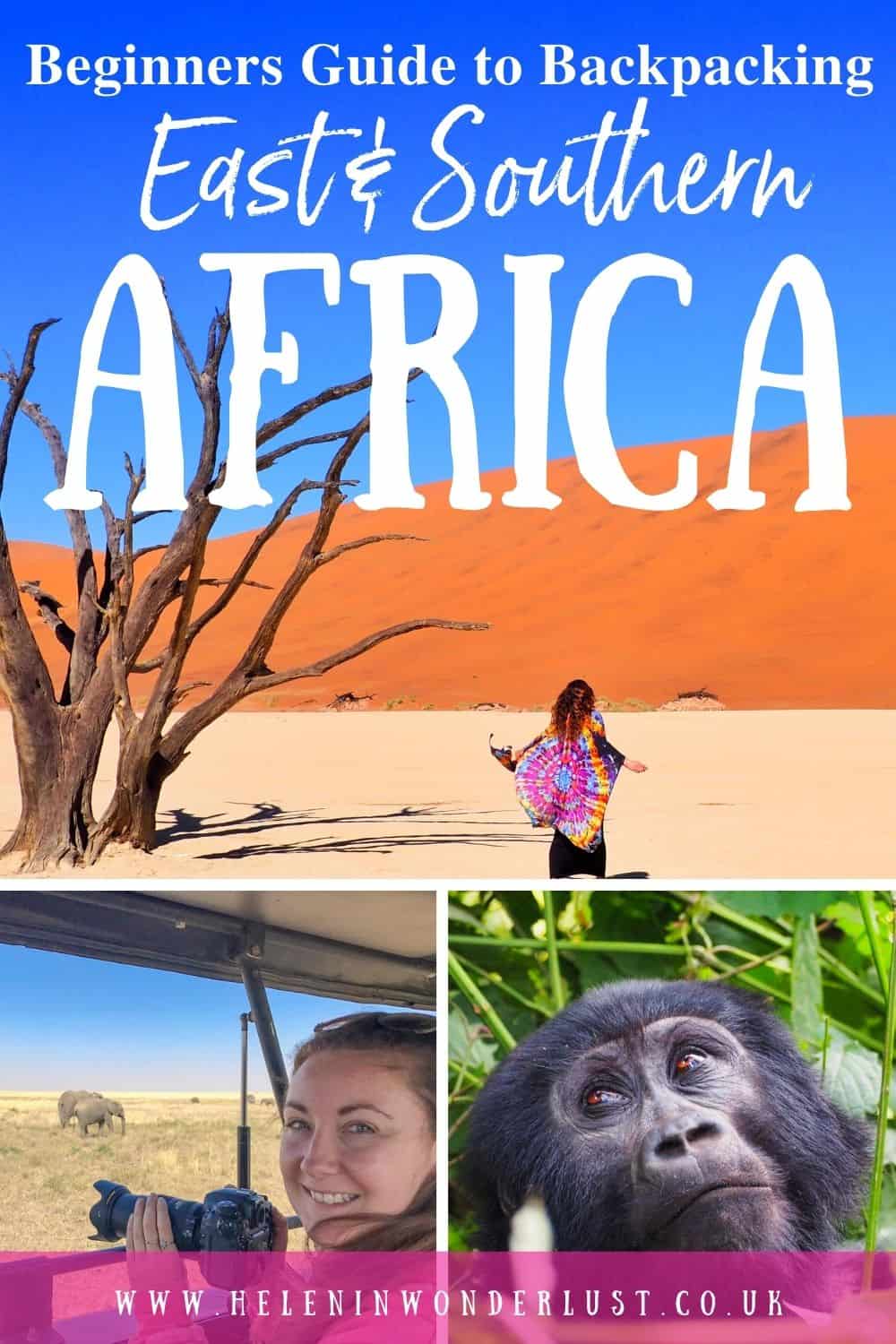 Africa – that far away place that your parents don't want you to go because on the news they say loads of bad stuff happens there.
Africa isn't the first choice for most backpackers, but it was for me. In 2009 I booked a round the world ticket (my first ever solo trip) that started with 6 months in Africa, travelling through 9 countries and included volunteering, overlanding, independent backpacking and road tripping. I fell in love with the continent and have returned a number of times since for both travel and work.
Africa isn't always easy to travel around, especially independently, but it is do-able and no matter what, it's always an adventure. Are you ready to go on the best adventure of your life?
The Beginner's Guide to Backpacking East & Southern Africa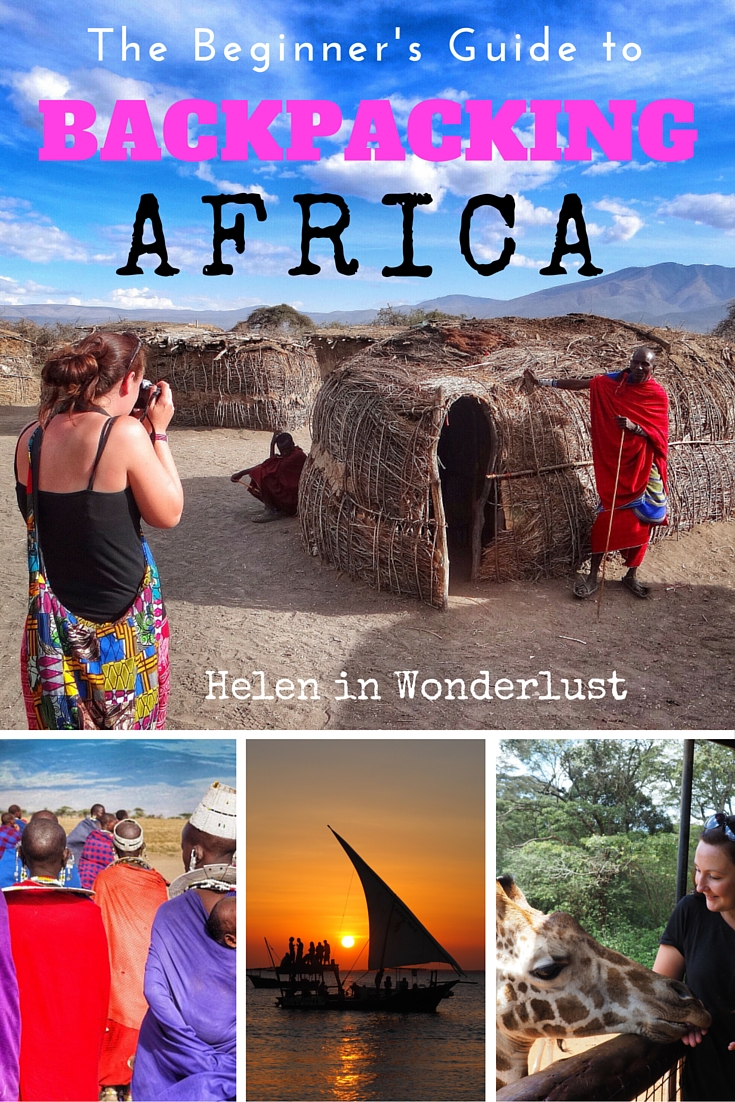 Planning Your Route – When & Where To Go
The Africa travel trail is well worn and the overland companies take you to most of the major highlights. However, if you are travelling independently, you can still follow similar routes (they're all listed on pretty much every overlanding company website, usually starting or ending in Nairobi or Cape Town) but you'll also have the freedom to venture off a little bit and go places the overland trucks don't go, like the 'other' Zanzibar islands, or the east coast of Kenya, to northern Namibia to see more authentic tribes people or to Amboseli National Park.
Being such a big continent, it's quite difficult to plan a route that will allow you to visit every place you want to go at the 'perfect' time of year, so maybe base your trip around a few key events or factors. For instance, you might want to go time your safari in Kenya and Tanzania during the great migration, go to Malawi for the Lake of Stars festival, climb Kilimanjaro when it's not raining, visit Victoria Falls when the water level is at its highest and most impressive or when it's at its lowest so you can jump in the Devil's Pool or dive with whale sharks in Mozambique.
So I'd start by working out your 'must see and do's', the best time for them and then planning a route from there.You'll still have an great time and see loads of  stuff whenever you go! I'd just try to avoid the rainy seasons as much as you can because some roads can become difficult to navigate.
Whilst it's good to book some things, I'd also leave a bit of flexibility in your itinerary too. There's bound to be somewhere amazing you'll hear about from other travellers and it would be a shame to miss out because you're on a really strict schedule. I've made this mistake before.
Getting There
Flights to Africa are more reasonable than a lot of people realise and most cities have international airports. If you're doing a top to bottom (or vice versa) trip, the two easiest places to fly to are Kenya or South Africa. From either country it's really easy to move along to the next destinations. But there are loads of cities you can fly to. International airlines that fly to Africa include Emirates, Turkish Airlines, British Airways, South African Airways, Virgin Atlantic, Ethiopian Airlines, KLM and Kenya Airways. I usually check Skyscanner or keep an eye out for the sales for the best deals.
Getting Around
I think the getting around puts a lot of people off backpacking Africa, but independent travel is pretty straightforward, if not occasionally a bit long winded. Mini buses, shuttle buses, coaches, taxis and private transfers are usually easy to come by and South Africa has the Baz Bus, which I guess is similar to some of the buses that go around Australia or New Zealand. There's even the odd train, ferry and if budget allows, flights. Just expect a few long or delayed journeys – it's all part of the Africa fun.
You can also hitchhike, however I would do this by asking someone at your accommodation if they know anyone passing through who can give you a ride. I wouldn't suggest hitchhiking from the side of the road, especially on your own. 99% of people will be fine. But you just never know. Don't put yourself in a vulnerable position. I would also avoid travelling on buses at night in a lot of places.
If you're looking to go to a particular tourist spot outside of the city, there will always be a way to get there. The easiest way is to ask at your hotel/hostel. There will always be someone who can help you get from A to B. You may not get there in the way or on the day you planned, but you will get there. Although I will warn you that public mini buses, whilst the cheapest way to get around, are often over packed, do not have seat belts and they haven't got the best reputation for safety. Best used for very short journeys. If in doubt, get off if it's safe to do so. I'll talk more about safety below.
There may be times when you need to be a bit creative and flexible, like the time I joined a 4 day safari from Lilongwe, Malawi to South Luangwa, Zambia, which was due to return on the day of my flight. Worried we'd be back too late, I asked if it would be ok to make my own way back to Malawi a day earlier. The safari company gave me a discount for the day I was missing and said I should ask at the bar of the safari camp when I got there and they'd help me find a way back to Lilongwe in time. It may have taken me 12 hours, 2 squished mini buses and 2 taxis (instead of 8 hours in a comfortable safari jeep), but I got back to where I needed to be without a problem.
There's also the option to self-drive. This is a great option especially in South Africa and Namibia, if you want to get off the beaten track, want to stay in remote areas or camp. But having a good car (I'd suggest a 4WD if you wanted to take it on safari) is essential for most places a basic knowledge of mechanics would be very handy, as the roads will take their toll on the car. Being a confident (and competent) driver also helps as the traffic can be horrendous in some of the big cities (Nairobi and Kampala I'm talking to you) and outside of the cities the roads are often unmarked, very dark at night and un-tarmaced. Oh and some police officers at road blocks love to fine you for not having the 'right paper work', or whatever other reason they can think up. But how would you know? Corruption is rife in Africa, know your rights or have a few $20 bills at the ready. But don't let this put you off, a self-drive is quite an adventure.
If you don't fancy self-driving, you may need to take the occasional short tour or safari to see some places where public transport does not go.
Last but by no means least, there are overland tours, probably the safest and easiest option for travel around Africa. Still backpacking, but you're taken around from place to place in effectively a huge truck, with between around 6 and 30 other backpackers and a tour guide. These trucks traverse the whole of East and Southern Africa and you can stay on them for varying time periods. The cost of trips include accommodation (usually camping occasionally hostels/hotels), food, transport and some activities. This is also a really cost effective way to get around Africa. The only downside is that the schedule isn't flexible, so if you really like a place, unless you forfeit your trip, you'll have to move on with the truck.
Accommodation
There are a lot of great places for backpackers in Africa, it's just knowing where to find them. A lot of the best ones are the campsites that cater for the overlanders (not in the city centres), so if you are an independent traveller, they can be a bit more tricky to get to, but worth the effort if you are not restricted on time.
If you're overlanding all of your accommodation will be taken care of and you won't have to lift a finger. If you're on a self-drive, with your own camping equipment, you'll usually be able to stay at most of the same camps as the overanders and occasionally some hostels (if they have room). If you are using public transport, many of the camps have dorms or tents you can hire. You could bring your own tent, but it will be a pain to carry around on public buses, so I'd probably not bother.
In lots of places there are backpacker hostels, but in others I found it hard to find accommodation in the centre of town or near to the transport links. For example in Tanzania and Zanzibar, I found hostels in Arusha and Kendwa but struggled to find any many in Dar es Salaam or Stone Town, so I stayed in hotels. Dar es Salaam did have a couple for the overlanders but they were an hour out of town and as I had early busses and ferries to catch, I would have had to pay a lot in taxis to get back into town, so I just took the hit.
You'll just need to do a bit of research on 'backpackers' places, ask me in the comments below or ask your fellow travellers, they'll always have recommendations of where they've been or where they're going to. I would try to book in advance if you can, even if it's just a few days before as there isn't an abundance of good places, especially in high season. The place you are staying should be able to tell you how to get from where you are to them.
Where To Meet Other Backpackers
You'll meet some great friends in Africa. But I will warn you, there won't be as many travellers mooching about freely like in Southeast Asia. When I was in Southeast Asia, I was like the Pied Piper, collecting people en route through Thailand, Laos, Vietnam and Cambodia. By the time I'd done the full circle and reached Thailand again, I reckon I travelled with around 30 other people. But Africa is not quite the same.
You'll meet a few backpackers and you may go on to travel with some of them or be safari buddies (this will save costs), but you'll also meet a lot of locals, expats, NGO workers, holiday makers and overlanders who will be your besties for one or two nights but who have set plans, so be prepared to do some of your journeys completely on your own. Cherish the moments you're with people, and the moments of solitude. This is what makes Africa travel the best. It's a bit more challenging and much more of an adventure than a lot of other places.
With the above in mind, the places where I met the most fellow independent travellers to hang out with were in South Africa (anywhere, the backpacking scene is quite established there), Zanzibar (beach towns of Kendwa and Paje), Kenya (Nairobi), Zambia (Livingstone & Lusaka), Namibia (Swakopmund), Malawi (Lilongwe, Kande Beach and Cape Maclear), Uganda (Bujagali Falls/Jinja).
Hostel bars or trips to various tourist activities are usually the best way to meet people. If there's someone in my dorm when I arrive I usually just ask them if they fancy grabbing a drink at the bar, or if not, I grab a drink first and chat to whoever is in the bar or behind it. Very rarely is anyone not receptive. Once you've met the first person, it becomes easier and easier to meet more people.
Language & Culture
Africa is diverse and so are her peoples, however there are a few commonalities that will help you on your travels.
There are thousands of African languages, but the great thing about travel in East and Southern Africa is that English is widely spoken, so it's so much easier to just ask the average person in the street for directions or help than it is in say Southeast Asia. But learning a few words in the local language will gain you a lot of respect, as greetings form a big part of the culture in most African societies. "Hello, how are you?", "I'm fine/good!", "Thank you!" —œ all go a long way. A handshake is also very much appreciated.
Most Africans I've ever met are very friendly, welcoming and hospitable, but I've also come across quite a lot of people who are quite wary of foreigners, especially away from the tourist scene. Not surprising really, as it wasn't that long ago that much of Africa was under colonial rule and there is still a lot of evidence of that today. I'd love to say there are no divides between different communities, between the rich and the poor, the mzungus and the locals but that's not true. I'd love to say I've never seen racism in Africa, I've had it directed at me and I've seen it directed to locals by other locals (stories for another time perhaps) but it happens. You're not going to be able to breakdown any deep-rooted beliefs overnight, but you can represent your country in the best possible way by being friendly, respectful, culturally sensitive, being non exploitative and remembering that there are people around you who have very little.
In Africa, everything works on a different clock I swear. This is affectionately known as 'Africa Time'. Don't expect things to work in the same way it does at home. It just doesn't. Things will go wrong. Embrace it, learn from it. Enjoy the slow pace. Having patience is the difference between being a great Africa backpacker or not. Getting angry doesn't work.
It's nice to dress relatively conservatively too, especially in Muslim areas (such as East Coast Tanzania and Kenya, Mozambique and Zanzibar – other than the beaches). It's a bit more relaxed elsewhere, but I would still say at local markets, churches, schools etc, keep your knees, chest and shoulders covered ideally. At tourist spots, hotels and beaches you can usually wear what you want! If you are unsure, check with someone where you are staying.
Budgeting & Money
Doing anything remotely touristy in Africa, usually comes at a price. Safaris, white water rafting, diving, eating in restaurants – it all adds up. But there are plenty of free or cheap things to do and costs vary from country to country. I did a lot of the typical tourist activities and budget safaris when I was last in Africa and generally spent around £56/$82 per day. If you are travelling on a shoestring (not doing loads of safaris, eating at local restaurants/cooking for yourself, using local transport and camping/staying in dorms) you could at least half that. Another way to save on money is to find buddies to share costs for things like rental cars or safaris. Don' be afraid to negotiate too. Most prices are flexible!
I always suggest taking a mix of dollars (for visas and some excursions), your own currency (if that's dollars, take more dollars, if it's eg. GBP, take GBP) and change it for local currency when you get there and also ATM cards (Visa is the most widely accepted). If you can get local currency before you go, you can do that too.
I usually spread my money out into different wallets, and keep it in my day bag when I'm on the move or in the hotel or overland truck safe when I don't need it. Just take what you need on a daily basis. Dollars should be dated after 2003, but the later the notes are dated the better. Damaged or defaced notes will not be accepted.
Health & Safety
This is a massive topic, not just for Africa, but travel in general. I wrote about this topic in my Top Africa Travel Tips post, so I recommend that you give that a read. But in a nutshell, my health and safety tips are.
Make the proper medical preparations with vaccinations and anti-malarials. A Yellow Fever vaccination certificate is an entry requirement for some countries and remember malaria is rife in some areas.
Whilst your there, staying healthy usually consists of keeping yourself clean, protected from the sun, watered and as mosquito repellent as possible. Remember malaria is rife in some areas.
Don't travel at night, the roads are often bad and unlit wih people/animals on them and there are bandits in many areas.
Don't flash your cash.
In areas where there is wildlife, you need to be extra careful, you don't want to run into a lion or hippo in between your tent and the loo, check for eyes before you leave your tent using a torch -Â your safari guides will brief you on this.
Don't get too drunk – keep your wits about you.
Stay away from any areas that are where there is known political unrest.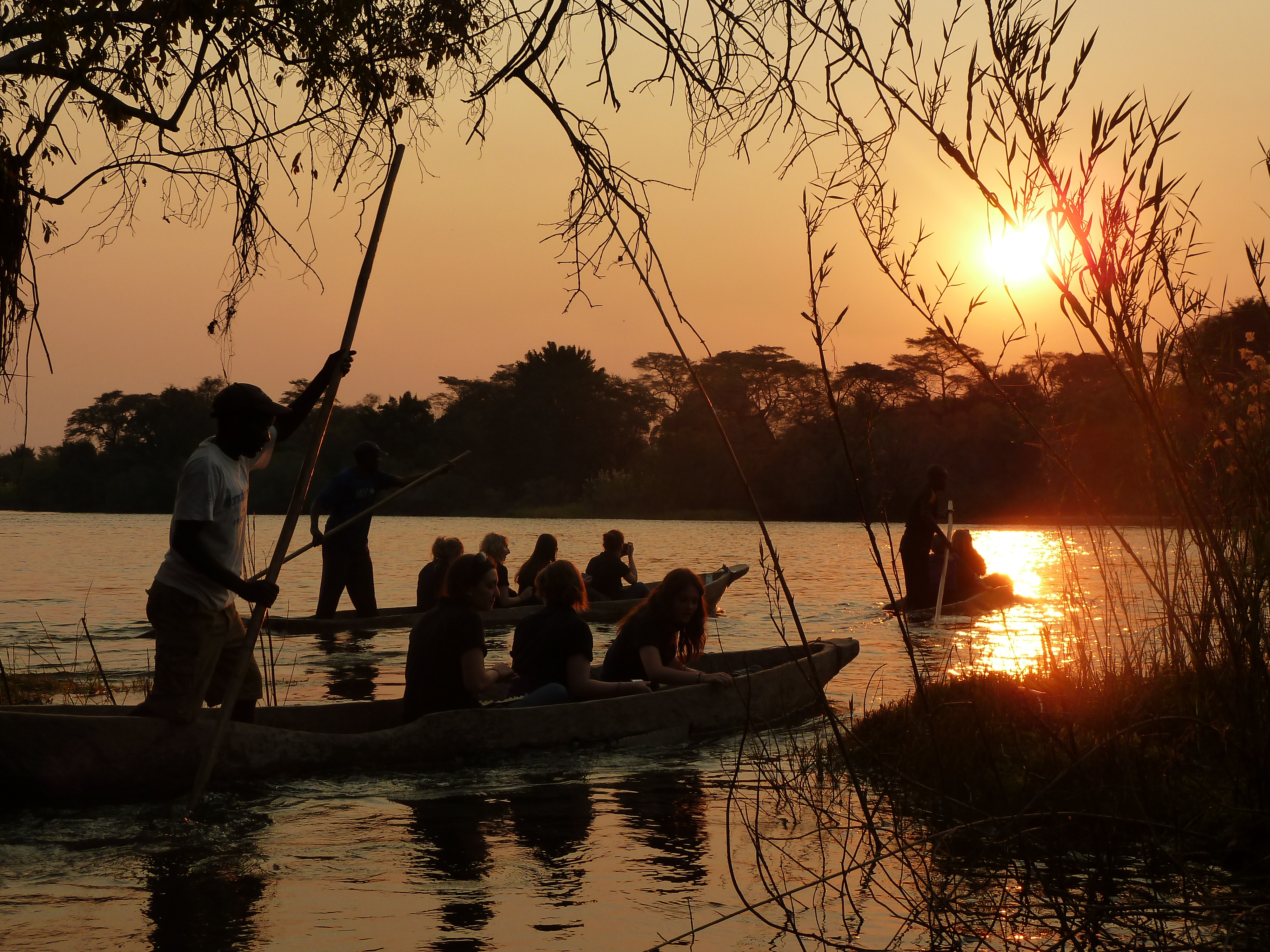 Visas & Border Crossings
Almost all visas from East and Southern Africa can be bought at the point of entry (except for Ethiopia I think) and will always need to be paid for in dollars. There may be some cases where if you want a double or triple entry visa, you may need to apply in advance. To be on the safe side, I always use Project Visa to check entry requirements before I go. But if you are travelling with an overland company, they should also give you advice.
Even if you're not on a tour, border crossings should not be scary things. They're pretty straightforward usually and I've never had a bad experience. Have your dollars ready (so you're not getting all your money out in public), but don't hand them over to anyone besides the person behind the desk, have at least 3 free pages in your passport at all times and walk with confidence. If you're ever worried, make friends with a local on the bus, they'll always help you and most people will know if an 'official' is trying to bullshit you!
And take loo roll and wet wipes. There's usually a toilet at the borders, gotta take the opportunities whilst you can.
Travelling around Africa is a lot easier than most people think. Sure, it's tough at times, but believe me, it is worth the effort! If you're looking for real, life changing, challenging adventure travel, then Africa is for you!
Read more about Backpacking in Africa:
Would you go backpacking in Africa? Or have you been? What did you think?

Want to come on an incredible African adventure in 2018 or 2019?
If you want to go backpacking with an awesome group of likeminded travellers, then join one of my 2018 or 2019 Rock My Adventure small group tours to Namibia, Kenya, Tanzania & Zanzibar, Uganda, Rwanda & the DRC, Zambia, Botswana & Malawi and Morocco!Â
I will show you a different side of Africa. Not the Africa you see in the media, but the colourful, adventurous, wild and real Africa I know and love.
Rock My Adventure tours are experiential and culturally immersive adventures, but without the hassle of having to find accommodation, working out how to get from A to B and booking all your own activities.
They are laid-back and fun, a bit like an independent backpacking trip (so it doesn't feel like a tour) but with a group of friends built in —œ the best of both worlds! Plus you get comprehensive pre-departure support and advice from me!