Do you want to experience amazing, adventurous and authentic Africa? Then you've come to the right place!
I LOVE Africa and have been fortunate enough to spend the last 11 years exploring the continent, having amazing experiences and meeting wonderful people – and I want to help you do the same!
So let me introduce you to…
Rock My Adventure – Small Group African Adventure Tours
Founded in 2016, we offer small group African adventure tours that incorporate the best elements of solo travel, with the best elements of more traditional group tours, bringing together individuals for fun, laid-back flashpacking* trips but without the stress of planning and booking everything yourself.
* Flashpacking means trips with the adventurous style of backpacking but with much more comfort.
Our aim is to literally rock your adventure and make sure you have an amazing experience on your trip to Africa by organising an epic and culturally immersive itinerary, at an affordable price, plus you get comprehensive pre-departure information and a ready-made group of travel buddies!
We work with and support locally run businesses to show you the Africa we know and love and ensure you have a unique, magical, once in a lifetime adventure!
We go on amazing safaris, climb mountains and go gorilla trekking, but we also visit local markets and villages, take you off the beaten path, go to the local bars and restaurants and introduce you to our local friends.
Our exciting, fun and cultural trips take place in Kenya, Rwanda, Uganda, the DRC, Tanzania, Malawi, Zambia, Botswana, South Africa, eSwatini, Lesotho, Mozambique, Benin & Togo, with new destinations being added as we grow.
Who are Rock My Adventure tours for?
Rock My Adventure trips are primarily for solo travellers or small groups/couples who want to go on an African adventure but don't want to go alone or on an expensive private trip.
Our trips are suited to those who want an authentic, adventurous (and comfortable) Africa backpacking/flashpacking travel experience but without the hassle of doing it all yourself, so that you can make the most of your vacation.
Africa is amazing! But travelling solo in Africa isn't for everyone and it can also be a pain to plan and organise, especially if you are short on time. Some of the places we travel to are notoriously difficult, expensive and lonely to travel to by yourself, so we solve that problem by providing you with an awesome itinerary, planning support and a group to experience it all with!
We take care of everything so you can relax and have an awesome time!
Each tour is created by me (Helen) and my aim is to help you experience the magical Africa I love, whilst giving back to the local communities we visit.
Our groups are limited to 12 people to ensure that the trips don't feel too 'tour' like and this also allows us to get to know each other properly and make friends as we go.
If you're looking for an authentic African adventure, want to make new friends and maximise your time – then Rock My Adventure is for you!
Read more about us on the Rock My Adventure website or scroll down to find your perfect African adventure below!
---
Rock My Kenya & Tanzania Adventure
Trip Highlights
Go on safari in the amazing Masai Mara.
Spend time with Helen's Maasai friends in an authentic Maasai village.
Explore the cosmopolitan city of Nairobi.
Go on safari in the Serengeti and the Ngorongoro Crater.
Chase waterfalls in Moshi.
Explore fascinating Stone Town.
Relax and party on the beautiful beaches of Zanzibar.
---
Rock My Malawi, Zambia & Botswana Adventure

Trip Highlights
See stunning Victoria Falls in all her glory.
Go on safari in my favourite national park in Africa, South Luangwa.
Relax, snorkel to see the colourful cichlids and get a taste for local life in Cape Maclear on Lake Malawi.
Spot thousands of elephants in Chobe National Park in Botswana.
Explore Malawi's fun capital, Lilongwe.
Live like a local in my old home, Livingstone.
---
Rock My Uganda, Rwanda & DRC Adventure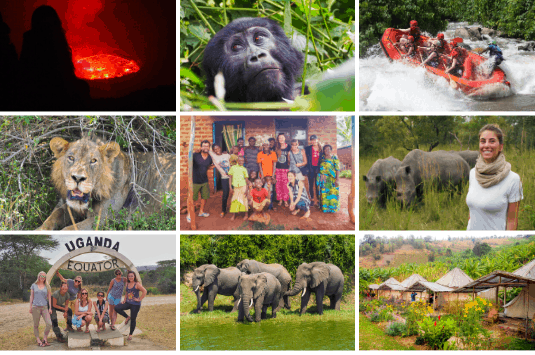 Trip Highlights
Spend time with mountain gorillas in Bwindi Impenetrable National Park.
Climb Mount Nyiragongo in the Congo and feel the heat from the world's largest lava lake.
Go on safari in Murchison Falls National Park.
Experience local life on stunning Lake Bunyoni.
Explore Rwanda's beautiful capital, Kigali.
Spend time in Jinja, the adventure capital of East Africa.
---
Rock MyMount Kilimanjaro Adventure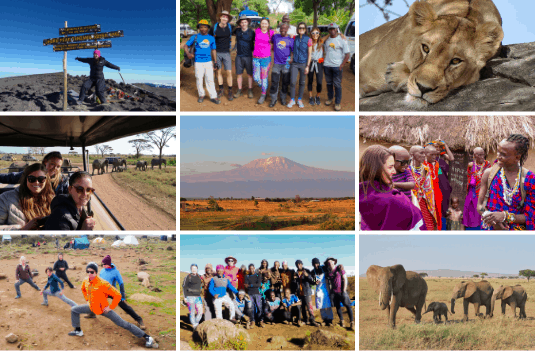 Trip Highlights
Join a fabulous team to climb Mount Kilimanjaro, Africa's highest mountain via the beautiful Lemosho route.
Be part of an awesome and fearless team.
Spend time with the Maasai people and visit the Kikuletwa Hot Springs.
Learn how to make coffee and visit the Kilkuletwa Hot Springs.
Go on safaris in the world famous Serengeti, Lake Manyara and the fabulous Ngorongoro Crater.
---
Rock My South Africa, eSwatini & Mozambique Adventure
Trip Highlights
Go on A 3-day safari in the incredible Kruger National Park.
Explore the exciting city of Johannesburg.
Learn about the fascinating Kingdom of Swaziland.
Swim with whale sharks in the warm waters of the Indian Ocean.
Try the amazing local seafood and hang out at the best local spots in the fun capital, Maputo.
Relax, surf, swim on the beautiful beaches of Tofo.
---
Rock My Botswana & Victoria Falls Adventure
Trip Highlights
Go on a canoe safari into the world-famous Okavango Delta.
Go on safari in Savuti, Khwai and Chobe National Parks – 3 of the best safari destinations on the planet.
Spend time with the wonderful San people of the Kalahari.
Spend time in Livingstone, the adventure capital of Africa.
Swim in the Devil's Pool.
Visit the 'Smoke That Thunders' – the incredible Victoria Falls.
---
Rock My Northern Kenya & Lake Turkana Adventure
Trip Highlights
Go on a group expedition to Kenya's frontier.
Hike Mount OloGo on A 3-day safari in the incredible Kruger National Park.
Visit the incredible women of the Umoja Women's Village.
Spend time in the villages surrounding Lake Turkana, aka the 'Jade Sea'.
Explore the cosmopolitan city of Nairobi.
Go on safari in Marsabit National Park and Samburu National Reserve.

Have sundowner drinks overlooking the Chalbi

desert.
---
Testimonials
"After our first incredible safari day in the Masai Mara, I wondered how the rest of the trip could compare but every day after was as impressive as the last. I've wanted to visit Africa for as long as I can remember and all of my expectations were exceeded. We got to experience, city, safari, jungle and beach, spent some time off the beaten track with locals and some time on the beach with other tourists. It was a perfect balance. The trip was so well organised and Helen managed to ensure that everything ran smoothly, while spending time with us and sharing everything she knows of Kenya and Tanzania. It was so lovely to experience all of these moments with a group of people that were equally as excited as me, Helen included. Coming home was very difficult, but it's even harder trying to decide which trip I'll go on next……"
You can read Sinead's full review on Tripadvisor here.
SINEAD | IRELAND | ROCK MY KENYA & TANZANIA ADVENTURE
"It has taken me 8 months to write this review because I couldn't find the right words to describe it. It was perfect. Helen (you) are the perfect host. You know your stuff. You are good to the local guides you work with. You were always smiling, It was by far the best thing Jon and I have done together since backpacking through SEA in the early 90's. You gave us the opportunity to experience a kind of authenticity that we thought was lost to 'iPhone travel' (the type of travel that no longer requires a book, a guide and help from the locals). We thought we had lost the opportunity to feel that authentic travel. We are very experienced travellers, flashpackers, and there is no way we could have arranged this on our own. We loved that it never ever felt like we were on a tour. We felt like we met up with long lost friends for a backpacking reunion. The cast of characters and the relationships formed were because of how you put this trip together. It. Was. Life-changing. The trip was so good Helen. I am so lucky I stumbled across your site. I've recommended you to everyone I know. Thank you."
HEATHER & JON | CANADA | ROCK MY UGANDA, RWANDA & DRC ADVENTURE
"This is what traveling in Africa should be like. The Kenya & Tanzania adventure hits up all the highlights (and then some), and really lets you immerse yourself in East Africa in a way that's still comfortable. The tour is great value for money, and don't be surprised if by the end you're already thinking about planning a return trip. It was even better than I expected! It was very well-organized, and I felt like we really did see the best of both Kenya and Tanzania. It was a nice mix of the "famous" highlights you expect to see, and also some unique local interaction."
You can read Amanda's full review on her blog here.
AMANDA | USA | ROCK MY KENYA & TANZANIA ADVENTURE
"I've been on 2 tours so far and I can't imagine going to Africa with anyone but Helen! I was looking for something different than last year's trip (Malawi, Zambia, & Botswana) and I got it! Cool mix of three very different African countries. It has a little bit of everything – big cities, small villages, beach time, and safaris! Plus getting to see two animals I've been wanting to see my whole life (whale sharks and rhinos) was a definite highlight. Helen was fabulous as always. She introduced us to many of her friends, which always made for fun experiences, and her restaurant recommendations are on point. She obviously cares about everyone who comes on her trips and makes a point to check in and make sure they're comfortable (especially when they're hurt or not feeling well) and enjoying themselves. She was good at reading our group vibe and altering activities so we'd get the most out of the trip. RMA gives you an amazing experience for a reasonable price. Thanks again for another great trip! I'm already looking forward to the next one. :)"
ANNIE | USA | ROCK MY SOUTH AFRICA, ESWATINI & MOZAMBIQUE ADVENTURE
"I've traveled far and around but this was one of the best trips I've had. It's not possible to tell all the beauty we had. Everything was amazing. Well organized, every detail was perfect. Helen was great, awesome personality, magic is the word for all she did for us. South Africa was my wish for a long time, and this was so perfect. I'm very glad and satisfied. After all, we had it all. Nature, cities, animals, vibes… I loved it. Can't wait for the next adventure!"
SANDRA | CROATIA | ROCK MY SOUTH AFRICA, ESWATINI & MOZAMBIQUE ADVENTURE
---
Any Questions?
To reserve your spot on any of these incredible trips or if you have any questions, please send me an email using the form below!
Limited places available so don't miss out!