Do you want to experience amazing, adventurous, and authentic Africa? Then you've come to the right place!
I LOVE Africa and have been fortunate enough to spend the last 11 years exploring the continent, having amazing experiences and meeting wonderful people – and I want to help you do the same!
So let me introduce you to…
Rock My Adventure – Small Group African Adventure Tours
Founded in 2016, we offer small group African adventure tours that incorporate the best elements of solo travel, with the best elements of more traditional group tours, bringing together individuals, couples, and small groups for fun, laid-back flashpacking* trips but without the stress of planning and booking everything yourself!
* Flashpacking means trips with the adventurous style of backpacking but with much more comfort.
Our aim is to literally rock your adventure and make sure you have an amazing experience on your trip to Africa by organising an epic and culturally immersive itinerary, at an affordable price, plus you get comprehensive pre-departure information and a ready-made group of travel buddies!
We work with and support locally run businesses to show you the Africa we know and love and ensure you have a unique, magical, once in a lifetime adventure!
We go on amazing safaris, climb mountains and go gorilla trekking, but we also visit local markets and villages, take you off the beaten path, go to the local bars and restaurants and introduce you to our local friends.
Our exciting, fun and cultural trips take place in Kenya, Rwanda, Uganda, the DRC, Tanzania, Malawi, Zambia, Botswana, South Africa, eSwatini, Lesotho, Mozambique, Benin & Togo, with new destinations being added as we grow.
---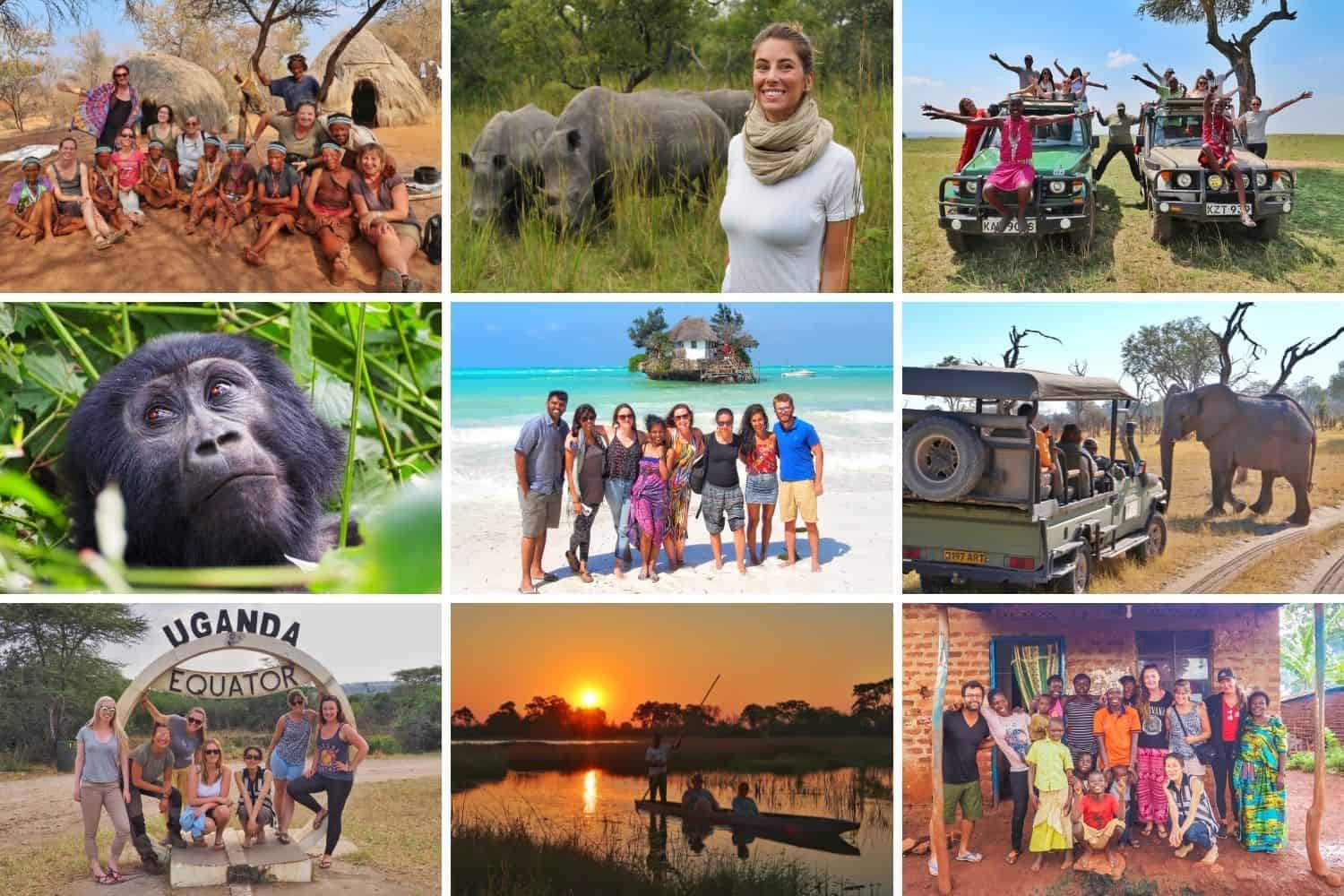 Who are Rock My Adventure tours for?
Rock My Adventure trips are primarily for solo travellers or small groups/couples who want to go on an African adventure but don't want to go alone or on an expensive private trip.
Our trips are suited to those who want an authentic, adventurous (and comfortable) Africa backpacking/flashpacking travel experience but without the hassle of doing it all yourself, so that you can make the most of your vacation.
Africa is amazing! But travelling solo in Africa isn't for everyone and it can also be a pain to plan and organise, especially if you are short on time. Some of the places we travel to are notoriously difficult, expensive and lonely to travel to by yourself, so we solve that problem by providing you with an awesome itinerary, planning support, and a group to experience it all with!
We take care of everything so you can relax and have an awesome time!
Each tour is created by me (Helen) and my aim is to help you experience the magical Africa I love, whilst giving back to the local communities we visit.
Our groups are limited to 12 people to ensure that the trips don't feel too tour like and this also allows us to get to know each other properly and make friends as we go.
If you're looking for an authentic African adventure, want to make new friends and maximise your time – then Rock My Adventure is for you!