Travel in Africa has always been a bit of an enigma. Scary, expensive, dangerous… those are some of the common misconceptions that come to mind when you first mention travelling Africa.
So I started this blog in 2013 to dispel the myths about this continent that I love so dearly and to encourage and help others to travel in Africa.
Then in 2016, taking all my knowledge and passion for Africa travel, I created Rock My Adventure because I want to show you a different side of Africa. Not the Africa you see in the media, but the colourful, adventurous, wild and real Africa I know and love.
Rock My Adventure is a small group Africa tour company for solo travellers, groups of friends and couples alike and for those who want to pack a lot into their limited (and precious) time.
Our aim is to literally 'rock your adventure' and make sure you have an amazing experience on your trip to Africa, by organising an epic itinerary at an affordable price, with a built in group of friends and without the stress of planning, booking and organising everything yourself.
Why choose Rock My Adventure?
The tours are culturally immersive trips created by Africa Travel Expert and Blogger Helen in Wonderlust, to show you a rounded portrayal of the countries we visit and leave you with a new group of friends and incredible memories.
We work with the best local operators to provide you with the highly personalised African adventure you've always dreamed of but without the hassle of planning it all yourself!
Rock My Adventure tours aren't typical 'tours'. They're fun, laid-back group trips, with an awesome, action-packed itinerary, and some free time to explore and do your own thing. Plus, you get a group of friends built in – the best of both worlds!
Each trip is limited to 8 – 12 people to provide you with an intimate and authentic backpacking travel experience. Keeping numbers low ensures that the trips don't feel too 'tour' like and allows us to get to know each other properly and make new friends as we go too!
Rock My Adventure tours are perfect for those who…
want to go on a big African adventure.
want a genuine backpacking/flashpacking experience.
want a great itinerary at an affordable price.
want a confidence booster to start solo travel in Africa.
want to make the most of their limited time and money.
want to experience the local culture and meet local people.
want the structure and support of a tour, but with freedom to do your own thing too.
want someone else to take on the majority of the planning and organisation.
want someone to help you get prepared for your trip.
want the guidance of a seasoned Africa traveller who can help you have the BEST time.
want to travel with an awesome group.
Read more about Rock My Adventure here or take a look at our FAQ's page to see what we're all about!
There are various dates available throughout 2018 and 2019, so click on the links below to find your perfect Rock My Adventure in Kenya, Rwanda, Uganda, the DRC, Tanzania, Malawi, Zambia, Botswana, Namibia, South Africa, eSwatini (Swaziland), Mozambique, Morocco and Sierra Leone!!
---
Upcoming Rock My Adventure Tours
---
DEPARTING IN…
October 2018
November 2018
February 2019
March 2019
April 2019
June 2019
July 2019
August 2019
September 2019
Some of the above tours flow into each other so you can easily combine a few tours!
---
---
Top Highlights
– Safari in the amazing Masai Mara.
– Spend time in an authentic Maasai village.
– Explore the cosmopolitan city of Nairobi.
– Go on safari in the Serengeti and the Ngorongoro Crater.
– Chase waterfalls in Moshi.
–  Explore fascinating Stone Town.
– Relax and party on the beautiful beaches of Zanzibar.
Find Out More
---
Top Highlights
– Climb Mount Kilimanjaro, Africa's highest mountain.
– Be part of an awesome and fearless team.
– Spend time with the Maasai people and visit the Kikuletwa Hot Springs.
– Go on safari in the world famous Serengeti and the fabulous Ngorongoro Crater.
– Combine your Kilimanjaro trek with the Rock My Tanzania & Zanzibar Adventure for the ultimate Tanzanian experience!
Find Out More
---
---
Top Highlights
– Stay overnight, go hiking and visit the chimps at the Tacugama Chimpanzee Sanctuary.
– Learn about local Sierra Leonean life at the Rogbonko Village Retreat.
– Stay at Tiwai Island Wildlife Sanctuary in Gola Rainforest National Park.
– Explore fascinating Freetown.
– Camp on the Turtle Islands, one of the most remote places in West Africa.
– Relax on the beautiful beaches of the Freetown Peninsular.
Find Out More
---
---
Top Highlights
– Go on A 2-day safari in the incredible Kruger National Park.
– Explore the exciting city of Johannesburg.
– Learn about the fascinating Kingdom of Swaziland.
– Look for whale sharks in the warm waters of the Indian Ocean.
– Try the amazing local seafood and hang out at the best local spots in the fun capital, Maputo.
– Relax, surf, swim on the beautiful beaches of Tofo.
Find Out More
---
---
Top Highlights
– Go on safari in the Serengeti and the Ngorongoro Crater.
– Spend time with the Maasai and chase waterfalls in Moshi.
– Hike in the breathtaking Usambara Mountains.
–  Explore fascinating Stone Town.
– Relax and party on the beautiful beaches of Zanzibar.
– Get a real taste for Tanzania in Bagamoyo.
Find Out More
---
---
Top Highlights
– Surfing and yoga on the Atlantic Coast (optional).
– Explore the beautiful coastal city of Essaouira.
– Get lost in the colourful and cosmopolitan city of Marrakech.
– Ride camels through the Sahara Desert.
– Spend the night in a traditional bedouin tent and explore Berber villages.
– Hike Mount Toubkal, the highest mountain in North Africa.
Find Out More
---
---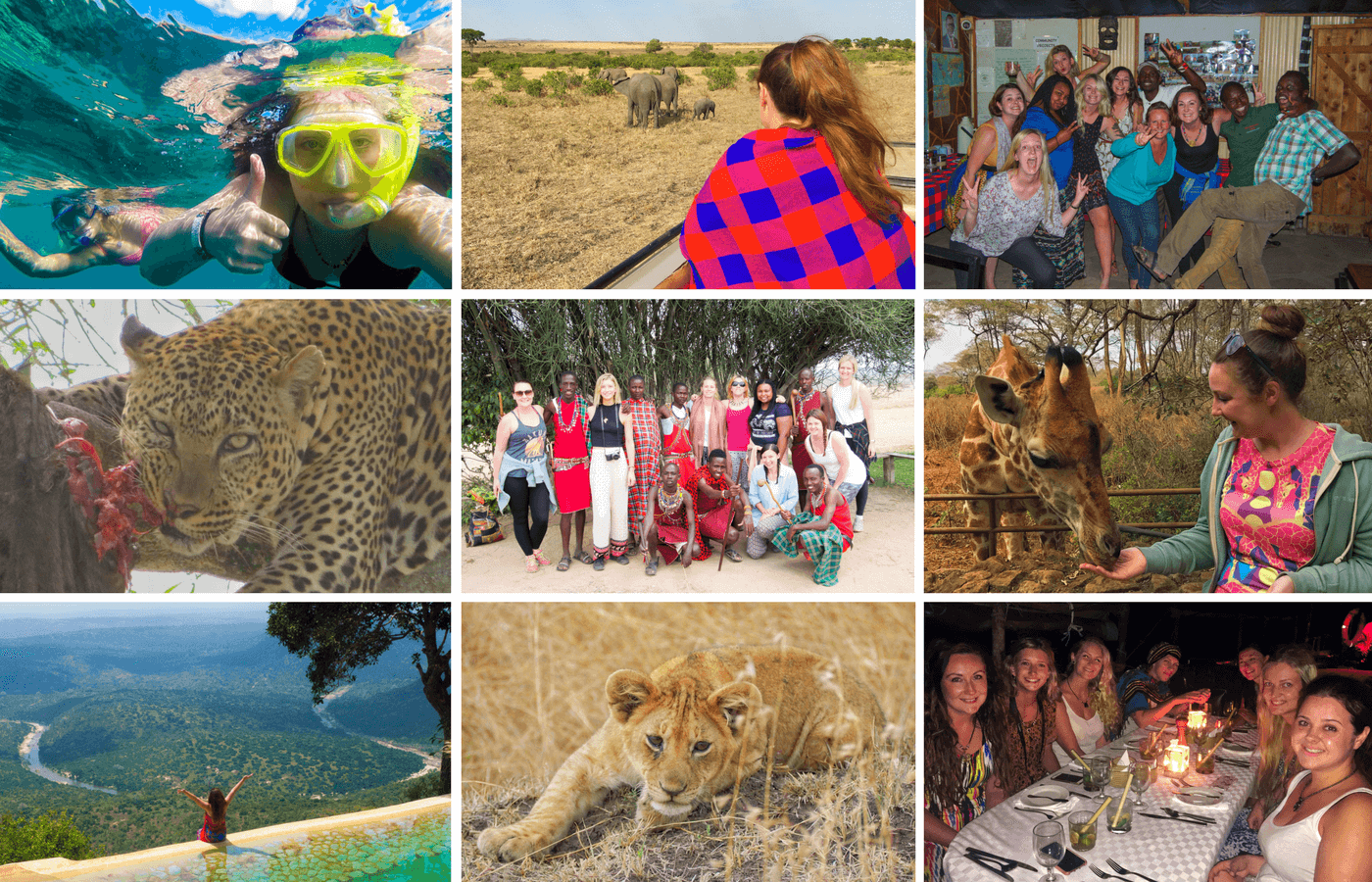 Top Highlights
– Safari in the amazing Masai Mara (3 nights at Mara Explorers and 1 night bush camping).
– Spend time with my Maasai friends in their village, learning about their unique way of life.
– Explore the cosmopolitan city of Nairobi.
– Spot elephants on the Nairobi/Mombasa train.
– Relax on the stunning beaches and explore the towns and villages of the stunning Swahili coast.
Find Out More
---
---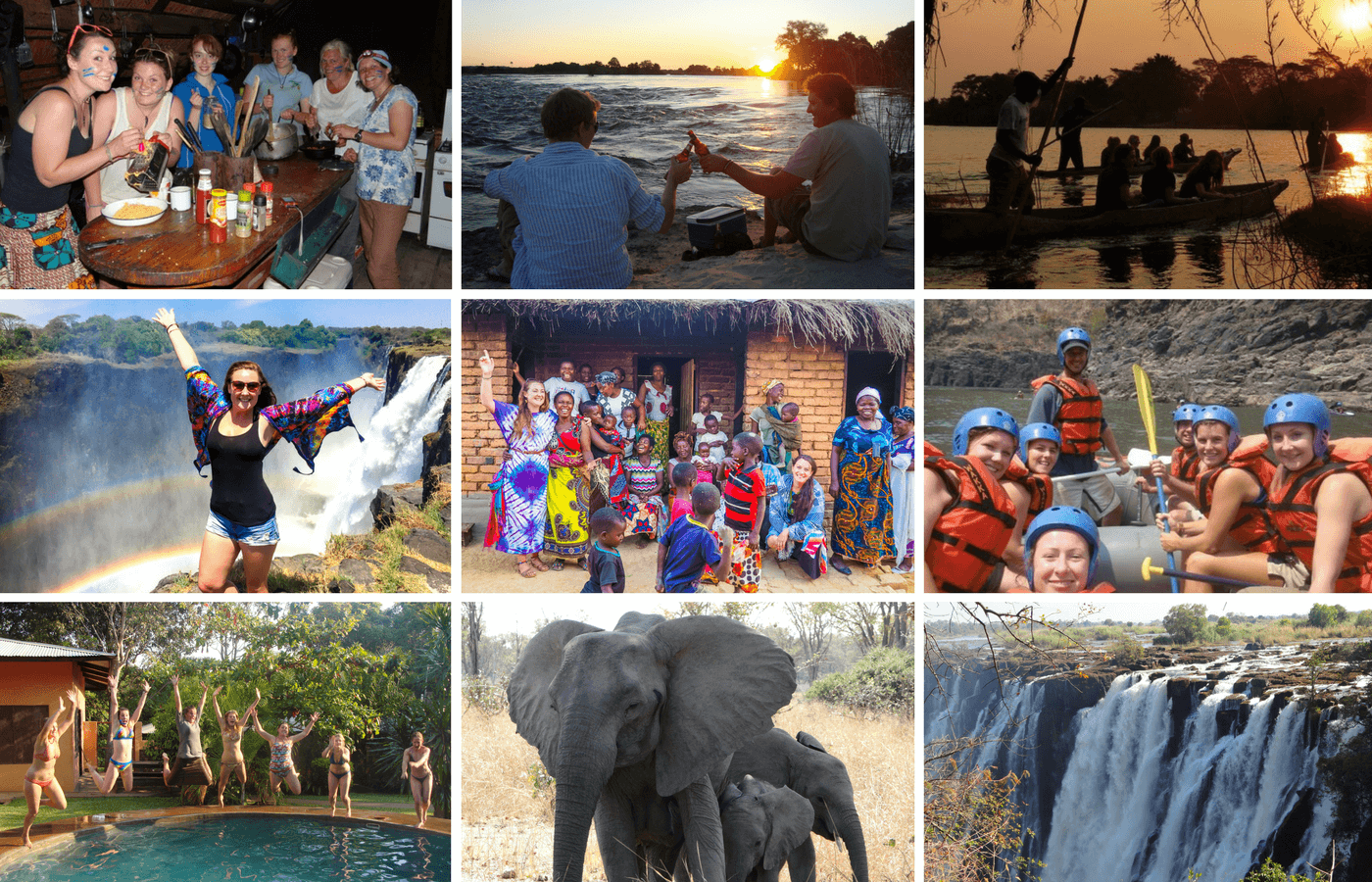 Top Highlights
– See stunning Victoria Falls in all her glory.
– Go on safari in my favourite national park in Africa, South Luangwa.
– Relax, snorkel to see the colourful cichlids and get a taste for local life in Cape Maclear on Lake Malawi.
– Spot thousands of elephants in Chobe National Park in Botswana.
– Explore Malawi's fun capital, Lilongwe.
– Live like a local in my old home, Livingstone.
Find Out More
---
---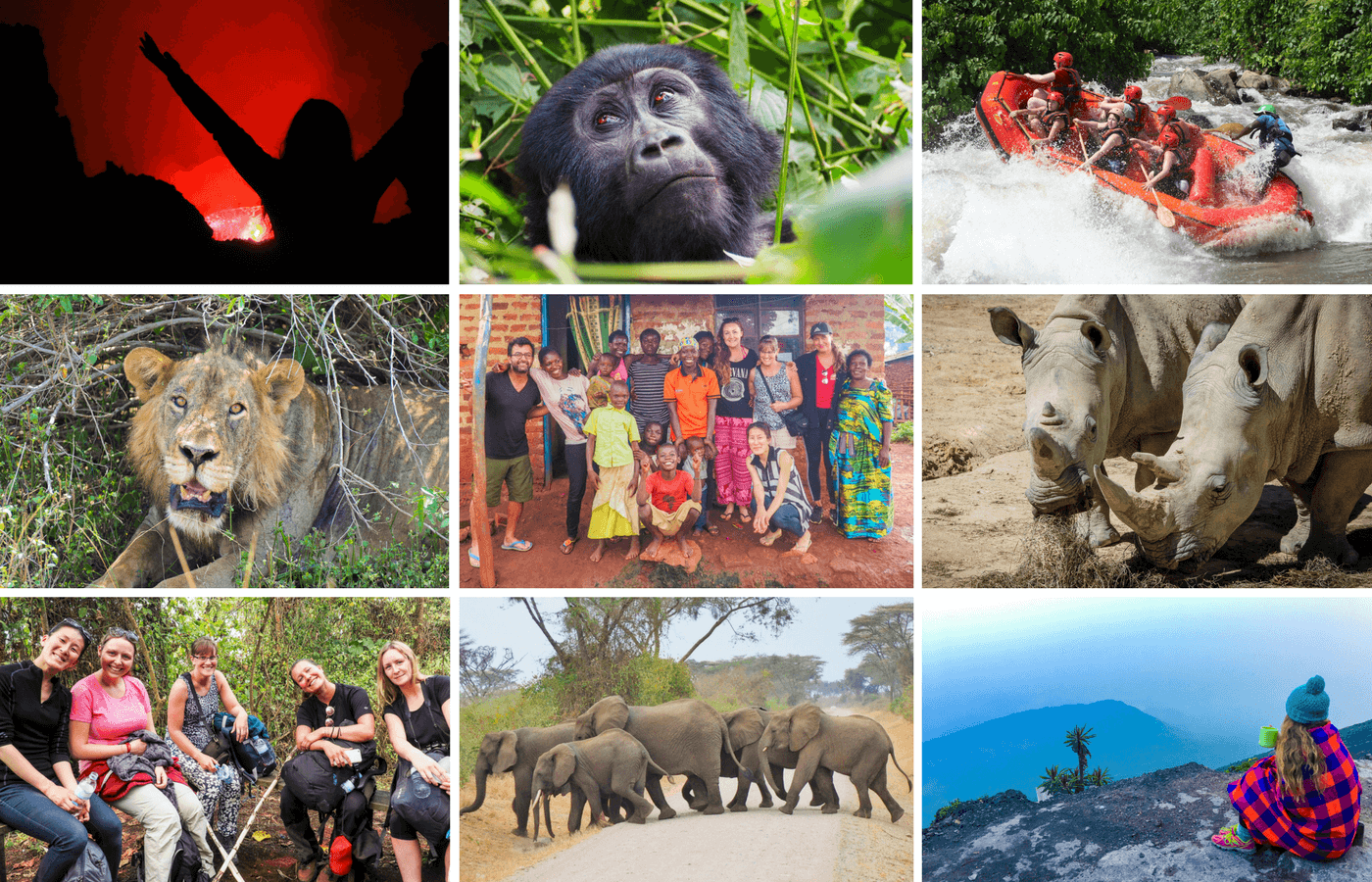 Top Highlights
– Spend time with mountain gorillas in Bwindi Impenetrable National Park.
– Climb Mount Nyiragongo in the Congo and feel the heat from the world's largest lava lake.
– Go on safari in Queen Elizabeth National Park.
– Experience local life on stunning Lake Bunyoni.
– Explore Rwanda's beautiful capital, Kigali.
– Spend time in Jinja, the adventure capital of East Africa.
Find Out More
---
---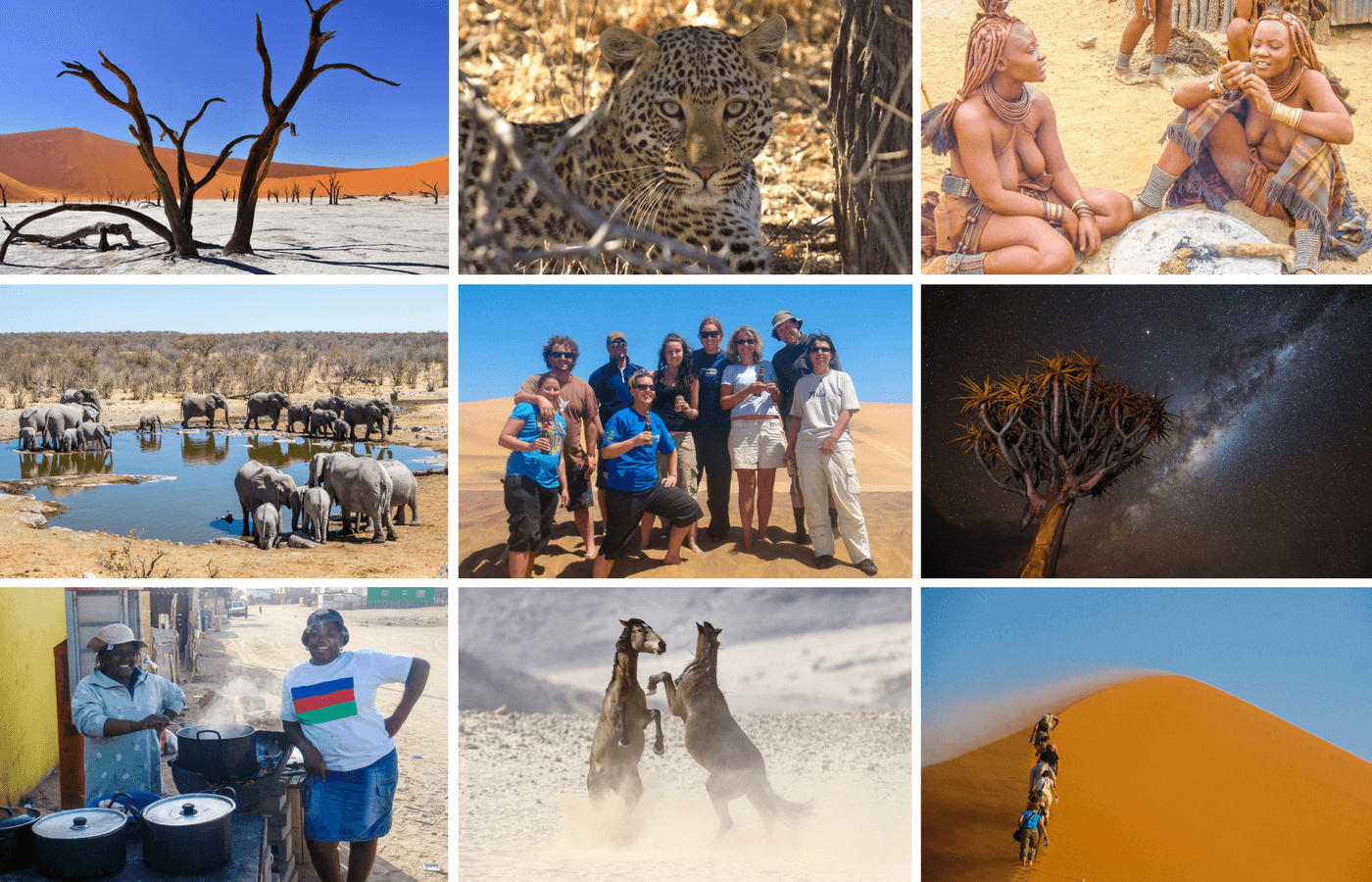 Top Highlights
– Go on safari in the incredible Etosha National Park.
– Spend time with the Himba tribe in their village, learning about their unique way of life.
– Clim the epic sand dunes of Sossusvlei.
– Get up close to cheetahs and leopards at the N/a'an ku sê Wildlife Sanctuary.
– Explore your wild side in Namibia's adventure capital, Swakopmund.
– See the wild Namib Desert Horses.
Find Out More
---
Here's what you can expect on a Rock My Adventure tour…
Check out the testimonials from previous Rock My Adventurers below!
---
Who is Helen in Wonderlust?
I've been travelling through Africa on and off for the last 9 years and have guided trips through the Kenya, Tanzania, Malawi, Zambia, Rwanda, Uganda and the DRC.
I love to travel all over the world, but it's Africa that holds the special place in my heart and I started this blog, first and foremost to encourage and help others travel in my favourite continent.
I'm passionate about Africa travel and I want to show you a different side of Africa. Not the Africa you see in the media, but the adventurous, beautiful, wild and real Africa I know and love.
I like to get to the heart of the places I travel, to go on epic adventures, to be out in the wild, to meet local people, to experience the nightlife, to try new things, to immerse myself in the culture and most of all to have fun! All Rock My Adventure tours are planned with all these things at the forefront.
You can find out more about me here.
---
Testimonials
Wondering what it's like to come on a Rock My Adventure trip? Here's what others have to say!
Rock My Malawi, Zambia & Botswana Adventure 2018
"Helen is the best! Her patience and knowledge know no bounds. She was great at balancing out the different personalities on the trip and making sure everyone was comfortable. Helen, my other tour mates, and the locals made every day fun and interesting. I waited a long time to make my first trip to Africa and now I know why – I needed to see it with Helen and my 7 other new friends/tour mates! Not only did we get to see some of Africa's most amazing sights (leopards, lion cubs, 1000 elephants, fighting giraffes, Victoria Falls, local villages) but our down time was just as wonderful (dancing in Cape Maclear, winning the pub quiz, chatting around the campfire, drinking all the red wine). It's one of the best trips I've ever taken and it will be hard to top. I can't wait to return to Africa! But how do I decide which Rock My Adventure tour to go on next?" (Annie, USA)
"This trip was amazing! I didn't think that 8 random strangers could become so dear so quickly. I felt very lucky with the people who came on this trip, as I felt comfortable within a few hours. Helen has magic skills to make everybody feel at ease, comfortable and like they can be themselves. What's not to love about this tour? And as a bonus: you make amazing friends too!" (Ingeborg, The Netherlands)

Rock My Uganda & Rwanda Adventure 2018
"Helen was more than amazing…I could not do what she does. She listens, she accommodates when possible, she is flexible and she is caring. The numerous adventures in Rwanda and Uganda were steeped in a cultural awareness that made this trip different from any other African safari tours." (Debbie, USA)

Rock My Kenya Adventure 2018
"This tour was amazing! I have always wanted to travel to Africa but I never had enough time to take months at a time off. I also did not find the overland trips where you are in a large group of 20 or more people camping every night very appealing and none of the small group trips were ones that I could afford. When I stumbled upon Helen's blog and learned about her tours I honestly thought it was too good to be true. For me this tour was great and I cannot think of any suggestions on how to make it better. It was what I hoped for and more. Any questions I had before the trip were answered or provided in the pre-departure packet. I am really impressed with the activities and the guides that were picked out. Everything/everywhere we stayed at or did felt like it helped or employed people of the local communities. I felt the money that I spent on this trip when to local people or organizations or farmers and not to large corporations or tourist trap businesses. That aspect was really important to me and I really enjoyed the small activities like going to a local bar while we stayed in the Mara. Our tour guide Jessi was a badass and super fun. She was great at adapting to changes or changing something on our itinerary if it was better for the group. She was also a great resource for seeing and understanding how solo travel to other countries is done. I learned a lot from her and my wallet could not have survived the aggressive city markets without her! She was so patient with our group and I really do hope our paths cross again someday! I absolutely loved the safari and our guide and driver the best but there were so many other activities throughout the tour that I never thought about doing and loved them also! Helen has a great network of local guides and drivers and many of the camps or eco lodges we stayed in also have projects with the local communities. I loved seeing that the money that I paid for this trip was going directly to local communities and establishments. As a wildlife biologist the most impressive thing for me to see was how respectful our driver and our guide were to the wildlife while we were on safari. We were able to get close to many amazing animals but throughout the entire time they never got too close to the animals or put them or us in danger so that one of us could get a better picture as I've seen other companies do for their tourists. They had upmost respect for the wildlife around us and I greatly enjoyed watching these animals roaming free in their natural habitats. I have already recommended this tour to many of my coworkers and friends and would love to go on another one of these tours myself someday! " (Jessica, USA)
"So awesome. All I can say is thank you, from the very depth of my heart. Helen, you are a pro. Really, great attitude, great organization and you handle people very well. And it all comes naturally :-). Jessi is great too. I really love her attitude. A LOT of traveling is about having the right attitude and she is a natural. I miss you two already!! No adventure in life is the same. That's what makes it an adventure! I loved the relationships I built with my fellow backpackers, and the experiences we shared together!" (Kurt, Canada)
"I wanted to see as much of Kenya in the time given – which I feel I did. I liked the variety but also liked that there was no pressure to not take part if you didn't fancy something or just wanted to chill for a bit. Jessi (and Helen) were great. Always made sure everyone was ok. Went out there way to ensure everyone had what they needed. Super patient, kind and good fun. Two great weeks with great people on the Rock My Kenya Adventure tour. I loved the variety of places we went to, the people we met throughout the tour, the activities we did from climbing a hill with Masai guides, seeing so many different animals on safari, learning some Swahili, getting to the see real side of towns and cities we went to not just touristy areas, and the beautiful Diani beach. Our guides Helen and Jessi were great fun, looked after everyone very well and even helped with advice regarding onward travel and accommodations." (Liz, UK)
"This was my first trip to Africa. What away to explore Kenya, a really good mixture of sight seeing, and immersing into Kenyan life. From eating a meal at Carnivore to partying in a township in the Maasai Mara where there was no other tourists with well informed guides and a fun packed itinerary. This is a trip not one to miss. I loved it and would definately book another tour. I found Jessi to be fun, informative, knowledgeable and organised. I think you would be hard pushed to make this tour any better. I still don't know how you did this on this budget." (Emily, UK)
---
Rock My Morocco Adventure – 2018
"I was surprised at how beautiful Morocco truly is. I can't even put it into words!! The trip was the perfect blend of scenery, nature, and culture to give you an insightful glimpse into what life in Morocco is truly like. And the people! They were so friendly, didn't matter if they were locals or travelers. Helen is a lively, energetic guide who carefully plans out every detail of the tour to provide you with the perfect blend of all the attributes of Morocco within a two week span. I would not hesitate to go on a Rock My Adventure tour again!" (Mary, USA)
---
Rock My Tanzania & Zanzibar Adventure – 2018
"It was an unforgettable trip to Tanzania & Zanzibar and I loved every minute – so much fun and a new experience every day! If anyone's thinking of doing a trip to Africa, don't hesitate, just do it! Go with Helen and experience the real culture of the country and its' people. I can't wait for the next adventure!" (Jeanne, UK)
"I have had a fantastic time, thank you, you are the best. Thank you for the incredible journey and sharing your love of Africa with me. The laughs and memories will always be cherished… because of you I have fallen in love with Africa." (Marsha, USA)
---
Rock My Tanzania & Zanzibar Adventure – 2017
"This trip is definitely one of the best decisions that I've ever made in my life!!" (Sharmi, Malaysia)
"The trip went beyond my expectations. I feel the soul of the trip was Helen. Having a guide that is enthusiastic, knowledgeable, sweet and energetic is very important." (Nayeli, Mexico/USA)
"I would like to thank you for two of the most extraordinary trips I have ever had the joy of experiencing. As I review my photos I feel so overwhelmed. I had the pleasure to meet some amazing people thanks to you. We had great times just sitting around and joking with each other. If anyone is in doubt about booking a tour through Rock My Adventure, don't hesitate, you'll never regret it . Thank you, Helen. You are amazing! ❤ Go and you will thank me afterwards." (Oana, Switzerland)
---
Rock My Kenya Adventure – 2017
"I had the best time ever on the trip & it was so much fun traveling with you! It was everything I had hoped for and more! It 100% met my expectations. I love the fact that your trips are more unique than a normal tour operator. I enjoyed being taken out of my comfort zone in some places and seeing some really different sides of Kenya. I enjoyed the fact that we were made to feel so at home everywhere we went and I'm sure that was helped by the fact you've obviously created a lot of meaningful friendships in the country during your time travelling there. It felt like we got a more unique experience than you would get with usual tour operator. I think you make a fantastic guide and your passion for the country definitely shows and adds to the experience." (Sarah, UK)
"Thank you for one of the best two weeks of my life. By far the most incredible holiday I've ever been on. It was run so brilliantly by you and honestly, I had so much fun. I won't forget some of our hilarious nights out." (Allanagh, UK)
"This is the best thing I could have done for myself to boost my confidence. It was honestly the best thing I have ever done in my life, bar none. I have made genuine friends that I'm already planning to meet with again. Take me with you everywhere you go…..everywhere! Thank you so much for doing the job you do, I can't explain how amazing this trip was." (Kayleigh, UK)
---
Rock My Uganda, Rwanda & DRC Adventure – 2017
"Helen is one of those people who will make any situation really fun. This girl could make a tour through my mildewy basement seem like a blast, so having her introduce me to sub-Saharan Africa was pretty much the best thing ever!!" (Silvia, Norway/USA)
"This was everything I hoped for and more. If the plane had crashed on the way home, I would have died happy!" (Natalie, Northern Ireland)
"You showed me "Africa" the real Africa, the people, the villages, the wildlife! I didn't want hotels, complexes, swimming pools! I want to see the world, the real world, how other people live, the real Africa!! I got the whole package, the reality, the beauty, the wonder! You left me wanting more and eager that see more of what the amazing Africa has to offer! Second trip with you! I keep coming back so clearly I enjoy them!" (Karen, UK)
---
Rock My Kenya Adventure – 2016
"Everything was amazing! I learned so many things!" (Oana, Switzerland)
"It was an amazing trip from start to end. I loved every moment and made friends for life." (Debbie, UK)
"Africa is not always the easiest place to travel around, and after 3 months of backpacking I was all ready to give my brain a break from travel planning, so it was definitely a relief to have Helen come in and manage all that! I like her tour because it fit me – it was a small group tour, just 8 of us which is a nice number to make new friends and get to know everyone yet have our own thing, and it was a good mix of fancier stuff and indie backpacking. You just might see us on the next tours because we are all game for round 2 with Helen! Definitely a 5 star review ⭐⭐⭐⭐⭐!" (Jac, Singapore)
"I've a lot to thank my African adventure for, it truely did help me find myself and has given me the confidence to just go see the world. I never wanted to leave!!! You'll have the most amazing experience!!!" (Karen, UK)
"It was a great introduction into Africa travel, before I set out solo travelling. Also as I traveled solo and shared experiences in Kenya with people I was meeting, I sounded like a seasoned solo traveler thanks to you. I did not know what to expect but I think I understand Kenya pretty well now. I think you were able to portray and pass on your infectious love of Kenya to us all and I am forever grateful! Asante!" (Christina, USA)
If you'd like to get a full overview, have a read of Silvia's blog (Heart My Backpack), as she's done a full review on the Rock My Uganda, Rwanda and DRC tour. I asked her to come along, not as a blogger, but as a participant, to enjoy and just be brutally honest when she wrote about it and here's what she thought.
---
I want you to… Rock My Adventure
To reserve your spot on any of these incredible trips or if you have any questions, please send me an email using the form below! Limited places available so don't miss out!
Want to be the first to know about upcoming Rock My Adventure tours and get exclusive offers? Sign up to the Helen in Wonderlust mailing list HERE!
Rock My Adventure is a Member of: