Last updated on April 7th, 2023 at 10:06 pm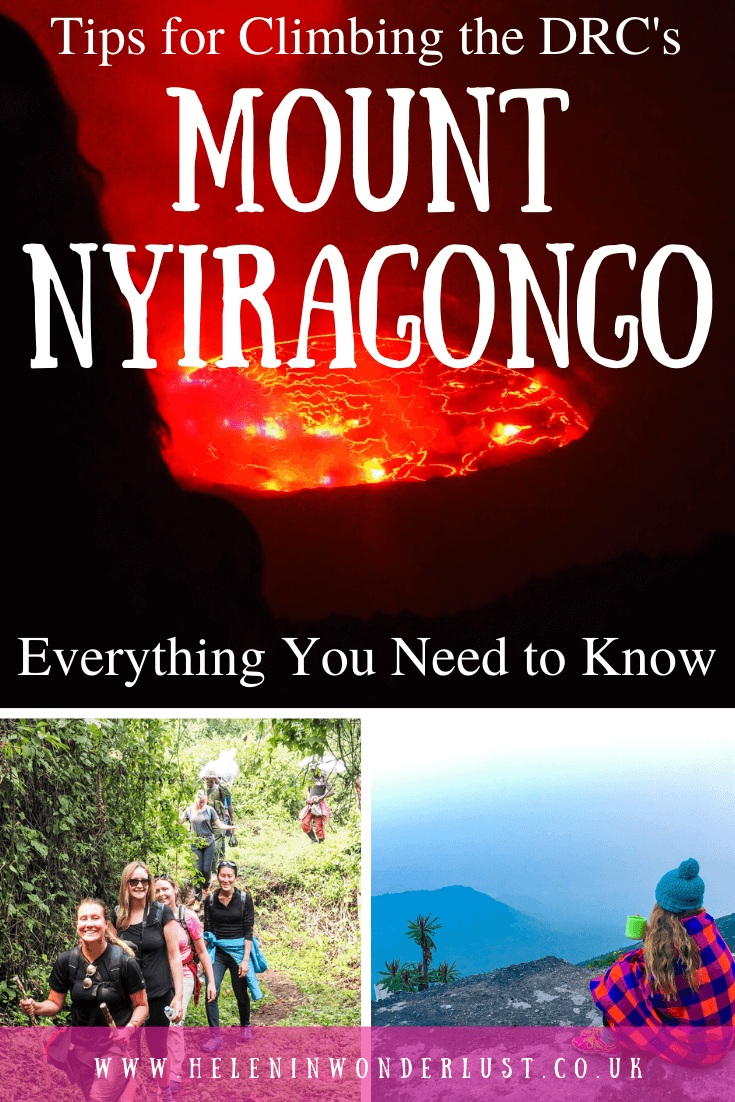 Climbing Mount Nyiragongo in the Congo is one of the best things I've ever done in my entire life!
Mount Nyiragongo is an active volcano and lava lake that lies in the Virunga National Park, near to the city of Goma in the Democratic Republic of the Congo, or the DRC as it's more commonly known.
I'd wanted to visit the DRC for some time, ever since I read Blood River: A Journey to Africa's Broken Heart, before my first trip to Africa. An adventure down the Congo River would be my absolute dream trip. I mean, everyone says not to go there, which rightly or wrongly makes it that bit more appealing to me.
I also love the documentary Virunga – if you haven't seen it, I'd advise you to watch it asap!
I knew that climbing Mount Nyiragongo would be an unbelievable adventure, so I decided to include it in the Rock My Uganda, Rwanda & DRC Adventure tour in 2017 and we've been climbing it every year since!
But if you want to climb Mount Nyiragongo yourself, here's everything you need to know! 
UPDATE: Mount Nyiragongo erupted in May 2021 and is currently closed – I will update you as I kno when it is opening up again.
Other DRC posts you might enjoy…
Please Note: Some of the links in this post are affiliate links, which will earn me a small commission at no extra cost to you. Affiliate sales help with the running costs of this site, so thank you for your support!
---
Climbing Mount Nyiragongo in the Congo (DRC): Everything You Need to Know
---
As soon as I met my group in Kigali, Rwanda, we all started talking about our impending doom trek up Mount Nyiragongo. 
"Have you been training?", "How fit are you?", "No me neither". I could tell everyone (me included) was a little anxious about the climb (and about the fact that we were going into the Congo) but I knew it would be one of the greatest adventures of our lives and so I just kept telling everyone this.
"We'll go slow, pole pole, it's gonna be amazing…" I had to put my nerves aside, I was team leader after all, therefore responsible for keeping up morale and confidence.
The night before our climb, we stayed in Gisenyi on the Rwandan side of the border, crossing into the DRC early the following morning. I'd organised everything in advance with my local contacts, so it was all pretty straightforward and surprisingly, the border crossing was a dream.
On the Goma side, we piled into two vehicles and made our way towards the mountain, stopping briefly at the supermarket to pick up some last-minute supplies of water, Pringles, and chocolate (definitely bring chocolate)!
Upon arriving, we signed in, I arranged our porters/equipment and had a mini-conference with the chef (explaining what we'd brought to eat), bought our walking sticks (good decision), went for one last trip to the toilet, and met our (armed) rangers/guides.
Two couples also joined our group, bringing the total number of trekkers up to 11.
After a quick briefing, we began our ascent. They said it would be a tough uphill hike to the summit.
They weren't lying, it was one of the steepest mountains I've ever climbed. Mount Nyiragongo is a beast!
We started off in good spirits. When I climbed Kilimanjaro the first time, I was on my own. I had a guide and porters, who were great, but no fellow trekkers who were going through the same things I was going through and it was pretty lonely.
This time I had a group of pals in tow and as we'd gotten to know each other over the previous couple of days, there was a great sense of camaraderie and it was sooooo much better.
The journey up the mountain has 5 'sections'. The sections are generally defined by the places you take your breaks.
The first took us through the rainforest. It was hot and humid and it wasn't long before we were all red-faced and huffing and puffing. Despite this supposedly being the 'easiest' part as it was less steep and relatively sturdy underfoot, this was the bit that a lot of us found the toughest as we adjusted to the heat.
Everyone hikes together on Mount Nyiragongo, a ranger at the front, a ranger at the back, and everyone else in the middle. But before long, it was very noticeable as to who the slow and who the fast ones were. In our group, Karen, Natalie, Linda, and Hoann were the fast ones, the two couples hovered around the middle, whilst Sylvia, Jessi, and I were bringing up the rear.
Much to mine, Silvia and Jessi's dismay, they kept making us go at the front, keen to keep the group together. No-one seemed to mind, but being at the front feels like a lot of pressure, so we kept managing to find ways to get ourselves back to the back.
Silvia and I, both being bloggers, obviously had to stop to take photos and videos… "You guys go ahead, we're just dying here taking a picture." In the end, they just let us do our own thing.
The middle sections of the trip are a little more tricky, as the ground becomes very unstable as you are walking across loose volcanic rocks.
Did I forget to mention that this volcano erupted in 2002, sending lava flowing right down the mountain and through Goma city?
Moving swiftly on…
However, the one good thing about walking on loose rocks, is that it forces you to go pretty slowly. By this point, a few of us were starting to struggle. One of the girls was looking a little faint and I think I spent the entire way up going 'Are you ok? Drink some water! Do you need to stop?" But I was also starting to feel the effects of the mountain.
We were tired and the altitude was kicking in, so the porters had taken some of our bags and there were a couple of times when they literally had to pull us up certain sections.
We finally made it to the fourth and final resting point, where we took a break before beginning the final leg.
The last section was very steep and more 'painful' on the legs for sure and you could feel that the air was thin, but it was much cooler now, and knowing that the end was near and being able to see the top was a good incentive to keep ongoing.
After 5 hours of walking (which is pretty fast apparently) we all reached the top.
And OH MY GOD. It was AMAZING!!!!!!!! We were all grinning from ear to ear! There, right below us was the world's largest lava lake, glowing red and bubbling away. I could feel the warmth on my skin.
This was definitely worth every single bit of the pain it took to get here.
And you know what, I loved the journey. It was tough, yes, but having those girls with me, laughing all the way up, motivating each other was the best medicine!
After taking a few photos, we headed back down to the huts to get changed into our warm, non-sweaty clothes and ate dinner in the communal hut, cooked by Remy, our fabulous chef and my hero (he was the guy that carried my bag up the mountain).
We'd brought some pasta, vegetables, and sauce, as well as tea, hot chocolate, Milo, and coffee.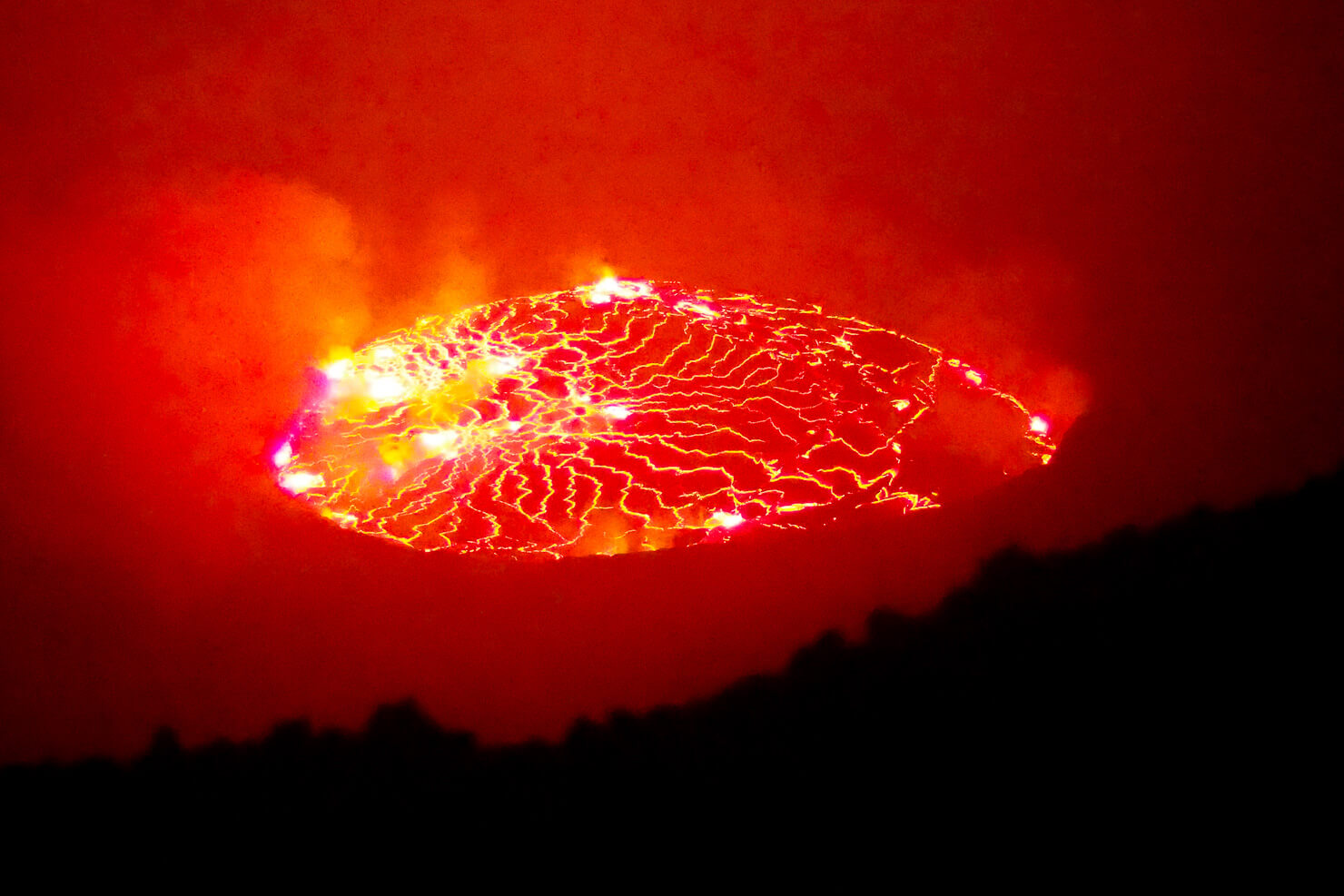 Fed and watered, we made our way back up to the rim of the volcano because after dark is when the show really gets going!
It's hard to describe just how incredible the lava lake looks and feels in real life and the photos just don't do it justice.
There's nothing quite as humbling and liberating as witnessing the raw power of nature first-hand.
We were really lucky. The sky was totally clear. Sometimes the mountain is covered in mist, which means one of the porters has to keep watch for clear skies, but we had perfect views of the lava lake.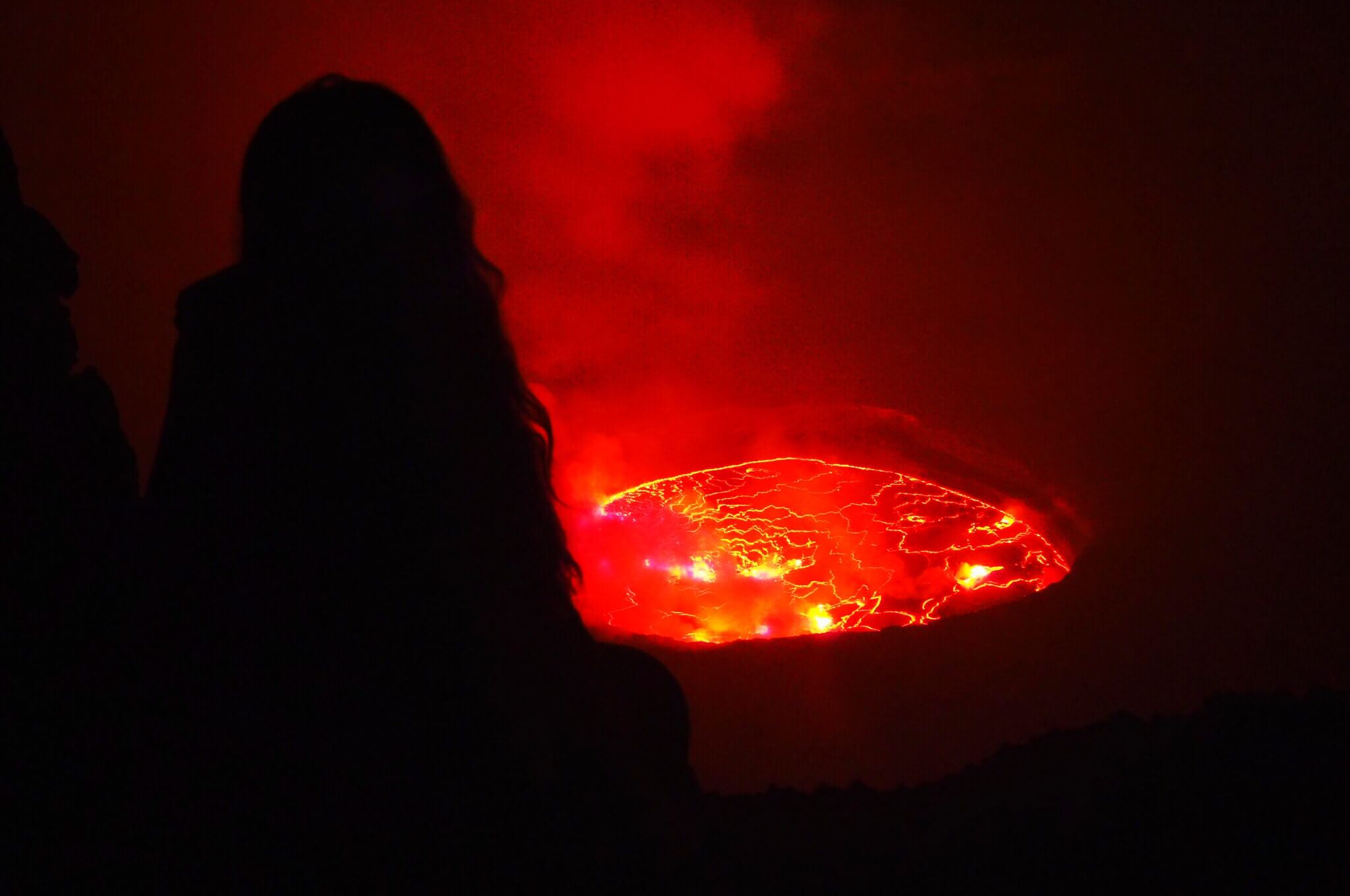 Silvia and I, being the committed bloggers that we are, stayed up on the rim much longer than the rest of the group taking photos but after an hour or so we were starting to freeze, so we made our way back to the huts to try and get a good night's sleep.
The following morning, Remy made us a delicious breakfast of porridge and jam and we enjoyed hot drinks in the early morning mist before we started the descent.
Going down was less aerobically challenging, but boy did my legs feel wobbly. And walking down the mountain with all those loose rocks underfoot was very slippy, we were all over the place.
Having the walking sticks helped immensely and the porters were absolute gents, holding our hands when we needed it.
Again Remy was the hero of the day and I think he helped most of us at one point or another (that's him above in the red t-shirt)! And what do you know, there's me, Jessi, and Silvia bringing up the rear once again…
When we reached the bottom, there were hugs all around and I think even a few tears. Remy got extra hugs!  We'd made it.
Climbing Mount Nyiragongo was one of the most incredible things I've done in my life!
---
Climbing Mount Nyiragongo in the Congo – Essential Info
---
How to Book Your Mount Nyiragongo Trek
You can organise your trek yourself via the Visit Virunga website (their website is excellent), organise through a local tour company or you can come on one of my Rock My Uganda, Rwanda & DRC Adventure tours and I can sort it all for you.
The Rock My Adventure tour price includes your permit, visa, accommodation, transport, porter & chef hire, food, water, and sleeping bag hire – as well as another 12 days of amazing activities and experiences in Rwanda & Uganda.
Getting to Mount Nyiragongo
Most people who climb Mount Nyiragongo fly into Kigali International Airport in Rwanda which is around a 4 hour drive from the Virungas National Park.
You can also fly into Goma in the DRC with Ethiopian Airlines, but I've heard that the airport isn't great.
I would suggest that you spend the night before your climb in either Gisenyi on the Rwandan side of the border, or in Goma/Virunga National Park on the DRC side of the border.
A taxi between Kigali and the border/Gisenyi will cost you around $100, whereas public transport is less than $10. All tour companies can also arrange transport for you.
The border you need to use between Rwanda & the DRC is called Grande Barriere on the DRC side and it's open from 8am – 7pm. On the Rwandan side, it's called La Corniche.
If you are staying in Gisenyi the night before your trek, I would advise getting to the border at around 7.30am. We had our own transport, but your guesthouse or hotel can help you arrange it otherwise.
If you've booked transport from the border on the Goma side via the Visit Virunga website, you will be picked up at around 8.30am by a Visit Virunga representative who will take you to the start point for the climb.
I would definitely advise getting them to arrange your transport! That way if you run into any delays at the border, they'll know about it and also for security reasons – you want to know you're in good hands and with reliable people. Private vehicles are also not allowed inside the park.
Visas & Entry Requirements for the DRC
Your visas can be arranged through the Visit Virunga website or your travel agency once you've booked your climb (if you're on a Rock My Adventure trip, we arrange this for you) or if you've booked a stay at Mikeno Lodge inside the park. You will be issued 2-week tourist visa and this should be arranged at least 2 weeks before you go to allow time for processing, although it's often much quicker.
This visa allows you to enter via the Grand Barrier¨re border, so just make sure you go to the right one.
If you want to stay longer or arrive via a different border/airport, you will need to arrange your visa separately through your consulate.
As well as your visa, you will need to show your Yellow Fever certificate when crossing into the DRC and you need to have had your Yellow Fever shot at least 10 days before your trip.
From my experience, the border crossing is pretty straightforward. They stamp you out of Rwanda, check your Yellow Fever certificate, take your temperature and then stamp you into the DRC.
If you are flying directly into Goma, you must let the Visit Virunga team know 2 weeks before your departure so they can communicate your visa details to Ethiopian Airlines. If you don't you will not be allowed to board your flight. Details can be found on their website here.
Visas & Entry Requirements for Rwanda
Most nationalities need a visa to travel to Rwanda. As of 1st January 2018, visas are available on arrival for ALL nationalities. This is also confirmed on the Rwandan government website here. A single entry or transit visa (transit visas are only valid for 72 hours) costs $30. A multi-entry visa costs $60.
My best advice is to double-check before you go (either with your Consulate or airline), know your 'rights', and maybe have some kind of visual proof (screenshot of the government website) if they question you.
If you want an East Africa Tourist Visa for your return from the DRC, then I believe that you still need to apply for this in advance.
Just be aware that if you get an East Africa Tourist Visa, you must stay within Rwanda, Uganda and Kenya for the validity of the visa and if you leave those countries (to do the Mount Nyiragongo trek for example) you will void the visa. So it only makes sense to get the East Africa visa before your climb if you are also visiting Kenya and/or Uganda before Rwanda.
If you are going to Uganda and/or Kenya after the DRC, save your East Africa visa for your return to Rwanda.
You can currently only apply for your East Africa visa via the country you are going to first. So if you want an East African Visa for your return to Rwanda, from DRC, you have to apply via the Rwandan site. If you are going to Kenya, then Uganda, then Rwanda, you would need to get your visa from the Kenyan site (or on arrival in Kenya in some cases). I feel the East Africa visa needs a whole other post in itself!
If you are applying for your Rwandan visa online, you can do so on the Irembo website. Coming back from the DRC, the border/re-entry point on the Rwandan side is called La Corniche.
Saying all that, always double-check the entry requirements before you go as they can change!
And don't forget to have your Yellow Fever certificate handy as you will be asked for it when re-entering Rwanda from the DRC. Or if transiting/arriving from a country with a risk of Yellow Fever transmission.
Feel free to contact me if you have any questions!
Accommodation on Mount Nyiragongo
You can climb to the top and go back down in one day, but seeing the lava lake at night is out of this world, so it's definitely worth sleeping up at the top.
There are 12 huts located just below the crater rim. They are very basic, just containing two floor mattresses but they're fine. It's very cold though, so make sure you have adequate clothing and a good sleeping bag (you can hire those if not carrying your own).
The huts are included as part of the package.
Accommodation Before and After Your Climb
Gisenyi
Gisenyi is a lovely and relaxing place to spend a day or two before or after your trek. The town lies on Lake Kivu, so there are also a few cool activities you can take part in too.
Two of my favourite places to stay are INZU Lodge and Paradis Malahide.
Goma
Even though it's not known for being the safest place on the planet, I did enjoy what I saw of Goma. Just driving in felt like Africa in the movies, vibrant, loud, colourful and I'm looking forward to spending a little more time there next time I go.
I've never stayed in Goma overnight, but you could try the Cap Kivu which looks pretty nice or the Goma Serena Hotel. Goma tends to be more expensive than Gisenyi.
Virunga National Park
There are a few different accommodation options that might be more suitable if you want to spend a bit longer in the DRC or are doing gorilla trekking there too. They're at the more expensive end of the scale, but look fab!
You can get more info about their accommodation here. One popular option is to stay at Tchegera Island which is also part of the Virunga National Park and can be booked through them.
Kigali
If you're flying into or out of Kigali, it makes sense to spend some time there. There are plenty of options for places to stay but one that you may want to check out is Hotel des Mille Collines, which is famous because it's the hotel featured in the film Hotel Rwanda.
Other great options include the Heaven Restaurant & Boutique Hotel,  Pili Pili Boutique Hotel and Yambi Guesthouse.
Toilets & Showers
There are no showers on Mount Nyiragongo but to be honest, you probably won't want one anyway. It's too cold!
I only came across 3 toilets on the Nyiragongo trek. The delightful hole in the ground squat toilet that you see in the photo below. This was at the starting point and also had no door, so you may want to take a spotter! Then I think there was a toilet at the last rest stop on the mountain, but I didn't use it!
At the top, there's a small wooden shack, with a western-style long drop toilet and only 3 sides. It's down the mountain a little from the huts and whilst you're on the toilet you face out over the mountains. It's literally a loo with a view. Sounds awful, but it's actually very beautiful and relatively private (and clean).
The first person from our group who used it (who shall remain nameless) came back and declared 'That was the best poo of my life!' and pretty much everyone else said the same. Sorry to be graphic but hey, we all do it and it's something else you have to look forward to!
Take your own loo roll. This is a mountain, not the Hilton.
Difficulty Level
Whilst Nyiragongo isn't that high (3,470m) compared to some of the other mountains in the region (Kilimanjaro is 5,895m), it is a tough trek and should not be underestimated.
If Kilimanjaro is a marathon, Nyiragongo is a sprint. The first part isn't too bad technically but it's hot and humid and it's pretty much 5 (sometimes more) hours of steep incline with loose volcanic rock underfoot.
We all found it difficult and I could barely walk in the days following the trek. If you're also gorilla trekking a day or two before or after Nyiragongo, which is what most people do, prepare for some pain. So make sure you stretch, stretch, stretch!!!!
The good thing is, you can pretty much take it at your own pace.
Do you need to train for Mount Nyiragongo?
I didn't do any particular training, but you do need a moderate to good level of fitness and having done at least some training hikes beforehand will be helpful.
Wearing your hiking boots in, thoroughly, is also advisable as blisters are painful!
Altitude Sickness
Altitude sickness (aka acute mountain sickness or AMS) usually kicks in somewhere above 2,400m, so you could experience AMS on Mount Nyiragongo. Symptoms include nausea, headache, dizziness, fatigue, trouble sleeping, disorientation, and loss of appetite.
It affects some people and not others and there's no real way of knowing how your body will react unless you've been at altitude before. The best ways to prevent or deal with AMS are to go slow and drink lots of water.
If you start to feel unwell, let your guides know. Altitude sickness can be fatal if ignored and the only 'cure' is to go down the mountain to a lower altitude. But don't worry, Nyiragongo isn't that high, so the likelihood is that if you do get it, it will be mild.
We all felt it to some degree, but we were all ok. I just had a bit of a headache and wasn't super hungry. I had quite bad altitude sickness on Kilimanjaro the first time I clmbed and this was nothing compared to that.
I didn't take any medications to prevent altitude sickness on Mount Nyiragongo, but you could take acetazolamide (Diamox) – but only if you've you've tested it before you go in case you have an adverse reation. 
Safety on Mount Nyiragongo & in the Virungas National Park
Probably one of the biggest concerns when climbing Mount Nyiragongo is safety.
The DRC is a volatile and deeply troubled country and the FCO advises 'all but essential travel' in Goma and the area surrounding the Virungas yet many tourists still visit every year without any issues. For the record, I felt very safe the whole time I was there.
It is a risk to travel there, there's no denying that,as there are guerillas and rebels in the area, however, the Virunga National Park works tirelessly to ensure the safety of all tourists and you trek with armed rangers.
If there's any reason they think that there is an issue, or an attack is imminent, they close the park and you will get a refund. Incidents are rare, but they have happened.
With that being said, kidnappings can happen in places like Mexico and lots of tourists go there, so it's a very personal choice. 
Keep your eye on the local political situation and then make up your own mind, but know that there is a risk.
If booking your Mount Nyiragongo trek independently, I would also advise you to only book your transport on the DRC side of the border through the Visit Virunga website to ensure everything is legitimate.
Then there's the other safety aspect of the fact that you are on top of an active volcano, with a massively deep crater, with no barriers, and a lava lake at the bottom.
Since the 2002 eruption, volcanologists monitor the volcano very closely so if there were any rumblings of the volcano erupting they would know about it and you would not be able to climb.
UPDATE: Mount Nyiragongo erupted again in May 2021 and is currently closed. 
Then once you're on the top, just be very careful about where you are walking and don't get too close to the edge. Use a head torch to walk around at night as it is very dark. A few years ago a woman died when she fell into the crater, so be very careful.
Travel Insurance
A lot of travel insurance policies won't cover travel to the DRC due to the travel warnings in place, so if you do decide to go, make sure you are adequately covered. You can read more in the post below.
READ MORE: How to Get Travel Insurance for High-Risk Destinations
What to Pack for Mount Nyiragongo
Wondering what you need to pack for Mount Nyiragongo? This list has you covered!
Small Rucksack: Leave your big bags behind at your guesthouse in Gisenyi or Goma (I also believe there is a luggage storage at the start point) and just take what you really need in a day pack. You may also want to consider a waterproof cover for your bag.
Passport: You'll need this for crossing the border and signing into Virungas National Park.
Yellow Fever Certificate: Don't forget it or you're not getting in or out.
Warm Clothing: I cannot stress how cold it gets on the top of Mount Nyiragongo. It is FREEZING! I'd recommend that you take a thick fleece, thermal leggings, gloves, down jacket, hat, thick socks. I accidentally left my down jacket in my big bag… in Rwanda. Big mistake. Luckily I had my trusty Maasai blanket with me to keep me warm.
Breathable Hiking Gear: By day, you're going to want to wear your normal hiking gear – lightweight, layerable and breathable is best.
Waterproof Jacket/Pants: Rain is quite common on Nyiragongo and you want to try and stay as dry as possible, so taking a rain jacket and pants is advisable.
Change of Clothing: You will be sweaty (and potentially wet) when you arrive at the top, so to avoid getting hypothermia you will need to bring spare clothing (including new warm socks) to get changed into. On day 2, I walked in the clothes I slept in.
Hiking Boots: I climbed Mount Nyiragongo wearing trainers, which were ok, but the terrain is super slippery due to the loose volcanic rocks, so walking boots are better, especially if it rains.
Baby Wipes/Hand Sanitizer: Try and keep clean however you can.
Head Torch: It's super dark at night up on the mountain (apart from the glow from the volcano) so you're going to want your head torch for walking around the camp and late night trips to the loo.
First Aid Kit: Just in case.
Sun Cream/Hat: There isn't much shade when you are walking, so keep yourself protected.
Camera: Don't forget to take your camera! The views from the top are something you'll want to capture. Drones tend to crash due to the ash, so I'd leave those behind.
Sleeping Bag: If you aren't travelling with your own, you can hire them at the start point or as part of a package.
Walking Stick: You can buy these at the start point too. They are really useful and cost around $5. We were all glad we bought them.
Battery Pack/Solar Charger: There's no electricity on Mount Nyiragongo, so it's good to have a back up for your phone.
Toilet Paper: There's none up there, so take your own!
Food & Drink
There is nowhere to buy food on the mountain, so you either need to pre-arrange a food package through the park or bring your own. I bought food for our group at the supermarket in Rwanda and pre-arranged a private chef for us (for my later trips I just ordered the full food package).
Lunch on Day 1: We bought packed lunches from our accommodation the night before.
Dinner on Day 1: For dinner, we had pasta with vegetables in a tomato sauce. We had a big block of chocolate for dessert!
Breakfast on Day 2: For breakfast we had porridge (cooked with longlife milk) with jam and fruit. We also took tea, coffee, hot chocolate, and Milo.
Water: You need to bring all of your water with you (unless on a food package). 5 litres per person is about right. The porters will carry this for you.
Snacks: I would also suggest bringing lots of snacks to keep you going too – nuts, chocolate, energy bars etc. We grabbed a load of stuff in a shop in Goma, but it probably would have been cheaper in Kigali.
We also bought a box of wine but decided to leave it behind in Rwanda… which was probably a good idea.
Costs of Climbing Mount Nyiragongo
The costs are going to vary a little, but here's an idea below (excluding the more variable costs of flights, insurance and pre/post trek accommodation).
You probably won't need any Congolese Francs and US Dollars should be fine for most things, unless you want to buy something small from a local market etc.
Hiking Permit: $300 (includes guides, transport from the border, accommodation on the mountain).
DRC Visa: $105
Food: We bought our own food in Kigali, probably spending around $20 for all 7 of us (that was for dinner and breakfast) and hired a private chef (see below). You can cook for yourself (and I believe they have basic cooking equipment, but you may need to bring your own charcoal – check on that). But I'd 100% recommend getting the food package and/or a chef as you will not feel like cooking and it gives employment to the local people. 
Meal Plan: $75 per person which includes snacks, lunch, and dinner on Day 1 and breakfast and snacks on Day 2. Water is also included for both days.
Meal and Gear Package: $100 per person which includes meal plan plus a sleeping bag, jacket, fleece, hat and rain poncho. This makes sense if you don't want to be carting a ton of stuff around.
Walking Stick: $5 to buy which definitely a good investment.
Sleeping Bag: $10 approx to hire on its own. It doesn't mention this option on the website, but we managed to hire them at the start point.
Taxi from Kigali to the Grand Barriere border: $100 per taxi. If you are going to Gisenyi, it's probably a little less, but then you will need to make your way to the border from Gisenyi, so it probably evens out.
Bus from Kigali to Gisenyi: I believe the bus is less than $10.
Transport from Goma/Grand Barriere border to Kibati (starting point): $28 per person.
Porters: Can be arranged for $24 each at the start point. Porters are limited to carrying 15kg.
Chef: I arranged a deal to have a private chef (the lovely Remy) for our group for $50. If you'd like to do this you may need to arrange this prior to your trip.
Tips: This is at your discretion, but the 'recommended rate' is for each person to put in around $25 to the pot and then split it between the porters and guides. These guys are amazing, work super hard so don't forget to tip.
I hope you have a great time climbing Mount Nyiragongo in the Congo! Definitely one for the bucket list!
---
Join one of my DRC group tours or buy my Backpacking Africa e-book!