"It is very easy. Turn right out of the alley, walk down the street and at the mosque turn down the alleyway and you will come to a road, turn left and then go straight and you will arrive at Jemaa el Fna."
It was our second day in Marrakech, Morocco and my friend Lisa and I were stood in the courtyard of our riad listening to instructions on how to get to the main square. It sounded pretty straightforward. However, having taken a few wrong turns the day before, which resulted in us wandering aimlessly for what felt like an eternity to find the Jardin Majorelle, we weren't too convinced.
Marrakech is made up of two main parts, the new town, and the old town which is known as the medina. As we only had two days, we pretty much stayed within the medina walls, wandering and getting lost in the alleyways and souks.
On the surface, Marrakech is a crowded, hot, hectic maze that occasionally makes you want to scream. But then you walk through a doorway and find yourself drinking fresh mint tea in a cool, tranquil courtyard, where the outside world and all your troubles seem like a distant memory.
We'd briefly visited Jemaa el Fna on our first day, but by the time we got there, after being pointed in the right direction by about 20 different people, hailing down a cab, driving around the city, being dropped off at a random spice shop because our cab driver thought it was too hot for us to go to the square and have a guy pee right in front of us whilst we were having a Coca-Cola break, we were a bit jaded and tired and decided to head back to the sanctuary of our riad to drink some wine and catch up.
By our second day, we came to the realisation that we were fighting a losing battle with our sense of direction, plus the Marrakech weather had gone a little crazy when we were there and they had a heatwave, so we decided to take a walking tour in the morning with someone who knew exactly where they were going.
We were shown around by Mohammed, a guide arranged through the owner of our riad. He took us on a wonderful trip, expertly navigating the streets and taking us to places we never would have found on our own.
He took us to the beautiful Museum of Marrakech, the Ben Youssef Medersa Koran School, through the souks (markets) that sell anything and everything and on my request, to the place where they filmed Sex and the City 2 (Souks and the City?), the bit where Carrie bumps into Aiden in the market (old Abu Dhabi was really old Marrakech)!
But after lunch, we were alone again. And lost. I could tell that Lisa was feeling anxious and even though Mohammed gave us directions back to the riad, what he said seemed to have no actual bearing on where we seemed to be.
We eventually found our way back, thanks to a tuk tuk driver and a couple of local kids who showed us the way through the last few alleyways, then held out their hands out for a tip and got annoyed when we didn't give them enough dirhams. 
After a shower and a rest, I was keen to see  Jemaa el Fna at night and try out a restaurant I'd heard about but I could tell through her jokes that Lisa was really worried about being lost in the medina. I never once felt unsafe in Marrakech, there were always lots of people about and not once was anyone unfriendly towards us. But, our riad was down a very quiet, unidentifiable street and I wouldn't want to be lost in any strange city at night and we didn't have a great track record with this one.
Lisa agreed to come out with me on the condition we got back in one piece.
So as we were told, we walked out of the alley onto the street and we arrived at the mosque and walked into the open courtyard. We went down an alley (there were a few so we took a guess) and onto what looked like a main street and turned left. We walked. But then the road went off in different directions, there was no 'straight' anymore.
We pulled out the map and discreetly tried to make sense of where we were. I like to think I'm pretty good with maps, but Marrakech is the kind of city that refuses to be defined by a map.
After a few more directions were asked for we eventually found the square.
Jemaa el Fna is the heart of Marrakech. By day the square is home to traditional Water Sellers, Snake Charmers and men with monkeys on chains (best avoided – animal lovers you may find this upsetting) who urge you to take a picture with them. Women sit around in groups on low plastic chairs and call "Henna? Henna?" flicking through their little plastic booklets full of designs.
Side by side, day after day, street hawkers set up their almost identical carts selling freshly squeezed orange juice, a bargain at 4 dirhams a go. The sellers call to us, wanting our business, sulking when we don't pick them. I choose the stall with the most locals.
We watched the sunset from Le Grand Balcon du Cafe Glacier. The place quickly filled up with people and the sound of frantic drumming mixed with the Snake Charmers piping and traditional Berber music filled the air.
As the sky turned dark, the street performers took centre stage, surrounded by huge crowds who looked on appreciatively. But the real action was at the food stalls, each selling an array of Moroccan cuisine such as tagine (my favourite), meats, kebabs, snails, sheeps heads and little French cakes. I'll let you guess which ones I didn't try. The food stalls are cheap, cheerful and full with both tourists and locals alike.
Once we'd had enough of the Jemaa el Fna, we made our way back to the Place des épices (with some more directions) to one of Marrakech's most famous restaurants, Nomad.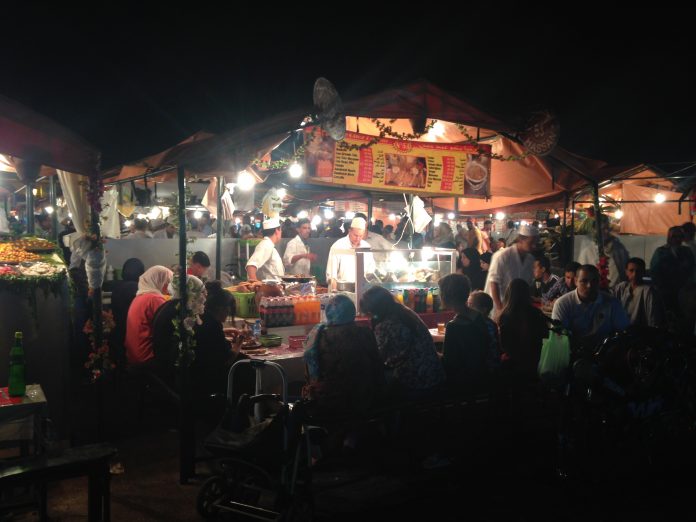 We hadn't booked but they squeezed us in and we sat on the rooftop as little lanterns twinkled above us and the square below began to wind down. I had the Nomad Burger, a spiced lamb burger with aubergine, caramelized onion and harissa mayonnaise and I would highly recommend it.
We finished eating around 11pm, and asked the manager if one of the staff could walk us back to our riad. They weren't sure where it was, so they said they could perhaps walk us back to the square and we would get a tuk tuk from there.
The waiter was probably no more than 20-years-old and chatted to us as we walked walked through the souk, which was still pretty busy, so I think we would have found our way back to the Jemaa el Fna by ourselves, but it was nice to be escorted and not have to worry about it.
Lisa asked him how on earth he found his way around? He'd grown up within the medina, so he knew it well. We told him how lost we'd been over the last couple of days, and how frustrating it had been.
He turned to us and smiled.
"But that is the charm of the city," said the boy, "to always be lost."
I couldn't help but wonder, why is being lost a bad thing? In my over controlled day to day life, where everything is mapped out months in advance, and spontaneity is rare, I'd forgotten how wonderful it is to just wander, to be, to really explore and just let the experiences happen.
Sometimes getting lost allows us to find the things that we never even knew we were looking for all along. Being lost can be a beautiful, mind opening experience. Thank you Marrakech for being so easy to get lost in. And thank you to the boy for reminding me how wonderful being lost can be.
Where to Stay in Marrakech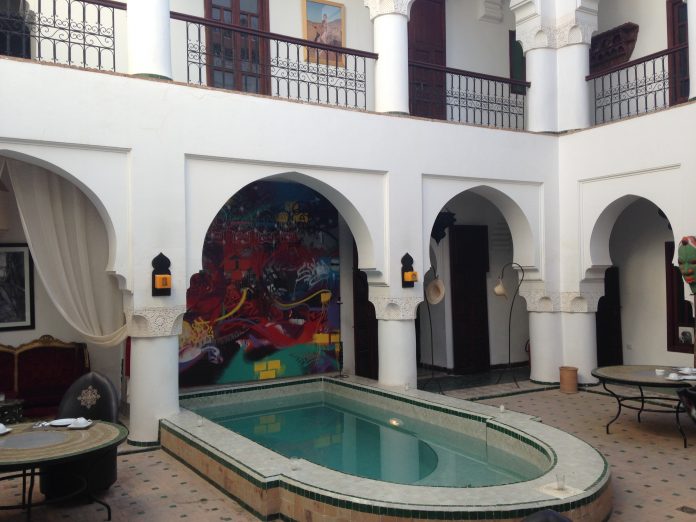 Marrakech has so many options for places to stay, from cheap hostels to high end hotels like La Mamounia.
Ibis: This is a pretty basic, transit hotel, a bit old and grubby looking but it was fine for 1 night. I mainly stayed there because it was right next to the Supratours bus station so it was perfect for catching the bus to Agadir to get to my surf school and they have free WI-FI. £29 for a double room for 1 night.
Riad Ka: This is a lovely Riad towards the edge of the medina. The owners Patrick and Frédéric were very nice. Patrick is a photographer, and the place is super stylish, full of gorgeous photographs and colourful art pieces.  I loved our little room called Essouira which was on the top floor near to the sun terrace. They had free Wi-Fi and breakfast. The only downside is that it's a bit of a walk to Jemaa el Fna. But as we know, getting lost in Marrakech is the beauty of the place. Patrick arranged for us to go on our tour with Mohammed. This road was a total bargain at £23.50 for a twin room for 1 night.
Riad Capaldi: This was another lovely little Riad. I loved the roof terrace of this place and their breakfast was really nice. This was close to Riad Ka, so it was also a bit far out from the square too, but it was literally a 2 minute walk to Le Fondouk, one of the best restaurants in Marrakech. The owner Sylvain was really helpful too. £64 for a twin room per night.
Where to Eat in Marrakech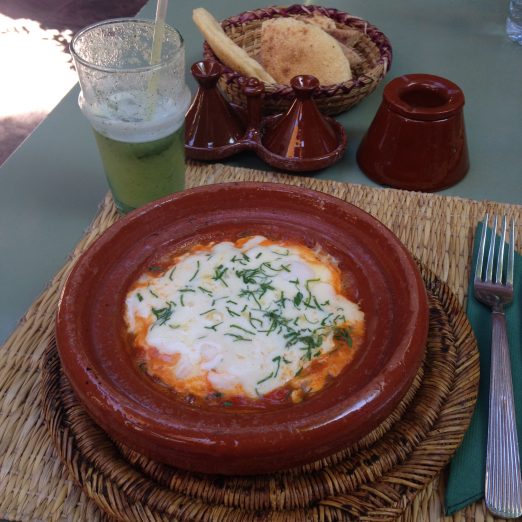 Jemaa el Fna: For cheap eats, local food and a lively atmosphere, this is the place to be. Watch the sunset from one of the balconies overlooking the square, and then head down to the square and find a stall you like the look of and order yourself some authentic Moroccan food. Wash it down with a nice glass of orange juice, which is the best I've ever tasted and it's only 4 dirhams a glass. And if snails are to your taste, grab some snails!
Nomad: We had a really nice meal in Nomad and I would definitely recommend going. The food is contemporary Moroccan and the place has a great ambiance. It's in a really good location within the medina, overlooking a market square. I had the Nomad Burger, which was really good and finished off with some locally made, smooth spiced chocolate sorbet and saffron ice cream. I really wanted to try the Amalou ice cream (almond, argan oil and honey – how good does that sound?), but they'd sold out!
Le Fondouk: I'd say that we both preferred the food in Le Fondouk, but it was a close call. I had a chicken tagine, and Lisa had a chicken pastilla. Both were amazing, especially the pastilla
Things to Do in Marrakech
Here's a few ideas of how to spend your time in Marrakech!
Get lost in the medina and souk.
Take a walking tour when you get tired of getting lost.
Go shopping in the souks for rugs, harem pants, jewellery, tea sets and anything else you can find.
Haggle and haggle hard.
Shop for spices.
Go on a food tour.
Visit the Koutoubia Mosque, although it's not open to non-Muslims, but you can appreciate from the outside.
Watch the sunset and madness from a balcony at Jamaa el Fna and stay until it's dark to eat street food, drink fresh orange juice and try some snails.
Avoid the guys with the monkeys.
Eat tagine.
Get a henna tattoo.
Stay in a riad.
Drink Moroccan Mint Tea – preferably on a roof terrace.
Visit Museum of Marrakech.
Explore the Ben Youssef Medersa Koran School.
Take thousands of pictures. Marrakech is very photogenic, and acceptable to take photos pretty much everywhere.
Catch your breath back at Jardin Majorelle.
Learn about Berber culture.
Visit the tanneries.
Go see an exhibition at the Maison de la Photographie.
Get scrubbed down at a hammam.
Getting Around Marrakech
In the medina, the best way to travel is by foot. We had a map, in fact we had 2 maps, but they didn't really work for us, asking people was the easiest way to get around. Ask, walk a bit, then ask again. I found most people to be pretty helpful. Shopkeepers are generally good people to ask. Some people (usually young men and boys) will try and show you the way. Some just do it to be nice, some will expect payment. We even had one guy lead us and his friends were following behind. They were harmless but it was a bit weird. I just made sure they knew I was keeping an eye on them. Just keep alert.
To get from the airport, your riad or hotel can usually send a pick up, but it's really easy to get a cab – they're all a light orange colour. We got a tuk tuk back from Jemaa el Fna, and that was pretty fun going through the medina.
To get out of the city, I used Supratours busses. Really cheap and reliable.
What to Wear in Marrakech
I saw plenty of women (tourists) who had their knees and shoulders out and most people didn't bat an eyelid. I showed my shoulders, in the touristy places or in restaurants etc but I kept a scarf with me at all times, and kept covered in the streets and markets.
Safety in Marrakech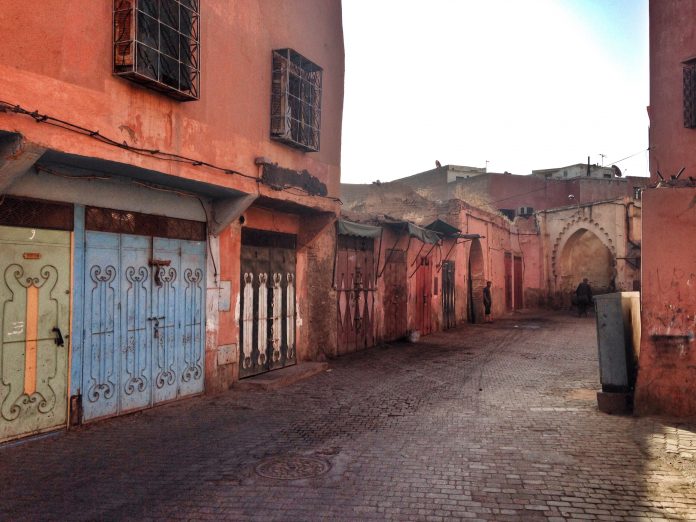 Despite what I'd read about Marrakech, we didn't really get bothered by anyone at all and I never felt in danger.
I know it's different for everyone, but I didn't receive any negative comments, well none that I noticed anyway. I did get the odd 'beautiful' and even a 'hello Shakira', but nothing horrible. I just ignored it and carried on walking. I've long perfected the 'I'm totally relaxed here, know where I'm going and don't even think about it!' face.
You'll be fine in the busy parts of the medina at night but many hotels and riads are on quiet streets so if you are returning late at night, take a taxi or ask someone to accompany you.
I wrote a blog post of travelling safely in Africa, most of those tips will apply here too!
Pin It For Later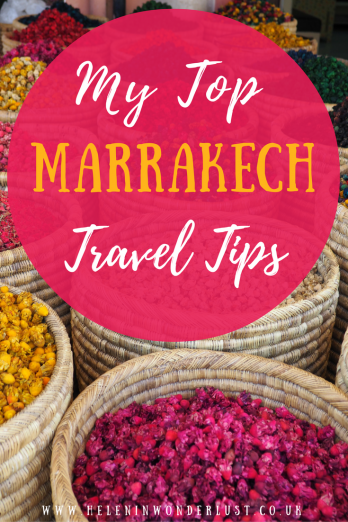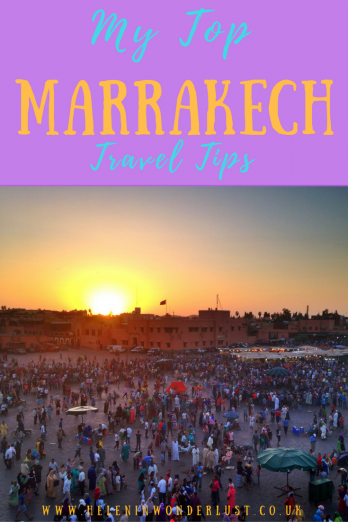 Have you been to Marrakech? How did you find it? Any good tips?
---
Want to go on an Epic African Adventure?
Want to go somewhere amazing with an awesome group of likeminded travellers??
Then join one of my 2018 Rock My Adventure small group tours to Kenya, Tanzania & Zanzibar, Uganda, Rwanda & the DRC, Zambia & Malawi and Morocco! More destinations coming soon!
Rock My Adventure tours are experiential and culturally immersive adventures, but without the hassle of having to find accommodation, working out how to get from A to B and booking all your own activities. They are laid-back and fun, kind of like an independent  backpacking trip (with the occasional bit of luxury) and a group of friends built in – the best of both worlds!
To find your perfect Rock My Adventure tour, click here!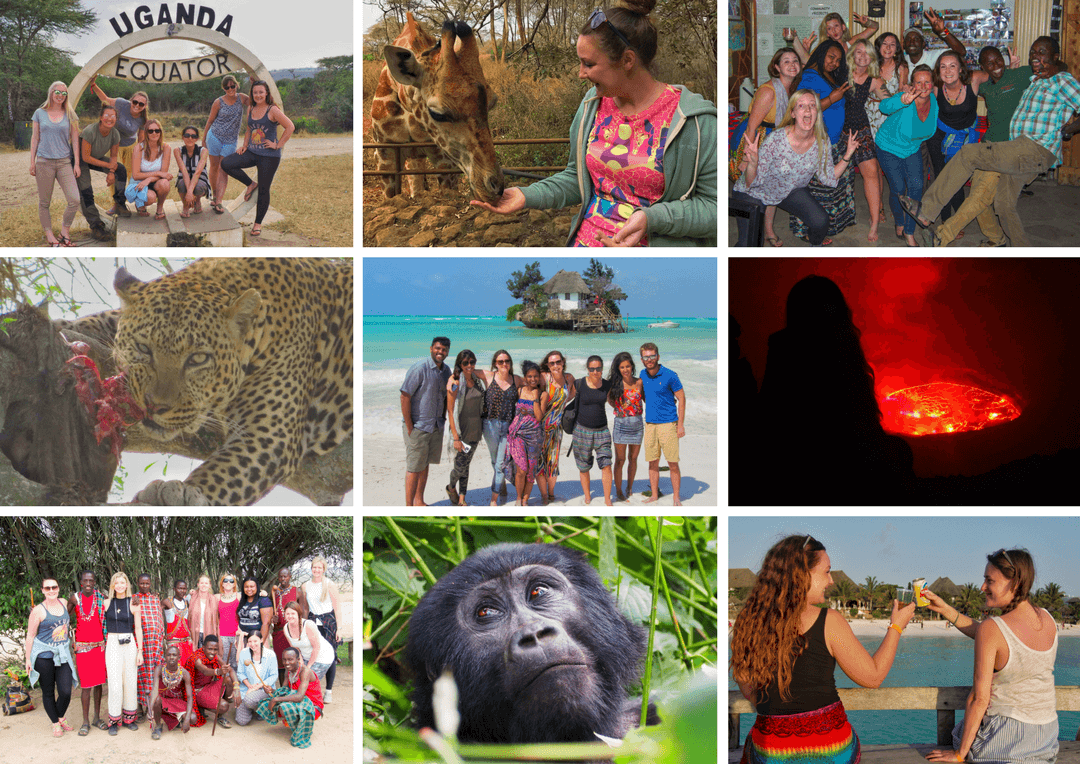 If you can't make it this time and would like to be the first to know of any future tours, you can sign up to the mailing HERE!