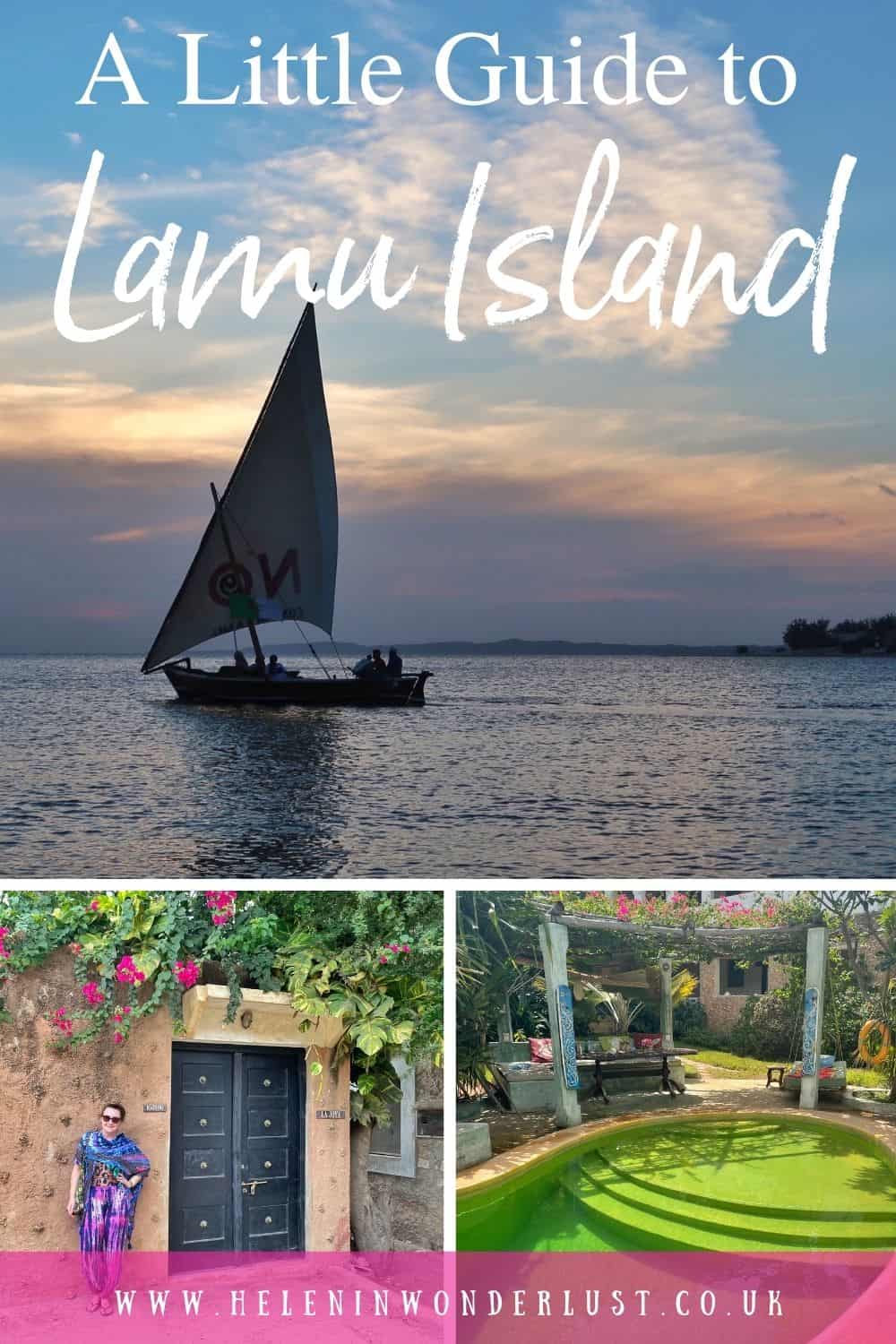 Last updated on January 20th, 2023 at 11:15 am
Every so often, you visit a place that absolutely captures your heart. Lamu Island in Kenya is one such place.
I'd been wanting to visit for a very long time and was worried it wouldn't quite live up to the hype, but Lamu was the lovely little place that I was hoping it would be. It's known as 'Lamu Tamu', meaning 'Sweet Lamu' and now that I've been, I can totally understand why.
Dating back to the 14th Century, Lamu Town is one of the oldest and best preserved Swahili settlements in Africa and a UNESCO World Heritage Site. It has a beautiful 12km stretch of unspoilt beach and a relaxed vibe.
Arriving on Lamu Island is like stepping back in time. There are only four cars on the whole island, with the main form of transport being donkeys (and there are donkeys everywhere), boats and motorbikes.
The pace in Lamu is 'pole pole', which means slowly in Swahili. So if you're looking for a place to chill and just be, Lamu is the place to go.
I fell in love with the island and I'm sure you will too, so here's my travel guide to Lamu Island.
---
A Little Guide to Lamu Island in Kenya
Getting to Lamu Island
The best way to reach Lamu is by plane. Safarilink (who I flew with), Jambojet, Skyward Express, Fly540 and Hahn Air fly daily from Nairobi to Manda Airport on Manda Island. You can also fly direct from Mombasa or Malindi.
From the airport, it's a short boat ride over to Lamu Island. Transfers can be arranged via your hotel, or you can organise them when you arrive, as there are usually touts and boats waiting.
You could get a bus or drive to the coast and leave your car in Mokowe (you still need to get a boat over to Lamu), however, it's advised not to drive due to safety issues in the region. Plus, it's not advisable to leave your car unattended.
When to Visit Lamu Island
You can visit Lamu at any time of the year, however the dry seasons run from July to October (cooler) and January to February (hotter and more humid). May is usually the most rainy month. December is usually very busy due to the festive season.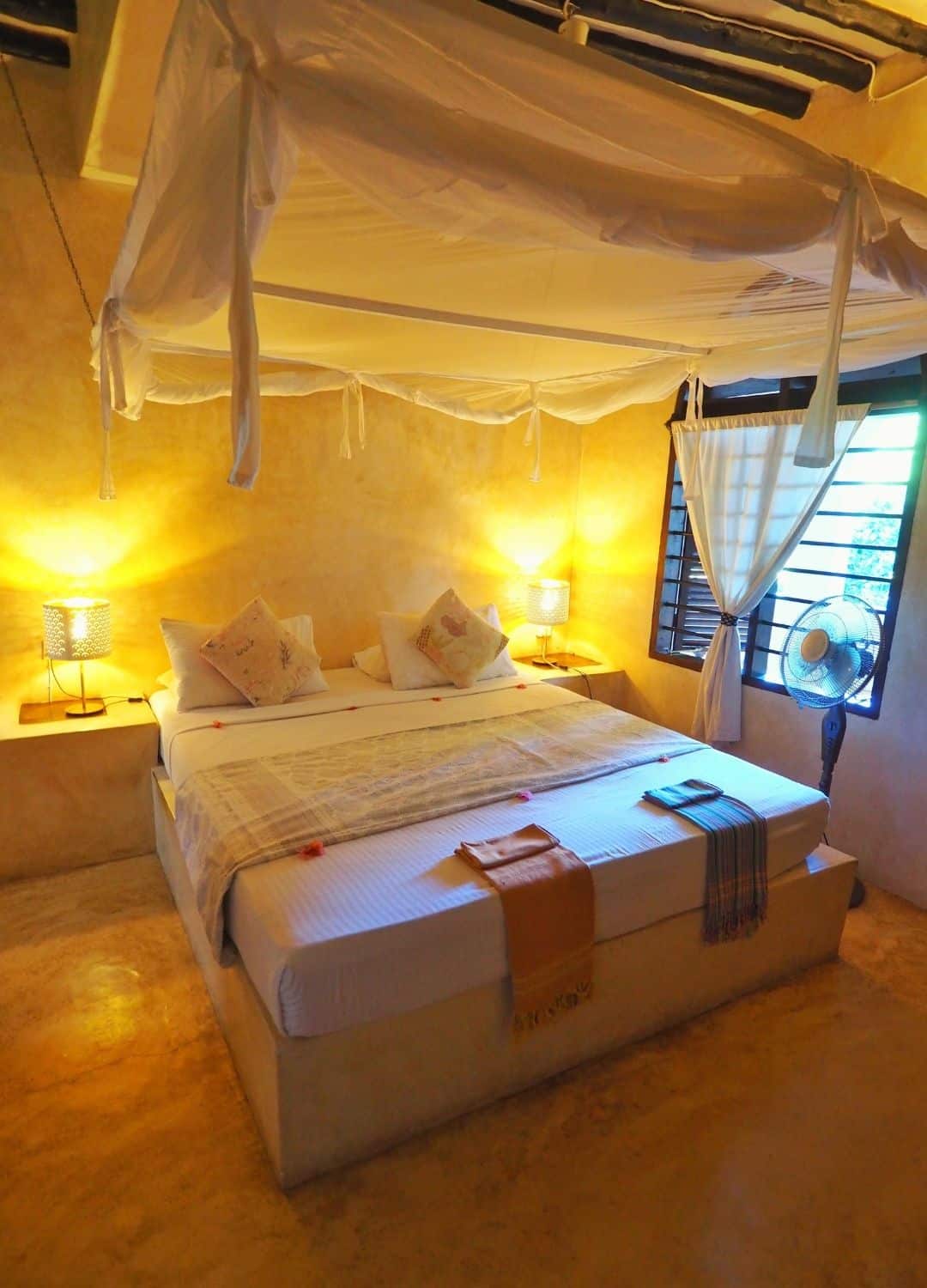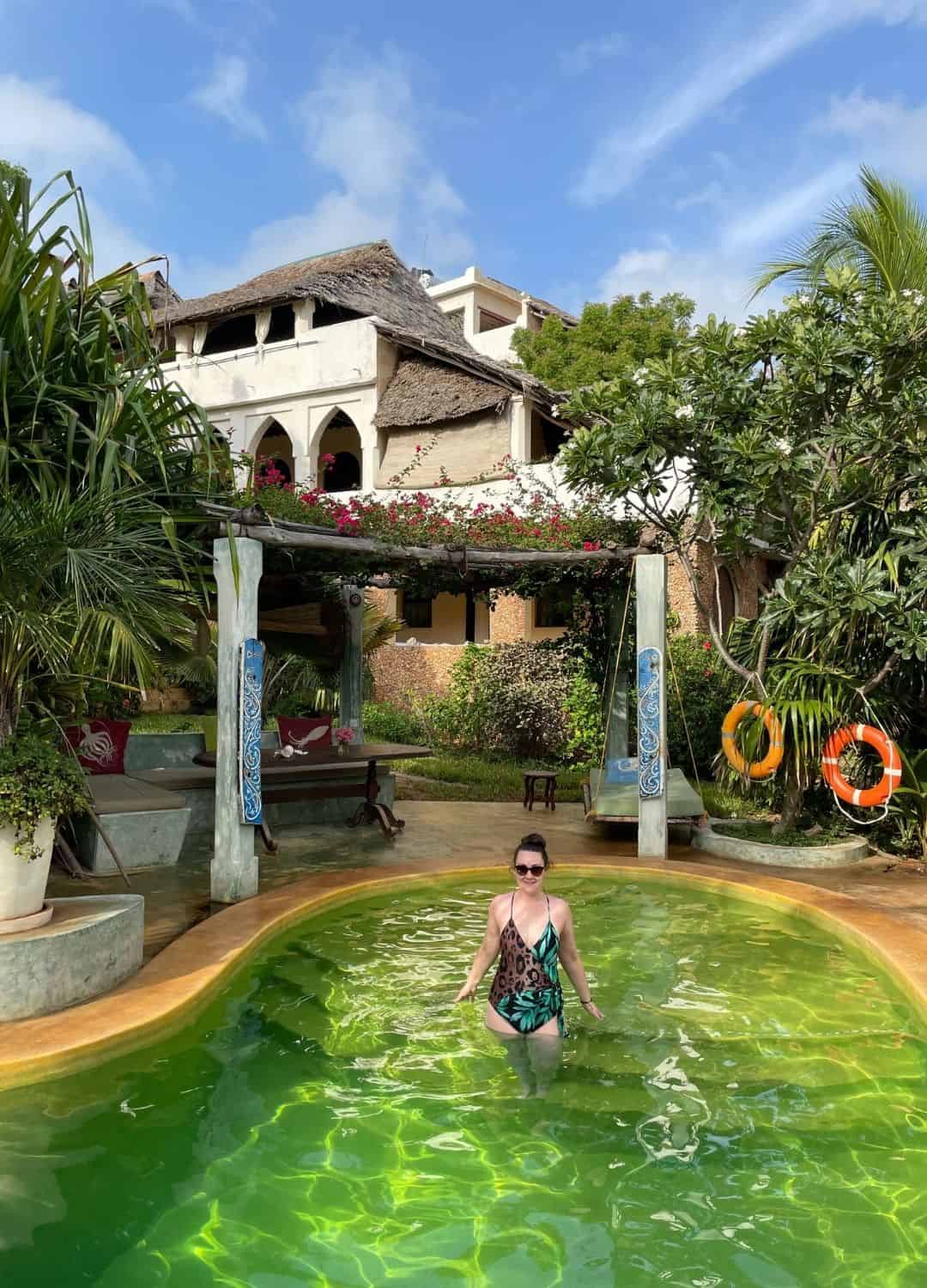 Where to Stay on Lamu
There are some great places to stay in Lamu. We stayed in the small village of Shela which is located on Lamu's South-East corner, next to the island's beautiful 12km-long beach. However you can also stay in Lamu Town itself, or across the bay on Manda Island, which isn't on Lamu, but just a short boat ride away.
Shela
Banana House: This is where we stayed and I absolutely loved it. Our Swahili-style room was lovely, the pool is gorgeous, the surroundings are beautiful and homely, plus they have an onsite yoga studio.
Jua House: A lovely and tasteful Swahili-style b&b in the heart of Shela, near to Banana House.
Peponi Hotel: The Peponi Hotel is a Lamu institution, perfectly positioned overlooking the bay with a gorgeous pool and popular restaurant.
Amani Lamu: A beautiful villa in the sand dunes behind Shela. Ths place hasn't opened yet, but it's owned by a girl I follow on Instagram and you can check it out here.
Dudu Villas & Lamu Backpackers: If you're on a budget, check out this hostel. It's a little walk from the main part of Shela, but rooms start from around $8 so you can't really complain!
Lamu Town
Makubwa House: This is a lovely hotel, located in the centre of the old town.
JamboHouse: Budget accommodation in the heart of Lamu Town.
Lamu House Hotel: Lovely hotel located on the waterfront. They have a nice pool and restaurant (Moonrise Restaurant) which is a popular meeting spot. I didn't eat here but it gets good reviews.
Manda Island
The Majlis Resort: The most luxurious hotel around, located right on the beach, overlooking Shela. Perhaps visit the restaurant for a special treat, even if you don't stay.
Diamond Beach Village: This is a family-run eco lodge, also located right on the beach, along from The Majlis Resort. This is a good choice that won't break the bank.
Kipungani Beach
Cabanas Eco Lodge: Kenya meets Hawaii at this eco-lodge which lies on the far South-West tip of Lamu. You can also visit for lunch and dinner. If you're up for it, you can also make the 3-hour hike along the beach from Shela.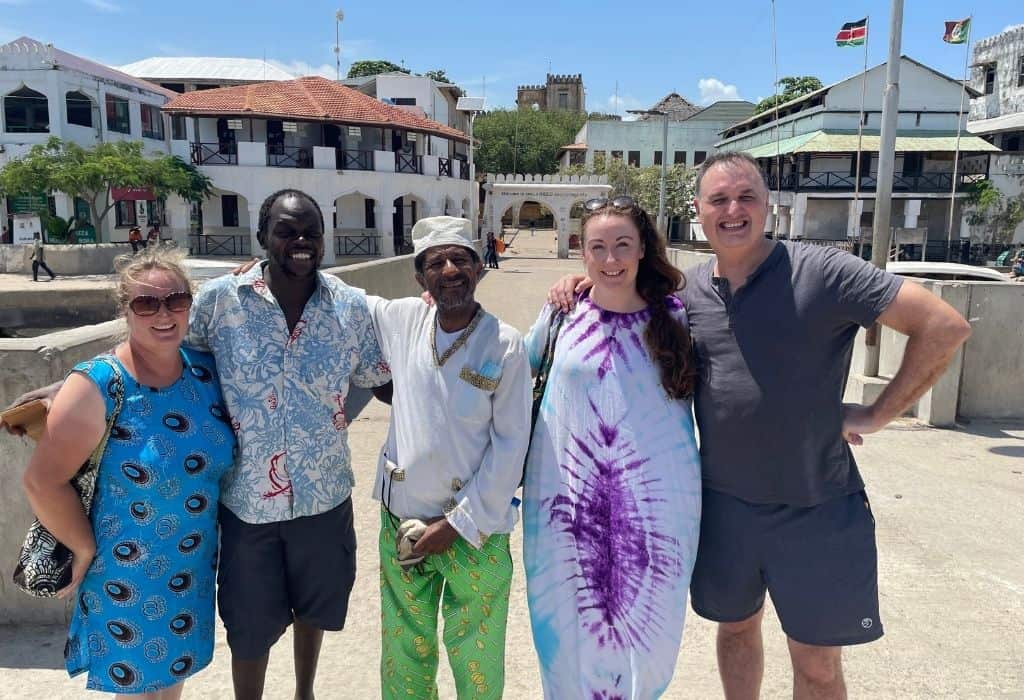 Things to Do on Lamu Island
Take a Tour of Lamu Town
Lamu Town is very interesting, unique and steeped in history, so it is definitely worth taking a tour with a guide. We booked our guide, Hamza, through Banana House. He was a lovely man, very knowledgeable and friendly.
Lamu Town reminds me of a smaller, less hectic version of Stone Town in Zanzibar, with incredible Swahili history, a maze of alleyways, stone buildings dating back centuries and ornate doors of Arab, Portuguese, Omani and Indian origin.
We took a boat to Lamu Town from Shela, which took around 15 minutes, but you can walk (40 minutes) or catch a boda boda (motorbike).
Visit the Takwa Ruins
The Takwa Ruins are the remains of a 16th century settlement, over on Manda Island. Whilst you're there, you can also visit the village of Maweni which is where the coral used in the construction of Lamu buildings comes from.
Walk Along the 12km Beach and Take a Sunrise Swim
On a couple of our days in Lamu, we got up early (6am) to have a wander along the gorgeous, white sand beach (it reminded me of Tofo Beach in Mozambique) and have a sunrise swim in the calm water.
This seemed to be quite a popular activity and we saw a few other walkers, joggers, dog walkers and swimmers who had the same idea, but the beach is that big that it didn't feel busy at all.
The main stretch of beach is next to Shela village. To get there, you walk along the water, past the Peponi Hotel, past the Governor's House and there's the beach. You can also walk the full length of the beach from Shela (takes around 3 hours) to Kipungani, have lunch at Cabanas Eco Lodge and then take a speedboat back to Shela or Lamu Town.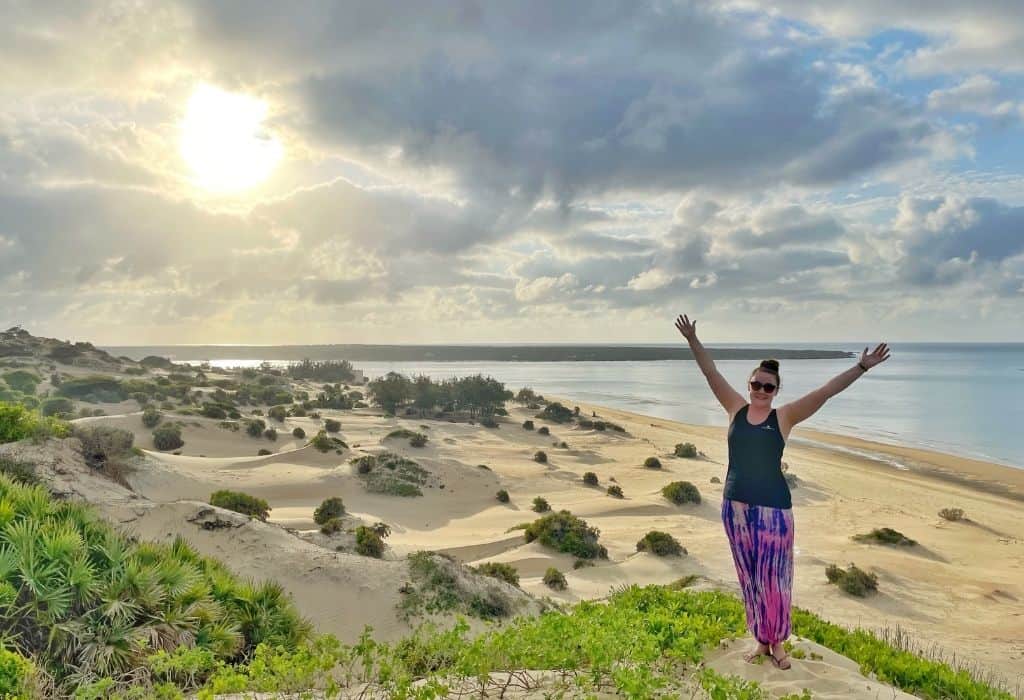 Swim to Manda Island
If you're feeling pretty energetic, you can swim across the bay to Manda Island. This may sound quite extreme, but you can hire a motorboat that will sail along with you, carry your stuff and rescue you if you get tired of swimming.
Watch a Movie & Have Pizza at Diamond Beach
Every Thursday the Diamond Beach Hotel hold a pizza and movie night. The films are usually announced on their Instagram page.
Have a Swahili Dinner at Banana House
On one of our evenings in Lamu, we had a beautiful Swahili dinner at Banana House. We sat in the garden, on the floor in traditional Swahili style and tucked into a delicious meal of fish, rice, pumpkin, greens, chapatis and other dishes.
Take a Yoga Class
Lamu is the perfect place to take a yoga class and one of the best places is Banana House which holds 3 x daily classes.
Watch the Sunset from the Sand Dunes
Shela is backed by beautiful sand dunes which offer the perfect vantage point to watch the sun go down. Grab some sundowners and a couple of friends and enjoy!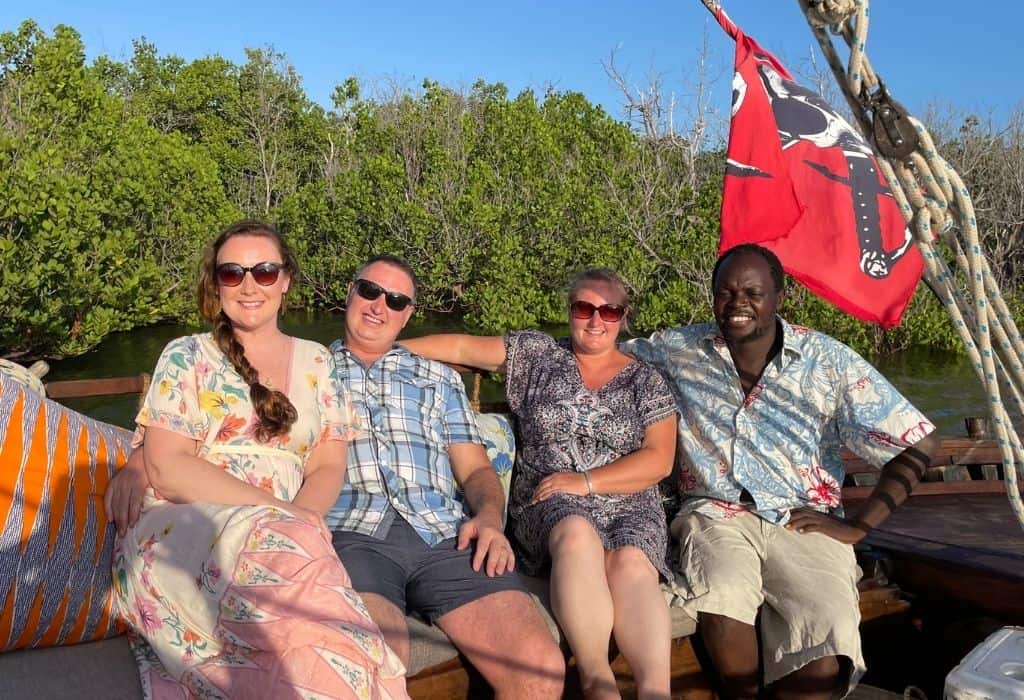 Sail on a Traditional Dhow Boat
Taking a dhow cruise is a must-do activity on Lamu Island. You can arrange them through your hotel or directly with the captain (walk down to the docks). We arranged ours in advance with the Hippo Dhow.
There are a few different types of cruise to choose from – some do day trips with snorkelling and lunch to Manda Toto (a small island off Manda Island), whilst others do sunset cruises with dinner, drinks and/or music. We just opted for a sunset cruise with soft drinks and snacks (very delicious samosas, viazi karai and bhajis).
It was a lovely experience, sailing around the bay, getting close to the mangroves and watching the sunset. We even stopped for a little swim over by Manda Island.
Take a Cooking Class
The snacks we'd had on the Hippo Dhow were so good (especially the samosas) that we asked if the person who makes them could teach us how to make them. It turns out that her name is Jameela and she's a member of the Shela Women's Association and the wife of Captain Yusuf who owns the Hippo Dhow, so we booked a cooking lesson with her.
My friend Laura and I spent a lovely afternoon with Jameela and her friends making both tuna and vegetable samosas. It took a bit of practice to get them right, but they were so good!!! Will definitely try them at home.
Get a Treatment at Natural Lamu
This is a spa located opposite Banana House. They often tons of different treatments including facials, massages and sunburn treatments. Treat yourself
Attend a Festival
Lamu hosts several festivals and events every year, including the Lamu Yoga Festival (March), the Lamu Cultural Festival (November) and Maulid Festival (usually June).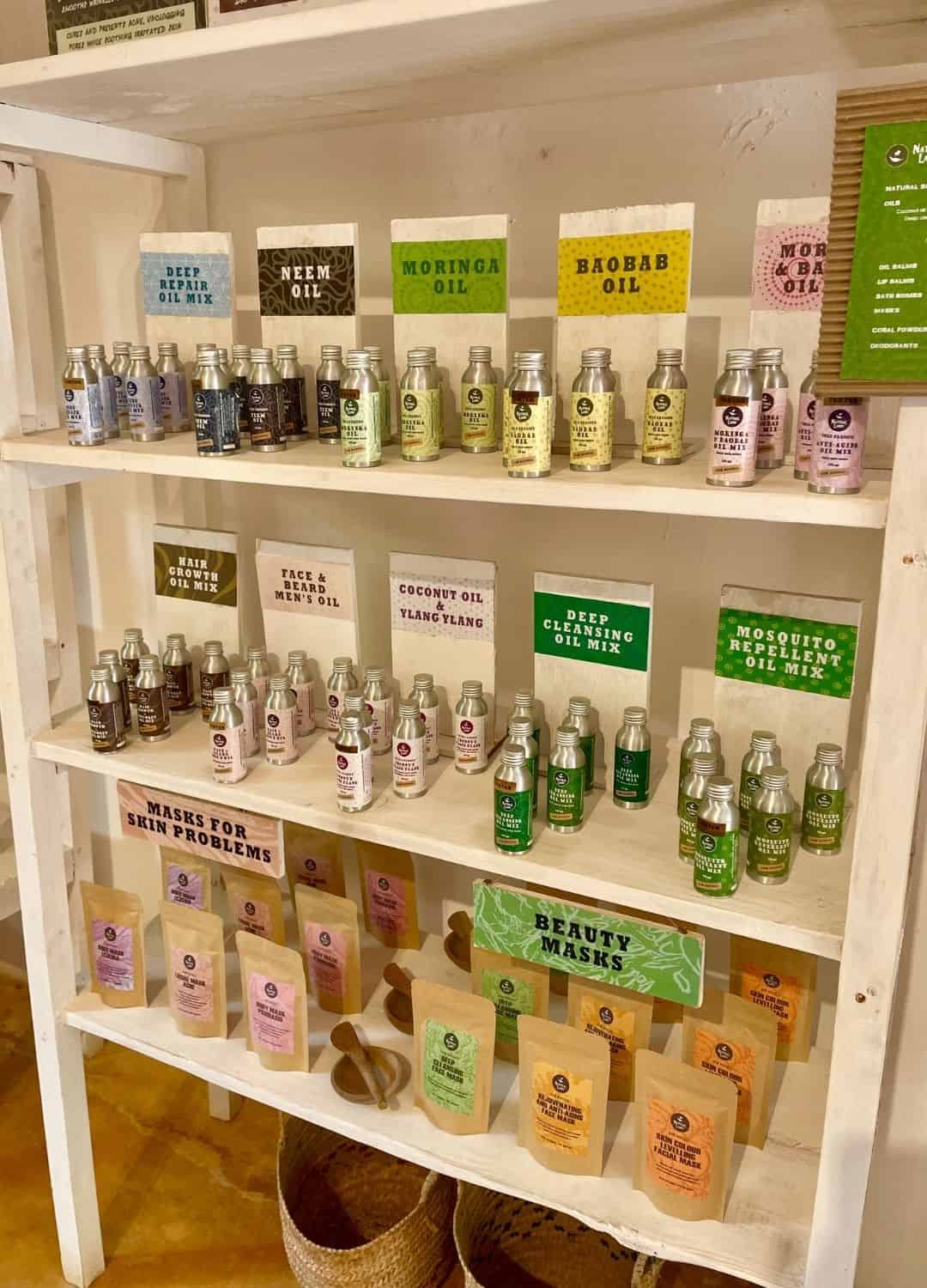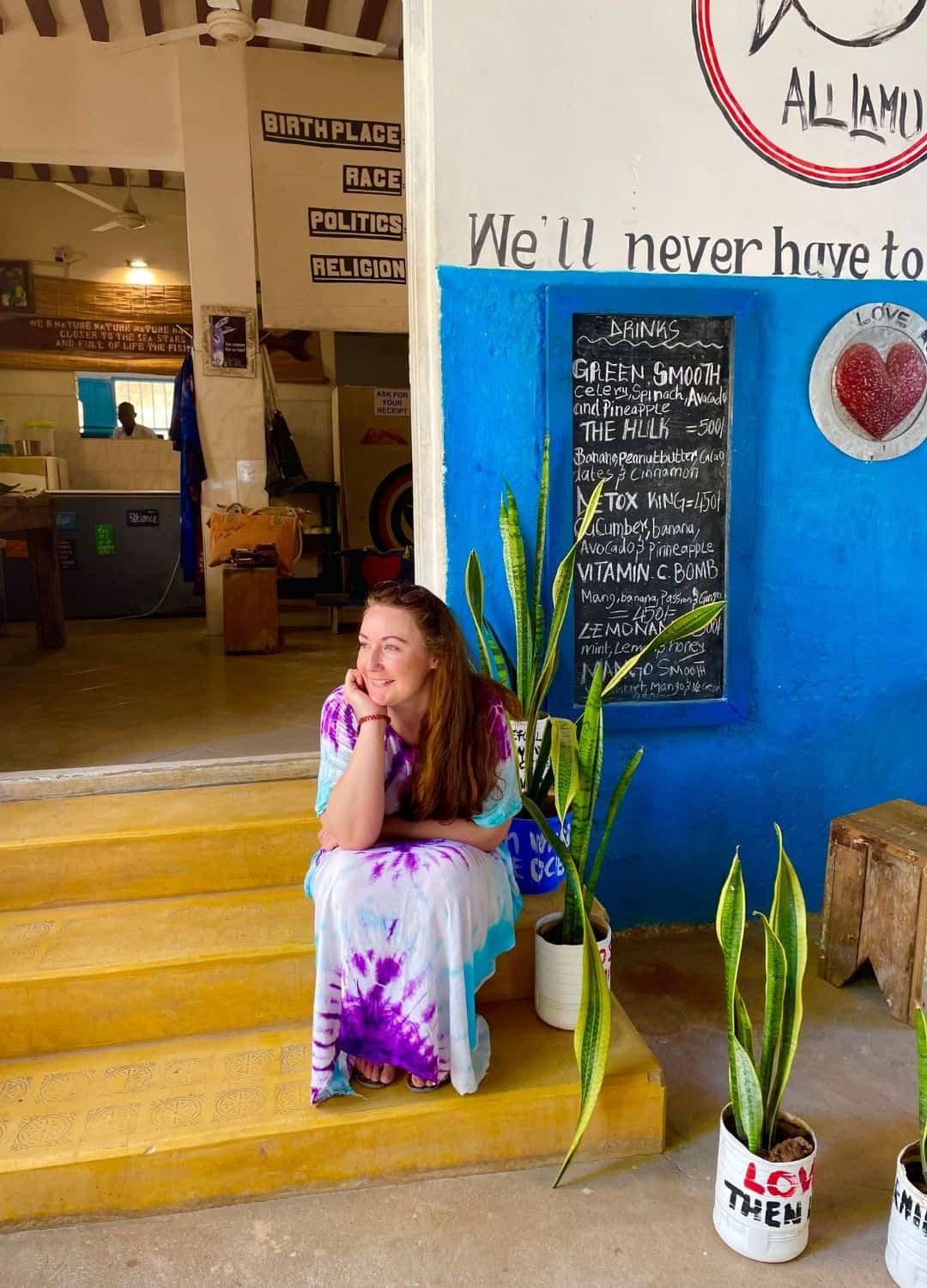 Where to Shop on Lamu Island
Ali Lamu: This is a great little shop/coffee shop. They specialise in beautiful bags made from recycled cloth.
Natural Lamu: Loved the products you tried at the spa? Great news – you can buy them in their shop which is located in the village. I love their Anti-Aging Oil Mix. They also sell bags too.
Aman & Aman Home: These are two very stylish boutiques selling clothing and homeware.
African Corner: This is a nice gift shop next to the Natural Lamu shop.
Maasai Market: If you want some of the beaded jewellery you see around, you can buy it from the Maasai who set up shop on the seafront.
Janet's Collection: A little shop in the village selling reasonably-priced kikoys and Swahili dresses.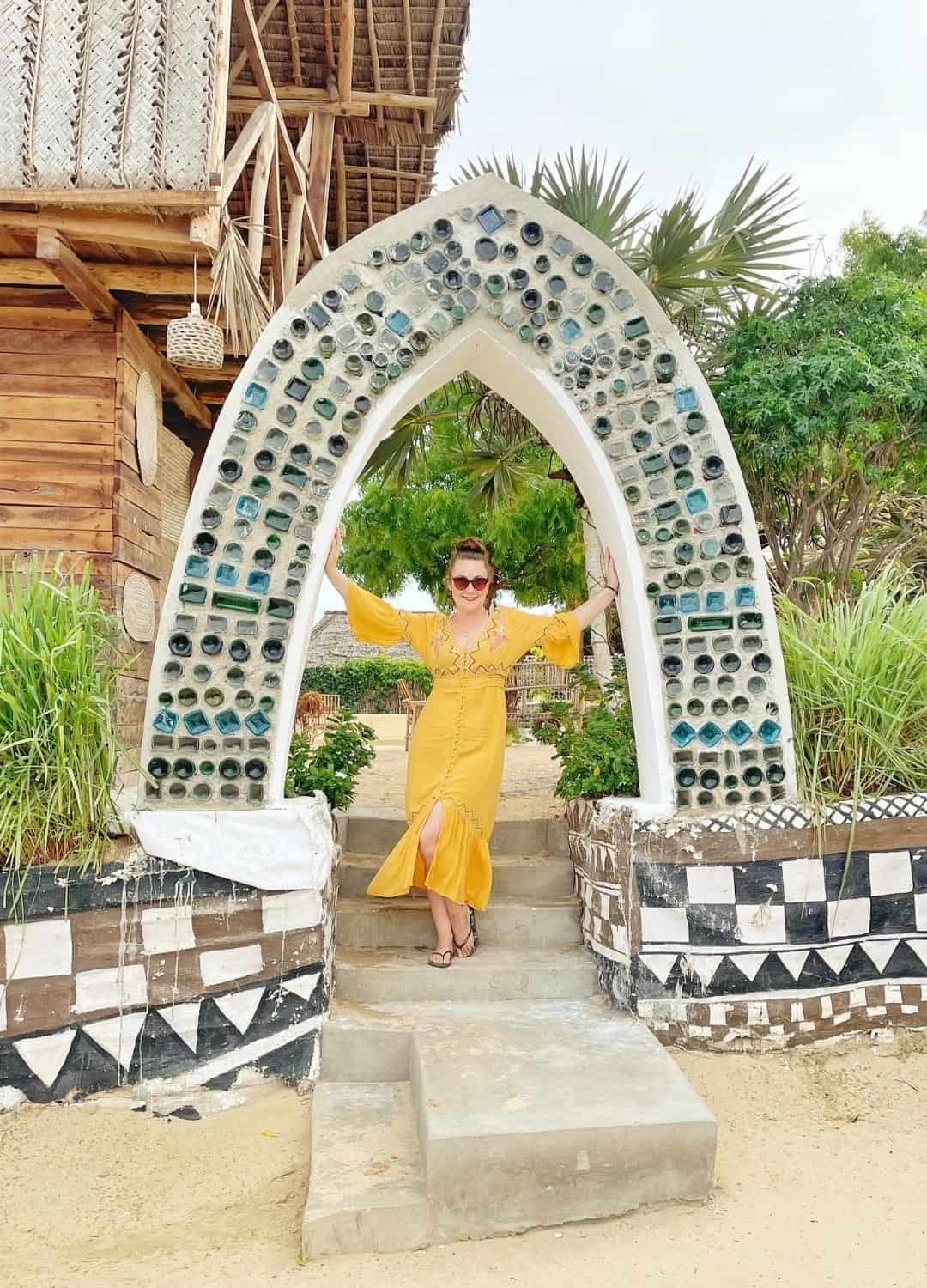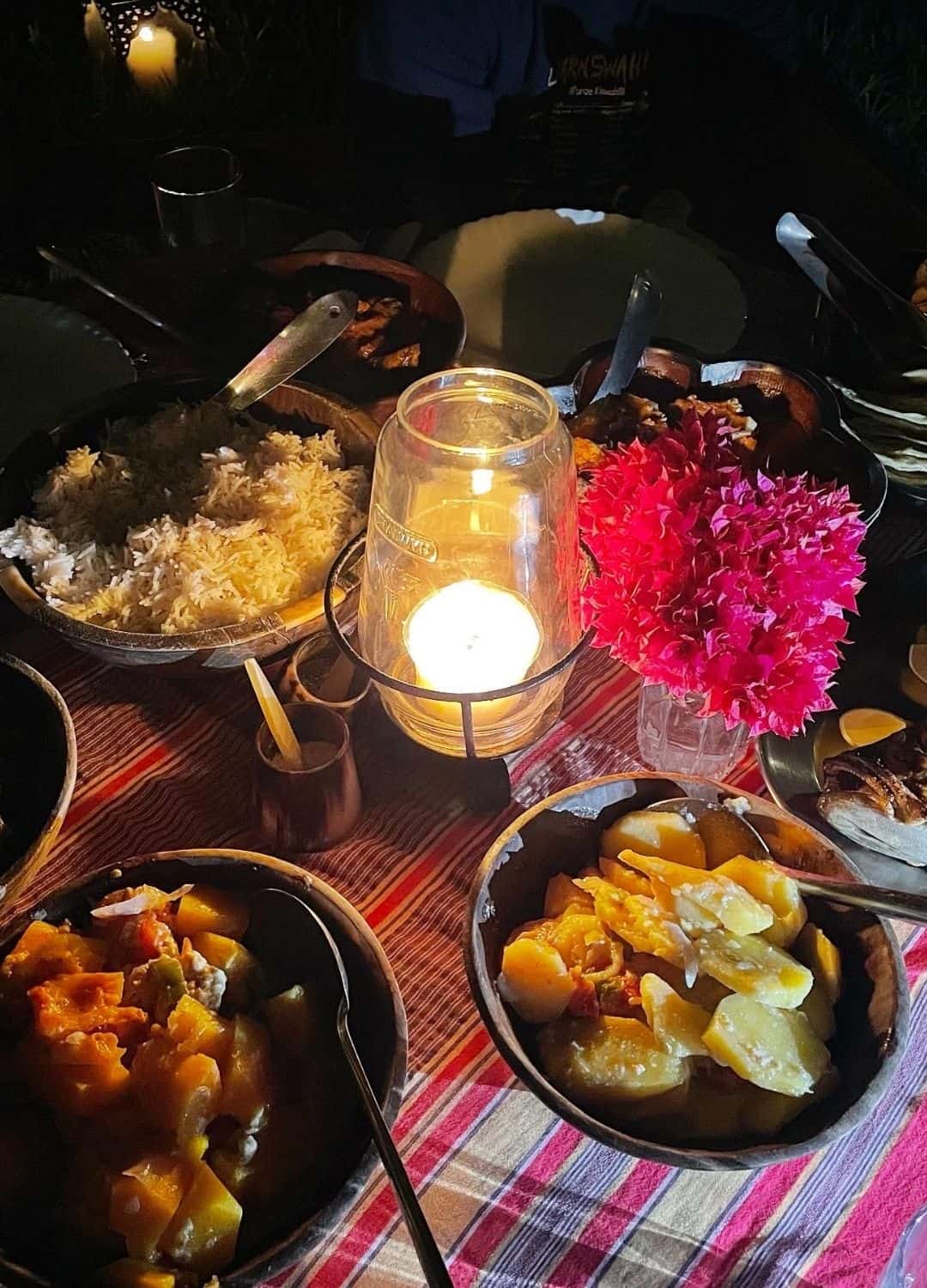 Where to Eat & Drink on Lamu Island
Peponi: This hotel, restaurant and bar is one of the most popular restaurants on Lamu Island and the heart of Shela village, where locals, expats and tourists come to meet. The food is wonderful and the atmosphere buzzing. This is a great place to celebrate on a special occasion.
Kijani Restaurant: We had a lovely meal here on our first night in Lamu. I had the fish & chips and I can highly recommend it.
MaraRaha Village Lounge: This is a great little bar in the sand dunes, around a 15-minute walk from the main part of Shela in Mara. We just popped in for an early evening drink, but if you want to see it in full-force, I'm told you need to visit on one of their party nights with live music and lots of dancing – they look very fun.
Floating Bar & Restaurant: As you take the boat from the airport to Lamu, you will pass the floating restaurant, a popular restaurant and bar with weekly parties.
Ali Lamu: We stopped at this great little cafe and shop in the backstreets of Shela for smoothies and ice cream. I also treated myself to their flourless chocolate cake.
Diamond Beach Village: The party sometimes takes place at Diamond Beach on Manda Island and lasts late into the night (or the early hours of the following morning). If partying isn't your thing, it's also a really nice place to spend the day/afternoon as it's right on the beach.
Al-Mabrook: If you're after local snacks or eating on a budget, just stop by any of the local shops in Shela or Lamu. We bought snacks from Al-Mabrook shop in Shela which was near to our hotel. Things to look out for include mandazis (donuts), kaimati (sugar dumplings), vibibi (rice and coconut pancakes) and samosas.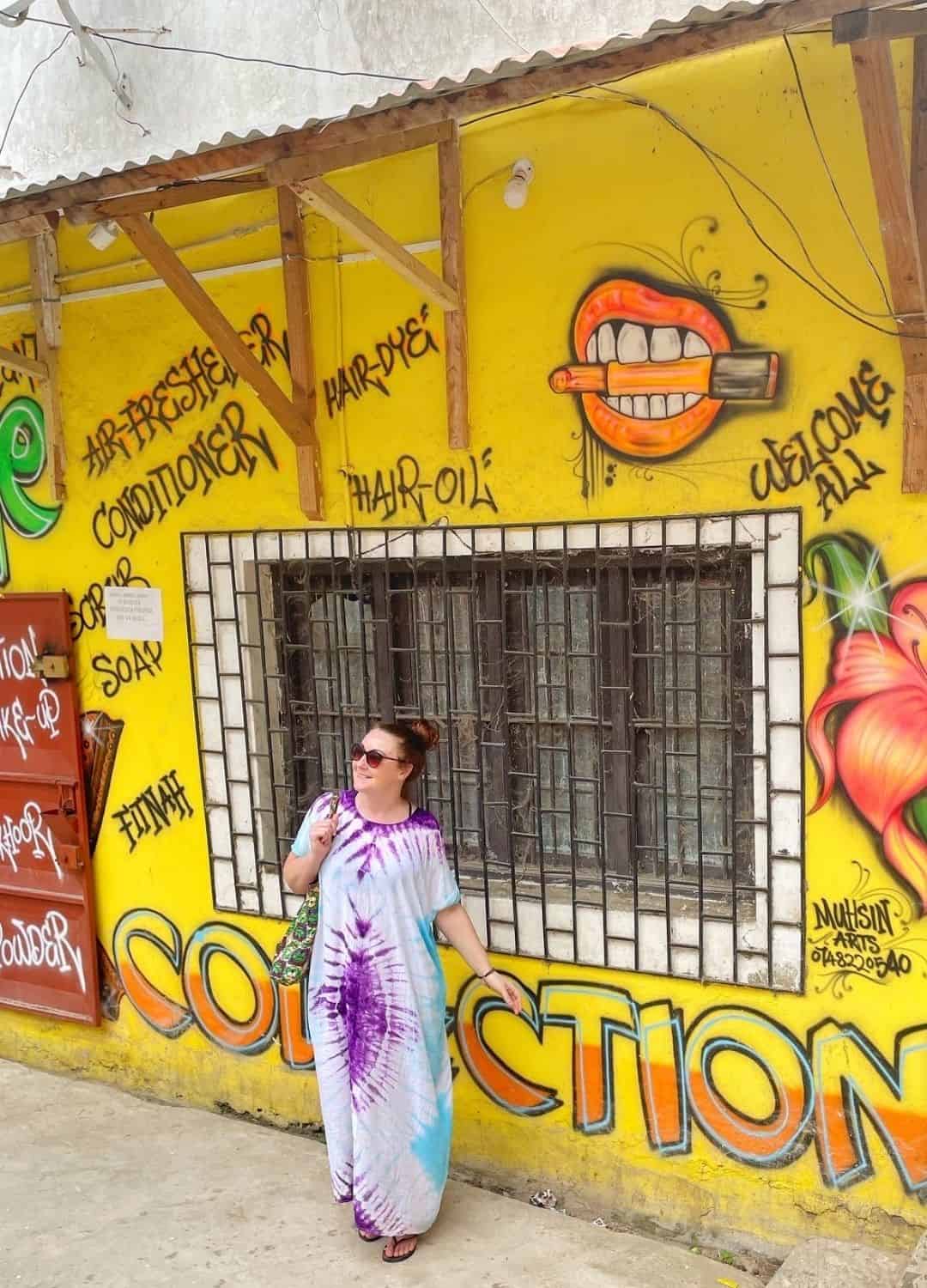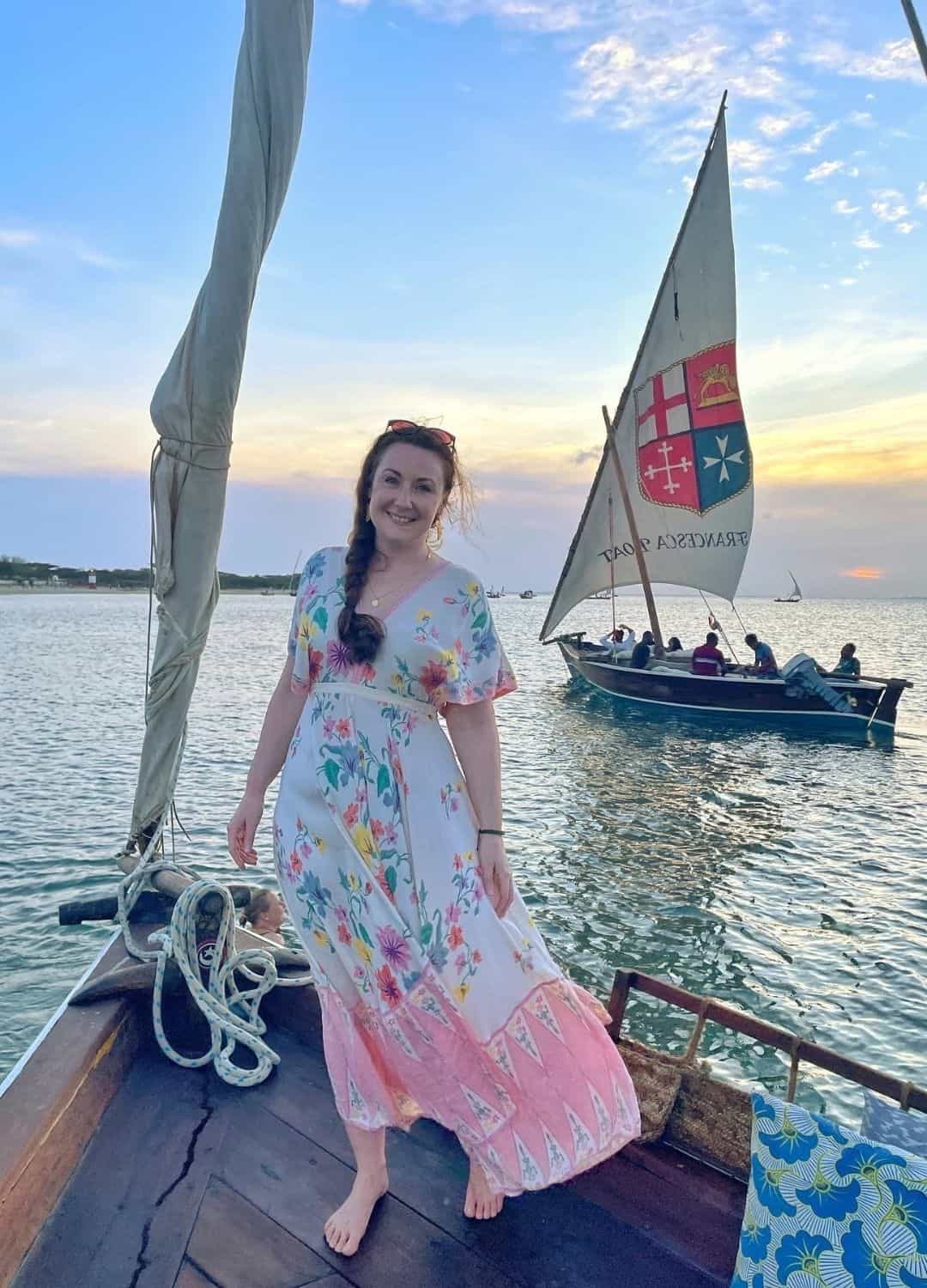 What to Wear on Lamu Island
Like Zanzibar, Lamu is a Muslim island and therefore very conservative. When walking around town, it's best for women to cover up their knees, chest and shoulders. Around the pool and on the beach, swimsuits are fine, but I'd avoid tiny bikinis and do not go topless.
Lamu is also a pretty stylish place, think Mediterranean meets Swahili Afro-chic. Floaty linen is all the rage amongst the ex-pats, so bring your oversized white shirts, maxi dresses and kaftans and you'll fit right in!
It's also very hot, so the Swahili-style dera dresses (like I'm wearing above left) are also a great choice. I got mine in Zanzibar but they also sell them here.
For a cover-up, I'd recommend getting a kikoy, which is a Kenyan sarong. I bought mine for 900 KSH at a local shop in the backstreets of Shela called Janet's Collection. You can buy them at some of the fancier shops but they're more expensive.
In terms of what to wear on your feet, I'd probably just stick to flip flops. The village is sandy so most other shoes are pointless and many people just go barefoot anyway!
Top Tip: Whilst we're on the subject of packing, I'd advise bringing lots of bug spray (sand flies and mosquitoes are a problem) and sunscreen.
Other Kenya posts you might enjoy…
I hope you have an incredible trip to Lamu and fall in love with it as I did!
---
Join one of my Kenya group tours or buy my Backpacking Africa e-book!