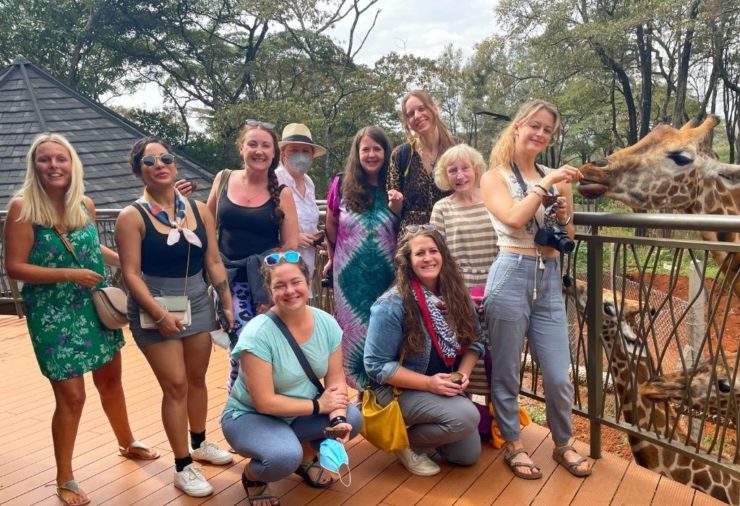 The first time I visited Nairobi, I didn't like it much.
I'd spent the previous months in Livingstone, Zambia, then in the relatively quiet town of Bagamoyo in Tanzania, then climbing Kilimanjaro. So when I arrived in Nairobi, I felt that it was too hectic, big and intimidating.
But now, I LOVE it. Nairobi feels like home to me. Isn't it funny how things change?
I still hate the traffic, but once you spend a bit of time in the city, you'll realise just how cool it is and how many great things there are to do in Nairobi. Kenya's capital is an exciting city, with lots of art and culture, fantastic social initiatives and a great nightlife scene.
Plus it has a national park on its doorstep, how many other cities can claim that? So with this list, I aim to give you some ideas for the best things to do in Nairobi (organised by neighbourhood). 
Please Note: Some of the links in this post are affiliate links, which will earn me a small commission at no extra cost to you. Affiliate sales help with the running costs of this site, so thank you for your support!
---
Awesome Things to Do in Nairobi, Kenya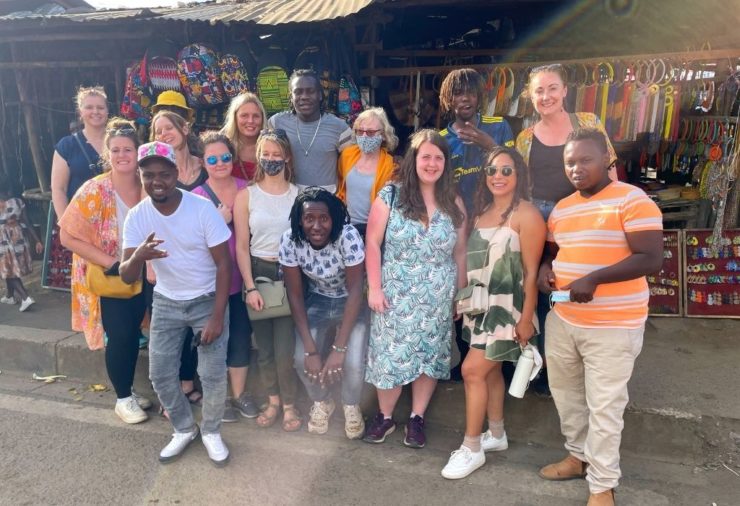 Things To Do in the Central Business District (the CBD)
Go On a Tour with the Nai Nami Guys
One of my favourite things to do in Nairobi is to go on a city tour with Nai Nami.
They're all former street boys, each with their own interesting and turbulent story to tell about life on the streets of Nairobi. This is different from a normal Nairobi city tour for the fact that the tour is more about them, rather than the history of the city.
They walk you through the streets of downtown Nairobi, down streets where tourists probably wouldn't (or shouldn't) go alone, due to it being a notoriously dangerous part of the city. But these are their streets and you always feel like they have you in their care.
As you walk, they'll tell you their stories which are truly inspiring. In their words 'This encounter is a unique opportunity to get inspired by people from a different world.'
MY TIP: Wear comfy shoes, you'll do a lot of walking.
Take a Nairobi City Tour
You may also want to take a tour of the city itself, through the CBD and to some of the important historical landmarks in the city, like the parliament buildings, the Savova Stanley, KICC and Uhuru Park.
MY TIP: Be careful about taking photographs. You are not allowed to take pictures of government buildings or in the CBD and the police have started fining people who do. This also applies to the Nai Nami tours too.
Stop for a Coffee at the Thorn Tree Cafe (of Lonely Planet fame)
At the bottom of the Savova Stanley Hotel, you will find the original Thorn Tree Cafe, which inspired the name for Lonely's Planet's Thorn Tree Forum. In the middle of the cafe, there is a huge acacia tree where travellers can pin notices for each other.
Hence why the name inspired the Lonely planet online forum. Grab yourselves a cup of tea and a slice of cake and whilst you are there, you can also take a little tour of this historic hotel which has hosted politicians, movie stars and even visiting royals (including the Queen) since opening in 1902.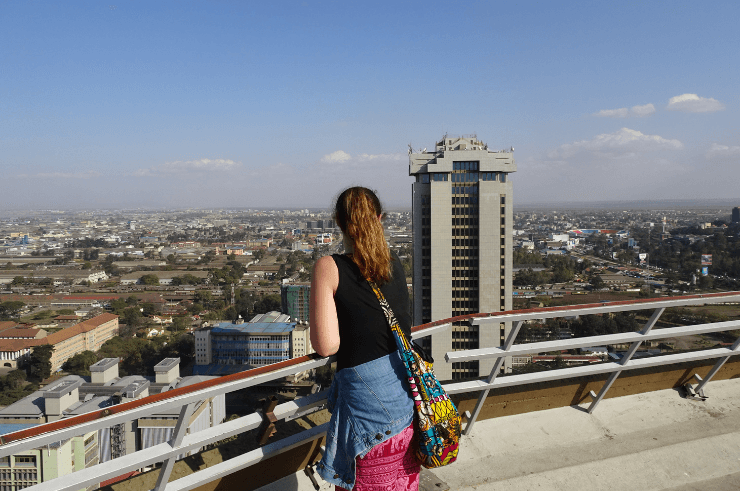 Take in the Amazing Views from the Top of the Kenyatta International Convention Centre
The Kenyatta International Convention Centre (KICC) is the 6th tallest building in Kenya, located in the CBD. For a small fee, you can take a lift up to the top of the tower for one of the best viewpoints in the city. It's a popular spot for tourists, as well as couples on dates as it's also a nice place to watch the sunset in the city.
Picnic in Nairobi's Uhuru Park
Uhuru Park lies right in the centre of town and is a popular hangout spot for Nairobians. Uhuru means 'freedom' in Swahili. I especially like it here on Sundays, when there are lots of families about, ice cream vans and fairground rides, creating a nice and vibrant atmosphere. Take a picnic to get the most out of the experience.
MY TIP: Avoid Uhuru Park after dark or during any kind of political rallies when it is not safe to visit.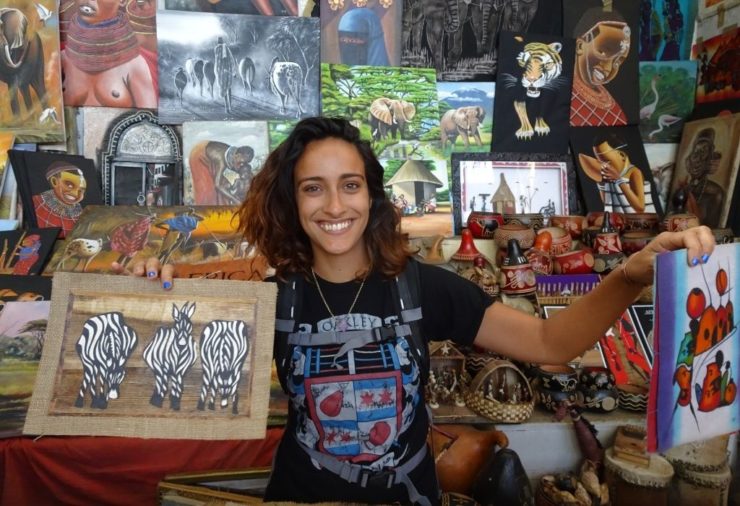 Things To Do in Gigiri
Shop 'Til You Drop at the Village Market
Nairobi has no shortage of malls and one of the best is the pretty Village Market in Gigiri. You can literally buy anything you need here, from designer clothes to Kenyan souvenirs and there are tons of restaurants and cafes for when you get tired of shopping.
My Tip: The other malls I tend to frequent is The Hub in Karen and Galleria in Langata. Good places to go to the supermarket, pharmacy, ATM and pick up SIM cards.
Get Away From It All in Karura Forest
Near the CBD lies Karura Forest, a great place to get away from the hustle and bustle of Nairobi. There are plenty of things to do there, whether you just want to take in the serene environment or do something more active like walking, mountain biking or horse riding.
Visitors can get involved with tree planting and there's also a pretty waterfall you can go and see. There are a few picnic sites so you could take one with you to make the most of your visit (just watch out for the monkeys) or eat at one of my recommended restaurants nearby such as Amaica or About Thyme.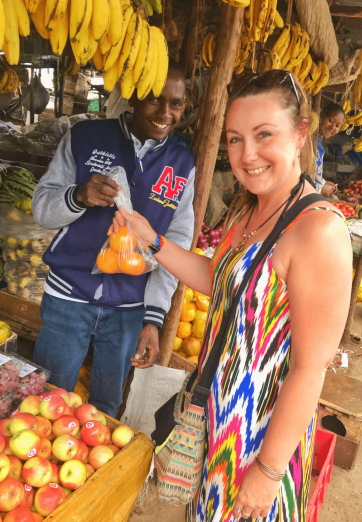 Things To Do in Parklands & Westlands
Buy Your Fruit n' Veg at City Park Hawkers
Up near Westlands and Parklands, you'll find City Park Market (or City Park Hawkers). There's nothing majorly special about this market, lots of fruit and veg etc, but it is a great place to just get a feel for everyday life in Nairobi.
Around the back of the stalls, there are some small local restaurants serving nyama choma (roasted meat) with ugali (maize porridge, the staple food of Kenya) and kachumbari (onion/tomato salad/chilli salad). 
MY TIP: Please ask before taking any photos of the stalls.
Learn About the History of Kenya at the National Museum
Visit Nairobi's National Museum where you can learn about Kenya's rich heritage including culture, nature, history and art. As well as the museum, here you will find the Nairobi Snake Park, art galleries, shops, botanical gardens and a nature trail.
Shop for Beautiful Souvenirs at Wasp & Sprout
Not actually in Westlands but near enough, Wasp & Sprout is an amazing fair-trade initiative selling all kinds of wonderful things, like furniture, homeware, crafts and my favourite, their beautiful African fabric cushions!
My particular favourite are the items by Kangarui. I'm obsessed with their artwork – I just love it (and you can now buy some of their items in my shop Africa & Wild)!!!!
They also have a lovely cafe selling breakfast, brunch, sandwiches and salads, as well as some nice cocktails, coffees, soft drinks and desserts.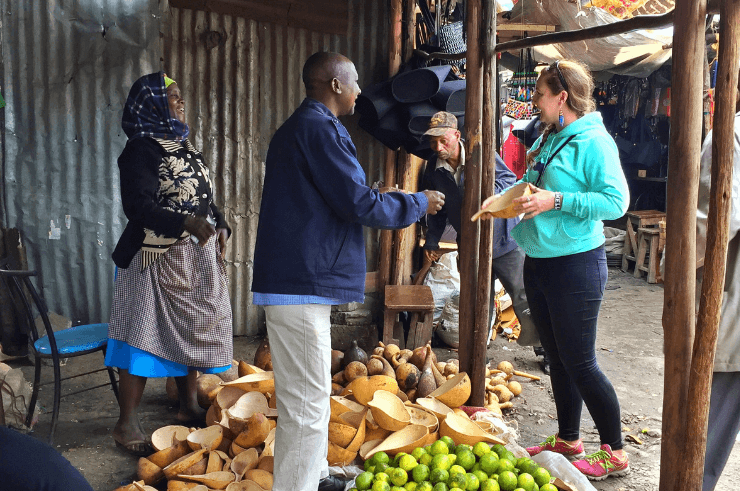 Things To Do in Kibera
Take a Kibera Township Tour
People are often torn about going on Kibera slum tours, which is one of the reasons I don't include them in my Kenya group tours.
I think it's a personal choice but I lean towards the pro side – if done with respect for the local people and the right organisation. In some ways I think Kibera tours can be good, as they are usually set up by people who have lived in Kibera their whole lives, providing employment for some of the residents.
Plus they can show the positive sides of Kibera (of which there are many). Many tourists to Kenya won't have been exposed to places like Kibera, but going on a tour will likely change your opinions of people who live in slums/townships – which I think is a good thing. These tours can also highlight issues to people who could potentially help create change.
And if you buy from shops when you're in Kibera, you're supporting local businesses too. On the other hand, these tours won't benefit everyone and if not done with respect and care, they can leave some residents feeling angry, degraded and exploited.
If you go, listen, observe and interact, but don't be an insensitive camera-wielding asshole.
Whether you take a tour is up to you, but if you do, research the company/guide you go with and remember that a lot of the responsibility lies on you. Don't always believe the reviews.
My friends went on a tour that had great reviews on Airbnb, but the guy basically pressured them into buying things, lied about where he lived and lied about his sick wife staying with her aunt after complications from a c-section.
He had shown them a picture of the wife and they later spotted his wife and the baby and his real house on the tour (it was next door to his 'pretend' house). She tried to hide but it was too late. They left feeling a bit weird about the whole thing.
For more reading on the ethics of slum/township tourism in Kenya, click here, here and here and then make your own mind up.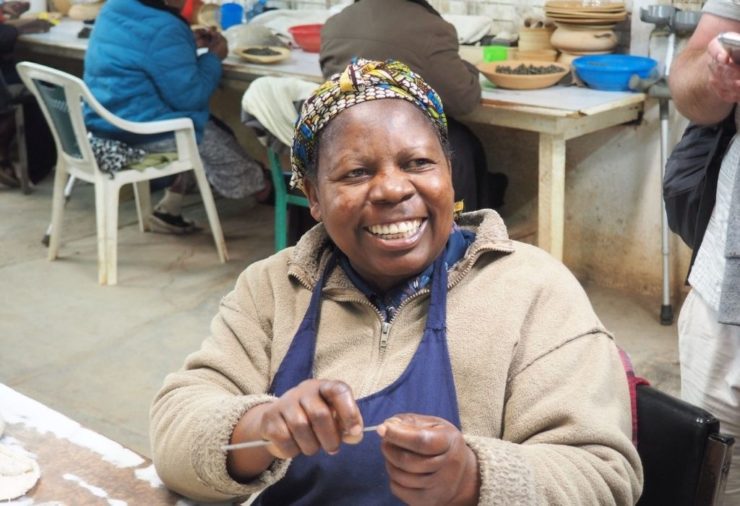 Things To Do in Karen
Support a Social Enterprise at Kazuri Beads
Kazuri Beads is a social enterprise, employing mostly women from disadvantaged backgrounds. They mostly make jewellery and pottery and sell them to tourists and when you visit you can take a tour of the factory and meet the women who work there.
Stay at the Luxurious Giraffe Manor
The ultimate 'things to do in Nairobi' bucket list item surely has to be a stay at the luxurious Giraffe Manor. The hotel is home to a number of endangered Rothschild's giraffes who wander freely around the grounds.
Guests can interact with the giraffes over breakfast and afternoon tea as well as any other time they feel like a visit! My friend Brenna wrote an awesome and honest post about her stay at Giraffe Manor if you want to know what it's really like and, most importantly if it's worth the cost.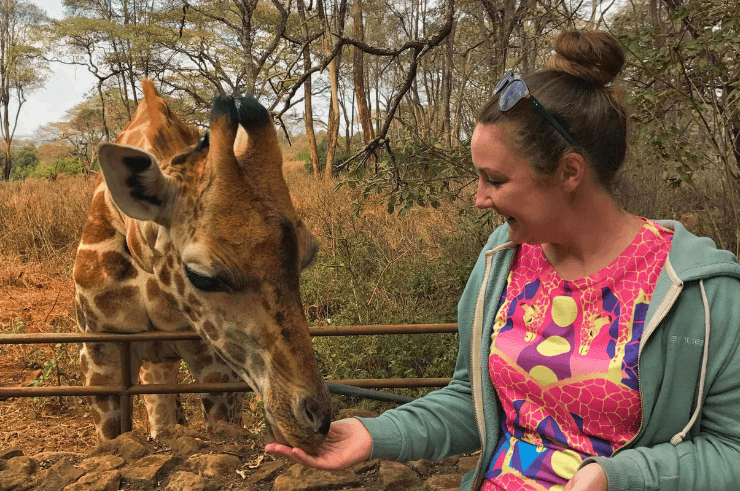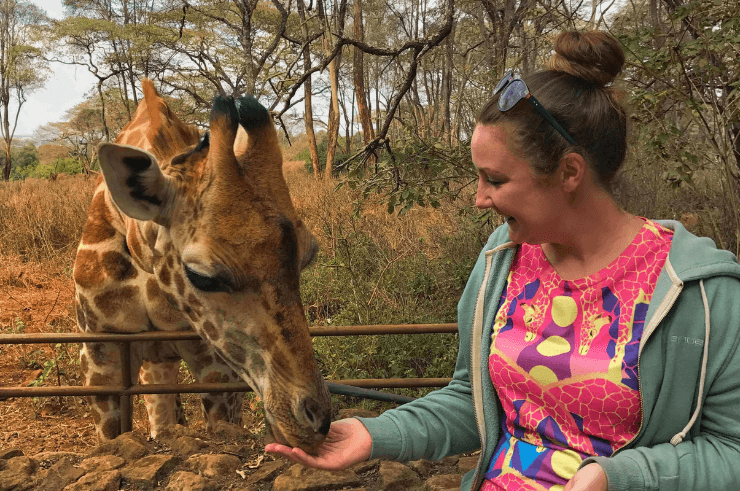 Kiss a Giraffe at the Nairobi Giraffe Centre
If your budget doesn't stretch to a stay at Giraffe Manor, do not worry! You can still hang out with the giraffes at the Nairobi Giraffe Centre, which is just next door to Giraffe Manor and is part of the same sanctuary.
Visitors can spend time with the giraffes, either interacting with them from a raised platform or down on the ground (as shown in my photo above). They also give informative talks about the species too. You can stay as long as you like and it only costs $15… absolute bargain.
MY TIP: You will always get better photos from down on the ground, as the lighting is terrible up on the platform.
Learn All About the 'Out of Africa' Writer at the Karen Blixen Museum
If you've ever read or watched 'Out of Africa' (as I did whilst writing this post) you'll want to visit the Karen Blixen Museum. The museum at 'the foot of the Ngong Hills' is the former home of Danish writer and coffee farmer, Karen Blixen.
While here you can take tours of the museum, learn about Kenya's colonial past and get a cup of coffee at the Karen Blixen Coffee Garden.
Visit Marula Studios & Ocean Sole
A great place to visit on your trip to Nairobi is the Marula Studios, selling lots of different items including Ocean Sole Africa, products. Ocean Sole is a cool social enterprise that recycles old flip flops that wash up on the beaches of Kenya and make them into cool objects – both art and more functional things!
They also sell pottery, clothes, bags, belts and cards made in the Kibera. One day I am going to have a giant Ocean Sole Africa elephant sculpture in my house. They are amazing! I also love their sculptures of Sudan, the world's last male northern white rhino who passed away in 2018.
There's a cafe and they also hold a Farmer's Market here on Saturdays from 9am – 4pm. Closed on Sundays.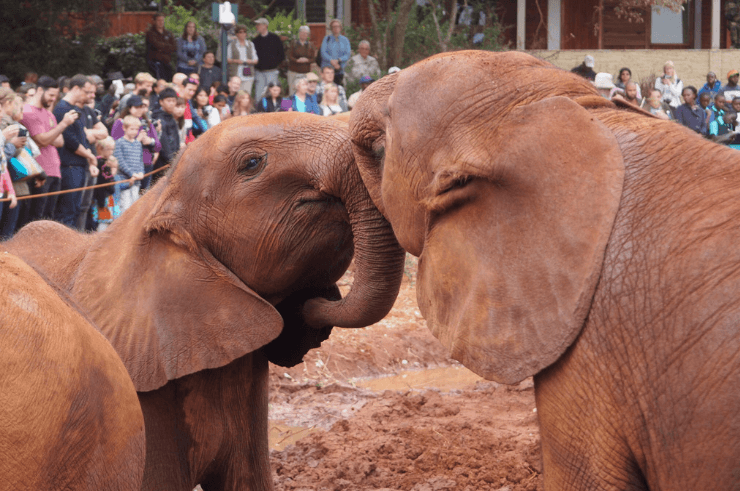 Things To Do in Langata
See the Baby Elephants at the Nairobi Elephant Orphanage
If you love elephants (especially baby ones), you're going to love the Sheldrick Wildlife Trust, (formerly the David Sheldrick Wildlife Trust) a rehabilitation centre for abandoned or orphaned baby elephants (and other animals, occasionally rhinos) who are too young to survive in the wild on their own.
The elephant orphanage in Nairobi was started by the late Dame Daphne Sheldrick in memory of her late husband, David, a legendary ranger of Tsavo National Park. The elephants are cared for and then released back into the wild when they are old enough.
Visitors are allowed in at 11 a.m. each day for approximately 1 hour to see the elephants and listen to a talk by one of the keepers. Sometimes the baby elephants come up to say hello and I've had my foot trodden on many times! You can adopt a baby elephant for as little as £35 a year which also gives you access to visit outside of the usual hours.
You now have to book to visit. Bookings open 3 months in advance.
MY TIP: Arrive early so you can get to the front.
Buy Beautiful Souvenirs at Utamaduni – Artisans of Africa
Located in Langata, Utamaduni has an amazing array of African crafts.
They sell all kinds of things from African inspired fashion and jewellery, to homeware and fabrics. Including my favourite Kangarui cushions! There's also a restaurant & garden where you can take a well-earned rest from all that shopping.
Visit Bomas of Kenya to Learn About Kenyan Culture
If you're looking to get more information on Kenyan culture and history, take a visit to Bomas of Kenya. The centre was set up to educate people about the different ethnic groups found in Kenya and to help preserve and celebrate the Kenyan culture.
Visitors can watch music and dance performances and see the many exhibits. There are a number of tours that visit Bomas of Kenya, along with the Giraffe Centre, Elephant Orphanage and sometimes Nairobi National Park.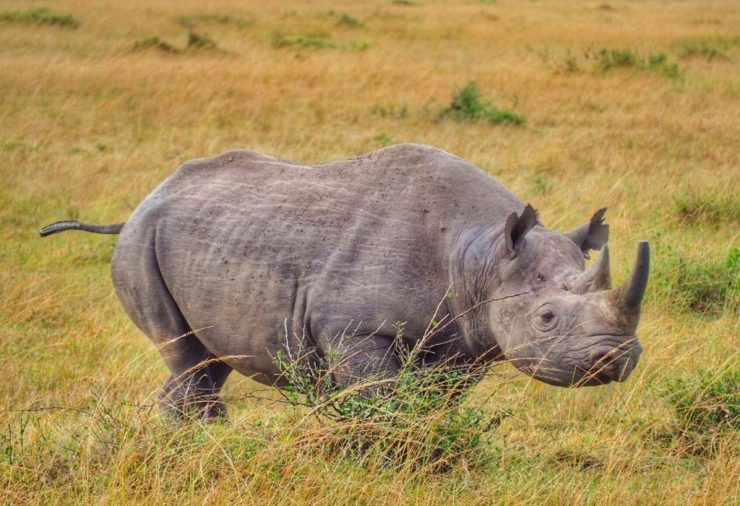 Things To Do in Nairobi National Park
Go on Safari in Nairobi National Park
Just outside the city, lies Nairobi National Park, one of the coolest things to do in Nairobi and one of the best places in Kenya to see the endangered black rhino (above), plus a ton of other animals including lions and giraffes.
If you're in Nairobi for a short time (e. for work) this is an awesome way to go on safari without having to travel too far. Plus, you get the city of Nairobi as a backdrop. All you need is a day! Sometimes you'll even see animals as you leave Jomo Kenyatta International Airport.
I once saw a small herd of zebra on the central reservation of the road leading away from the airport. Weird, but pretty awesome. You can book your Nairobi National Park tour in advance here or you can often book through your accommodation when you arrive.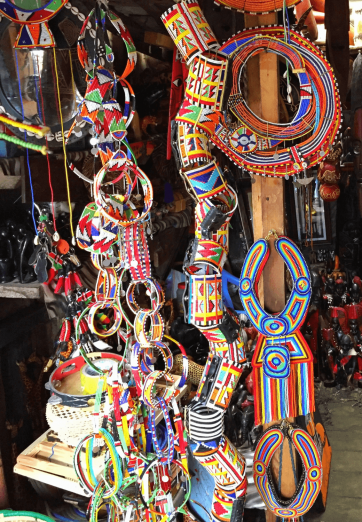 Where to Shop, Eat & Drink in Nairobi
Barter Hard at the Maasai Markets
One of my favourite things to do is go to the colourful Maasai markets to pick up some souvenirs including jewellery, wood carvings and clothing. Each day the Maasai Market takes place in a different spot around the city between 8 am – 6pm. 
Monday: No market. 
Tuesday: Prestige Plaza on Ngong Road (I think – check it hasn't moved). 
Wednesday: Capital Centre on Mombasa Road. 
Thursday: Junction Mall on Ngong Road. 
Friday: Village Market in Gigiri. 
Saturday: High Court car park in the city centre. 
Sunday: Yaya Centre in Hurlingham.
If you go, just be aware that there are lots of touts around who will offer to 'help' you, but really they're in cahoots with the stall owners and just out to get as much money from you as they can – I once caught up with one of my tour group as they were about to be charged $500 for some wooden bowls and a few bracelets.
So whilst I think it's important not to go too low, people need to make a living, it's ok to bargain and it is expected. I usually start at about half what they say, and then meet in the middle.
Try not to appear too interested and keep the conversion rates in your head. The stallholders will never let something go for less than it's worth. I usually think I've gotten a great bargain, but when I tell my Kenyan friends what I've paid, they usually tell me I paid too much.
My favourite Maasai Market, though not part of the main Maasai Markets, is the one at the Galleria Mall. It's on every day and is much, much calmer and you can generally browse in peace, although you will hear a lot of 'Come into my shop, looking is free.'
Don't get me wrong, you may still get ripped off if you're not careful but, it's a lot less hassle.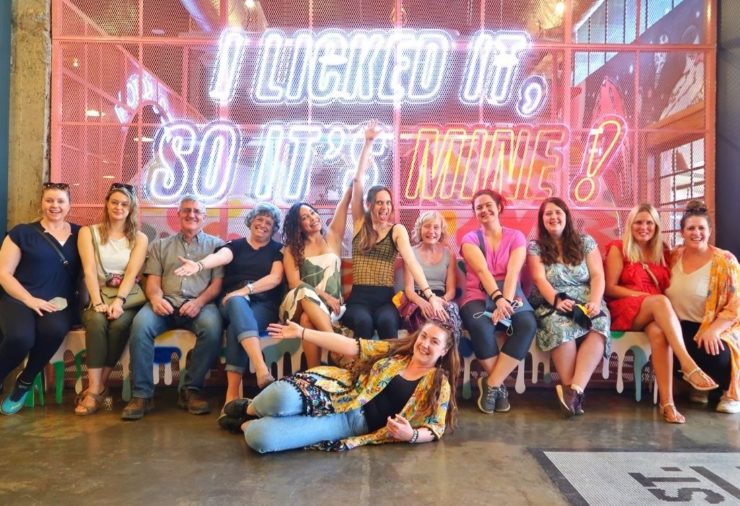 Dine at One of the Many Restaurants in Nairobi
There are plenty of great restaurants in Nairobi where you can find all sorts of amazing cuisine from all around the world.
Some of my favourite restaurants include:
About Thyme: A popular modern, yet cosy restaurant with a nice outside seating area. Their dishes are a mix of Mediterranean and Asian mostly with a few bbq/steak dishes thrown in too.
Carnivore: Nairobi's most famous restaurant and dining experience, serving unlimited amounts of Kenya's most famous dish, nyama choma (bbq'd meat) – that's where we are in the picture above. Choose from beef, turkey, chicken, rabbit, pork and ostrich. They also make a great 'Dawa' (medicine) cocktail. Always busy, so book ahead, especially if you are a large party. There's also a nightclub.
Talisman: Often named as the best restaurant in Nairobi with a varied and interesting menu, outside the city centre in Karen. This is a really lovely place for a treat!
Karen Blixen Coffee Garden: Great place to stop for a coffee and some lunch whilst on a day trip in Karen.
Urban Eatery: Modern foodie paradise, with four different kitchens: Indian, Mediterranean/Mexican/World, Asian/Sushi/Noodle Bar and Cafe/Bistro, as well as a frozen yoghurt counter and a bar. They also do takeaway.
Boho Eatery: Wholefoods restaurant focused on conscious and sustainable living. Near to the Giraffe Centre and Sheldrick Elephant Orphanage. Beautiful setting.
Java House: Popular chain cafe (basically a Kenyan Starbucks), there are a few throughout the city. Good locally made coffee and their chocolate cake is lovely!
Artcaffe: Similar to Java House, there are a few throughout the city. I'm slightly obsessed with their Home Fries and smoothies.
Wasp & Sprout: A fairtrade centre where you can shop and refresh! Their cafe sells breakfast, brunch, sandwiches and salads, as well as some nice cocktails, coffees, soft drinks and desserts.
Nairobi Street Kitchen (NSK): One of the coolest spots in Nairobi and very Instagrammable (see above)! You can taste some of the amazing street food at the food market or hang out at the cool rooftop bar.
Unseen Nairobi: Nice rooftop bar with food and good cocktails.
Tin Roof Cafe: Nice cafe near to The Hub mall in Karen. I sometimes come here to work as it's nice and chilled.
Fifteen Rooftop: A great bar and restaurant with views overlooking Nairobi National Park on one side and the city on the other.
Haandi: Nairobi's most well-known Indian restaurant, always tasty food.
Diamond Plaza: The Indian hub of Nairobi where you'll find great Indian food as well as lots of Indian spices, clothes, movies and it's also the home of the Africa Yoga Project.
Amaica: Near to Karura, serves lots of traditional Kenyan food. Mixed reviews.
Mama Rocks: Gourmet burger van at The Alchemist (see below).
Nyama Mama: Get your fill of meat at Nyama Mama.
Nyama Choma Restaurants: These are cheap and cheerful bbq meat restaurants and they are all over the city, but my favourite is Tamasha Joint in Karen.
Open House: Great Indian food in Westlands.
Cultiva Farm: Farmer's market and restaurant in Karen.
Ranalo's: Ranalo's in the CBD is a popular local spot, especially around lunch.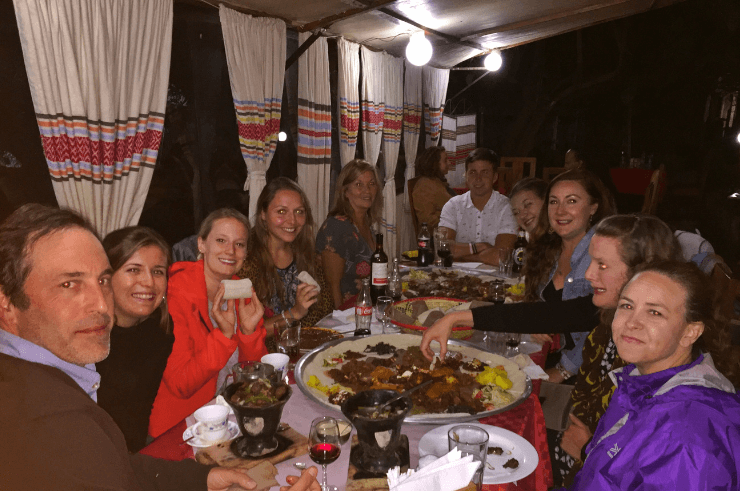 Eat Some of the Best Ethiopian Food Outside of Ethiopia
I feel like the Ethiopian food in Nairobi deserves its own point as it's that good. Nairobi is known for having some of the best Ethiopian restaurants, outside of Ethiopia.
Abyssinia: Abyssinia is one of my favourites – that's where me and my group are in the picture above. They have two locations, one in Kilimani, the other in Westlands.
Habesha: Another great Ethiopian restaurant I have visited many times. They also have restaurants in different parts of the city, one in Kilimani and one in Gigiri.
Experience the Awesome Nairobi Nightlife
Kenyans like to party, so there's always somewhere to have a drink and a dance, so if you're looking for cool things to do in Nairobi at night, look no further.
Brew Bistro Westlands: Famous for their craft beers (but they do lots of other drinks too), there are two locations around the city, one in Westlands and one on Ngong Road. Check out their website here. Happy Hour 5pm – 7pm, occasional live music.
The Alchemist: The Alchemist is a popular bar and beautiful, cool event space with food trucks, live music, open-air cinema, dj's, shops and ping pong. Try the Mama Rocks burgers, they're awesome! They also have the Made in Kenya shop here which sells all kinds of locally made good, such as jewellery, clothes, shoes and food.
K1 Clubhouse: Cool restaurant/bar in the Westlands/Parklands area. They also have a flea market on Sundays and regular events.
Bao Box: Boardgame bar/restaurant in Westlands as recommended by my good friend Rob.
Live at the Elephant: Great live music venue, often gets busy so you may need to book in advance, find info on their Facebook page here. Located in Lavington.
Choices Pub: Popular local spot, good for well-priced drinks and dancing.
Gipsy: Popular bar and club in Westlands, always busy on the weekend.
The Oval – Artcaffe: Part of the Artcaffe cafe chain, but this one is also a night venue with salsa night on a Friday night. Popular with the after-work crowd during the week, and busy both Friday and Saturday night. In Westlands.
Nest at Tribe: Rooftop bar at the Tribe Hotel with Moroccan decor and shisha. In Gigiri.
Simba Saloon: In Langata, this is the nightclub at Carnivore. Not somewhere I'd go all the time (I'm a bit 'over' big clubs with offers on shots and neon lights) but it can be fun on occasions with the right crowd.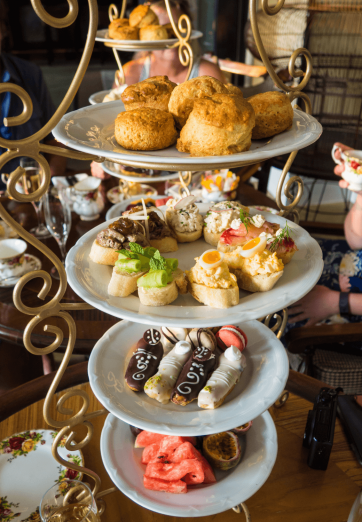 Go for High Tea
There are lots of things that the colonial British brought to Kenya and one of the better ones was high tea (or afternoon tea as we usually call it these days) which is usually served between 3pm – 5pm.
Many hotels in the city serve high tea, which usually consists of sandwiches, cakes, scones (with jam and cream) and of course tea. Usually, there's an option to add a glass of something fizzy on the side. 
The best places to find high tea in Nairobi are:
K Lounge at Villa Rosa Kempinski
Hemingways
The Lord Erroll
The Tea Room at Fairmont The Norfolk (be sure to visit the famous Lord The Lord Delamere Terrace)
Giraffe Manor (you have to be a guest there, unfortunately)
I hope this helps you plan your trip to Nairobi! And let me know if you have any other recommendations I can add to the list!
---
Other Kenya posts you might enjoy…
---
Pin This Post For Later