Last updated on August 15th, 2021 at 08:40 pm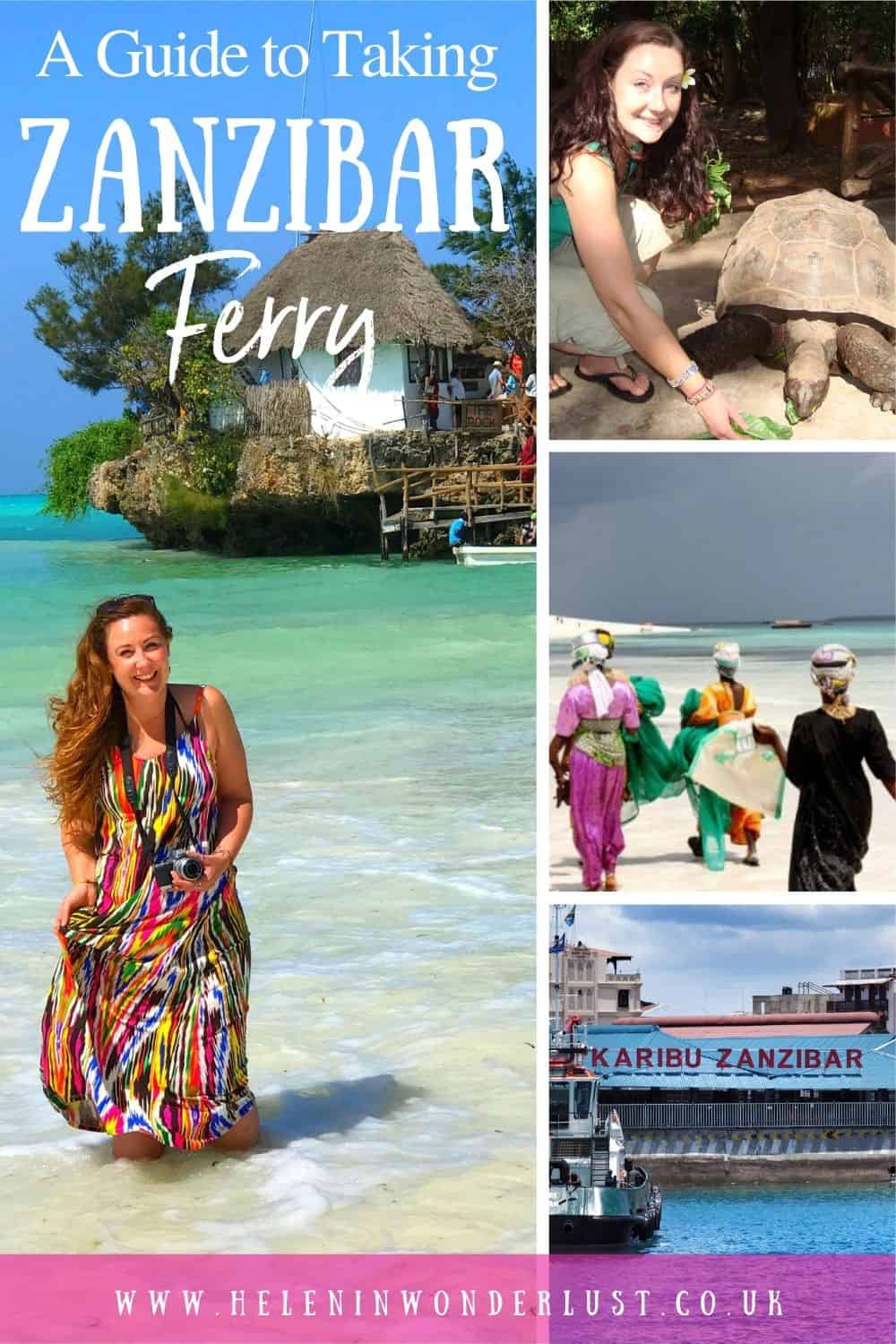 I absolutely love taking the Dar es Salaam to Zanzibar ferry and have taken it many times! More than I can even remember, and I still find it kind of exciting.
The main ferry company is Azam Marine – Kilimanjaro Fast Ferries and they are generally very reliable and fast.
But the whole process of booking and taking the ferry can be a little overwhelming at first, so here's my handy guide to ensure you have an easy trip across the Indian Ocean on the Zanzibar ferry!
Other Zanzibar posts you might enjoy…
Please Note: Some of the links in this post are affiliate links, which will earn me a small commission at no extra cost to you. Affiliate sales help with the running costs of this site, so thank you for your support!
---
A Guide to Taking the Dar es Salaam to Zanzibar Ferry
---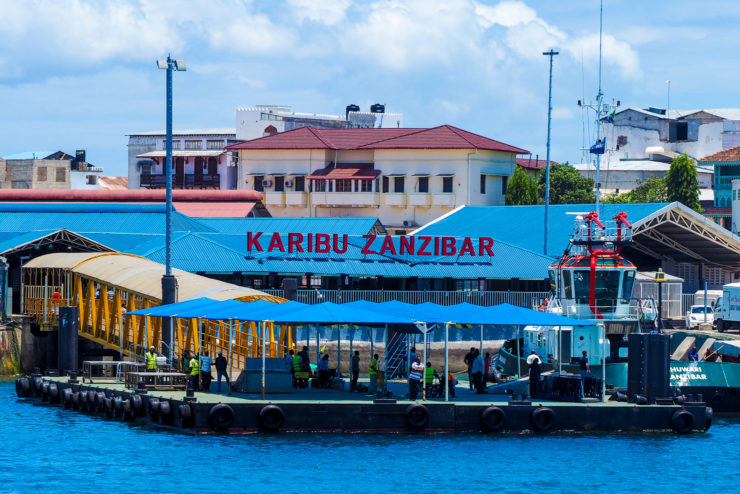 Types of Ferry
They have two different types of ferry – passenger ferries and cargo ferries. This post will focus on passenger/foot passengers only.
To take a car across to Zanzibar, you will need to contact Azam directly and ask about their Sealink cargo ferries.
Departure Times
There are 4 ferries in each direction per day, leaving at:
07.00am
09.30am
12.00pm
16.00pm
The journey takes around 2 hours and the afternoon tends to be the choppiest time of day. I much prefer taking the earlier ferries when the sea is calmer.
Ticket Types
There are a few different types of ticket you can buy for the Zanzibar ferry:
Economy Class
Residents

Adult (Above 10 Years): 25,000 TSH
Child (Below 10 Years): 15,000 TSH

Non-Residents

Adult (Above 10 Years): $35
Child (Below 10 Years): $25
Business Class
Residents

Adult (Above 10 Years): 35,000 TSH
Child (Below 10 Years): 35,000 TSH

Non-Residents

Adult (Above 10 Years): $40
Child (Below 10 Years): $40
VIP Class
Residents

Adult (Above 10 Years): 50,000 TSH
Child (Below 10 Years): 50,000 TSH

Non-Residents

Adult (Above 10 Years): $50
Child (Below 10 Years): $50
Royal Class
Residents

Adult (Above 10 Years): 60,000 TSH
Child (Below 10 Years): 60,000 TSH

Non-Residents

Adult (Above 10 Years): $60
Child (Below 10 Years): $60
For all tickets, you can also pay the non-resident fees in the TSH equivalent.
Booking Your Ticket
The Zanzibar ferry can get very busy, so it's advisable to book your ticket ahead of time, even if it's just a day or two before. You can either book online, go to either the Dar es Salaam or Zanzibar ferry terminal or book through an approved agent. Some hotels will also sort ferry tickets out for you too.
You will need your passport (or a copy of it) to book your ticket.
In Dar es Salaam, the main ticket office is in the building to the right of the gate that leads to the ferry (if facing towards it).
In Zanzibar, it's just down the street from the main entrance to the ferry terminal (turn left if coming out of the gate) next to the mini-roundabout.
If you book online, you can reserve your ticket, but you can't pay in advance (currently), so you need to collect your ticket at least 3 hours before departure otherwise they might sell them to someone else.
In Dar es Salaam there are also lots of touts outside the main building who will try and lead you to one of the smaller offices to buy your tickets. I think most are legit, but I prefer to buy from the main office. If it's super busy when you go, the smaller offices may be quicker but do not buy from anyone in the street claiming to be an agent.
You will need your passport details handy when booking. When you get your ticket, just check the name, time and date are correct. I almost missed my ferry last time because they booked me onto the 7am ferry instead of the 9.30am ferry like I asked.
You can pay in either US Dollars or Tanzanian Shillings.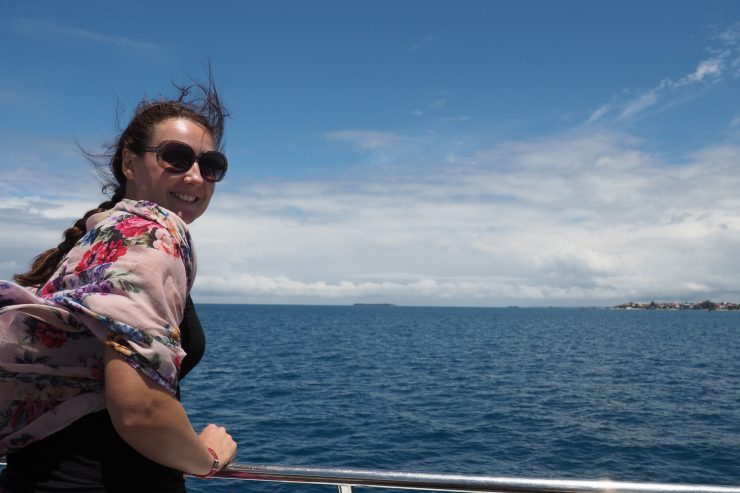 Which Ticket to Buy?
Usually, I travel Economy Class on the Zanzibar ferry. I tend to sit outside anyway, so it doesn't really matter to me.
One time, I tried to book on the day (I should know better), so I had a long 5-hour wait in Stone Town for the last ferry and they only had Business Class available.
This worked out well as it gave me access to the air-conditioned VIP lounge, with big comfy couches and nice(ish) toilets.
I was able to chill, get some work done (they have free WIFI in the terminal for everyone, it's the Zanlink one, but the seating/heat in the main waiting area isn't ideal for working) and it was very nice.
Once I got on the ferry, I ended up sitting in my usual spot outside in Economy Class anyway.
In Business Class, the seats are slightly better and you usually get a drink and a snack included, but to be honest, Economy Class is just fine.
So I guess it's up to you!
Departure & Boarding Procedure
I'd advise you to arrive at least 30 mins prior to the departure time.
To get through the first gate, you'll need:
Your passport.
Ticket.
And possibly your Yellow Fever certificate (see below).
If leaving Zanzibar you'll also need to fill in a Departure Card and go through Passport Control.
You will then proceed to security.
Once your bags have been scanned, you'll get labels for them before heading down to the dock where they will check your ticket again.
On the dock, you'll be able to store your big bags in one of the cages provided (keep a note of the cage number so you can find your luggage at the end) or you may be able to place them in one of the storage cupboards on the boat. Just ask a member of staff and they'll point you in the right direction.
Keep your daypack and any valuables with you, at all times.
Porters
When you arrive at either terminal (either on arrival or departure), there will be a ton of porters swarming about who can help you with your bags.
In Dar es Salaam, they're kind of aggressive, not in a bad way, they just want your business, but you have to be firm as they will start carrying your bags before you've had chance to stop them.
The going rate for carrying your bag to or from the ferry is about 5000 TSH ($2) per bag. Just make sure you agree on the price beforehand as they will try and get more cash if they can after the fact.
They'll also sometime usher you through the crowds and get you onto the ferry early, just be aware that if they do this, they'll want an extra tip.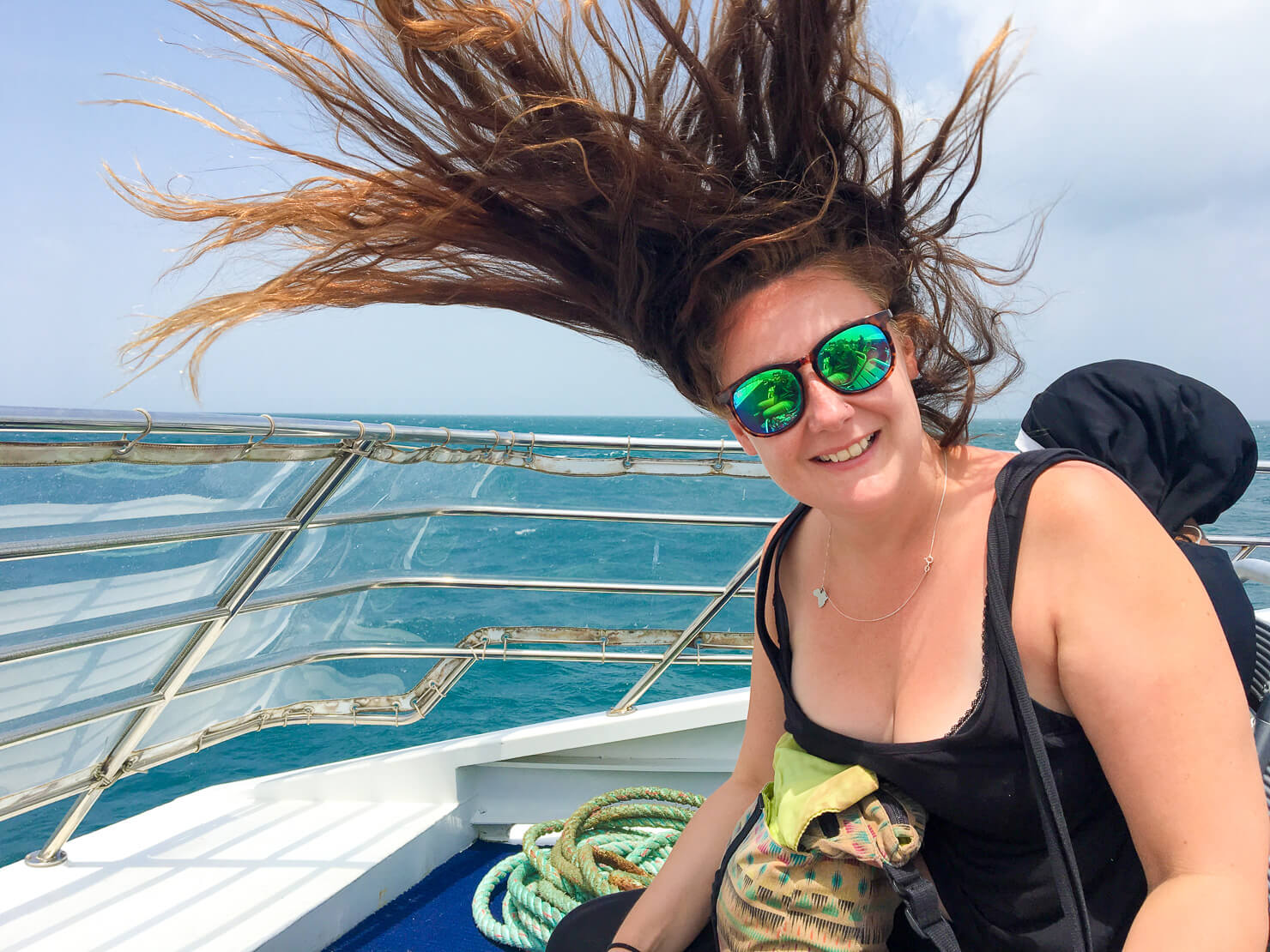 Where to Sit
The inside of the Zanzibar ferry is air-conditioned and the seats are pretty comfy.
I usually head inside and go straight to the front of the boat on the level that you enter (Economy Class) and sit as close to the outside door (which is on the left) as possible.
You are not allowed to sit outside immediately on the way out of Dar es Salaam (but you usually can on the way out of Zanzibar) but after you are out of the port, you can go outside.
Sitting outside is fun, especially if you're sitting on the front row.
Occasionally you'll see dolphins and if it's a bit windy, it kind of feels like you are flying as the catamaran-style ferry glides over the waves, making it feel more like a fun fairground ride than a boat.
Sitting outside is also better if you get seasickness too. The water can be choppy sometimes and the Zanzibar ferry is known for making people feel sick. Just remember to protect yourself from the sun if you go outside.
Occasionally, if the weather is bad, they may not allow you outside.
What to Wear
Culturally, the coastal areas of Tanzania and Zanzibar are quite conservative, so I would avoid any clothing that is too revealing.
I mean, everyone is used to tourists, but ladies should stay away from super short shorts or low tops (my top above is too low and looks worse from the angle, but I was covered up most of the time and especially when I got to Stone Town) to try and avoid causing any offense. Tanzanians are generally very polite so would never say anything, but you may get a few funny looks and offend a few people.
If you are sitting outside, you may also want something to cover you, like a long-sleeved top or scarf as it can get chilly/the sun is strong on the water.
Be careful though, it gets very windy when that boat speeds up, so hold onto your hat and do not wear a short skirt or dress unless you want everyone to know what colour your knickers are.
READ MORE: What to Wear in Zanzibar & Other Cultural Considerations
Food & Drink on the Ferry
The ferries have food and drinks kiosks, usually serving a small selection of things: chapattis, samosas, mandazis (Tanzanian doughnut), sandwiches, fish cakes, chocolate, crisps, cold and hot drinks etc.
If you're in Business Class and above, you will be served a drink and a snack. Just be aware you are not allowed to bring alcohol on the ferry and they don't sell it either.
Arriving at Your Destination
On the ferry from Dar es Salaam to Zanzibar, you will be given a Boarding Card to fill in so have a pen in your bag.
When you arrive in Zanzibar, you will be asked for your Yellow Fever certificate.
If you have flown into Tanzania and Zanzibar directly, from a non-Yellow fever risk area (ie. Europe or the US), then you shouldn't need a YF card. However they may still ask.
If they ask for it, explain where you have come from.
But, if you have transited through Kenya, Ethiopia, or any other "at-risk" country for more than 12 hours then you will need a Yellow Fever certificate.
You can read more about Yellow Fever regulations here.
You will then go through immigration, so have your passport and boarding card ready.
Arriving in Dar es Salaam is a little more straightforward as you don't need your YF certificate and you don't need to go through immigration, as it's all done on the Zanzibar side.
You will usually collect your bag from the cages which will be brought out of the ferry and either into the terminal or to the dock, just ask a member of staff where they will be taken.
If you store your bag in one of the cupboards on the boat, collect it before you disembark.
I usually prefer to store my bags in the cages as it means less carrying at the other end.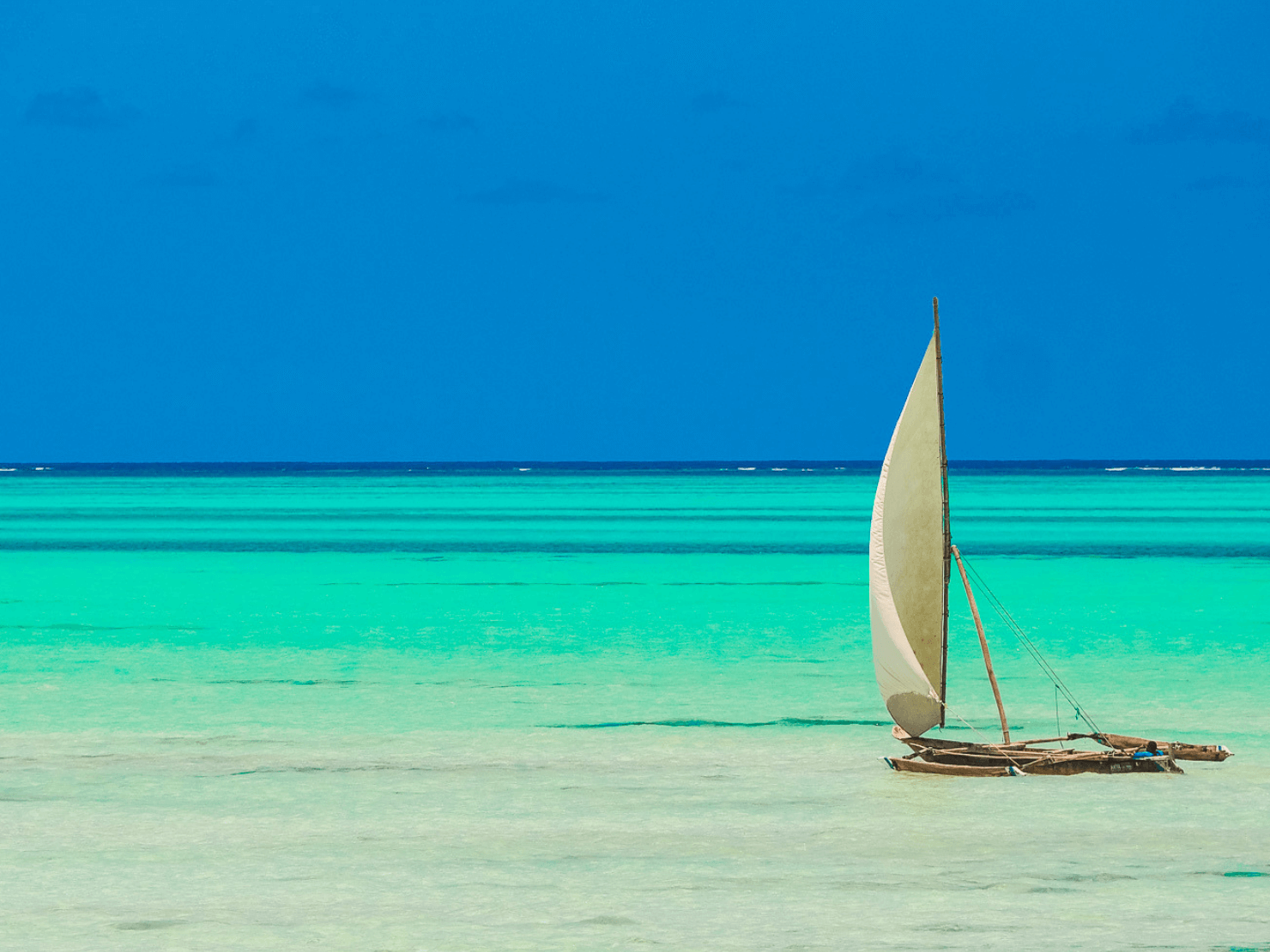 Getting To Your Final Destination
Zanzibar
As soon as you leave the main building, there will be taxis waiting.
A taxi from the ferry terminal in Zanzibar to anywhere in Stone Town shouldn't really cost more than $5 (approx. 11,000 TSH). If your hotel is inside the medina, you may need to walk the last little bit as the taxis can only go so far.
If you do get a taxi to a hotel in Stone Town, just be aware that it's a one-way system, so you will have to turn left out of the terminal, even though most hotels are to the right. You will around the back of Stone Town and back in at the other end. This is normal.
You can also easily walk to most hotels in Stone Town from the Zanzibar ferry terminal, but you may not want to if your bags are heavy and/or you don't know your way around.
If you are heading to Kendwa/Nungwi or Paje/Jambiani, taxis should be around $30. They will usually lead in with $50, but $30 – $35 is the going rate and you may be able to get slightly cheaper if your negotiation skills are good!
The lowest private taxi I managed to get was $20, but I think he was going that way anyway.
Local buses leave from Darajani Market and cost no more than a couple of dollars to pretty much anywhere on the island.
Most hotels can organise share taxis to other destinations on the island, which are usually $10 pp. My friend booked onto a share taxi but no-one else did so she ended up paying $15, but it was then pretty much a private taxi.
You can also pre-arrange a taxi via your hotel.
Dar es Salaam
If you are staying nearby the Zanzibar ferry terminal, you may just be able to walk it. If you are staying at a hotel further away you can pick up a taxi when you arrive – they are all waiting just outside the terminal.
Ask someone working inside the terminal (not the porters, maybe someone in a shop or who works on the boat) how much a taxi will be to wherever you're going. They may be able to give you a good indication so you don't get ripped off. Almost everyone who works inside the terminal is in cahoots with the taxi drivers, so they will be keen to get a cut.
A normal taxi from the ferry port to the main airport is approximately 30,000 TSH. Many of the taxi drivers hang around the exit and inside the terminal and as soon as they spot you you'll hear a hopeful "Taxi?".
Don't feel pressured, take your time.
If you are going elsewhere, just think that to the airport costs 30,000 TSH ($13) and takes about 20 minutes, so use that as a guide.
You can also use Uber in Dar es Salaam. But, whilst Uber may be cheap (around 8,000 TSH – 20,000 TSH from the ferry to the airport depending on the size of the car) you can end up waiting a while for them to show up. Also, bear in mind that the drivers make hardly anything, so if you choose this option, you should add extra on top as a tip.
PS. Make sure you watch the Zanzibar ferry safety video, it makes me giggle every time. You'll see why. 🙂
Hope this makes your life a little bit easier when booking the Dar es Salaam to Zanzibar ferry!
---
Join one of my Tanzania & Zanzibar group tours or buy my Backpacking Africa e-book!