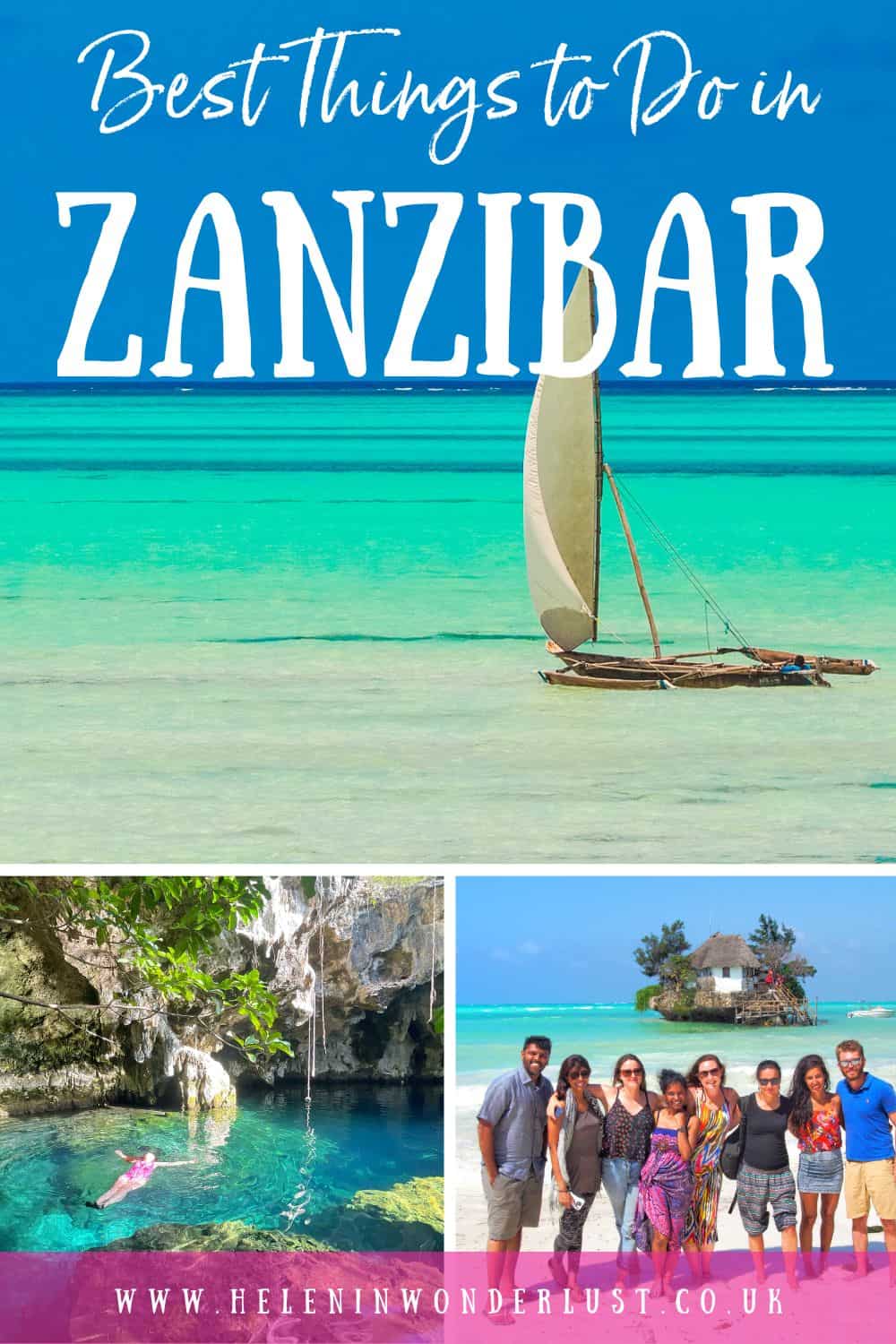 Last updated on April 19th, 2023 at 09:17 pm
Zanzibar is one of my favourite places in the world. It has history, culture, gorgeous beaches, tons of activities, and flavoursome food.
Whilst you're planning your trip, you'll want to think about when to visit Zanzibar and what you want to do on your trip.
There are so many things to do in Zanzibar and whether you're backpacking Zanzibar, on your honeymoon, going for a 2-week holiday, or relaxing for a few days after a Serengeti safari or a trek up Kilimanjaro I'm sure you'll love it. There's a Zanzibar for everyone. 
I'm not the kind of gal who lies on the beach all day (but you can totally do that – I'm not judging), I want to experience the places I visit. I love to get an insight into everyday life, meet local people, go off-the-beaten-path places, and eat all the food. I also love doing touristy stuff. Good things become touristy for a reason, right?
And if you enjoy this post, don't forget to check out my similar posts on Moshi & Arusha in Northern Tanzania.
So with this list, I aim to give you some ideas for the best things to do in Zanzibar.
Please Note: Some of the links in this post are affiliate links, which will earn me a small commission at no extra cost to you. Affiliate sales help with the running costs of this site, so thank you for your support!
---
Amazing Things To Do in Zanzibar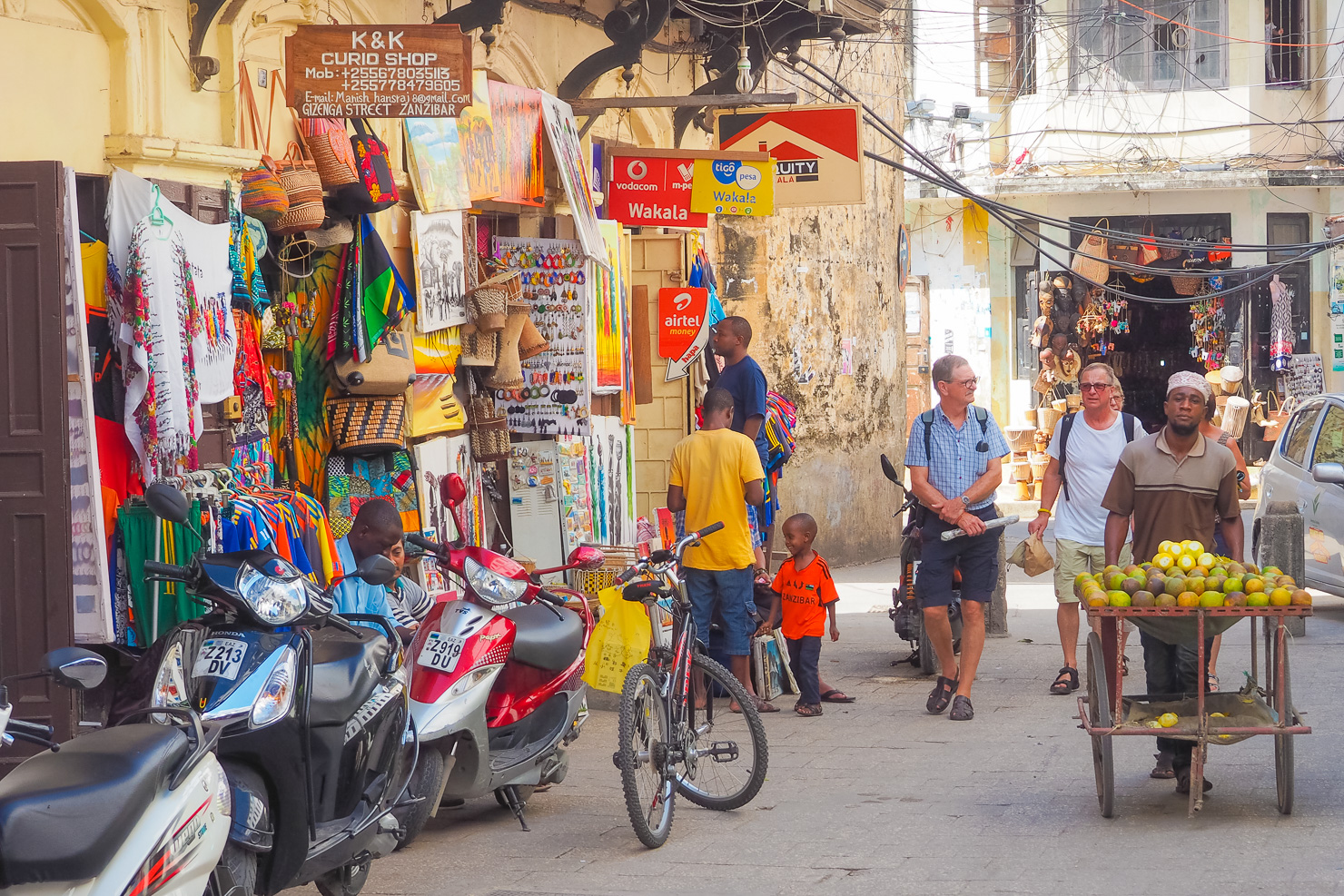 Wander the Maze of Stone Town
One of my favourite things to do in Zanzibar is just to wander around Stone Town, which is the old town of Zanzibar City, the capital of the Zanzibar archipelago.
Whether you arrive by air or sea, you'll pass through the city and I would definitely recommend spending at least two days in Stone Town to soak up the Swahili culture and unique atmosphere.
To get the full Zanzibari experience, stay in a real Zanzibari-style hotel. There are tons of great and reasonably priced ones, including this reasonably priced, beachfront hotel which is just a short walk away from Forodhani Gardens, or this seafront hotel, which is really close to the ferry terminal.
If you're looking for somewhere extra special, I'd definitely recommend heading to the Park Hyatt which is set right on the beach, or Emerson Spice, a beautiful and traditional Zanzibari-converted merchant's house.
MY TIP: Enjoy happy hour at the Park Hyatt every day at 6pm.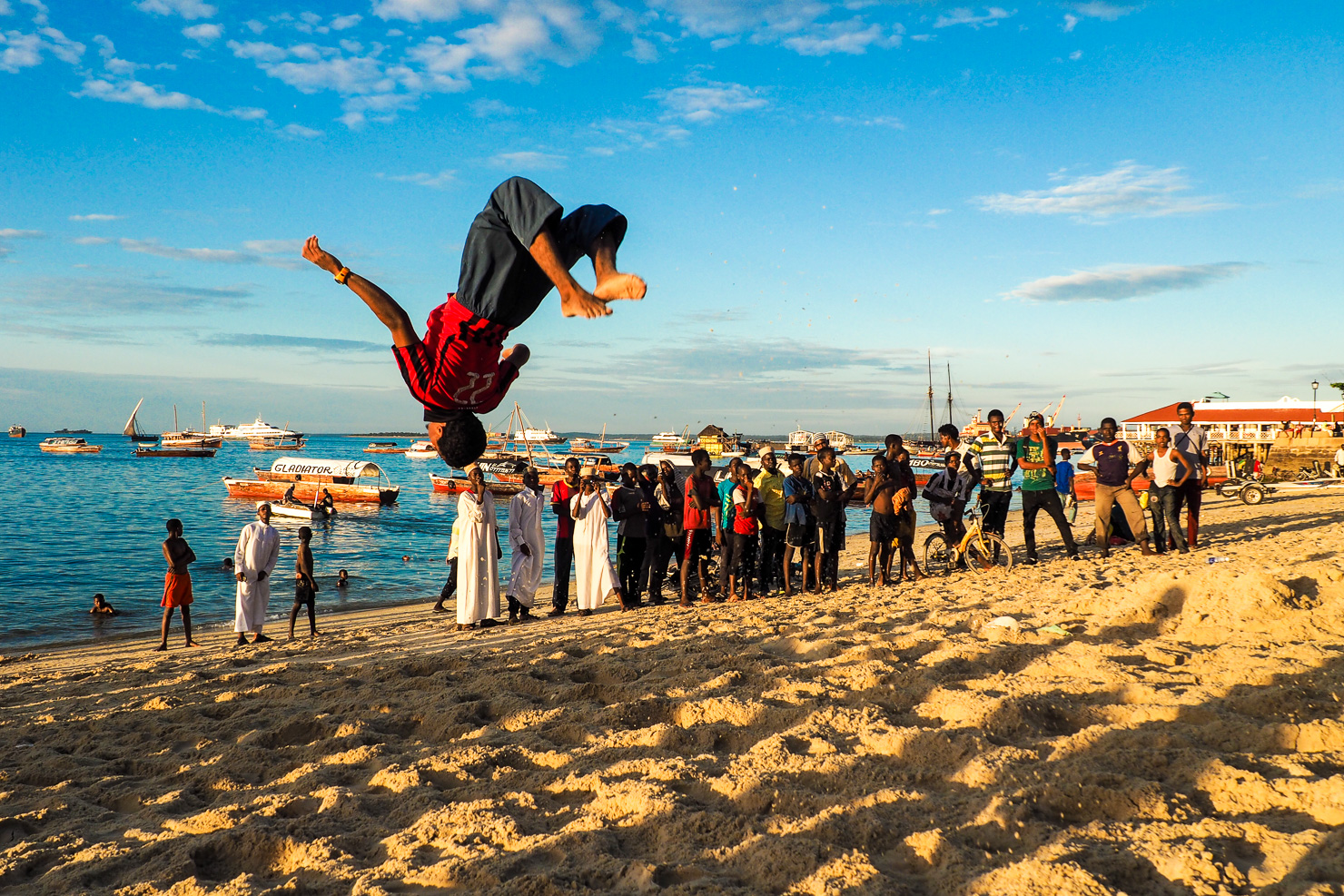 Watch Acrobatics and Capoeira on the Beach
Some evenings, just before sunset some of the local boys perform acrobatics and capoeira on the beach outside the Livingstone Beach Restaurant in Stone Town.
The beach in Stone Town, whilst not idyllic like those outside of the city, is usually busy with both locals and tourists enjoying the early evening light and splashing about in the water.
A crowd often forms as these amazingly talented young superstars start backflipping and somersaulting all the way down to the water.
MY TIP: Don't be afraid to go over and have a chat – the boys are very friendly!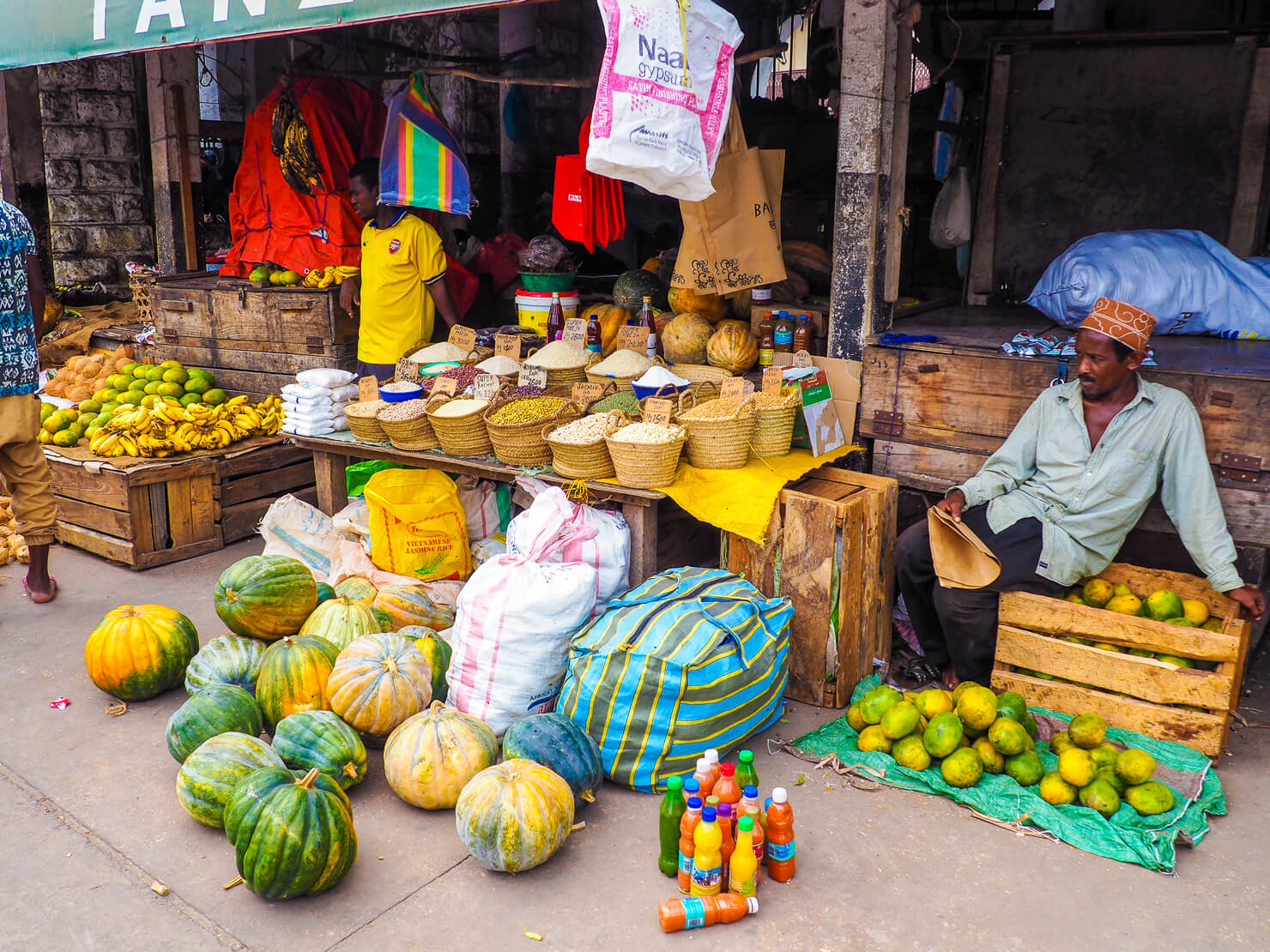 Buy Spices and Fabrics at Darajani Market
For a truly awesome, immersive, and sensorial shopping experience, head down to Darajani Market, the heartbeat of Stone Town. It's a great, local experience as well as one of the free things to do in Stone Town (well, that is if you don't buy anything).
Here you'll find vendors selling all kinds of useful stuff – spices, clothing, mobile phones, oil, plastic goods, cooking utensils, fabric, fresh bread, fruit and veg, meat and if you go early in the day, you may catch the big fish auction.
Grab a samosa or chapati from a street food stall to keep your strength up as you wander around and don't be afraid to have chat and enjoy the bartering process – Zanzibari people are very friendly!
Another good place to buy spices is Masa Japanese Restaurant above the Post Office on Shangani Street.
MY TIP: If you take any pictures of people in the market (or most places in Zanzibar), please ask first or take very general street scene pictures as it's not polite to take pictures of people without their permission and a lot don't like it, especially the older generation.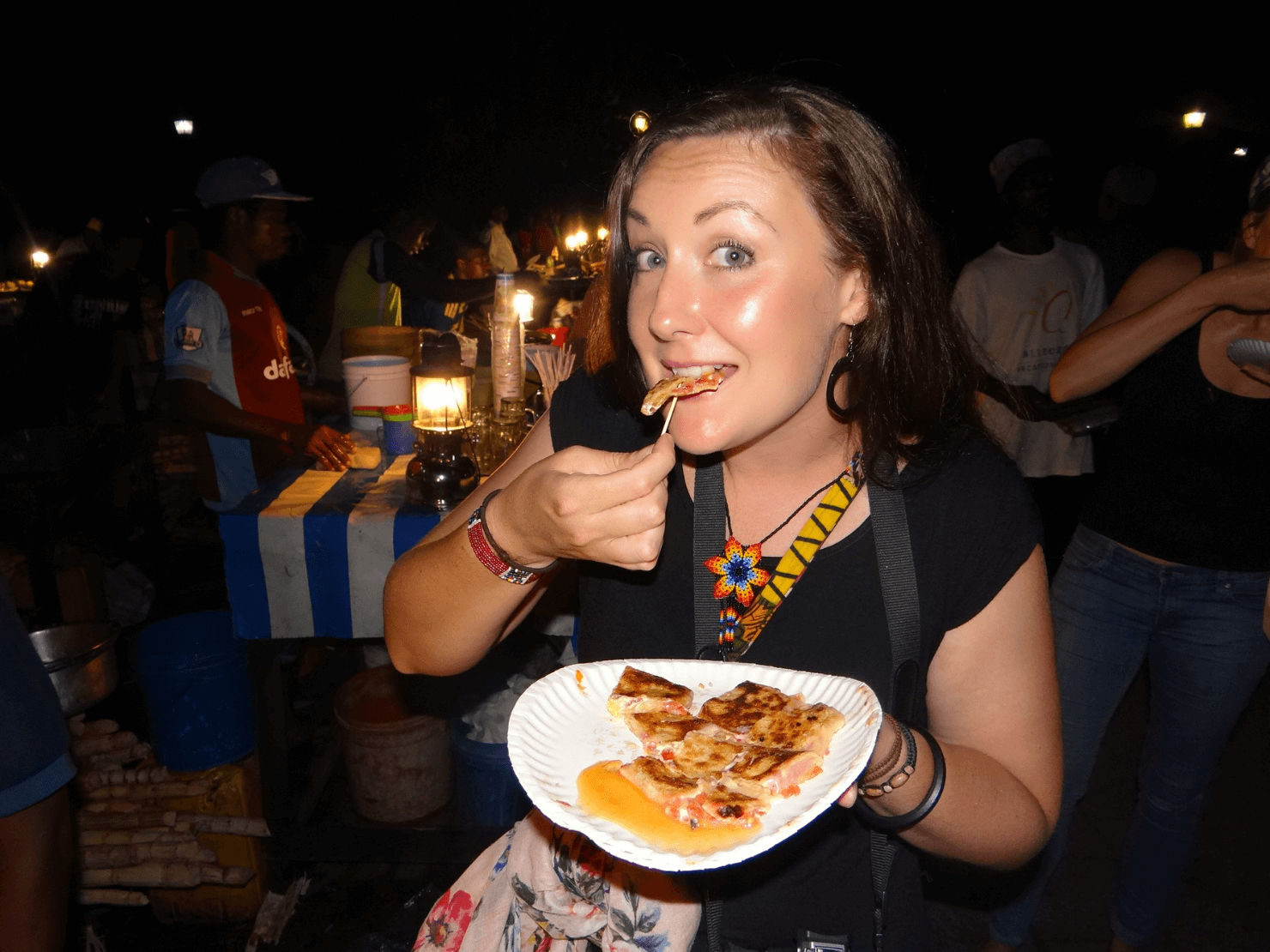 Eat at a Zanzibar Pizza at Forodhani Gardens
Each evening, at Forodhani Gardens on the seafront of Stone Town, street vendors set up their stalls, selling seafood and meat kebabs, samosas, urojo soup (Zanzibar Mix), fruit, grilled maize, Zanzibar pizzas, and sugar cane juice to tourists and locals alike.
In case you are wondering, "What the hell is a Zanzibar pizza?" – it's that odd thing I'm eating in the picture above! It's a thin pancake-style dough, filled with pretty much anything and everything and cooked in ghee. You eat it with a cocktail stick and they're pretty good!
You can have sweet ones with bananas and chocolate sauce or savoury ones with meat, veg and cheese. In mine, I usually have… mango, avocado, onions, tomatoes, Happy Cow Cheese Triangles and an egg!
Head over around sunset, have a walk around, grab some food and a glass of sugar cane juice, sit on the wall, and just take it all in.
MY TIP: If you want to find the best place to eat, look to see where the locals are eating. I usually get mine from my friend, Mr Mango. You can find him near the sea wall, on the left if you're looking at the market with your back to the sea. And I get my urojo and sugar cane juice from the stalls on either side.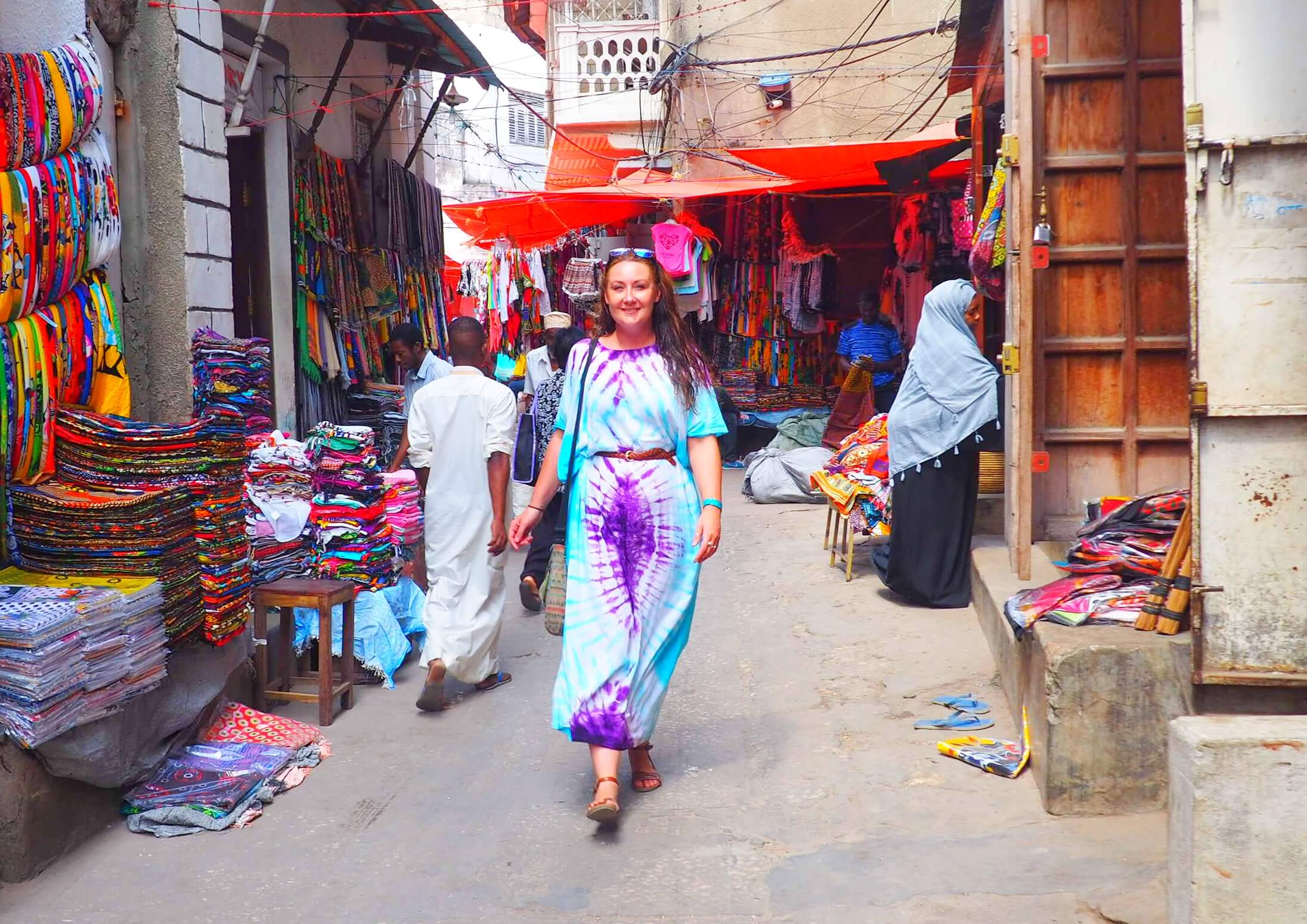 Shop Til You Drop
Shopping in Stone Town is great, like a tiny version of Marrakech. I love all those little curio shops selling trinkets and Stone Town has plenty.
You can buy paintings, jewellery, material, wooden carvings, Maasai bracelets, Zanzibar chests, and tasty spices. A lot of these shops sell the same mass-produced stuff you find all over Africa, but you'll find the odd unique item and it's cool to say 'I bought this in Zanzibar'.
MY TIP: Don't forget to barter. Start low and then meet in the middle – it's pretty fun when you get the hang of it! But just know that you can only barter in the markets and smaller shops, don't try it in the bigger, fancier shops.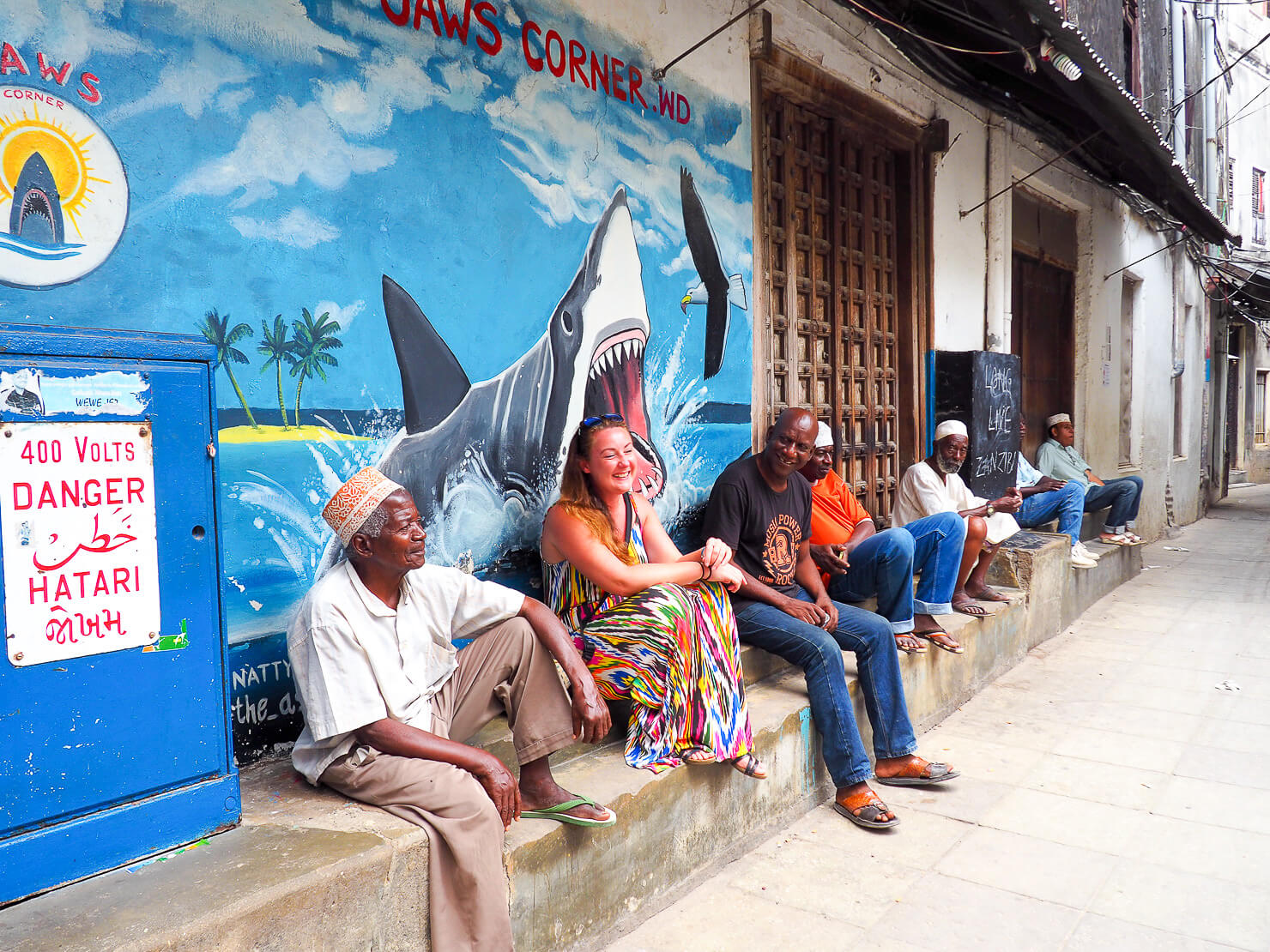 Take a Walking Tour of Stone Town
One of the best things to do in Zanzibar, in order to get a true understanding of the island, is to take a walking tour.
Stone Town is a UNESCO World Heritage Centre and one of the most interesting places I've ever been to in my entire life. Seriously.
Whilst I'd say that taking a tour isn't necessary and it's absolutely fine to have a wander on your own, having a guide for a few hours will provide a great insight into the island (and save you from being lost in the labyrinth of alleyways… forever – just kidding).
Some of the best things to do in Stone Town (have a read of my dedicated Stone Town post) include the House of Wonders (which sadly collapsed on Christmas Day 2020 – sums up 2020 hey?), the Old Fort, Freddie Mercury's House, St Joseph's Cathedral, the Hamamni Persian Baths, Jaws Corner, the Abeid Curio Shop and the Zanzibar Cultural Arts Centre.
What I really love about tours in Stone Town, is that the guides point out all the tiny details of the architecture, things that you would never notice on your own as well as explaining a lot about the culture and the history of the island, the Omani sultans and Princess Salme, a feminist and rebel who wrote Memoirs of an Arabian Princess from Zanzibar.
I highly recommend Aiysha Mohammed as a guide or you can find a number of great Stone Town tours here.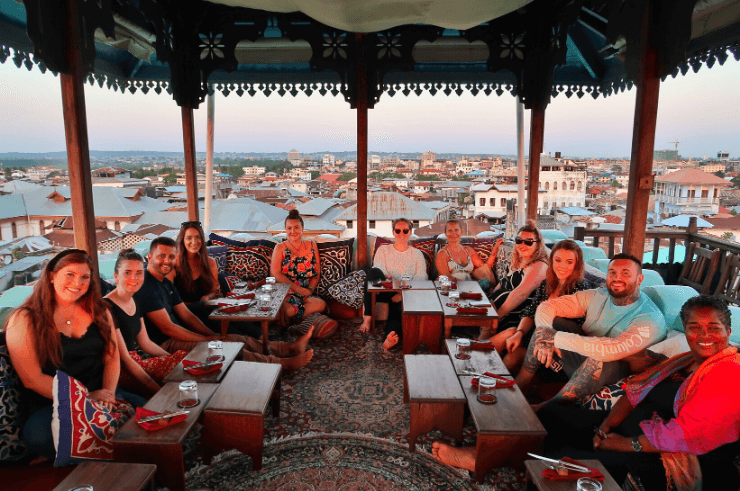 Dine at a Rooftop Restaurant
Eating at a rooftop restaurant is one of the most romantic things to do in Stone Town and they are the perfect place to relax for the evening, enjoy the call to prayer and watch the sun as it sets over copper-coloured rooftops.
My favourite is the magical Emerson on Hurumzi, with a beautiful view over the city and live Taarab music. I always take my Rock My Adventure tour groups here and it's always a highlight of the trip.
They also have a sister restaurant – the exquisite and romantic Tea House Restaurant on the top floor of the Emerson Spice Hotel that I visited a few years ago. The restaurant is known to be one of the best restaurants in East Africa. The 5-course menu changes daily, depending on what their fisherman catches that morning.
MY TIP: Book in advance, both restaurants get very busy and are limited on space.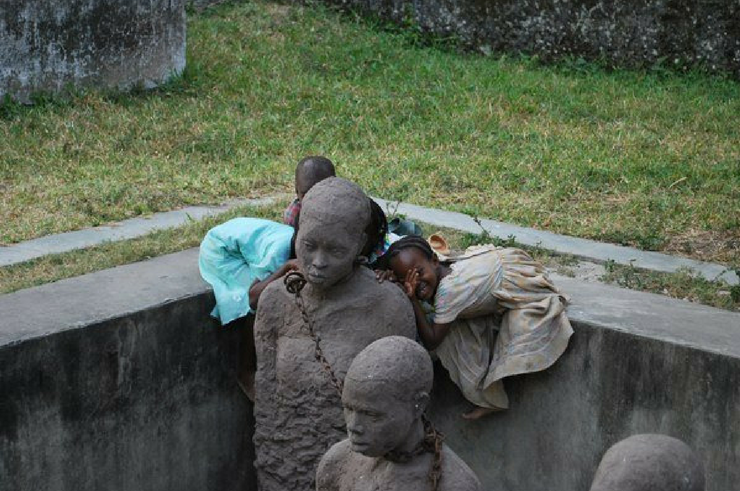 Learn About the Slave Trade
Zanzibar is described as a melting pot, with a blend of Arabic, African, Indian, European heritages, creating a unique cultural mix on the island, rarely seen elsewhere. One of the reasons for this is Zanzibar's dark past and I think it's important that people are aware of the atrocities that happened.
Zanzibar was a major trading hub for many things, including slaves. The slave trade was brutal, with hundreds of thousands of people being trafficked through Bagamoyo on the mainland (where I lived for a little while), to be sold in Zanzibar, then shipped to the east or the west, with many passing through Liverpool in the UK, where I am from.
Pay your respects at the Slave Monument (above) and you can also visit the old Slave Market and visit the house of David Livingstone, an important figure in the abolition of the slave trade, who once called Zanzibar home.
You can either wander around by yourself or if you want to get the full history, you can take a specific tour like this one.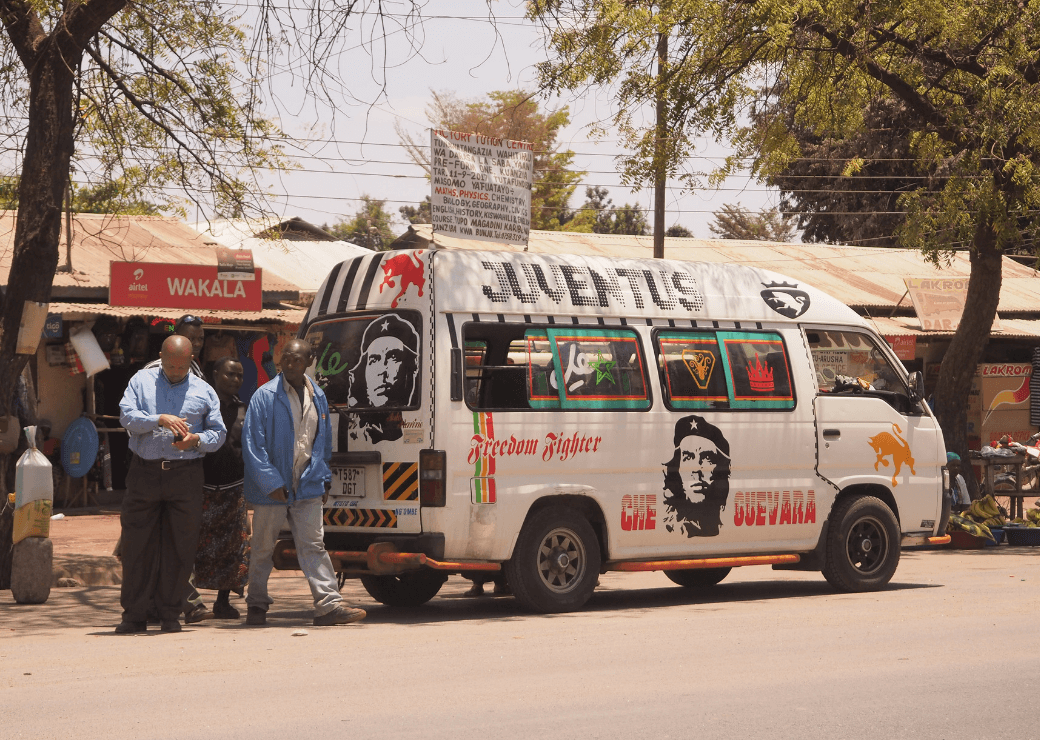 Ride a Dala Dala
No trip to Zanzibar (or Tanzania) would be complete without a little ride on a dala dala minibus. These tend to be packed, sweaty, and with questionable safety records, but they are an experience and the cheapest way to get around the island.
MY TIP: The best place to catch a dala dala in Stone Town is Darajani Market. You can pretty much get anywhere on the island from here.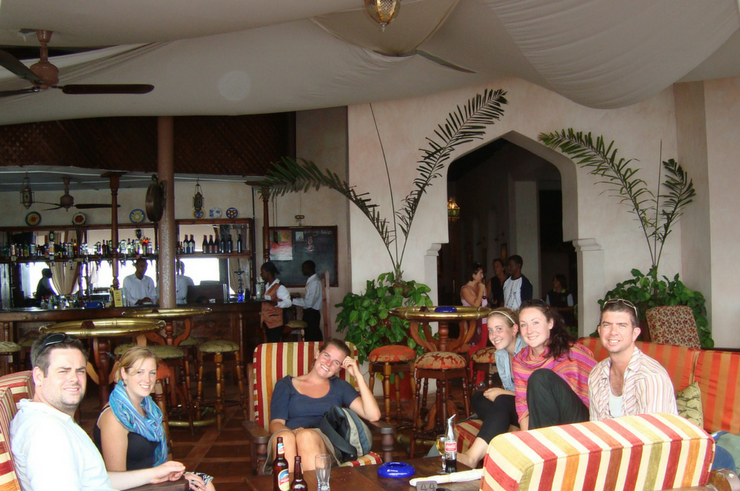 Go For Sundowners at the Africa House Hotel
If you're looking for a nice spot to have sundowners (sunset drinks) in Stone Town, Africa House Hotel is a great place to do it.
The building was built by an Omani slave trader and later turned into an English Club, now it's a hotel and bar. The decor of the hotel is a mix of Zanzibari and colonial style and whilst it's not cheap, it has a lovely terrace that looks out over the ocean. You'll see traditional dhows sail past as the sun slowly sets below the horizon.
Although beware. You may think you have a nice seat facing the sunset, but lots of people want photos and will stand in front of you and block your view or squeeze in between you (it's really annoying), so it may not be the relaxing experience you imagined.
MY TIP: To get a better and uninhibited view, you could head down to Shangani Gardens or do this instead.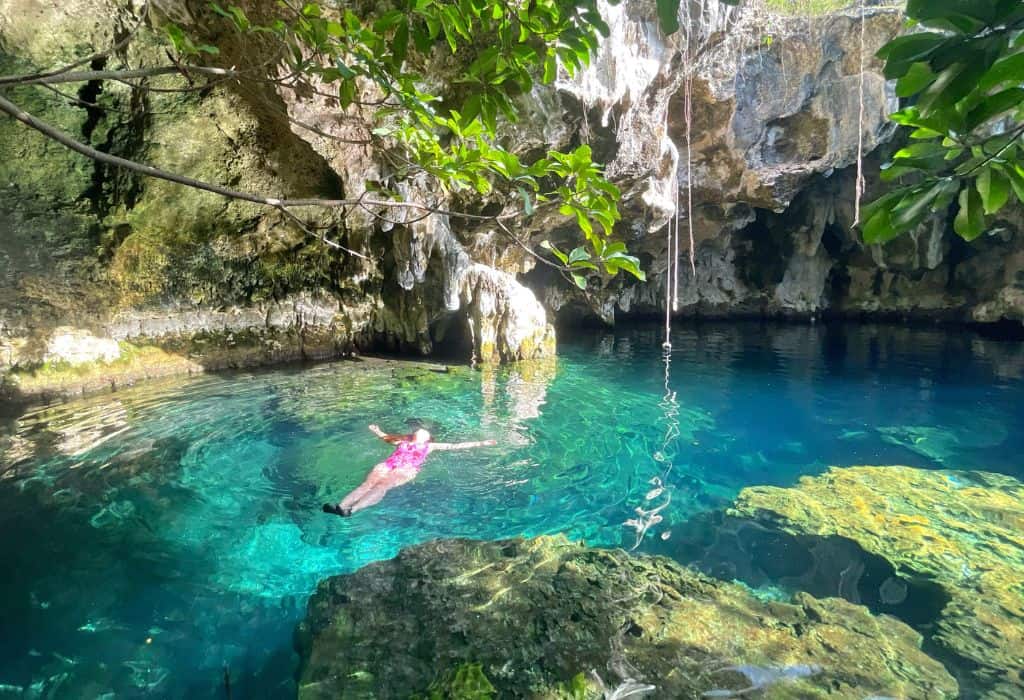 Visit the Maalum Cave
This is a new edition for 2023, but I recently visited the Maalum Cave near Paje and it was SO GOOD!
Here you get to swim and snorkel in a beautiful blue/green natural swimming pool. For $20, you get a 90-minute slot to relax in nature! What could be better?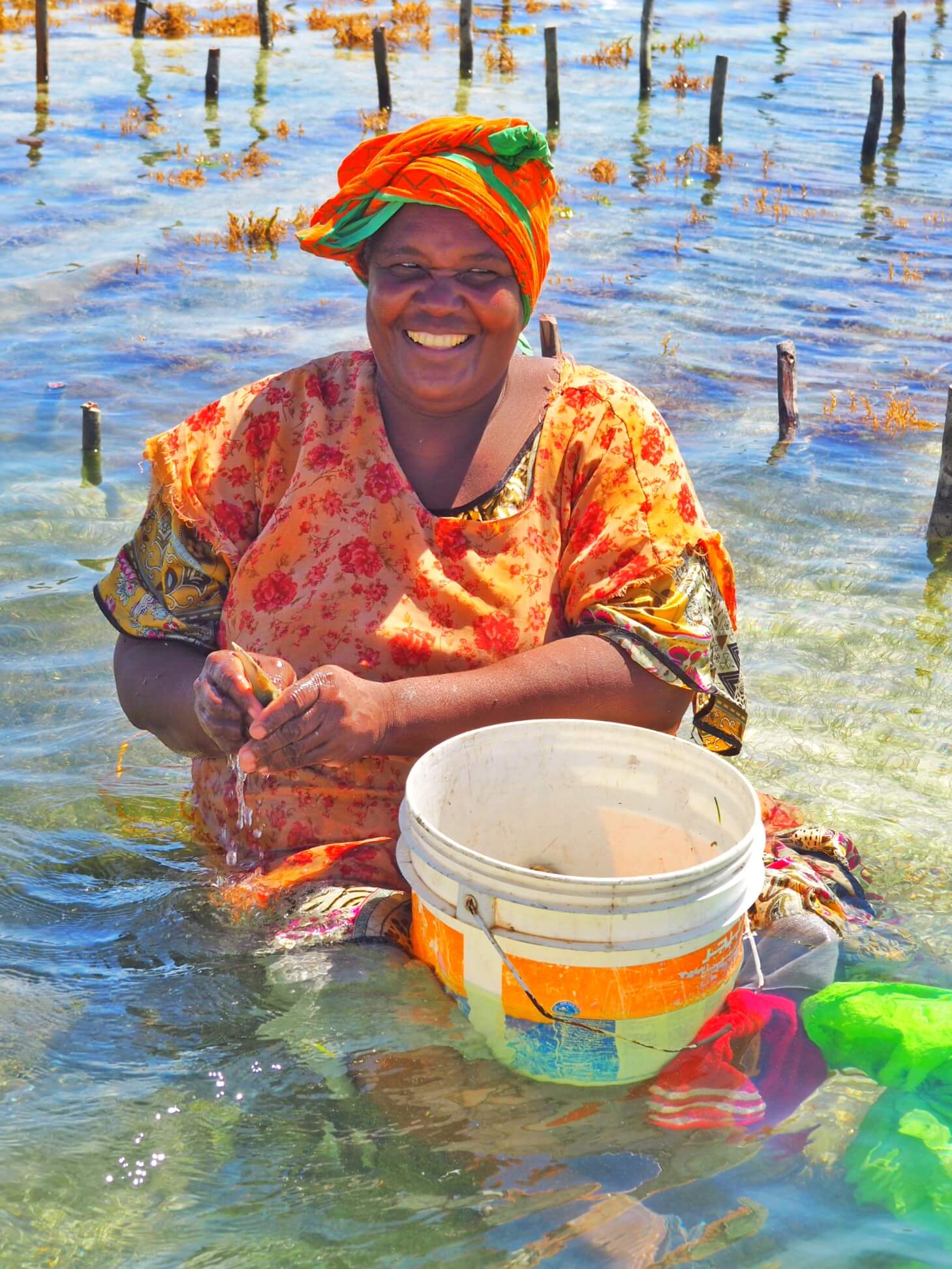 Take a Village Tour
Whilst it's fine to visit a lot of villages on the island, going on an organised village tour with a guide is a good way to get an insight into daily life whilst contributing to the local economy. Jambiani on the east coast is a great village to visit and the people very welcoming.
You can visit the fishermen, local women's groups, herbalist and seaweed farms. Many tours, like this one, include a traditional Swahili lunch too.
Again, taking photos of people without their permission is really not the done thing in Zanzibar (hence why you don't see a lot of people in my pictures) but on a tour, you should be fine. If you go it alone, please, please, please ask before you take pictures of anyone in the villages.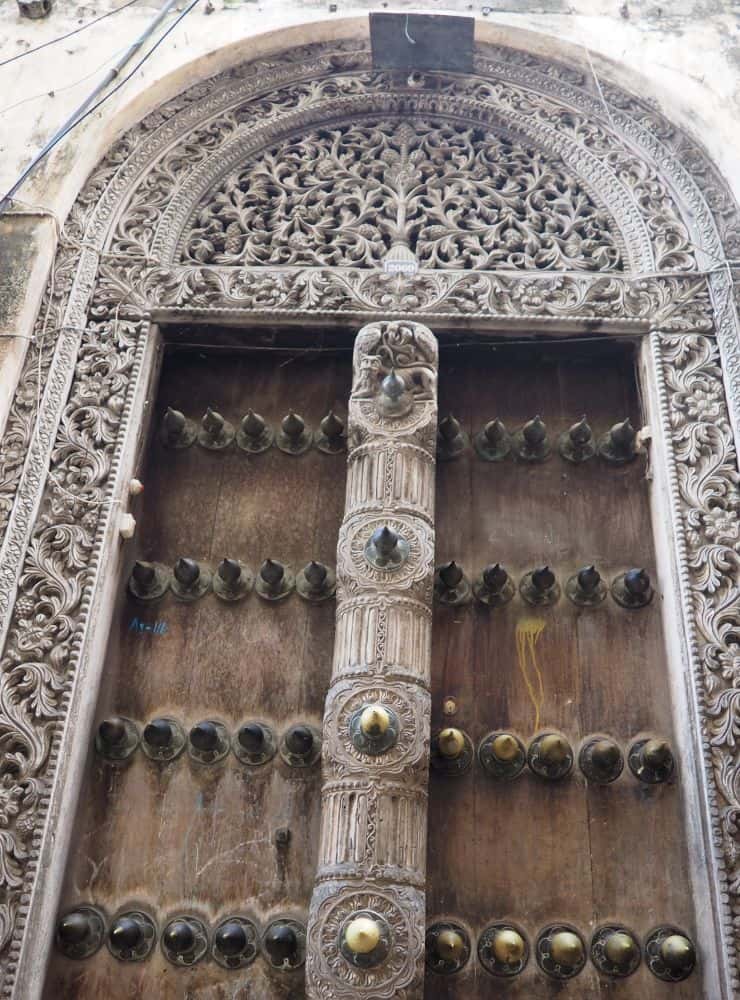 Admire & Photograph the Zanzibari Doors
Zanzibar doors are something else. Whilst some doors and buildings are succumbing to ruin, there are still many of the original doors intact, ornately decorated, and have meanings behind them.
The most famous and photographed door is the one at Tippu Tip's House (above), a Zanzibarian slave and ivory trader from the 18th century.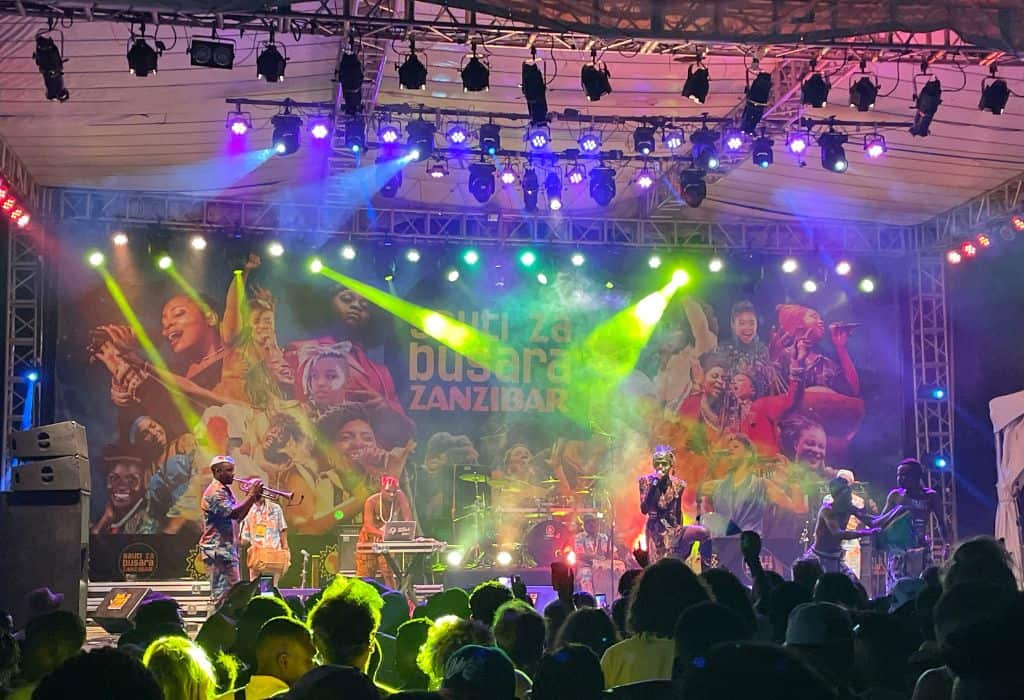 Go to a Festival
Zanzibar hosts 3 major festivals a year:
Sauti za Busara: A music festival in Stone Town, featuring a number of awesome artists from all over Africa and the name means 'Sounds of Wisdom'. The festival usually takes place in February. I went in 2018 and it was a lot of fun!
The Zanzibar International Film Festival: East Africa's largest film, music, and arts festival. They showcase some of the best talent around and the theme of the festival for 2017 was 'Finding Joy' (I love that).
The Zanzibar Beach and Watersports Festival: This is a community-led not-for-profit festival. They have watersports competitions, music, and food stalls! Sounds delightful! The festival takes place in Jambiani usually in September.
MY TIP: Be sure to book your Zanzibar festival accommodation ahead of time as it gets very busy.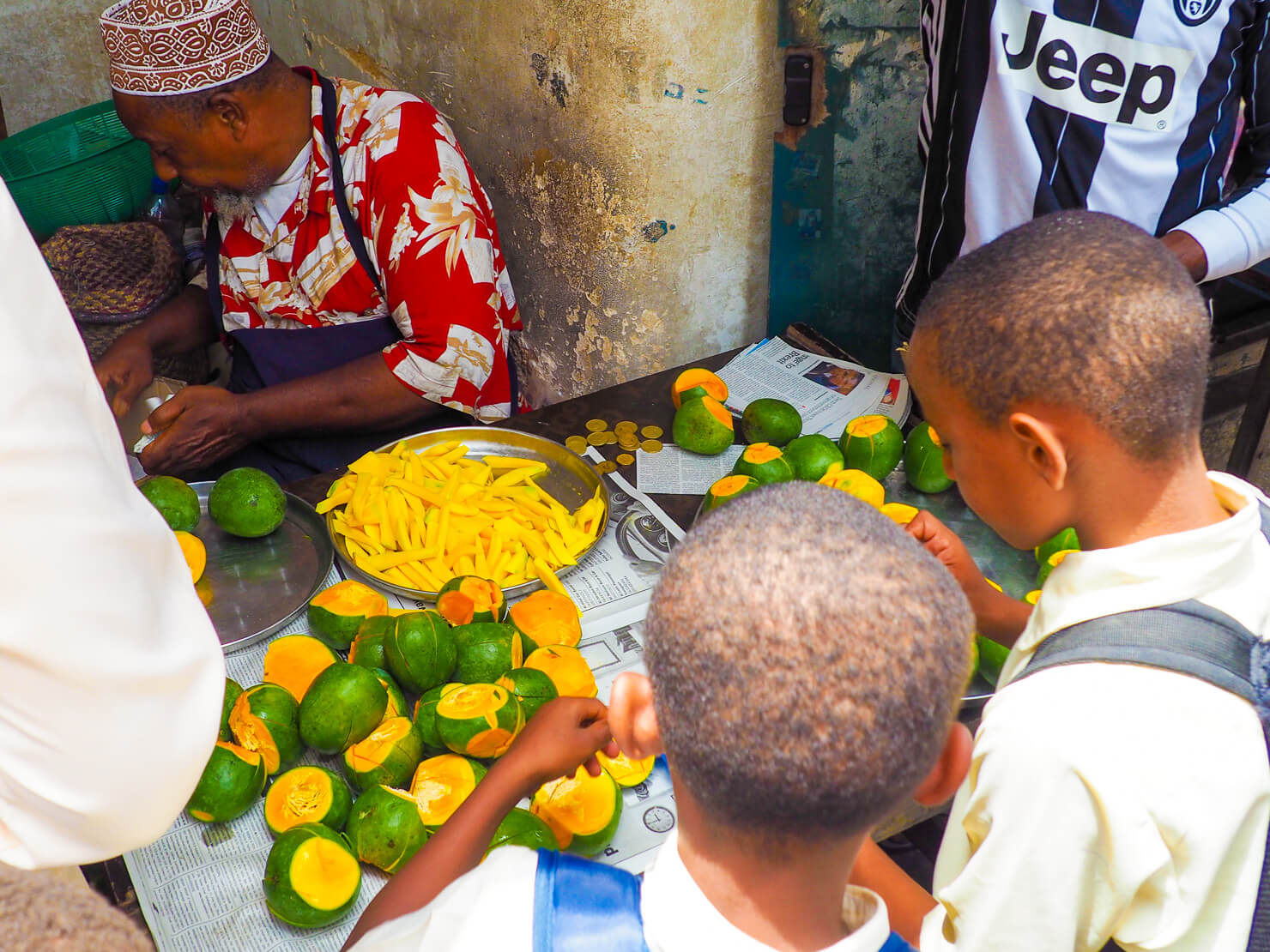 Try the Local Foods
Being an important trading hub on the old spice route between the east and west, the Zanzibari cuisine, is as you'd imagine, pretty amazing. Taking influences from all over the world, I'd go as far as to say, that the food in Zanzibar is my favourite in all of Africa!
There are tons of lovely foods you can buy off the street including my favourites – kashata, urojo soup, mishkaki and mango with chilli. To find some of the best places, you can take a Zanzibar food tour with a local guide.
If you're looking for a restaurant, that's cheap, and authentic but really, really tasty, go to Lukmaan or The Passing Show Hotel in Stone Town. Local foods include fried fish, chicken, curry, biriyani, and pilau rice, as well as samosas and chapatis.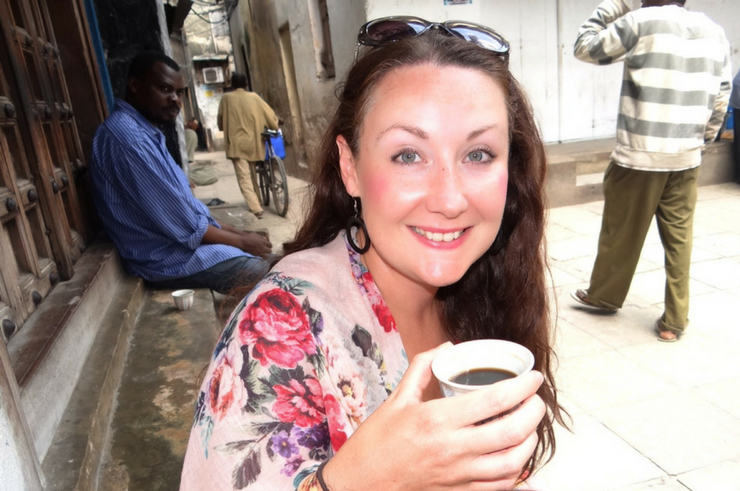 Drink Coffee at Jaws Corner
If you want to do as the locals do, head to Jaws Corner in Stone Town. A popular spot for people (men mostly) to gather, chat about politics, current affairs, and gossip whilst drinking black coffee with ginger from pretty little cups with no handles. We stopped here for a while eating cassava chips, baobab fruit and mango with chilli and salt – surprisingly delicious.
MY TIP: Wiggle your cup if you want a top-up. Try a piece of kashata with your coffee – it's delicious.
Let Yourself Be Pampered at the Mrembo Spa
When you've been travelling around Africa for a while, I can promise you that you and your body will need a little TLC. Your feet will be ruined, your skin will be dry from the heat and dust and those 'African Massages' (what they call it when you drive on VERY bumpy roads) are not very relaxing!
Many of the hotels around the island have spas, but one of the best places is the Mrembo Spa in Stone Town which offers lots of gorgeous treatments, including Singo, a scrub traditionally used by Swahili women on their wedding day!
I had a wonderful facial there on my last visit. It's everything you would expect from a Zanzibari spa and it's all organic too!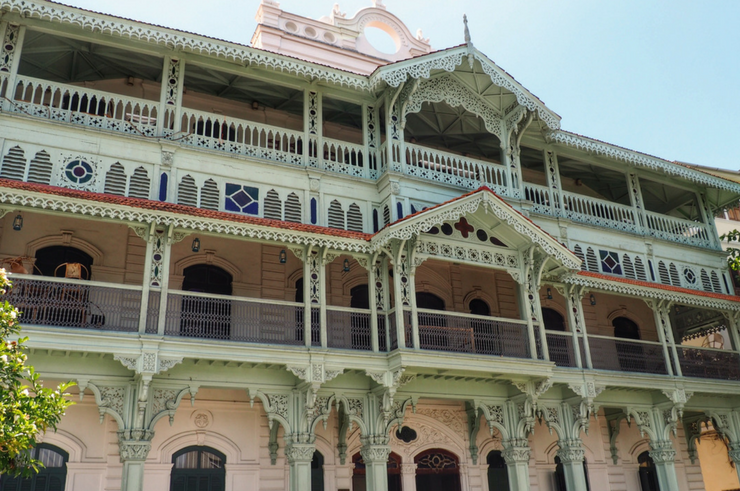 Visit the Old Dispensary
Opposite the ferry terminal in Stone Town, you'll find the Old Dispensary, where once upon a time, as you'd imagine, dispensed medicines.
It's one of the prettiest buildings in Zanzibar (so great for photography buffs) and inside has a pretty courtyard and a small museum about the history of the island.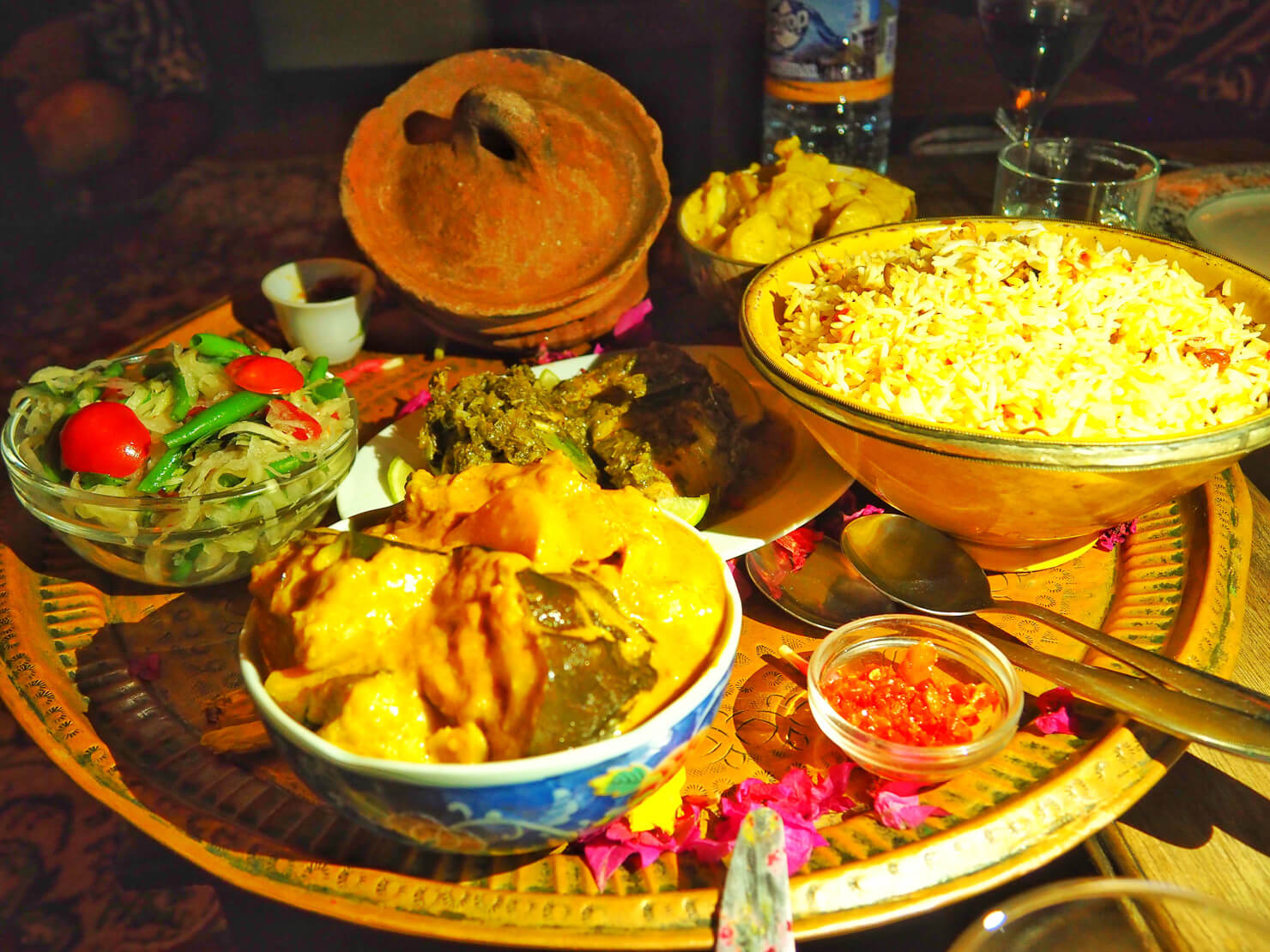 Learn to Cook Zanzibari Style
Food plays such a big part in daily life wherever you go in the world, so what better way to get an insight into the local culture? There are a few different classes on the island and some will even take you to the markets to buy the ingredients first like this one.
Enjoy the Call to Prayer
I've heard the call to prayer in a number of places around the world, but there's nowhere quite like Stone Town.
The melodic and mystical call automatically transports me to some other time, some other life. I don't even mind when it wakes me up at 5.30am, it's beautiful.
MY TIP: If you don't like to be woken early, bring earplugs. Some hotels provide them, but not all.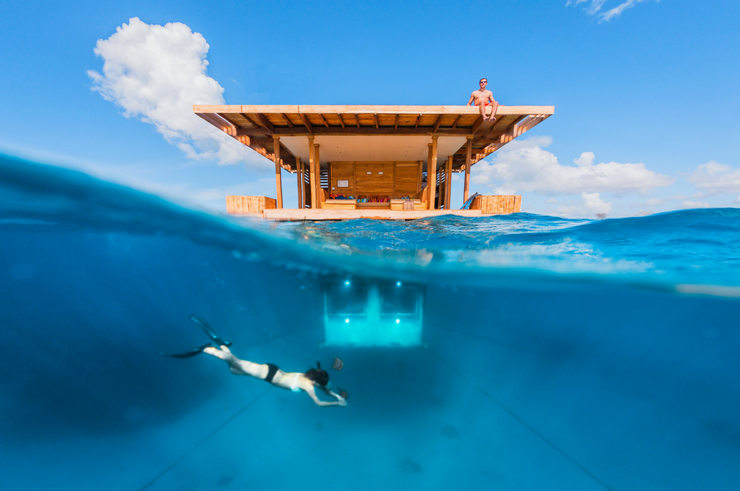 Take a Trip to Pemba Island and Sleep With the Fishes
Zanzibar is actually made up of a few different islands and Pemba Island is one of them. It lies north of the main island Unguja, which is what people generally mean when they talk about Zanzibar.
This is where you'll find the world-famous Manta Resort. The one with the underwater room that shows up on every list of '10 Amazing Places to Stay Before You Die'! Seriously – every list! How amazing would it be to stay here.
Ferries from Stone Town run on Wednesdays and Saturdays and do the return journey on Thursdays and Sundays. Flights depart daily and you can compare prices here.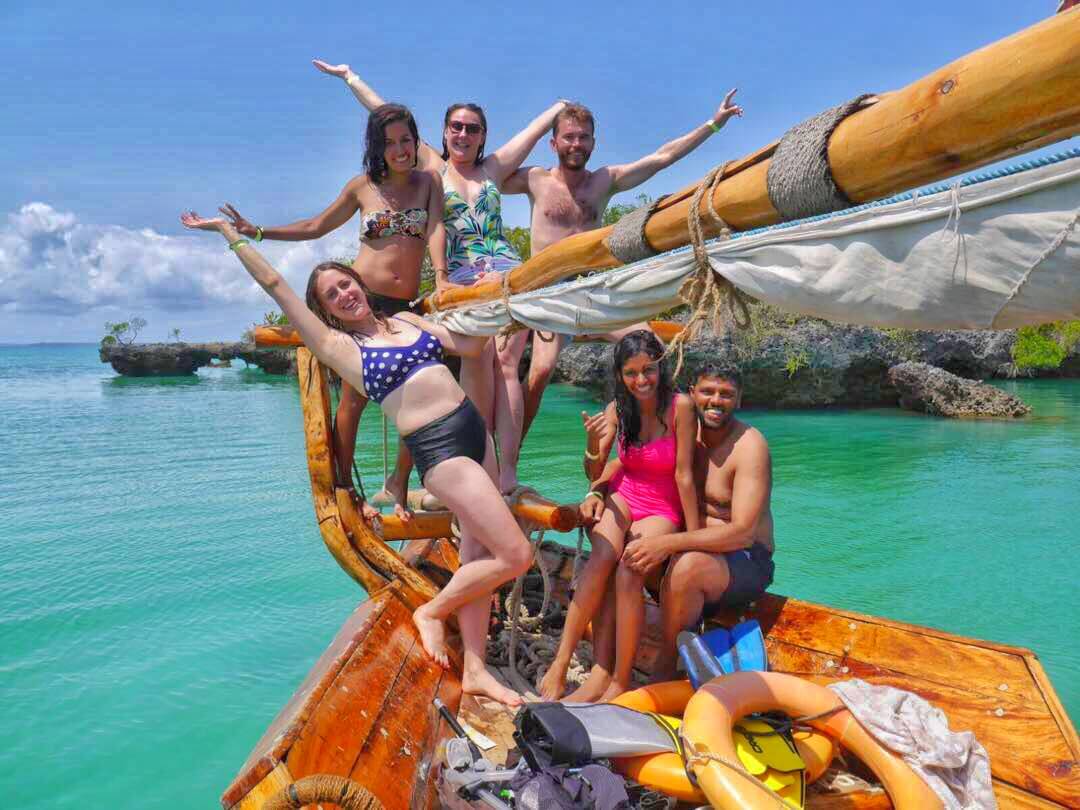 Go on Safari Blue
Safari Blue is known to be Zanzibar's best boat trip!
You start in the small village of Fumba on the south coast, sailing on a traditional dhow to Menai Bay where dolphins you have the chance to see and swim with dolphins. Snorkelling is the order of the day and you have a chance to explore the reefs. Lunch is a seafood buffet that includes fresh lobster, fish, calamari, chicken, and veggie options served on a sandbank. Drinks are also included!
It's a full day trip, so in the afternoon you sail to Kwale Island take a ride on a Ngalawa canoe, explore the mangroves, see an ancient baobab tree and relax on the beach before sailing back to Zanzibar at sunset.
You can book your Safari Blue tour here.
MY TIP: It may be best to take this trip before you leave Stone Town, or whilst staying on the south coast, so you are not travelling back on yourself from the beaches. It's around an hour and a half drive from Kendwa/Jambiani.
Take a Spice Tour
Zanzibar is called 'The Spice Island' due to the spices grown on the island. You'll get to taste things like vanilla, turmeric, cumin, and cinnamon as well as many others, used for cooking or in traditional medicines. Your guide will explain what the spices are used for and their unique properties. I swear you'll end up putting turmeric in EVERYTHING!
Pretty much every hotel or tour agent offers these trips. They can be a little touristy and before you know it you'll be stood there wearing a palm leaf hat, that some dude made for you and then plonked on your head.
MY TIP: If you want to do it a little differently, I recommend doing a spice tour with a Darajani market trip and a cooking lesson from Tangawezi Bistro in Stone Town. A lot more fun and great to see the spices through their full journey.
See the Red Colobus Monkeys in Jozani Forest
Jozani Forest, is home to the rare red colobus monkey. As you walk through the forest, you'll get the chance to see the monkeys up close and learn about the various plants and animals that call this place home.
You could either rent a car or take a tour to Jozani Forest.
Cycle the Island
Now, this is on my bucket list. How cool would it be to cycle the circumference of the island?
Bike Zanzibar, led by Juma, is your one-stop shop for cycling activities in Zanzibar. These guys offer day tours, cycling holidays (including women-only trips), bike rental and tailor-made trips.
MY TIP: They also offer a spice tour by bike, which takes you to see the red colobus monkeys in Jozani Forest too. So if you are short on time (or just want to be really efficient) this could be a great combo!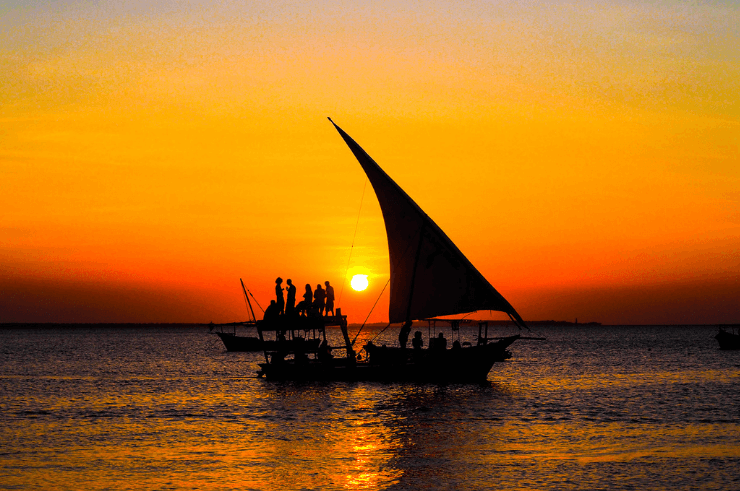 Go on a Sunset Dhow Cruise
What better way to see the sunset from out on the water? There are various different ones, from romantic cruises to crazy party boats most include drinks and some also include food.
Most of the sunset cruises depart from the main towns on the West of the island, like this 3-hour sunset cruise departing from Kendwa. You can also take cruises from Nungwi and Stone Town.
If you're on the east coast – don't worry, you can still enjoy the sunset too. There are a few companies that sail from Michamvi and takes you around Chwaka Bay (the only place on the east coast for sunset).
Go Deep Sea Fishing
Zanzibar is a mecca for deep-sea fishermen!
With its position, far out in the Indian Ocean, the Zanzibar Archipelago attracts all kinds of weird, wonderful and big game fish, like barracuda, wahoo, kingfish (my favourite), yellowfin tuna, sailfish, and marlin (blue, black and striped) to name but a few (all seasonal).
Spending a day on a boat, bobbing around in the middle of the ocean, and trying to reel in some fish is not my idea of a fun time, in fact, I'd probably spend the whole time puking over the side, but my other half loves it.
Scuba or Snorkel at the Mnemba Atoll
Take a trip out to the Mnemba Atoll and go snorkelling or scuba diving in one of the most beautiful spots around. You'll find an abundance of marine life and may even see some dolphins!
This trip is quite different from the Safari Blue trip, so you could even do both. You can book your trip in advance here.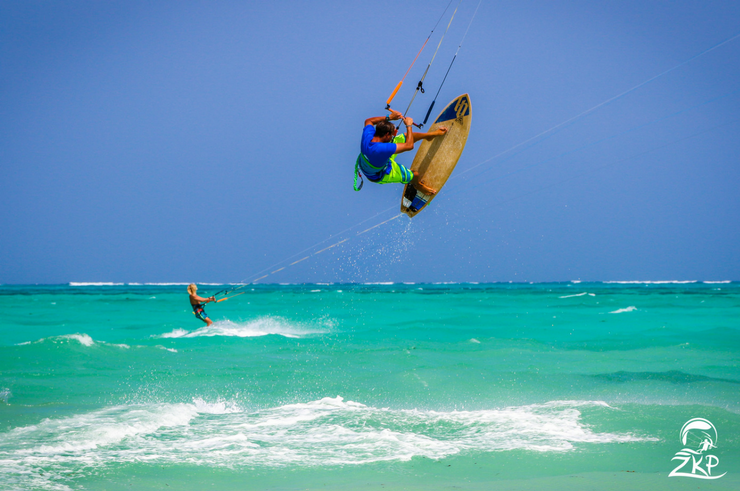 Go Kitesurfing
Did you know that Zanzibar is an AMAZING place for kitesurfing (aka kiteboarding)? What did I say about those trade winds?
There are two winds that blow through Zanzibar, the Kusi Winds and the Kaskazi Winds. The Kusi blows in from the southeast from mid-June to mid-October and the Kaskazi blows in from the northeast between December and April.
Paje, on the east coast, is probably the most popular place to stay and it attracts a cool crowd.
Go Surfing
Whilst we're feeling active, why not try a little surfing?
Zanzibar isn't known as a surfing destination and you won't find many surfers there, but there are a few spots around the island! The only downside is that conditions aren't always ideal, so timing is everything. There are two surf schools I know of, Aquaholics and Surf Zanzibar. They'll take you to the best places, at the best time. The season generally follows the same dates as the kite surfing season.
MY TIP: The best places to stay for surfing are along the southeast coast – Paje, Bwejuu, Jambiani, and Dongwe.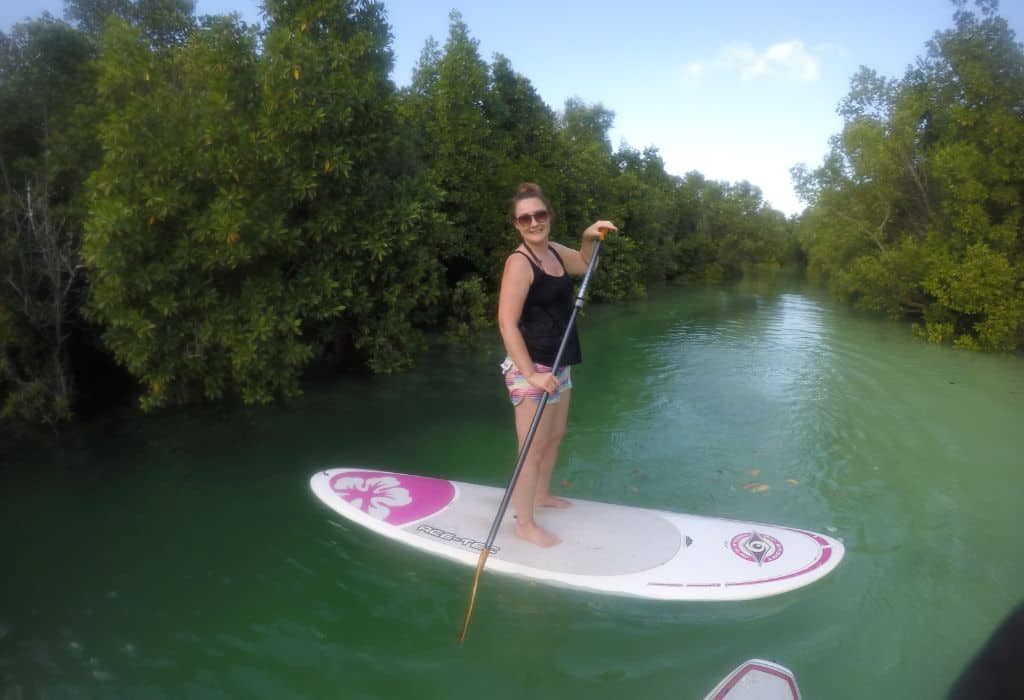 SUP Through the Mangroves
If you've ever tried stand-up paddleboarding (SUP), you'll know how much fun it is. Not as physically demanding as surfing or kitesurfing, but still great for fitness and core strength.
Surf Zanzibar offer a few different SUP tours in a beautiful lagoon and through mangroves in Chwaka Bay. They also rent out boards and paddles if you want to do it yourself. After their tours, you can enjoy a free drink on the terrace.
Go to the Full Moon Party at Kendwa Rocks
Every month (usually on a Saturday), the Kendwa Rocks hotel on the north of the island holds a Full Moon Party. Now, these aren't nearly as crazy as the Full Moon Parties you'll find in Haad Rin on Ko Pha Ngan (I've been to both) – there's no glow paint and no drinking out of buckets – I definitely prefer this one. The normal Saturday nights are fun too! You can find dates for the Kendwa Rocks Full Moon Party here.
The African beats are banging, the food is good and there's always a great mix of travellers and locals enjoying the party. You'll spend the night dancing barefoot in the sand, listening to reggae under the stars, watching leopard print-clad dancers and fire twirlers doing their thing – I've even seen a bit of line dancing before. For those who want to chill, there are fire pits where you can sit back, relax and watch everyone trying to twerk.
MY TIP: If you want to stay at Kendwa Rocks, book in advance, they get very busy! You can check availability and prices here.
Party Hop
Even when it's not a full moon, there's always a party going on somewhere! On any given night, the bars in the beach resorts take turns in hosting the party of the night! Ask the guys at your hotel bar, they're always in the know!
Aside from Kendwa Rocks, other popular places include Cholo's and Coccobello in Nungwi and Jambo Beach Bungalows in Paje.
Red Monkey Lodge is a great place to stay in Jambiani and they hold a Crazy Monday Jam Session every week – one not to be missed! Some of the hotels offer shuttles or they can organise a taxi! Clubbing in Zanzibar is always fun!
Ladies – just watch out for the men. They are generally very harmless but VERY forward and persistent in Zanzibar (and Tanzania in general) and it can get annoying.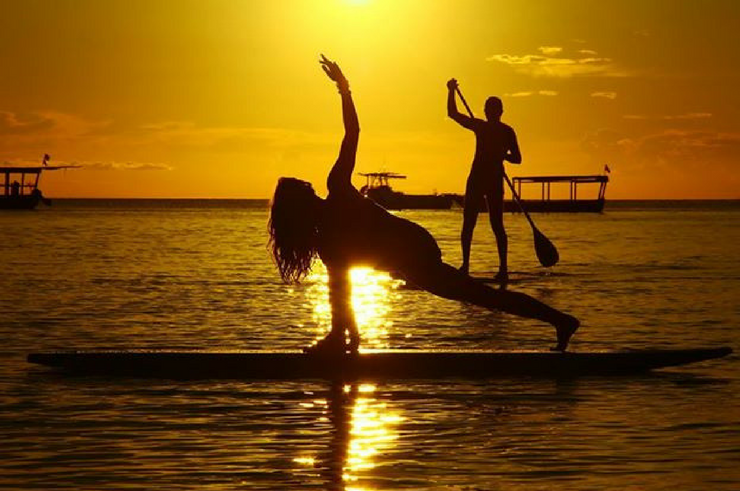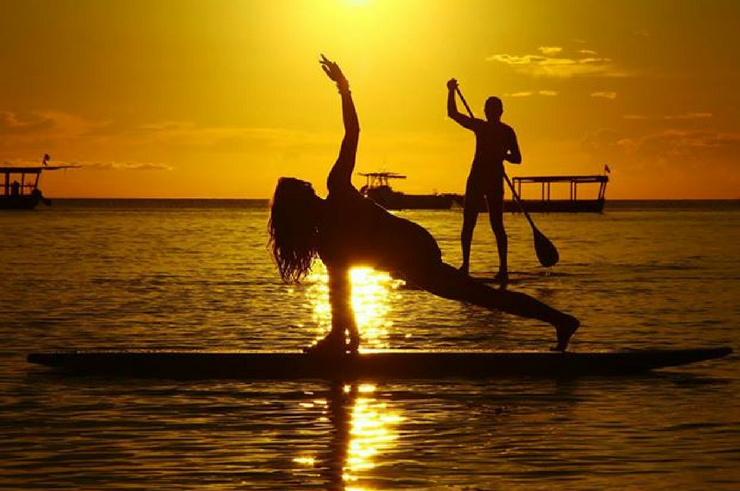 Go on a Yoga Retreat
Like any self-respecting beachy paradise, Zanzibar has its fair share of yogi activities!
Yoga Zanzibar, based in beautiful Nungwi offers all kinds of amazing packages and classes – retreats, SUP yoga and teacher training courses and you can also combine the retreats with things like safari, diving, and even tango dancing!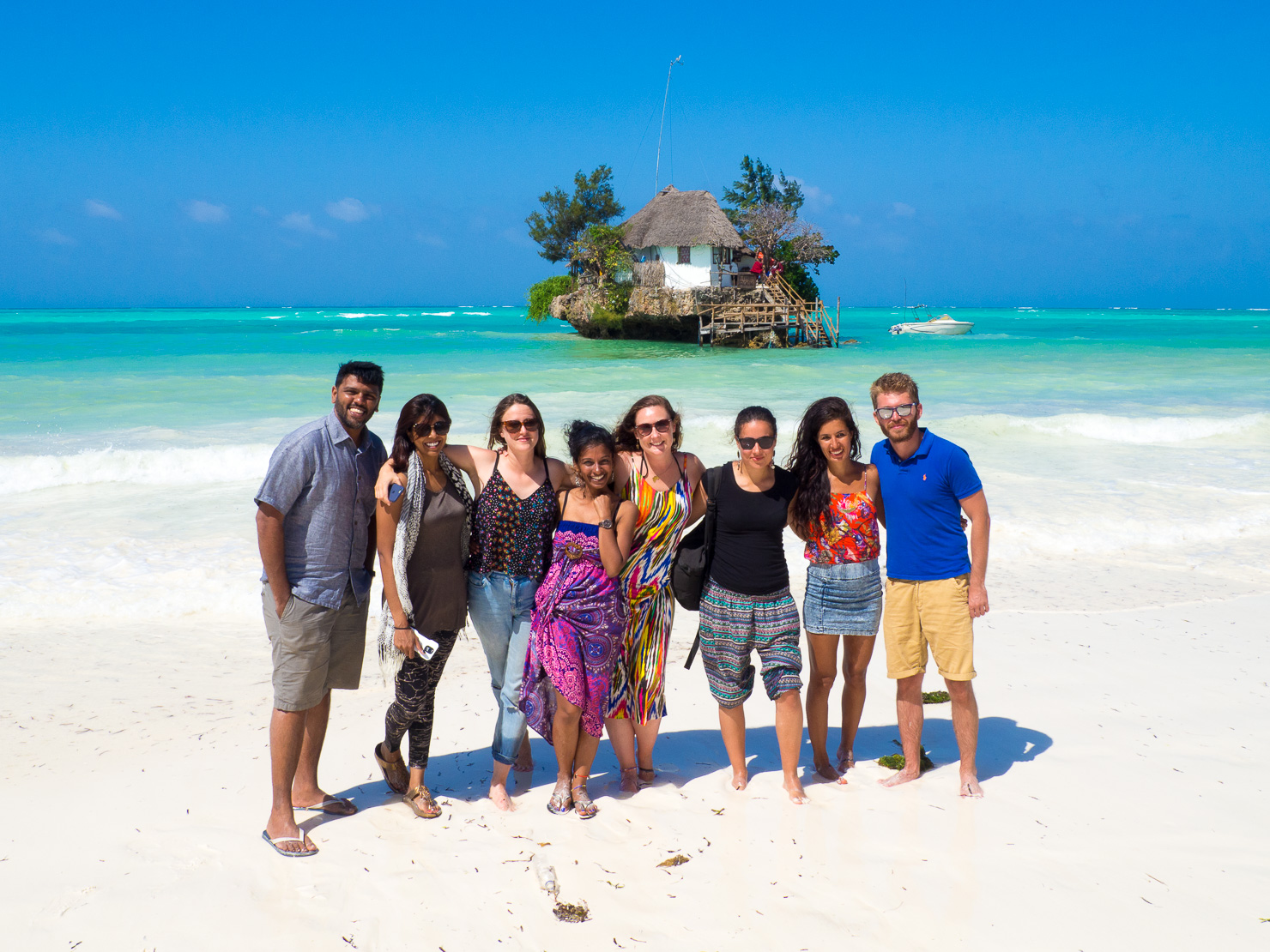 Eat Lunch at The Rock Restaurant
If you want to tick off one of the big bucket list things to do in Zanzibar, head to the southeast of the island where you'll find The Rock Restaurant, just off Michanvi Pingwe beach. This restaurant is unusual because it is literally built on a rock, in the Indian Ocean!
The food isn't cheap and it's not the best food I've ever tasted, but it's nice and it's the setting that really is the draw here! Plus, they have nice, cold wine!
Go whilst it's light so you can make the most of the setting and go when it's high tide as it's much, MUCH prettier at high tide. Book ahead as it does get busy. For my tips on how to make the most of your trip to The Rock, click here.
Learn a New Skill
Fancy creating your own beauty products, perhaps dying some batik or blending some spices? Then book in at a class at the Mrembo Spa. You could even turn your gorgeous new batik material into a dress!
They also offer lessons in music (drumming and other traditional Swahili instruments used in taarab music), dancing, and tinga tinga painting – a distinctive painting style you will see all over East Africa. These lessons support the Dhow Countries Music Academy, so they're good for everyone!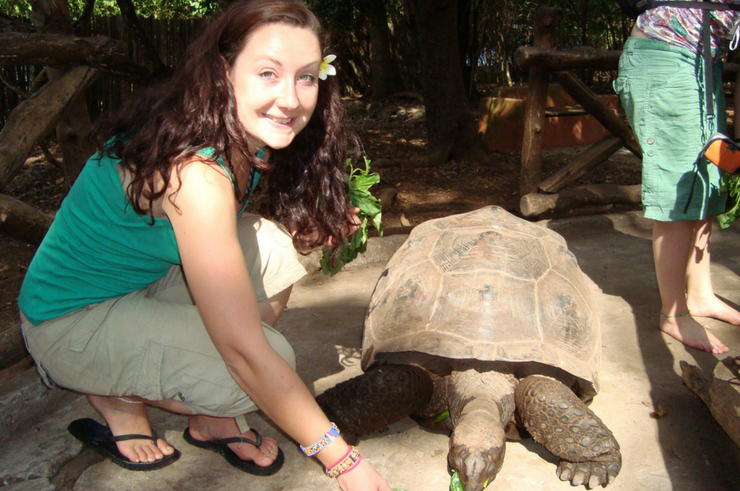 Visit Prison Island (Changuu)
Changuu (Prison Island) is a former slave prison, just off the coast of Stone Town.
Today it is home to giant Aldabra tortoises, imported from the Seyshelles. You can feed the tortoises, enjoy the forest, sunbathe on the white sandy beach and get a great view of Stone Town.
Surrounding the island is a coral reef, good for snorkelling and the water is dotted with colourful starfish.
Go Horse Riding
There are a couple of places that offer horse riding on the beach and through the coconut plantations in Zanzibar!
I've only been horse riding a couple of times, along the banks of the Nile in Uganda and on the shores of Lake Malawi, which were amazing, so I can imagine riding along the beach and in the water at sunset in Zanzibar is just… wow!
The Zanzibar Horse Club in Nungwi and the Sea Cliff Resort on the west coast, halfway between Stone Town and Nungwi are the best places to go horse riding.
Learn Some Kiswahili
Whilst a lot of people speak English, knowing a little bit of Swahili goes a LONG, LONG way in Zanzibar (or any part of Tanzania).
Just speaking a few greetings will get you a huge grin, a lot of respect and the response 'Ah, you speak Swahili?"
You respond "Kidogo, kidogo" – trust me, it will be well received.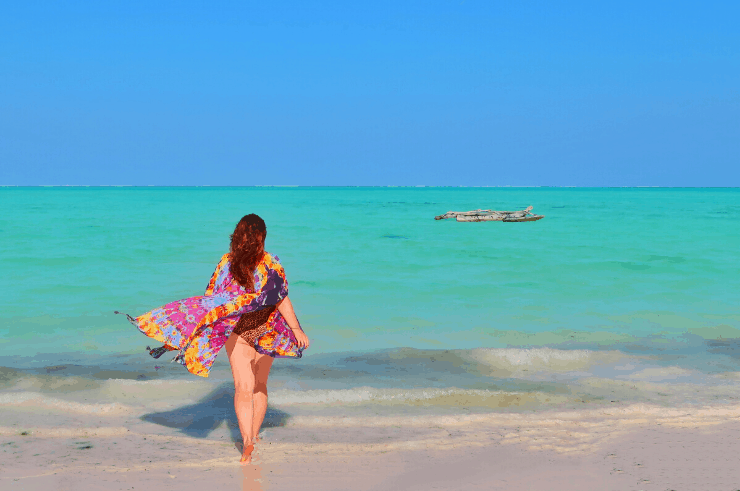 Relax on the Beaches
After all these activities, there's only one thing left for you to do and that's to unwind at the beaches, perhaps with a cold Kilimanjaro beer in hand.
Zanzibar has some world-class beaches all over the island, so wherever you go, you're sure to love it! Here are a few of my faves:
Stay on a Private Island
Last but not least…
Feeling fancy? Then book yourself into the &Beyond luxury lodge on Mnemba Island, where the sand is brilliant white and the water crystal clear. Living the dream!
With prices starting from $1,854 per person, per night, it's certainly not cheap, but it is super luxurious and romantic. Bill Gates is a fan apparently. One for the bucket list!
I hope you enjoy this list of things to do in Zanzibar! If you have any other suggestions, leave them in the comments below!
---
Pin This Post For Later