Last updated on April 12th, 2023 at 09:22 am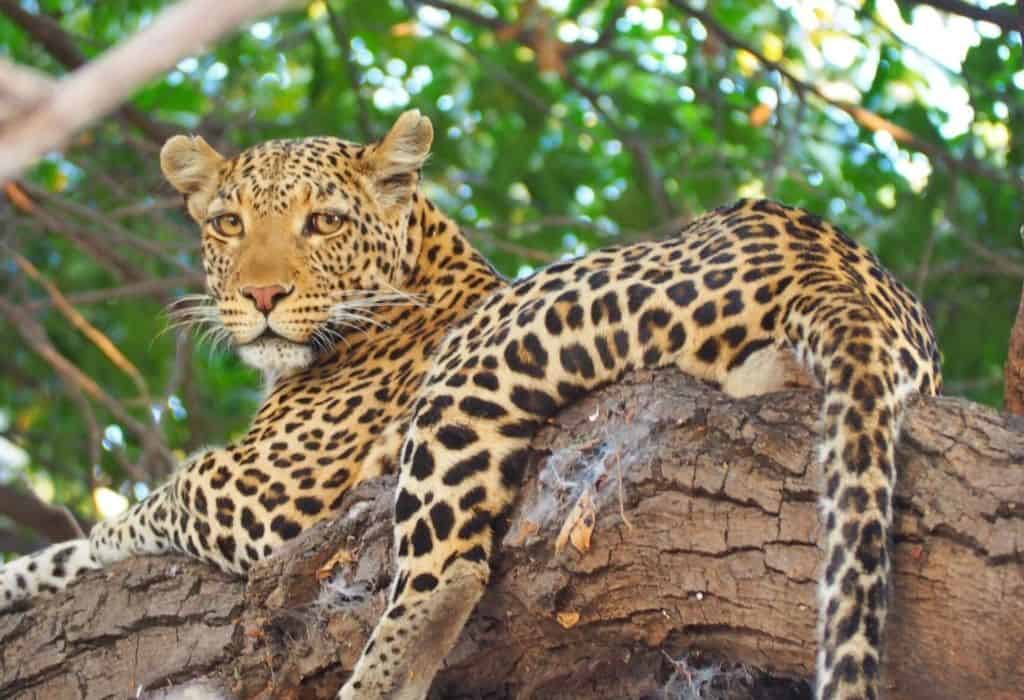 Botswana is one of my favourite countries in Africa for safari especially, but there's so much more to Botswana than just safari. There are cultural, adventurous and historical activities and experiences to be had too.
So here are some of my favourite things to do in Botswana (that aren't just safari)!
Please Note: Some of the links in this post are affiliate links, which will earn me a small commission at no extra cost to you. Affiliate sales help with the running costs of this site, so thank you for your support!
---
21 Amazing Things to Do in Botswana

Go on Safari in Chobe National Park
Botswana is probably one of the best, if not the best safari destination in the world. There are plenty of national parks to choose from, but the one that always stands out for me is Chobe National Park, which lies close to the borders with Namibia, Zambia & Zimbabwe.
Chobe is huge and there are a few different parts of it, including the more remote Savuti and Linyanti (private reserve) areas, however, most people tend to visit the Riverfront area due to its location, which is close to the town of Kasane, as well as Livingstone (Zambia) and Victoria Falls (Zimbabwe) – you can easily visit Victoria Falls for a day trip or vice versa.
There are a number of lodges inside the park and lots of companies who can organise camping safaris. You can also self-drive and/or easily take day trips into the park, whilst staying nearby in Kasane, Livingstone or Victoria Falls.
To get to the more remote areas, you'll usually need to fly in ($$$$) or you can go on a mobile camping safari. On my Botswana & Victoria Falls tour, we visit Savuti which I absolutely loved due to the abundance of elephants, lions and leopards we saw. But on my Malawi, Zambia & Botswana tour, we visit the Riverfront – which is equally amazing!

Take a Boat Cruise on the Chobe River
If you want to experience a different side of Chobe National Park, take a cruise down the river. Seeing the animals from the water is pretty cool and you can often get quite close without disturbing them. 
Most safari companies and lodges offer this option, starting in Kasane or from the lodges along the river. Cruises are offered all through the day and some include meals/snacks and/or drinks. 
You can also stay overnight on specially designed houseboats, which are basically like luxurious floating hotels. Boats include the Zambezi Queen, the Pangolin Voyager and the Chobe Princesses.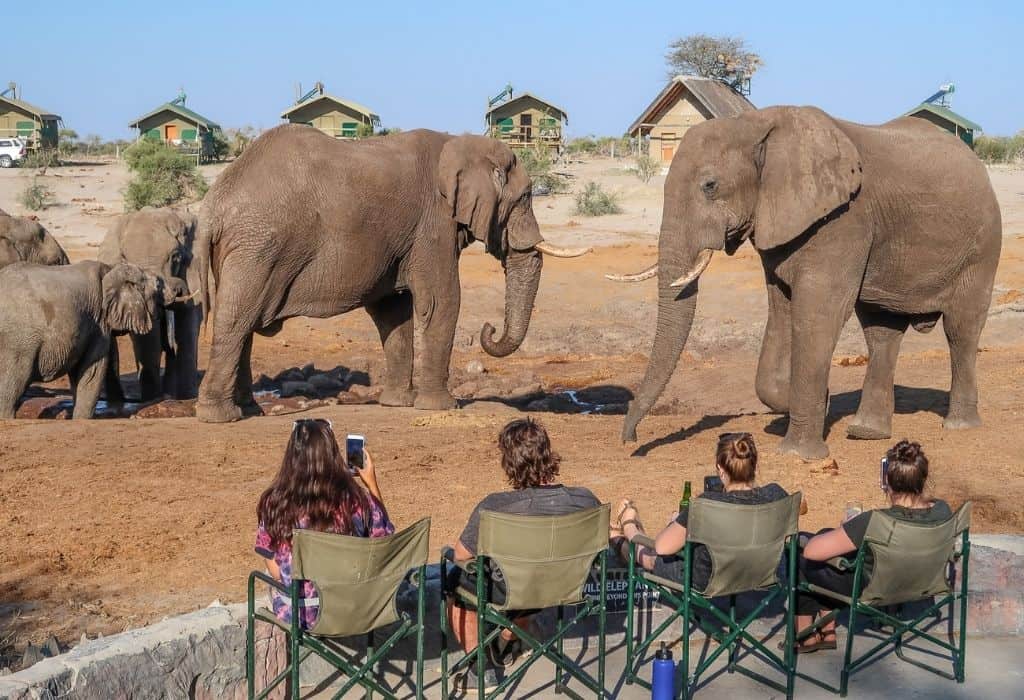 Spend the Night at Elephant Sands
One of my favourite things to do in Botswana is to stay at Elephant Sands near the town of Nata. This is a great stop if you're travelling along the main road between Kasane and Maun or Gaborone.
This lodge and camping ground has a waterhole in the middle of the site that attracts elephants from miles around, so no matter where you are, in the campsite, at your chalet, in the pool or in the bar, you can see the elephants. They're not there all the time, but they're usually around for a good chunk of the day, so you'll most likely get to see them.

Visit the Meerkats in the Makgadikgadi Pans National Park
Want to hang out with some of the cutest animals on the planet, then get yourself out to the Makgadikgadi Pan National Park in the Kalahari Desert.
The best place to see habituated meerkats is in the area near the beautiful and very luxurious Jack's Camp or the equally gorgeous San Camp on the edge of the Ntwetwe Salt Pan. The meerkats are so used to humans, that if you lie down on the ground, they may climb up onto you and use you as a lookout! How cool is that! 
Both Jack's Camp and San Camp are very expensive though (rates start at $1,450 and $1,595 per person, per night respectively), so if your budget doesn't stretch that far, you can organise day trips or overnight camping trips to the Makgadikgadi Pans from the town of Gweta (Gweta Lodge or Planet Baobab both organise excursions).
Ride an ATV Across the Makgadikgadi Pans
One of the most popular activities on the Makgadikgadi Pans and a great way to get to your meerkat pals is to ride an ATV (quad bike) across the desert. Again, this can be organised through the lodges inside the park, or through the lodges in Gweta. 
Stay in a Star Bed
Staying in a star bed, is basically what it sounds like, sleeping under the stars but in a comfortable bed for an outside/in type of experience. 
These star beds are generally offered by high-end lodges such as Jao Camp (Okavango Delta), Natural Collection Skybeds (Khwai), Kanana Sleepout Deck (Okavango Delta), Meno-A-Kwena (Makgadikgadi Pans National Park) and Sable Alley (Okavango Delta), however, you can also do it as a budget camping trip (and combine it with ATV rides and/or meerkat visits) through Planet Baobab or Gweta Lodge, as mentioned above! 
I can't wait to do this on my Rock My Botswana & Victoria Falls Adventure in August 2022. Want to come along?
Go on a Horseback Safari
Another popular activity in Botswana is going on a horseback safari. These tend to be on the expensive side (lol – this is Botswana after all) but a horseback safari is unlike anything else, as the other animals aren't afraid of horses, often allowing you to get up closer than you would in a car or on foot..
Popular places to do it are on the Makgadikgadi Pans, Northern Tuli Game Reserve and the Okavango Delta.
See the Baines' Baobabs in Nxai Pan National Park
Nxai Pan National Park is a great place to go on safari and as well as being home to lots of wildlife, including cheetahs and elephants, you can also find the famous Baines Baobabs. 
The baobab trees are known as the 'Six Sisters' were made famous by British painter Thomas Baines in 1862. They rise spectacularly from the ground in an otherwise pretty barren landscape, making them great for photography.
See the Flamingoes & the Annual Zebra Migration 
The Makgadikgadi and Nxai Pans are great places to see the annual zebra migration, which is second only to the wildebeest and zebra migration in Tanzania.
The best time to see the migration in this part of Botswana is December to January when the herds are arriving and March to April when the herds are leaving. This is also a wonderful time to see the flamingoes and birdlife that gather in the shallow pools created by the rains.
The only downside about the rainy season (November to March/April) is that it makes road travel a bit more tricky, but it's a great time to visit the Central Kalahari Game Reserve (CKGR), plus it's quieter and cheaper at that time of year!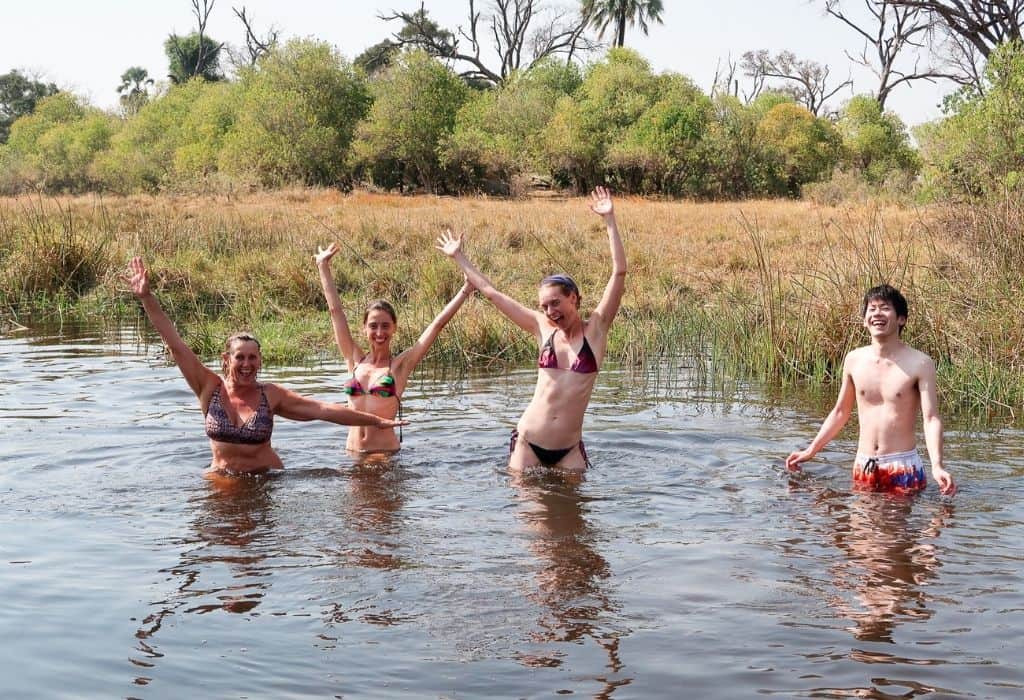 Visit the Okavango Delta
If you're visiting Botswana, it's usually a given that you'll visit the Okavango Delta, a UNESCO World Heritage Site and one of the most unique landscapes on earth.
There are lots of high-end lodges in the area, some of which are on the islands deep inside the Delta, only reachable by plane or helicopter. But for the more easily near lodges or if you're camping, you can travel in by canoe or boat. Day trips from Maun are also possible if you are short on time or money.
The Okavango Delta region also houses two of my favourite safari destinations, Moremi Game Reserve and the Khwai Concession, that can be accessed by road from Maun. From the lodges and campsites here, you can also organise boat excursions into the waterways too.
The area also borders Chobe National Park and is home to the Big Five so you are pretty much guaranteed amazing wildlife sightings!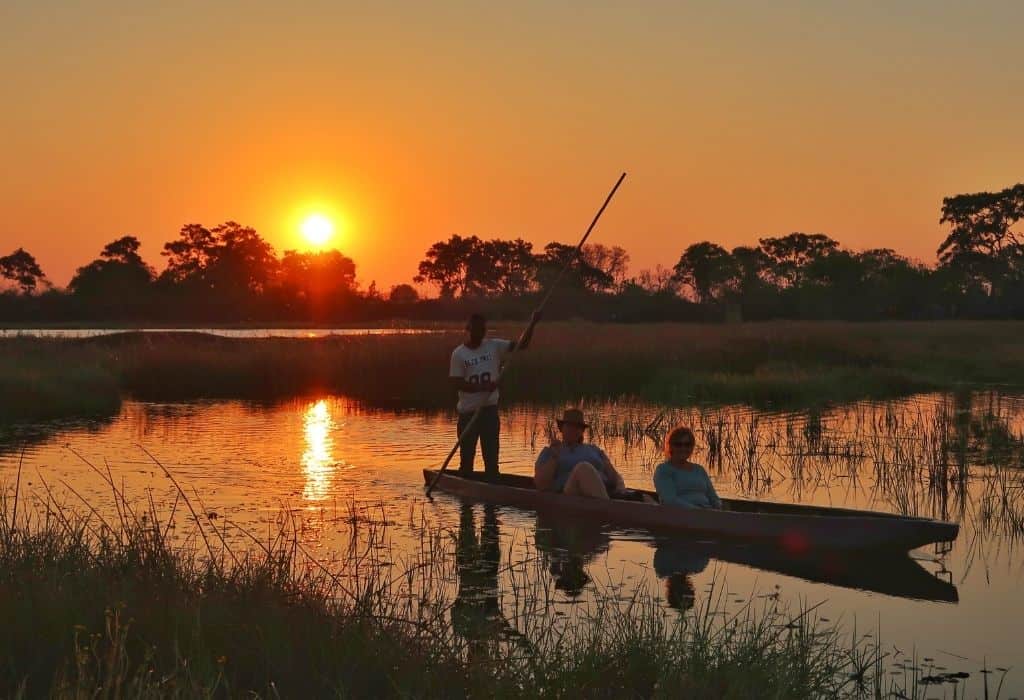 Take a Mokoro Ride & Swim in the Okavango Delta
One of the most popular activities in the Okavango Delta is to ride in a mokoro (traditional canoe) through the channels and waterways that are created when the area floods. If you're camping, this will likely be how you travel into the Delta.
All lodges in the area can organise this activity for you and you will usually have a mokoro ride or two included in your package, regardless if you are camping or staying in a lodge. You can have a go of punting yourself, but believe me, it's a lot harder than it looks so be prepared to fall in.
You can also swim in the Delta… however, don't just randomly swim by yourself as there are crocs and hippos all over the place. Your mokoro guides will be able to tell where is safe to swim.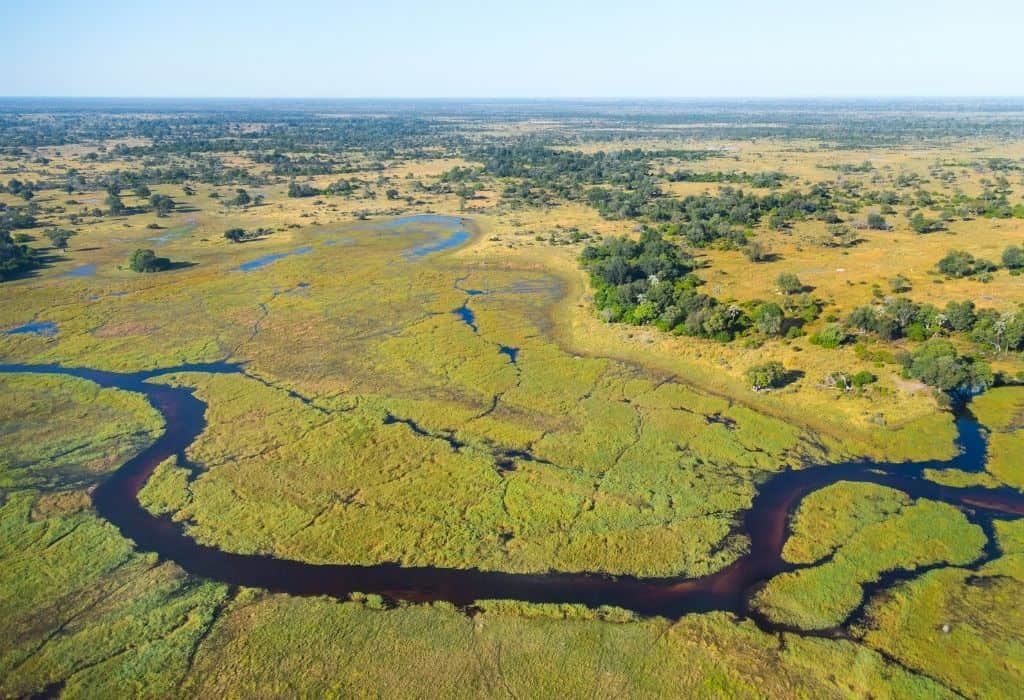 Fly Over the Okavango Delta
If you want to see the Okavango Delta in all its glory (from the air), there are a few different ways to do it.
You can take a scenic flight or a helicopter ride from Maun. If you're at a remote lodge, they can arrange these for you also and you'll probably need to fly there anyway so you'll see it on the way in and out.
Or, you can take a hot air balloon safari (April to September only). I've not done this in the Delta (only in the Masai Mara) but I bet it's incredible! It was in the Mara and the landscape in the Delta is even more spectacular.
This activity takes place deep in the Delta and is therefore only available to those staying at the nearby lodges . Kadizora Camp is a short drive away, but other camps such as Mapula Lodge, Vumbura Plains, Little Vumbura and Setari Camp can reach the launch site by helicopter.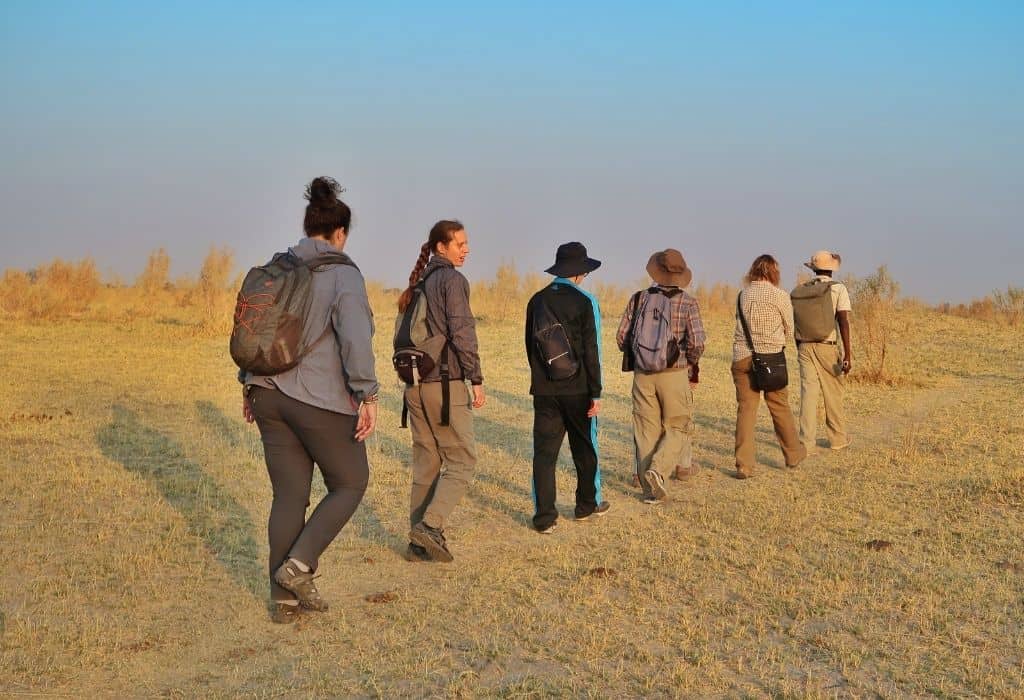 Go on a Walking Safari
The Okavango Delta is also one of the most popular places in Africa to do a walking safari too, so it's great to add to your list of things to do in Botswana.
We managed to get super close to giraffes, zebras and antelopes. It's a thrilling experience to walk in the wild, knowing there are animals around. But don't worry, you'll have armed rangers with you who will keep you safe. 
Take a Village Tour
When I travel, I love to take trips to the local villages as I always think this is a great way to meet the local people and understand what life is actually like in the country you're visiting. A lot of people come to Botswana and only go on safari which is a shame as there is a lot of culture to be experienced too. 
These types of excursions can be organised all over Botswana through your accommodation or tour company.

Visit the San People
One of my favourite activities in Botswana, is spending time with the San people.
The San traditionally live in the area known as the Kalahari Desert, which stretches across parts of Botswana, Namibia and South Africa. In Botswana, you'll find the San around Ghanzi, the Central Kalahari Game Reserve, the Makgadikgadi Pan and Nxai National Park.
Lodges in these areas can arrange for you to spend time with the San, but one of my favourite experiences is staying at the San run Dqae Qare San Lodge in D'kar (also known as Dekar) near Ghanzi. You can read all about my experience here. 
Look for Brown Hyenas in the Central Kalahari Game Reserve
One of the wildest and untouched areas of Botswana is the Central Kalahari Game Reserve (CKGR), which is known for being the place where Delia Owens studied lions and brown hyenas as written about in her book 'Cry of the Kalahari'.
Popular things to do in the CKGR include safari, spending time with the San people and quad biking. At the far south of the CKGR you will also find the adjoining Khutse Game Reserve, which is great for safari too.
Visit the Capital City, Gaborone
It may not be the most obvious choice of things to do in Botswana, but Botswana's capital Gaborone is a great place to visit, There are a number of cultural activities, as well as markets, bars, restaurants and shops. It's also a good stopover point if travelling from Botswana to Pretoria or Johannesburg in South Africa.
A popular place to stay is Mokolodi Backpackers, which is close to the Mokolodi Nature Reserve.
Visit the Khama Rhino Sanctuary
A few hours north of Gaborone, on the way to Francistown is the Khama Rhino Sanctuary. The centre has around 40 rhinos and a few different activities. You can self-drive if you have your own car or they also offer guided game drives (in your own car or theirs), nature walks and rhino tracking on foot.
See the Rock Paintings at the Tsodilo Hills
If you want to see one of the largest collections of rock paintings in the world, head to the Tsodilo Hills, a UNESCO World Heritage Site, in the far northwest of Botswana, close to the Namibian border. There are over 4,500 paintings in the area, which is sacred to the local people who believe their ancestral spirits inhabit the land.
The site is pretty close to one of my favourite campsites in Namibia, Ngepi Camp, so would make a great stop if coming into Botswana from the Caprivi Strip (also known a the Namibian Panhandle).
Visit the Northern Tuli Game Reserve
This game reserve, which lies in the west of the country adjacent to Mapungubwe National Park in South Africa and Tuli Safari Area in Zimbabwe, is also known as the 'Land of the Giants' for the many elephants and baobab trees that are found in the area. Inside the park is also Mashatu Game Reserve, which is one of the biggest private reserves in Southern Africa.
The park is unfenced, meaning the animals wander freely between the three countries and off-road driving is permitted which allows for great animal sightings. It doesn't have the Big 5 as there are no rhino or buffalo, but they do have habituated leopards as well as lions, cheetahs and wild dogs which are spotted quite frequently.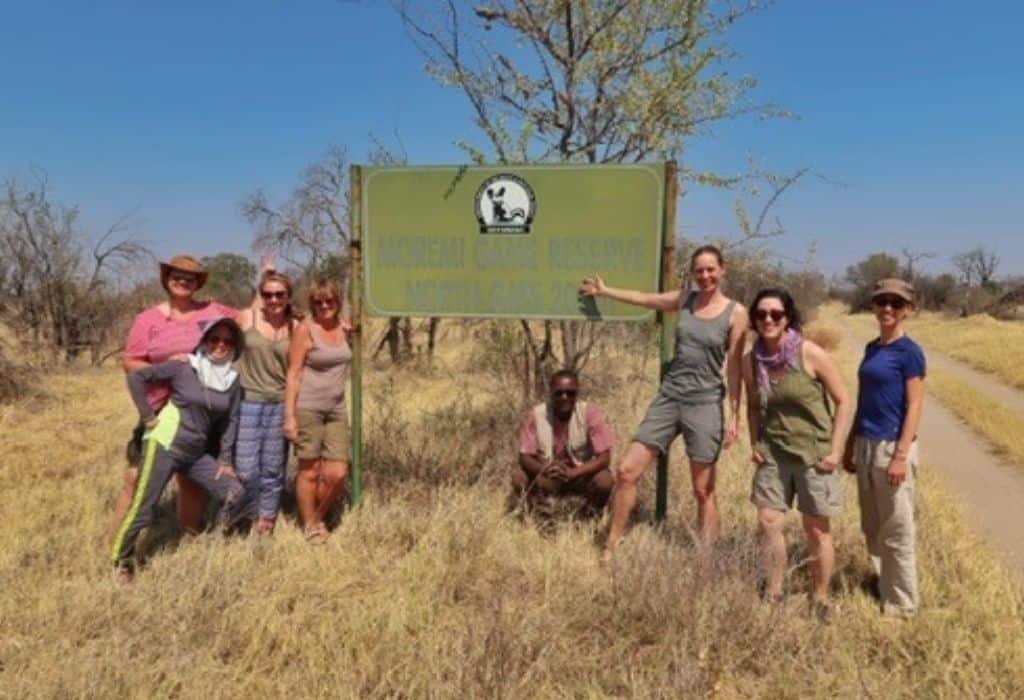 Come on the Rock My Botswana & Victoria Falls Adventure
Want to experience most of the incredible things on this list? Then join me on the Rock My Botswana & Victoria Falls Adventure! 
Travel through the heart of Botswana & into Zambia on a magical safari and immersive journey. Botswana is THE BEST safari destination in the world, so you won't be disappointed.
Starting in Kasane, this wild safari adventure takes in all the major highlights of Botswana including Savuti and Chobe National Park, Moremi Game Reserve, the Khwai Concession, and the Okavango Delta.
We'll visit the famous Elephant Sands lodge, spend time with meerkats (they often climb on you) and sleep out under the stars on the Makgadikgadi Pan before finishing in Livingstone, the adventure capital of Africa and home to the amazing Victoria Falls!
I hope this post gives you some great ideas for things to do in Botswana! Let me know if you go to any of the places I mention and what you thought!
---
Other Botswana posts you might enjoy…
---
Pin This Post For Later