Last updated on April 16th, 2023 at 10:18 pm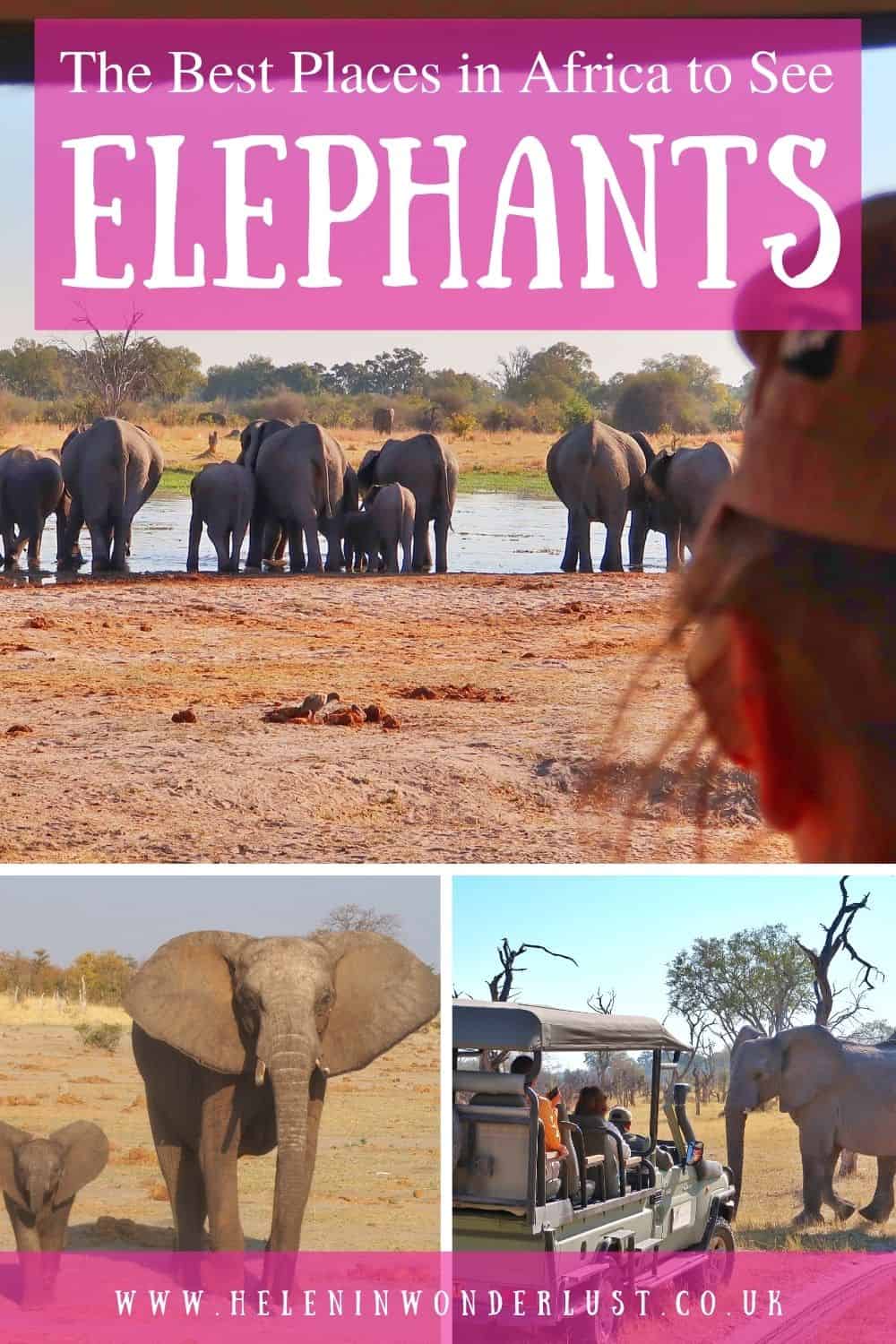 Seeing elephants in the wild, in Africa, for the first time is out of this world.
It's a completely humbling and awe-inspiring experience to watch these magnificent creatures interact with each other and there's a lot we can learn from them.
If you've ever read The Elephant Whisperer or Love, Life & Elephants, you'll know what incredible animals they are. Elephants work together as a team and show incredible empathy, some say they're telepathic. And the females are in charge – the way it should be! 😉
So I wanted to share with you some of the best places in Africa for an elephant safari! They're not the only places in Africa where you can see elephants and you will see lots of other animals too, but these are the places where you are pretty much, 100% guaranteed to see elephants on safari.
Please Note: Some of the links in this post are affiliate links, which will earn me a small commission at no extra cost to you. Affiliate sales help with the running costs of this site, so thank you for your support!
---
The Best Places in Africa for an Elephant Safari

Chobe National Park, Botswana
Chobe is without a doubt, one of the most incredible safari destinations in the world. It covers a large area and is split into 3 sections, Kasane and the riverfront area, Savuti, and Linyati.
The most accessible part of the park is the riverfront and day trips can easily be organised from Kasane, or even Livingstone, Zambia, or Victoria Falls, Zimbabwe.
To go to Savuti or Linyanti, you'll need to take a multi-day trip that goes deep into the Botswanan bush (if driving, you'd need a 4×4) or you can fly-in (but these are generally expensive).
From all the safaris I've done in Africa (and I've done quite a lot), Chobe is where I've seen the most safari 'action'. Think multiple leopards (including one eating a dead elephant), hyenas fighting over a bay elephant carcass, lions, and quite literally, thousands of beautiful elephants (live ones).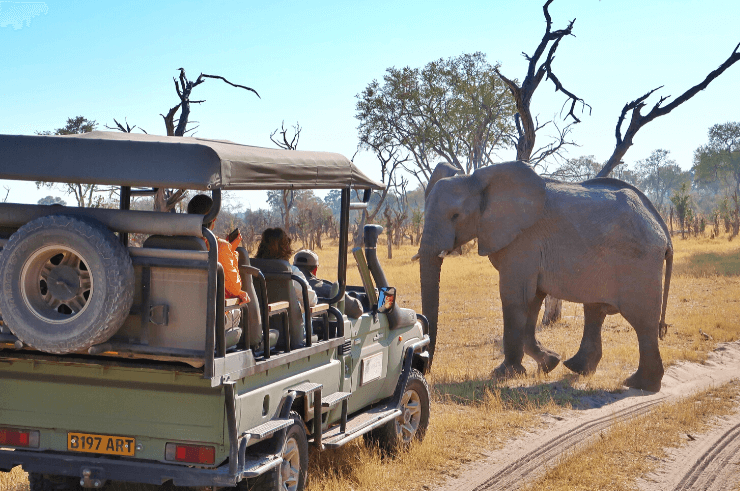 Khwai Concession, Botswana
I travelled through Khwai on the Rock My Botswana and Victoria Falls Adventure in 2019 and it's somewhere that I would recommend adding to any Botswana itinerary. I can't wait to go back next year!
Firstly, it's a stunning location and with the Khwai River running through the area, it attracts lots of animals.
What's even better, is that most of the camping sites in the park are overlooking the water and due to the abundance of elephants, you can easily spot them from the comfort of your camping chair!
We saw lots of overlanders enjoying a beer at their campsites, watching elephants bathing in the river. Does it get any better?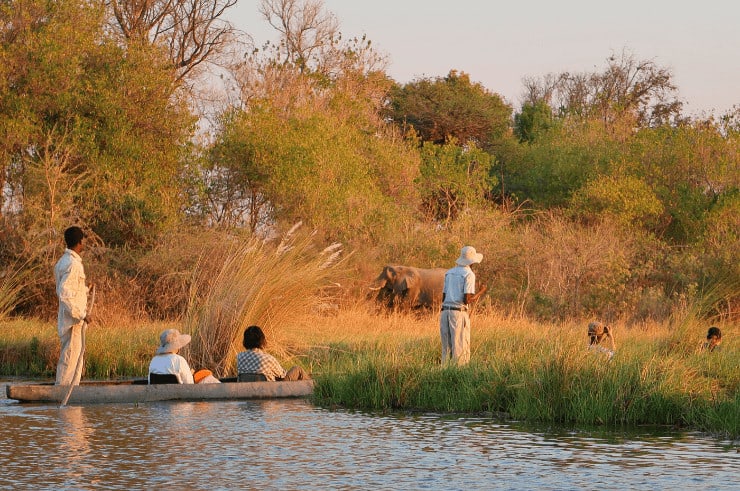 Okavango Delta, Botswana
The Okavango Delta is one of the highlights of Southern Africa.
Taking a trip deep into the Delta usually means a short flight from Maun or a canoe ride through the unique waterways to get to your campsite, on one of the islands.
This alone makes the Delta a very unique destination but add to that the tons of wildlife (including plenty of elephants), and you've got yourself a wild safari!
Most Okavango Delta safaris include canoe excursions that allow you to get pretty close to the wildlife and see the elephants from a different perspective than the usual driving safaris. You can also take scenic flights over the Okavango Delta too.
Read more about Botswana here.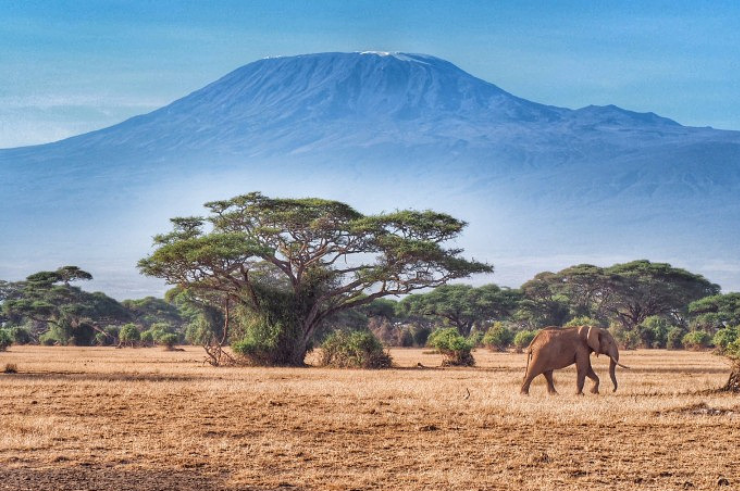 Amboseli National Park, Kenya
Amboseli National Park is, in my opinion, one of the most beautiful safari destinations in the whole world.
Not only is it famous for huge herds of elephants (don't let the picture fool you, I saw lots of big herds – just, unfortunately, facing the other way) but it has Mount Kilimanjaro as a backdrop.
The park is a 4 hours drive from Kenya's capital Nairobi, making it a great weekend excursion out of the city or a good place to stopover on the way to Tanzania or Mombasa.
Read more about Kenya here.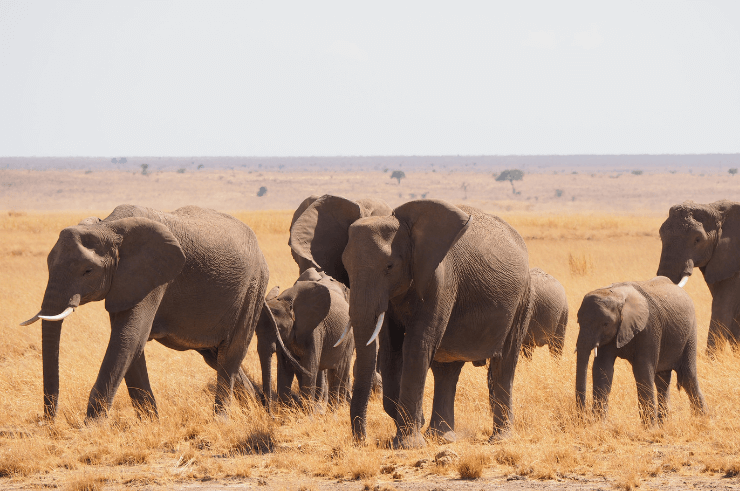 Tsavo National Park, Kenya
I've never actually been on safari in Tsavo, but I have passed through it numerous times on the train.
The park lies between Amboseli National Park and Mombasa and is split into two sections, Tsavo East and Tsavo West. At 22,000 km², it's the largest national park in Kenya.
The last time I took the train, I saw 13 herds of elephants out of the window. The park is known for its 'red' elephants, due to the volcanic earth, they like to bathe in!
There are over 10,000 elephants within the park, making sightings pretty common!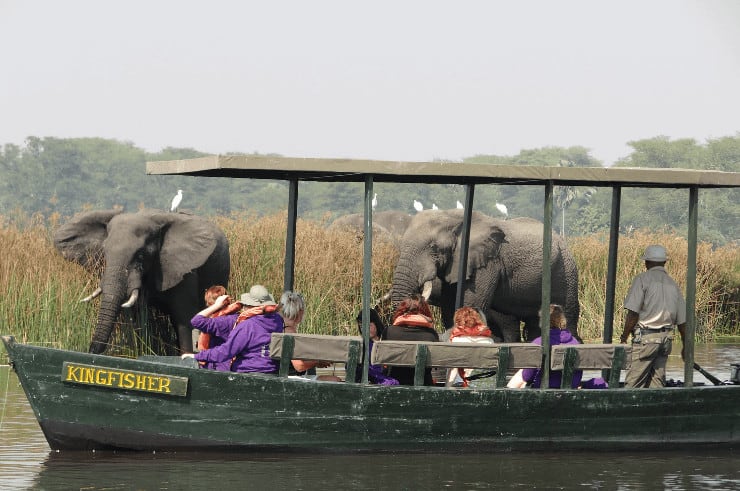 Liwonde National Park, Malawi
Located in the southeast of Malawi, Liwonde National Park isn't that well-known compared to the likes of the Kruger or the Serengeti, but it is an amazing place to see elephants and one of the most tranquil parks I've ever visited.
I can't wait to head back there on the Rock My Malawi Adventure in 2022 (and you can come too).
In fact, there are so many elephants that they have re-located some to other parks within Malawi.
The Shire River runs right through the park and attracts many elephants who come to bathe and drink at the river daily, making it a popular place for boat trips.
Currently, there are over 500 elephants there, so you are pretty much guaranteed a sighting. Nkhotakota National Reserve and Majete Wildlife Reserve both have strong elephant populations too.
Read more about Malawi here.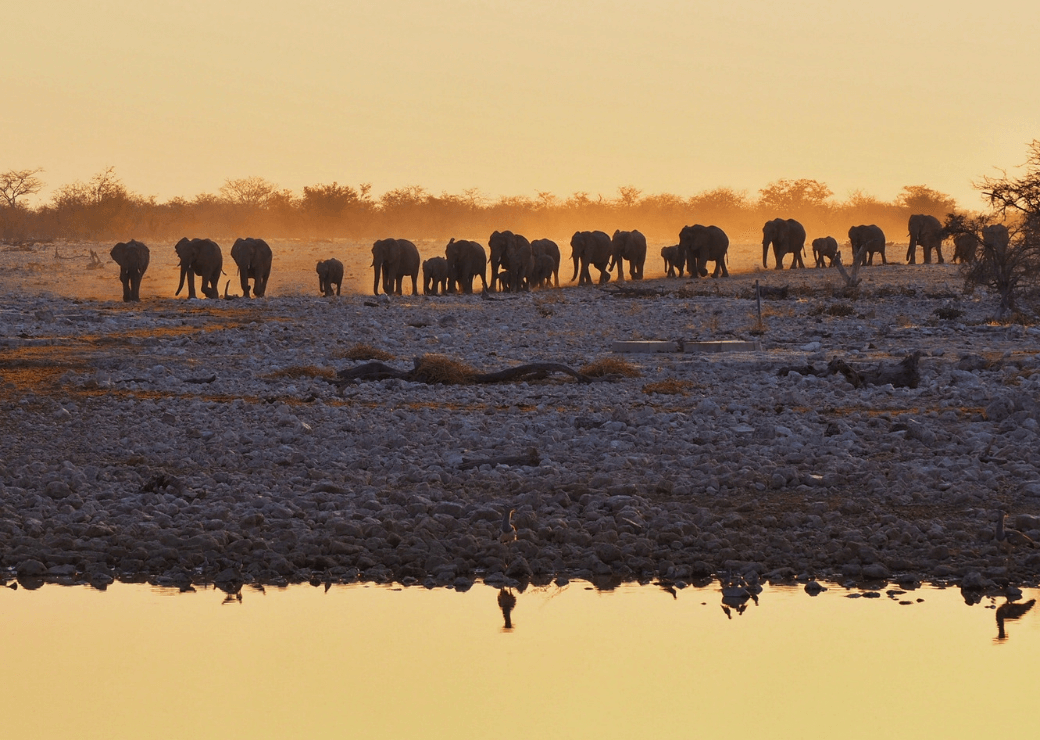 Etosha National Park, Namibia
Etosha National Park is one of the best places in Africa to see elephants. But you don't always have to go searching for them.
One of my favourite places to see them is Okaukuejo Camp in the southern part of the park.
They have an amazing waterhole that attracts elephants and other animals every single day, especially in the late afternoon and evening. grab a beer, grab a seat and just enjoy the show!
The above photo was taken there. We were just sitting around, watching the waterhole when this whole herd rocked up. It was absolutely magical!
You can read more about Etosha National Park on my Namibia itinerary post.
Read more about Namibia here.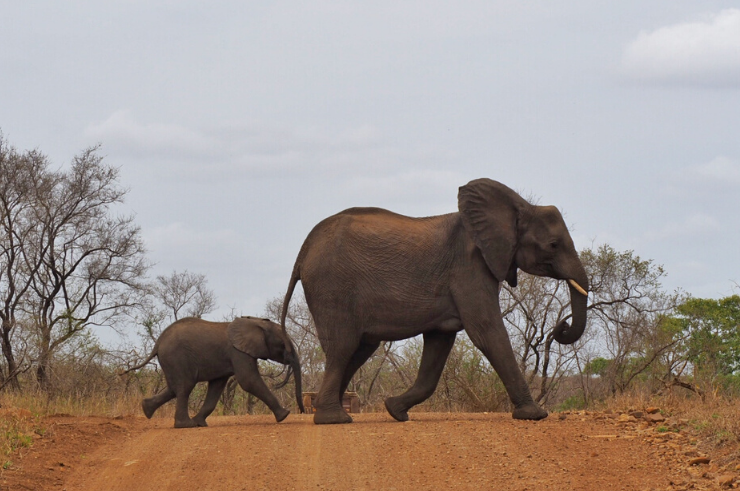 Addo Elephant National Park, South Africa
The proof is in the name!
There are around 700 elephants inside the park and it's also home to the rest of the 'Big Five'.
What's also great about Addo, is that there is a marine section to the park just off the coast of Port Elizabeth, where you can see Southern right whales and great white sharks.
A great marketing ploy if ever there was one… you want the 'Big Five'? We got the 'Big Seven' – BOOM!
READ MORE: How to Go on Safari in Addo Elephant Park, South Africa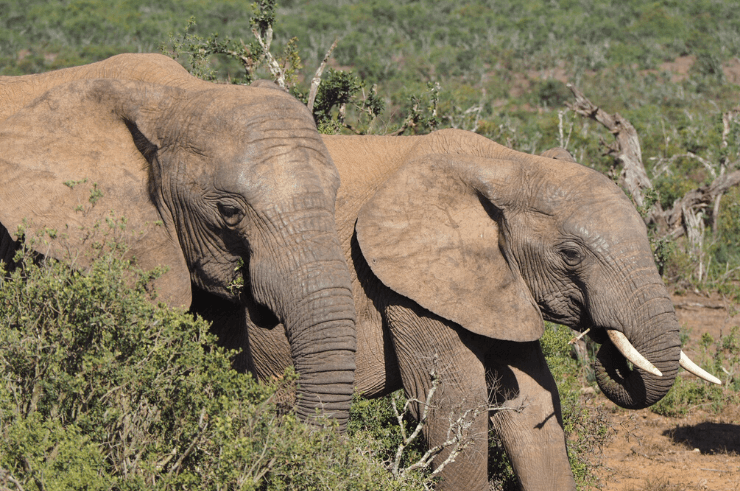 Kruger National Park, South Africa
Kruger National Park or The Kruger, is one of the most well known national parks in all of Africa.
Kruger is famous for elephants, as well as lots of other animals including lions and wild dogs.
It's also a popular place for self-drive safaris due to its accessibility and good roads. Plus, it's pretty cheap compared to other parks in Africa.
If you are self-driving, please just follow the rules so that you don't piss off the elephants.
Read more about South Africa here.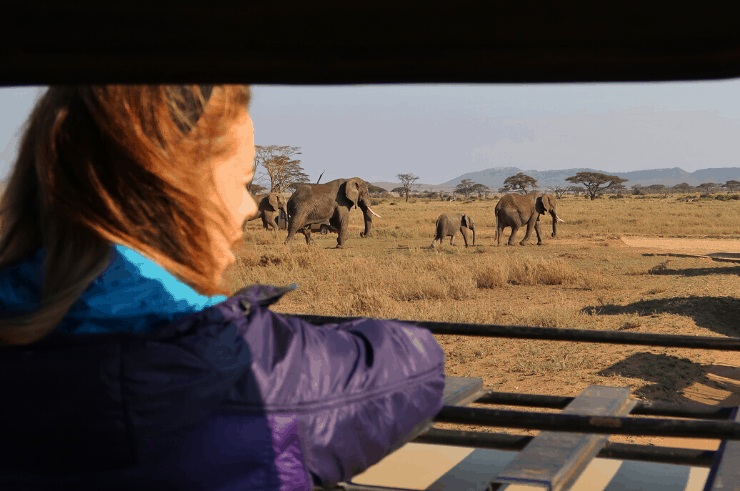 Serengeti National Park, Tanzania
I've been to the Serengeti maybe 7, 8 maybe 9 times? And it never gets boring.
The word Serengeti means 'endless plains' in the Maasai language and nothing could be more true. Despite being so open and vast, it's surprising how many elephants you see when you are there. And in big herds too.
But it's not just elephants, you can also see many, many other animals and the wildebeest migration at certain times of the year. It's also the place where I've seen the most leopards – although usually far away and up a tree (my best leopard sighting have been in Botswana and Zambia)!
READ MORE: How to Find a Serengeti & Ngorongoro Crater Safari (to suit your budget)
Tarangire National Park, Tanzania
On the way to the Serengeti, you will pass Tarangire National Park.
Tarangire has one of the highest concentrations of elephants in all of Africa, with over 4,000 of the beauties.
The park is next to Lake Manyara National Park which is also a great place to see elephants, and tree climbing lions!
You can easily visit both parks in a day or two, and they're also a cheaper, quicker alternative to visiting the Serengeti & Ngorongoro Crater due to their proximity to Arusha and Moshi.
Read more about Tanzania here.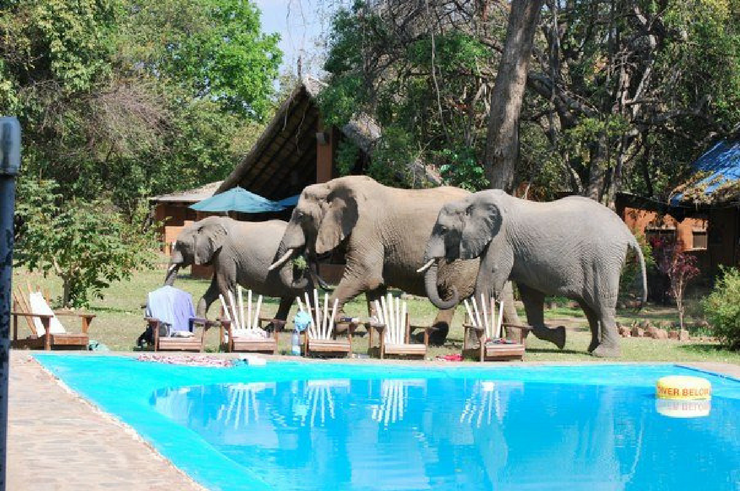 South Luangwa National Park, Zambia
One of my absolute favourite places in all of Africa is South Luangwa National Park in Zambia.
There's something about this park that is super special. I'm not sure if it's the animals, the location, or even the amazing light which seems to fill the park with warmth, and I always love spending a few days here on the Rock My Malawi, Zambia & Botswana Adventure.
Many of the camps lie next to the river which means that you can often sit and watch them in the river, but they also have a habit of wandering through camp as well!
Read more about Zambia here.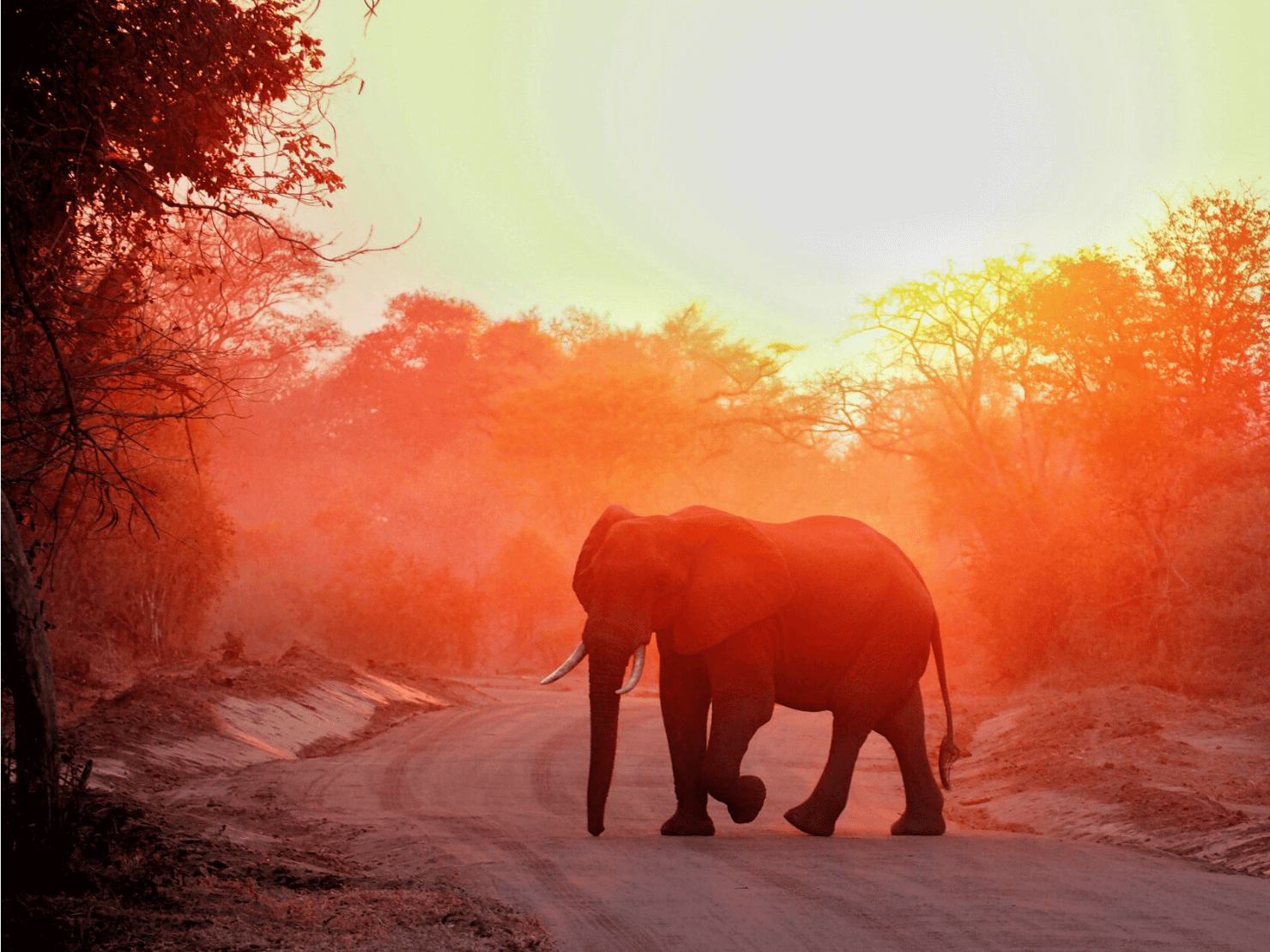 Hwange National Park, Zimbabwe
Hwange National Park is Zimbabwe's largest, oldest, and most famous safari destination and home to around 45,000 elephants. They're often found in 'super herds' of up to 350 at a time.
As well as elephants, you'll also have the chance to see wild dogs, rhino, lions, leopards, buffalo, and giraffes. The whole gang!
It's also a great place to visit in combination with the world wonder that is the mighty Victoria Falls.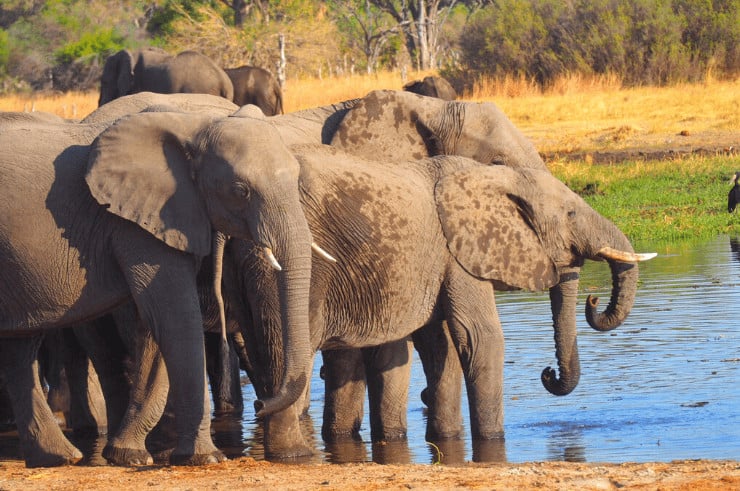 Mana Pools National Park, Zimbabwe
Mana Pools in Zimbabwe is often said to be one of the most magical safari destinations in all of Africa, especially as it's pretty remote.
The park is famous for its abundance of elephants as well as rare African wild dogs and big cats, such as lions and leopards.
This is one of the destinations we'll be visiting on the yoga and safari Rock My Zambia & Zimbabwe Adventure tour taking place in August 2022.
Again, we'll be staying by the river, close to nature, in a mobile eco-camp to ensure we leave a small ecological footprint and preserve the nature of this glorious place.
Our time here will be filled with safaris and nature walks, bush dinners, and nights under the stars, as well as yoga, breathwork, and meditation practices.
Read more about Zimbabwe here.
Other Africa posts you might enjoy…
I hope you enjoyed this post about the best places in Africa to see elephants! Any more destinations to add to the list?
---
Join one of my Africa group tours or buy my Backpacking Africa e-book!