Last updated on April 16th, 2023 at 03:01 pm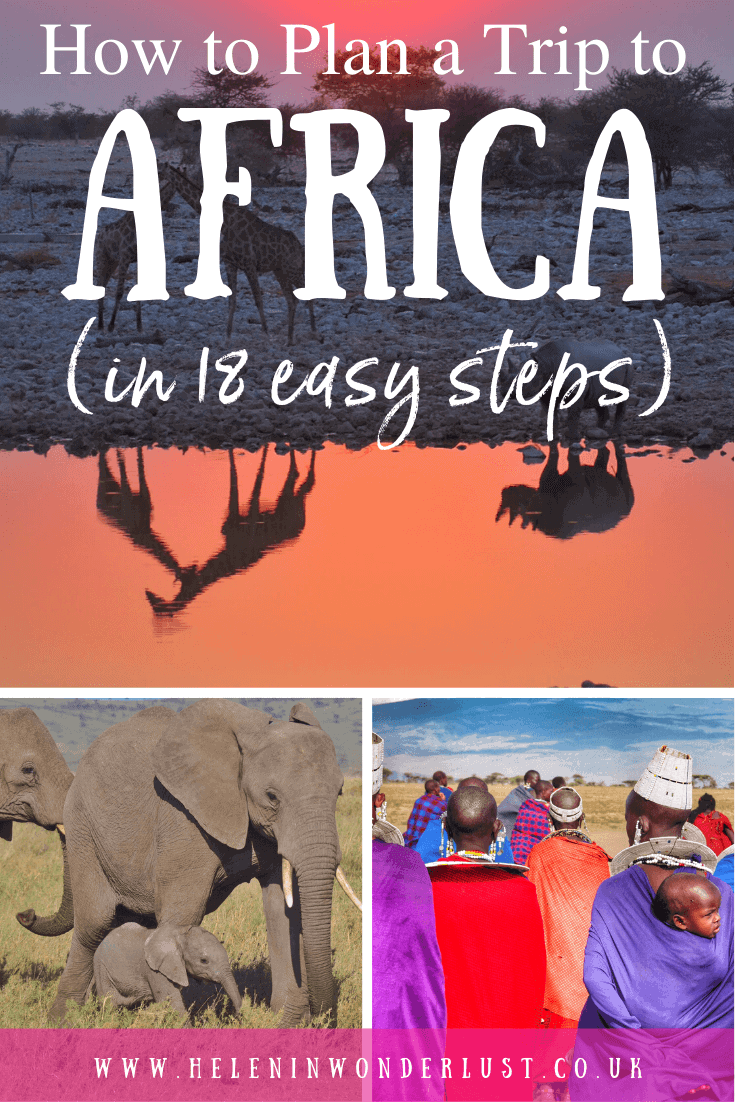 Wondering how to even begin to plan a trip to Africa? Feeling a bit overwhelmed? Well, you've come to the right place! I am the Africa travel planning Queen!
I love it so much, I even set up my own small group Africa travel company!
Knowing where to start and how to go about planning an Africa trip can be tricky and overwhelming! So to help you on your way, I've put together this (big) guide, to show you how I plan my trips and I'll talk you through step-by-step so you can do the same!
Unless you know exactly where you want to go (and for how long), you will most likely go back and forth during the planning stages and change your mind a hundred times.
This is normal! Just try not to let it overwhelm you! So, if you're ready, let's gets planning your trip to Africa!
---
How to Plan a Trip to Africa (in 18 easy steps)
---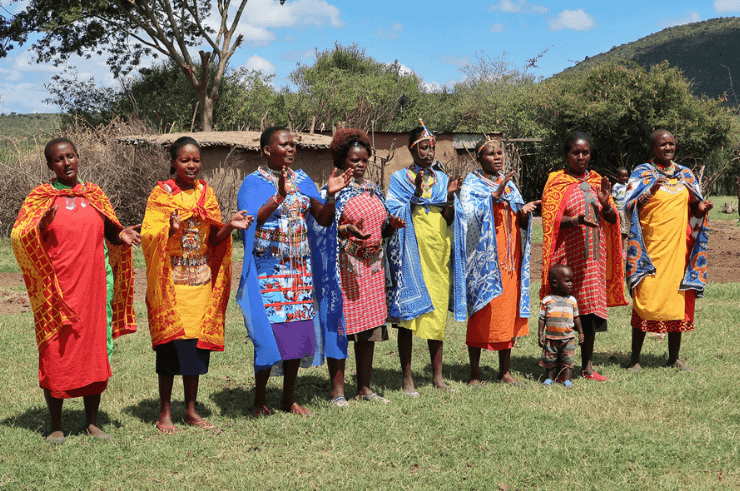 How to Plan a Trip to Africa – At a Glance
Start Saving
Decide How Long You Want To Go For
Think About Where You Want To Go & What You Want to Do
Think About When You Want To Go
To Tour or Not To Tour?
Start Costing It All Up
Firm Up Your Itinerary or Book Your Tour
Book Your Flights
Buy Your Travel Insurance
Book Your Activities & Accommodation
Sort Out Your Vaccinations and Malaria Tablets
Check Your Passport and Apply for Visas
Organise Your Money & Currency
Plan What You Are Going to Pack
Organise Your Airport Pick Up
Prepare Yourself Physically and Psychologically
Embrace the Phrases 'Africa Time' and 'This is Africa'
Go and Have an Amazing Time

Step 1. Start Saving
Despite rumours to the contrary, Africa doesn't have to be expensive.
If you get local buses, cook your own meals, camp, volunteer (for free), couchsurf or stay in homestays, you can keep the costs to a minimum for sure.
But then there are all those awesome activities that make Africa so appealing in the first place, like safaris, climbing mountains, white water rafting, eating in cool restaurants and going gorilla trekking.
Once you start doing those things, your costs start adding up very quickly.
So my best advice is to start saving as early as possible so you can enjoy everything this beautiful continent has to offer later on.
Just remember that as you plan your trip, keep an eye on what things cost and keep your realistic budget in mind.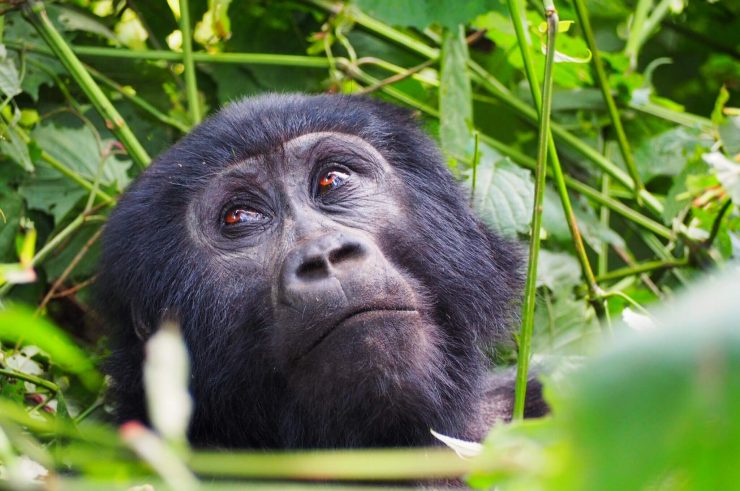 Step 2. Decide How Long You Want To Go For
Is this a 2 week holiday? Or a longer trip?
If you only have a set period of time off from work or university, then you already know this – great!
But if your time isn't restricted, then this is where budget most likely becomes the determining factor. And how long that budget will last, really depends on how you travel and what you do.
When I started planning my first Africa trip, the idea was just to go for a short while, but the more I researched, the more I wanted to do.
So just be warned – as you go through the planning stages, you may decide that Africa is just too amazing and you have to go for longer and see absolutely EVERYTHING all at once… and like me, end up taking a sabbatical from your job.
When I went to Africa the first time, I thought it was a 'once in a lifetime' thing and that I had to do it all in one go.
But it doesn't have to be like that and shorter trips are perfectly manageable.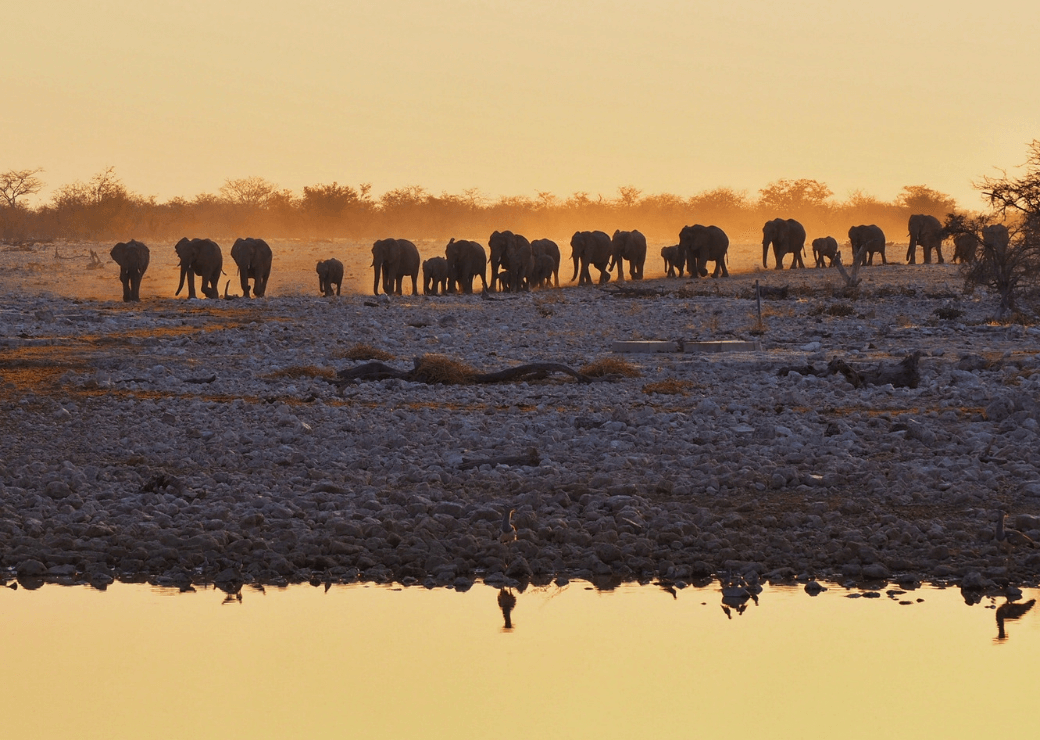 Step 3. Think About Where You Want To Go & What You Want to Do
This is the fun part (for me anyway)…
If you know exactly where you want to go and what you want to do, then that's great.
If you don't, then start with some brainstorming and research.
For this bit, you're going to want to grab a pen and paper, open Google Maps, or get a map of Africa and pour yourself a cuppa (or copious amounts wine).
Ready? Then let's go!
There are 54 countries and thousands and thousands of fabulous places to visit in Africa, so start by thinking about what you want from your trip.
An African safari is a given for most people, but you can do that in a lot of countries, so think about the other stuff you want to do and then you can start narrowing it down.
Is there something, in particular, you've always dreamed of?
Are you after beaches and safaris? Adrenaline activities? Mountaineering or hiking? All of the above?
Here are a few suggestions, based on your preferences:
Beautiful beaches: Tanzania/Zanzibar, Mozambique, Kenya, Sierra Leone, Malawi (although there's no sea, just a big beautiful lake).
Adrenaline activities: Zambia, Uganda, Namibia, eSwatini, South Africa.
Safari: Tanzania, Kenya, South Africa, Namibia, Botswana, Zambia, Zimbabwe, Malawi, Uganda.
Mountaineering and hiking: Kenya, Tanzania, Malawi, South Africa, eSwatini, Uganda, Rwanda, DRC.
Gorilla trekking: Uganda, Rwanda, DRC.
Watersports: Kenya, Zanzibar, Malawi, Mozambique, South Africa.
Cool cities: South Africa, Morocco, Rwanda, Uganda, Kenya.
Deserts: Namibia, Botswana, Morocco.
Off the Beaten Path: Sierra Leone, Benin (or anywhere in West Africa), the DRC, Mozambique.
I usually start my research by looking at the best things to do in each country.
You could read my sample itineraries or look through my Africa posts and see if anything grabs your attention.
Maybe make yourself a Pinterest board and if you find any cool images or blog posts, pin them to it so you can come back to them later.
I also find it useful to look at some specific Africa tour websites as they will give you an idea of where is good to visit.
Write down your ideas/places that look good to go. Whilst I'm doing this, I'll also look to see where things are on a map.
You should start to see some preferences appearing and you can start 'joining the dots'.
If you find any cool places to stay, add them to your list (often where you stay can completely change your experience in my eyes) and you can refer back to them later.
Top Tip: Always check out the websites of the hotels/hostels as they often have an Activities tab which will give you a good idea of what there is to do in the area and they can also arrange some stuff for you!
It's also important to look at the safety of the places you intend to visit, so see if there are any countries or regions you might want to avoid.
I always check on the FCO website before planning any trip. But don't be put off, sometimes it's just a certain part of the country you need to miss.
READ MORE: Africa Travel Resources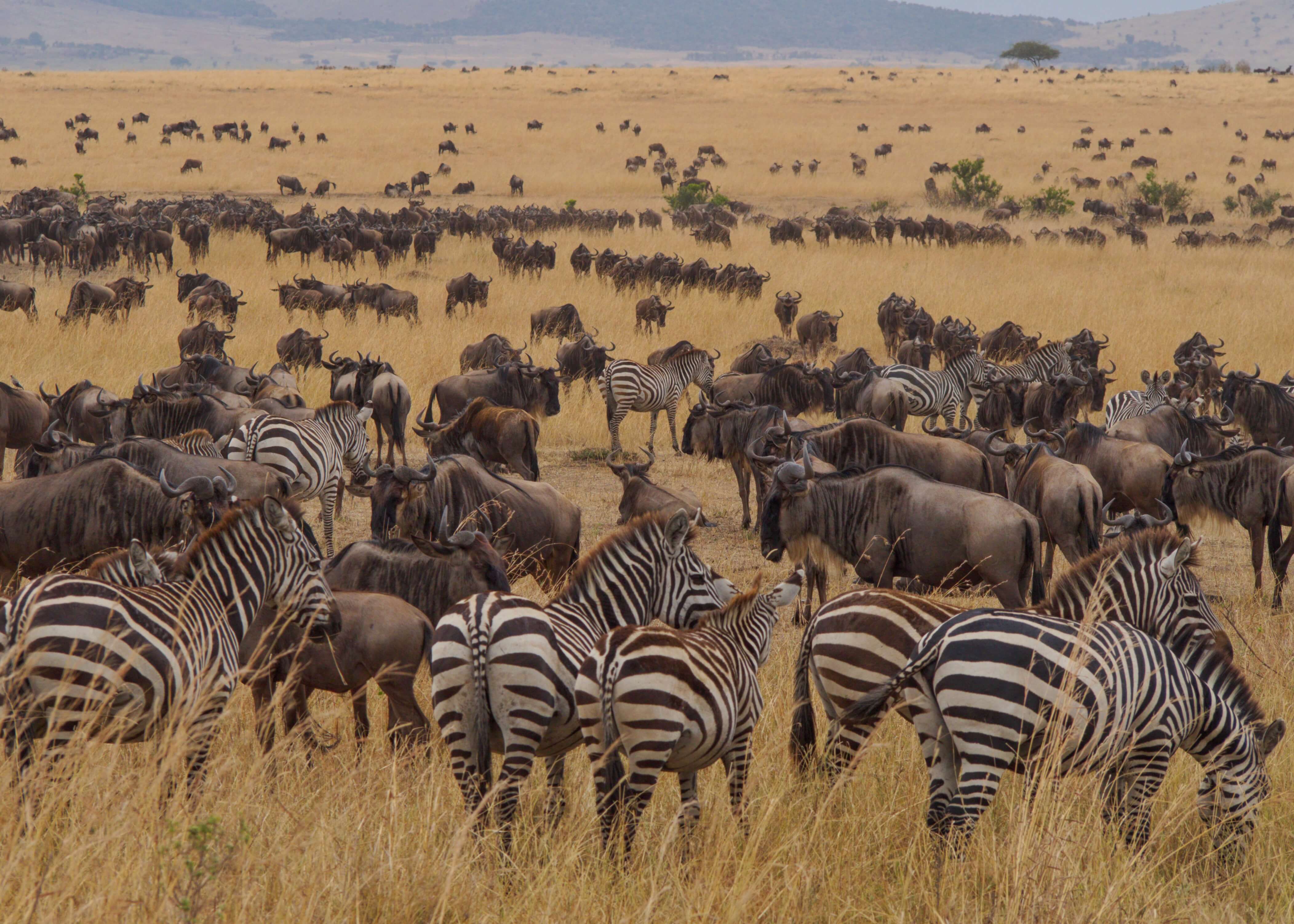 Step 4. Think About When You Want To Go
If you are restricted on when you go, for instance, if you're a school teacher or student and you can only go in the holidays, then you will want to think about where are the best places to go on the dates you can go.
If you are taking a short trip, but aren't restricted on when, then the continent is your oyster.
If you are planning to take a longer trip that covers multiple countries, it will be difficult to be everywhere at the 'perfect' time so maybe base your trip around a few key events or activities.
I based my first big Africa trip on the fact that I wanted to climb Kilimanjaro in July and then planned the rest from there.
Seasonal
Some activities are seasonal, for instance, you might want to time your safari in Kenya or Tanzania during the wildebeest migration, or be in Malawi for the Lake of Stars festival, or climb Kilimanjaro when it's not raining.
Or visit Victoria Falls when the water level is at its highest and most impressive or when it's at its lowest so you can see the canyon and jump in the Devil's Pool, or maybe you want to visit Mozambique when it's whale shark season.
Just be aware that prices are often higher during high season (usually the European summertime, South African school holidays and around Christmas and New year), as with most other destinations around the world.
Weather
The weather in different countries can make a big impact on your trip. Google 'best time to go to…' and it will bring up the results you need.
Going slightly out of season is usually fine (and cheaper), and most things stay open all year, but make sure you check that the things you want to do are still available out of season.
For instance, some of the national parks shut down in the rainy season as roads can become un-passable.
And if you've always dreamed of jumping in the Devil's Pool at Victoria Falls, don't go in the summer because the water level is usually too high.
Going all that way to be disappointed is not very fun.
Events
Are there any cool festivals or events that you want to attend? For instance, you may want to visit the Lake of Stars festival in Malawi, Sauti za Busara in Zanzibar or Afrika Burn in South Africa?
Other
You may want to avoid places where there is an impending election. Some African countries have been known to be a little bit volatile around election time.
Or you might want to avoid Ramadan in Muslim countries, because you may be more restricted on where you can eat as some restaurants close during this time.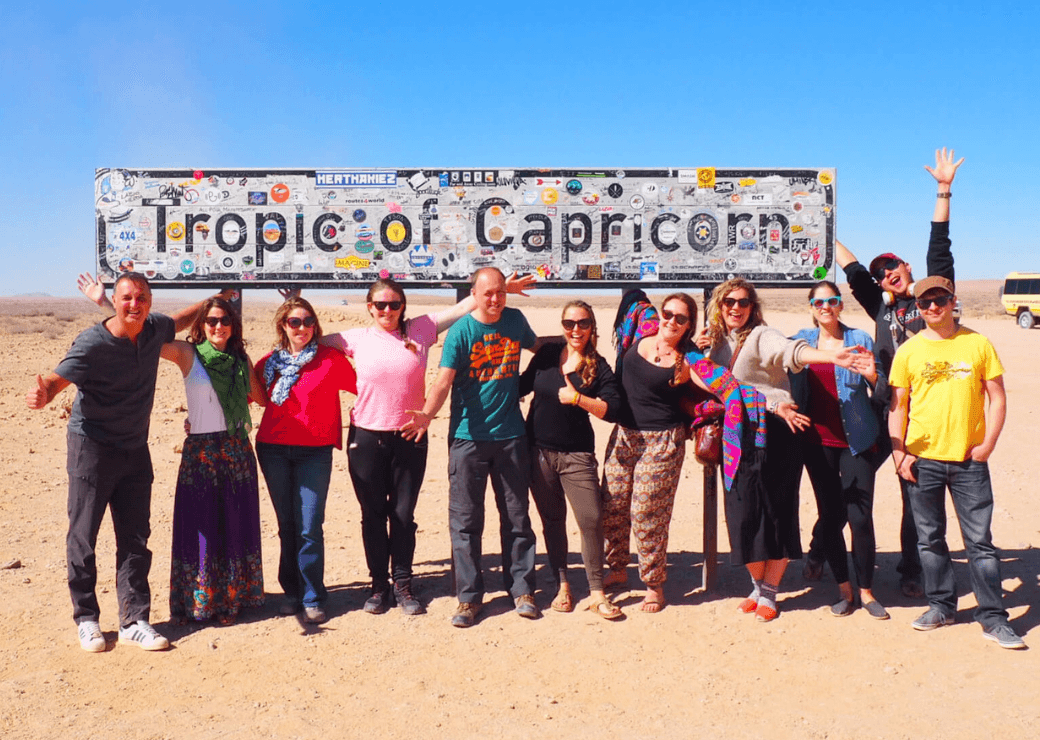 Step 5. To Tour or Not To Tour?
Unless you're a really confident traveller who definitely wants to travel independently, most first time travellers to Africa tend to have the tour or no tour debate with themselves… or worried family members.
There are a few different types of tour:
Private Safaris: This is where you book a trip for just you and whoever you are travelling with. These can range from budget to high-end. The fewer people, the more expensive it will be. These can often be tailored to your requests.
Overland Tours: This is where you travel in a big group on a big truck and usually camp, putting up and taking down your tent each night and sometimes cooking/washing up for yourselves. They are usually at the budget end of the spectrum but there are some more expensive ones. These are run by companies such as Absolute Africa, Nomad Africa, G Adventures, Acacia Africa, Intrepid etc.
Small Group Tours: An example would be my Rock My Adventure tours, where you travel solo (or with a friend/partner) but join a group for a week or two, with a mix of safari and other activities, usually staying in guesthouses or lodges (sometimes camping).
Group Safari: This is usually a short joining safari to a national park. For instance, if you're travelling alone, using public transport in Tanzania, you won't be able to go on safari using public transport so you might book a short safari to the Serengeti via your hostel in Arusha as solo/private safaris are expensive.
Maybe you've found a tour during your research that looks incredible? Or maybe you've decided where you want to go and are wondering whether it's better to go alone or join a group tour?
You might be wondering which will be more cost-effective? Which will be more fun? Which will show me the 'real' Africa?
I find that a lot of people who come on my tours either come with me because:
they have a short time and they want to make the most of that time.
they want someone else to take on the stress of planning and organising.
they are doing a longer trip and want to start with a group tour as a confidence booster.
they're a bit over solo travel and want the companionship of a nice group.
they're just not quite ready for independent travel yet.
Some people are a bit snobby about travelling with a tour, but I have done tours and travelled solo in Africa and I can tell you that both are great fun and both have their advantages and disadvantages.
And in some places that are difficult to travel in by public transport, say for instance Namibia or Botswana, it just makes more sense to join a tour sometimes.
Plus, it doesn't really matter what anyone else thinks. All that matters is what way works best you and what you feel comfortable with. Even if you go most of the way solo, sometimes it makes sense to take a tour for part of it!
To help you with your decisions, I've written a post weighing up solo travel in Africa vs taking a tour. I hope it helps…
READ MORE: Solo Travel in Africa vs Taking a Group Tour

Step 6. Start Costing It All Up
Work through points 6 and 7 together.
Next, you need to start thinking about how much this whole thing is going to cost you and how long it's going to take you to save up.
It's so easy to get carried away by all the gorgeous things you see on Instagram or in magazines – only to be disappointed later once you start looking at the costs in detail and realise that the gorgeous hotel you saw in the pictures, with the awesome view, costs more per night than you intended to spend in a week.
For instance, Giraffe Manor is the Instagram dream, right? But it costs a minimum of $1,100 to stay there per night…
No doubt you'll have to compromise some things to be able to afford others, but don't worry – there is an Africa for every budget. And from my experience, often the cheaper options are more fun, authentic and give you a much better insight into the real Africa anyways.
If you are thinking about taking a tour, it makes things a little easier, as you'll just have the cost of the tour plus the pre-trip costs, plus visas and optional activities to factor in and your tour company should be able to give you an idea of those.
If you're travelling independently, it's always a bit more tricky and will vary a great deal, depending on how you travel and what you do when you're there.
To give you an idea of costs, have a look at these two posts:
These are just a guide, every trip will be different, but you can adjust accordingly based on the things you want to do and your level of comfort, just be aware that I'm not a strict budget traveller.
I usually mix it up, having cheaper days, so I can treat myself to other things – that's also what I do for my tours too.
I'd say on average for a low budget trip you are looking at around $30 – $50 per day (could be less if you don't do many activities), for a mid-range trip $50 – $150 per day and then high end, anything above that.
This takes into account the fact that some days you will do activities and spend more and some days you will just go to the beach and spend very little.
My average for my first trip was around $80 per day (although this factors in inflation – it was quite a bit less in 2009), but I definitely could have travelled cheaper. My trip included a trek up Kilimanjaro and a relatively expensive volunteer project – both of which really upped the average costs per day quite considerably.
Travelling Africa on a Budget
You can definitely travel cheaply in Africa, especially if you stay in eat local, stay in hostels and take public transport.
The major costs of any Africa trip tend to be activities such as hot air ballooning, gorilla trekking and safaris.
Many activities have fixed costs, but there are safaris for lots of different budgets. They are rarely what I would call 'cheap' because of the park fees and logistics involved.
But safaris do not have to cost thousands. There are lots of great safaris that cost just a few hundred dollars or less. Especially if you take a day safari in one of the more accessible parks, like Addo National Park in South Africa.
If you're hoping to head to one of the more expensive safaris, such as the Serengeti, you can join a budget group camping safari to keep costs down. You can find an example of how to do this in this post.
You may want to go for 6 months, but when you cost it all up, you may only be able to afford 3! But all is not lost, you just have to prioritise what you do or look at cheaper accommodation options – there's always a way.
Or maybe push your trip back a few months so that you have a little bit more time to save.
READ MORE: Tips for Travelling Africa on a Budget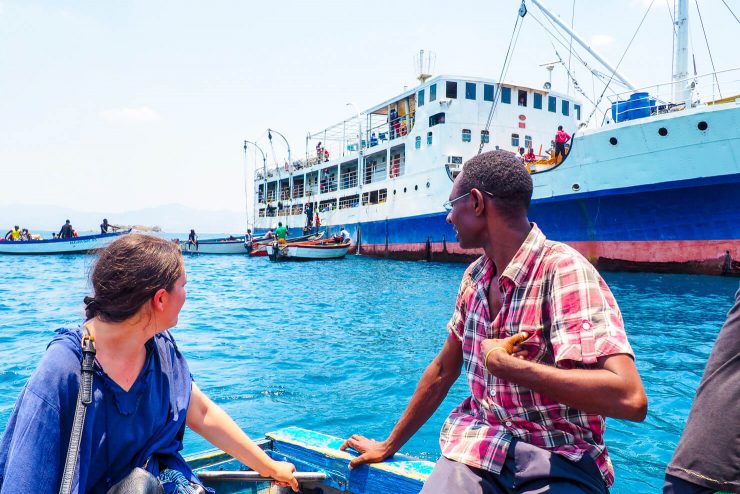 Here are all the things you'll need to consider:
Flights
Look up some flight prices on Skyscanner, or your favourite flight search engine. Skyscanner is usually my go-to because it allows me to show prices if I fly into one place and out of another. If you can be flexible with the dates you may be able to save a bit of cash.
Pre-Travel Costs
I'll come to all of these later in the post, but you'll need to consider the cost of vaccinations and any new equipment/clothes you need for Africa.
Then there's also malaria tablets and travel insurance (see below) – the cost of those will depend on how long you are going for (and where you're going, malaria tablets aren't needed everywhere).
Visas
Don't forget to factor in visas. Sadly, some countries charge a lot for visas. For instance, a visa for Tanzania will cost $50 for most nationalities and $100 for Americans – ouch! I always use Project Visa to find the latest info.
Good news if you are African though as most African countries have no visas fees for people from other African countries.
Accommodation, Safaris and Activities
You will probably have an idea of costs from your previous research, but now is the time to start to put all that together.
Accommodation, safaris and activities often go hand in hand (transport does too, but we'll look at that separately).
Accommodation
Here are some average costs in towns and cities:
Camping: $10 per tent, per night
Dorm Bed in a Hostel: $10 – $20 per night
Private Room in a Hostel/Guesthouse: $30 – $60 per room, per night
Double/Twin Room in a Standard Mid-Range Hotel: $50 – $150 per room, per night
Double/Twin Room in an Upper Mid-Range Hotel: $150 – $250 per room, per night
Safari
There are lots of different options for safari.
If you're taking a group tour or private tour, these will usually be included in the overall tour cost.
If you are travelling independently, you will either need to hire a car and do it yourself (not always possible), book a private safari or join a group.
Safari costs can also vary a lot from country to country and there is a huge cost difference between a basic camping safari and a high-end lodge safari. So you will need to cost up the various scenarios.
I usually use SafariBookings.com to find companies to get quotes or contact the place I am staying prior to the safari to see if they can arrange something for me.
Alternatively, if you are booking the accommodation inside the parks directly, you may be able to arrange the whole thing through them.
If travelling alone, you could ask them if there are any group departures you can join and you can plan your itinerary around that.
In East Africa, for a budget group safari, you're probably talking a minimum of $400 – $700 pp for 3 days (in Tanzania, expect that to be at the higher end), for mid-range $700 – $1200 and for high end, well the sky is your limit.
The costs will generally be higher if you're on your own.
Southern Africa is generally a bit cheaper for safari, but again, there are so many factors – depending on whether you are on an all-inclusive safari tour, self-driving or just going on 1-day game drives.
Activities
Activities vary in cost. From the free stuff, like going to the beach or walking around town, to cheap excursions like walking tours/village tours, to super expensive things like hot air ballooning and gorilla trekking.
Most activities can be booked when you are there, but some have to be booked in advance, for instance, if you go gorilla trekking in high season, you usually need to book your permit way in advance.
So before you set your itinerary in stone, check they are available – examples of this would be things like, gorilla trekking or staying at Giraffe Manor – which can book out a year or so ahead.
Transport
Transport costs are really difficult to predict if you are travelling independently.
If you are backpacking, you never really know what type of transport you'll end up taking. And it's likely that you'll take lots of different types of journeys. Some will even be included in your safaris.
Local minibuses are super cheap (think less than a couple of dollars for a 2-hour journey, $10 for an 8 hours journey), even coaches tend to be pretty reasonable (in East Africa, you're probably looking at around $15 – $20 for an 8-hour journey using a company like Modern Coast and in Southern Africa, maybe around $40 for a journey of the same length for buses like Intercape).
The shuttle buses and shared taxis tend to be a bit more comfortable but a bit more expensive.
Self-driving is also an option. The cost to hire a vehicle can vary greatly depending on where you are, how far you drive and the type of car you get. If you're driving in South Africa and Namibia, you'll probably be fine in a normal car, but anywhere else, a 4×4 would be advised, but these tend to be at the more expensive end of the spectrum.
If you have your heart set on self-driving, shop around for some quotes. Most of the companies I've found cater for Southern Africa, but there are a few that cover other parts of Africa too. Finding one that covers most of East and Southern Africa seems to be rare – but if I find one, I'll link to it here.
In 5 weeks backpacking around Kenya and Tanzania, I spent £187 on transport using a mix of coaches, local minibuses, taxis, ferries, motorbikes and tuk-tuks – not always mega comfortable, but not terrible either!
That did not include my trip from Arusha to the Serengeti and Ngorongoro Crater (and back) where the transport was included in the safari.
That amount would be different in pretty much every country. So the best you can do is make an educated guess and have some spare cash just in case.
Hitching a ride for free isn't really a thing in Africa, most people will want some form of compensation, even if they were going that way anyway.
Food and Drink
I usually spend between $5 – $30 per day on food. Street food is cheap, as are local restaurants and you can always cook for yourself when there are facilities.
Any restaurants catering to tourists will be much more expensive. But it's nice to treat yourself sometimes.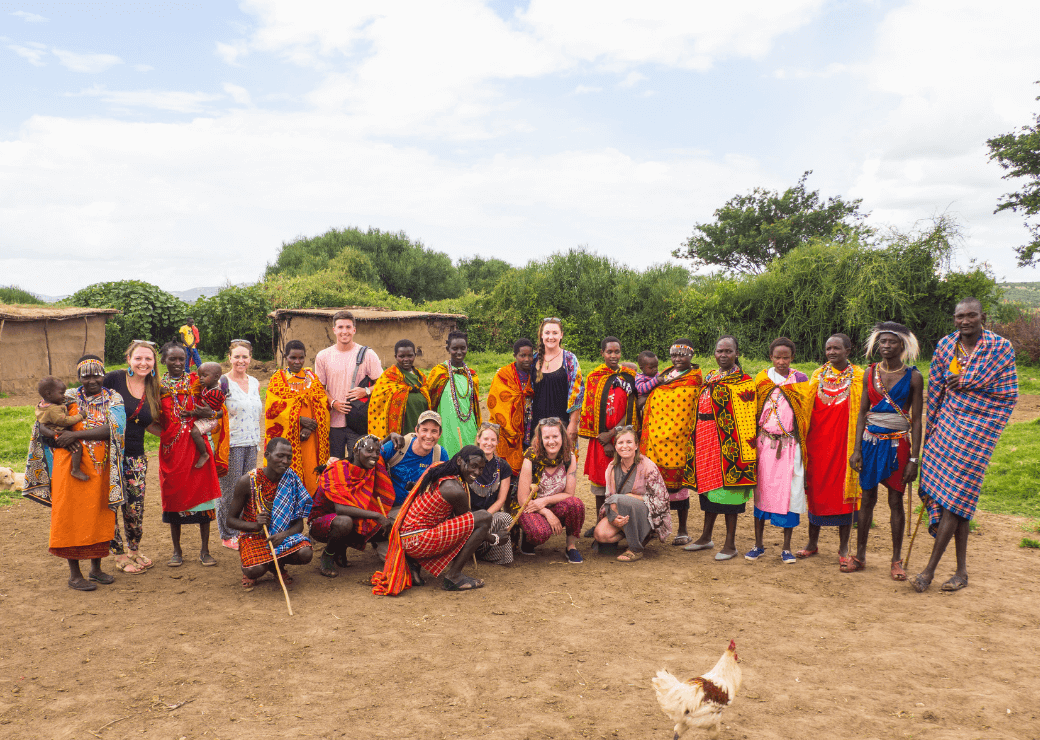 Step 7. Firm Up Your Itinerary or Book Your Tour
If you're going on a tour – get it booked! Get that deposit down (maybe just check the flights are available before you do).
If you're travelling independently…
You've done your research, you know where you want to go, when you want to go, how long you want (can afford) to go for, and roughly what things are going to cost, so you need to start prioritising the key things you want to see and do so that you can work around them and then everything else is a bonus.
If you are travelling independently and on a short timescale (like 2 weeks) you are going to need to have a bit of a plan. Especially if you have specific things you want to do because if you don't you may waste some time.
Plot it all out on Google maps from your start point to endpoint to make sure it all makes sense and flows well and is achievable within your timeframe – including activity days.
Prioritise the things you want to do and build your trip around that.
My main piece of advice would be to try not to squeeze in more than 1 or 2 (potentially 3 if on a tour) countries every two weeks.
And don't forget to factor in travel time between destinations – it takes longer than you think.
If you are travelling independently but for a longer time, maybe just plan the first few days or maybe weeks if you're a planner, and book anything that needs booking in advance but also leave a bit of flexibility in your itinerary too.
There's bound to be somewhere amazing that you'll hear about from other travellers and it would be a shame to miss out because you're on a really strict schedule. I've made this mistake before.
If you need to skip one place because you stayed longer somewhere, that's fine. You don't have to do everything in one trip and you can always go back.
Just don't miss anything big you've already paid for as you won't get that money back!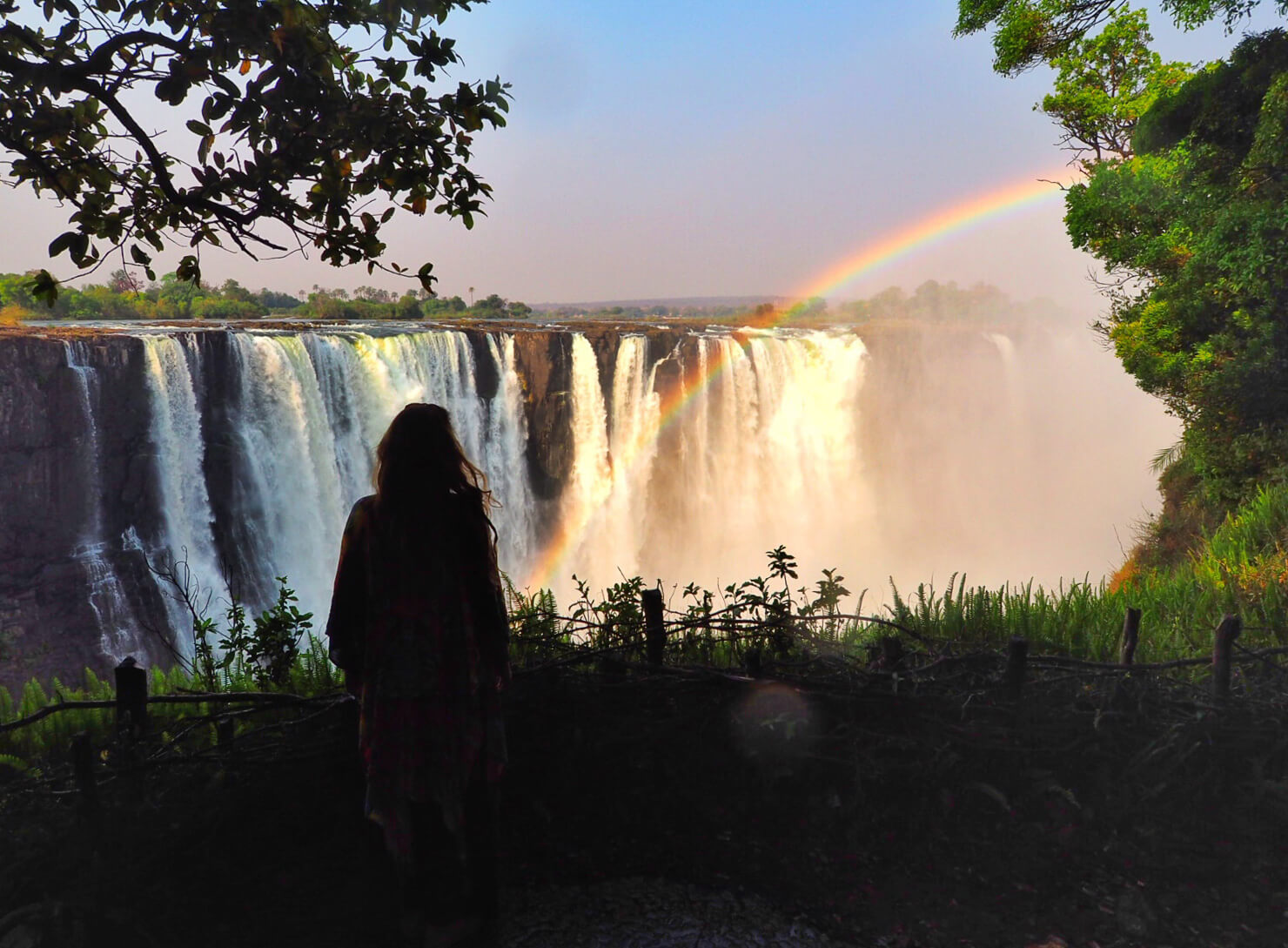 Step 8. Book Your Flights
Book those flights! Usually, the earlier the better – or at least 2 months before.
If you can, be flexible by a day or two, or even by a week, all the better.
Use Skyscanner to search for flights, and to try and get the best deal by searching the whole month. If you have some flexibility, you may be able to save a bit of money! They also allow you to search flying into one airport and flying out of another, so if you're planning to overland, this is a great option.
I live in Liverpool, but I often check flights from London, as sometimes, it's cheaper for me to get the bus or train down and then fly from there.
If you're joining a tour, check if it's cheaper to fly in a day or two earlier and stay in a hostel and maybe get your bearings before you head out on safari.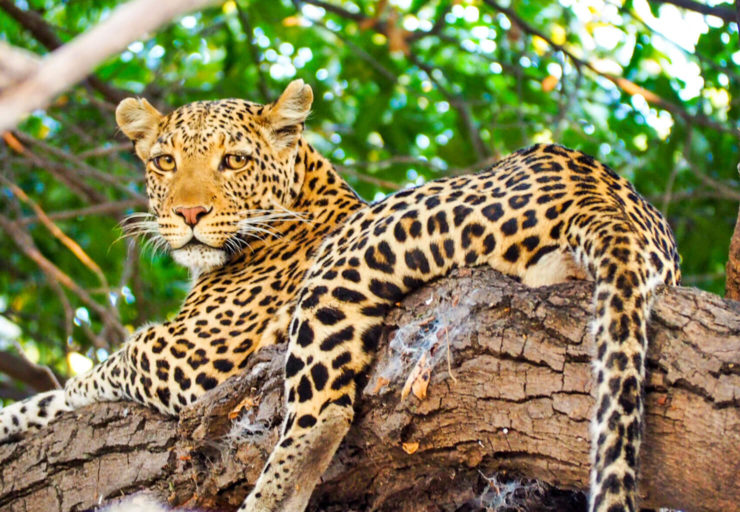 Step 9. Buy Your Travel Insurance
I cannot stress how important it is to have comprehensive travel insurance in place for your trip to Africa!
I'd suggest purchasing your travel insurance as soon as you book your tour/flights – if you don't already have annual travel insurance.
Make sure that the policy you take out covers you for all of your travel requirements, including the sometimes remote nature of Africa travel and any adventurous activities that you wish to do (those are my legs sticking up on the bottom right of the picture) and by that I mean read the small print.
I got Giardia when I was in Botswana and had to visit the doctor for tests and antibiotics which I was able to claim back through my travel insurance, rather than having to pay for myself.
Some bank accounts include travel insurance, so check if you're covered first, but if not, I recommend World Nomads, Outbacker, or InsureandGo*.
*You will need to check that you are covered for Covid-19, currently these insurers are not covering Covid-19 travel.
You can read more about travel insurance (especially in times of Covid-19) in this post and this post!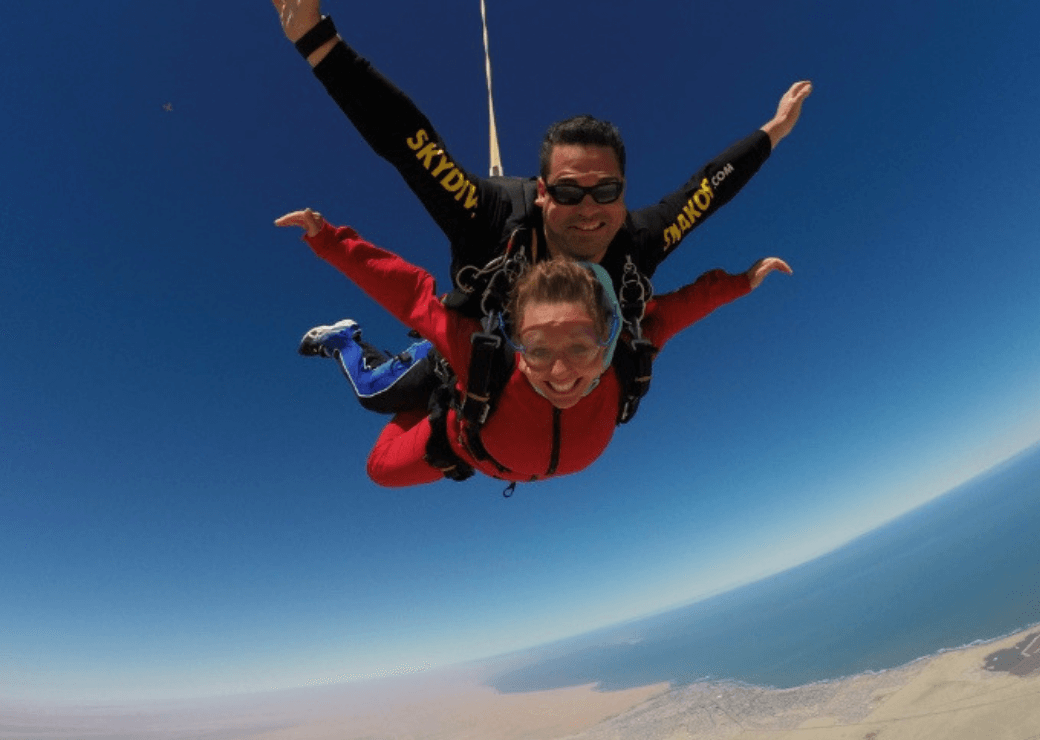 Step 10. Book Your Activities & Accommodation
Now we get to the really fun bit! Just for the record, a lot of this can be done whilst you are there.
But hopefully, from your research, you'll know which things you need to be book in advance, so book them – especially if you are on a short trip. If you are travelling for 6 months, it's a lot easier to find a space at an activity than if you are travelling for 2 weeks.
If you book an activity that depends on you being in a certain location, book your accommodation at the same time so you don't end up miles away from where you need to be.
Check Google maps as sometimes place descriptions can be misleading. An example is the Ziwa Rhino Sanctuary in Uganda. It says it's in Kampala on the website, but it's actually 100 miles north of the city.
Even if you book no other accommodation, I always recommend at least booking your first night or two when you arrive in Africa. Especially if you are arriving on a night flight.
Searching around for accommodation in the middle of the night in Africa is not advisable, or fun. It's not like Asia where you can rock up and find a guesthouse.
You don't have to book safaris before you go, but sometimes it makes sense to. If you are travelling alone and have found a group trip, perhaps go ahead and book it so you're not waiting around for one or paying a premium.
Or you can wait and see if you meet some travel companions when you are there and go with them. This is best if you have a bit more time. If you are only there for a week or two, I'd try and book in advance. Otherwise, you may waste precious time.
Most activities can be booked when there, for example, you arrive at a place and say 'I want to go on a village tour or white water rafting tomorrow', and you can – there are few restrictions on numbers.
But then some activities are really popular and definitely need to be booked a week or two (sometimes months) in advance. Examples include; gorilla trekking in Uganda (have I mentioned that enough?), living desert tours in Swakopmund, Namibia and the Devil's Pool in Zambia.
I usually use the following sites to book my accommodation:
Booking.com: My go-to for most hotel bookings, as I like the fact that you can usually (not always) cancel for free if your plans change.
Hostelworld: I usually also cross-check prices on Booking.com with Hostelworld and you'll often find properties listed on here that aren't on Booking.com, so check both.
Please note that not all places are listed on booking sites, so you may need to book direct with some.
Or, as a compromise, you can join one of my Rock My Adventure tours and all your safaris and most of your activities are included and I organise and book it all for you! Easy!!!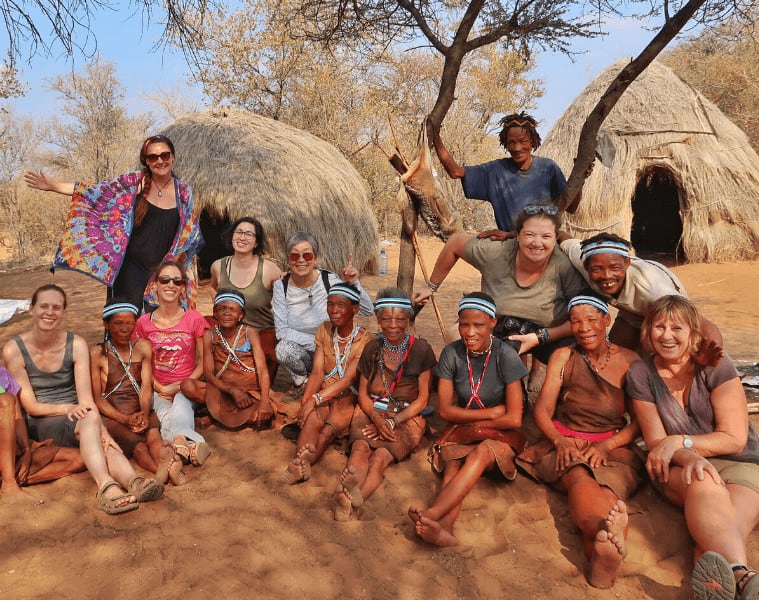 Step 11. Sort Out Your Vaccinations and Malaria Tablets
Book yourself an appointment with your doctor or specialist travel clinic as soon as possible to get your vaccinations started. I'd recommend you do this at least 6 months out.
Remember that for some countries you may need a Yellow Fever certificate.
You will also need to think about getting malaria tablets. Some types of malaria tablets need to be taken 1 month in advance, so make sure you go to your doctors in good time.
You can save money by getting the non-branded versions of malaria tablet. For example, Malarone is a brand name for atovaquone/proguanil – they are medically identical and the non-branded version is much cheaper.
You can sometimes get them cheaper over the counter in Africa, so some people get enough for the first week or so, and buy the rest there.
Just make sure you go to a pharmacy to buy them.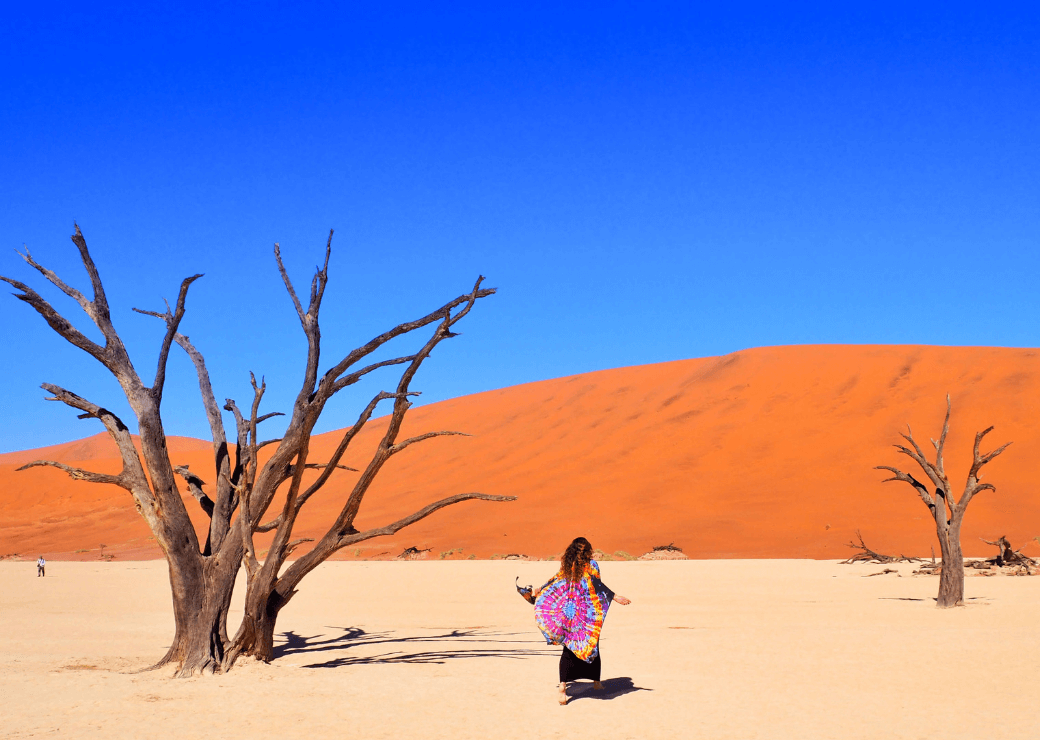 Step 12. Check Your Passport and Apply for Visas
Passports
To travel to most Africa countries, you will need your passport to be valid for 6 months from the date you enter the country (I usually make sure it's longer to be on the safe side) and in some countries, like Togo, you need a year left.
You will also need 2 blank pages for each country you intend to travel to. You may not need the 2 pages, as often they stamp more than one stamp per page, but… you might. And if you run out of pages, some jobsworth could refuse to stamp on a previously used page (I got a telling off in Morocco for this).
Visas
You should also check to see if you need to apply for a visa in advance. I can't think of anything worse than turning up at an airport or border and being turned around!
Most West African countries require you to obtain a visa in advance. Most East, Southern and North African countries allow you to purchase visas on arrival.
However, there are some exceptions (for instance, Kenya has just changed to visas in advance only).
To check on the visa requirements, I usually rely on Project Visa or Wikipedia. Then I cross-check with the info on the embassy website. The rules and costs for visas vary from country to country and from nationality to nationality. I always rely on the Foreign & Commonwealth Office for information for Britsih citizens and most countries will have a similar service.
If you have dual nationality, it's worth checking both of your passports to see which one will work best for you.
For most countries where you pay for your visa on arrival, you will need to pay for that visa in US Dollars and for some it's Euros. Check ahead of time so you have the correct currency ready.
If you are looking to get multi-entry visas, you will usually need to arrange those in advance either online or with a local embassy.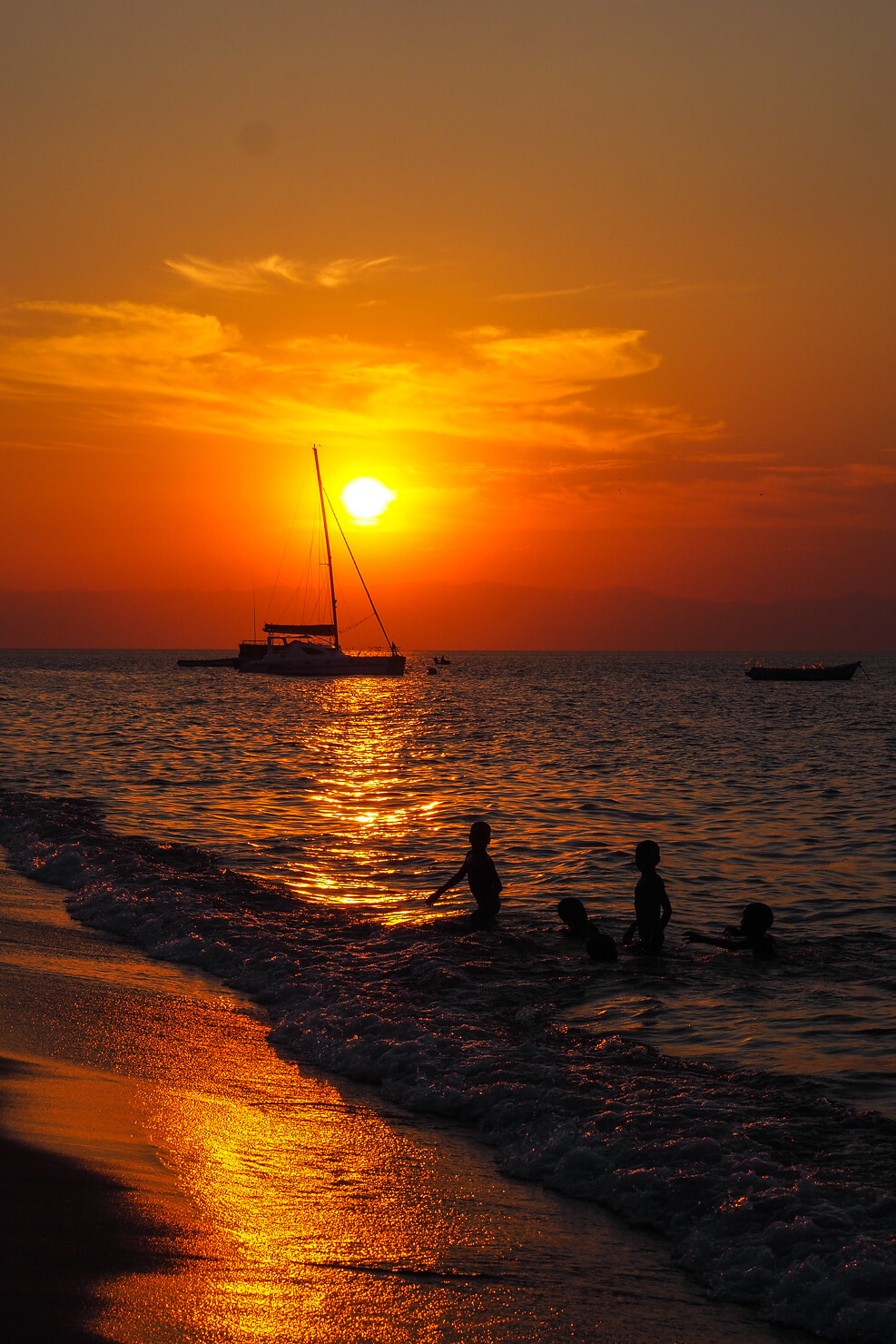 Step 13. Organise Your Money & Currency
When travelling to Africa, you are going to need to take some cash with you.
You will need US Dollars(or Euros) for visas, so work out how much you are going to need for them and add at least a few hundred dollars on top of that.
If you have leftover dollars, you can use them for quite a lot of activities. Or you can always change them if you need local currency.
Just remember that all your dollars need to be dated 2013 and after and be in good condition!
As I am British, I usually always take GBP, which is easy to change. Euros are good to take too.
If I can get local currency at home, I sometimes take that too. For example, Kenyan Shillings are easy to obtain outside of Kenya, but Tanzania has a closed currency, so I usually have to exchange money or take it out from the ATM when I'm there.
I take a mix of US Dollars, British Pounds and my ATM cards. I sometimes also take Euros, depending on where I am travelling to (in most parts of West Africa, it's much easier to change Euros than anything else).
Take your cards as most major cities and towns have ATM's and the rate you get from them is usually better than you get from a Bureau de Change.
I've occasionally been to a cashpoint and tried to get money out and realised it doesn't have any money in (or it doesn't have enough money in), so, you may need to try a few. This is also when those spare Dollars come in handy.
Just remember that you have a daily limit (usually between £250 – £300) so if you need a lot of cash, bring it with you, or take it out over a few days.
You may also need to use the ATM multiple times too. For instance, in Malawi, you can only take out about £80 at a time, this is because you get so many notes, that it literally can't fit out of the ATM slot, so if you want more money than that, you just need to use the ATM a few times.
Visa is much more widely accepted than MasterCard. But if you can take 2 or even 3 cards in case the first one doesn't work (or gets swallowed), then great. That will also help if you need to get out quite a bit of money in one day.
Just keep your extra cards separate from your main card for safety.
You may want to consider opening an account with a bank that doesn't charge for withdrawals abroad (or charges very little), as these costs add up, especially if you're travelling for long periods of time.
In the UK, M&S Bank and Nationwide often have the best deals.
Download a currency exchange app such as Units Plus which lets you easily check what the exchange rate is and you won't accidentally buy a $50 bottle of wine like I once did after travelling into Kenya from Tanzania and mixing up the currencies.
And don't forget to tell your bank where you are going so they don't block your cards!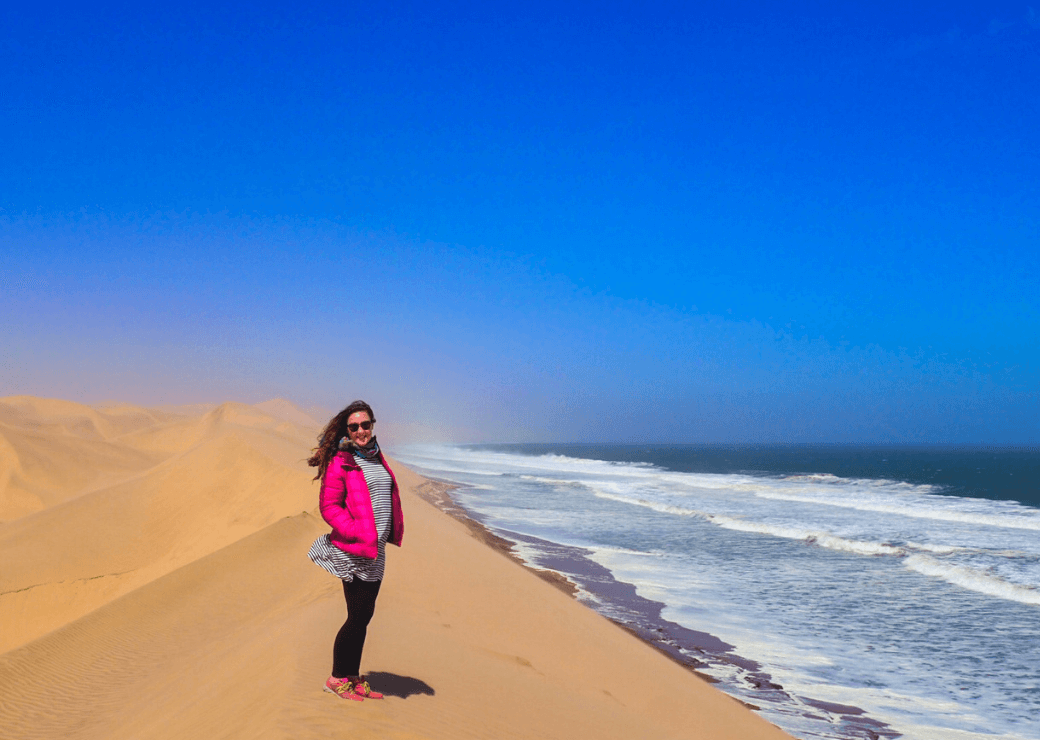 Step 14. Plan What You Are Going to Pack
Start to think about what you are going to take with you! Believe me, you won't need half of the things you think you do! But, it's always good to be prepared!
Here's a bit of help to get you started:

Step 15. Organise Your Airport Pick Up
All accommodation providers will arrange a taxi for you so I would suggest that you organise that with them (or your tour company).
Your hotel can sometimes just add the fee to your bill, and they will pay the taxi driver so you don't have to worry about the money.
Or you can usually pick up taxis from most major airports no matter what time you arrive. If you are organising your own taxi on arrival, just make sure that you take a licensed one (you can always ask an airport official where they are) and that they use the meter or you agree on the fare beforehand.
Just don't forget to have some cash ready to pay for your journey! You can get cash out from the ATM airport in most cases.
Take look at my Top Africa Travel Tips posts for some handy hints on arriving in Africa.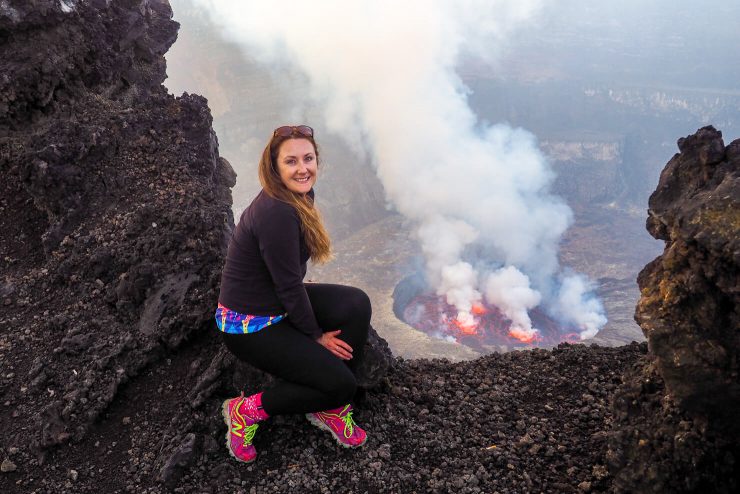 Step 16. Prepare Yourself Physically and Psychologically
I'm borrowing this phrase from my good friend Moses.
Moses was my guide on my overland tour way back in 2009 and now runs Mara Explorers Camp in the Masai Mara.
Every day he would tell us (in his strong Kenyan accent) – "You need to prepare yourself physically and psychologically" for the day or activity ahead. We all loved this saying and whenever he'd start to say it, we'd join in too.
Joking aside, it is probably the best advice anyone can give you.
Africa can be tough both physically and mentally. The roads are bumpy as hell. It's hot. It's cold. The mosquitoes will drive you nuts. You'll see some tough things. Africa can be exhausting and frustrating. You'll see inequality everywhere. You'll see things that will upset you and make you question everything you know.
It can also be overwhelmingly (out-of-this-world) AMAZING!!! You need to prepare yourself for all the things you are about to see and do – it's going to be incredible.
Be prepared to enjoy EVERY. SINGLE. DAY. Be present, live in the moment, and appreciate everything!
But most of all, you'll need to be prepared for the fact you will probably return home a bit of a different person. Your trip might just be life-changing!
READ NEXT: 39 Things You Need To Know Before Backpacking Africa

Step 17. Embrace the Phrases 'Africa Time' and 'This is Africa'
There are two phrases you need to have in mind before you go to Africa and the sooner you understand them and learn to love them, the better!
'Africa Time'
Things work differently in Africa. It happens when it happens. The bus only may leave when it's full, not necessarily when it's scheduled. The food arrives when it arrives.
Patience is a virtue.
But once you get used to it, you'll probably love it and find it kind of refreshing. Why are we always in a hurry for everything these days anyway?
'This is Africa'
A phrase usually used with a shrug of the shoulders when something goes wrong.
Like when your safari vehicle breaks down or the power cuts off.
It's usually used to placate you – as if to say 'This is Africa, what do you expect?'.
Things can be hard in Africa, often due to lack of infrastructure so being prepared for that is best.
But to me, 'This is Africa' also means something entirely different too.
All you need to do is change the emphasis, 'This IS Africa'.
It's the wonderful people, stunning landscapes, amazing safaris and incredible adventures. It's the feeling of living in the moment, as it is so easy to do in Africa.
If the power/WiFi goes off, enjoy the challenge and romance of cooking by candlelight or chat with your fellow travellers instead of staring at your phone all night.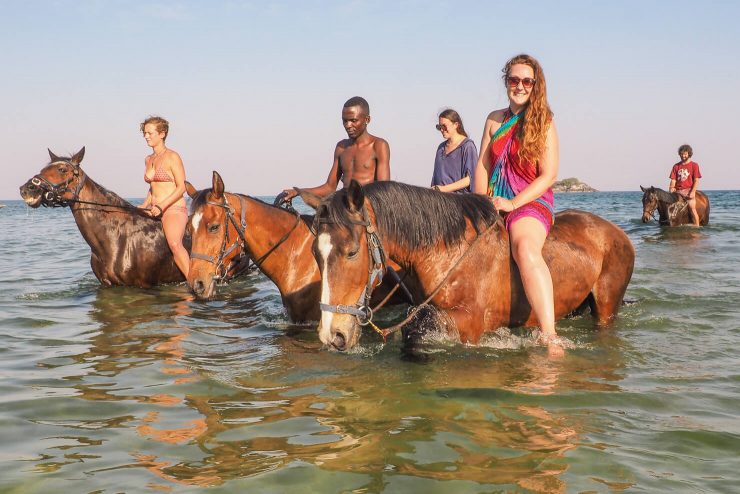 Step 18. Go and Have an Amazing Time
And you're off. This is likely to be one of, if not the most incredible trips of your life. Enjoy it.
The first day or two may be a bit overwhelming and a bit of a culture shock, but don't let this deter you. Give it a few days and I bet you will have made the best friends and are having the time of your life.
If you're not, message me and I'll talk you through it!
I also recommend you join the Backpacking Africa or the West Africa Travellers Facebook groups. They're always a great place to ask for recommendations for places to stay, safari companies, how to get around or to find travel buddies.
You'll find that there are a lot of well-travelled Africa lovers in these groups so you'll usually get the help you need as you go.
I hope this post has helped you plan your trip to Africa. I am so excited for you!
And don't forget to let me know how it went!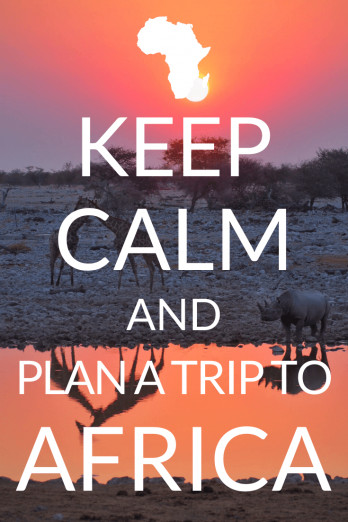 Read More About Africa…
Please Note: Some of the links in this post are affiliate links, which will earn me a small commission at no extra cost to you. Affiliate sales help with the running costs of this site, so thank you for your support!