Last updated on March 13th, 2022 at 06:12 pm
Kenya vs Tanzania, which country do I choose? Which one is better? 
I get asked this a lot, especially when people are trying to choose between a safari in the Masai Mara in Kenya and the Serengeti/Ngorongoro Crater in Tanzania – which is one of the reasons why I do a Rock My Adventure tour that goes to all three.
Kenya and Tanzania are both are incredible countries to visit, as they have so much to offer and there are options for all budgets and travel styles. Each country has an abundance of national parks, plus lots of other attractions, so many people find it hard to choose between the two.
The two main draws for safari in this region are the Masai Mara in Kenya and the Serengeti in Tanzania.
Both parks are part of the same eco-system, so when deciding where to go, you may want to look at a few other factors, such as the national parks, the time of year, the wildlife, the wildebeest migration, cost and what else the countries have to offer.
So in this post, I'm going to weigh up the great things about both countries and give you my honest opinions to help you make up your mind on whether to visit Kenya or Tanzania! 
Please Note: Some of the links in this post are affiliate links, which will earn me a small commission at no extra cost to you. Affiliate sales help with the running costs of this site, so thank you for your support!
---
Kenya vs Tanzania – Which is the Best Country to Visit?

Kenya or Tanzania – Which is the Best Country for Africa Beginners?
When it comes to Kenya vs Tanzania for beginners, overall, I'd say that Kenya is a bit more 'Westernised' compared to Tanzania and English is more widely spoken in Kenya than in Tanzania, but you'll find that all guides and most people can speak English to some degree unless in very rural areas.
Both countries are generally very safe for travellers and crimes against tourists are low, however, you need to exercise caution, especially in the major cities, such as Nairobi, Mombasa and Dar es Salaam.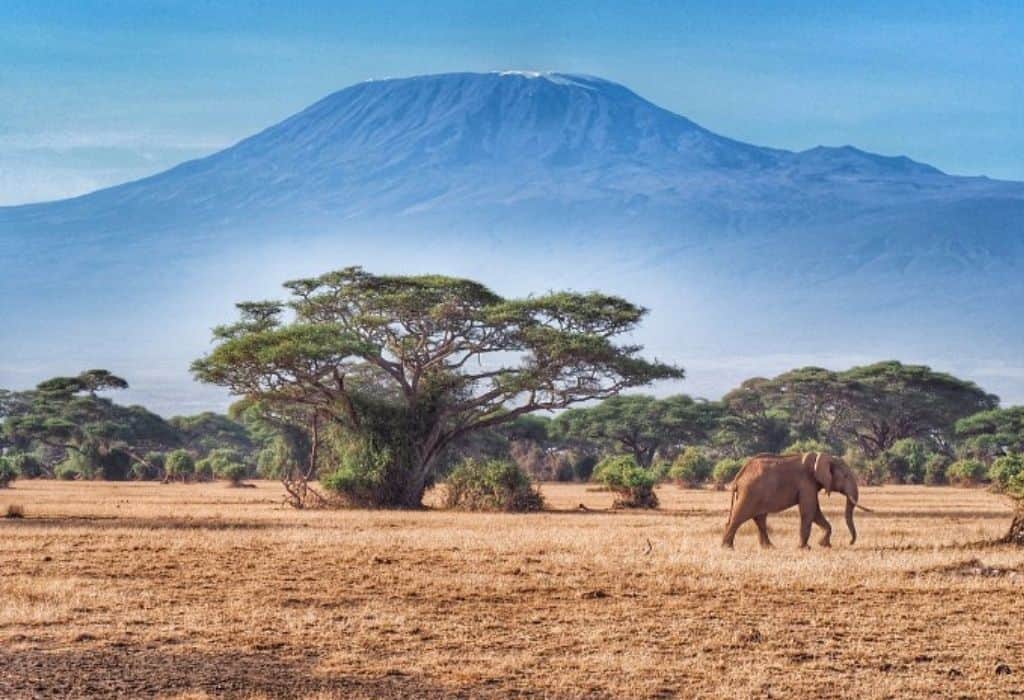 Kenya vs Tanzania – Which Country Has the Best Safaris & National Parks?
Kenya National Parks
Kenya's most famous national park is the Masai Mara. Now, I marginally prefer the Masai Mara over the Serengeti. The Mara is smaller and feels more intimate.
Taking a trip to the Masai Mara can easily be combined with Lake Nakuru (famous for flamingoes and white rhinos) and Hell's Gate (famous for cycling safaris). Then there's Nairobi National Park which is famous for rhinos and being the only national park to be located next to a major city, making for a very different experience. 
Heading towards the southeast, on the other side of Nairobi and close to the Tanzanian border, is one of my favourite safari destinations, Amboseli National Park. What makes Amboseli so amazing, is that it is home to a large elephant population and it lies at the base of Mount Kilimanjaro, which creates an incredible backdrop for your photos.
Travelling onwards towards Mombasa, you'll pass through Tsavo East and Tsavo West National Parks and just outside of Mombasa lies pretty Shimba Hills, which is full of wildlife, however, it's very densely forested so the animals are a little trickier to spot.
To the north of Nairobi, there's Aberdare National Park (with wildlife and tea plantations), Ol Pejeta Conservancy (I absolutely love Ol Pejeta, which is famous for rhinos) and Mount Kenya National Park. And if you continue further, you'll reach Samburu National Reserve, one of the highlights of northern Kenya.
Samburu is home to the 'Special Five' the reticulated giraffe (also known as the Somali giraffe), Somali ostrich, Beisa oryx, Grevy's zebra and the gerenuk as well as having a healthy lion, leopard and elephant population.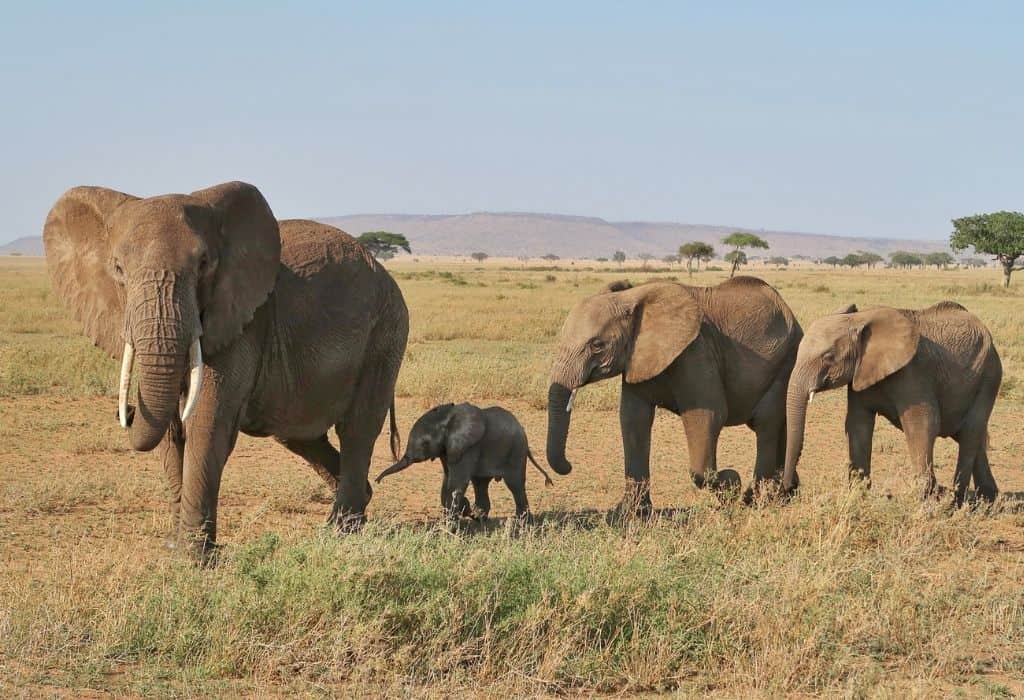 Tanzania National Parks
Kenya may have an impressive selection of national parks, but then so does Tanzania, not quite as many, but they're not far behind.
Taking a trip to the Serengeti can easily be combined with the Ngorongoro Crater, Lake Manyara (famous for tree-climbing lions), Tarangire (home to one of Africa's highest concentrations of elephants) and Arusha National Park which together make up Tanzania's Northern Safari Circuit. 
Further south, we have the Southern Circuit, which lies in the area of the country between Dar es Salaam and the Mbeya, near the Malawi border. This comprises Selous Game Reserve, Mikumi National Park, Udzungwa Mountains National Park and Ruaha National Park. On this route, you'll also pass through the Valley of the Baobabs.
There's also lesser know Saadani National Park which lies on the coast between Bagamoyo and Tanga, right on the Indian Ocean. This is a good place to see greater kudu, sable antelope and red duiker.
One thing Tanzania does have that Kenya doesn't have is wild chimpanzees in Mahale Mountains National Park on Lake Tanganyika, where Jane Goodall did most of her research. The only downside is that it's a pretty difficult place to get to (you can only go so far by road and then you have to take a boat which is super expensive) or you can also take a charter bush flight.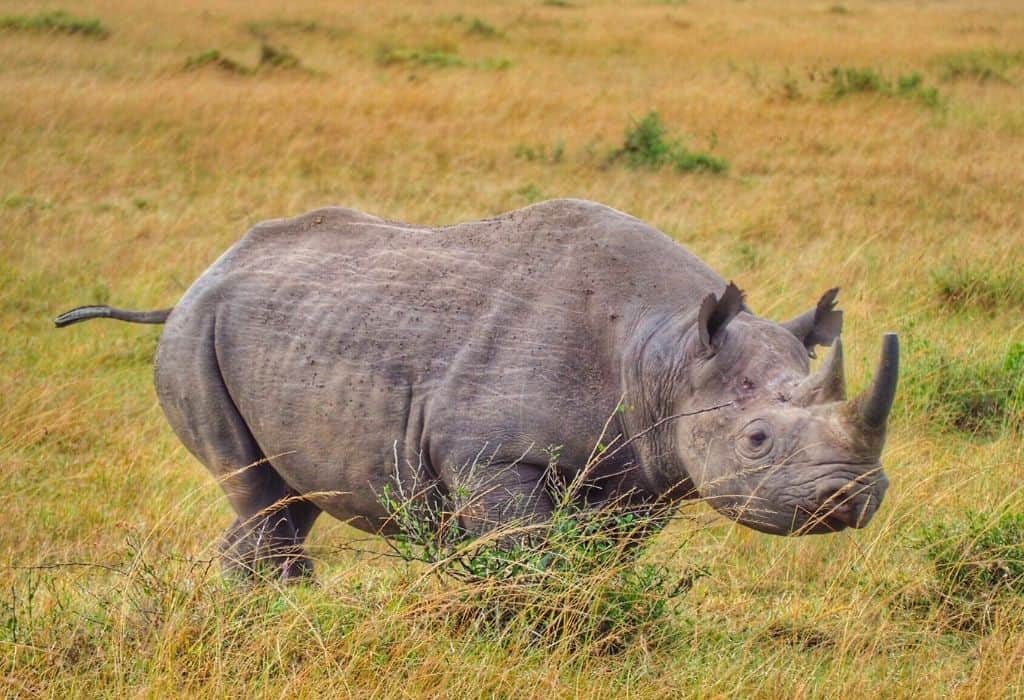 Safaris, Wildlife & Where to See the Big Five
Both Kenya & Tanzania have an abundance of wildlife, so you can't really go wrong with either. 
You can see the Big 5 (elephant, lion, cape buffalo, leopard and black rhino) in a number of locations in both Kenya and Tanzania. But not all parks have the Big 5, so check before you book to make sure you're not disappointed.
Lions, buffalo and elephants are frequently spotted in both Kenya and Tanzania in lots of different parks.
The Masai Mara is home to all of the Big 5 and whilst they say that the Big 5 are present in the Serengeti, I've never seen a black rhino there (and I've been to the Serengeti a lot). However, there are black rhinos in the Ngorongoro Crater, so if you combine the two, which most people do, you may be able to see one.
My best sightings of black rhinos have been in the Nakuru, Ol Pejeta (you are guaranteed rhino sightings in Ol Pejeta), the Masai Mara (I've seen them up close here a few times) and the Ngorongoro Crater (albeit from a distance most of the time). Rhinos are also common in other parts of Kenya, including Nairobi National Park.
My most frequent leopard sightings, however, have been in the Serengeti. But they're usually far away. I've only seen a leopard once in the Masai Mara, but it was very close. 
If I had to vote for the best place to see the Big Five.. I'd say Kenya! 
The Weather & the Best Time to Visit Kenya & Tanzania
One super important factor when planning your safari to Kenya or Tanzania, is the weather. Kenya and Tanzania are quite similar, with long rains and short rains, and cool and hot seasons.
The problem we have now is that weather patterns are becoming more and more unpredictable, but here's the general lowdown on when to visit Kenya & Tanzania (there will be some variations depending on the region so check before you go).
January & February
This is usually the hot, dry season. You may still experience some rain, but it's not that common. On the coast, it can be pretty humid.
This is a great time to see the wildebeest calving in the southern Serengeti and Ngorongoro Conservation Area, as the predators are really on the hunt for all the newborn babies. Bit horrible, but usually eventful.
March, April & May
This is when the long rains occur. It's often cloudy and temperatures can be cool. Some roads might be muddy and flooding can occur. On the plus side, you might get cheaper rates across both countries as it's low season.
June, July, August, September & October
These months are generally the dry, cool season. This is my favourite time to visit Kenya & Tanzania (temperature-wise) as I'm not fond of humidity.
It's usually sunny, with little rain, hot on the coast, but not too humid. This is also the main high season.
Inland, it will usually get warm in the day, but early mornings and evenings can be cool, especially in places at altitude like Nairobi, Arusha or the Usambara Mountains.
Early mornings on safari can get really cold, I mean REALLY cold – as in down jacket, hat, thick socks kind of cold.
It's coldest in July & August and starting to get warmer into September and October.
November & December
The time when the short rains usually make an appearance. It's still a nice time to visit, but with intermittent rain and can be quite hot and humid. The rain shouldn't really affect your visit.
Where & When to See the Wildebeest Migration in Kenya & Tanzania
If you are hoping to see the Wildebeest Migration in the Serengeti or Masai Mara, you will need to plan your safari around where the migration is at a particular time.
Both parks are in the same ecosystem, so the animals move freely over an invisible, man-made border. The animals can go where they want but people can't – unfortunately, the border crossing that lies within the parks is not open, so you have to go out of the parks and around if you want to get from one to the other which is a bit time-consuming.
The migration is always a little unpredictable, as the herds follow the rains, so nothing is guaranteed unless you splurge on a high-end mobile safari that moves with the animals.
January, February & March
During this time the wildebeest move down to the southern part of the park, near to the Ngorongoro Conservation Area and the entrance to the Serengeti.
Wildebeest calving season takes place between late January and February where around 8000 wildebeest are born every day which drives the predators wild.
April & May
This is a bit of a transitional time for the herds, as well as the main rainy season. They'll be making their way upwards and along the western corridor up towards the Grumeti River.
June to July
Towards the end of June, the herds start to gather in the northern Serengeti, ready to make the crossing over to Kenya. This is a great time to be in the northern Serengeti.
August, September & October
This is the peak season and a very good time to spot the migration in the Masai Mara or just south of the Mara River on the Serengeti side. At this time of year, the herds are crossing over from Tanzania into Kenya, taking their chances in perilous rivers and trying to avoid being eaten by crocodiles. It's pretty spectacular when you see a crossing.
If you are planning to visit the Serengeti at this time, you will need to do a more expensive fly-in mobile tented camp/lodge safari or take a longer driving safari.
So, if you're coming from Arusha or Moshi plan to do a safari for at least 5 or 6 days on safari to allow you the time. Most shorter safaris only get you as far as the Central Serengeti. Check with your safari operator.
However, the Masai Mara is quite a lot smaller, so you should be able to see the migration (season permitting) regardless. And if you're really lucky, you may even see a river crossing.
November & December
Another transitional period as the herds are moving back from the Masai Mara to the Serengeti and tend to be spread out throughout the north and eastern Serengeti, moving down towards the Ngorongoro Conservation area ready for calving season.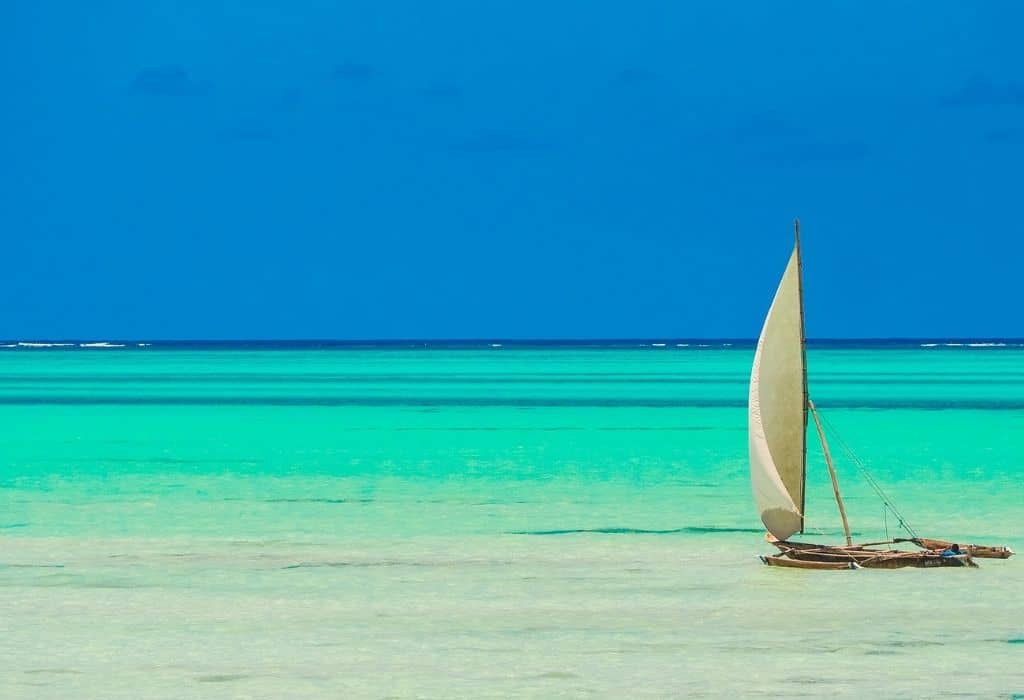 Kenya vs Tanzania – Which Has the Best Beaches?
Both Kenya and Tanzania have AMAZING beaches.
Kenya has Mombasa and the beaches around that area such as Diani Beach, Kilifi, Malindi and Watamu – all popular resorts for international travellers and holidaying Kenyans with plenty of great hotels, restaurants and lots of things to do.
Further north, you'll find Lamu Island, a laid-back paradise. It's a wonderful place to visit and rich in Swahili culture but much less visited than Zanzibar.
Tanzania has some wonderfully relaxed beaches around Tanga and Pangani if you want to escape the crowds. Or if you're looking for a more local vibe (so less sunbathing, more culture), I love Bagamoyo, a bustling fishing town with a big heart and tons of creative energy.
But the main beach destination for most is the island of Zanzibar.
It's no secret that I LOVE Zanzibar, and try to visit as often as I can. It feels like a second home to me and I love showing our tour groups around. There are so many great things to do in Zanzibar, that you will be spoilt for choice.
As well as the main island of Unguja (which is what everyone calls 'Zanzibar'), there are also the quieter islands of Pemba and Mafia.
In season, whale sharks can be seen off the coast of Kenya and near Mafia Island. Both countries have dedicated marine parks which are great for snorkelling and dolphin sightings.
Zanzibar is an easy flight from any of Tanzania's or Kenya's main airports. But if you're looking for a quiet place to hang out with a true Swahili vibe, then Lamu is probably the place for you.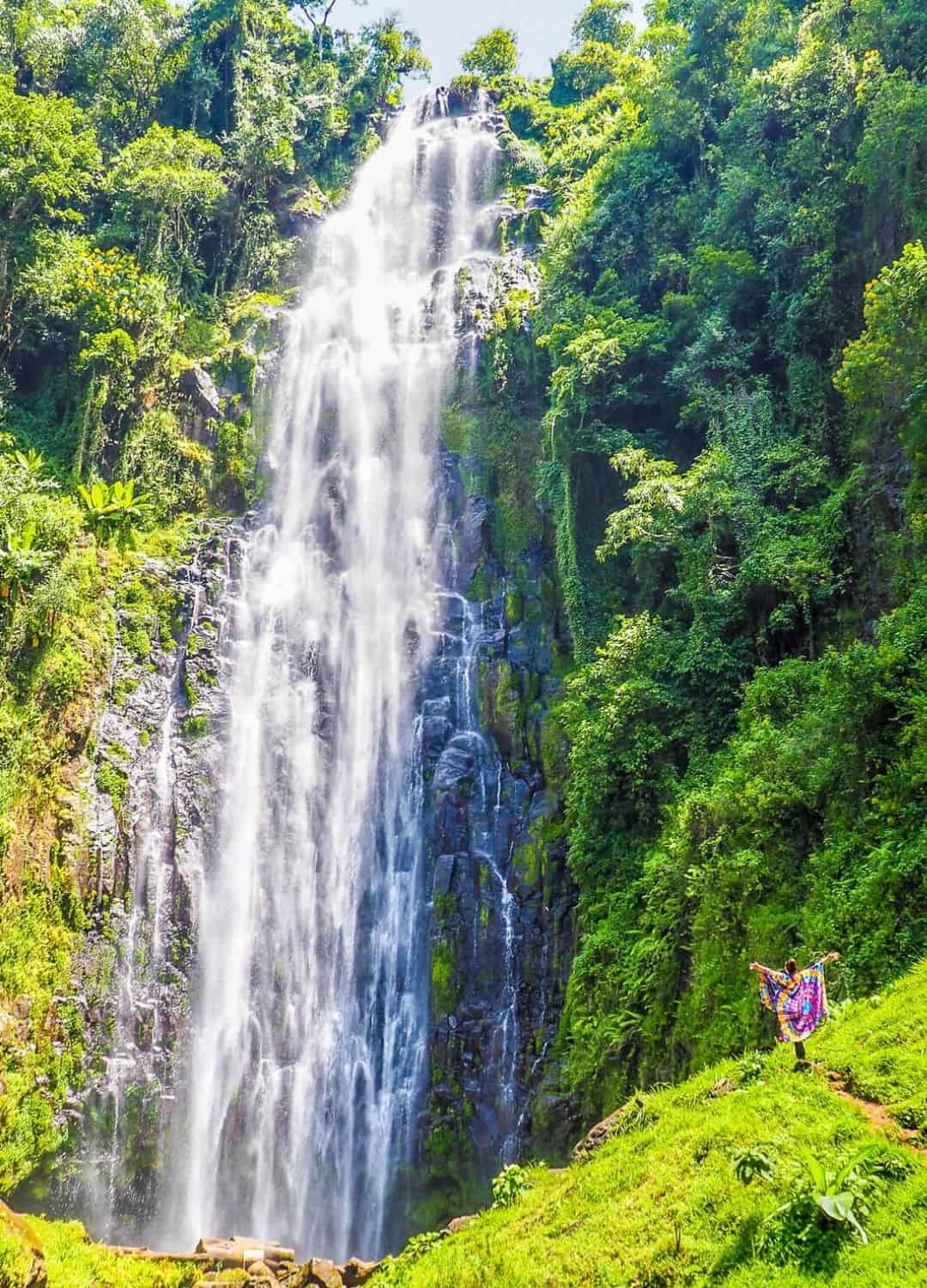 Culture, Nightlife & Non-Safari Activities
Whilst many people are drawn to Kenya and Tanzania for safari, there are lots of other amazing things to keep you occupied once you're there! 
Kenya 
In terms of cosmopolitans cities, Kenya definitely has the edge over Tanzania with hip and trendy Nairobi. There are loads of great things to see and do in Nairobi, including bars, restaurants, art galleries and social initiatives.
In Nairobi, you can get up close with giraffes and baby elephants at the Nairobi Giraffe Centre and Sheldrick Elephant Orphanage respectively – which kids and adults will both enjoy. And if you want to combine your stay with a trip to the fabulous Giraffe Manor, you can!
Mombasa is Africa's largest coastal city, with a ton of history, Swahili culture and beautiful beaches nearby. The New Years party in Kilifi is legendary and celebrated with a big festival!
Kenya is also home to some of Africa's best-hiking destinations, including Mount Kenya (Africa's 2nd highest mountain), Mount Ololokwe and Mount Longonot.
If you want a real adventure, head up to Loiyangalani, on the southern shores of Lake Turkana where they hold the annual Lake Turkana Festival, a gathering of 13 of the local tribes.
A bit further north still is Sibiloi National Park, close to the Ethiopian border. The main downside is that it's a bit of a mission to get to this region, but well worth the effort if you do make the journey.
Tanzania
In terms of cities, Tanzania doesn't have the same cosmopolitan vibe as Kenya but Moshi, Arusha and Dar es Salaam are all fun cities to visit and there are lots of things to keep you busy in between safaris.
Two of my favourites things to do are hiking to the Materuni Waterfall (above) in Moshi and visiting the hot springs that lie between Moshi and Arusha.
And whilst Kenya has some great hikes, so does Tanzania, including Mount Meru, Ol Doinya Lengia and Africa's highest and most iconic mountain, Mount Kilimanjaro. I've climbed Kili twice and love writing about it, as it's one of the best things I've ever done.
If you love incredible scenery and hiking, the Usambara Mountains which lie between Moshi and Dar es Salaam are another place to add to your itinerary. I've written more about the Usambaras in my Tanzania Itinerary, and I definitely recommend a visit if you have the time.
Kenya and Tanzania share Lake Victoria and whilst Kenya has Lake Turkana, Lake Naivasha and Lake Nakuru, Tanzania has colourful Lake Natron, Lake Tanganika and chimpanzees.
Zanzibar has a few interesting festivals to visit throughout the year, including the Sauti Za Busara Music Festival, which usually takes place in February. 
In terms of nightlife, both Kenya and Tanzania are great. But, I marginally prefer Tanzania over Kenya and have had some of my best nights out in Moshi, Arusha and Zanzibar (for the record I've also had some VERY good nights out in Kenya too).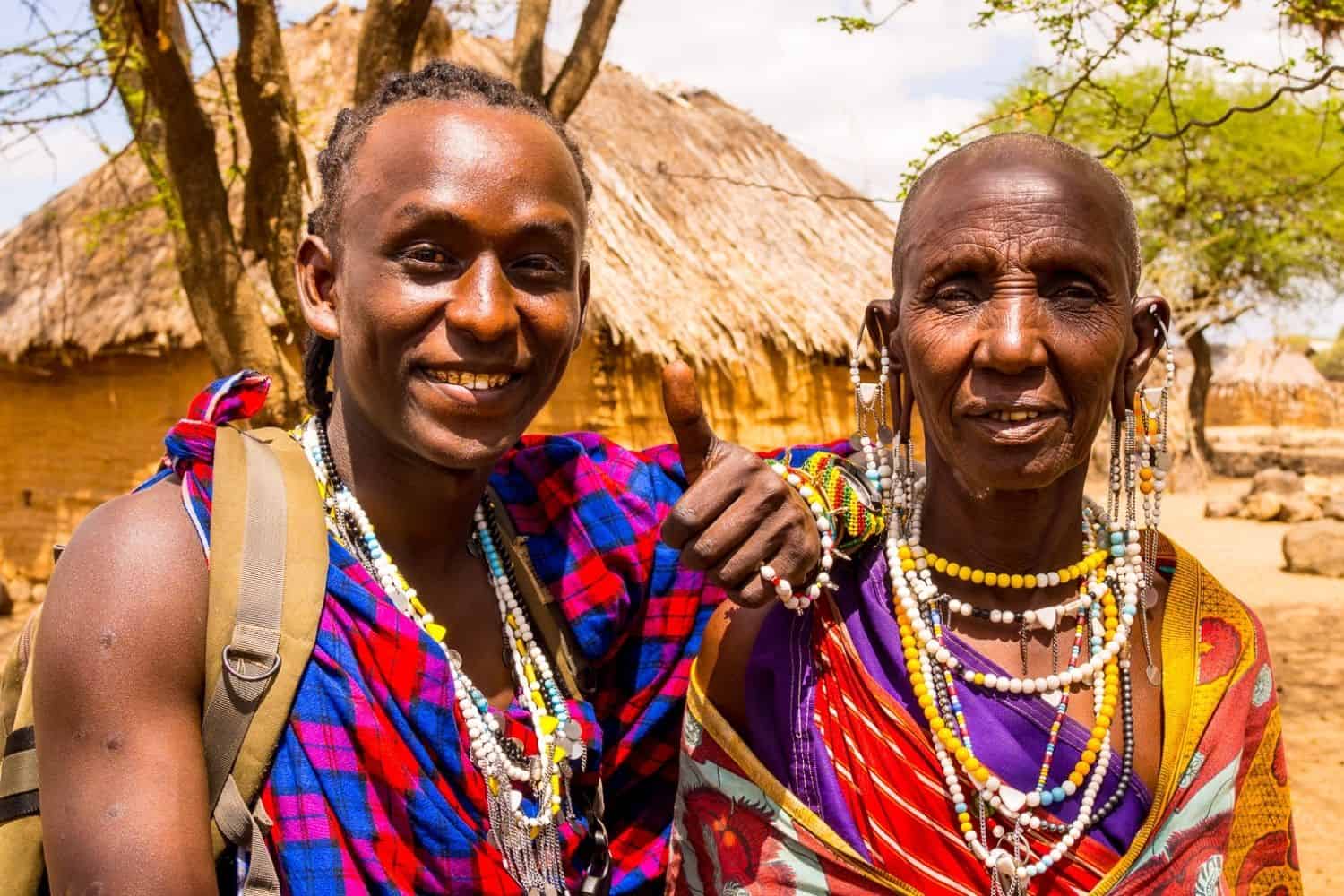 Kenyan & Tanzanian Tribes
A lot of people want to combine their safari tours with trips to see various tribes so Kenya and Tanzania are both perfect for this as there are lots of different tribal groups. Some of the tribes you can visit are listed here:
Maasai: The Maasai people are pastoralists who live predominantly in the Masai Mara in Kenya and around the Ngorongoro Conservation Area, Arusha and Moshi. But you will also find Maasai elsewhere in Kenya and Tanzania.
Samburu: The Samburu people are closely related to the Masai, but live up in the Samburu region. I wrote a post some years ago about visiting the Umoja Women's Village some years ago and I am hoping to go back there later in the year (so I will update this post).
Turkana: The Turkana live in the far north in the area around Lake Turkana. They are very distinctive in appearance and spread out over the Turkana region.
El Molo: The smallest tribe in Kenya, you can visit them up near to lake Turkana. They dress similar to the Samburu tribe.
Hadzabe or Hazda: This hunter-gatherer tribe can be found near Lake Eyasi, just south of the Serengeti.
Chagga: The Chagga people mostly live in and around Moshi., Tanzania They don't really wear traditional dress anymore, but I always love taking a tour to a Chagga village which includes the Materuni Waterfall and a coffee making tour with singing.
The only thing I would say is to really research your tribal visits to make sure they are ethical. Some are awful and just leave a bit of a sour taste in your mouth. This is why I'm always really careful about which tribes I visit on my tours as I want the experience to be two-way, non-voyeuristic and authentic.
The worst tribal visits I've done have been the ones where you stop for a quick visit on the way back to Arusha from the Serengeti/Ngorongoro Crater – avoid them at all costs.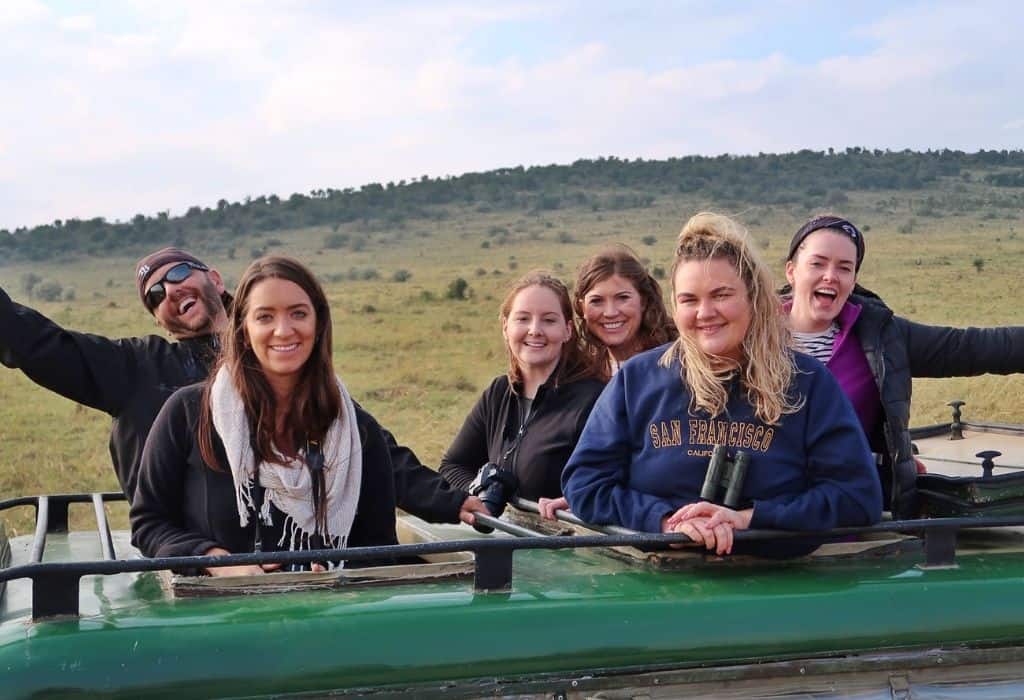 The Cost of Travel in Kenya vs Tanzania – Which is Cheaper? 
Whilst you can go on budget safaris in both Kenya and Tanzania, Kenya's budget safaris tend to be cheaper than Tanzania's. Especially in the most famous parks. This is due to the higher park fees in Tanzania and the remoteness of the Serengeti, compared with the Masai Mara, which is easier (and quicker) to get to by road.
A budget trip to the Masai Mara, will always be cheaper than a budget trip to the Serengeti due to the more remote location of the Serengeti, plus the park fees are higher in Tanzania.
For example, a 3-day Masai Mara safari staying in a glamping tented camp is generally cheaper than a 3-day camping safari in the Serengeti & Ngorongoro Crater. Travelling in a group will also help to reduce costs.
You can get to the Masai Mara by public transport and organise game drives from the lodges, which will also save costs, but you cannot really do this in the Serengeti as there isn't any public transport through the park. 
However, when it comes to the luxury end of the scale, the sky is the limit for both countries, although again, Tanzania tends to be at the higher end, especially with the logistics of the luxury mobile tented camps in remote areas.
Activities tend to be cheaper in Kenya too. For example, taking a hot air balloon ride in Tanzania is around $100 more expensive in the Serengeti than it is in Kenya.
So for budget travel – Kenya is the better option overall.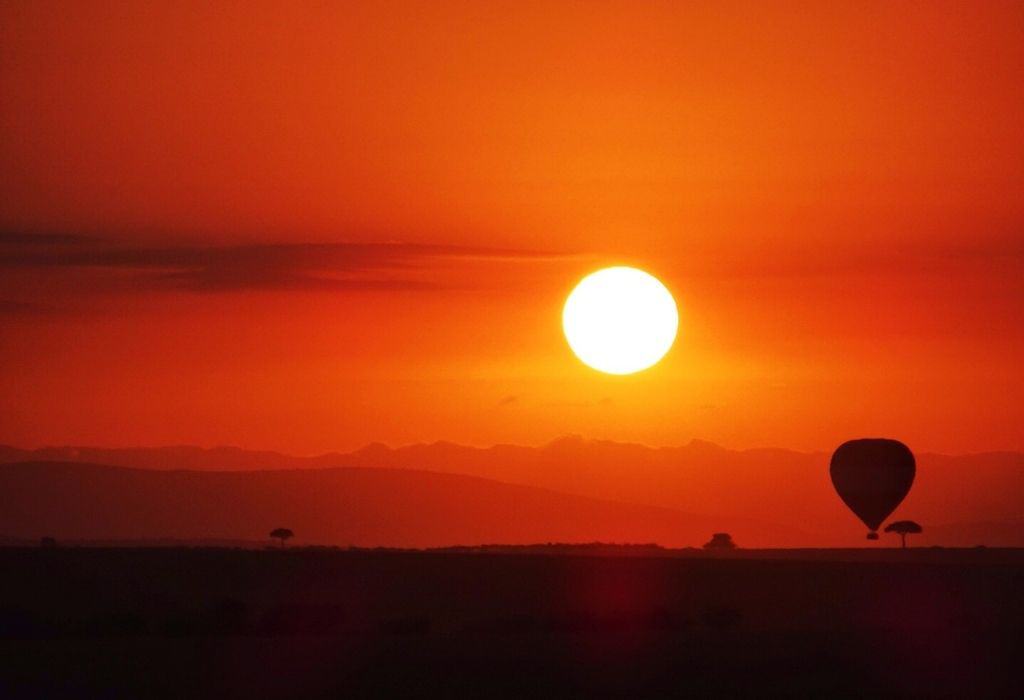 Kenya vs Tanzania – Which is the Winner?
I'd say that Tanzania is slightly less commercial and less developed than Kenya, but Tanzania can also be more expensive, especially to visit the national parks. However, both are incredible places to visit.
The fact of the matter is, neither is really 'better' than the other. They're just different. Both Kenya and Tanzania are awesome for safari (and everything else they have to offer) so you won't be disappointed by either!
So you could do one or the other, or do both – as we do on the Rock My Kenya & Tanzania Adventure!
I hope this helps you make up your mind on the Kenya vs Tanzania debate! Any questions? Let me know in the comments! 
---
Other Kenya & Tanzania posts you might enjoy…
---
Pin This Post For Later