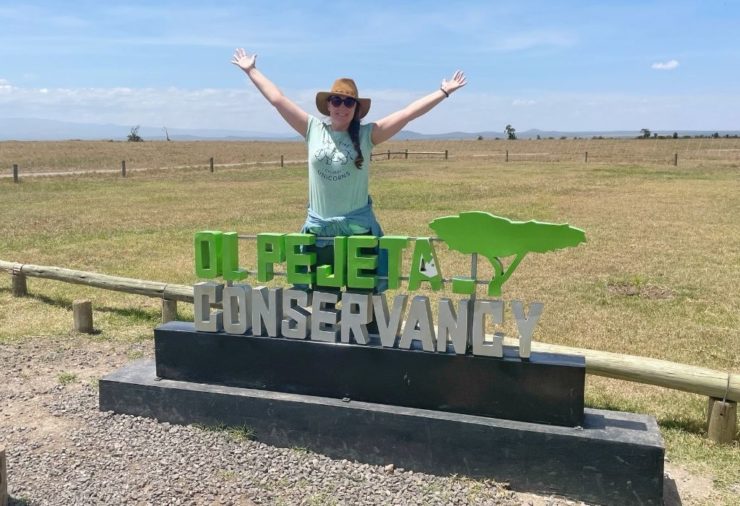 Last updated on October 2nd, 2022 at 10:41 pm
On my recent trip to Kenya, I finally got to visit the Ol Pejeta Conservancy, a privately-owned not-for-profit wildlife reserve in Central Kenya.
Once owned by Lord Delamere, the reserve is now the largest black rhino sanctuary in East Africa, and home to Najin and Fatu, the last two remaining northern white rhinos in the world.
I'd heard a lot of good things about Ol Pejeta over the years, but it completely exceeded my expectations. Within minutes of entering the park, we saw three rhinos.
But it wasn't just the rhinos, Ol Pejeta had so many amazing qualities. It's a beautiful park, with views of Mount Kenya, there is an abundance of wildlife and there are lots of different activities for all ages.
So here's my guide to help you plan your trip to Ol Pejeta Conservancy.
Please Note: Some of the links in this post are affiliate links, which will earn me a small commission at no extra cost to you. Affiliate sales help with the running costs of this site, so thank you for your support!
---
Planning a Trip to Ol Pejeta Conservancy in Kenya – Everything You Need to Know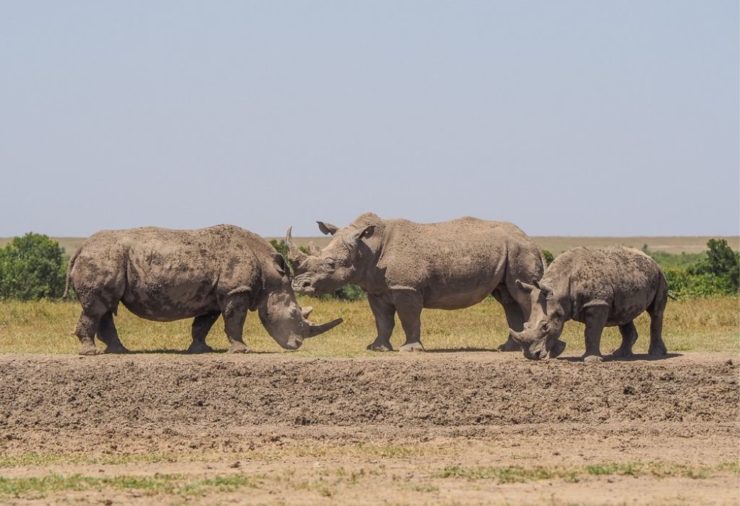 Is Ol Pejeta worth visiting?
Ol Pejeta, in my opinion, is one of the best and most organised safari parks in Africa. They have the Big 5, one of the highest concentrations of rhinos in the world and due to its accessibility and range of activities, it's a very family-friendly safari destination too.
It's a great place to add to your itinerary if you are heading up to Northern Kenya to places like Samburu National Reserve and Lake Turkana. The reserve is also close to Mount Kenya, the second tallest mountain in Africa and one of Africa's best-hiking destinations.
So is Ol Pejeta worth visiting? YES! I can't believe I waited all this time to visit. Add it to your Kenya bucket list… like now!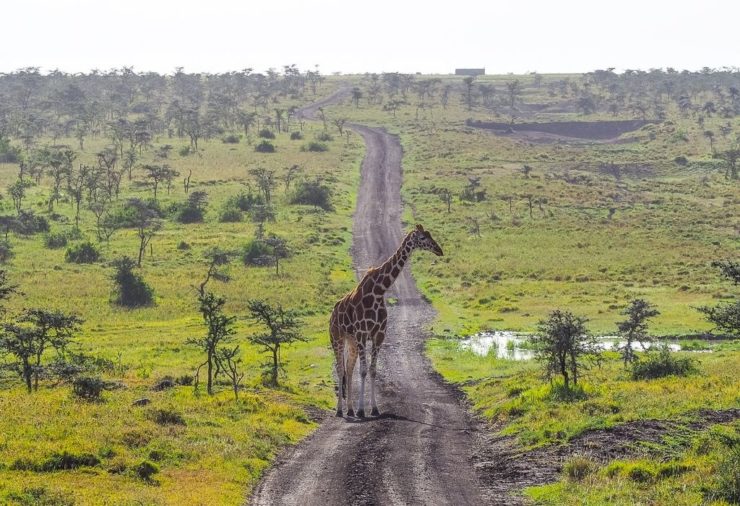 How Do You Get to Ol Pejeta?
We hired a car from Avis and drove north first to Samburu National Reserve and then to Ol Pejeta on the way back to Kenya's capital Nairobi.
Ol Pejeta is a relatively straightforward 4 hour (or so) drive from Nairobi. Having a car was great, as it allowed us to get to and around the park easily.
You can fly to Nanyuki Airport from Nairobi's Wilson Airport with Safarilink or Air Kenya and arrange your pick up from there through your lodge. If you're travelling as part of a tour, your safari company will organise your transfers to and from Ol Pejeta.
If you don't fancy driving, you could travel by public transport (bus) to Nanyuki and arrange trips into the park from there.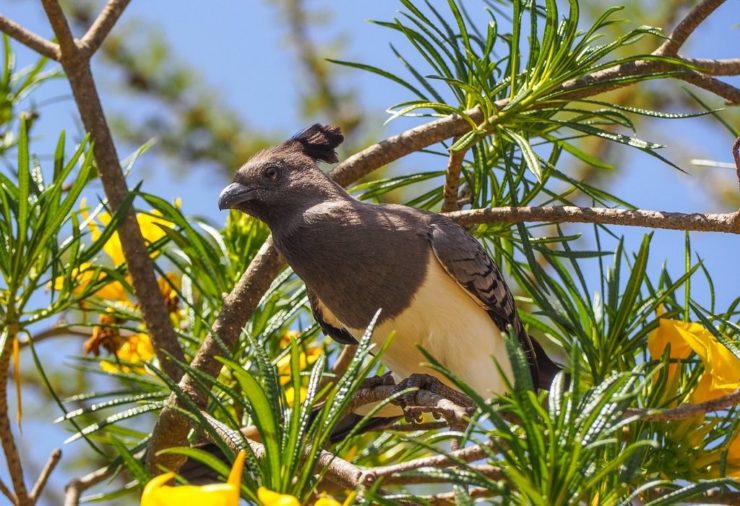 When is the Best Time to Visit Ol Pejeta?
The best time to visit Ol Pejeta is in Kenya's dry seasons, from June to September (cool and dry) or January to February (hot and dry, but nice and green). October is also a good time to visit when prices are lower – you may experience a little rain, but it shouldn't be too much.
The cheapest time to visit is the rainy season in April and May when most of the luxury camps lower their rates by quite a lot, although some close at this time. During the rainy seasons, you will need a 4×4, especially if you are planning to do safaris in your own car.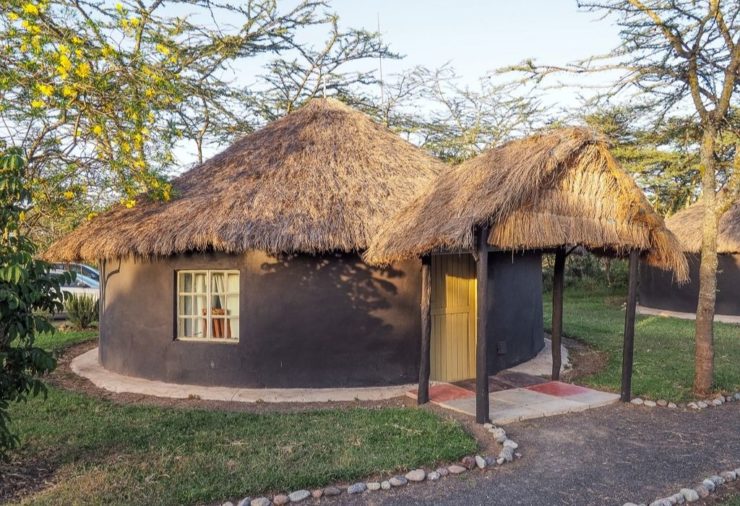 Where to Stay in Ol Pejeta Conservancy
There are a few accommodation options to choose from within Ol Pejeta. Some are managed by the park (camping, The Stables & Pelican House), whilst the rest are privately owned.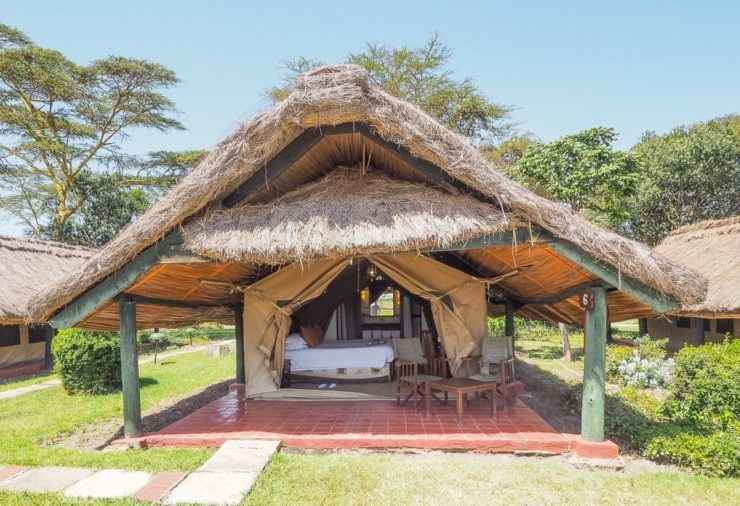 You can also stay outside the park in one of the adjoining parks or in the nearby town of Nanyuki.
You can find more options in Nanyuki and the surrounding areas here.
*Prices are approximate, as of March 2022. The prices quoted are generally for non-residents. Kenyan residents can usually get cheaper rates.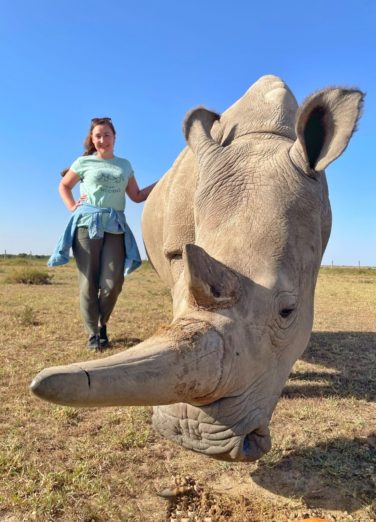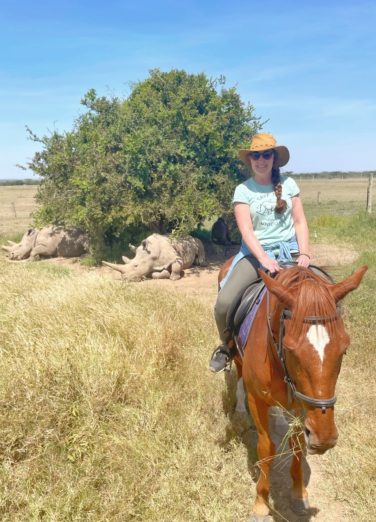 Fun Things To Do in Ol Pejeta Conservancy
There are so many great things to do in Ol Pejeta that you will not get bored! Some of their usual activities are on hold due to Covid-19, but there are still plenty of activities on offer.
Meet the Northern White Rhinos
We got the opportunity to get up close to Fatu and Najin, the last two Northern White Rhinos in existence. They are the daughter and granddaughter of Sudan, the last male of their kind who died in 2018. This was a very moving and beautiful experience.
Ride With Rhinos
One of the other activities we did was to go horse riding through the reserve. When we told my mother-in-law what we were doing, she thought we were 'riding' rhinos. Please be assured that we were NOT riding the rhinos and they'd probably kill you if you attempted it.
This was an awesome experience… a little bit scary, but great! At one point my horse got a little bit too close to two of the rhinos that were lying down and they jumped up causing my horse to bolt briefly. I managed to get him under control within a second, but both of us were a little nervous after that.
Visit the Morani Information Centre (FREE)
If you want to learn about the history of Ol Pejeta and the animals in the park, it's worth taking a trip to the Morani Centre.
Visit the Chimps at the Sweetwater Chimpanzee Sanctuary (FREE)
Chimpanzees are not indigenous to Kenya, however, there is a chimpanzee sanctuary within the park. You can visit between 8.30 am and 12.30 pm and 2.00 pm and 4.30pm and it's free.
They used to offer a 'Behind the Scenes' tour during their feeding times at 7.30 am, 12 pm & 4.30 pm – this cost $90 for adults and $45 for kids, but I'm not sure if this is running currently due to Covid-19.
Go Lion Tracking
We didn't see any lions during our trip, but if they're top of your list, you can book a specific lion tracking safari. During the activity, you will help the rangers gather information on these beautiful cats.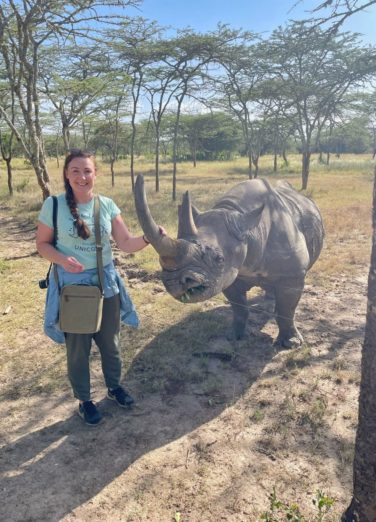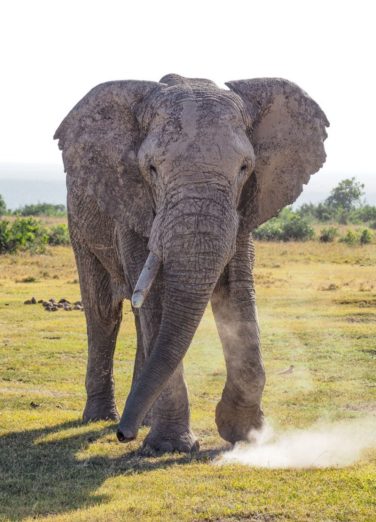 Visit Baraka the Blind Black Rhino (FREE)
If you visit the Morani Centre (the visitors centre and restaurant) you can go and meet Baraka, a blind black rhino. He lost one eye during a fight and the other to cataracts and is unable to live in the wild, so he lives in the reserve. You can go meet and feed him between 10.30 am and 6.00 pm. He's super sweet.
Dog Tracking
The of the most unique activities in Ol Pejeta is the opportunity to spend time with the K9 anti-poaching unit during their tracking practice activities. They encourage you to try and hide from the sniffer dogs… try being the operative word.
Take a Guided Bush Walk
Taking a bush walk is a great experience and very different from doing a safari in a car. The rangers will point out the subtleties of the bush, including animal tracks, birds, plants and droppings – the things you might miss in the car.
Run the Wild
Fancy taking a 5km – 7km run through the park? Then why not take a run with Ol Pejeta's rangers. You will likely see wildlife on your run too.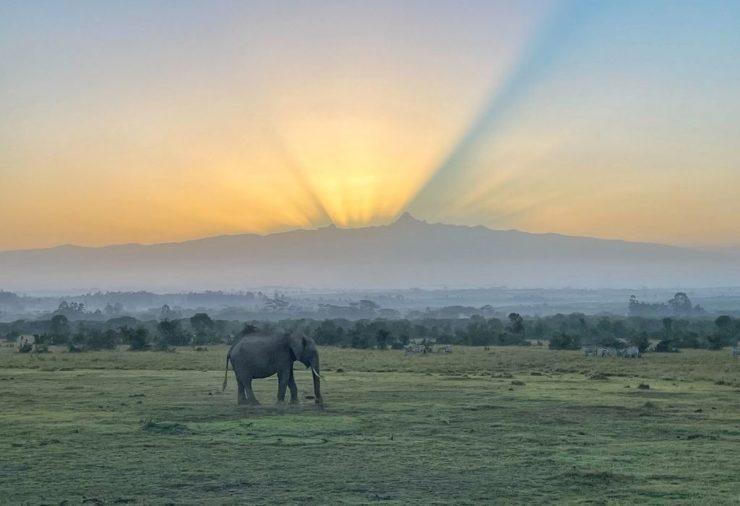 Go on a Game Drive
We had an amazing morning game drive in Ol Pejeta. Our guide picked us up at around 6.30 am and we were out in time to watch the most beautiful sunrise over Mount Kenya.
During the morning we got to see elephants, rhinos and tons of giraffes, but my favourite sighting were the hyenas. Two of the babies were very intrigued by our car and were curiously sniffing all around us.
They offer game drives through the day and at night.
Learn About Livestock Wildlife Integration
If you want to learn about the way Ol Pejeta manages their livestock and creates biodiversity hotspots, then you can spend a couple of hours with the team. Visitors can take part in some of the daily activities, visit the 'predator proof' cattle bomas and see the herd.
Become a Junior Ranger for the Day
If you have kids aged between 4 and 12, they can become a Junior Ranger for the day – this is exactly what I mean about Ol Pejeta being great for families.
You can pick up a pack that includes an activity book, crayons, stickers and a bag. The kids can then work through the activities and games as they explore the park. At the end, they'll receive a ranger hat, certificate, and an honorary pin.
Walk the Ol Pejeta Nature Trail (FREE)
If you fancy stretching your legs, you can do so along the nature trail on the Ewaso Nyiro River. If you'd prefer to go with a guide you can hire one for a small fee.
Visit the Equator Sign (FREE)
On your way in or out of the park, make a quick stop by the equator sign for a picture.
Visit Nanyuki Town
On the surface, Nanyuki is your average, busy Kenyan town… but I actually really like Nanyuki. It's got all the home comforts and there's so much cool stuff within relatively easy reach, I feel like it would be quite a cool place to live.
The Cedar Mall is a good place to pick up supplies and they have a Java House (it's about as close to Starbucks as you can get in Kenya), so you can get your coffee fix. We also had a really nice meal at Jib's Cafe Bistro.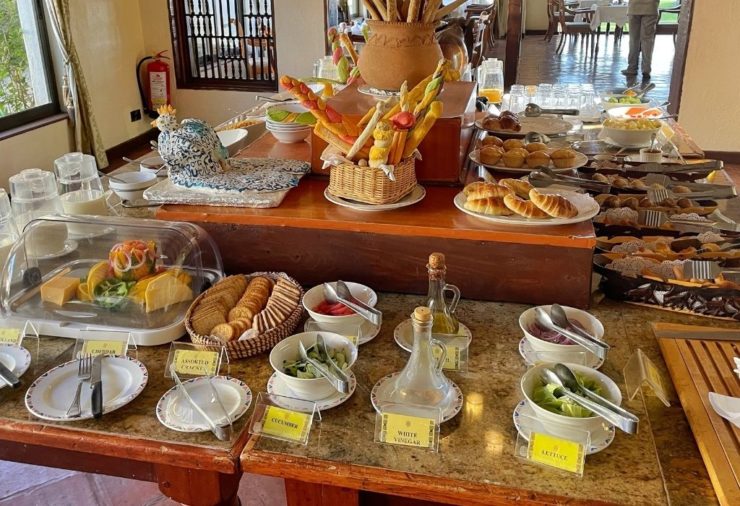 Where to Eat & Drink in Ol Pejeta Conservancy
All of the accommodations in the park offer full-board options. If you're staying outside the park, again, most places offer full board or you can eat at one of the restaurants in Nanyuki town.
If you're camping you can cook for yourself. But if cooking for yourself doesn't sound that appealing, you can eat at Morani's Restaurant at the Morani Centre which is open from 7.30 am – 5 pm. They also do takeaways and frozen meals that you can prepare at your campsite.
We ate at Moranis one day for lunch and it was very nice.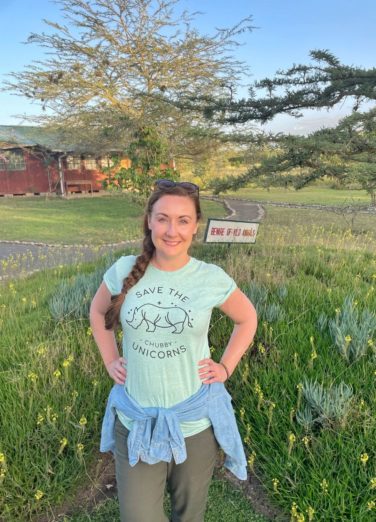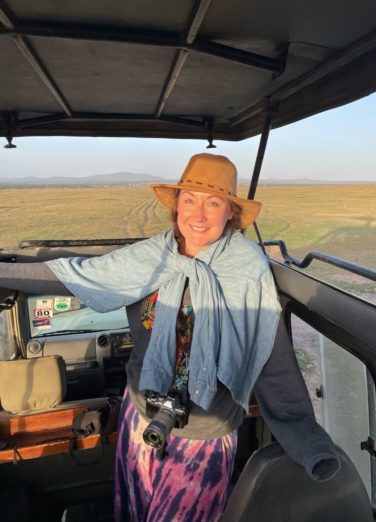 What to Wear in Ol Pejeta Conservancy
Ol Pejeta is at altitude so it can get chilly in the evenings and on early morning safaris (that's me freezing my butt off in the photo above on the right – I forgot my down jacket that morning and it looks much warmer than it was), so I would recommend bringing some warm clothing.
For safari, I generally recommend comfy clothes. Thick pants and long-sleeved shirts are good because they will protect against mozzies or tsetse flies.
If you are planning to go on one of the walking or riding safaris, I'd recommend bringing some green, brown or khaki coloured clothing.
If you're in the car on safari, flip flops are fine, but I always recommend closed shoes for around the lodges, especially when you are outdoors at night.
For more info, check out my full Africa Packing List.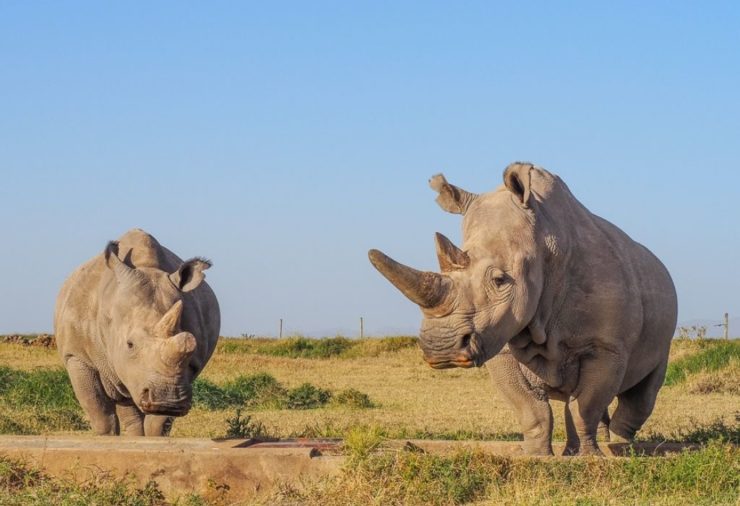 How Much Does it Cost to Visit Ol Pejeta?
The daily park fees for Ol Pejeta:
Non-Residents: $90 (adults) & $45 (kids aged 3 – 11)
East Africa Citizens: 1400 KES (adults) & 700 KES (kids aged 3 – 11)
East Africa Residents: 2600 KES (adults) & 1300 KES (kids aged 3 – 11)
If you're driving in your own car, you'll need to pay the vehicle fee which is $5 per day.
Our costs for 2 people for 2 nights were as follows:
Park Fees: $360
Vehicle Fee: $10
Accommodation at The Stables x 1 night: $110
Accommodation at Sweetwaters Serena Lodge x 1 night: $280
Activities: $329 (1/2 Day Game Drive, Ride with Rhinos & Meet the Nothern White Rhinos)
Food & Drink: $30 (this was lunch at Morani's Restaurant and a couple of drinks at the hotel)
Tips: $60
All of our meals were included with the hotels, however, we ate lunch at Morani's Restaurant one day and bought some extra drinks at the bars at the hotels. We also took some alcohol with us which saved a little bit of money.
Our car hire fees and petrol were on top of this.
Total Spent for 2 People: $1,179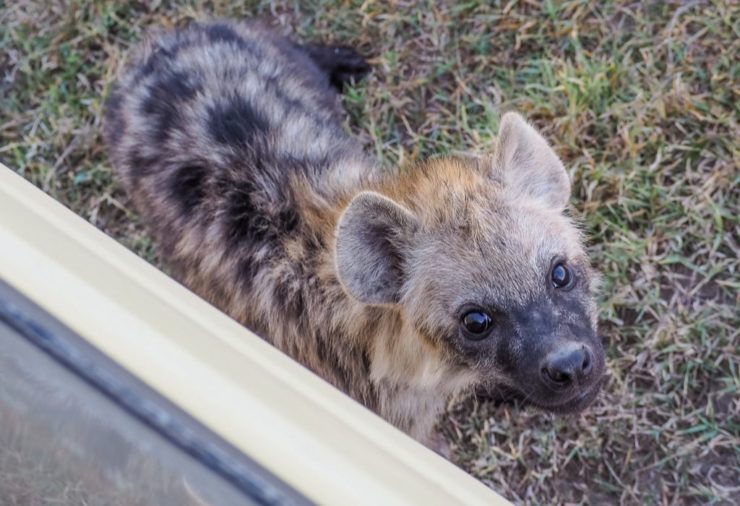 How to Book a Trip to Ol Pejeta
You can book and pay for park fees, vehicle fees, activities and some accommodation directly on the Ol Pejeta website. For the other accommodations, you can book direct with them or by emailing the booking team at Ol Pejeta. Some lodges offer packages and can help you to arrange activities too.
I would recommend booking your activities in advance, especially the more popular ones like visiting the rhinos, dog tracking or lion tracking.
Other Kenya posts you might enjoy…
I hope this helps you plan an incredible trip to Ol Pejeta Conservancy. You're going to love it!
---