Last updated on March 19th, 2022 at 04:48 pm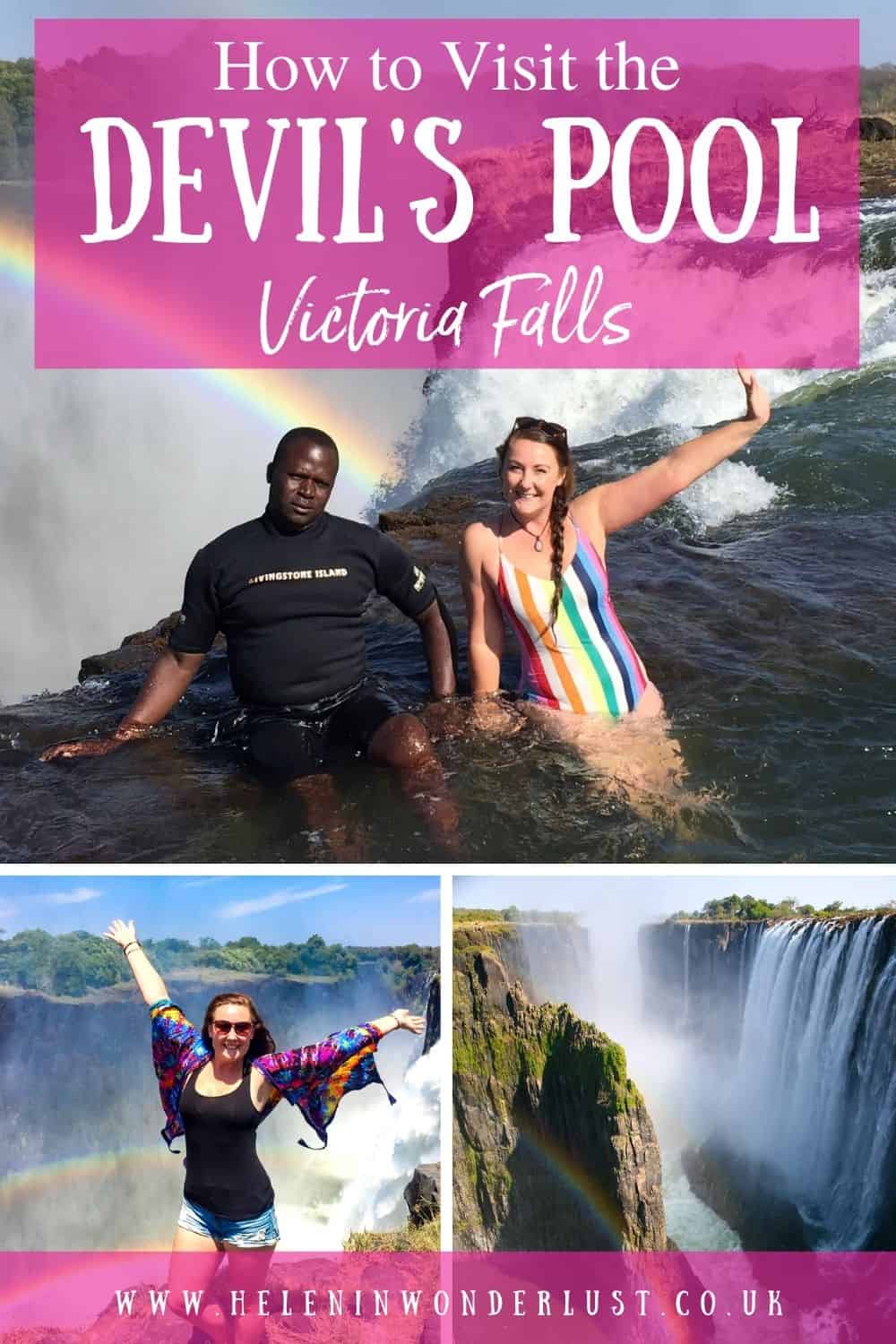 Heard about the Devil's Pool Victoria Falls, on the Zambia side?
Swimming in the Devil's Pool is one of the best things I've ever done whilst travelling in Africa, so much so, that I did it twice (2 years apart). A totally exhilarating experience that I would highly recommend.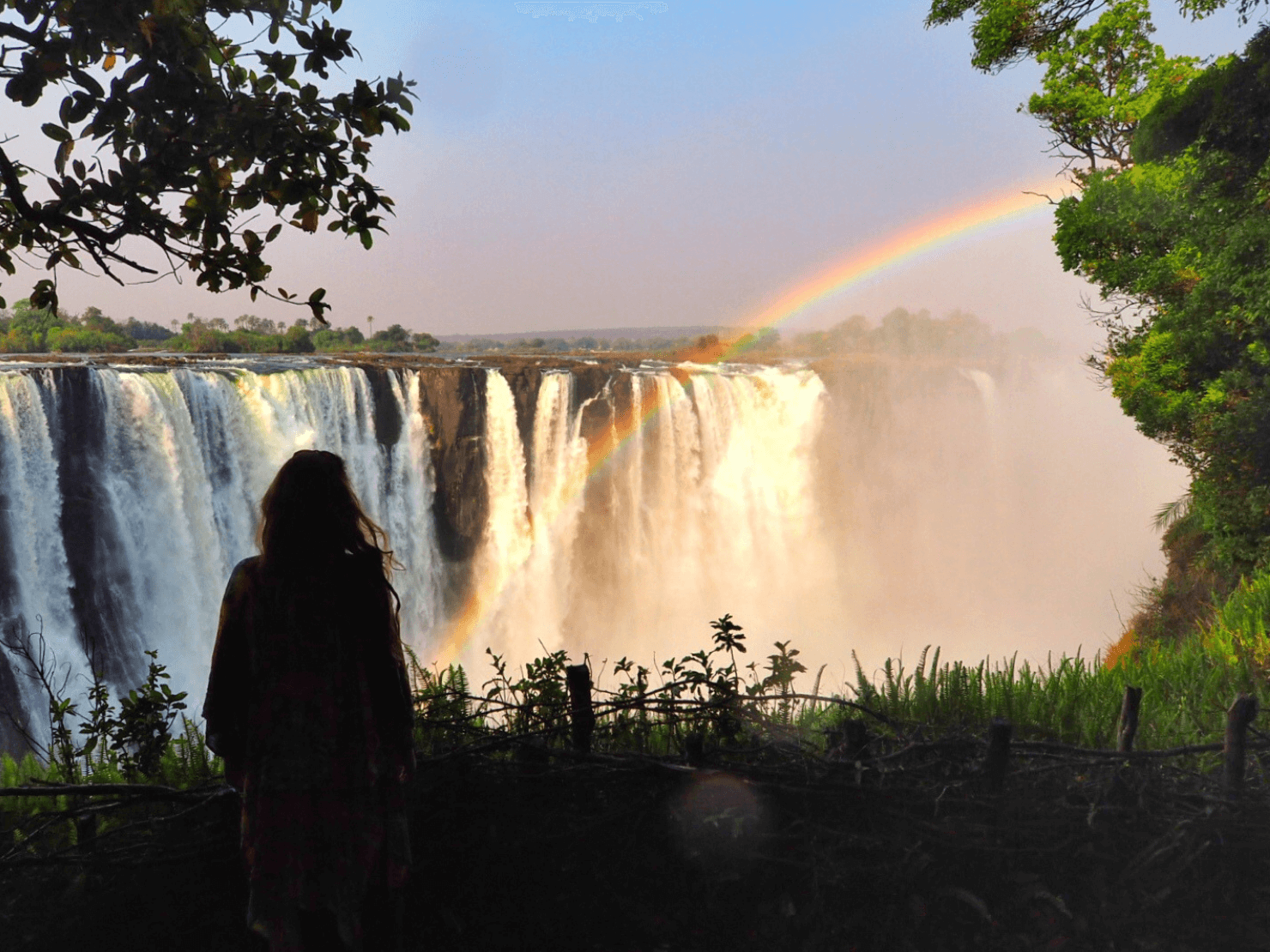 We took a shuttle from our hotel to the boat launch site, which lies between Livingstone town and the Royal Livingstone Hotel, my favourite place for afternoon tea in Livingstone.
Once there, we signed in (and signed a waiver) and were taken by speed boat on a short ride through the Zambezi rapids to Livingstone Island, this in itself is pretty fun, but the best is yet to come.
Livingstone Island sits right in the middle of the Zambezi, at the top of Victoria Falls and when we arrived, we were met with a welcome drink and given a brief history of the island.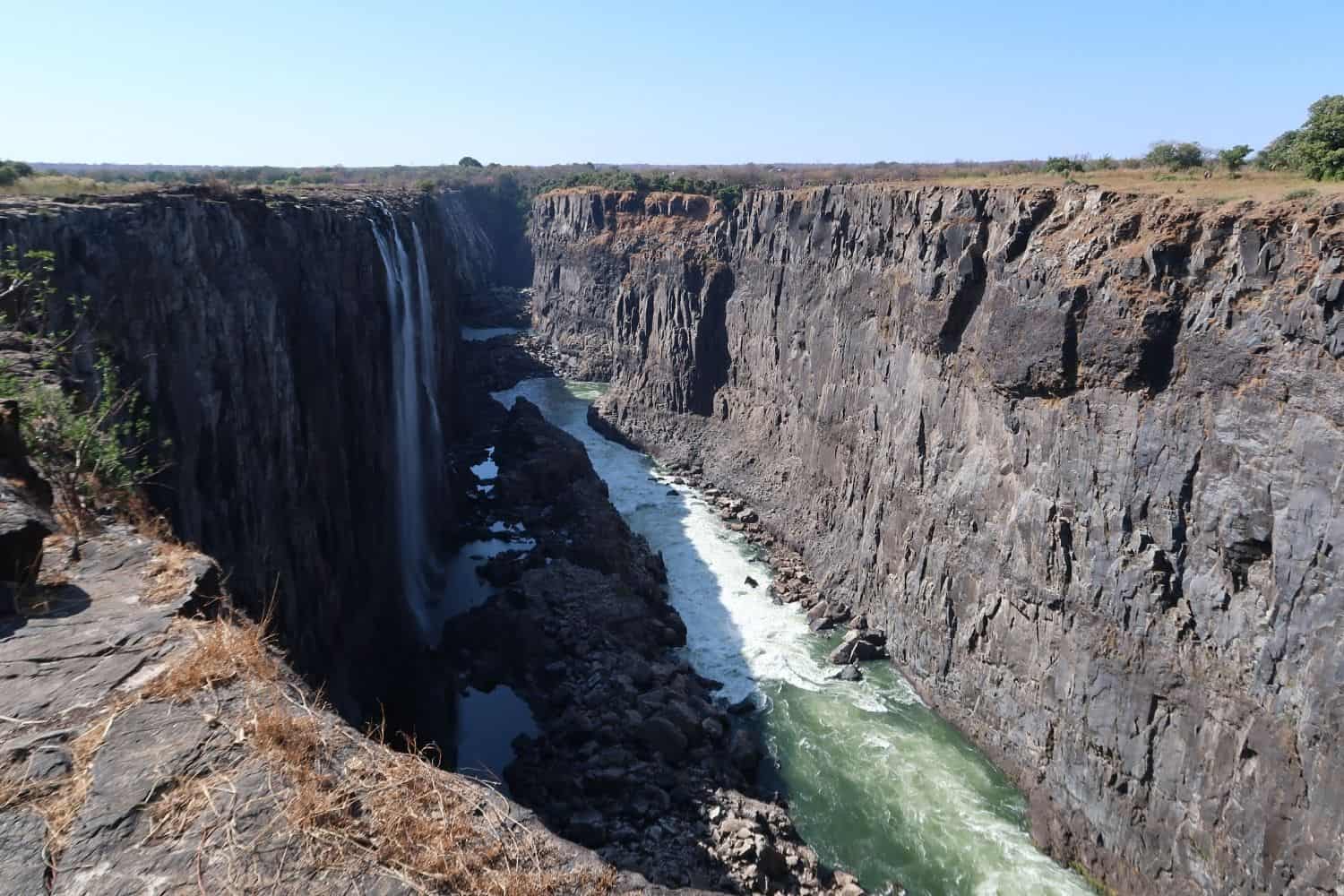 Livingstone Island is the place where David Livingstone first set eyes on Victoria Falls, so is of great significance in the history of Zambia. 
There opportunity to change, use the bathroom and leave anything behind that we didn't need to the swim.
All the while, the chefs were preparing a delicious breakfast for us.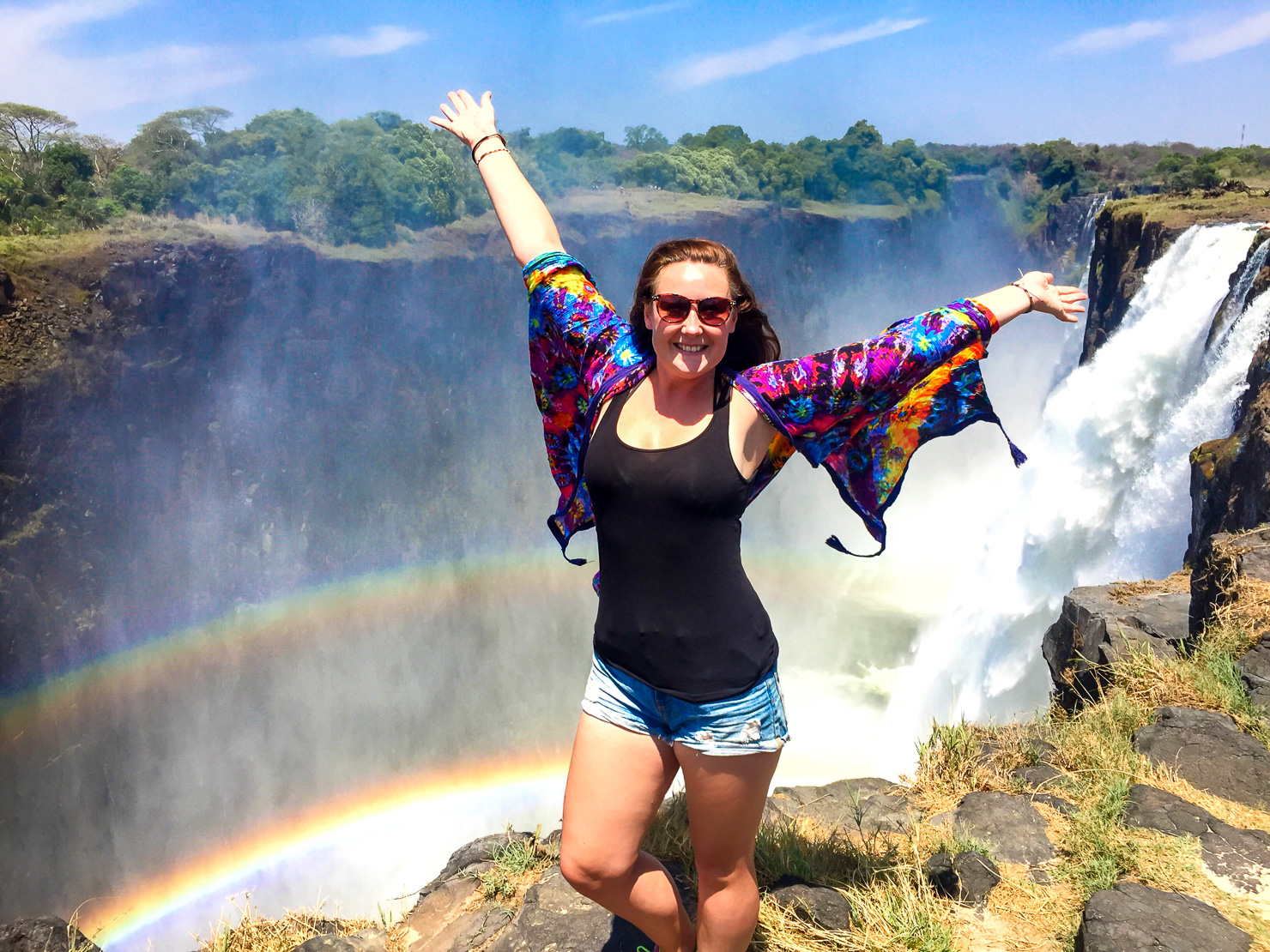 We had a bit of time to take pictures on the island, getting fabulous views of the incredible gorge below. The first time I went was in late October when it was extremely dry.
The second time I went was in August and it was even drier, due to drought. The rains had failed that year, so the pool had stayed open all year. This is highly unusual.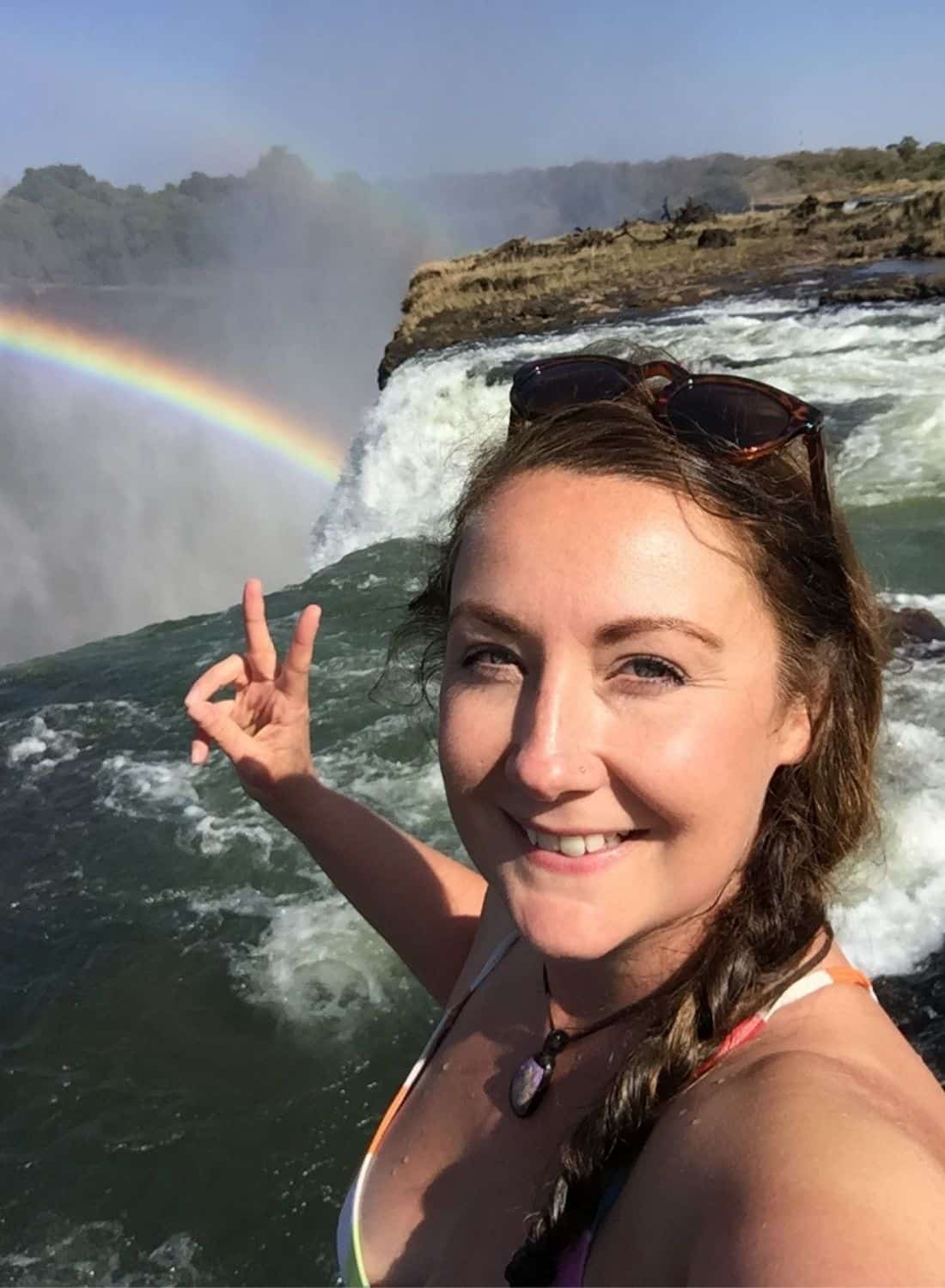 Once we were ready, we handed over our cameras to our guide, who put them in a dry bag and then we made our way to the Devil's Pool Victoria Falls.
This includes wading through the river and scrambling over rocks to get where you are going. I found this really fun but it could be very scary if you don't know how to swim.
It's also pretty cold, especially during the early morning session. But I barely noticed as I was so excited to be there.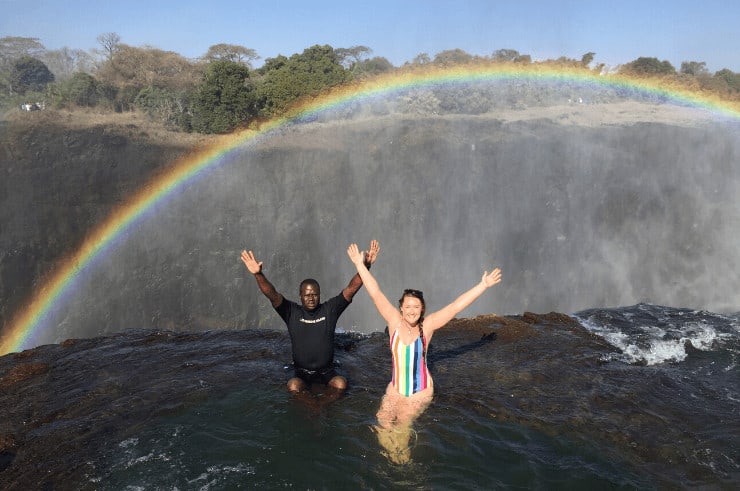 When it was my turn, I identified my phone and in I went. 
The guides often like to show off jumping into the pool, and they sometimes let you do it too. I was fine with just quietly slipping into the pool and carefully making my way to the edge.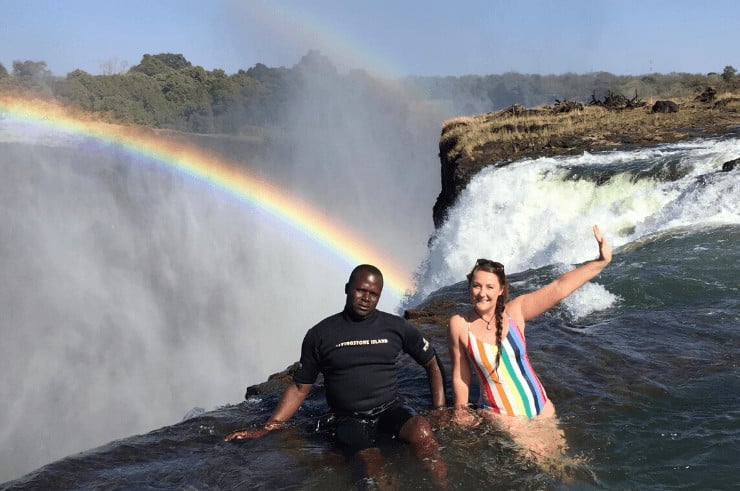 One of the guides helped me get into position (he even held onto my feet so I could lean over the edge), whilst the other was jumping about taking photos and videos. 
The whole thing only lasted a couple of minutes but it was amazing.
After you've had your turn, you can either get out and sit on the rocks, or stay in the pool, but away from the edge. It was fun just watching everyone else!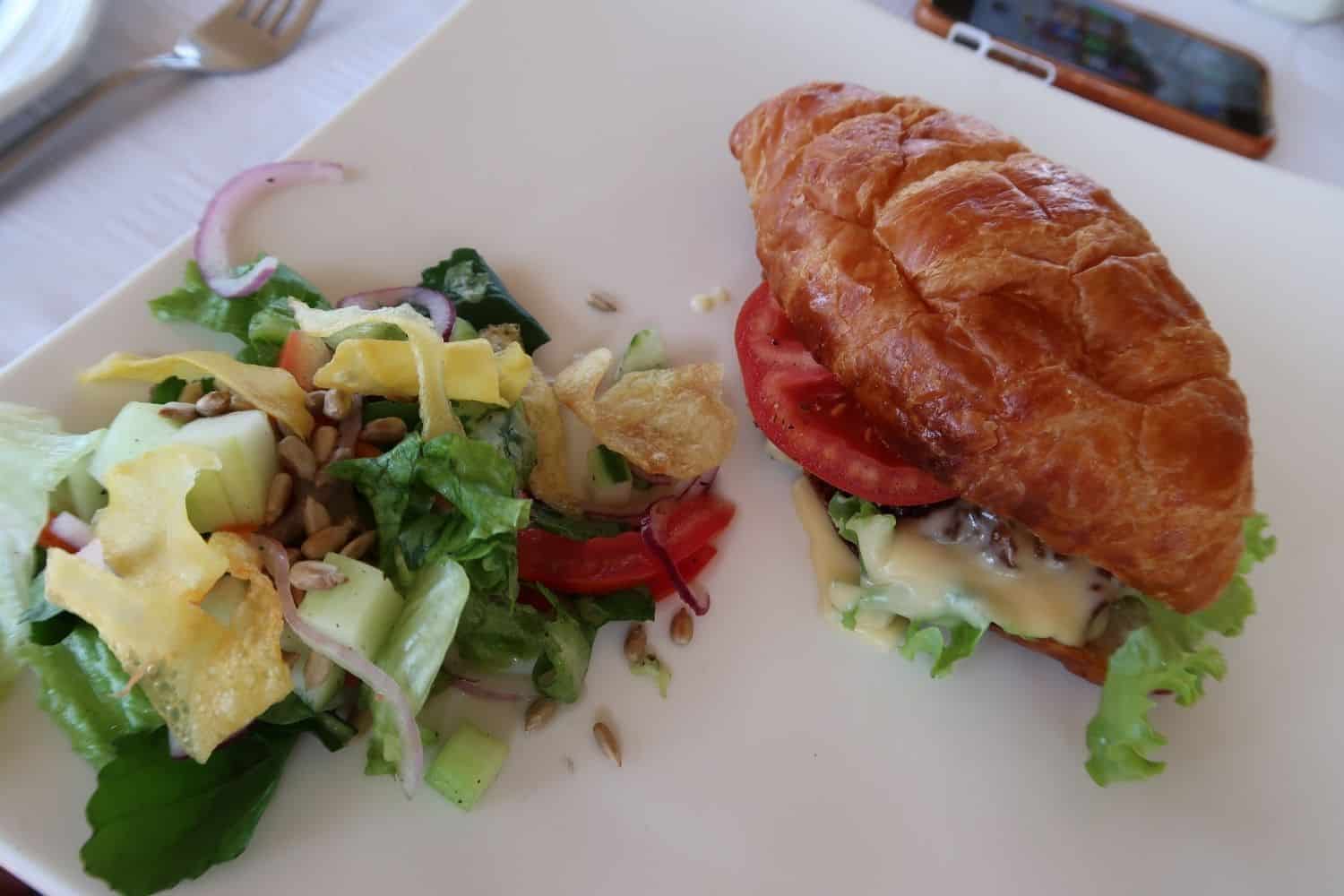 Once everyone had been in, we made our way back to the island where breakfast was waiting. Today we were having a bacon croissant with hollandaise sauce and salad with a cup of tea. It was pretty delicious, I must say!
Once we were all finished, we jumped back in the boat and headed back to the launch site.
What an amazing experience! Definitely, one to add to your Africa bucket list.
Other Zambia posts you might enjoy…
Please Note: Some of the links in this post are affiliate links, which will earn me a small commission at no extra cost to you. Affiliate sales help with the running costs of this site, so thank you for your support!
---
Visiting the Devil's Pool Victoria Falls – Everything You Need to Know
---

How To Book Your Trip to the Devil's Pool
The Devil's Pool Victoria Falls is operated exclusively by Tongabezi Lodge. You can either book your trip direct with them on the Livingstone Island website, or you can book through your accommodation – all of them will have an activities desk. 
You may meet people offering to take you to the island for a cheaper price, but just know that this is illegal and you also cannot go there on your own.
I would definitely advise booking your Devil's Pool trip in advance as there are only so many spots per day and they can get booked up, especially if you want a specific slot and let them know any dietary requirements in advance.
The minimum age is 12.
They have 5 trips per day:
7.30am – 9.00am (includes breakfast)
9.00am – 10.30am (includes breakfast)
10.30am – 12.00pm (includes breakfast)
12.30am – 15.00pm (includes lunch)
15.30pm – 17.30pm (includes high tea)
To get the best rainbows, go early in the morning! In the photos where I'm wearing the rainbow swimsuit, I was on the 7.30am trip.
The lighting in the afternoon is awesome, but the rainbows are in a different position so you can't see them in the photos as they're lower down. You can see the difference between the photo of me and my friends above which was taken in the afternoon, compared with the ones of me alone, taken in the early morning.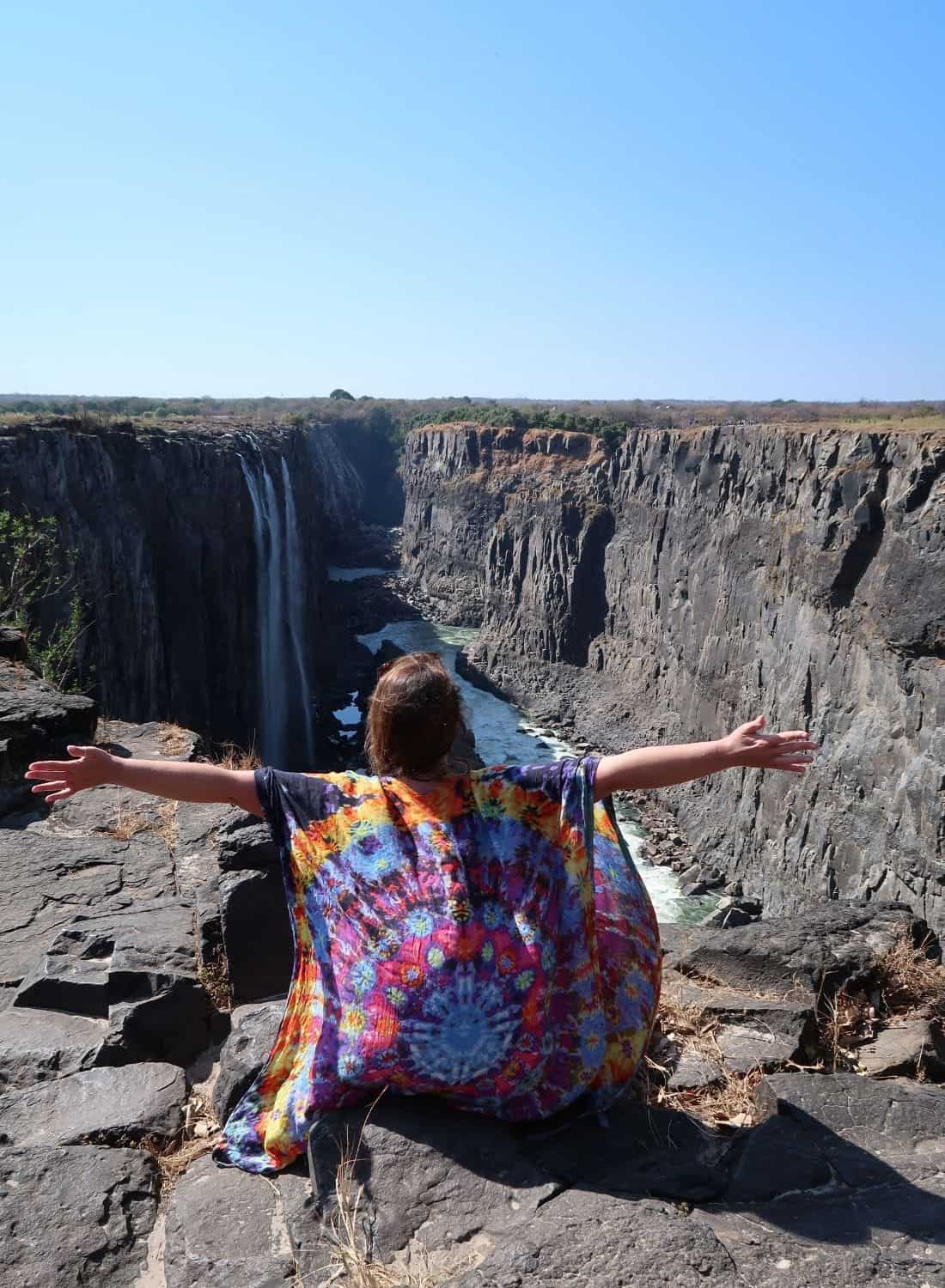 Cost To Visit the Devil's Pool
The breakfast trips cost $110, the lunch trip costs $175, and the afternoon session costs $150.
Inclusions: A gourmet meal, drinks (alcoholic drinks are only available at lunch and high tea), towels, the boat ride from the launch site to Livingstone Island, guides. One of your guides will act as your photographer too (with your own camera). 
What to Wear to the Devil's Pool
To travel there and back, I just wore shorts, a tank top and a kimono with my swimwear underneath. 
The first time I went, I wore trainers the whole time and got them wet. The second time I went, I wore flip flops to travel there and back but took water shoes too for the Devil's Pool. As you have to cross a rocky river, having something on your feet definitely helps.
In terms of swimwear, wear whatever you are going to feel comfortable wearing climbing in and out of the pool, and taking pictures in. Remember that you are in running water, so don't wear anything too loose unless you want to flash some nip.
There is a bathroom on Livingstone island where you can change and they do have storage chests where you can keep anything you are not taking to the Devil's Pool.
FYI – It's bloody freezing in there. I barely noticed as I was so high on life, but my friend was shivering.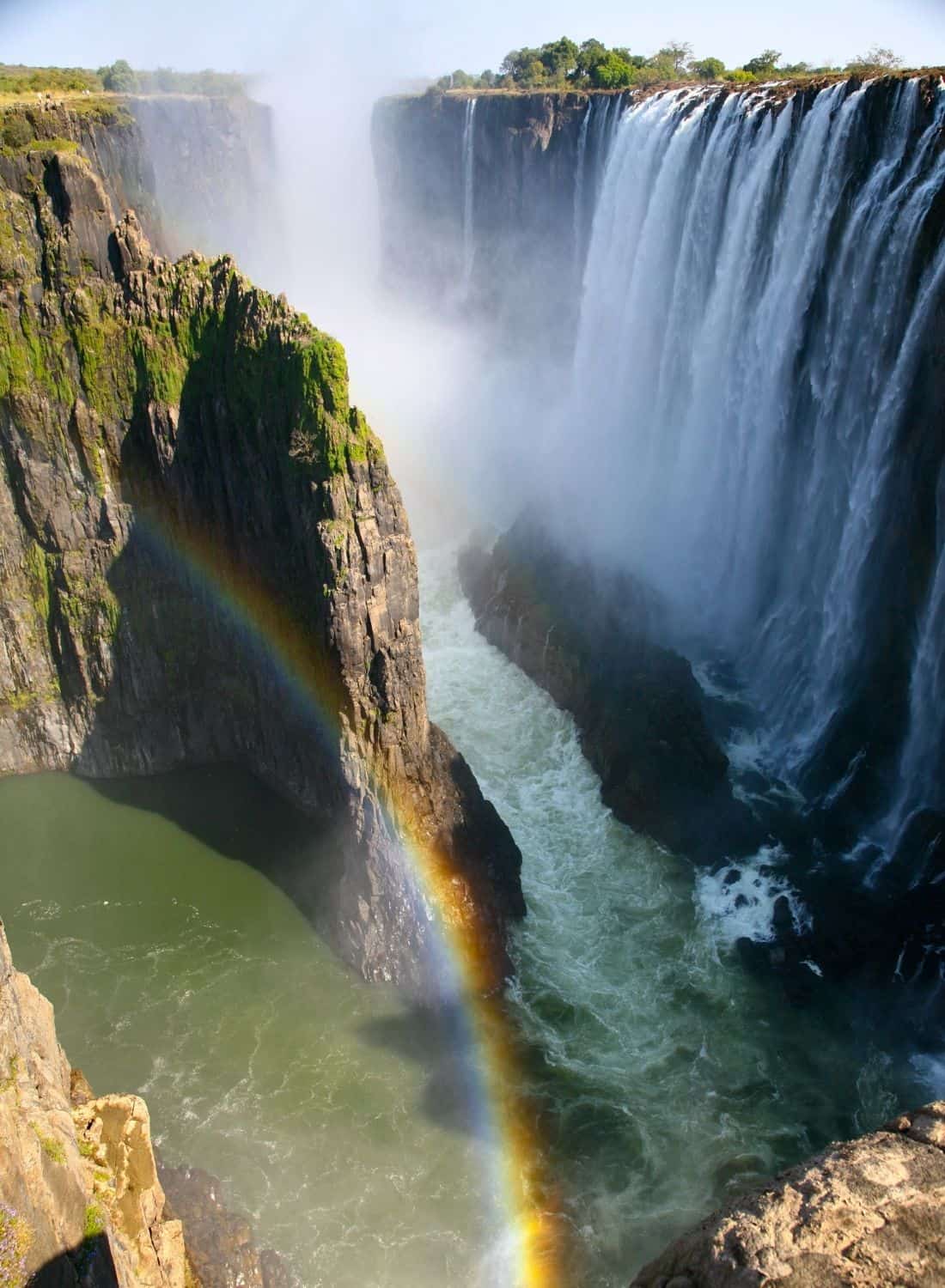 What To Take on Your Trip to the Devil's Pool
There's not much you need to take with you, however, I would take:
Camera: They only allow small cameras into the Devil's Pool – so point and shoots, phones, GoPros, etc. If you have an iPhone, these are great as the guides know how to take videos and photos at the same time. You might also consider a waterproof case if you don't have one already. You can bring your 'big' camera, but you'll need to leave it behind on the island whilst you swim.*
Sunscreen: Apply before you arrive as there won't be much chance once you get going on the trip. Reef safe sunscreens are best.
Insect Repellant: There are mosquitoes around so you will need bug spray, but please bring a natural, non-DEET one as to not harm the environment.
Sunglasses: Always good to protect your eyes and look stylish in your pics!
Hat: You could also bring a hat to protect from the sun.
Water Shoes: You will have to wade through the river to get to the pool, so water shoes are super handy if you have quite sensitive feet like me.
Underwear: If you plan on changing from your wet swim clothes. 
Passport: You will only need this if coming over from Zimbabwe.
Money: If coming from Zimbawe, you will need oney for your Zambia visa ($20 for the Day Tripper Visa), some money to tip your guides (a few dollars is enough), and if you want to buy anything. Usually, $50 – $100 is more than enough but it depends on what else you are doing. 
Towel: They have towels there, but you may want to bring your own.
Day Bag: To carry all your stuff in.
* You give your cameras to the guide when you're on Livingstone Island and then he brings it to the Devil's Pool for you. When it's your turn, you'll identify your camera and he takes the pictures so you can just have fun! They takes loads of pictures – so you'll have a lot to choose from! Just make sure to free up space on your device. No drones are allowed.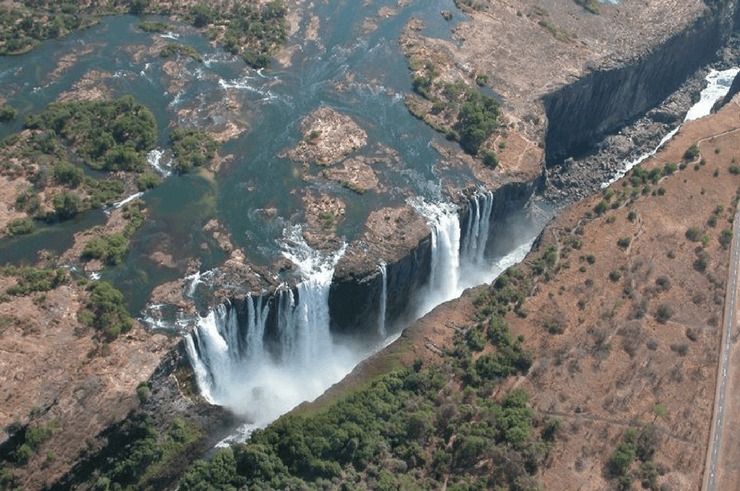 Safety at the Devil's Pool
By visiting the Devil's Pool Victoria Falls, you are by no means risk-free. However, there have never been any deaths from any tourist trips to the Devil's Pool and the guides are there to keep you safe.
The most risk is probably from cuts and scrapes if you fall over on the way, or catch yourself on a rock.
You walk through the river in a chain for some parts and there are ropes to hold onto as you cross. The guides are there with you, so in that respect, it feels very safe. 
If you don't like water or aren't a very good swimmer, this could be quite a scary experience. So you might want to skip it altogether or stay with the guides. Tell them if you are worried and they'll give you extra support.
Once you arrive at the Devil's Pool, you may feel a bit nervous at being at the edge of a 108m waterfall.
The 'pool', is just a dip in the rocks, a bit like a natural infinity pool. It is a bit scary, but fun too and the guides are there, telling you where to get in, where to swim and they hold onto you too. So, whilst it is very thrilling, it doesn't feel unsafe at all. 
I was mildly apprehensive, but it was more exciting than scary and I'm a bit of a wimp – I hate heights and would never go skydiving or bungee jumping. 
The thought did cross my mind about what would happen if the rocks at the edge gave way, but then I quickly put that out of my mind. They've been there for millions of years, so that would be very unlikely.
If you follow the instructions of your guides, then you should stay perfectly safe. However, it's always good to have comprehensive travel insurance, whenever you travel to Africa.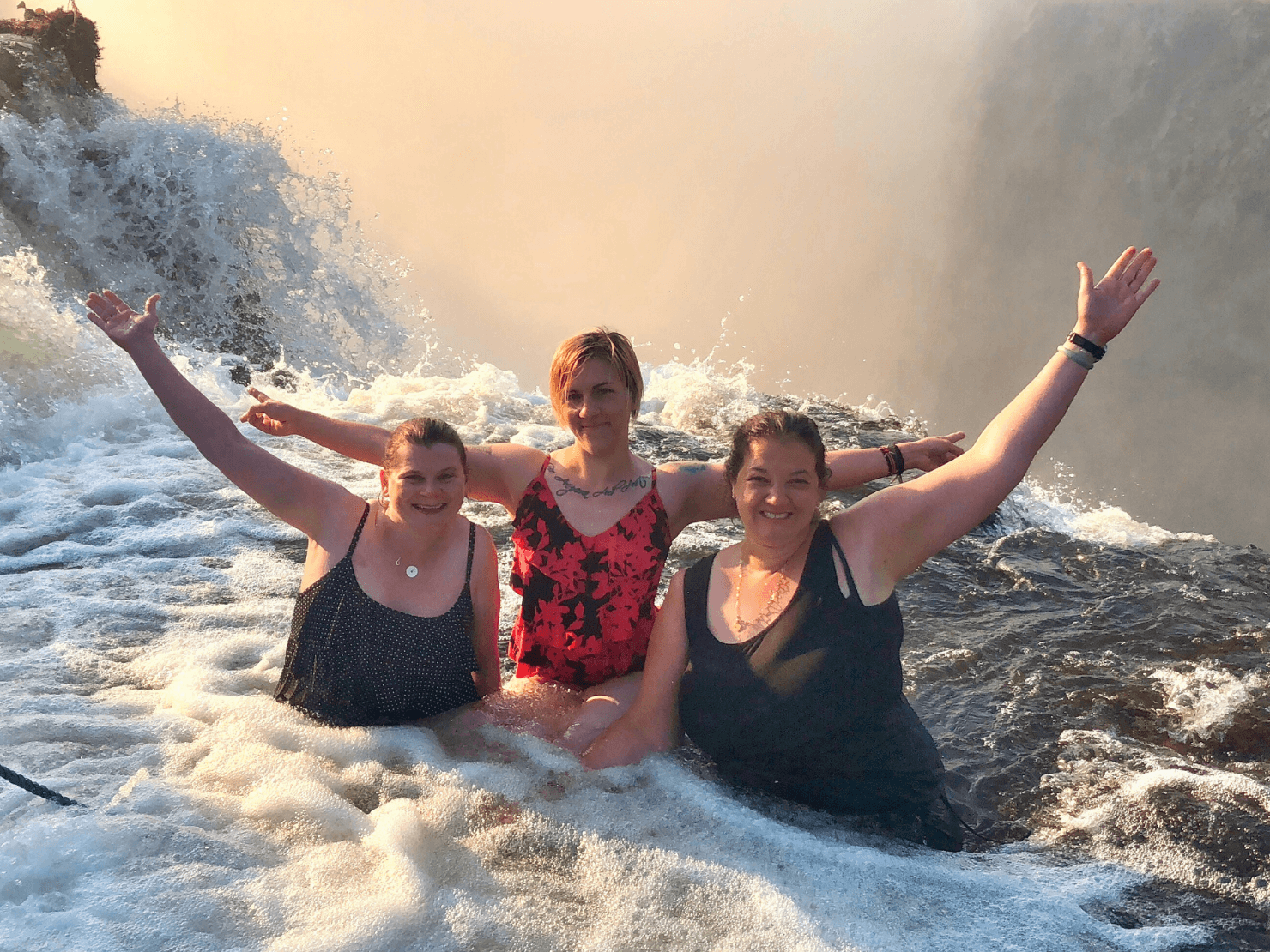 Best Time to Visit the Devil's Pool
The Devil's Pool is only open during the dry season, when there are low water levels, usually from around mid-August to mid-January. However, you can never 100% guarantee the timing as it depends on the rains.
In 2019 the Devil's Pool actually stayed open all year due to drought. The water levels were super low when I went in mid-August 2019 because the rains didn't come that year.
However, do not worry, if the Devil's Pool is closed, the Angel's Pool (above) is usually open. The Angel's Pool is similar but further back from the edge.
During very high water, the island can close altogether.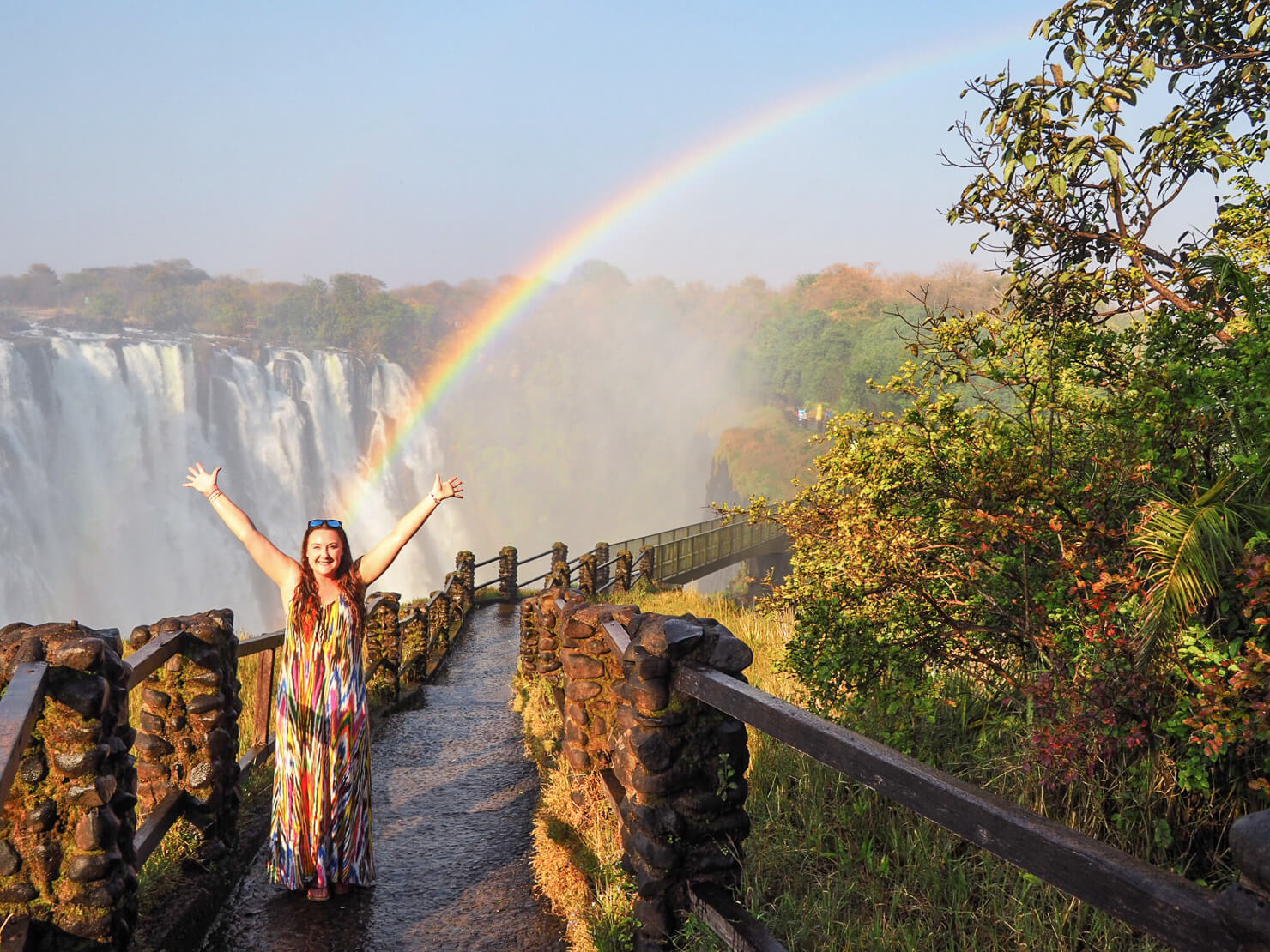 The Weather in Zambia
Zambia has a couple of distinct seasons…
April – Mid-November: This is the dry season. Around April/May, the falls are in full flow. The water levels then start to drop throughout the season. By November the falls are just a trickle on the Zambian side so you won't see much water at all, so if you want to see gushing water, you'll either have to go to the Zimbabwean side or take a trip to the Devil's Pool.
Mid-November – March: This is the rainy season, when the river begins to fill back up again. By March the falls are bursting, so it's hard to see them up close.
The coolest time of year is between June and August. The hottest time of year is October to February.
READ MORE: Best Time To Visit Victoria Falls in Zambia & Zimbabwe: Everything You Need To Know
How to Get To the Launch Site
If you're in Livingstone town, you can either get a taxi to the Devil's Pool Victoria Falls launch site, which shouldn't cost more than around 60 ZMK (around $3) – it usually costs 60 ZMK to the falls, and you are not going that far – it may have gone up a little since I wrote this, so check with your accommodation. Some hotels also offer a shuttle bus.
If you do organise your own transport, let them know when they need to pick you up.  
If you're travelling from Zimbabwe, you should be able to get a shuttle from your hotel. Alternatively, if you want to do it on your own…
Make your way to the Zimbabwe border and sign out. The Zimbabwe border post is very close to town, right next to Victoria Falls.
Walk to the Zim Zam bridge, go across the bridge, walk to the Zambian border post (takes about 25 minutes).
Sign in to Zambia.
Then catch a taxi on the Zambian side (there are usually a few waiting outside). It's not far, so shouldn't cost you much. I wouldn't advise walking though as the road is dangerous and there could be animals (elephants) around.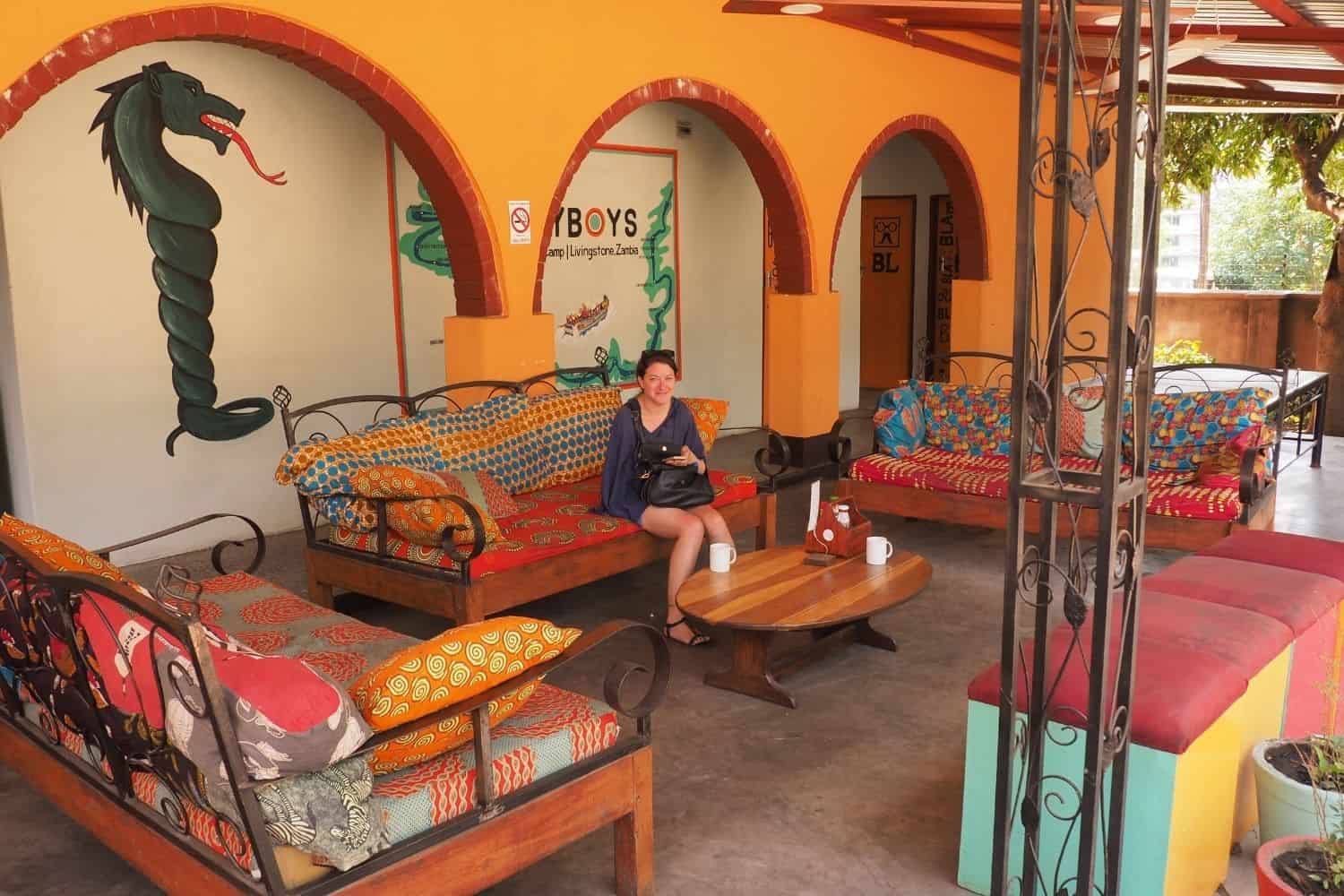 Where to Stay in Livingstone
Livingstone is a great town with plenty of accommodation options. Some of my favourites include:
Would you like to visit the Devil's Pool Victoria Falls?
---
Join one of my Zambia group tours or buy my Backpacking Africa e-book!