Last updated on April 12th, 2023 at 09:41 am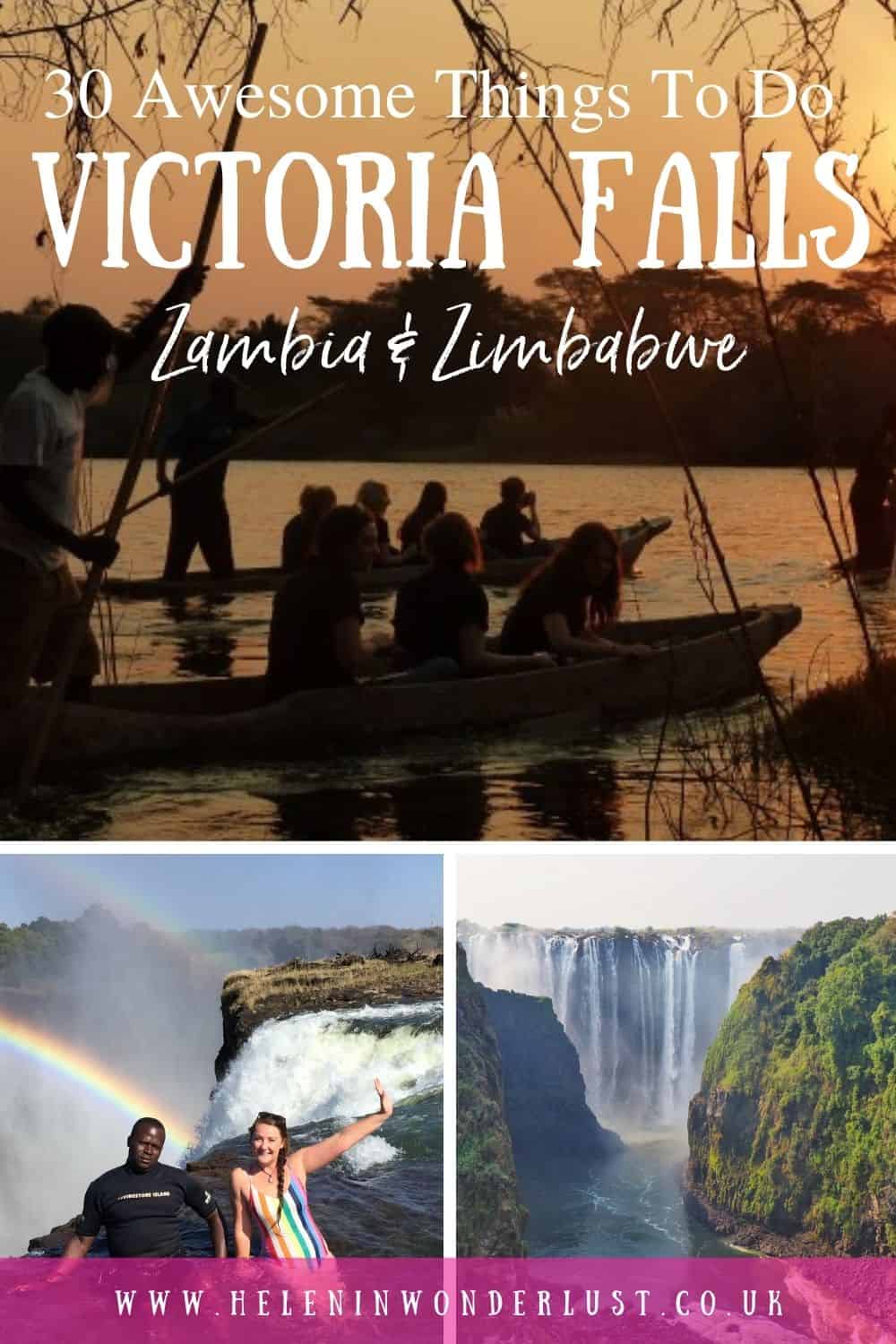 The towns of Livingstone in Zambia and Vic Falls in Zimbabwe sit on either side of the world-famous Victoria Falls.
I first visited this region in 2009 as a volunteer in Livingstone, in fact, it was the first place I ever visited in Africa and it was love at first sight! Zambia is still one of my favourite countries in Africa.
To this day, Livingstone, Victoria Falls and the Zambezi River are my happy places and I often rest here in between tours. 
I love showing my Rock My Adventure groups around my African 'home' because as well as being a stunning part of the world, there's just so much to do and see, so you never get bored! You could spend weeks here and still not run out of things to do (although unless you're loaded you'll probably run out of money).
Unfortunately, there aren't many cheap or free things to do at Victoria Falls, but there are a few!
A lot of activities are offered from both sides but some just operate on one side, however, you can easily cross the border between the two countries, especially if you have the KAZA visa (read more about this visa here).
Many of the activity providers offer complimentary transport from either side, so check at the time of booking.
So with this list, I aim to give you some ideas of the best things to do at Victoria Falls to help you plan your time there! 
---
30 Best Things to Do at Victoria Falls (Zambia & Zimbabwe)
---

1. Visit Victoria Falls from the Zambian Side
Victoria Falls is one of the seven 'Natural Wonders of the World' and you will completely understand why when you see it for yourself. The first time I went I was absolutely blown away, in fact, I still am, despite visiting many times since.
Victoria Falls lies both in Zambia and Zimbabwe and you can visit from both sides. The local name is Mosi-oa-Tunya, meaning 'The Smoke That Thunders'.
From the Zambian side, you can stand at the top of the falls, walk along the Knife Edge Bridge (pictured above) and walk down to the Boiling Pot near to the bottom of the falls for a number of perspectives.
You don't really need a tour of the falls and it's fine to just wander around at your leisure, taking pics and enjoying the view. However, if you want a bit more information or don't feel confident about going alone, you can book a guided tour.
The best trail for photographs is the Knife Edge Bridge Trail (despite one of the others being called the Photographic Trail). For more info on visiting Victoria Falls, see the link to my guide below.
READ MORE: Visiting Victoria Falls in Zambia & Zimbabwe: Everything You Need To Know
2. Go White Water Rafting on the Lower Zambezi
Quite possibly the most terrifying day of my life, but fun nonetheless…
The Zambezi is known for having the wildest white water in the world, with a number of grade 5 rapids on the route (and a grade 6 which you have to walk around) plus tons of ominous rocks just to keep you fearing for your life on the edge of your seat.
Last time I went we must have flipped around 3 or 4 times and due to the rapids being so close together, I didn't even have chance to get back in the boat before we entered the next rapid, which meant I had to swim/float along until one of the safety kayaks could get to me. Scary but fun!
You see, unlike rafting the Nile (or what's left of it) the rapids on the Zambezi are very close together, so you are in for a real work out! The slog is worth it though for the views alone.
There are a number of white water rafting trips you can book, or you can book when you're there – either direct with the companies or via your hotel or hostel.
Operated From: Zambia & Zimbabwe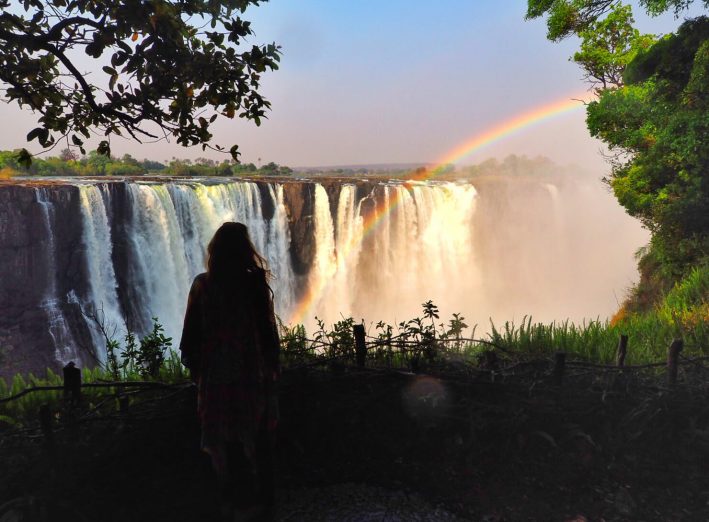 3. Visit Victoria Falls from the Zimbabwe Side
The general consensus seems to be that the views are better from the Zimbabwe side, as you get a longer, more complete view of the falls, which is definitely true, especially as you wander further down the trail. However, whether that's 'better' is totally up to the viewer. I love both sides.
I talk more about Victoria Falls and when to visit, where to go and why in this post.
During the dry season, the water on the Zambian side of the falls starts to dry up which means that from some parts of the trail you can barely see any water, so you'll need to visit the Zim side to see the gushing water you see on pictures.
The rains start again around mid-November, and even then it takes a while for the river to fill up again, usually peaking around April and May.
The above photo was taken in Zimbabwe in September. If you go, I'd recommend you visit both sides of the falls either way!
4. Go on a Canoe Safari On the Upper Zambezi
If you want something similar to rafting (but not quite as wild), try a canoe safari on the upper Zambezi.
This is generally a nice and relatively relaxed day, although if the wind is strong and fighting against you, you'll need to be prepared to paddle like crazy.
You will still get the odd adrenaline rush though…
The canoeing trips take place on the upper, more calm part of the Zambezi River, which may sound a bit less hectic than the rapids, but we also came pretty close to hippos and crocs which will get your heart racing.
Let's put it this way, I've never paddled so fast in my life!
Operated From: Zambia & Zimbabwe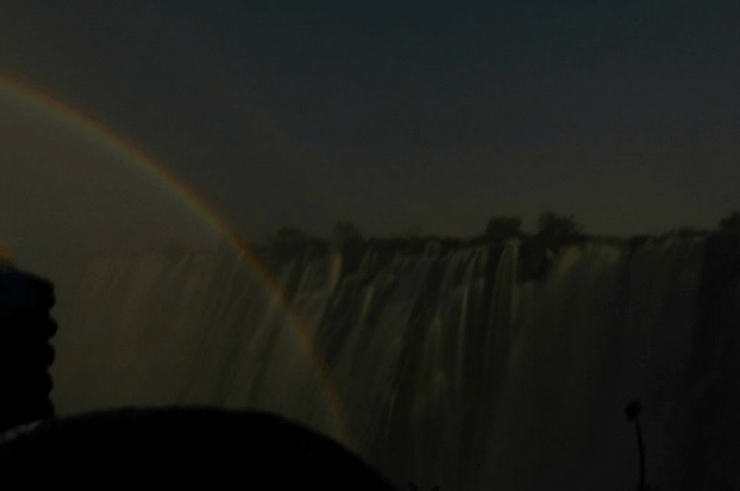 5. See the Lunar Rainbow or Moonbow
On the night of the Full Moon (plus the night before and night after), Victoria Falls opens in the evening so you can enter to see an incredible spectacle appear, the Lunar Rainbow or Moonbow as it's sometimes called.
The bright moon causes the spray to form a rainbow, as the sun would do in the day time. I've been to see the lunar rainbow a couple of times and it really is a cool experience.
The Lunar Rainbow is best viewed during the high water season (April – July) and whilst can see it from both sides, they say the best place to see it is from the Eastern Cataract on the Zambian side and the best time is the early evening around 7.30 – 8pm.
However, if it's cloudy and you can't see the moon, there won't be a Moonbow! And I've never been during low water, so I'm not sure whether you can actually see it, but I believe there are tours running all year, so maybe you can – but I'd check before you go if that's what you really want to see.
Again, you don't need a tour, you can just visit the falls at night. Just make sure to take good shoes, a torch and something to protect your camera.
If you want to take photos of the Moonbow, you'll need a tripod and a camera which has long exposure capabilities.
Excuse the photo, this was taken a long time ago. Definitely need to go back and take another with my current camera.
Operated From: Zambia & Zimbabwe
6. Go Quad Biking Around Livingstone
Fancy seeing Livingstone by quad bike? Well you can!
There are a couple of different of options for you to choose from. The first is a ride through the Zambian bush, where you have the opportunity to see the animals that live in the national park.
The second takes you through one of the local villages where you can meet and interact with the local people.
On the route, you will also get the chance to stop at some amazing viewpoints to see the gorge in all its glory.
Operated From: Zambia

7. Swim in the Devils Pool (Livingstone Island)
This is one of my favourite activities, where you get a tour of Livingstone Island, the spot where David Livingstone first saw Victoria Falls followed by the chance to sit and swim (I use the term swim loosely) in a pool at the very edge of Victoria Falls.
It's very exhilarating and a great experience (if pretty expensive).
Once you've finished your daredevil adventure, you get a nice meal (breakfast, lunch or afternoon tea) on Livingstone Island.
The Devil's Pool is only open during low water, from around mid-August to mid-January and I'd advise to go in the morning for the best rainbows.
I would definitely advise to book the Devil's Pool in advance to avoid disappointment. Prices vary with breakfast being the cheapest and high tea being the most expensive.
For the record this is one of my favourite things I've ever done in Livingstone.
Operated From: Zambia
8. Dine on a Steam Train
One of the more luxurious experiences in Livingstone and Vic falls is to dine on either the Bushtracks Express or the Royal Livingstone Express.
The aren't cheap but it will be an experience you won't forget and your ticket includes a stop on the Zim Zam Bridge for sunset, a welcome drink upon arrival, a 5-course meal, drinks (with some exclusions – spirits and champagne are extra) and transfers from your hotel.
Bushtracks Express leaves from Victoria Falls (Tuesday & Friday) and the Royal Livingstone Express leaves from Livingstone (Monday, Wednesday & Saturday). They are run by the same company so I assume the experiences would be very similar.
You can also hire them out for private functions. Book your Victoria Falls steam train dinner experience here.
Operated From: Zambia & Zimbabwe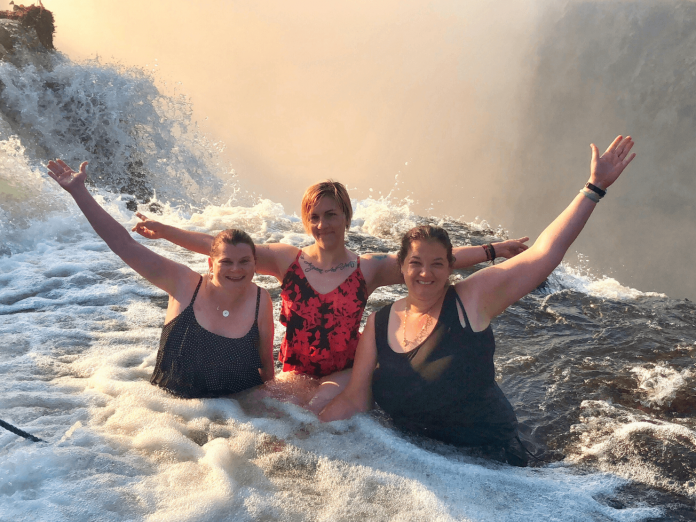 9. Swim in the Angel's Pool (Livingstone Island)
If the Devil's Pool is closed, don't worry, you may be able to swim in the Angel's Pool (usually open July to August and January to mid-February). You won't be right on the edge as you are for the Devil's Pool, but it's still an awesome experience and makes for even cooler pictures I think.
The set up is the same as the Devil's Pool, with a tour of Livingstone Island and breakfast, lunch or afternoon tea included in the price.
Again, I'd probably book in advance to avoid disappointment. For the purposes of the booking sites, they just call it Devil's Pool, regardless of whether it's Angel's Pool or Devil's Pool.
Operated From: Zambia
10. Go Jet Boating in the Gorge
If you want an adrenaline rush of speeding on the Zambezi but without having to paddle yourself, go jet boating!
A jet boat is a purpose-built speed boat which is capable of doing daredevil turns and spins!
A trained captain will take you for a scenic trip through the Bakota Gorge at the bottom of the falls, before things start to speed up and get a bit exhilarating! It's quite the adrenaline rush!
There is a bit of scrambling required to get down to and up out of the gorge, so you'll need a good level of fitness and you'll need to wear good shoes.
On the way back, you'll drive through some of the villages and last time I did it, we even got out and played a game of football (soccer) with the kids.
Operated From: Zambia & Zimbabwe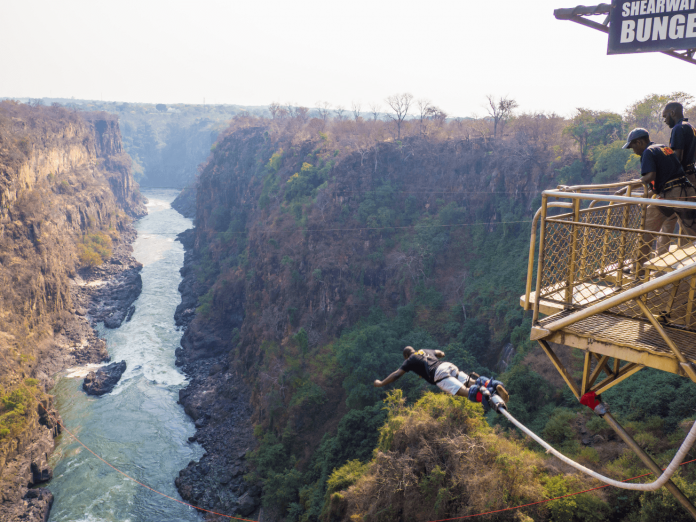 11. Go Bungee Jumping Off the Zim Zam Bridge
If you've ever felt the need to jump off a bridge attached to a rope (for the record, I haven't), then there aren't many better places in the world to do it than from the Zim Zam Bridge which connects Zambia and Zimbabwe.
It's not the highest bungee jump in the world, but it is definitely one of the most spectacular, with Victoria Falls behind you, Zambia to your left, Zimbabwe to your right and the Zambezi River stretching out below you.
The view from the bridge alone is worth the journey, even if you're just a spectator.
Book you bungee jump here.
Operated From: Zambia & Zimbabwe
12. Swing Off the Zim Zam Bridge
The gorge swing is similar to the bungee, however instead of being attached to a rope attached to the bridge, you are attached to a rope that is attached to another rope which stretches across the gorge, with a harness around your waist (instead of feet).
You then jump off the Zim Zam Bridge, drop and then swing through the gorge. Makes me feel sick just thinking about it. You can book using the link above.
Operated From: Zambia & Zimbabwe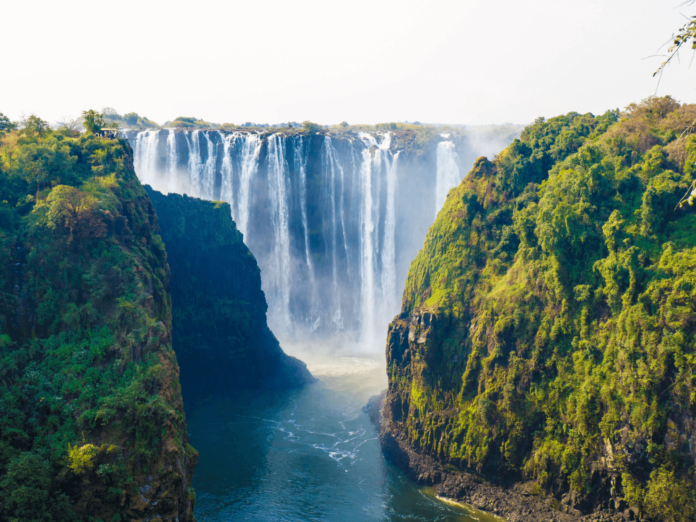 13. Walk Along the Zim Zam Bridge
If you go bungee jumping or do the gorge swing, you're going to walk across the Zim Zam Bridge anyway.
But if you don't do either of those activities, I'd still recommend that you walk across to watch the bungee and take in the view of the falls from the bridge – it's incredible.
In fact, it's probably one of my favourite views of the falls, looking all Lord of the Rings and Jusassic Park-esque! And the best bit is – it's free (apart from the transport there and back).
Just remember that you will need your passport to get onto the bridge and if you want to go across to the other side and into the other country – whichever that may be – you will need a KAZA visa or else you will need to pay for more visas. More info here.
Operated From: Zambia & Zimbabwe
14. Participate in the Zambezi White Water Festival
Usually taking place at the end of October, the Zambezi White Water Festival is a two-day event with lots happening out on the water including races down the Zambezi as well as music, food and lots of culture!
You can join a team and enter as a contestant or just watch!
Book your accommodation early, you can see my recommendations at the bottom of the page!
Operated From: Zambia
15. Swim Under Victoria Falls
This is a relatively new activity called 'Under the Spray', at least I'd never heard of it until this year, but you can go down to the bottom of the falls and swim, with the water cascading down on top of you.
You hike down to the Boiling Pot (where the rafting and jet boating leave from also), then you get into a raft, paddle a short way upstream to the bottom of the falls before scrambling over rocks to get to the pools directly underneath the falls.
Once you reach your destination, you can sit underneath the falls which is so much fun. From the picture it looks like spray, but believe me, when you're sitting under it, it's pretty heavy and you literally get battered by the water. Once it gets too much, you can swim around just staring up at the top of the falls. It's a real WTF moment – absolutely crazy – I loved it.
When they mentioned that elephants and other animals sometimes get washed over the falls, I did subconsciously move away from the bottom, just in case one fell on my head.
Although, what a way to go…
As you'd expect, this activity is only available in low water and when the conditions are right. If you tried to do this in fuller water, you'd be crushed and washed away down the Zambezi.
Book your 'Under the Spray' tour in advance to ensure availability.
Operated From: Zambia
16. Go For a Walk With Rhinos
Want to get up close with endangered white rhino, then do a rhino walk through Mosi-oa-Tunya National Park.
I've never done this here (some of my groups have and love it), but I did a similar rhino trek in Uganda and it was an absolutely exhilarating and humbling experience to be so close to these magnificent animals.
Operated From: Zambia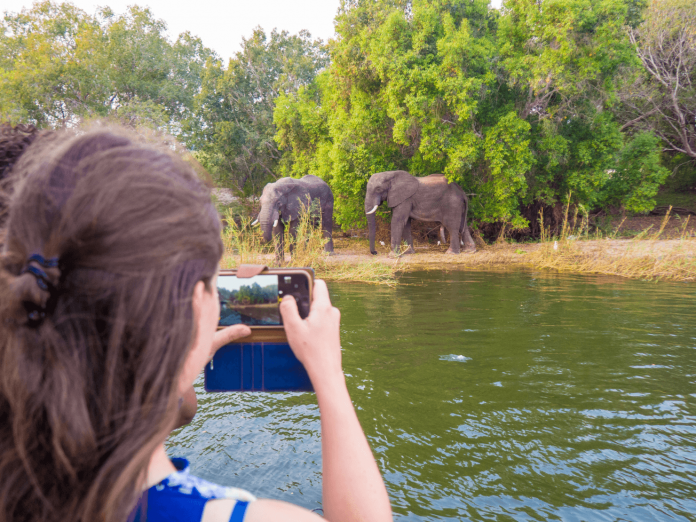 17. Cruise Down the Zambezi
Sailing down the Zambezi with a glass of wine in hand watching elephants cross the river at sunset is one of my absolute favourite things to do (and it's a lot more relaxing than most things on this list).
There are tons of operators who run this type of trip from both sides. Some hotels even have their own boats too.
The most popular ones from the Livingstone side are the African Queen, the MV Makumbi (I've taken this many times, departs from Victoria Falls Waterfront hotel which I also like) or the Taonga Safaris (slightly more rustic, but cheaper and still really nice).
I haven't joined a cruise from the Zim side yet, but there are lots of different options, including this highly-rated dinner cruise.
Most trips include unlimited drinks and a buffet dinner.
Operated From: Zambia & Zimbabwe
18. Party at the Vic Falls Carnival
Celebrate your New Year with a bang at the Vic Falls Carnival, a 3-day music and cultural festival on the banks of the Zambezi, starting with a train ride through the African bush with music and top DJ's.
Lots of hotels and backpacker places in town also hold parties too so you'll be spoilt for choice! They have a number of packages available, including overland trips that leave from Johannesburg and Cape Town (maybe I'll add this into the Rock My Adventure portfolio… let me know if you're interested).
And whilst you're there, you can take part in all of the other activities too, many offering a festival discount!
Again, book your accommodation well in advance to ensure you get a place where you want to stay. I recommend this hotel (see some other recommendations below).
Operated From: Zimbabwe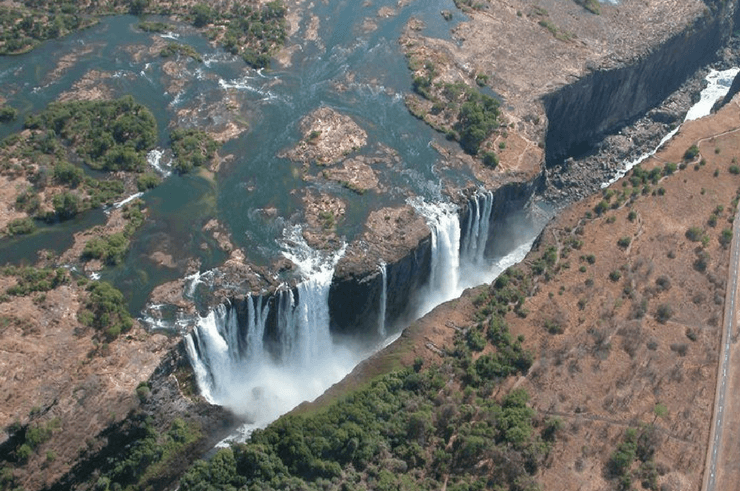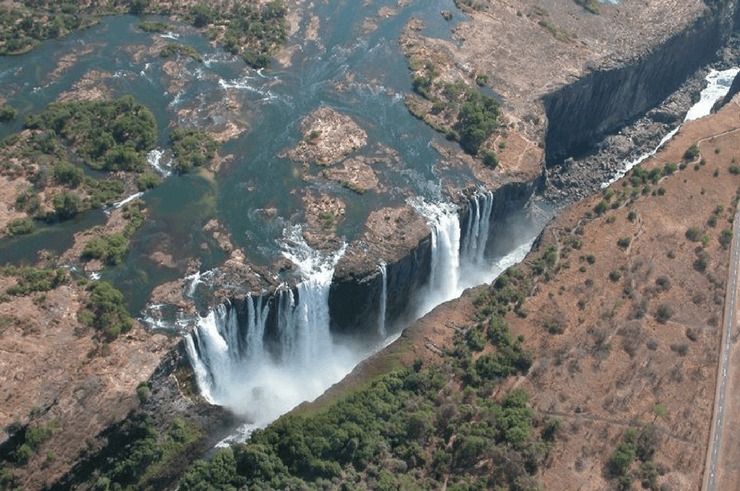 19. Microlight Over the Falls
Not one for the fainthearted, but microlighting over Victoria Falls is definitely a once in a lifetime kind of experience and some say it's the best thing to do at Victoria Falls.
As you soar over the falls in your light aircraft, you'll be able to see the full extent of the falls as well as animals in the river and the national park too!
I would love to do this, as it looks amazing and all of my group members who do this activity absolutely rave about the experience, but for now I'm too scared. But it's on my bucket list!
I would guess that this activity is probably best during high water, around June to August, when the falls are full and creating spray which in turn create amazing rainbows, although I'm sure any time is pretty spectacular.
Book your microlight over Victoria Falls in advance to ensure availability.
Operated From: Zambia
20. Take a Helicopter Ride Over the Falls and Through the Gorge
Equally as exhilarating although slightly less exposed to the elements, is a helicopter ride at Victoria Falls.
You fly over the falls and swoop through the gorge, getting crazily close to the rocks on either side.
Again, something I've never done, heights and flying just aren't my thing, but I've seen countless videos of this and everyone tells me this is bloody amazing! Again, I'd try to book in advance where possible.
Batoka Sky is the company that runs this activity from the Zambia side and I'd advise you to book your helicopter flight over Victoria Falls in advance. You can find more from the Zimbabwe side here.
Operated From: Zambia & Zimbabwe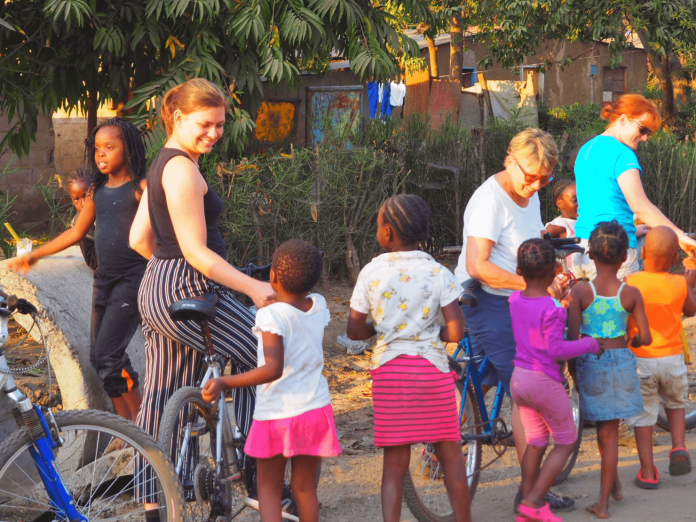 21. Go On a Cycling Tour with a Social Enterprise
When I went to Livingstone for the first time, one of the schools I was volunteering at was the Local Cowboy Preschool.
The school was started by a guy named Cliff, a kind and good man who started running bicycle tours through Livingstone and then used the profits to build a local school.
Cliff has since passed away, but his legacy still lives on. The Local Cowboy Cycling Tours are still going strong and the school is growing too! His son now works as a guide, so you may get to meet him!
The tour usually lasts around 4 hours and takes you through a couple of different areas in Livingstone, seeing places that most tourists never get to see. This is one of my faves!
Operated From: Livingstone
22. Explore Your Cultural Side
I love to immerse myself in a culture, and one of my favourite ways to do that is to visit the markets, the villages and eat the local food.
Maramba Market is a great place to visit is Livingstone and is a short taxi ride outside of town, or walk if you're feeling energetic.
If you don't feel comfortable doing this by yourself, you can take a village tour like this one in Zimbabwe or this one in Zambia to see Chief Mukuni's village.
Zambia and Zimbabwe aren't the best places for 'local' restaurants or street food stalls. Most people eat at home, unlike in Tanzania where you can get local food everywhere.
Cafe Zambezi and Zest are two of my favourite restaurants in Livingstone, with a mix of local and foreign foods. On the Zimbabwe side, you can visit The Boma restaurant, with traditional dancing and drumming as well as hearty Zimbabwean fayre (lots of meat). Read more here.
Operated From: Zambia & Zimbabwe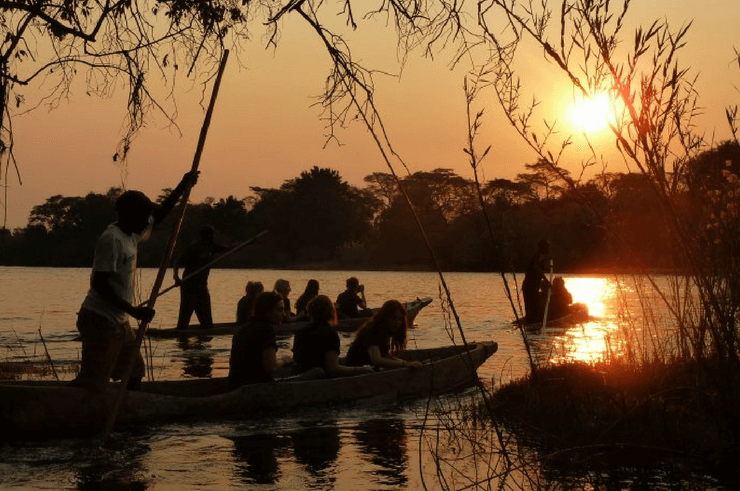 23. Stay on Bovu Island
Up river on the way to Botswana, you'll find a cool place called Jungle Junction on a small island called Bovu on the Zambezi River.
Run by the very eccentric Brett, this is a popular weekend spot for NGO workers, volunteers and backpackers, where you can immerse yourself in nature, take mokoro rides, visit the local village, learn to cook Zambian food or just relax in a hammock.
I love this place!
Operated From: Zambia
24. Go Ziplining Across the Gorge
If you want a taster of the bungee or the gorge swing, but don't want the free fall, you could try the zipline, flying fox or foofie slide.
There are the usual style ziplines, which pretty much go horizontal as you would expect, but you have the choice of sitting or lying down like superman (aka the flying fox). Both are pretty cool, although lying face down over the gorge definitely takes some bravery!
If you want a bit of extra speed with your zipline adventure, you can do the foofie slide, which is at an angle, so you go super fast!
There are a couple of different companies that operate from Zambia and Zimbabwe and some of these activities can be done by children too (with adult supervision).
Operated From: Zambia & Zimbabwe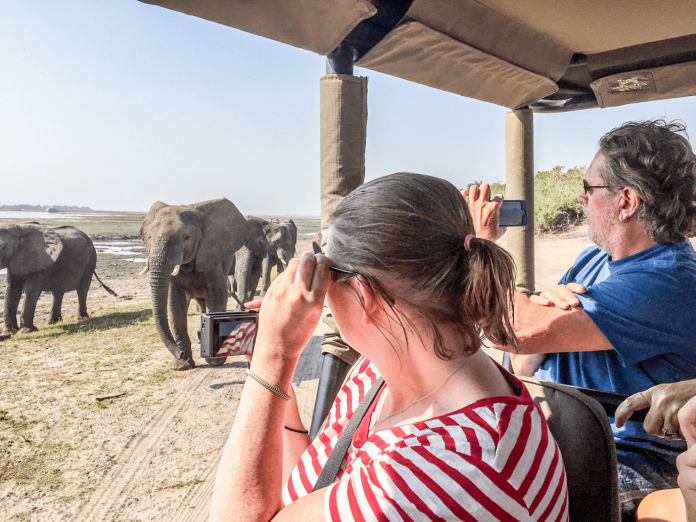 25. Go On Safari in Chobe National Park
The Botswana border is only around a 45-minute drive away from Livingstone and Vic Falls, so many people choose to go on day trips or multi-night trips to Chobe National Park.
Chobe is an awesome place to visit and I'd say it's in my top five national parks in Africa. The elephant viewing in Chobe is the best in the world and you also have a good chance of seeing leopards, lions and African wild dogs.
I always take my groups here as part of my Botswana & Victoria Falls and Malawi, Zambia & Botswana tours!
If you have a KAZA visa, you are able to visit Botswana for the day without it affecting your KAZA visa, however, if you stay in Botswana overnight and then return to Zambia or Zimbabwe, you will need to buy a new visa upon your return.
Operated From: Zambia & Zimbabwe
26. Go Fishing in the Zambezi
Fishing isn't my thing (although… weird fact: Extreme Fishing with Robson Green is one of my favourite programmes – I've no idea why but I love it – probably more to do with the exotic locations he's goes to, rather than the actual fishing), however, fishing is a very popular activity along the Zambezi due to the number of freshwater fish that inhabit these waters.
You'll find species such as bream, yellowfish, pike and the one that everyone wants to catch, the ferocious tiger fish.
Operated From: Zambia & Zimbabwe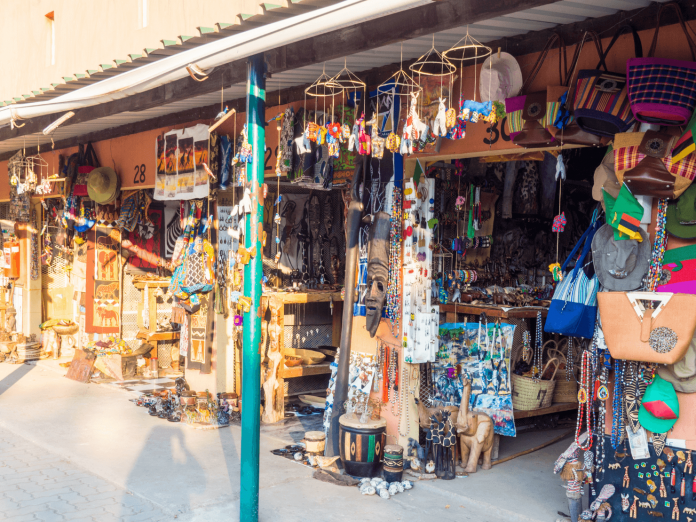 27. Go Shopping for Curios
Both Livingstone and Vic Falls have good curio markets just outside the entrance to the falls, selling things like wooden carvings, jewellery, paintings, clothes… pretty much the usual stuff that you find everywhere else in Africa, although occasionally you will find something that is locally made.
In Livingstone town, there is also another curio market where you may be able to negotiate a better deal than at the actual falls and some of the hotels have fixed price shops too.
In Vic Falls town you also have a lot of tourist shops selling similar things. A good place to try is the Elephant's Walk Shopping and Artist's Village. If you are lucky, you may come across some locally made goods, although many are shipped in from elsewhere.
If you want to buy African fabrics at a fair price, head to Maramba Market (which is a local market, rather than a tourist market), a few kilometres from Livingstone town centre.
This is also a free activity… unless you buy something!
28. Go on a Horseback Safari
There's something very romantic about doing a safari on horseback, very Out of Africa, don't you think?
The other added bonus of doing a safari on horseback is that the animals just see you as another animal, so you can wander amongst them without scaring them off.
Operated From: Zimbabwe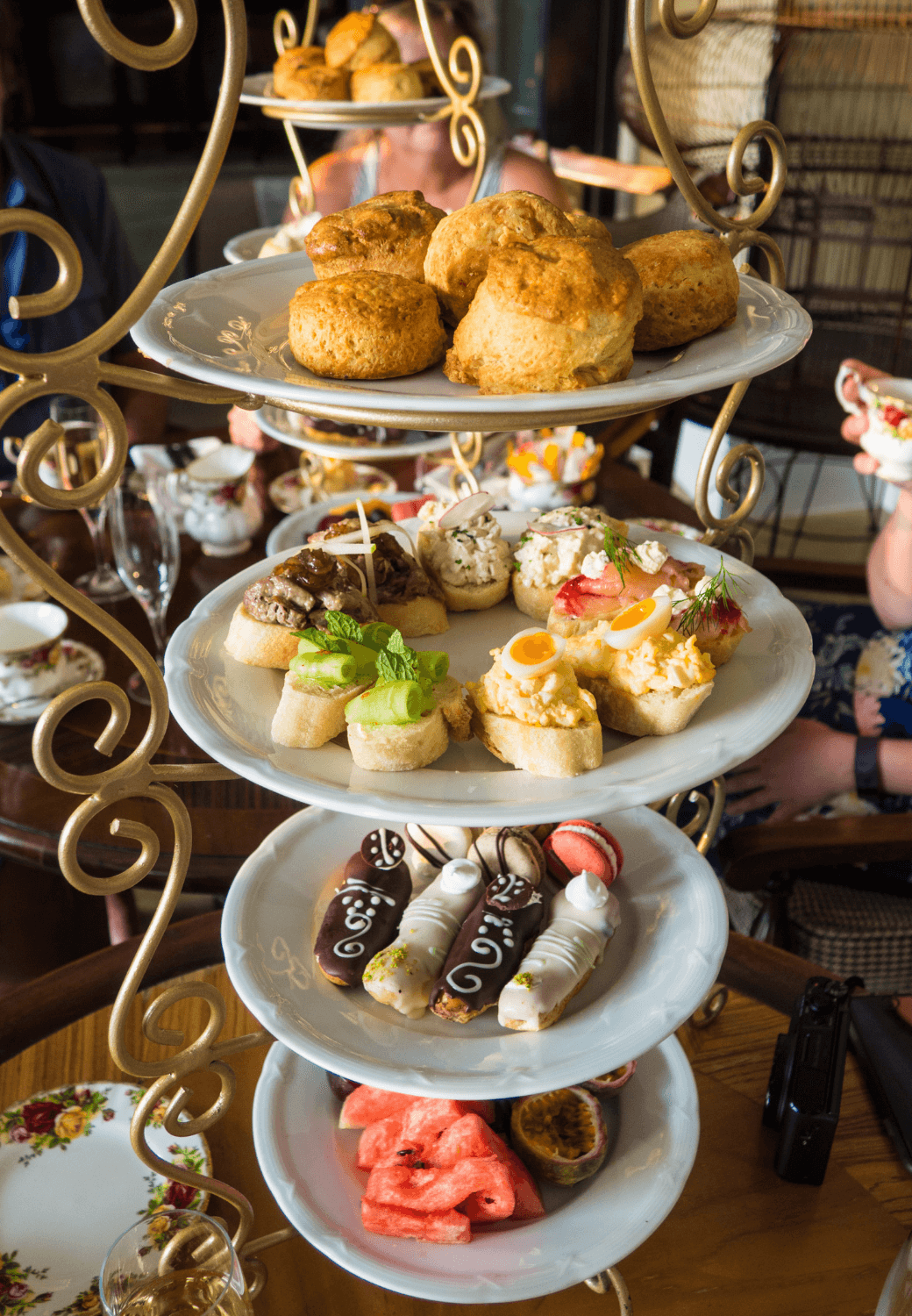 29. Take Time for High Tea
If you want to get fancy, put on your best dress and go for a spot of high tea at The Royal Livingstone.
I've done this many times over the years and this very British pastime is a great way to experience a bit of luxury, even if you're travelling on a budget. You can just see how the other half lives, even if just for a short while.
High tea (also known as afternoon tea) is served at a number of hotels, however the most famous is The Royal Livingstone in Zambia and The Victoria Falls Hotel in Zimbabwe.
In case you've never had high tea before, you'll be served a beautifully presented selection of sandwiches, cakes (including scones with jam and clotted cream), tea and you can usually add on a glass of something bubbly too!
Go feeling hungry as there's always a lot of food.
At The Royal Livingstone, you'll often see zebra or giraffe walking through the hotel grounds and elephants and hippos often appear in the river too. From The Victoria Falls Hotel, you have a great view of the bridge and the gorge.
I usually stay for sunset too and for an extra special treat, you could even stay the night!
Operated From: Zambia & Zimbabwe
30. Stay at in Luxury at Tongabezi Lodge
Known as the most exclusive hotel around, Tongabezi Lodge is like something out of a dream.
Guests stay in fabulous River Cottages (sleeping 2) and Houses (sleeping 2 – 5 people) and most have their own private deck overlooking the river where you can enjoy private dining and, just when you thought it couldn't get any better, each room has their own valet/concierge who will attend to your every need!
Staying at Tongabezi is a luxury experience, with prices starting at around $655 per person, per night, which includes all food and drink, as well as a number of activities so it's definitely worth the expense for an experience you will never forget!
Check rates and book your incredible stay at this luxurious lodge here.
I hope things list gives you an idea of things to do at Victoria Falls. If you have any questions or suggestions, please leave them in the comments below!
---
Other Zambia posts you might enjoy…
Join one of my Zambia group tours or buy my Backpacking Africa e-book!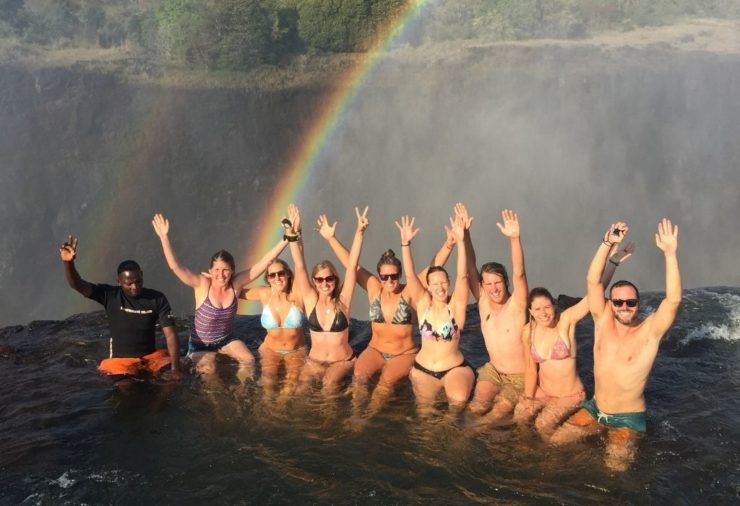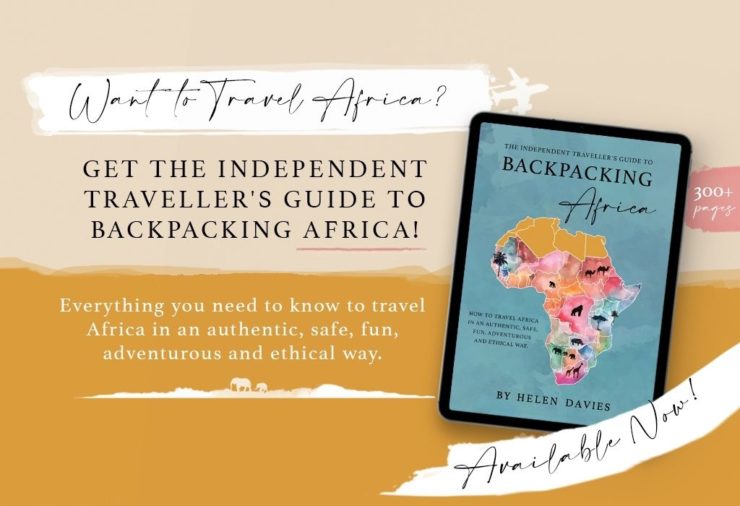 Please Note: Some of the links in this post are affiliate links, which will earn me a small commission at no extra cost to you. Affiliate sales help with the running costs of this site, so thank you for your support!