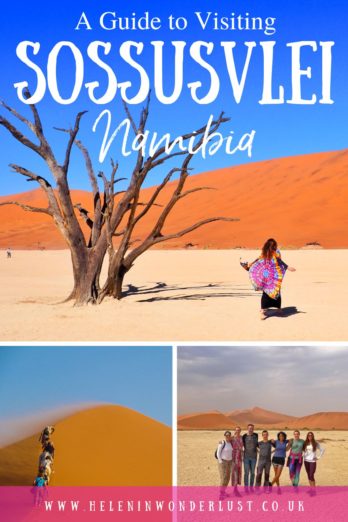 When you think of Namibia, the sand dunes of Sossusvlei in the Namib-Naukluft National Park are probably the image that comes to mind. And for good reason as they are an incredible sight to behold and very photogenic!
The national park includes the Namib Desert, the Naukluft Mountains, and the Sandwich Harbour lagoon. Sossusvlei is a salt pan within the park, surrounded by high sand dunes, however, the name Sossusvlei is used to describe the area of the Namib Desert adjacent to Sesriem, which incorporates Dune 45, Big Daddy, and Deadvlei.
Going to Sossusvlei is a must-do on your list of places to see in Namibia, so definitely add it to your Namibia itinerary.
Please Note: Some of the links in this post are affiliate links, which will earn me a small commission at no extra cost to you. Affiliate sales help with the running costs of this site, so thank you for your support!
---
A Guide to Visiting Sossusvlei in Namibia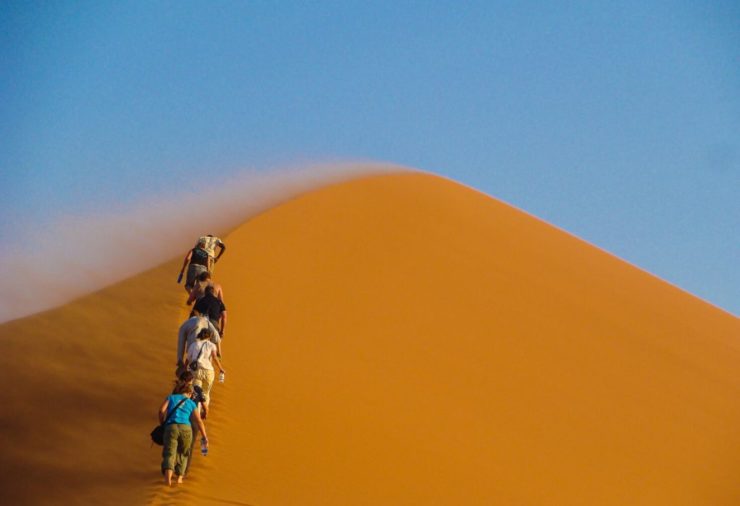 Fun Things To Do in & Around Sossusvlei
There are lots of great things to do in Sossusvlei, so I would recommend at least 2 nights in the area.
If you don't have your own transport or don't want to drive, you can book many of the below activities with your lodge.
A lot of the activities involve hiking up or over sand dunes in a desert, so just remember to take/drink lots of water, wear sunscreen and a hat. It's incredibly hot and you don't want sunstroke!
Climb Dune 45
One of the most iconic things to do in Sossusvlei is to climb Dune 45 (so called because it's 45km from Sesriem), which is easily accessible from the main road and great to photograph as it's a standalone dune.
I've climbed it 3 times now, and it's not the worst hike I've ever done (that award goes to Mount Bisoke in Rwanda) and it doesn't take that long, but you do need to have a moderate level of fitness and a bit of determination, as it's steep and climbing on sand is a real leg burner.
I saw quite a few people giving up and turning around, but the views are worth it if you can manage! It makes it easier if you step into the footprints of the person in front of you.
It's a popular place to watch the sunrise (if you're staying inside the park). I don't think it's necessary to be there for sunrise, but I would advise climbing early in the day before it gets too hot.
If you need the loo, there are very basic long drop toilets a short walk from the car park.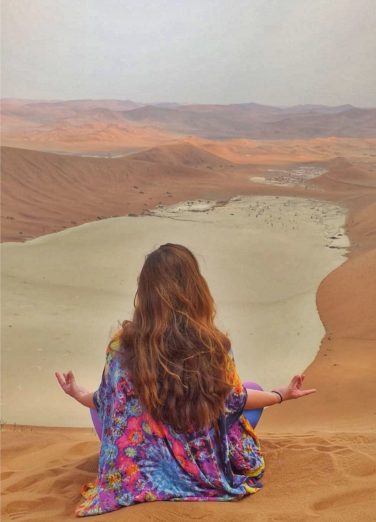 Climb Big Daddy
Big Daddy is the tallest sand dune in Sossusvlei, not the tallest sand dune in Namibia, that's Dune 7 which is the 7th highest sand dune in the world and the 7th dune along the Tsauchab River, close to Swakopmund.
It's one of the best things I've done in Namibia, so I would highly recommend that you do it.
It takes longer to climb than Dune 45, but it's a slightly easier hike as you go up and down (rather than straight up) and the views are absolutely incredible. Once you get about halfway up, you start to see Deadvlei below, as well as the surrounding dunes. I could have stayed at the top for hours, but it was getting too hot!
Walking down the steep dune into Deadvlei is a lot of fun (and only takes a couple of minutes), but could be a bit scary if you're afraid of heights! But don't worry – you're safe! If you fall, it's only on some sand.
We climbed the dune in mid-morning, getting to the top around midday. Maybe not the best time, but it was quiet and it was overcast that day, so we were lucky – it would probably be better in the very early morning on a sunnier day.
It's about a 20 – 30 minute walk from the road to the base of Big Daddy, then between 45 minutes and 1 hour and 30 minutes to climb the dune, depending on how fast you go.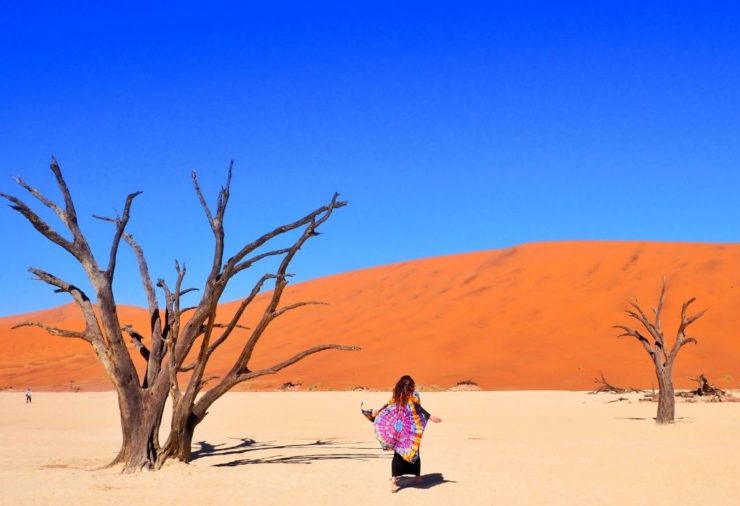 Visit Deadvlei
Coming down from Big Daddy, you will reach the clay pan of Deadvlei, famous for its 900-year-old dead camel thorn trees (they drowned) and for being incredibly Instagrammable.
Deadvlei is wonderful for photography and you will often see people whizzing past Dune 45 to get there for sunrise, but Deadvlei is photogenic at any time of day.
To get to Deadvlei, you can either walk down into it from Big Daddy or if you don't want to hike, you can take the shuttle from the Sossuvlei Car Park (N$150.00) or drive-in (if you have a 4×4). From the car park you can walk in over relatively flat dunes (takes around 20 minutes).
There are clean, flushing toilets at the Sossusvlei car park.
Despite being one of Namibia's main tourist attractions, it's rarely overcrowded because it's so big and there are plenty of trees to go around! Plan to spend at least an hour there and please don't climb the trees!
Explore Sesriem Canyon
A great place to explore in Sossusvlei is the Sesriem Canyon. I only visited for the first time on my recent visit and I absolutley loved it.
The canyon's name came to be when the early settlers used it as a water source, using six lengths of leather ('ses riem – six thongs) tied together to lower buckets into the water at the base of the canyon.
It's a great place for photography, so give yourself a good hour to an hour and a half to walk around.
Elim Dune
Elim Dune is the closest sand dune to Sesriem, so many people make a stop there for sunset when they arrive in Sossusvlei. It's easily accessible by car and many of the lodges offer this as a guided activity.
Take some drinks and snacks and enjoy the view.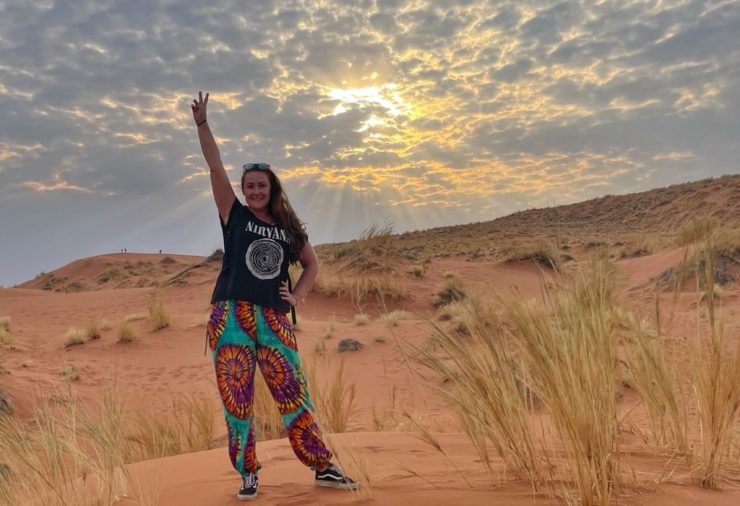 Hiddenvlei
Hiddenvlei is one of the more accessible places to visit as it's only 2km from the Sossuvlei parking lot.
Despite being easy to get to, it's one of the least visited places and not very well-sign-posted, so you may have it all to yourself!
The hike takes around 1 hour and 30 minutes in total.
Stargazing
Sossusvlei is an incredible place for stargazing as there's very little light pollution in the area and the nearby NamibRand Nature Reserve was declared an official dark sky reserve in 2012, making it the first dark sky reserve in Africa.
We met an astronomer who was staying at our camp and got an impromptu astronomy lesson (or as he called it, a 'journey through the stars'), however many of the lodges have onsite astronomers and/or telescopes.
Get a Bird's Eye View of Sossusvlei
I've never been hot air ballooning in Sossusvlei, but I can imagine that it's fabulous as the landscape it out of this world. Although it's not cheap at around $480.
You can also take scenic Cessna and helicopter flights over the area.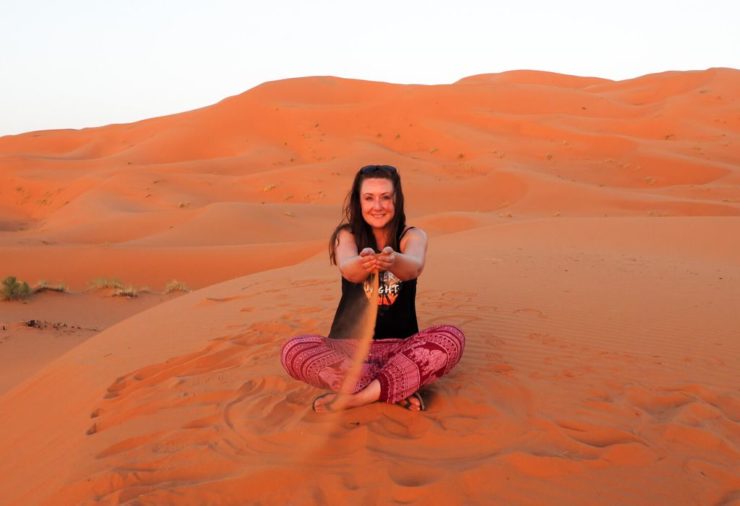 Quadbiking
Little Kulala (one of the luxury lodges – see below) offers guests the opporunity to go quad biking through the dunes. They also offer electric bikes!
Roll Down the Sand Dunes
Make like you're 12 and roll down the sand dunes. It's so much fun. Just be aware that you will find sand in all kinds of places afterwards! 🙂
Guided Walks
Some of the lodges offer guided walks in the area. Little Kulala Camp even do a scorpion night walk… I might give that one a miss! 🙂
Scenic Drives
Many lodges offer sunrise or sunset scenic drives where you have the opportunity to see more of the landscape and some of the animals that inhabit the area.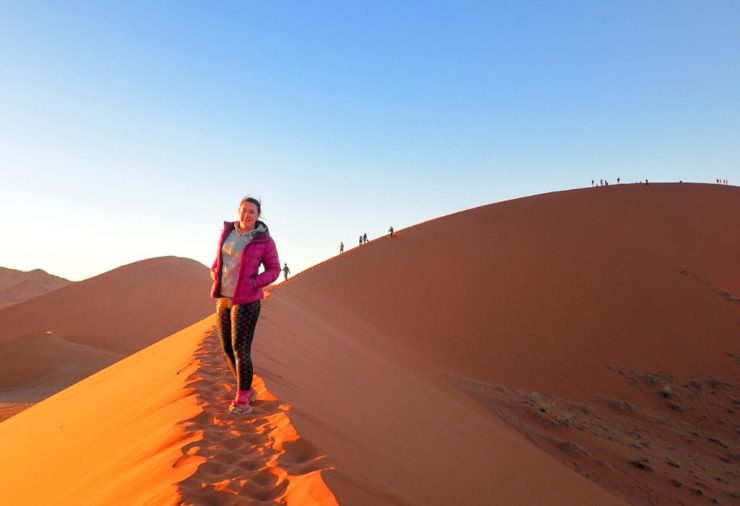 Permits & Costs for Sossusvlei
You can buy your permits at the park office inside the main gate at Sesriem. They cost N$80 per person, per day (valid for 24 hours) for non-SADC visitors. If you are planning to go into the desert early the next day, you will need to purchase your permit the day before.
You can pay by card, however just in case the card machine isn't working have some Namibian Dollars or South African Rand handy. There is an ATM at the Engen Fuel Station in Sesriem.
There are two gates to go through to get into the desert.
The Main Park Gate: The outer gate, which is open from dawn and closes at dusk.
The Desert Gate: The inner gates that opens an hour before dawn and closes 30 minutes before sunset.
You can only get through the Desert Gate once you have purchased your permit.
Those staying inside the park (at one of the 4 places I mention below) will be able to enter the Desert Gate before sunrise, meaning you can get to the dunes for sunrise (as long as you bought your permit the day before).
For everyone staying outside the Park Gate, you will need to wait until dawn to enter the first gate, which means you won't reach the dunes for sunrise. Basically, if you're staying 'inside' the main park gate, you get extra time in Sossusvlei.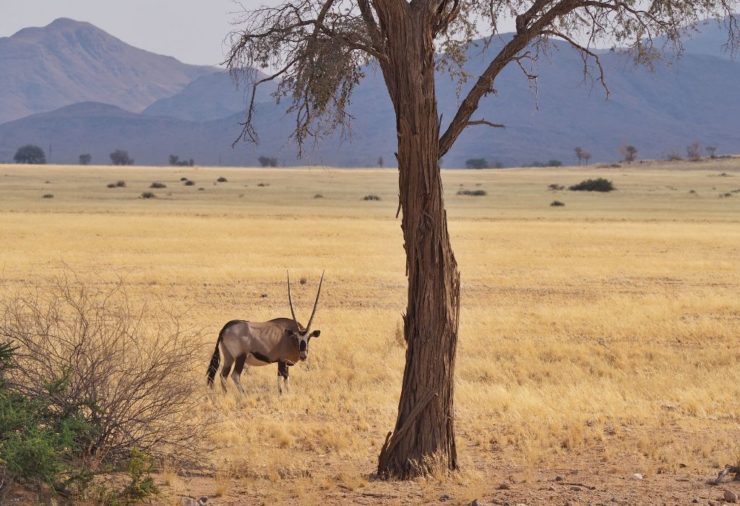 Where to Stay in Sossusvlei
Most of the accommodation options for Sossusvlei are in the Sesriem region and there are no accommodations in Sossusvlei itself. There are only 4 places to stay inside the park, so if you want to climb Dune 45 or get to Deadvlei/Big Daddy for sunrise, you need to stay at one of those, as they can access the gate an hour before everyone else.
If you aren't too bothered about getting in for sunrise (personally, unless you are a photographer or love sunrises, I don't think it matters), you can stay at any of the other options.
I suggest booking your accommodation in advance. The accommodations in and around Sesriem can book up months in advance (campsites too). If that happens, you're going to have to drive a fair way back to find somewhere else to stay.
Inside the Park
Outside the Park
You can find other options here.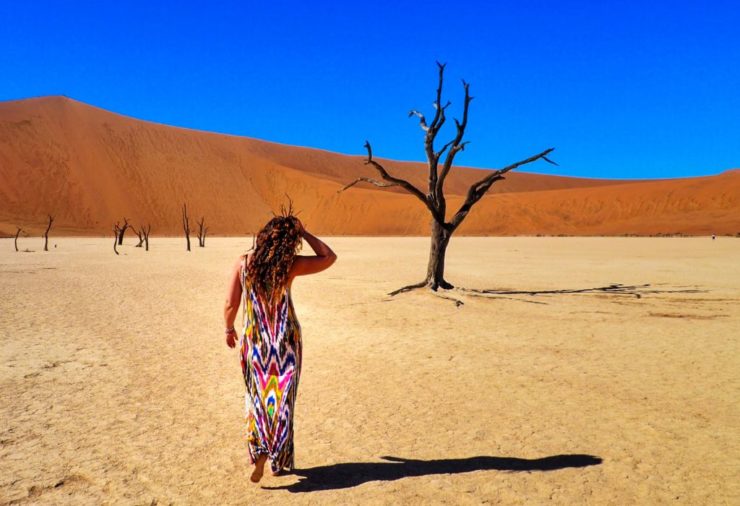 How to Get to Sossusvlei
The easiest way to get to Sossusvlei is with your own transport – either self-driving or with a driver. Most of the accommodations are in Sesriem, so that's where you'll head to first.
From Windhoek: It's a round a 4 – 5 hour drive to Sesriem from Windhoek on the D1261 road. If you want some road trip snacks, stop off at one of the Food Lover's Markets in Windhoek as they have an amazing selection (check out the Pick n' Mix).
From Swakopmund/Walvis Bay: It's around a 5 – 6 hour drive from Swakopmund on the B2, M36, C14, C19 & D826 roads. On this route, you will drive through some very beautiful and barren landscapes. You will also pass by the Tropic of Capricorn sign and Solitaire (be sure to pick up some of the famous apple pie).
From Mariental/Bagatelle: It's a 4 – 5 hour drive along the C19 road. There's not much happening along this road, so I'd perhaps bring a packed lunch or your food with you.
From Luderitz/Aus: It's a 6-hour drive from Luderitz or 5 from Aus. From Luderitz take the B4, then the C13 at Aus, then the C27. Again, this is a barren old journey, so bring some supplies and food for the journey.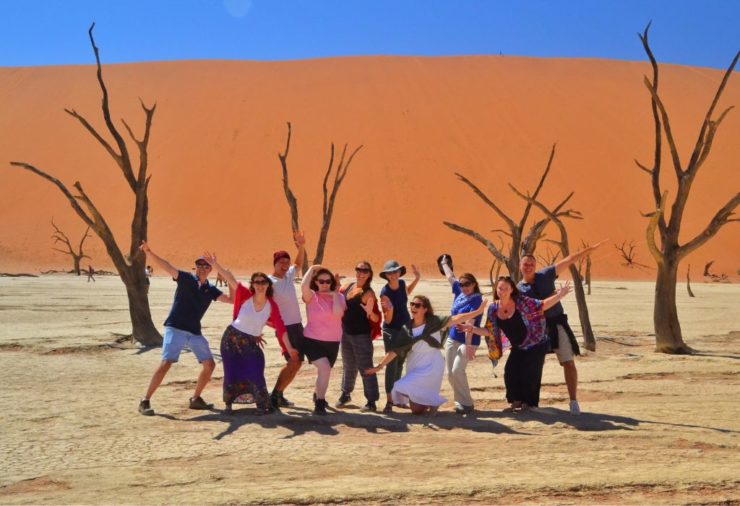 From Sesriem, it's about a 40-minute drive to Dune 45, then another 12 minutes or so to the parking for Sossusvlei, and then another 10 minutes for the Deadvlei parking.
For Dune 45, you don't need a 4×4, but for Deadvlei & Big Daddy you do. If you don't have a 4×4, you'll need to park up at Sossusvlei Parking and either walk (make sure you take a hat and lots of water) or take the Deadvlei Shuttle which costs N$150.00 per person return.
If you do decide to self-drive to Deadvlei, make sure to engage your 4WD and let your tyres down a little. In the shuttle, we picked up a few people whose 4×4 cars got stuck in the sand, so if you're not sure, I'd take the shuttle regardless!
If you want to climb Big Daddy, the shuttle can drop you off between the two parking lots (the driver can point you in the right direction).
If you don't want to drive yourself around Namibia, you can take a small group Namibia tour that takes you through many of the highlights of Namibia (often the most economical option overall) or you could take a short 3-day excursion from Swakopmund or Windhoek. There are many companies that run these and they start from about N$7,500 ($500 USD) for a 3-day camping trip.
There is also a small airport at Sesriem, so you can fly in if you don't want to drive. But you will need to organise any activities through your lodge, as there's no way to get to the dunes without transport. This would be the most expensive option.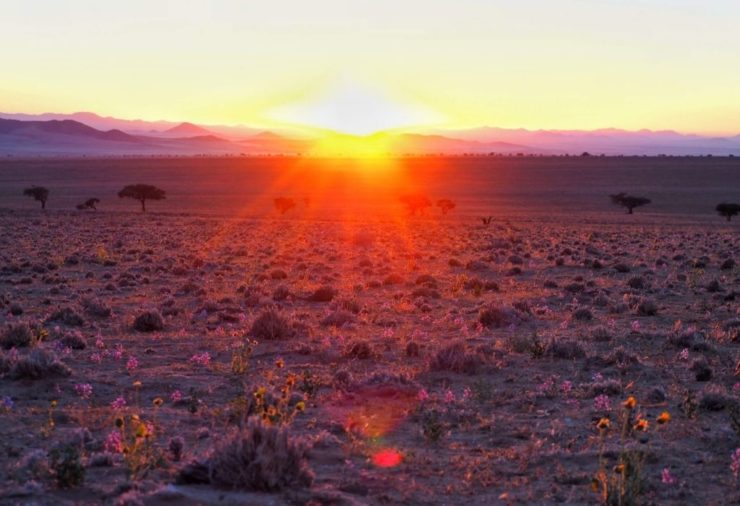 The Best Time to Visit Sossusvlei
Sossusvlei is generally an all-year-round destination, but if you want no rain and perfect blue skies, the best time to visit Sossusvlei is in Namibia's dry season, from late June to September/October. This time of year is also good for Etosha National Park too (November to May isn't the best time to visit Etosha due to the rains).
Temperatures can get very cold at night in July and August (so if you're camping, bring some thermals and a very thick sleeping bag), but it's a little bit warmer in June, September and October.
The rains start to come in November and last through to April/May and between November and March, it can be oppressively hot, so the rains are welcome. Rainfall drops and temperatures start to cool in April and May.
The low season (cheaper prices) generally runs from the beginning of December (excluding Christmas) to the end of June. Whilst high season (higher prices) runs from the beginning of July to the end of November.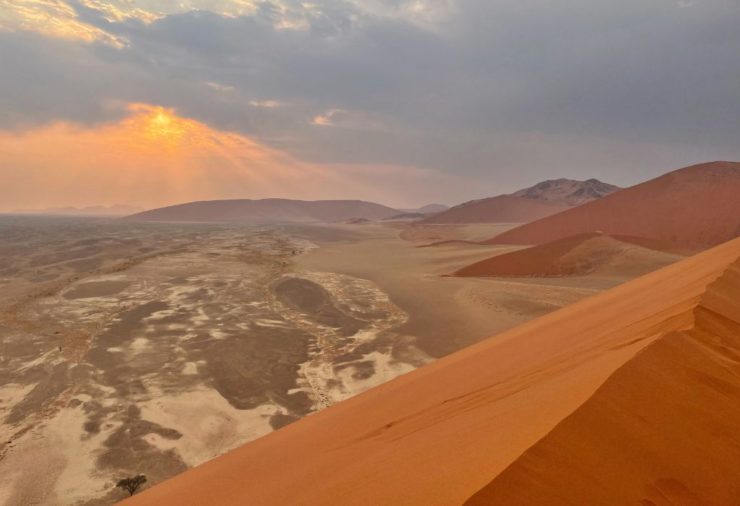 My favourite time is June, the end of August/early September when it's not too cold and not too hot! For a good compromise, maybe think about May or June when the prices are lower, there's little rain and it's not too cold.
June is also the peak of Namibia's wildflower season (especially around Aus/Luderitz), so depending on where you go, you may get a dazzling display! We caught the tail end of the wildflower season in Aus in August (on the picture above).
Shopping & Fuel Facilities
Some of the campsites have an onsite shop with basic food and souvenirs and most lodges have a curio shop. The best place for stocking up on groceries is at the Engen fuel station at the Sossus Oasis Campsite which you'll see when you get to Sesriem.
I would recommend that you fill up here when you arrive and before you leave for your next destination! They can also help with any minor vehicle repairs.
As well as groceries, you can buy some food here (freshly baked breads and salads which come from Sossusvlei Lodge), they have an ATM and most cards are accepted. They also have restrooms and you can pick up wood for your bbq.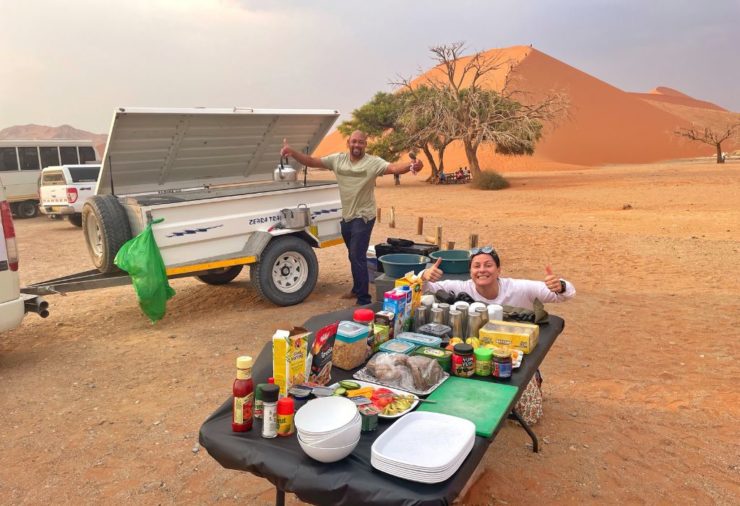 Where to Eat & Drink in Sossusvlei
Most people either cook for themselves if camping or eat at the restaurant in their lodge.
We stayed at Sesriem Campsite and ate there on our first night. The following night, we ate at Sossusvlei Lodge, which cost N$360 per person and was worth every penny.
Sesriem campsite has nice food but a very limited menu (especially if you're vegetarian/vegan), but Sossusvlei Lodge has an amazing and varied buffet, with meat cooked to order and great veggie/vegan options too. Just make sure you book in advance if you're not staying there as it's very popular.
Many of the group tours stop for breakfast in the Dune 45 car park (as we did in the picture above)!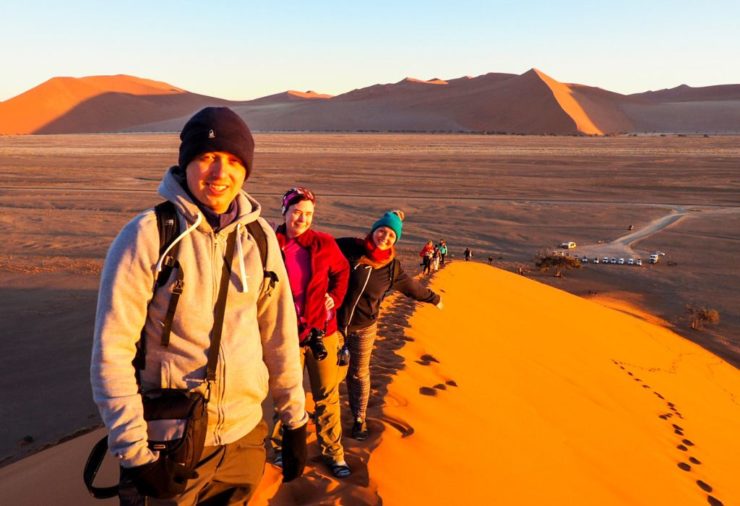 What to Wear in Sossusvlei
For climbing the sand dunes, I would suggest wearing comfy clothes and trainers/sneakers or at least good walking sandals and socks. The sand can be very hot and cold, so you'll want to protect your feet.
Around the campsites/lodges, you'll want to wear shoes with thick soles as Namibia is a very thorny country and those little suckers will stab right through your flip flops. You also have to watch out for any critters you might step on.
You will need to bring a mix of clothing for Namibia. Clothes for when it's ridiculously hot, and clothes for when it's ridiculously cold. Bring thermals for the cold winter months (June, July, August) and bring a down jacket/fleece too as it can be cold throughout the year.
For sun protection, wear a hat and sunscreen. Many of the lodges/campsites have pools, so bring your swimsuit.
For more info, check out my full Africa Packing List.
I hope this helps you plan an incredible trip to Sossusvlei. You're going to love it!
---
Other Namibia posts you might enjoy…
Things To Know Before You Visit Namibia
How to Visit the Tribes of Namibia
A Guide to Windhoek, Namibia
Amazing Things to Do in Swakopmund, Namibia
A Guide to Etosha National Park in Namibia
Highlights of the Rock My Namibia Adventure (September 2022)
Pin This Post For Later