Last updated on February 5th, 2021 at 03:44 pm
Surfing in Croyde Bay is one of my favourite things to do.
I was just nine weeks old when I took that first trip to Croyde with my parents, grandparents and auntie and have pretty much visited every year ever since.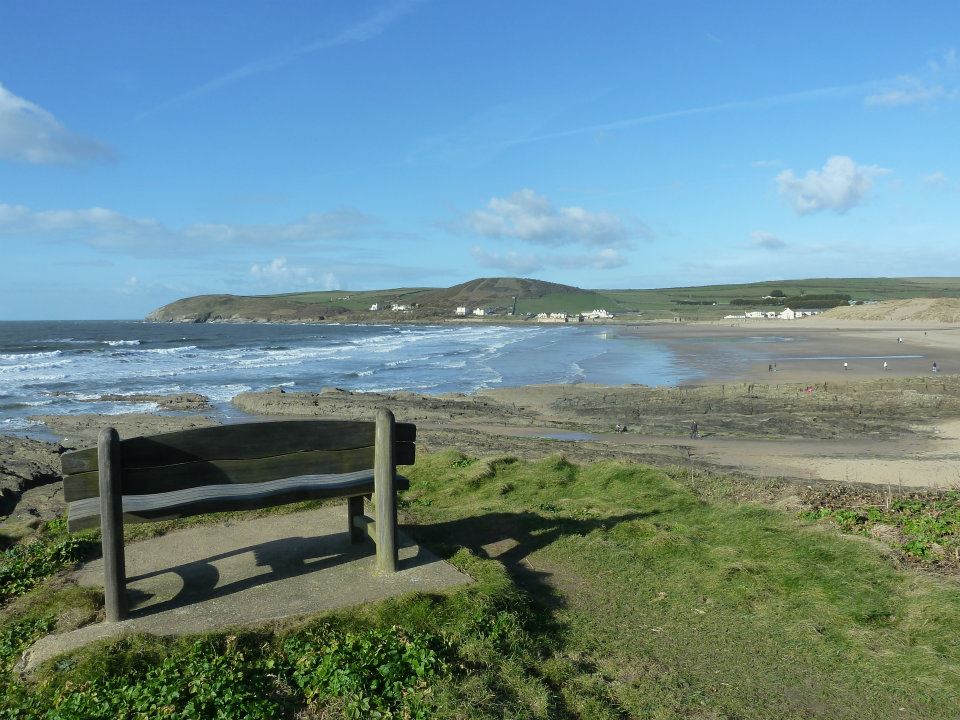 Croyde is a little village on the North Devon coast, famous for it's pretty thatched cottages, green rolling hills, stunning beach and fantastic surf.
Which is why, to this day I am annoyed at myself for not taking up surfing as a kid, but as we all know my life began at 29 anyway, so if you think about it in those terms, I was only really 1 when I started! But damn, I could have been real good by now!
Having returned from my round the world trip with a new lease of life, I decided it was time to actually try the sport that I'd been watching from the comfort of the beach for so long. I had the O'Neill and Roxy clothes, so I literally had the t-shirt, I just hadn't been there or done that. So three years ago,  I had my first lesson and I was hooked.
This past weekend, I made my way down to Devon again and booked myself in for a couple of surf lessons with Carlo, owner of Croyde Surf Academy who has been my teacher since the beginning. What I love about Carlo's 'office', is that it is a big blue bus, in a car park, just as you enter the village and overlooking the beach.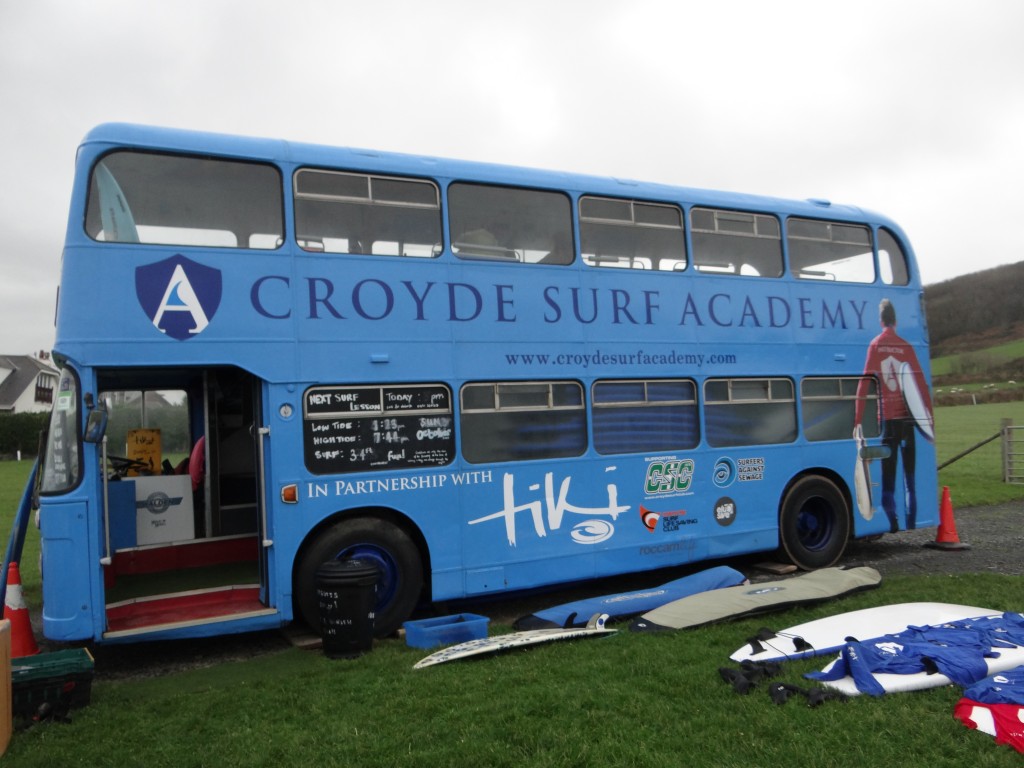 When we arrived, we met our other surf companions for the day, Dave, Remi and Adam. Carlo gave us our wetsuits and boots and off we went to get changed on the bus, girls first, then the boys. After painfully squeezing myself into my wetsuit, and I think perhaps mooning some fellas getting changed outside their van, I was ready to go. I'm getting better at it though. Last time I went surfing, back in August, Carlo actually had to hoist me in. Awkward!
The weather was pretty mild, so I decided against gloves and a hood. I'm not keen on wearing them, even when it's freezing as I feel restricted, but luckily it was warm enough. Unlike the summer, there was no need for Carlo to dish out the super strong sun lotion, it was dull and overcast, but the waves were looking good.
Pairing up we made our way across the road, down the steps and on to the beach.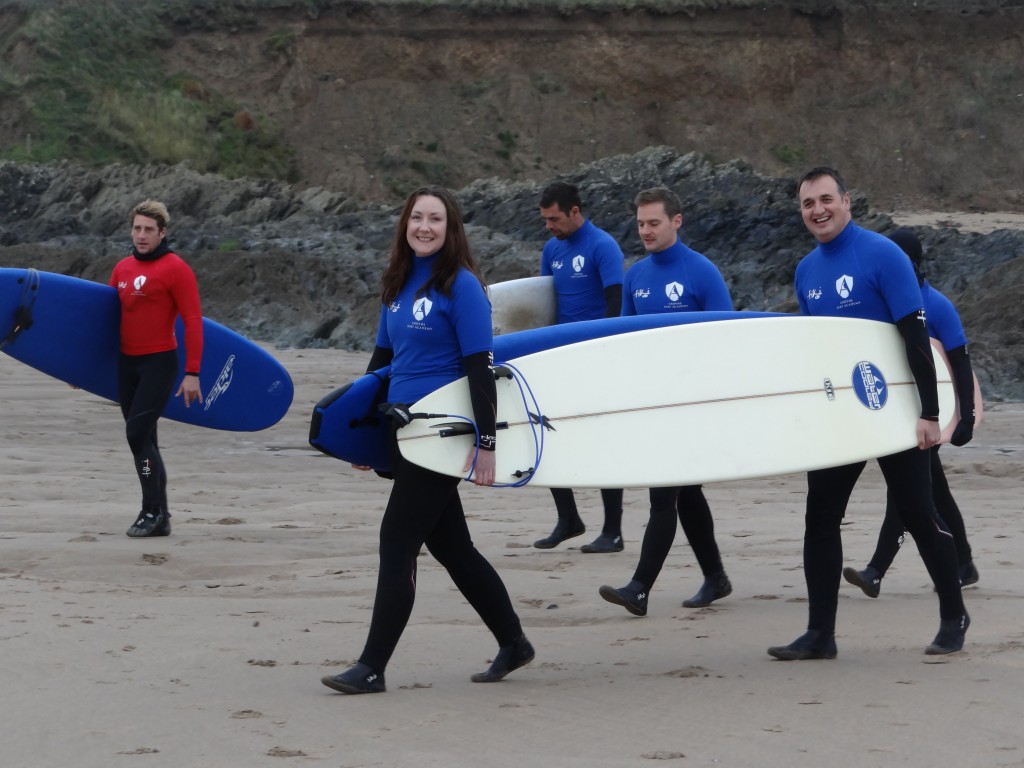 Carlo put us through a thorough warm up which involved trying to stand up without using your hands, which in a tight wetsuit is quite tricky, well it was for me, everyone else seemed ok. I've come to the conclusion that the others had some super technique or stretchier wetsuits or something! Then it was leashes on and straight in the water. We'd all surfed before, but if there are beginners, Carlo goes through the basics on the beach on how to position yourself on the board and the one thing we all want… how to get to your feet!
Even though I've been surfing for a few years now,  I still class myself as a beginner, as unfortunately it's all very sporadic due to my proximity to any decent waves. But, I'm getting there and whilst I am a wimp with heights, I'm pretty fearless in the water, so watching the crashing waves as I walked into the sea was really exciting.
There were lots of surfers out, taking advantage of the perfect waves. We even spotted Andrew Cotton, who has just become famous for riding the biggest wave ever surfed off the coast of Portugal.
Once I felt I was far enough out, I got in position, glancing over my shoulder waiting for a good wave to come along. I can generally tell if a wave is going to be good or not. Sometimes I get it wrong, and the wave passes me by, barely moving me forward, or sometimes, it's so strong, I'm off sideways before I've even had chance to push my chest off the board. But today, I was on form and caught my first wave.
As I began to slow down, I jumped off my board and looked around to see who'd witnessed my little triumph. Carlo gave me a thumbs up and told me that I needed to move my front foot forward a little. The next couple of hours were spent repeating the process.
The hardest part is fighting your way back out through the waves. Occasionally I tried to paddle out, but more often I walked, lifting the nose of my board upward as the waves hit. Carlo spent time with each of us in turn, explaining what we were doing right and what we needed to work on, helping me get further out and giving me a push when my strength began to fade. My surfing is definitely coming along. I'm using a smaller board now and am able to turn both ways – most of the time.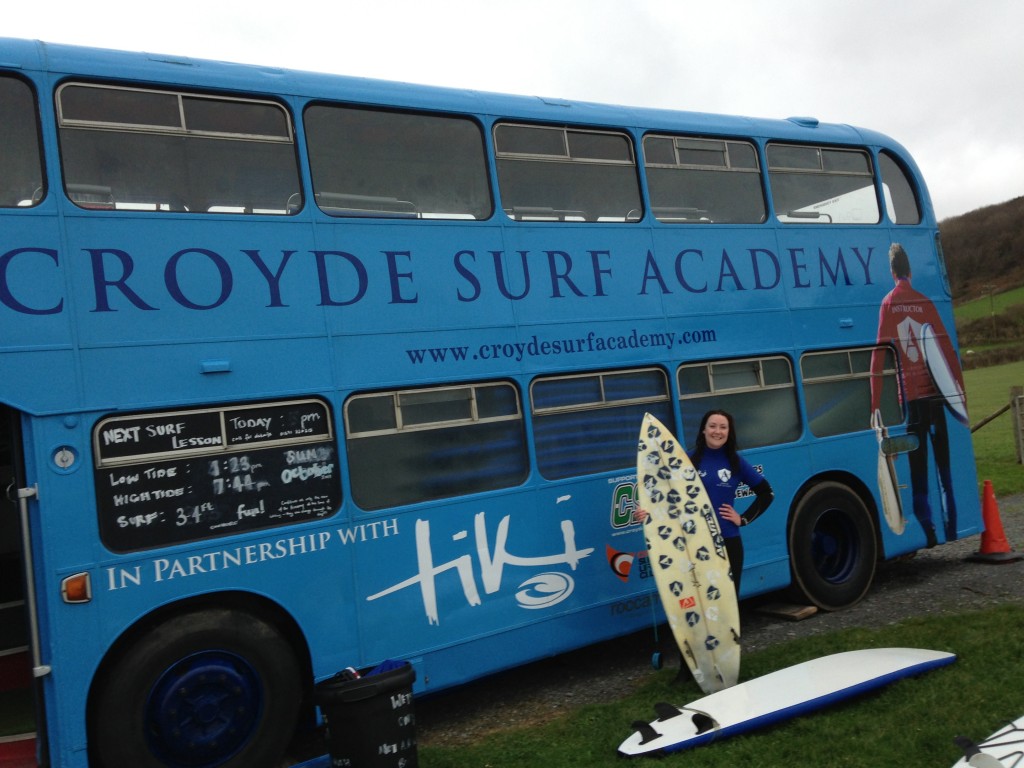 Surfing is exhausting, but completely relaxing at the same time. There's no room for worry or stress in your brain, they disappear as if by magic and it's just you and the sea. I can't imagine not surfing now, I'm totally addicted and determined to keep improving.  I'm never going to be a pro, but I doubt I enjoy it any less and surfing has become my absolutely favourite way to keep fit. I firmly believe, it's never too late to take up something new.
We made our way back up the beach and to the bus to get changed.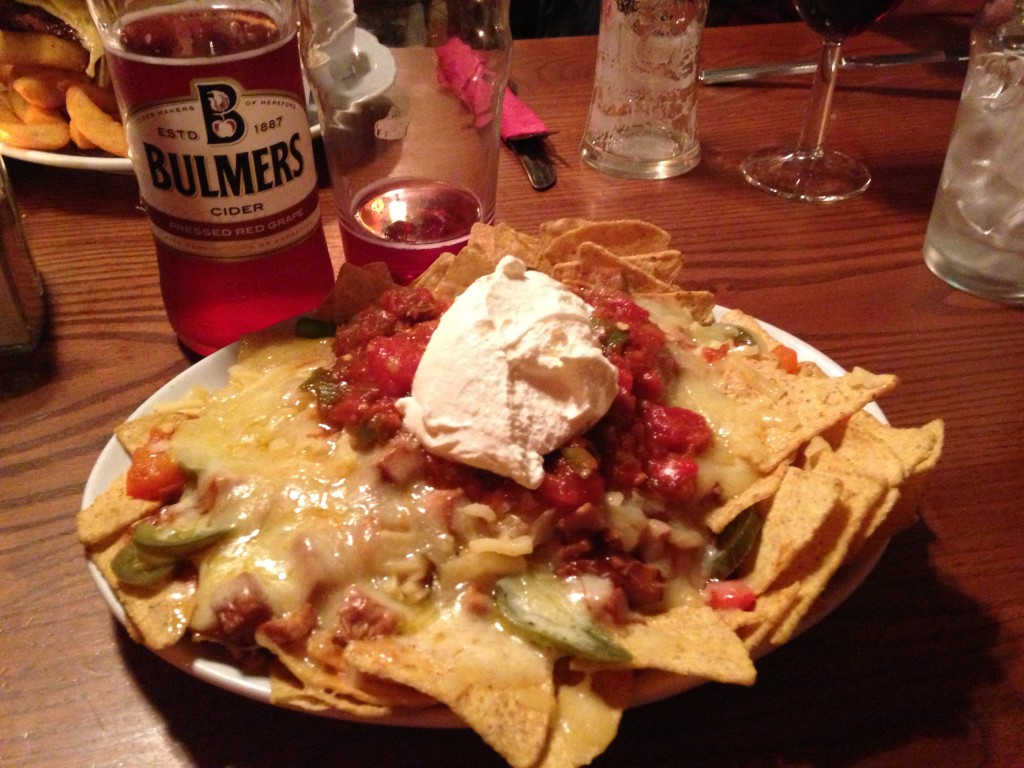 Once dried off, we did the only sensible thing… headed down to The Thatch and ordered a big plate of Nachos and a bottle of Bulmers.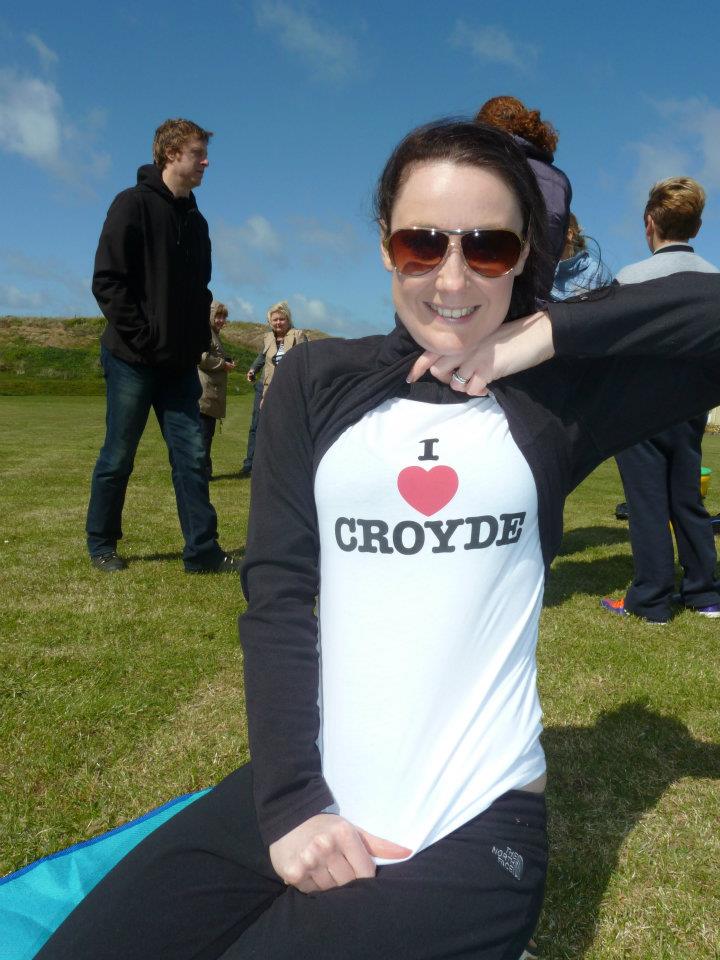 The only thing I hate about going surfing in Croyde? Is that I have to leave. But I'll be back down there in the new year and hopefully many more times after that.
Where are your favourite surf spots around the world?