Last updated on March 28th, 2023 at 11:24 am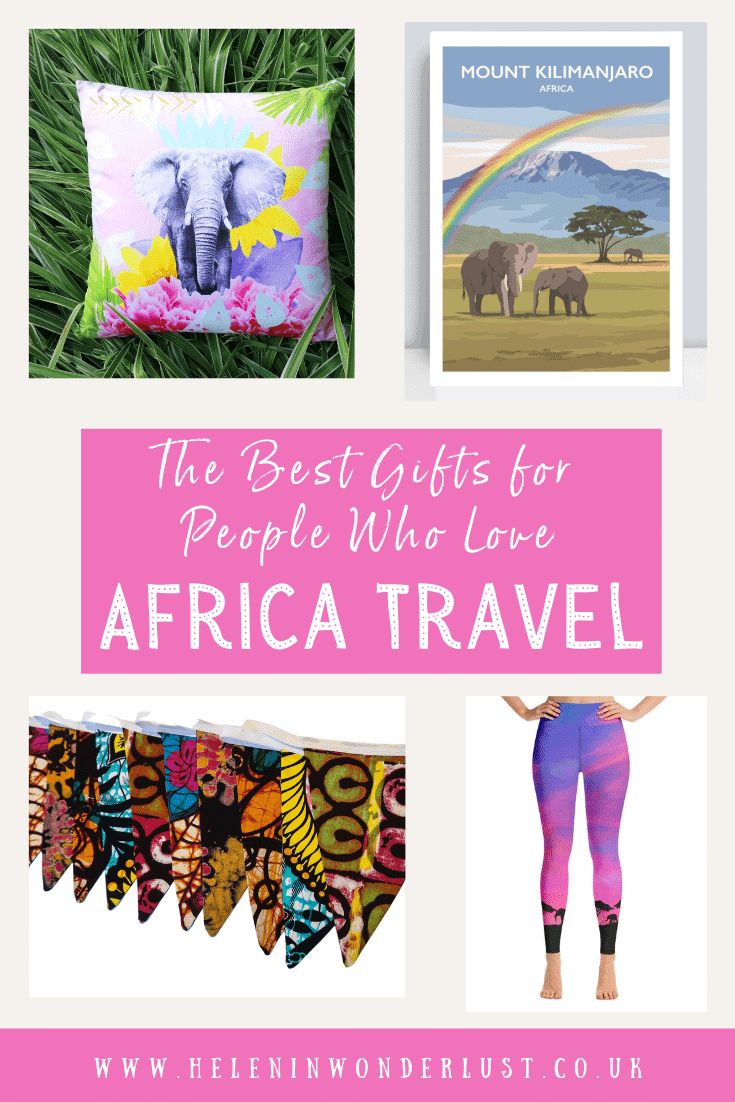 Do you have a friend or loved one who loves Africa and/or travel? Trying to figure out what to buy them for their birthday, Christmas, Hannukah, or another special occasion?
Maybe they're planning a trip? Or maybe they've been to Africa and caught the Africa travel bug!
Well fear not, I've pulled together an awesome African themed gift guide for people who love Africa and Africa travel to help you pick out the perfect gift for the Africa lover in your life!
PS. If you're looking for more 'practical' gifts, such as things to take on safari or backpacking essentials, please head over to my super comprehensive Africa Packing List which lists everything you could need, from head torches and water bottles to hiking boots and backpacks!
---
The Best Gifts for People Who Love Africa & Travel
---
Africa Art Prints
What better way to remind yourself of Africa than to surround yourself with gorgeous Africa art prints by Julia S Illustration, exclusively for my shop, Africa & Wild.
I had these prints commissioned from my photos, and they're the perfect gift for anyone who has climbed Mount Kilimanjaro or visited Victoria Falls – two of my favourite places in Africa.
These gorgeous illustrations are printed on 300gsm archival acid-free paper, using Giclée digital print for bright, colourful long-lasting artwork. Inks are water-based and environmentally friendly. Available in A4 and A3 sizes.
You can find them exclusively at Africa & Wild.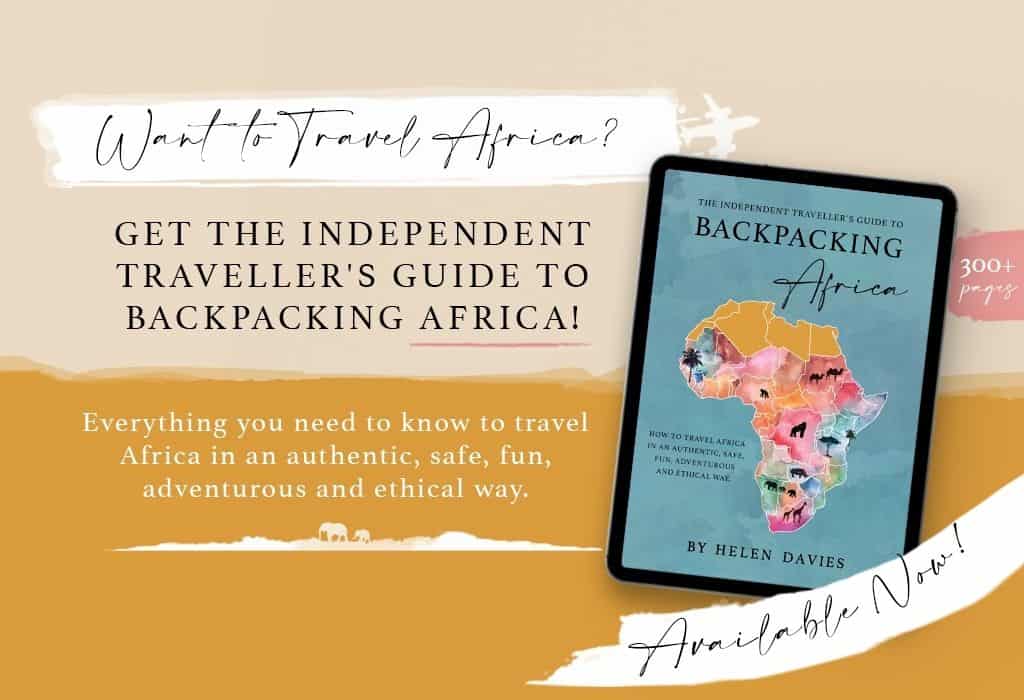 The Independent Traveller's Guide to Backpacking Africa
Thinking about travelling to Sub-Saharan Africa? Or know someone who is looking for some help in planning and preparing for their trip? Then you've come to the right place!
I've been travelling to Africa for the last 12 years, and over that time I've had many adventures, made plenty of mistakes, made a ton of friends, had lots of fun and learned a lot about African countries, cultures and wildlife.
And with this e-book, I want to help you do the same (minus the mistakes)! All for the bargain price of £10.99! With lifetime updates!
Grab The Independent Traveller's Guide to Backpacking Africa here.
Africa Themed Clothing
At Africa & Wild, as well as selling art prints, we also sell lots of other things too, including homeware, accessories, and clothing (adults and kids) – all inspired by Africa, travel, the wild, and the cosmos.
This includes hoodies, sweatshirts, tank tops, t-shirts and leggings. Our clothing is super good quality and most importantly, responsibly made.
All Africa & Wild products are made in Fair Wear, GOTS (Global Organic Textile Standard), WRAP (Worldwide Responsible Accredited Production) and/or Standard 100 OEKO-TEX facilities and printed to order to be as ethical and eco-friendly as possible to avoid waste.
We donate 10% of our profits to incredible organisations in Africa. So by buying our products, not only will you and your home look fabulous, but you will feel great, knowing that you are making a difference.
Shop the Africa & Wild collection here.
Mama Africa Art Print
This is another of my commissioned art prints by the super-talented Vicky Lou Illustration.
I'm a pretty spiritual person. I believe in energy, I meditate, I sage my living spaces (and myself), I use crystals and I believe Mother Earth is always watching over us. Call her what you like Pachamama, Gaia or as I call her "˜Mama Africa'.
This beautiful art print is my tribute to her. As well as the original image, we also have it in Earth & Fire variations.
You can find these prints exclusively online here.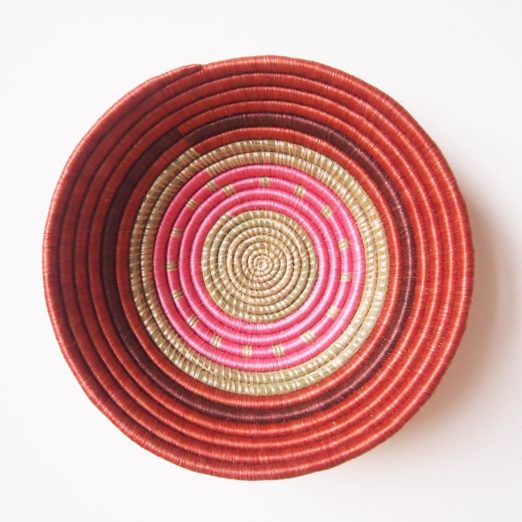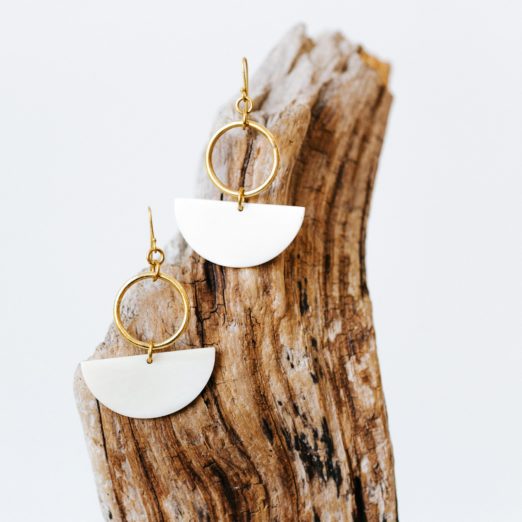 Amsha Studio
I absolutely love the products from Amsha.
Started by Laura, a former blogger turned social entrepreneur, Amsha works directly with artisans across Africa. They focus on driving social change in underserved communities by bringing quality, ethically made goods to the marketplace.
You can find this basket and all their other gorgeous products here.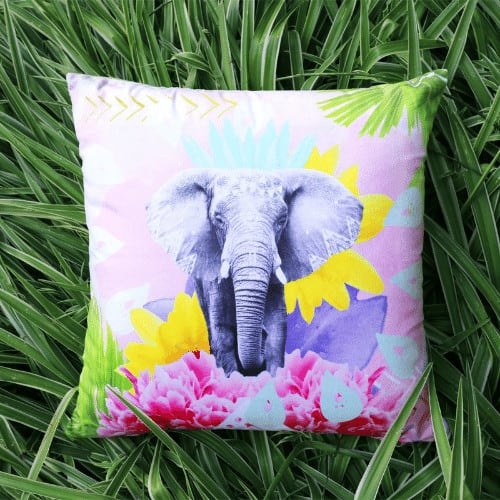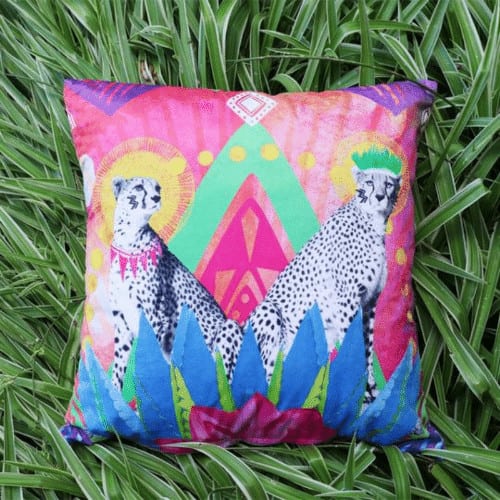 Safari Cushions
I absolutely love these beautiful cushion covers designed by Rui of Kenyan brand Kangarui.
They are perfect to brighten up your office or living space! They're extra soft with a velvety feel (I have some at home) and once you hug one, you'll not want to let it go.
You can buy them in the UK here.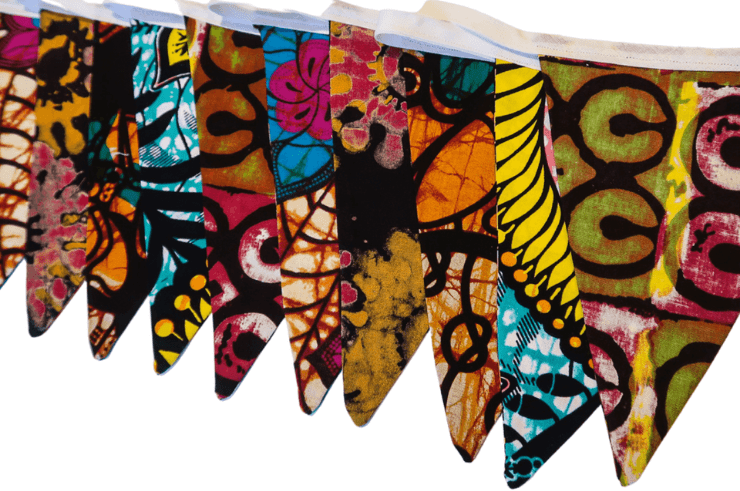 African Fabric Bunting
Add a little African sparkle to your home with this gorgeous and unique African fabric bunting from Africa & Wild (limited edition).
I bought all of the fabric from small, independent traders on my travels and the bunting is made by my mother-in-law. Believe me, it's absolutely gorgeous!
You can find it exclusively online here.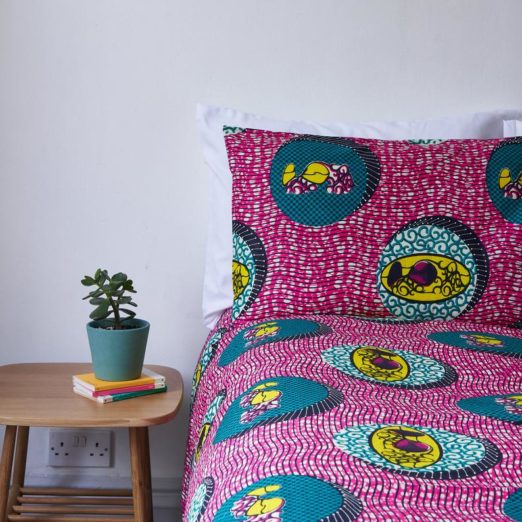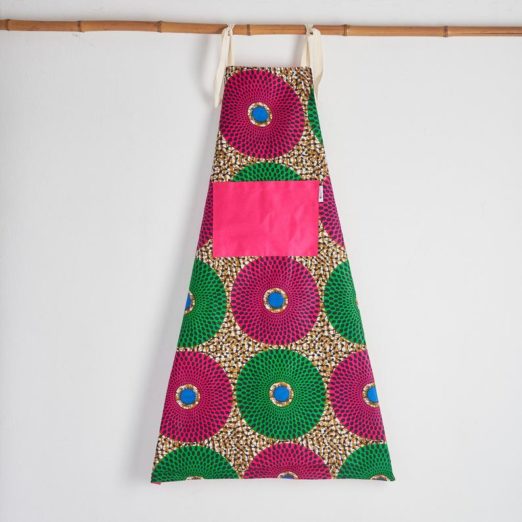 Bespoke Binny
I absolutely love all the products made by Natalie of from Bespoke Binny.
She sells all kinds of wonderful items made from African fabric, including duvet covers, aprons, lampshades, table clothes, hot water bottle covers, and makeup bags.
You can find her items here.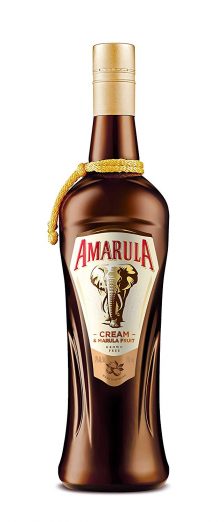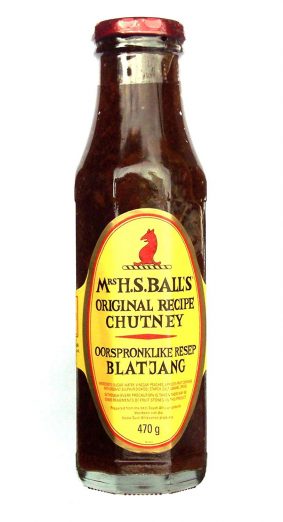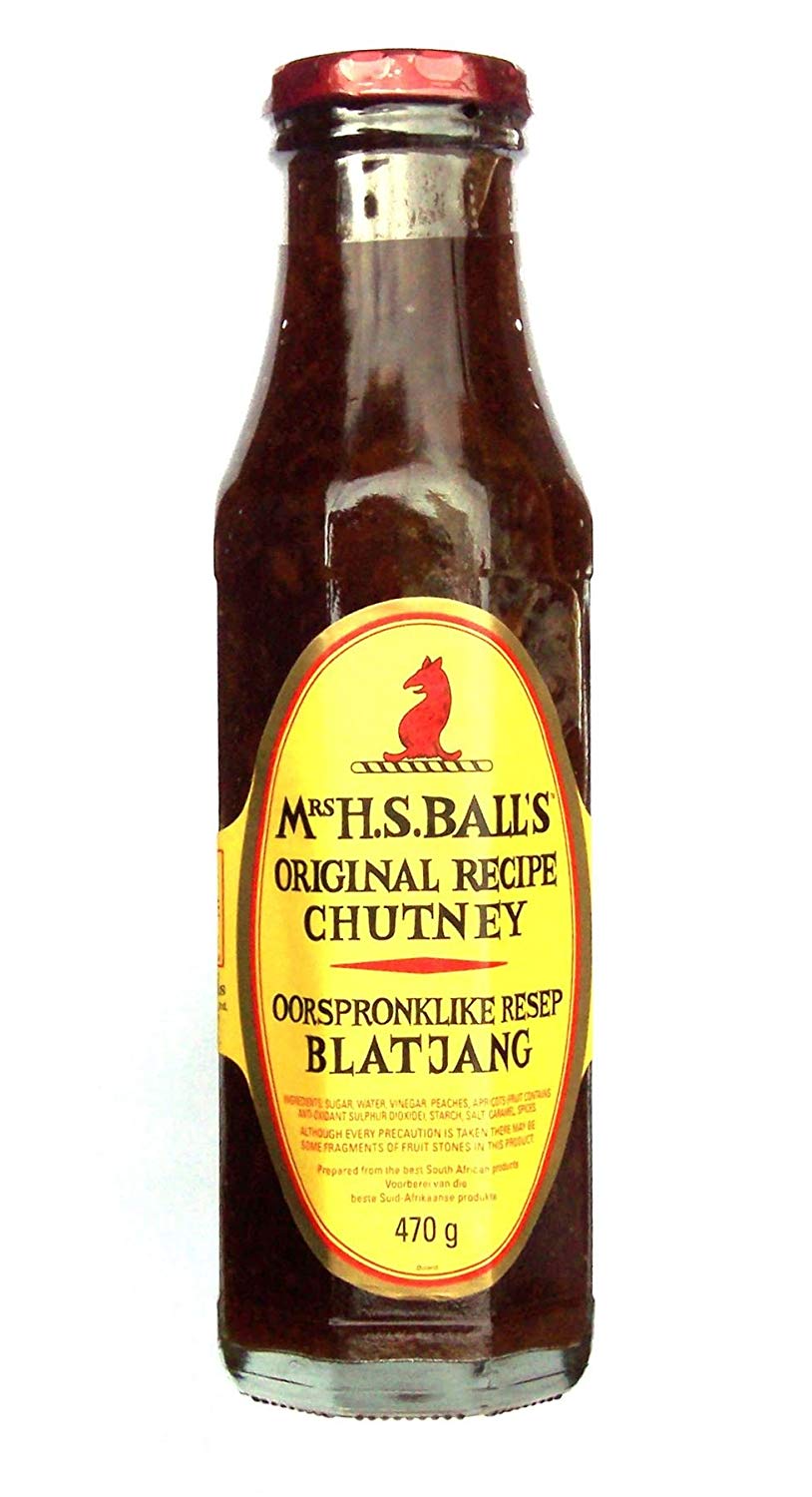 African Food & Drink
Looking for something cool for the foodie in your life? then why not buy them some of their favourite food items from Africa, or even make them an African hamper?
You could include things like…
Amarula – it's a bit like Bailey's but better. Also very nice added to a shot of espresso to make an Amarula coffee. I always have a couple of bottles of this in for Christmas! You can get it in chocolate bar form and they have a couple of other variants – Amarula Vanilla Spice. and Ethiopian Coffee Cream.
Mrs H.S. Ball's Chutney – I live off this stuff when I'm in Southern Africa. It's a bit like a slightly more savoury, runnier mango chutney. Delicious and great with curries or on sandwiches/salads.
Biltong – not my type of thing, but if you have a friend who loves jerky, then they'll love African biltong too.
African Spice Selection – for anyone who loves cooking, especially African cooking, a spice selection is always appreciated.
Savanna Cider – this is one of my favourite African alcoholic drinks and can be bought in most supermarkets.
South African Wine – South Africa is one of the best wine-producing countries in the world, especially famous for their Pinotage.
Masala Chai – One of my favourite drinks in Kenya is masala chai. It've tried a few brands in the UK and my favourite is Tea India from Sainsbury's.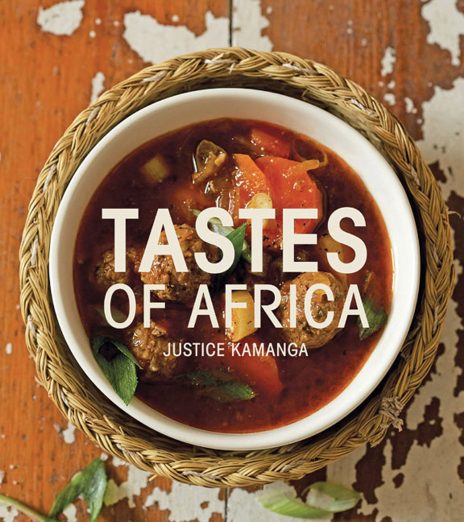 Africa Cook Book
Whilst travelling around Africa, you will get to try all kinds of amazing different foods, from delicious curries to amazing stews and gorgeous sweet treats, so I always think it's nice to be able to cook those dishes at home too, so an African cookbook is ideal (and they can use some of those new spices)!
My Favourite African cuisine is Ethiopian food (I'm obsessed with tibs) and it would be amazing to try and recreate some of those dishes at home!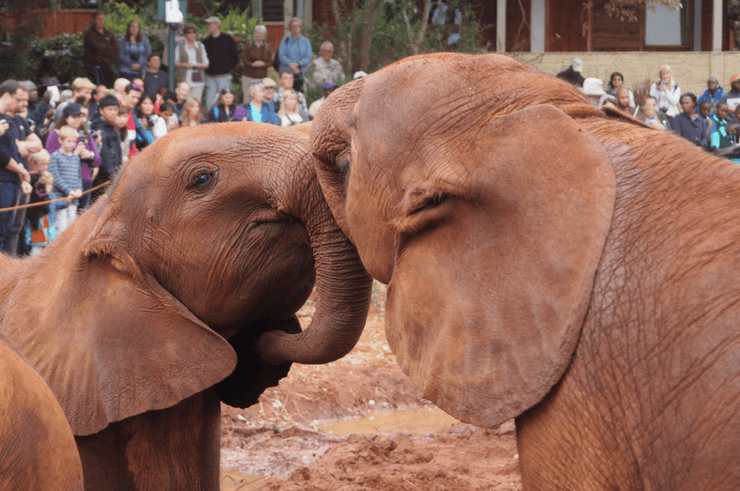 Sponsor an Elephant at the Sheldrick Wildlife Trust
A great Christmas present for those who love elephants is to foster a baby elephant in their name at the Sheldrick Wildlife Trust, the organisation started by Dame Daphne Sheldrick.
They do great work in Kenya and this could be a great gift for a child to teach them about conservation and caring for our wildlife. Sponsors receive a watercolour painting by Angela Sheldrick and are also able to visit outside of the usual visiting hours and therefore away from the crowds.
You could also sponsor animals through the wonderful Born Free Foundation or through the WWF who allow you to choose different animals.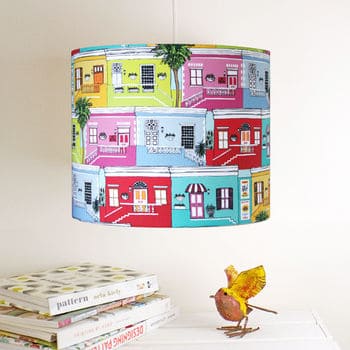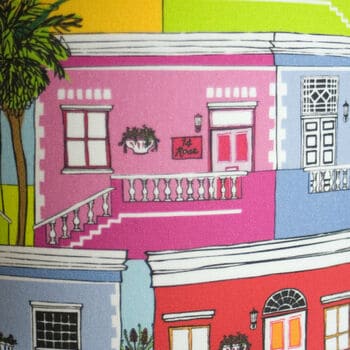 Bo Kaap Lampshade
I really love this lampshade inspired by the quirky and colourful houses of the Bo Kaap district in Cape Town.
This gorgeous hand-drawn lampshade comes from MADE ON ILZE and can be found here.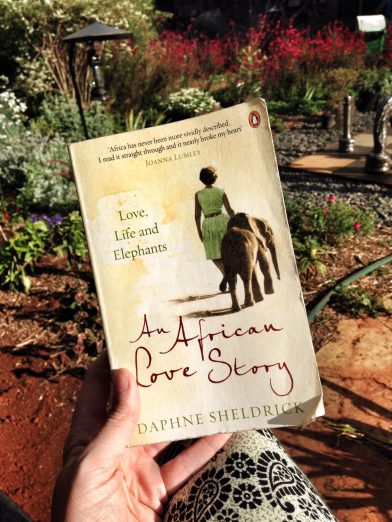 Love, Life & Elephants: An African Love Story
Love, Life and Elephants: An African Love Story is one of my FAVOURITE books.
It's the extraordinary true story of the life of Dame Daphne Sheldrick and her husband David, a warden of Tsavo National Park. A wonderful read that made me cry a number of times!
You can find it online here and some of my other favourite Africa-themed books here.
African Face Mask
More practical than most of the gifts on the list, but a new necessity!
Look gorgeous in these beautiful handmade African fabric face masks. I always get lots of compliments when I wear mine!
Fully reversible
3 layers of fabric
Outer layers African kitenge fabric, 100% soft cotton
Inner layer of polypropylene as recommended by the World Health Organisation
Elasticated ear straps
Machine washable
Material bought from independent market traders throughout Africa. See more here.
Makeup Bag/Pencil Case
Another great stocking filler idea are these gorgeous printed makeup bags/pencil cases, again by Kenyan brand Kangarui.
You can find these online here.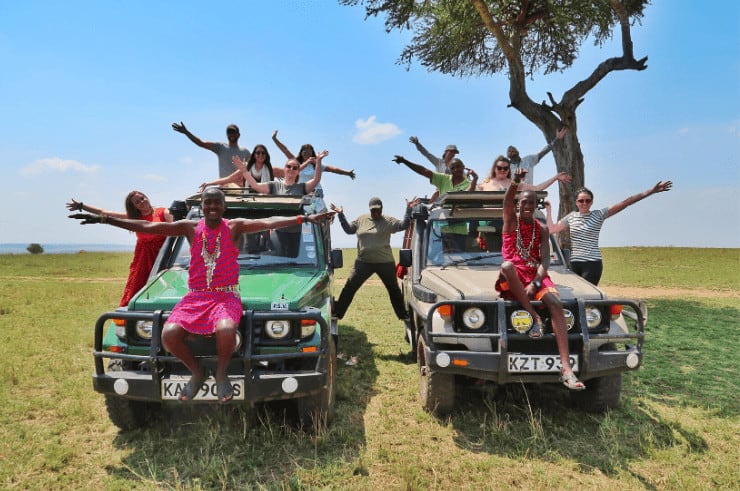 Rock My Adventure Travel Voucher
Looking to really spoil your loved one (or yourself)? Then why not buy them a voucher for a Rock My Adventure small group tour!
Our exciting, fun and cultural trips take place in Kenya, Rwanda, Uganda, the DRC, Tanzania, Malawi, Zambia, Botswana, South Africa, Eswatini, Lesotho, Mozambique, Benin & Togo.
Contact us here for details!
Read More About Africa…
Please Note: Some of the links in this post are affiliate links, which will earn me a small commission at no extra cost to you. Affiliate sales help with the running costs of this site, so thank you for your support!